I've put together 10 Perfect Mother's Day Brunch Recipes that are just the dishes needed to spoil that special mom in your life!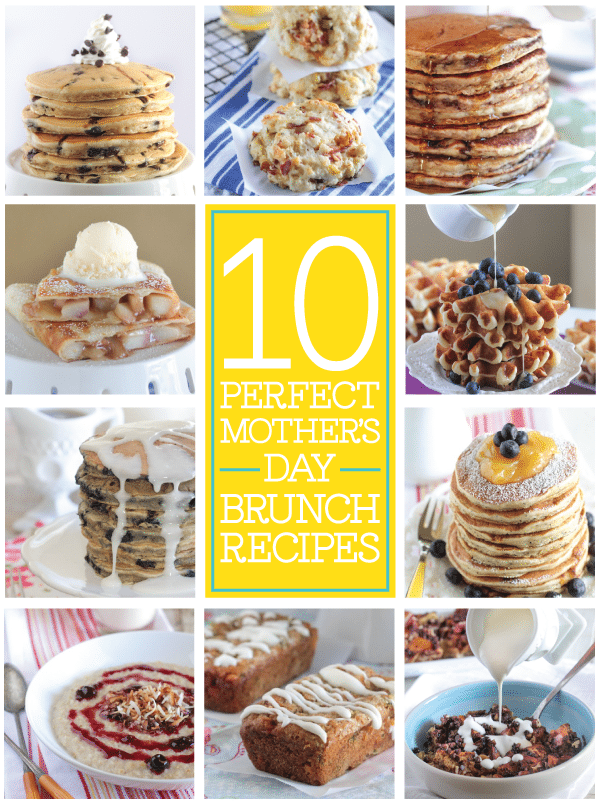 Mother's Day is one of my favorite  holidays for so many reasons
 Love the cards my boys make me and getting spoiled by my family for the day.  This year will be quite different, my oldest boys and I will be in Orlando, spending the weekend at Walt Disney World with the Disney Social Media Moms Conference.  We have had a countdown on our wall for over a month now.  So excited to make so many memories with them.  We'll miss my husband and Pax though, can't wait to tell them all about … Continue Reading »
My Cheddar Potato Bacon Frittata is the perfect breakfast or brunch and takes no time at all to prepare!  Your guests will be thrilled with this recipe!

With Mother's Day right around the corner, I thought it would be a delicious idea to develop a new ultra cheesy egg dish.  I used some of my favorite roasted potatoes inside and oh baby, dip a bite in your favorite hot sauce…amazing!!
Hope you enjoy!

Here's your line up of ingredients.  Be sure to prepare your potatoes ahead of time.

A quick saute of your bell peppers and … Continue Reading »
Try these Crispy Pan Roasted Potatoes for breakfast, lunch or dinner! We literally enjoy them at least once or twice a week.
Where do I even start with these crispy little perfect potatoes?  Not even kidding, I make these for breakfast and make extra so we can enjoy them for dinner during the week.  I like to serve them with a rotisserie chicken, side of vegetables and a salad. Such a simple dinner that the family LOVES.
Be sure to try these with a side of scrambled eggs in the mornings or inside a frittata like my newest Cheddar Potato Bacon Frittata coming first thing Wednesday!
Continue Reading »
This American Heritage Chocolate Tart is beautifully delicious! A chocolate lovers dream!
Thrilled to be partnering with American Heritage Chocolate today to bring you a gorgeous recipe plus all kinds of fun news going on with them. Have you had their chocolate before? It is fantastic!
First off, let's talk about this gorgeous tart. See recipe below.
Continue Reading »
These Bakery Style Oatmeal Chocolate Chunk Cookies are large perfectly crisp yet soft cookies that will bring a smile to everyones faces!

It's another cookie recipe day!  We all know those are my favorite days, lol!  I could seriously create cookies everyday.  One of my favorite things to do
I made these cookies extra large, but feel free to use a normal size cookie scoop if you'd like.  If you choose to make a smaller cookie, adjust your baking time accordingly.
These babies do NOT disappoint.  Enjoy!
Continue Reading »
Apr 13, 2015 | Holiday
Thrilled to share my Ten Lovely Spring Recipes with you today!
Spring is the BEST time of year isn't it?  I don't know about you, but we already have gorgeous warm weather here in Arizona.  I am taking adventage of every minute.  My boys have been swimming with their friends for a good 3 weeks already, lol!
Gotta love this AZ sunshine.
I've put together some of my very favorite "Spring" recipes that are packed with lemon and everything delicious!
You are going to love these.  Hope you enjoy!
Click links below for the recipes in the photographs.
Iced Lemon Poppyseed Shorbread Bars Full of buttery goodness with an icing that is to die for!
White Chocolate Lemon Pudding Cookies One of our favorite … Continue Reading »
You are going to love these Chicken Taco Cornbread Wedges! A fun dinner recipe the whole family will go nuts for!
So many fun memories writing this post today.  I was contacted by Martha White to feature my 2007 winning Cornbread Cook-off recipe for their Virtual Cornbread Potluck 2015!  Be sure to scroll down past the recipe and see the other bloggers who joined in the fun.
Continue Reading »
My Peanut Butter S'mores Style Panini could not be more delicious and simple to prepare!  Dessert just got a bit sweeter!

What a fun day in the kitchen it was making these outrageous sweet grilled sandwiches!! Packed with creamy peanut butter, marshmallows and melty chocolate…you are in for a treat!
Fun recipe to make with the kids, be prepared for messy sweet hands.
Hope you enjoy!
Continue Reading »