My Cookie Dough Chocolate Bark makes such a fun gift to give to family and friends this season!  Chocolate and cookie dough?  Love!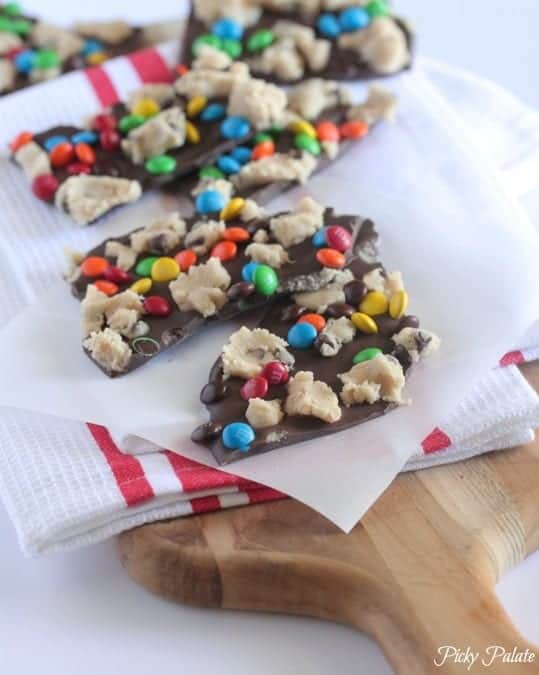 My boys and their friends were so excited to come home from school and see this colorful chocolate bark sitting on the kitchen counter.  I used my crazy delicious Eggless Cookie Dough which means you get to eat it right out of the bowl with a spoon!  Save the leftover cookie dough for your sweet tooth craving, lol!
Continue Reading »
My Gooey Chocolate Peppermint Bread Pudding might be the most sinfully delicious dessert I've ever had!  Perfect for holiday entertaining.
I am practically bouncing out of my computer chair because I am so excited to share this recipe with you today.  It's always a pleasure partnering with Land O Lakes to bring you new drool worthy recipes!
Not even kidding this dessert has got all of my favorite components….chocolate, bread and icing.  Haha.  It turns into this crazy ultra gooey chocolate bread pudding that will have you savoring each and every bite.
Can't wait for you to try it
 Enjoy!
Oh, be sure to mark your calendars for December 4th!   You can tweet with Ree, The Pioneer Woman, Becky from the Land O'Lakes Test Kitchen, myself and my butter blogging friends! Join us for a Live Twitter Party Thursday, December 4 from 8-9 pm EST. We'll be talking about our favorite holiday recipes, tips for making it through the busy holiday season, and COOKIES!
To join in on the fun, use the hashtag #CookieChatter. Participants also have a chance to win a holiday baking prize pack from Land O'Lakes, which includes a signed copy of Ree 's cookbook, "A Year of Holidays" and a year's supply of Land O Lakes® Butter.
Continue Reading »
Edible Eggless Cookie Dough for your sweet tooth today!
You know every time you sneak bites of your traditional cookie dough and cringe just a little because of the raw eggs? Well, try my eggless cookie dough that is perfect for snacking on by the spoonful!
Wanted to share this recipe with you before next Monday's post….you'll need it!
Enjoy!
Thanksgiving week is here!! Let the eating frenzy begin!
I've put together some of my very favorite Thanksgiving Menu Recipes that everyone loves!
I can hardly wait for all of the festivities and family fun this week.  Hope everyone has a beautiful Thanksgiving week!

 Cheesy Bacon Green Bean Casserole Pot Pie 
Can you even handle this creamy fabulousness?  This is one of the best Green Bean Casseroles I've ever had.  I turned this one into a pot pie, but you can serve it without the pastry on top as well.  Both…..amazing!

Sourdough Sausage and Cornbread Stuffing
There are no words that can describe how perfect this stuffing recipe is.  I've used it for the last few years and it gets rave reviews!  Treat your guests and see for yourself

Continue Reading »
This Pesto Chicken Noodle Soup is perfect for busy weeknights. Simple to prepare and full of great flavor!

There's nothing like a warm bowl of soup simmering on the stove ready for dinner.  I'm kind of in love with this new soup I developed last week.  It's  got so much flavor you won't believe how little time it takes to prepare.  Weeknight dinners can be so stressful, which is why I love new fast soup recipes!
You've got a few options depending on how much time you have.  I used the Costo canned chicken this time, you can bake your own chicken or even shred a rotisserie chicken.
You can even look for pre-chopped vegetables.  I can find mine at Trader Joe's but have seen them at the regular grocery store as well.  Makes for a speedy soup!
Continue Reading »
These Soft Gingersnap Cake Bars make the perfect dessert to bring to family and friends this season!

I can't tell you enough how much everyone loved these bars at my house.  They are about one of the easiest desserts you'll make and can we talk about how delicious they are?
A perfect, soft cake like chewy bar with just the right gingerbread flavors.
Don't wait a second longer, make these simple bars NOW

Continue Reading »

These Chocolate Mint Snickerdoodles are crispy soft and full of mint and chocolate deliciousness! Such a fun twist on classic snickerdoodles.

We are now in November….how did this happen?!  When I get stressed about the upcoming Holidays I just bake.  Bake all day long, lol!
I've been obsessed with snickerdoodles lately!  After making the Pumpkin Spice Snickerdoodles I had all of these fun ideas.  These turned out so good.  Mint and cocoa….win!
So fun for cookie exchanges and gift giving this Holiday season.  Enjoy friends!
Continue Reading »
These Salted Caramel Apple Pie Biscuit Bites make the perfect snack and/or brunch option. Ooey gooey and fabulous sweet treat!
Why do I love to drizzle so much?  Ha!  I mean come on, salted caramel sauce and icing?  It does NOT get better than this sinful little skillet of biscuit bites.  I picture this being served for weekend brunch or for a late night sweet tooth craving.  It's warm, saucy and full of cinnamon spiced sweet apples.
Break out your cast iron skillets and get your drizzle on

Continue Reading »