Perfect Cinnamon Rolls…according to Picky Palate :)
Perfect is a bold thing to say isn't it? That is why I also added….according to Picky Palate, lol! I think everyone has their own idea of what makes a perfect cinnamon roll. For me….I like the rolls soft with LOTS of buttery cinnamon and sugar swirled throughout. There's nothing worse than anticipating that first bite of a cinnamon roll and it's dry and bread-like with minimal cinnamon goodness right?
So, there you have it, I call these my perfect rolls because my dough is amazingly soft with gobs and gobs of butter/cinnamon/sugar swirled and as you can see I kinda like a touch of cream cheese frosting on top. If this sounds like the kind of cinnamon roll you like as well……you might want to make these 🙂
Here is most of the ingredients for your line-up! Simple pantry items.
Had my little stinker helping along with my sweet niece June from AZ. These two were so funny!
Start by letting your yeast double with some warm water and sugar. Patience Patience 🙂
Once it's doubled, add your warm milk and melted butter to the bowl.
Add the sugar.
….add the egg and mix with the dough hook attachment until nice and combined.
Time to add the dry ingredients. Exciting as you can see, lol!
Very important to scrape your edges as you keep adding flour.
Let the dough kneed for 7 minutes, tell some jokes to pass the time.
Alright, dough is ready, let's get it into a large bowl.
Let your dough rise until it's doubled, close to an hour.
My favorite part. After it's doubled, give it a good punch.
Flour your counter top nicely.
Transfer your dough to the floured counter top and dust with flour as well as your hands.
Break out your favorite rolling pin and get rolling. Don't forget to dust it with flour too.
You are going for a large rectangle shape.
Like so! Should be approximately 19 inches wide.
…and about 14 inches long.
Butter time! Get those fingers greasy baby.
Isn't that beautiful?!
Mix up your cinnamon and sugars.
Sprinkle generously over the buttered dough.
Time to roll it all up. Start with your wide end.
There we go! Looks like a long caterpillar according to my boys 🙂
There are a few ways to go about slicing your rolls, but my favorite is using some good ol' dental floss. Makes a perfect clean cut without smashing the rolls. Give it a try!
Pretty right?!
Keep slicing them until you reach the end. I do about 1 1/2 inch slices.
I like to butter my pan and sprinkle it with brown sugar. Makes for a sweet buttery bottom.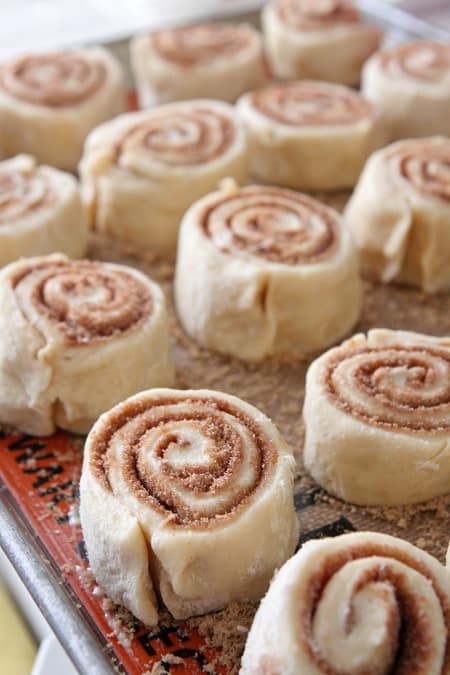 Line them all up, nice and close to each other giving a little room in between for rising.
I place my rolls into a barely warm oven to rise. Usually cuts down 15 minutes 🙂 Plan on about 40-45 minutes to rise.
Perfect! Now pre-heat your oven and get ready to bake!
Bake until nice and golden.
Whip up a simple cream cheese frosting.
Spread that fabulous frosting over your warm rolls and watch it melt into the swirls.
Here you have my perfect cinnamon rolls.
So excited for you to try them!
Get into my belly.
Now that's what I'm talking about. Dig right into the middle.
[ziplist]
Perfect Cinnamon Rolls…according to Picky Palate
1 1/2 tablespoons Active Dry Yeast
1 1/2 tablespoons granulated sugar
1/2 cup warm water 115 degrees F.
8 tablespoons (1stick) unsalted melted butter
3/4 cup warmed whole milk or heavy cream 115 degrees F.
3/4 cup granulated sugar
1 large egg
4 cups Gold Medal all purpose flour plus more for dusting counters
1 teaspoon kosher salt
Cinnamon/Sugar Layer
8 tablespoons (1stick) unsalted softened butter
1 cup packed light brown sugar
1/2 cup granulated sugar
3 tablespoons ground cinnamon
4 tablespoons softened unsalted butter (for buttering pan)
1/4 cup packed light brown sugar (for sprinkling over buttered pan)
Frosting
8 ounces softened cream cheese
8 tablespoons (1 stick) softened unsalted butter
2-3 cups powdered sugar
1. Place yeast and sugar into stand mixer then add warm water and gently stir. Let sit until yeast has doubled, about 10 minutes. In a medium bowl, mix melted butter and warm milk. Add butter and milk mixture to yeast mixture with the dough hook attachment on low speed then add sugar and egg mixing until combined. In a large bowl, stir together the flour and salt. Add 2 cups of flour mixture to the mixer at a time scraping sides of bowl, continuing to add remaining flour until the dough starts to clean sides of mixing bowl. Kneed dough on low speed for 7 minutes. Place dough onto a floured counter and kneed dough until it does not stick to your hands. Place dough into a large bowl that has been sprayed with cooking spray. Cover with a damp cloth and let rise in a barely warm oven for 45-60 minutes, until dough doubles in size.
2. Remove dough from bowl and place onto a floured counter top. With a floured rolling pin, roll dough into an approximate 14×19 inch rectangle, about 1/4 inch in thickness. Spread softened butter over entire surface of dough. In a medium mixing bowl, stir together the brown sugar, sugar and cinnamon. Sprinkle evenly over buttered dough. Starting at long end of dough, carefully roll into a log shape. Using dental floss or knife, cut rolls into 1 1/2 inch pieces.
3. Take 4 tablespoons softened butter and spread over 13×17 inch jelly roll pan lined with a silpat liner or parchment paper then sprinkle with brown sugar. Place 4 rolls per row close to each other, about 1/2 inch apart. Place into a barely warm oven (turn oven to warm for 5 minutes, then turn off right before placing rolls in oven to let rise) for 45-60 minutes or until rolls have doubled in size. Remove rolls from oven and preheat oven to 350 degrees F. Bake rolls for 15-17 minutes or until rolls are golden brown and baked through. Set aside to cool slightly.
4. Place cream cheese and butter into your clean stand mixer bowl and beat until smooth and combined. Slowly add powdered sugar until desired consistency is achieved. I prefer 2-3 cups. Spread cream cheese frosting over warm rolls. Serve warm or let cool and enjoy room temperature. If serving the next day refrigerate then warm in the microwave individual rolls for 10-15 seconds in the microwave.
Makes about 18 rolls
FOLLOW PICKY PALATE ON INSTAGRAM! Show me what recipes you're making from Picky Palate by using #pickypalate.
Other recipes you may enjoy...
Comments