Reviews
Sharing our Nutribullet Review today!  The As Seen on TV Nutribullet. Is it worth the money? Does it extract nutrition as it claims? I finally put this guy to the test after purchasing it a couple of months ago. Let's see what I came up with.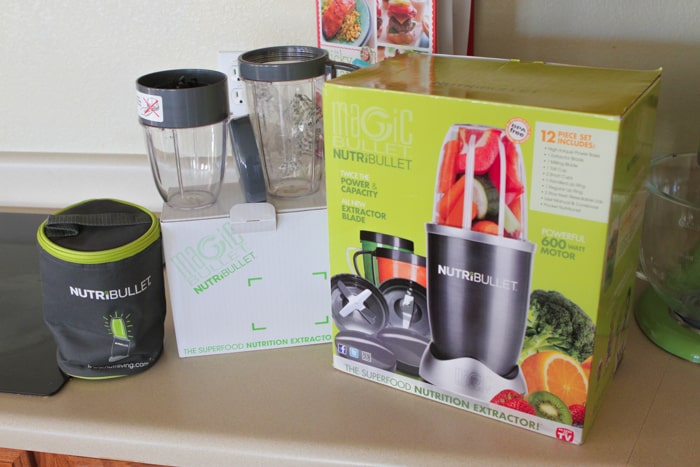 Nutribullet Review
NUTRIBULLET, 600 watt motor:  So, the cost of this, though, I'd rather skip this subject as I paid more than I should have, in total was $169.66. Yes, it adds up fast from a $119 starting point. And yes, you can buy it cheaper from Target, Amazon, or other retailers for around $99. Also, Target sold a bigger bag to take your nutriblasts on the road–which I probably hit the "no" button when NutriBullet sold me the accessories. Here's what I paid for mine directly from NutriBullet's website:

See our After Workout Protein Shake using the NutriBullet too! Follow Picky Palate on Instagram for daily recipe inspiration.

Unpacking the NutriBullet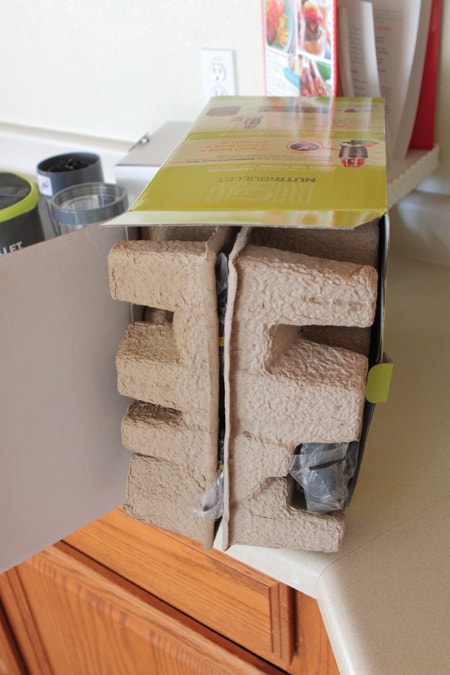 It was quite easy to remove the bullet from the box of which was packed well.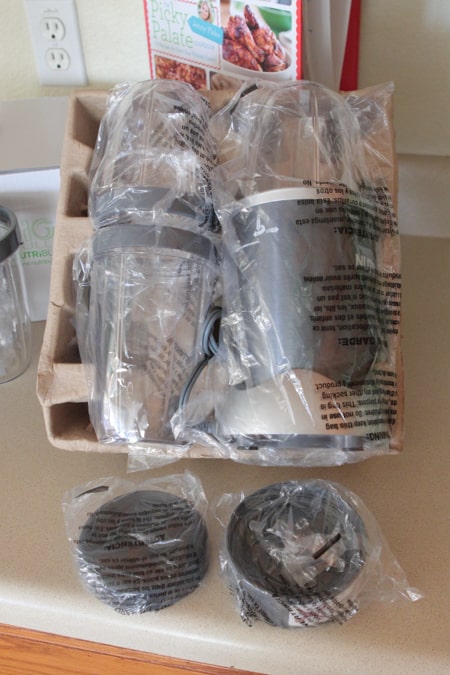 It comes with a couple of blades and cups.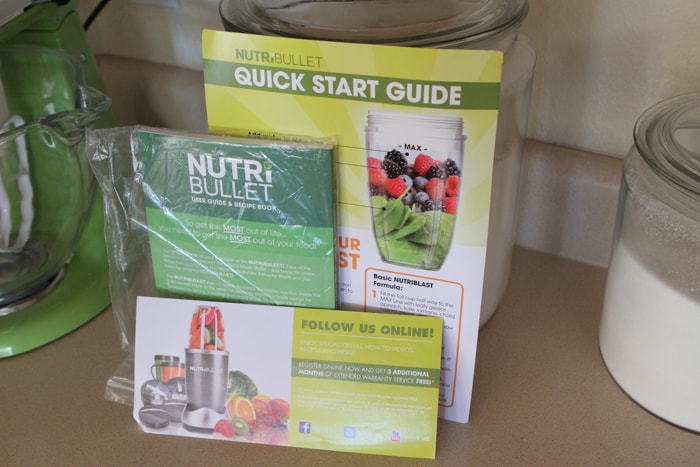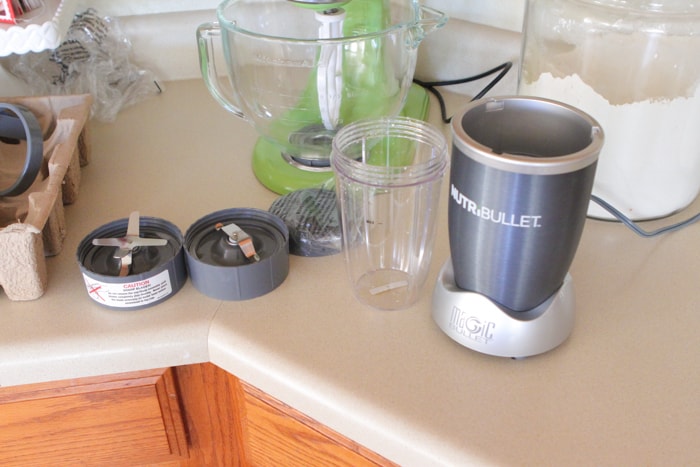 The NutriBullet is nice and compact looking. Sleek and slender. It's small. Very small. The big popular blenders on the block deal with watts in the +1000 range. This guy works at 600. That's probably the reason there is now a NutriBullet Pro 900 [watts]. Take a look at their blog here. Although I have not tested the 900, it looks like the biggest drawbacks are for the lack of milling blade for the new version. People like using the milling blade to grind seeds. If you dislike seedy drinks, the milling blade is important. I made a cucumber, cantaloupe, blackberry, and grape juice, or I should say smoothie–I'm not quite sure what to call it–and the blackberry seeds were pretty much untouched. No nutrition extraction here. So, if you don't mind added steps, throw in the milling blade for any of the seeds first, then add the other ingredients with the extraction blade (see pictured blades below).
How To Use The NutriBullet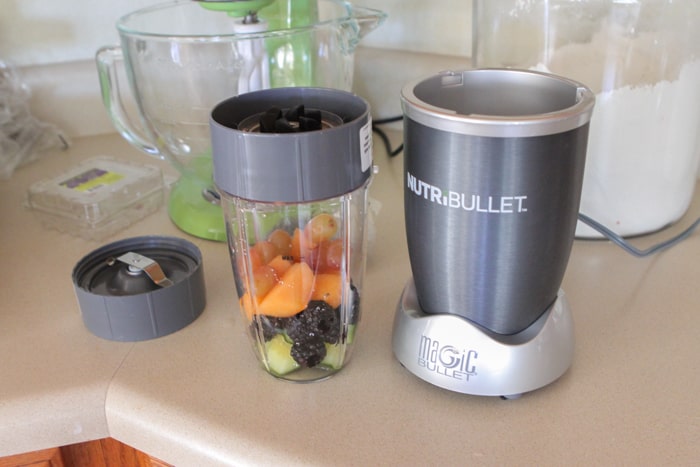 I do like how the cup you extract with is the same cup you drink from. Saves slightly on the dishes front. Simply screw on the blade……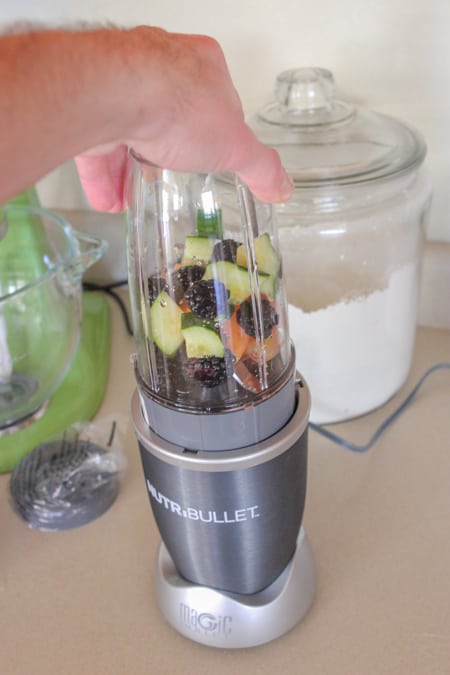 Flip over, match the tabs into the notches, push down and twist.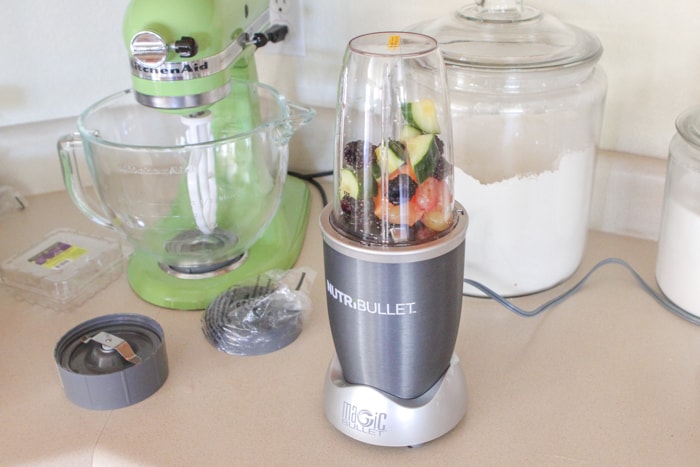 One advantage of the NutriBullet over the bigger blenders is that it's so un-intimidating to pull out of the cabinet that I find myself blending more often. Yes, laziness gets in the way of blending for me.
With only 600 watts, this machine is not that loud. Much quieter than the Blendtec we normally use. But, yet not as powerful either.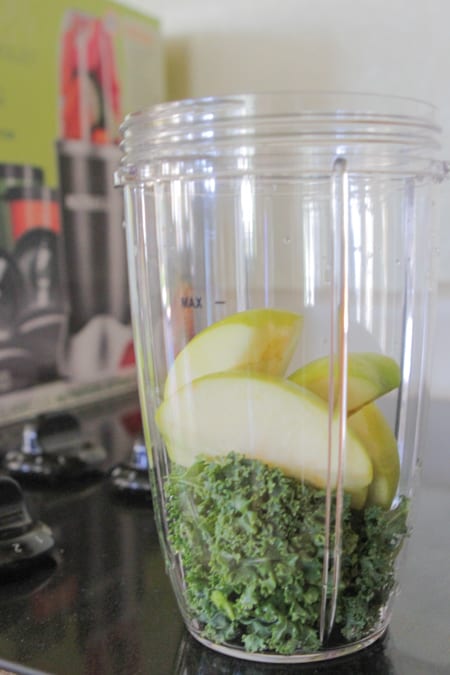 Other than the weak motor, my biggest gripe about the NutriBullet is how small it is. Many of you may know, Jenny and I have 3 children. Although it's a battle to get them to drink "dad's drinks", I like to make plenty of juice for days ahead. The NutriBullet is really a personal extractor. As shown above, I have 1 cup of kale and 1 apple, and I'm nearly to the max line.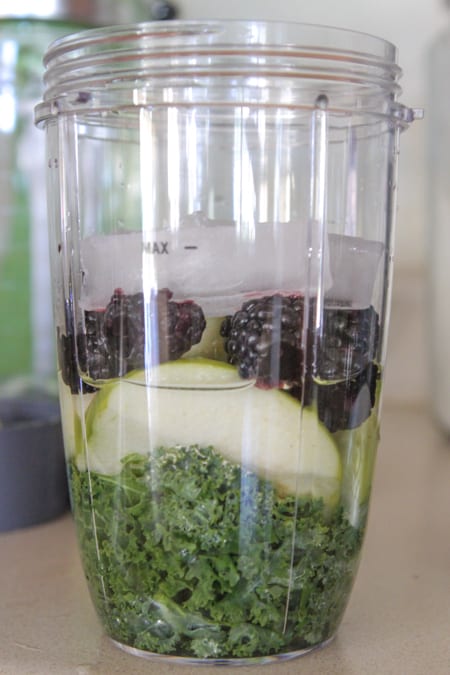 While the "max line" is for the maximum amount of liquid, you can see after kale, 1 apple, some blackberries and ice, the cup is just about full. To get more of a juice consistency, fill the cup to the max line with your liquid of choice. This personal blend made 2 cups of extracted nutrition for me.
If you don't mind buying the Deluxe upgrade kit, you can prepare three or so cups of the same drink, one by one, make the juice in an assembly line kind of way. And by the way, the crew at NutriBullet refer to juicing as nutrition extraction, so you'll read me interchanging these terms in this review.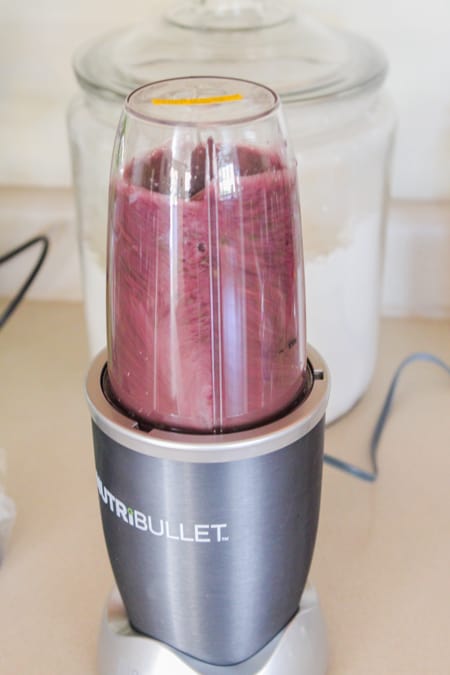 Nice quiet motor, however the consistency of the fruit and veggies is not as cut down as in the Blendtec or Vitamix.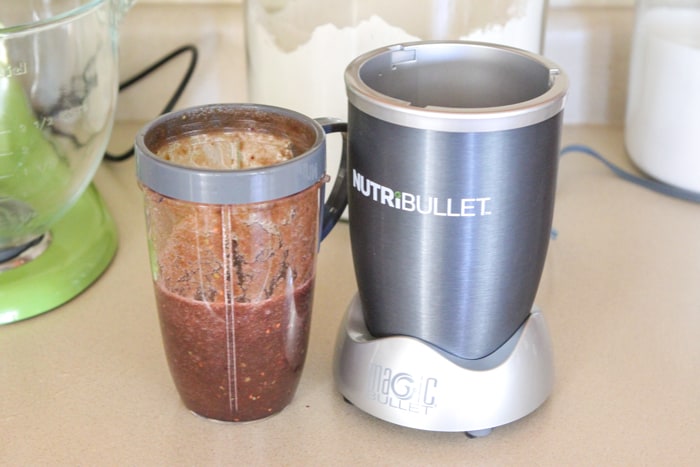 Let the Bullet run for a time to get the contents extracted as best as possible.
NutriBullet Review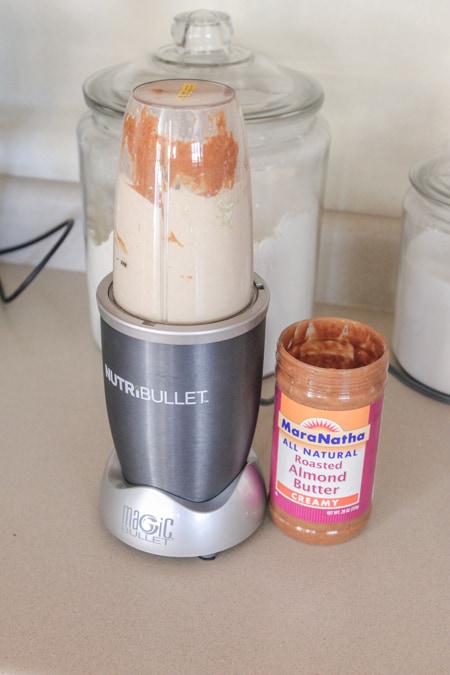 Here's one of my favorite after work out drinks. It uses almond or peanut butter, almond milk and other goodies. We'll have the recipe on the site later. Big problem #3-The almond butter sticks to the bottom–when you're filling the cup–however, now the top when you are mixing the drink, as you flip it over. There is a way to kind of fix this though…..add your peanut butter at the end so it sinks into the milk.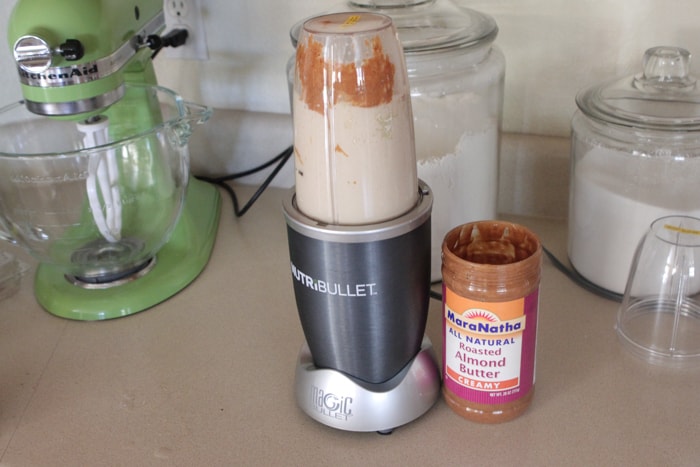 This is showing the stuck almond butter. Sometimes a manual shake of the cup can also clean the sides so all the ingredients get incorporated.
How To Use The NutriBullet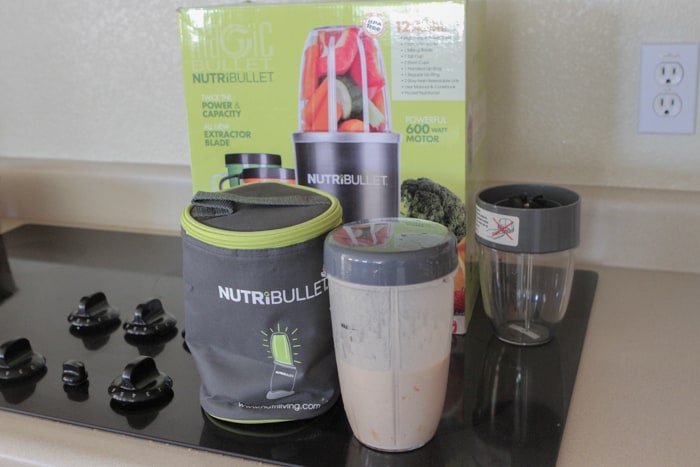 Above you see the insulator bag, or Blast Off Bag. When we lived in oh-so-fun California, I took this bag to the beach with a veggie/fruit juice that I made. I had it ocean side from 11am to 3:30pm. At 1pm I drank it, and it was cold enough to drink. I'd say it did it's job, but don't think it will hold up in the now-AZ sun for long.
I'm nitpicking here, but another problem I have is the lid set up that you see pictured above. I constantly shake by drinks so the ingredients don't separate and the design of their lid makes it easy to spill on your shirt as I did the other night. They need a lid design more like a protein shaker cup. The problem lies when you unscrew the lid there is drink stick in the underside of the lid that spills out on your body. I pay attention to detail and this is one detail they missed.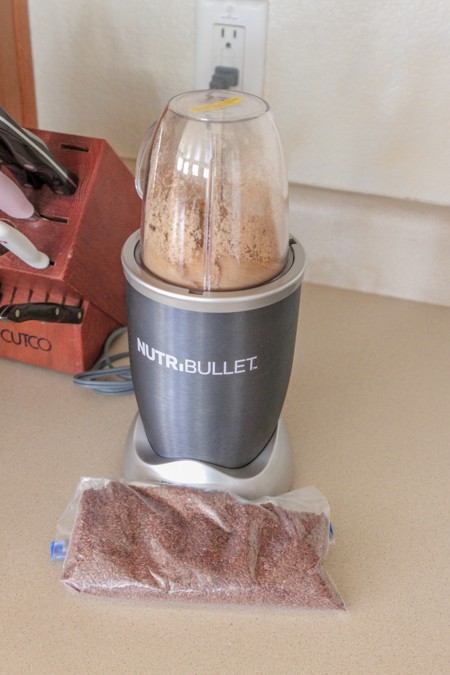 Here is a bag of flax seeds that I milled with the milling blade. I've been using this ground flax seed in just about anything I can think of.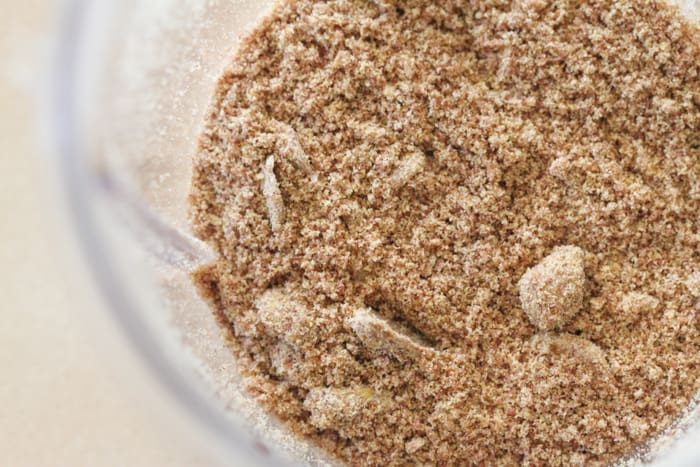 Ground flax seed.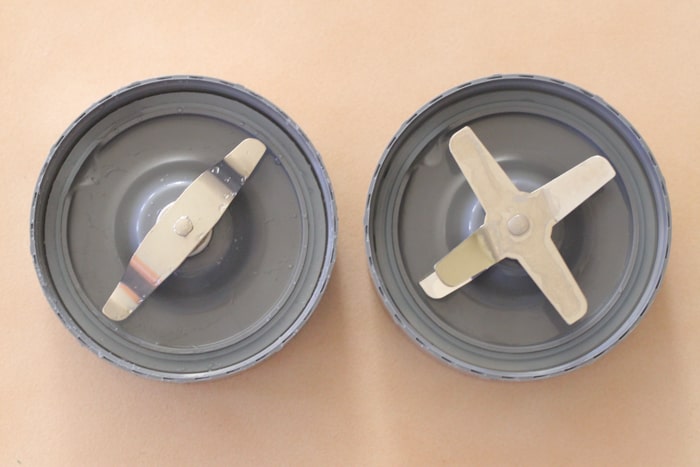 On the left is the milling blade, and on the right is the extracting blade.
Final Thoughts on the NutriBullet
CONCLUSION:  I've been using the NutriBullet for a couple of months now. I've mostly been making a vegetable drink–recipe to come soon–in it and the best part is how simple it is to take out of the cabinet and use. The price is less than compared to other blenders but there are limitations. I consider this a personal blender. If you buy the extra cups that helps if you're a daily juice extractor technician so you're not rushing to clean a dirty cup when you want juice now. And don't plan on making a big portion to refrigerate for later as I do with my Blendtec. For me, this personal blender is worth it at the $100 price area but not the $169 that I paid.
CONCERNING CLEANING:  Yes it is easy to clean but they could improve the cleaning process by removing the 4 internal ridges of the cup. These ridges create space for ingredients to stick to. It was quite annoying to spend the extra time removing almond butter.
CONCERNING THE POWER:  Yes, it seems under powered, but it is a small blender. Carrots and nuts were generally demolished if I ran it for some time–it did the job for me. Little seeds could use a spin in the milling blade first.
Final Thoughts Continued
NEEDS IMPROVEMENT:  1) Remove 4 ridges on interior of the cups,   2) More power,   3) Have an option for an even bigger cup,   4) Have a lid and handle option in the same component. Currently, there's a lid and a separate handle with drinking rim; it basically covers the screw ridges on the cup. I found if I used the handle I needed a lid so I can shake the ingredients once they separate. The lid and handle won't work at the same time. 5) Redesign the lid so you don't wear part of the drink as you unscrew it or screw it back on.
WHAT WORKED:   Ease of use,   Easy to clean but needs improvement,   Low cost,   Personal blender,   The cup you blend in is the cup you drink from,   Removes the "laziness" excuse of getting the blender out,   Quiet
WHAT DIDN'T WORK:  Too small,   Not powerful enough,   See Needs Improvement above.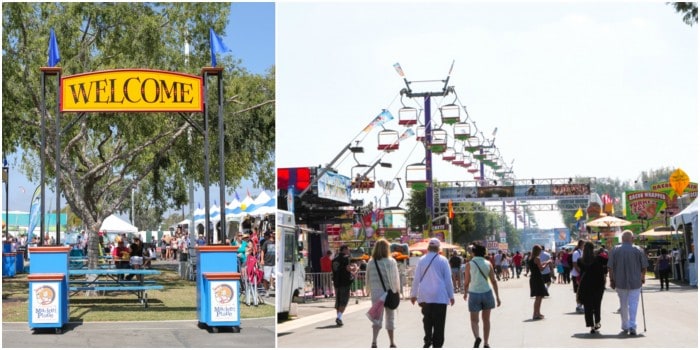 Cullen says:  Having only moved to California 4.5 years ago, we're not too privy on the history and tradition of the OC Fair. This past week, our boys had a baseball camp right across the street so we couldn't resist on doing a review of some of the food that sits hot and ready to be consumed by non-calorie counting people. All rules are left at the gate when it comes to food at the OC Fair. Over exaggeration is probably the theme when it comes to cooking or preparing recipes for the fair. Here we'll show you some of the food we tried.

We arrived at 10:10am on a Saturday, the 2nd day it was open. Not crowded at all. Perhaps, everyone is at the beach, or it was because this just opened yesterday. Did you know if you show up on Saturday or Sunday between 10am to 11am, fair admission is only $3 per person for ages 6 and up. Age 5 and less than are free. This is a huge discount as adults, 13+ are normally $11 and children 6 to 12 are $6. We saved $22 for the 4 of us just for being bright and early. Also, before we ate even the smallest granule of sugar, we spent $22 for tickets and parking, the latter being $10.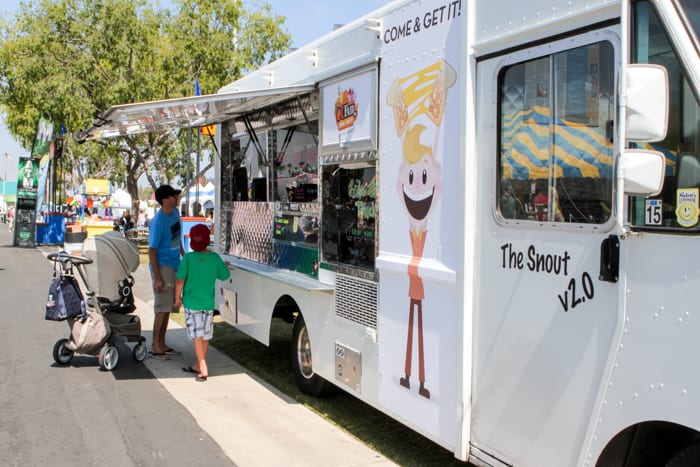 Right as we walked in, we ran into The Snout v2.o or The Grilled Cheese truck which is owned by BACON MANia Food Truck. We skipped over trying their staple Jack Back Sammie, which is a twice grilled bacon cheese sandwich for their more outrageous Spaghetti Doodle (pictured below). We should have gone for their staple but outrageous is the name of the game today.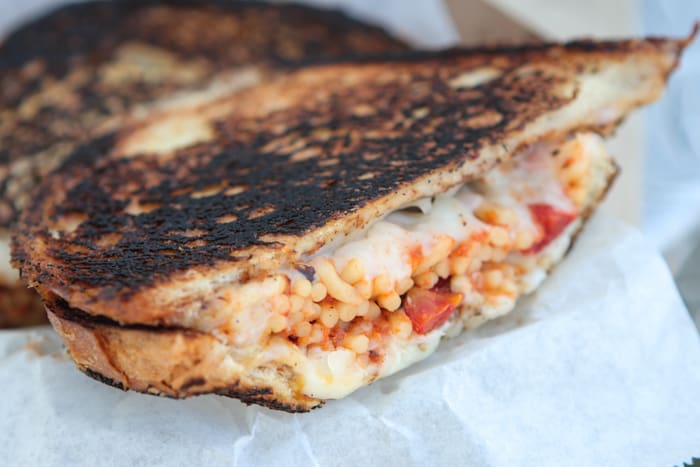 Spaghetti inside a grilled cheese just didn't tickle us pink and we thought it was just Ok. In the end, the Spaghetti Doodle just wasn't outrageous enough for us. At least now we know about the BACON MANia Food Truck and will be on a lookout for them in the OC area. This baby runs you $9 and we give it a 5 out of 10. Good but didn't blow us away.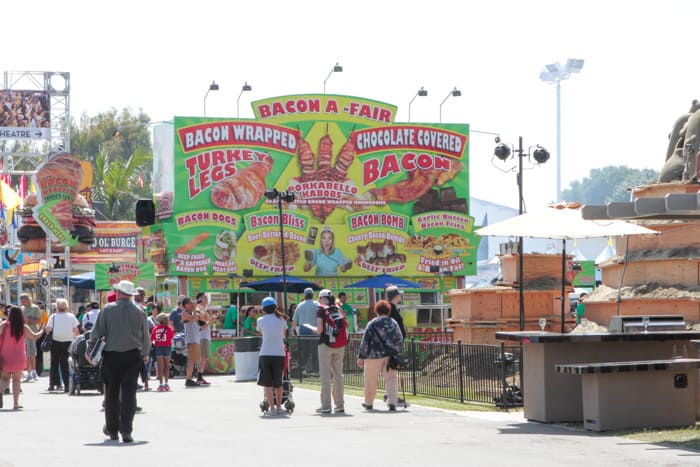 Jenny says:  Bacon  A-Fair was next up. They had about anything and everything you could think of wrapped in bacon. They said their bacon wrapped portobello kebab was one of their favorite items, but for $15 a kebab, I decided to pass on that. Lots of other things to choose from.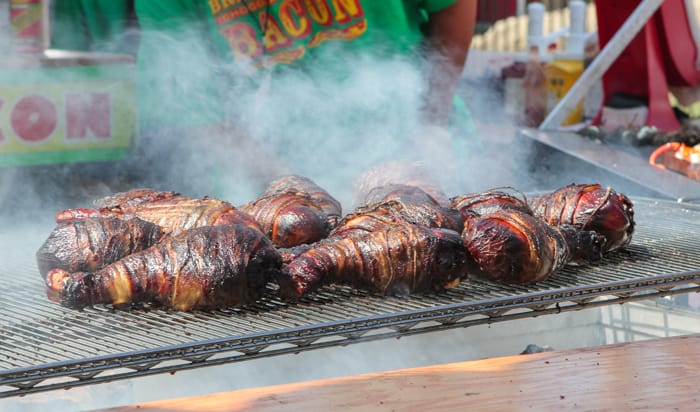 Bacon A-Fair's giant bacon wrapped turkey legs smoking on the grill looked delicious if you ask me.
 The boys and I thought the obvious choice was chocolate covered bacon. The chocolate was really thick for the thin piece of bacon, but that's just me being critical. It tasted good to us.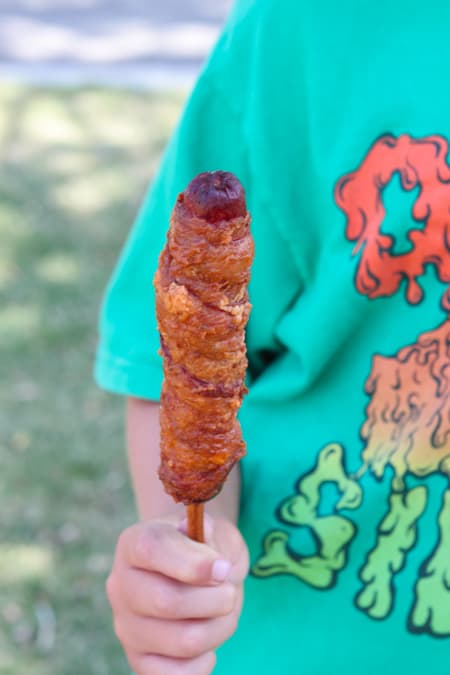 The bacon wrapped hot dog was quite tasty. Talk about a juicy smoky hot diggity dog on a stick. We were happy with this choice.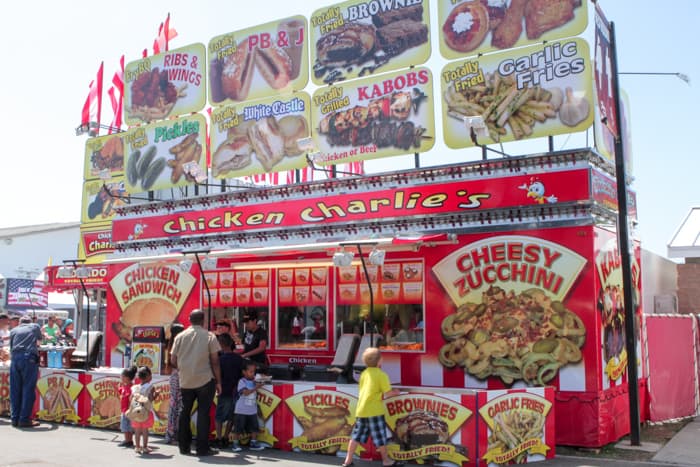 I was on the hunt for Chicken Charlie's after hearing about his crazy Krispy Kreme Sloppy Joe Sandwich. We tried at least a half dozen menu items, let's take a look at our madness.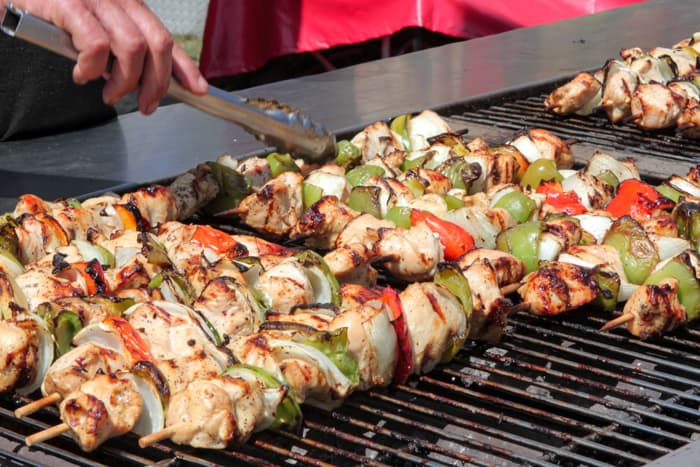 We saw them grilling these chicken kebabs outside of their food station. They looked delicious, but unfortunately the one we ordered was overcooked and dry. Maybe you'll have better luck.

Who on earth thinks of a Krispy Kreme Sloppy Joe?! Well, you know we had to try it. Surprisingly it was pretty good. I was scared of the sweet and savory aspect being too extreme, but it wasn't. Our only complaint is that they gave us a cold "sloppy joe" center. I thought maybe it was supposed to be cold and they later said it should be hot. Make sure yours is hot 🙂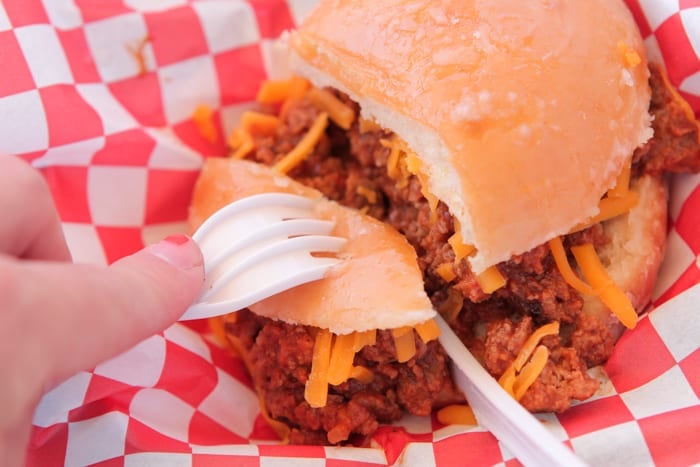 Too weird? You decide, haha!

 Deep fried Oreo's have been a state fair staple for a few years now. Always a treat.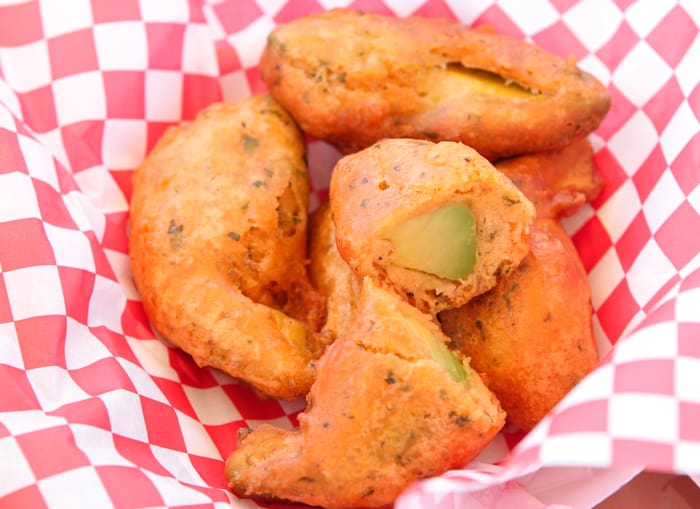 The deep fried avocados were just ok. I wouldn't order them again.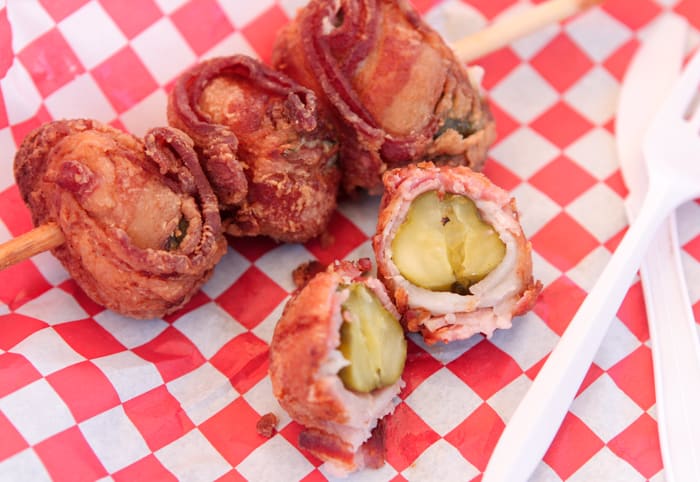 We all agreed the deep fried bacon wrapped pickles were REALLY good. Sounds kinda weird, but totally worth the calories.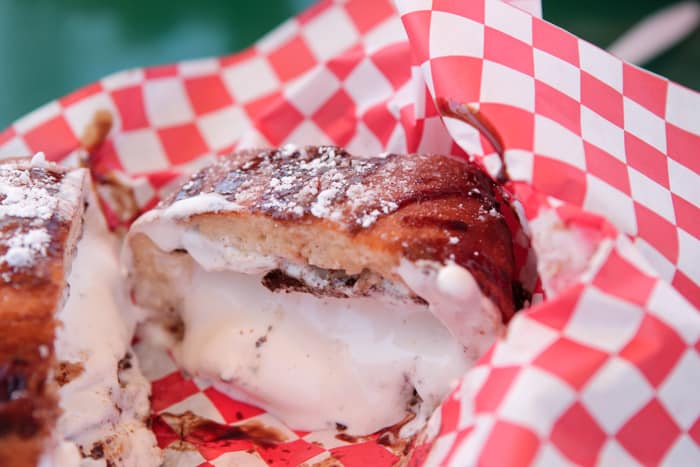 The huge surprise of our day of eating goes to the deep fried Klondike Bar. I'm not even a fan of Klondike Bars but something magical happens when it gets deep fried, no joke. The melting ice cream center makes the whole treat worth it. Yum, I want another!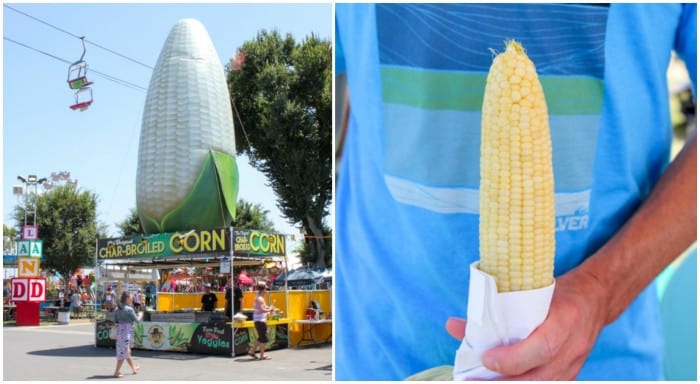 Cullen insisted on the char-broiled corn. He raved about it. If you are into corn, we recommend this place. It was directly across from Chicken Charlie's.

 As if we were not stuffed to the gills, we passed by the homemade cinnamon roll booth in the exhibit hall. I ordered…..extra frosting.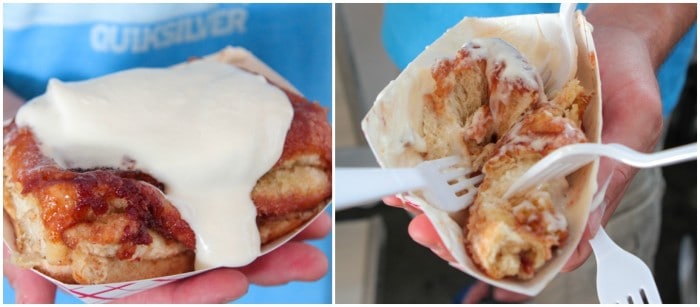 I am not going to lie, even being really full, this was a darn good cinnamon roll. Do it.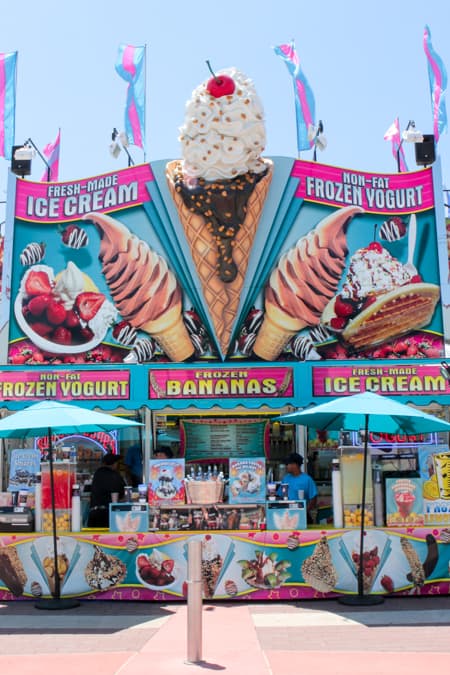 A little later in our day at the fair, we picked up a waffle cone ice cream sandwich from this colorful place.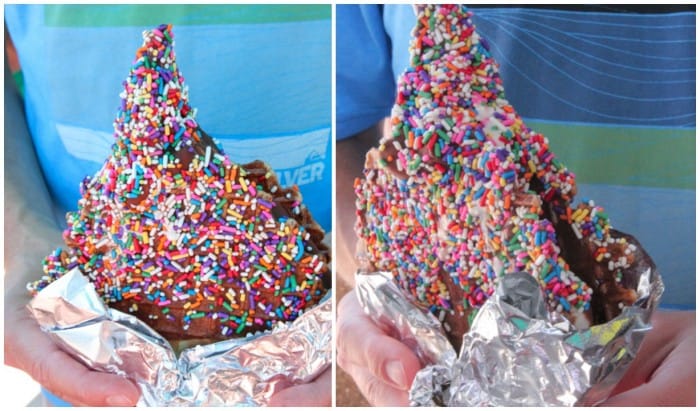 With sprinkles! It was half dipped in chocolate. 2 nice thin waffle cones. Cullen was the one who ate this one. He gave it 2 thumbs up, but would have preferred no sprinkles. Party pooper!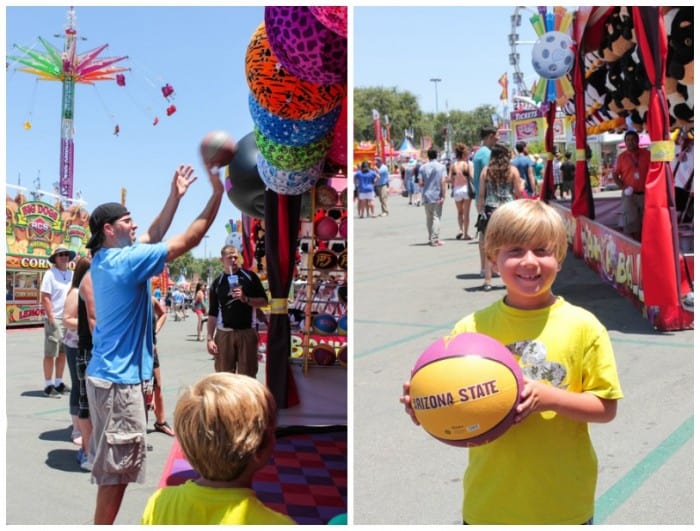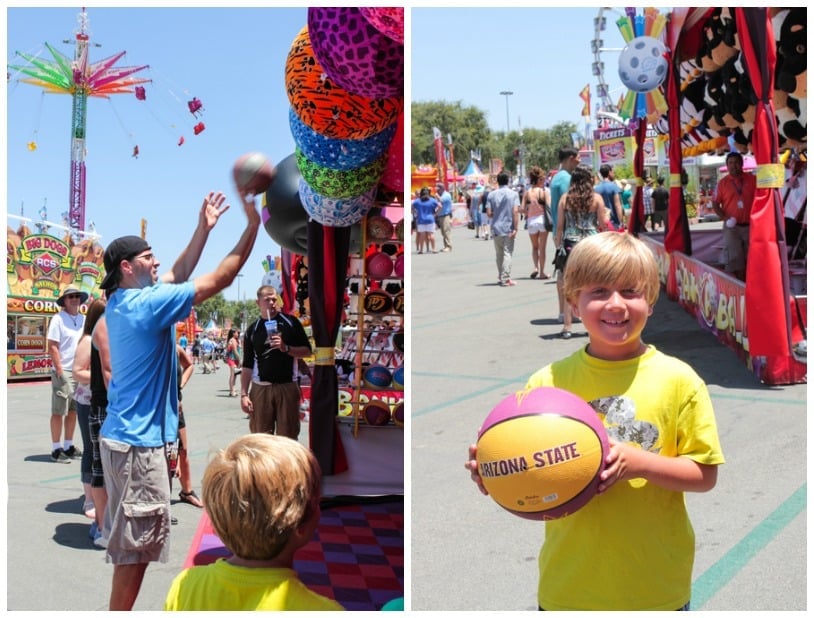 A little game stop. Cullen won Brady this AZ State Basketball he wanted so badly.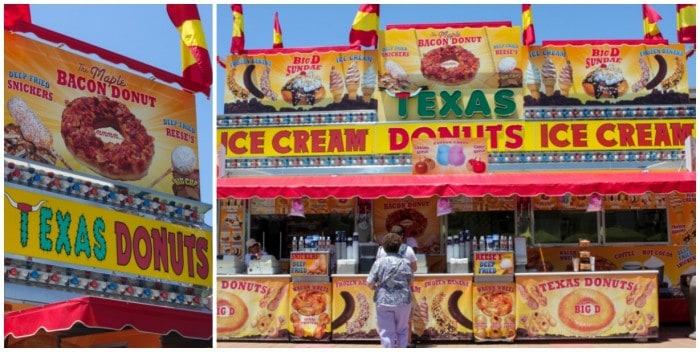 I was also on the hunt for the Texas Maple Bacon Donut. For obvious reasons, lol!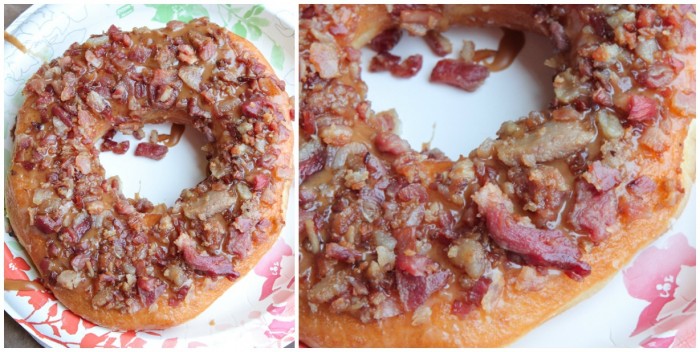 It's hard to tell from this picture, but it really is the size of your head. Massive and absolutely delicious. This baby will run you just under $10 so make sure you are hungry for it.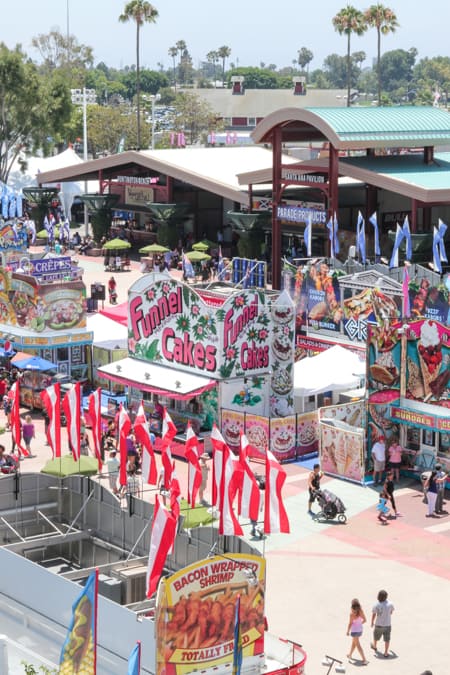 The boys and I rode the sky rider back to the front of the park where I got this shot. It's always fun to go to your County Fair and I will gladly eat as many crazy fried foods as humanly possible. Hope you've enjoyed our review of Where to Eat at the Orange County Fair. Chances are you can find the same grub at your local county fair 🙂
Our tip: Go knowing you are going to eat like crazy and share a bunch of items with friends/family so you get to try a little of everything.

Jun 21, 2013
I remember when I was pregnant with Pax thinking WOW strollers sure have changed in the last 7 years! It had been 7 years since my last baby and the strollers are just gorgeous and so accommodating now.
I am beyond thrilled to share with you my dream stroller by Stokke. Let me introduce you to their Xplory Stroller. I am not kidding when I say not only do I love this stroller, but Pax loves this stroller. He loves to hold on to the lap bar and look around when we stroll through town. It's the cutest thing. I love that there are three different seat settings, so if your baby wants to lay back, there's an option for that and there's one in between too. The seat can also flip around so your baby can face out as well.
Continue Reading »

May 7, 2013
I will never forget stumbling upon Michelle's photography studio in Newport Beach a couple months ago.
My sweet dad was visiting from Arizona and we love walking through Balboa Island in the Newport Beach area. We had Pax with us strolling through this adorable beach neighborhood enjoying the sunshine. I happened to look through the window of Michelle's studio and my jaw dropped when I saw her gorgeous photos.
Beautiful black and white vintage style photos were hung on the walls for all to see. I immediately told my dad, we had to go in for a closer look. I knew without a doubt that I wanted Michelle to photograph my family.
A couple weeks later we had our session with Michelle and her assistant. These ladies were unbelievable. They knew every trick in the book to get the perfect smiles and looks from the boys. I was standing back in amazement watching them work their magic.
Nov 22, 2011
Sharing our Disneyland Hotel Review with you today! There's no better place to feel the disney Magic than the Disneyland Hotel. Can't beat being walking distance to the Parks!
A couple weekends was one of the best weekends my family has had together…..ever. We celebrated my birthday and our anniversary at Disneyland and The Disneyland Hotel in … Continue Reading »

Sep 20, 2011
As I was grocery shopping this morning, my eyes stopped on these new Granola Thins by Nature Valley. I picked up the box and could hardly wait to get it home to tear into it.
Inside the box, you'll find 10 individually packed little granola thins with one side dipped in dark chocolate. Be still … Continue Reading »

May 2, 2011
This is a compensated review by BlogHer and Kraft.
With Cinco de Mayo right around the corner, these Creamy Salsa and Black Bean Nachos are perfect to add to your fiesta!
Appetizers are some of my favorite recipes to develop. They are generally quick and easy not … Continue Reading »

This is a compensated review by BlogHer and Kraft.
Creating recipes with Philadelphia Cream Cheese is one of my favorite things to do. Sweet, savory and everything in between. How fun is that? Today I have developed a simple tart that you'll have on the table … Continue Reading »