Travel
Brace yourself: a Walking Taco is a frito bag filled with flavorful chili and toppings! Tacos in a bag are perfect for any party and let's face it, just so fun to eat! You have to try them!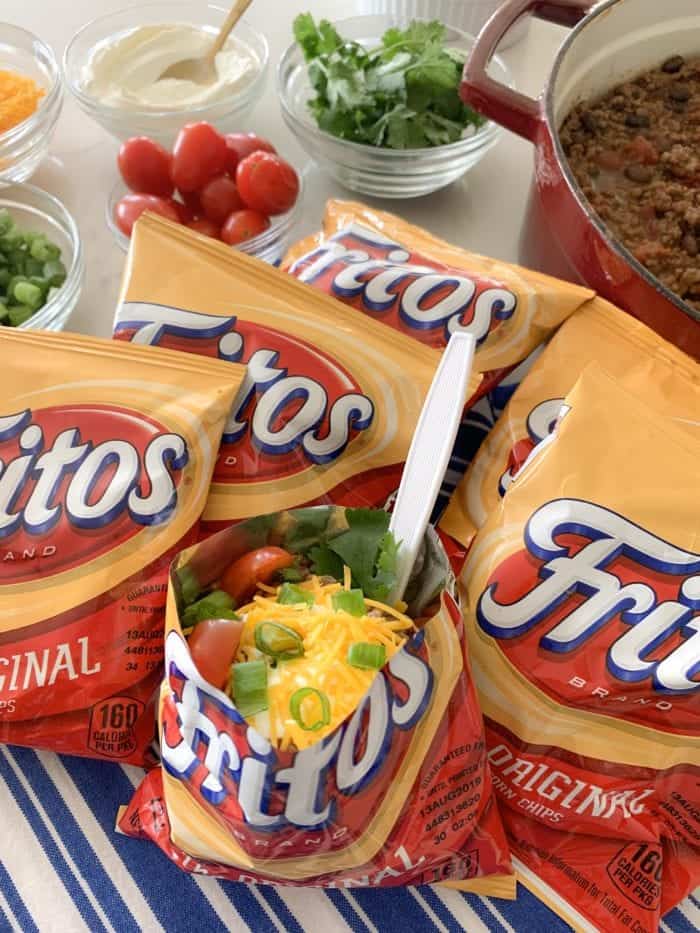 Walking Tacos
You are in for the perfect Game Day recipe with my How To Make a Walking Taco!  Be sure to try my Fire-Fly Frito Pie Recipe too!  Follow Picky Palate on Instagram for daily recipe inspiration.
What Is a Walking Taco?
A walking taco is simply your favorite taco ingredients in a chip bag such as Fritos or Doritos.  It's such a brilliant way to enjoy tacos, especially when you're entertaining a room full of guests.  Such a fun party food!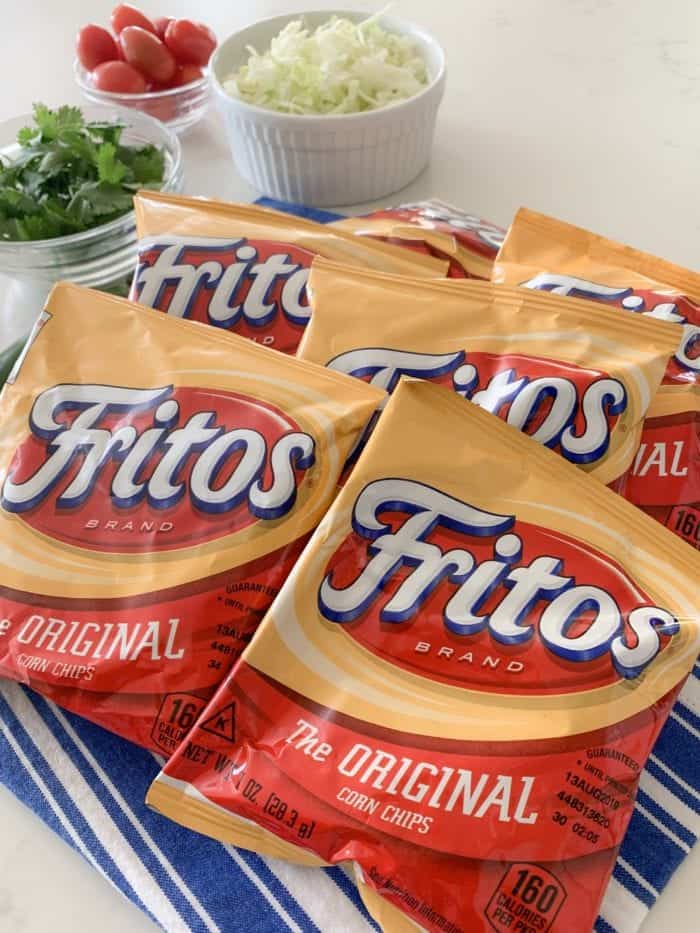 You'll need to pick up small bags of Fritos or Doritos for your party size.
How to Make Tacos in a Bag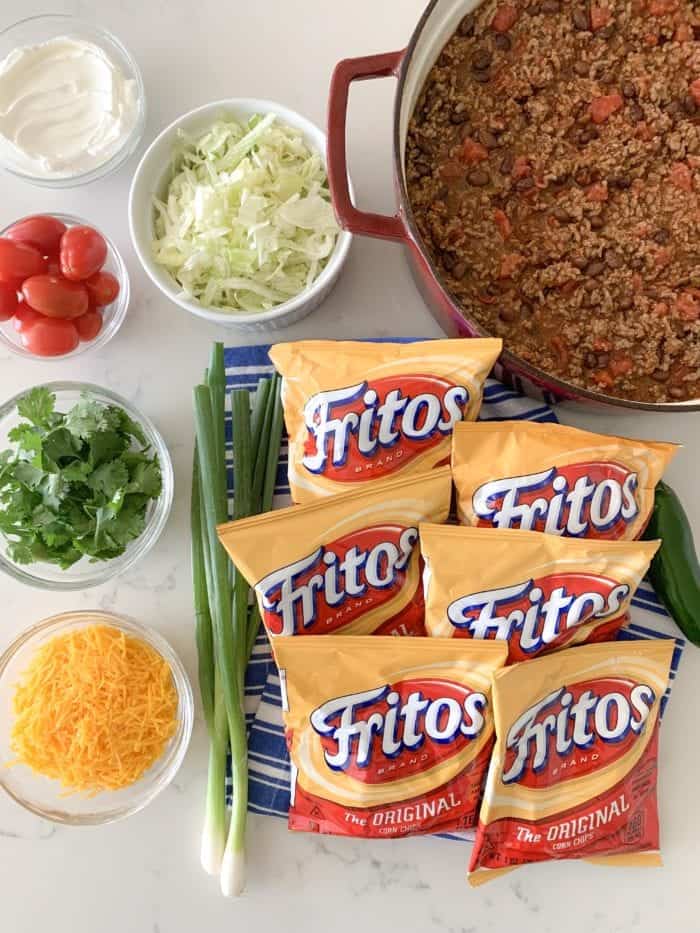 Here is your set up. Open up your Frito Bags, get your taco chili and all your toppings in order…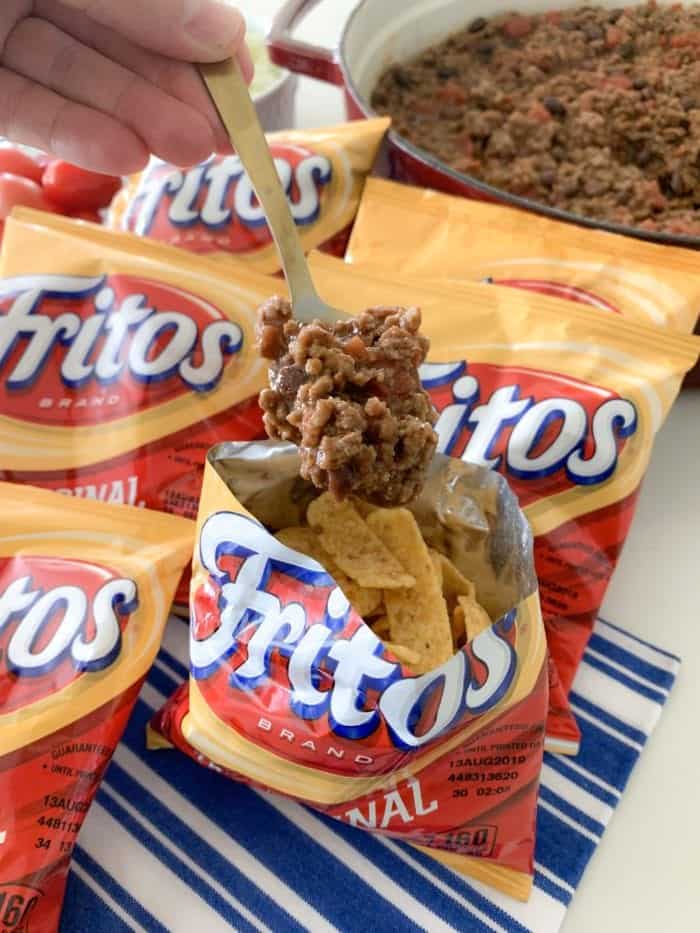 Spoon in your taco chili….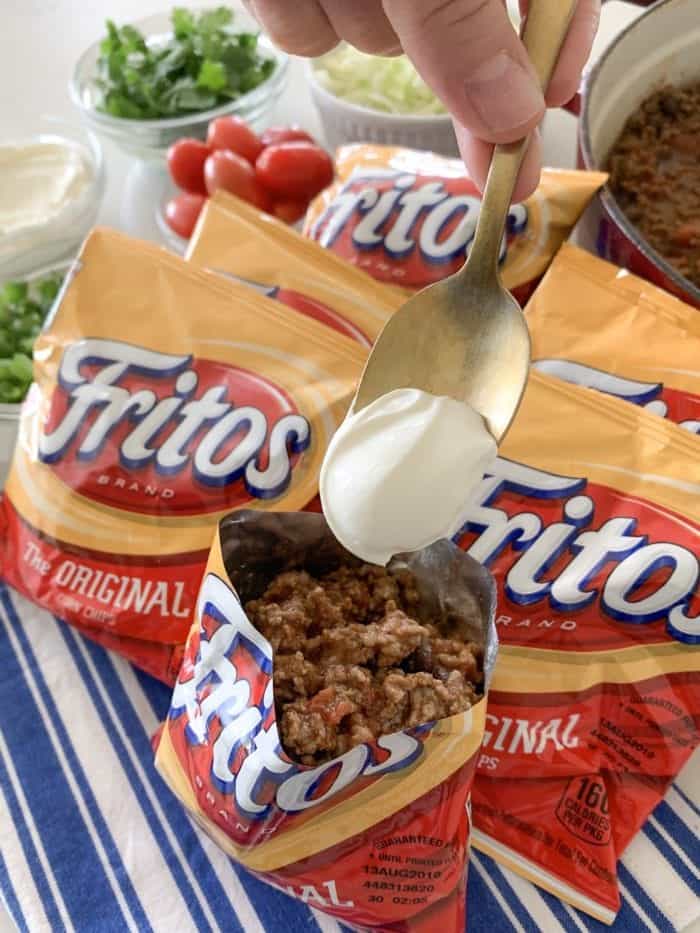 Add the sour cream.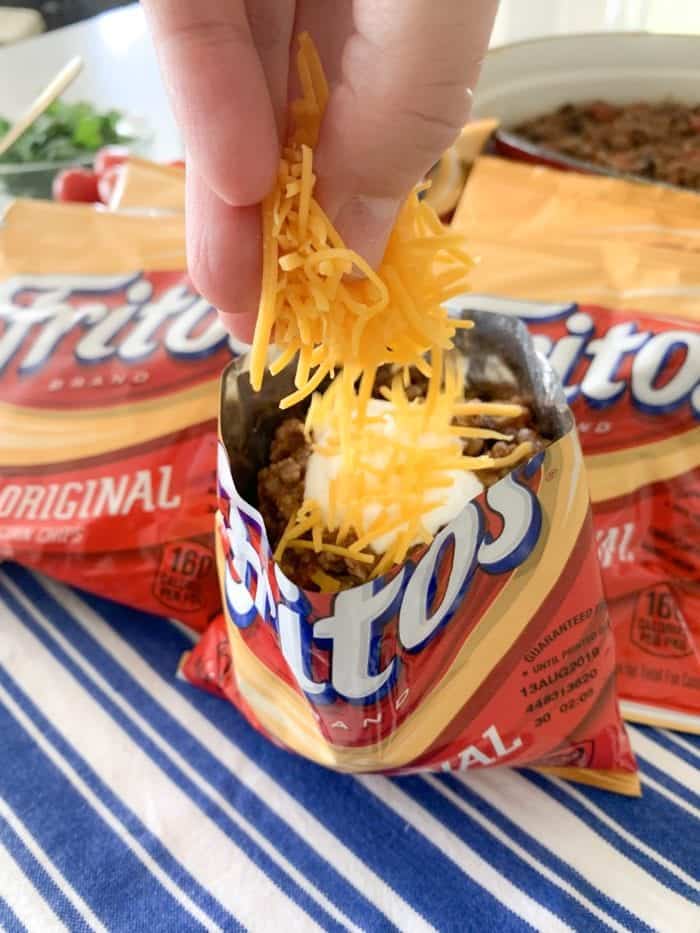 Shredded Cheese!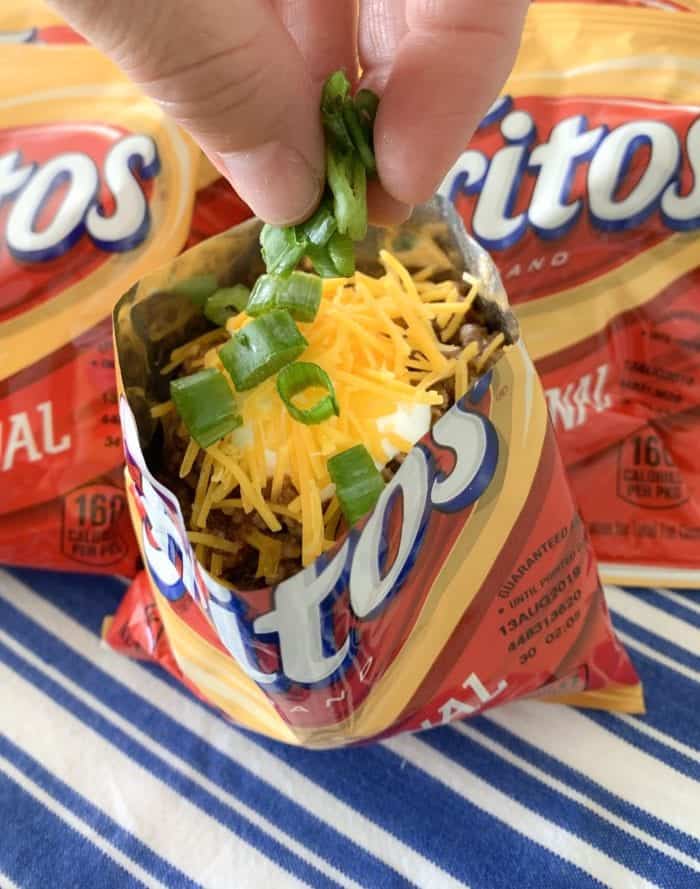 Add your jalapenos, or green onions if you can't take the heat 🙂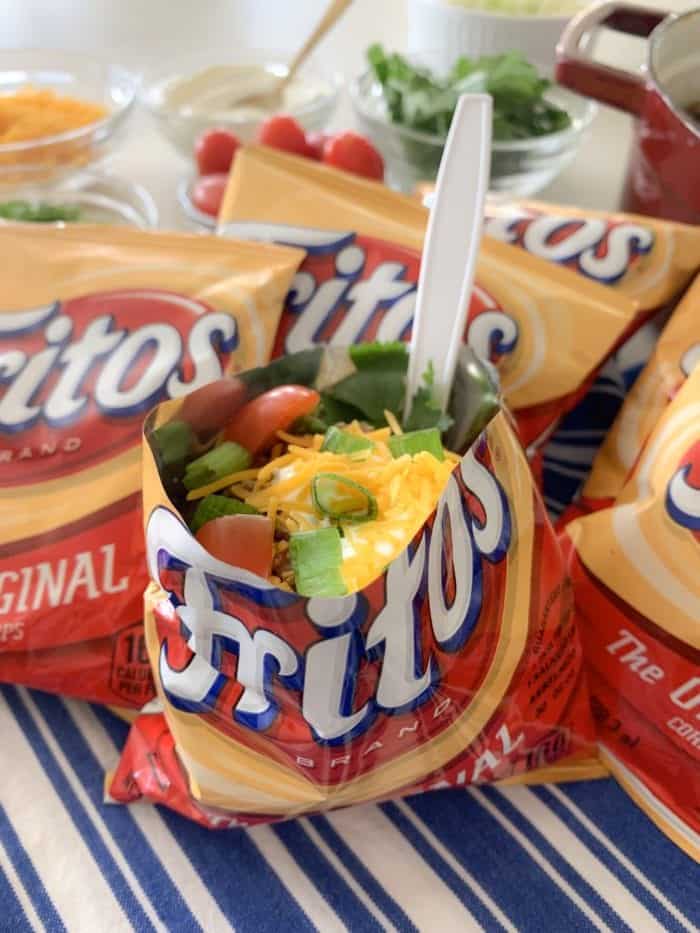 Here you have it, your perfect little bag of "Walking Tacos!"
Tips For Making Walking Tacos!
*You can also use snack size bags of Doritos instead of Fritos if you'd like.
*Cut the tops off of your bags of Fritos before your guests arrive so it's easy to fill them with your homemade chili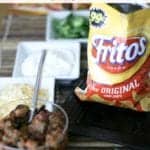 How To Make A Walking Taco
Brace yourself: a Walking Taco is a frito bag filled with flavorful chili and toppings! Tacos in a bag are perfect for any party and let's face it, just so fun to eat! You have to try them!
Keyword:
easy party food, easy taco recipe, game day food, game day recipes, party food recipes, superbowl food, walking taco, walking tacos, walking tacos recipe
Ingredients
Chili
2

Tablespoons

extra virgin olive oil

1

medium onion

chopped

6-8

little sweet peppers or 1 green and 1 red bell pepper

chopped

4

cloves

fresh garlic

minced

1

lb

lean ground beef

Pinch

of kosher salt and black pepper

2

cans diced tomatoes

1

Cup

Herdez Salsa or your favorite salsa

1

small can tomato paste

1

Cup

warm water

3

cans of beans

drained (I used black, pinto and red kidney)

1

can black olives sliced

2

Tablespoons

chili powder

1

Tablespoon

ground cumin

1

Tablespoon

hot sauce

Tabasco

1

Tablespoon

fresh lime juice

Pinch

of Kosher salt

fresh cracked black pepper and Lawry's Garlic Salt with Parsley (to taste)

1/2

Cup

fresh chopped cilantro

Bags of Fritos
Toppings
1

cup

shredded cheddar cheese

1

cup

sour cream

1/2

cup

chopped Jalapenos

or green onions
Instructions
Heat oil in a large dutch oven over medium heat. Saute onion and peppers for 5 minutes or until softened. Add garlic and cook for 1 minute. Add ground beef, salt and pepper. Cook until browned. Drain if needed. I usually don't need to for the lean beef. Pour in tomatoes, salsa, tomato paste then stir to combine. Add 1 Cup warm water to thin out slightly then add in beans, olives, chili powder, cumin, hot sauce, lime juice, salt, pepper and garlic salt. I start with just a pinch of salt then keep tasting until it's to my liking. Add chopped cilantro and reduce heat to low to simmer until ready to serve.

Open bags of fritos. Spoon in chili, cheese, sour cream and jalapenos. Stick a fork in it and eat!!
Pin To Your Favorite Recipe Board!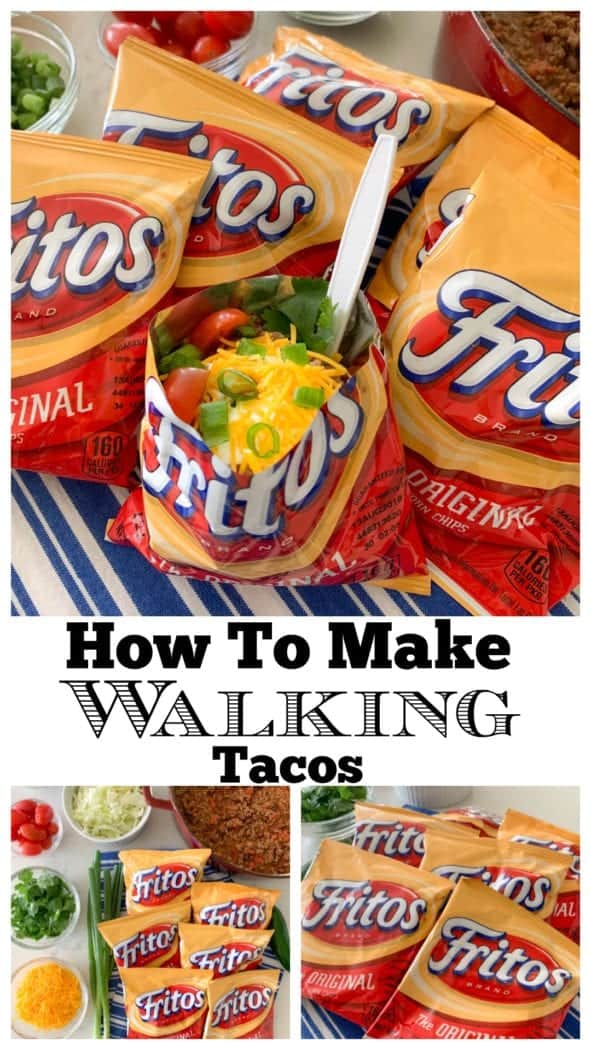 Sharing Best Food in NYC! New York City Weekend For Foodies! It's no secret that NYC is one of my all-time favorite cities to visit. Everything about it just makes me so happy. The food, the views, the energy. It's contagious. Had a blast putting together my favorite eats over the last few years. Hope you enjoy!
Best Food in NYC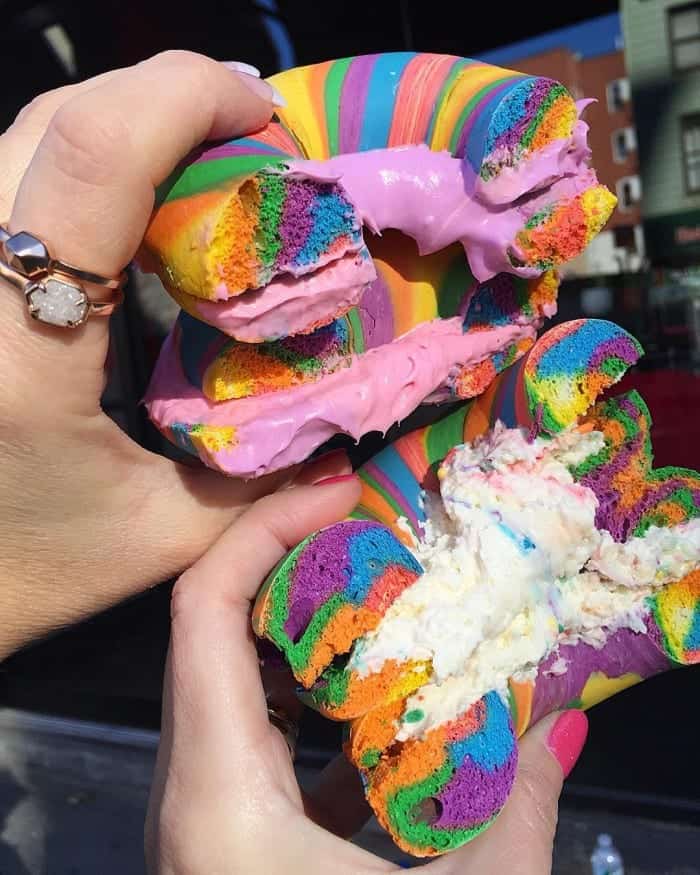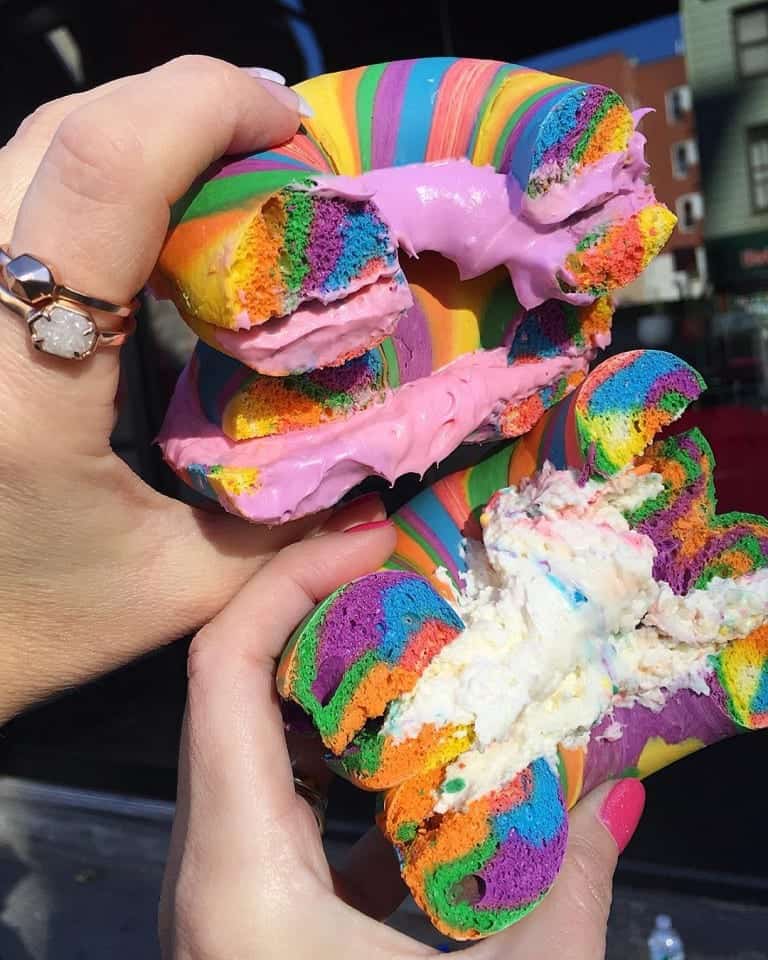 Best Places To Eat in NYC
One of my very favorite places to travel is NYC and today we're talking about the best food in NYC!  When I saw these gorgeous Rainbow Bagels on Instagram, I knew I had to hunt them down. Amanda and I took the subway to Brooklyn, found The Bagel Store and enjoyed these colorful gems. So fun to photograph too!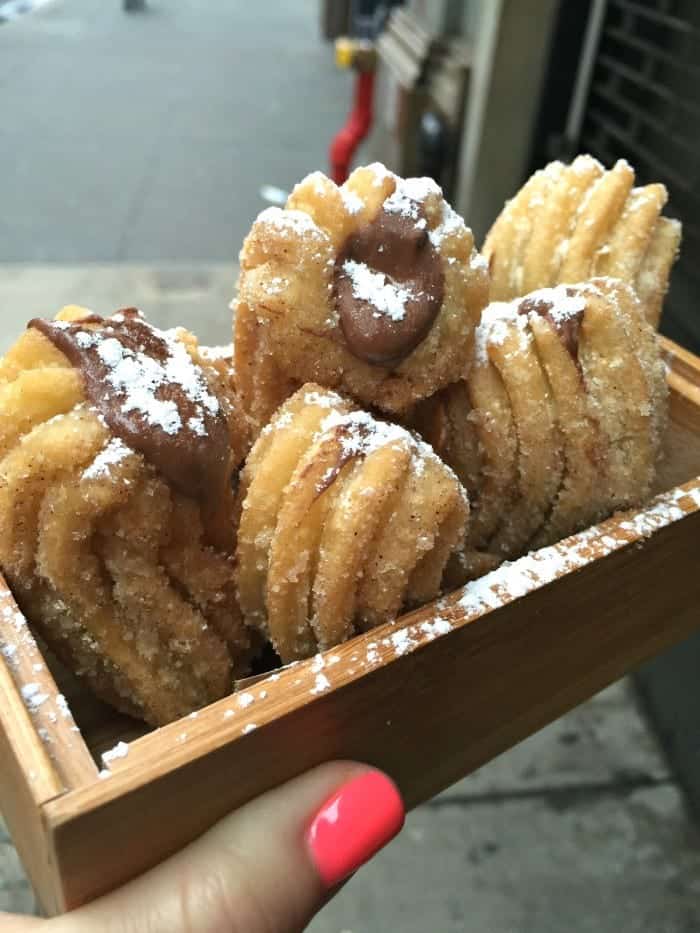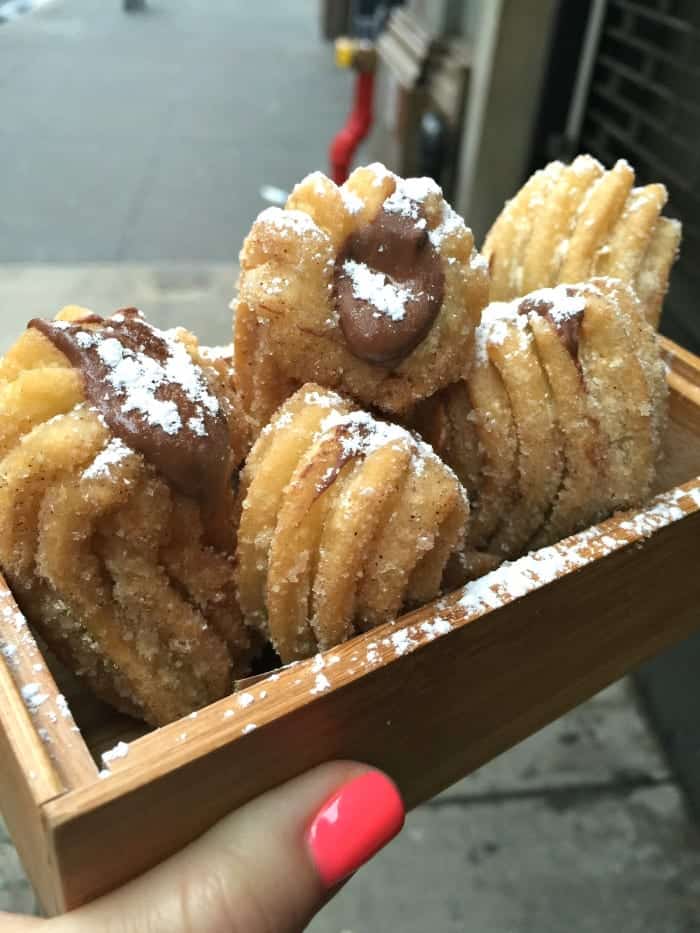 One of my newest discoveries are these Nutella Stuffed Churros from Boqueria. I also spotted these on Instagram and while I was in town with my husband last month hunted the little restaurant down. You should know, Boqueria is a small plates/tapas restaurant, they sell cheese and wine…..and these churros. We only ordered the churros and oh my goodness I am hooked for life!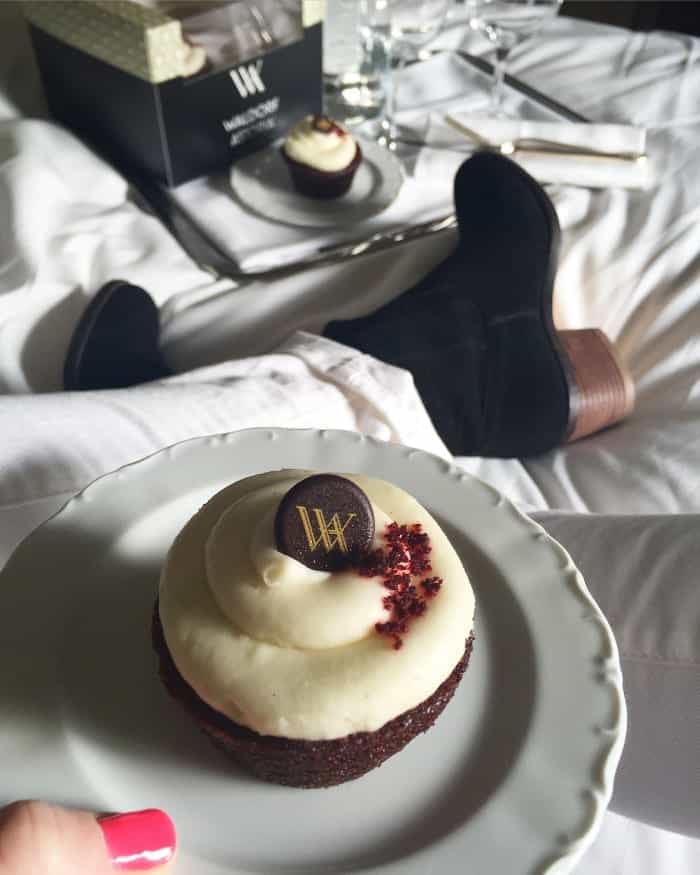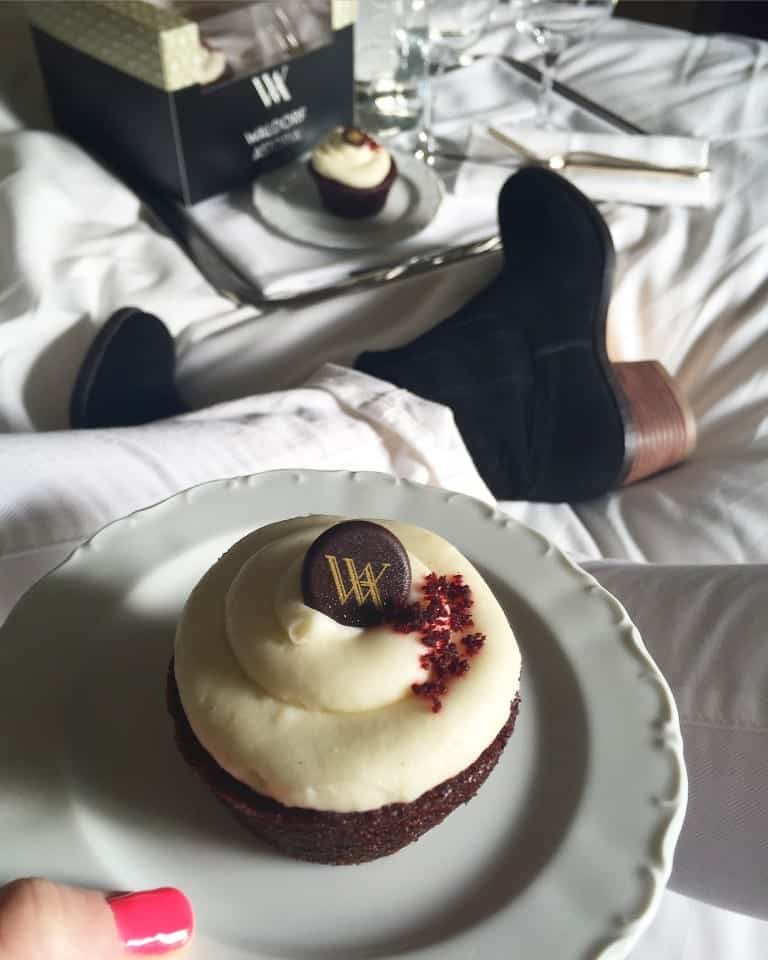 One of my favorite stays in NYC has hands down been Waldorf Astoria Towers. This hotel had so much charm, I could hardly stand it. I enjoyed some of their red velvet cupcakes last month with my husband 🙂  Wait until you see their Sunday Brunch a few pictures down.
Best Food in New York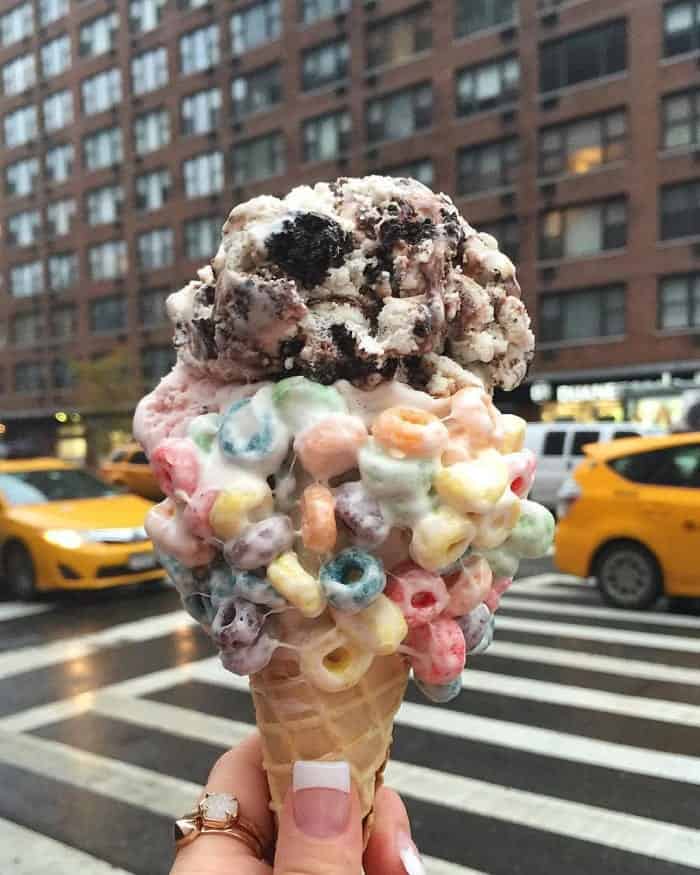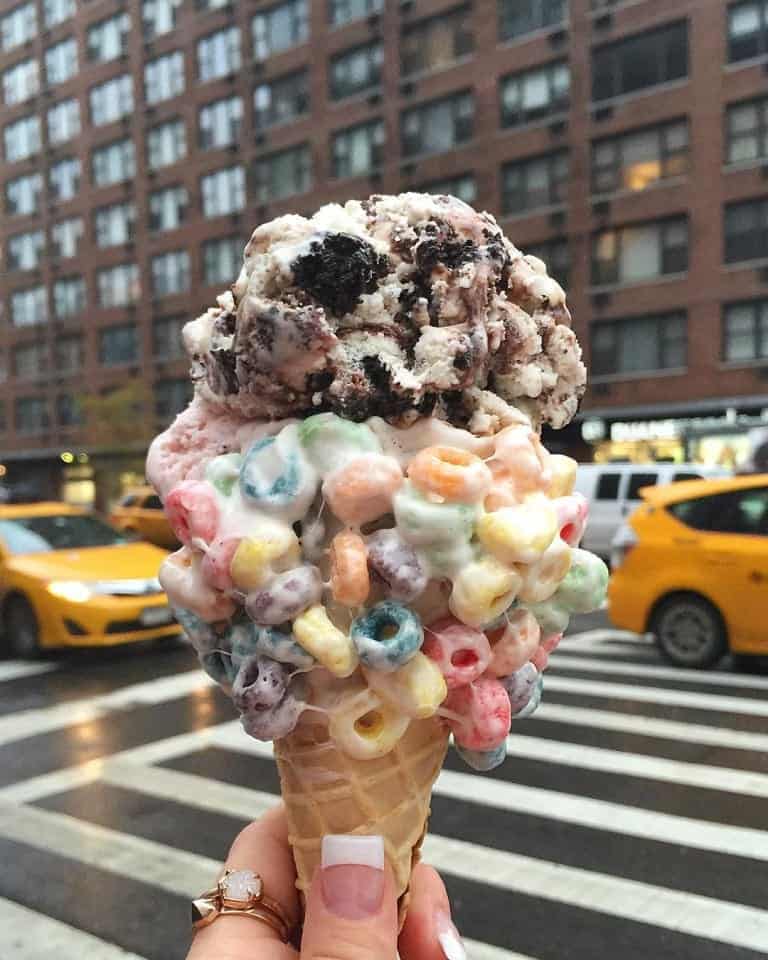 Best Places To Eat in New York
This ice cream cone from Emack and Bolio's is about the coolest cone around. They literally add crispie treats of all kinds to their waffle cones. Plus the ice cream is all homemade and absolutely delicious. I believe I got the S'moreo. Yum!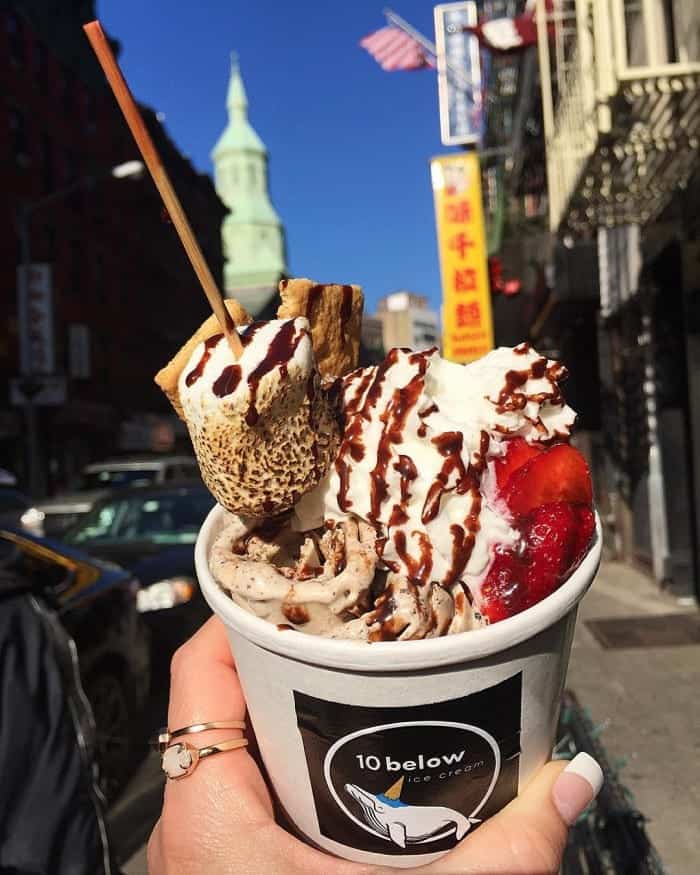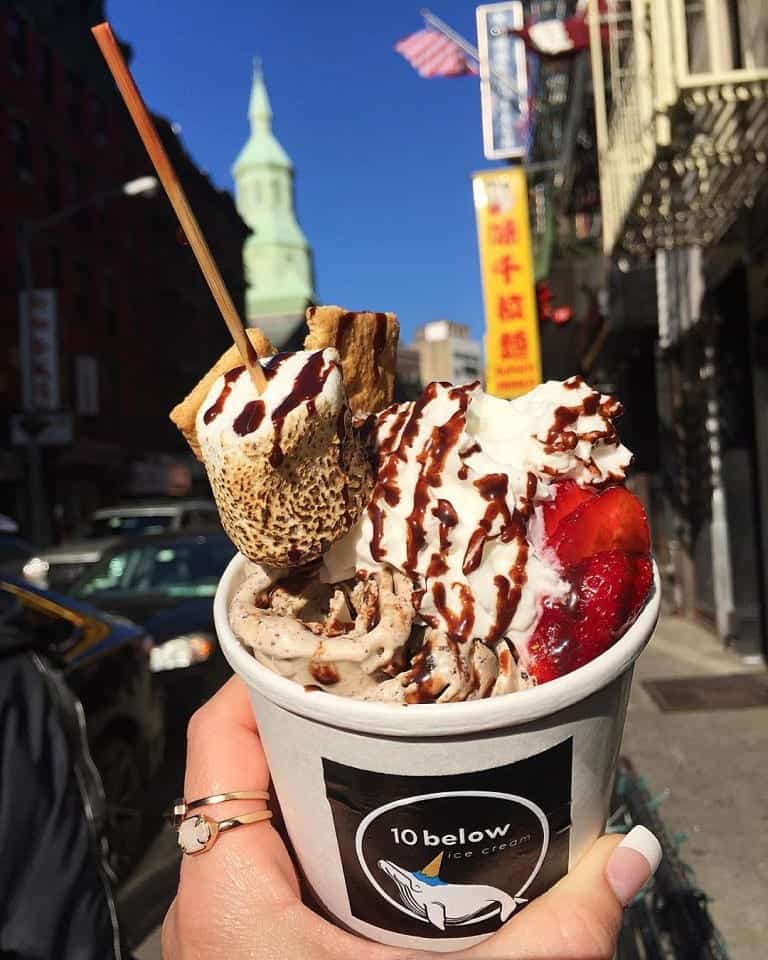 10 Below Ice Cream makes gorgeous rolled ice cream creations as you can see are drop dead gorgeous. You get to watch them prepare your ice cream on a frozen slat and roll it right up. Really enjoyed this one.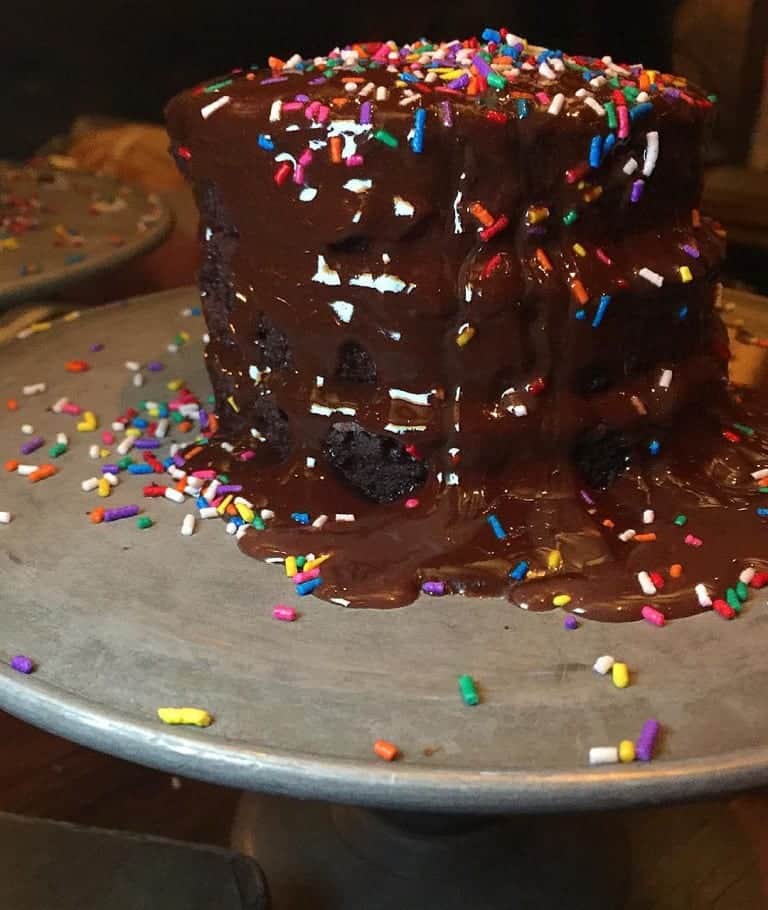 Max Brenner has been a long time favorite. From their crazy waffles, amazing milkshakes to this make your own chocolate layered cake. I always recommend a Max Brenner experience while in NYC. Not photo'd here, but you HAVE to order the 80's milkshake. A homemade magic shell on top….to die for.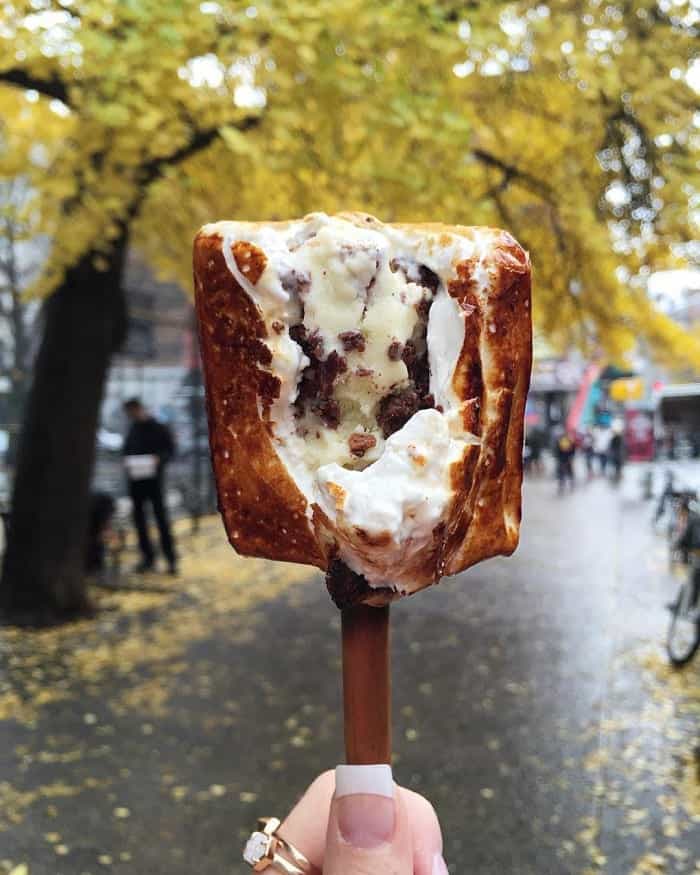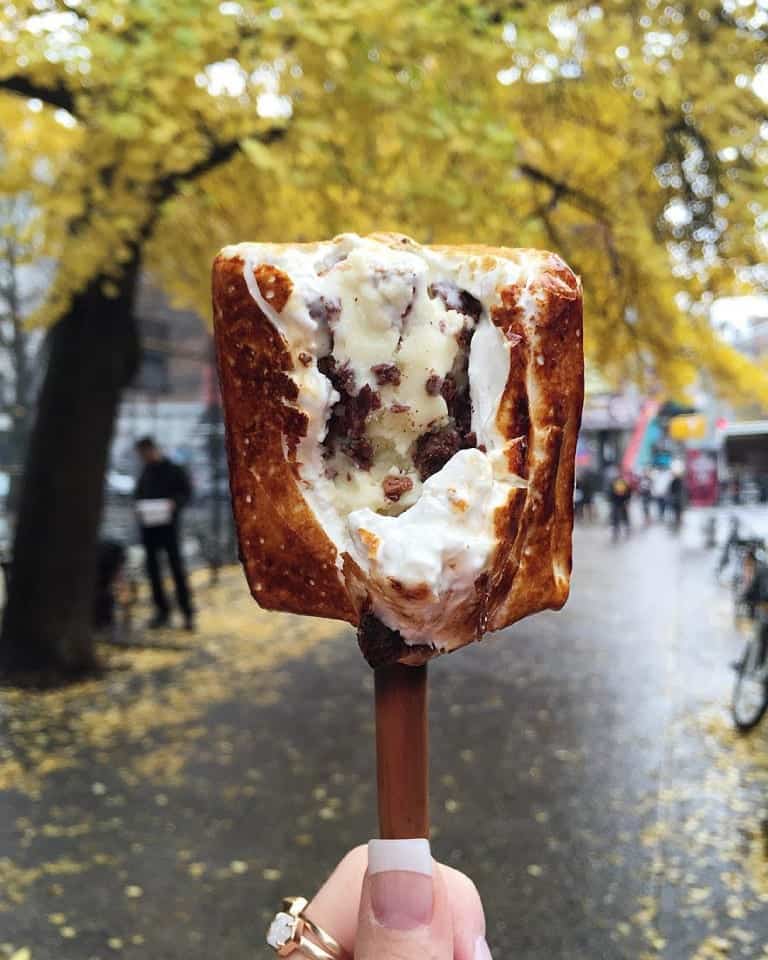 Dominique Ansel Bakery is also a must visit. This Frozen S'more on a stick is so much fun. They also have the famous cookie shots….that I still haven't had yet and they're home of the delicious Cronut! Check em' out.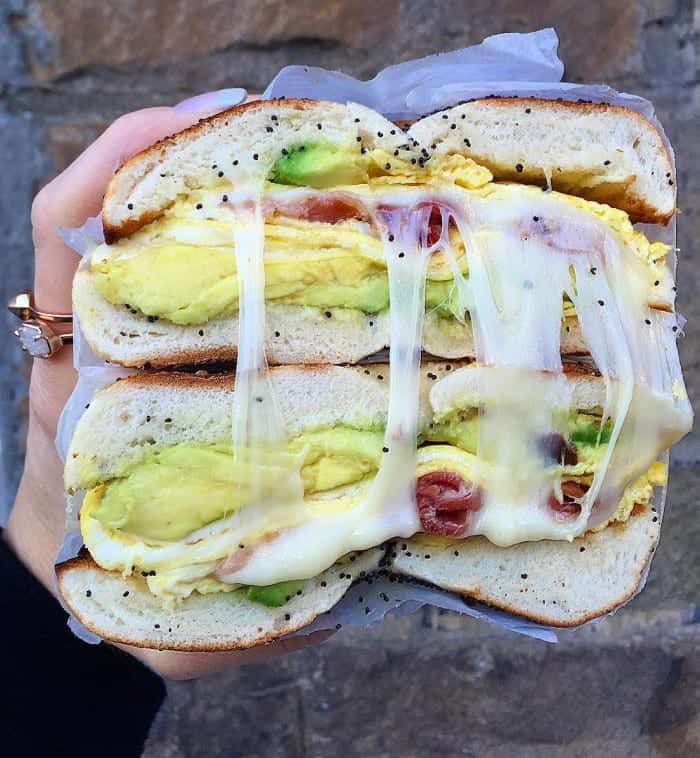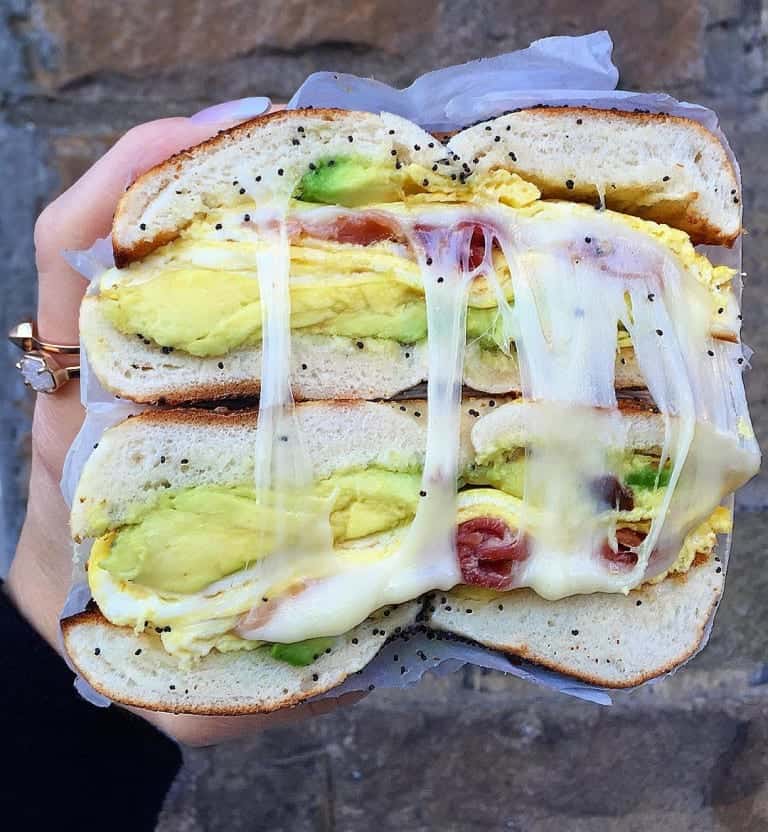 Space Market by NYU has the most amazing bagel sandwiches. It's like a cute little market where you can grocery shop, but they have a sandwich area you can place an order through dinnertime. Amanda and I ordered this egg, cheese, avocado and bacon bagel. Amazing!
Black Tap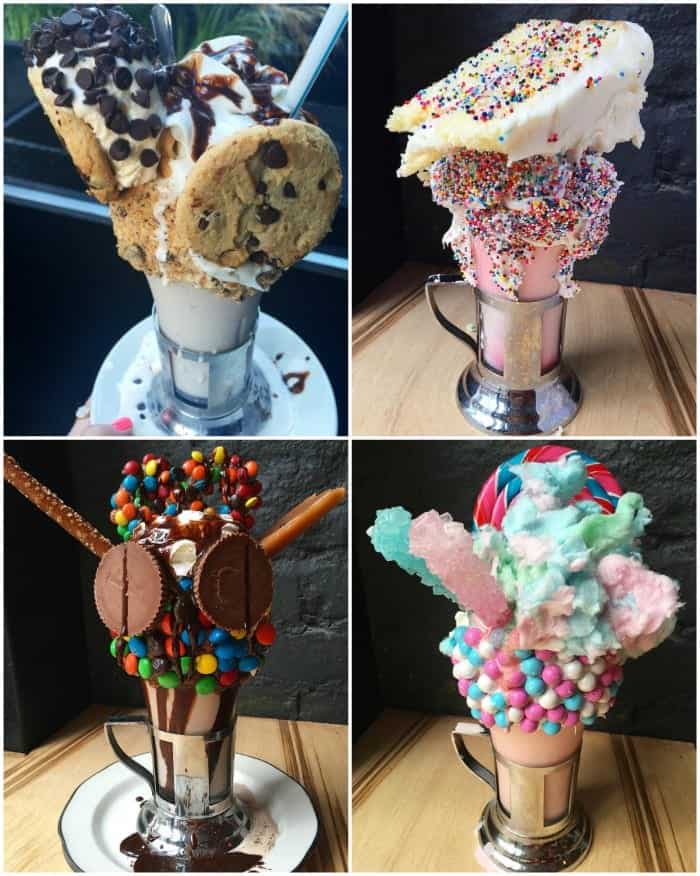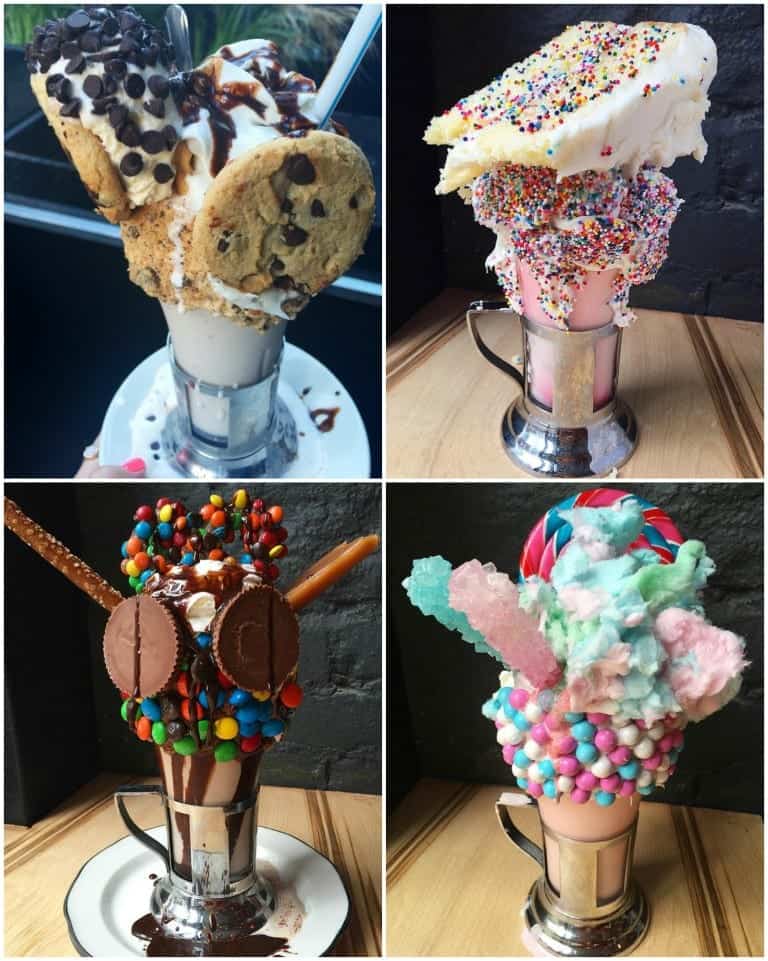 Black Tap has taken the internet by storm with their gorgeous milkshakes. Have you seen anything more beautiful?! We've got their Cookie Milkshake, Birthday Cake, Sweet and Salty and Cotton Candy. Be prepared to have quite a line waiting to get into their restaurant. Line up before they open, that's going to be your best bet. Good luck!!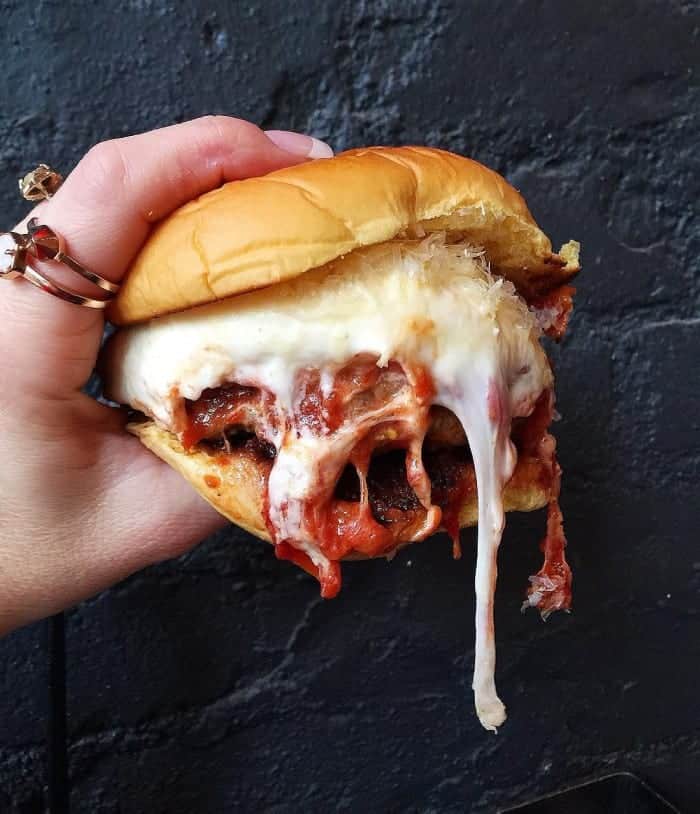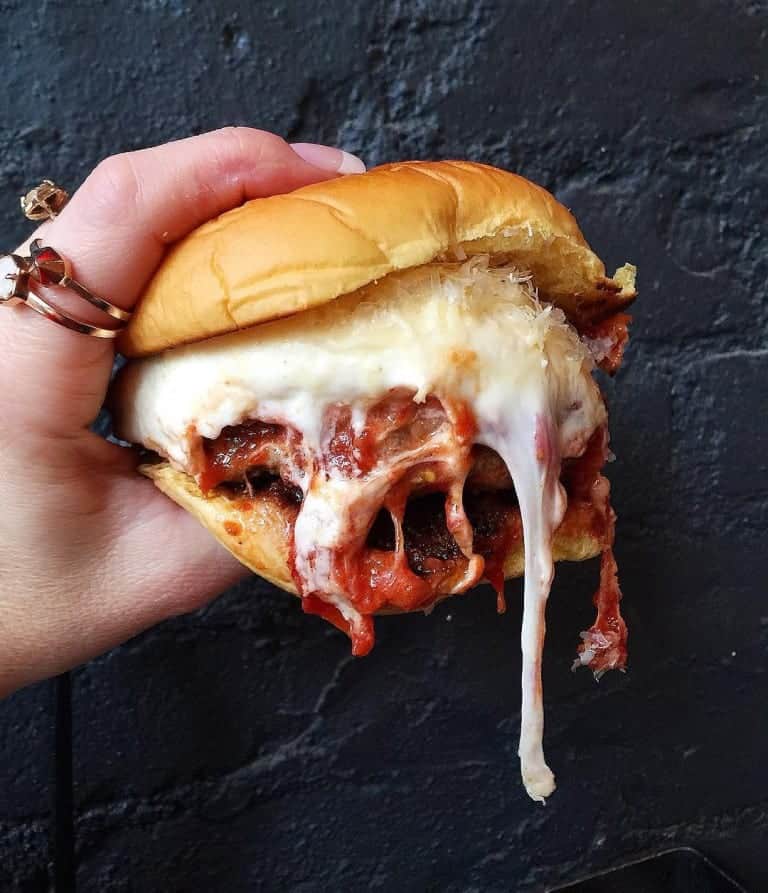 Black Tap also offers some of the best burgers I've ever had. This Pizza Burger had us all drooling!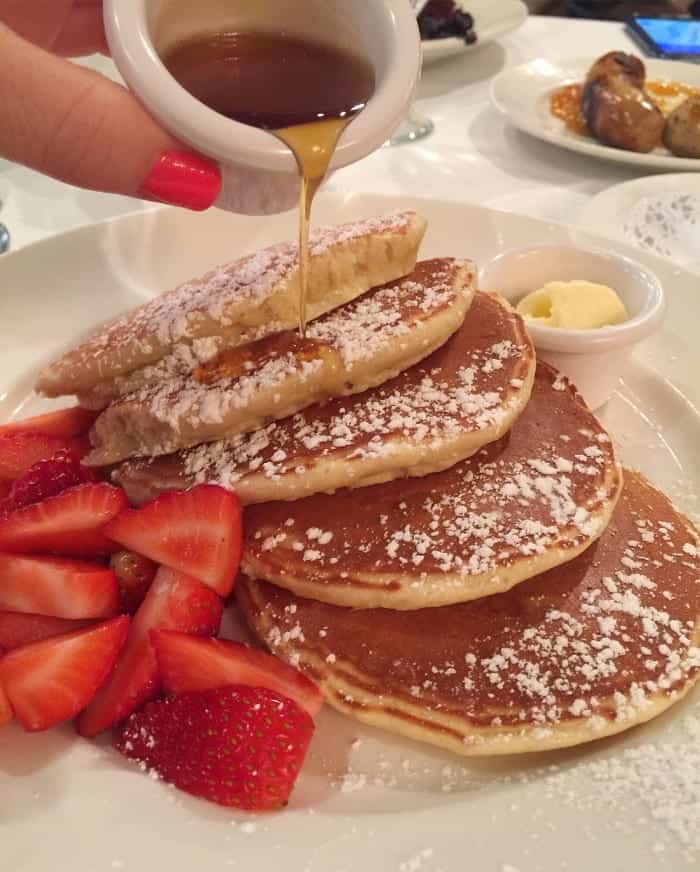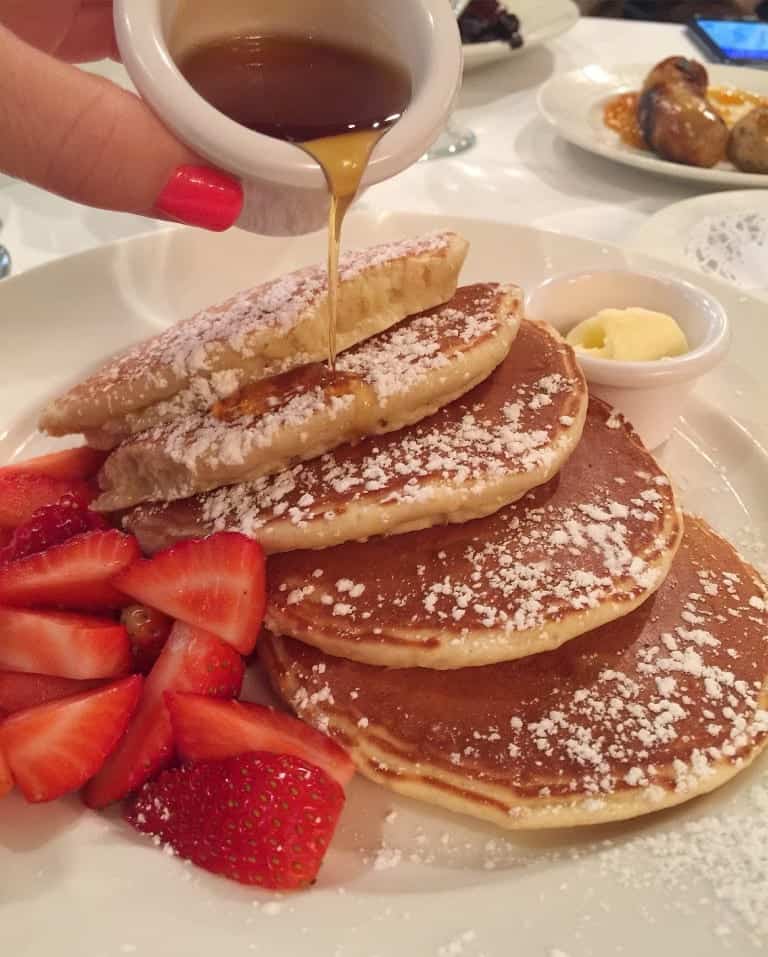 Sarabeth's is a beautiful place to enjoy breakfast. Right across from Central Park, it's quite magical.
Best Food in NYC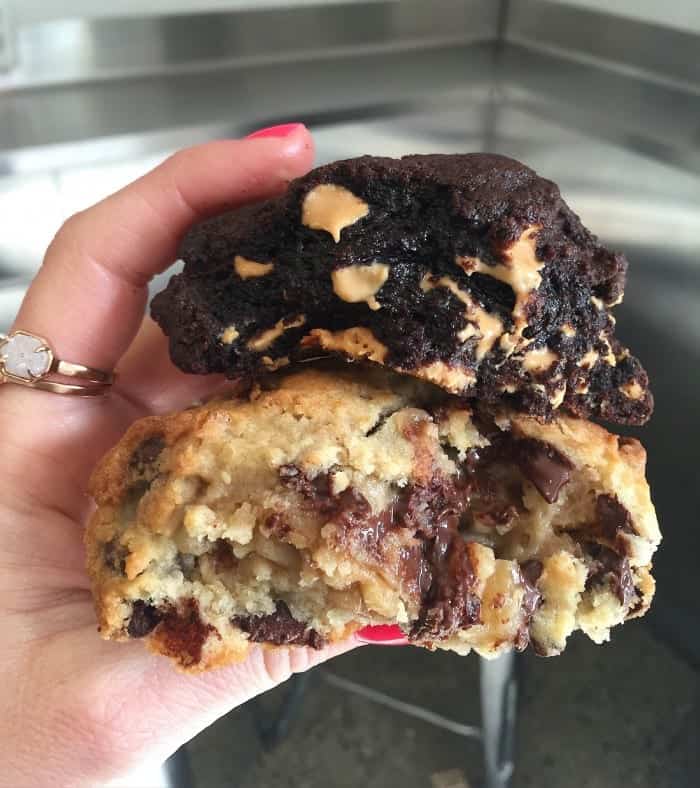 Levain Bakery is one of those places where your cookie dreams come true. Not even kidding. Their chocolate peanut butter chip is the best cookie I've ever had.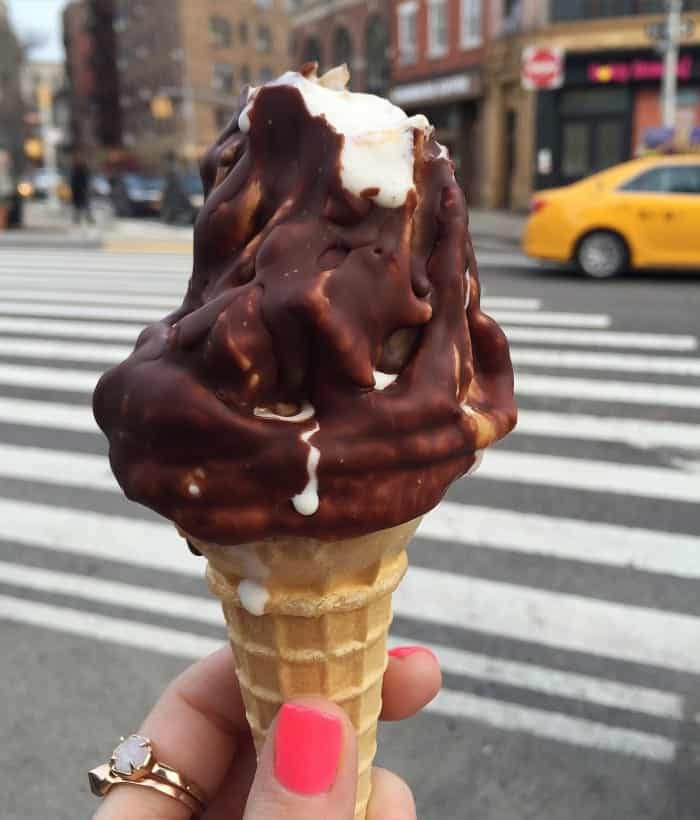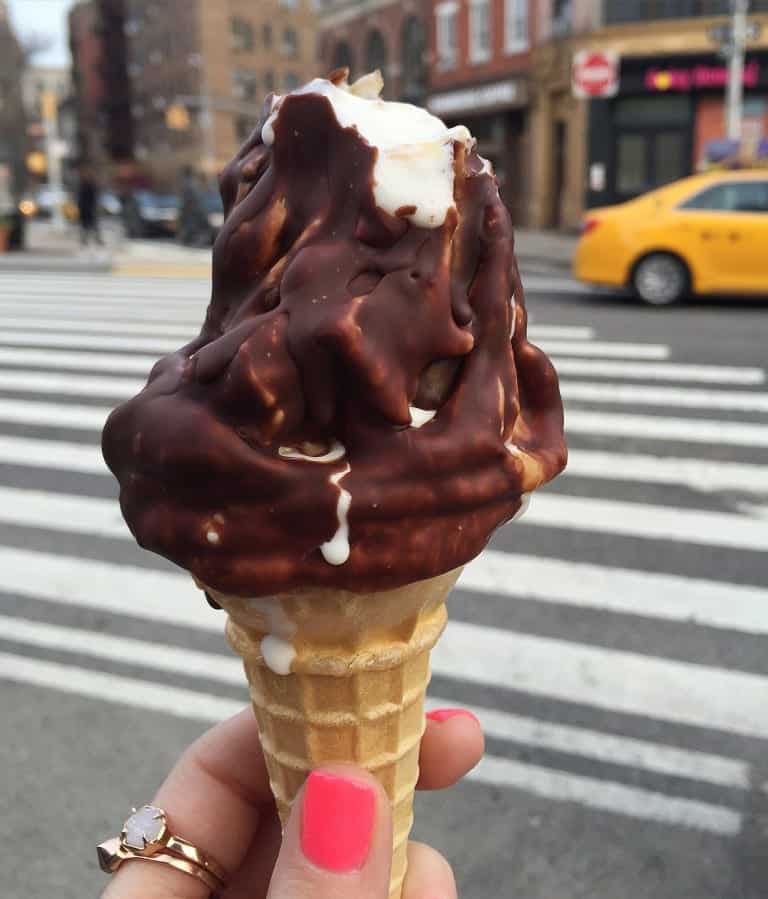 Hands down, best chocolate dipped cone in the city. Plus, it's close to the Friend's building and amazing walking around through Greenwich Village.
Best Food in NYC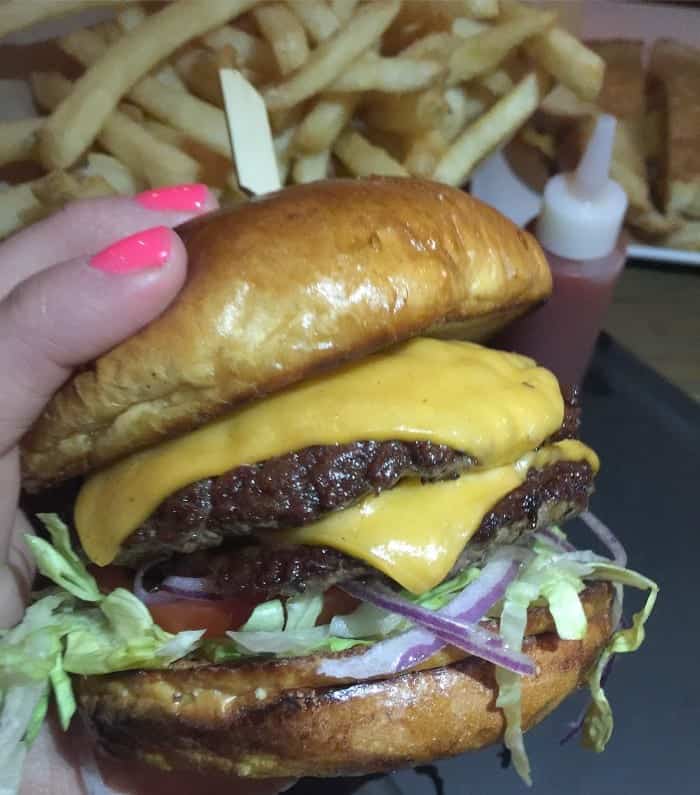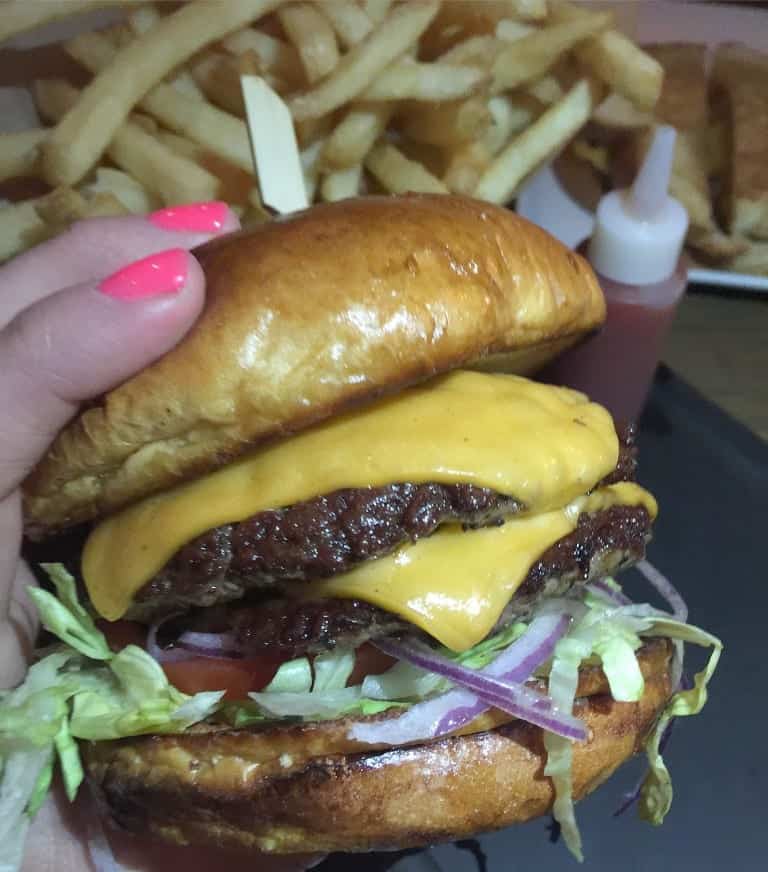 Del Frisco's Grille knocked our socks off with their gorgeous cheeseburger, fries and appetizers. What a fun place, I highly recommend this one!!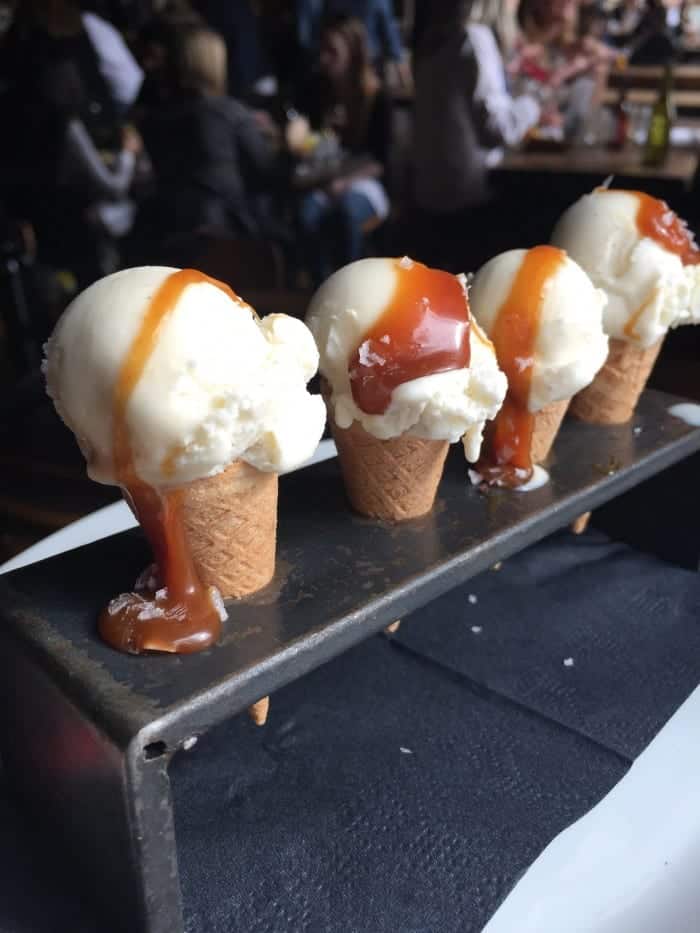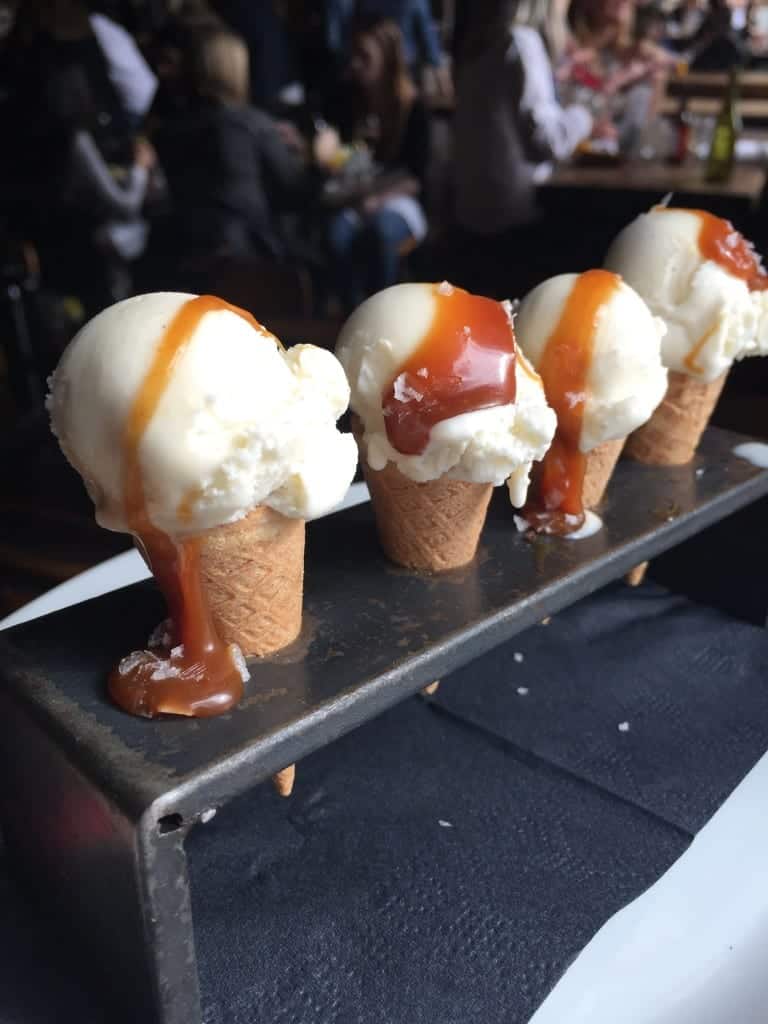 Boulton and Watt is a new to me location that literally blew me away. We went for brunch and stayed for these cutie pie Salted Caramel Ice Cream Cones. To die for!!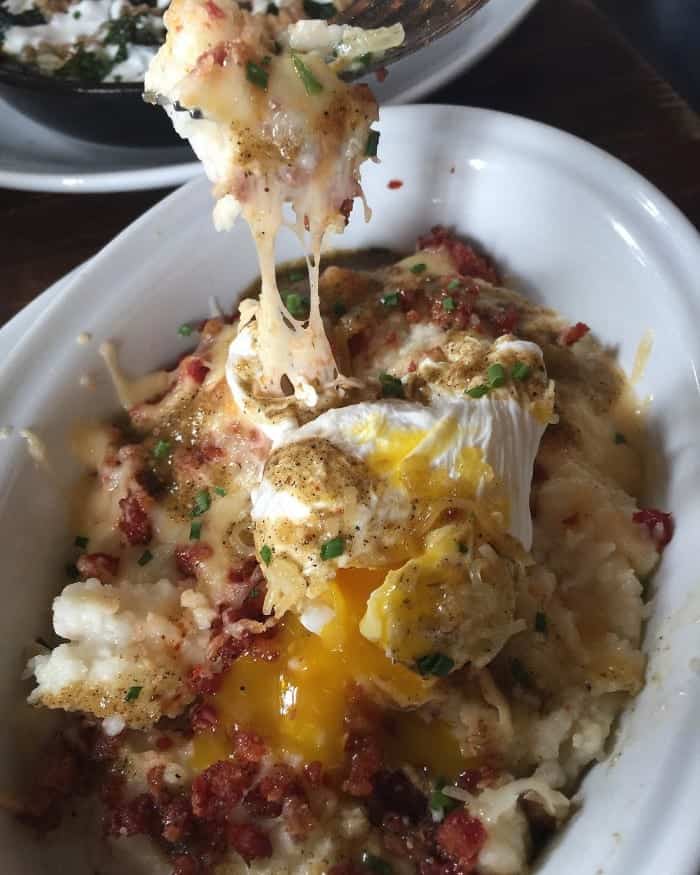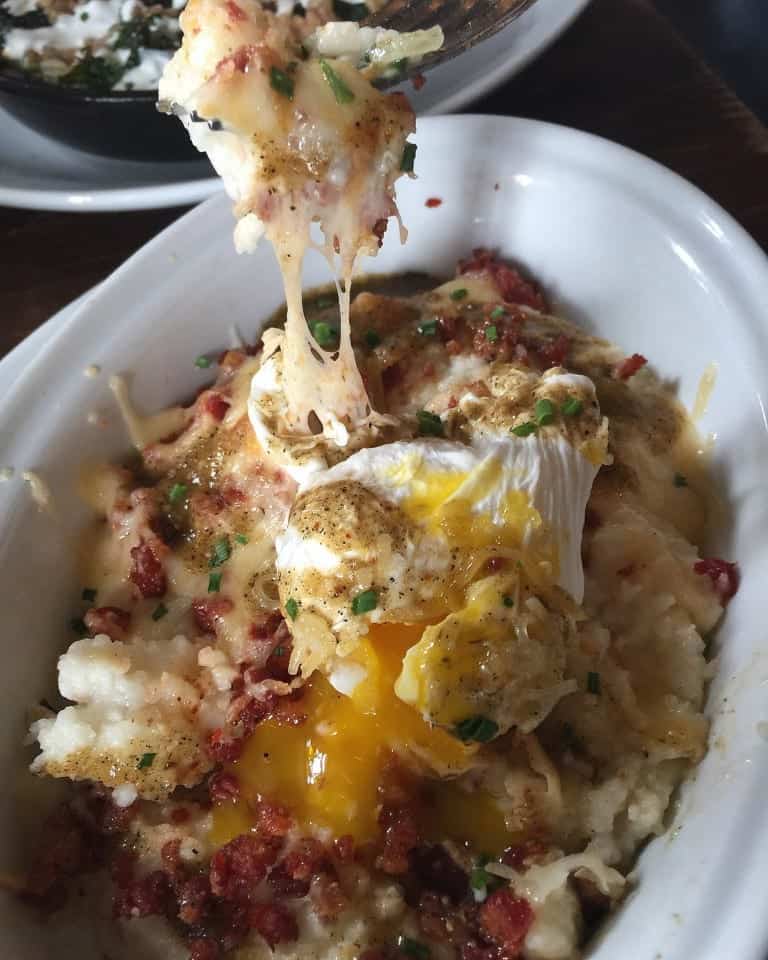 Another Boulton and Watt favorite was this baked grits with chorizo and pouched egg on top. Can't wait to visit here again. Such a great restaurant.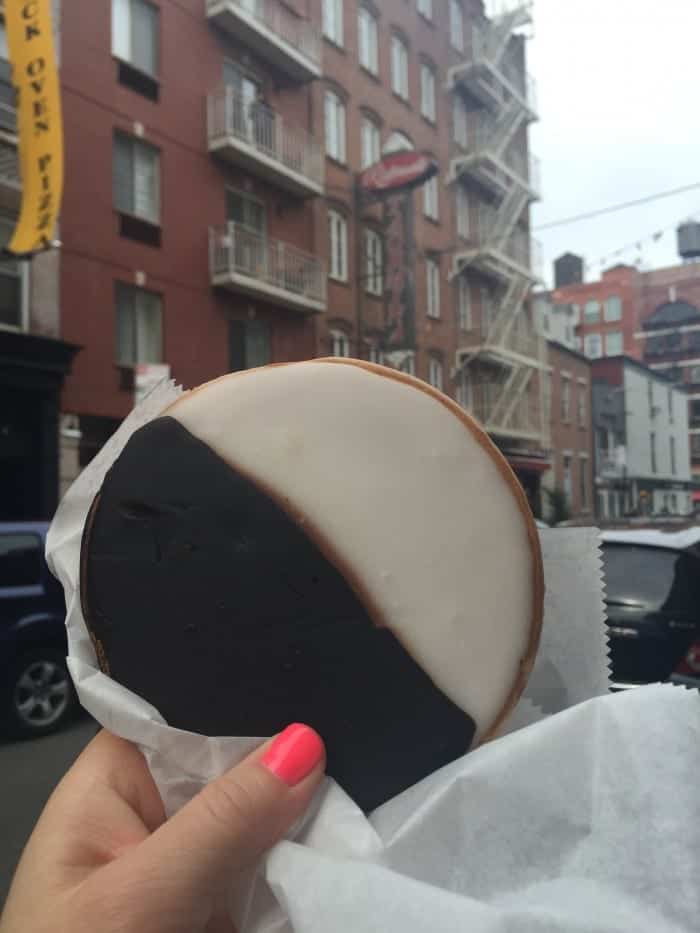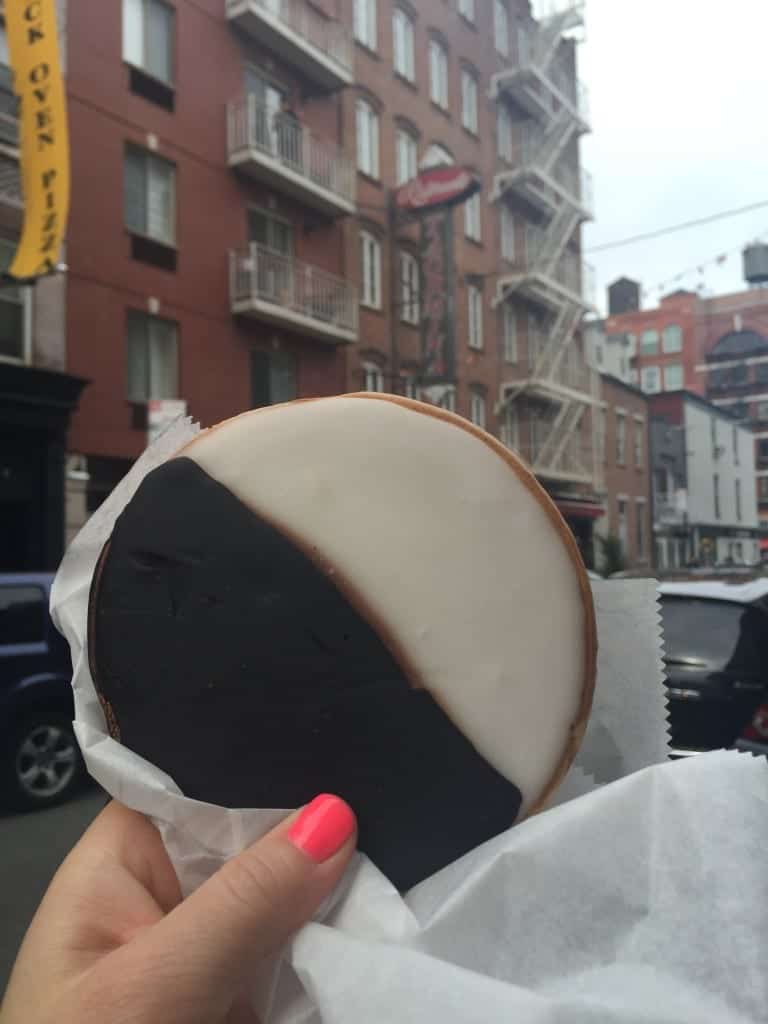 You kind of HAVE to get a NYC black and white cookie. Found this one while walking through China Town 🙂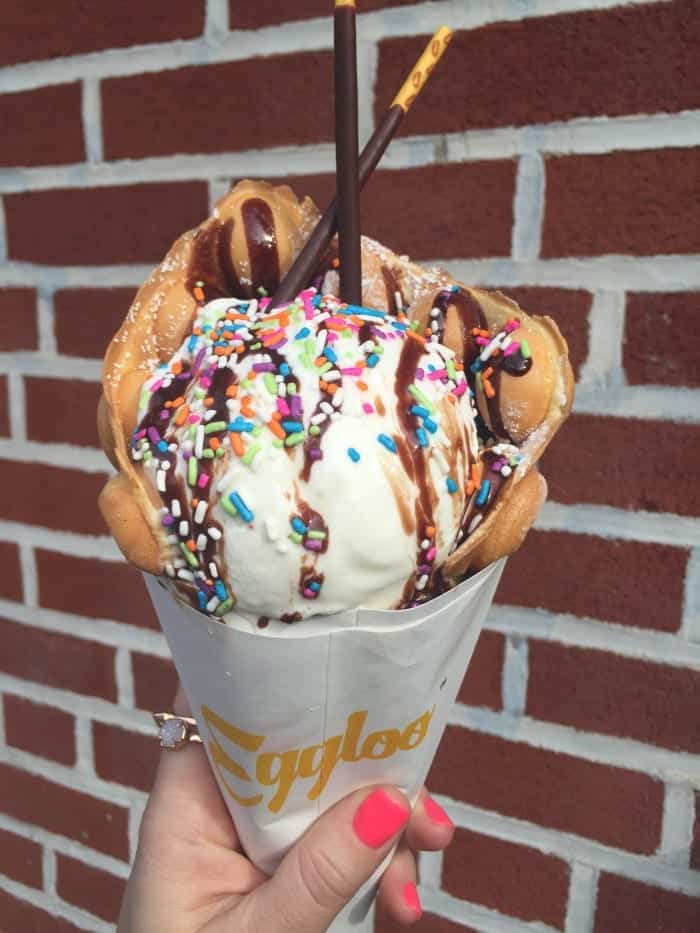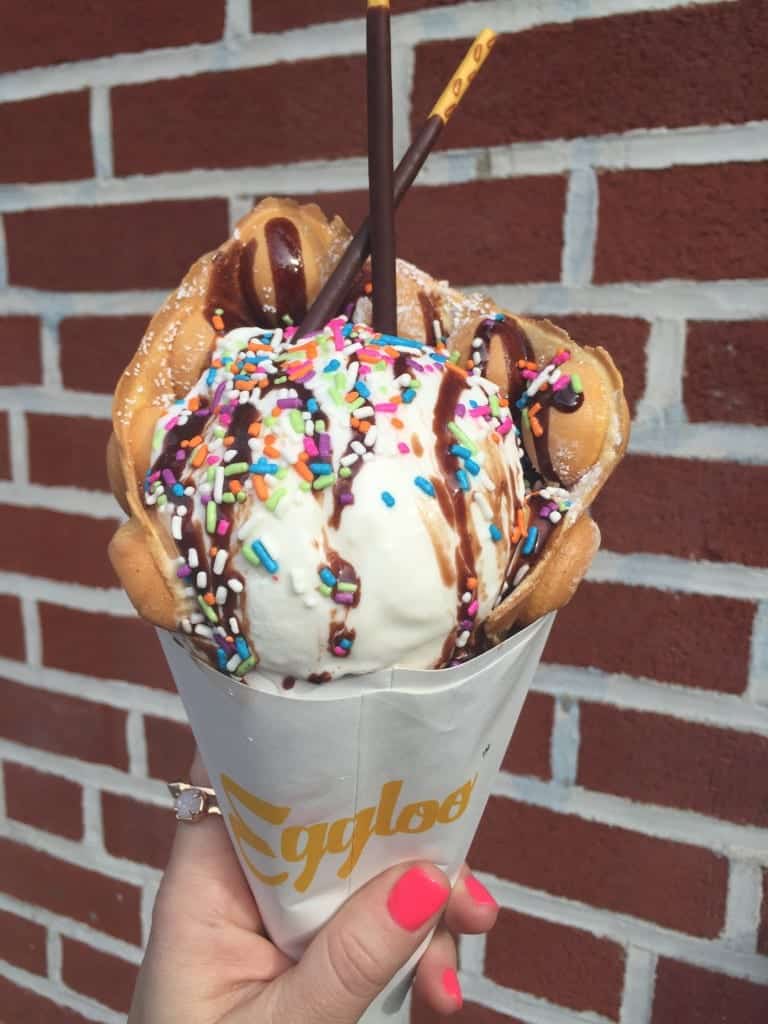 Eggloo is a new ice cream shop that opened up February 2016. I was so happy to get to try it last month. Soft crispy warm waffle cone with your choice of ice cream and toppings. Really fun!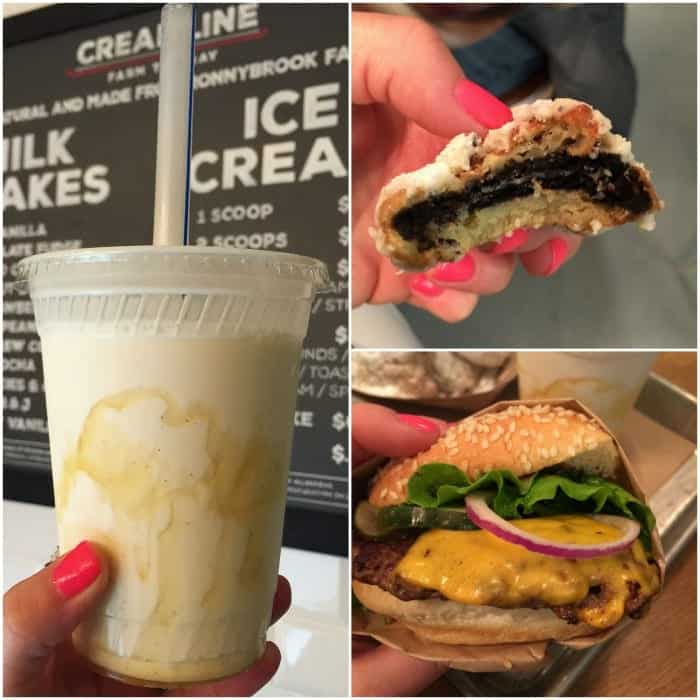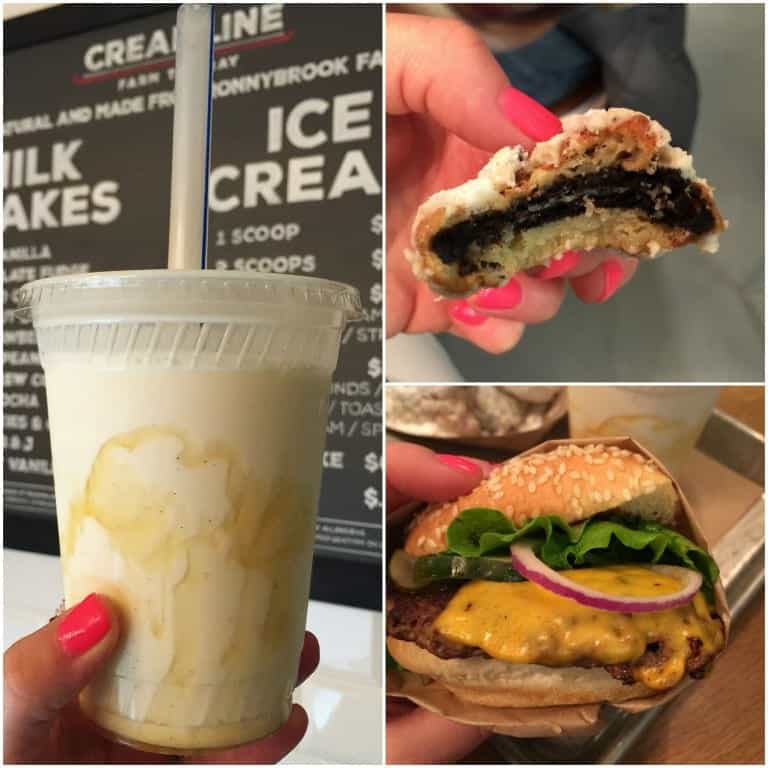 Chelsea Market is home to so many great restaurants. I highly recommend Creamline. Amazing burgers, milkshakes and not even kidding the best fried Oreo's I've ever had. Other things to not miss in Chelsea Market, the street tacos at Los Tacos no 1, Amy's Bread has the best Yellow Cake with Pink Frosting around, Fat Witch Brownies and Eleni's for baked goods. Such a great place to visit, it's a must every time if you ask me 🙂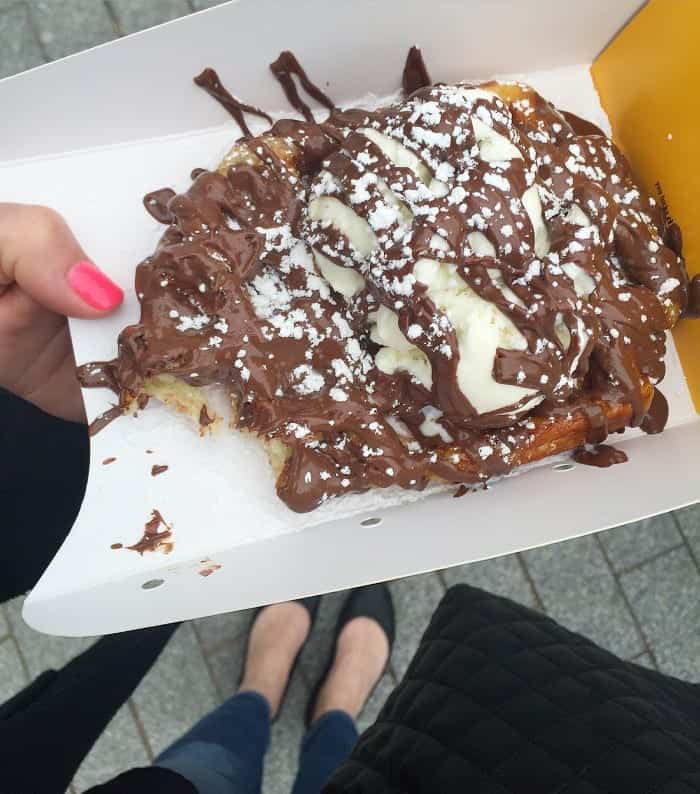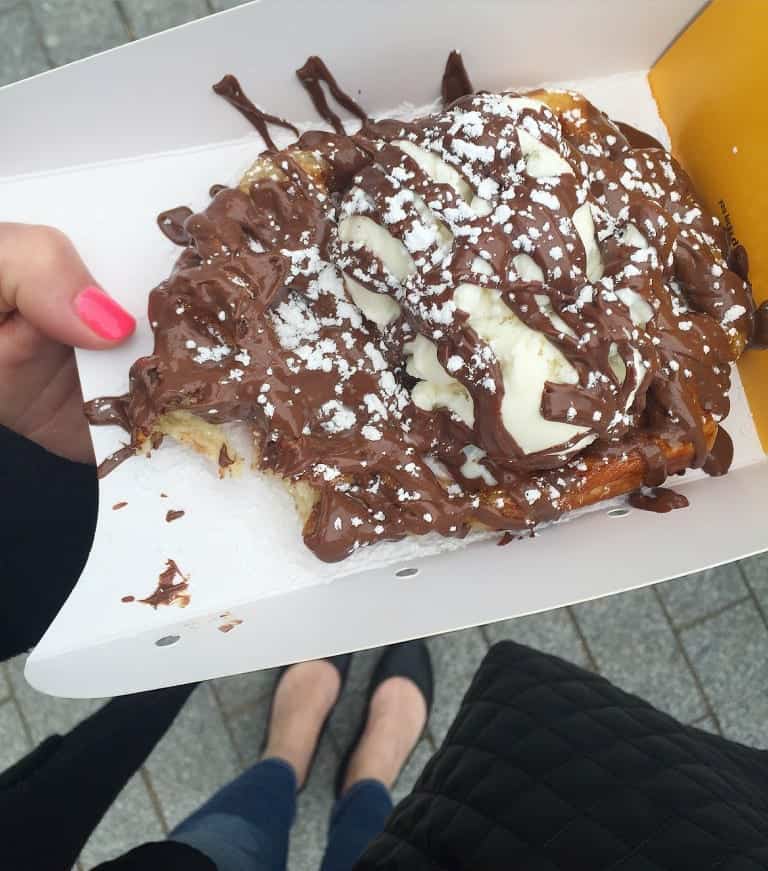 Waffles and Dinges Food Truck is not to be missed. Can't even handle this Nutella and Ice Cream topped Belgian Waffle!!
Waldorf Astoria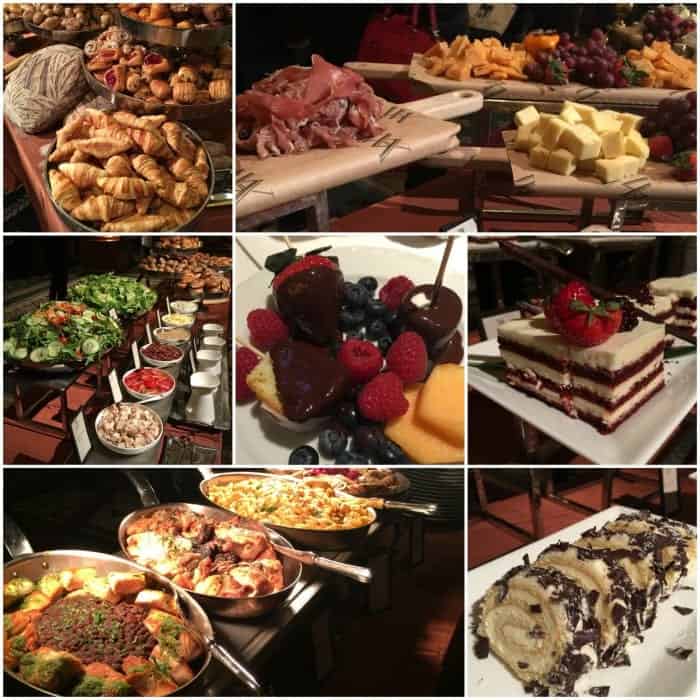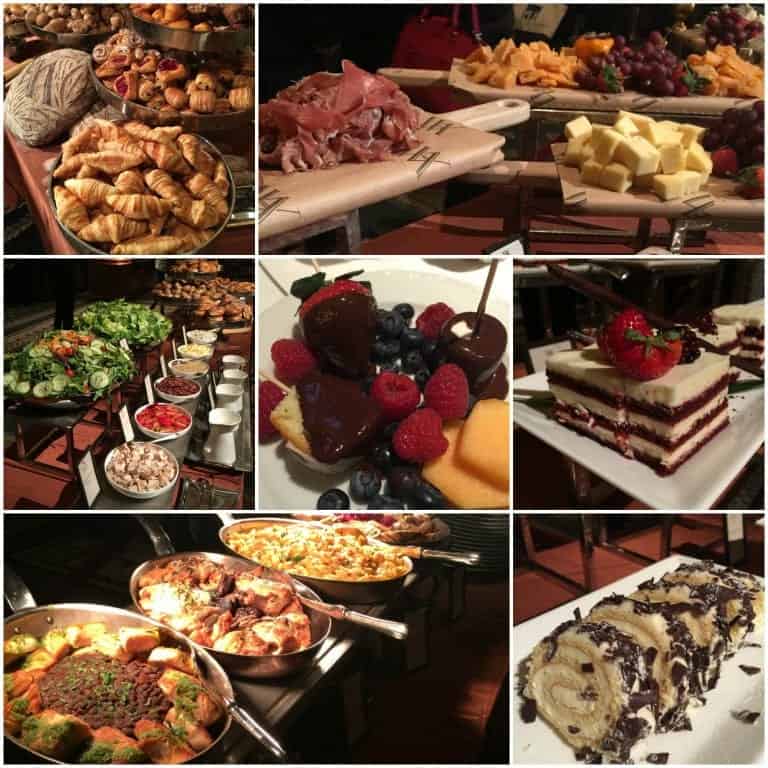 The Waldorf Astoria has the most beautiful Sunday Brunch I have ever experienced. Gorgeous food choices presented and served by the chef's dressed in their whites. This is something you've got to experience at some point. I'll never forget this dining experience and hope to go back.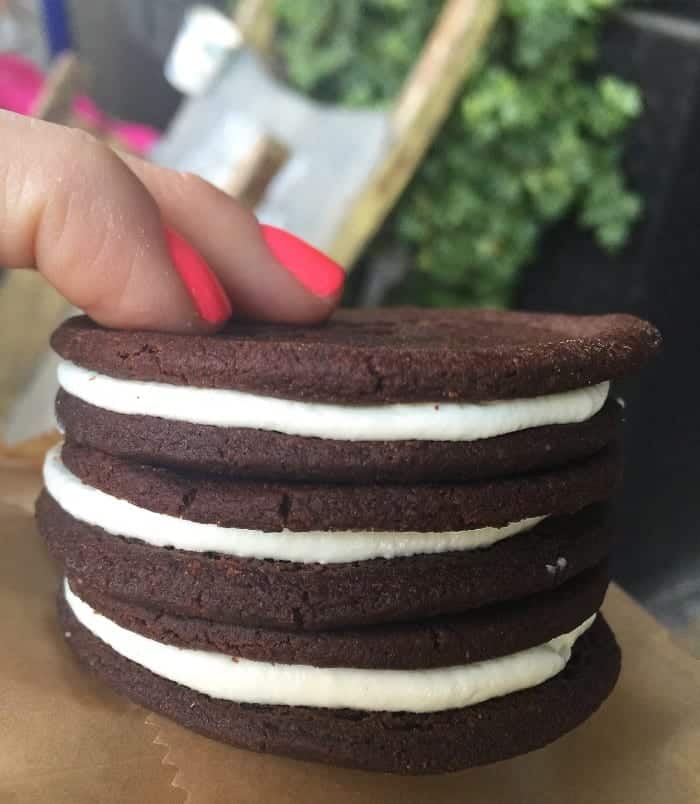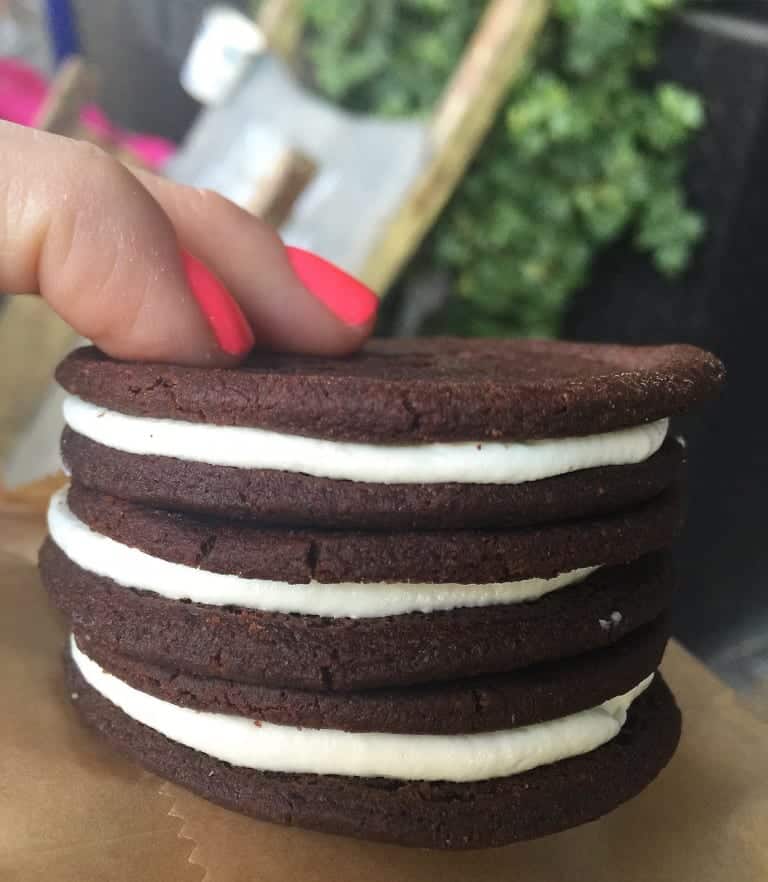 My husband and I were walking through Tribeca and came up on this adorable bakery, cafe called Maman. They've got all kinds of beautiful food choices, but we sampled their homemade Oreo Cookies. So glad we did. These were amazing!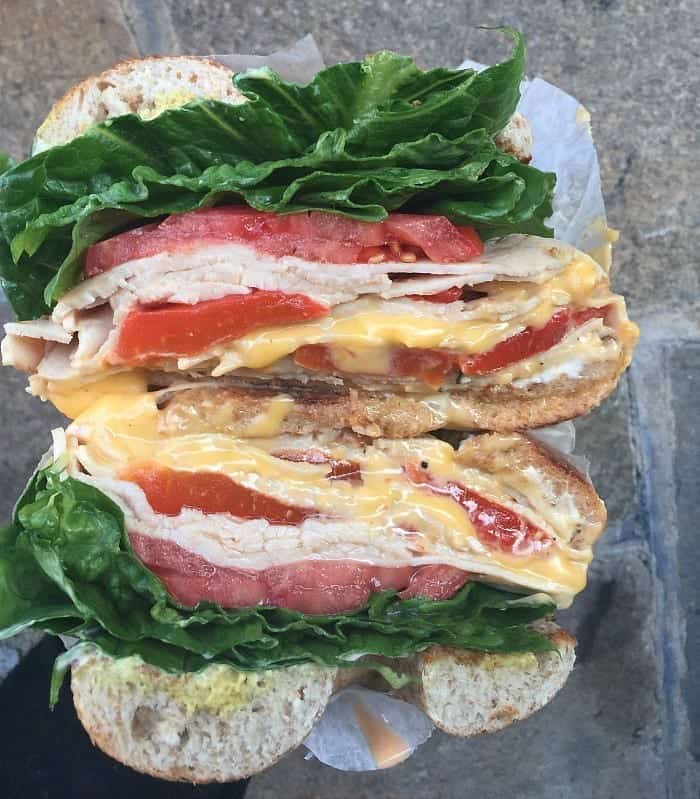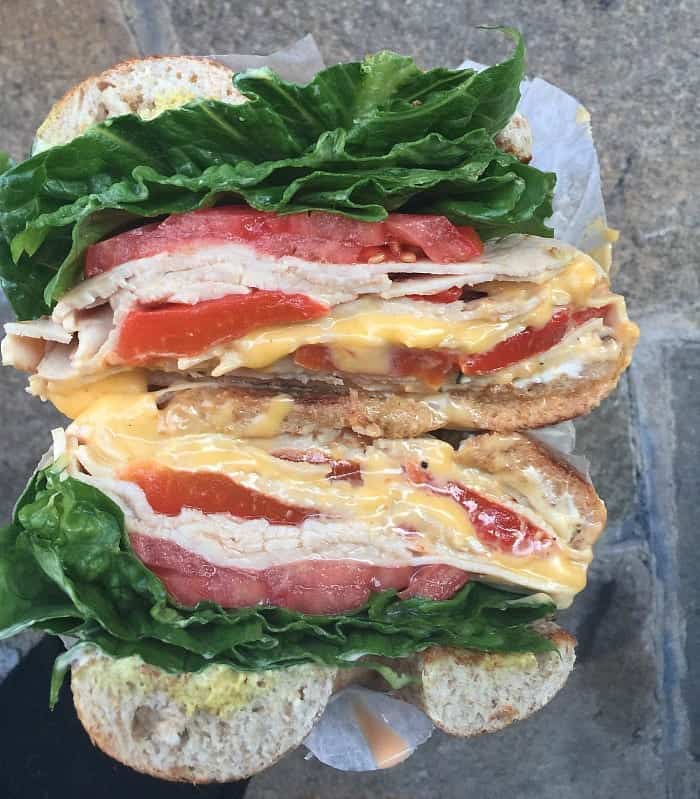 Another beauty from Space Market. Chose a Turkey, cheese, tomato, lettuce and red pepper bagel sandwich. You can't go wrong at Space Market!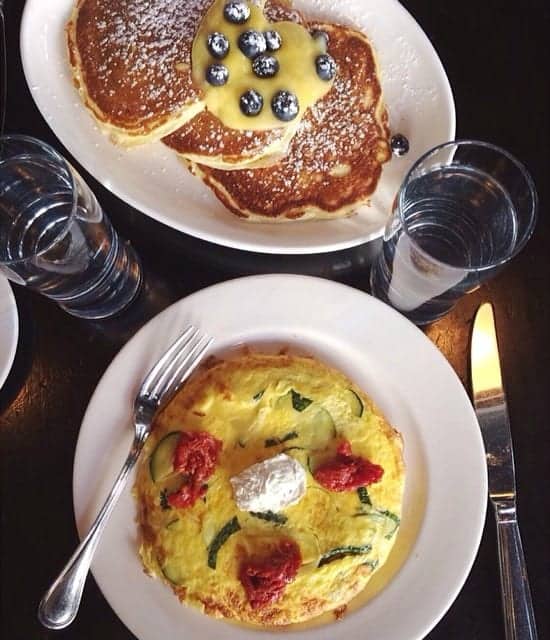 Laconda Verde has a beautiful Brunch. Lemon Ricotta Pancakes and gorgeous goat cheese zucchini fritatta. Great choice for brunch.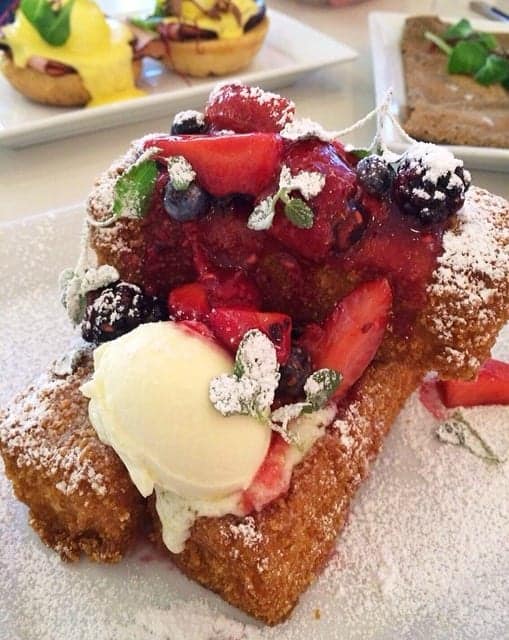 Sugar and Plumm is the most adorable bakery and cafe. This French Toast Stack was a huge hit. Love it here.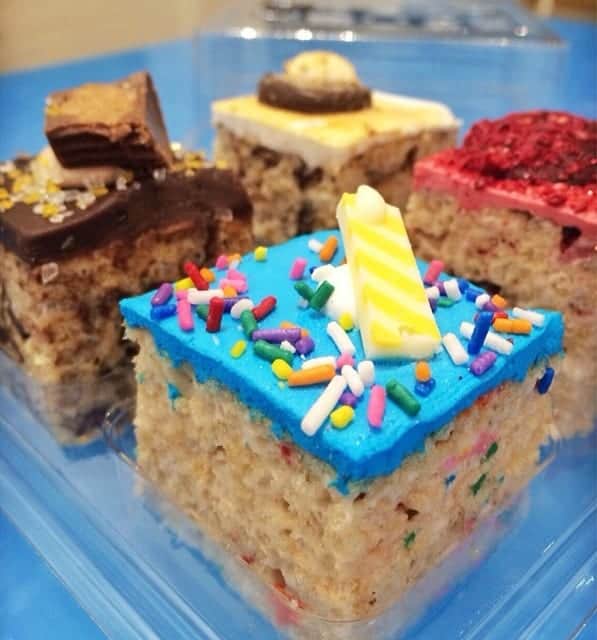 Treat House some adorable rice krispie treats! Such a cute place to visit for some sweet treats.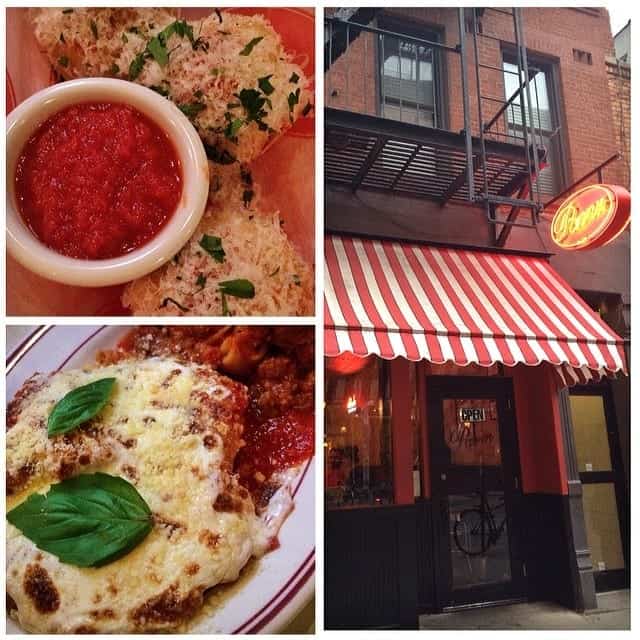 Parm is this adorable little Italian restaurant I visited a few years ago with Amanda. Their Chicken Parmesan was out of this world. Fun place to visit in Little Italy.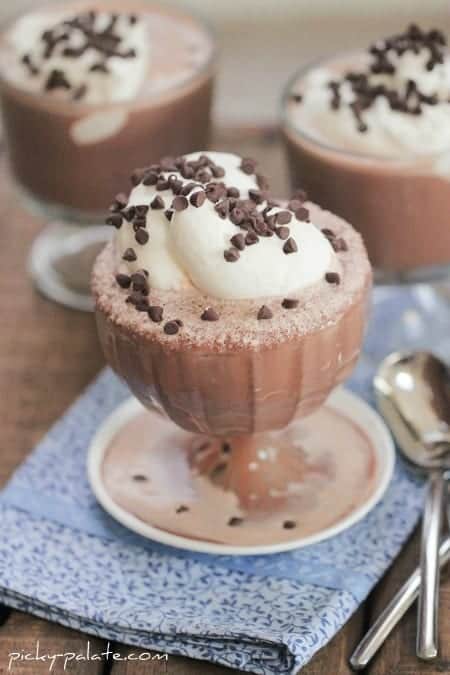 Serendipity 3 is also a must visit. Go for dinner and stay for their favorite Frozen Hot Chocolate! I re-created my own Frozen Hot Chocolate recipe. Click HERE.
Magnolia Bakery is an adorable bakery, fun to visit and sample all of their delicious cupcakes and baked goods.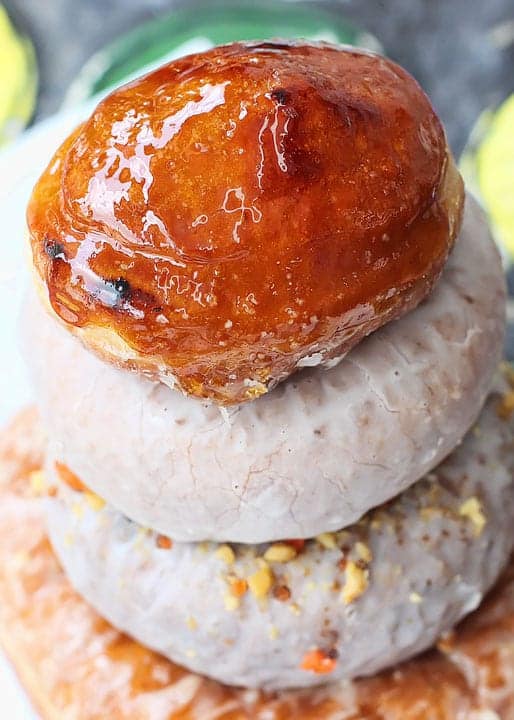 There is no better doughnuts than Doughnut Plant. Don't miss these bad boys. My favorite it the Creme Brûlée.
Pin To Your Favorite Travel Board!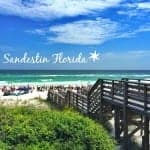 So excited to share my Sandestin, Florida Vacation with you! Beautiful crystal blue oceans with the softest white sand I've ever felt. Amazing!
Sandestin Florida
Can't say enough about this gorgeous "girls beach trip" I took last month with some of my best blogging friends. Sandestin is such a great destination for complete relaxation and fun for everyone.
Check out my post on Seaside Florida too!  Follow Picky Palate on Instagram for daily recipe inspiration and travel adventures.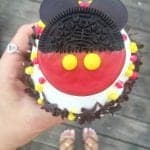 Thrilled to share my Walt Disney Food Blog Trip with you today! I was over the moon excited to have a Food Blogger #DeliciousDisney adventure at the Walt Disney World Resort this month.
Disney Food Blog
Be sure to follow my Disney Food Blog Instagram account, Disney Hungry for the best food at Disney Parks!
It's no secret that Disneyland Resort and Walt Disney World Resort are two of my very favorite places to vacation to. I was over the moon excited to have a Food Blogger #DeliciousDisney adventure at the Walt Disney World Resort this month. Disney is just one of those magical places, no matter how old you are, you can have the time of your life. I felt so fortunate to spend the weekend with 7 of my food blogging sisters. We stayed at the lovely Boardwalk Inn, just walking distance away from Epcot. We had a whirlwind of a weekend that I can't wait to share with you. Huge thanks to American Tourister for our new luggage. Love my Tangerine iLite Max!
Continue Reading »
We love visiting Rocky Point Mexico with family and friends!  Happy Friday! Talking about tips and our experiences of our trip to Rocky Point Mexico.
Rocky Point Mexico
A month or so ago, some of our neighbors and friends invited us to Rocky Point for Spring Break. I have to say, I have grown up in AZ most of my life and have never been to Mexico. It's only a 4 hour drive too! After some discussing back and forth, we decided, why not, lets try it out this year.  I'm pretty sure, you'll see by the photos, we had the best time. I was definitely skeptical and  a little … Continue Reading »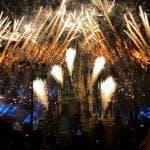 Sharing my latest trip, Walt Disney World With Girlfriends!
It's no secret that EVERYTHING Disney is my absolute favorite. Generally, I'm at Disneyland Resort on a regular basis, so getting to spend time at Walt Disney World with my girlfriends was the ultimate treat. Disney hosted our group to a week of pure magic. Amazing food, sneak peeks into what's coming for the Holidays and fun times exploring the Parks.
We enjoyed our stay at Disney's Animal Kingdom Lodge. This was on my bucket list so I was over the moon excited!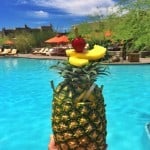 Jul 25, 2017 | Tags: travel
So many places to visit Arizona! So excited to share our stay at Four Seasons Resort Scottsdale AZ! Gorgeous views, beautiful resort.
Visit Arizona
I can't say enough about our staycation last weekend at Four Seasons Resort Scottsdale AZ at Troon North. The kids start school in a few weeks so it was the perfect timing to squeeze in one last little getaway as a family. This Four Seasons is tucked away right next to a gorgeous desert mountain. Our entire stay, we saw rabbits, geckos vibrant birds and all kinds of other fun wild life. We spent most of our time hanging by the pool and enjoying the … Continue Reading »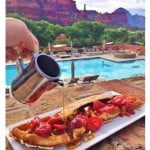 Enchantment Resort in Sedona Arizona is the perfect family getaway destination.  We had such a great time!  Gorgeous views and beautiful resort grounds.
Enchantment Resort Sedona Arizona
I was so excited to explore Arizona over Memorial Day weekend with my family! We took off nice and early and headed to Sedona to the Enchantment Resort. It had been years since I'd been. Just to be clear this is not a sponsored post, just a family weekend getaway I wanted to share with you!
Not even kidding this was the view from our room. I ordered cookies and milk of … Continue Reading »