Travel
Sharing my latest trip, Walt Disney World With Girlfriends!
It's no secret that EVERYTHING Disney is my absolute favorite.  Generally, I'm at Disneyland Resort on a regular basis, so getting to spend time at Walt Disney World with my girlfriends was the ultimate treat. Disney hosted our group to a week of pure magic.  Amazing food, sneak peeks into what's coming for the Holidays and fun times exploring the Parks.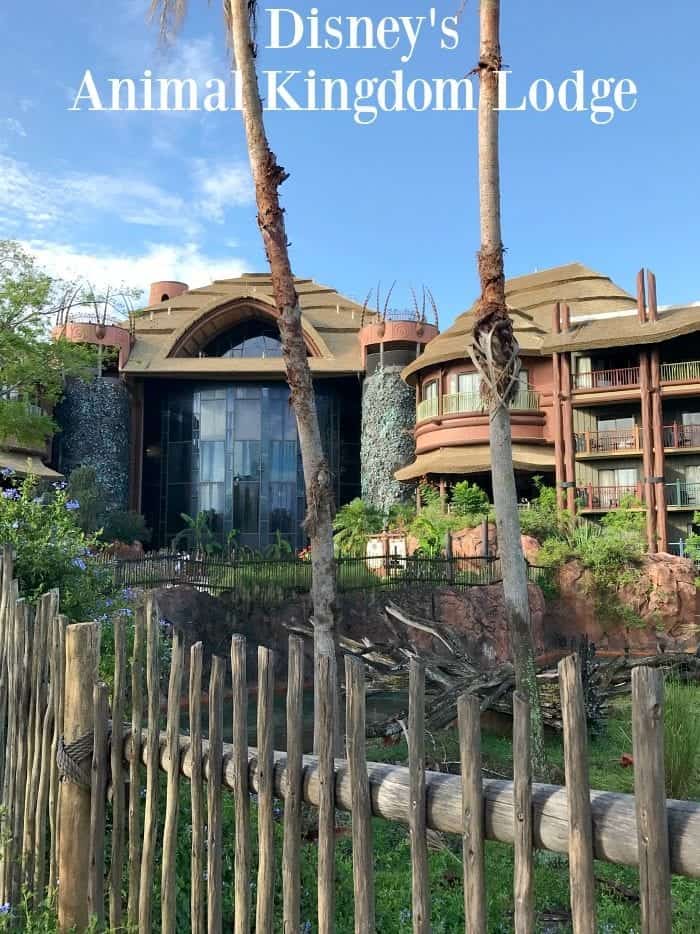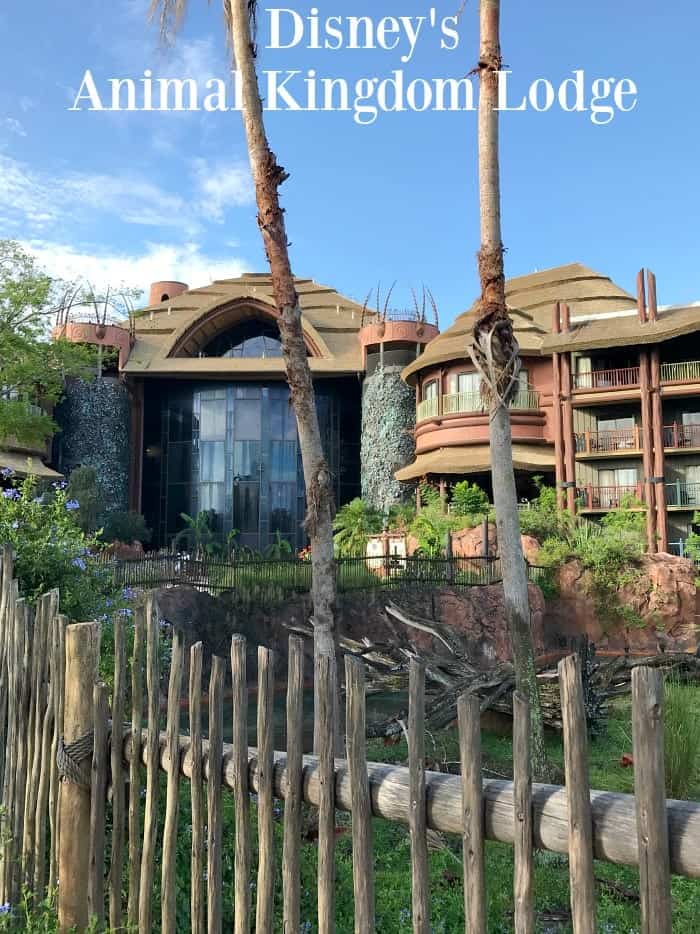 We enjoyed our stay at Disney's Animal Kingdom Lodge.  This was on my bucket list so I was over the moon excited!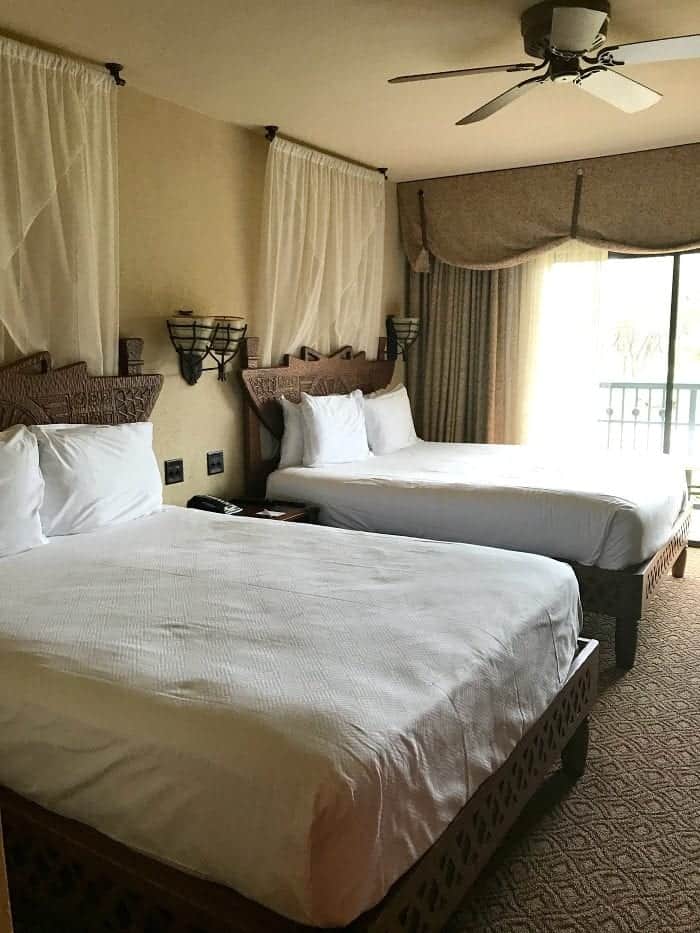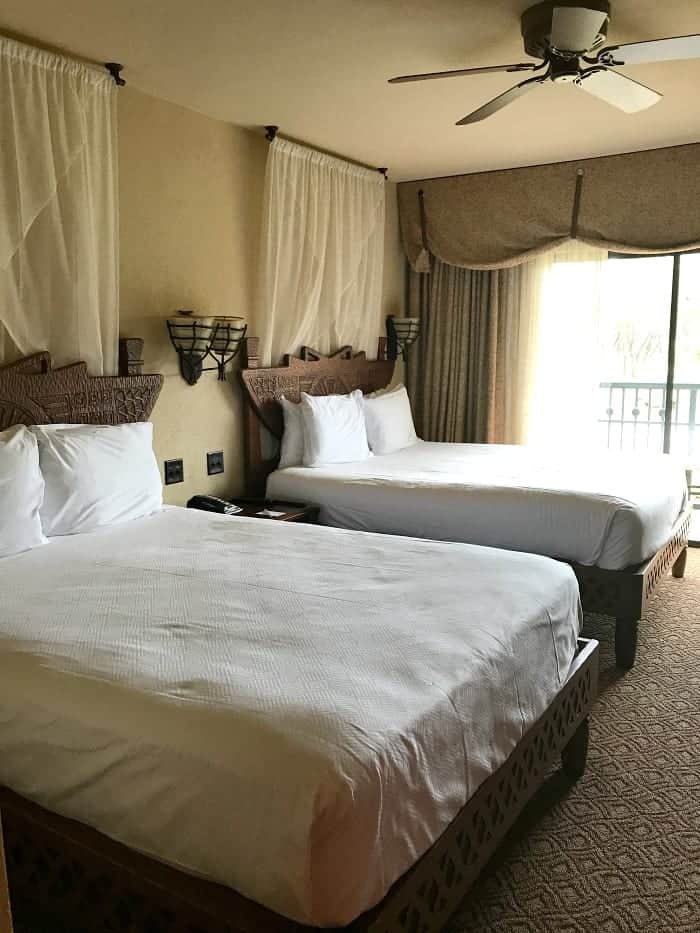 Our rooms were so cozy and had the perfect Safari flair.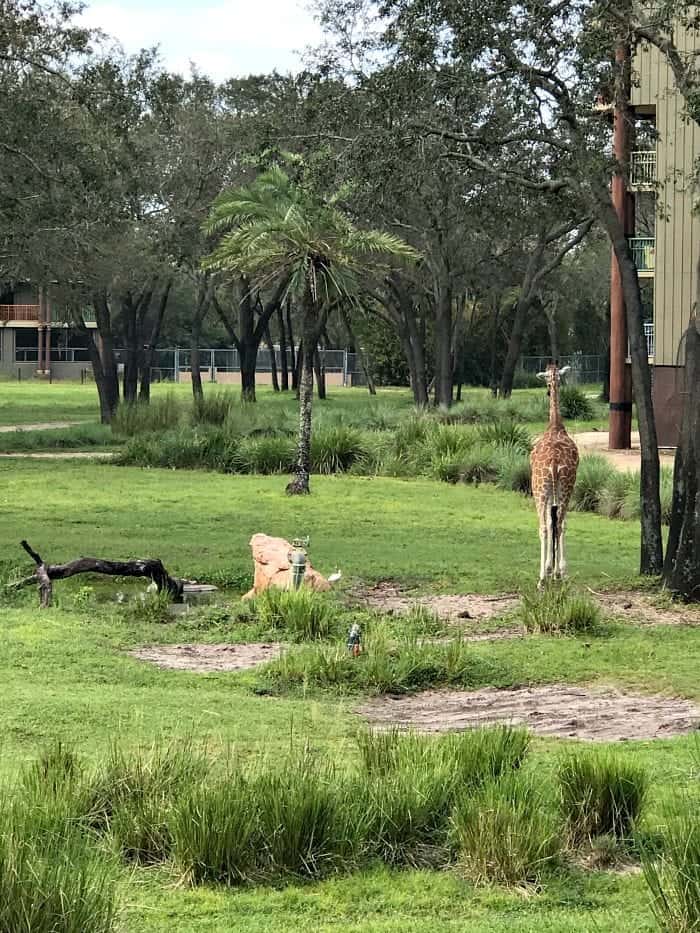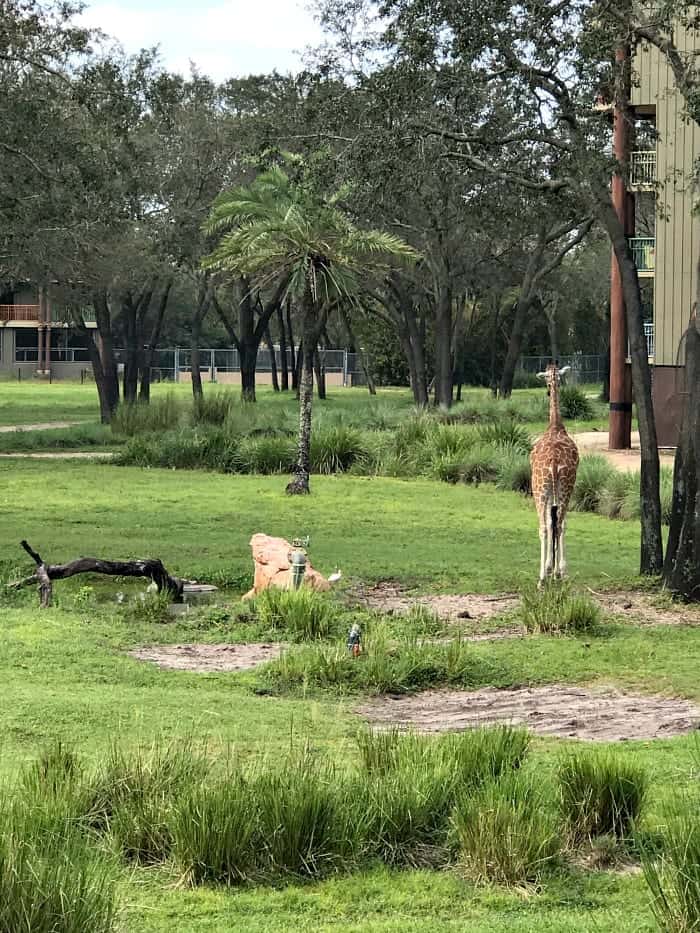 Our "Savannah View" rooms had these amazing views of all of the animals, loved this!  Being able to open up the window in the morning to see the animals eating was the coolest experience.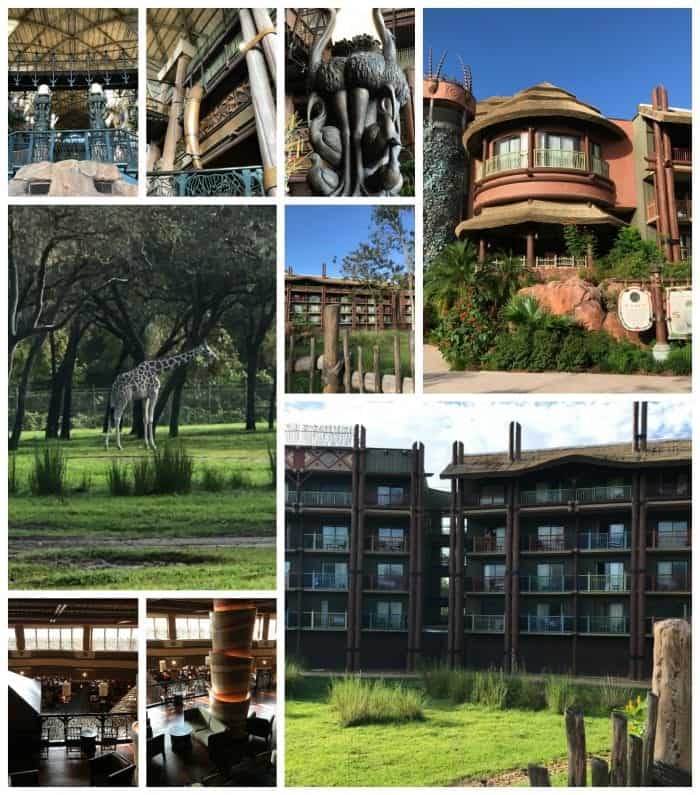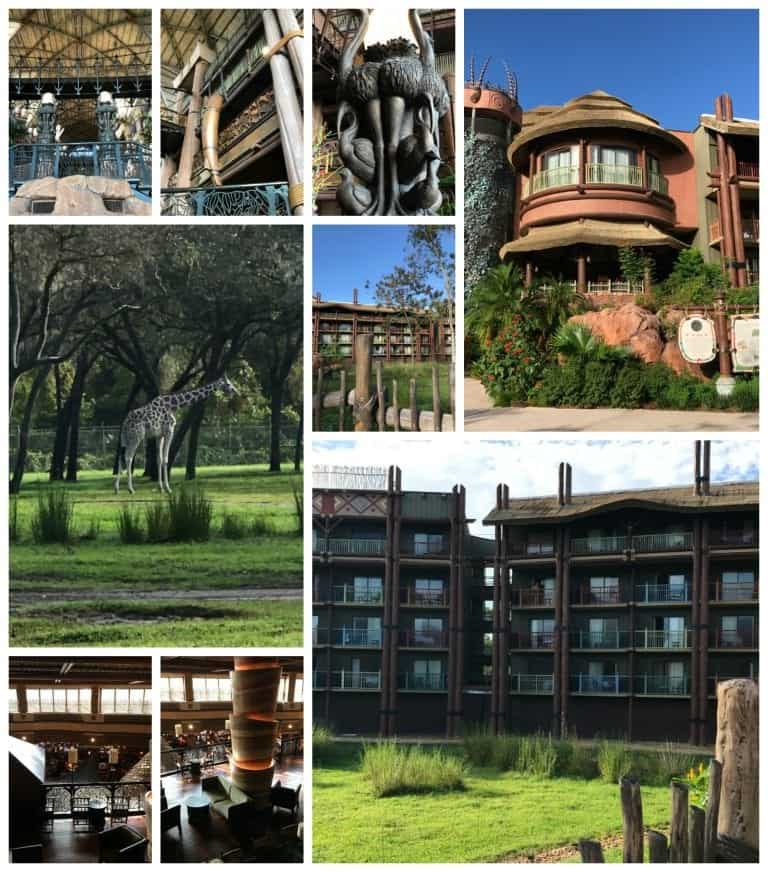 So many gorgeous details all around the resort.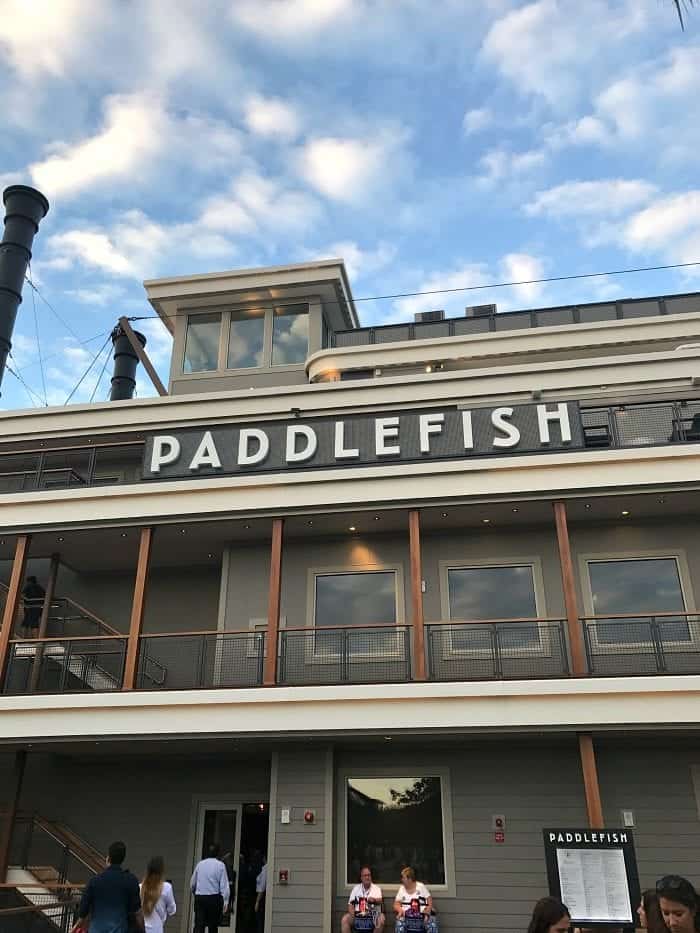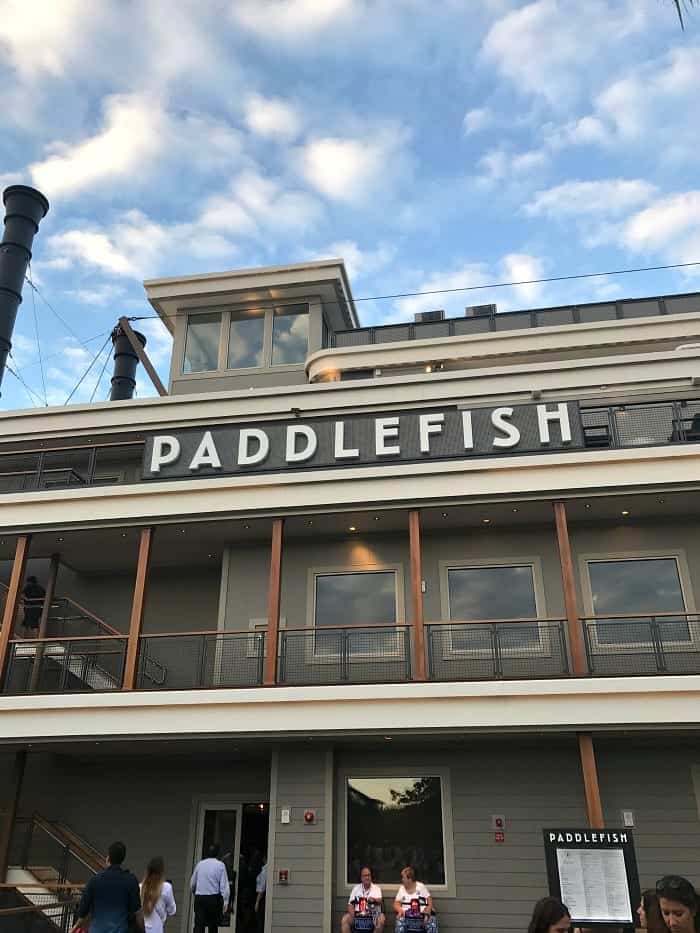 We got checked in and it was time for dinner at Disney Spring's Paddlefish Restaurant.  Our dinner was fantastic.  I'm talking Lobster Guacamole, Crab Fries and Lobster Corndogs to name a few.  So good!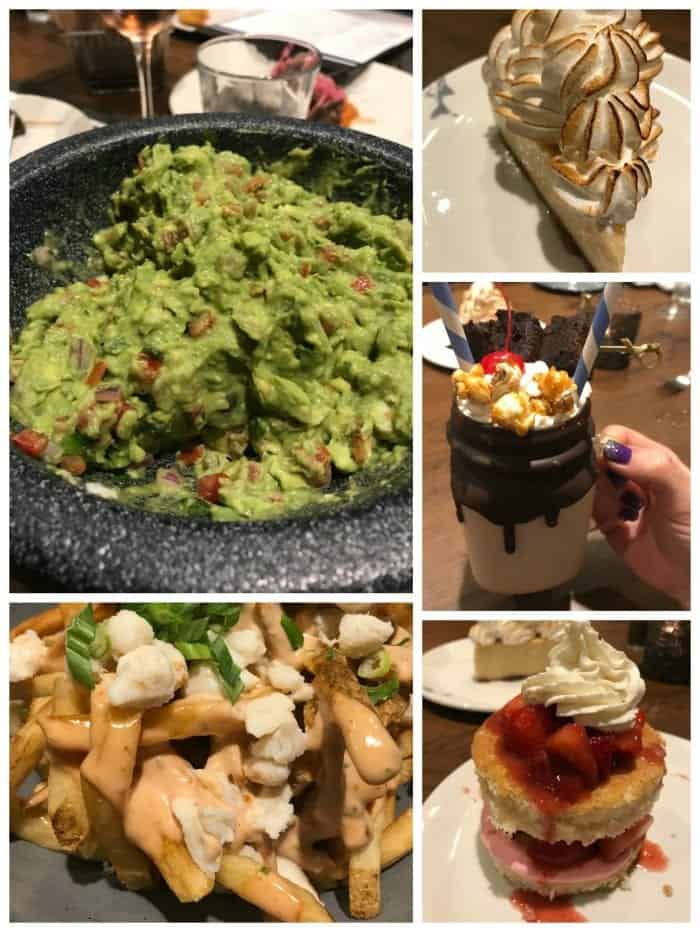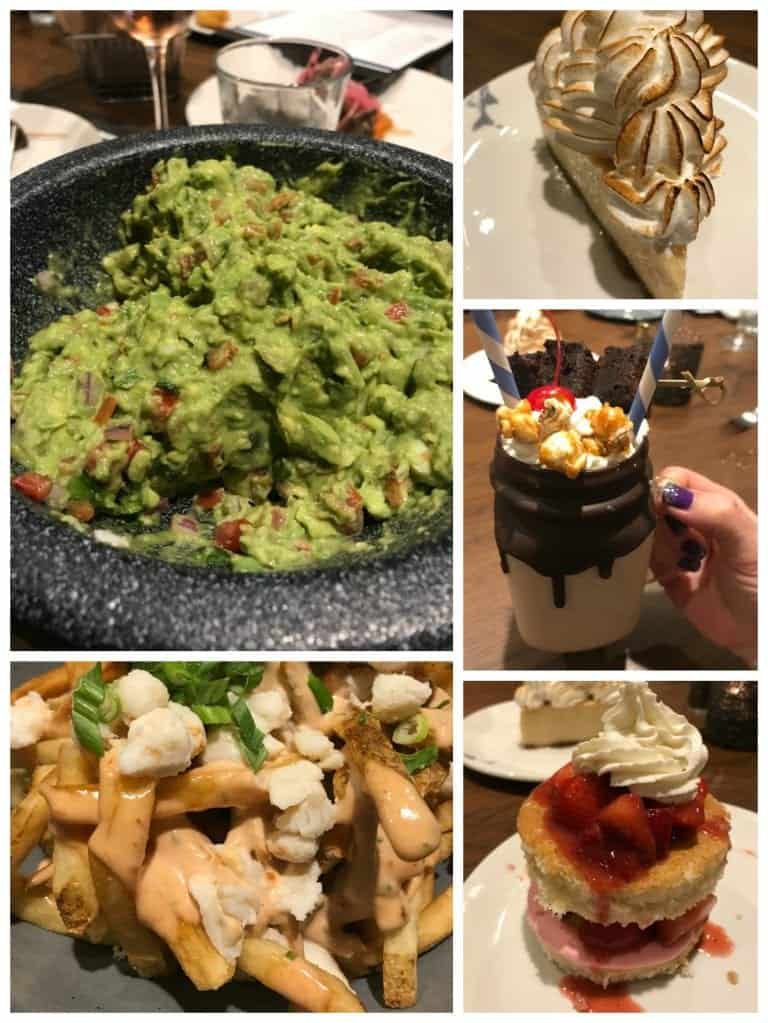 For  dessert, we ordered Key Lime Pie, Strawberry Shortcake, and Brownie Milkshakes.  What a treat, literally.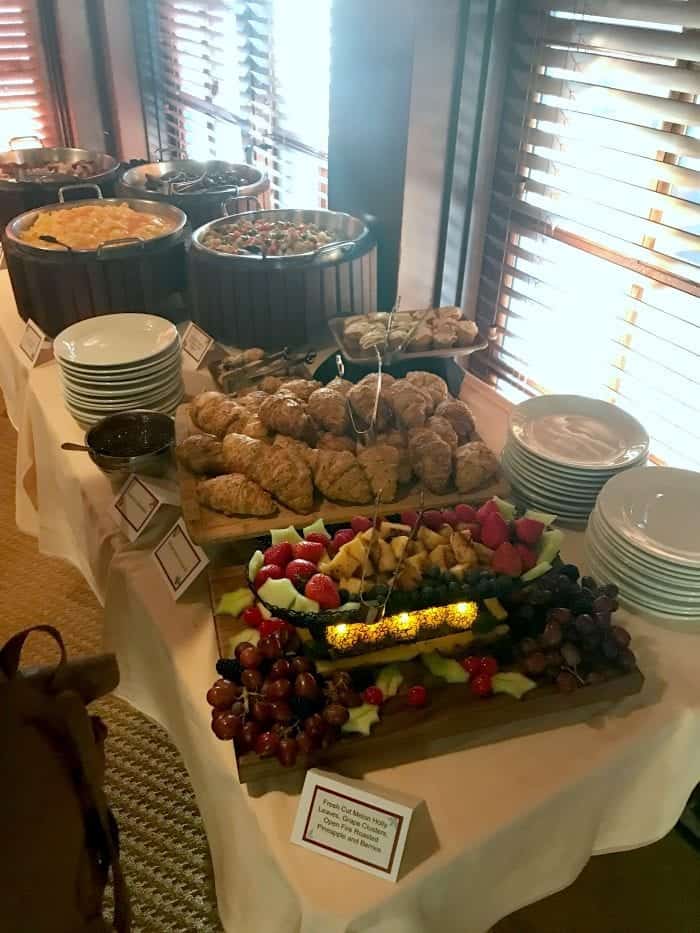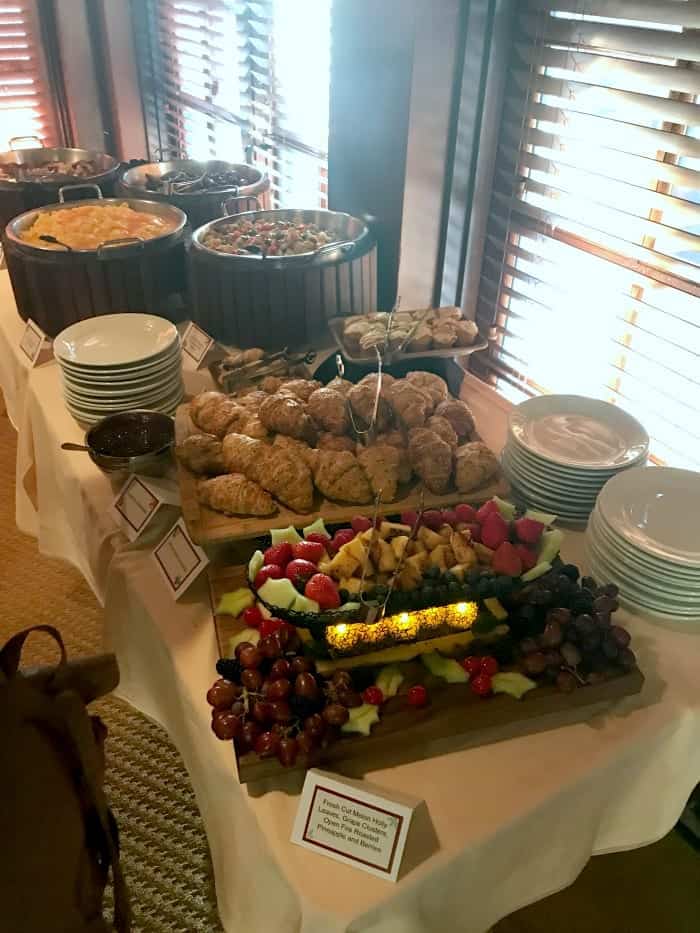 Our next morning was spent at Disney's Hollywood Studios with a private catered breakfast at Brown Derby.  Everything was just beautiful and delicious.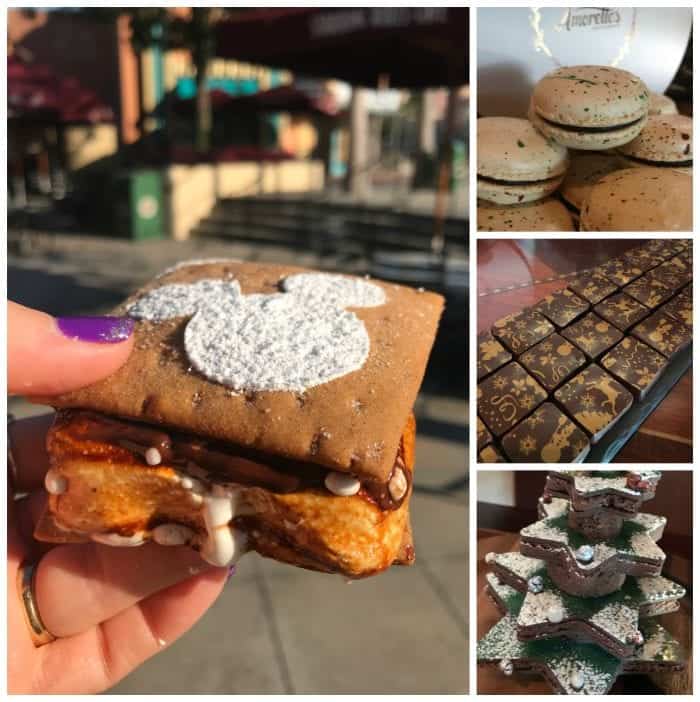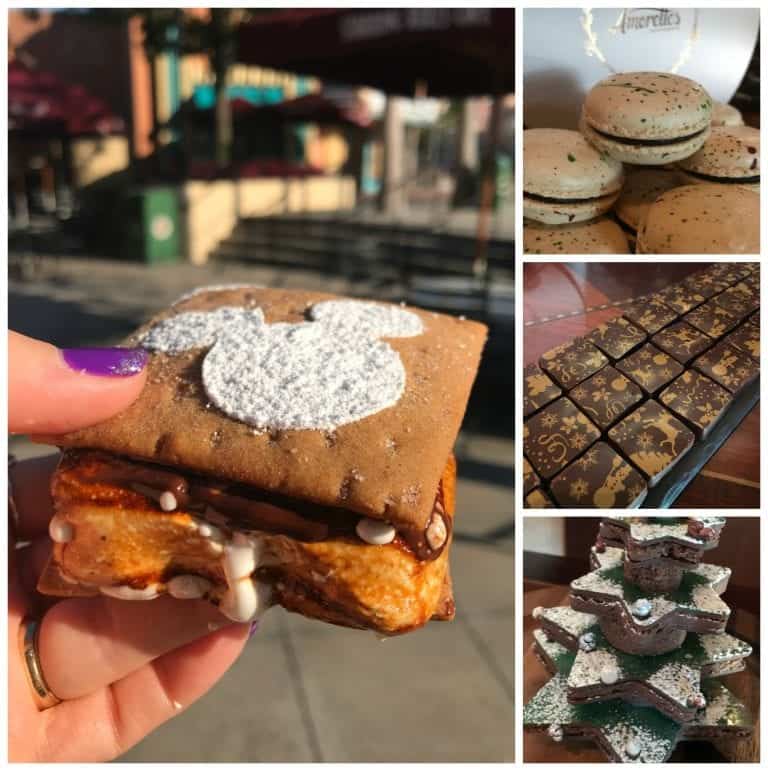 We got to hear from the pastry chef from Ganachery and Amorettes who told us of the delicious things coming for the Holidays.  Look at these S'mores, macarons, cookies and chocolates!  The Gingerbread S'mores coming to the Ganachery had us all swooning!!  Be on the lookout December 1st!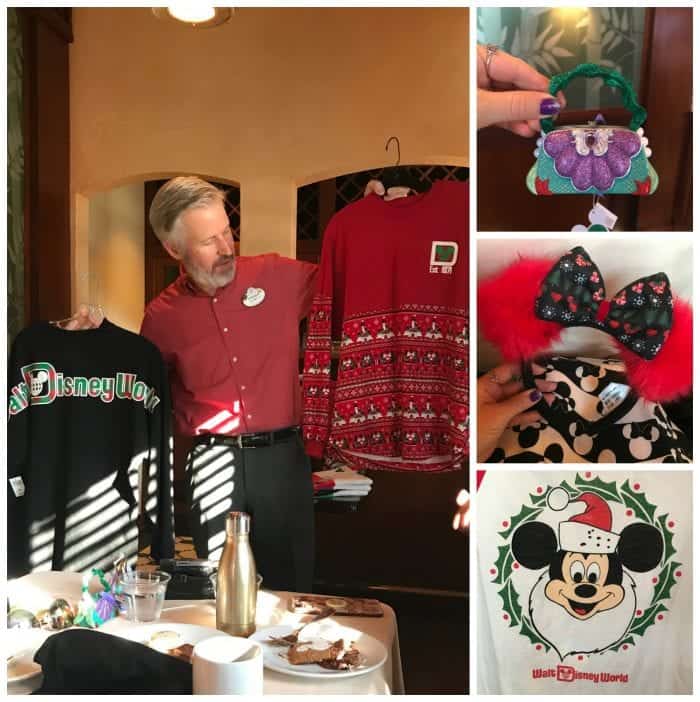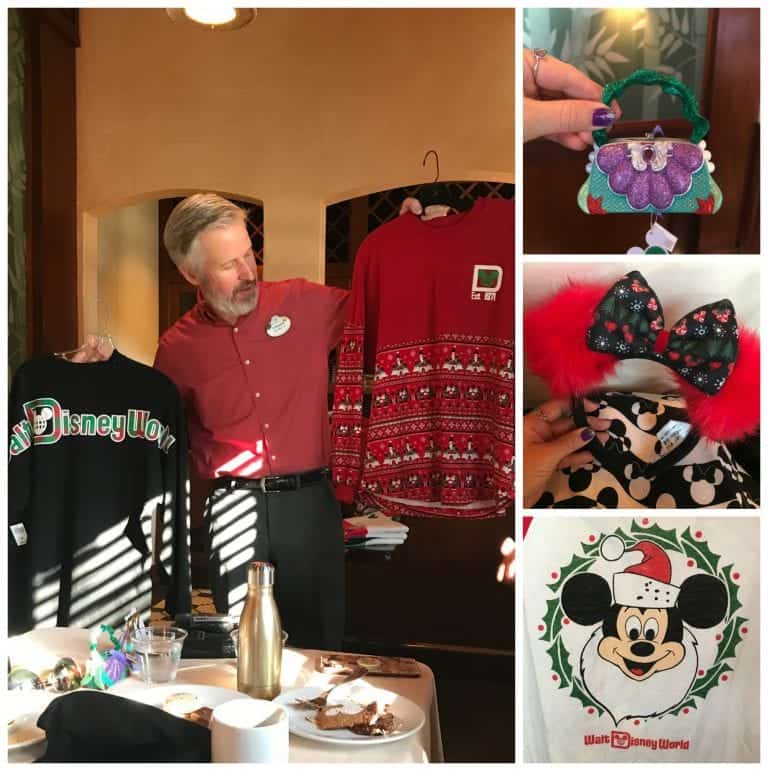 Steven from the Disney Parks Blog spoke to us and brought all kinds of merchandise coming to the parks and online for the Holidays.   New ornaments, Mickey Ears, pins, clothing and more!  Seriously can't wait!  Look how fun all of this is.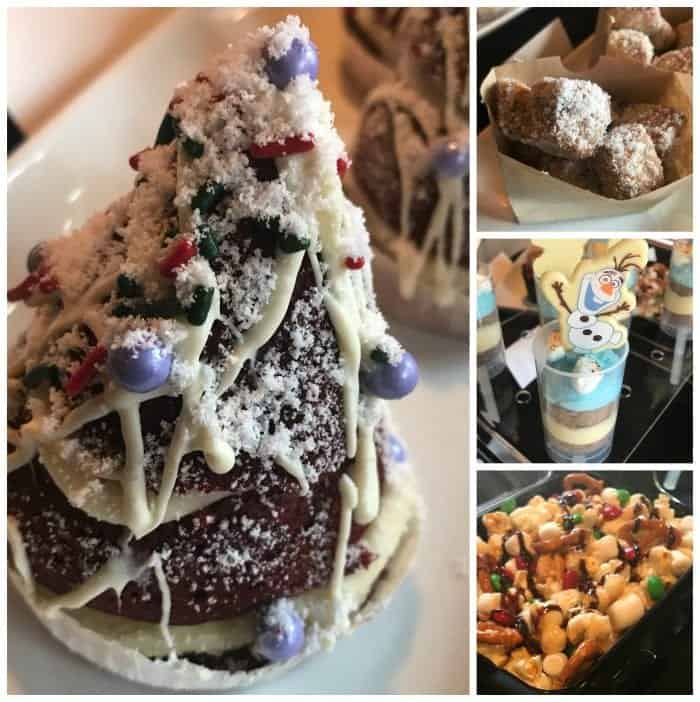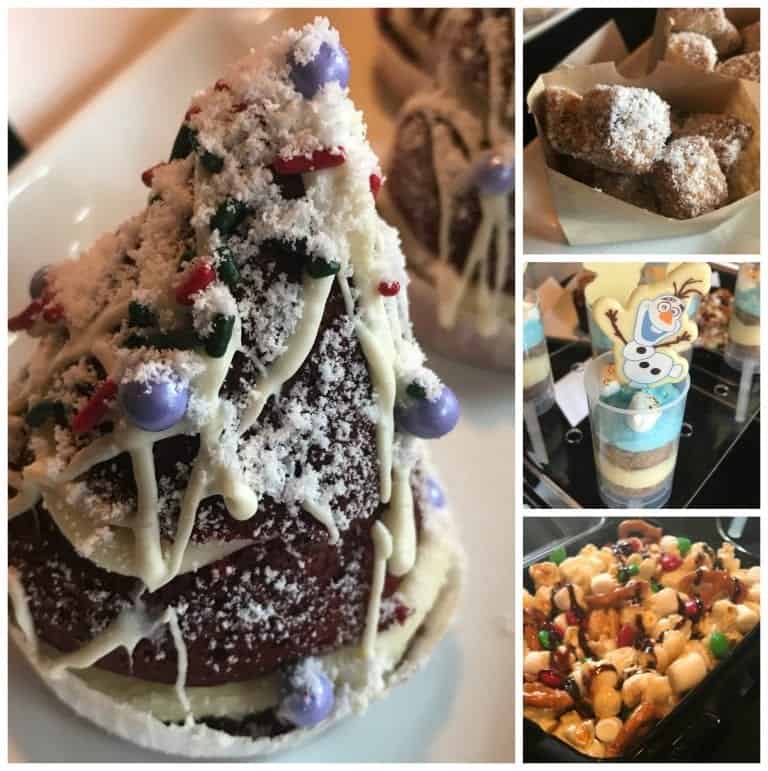 The Holiday treats coming to the Parks are going to be amazing!  Check these out!
Hollywood Studios also has some amazing things planned for the season. Starting November 9th you can see the Sunset Seasons Greetings show. As night falls on Hollywood Studios, "billboards suddenly begin to move into motion and tell a tale, courtesy of iconic characters sharing their love for the season. All the while, the Hollywood Tower Hotel—a.k.a. The Twilight Zone Tower of Terror—magically transforms, bringing to life the characters' stories."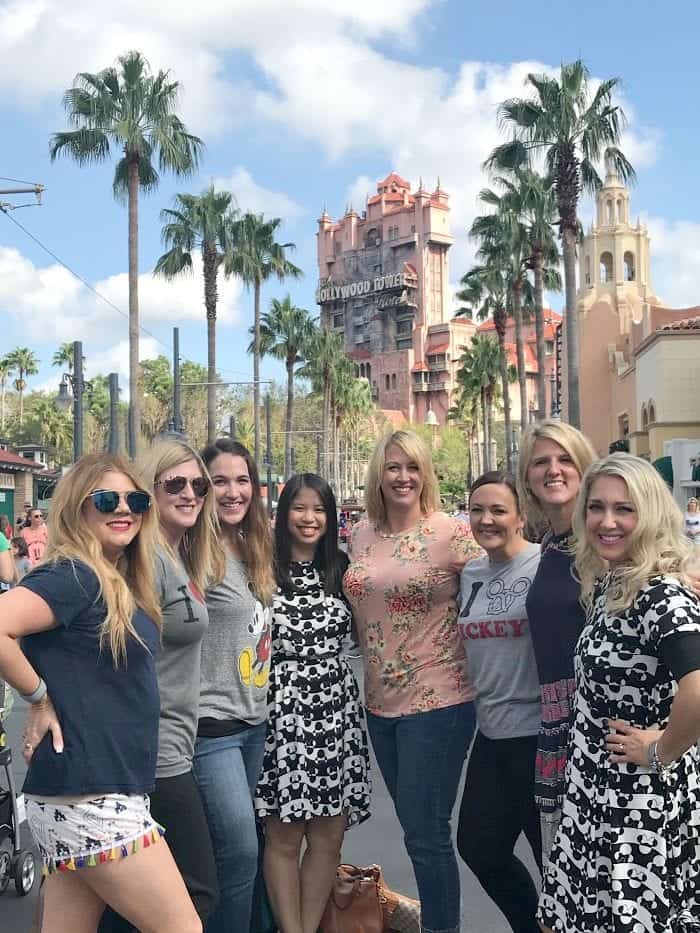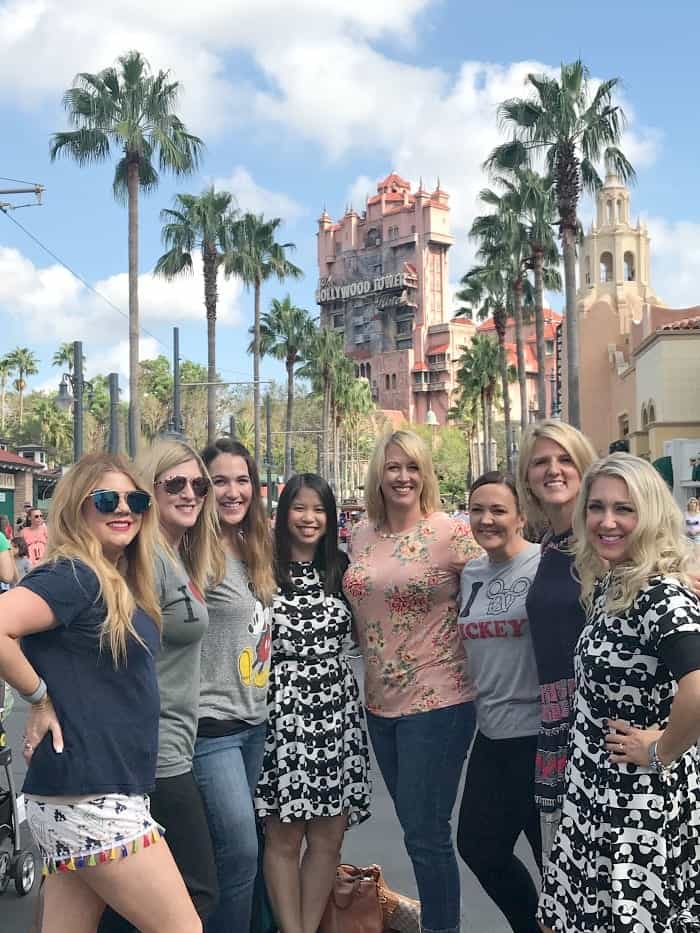 Free time at Disney's Hollywood Studios with my girls!!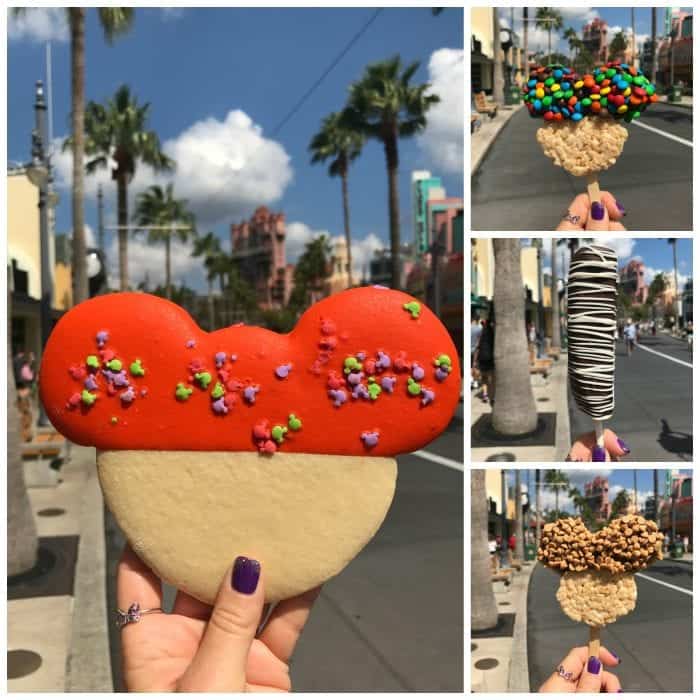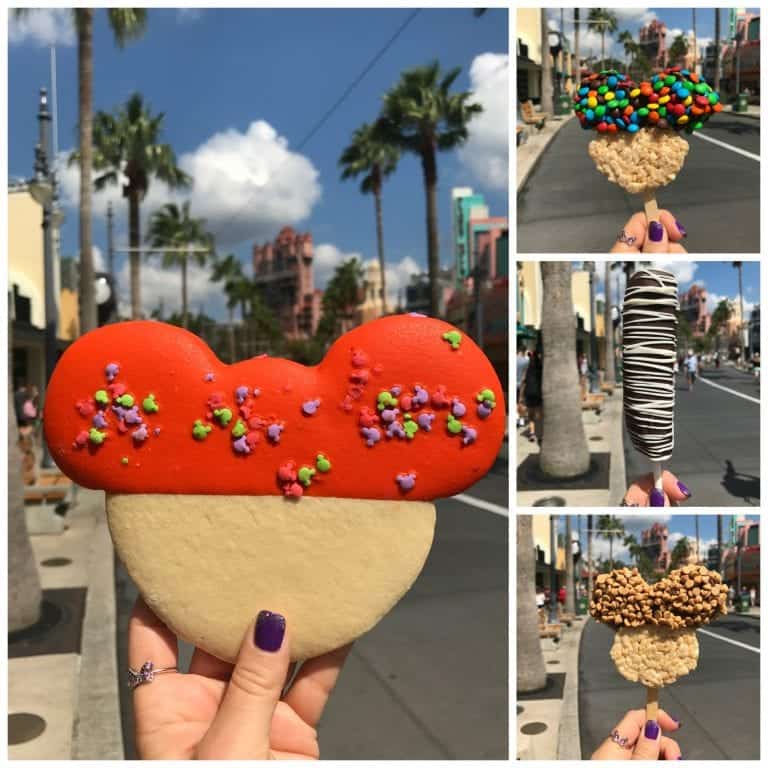 Rode our favorite rides and so many fun treats!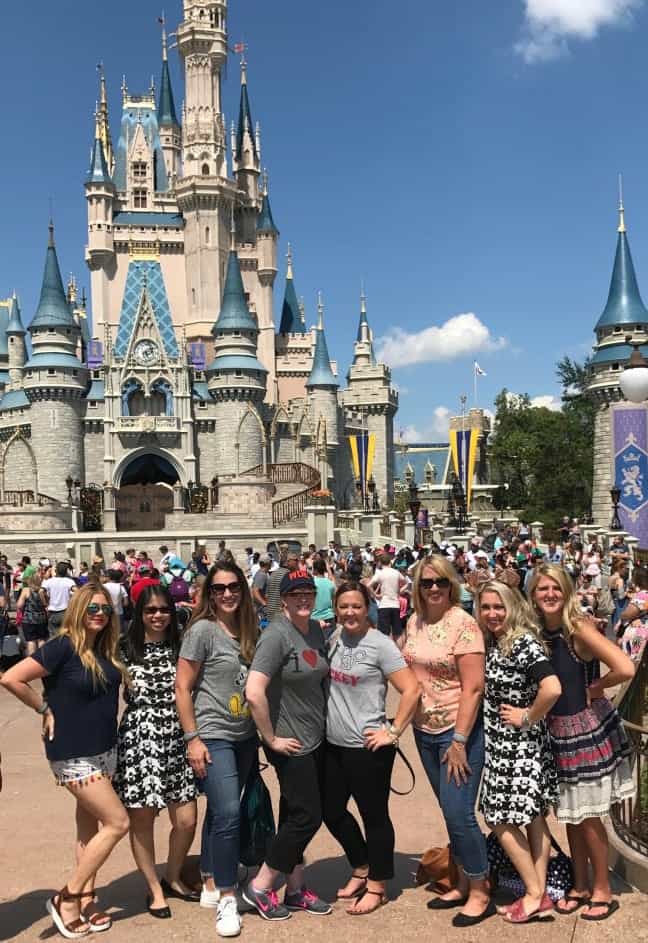 Off to Magic Kingdom for some free time to enjoy the Park.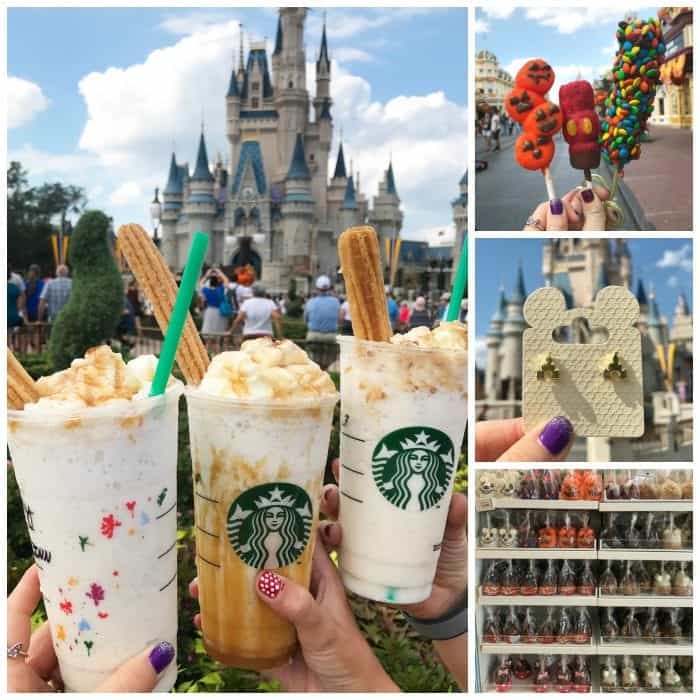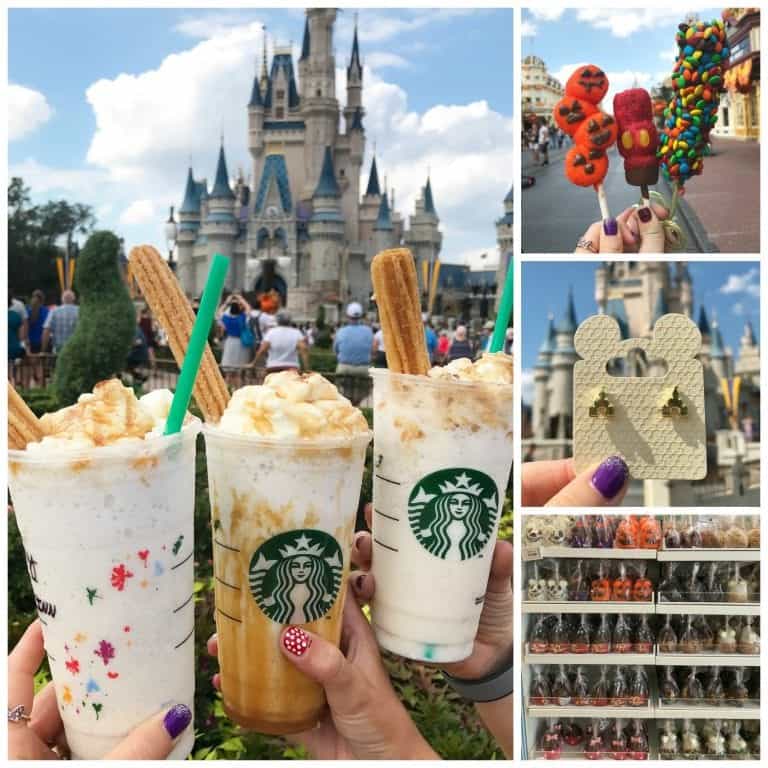 Lots of treats, shopping and our favorite rides!!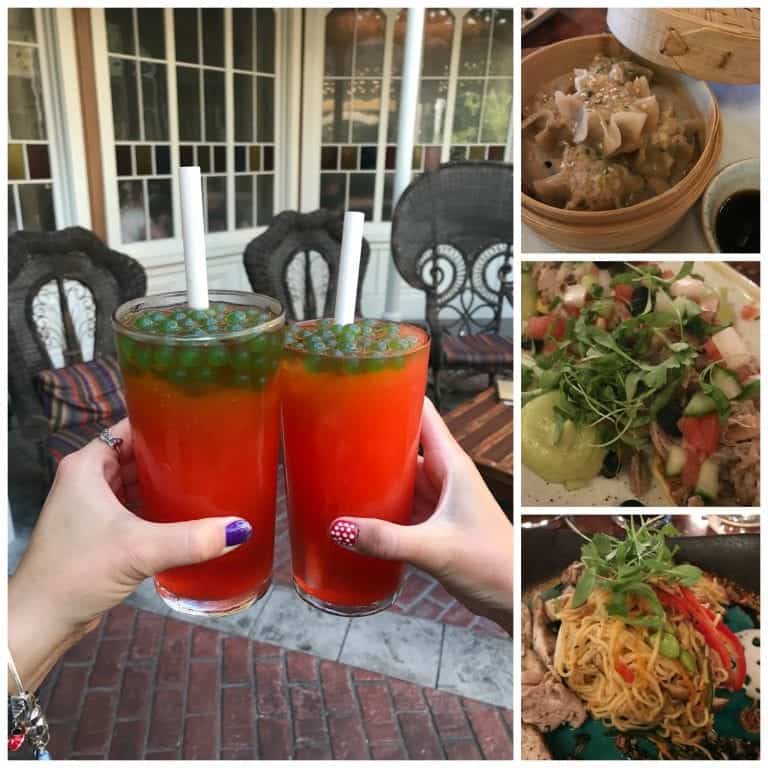 Dinner at Skipper Canteen was amazing!  This restaurant tucked away inside Adventureland is a new favorite for me.  The food was phenomenal and such a cool atmosphere.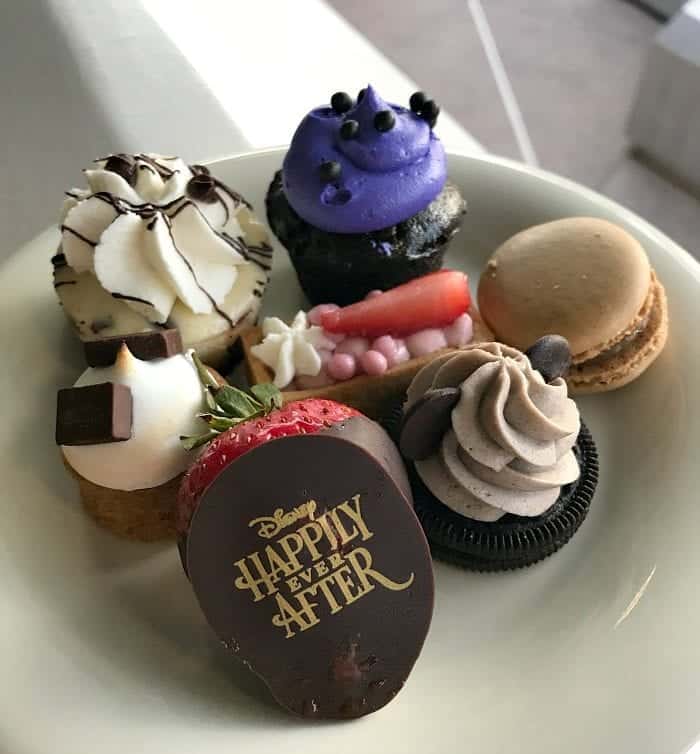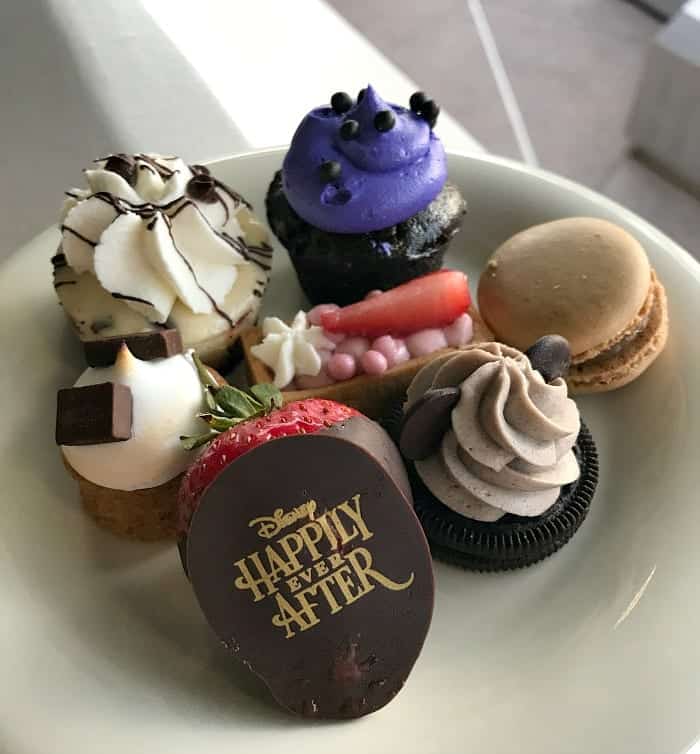 Later that evening we did the Happily Ever After Dessert Party before the fireworks.  Look at these desserts, such a perfect way to get ready for the show!!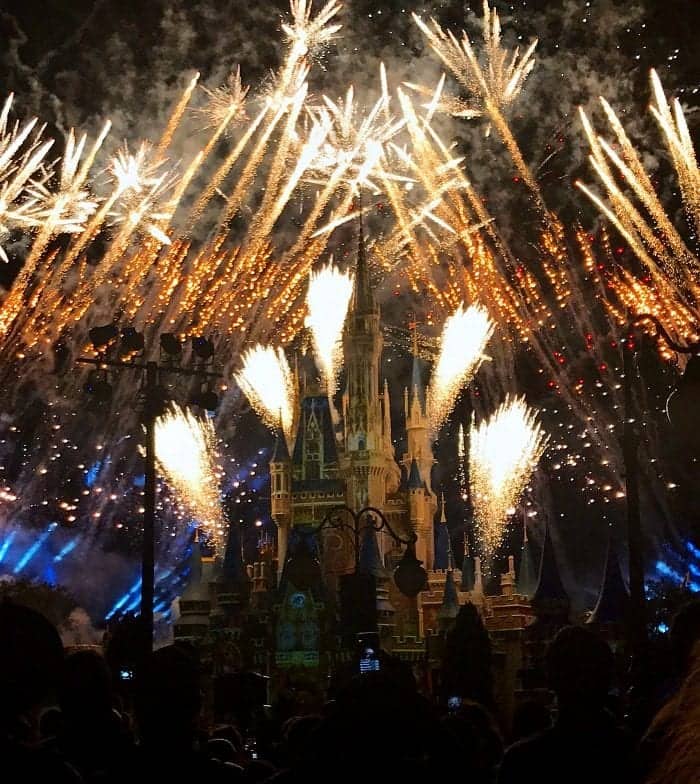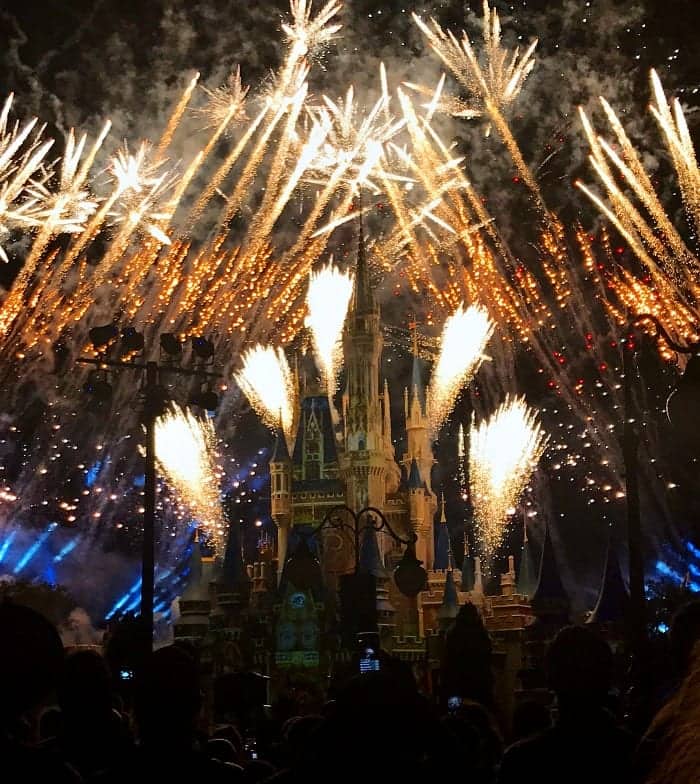 The Happily Ever After Firework Show was one of the highlights of my week.  The show was spectacular.  The music, oh my goodness, no better firework show if you ask me.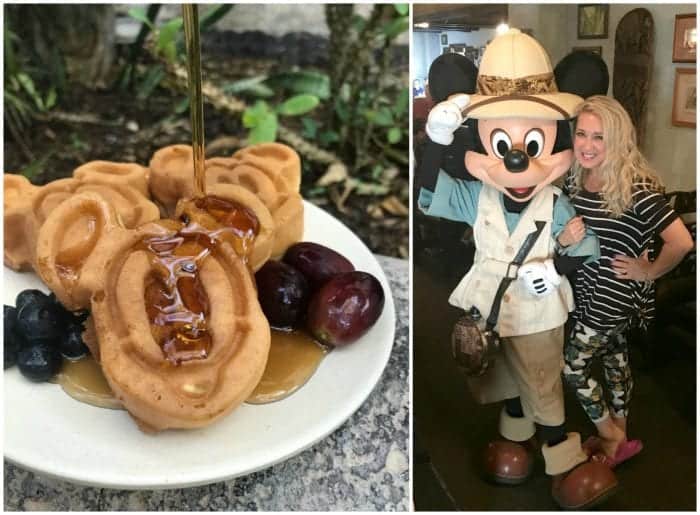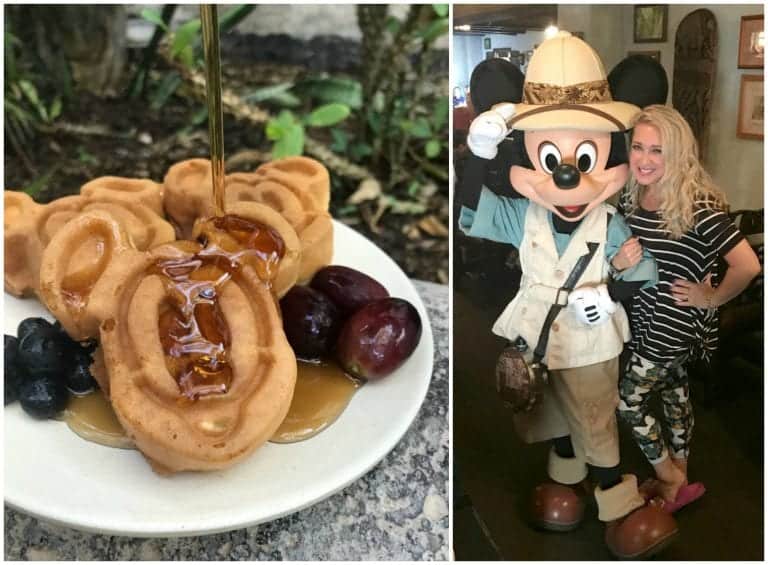 Our next morning was spent at Disney's Animal Kingdom.  We had breakfast at Tusker House.  LOVED this whole dining experience.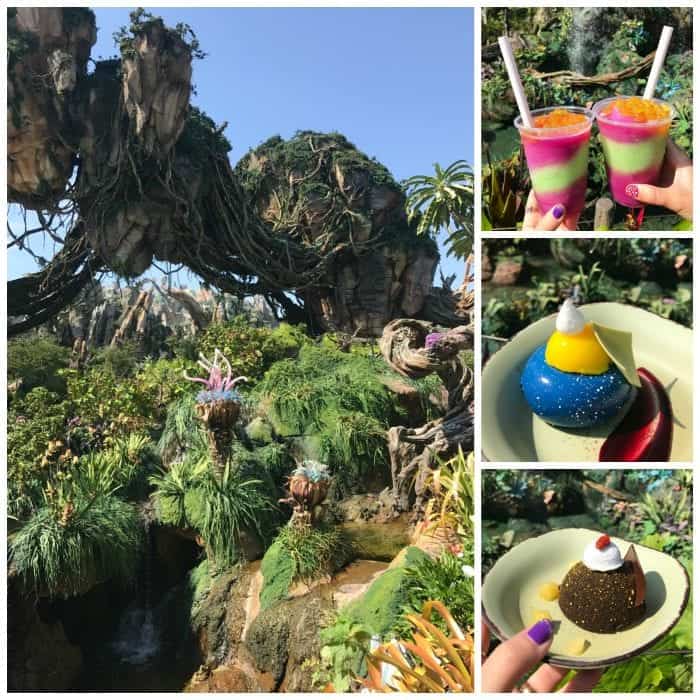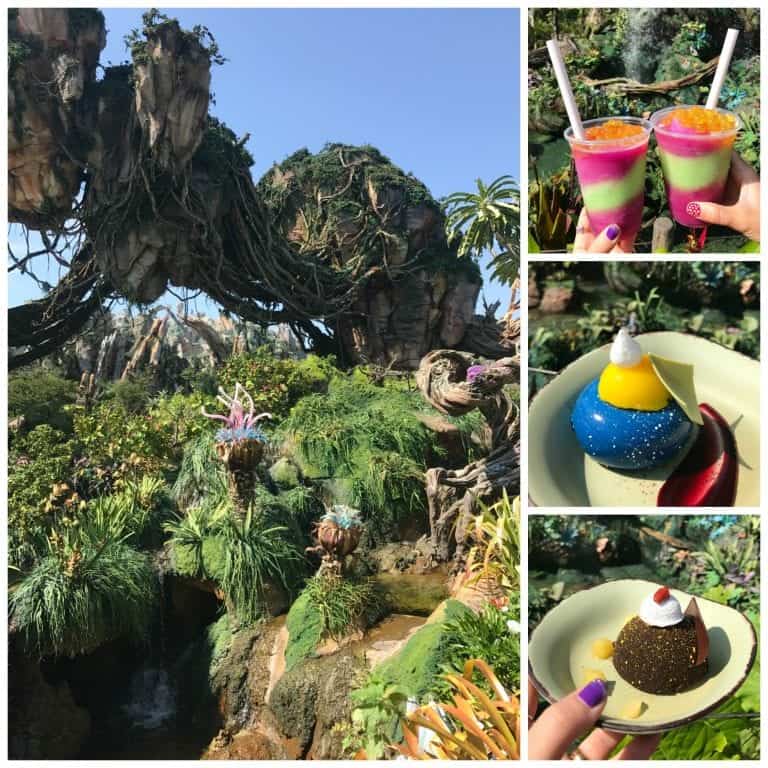 Getting to explore Pandora had me in complete awe.  It is so visually stunning!  Every detail was so beautiful.  The Avatar Flight of Passage ride was about the coolest thing I've done.  Had that same feeling of Soarin Over The World, but on an extreme different level.  LOVED the Na'vi River Journey as well.  Can't wait to visit again. Be sure to get your FASTPASSES in advance as this is a very popular ride. Was also so excited to try these treats from Pandora!  Tried the Night Blossom from Pongu Pongu, the Blueberry Cream Cheese Mousse and Chocolate Cake from Satu'li Canteen.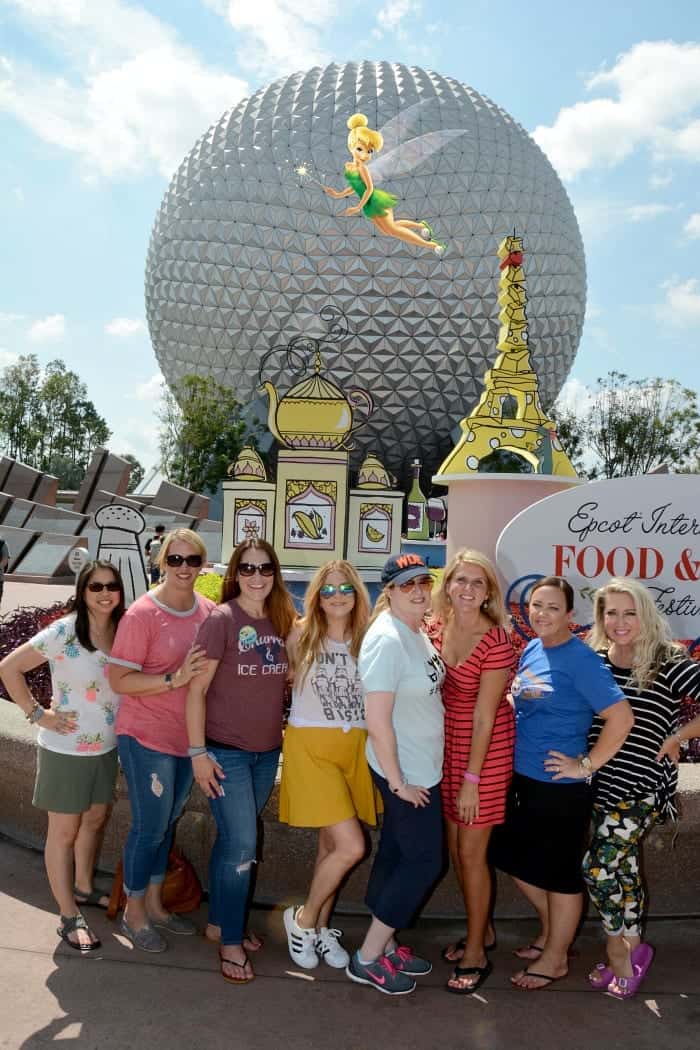 Our afternoon was spent at Epcot!!  We got to sample the Food and Wine Festival and ride some of our favorite rides.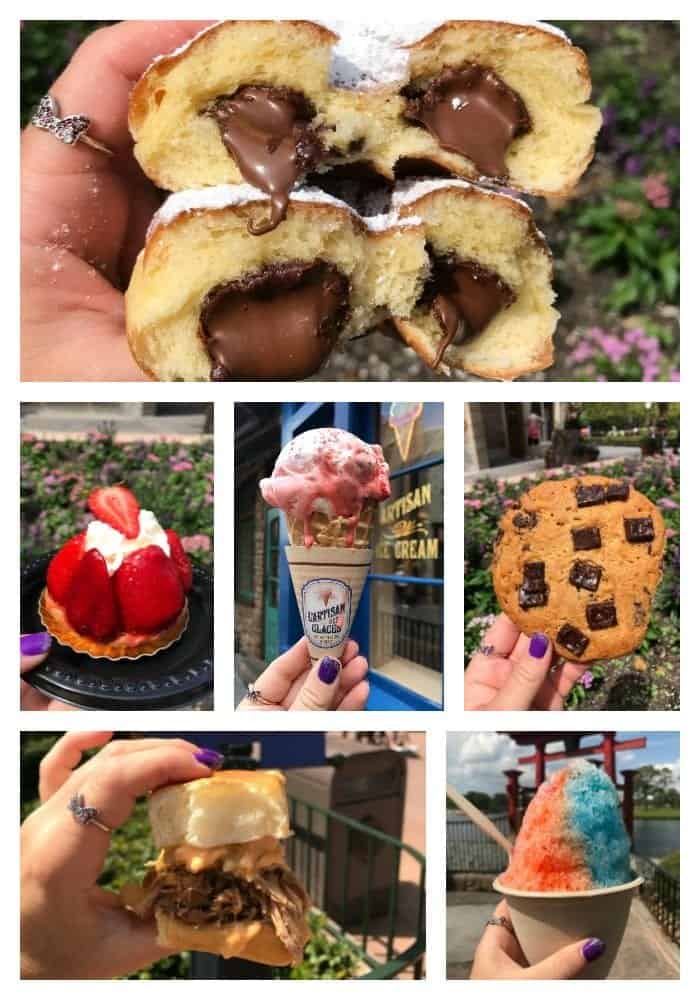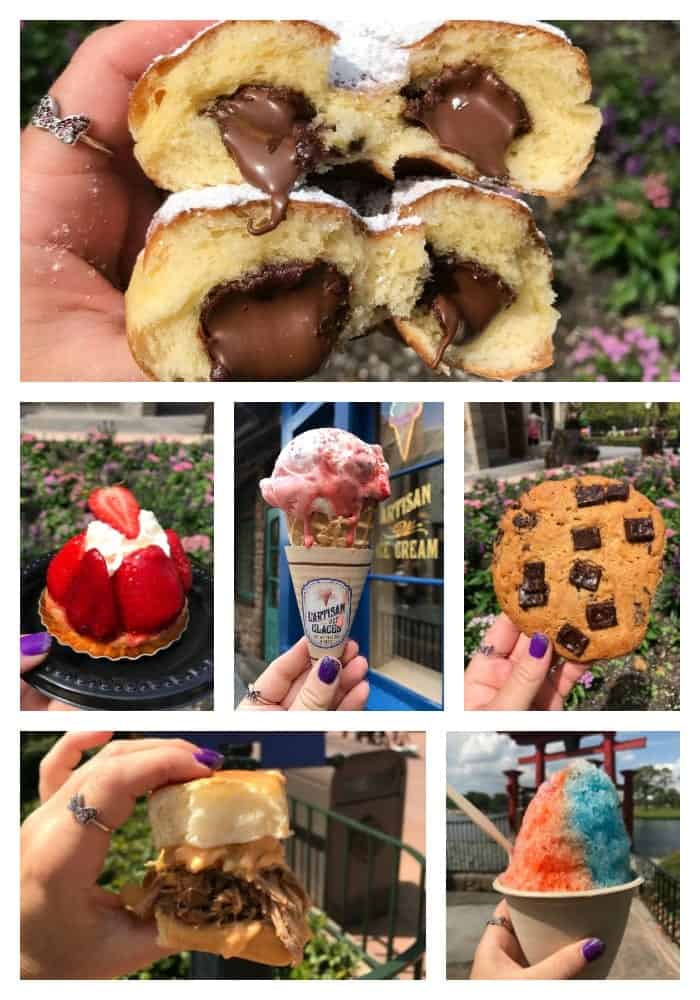 Eating our way through Epcot was AMAZING.  We sampled lots of the Food & Wine Festival along with some favorites through World Showcase.  It's my favorite kind of day!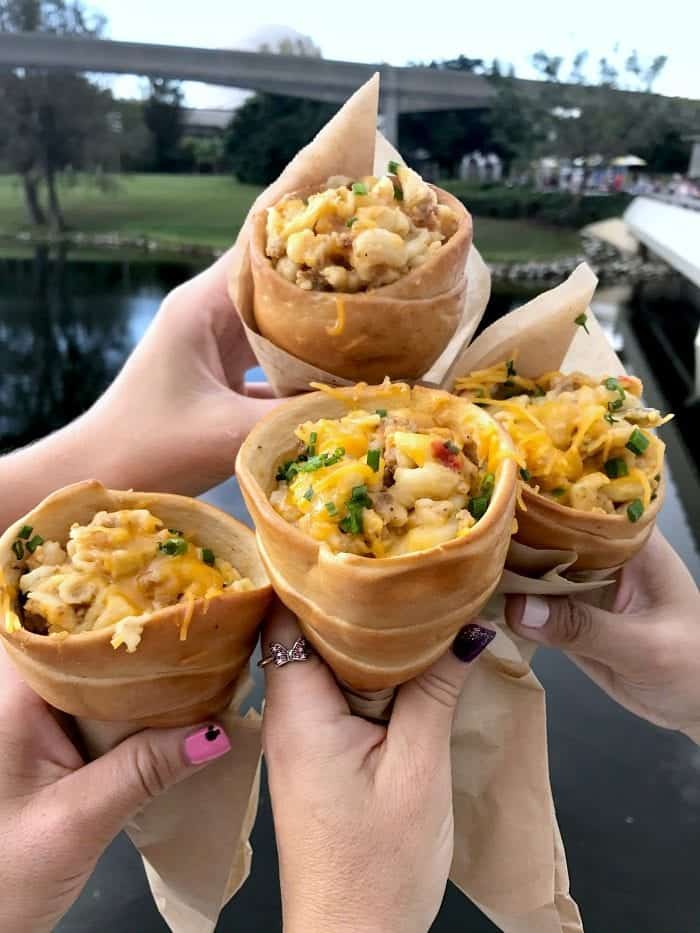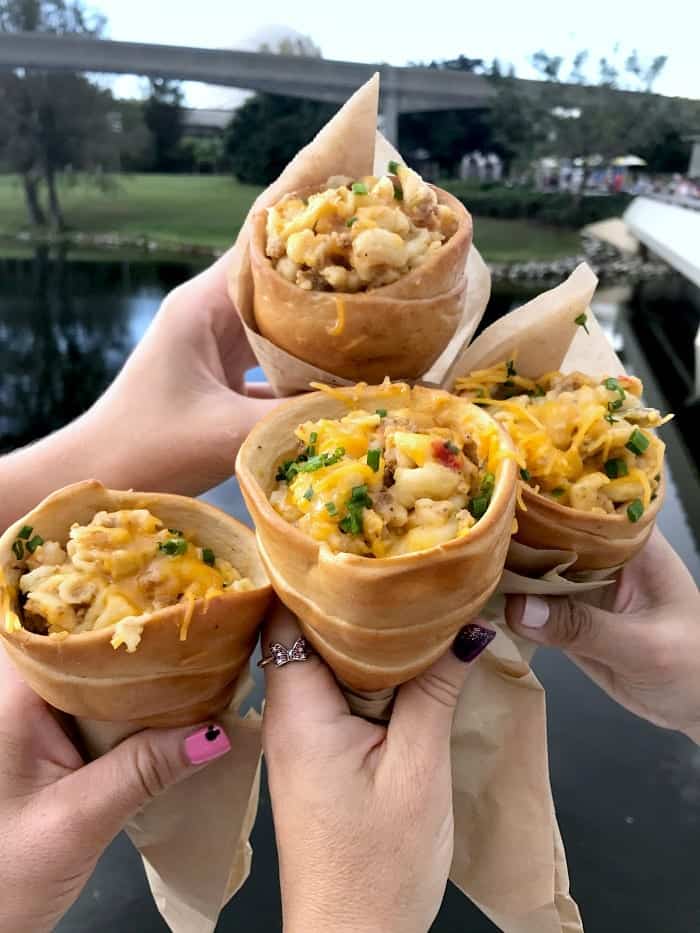 I mean check out these Cheeseburger Mac n' Cheese in a bread cone at the Craft Beer booth!  They were so good.  Highly recommend them.
Later that evening we got to see David Cook perform as part of "Eat To The Beat" and had dinner at La Hacienda de San Angel.  Perfect ending to a great day.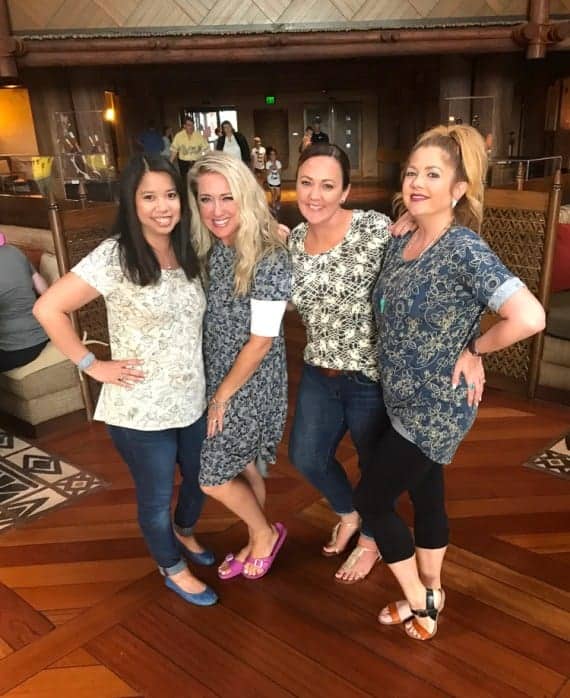 We had Friday to explore on our own so we started at Disney Springs for some shopping and of course….eating 🙂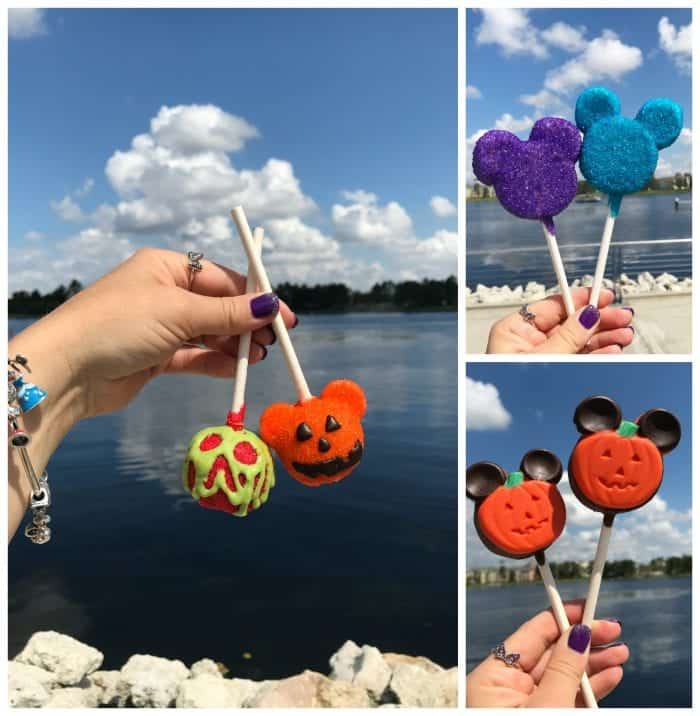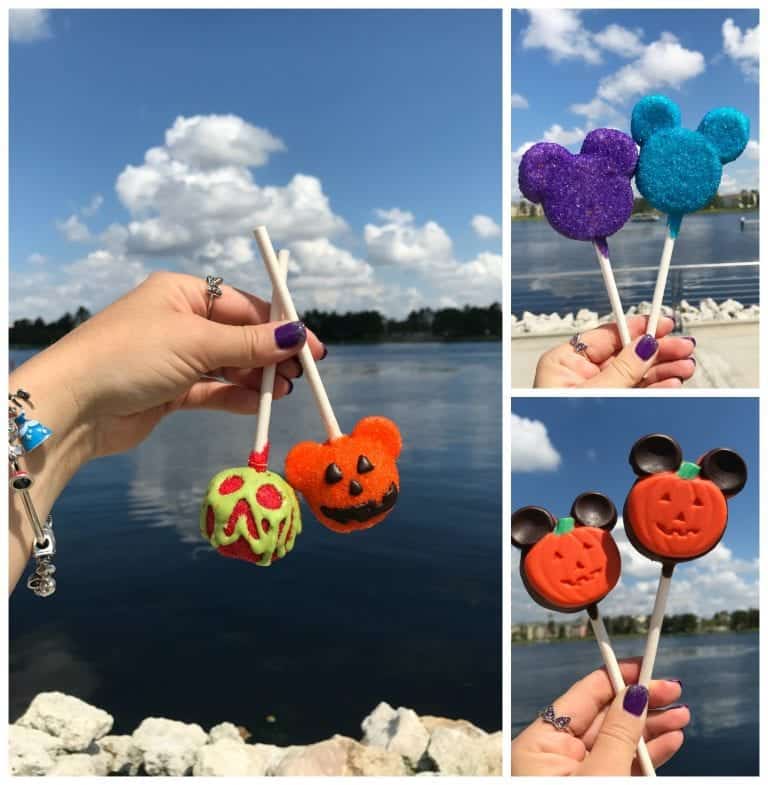 Candy Cauldron is always a favorite.  Look at these cute treats!!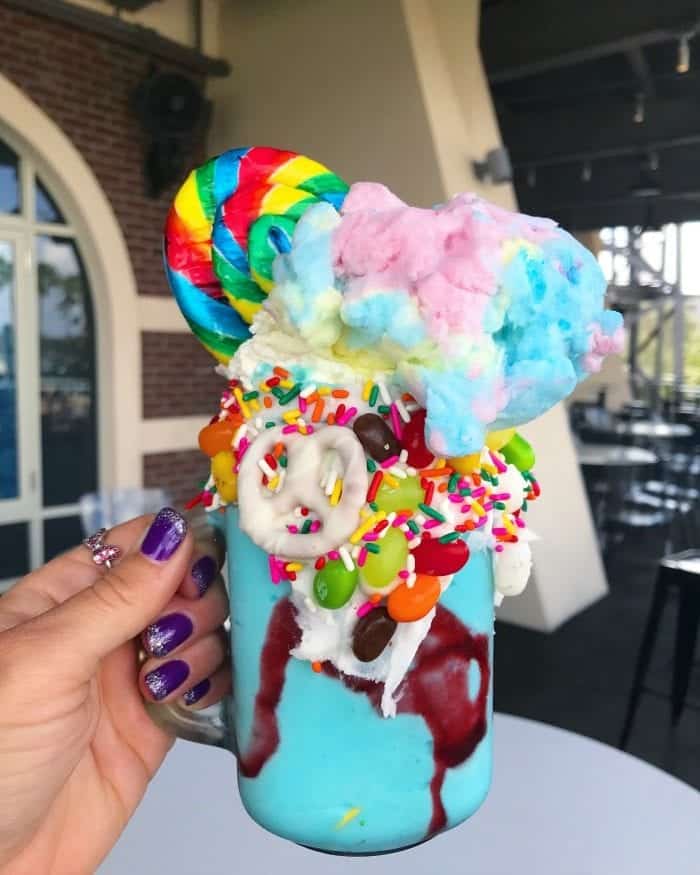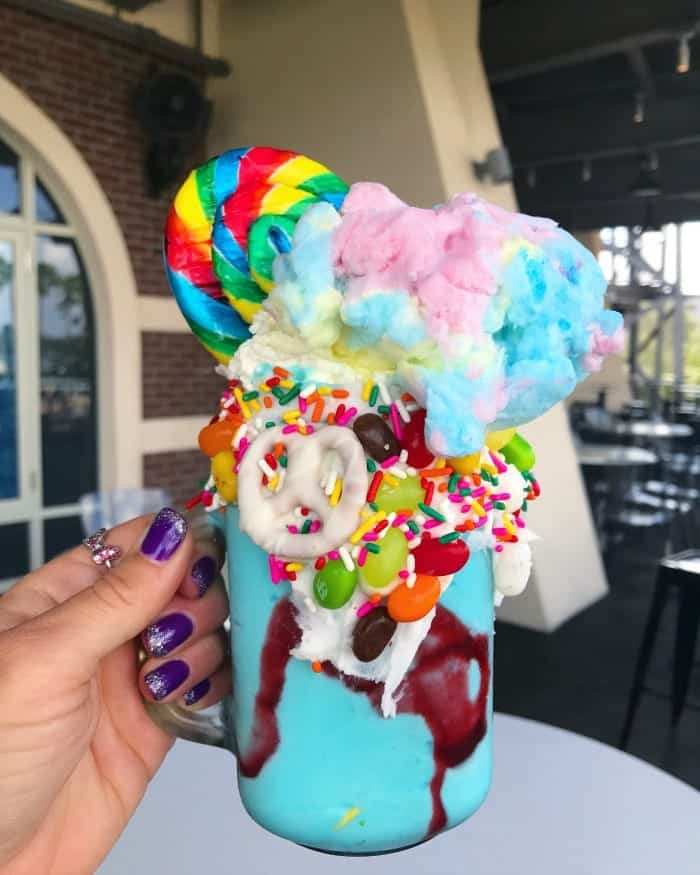 Lunch at Planet Hollywood is a foodie's dream.  Look at these milkshakes we got for dessert!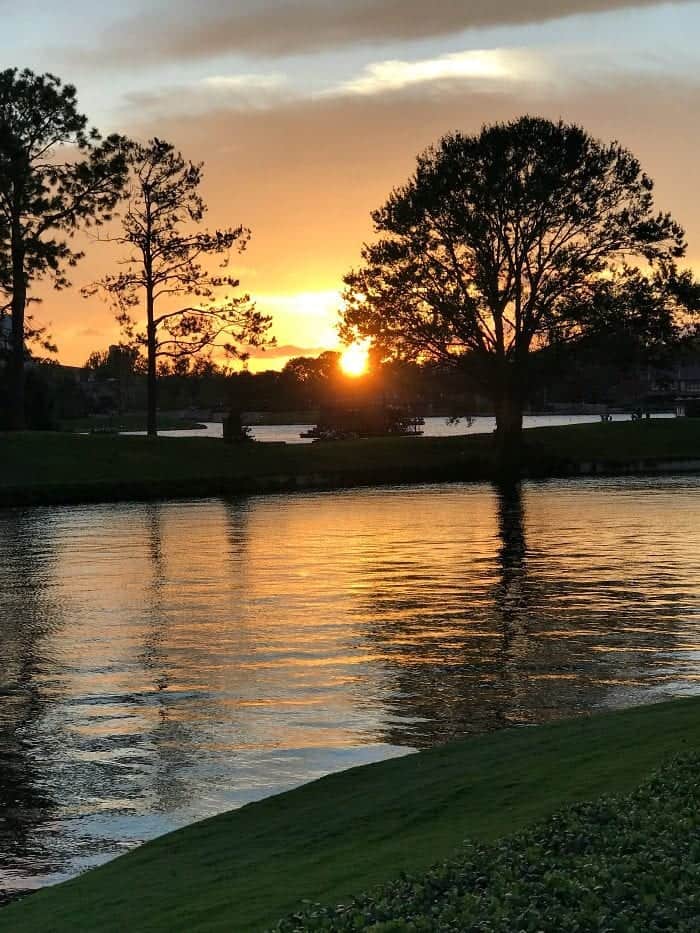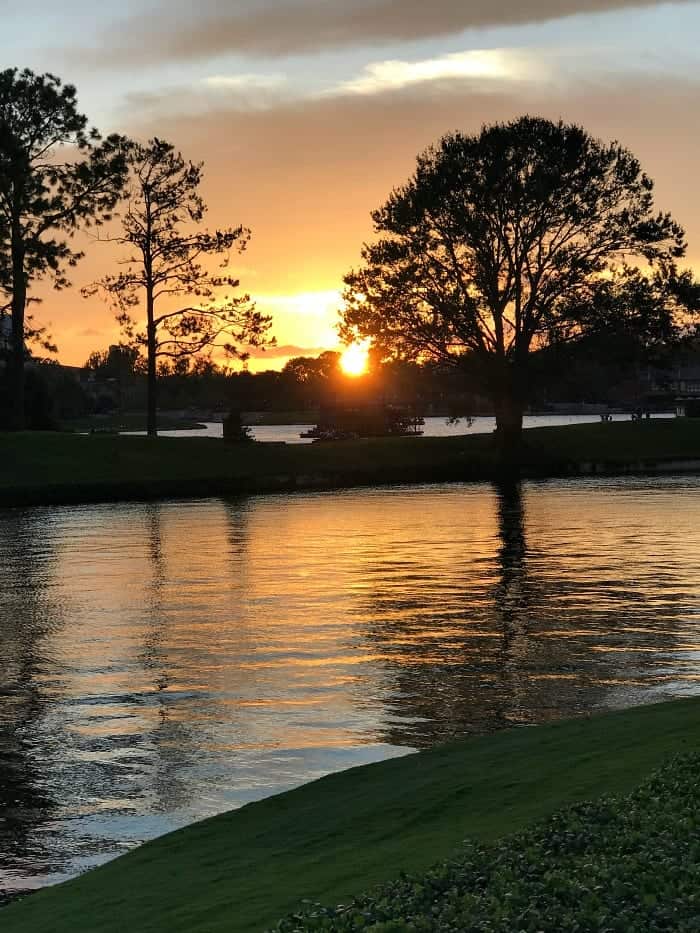 This is another Disney trip I'll never forget with my girlfriends.  So many memories and ALL of the food!  There's nothing like a Disney Vacation.  Can't wait to start planning my next one!
Huge thanks to the Walt Disney World team for hosting us on this very memorable week.
Thrilled to share my experience at the Disney Social Media Moms Celebration 2017 with you today!

The Disney Social Media Moms Celebration has been one of my favorite events since I attended my first in 2015.  It's no secret I'm a huge Disney fan, so being able to experience the fun with my family and friends is such a treat.  If you haven't heard much about this celebration, take a look at #DisneySMMC on social media.  You'll see pictures from our time at Walt Disney World and The Disney Wonder Cruise Ship.
Made a little video of our trip, hope you enjoy!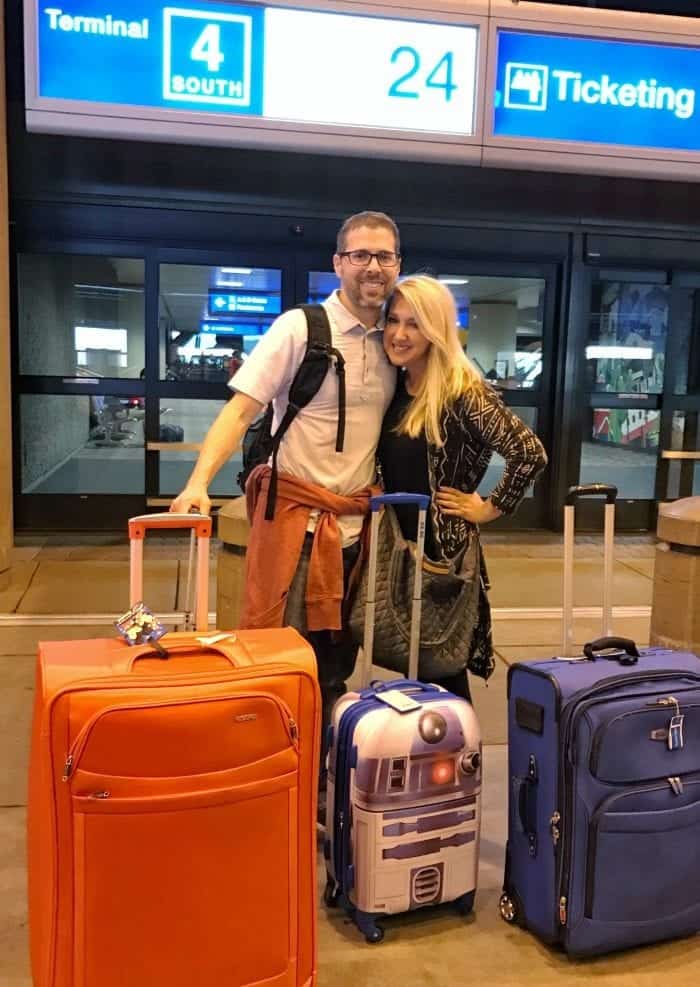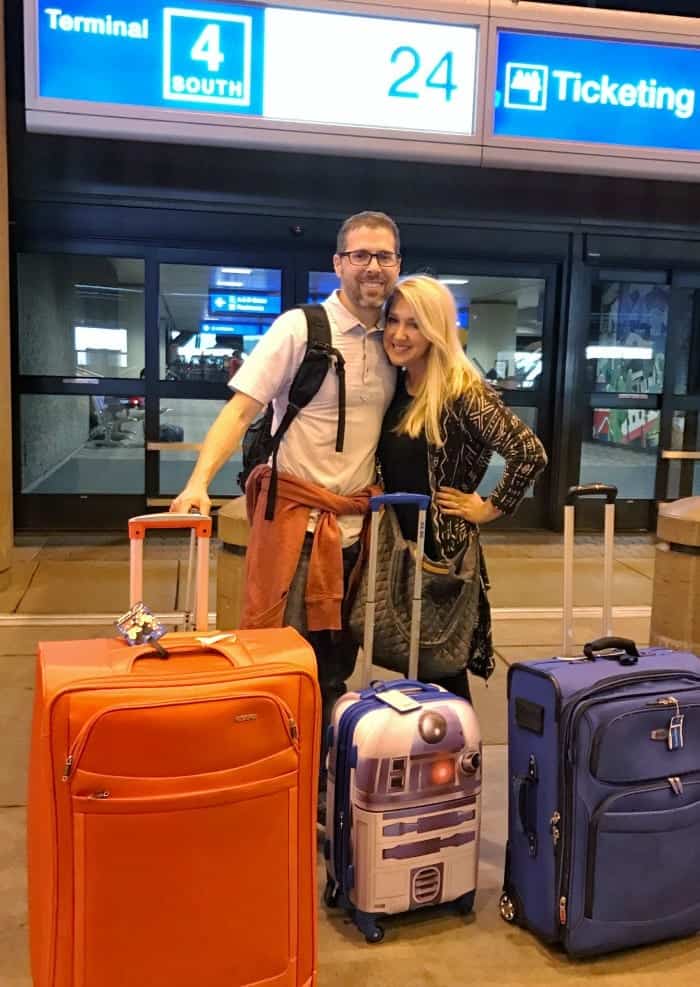 This year my husband and I went together.  We celebrated our early anniversary.  We had family helping with the boys and we were ready for a great trip!
How adorable is the R2D2 American Tourister Spinner?  My 11 year old has claimed it his 🙂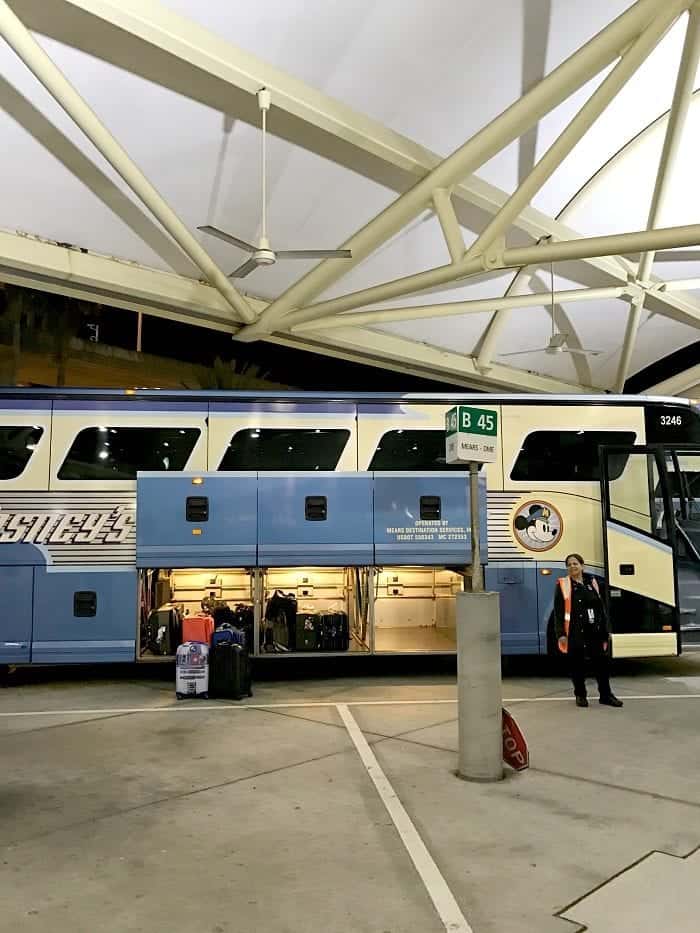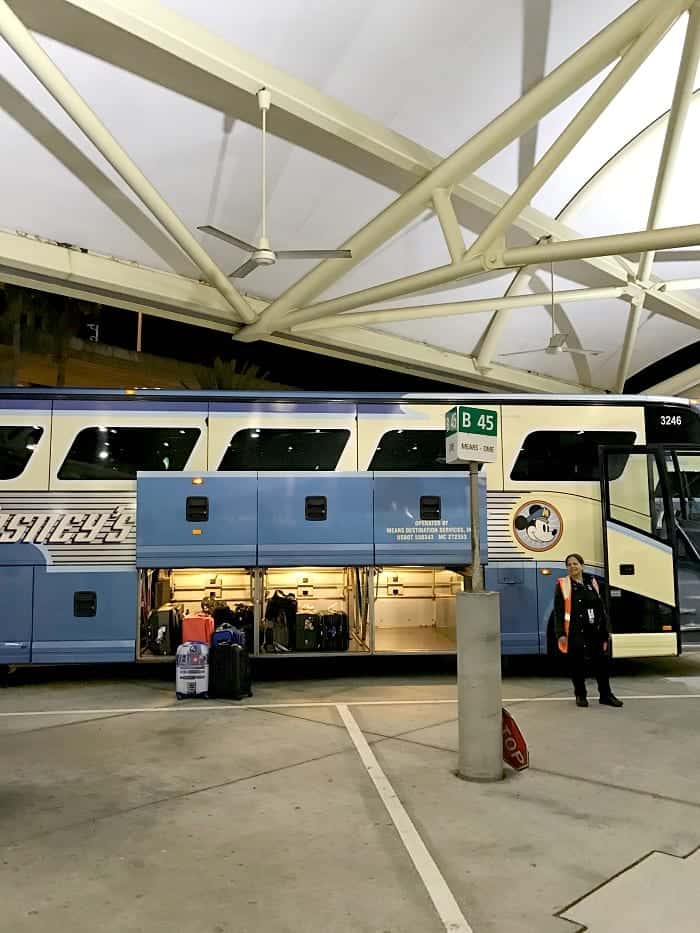 After we landed in Orlando, we made our way to the Magical Express.  Disney has got this down to a science.  So nice to pop on over after your flight.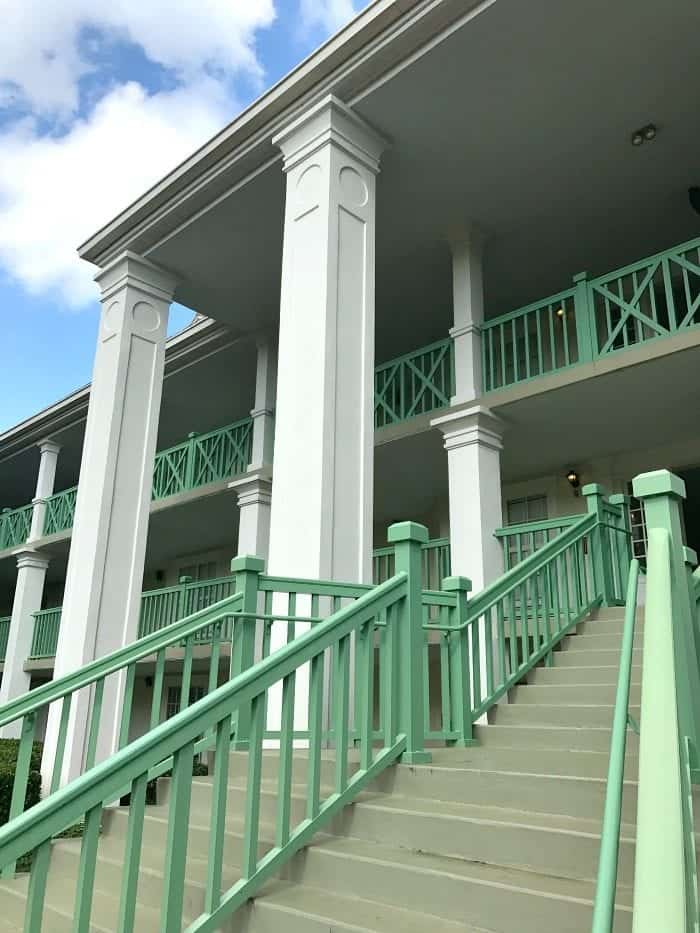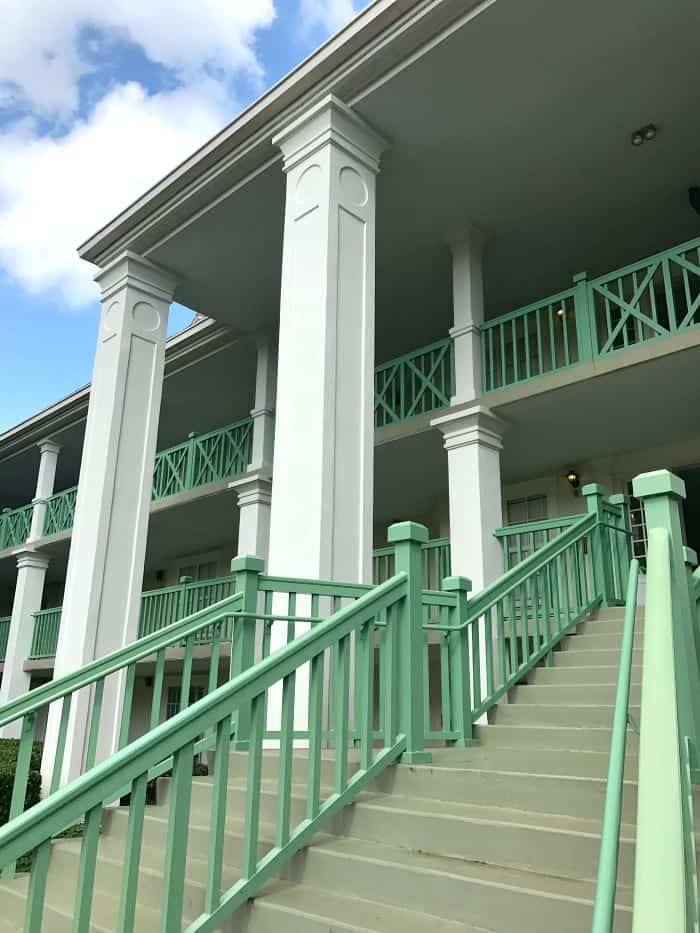 We spend the first portion of the trip at Disney's Port Orleans Resort-Riverside.  The grounds were absolutely beautiful.  Stay tuned for a full review of the hotel on my Disney page coming soon.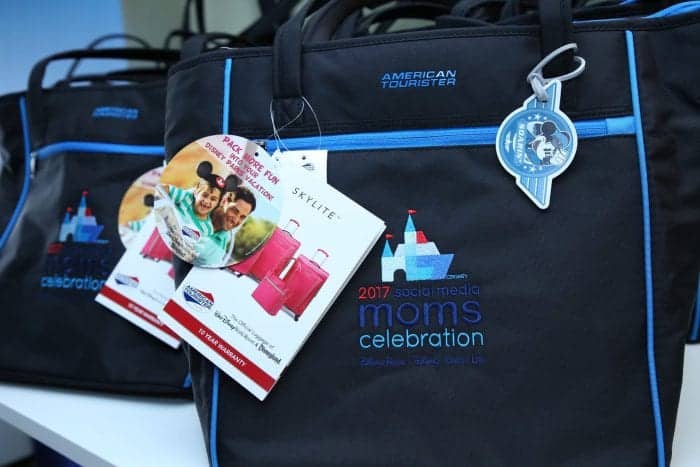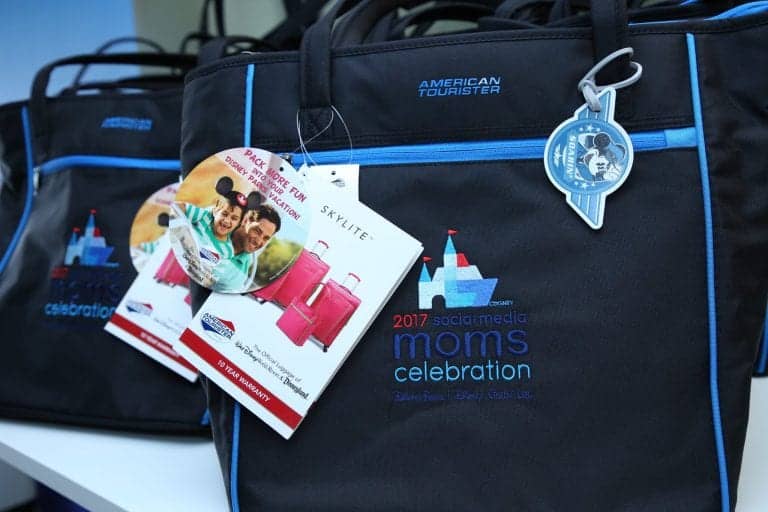 Photo via DisneySMMC Photographer
We got our welcome bag and it was time to experience the fun!
Exploring Disney's Epcot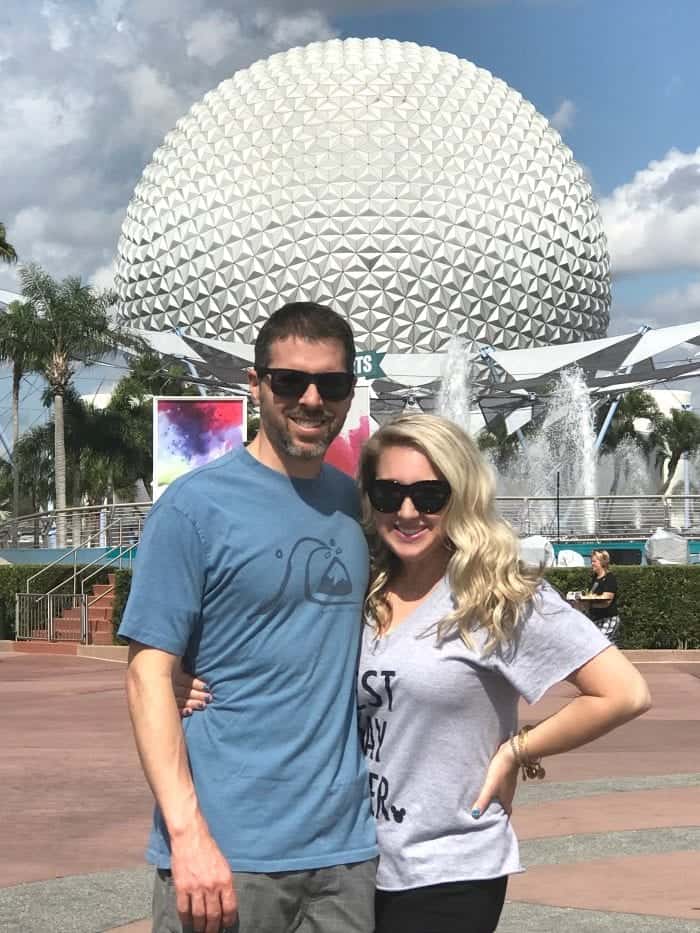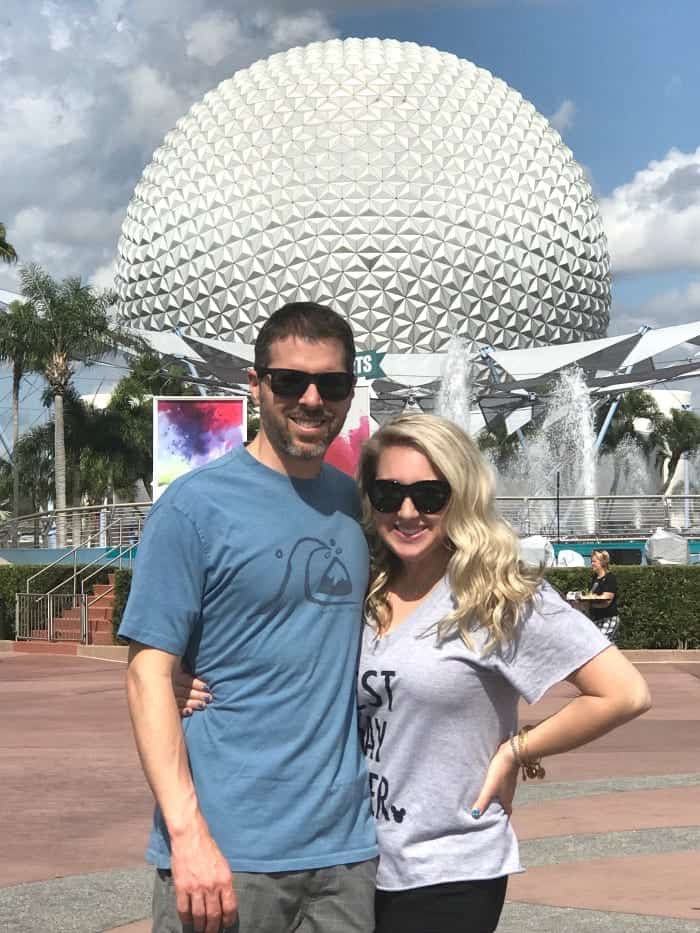 We decided to arrive one day early so we could explore a couple Disney Parks before the events started.  First up was Epcot.  One of my favorites!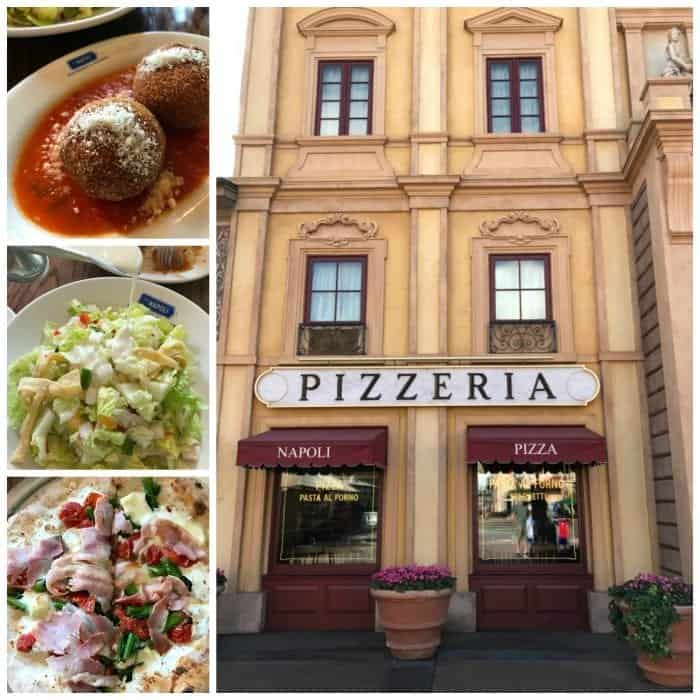 We made our way to Via Napoli for lunch, in Epcot's Italy of the World Showcase.  I always try to get reservations here, some of my favorite pizza and appetizers anywhere!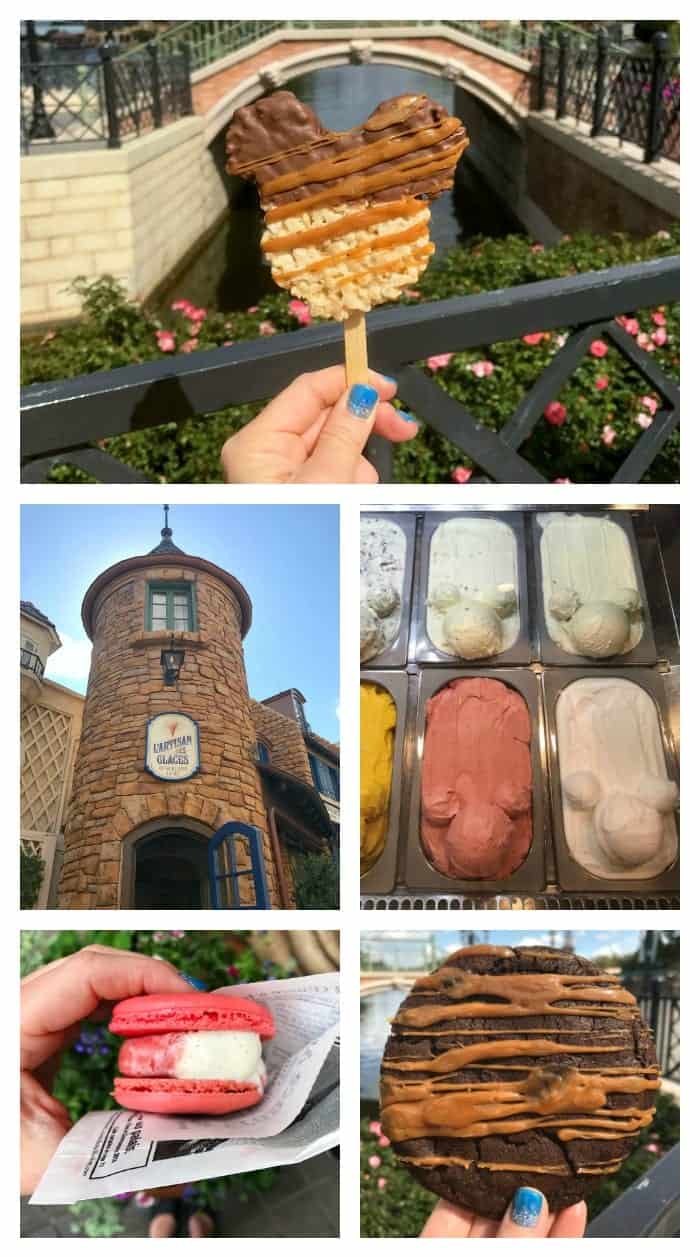 It wouldn't be a trip to Epcot without some of our favorite treats from Germany and France!
Quick Trip to Disney's Magic Kingdom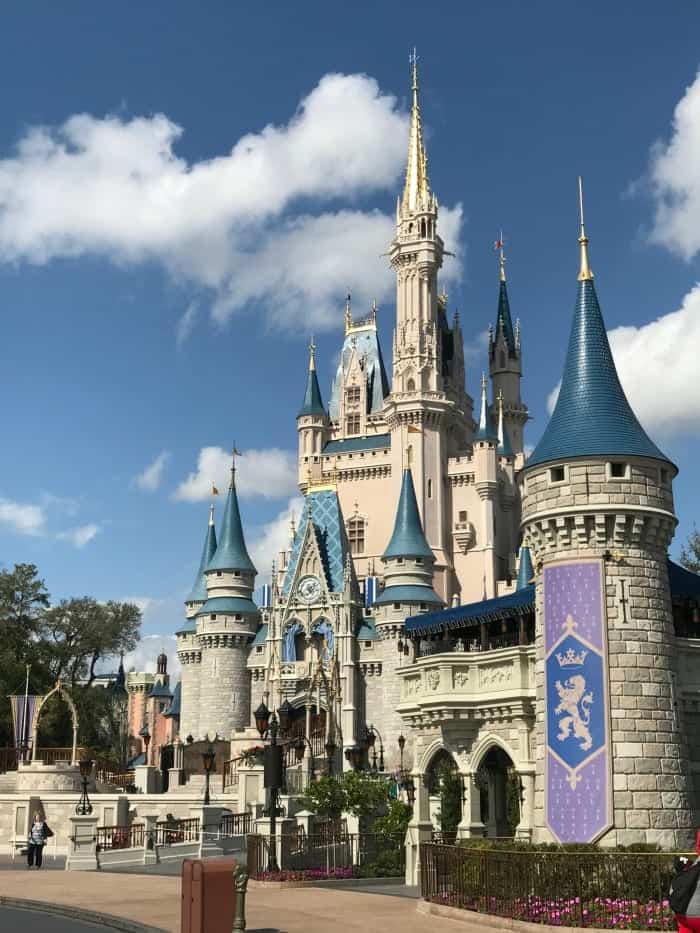 After lunch, we made our way over to Magic Kingdom Park.  There's nothing like walking down Main Street U.S.A and seeing the Cinderella Castle ahead.  I love it here!!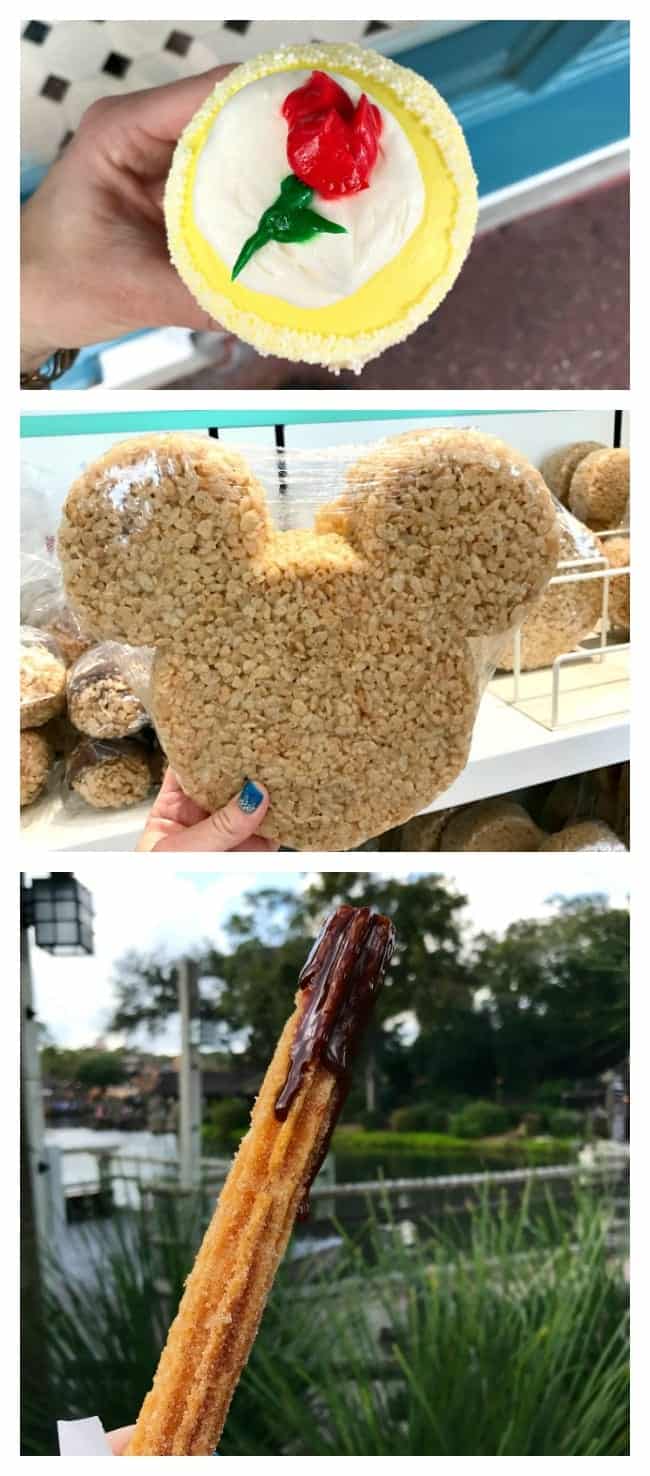 More goodies throughout the day.  Just too fun!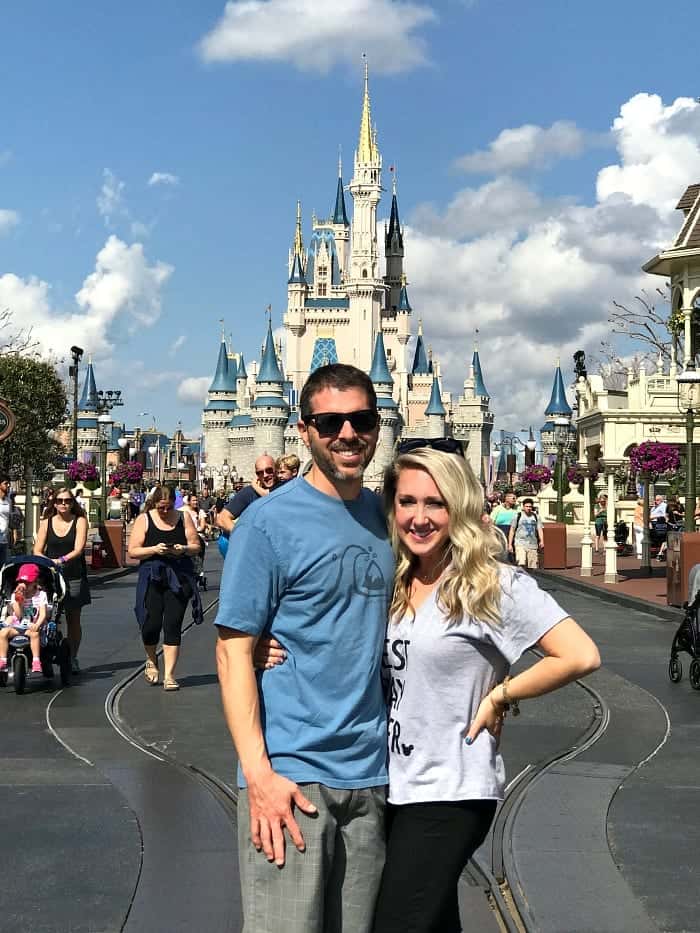 Picture in front of the Castle, check!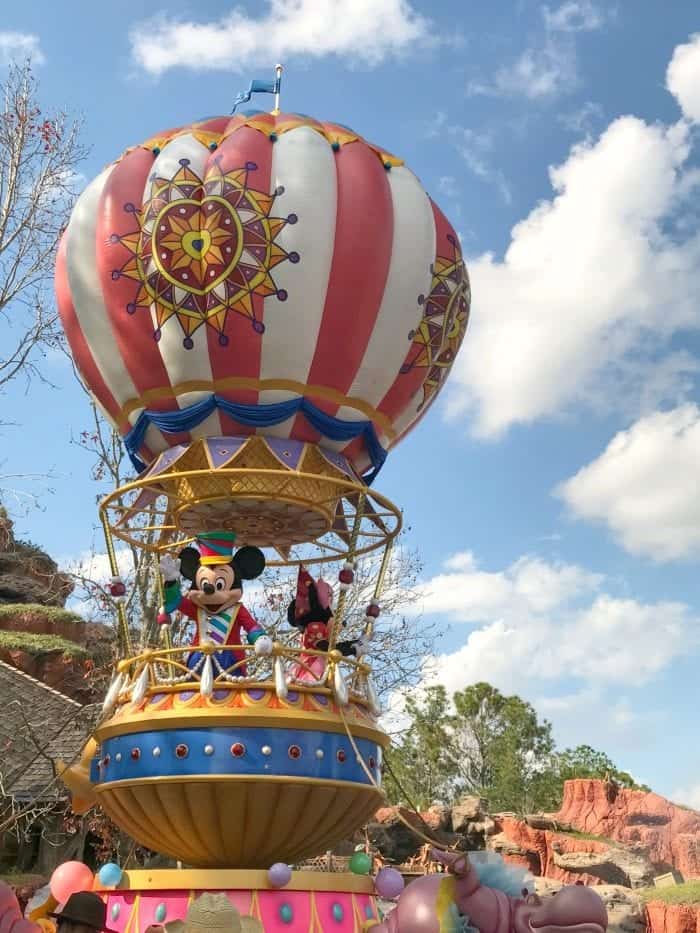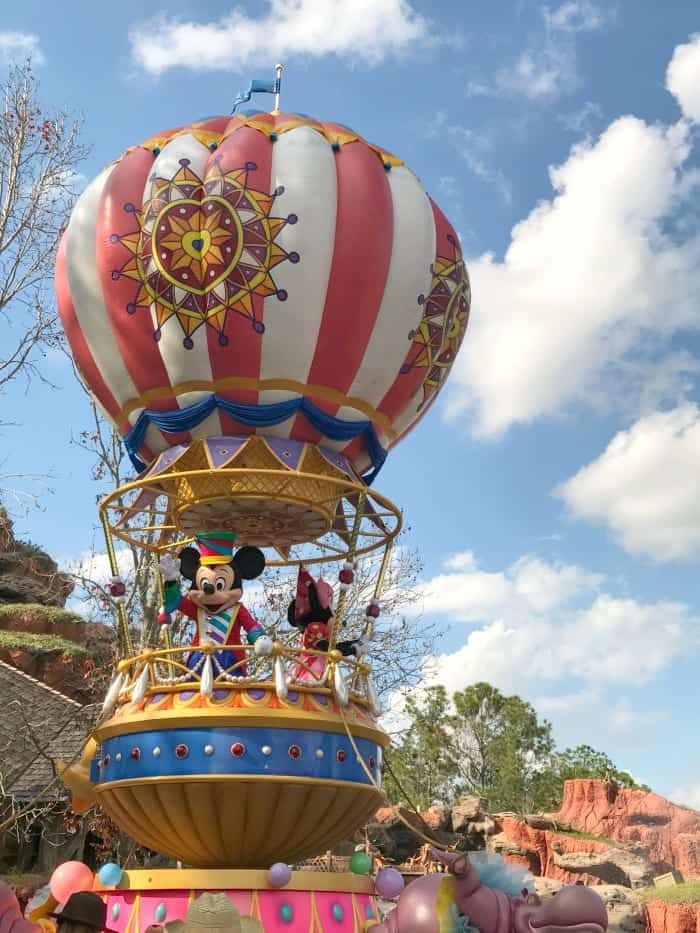 We caught the Disney Festival of Fantasy Parade while we were heading to Splash Mountain.  It was adorable!
First Event for Disney Social Media Moms Celebration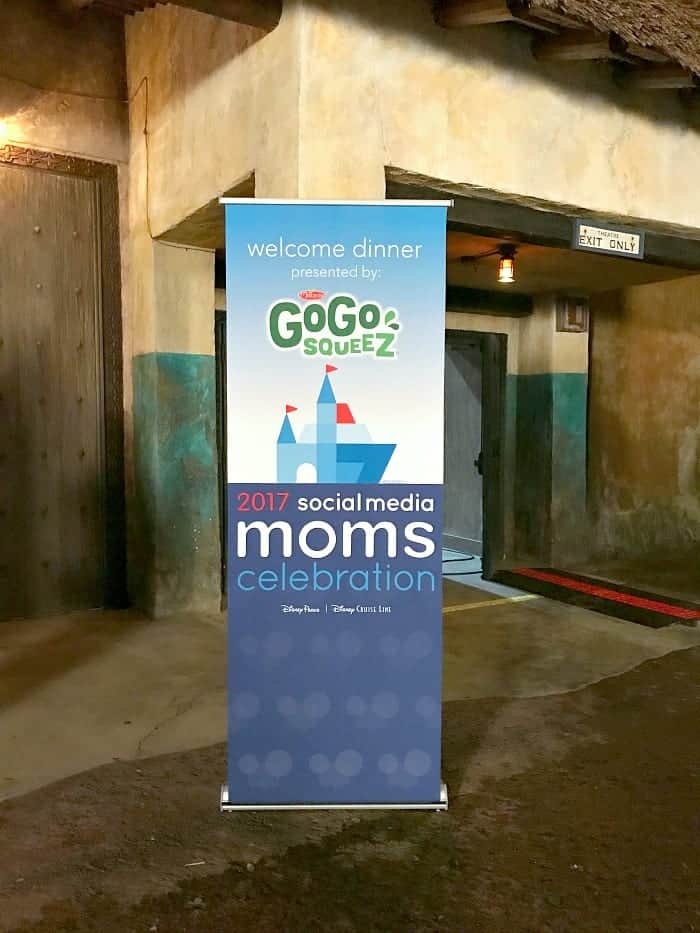 Later that evening we had our first event dinner at Disney's Animal Kingdom sponsored by GoGo Squeeze.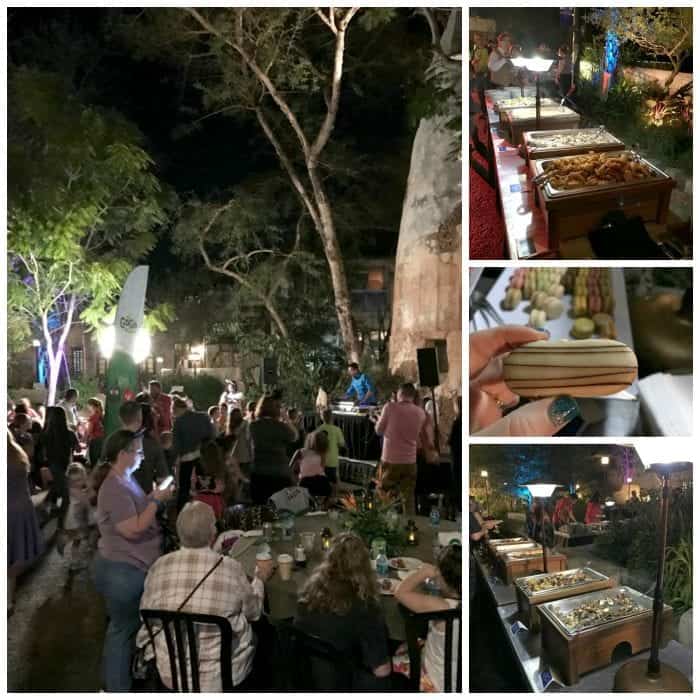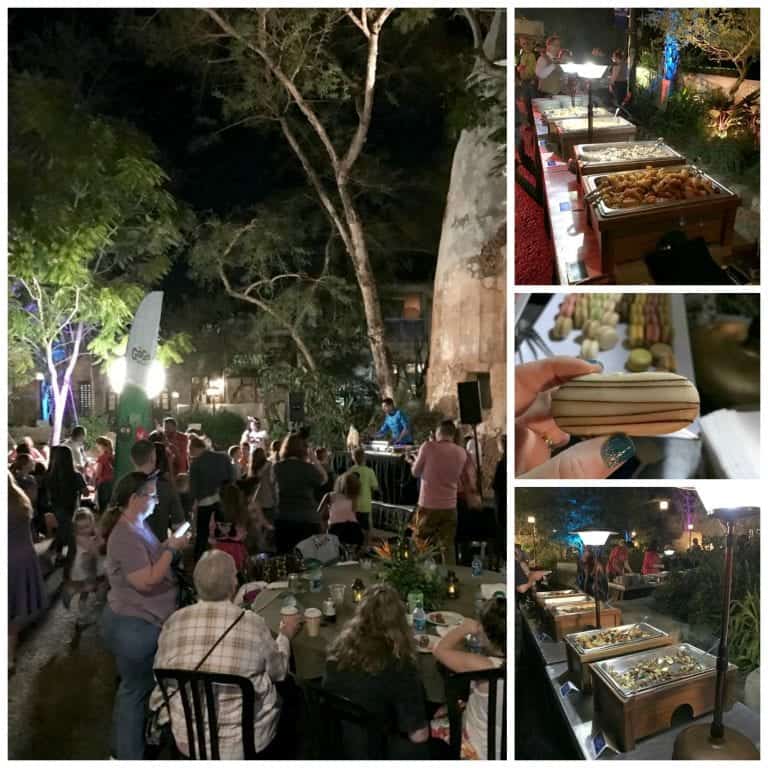 Lots of food, lots of fun seeing everyone with their families.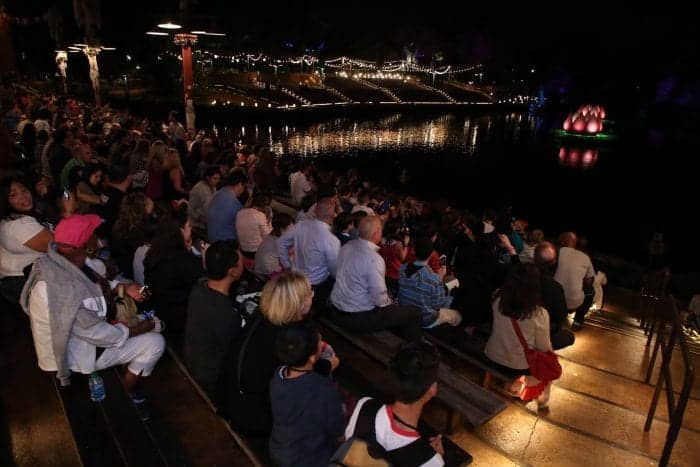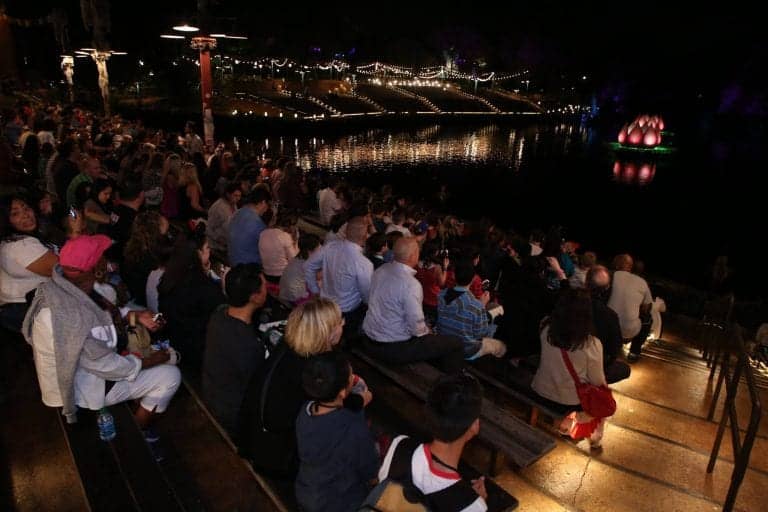 Photo via DisneySMMC Photographer
What a treat to be able to preview the Rivers of Light Nighttime Show after dinner.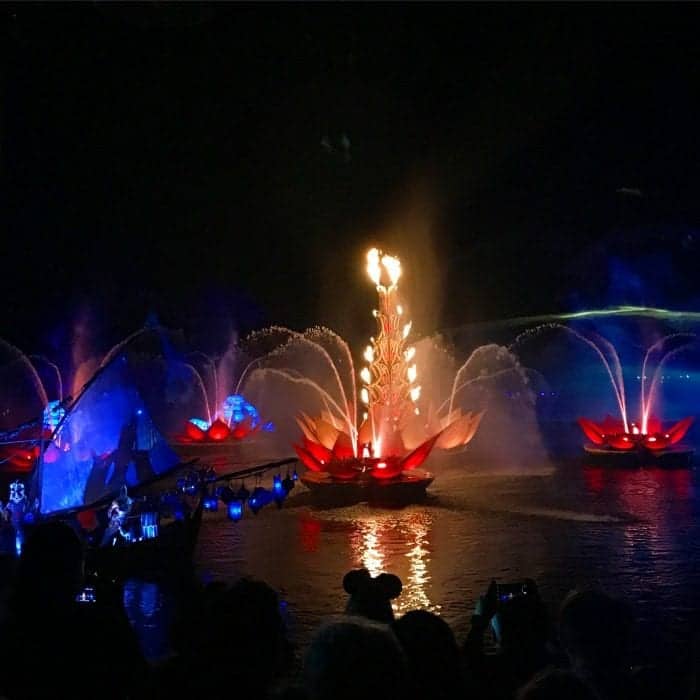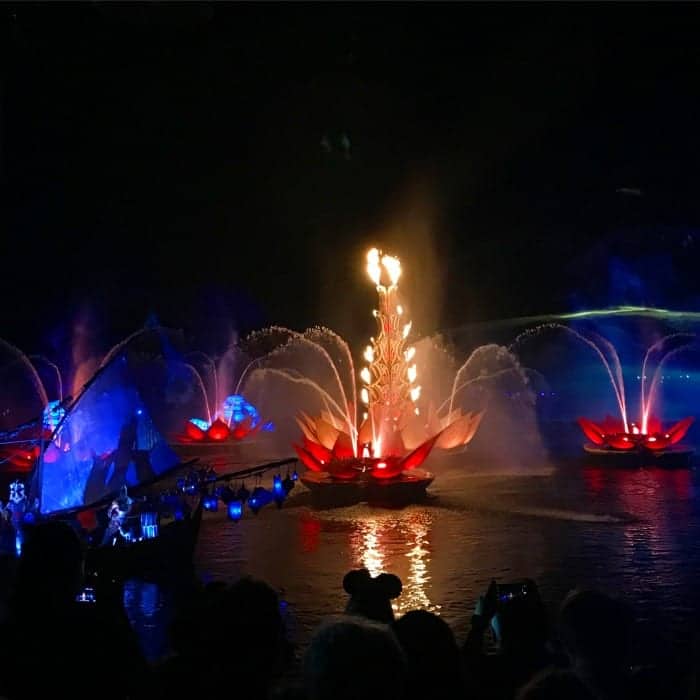 I'm telling you, it was stunning.  A must see when visiting Disney's Animal Kingdom.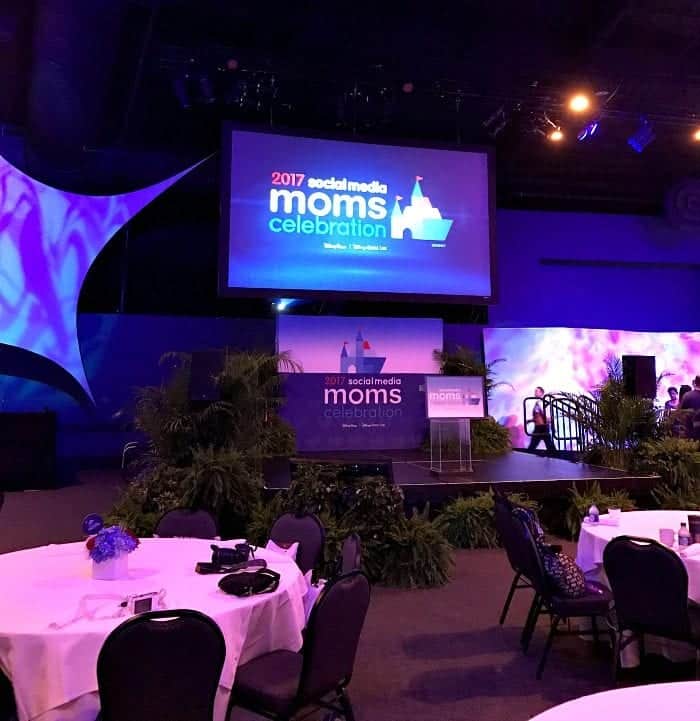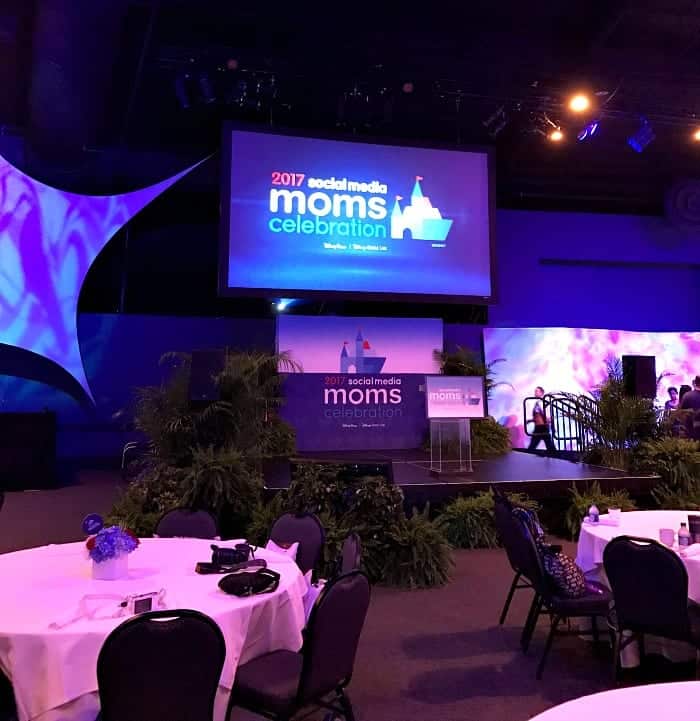 The next morning we had a lovely breakfast at Epcot.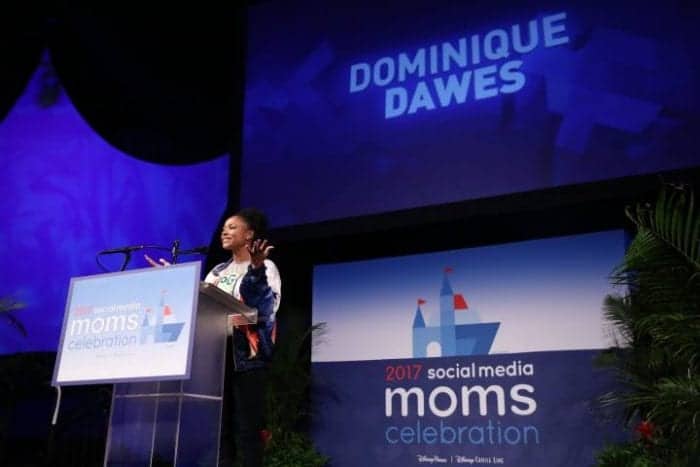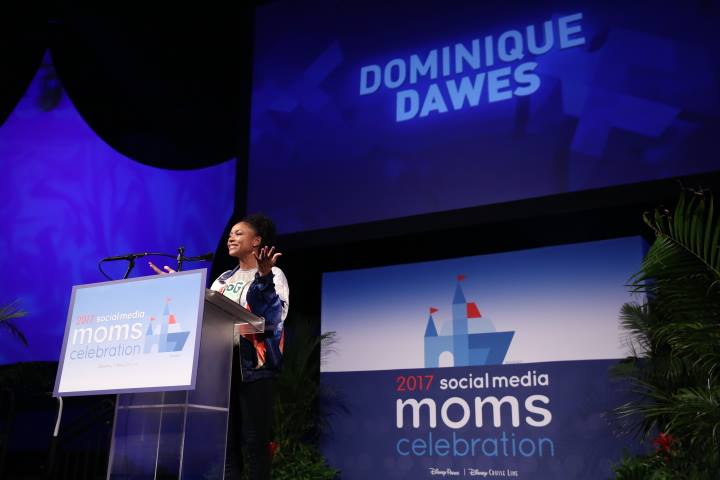 Photo Via DisneySMMC Photographer
We heard from our amazing sponsors and even got to hear from 1996 Olympic Gold Medalist Dominique Dawes!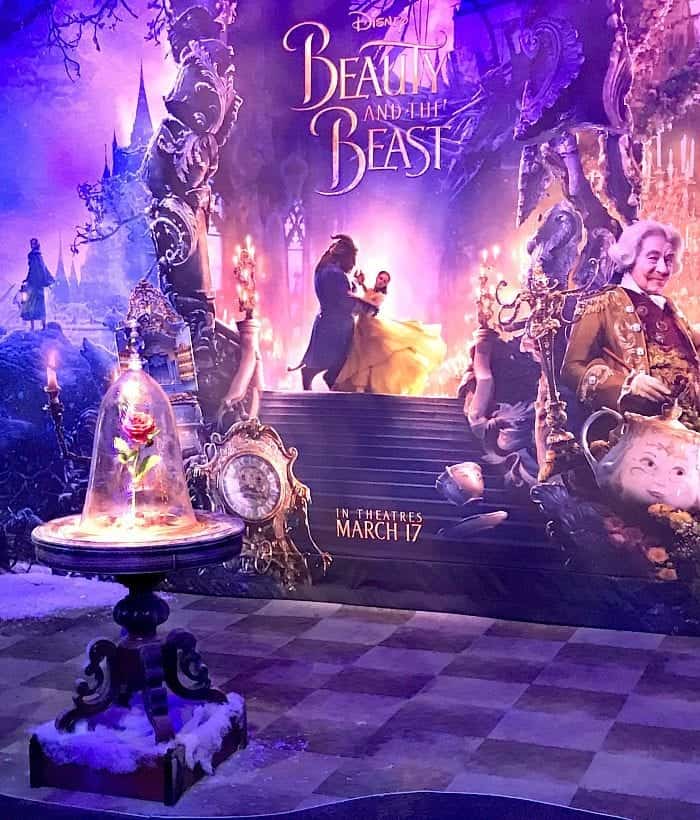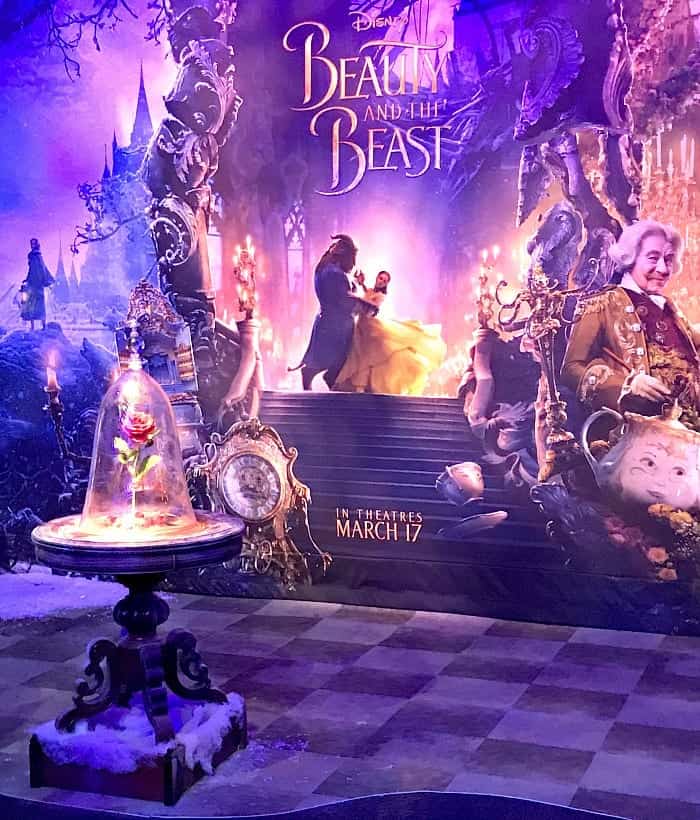 We got to meet and mingle with our sponsors after breakfast and got a peek at this gorgeous Beauty and the Beast display.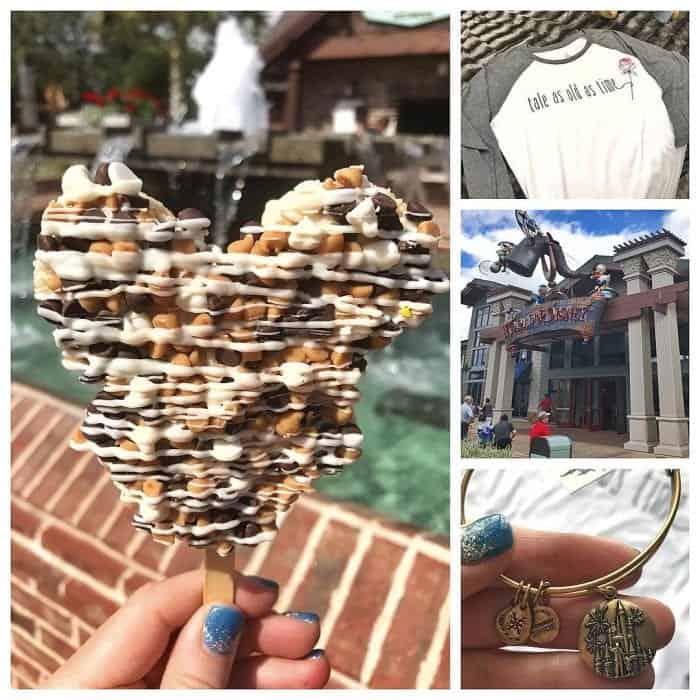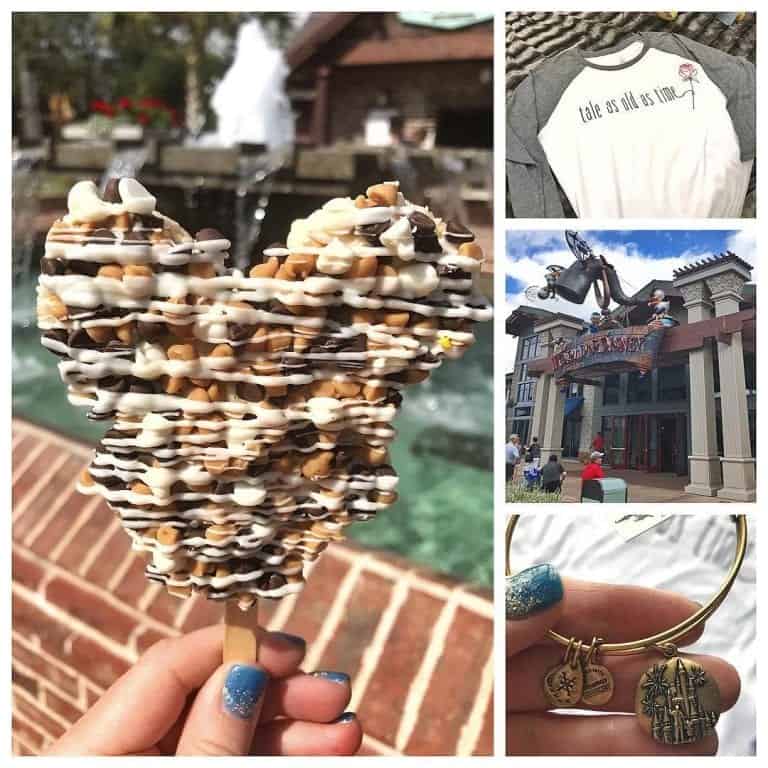 After breakfast we had a Disney Springs Social Media Challenge.  I found all kinds of fun things to bring home.  Disney Springs is such a great place for shopping and amazing restaurants.
Disney's Hollywood Studios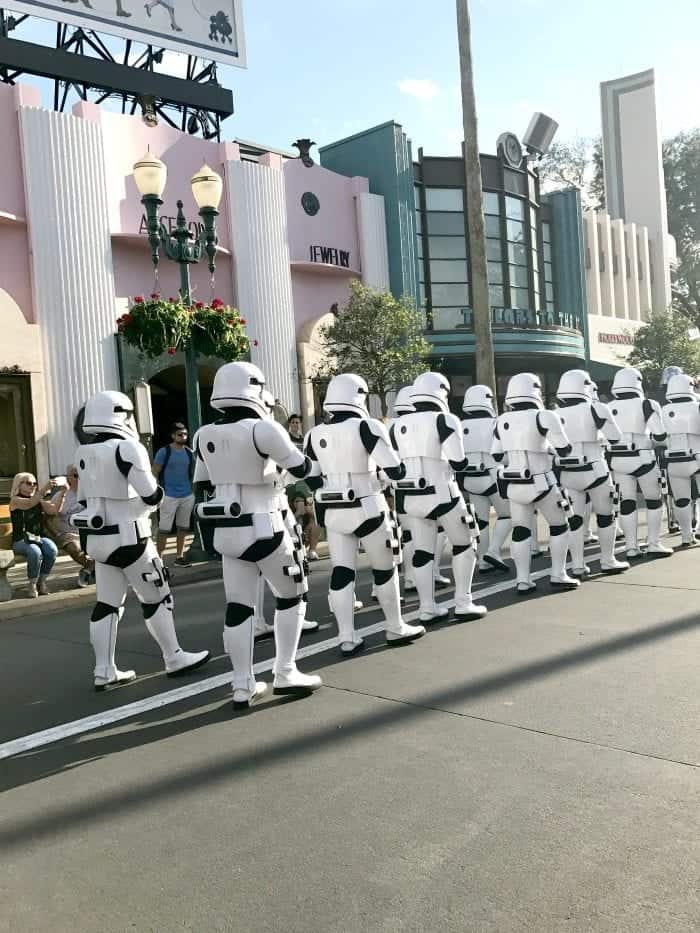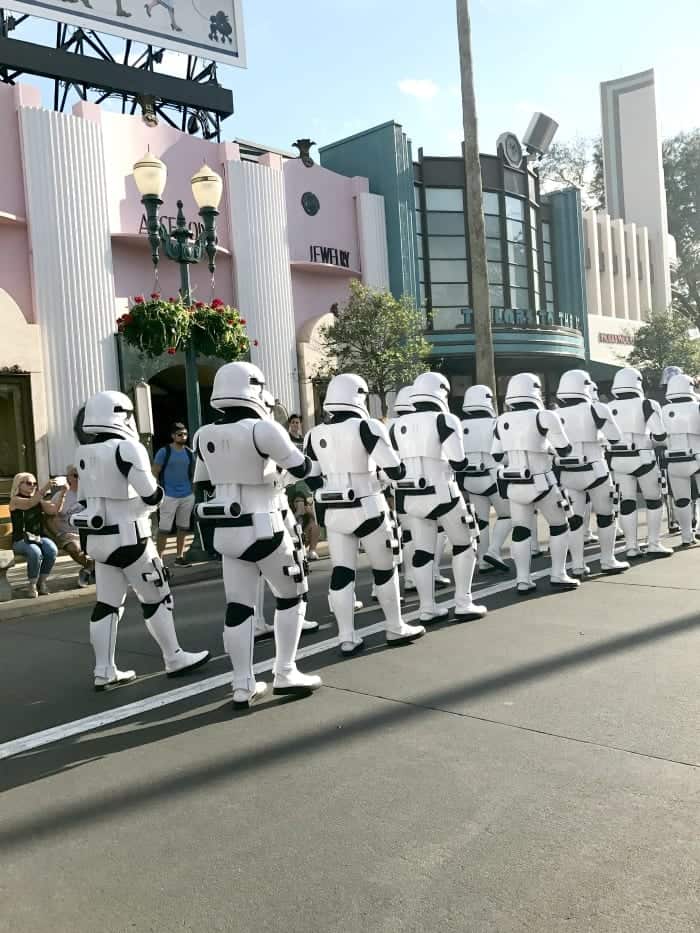 Later that evening Cullen and I made our way over to Hollywood Studios before our event dinner to explore the park and ride some of our favorite rides.  These Storm Troopers are the coolest marching down the street!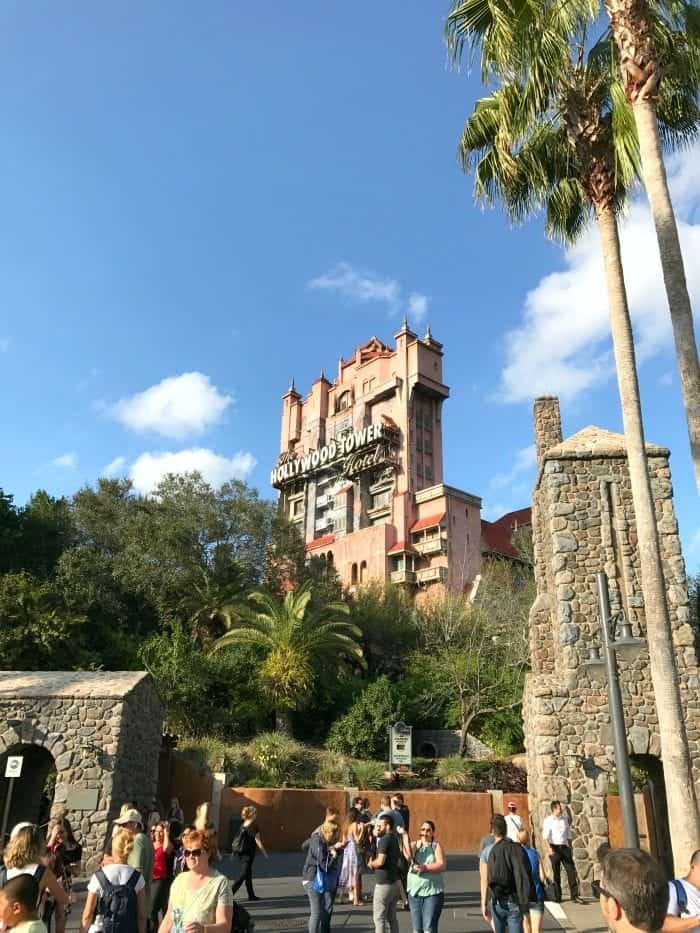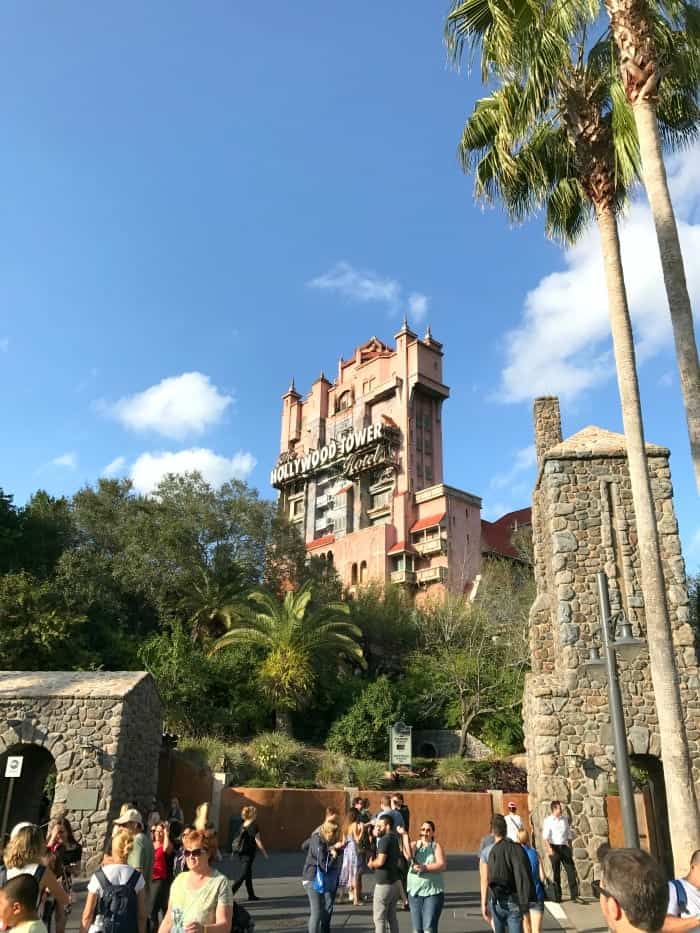 We miss The Hollywood Tower of Terror at Disney California Adventure so it was such a treat to ride it.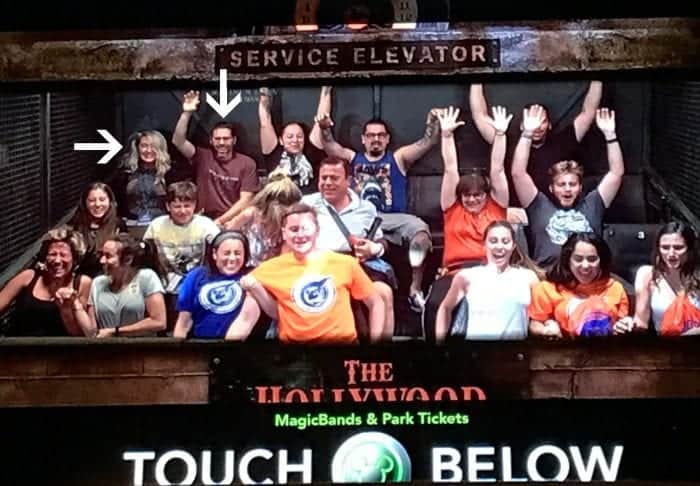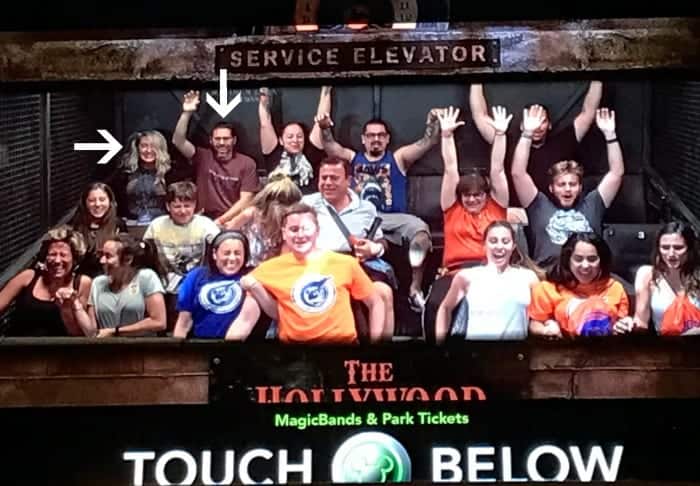 Yah, epic.  Lol!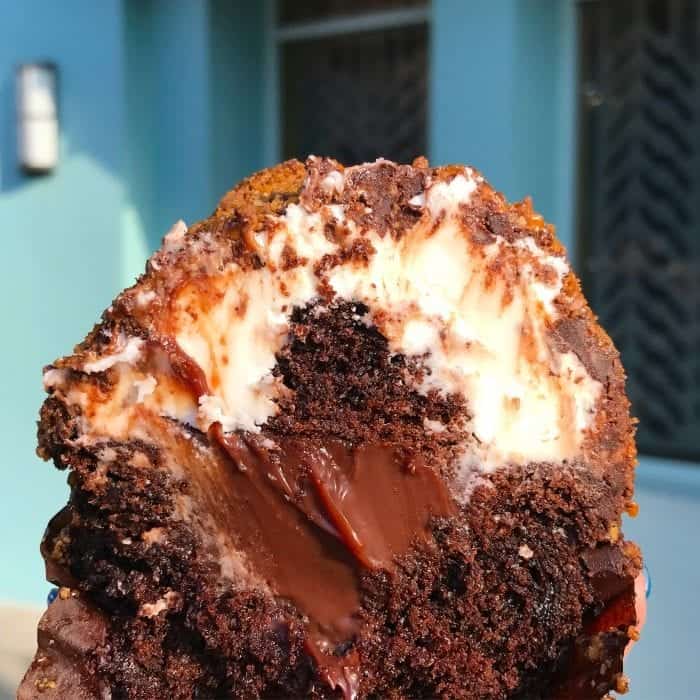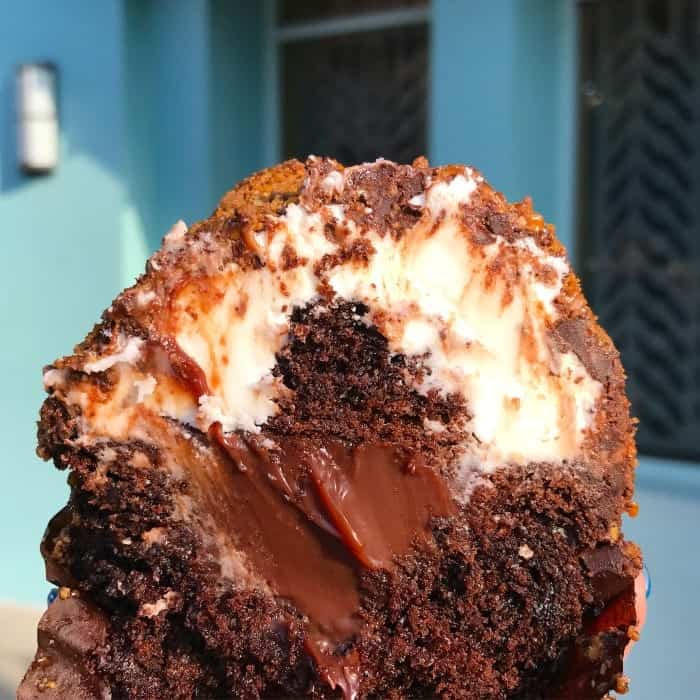 My favorite Butterfinger Cupcake, couldn't pass this one up!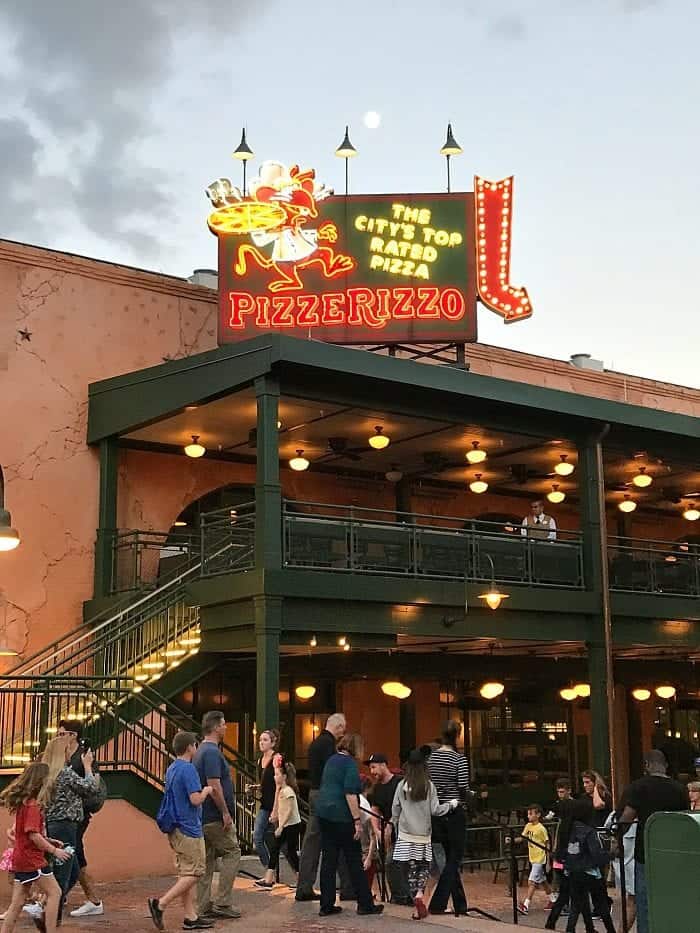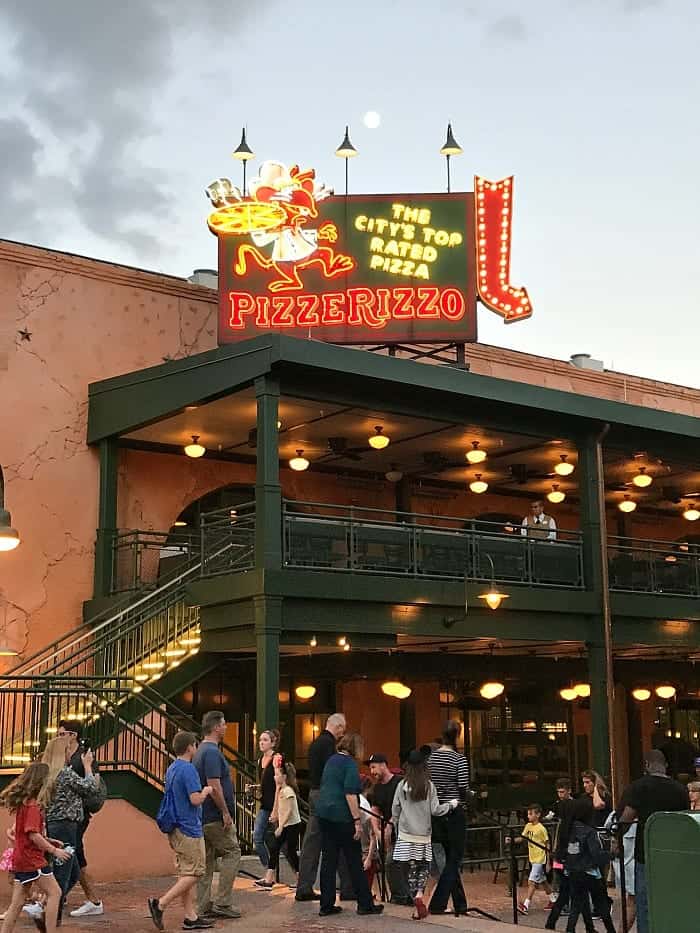 For dinner, we met up with our event at the new Pizzerizzo Restaurant.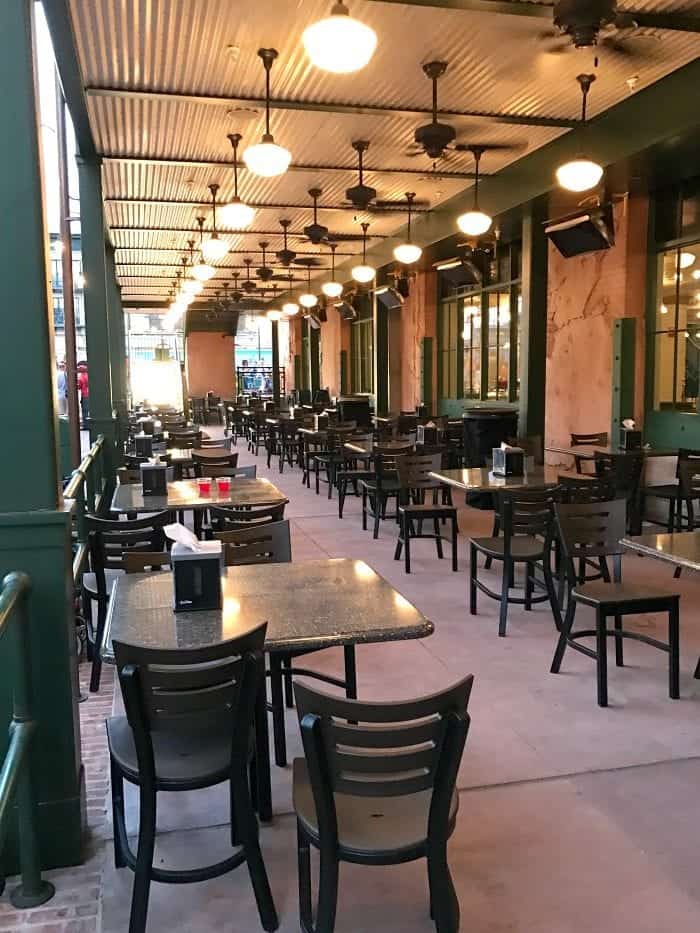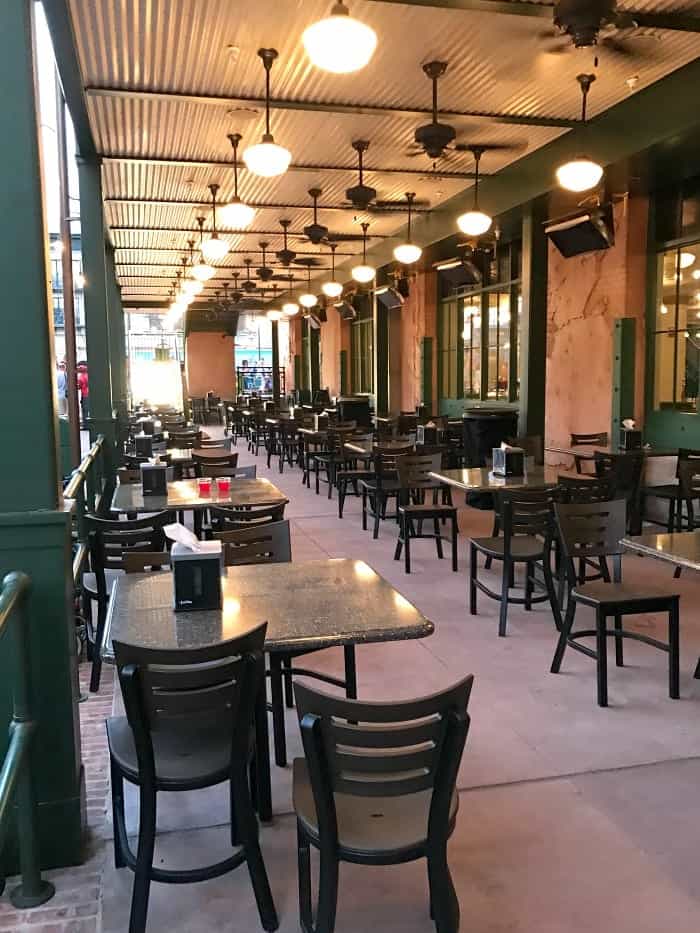 Outside patio area.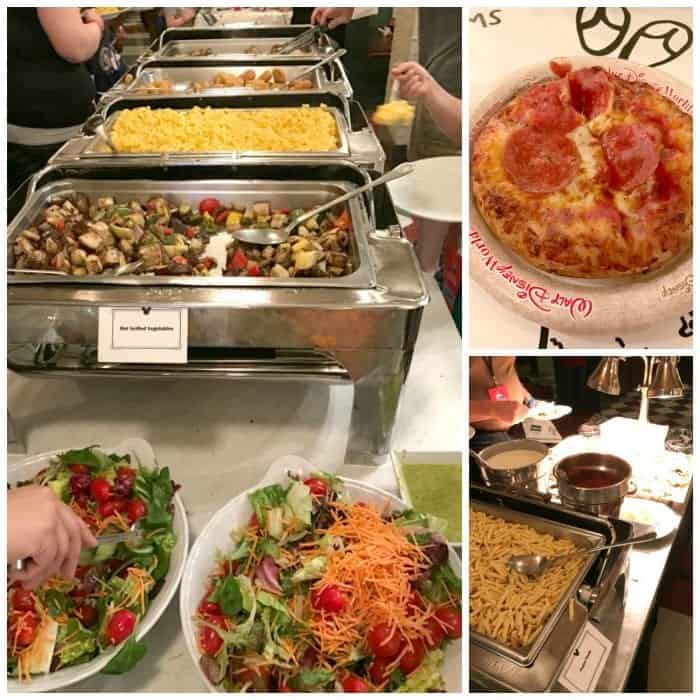 We had pizza, pasta and salad.  Fun night!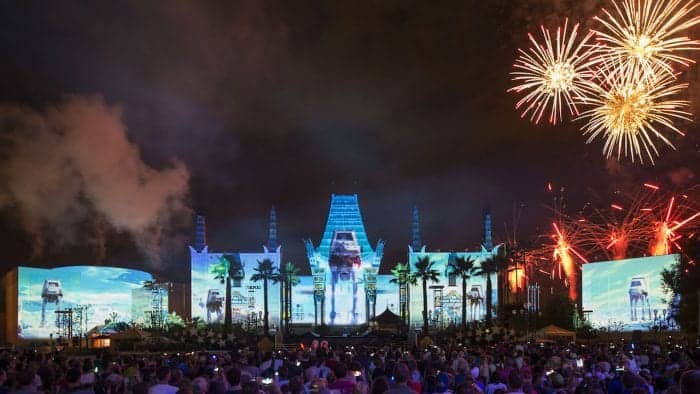 Photo via Disney Parks Blog
After dinner we had reserved seating for  Star Wars: A Glactic Spectacular.  This is one of my favorite nighttime shows.  We loved it!


After the fireworks show we had a dessert party with the cutest Star Wars themed cupcakes and cookies.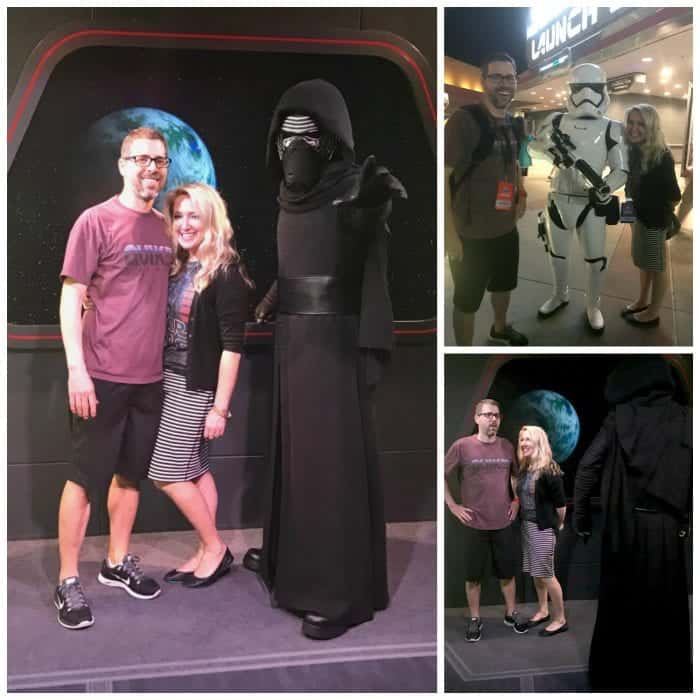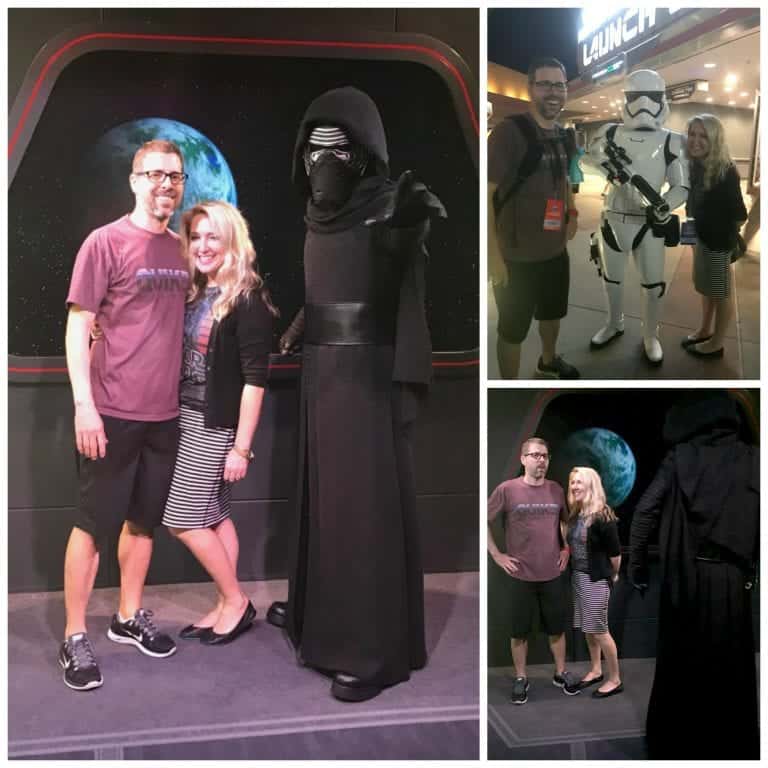 Always a treat with the Star Wars characters 🙂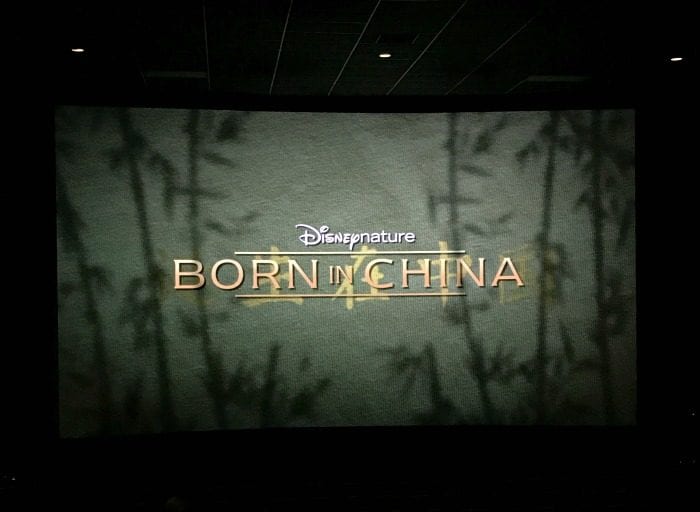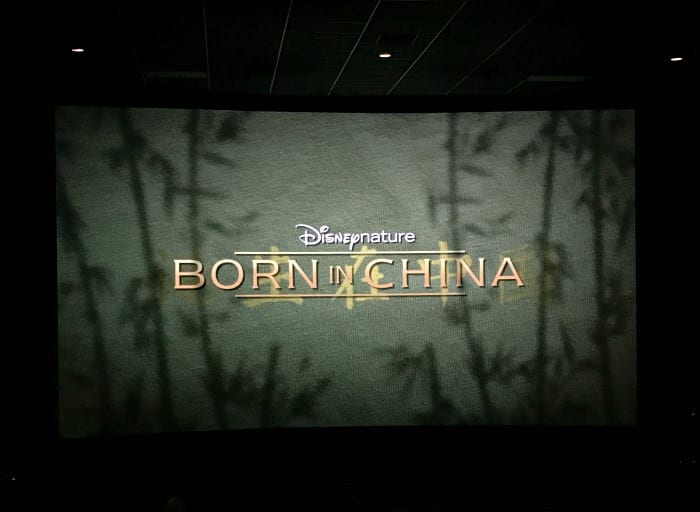 The next morning we got all packed up then made our way to Disney Springs for an advanced screening of Disneynature's Born In China plus a Q&A with the producer Roy Conli.  Oh my goodness it was the cutest.  Can't wait to see it again with the boys.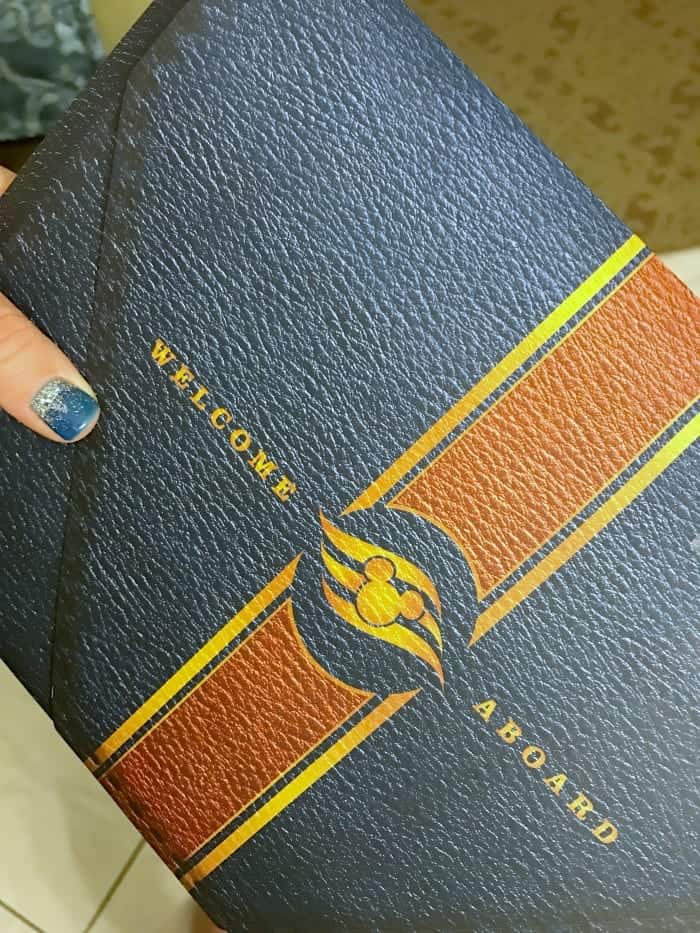 After the movie we were on our way to Port Canaveral to board the Disney Wonder!!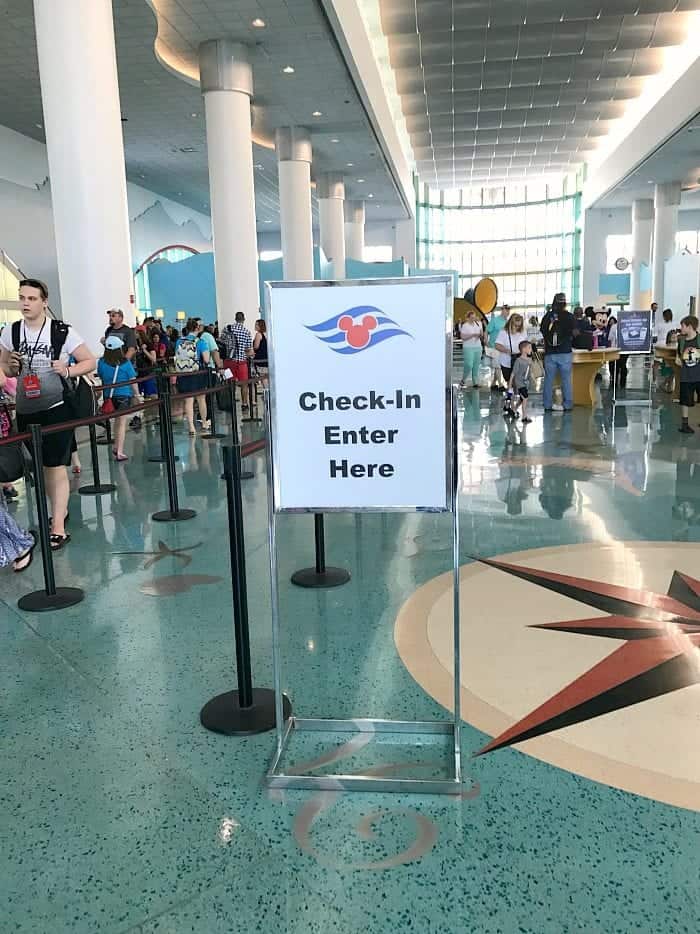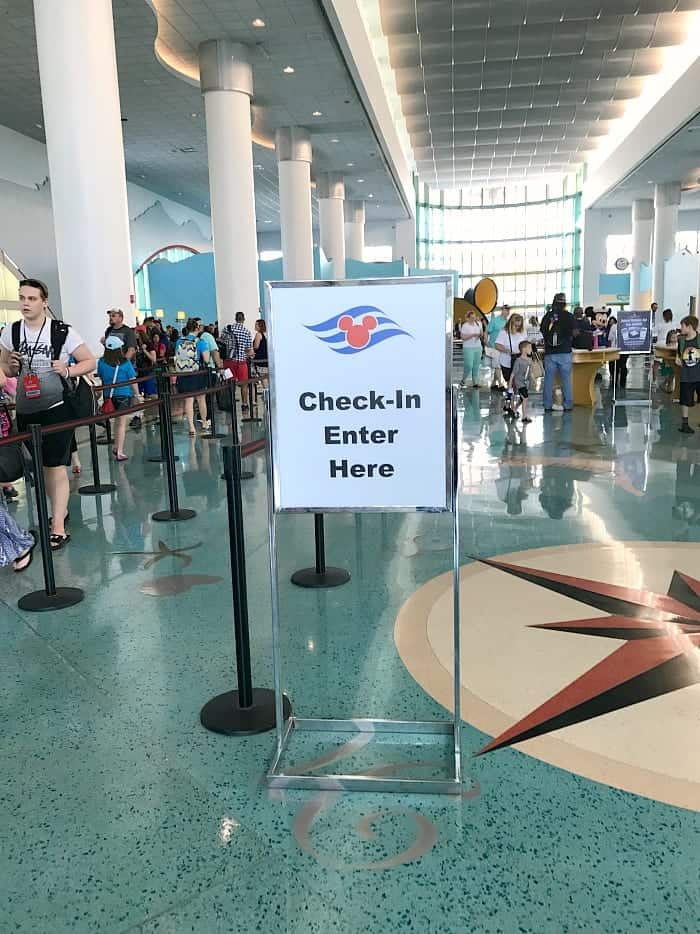 Time to check in!  I'll never forget the excitement I felt in that line anticipating the fun ahead.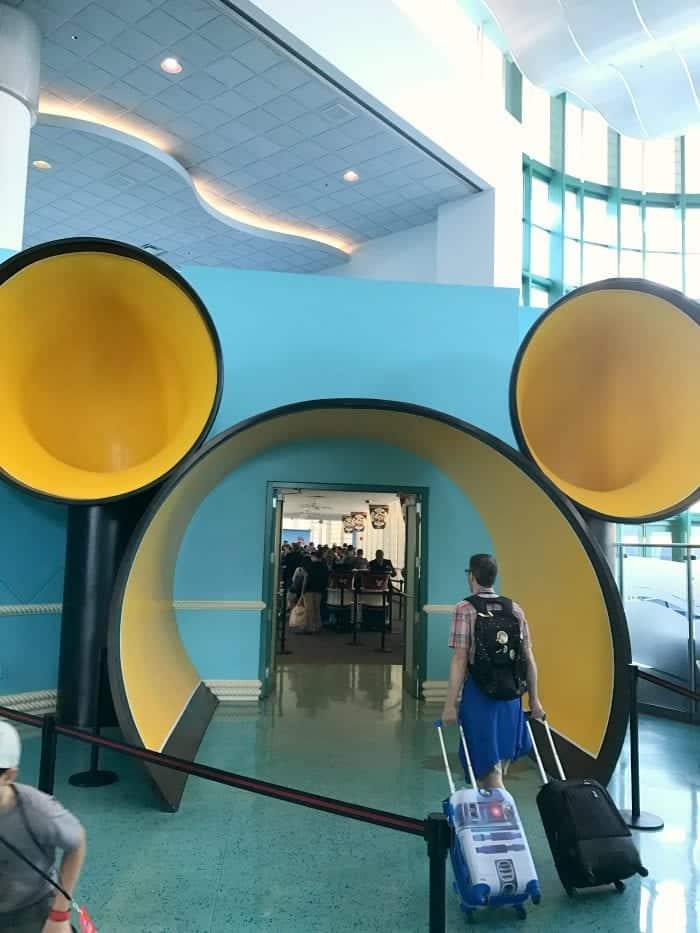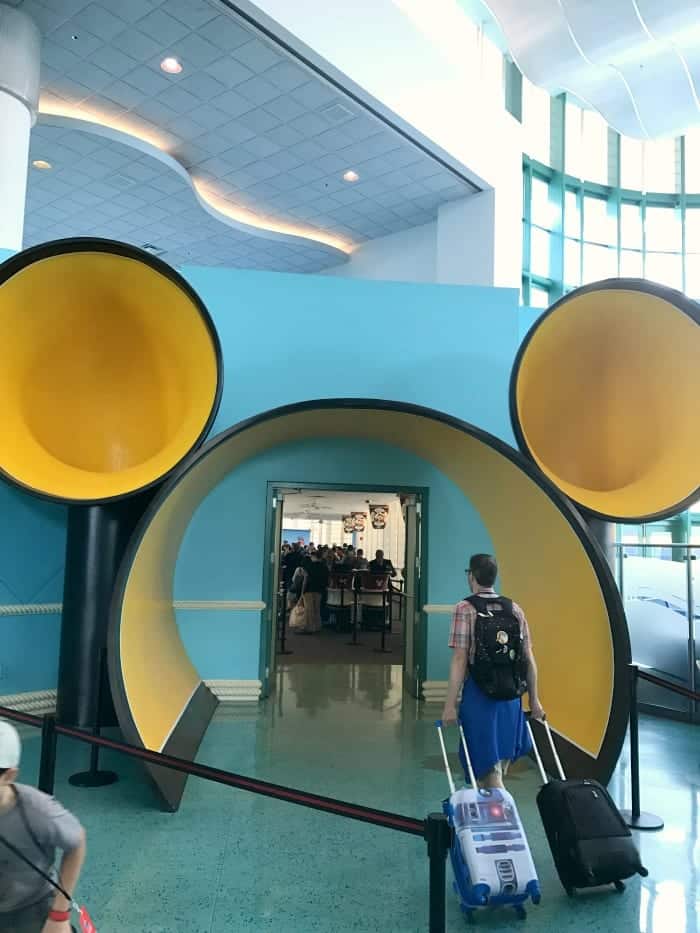 Off we go.  We were so excited for our first ever cruise let alone a Disney Cruise.
Our First Disney Cruise Line Experience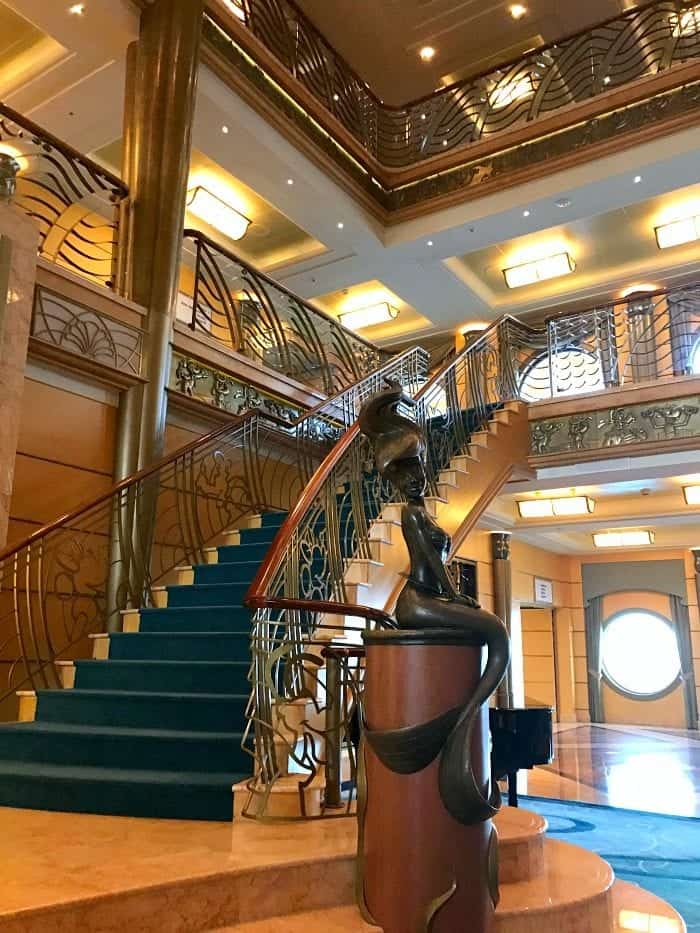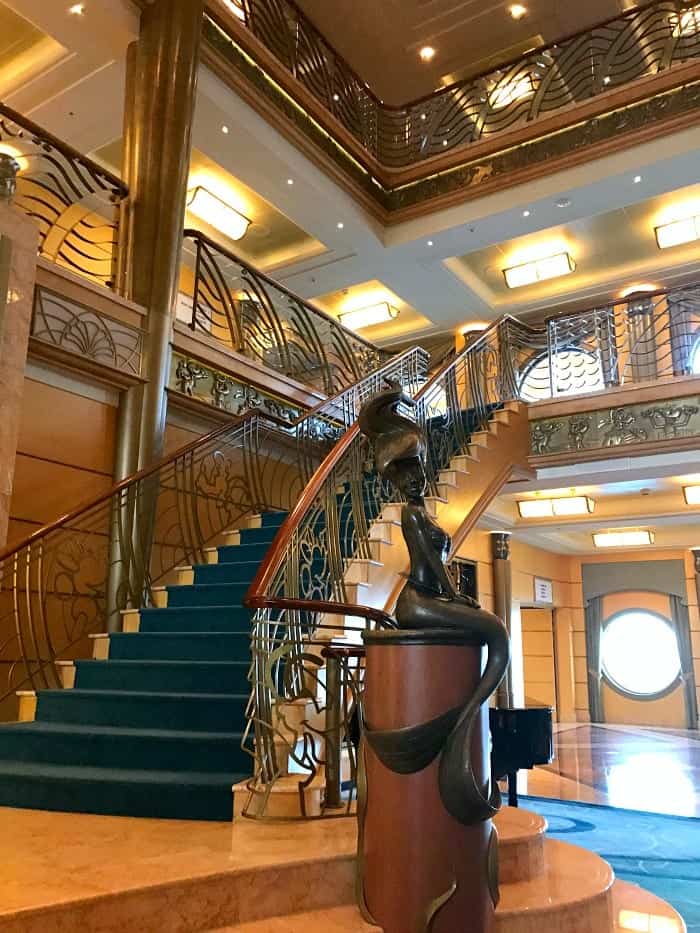 I'll never forget walking into the Disney Wonder, the cast members welcome each family over a microphone for everyone to hear.  "Welcome the FLAKE FAMILY!" It was awesome.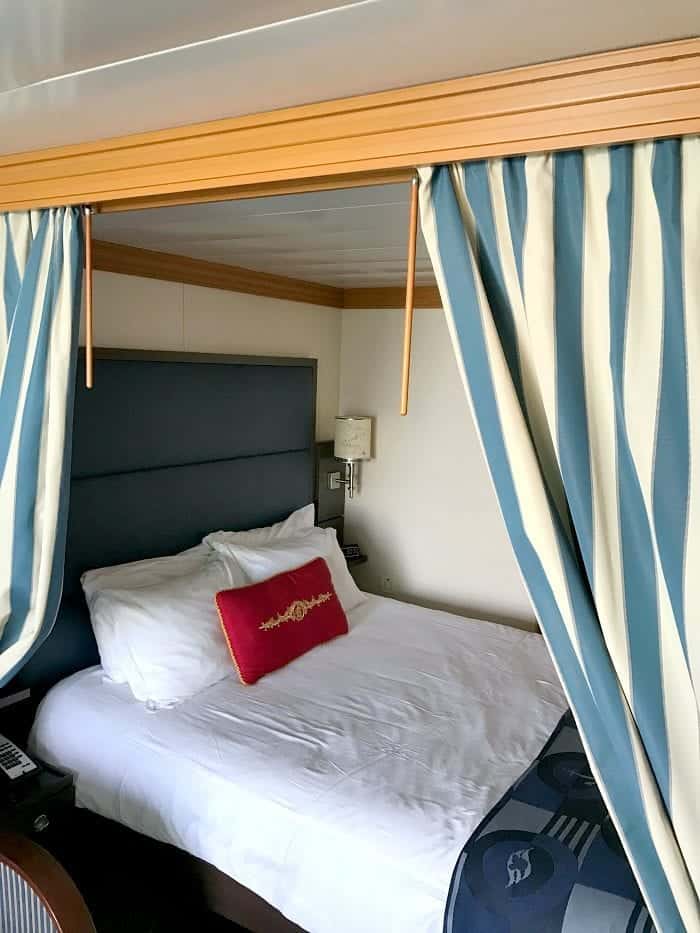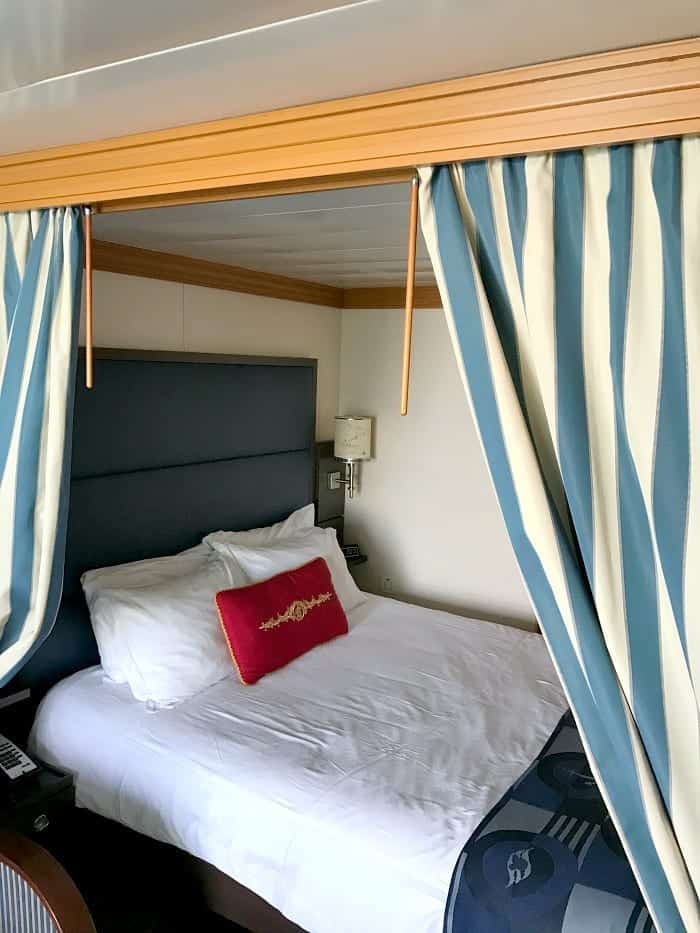 Our adorable Stateroom.  See the full review of our room on my Disney page.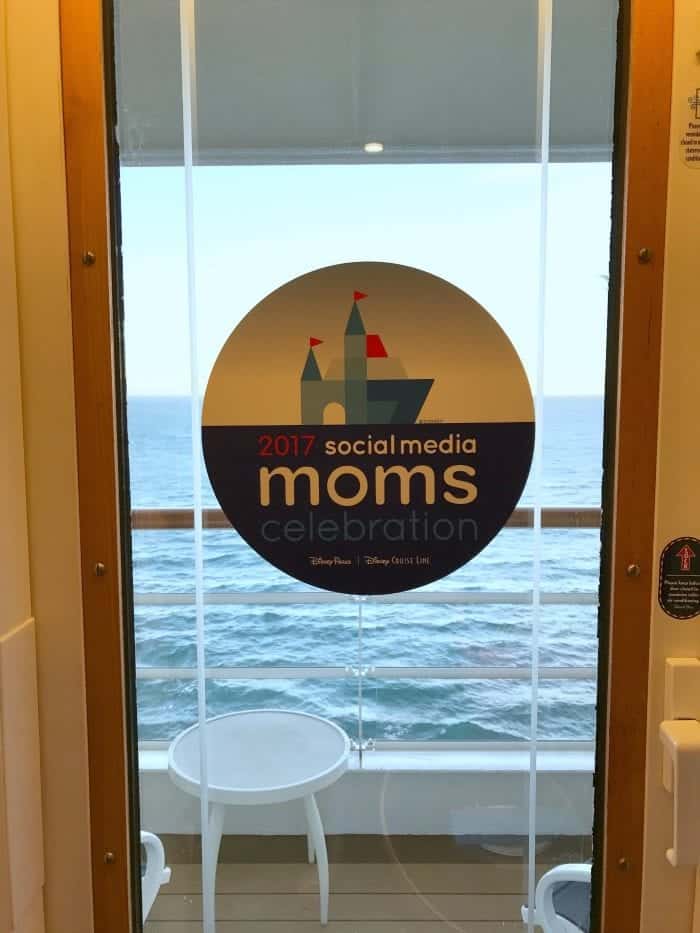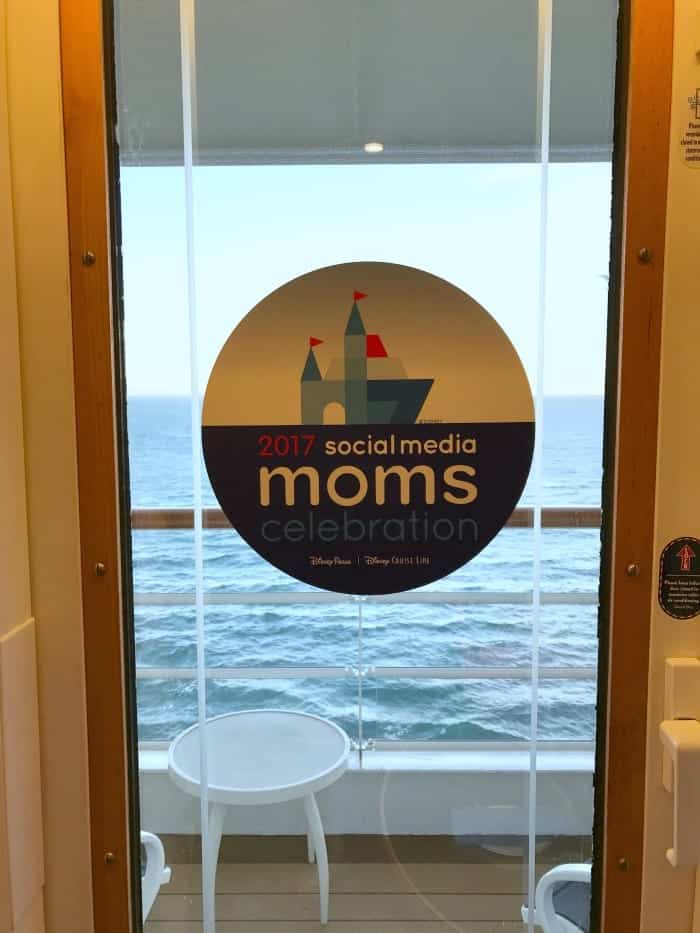 Having a little patio to sit outside with this view was the BEST.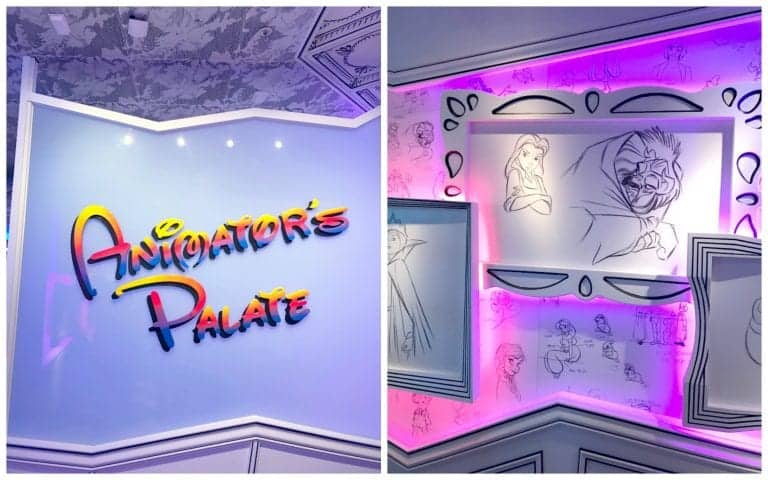 Right after we checked in, we had our first lunch on the ship.  Animator's Palate was the cutest restaurant I've ever seen.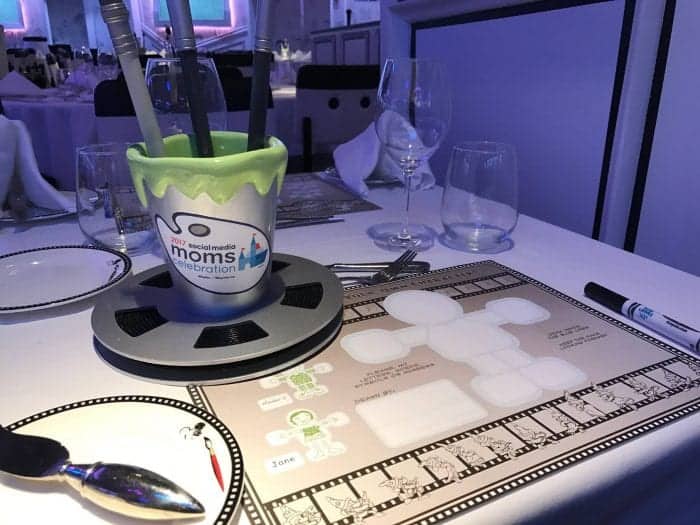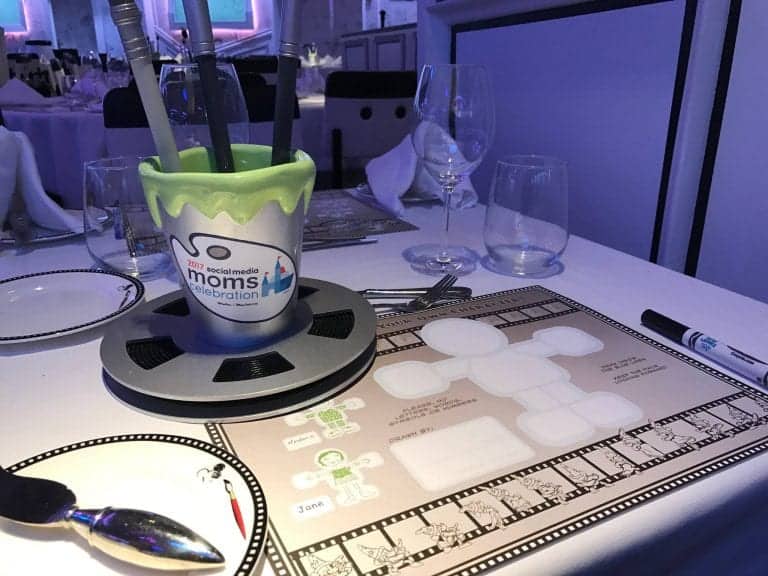 Photo via DisneySMMC Photographer
We were asked to draw a picture of ourselves and by the end of our lunch, our pictures came to life on the picture frames around the restaurant.  Adorable!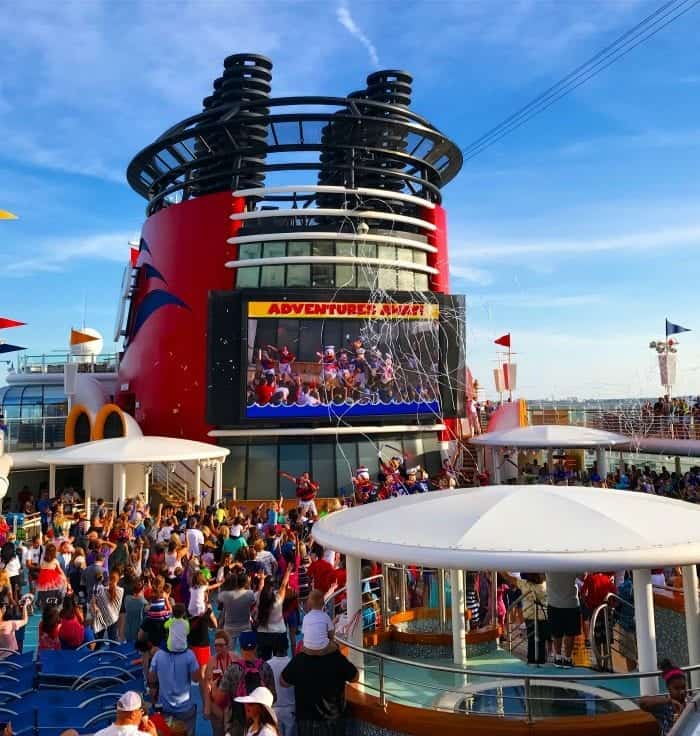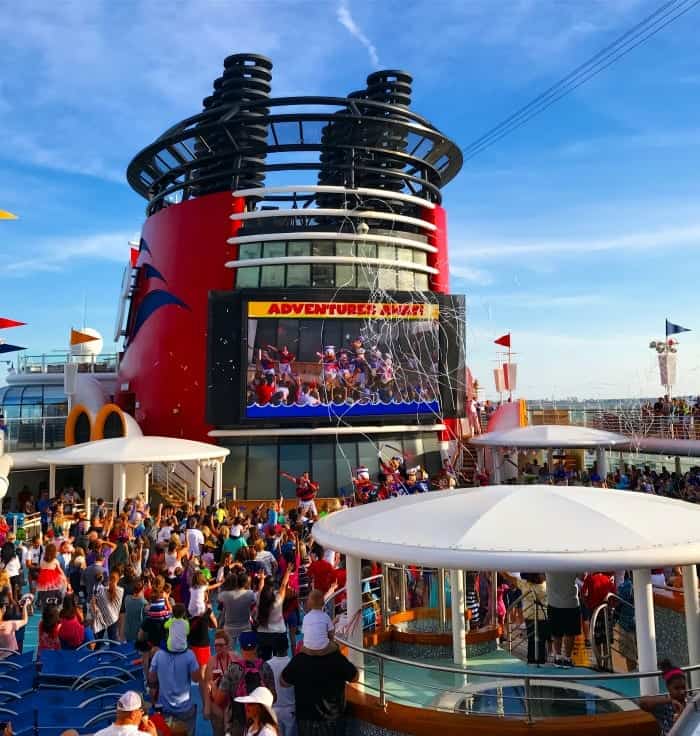 I met up with Cullen and we went to the deck party to celebrate setting sail! It was so much fun.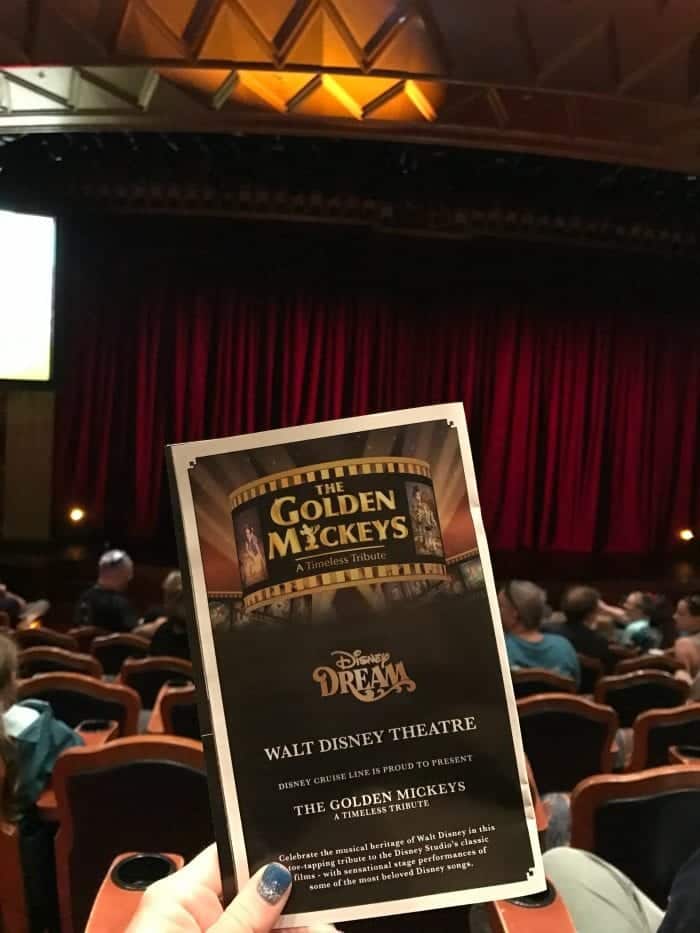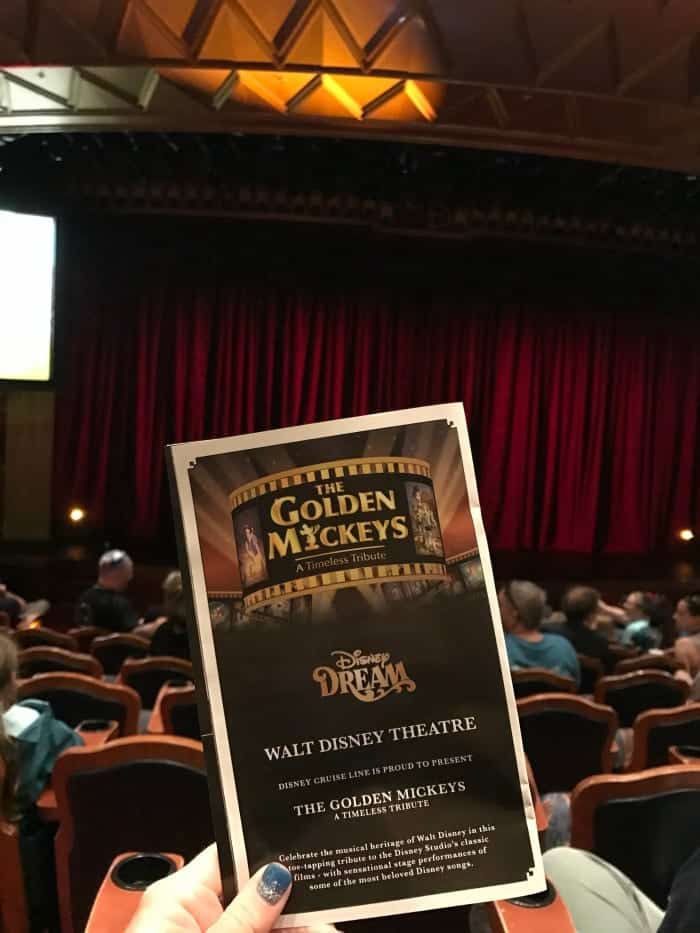 Later that evening we saw our first live show called The Golden Mickeys.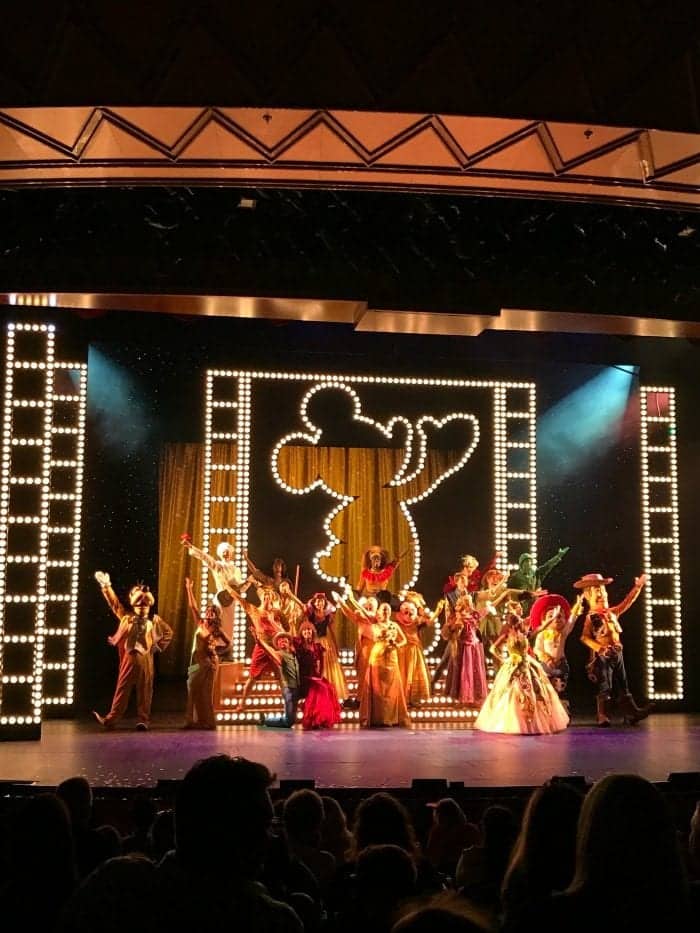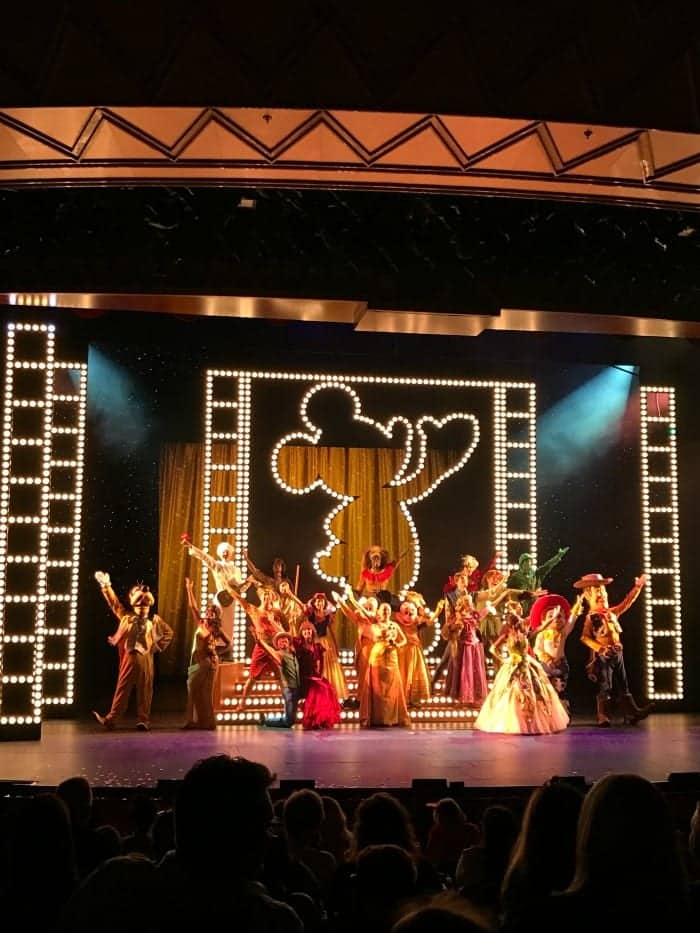 I loved it.  So much fun.  Depending on your dinner schedule, you either go to the early or later showtime.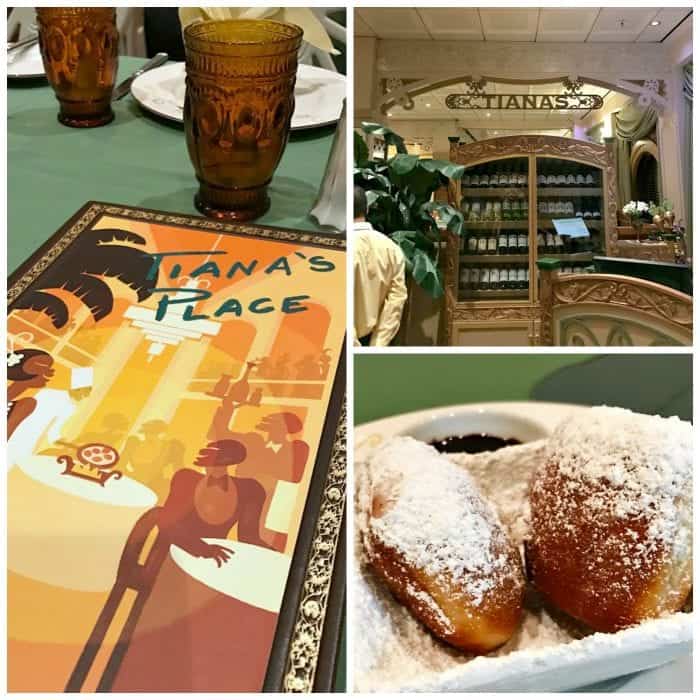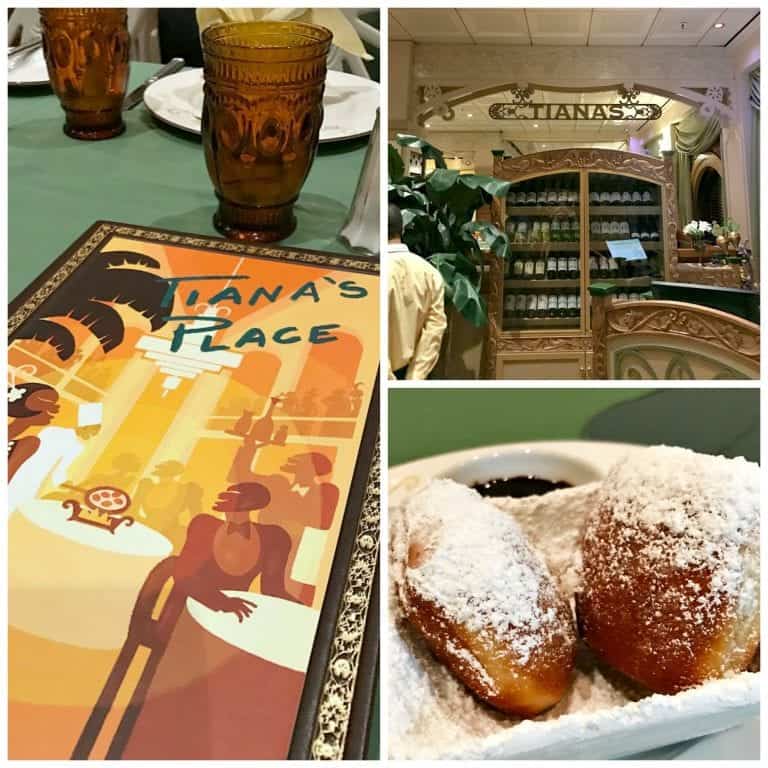 Our first dinner rotation was at Tiana's Place.  An absolute blast!!  Live music, amazing food and great staff.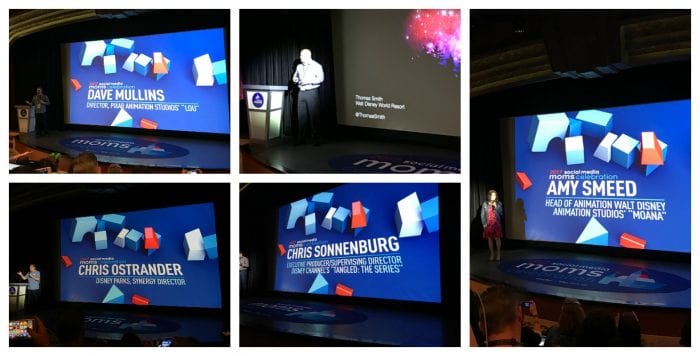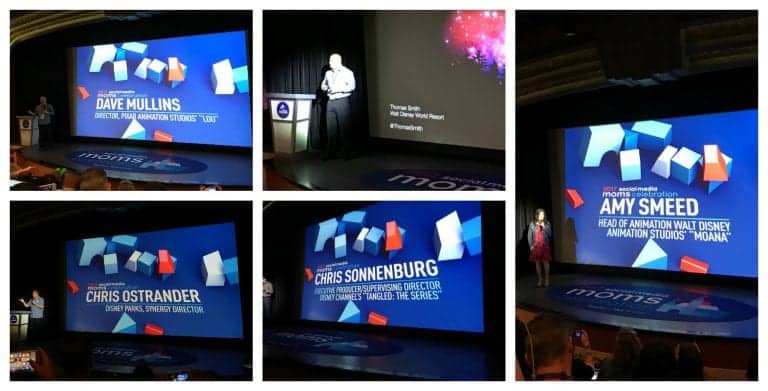 The next day was our Conference sessions.  We heard from amazing Disney speakers.  Loved each and every one of them.  I'm certain each one them had the whole room in tears with their heartfelt stories and videos.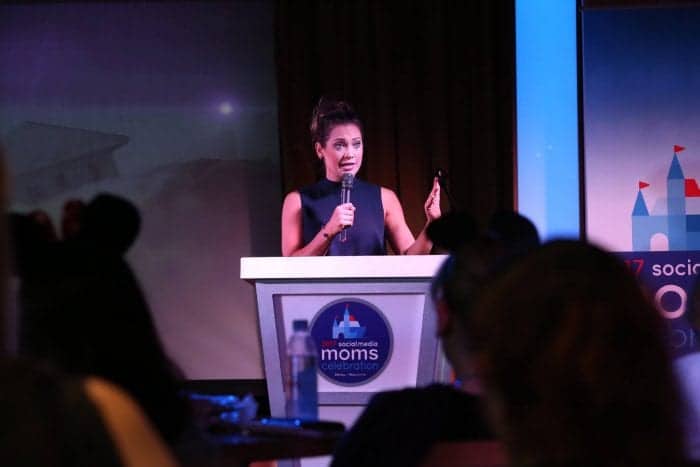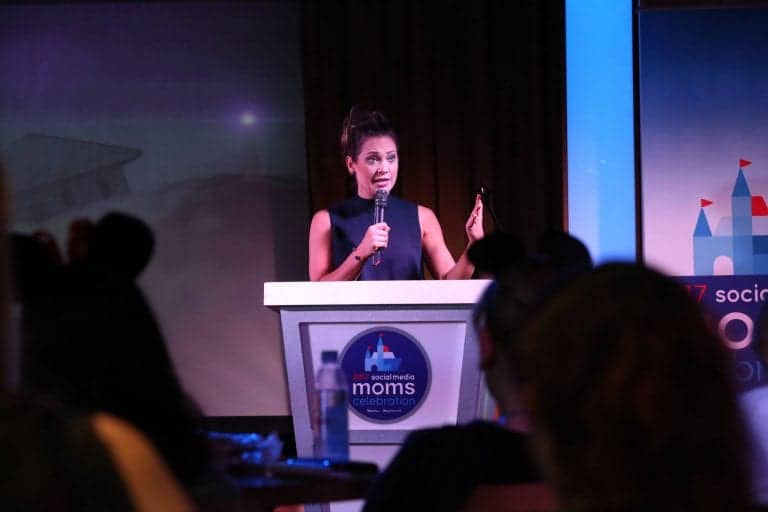 Photo via DisneySMMC Photographer
In our afternoon session, we heard from Alex Ruiz, Disney Parks, Digital Marketing Director and Ginger Zee, Meteorologist of Good Morning America.  She was amazing, down to earth and I loved how relatable she was.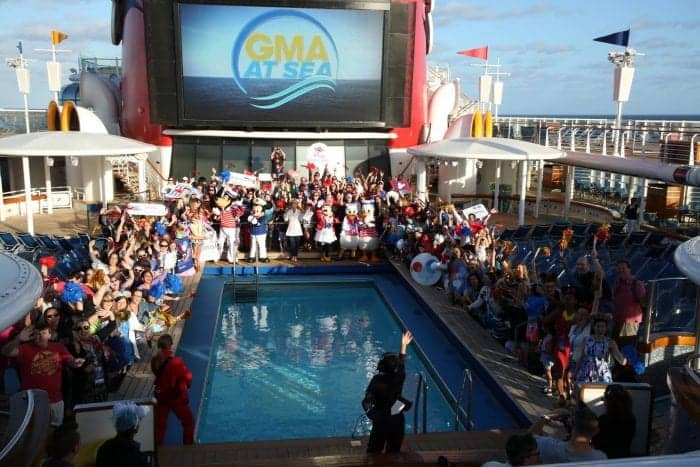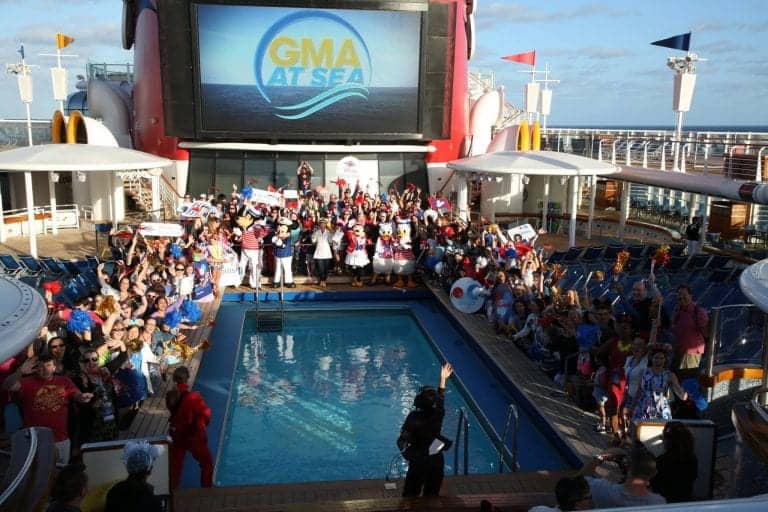 Photo via DisneySMMC Photographer
Our group was even featured on Good Morning America with Ginger Zee!
Unlimited Ice Cream on The Disney Wonder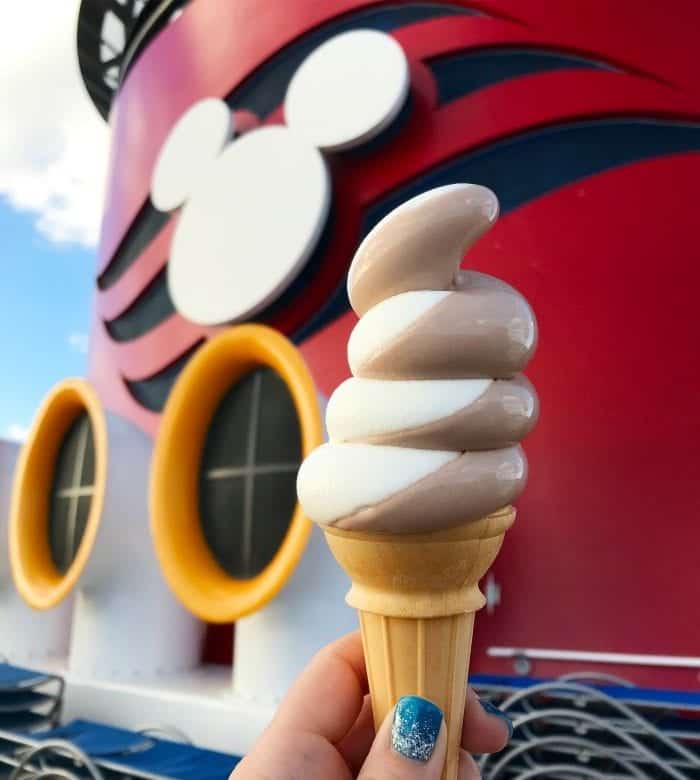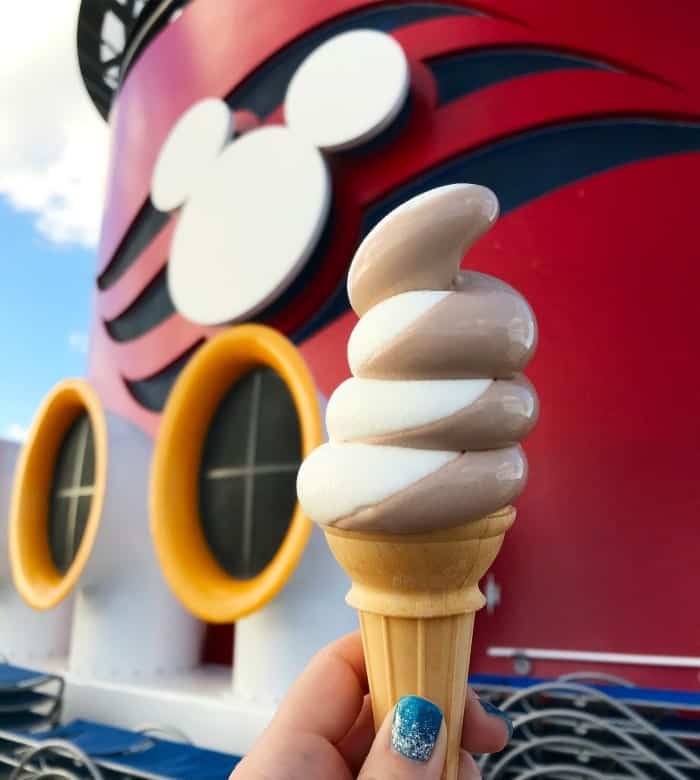 Met back up with Cullen that afternoon and ice cream seemed to happen numerous times a day, lol!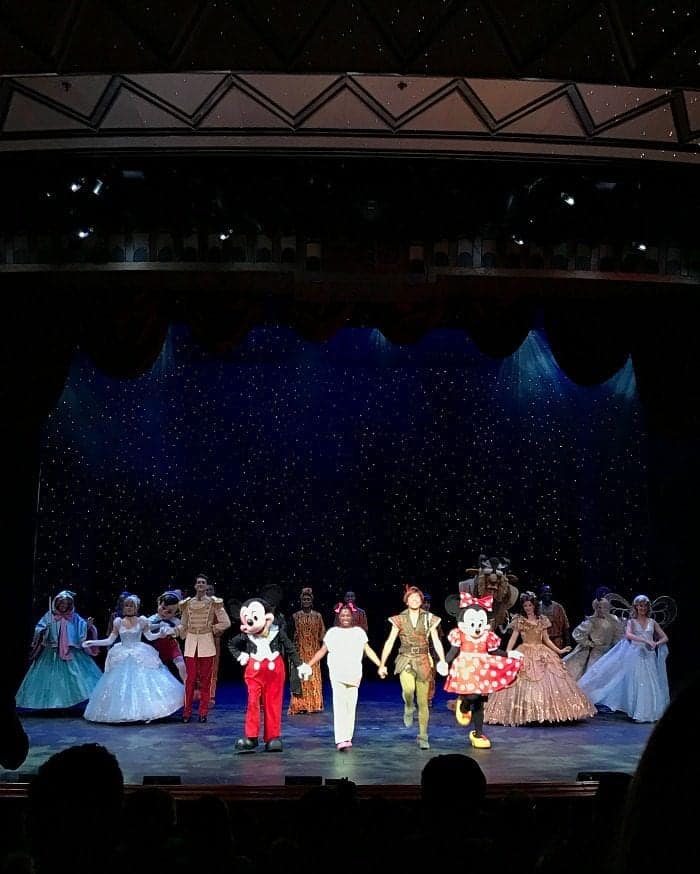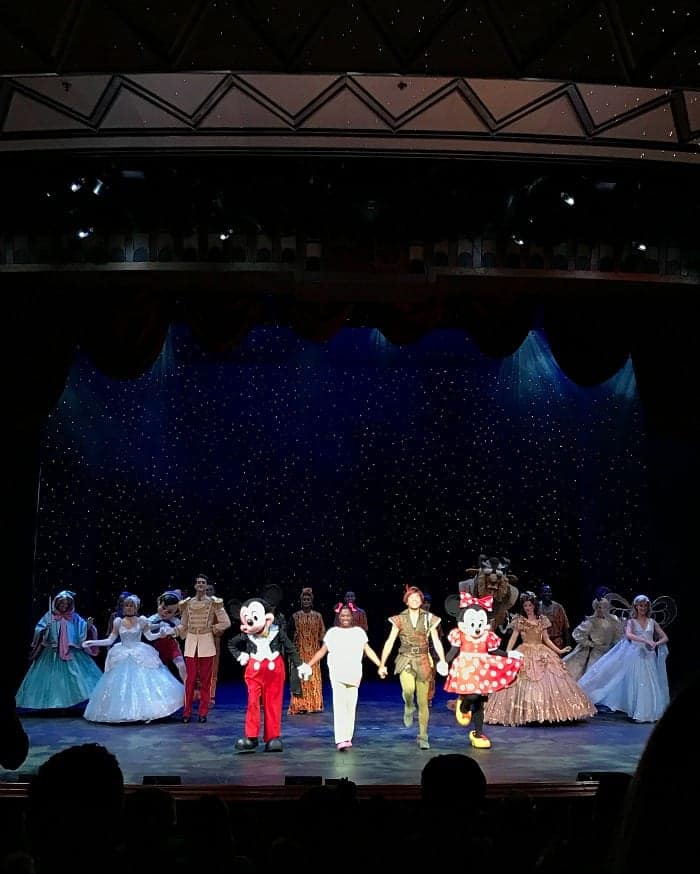 It was time for our next show!  Tonight's show was Disney Dreams.  Adorable.  I was so impressed with how great the Broadway-like shows were.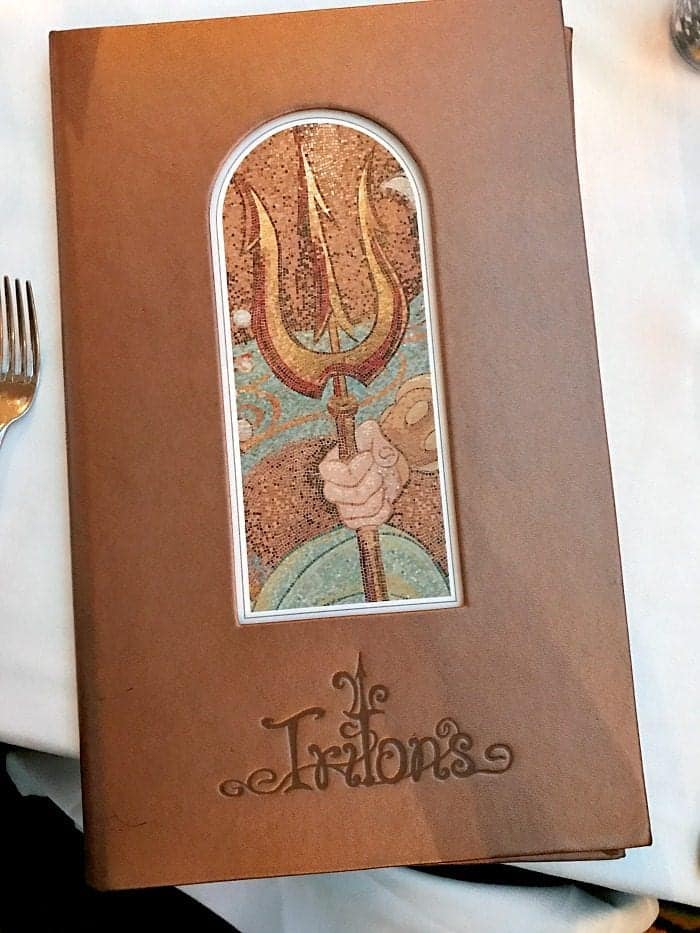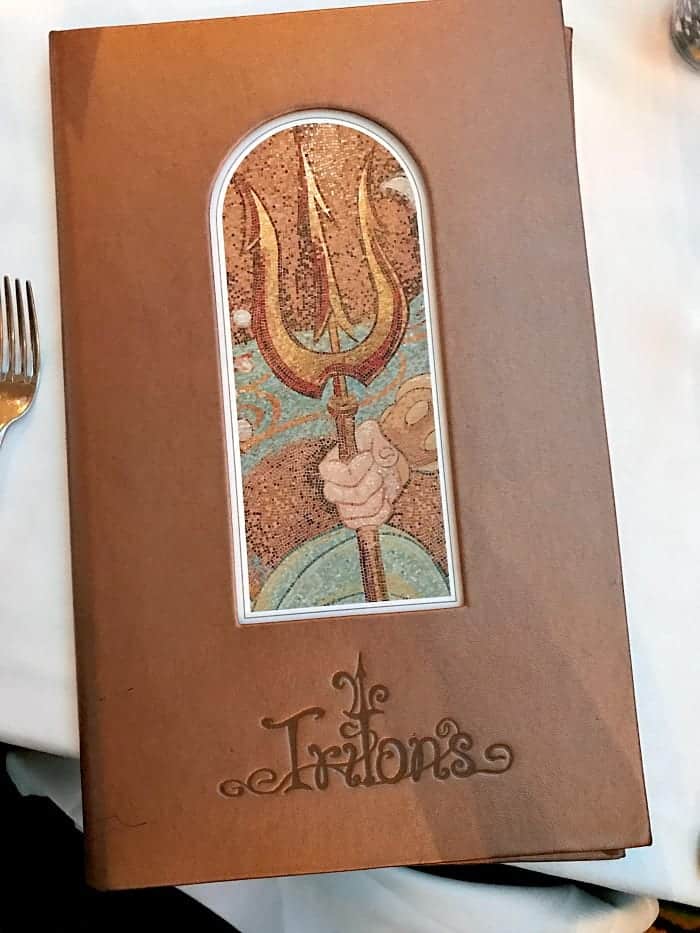 Our next dinner rotation was at Tritons.  Another great experience with amazing food.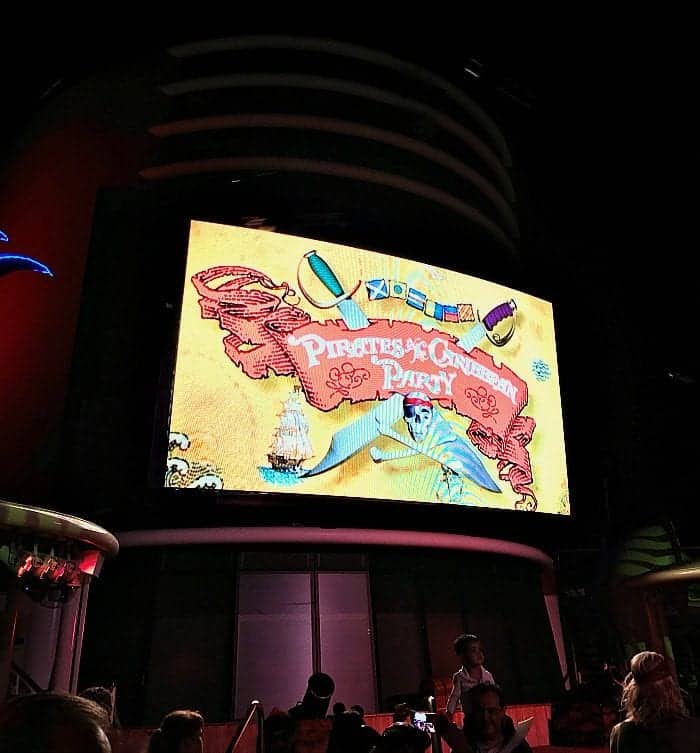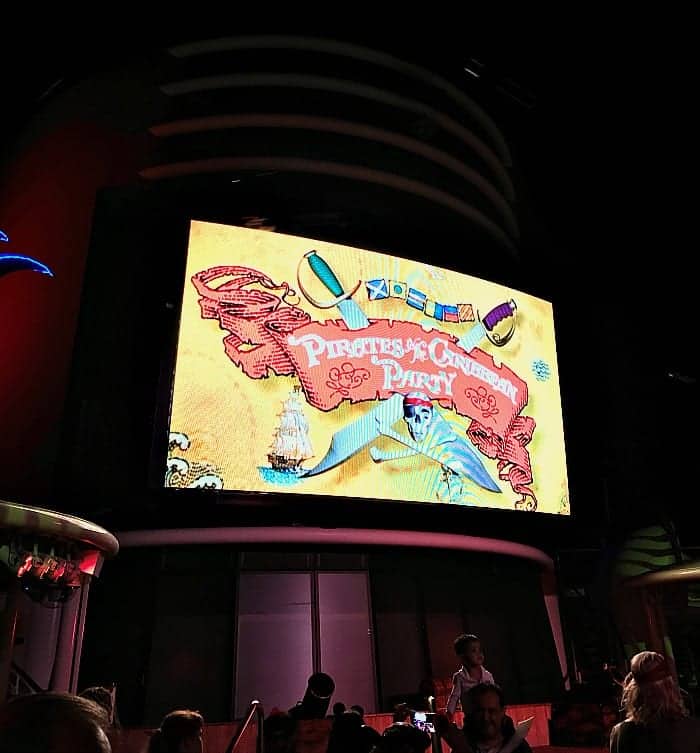 Later that evening we had the Pirates of the Caribbean Party!  The guests are invited to dress up in their best Pirate costumes and join the fun on the deck.  We loved it.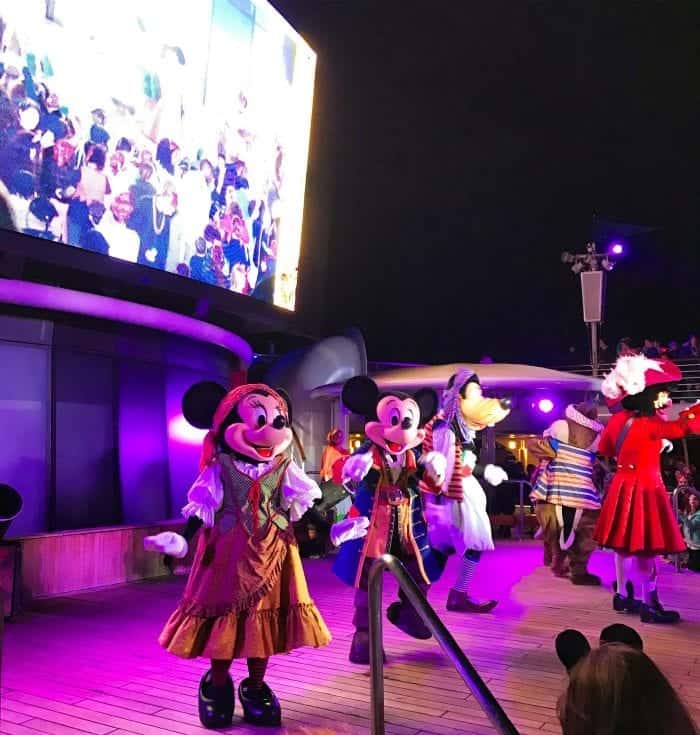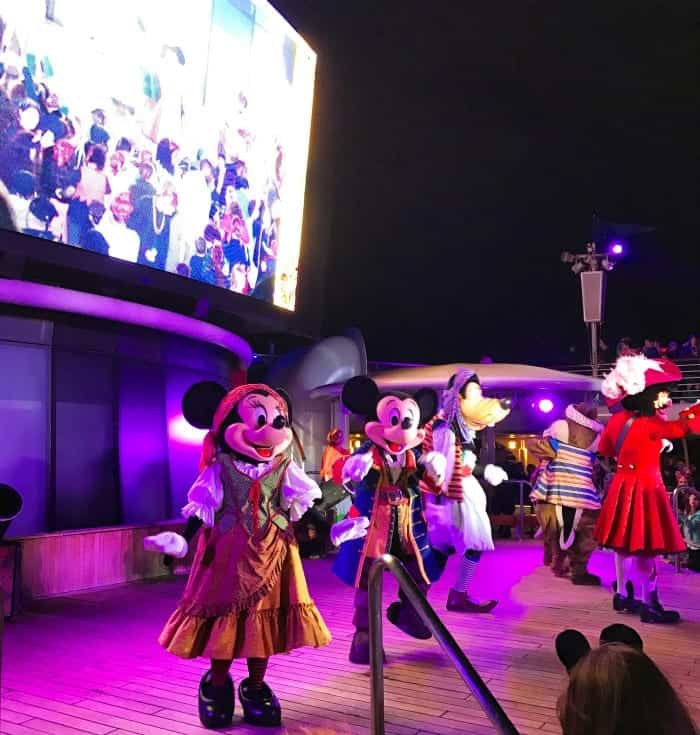 Look who joined the party!  Adorable.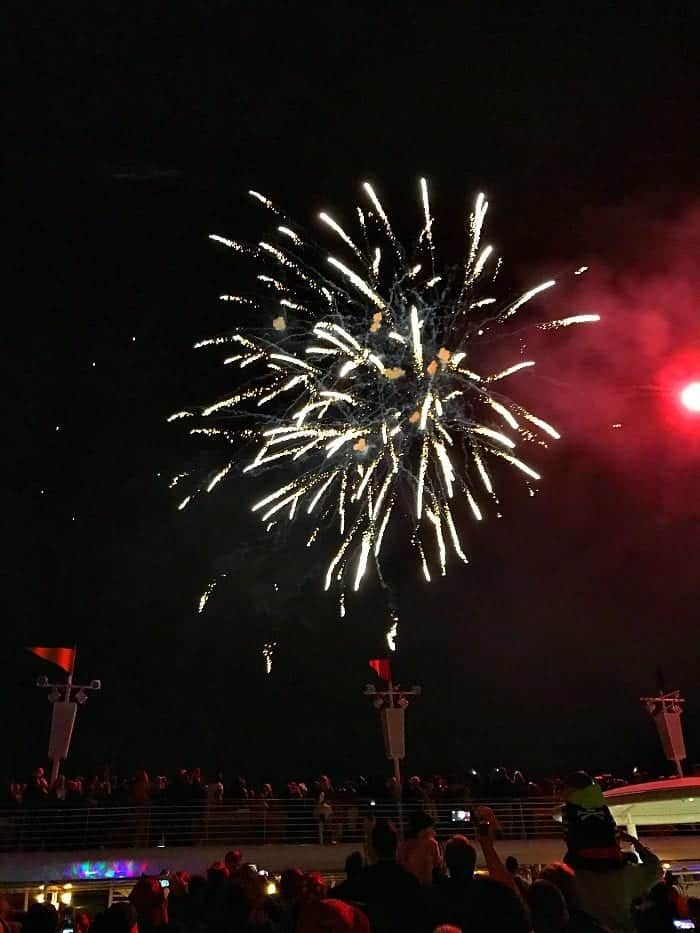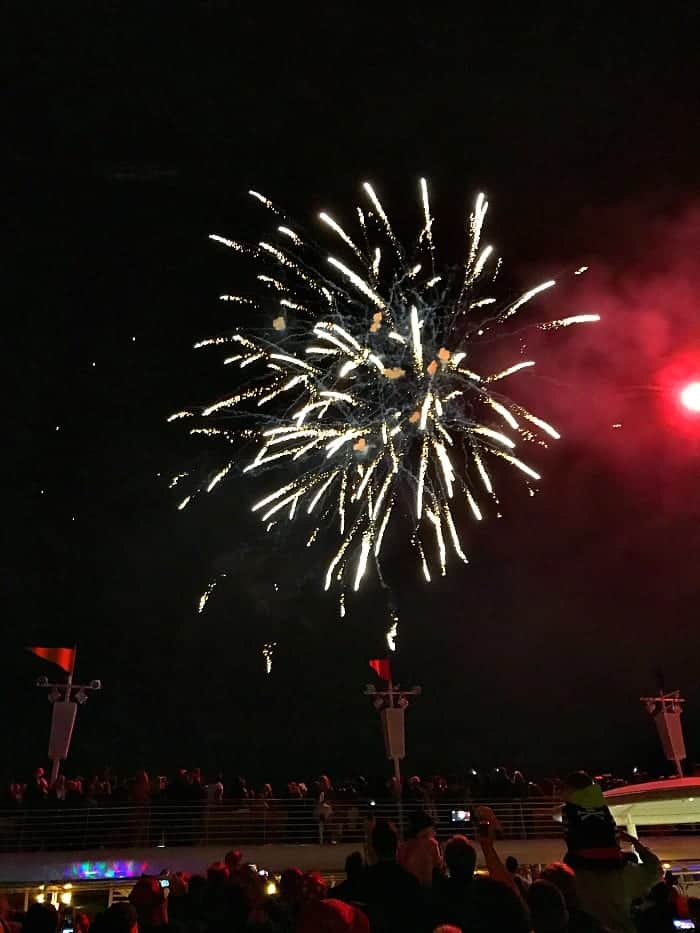 We even had fireworks!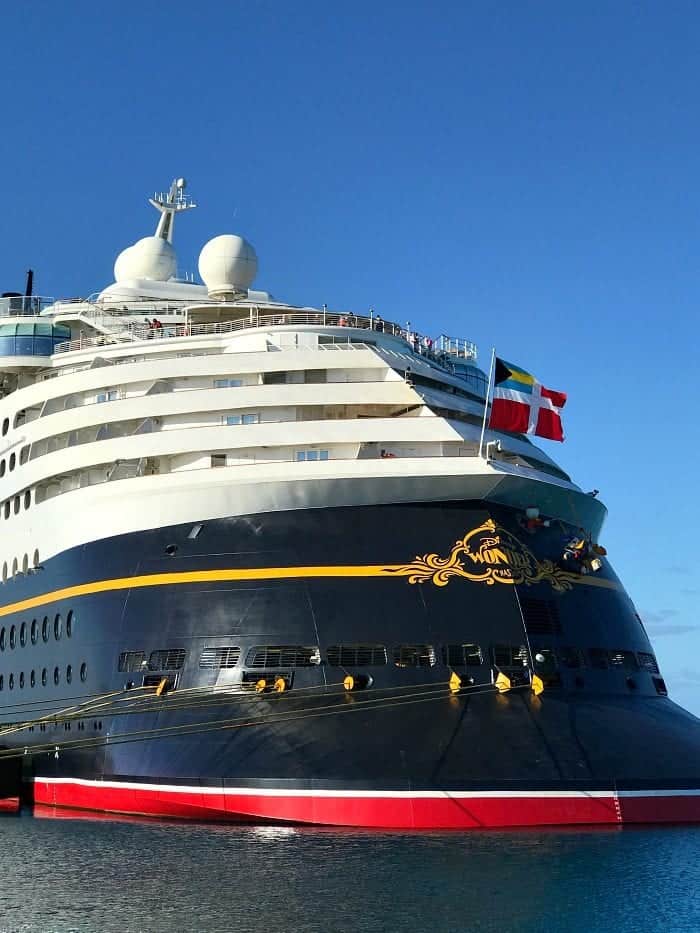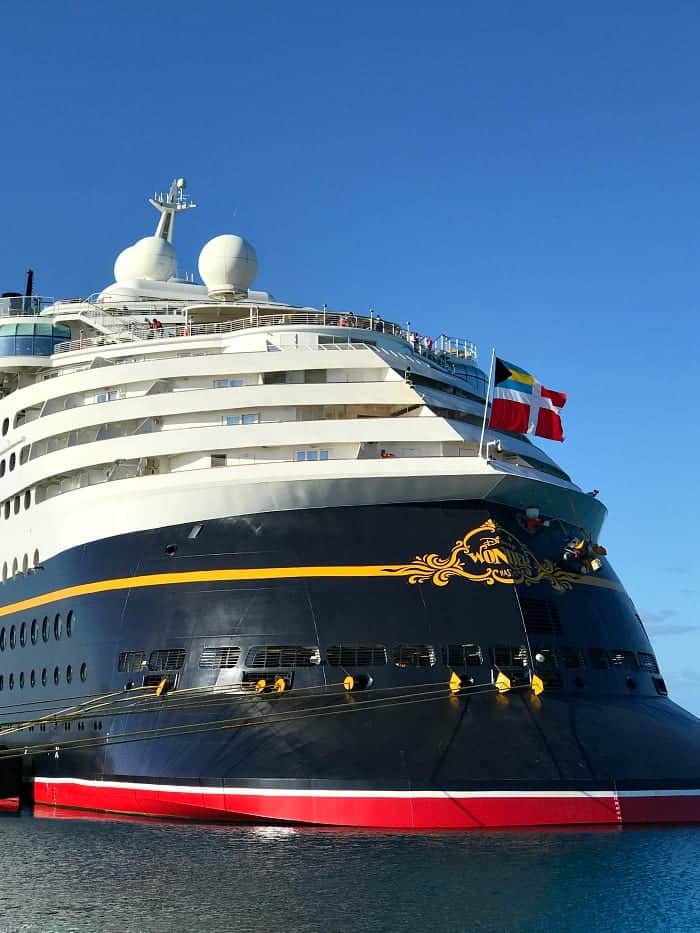 One of my favorite experiences was arriving to Disney's Private Island Castaway Cay.  Stay tuned for a full review of Castaway Cay on my Disney page coming soon.
Disney's Castaway Cay, Private Island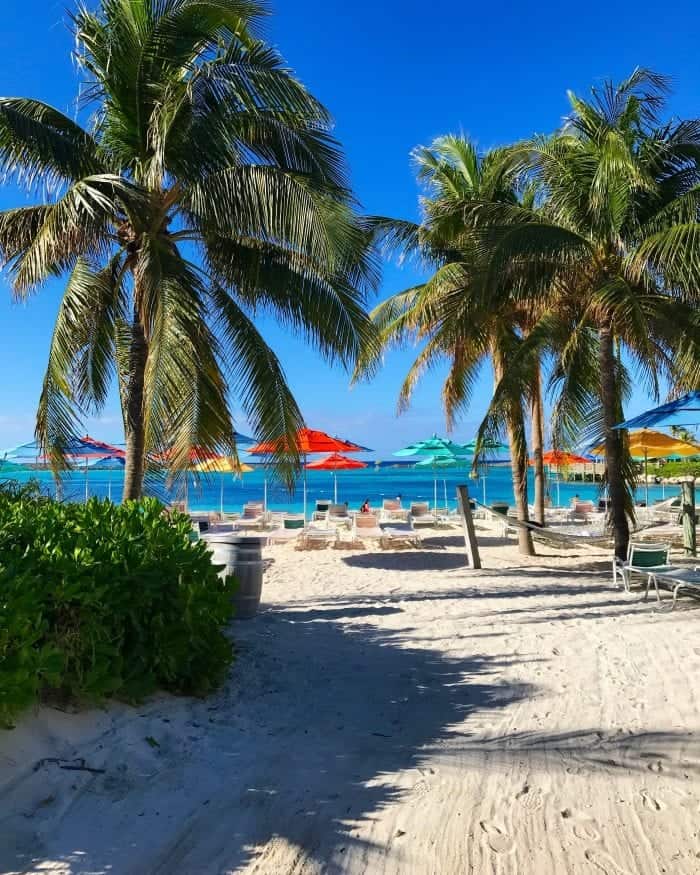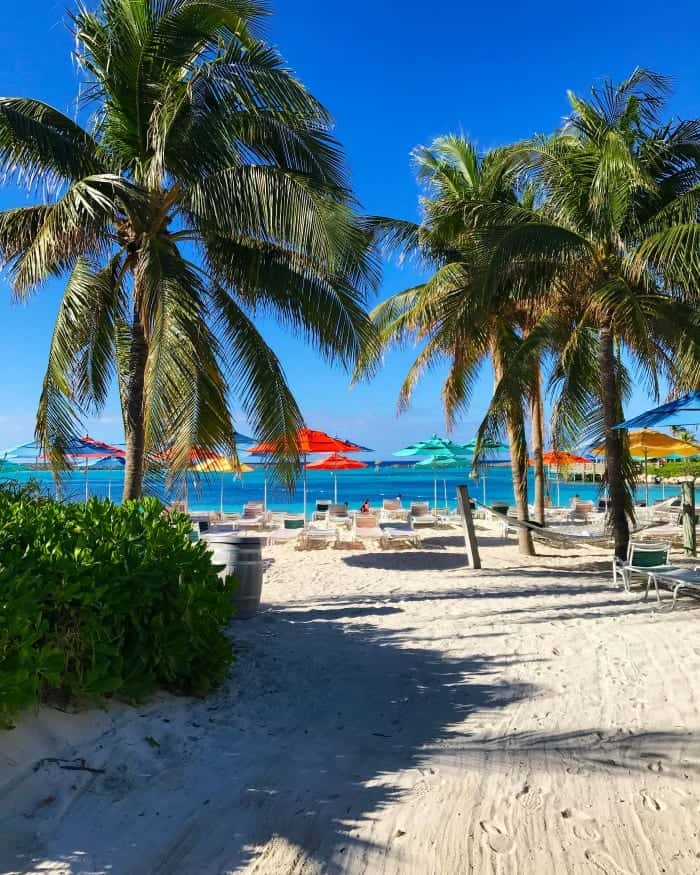 The water was crystal blue and sand was soft and white.  This was such a great day.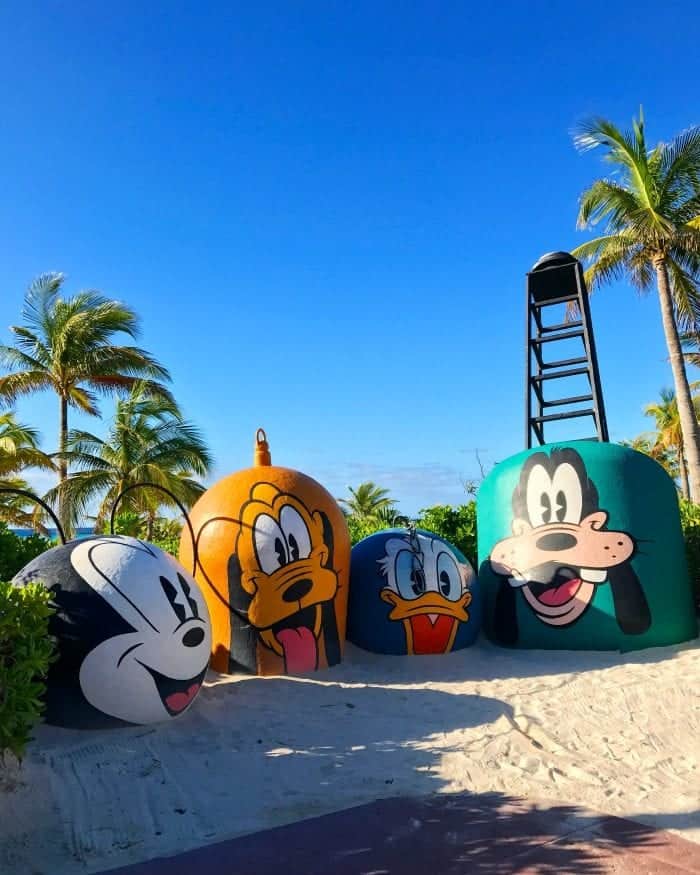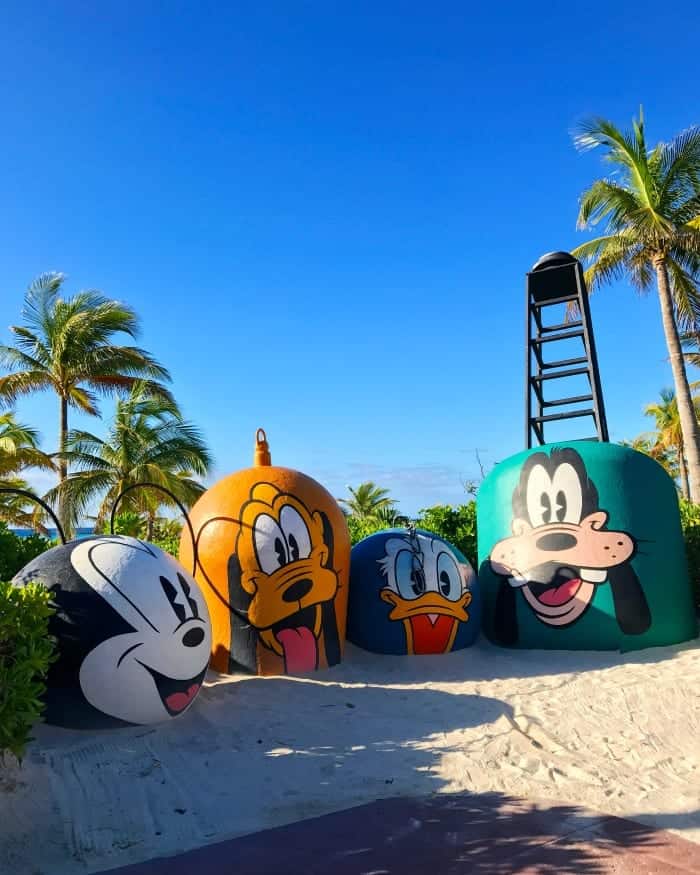 How cute are these Disney cuties that lined the walkway?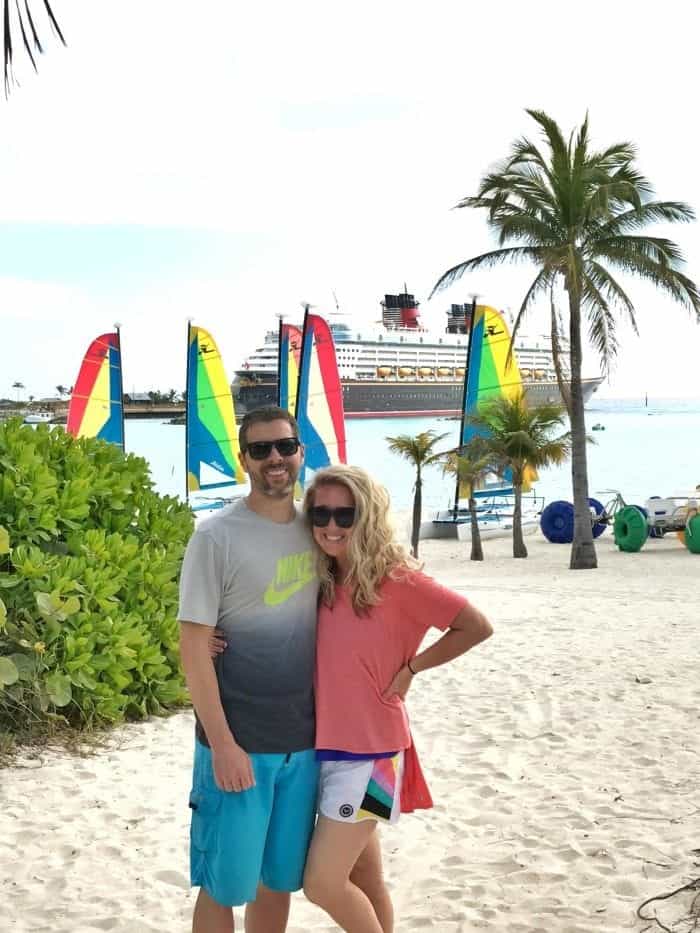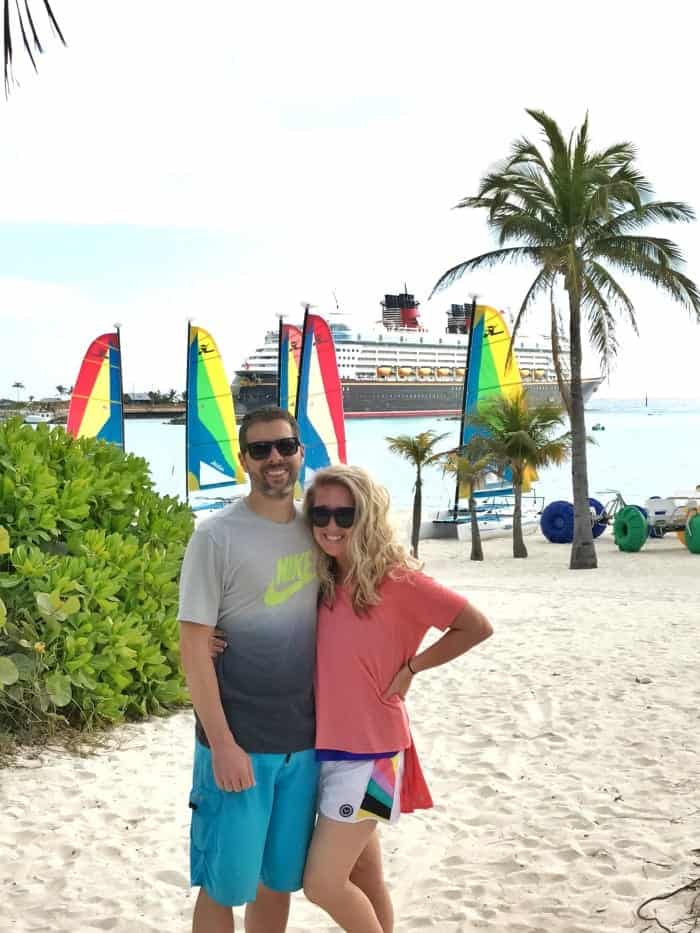 We spent the day at the adult beach, had a great BBQ lunch, rented some bikes and had a perfect relaxing day.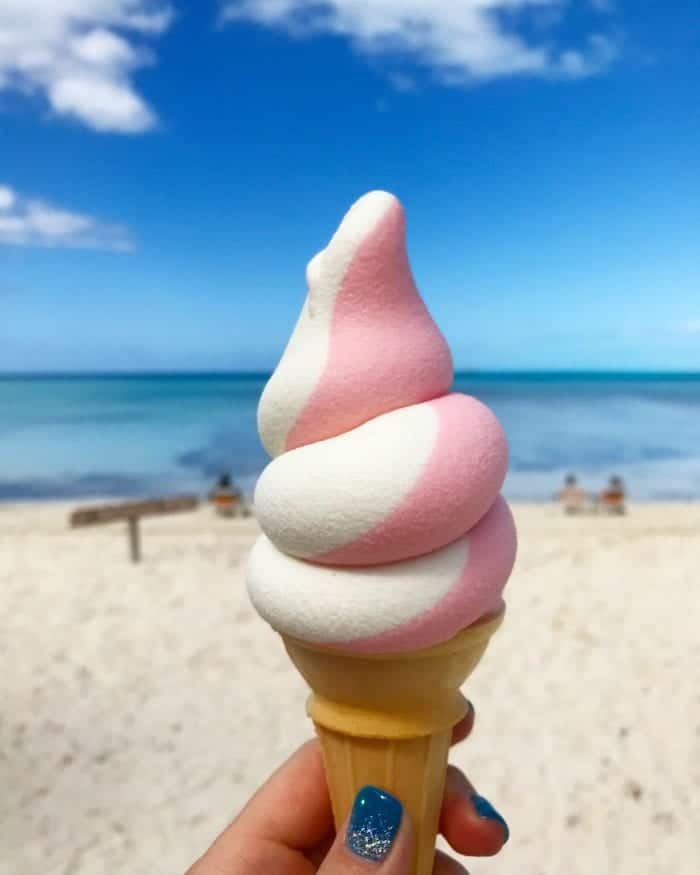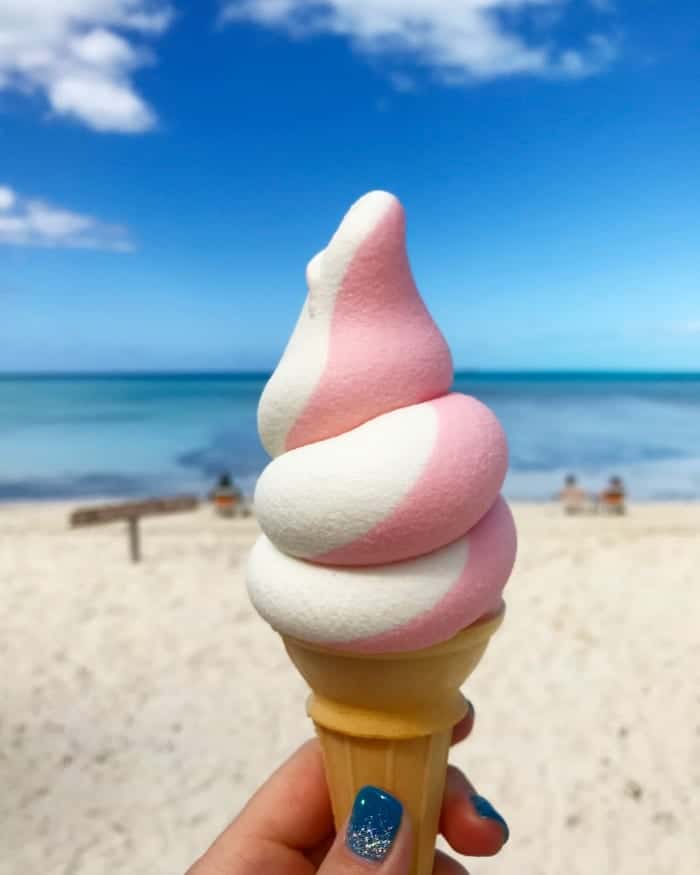 Ice cream cones on the beach also happened 🙂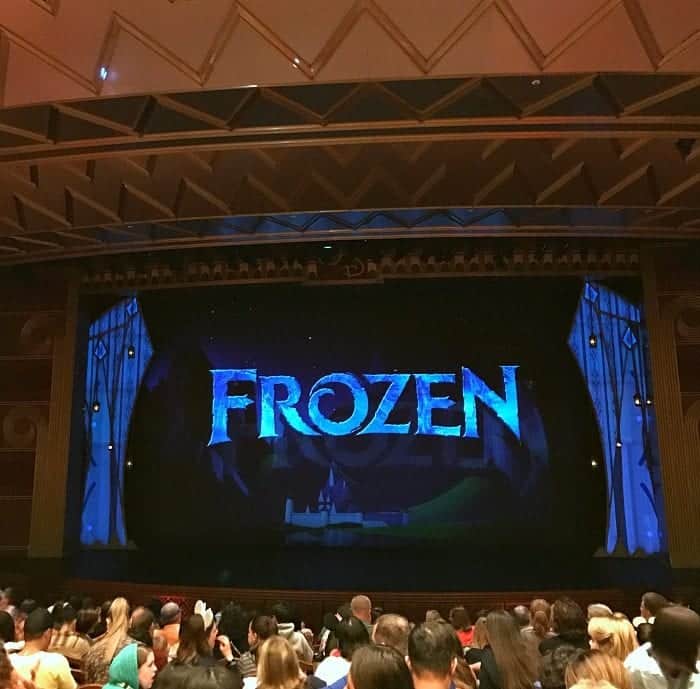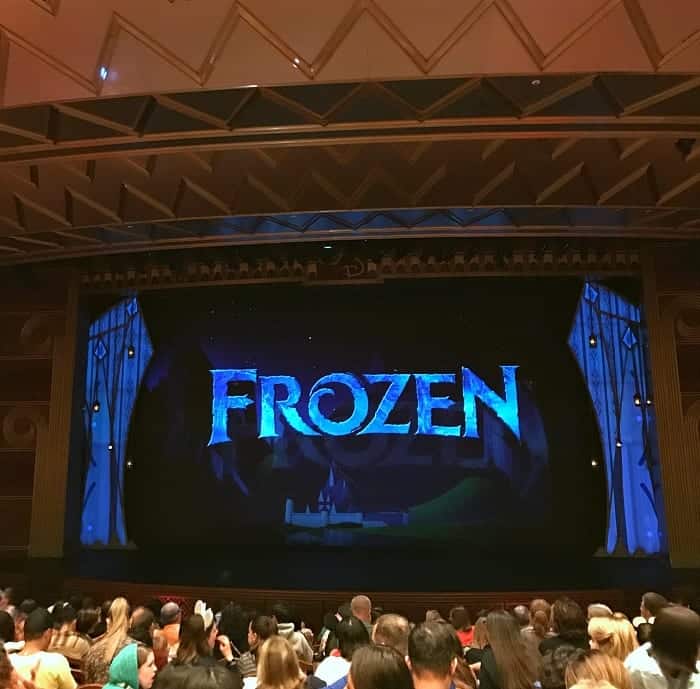 We boarded back onto the ship by 4pm.  Got ready for our last live show "Frozen."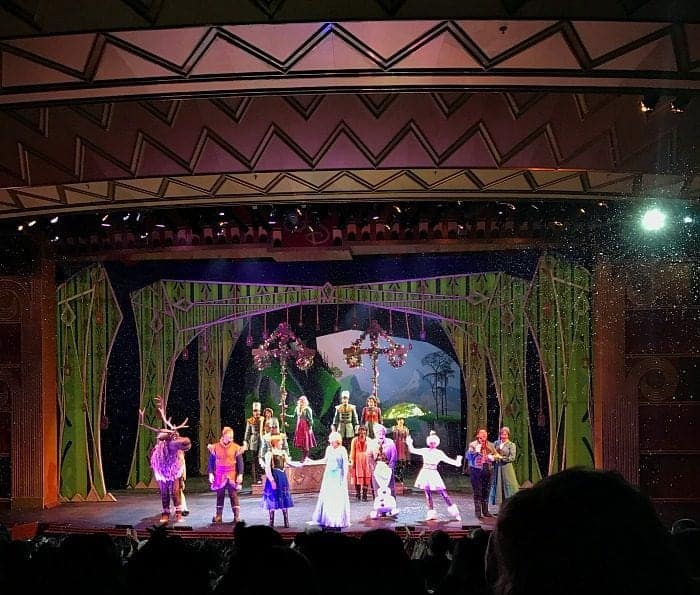 It was phenomenal.  Felt like I was watching a real Broadway show.  Everyone was fantastic!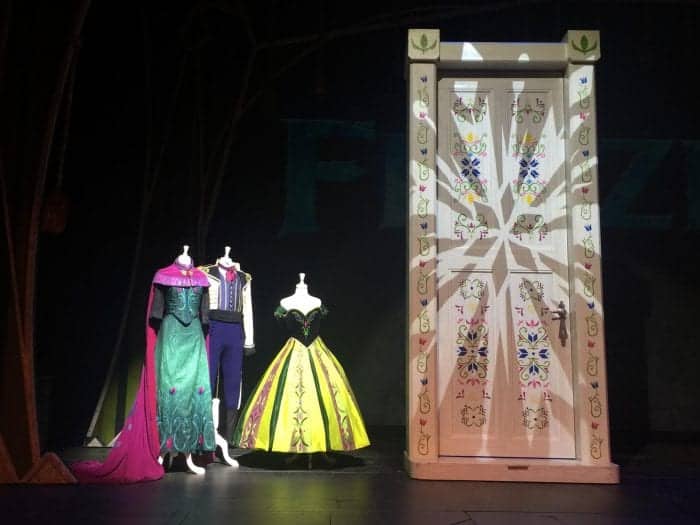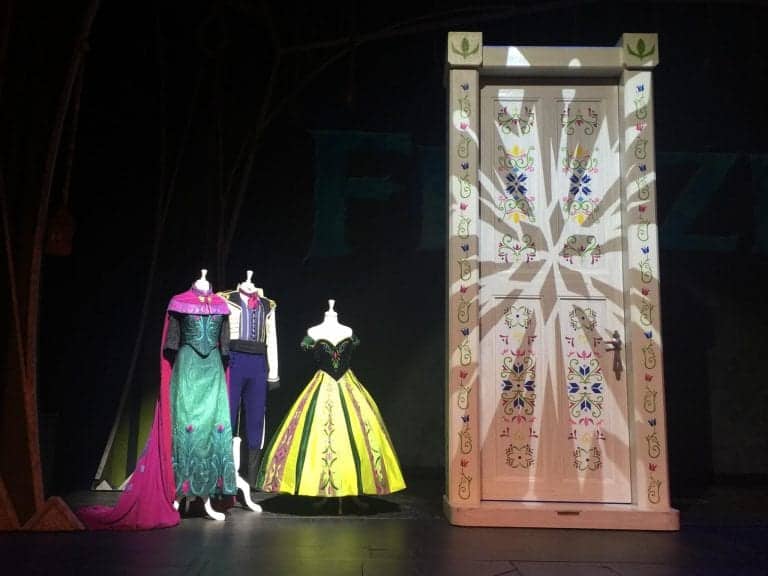 Photo via DisneySMMC Photographer
The conference guests and family could also see the costumes and "Frozen" Door up close and personal.  How cool!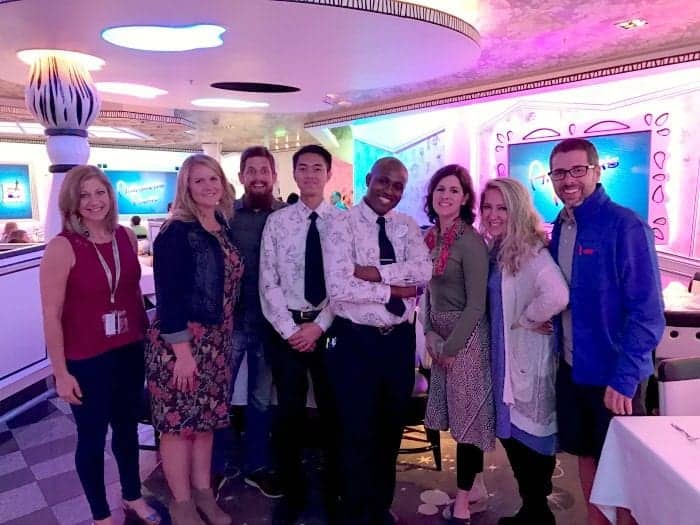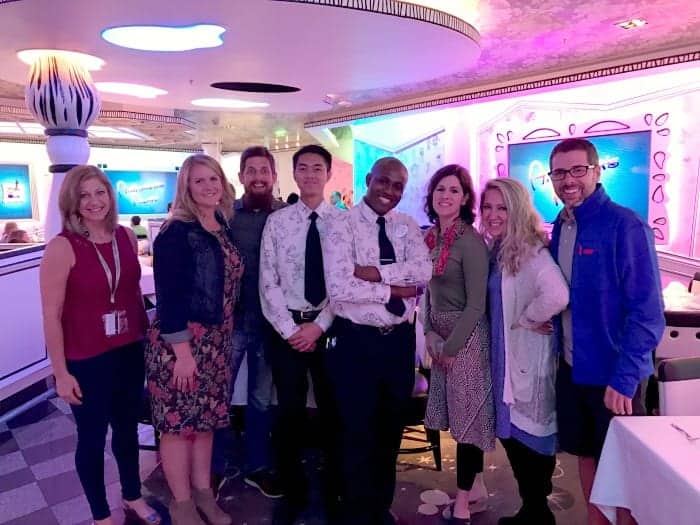 Our last diner rotation was at Animator's Palate.  My favorite restaurant of the three.  I love the whimsical interactive frames on the wall that change throughout your dining experience.  We had the best servers, Anthony and James.  It's so great having the same servers at every dinner.  Loved getting to know everyone at our table.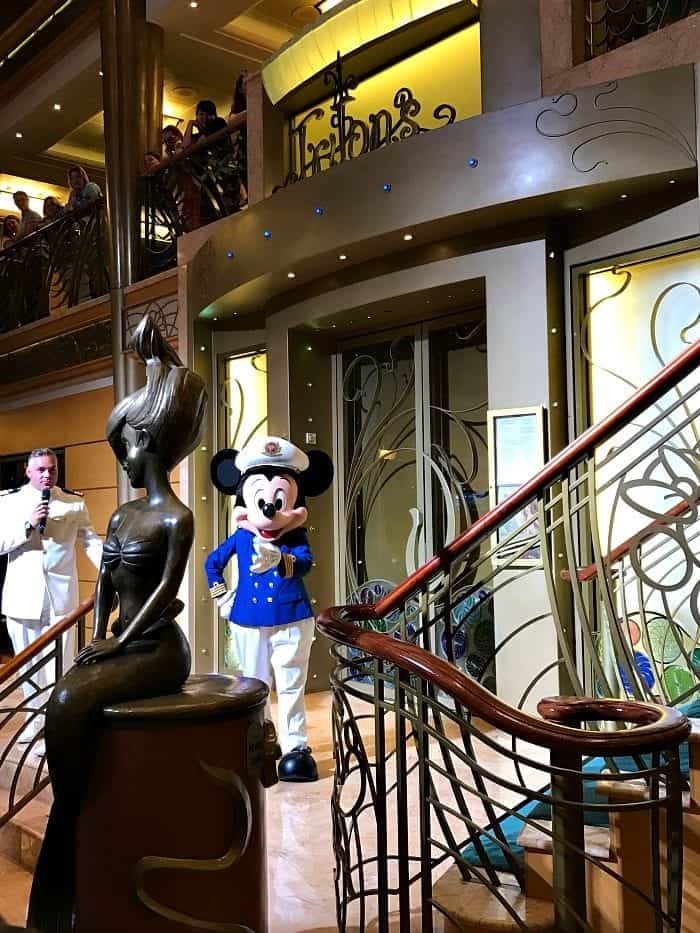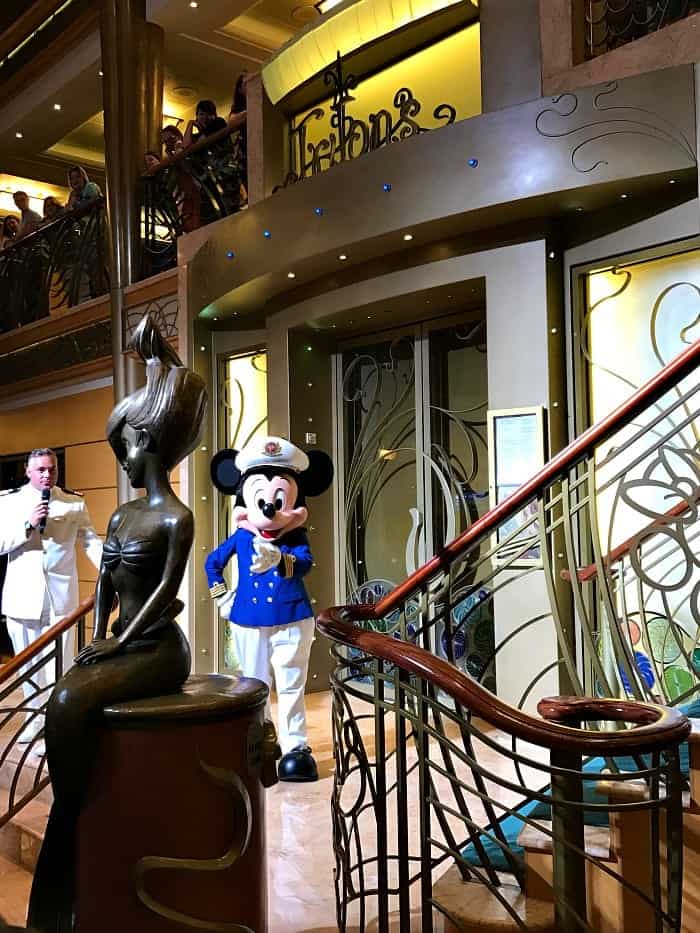 The last night of the cruise they had a "Goodbye Party" with the Disney Characters. Mickey is too cute in his sailing suit.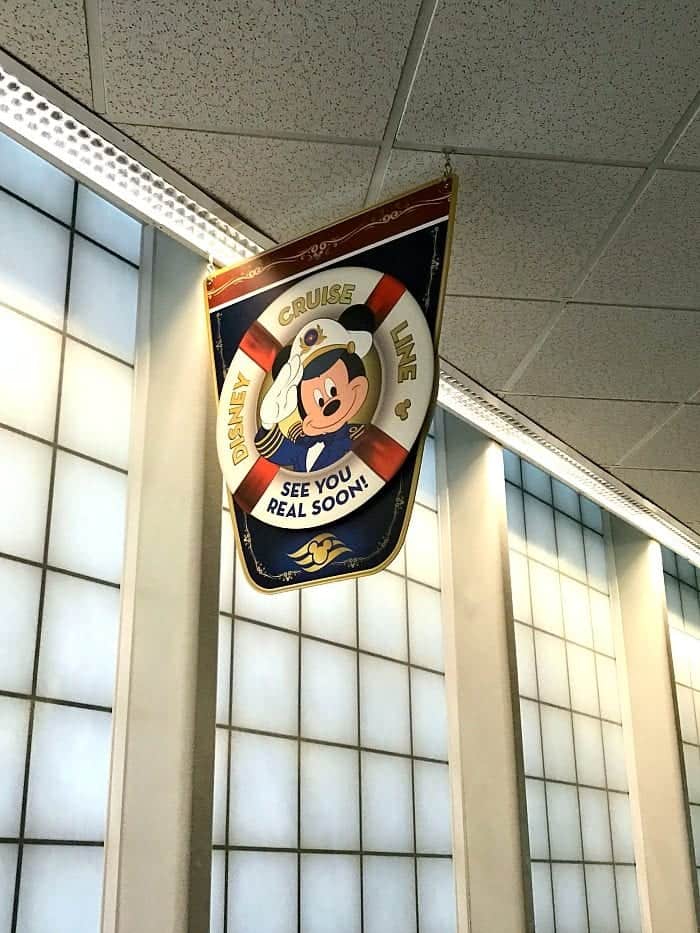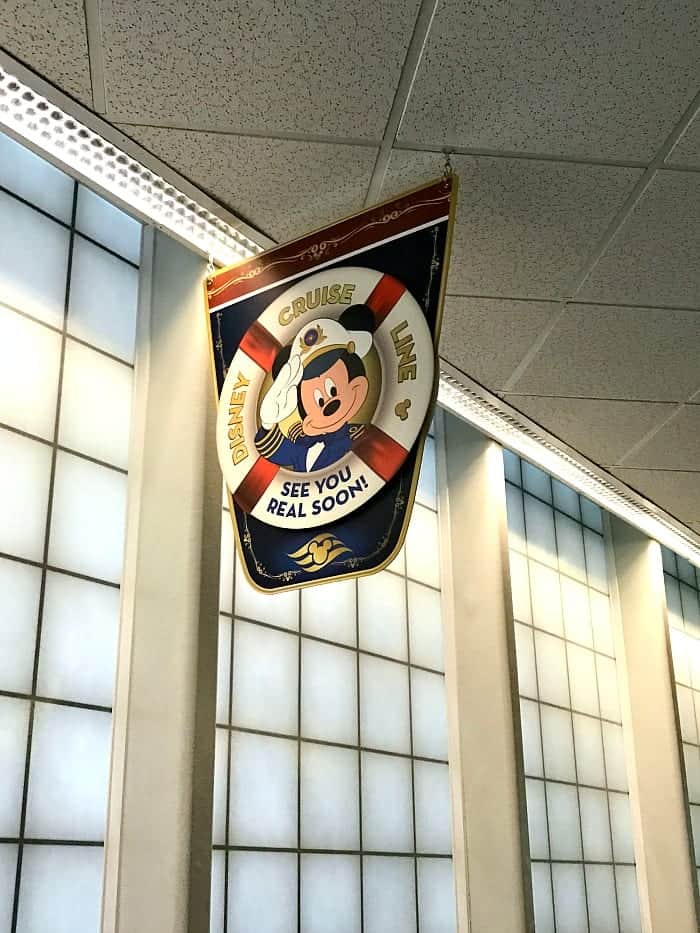 …and just like that our time had come to an end.  So many incredible memories made.  I'll never forget this experience.  Can't wait to take my boys in the near future!
 Huge thanks to the Disney Moms Team who made this all possible.  I know there were countless hours put in to making every detail so special.  I'm sincerely grateful to be a part of the fun.
Disclosure: This post is in partnership with Disney Social Media Moms Celebration however thoughts and opinions are my own.
Pin to your favorite Travel Board!

Sharing The North Pole Experience, Flagstaff Arizona from our trip last week!
The North Pole Experience, Flagstaff Arizona has been on my list to do for quite a few years.  So glad I finally prepared early enough to get my family tickets.  It's one of those events where you need to know what dates you can go in advance because tickets sell out pretty quick.  I got our tickets in September this year for December 23rd tickets.
Your bus departs from the Little America Hotel in Flagstaff.  I highly recommend staying overnight if you can.  The Hotel is adorable, they decorate with tens of thousands of lights for Christmas and have Breakfast With Santa that we scheduled on our way out the next morning.  It was really great.  I'll talk more about the hotel at the end.
Continue Reading »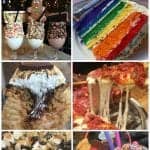 Sharing The Best Girl's Weekend in Chicago with you today!
Weekend in Chicago?  Yes please!
Had the best time in Chicago a few weeks ago with two of my besties.  Can't wait to share a little bit of our trip with you! The food, the shopping, scoring Hamilton tickets….what a fantastic few days I'll never forget.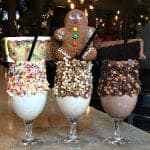 Sharing my Favorite Places To Eat In Chicago with you today from my last couple trips to Chicago!!  Love this city so much.
Public House literally knocked our socks off.  These cake milkshakes were about the cutest things ever. Had to try one of each.  All amazing.  Don't miss this place!
Continue Reading »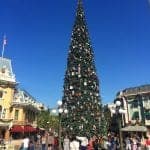 Nov 21, 2016
Reasons To Visit Disneyland Resort During Christmas!
We LOVE visiting Disneyland Resort during Christmas.  Just spent a few magical days there for my birthday and anniversary weekend…without the kids, lol!  I love taking the kids, but I also love visiting with just my husband, total Disneyland nerd over here!  This is truly one of the BEST times of the year to visit.  If you've got a trip planned between now and January 8th, let me show you our favorites!
Continue Reading »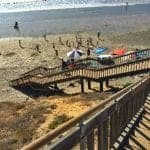 Sharing our Weekend in Carlsbad California with you today!  What a gorgeous place to vacation.
We had the pleasure of staying at Cape Rey Carlsbad Hilton last weekend for the end of our Fall Break vacation.  I have to say we had such a lovely stay.  The location, views, friendly staff, room….you name it, it was all such a treat.
We had just come from 3 days at Disneyland for our Fall Break annual vacation.  It was a breath of fresh air staying right across from the beach at Cape Rey.
Continue Reading »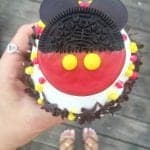 Thrilled to share my Walt Disney World Food Blogger Trip with you today!
It's no secret that Disneyland Resort and Walt Disney World Resort are two of my very favorite places to vacation to.  I was over the moon excited to have a Food Blogger #DeliciousDisney adventure at the Walt Disney World Resort this month.  Disney is just one of those magical places, no matter how old you are, you can have the time of your life.  I felt so fortunate to spend the weekend with 7 of my food blogging sisters.  We stayed at the lovely Boardwalk Inn, just walking distance away from Epcot.  We had a whirlwind of a weekend that I can't wait to share with you.  Huge thanks to American Tourister for our new luggage.  Love my Tangerine iLite Max!
Continue Reading »