Mexico
Happy Friday! A little chit chat today about my trip to Rocky Point Mexico with the family for Spring Break 🙂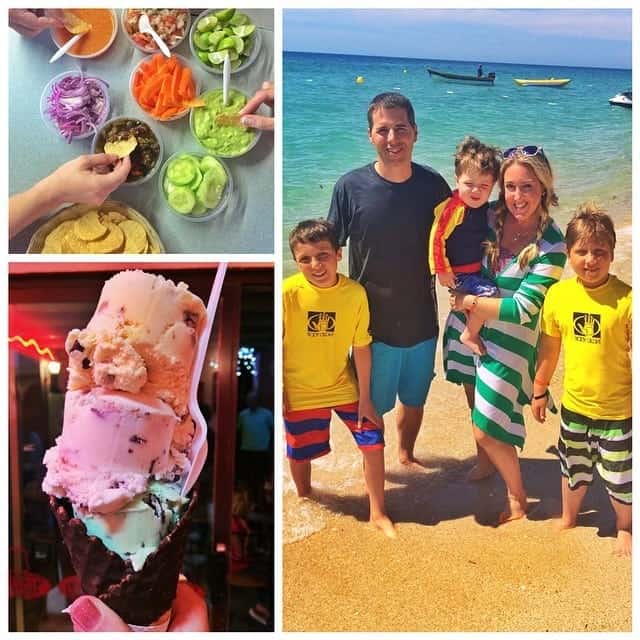 A month or so ago, some of our neighbors and friends invited us to Rocky Point for Spring Break.  I have to say, I have grown up in AZ most of my life and have never been to Mexico.  It's only a 4 hour drive too!  After some discussing back and forth, we decided, why not, lets try it out this year.
I'm pretty sure, you'll see by the photos, we had the best time.  I was definitely skeptical and  a little nervous being out of the country with the kids, but are so glad we went. We'll be making this a tradition every year.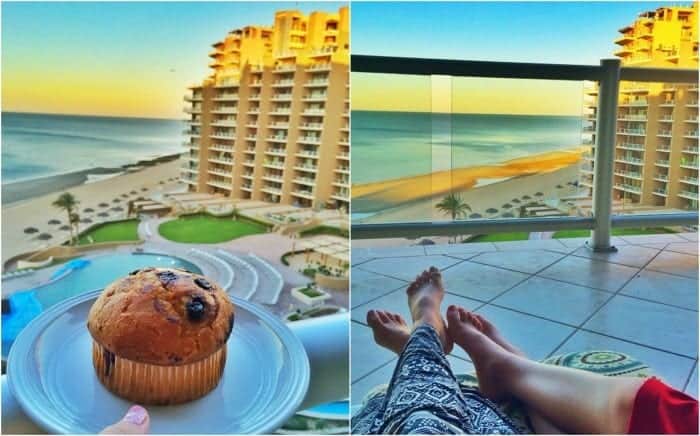 We stayed at Las Palomas Beach and Golf Resort.  If you check out VRBO, you can search through and find condos to choose from.  The view from the rooms is amazing!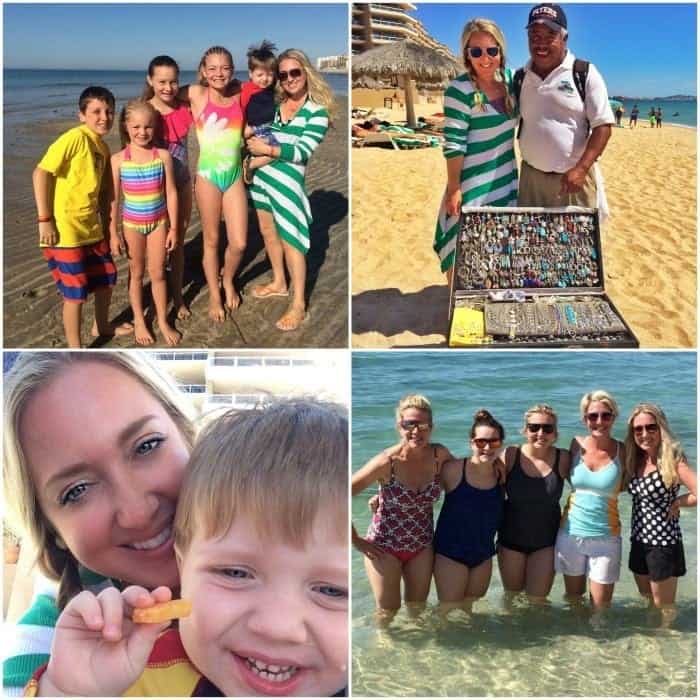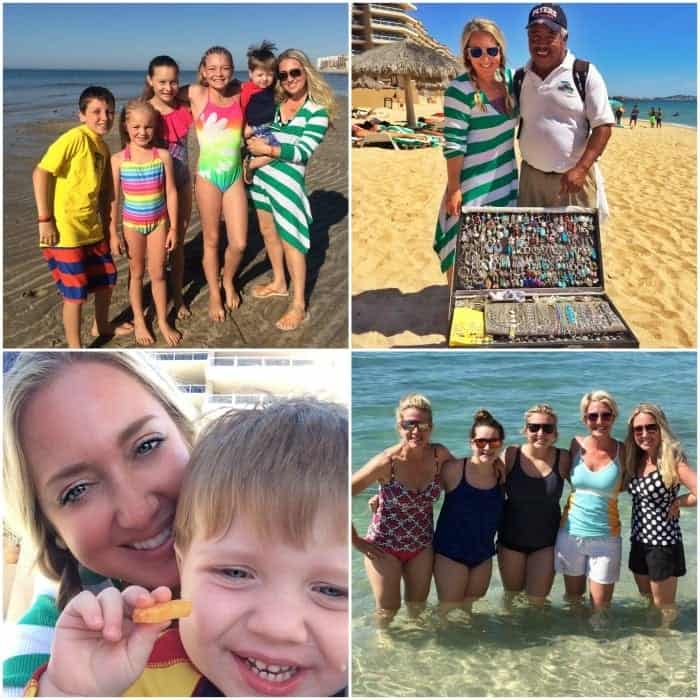 We had so much fun beach time with the kids and friends.  The beach is much different that the CA beaches I'm used to.  There are no waves that roll in, however they have banana boat rides and jet ski's for rent.  I could not get enough of the vendors that walk the beach and sell their goods.  My favorite was the jewelry vendors selling gorgeous silver and turquoise pieces.  Too much fun!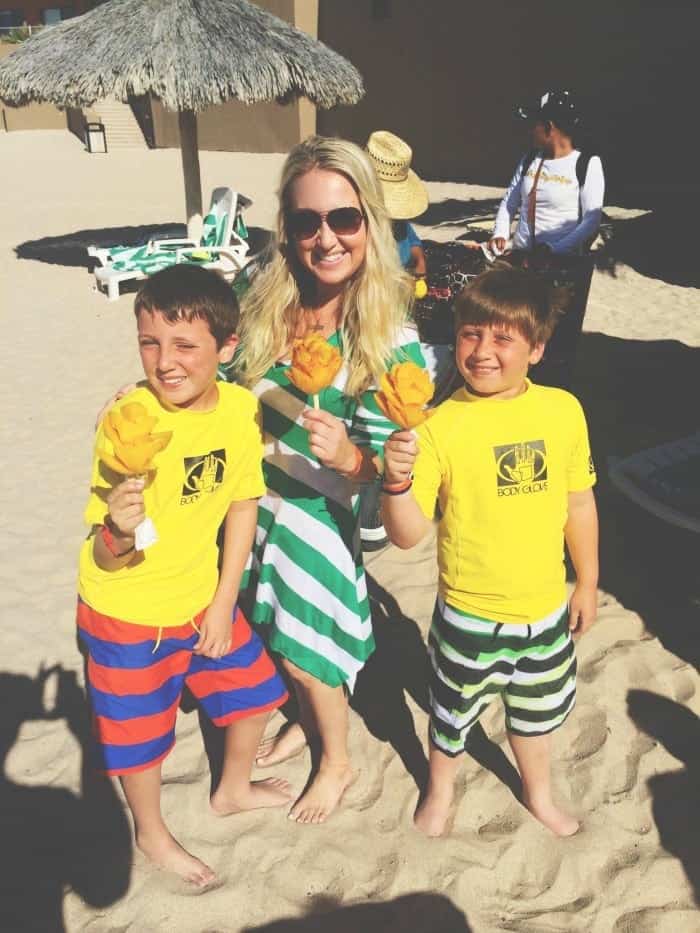 One of our favorite daily treats was the mango on a stick.  The boys got theirs plain, but they come with fresh lime and chile seasoning.  Literally to die for!  I'm so making these at home.  We had some of the best homemade tamales on the beach too.  The best part is you don't have to go anywhere.  The vendors walk the beach most of the day.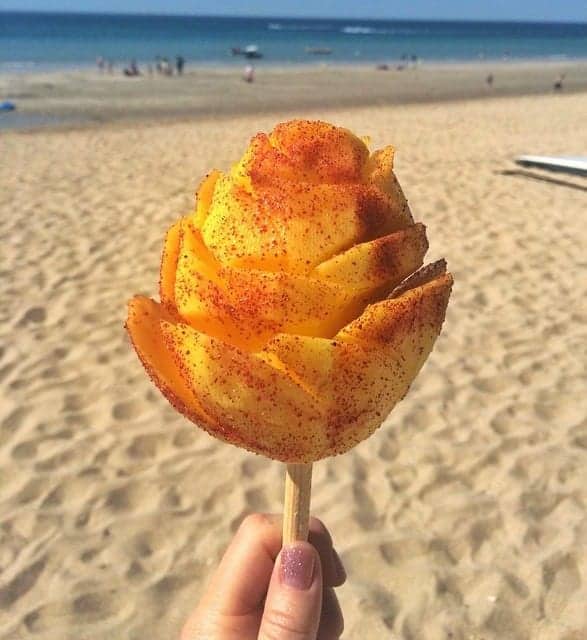 I've got to practice my knife skills, lol!  This baby is so good.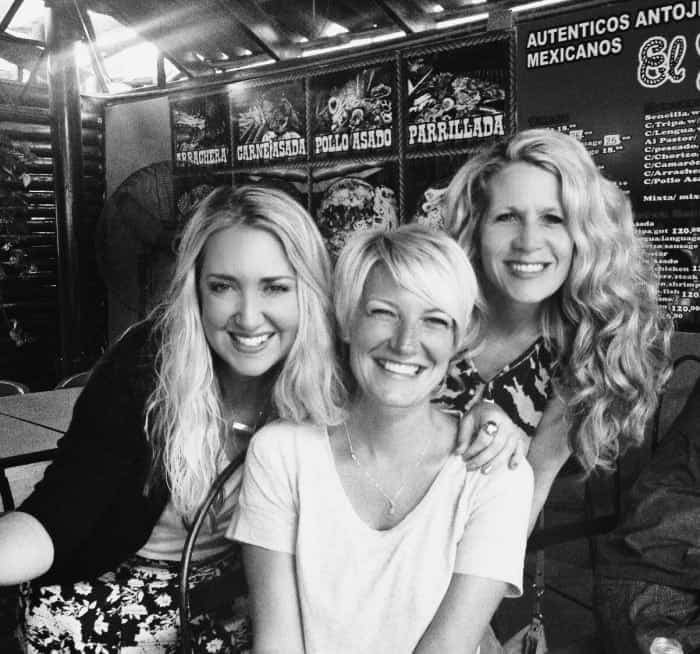 My neighbors and friends 🙂  We tried some amazing Mexican restaurants every night.  Pollo Lucas was our favorite….with Thrify Ice Cream every night.  So much fun cruising the town with these ladies and their families.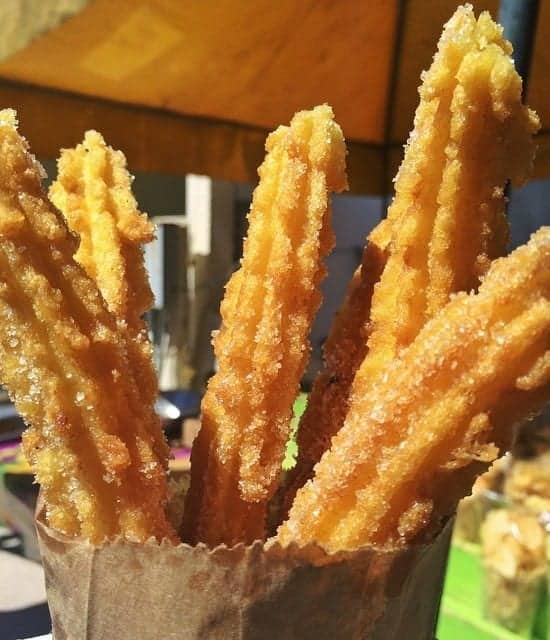 Hands down my favorite treat of the trip were these homemade churros from Choya or Cholla Mall (I saw it spelled both ways).  It was less than 5 minutes from where we were staying.  Crispy yet custardy in the centers with cinnamon and sugar.  Wish I could get these everyday….well it's probably best I'll only have access to them once a year, lol!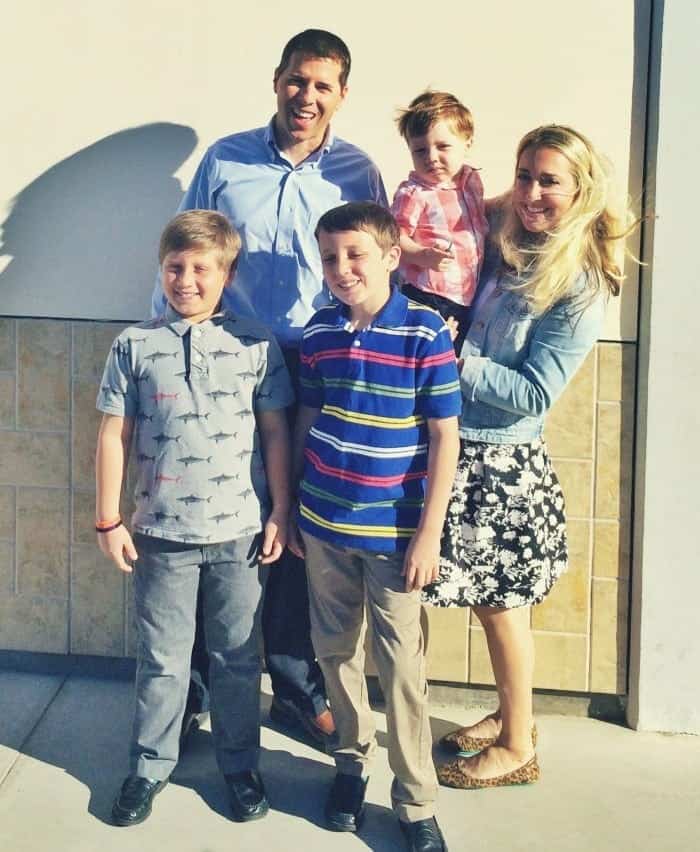 Such a fun adventure with my little family.  My boys will always remember this vacation.  We can't wait to go back next year.
Our tips for visiting Rocky Point Mexico with your family:
It's helpful to go with a group of people who have been before.  I can't say we'd ever go with just our family alone.
Don't forget to plan for passports.  If you are driving, the kids 16 and under will need original copies of birth certificates.
Bring your own bottled water, we didn't drink their water just to be safe.
Bring lots of cash in small bills.  It was a bit of a pain to get money from the bank there.
Bring plenty of snacks from home for your room and beach.
Dental floss in your bag for all of the mangoes you'll eat 🙂
Obvious things like keep your car doors locked while you're out and don't leave valuables inside.
I'm sure I'll add to this list as I think of more tips!
…not a sponsored post, just wanted to share our first experience in Rocky Point 🙂
Have a great weekend!
See you Monday with a new recipe!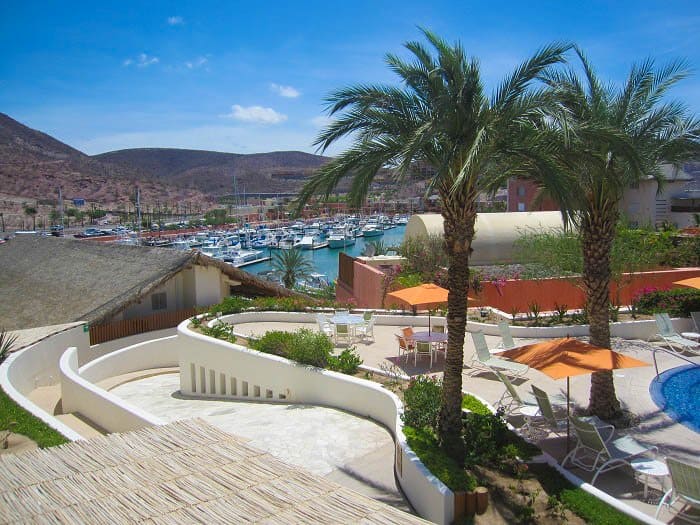 A little over a month ago, I had no idea La Paz Mexico existed.  I put a rush on my passport and now have such fond memories of this beautiful part of the country and  am thrilled to share with you the highlights of my weekend.  A group of food and travel bloggers were whisked off to the Costa Baja Resort and Spa for a fun filled weekend.
The travel was intense, but the memories that were made were worth it.  My one regret is not bringing my big camera.  I was unsure whether or not to bring it and wished I would have.  My point and shoot did pretty good, but you'll see some borrowed pics from my good friend Amanda who was smarter than I 🙂  For the record, I felt completely safe in Mexico the entire time of our trip.
Scroll down and I'll show you everything 🙂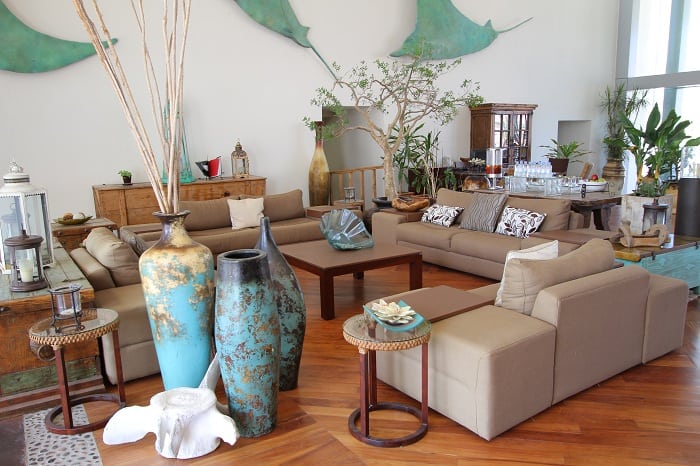 Photo via Amanda
The group arrived Thursday August 25th to the resort.  This is a photo of the lobby.  It was open and airy with beautiful views of the pool, beach and marina.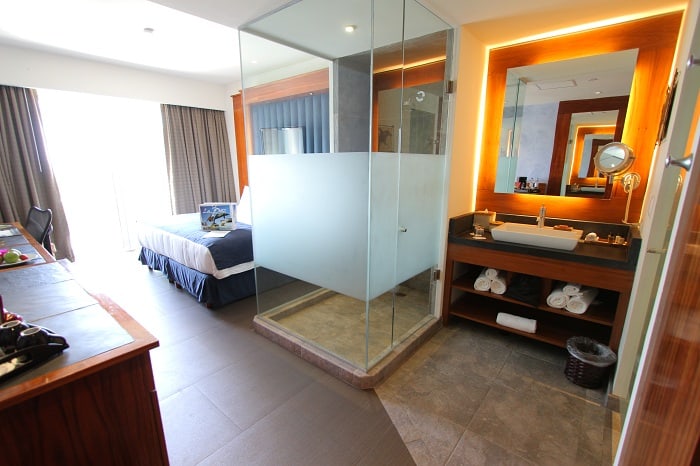 Photo via Amanda
When we checked in, we headed off to our rooms.  Amanda snapped this gorgeous photo.  It was nice with a view of the pool, giant glass door shower, flat screen tv and comfy bed.
Here is the pool area.  Nice and inviting.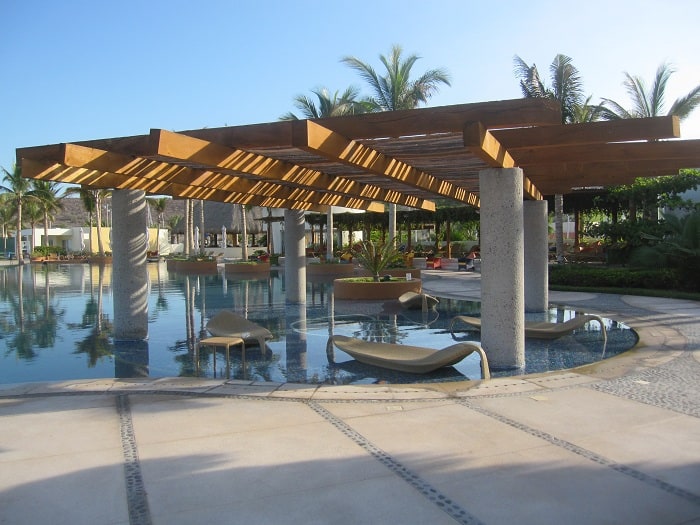 Friday morning we had breafast right down the beach from our resort, this is The Beach Club.  We LOVED spending time here.  It was just gorgeous as you can tell in the photos.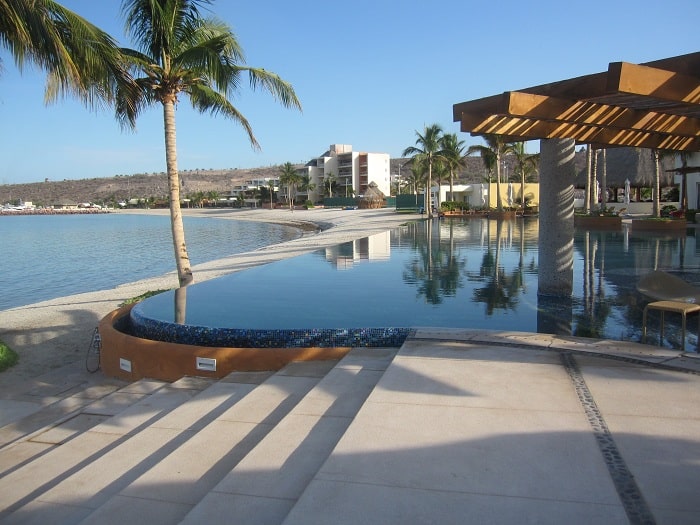 Another shot of the pool at The Beach Club.  This infinity pool was so pretty.  This is definitely a place I would like to hang with my family all day.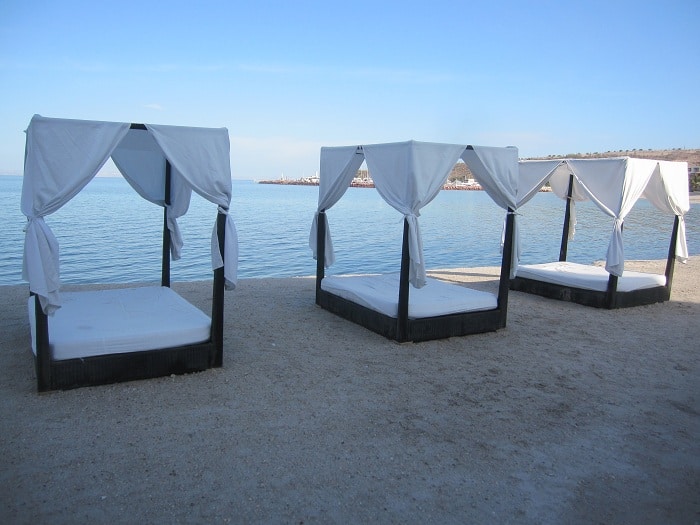 Right across from the restaurant where we had breakfast were these fun little cabanas.  You can rent these for no extra charge.  How inviting does this look?!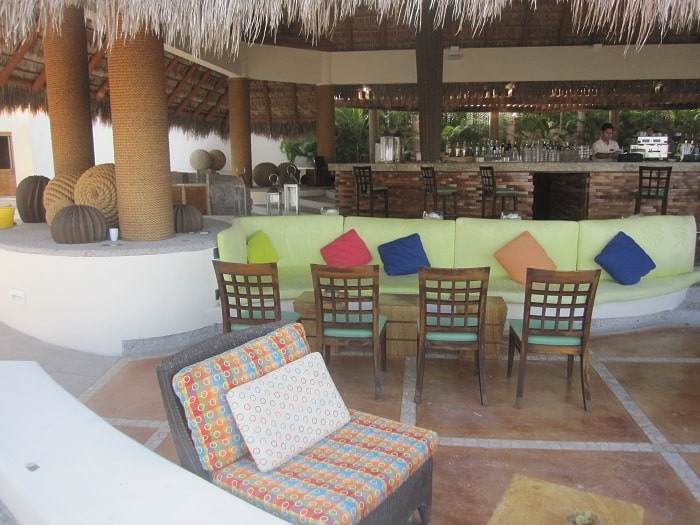 Here is the front view of The Beach Club Restaurant.  They serve breakfast, lunch and dinner.  We had a little of everything during our trip….and it was all delicious.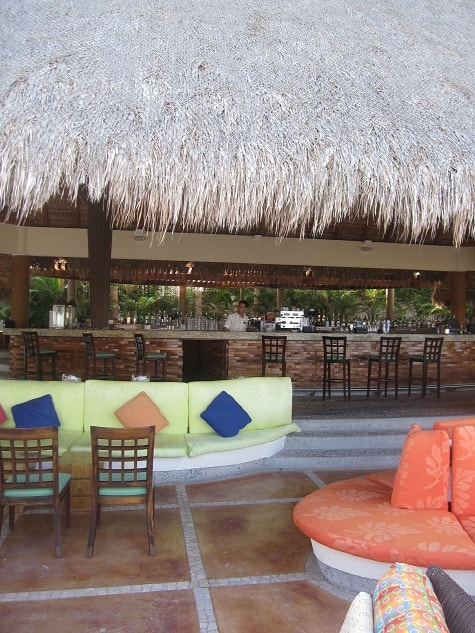 Another view of The Beach Club.  We had the whole place to ourselves for breakfast.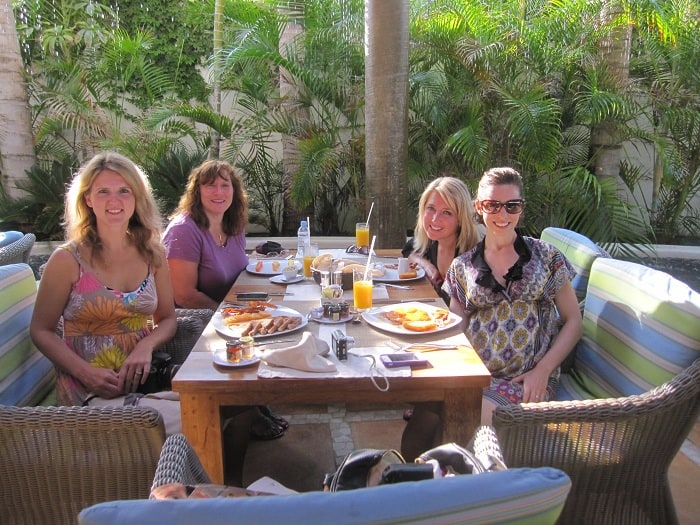 Here's Amanda, Lisa, me and Katie enjoying our breakfast.  We had a lovely table right by a waterfall behind us.  So relaxing.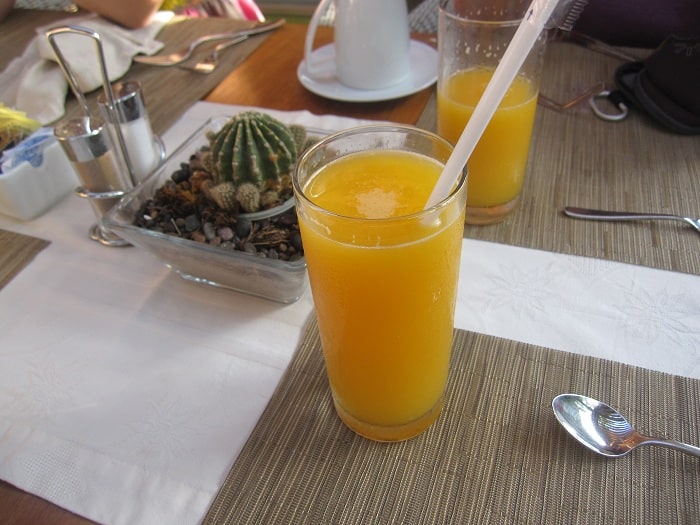 No kidding, the best fresh squeezed orange juice I've ever had.  Wish I had a glass right now 🙂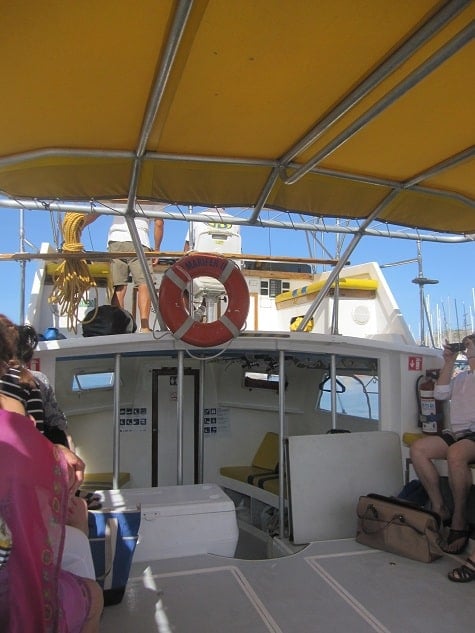 Friday morning after breakfast we met in the marina to get ready for our snorkeling adventure to Isla Espiritu Santo.  This was by far the highlight of my trip.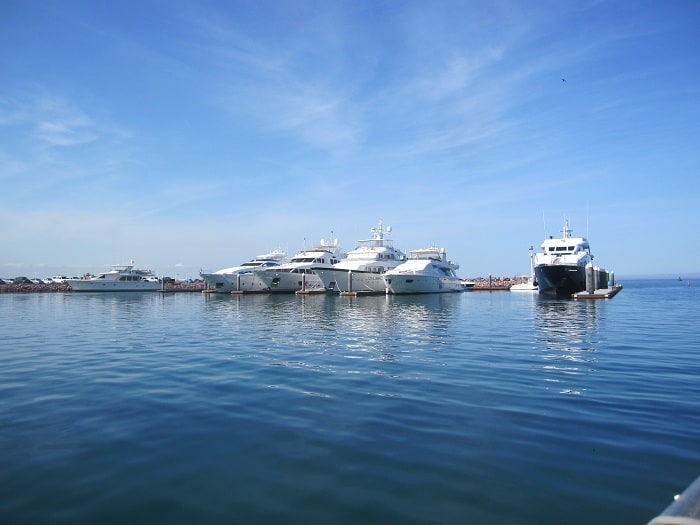 Just sailing off, passing beautiful boats and yachts.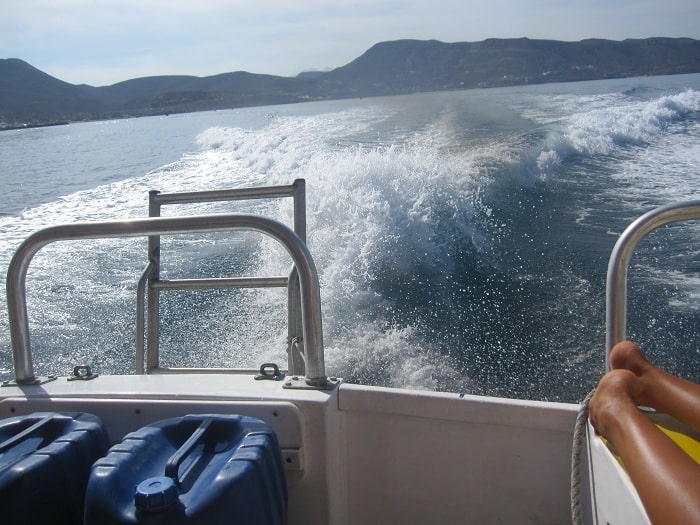 Getting our sunscreen on and enjoying zipping through the water in our party boat.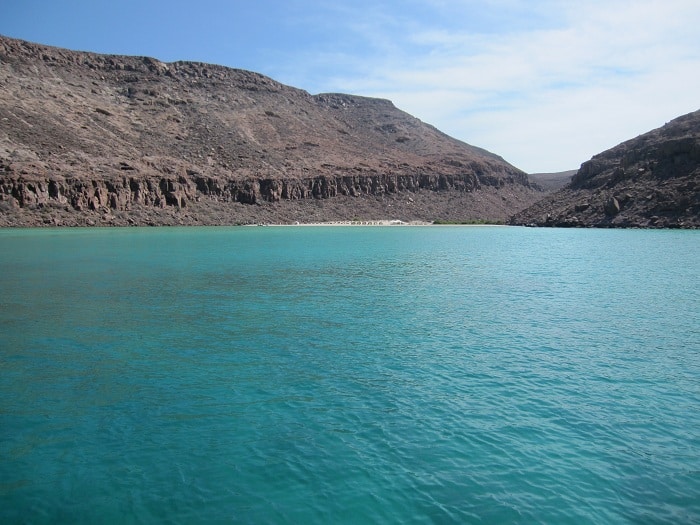 I am still in awe of how crystal blue the waters were.  It's hard to believe it until you see it for yourself.  Stunning.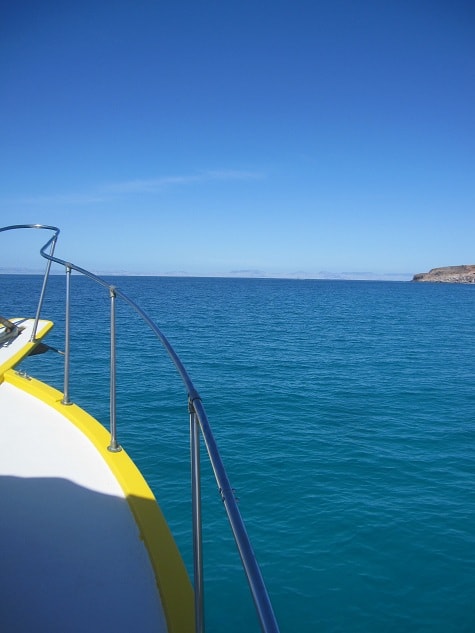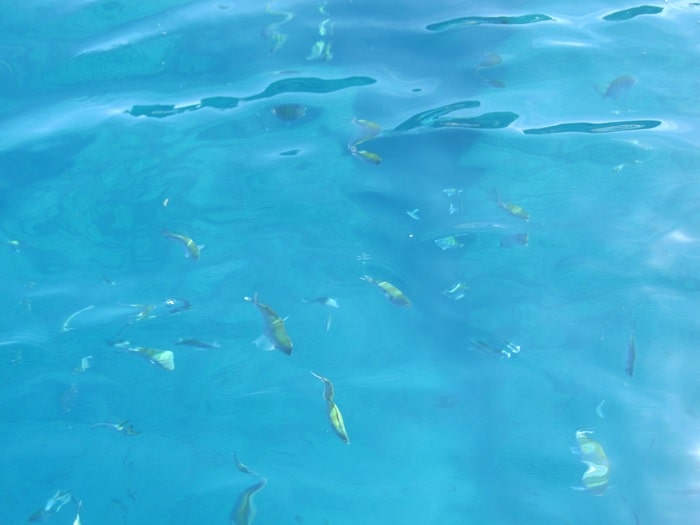 Couldn't help but snap a photo of the fish swimming all around our boat.  I have never seen water this clear.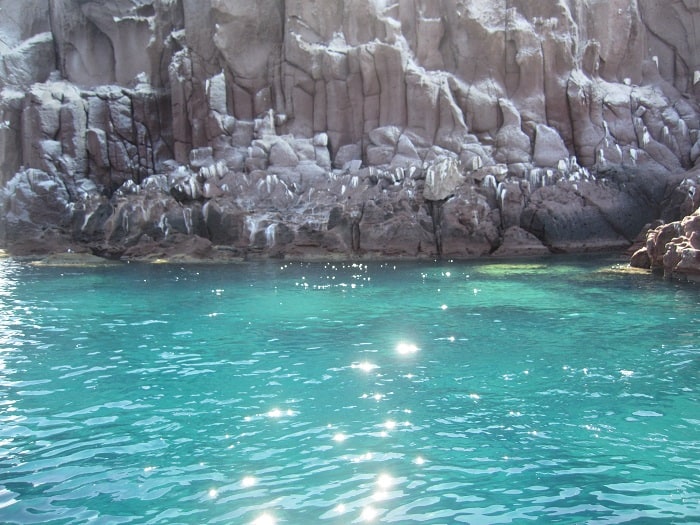 This was the area where the sea lions hung out.  They chose a great home 🙂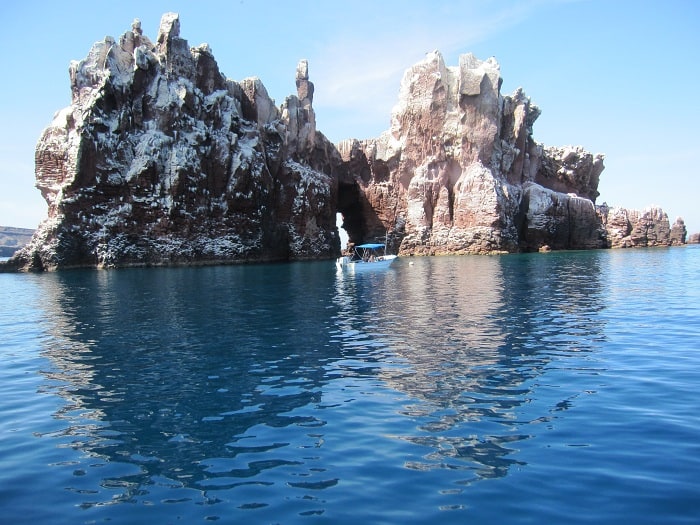 Love this.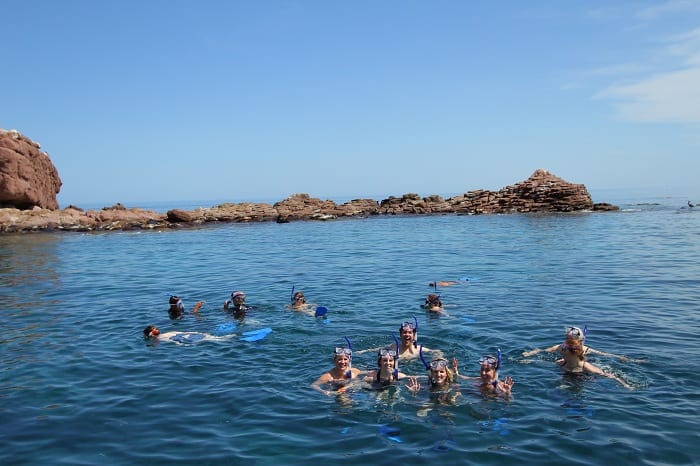 Photo via Amanda
Here we are getting ready to snorkel.  The water was perfect.  Lots of little fish all around us.  The sealions were on the rocky area behind us.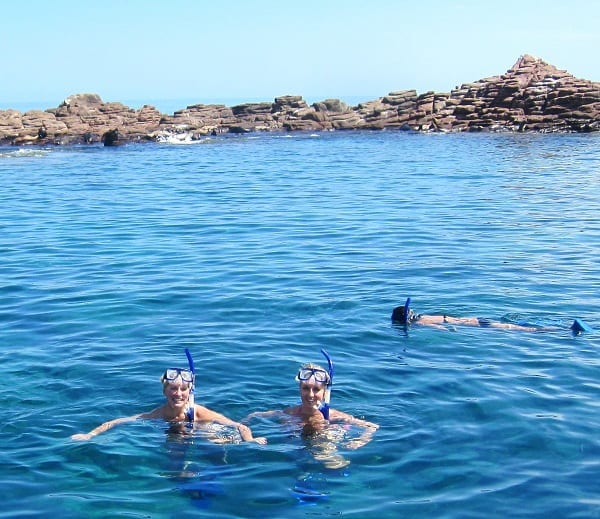 Lori and I.  I am ready to go snorkeling again.  My boys would love this.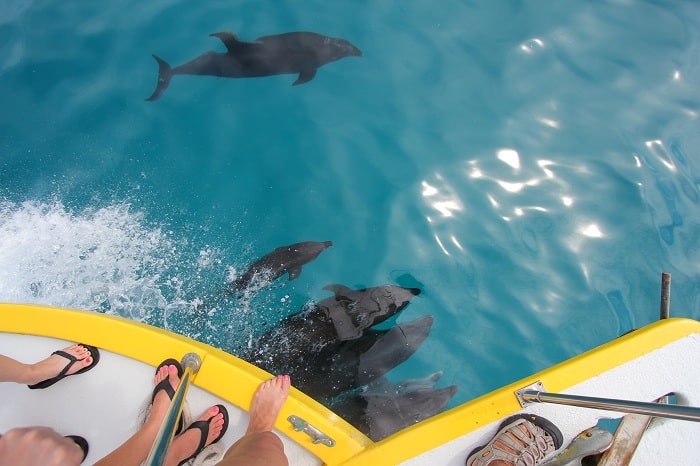 Photo via Amanda
On our way back , we found a group of dolphins that enjoyed racing the boat and jumping over our waves.  Adorable!  Love this photo Amanda captured.  We were all in awe!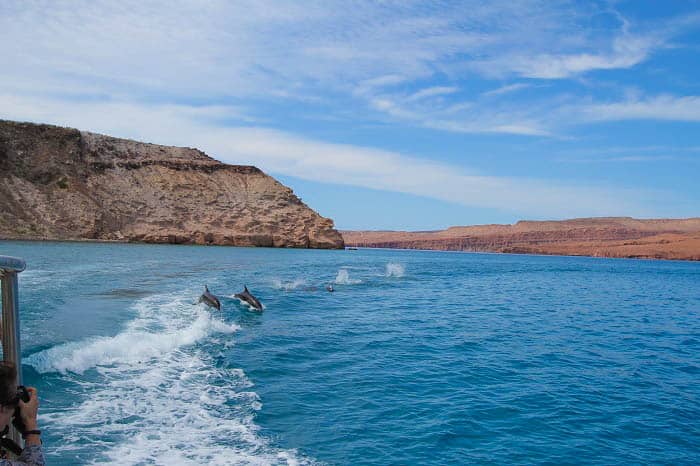 Photo via Amanda
There they go.  It was a fun game for them to jump through our waves.  Little cutie pies!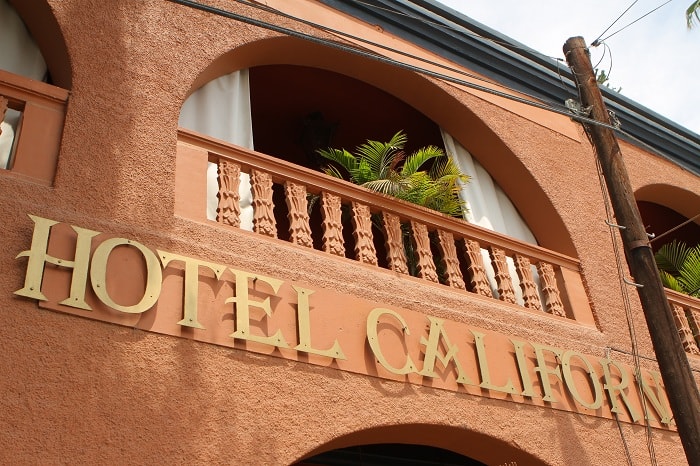 Photo via Amanda
Saturday morning we headed to Todos Santos to the Hotel California.  Very bright and full of personality.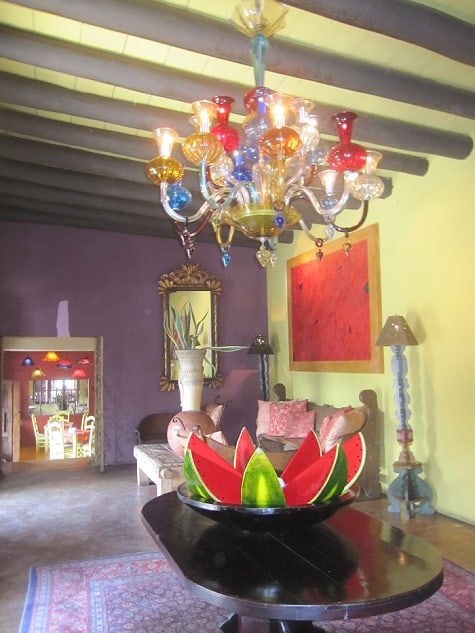 Here is the lobby of Hotel California.  Loved the colors.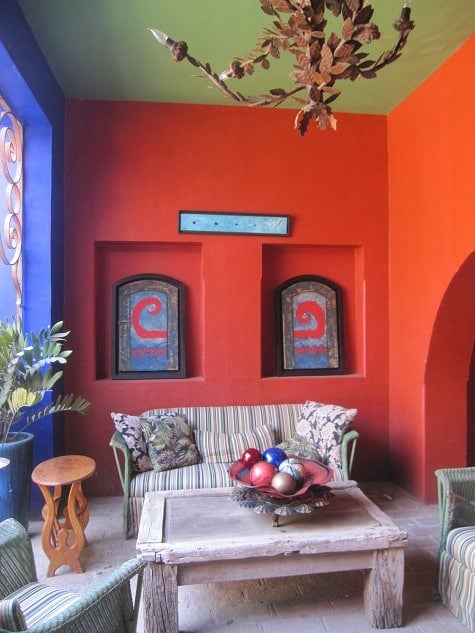 Walking to the back of the hotel.  Great seating areas.
Nice sparkling pool area.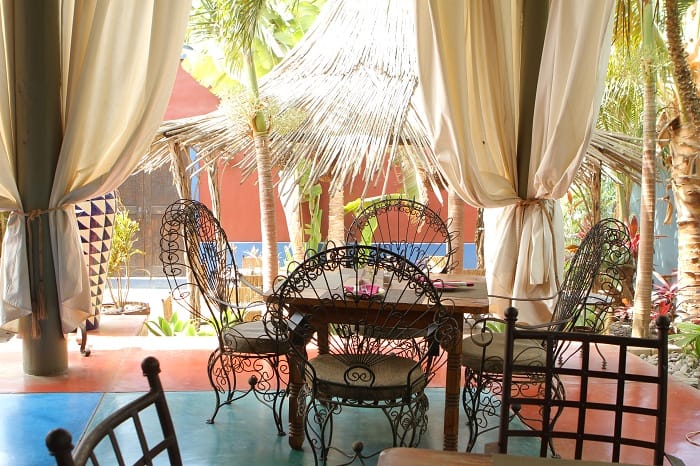 Photo Via Amanda
It was time for lunch!  We had a Mexican feast, all delicious.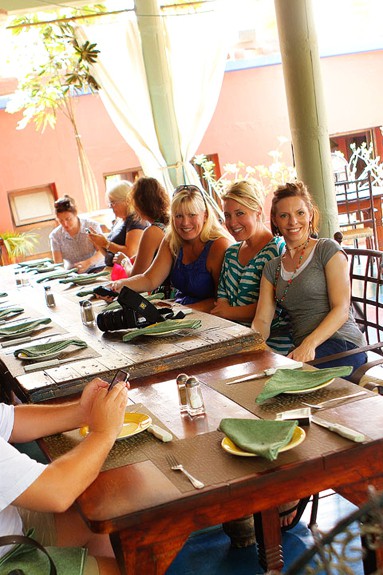 Photo via Amanda
Lori, me and Katie waiting patiently for our lunch 🙂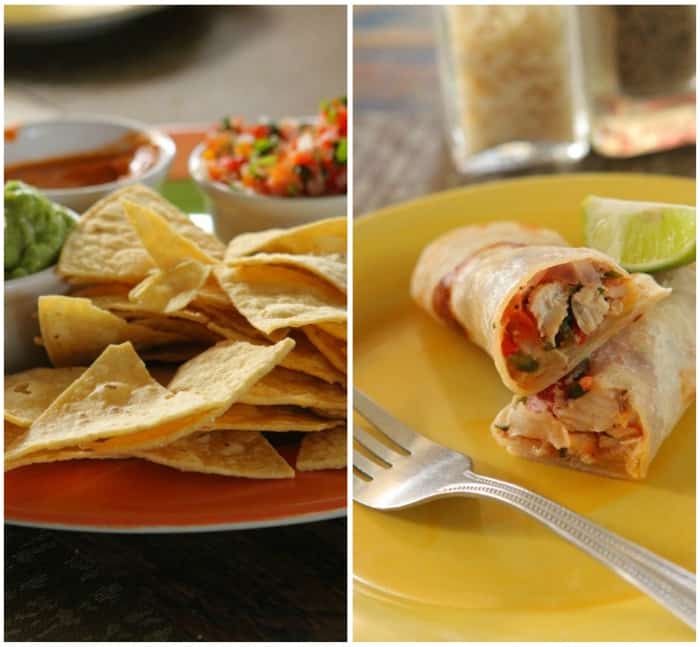 photos via Amanda
We started with chips, guacamole and salsa along with some fish tacos.  Delish!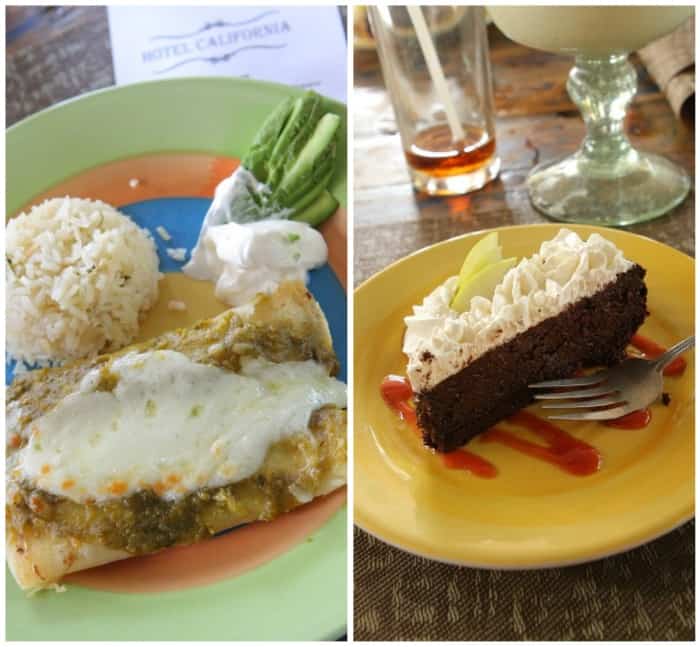 photos via Amanda
We also had chicken verde enchiladas and a chocolate truffle cake for dessert.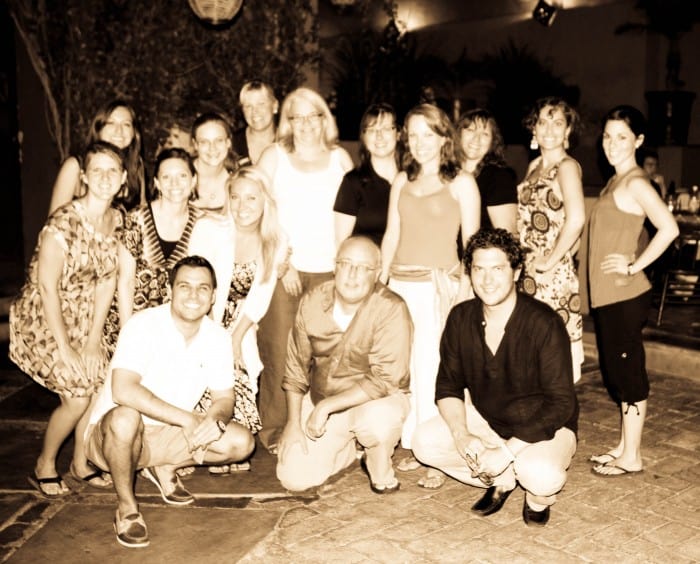 Photo via Amanda
Bloggers I spent the weekend with:
Rachelle Lucas, Lisa Overman, Katie Goodman, Amanda Bottoms, Katja Presnal, Dian Emery, Mardi Michels, Gary Arndt, Lori Lange and myself 🙂
A big thanks to the Mexico Tourism Board for having us and to the PR folks who worked so hard to show us a good time.  Had a great time in LA Paz.  Will treasure the memories forever!
Disclosure:  This was an all expense paid trip via Mexico Tourism,  thoughts and remarks are my own.