New York City
Sharing a New York City Weekend For Foodies today! It's no secret that NYC is one of my all-time favorite cities to visit. Everything about it just makes me so happy. The food, the views, the energy. It's contagious. Had a blast putting together my favorite eats over the last few years. Hope you enjoy!
If you are looking an amazing car service to get around NYC I highly recommend Blacklane.  My husband and I had the best experience using their service to and from the airport.  If you need chauffeur service, they've got that too.  We were really impressed.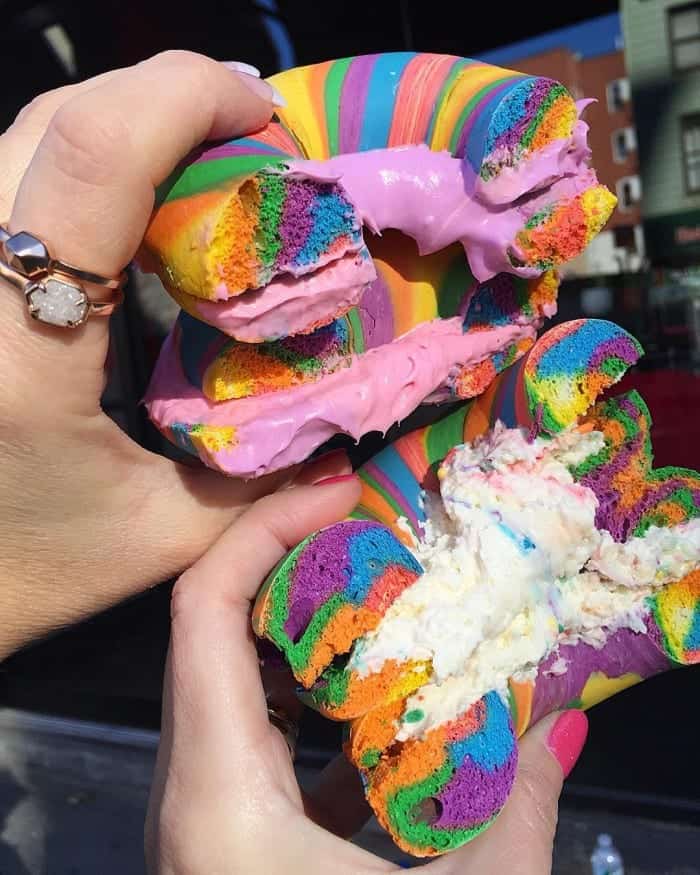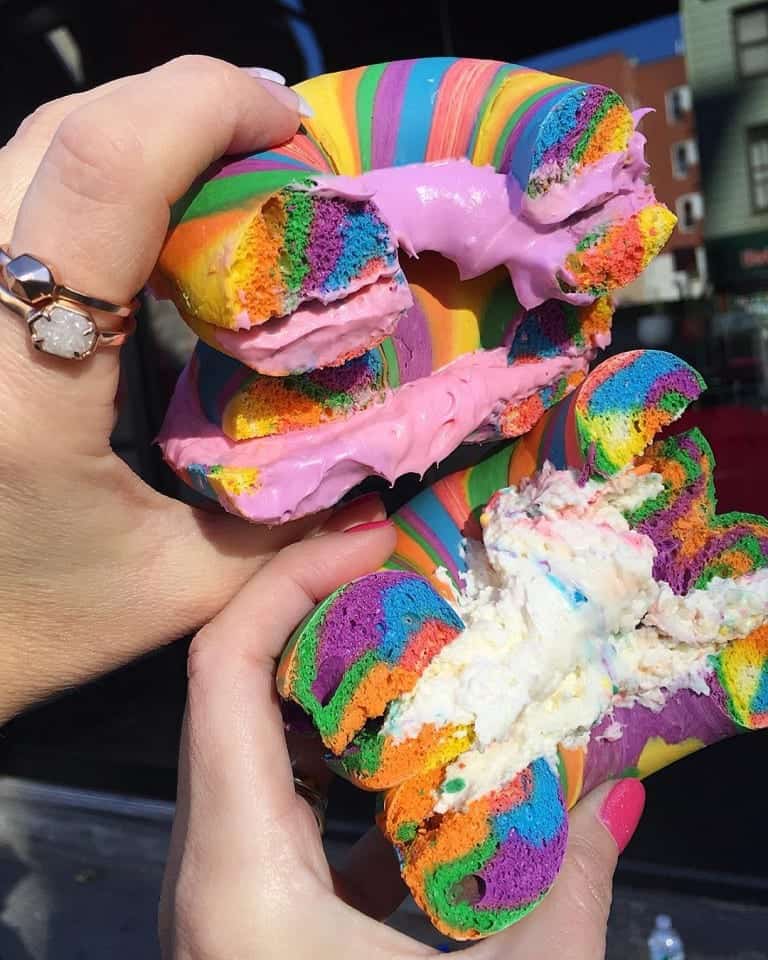 When I saw these gorgeous Rainbow Bagels on Instagram, I knew I had to hunt them down.  Amanda and I took the subway to Brooklyn, found The Bagel Store and enjoyed these colorful gems. So fun to photograph too!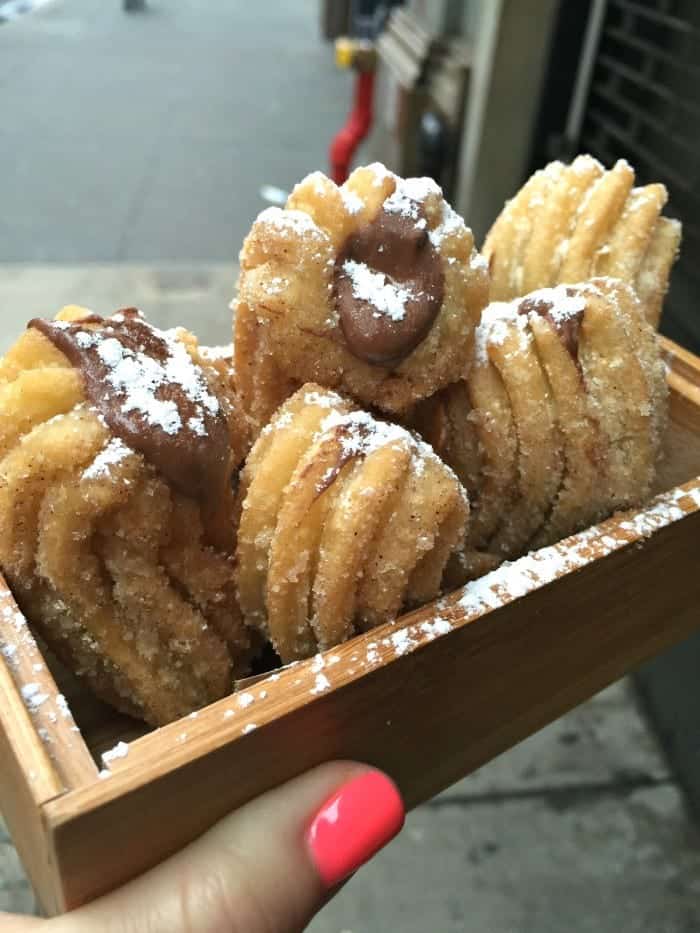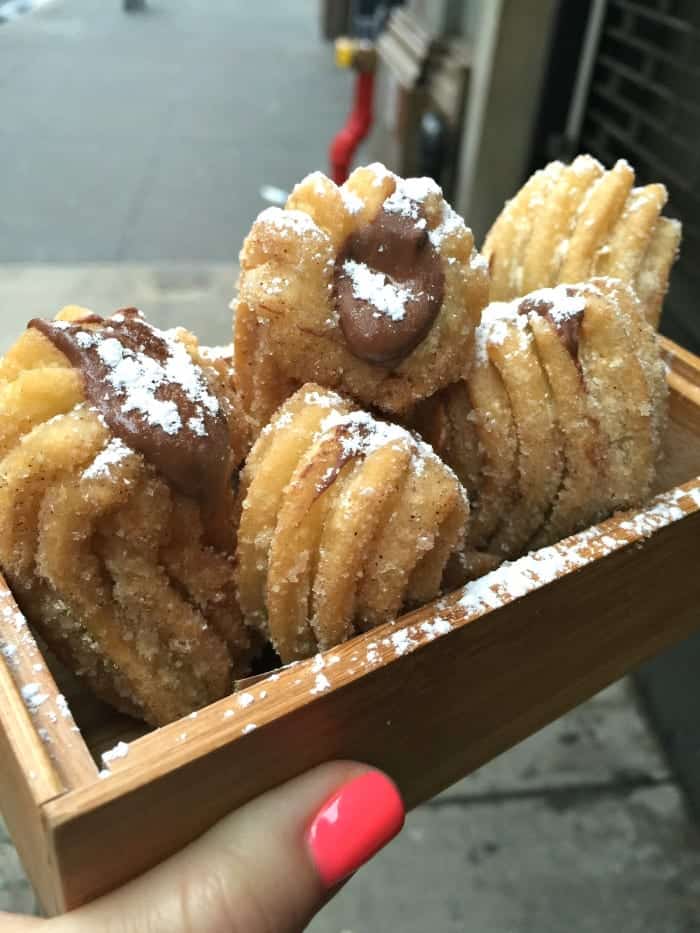 One of my newest discoveries are these Nutella Stuffed Churros from Boqueria.  I also spotted these on Instagram and while I was in town with my husband last month hunted the little restaurant down.  You should know, Boqueria is a small plates/tapas restaurant, they sell cheese and wine…..and these churros.  We only ordered the churros and oh my goodness I am hooked for life!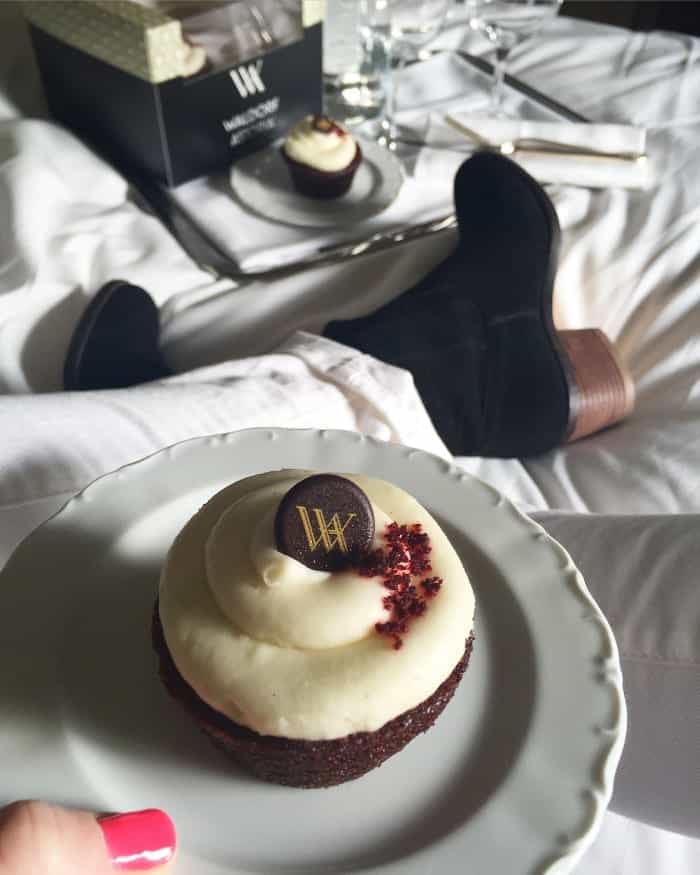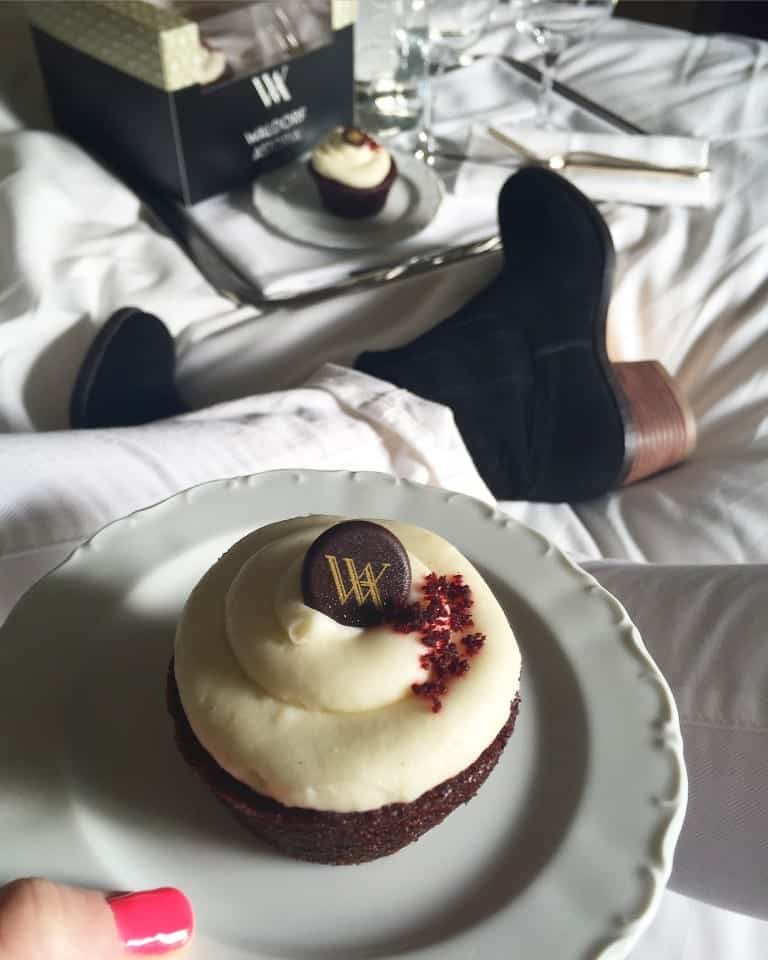 One of my favorite stays in NYC has hands down been Waldorf Astoria Towers.  This hotel had so much charm, I could hardly stand it.  I enjoyed some of their red velvet cupcakes last month with my husband 🙂  Wait until you see their Sunday Brunch a few pictures down.
I have to give a huge shout out to Matt Bernson Shoes.  I wore my Matt Bernson Colt boots all day last month with my husband.  We tracked it and we walked 11 miles that day.  These boots were so comfortable and I couldn't have been happier with them.  Check out Matt Bernson next time you are in the city and online!  One of my very favorite shoe brands.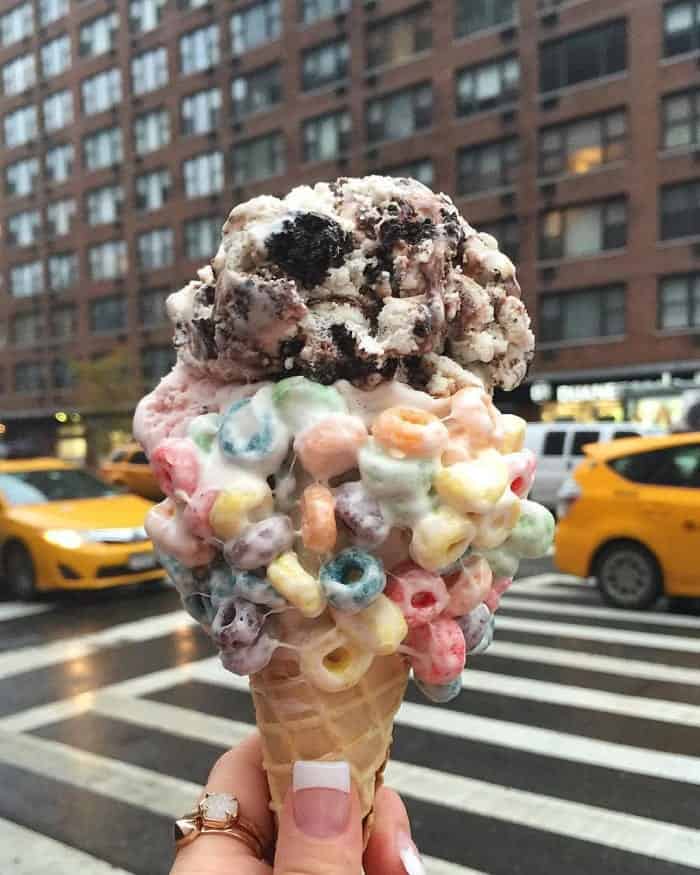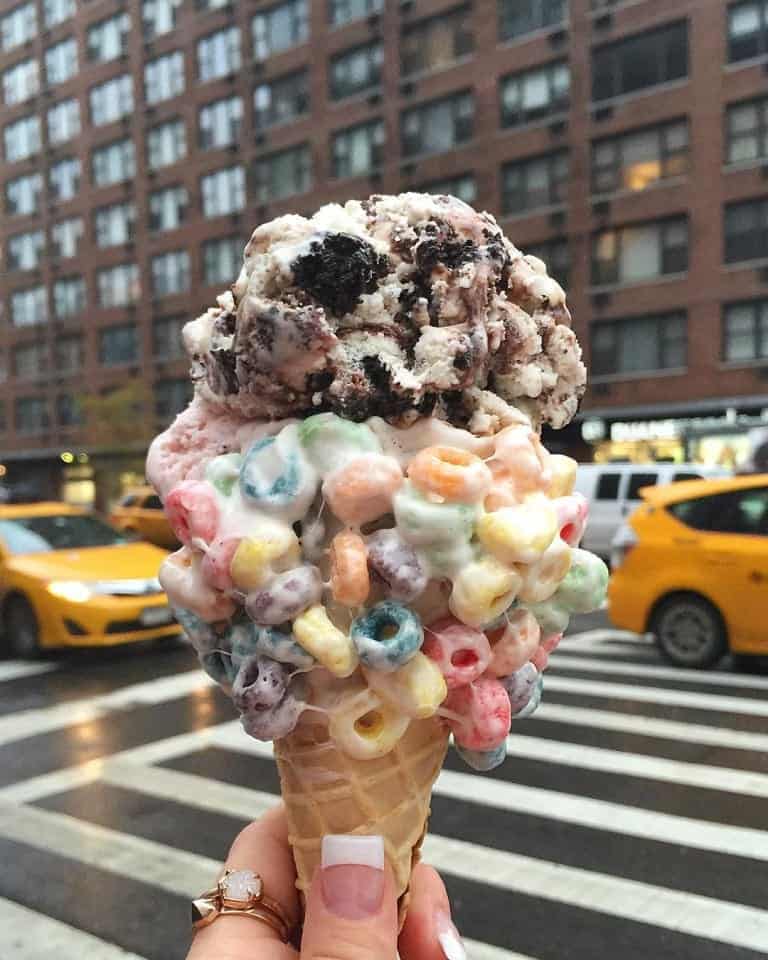 This ice cream cone from Emack and Bolio's is about the coolest cone around.  They literally add crispie treats of all kinds to their waffle cones.  Plus the ice cream is all homemade and absolutely delicious.  I believe I got the S'moreo.  Yum!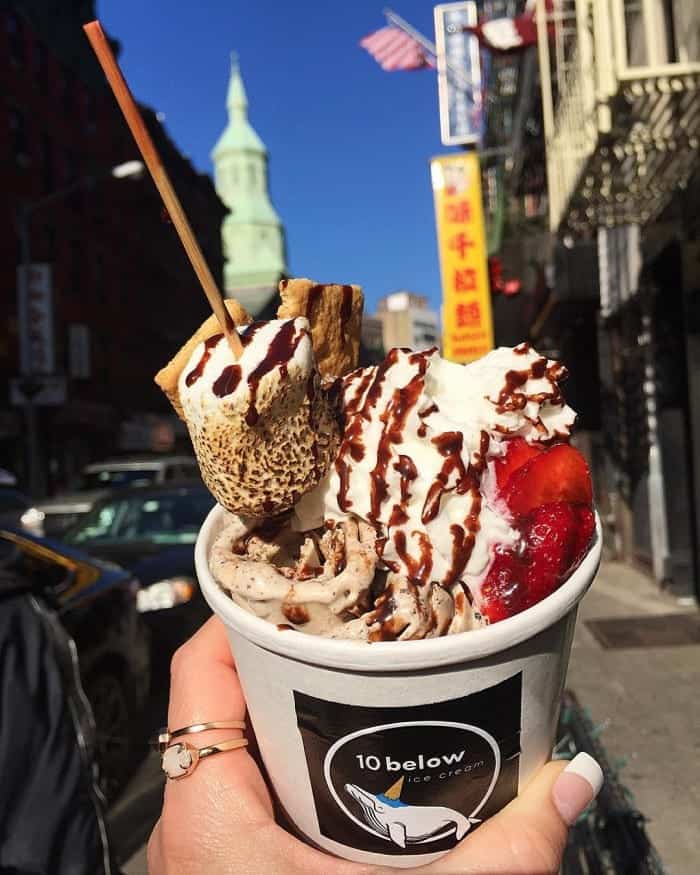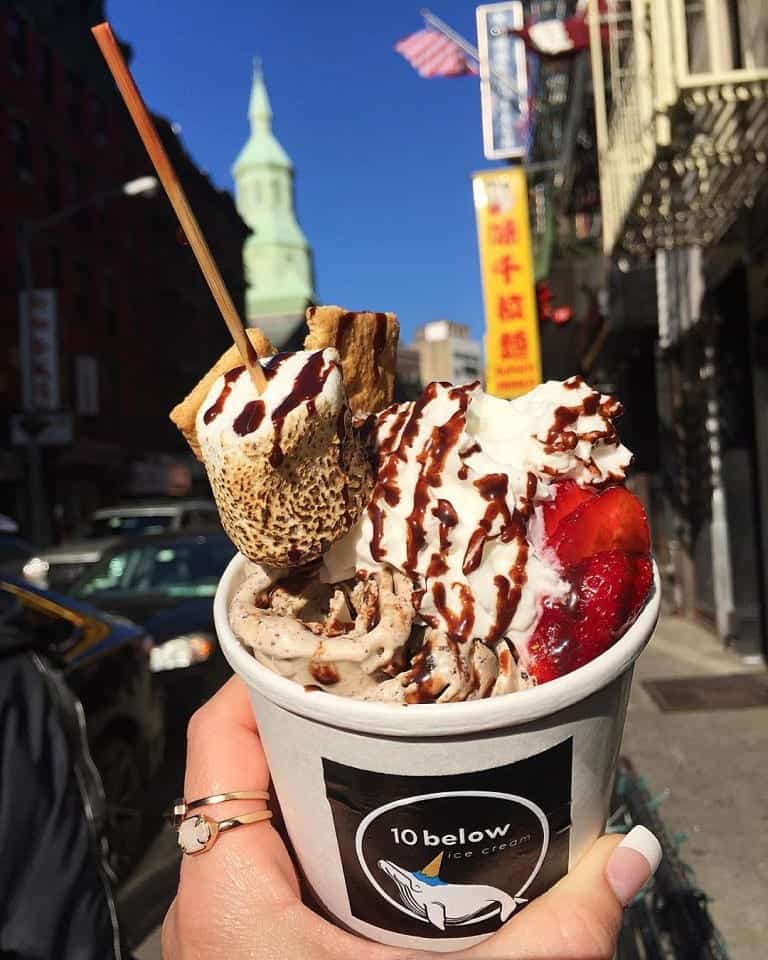 10 Below Ice Cream makes gorgeous rolled ice cream creations as you can see are drop dead gorgeous.  You get to watch them prepare your ice cream on a frozen slat and roll it right up.  Really enjoyed this one.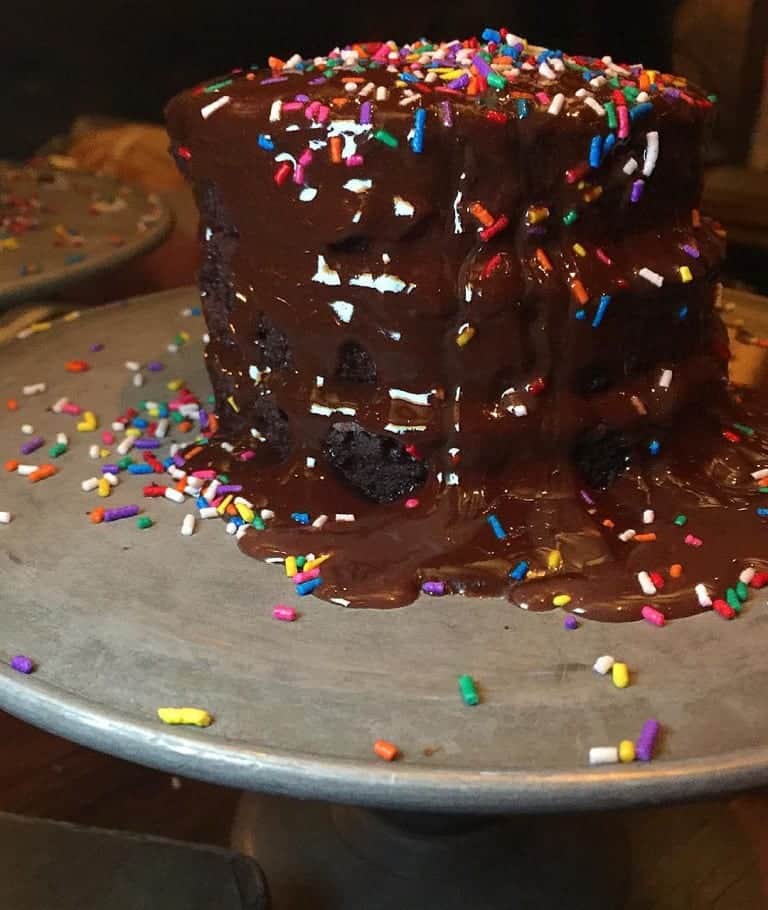 Max Brenner has been a long time favorite.  From their crazy waffles, amazing milkshakes to this make your own chocolate layered cake.  I always recommend a Max Brenner experience while in NYC.  Not photo'd here, but you HAVE to order the 80's milkshake.  A homemade magic shell on top….to die for.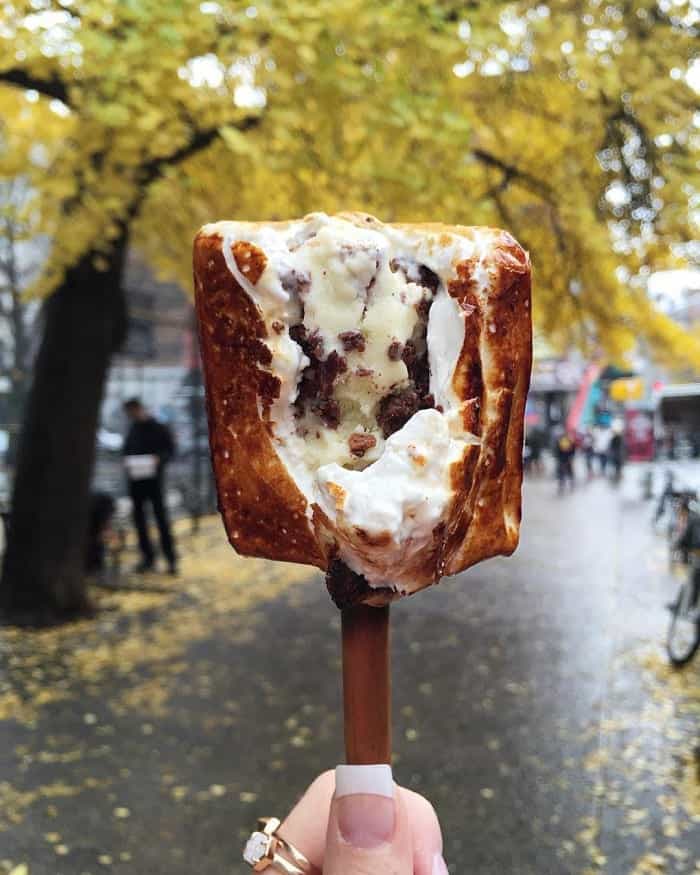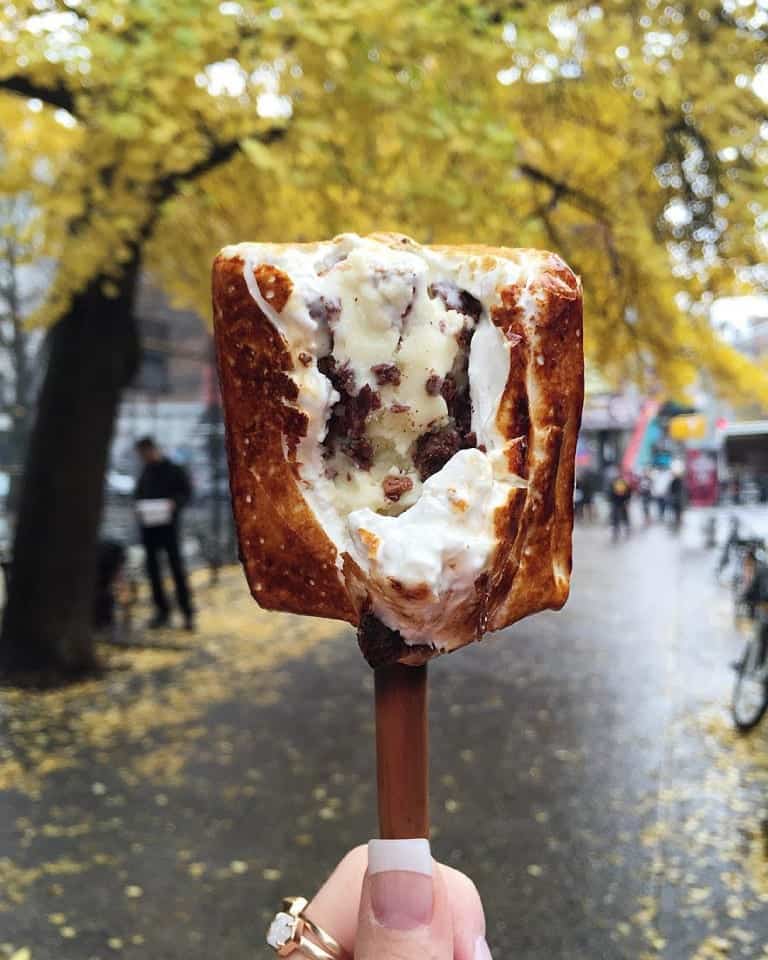 Dominique Ansel Bakery is also a must visit.  This Frozen S'more on a stick is so much fun.  They also have the famous cookie shots….that I still haven't had yet and they're home of the delicious Cronut!  Check em' out.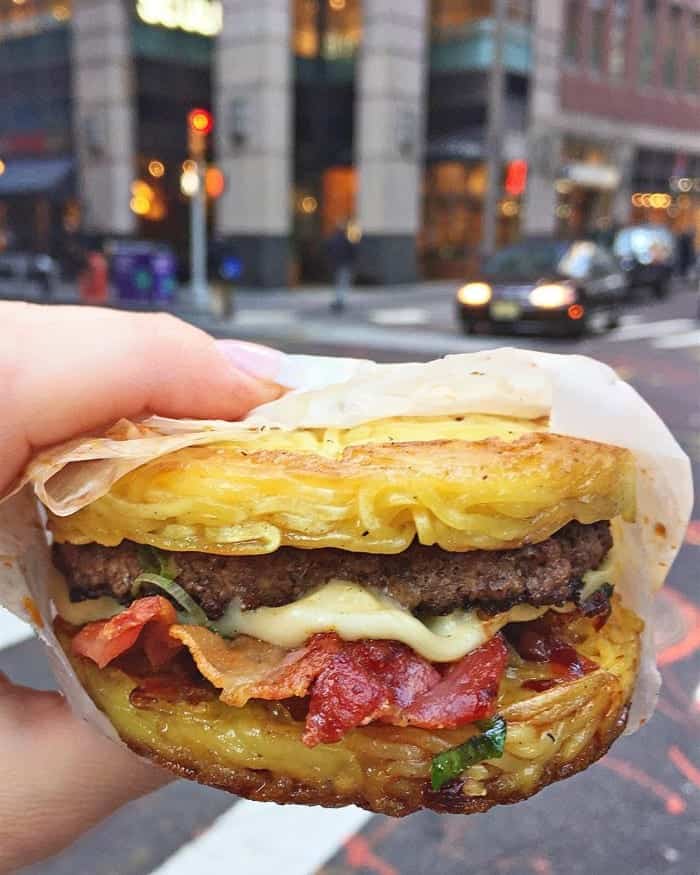 Ramen.co has this Ramen Burger that was so crazy good you just have to try it yourself!!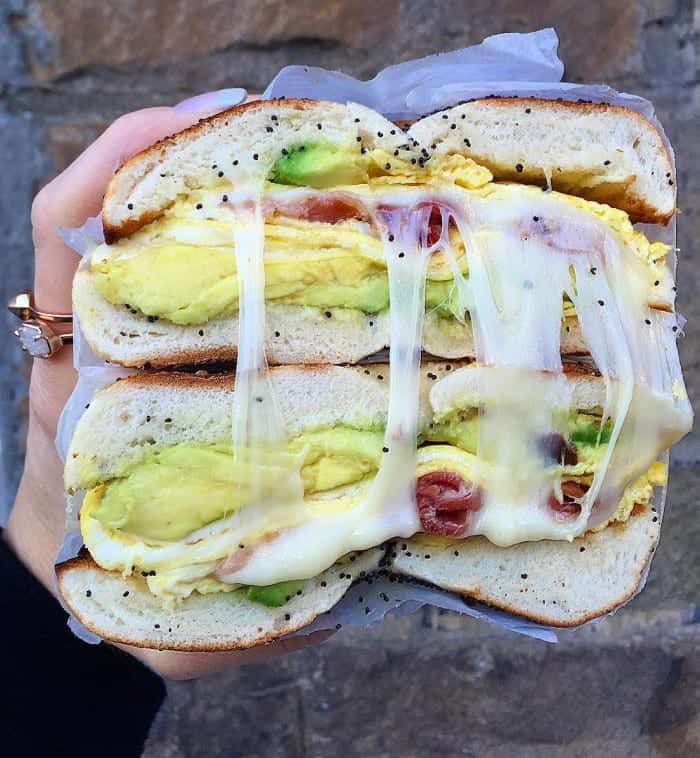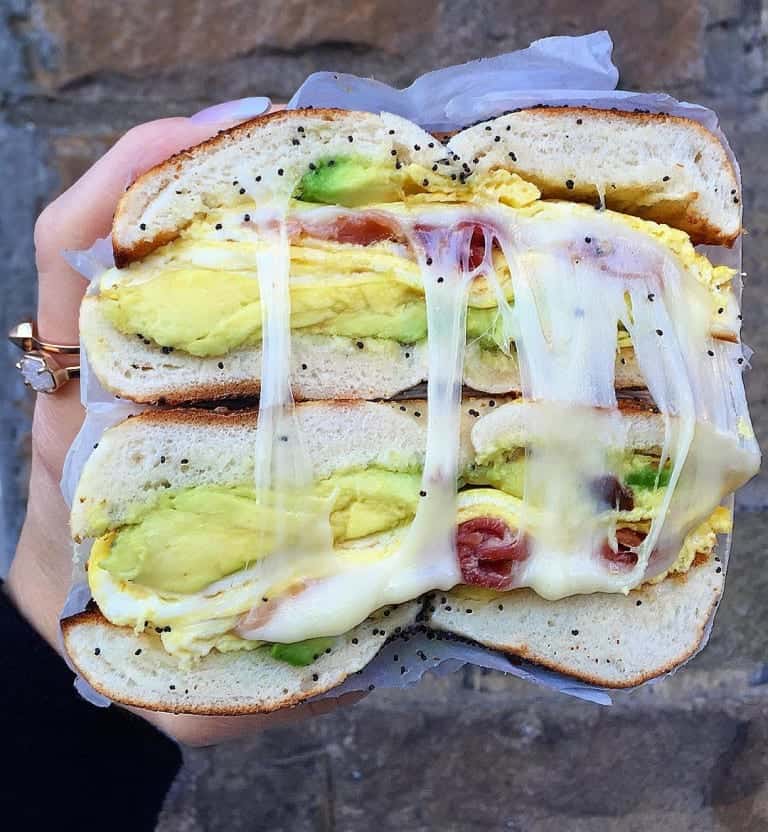 Space Market by NYU has the most amazing bagel sandwiches.  It's like a cute little market where you can grocery shop, but they have a sandwich area you can place an order through dinnertime.  Amanda and I ordered this egg, cheese, avocado and bacon bagel.  Amazing!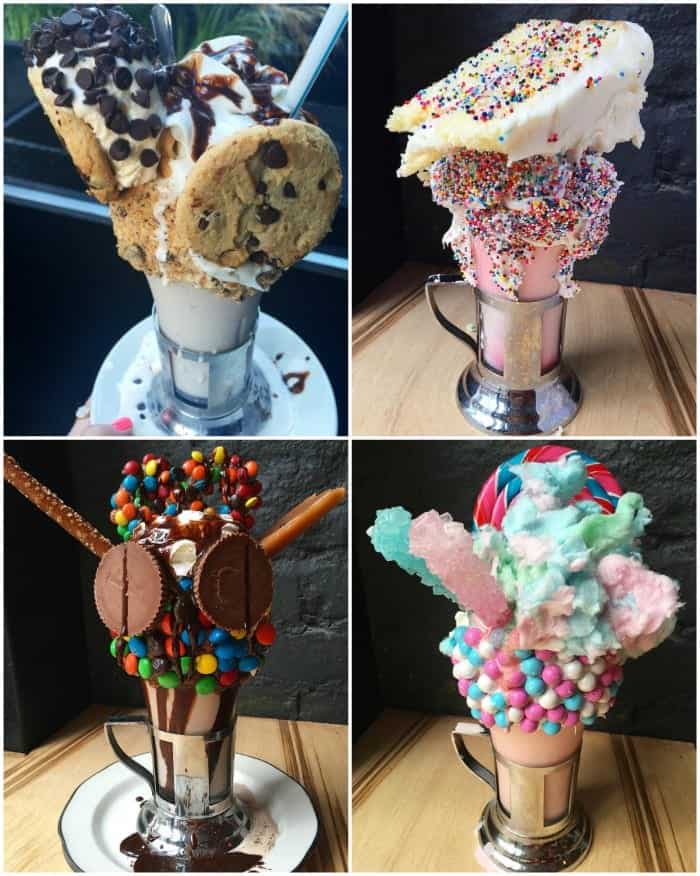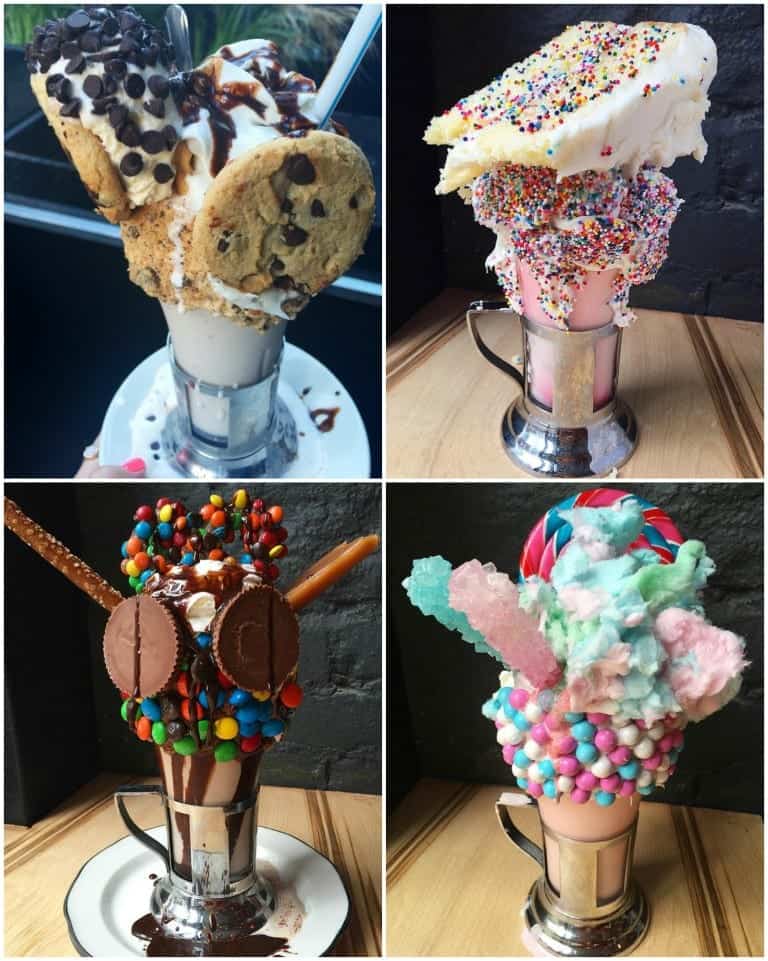 Black Tap has taken the internet by storm with their gorgeous milkshakes.  Have you seen anything more beautiful?!  We've got their Cookie Milkshake, Birthday Cake, Sweet and Salty and Cotton Candy.  Be prepared to have quite a line waiting to get into their restaurant.  Line up before they open, that's going to be your best bet.  Good luck!!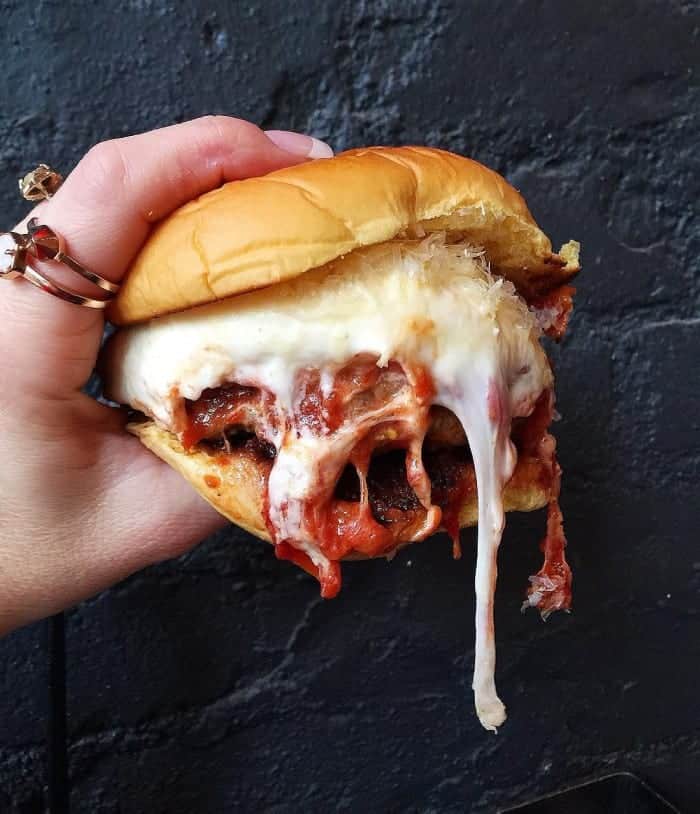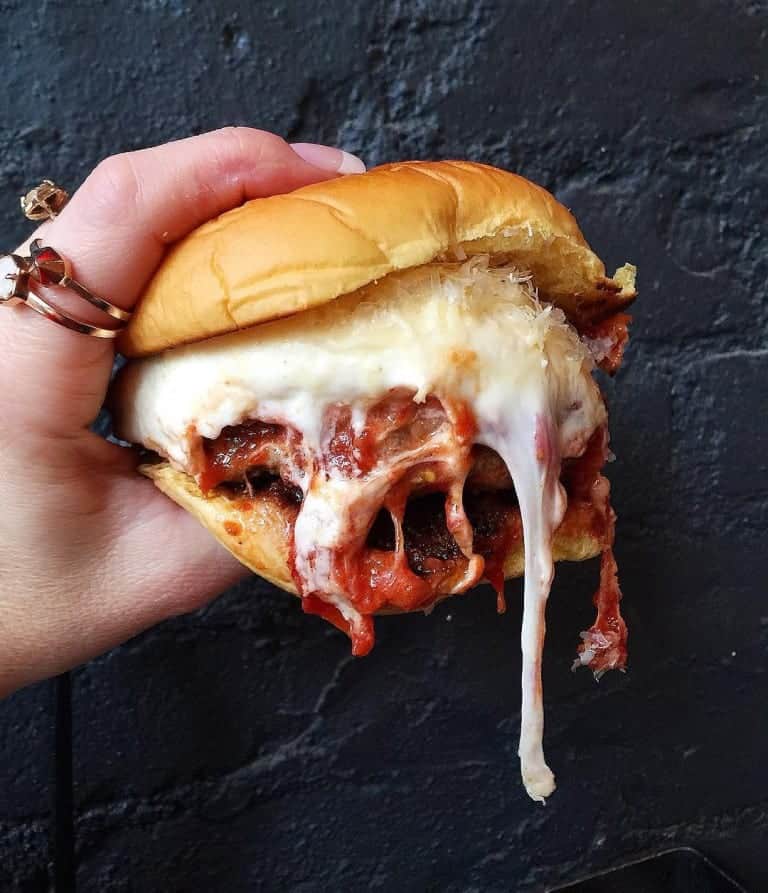 Black Tap also offers some of the best burgers I've ever had.  This Pizza Burger had us all drooling!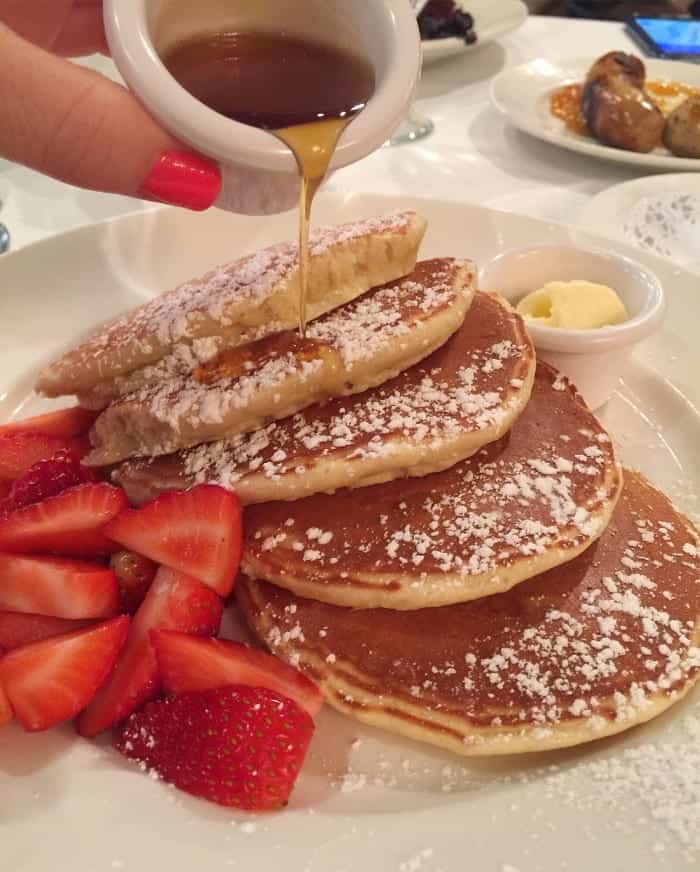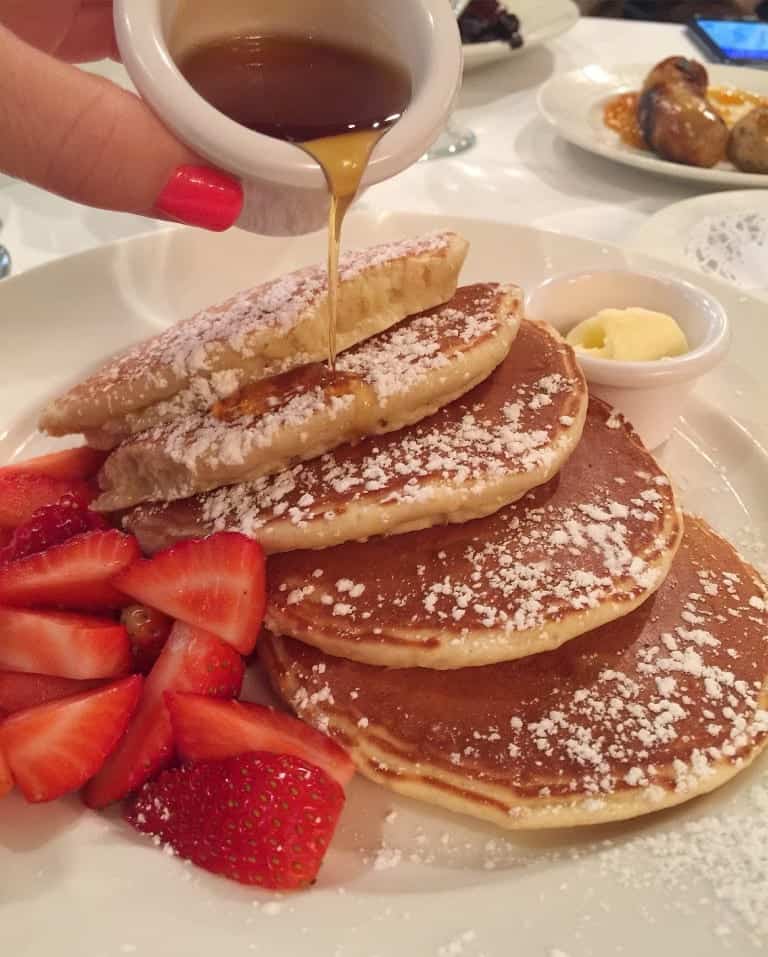 Sarabeth's is a beautiful place to enjoy breakfast.  Right across from Central Park, it's quite magical.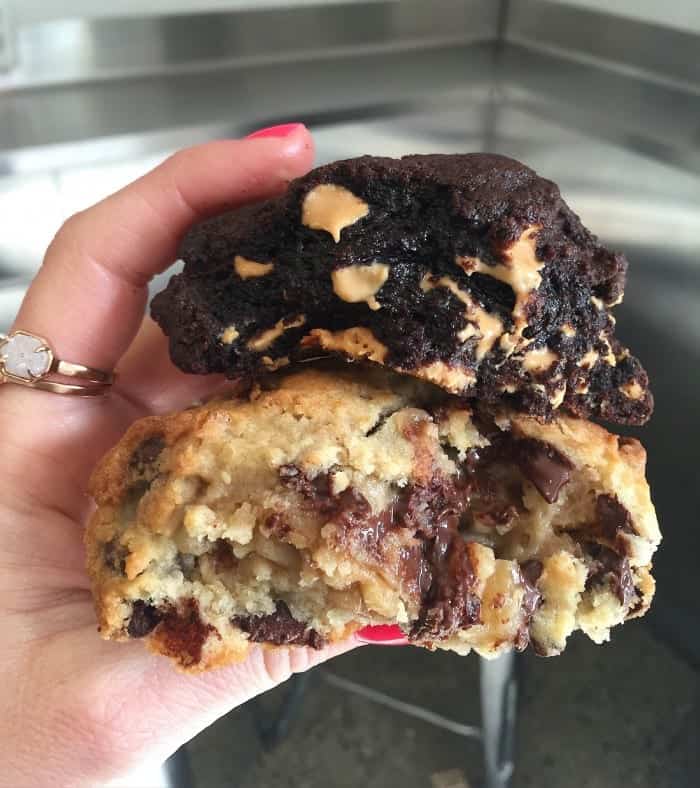 Levain Bakery is one of those places where your cookie dreams come true.  Not even kidding.  Their chocolate peanut butter chip is the best cookie I've ever had.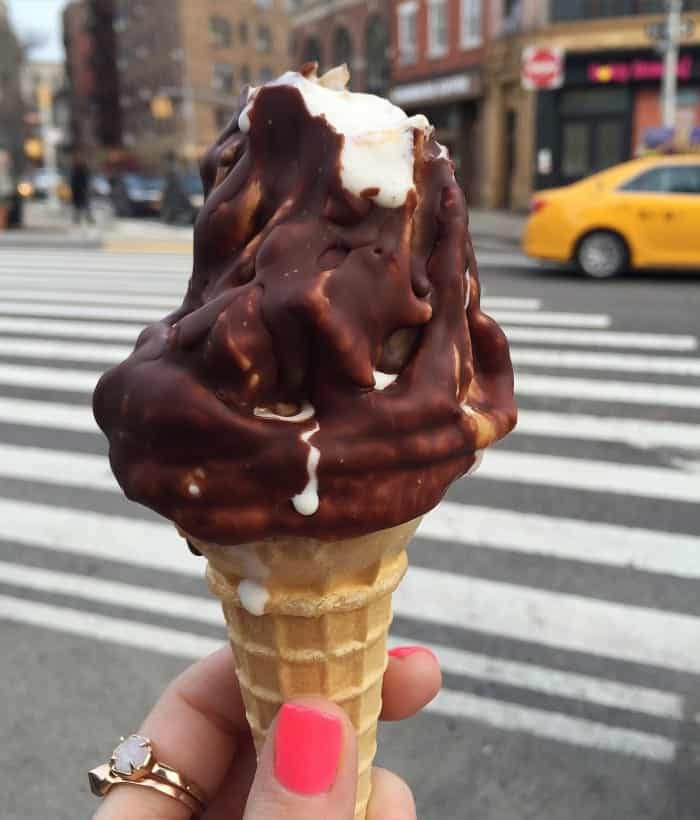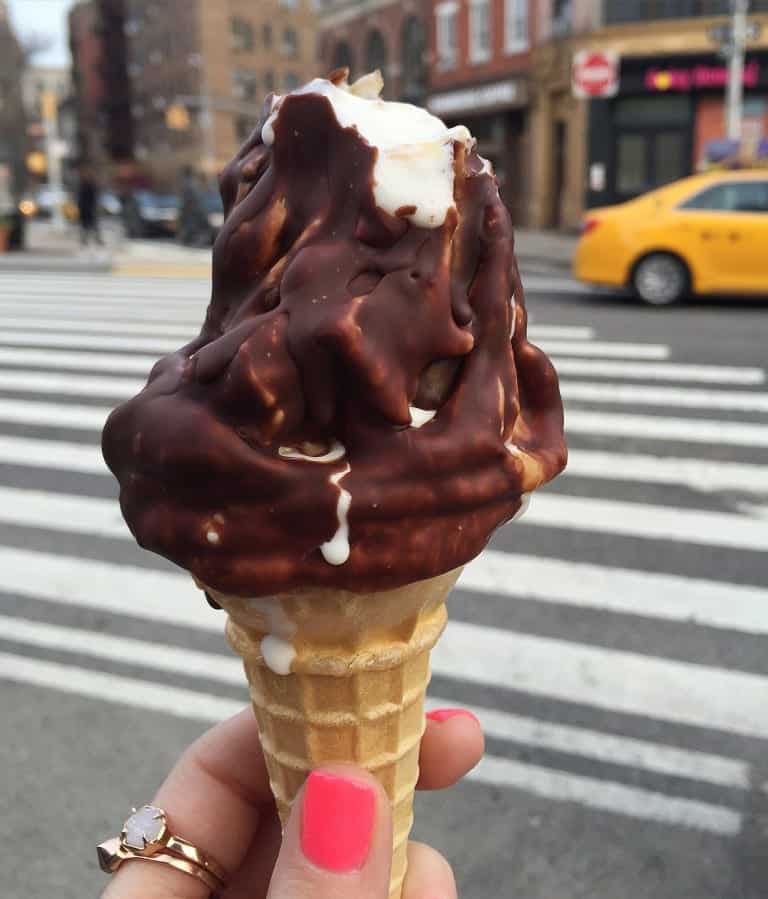 Hands down, best chocolate dipped cone in the city.  Plus, it's close to the Friend's building and amazing walking around through Greenwich Village.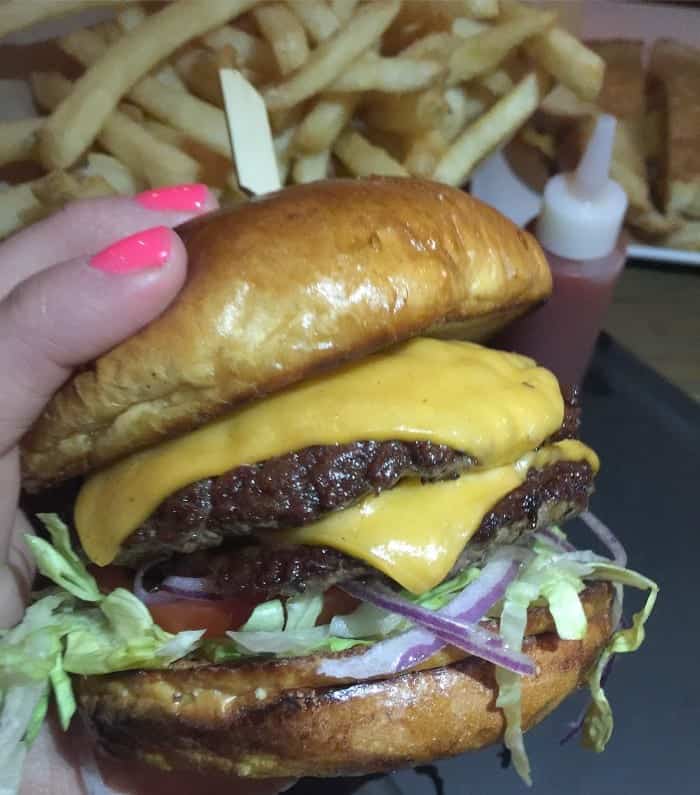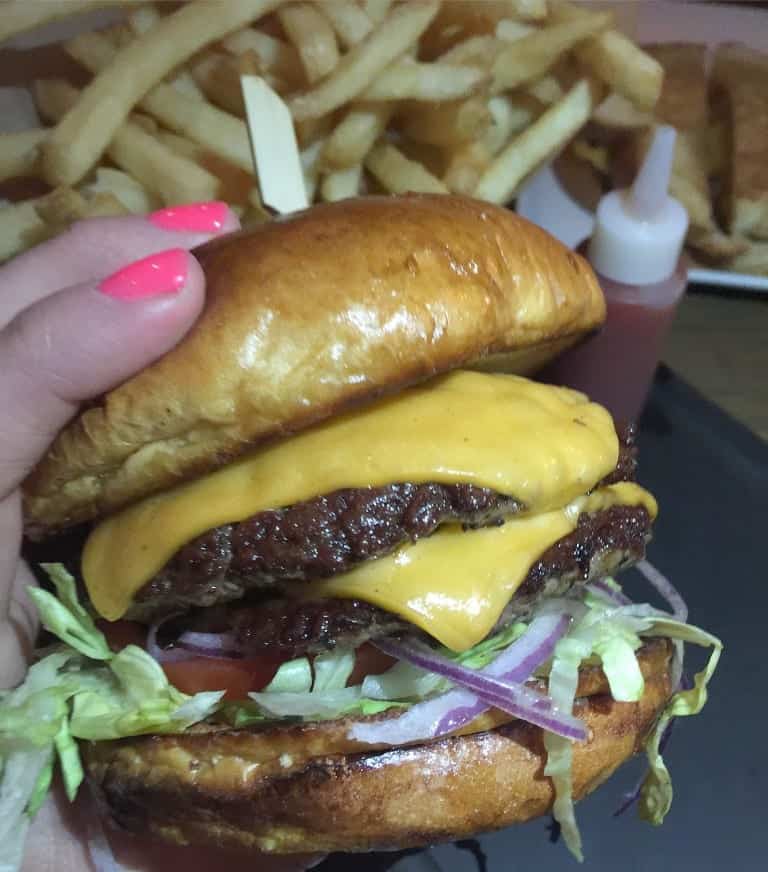 Del Frisco's Grille knocked our socks off with their gorgeous cheeseburger, fries and appetizers.  What a fun place, I highly recommend this one!!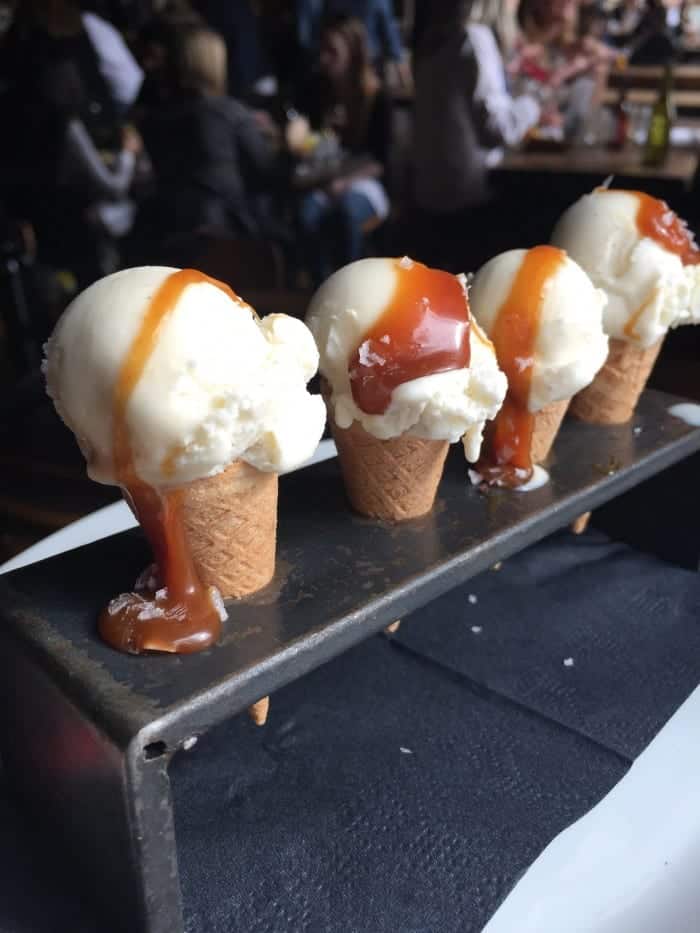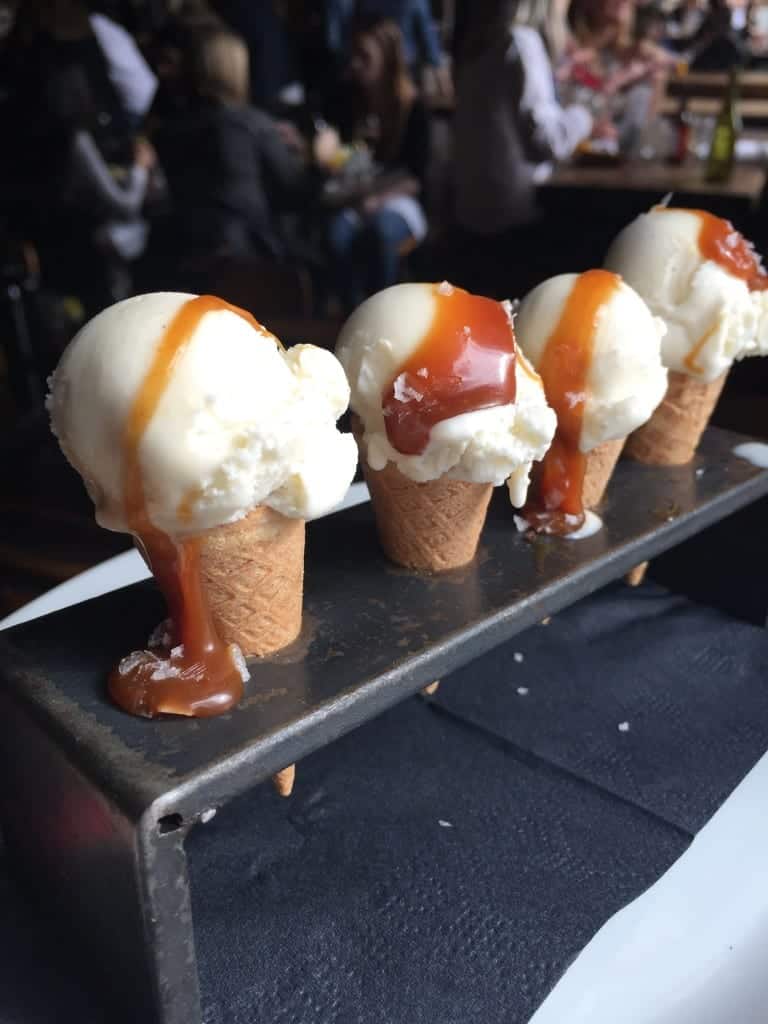 Boulton and Watt is a new to me location that literally blew me away.  We went for brunch and stayed for these cutie pie Salted Caramel Ice Cream Cones.  To die for!!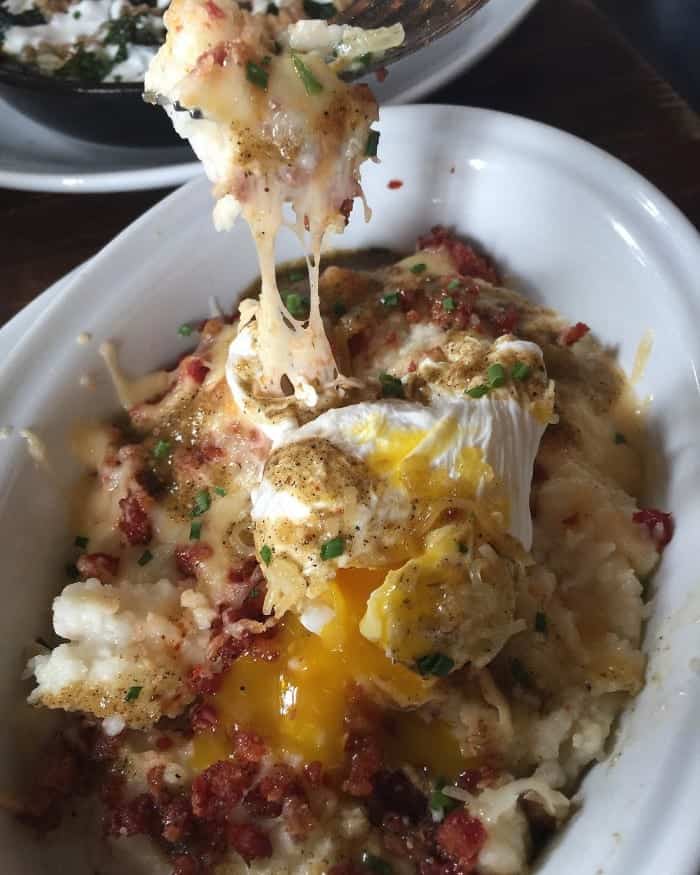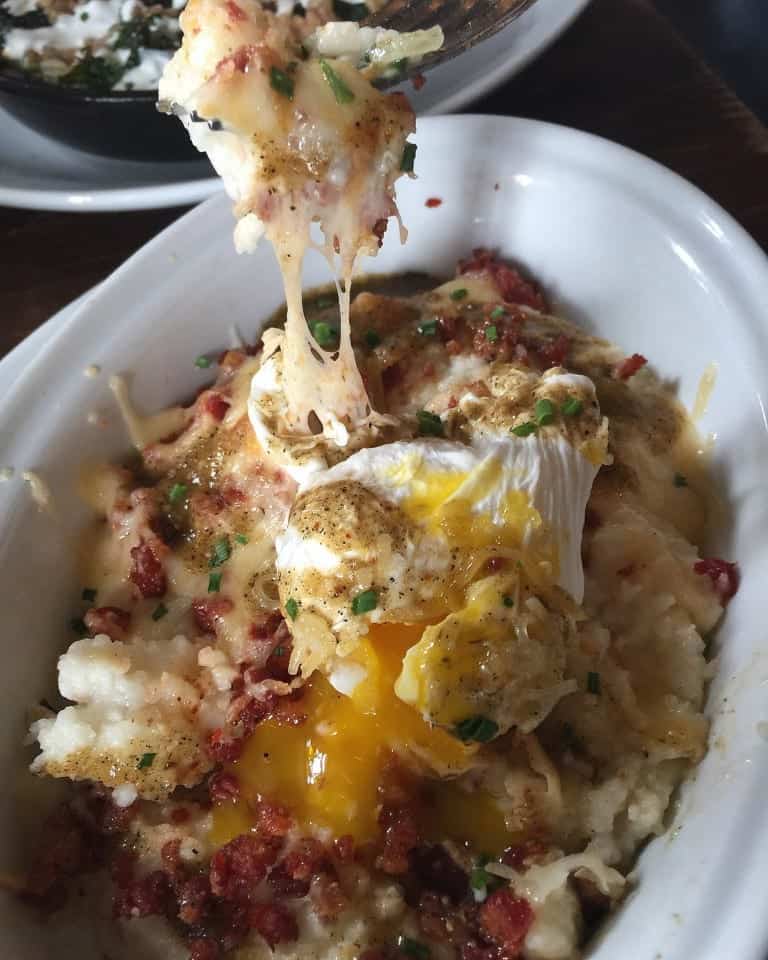 Another Boulton and Watt favorite was this baked grits with chorizo and pouched egg on top.  Can't wait to visit here again.  Such a great restaurant.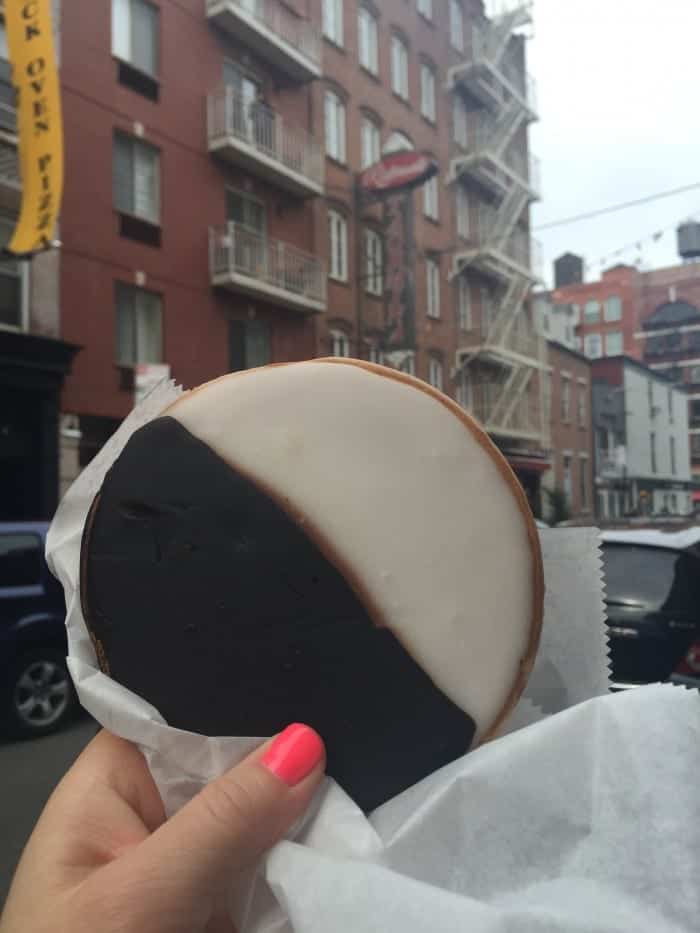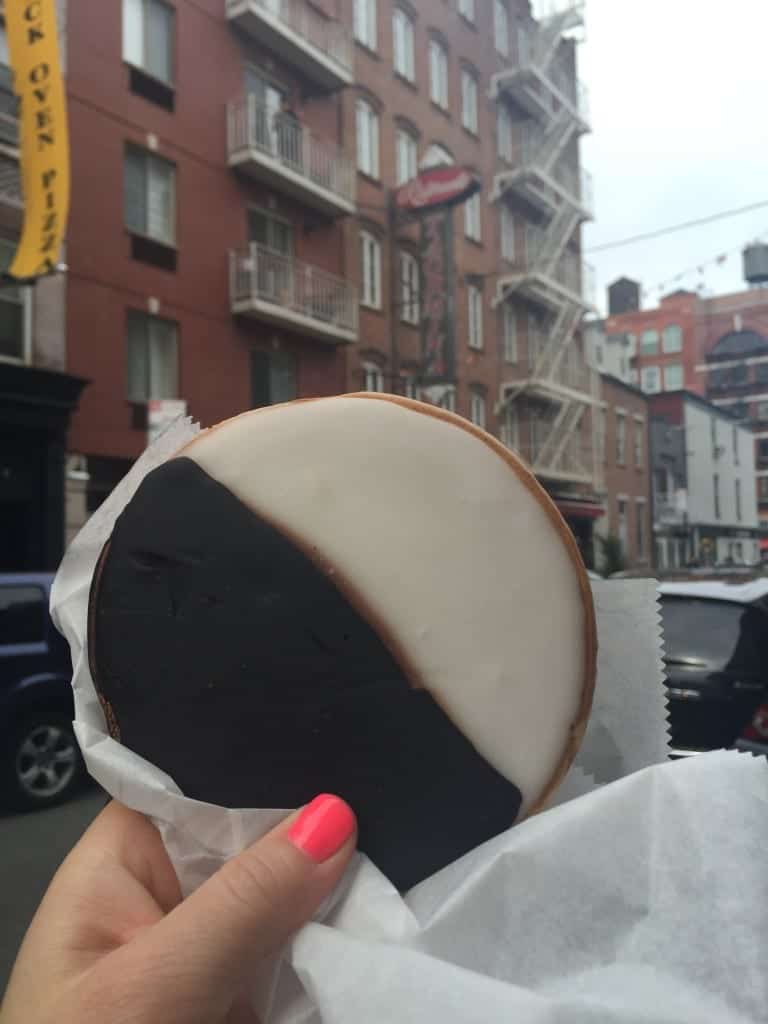 You kind of HAVE to get a NYC black and white cookie.  Found this one while walking through China Town 🙂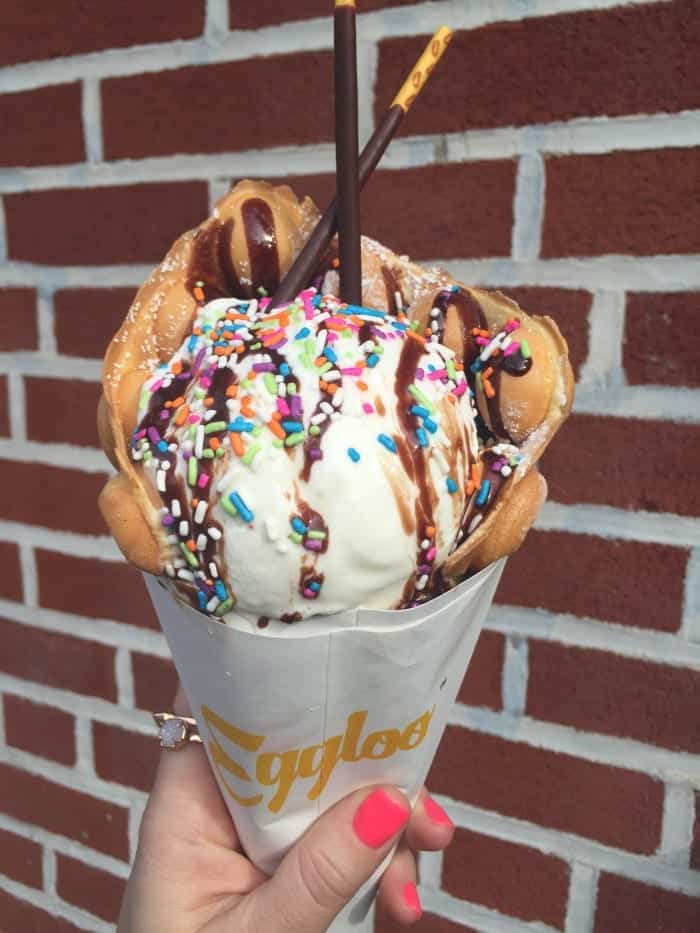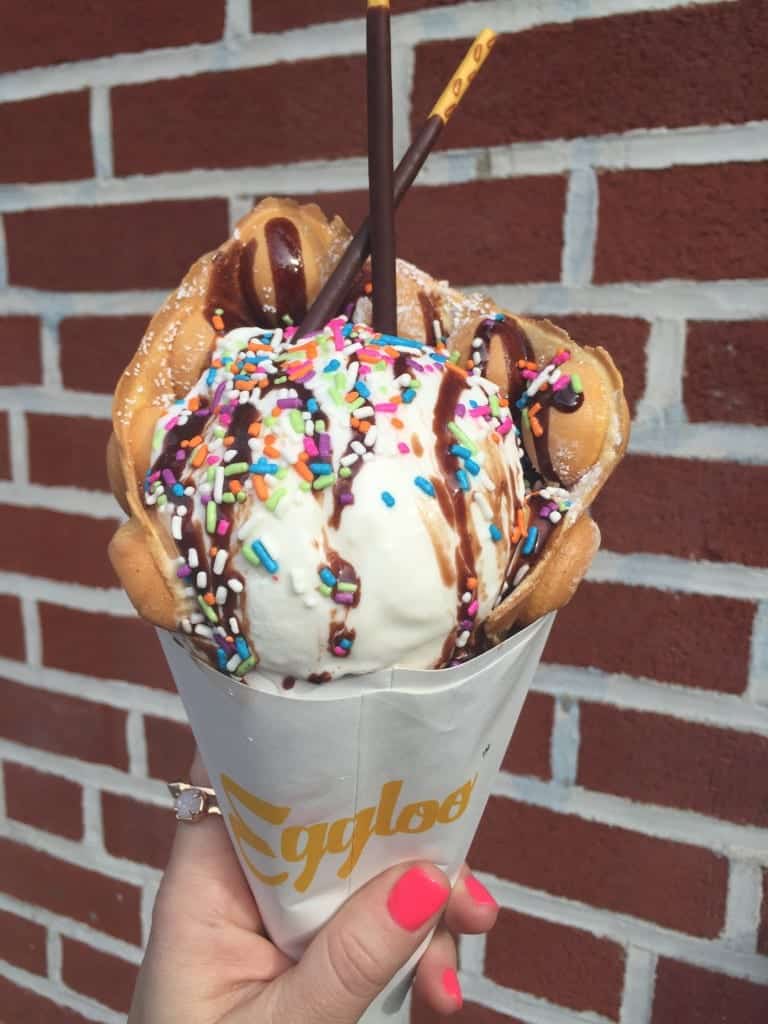 Eggloo is a new ice cream shop that opened up February 2016.  I was so happy to get to try it last month.  Soft crispy warm waffle cone with your choice of ice cream and toppings.  Really fun!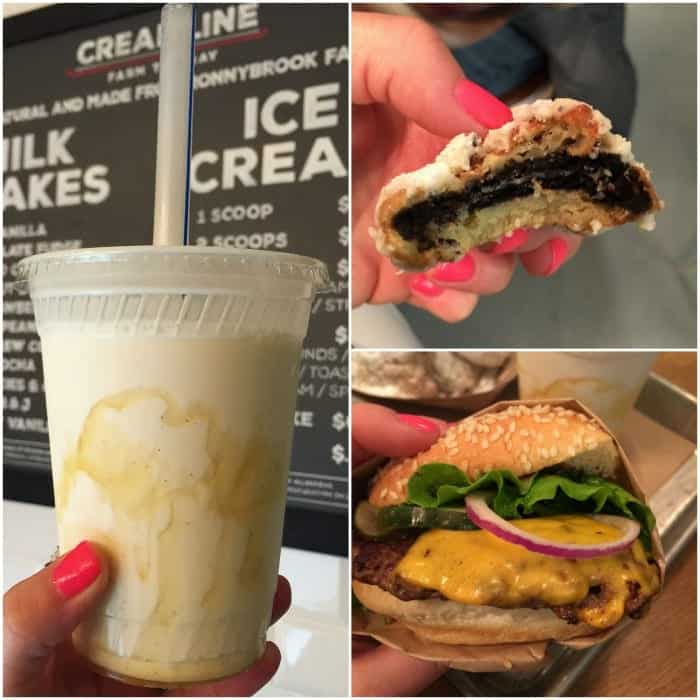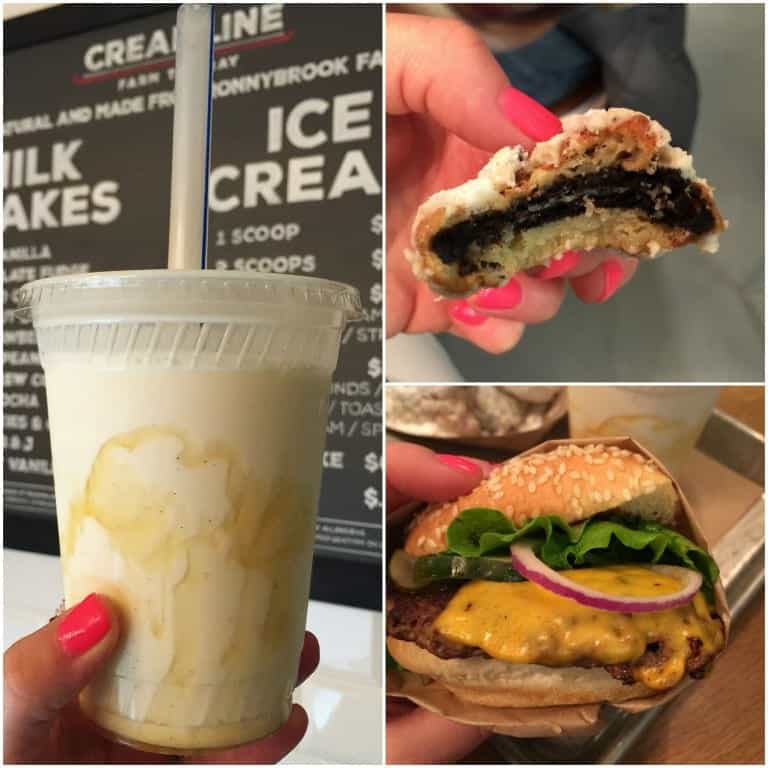 Chelsea Market is home to so many great restaurants.  I highly recommend Creamline.  Amazing burgers, milkshakes and not even kidding the best fried Oreo's I've ever had.  Other things to not miss in Chelsea Market, the street tacos at Los Tacos no 1, Amy's Bread has the best Yellow Cake with Pink Frosting around, Fat Witch Brownies and Eleni's for baked goods.  Such a great place to visit, it's a must every time if you ask me 🙂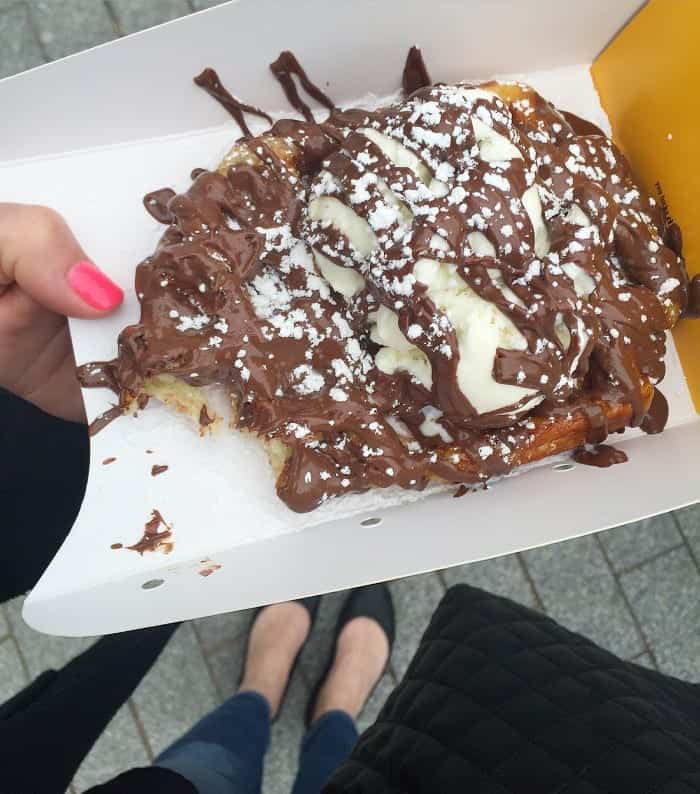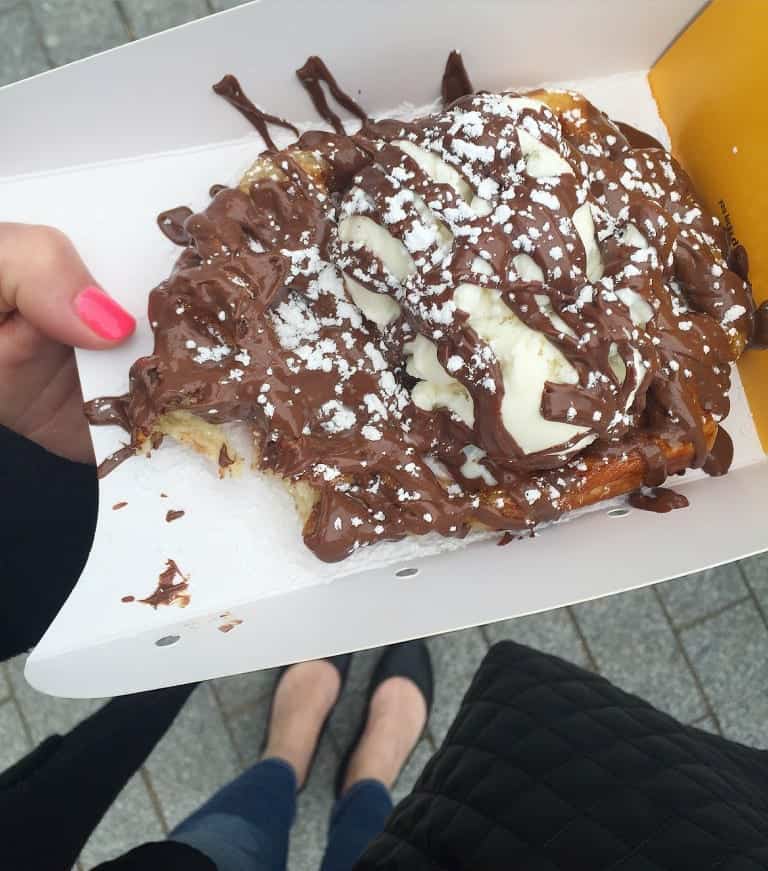 Waffles and Dinges Food Truck is not to be missed.  Can't even handle this Nutella and Ice Cream topped Belgian Waffle!!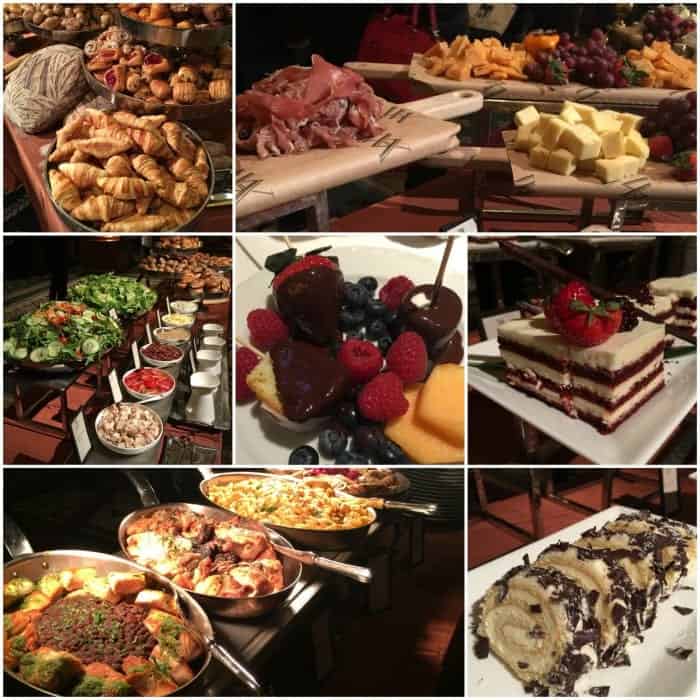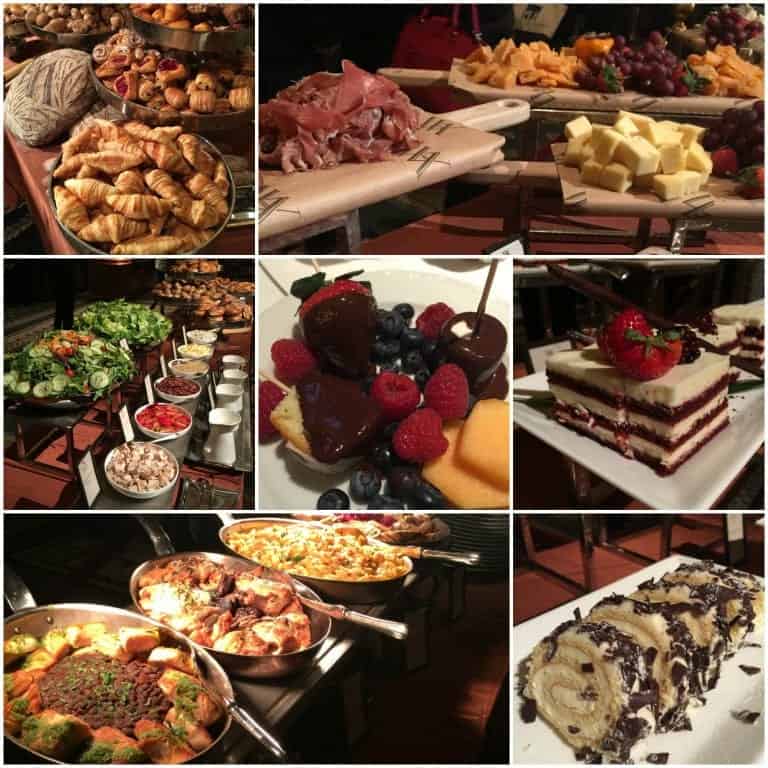 The Waldorf Astoria has the most beautiful Sunday Brunch I have ever experienced.  Gorgeous food choices presented and served by the chef's dressed in their whites. This is something you've got to experience at some point.  I'll never forget this dining experience and hope to go back.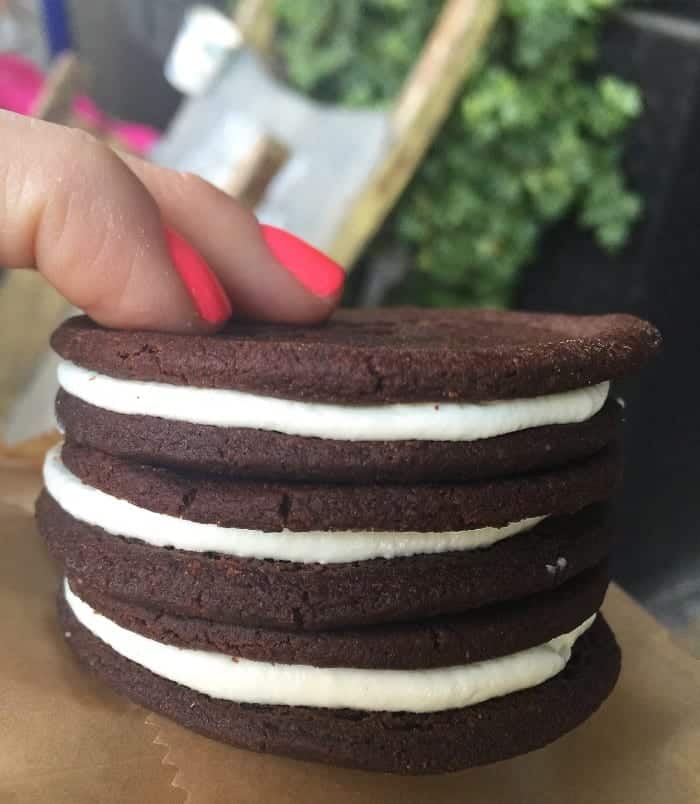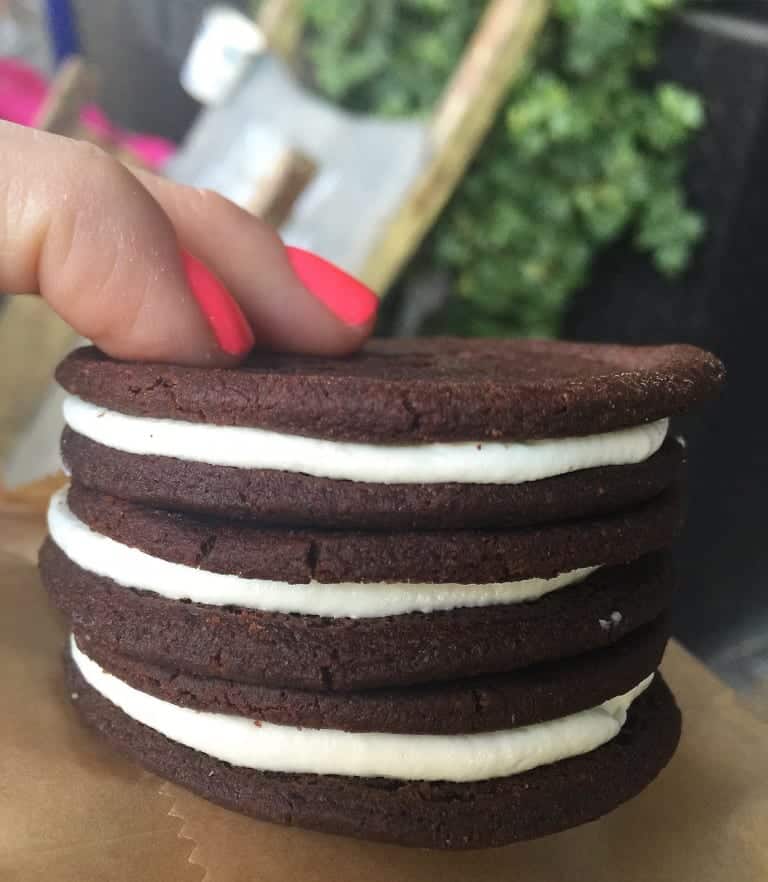 My husband and I were walking through Tribeca and came up on this adorable bakery, cafe called Maman.  They've got all kinds of beautiful food choices, but we sampled their homemade Oreo Cookies.  So glad we did.  These were amazing!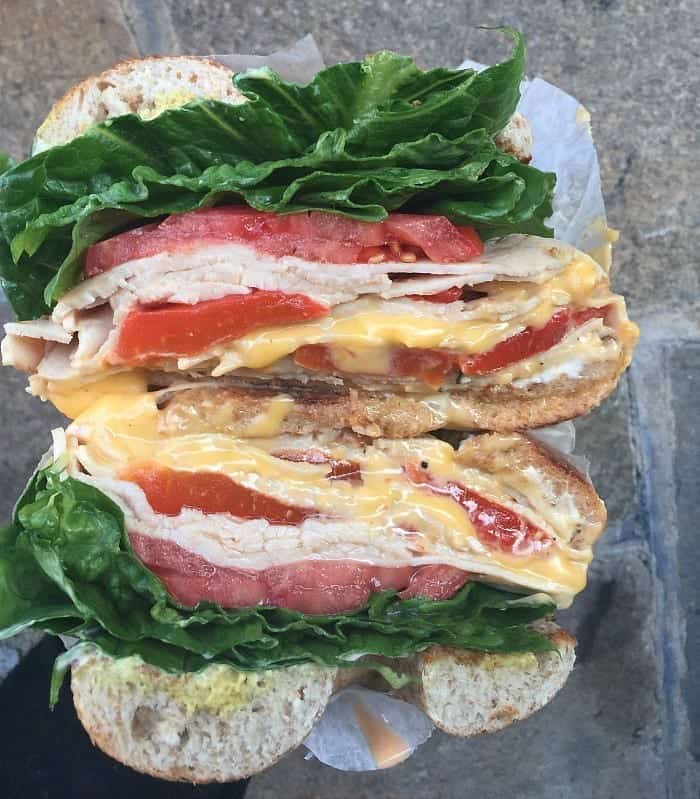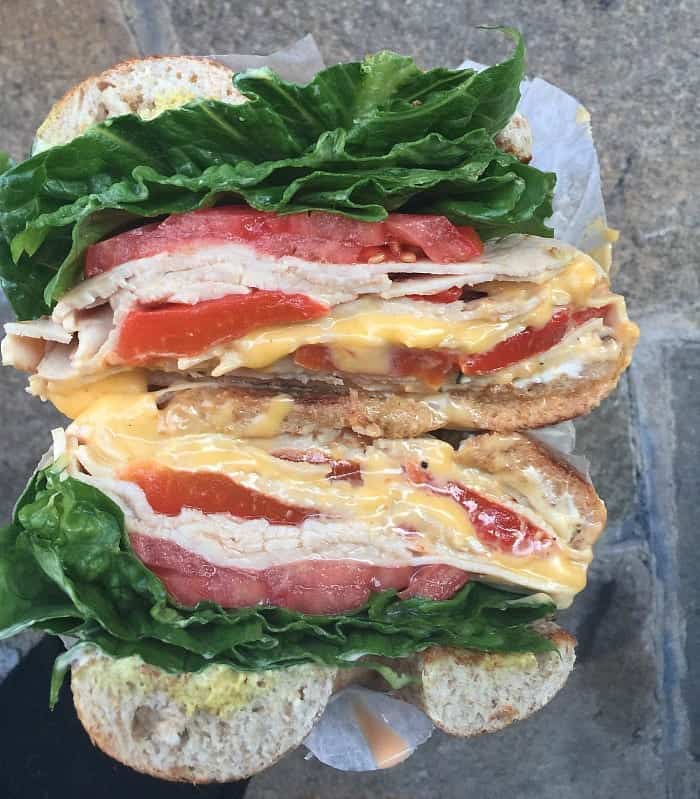 Another beauty from Space Market.  Chose a Turkey, cheese, tomato, lettuce and red pepper bagel sandwich.  You can't go wrong at Space Market!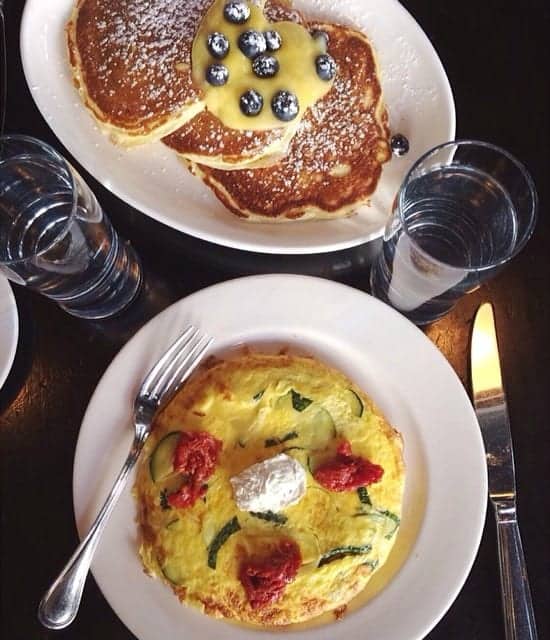 Laconda Verde has a beautiful Brunch.  Lemon Ricotta Pancakes and gorgeous goat cheese zucchini fritatta.  Great choice for brunch.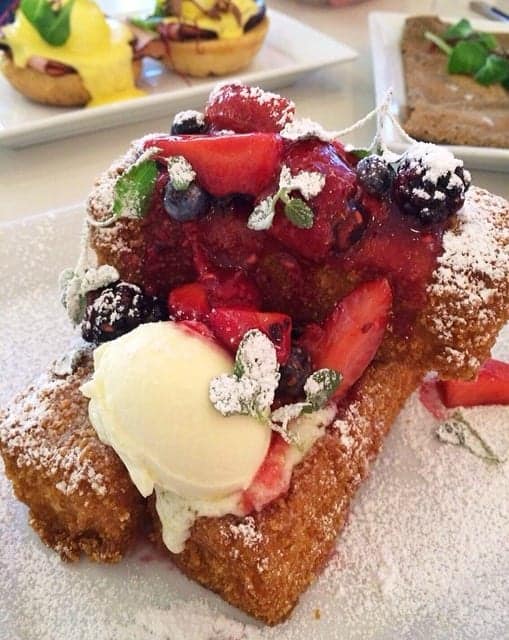 Sugar and Plumm is the most adorable bakery and cafe.  This French Toast Stack was a huge hit.  Love it here.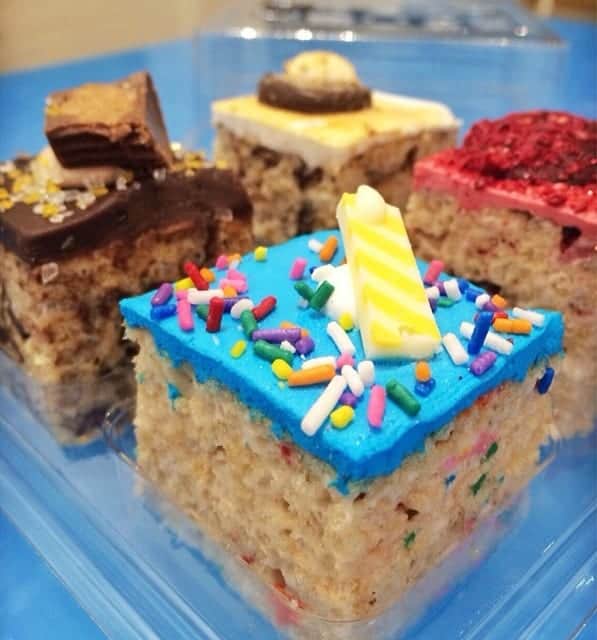 Treat House some adorable rice krispie treats!  Such a cute place to visit for some sweet treats.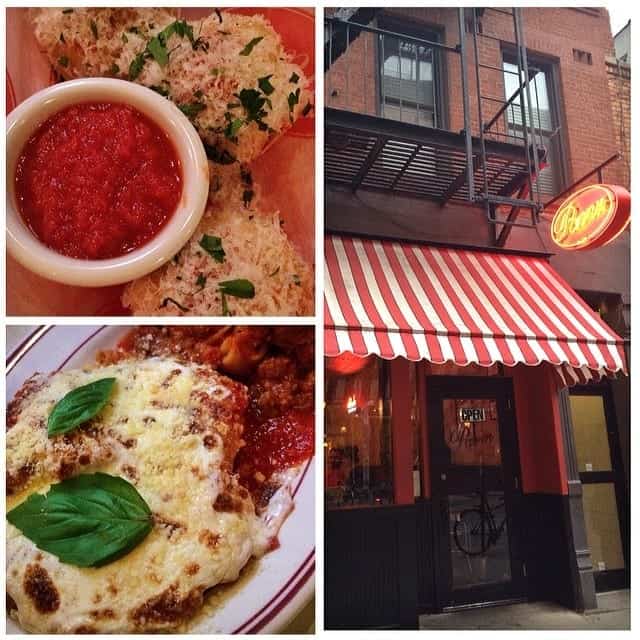 Parm is this adorable little Italian restaurant I visited a few years ago with Amanda.  Their Chicken Parmesan was out of this world.  Fun place to visit in Little Italy.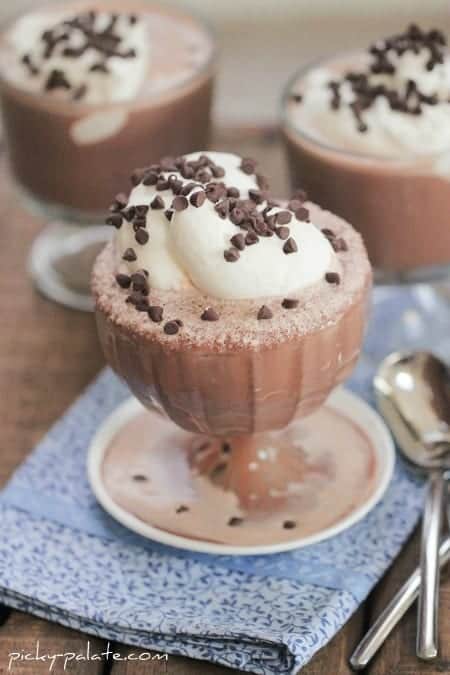 Serendipity 3 is also a must visit.  Go for dinner and stay for their favorite Frozen Hot Chocolate!  I re-created my own Frozen Hot Chocolate recipe.  Click HERE.
Magnolia Bakery is an adorable bakery, fun to visit and sample all of their delicious cupcakes and baked goods.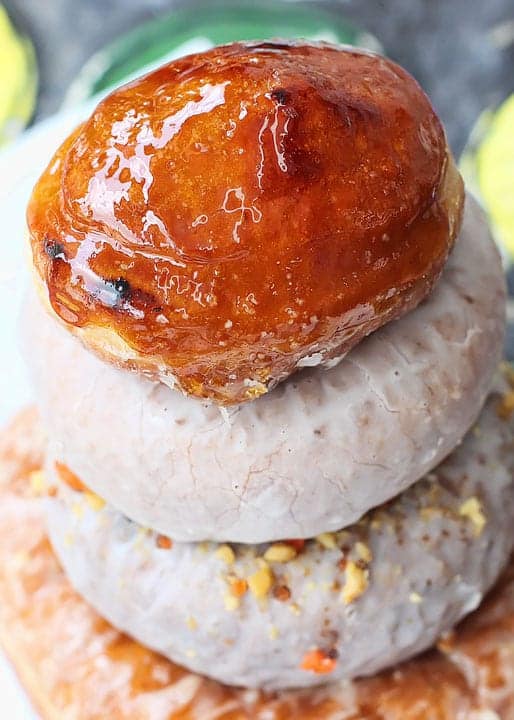 There is no better doughnuts than Doughnut Plant.  Don't miss these bad boys.  My favorite it the Creme Brûlée.
PIN For Later 🙂

Happy Friday! It's been a crazy past couple weeks, lots to chit chat about 🙂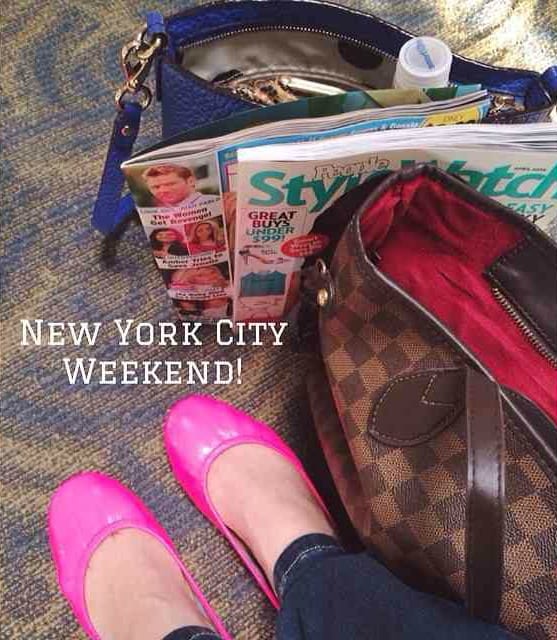 Last Friday I was on my way to NY to meet Amanda for a fun girls weekend.  We've had this planned for a while and I can not tell you how excited I was to go back to the city!  I had my magazines, Tieks and I was ready to go!  Oh and can I just say that I walked ALL day in my Tieks and they didn't bother my feet even once.  They are the perfect traveling shoes.  So excited to collect more colors 🙂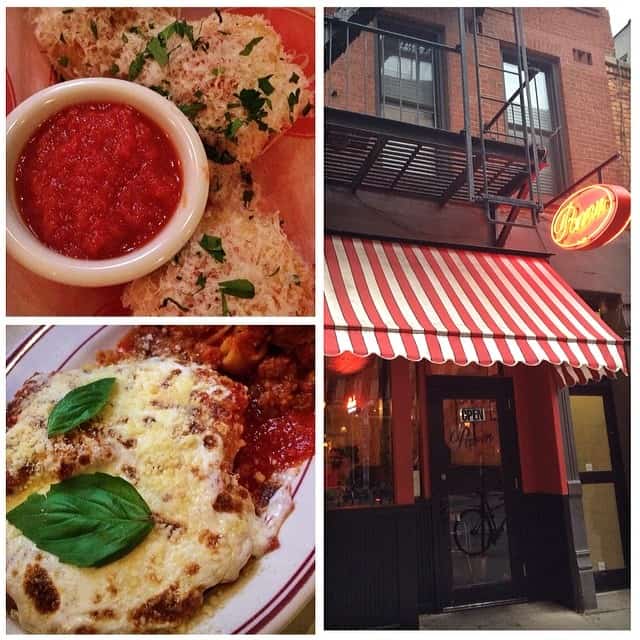 We met at the hotel Friday evening and headed out to dinner to "Parm."  Not even kidding the best Chicken Parm I've ever had.  The baked ziti was to die for too.  Keep in mind that it is a very small restaurant, so call for reservations to prevent long waits.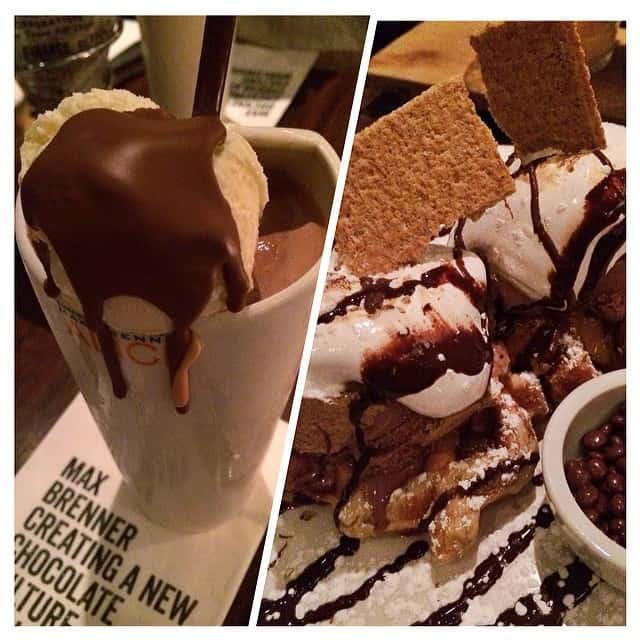 After shopping it was time for some late night Max Brenner.  This 80's Milkshake and S'mores Waffles are such a treat.  Theres' nothing quite like it.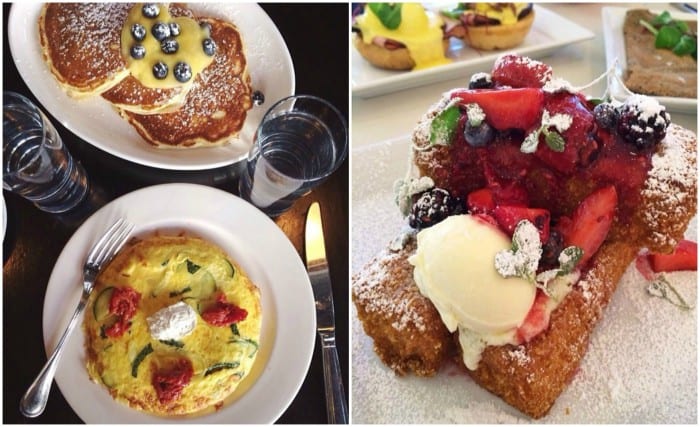 We had some amazing breakfast during our trip.  The picture on the left is from Laconda Verde and we had a Zucchini Fritatta and Lemon Ricotta Pancakes.  Those pancakes were some of the best pancakes I've ever had.  So excited to try and re-create them at home 🙂
The picture on the right was from the cutest little bakery/cafe called Sugar and Plumm.  We ordered those crunch french toast sticks topped with fruit and lots of butter.  Such a treat.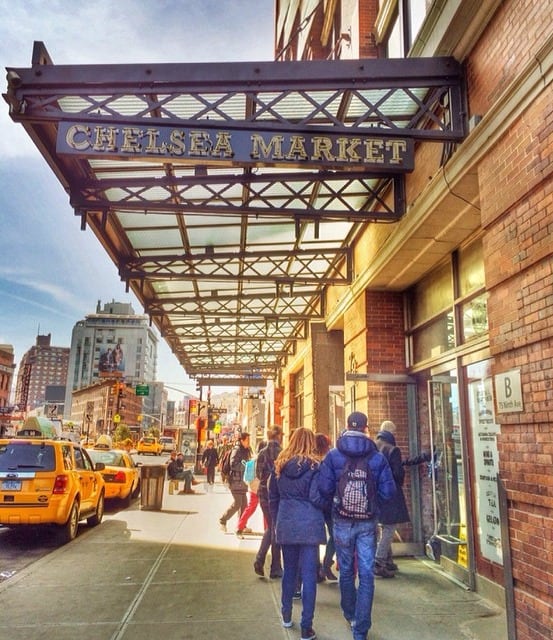 We made our way to Chelsea Market after breakfast.  Seriously one of my favorite places to shop and eat ever.   Such a charming place.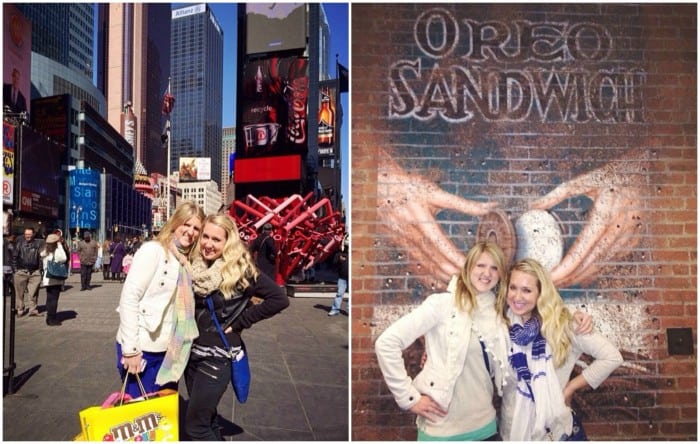 Had so much much fun walking around the city!  Time Square and the cute Oreo Wall in Chelsea Market.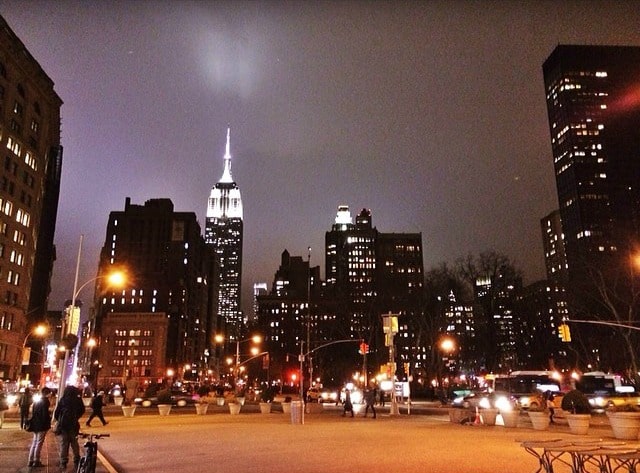 Later Saturday night we walked around Union Square.  So gorgeous at night!
These are my favorite pictures….while we were walking through Eataly in Union Square Saturday night, for a split second, I made eye contact with Scott Foley….of Scandal….of Felicity walking through the busy walkways!!  I stopped dead in my tracks and after I froze up I managed to tell Amanda who it was, lol!  We turned around and followed him (In the green puff jacket, this is exactly what he was wearing).  He and his friend walked very quickly into one of Mario Bataly's restaurants so this is the best I got.  We were dying.
So, the picture on the right is a bit out of sequence, but after I left NYC, I had to fly into Atlanta and I saw Ian Somerholder of Vampire Diaries!  Not even kidding.  I was talking to my mom at the time and could hardly even talk, lol!  Can you tell I don't do well around celebrities?!  I wanted so badly to ask for a picture with him, but just couldn't do it.  Such a chicken!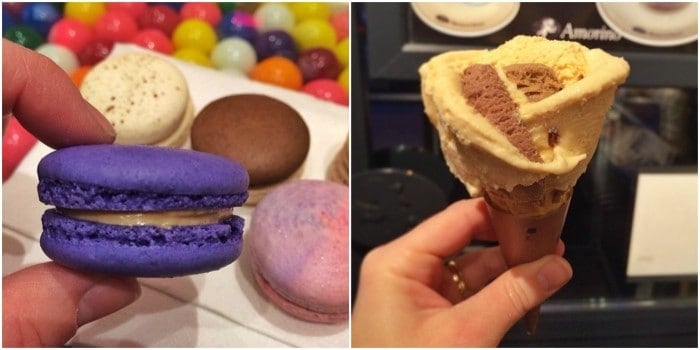 We also tried some fun treats while we were there.  Had an assortment of macarons from Dana's Bakery like the left peanut butter and jelly then some amazing gelato from Amorino shaped like a flower!  Love!!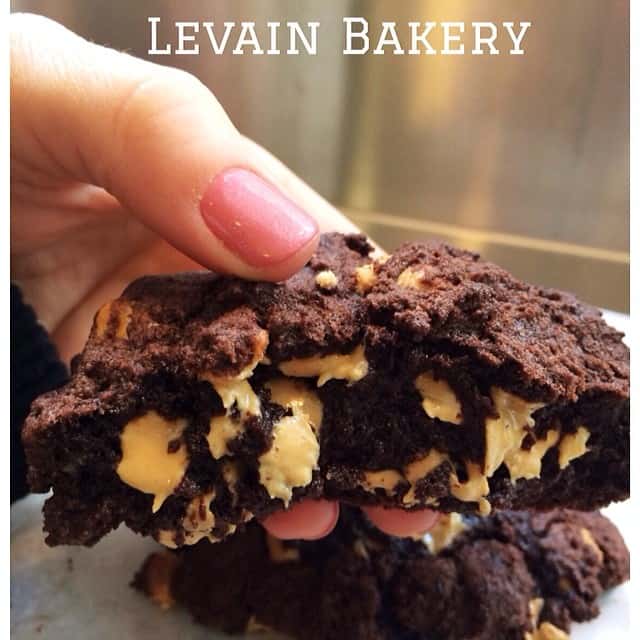 Sunday morning, there was no question that we were going to Levain Bakery.  I mean look at that cookie!  Hot out of the oven, chocolate peanut butter heaven!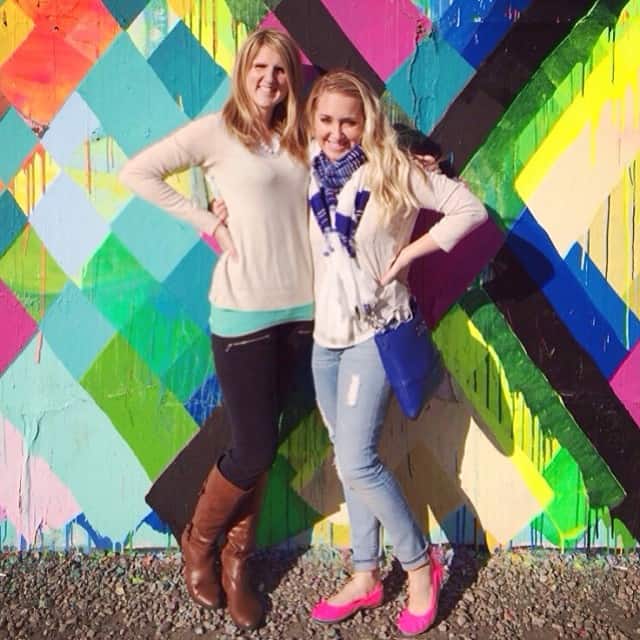 After breakfast at Sugar and Plumm and getting our nails done we made our way over to this fun Bowery Mural.  Its a huge wall painted with these amazing colors.  It also just happened to match my Tieks, lol!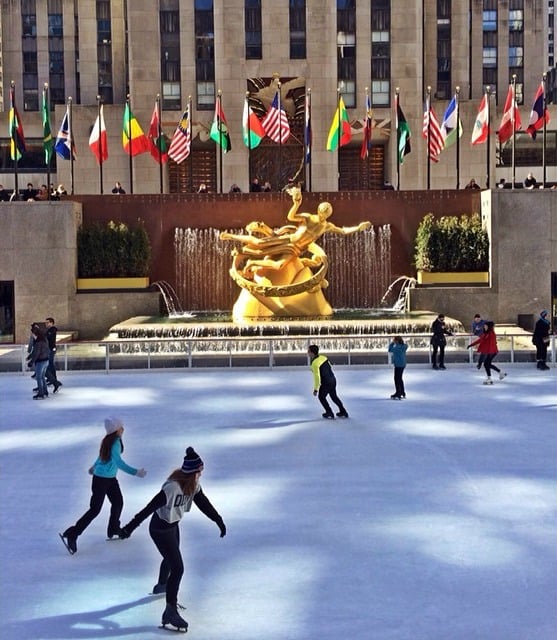 Later Sunday afternoon we made our way over to Rockefeller center to watch the ice skaters and grab a bite to eat at Bouchon.  How perfect is this?!
Can't say enough about Ippuddo.  We had the best steamed pork buns and Ramen I've ever had.  You have to start lining up 1/2 hour before they start dinner at 5pm or you'll be waiting a very long time.  We got there about 4:45 and got right in.  A must visit!!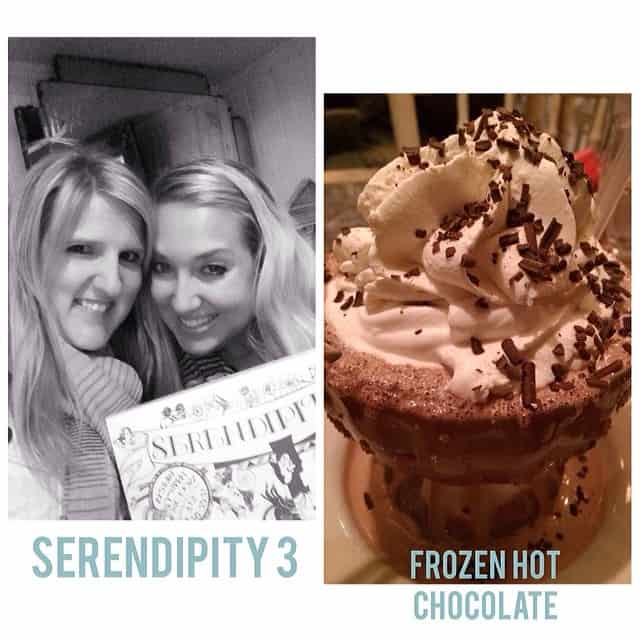 You know we had to go to Serendipity 3 for Frozen Hot Chocolates!  This time I tried the peanut butter frozen hot chocolate and it's even better than the original if you are a peanut butter fan.  Delicious.  Keep in mind that even at 11pm there will be a wait.  We got there at 10pm and had to wait 45 minutes to be seated.  Good thing Dylan's Candy Bar Shop is just down the street to browse through while you wait!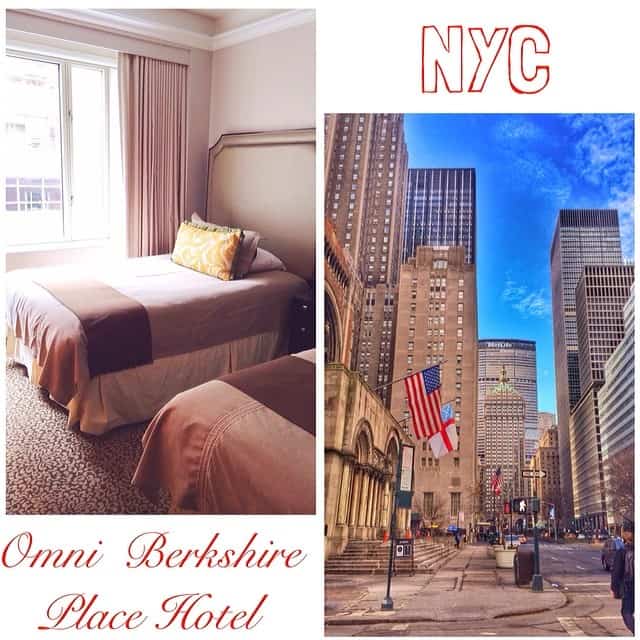 Amanda and I stayed at the lovely Omni Berkshire Place Hotel and had the best experience.  They made sure we had everything we needed and then some.  Highly recommend them!!
So much fun packed into 2 days in the city.  There's just nothing like a little trip to NYC!  Can't wait to go back again 🙂
Have a great weekend!!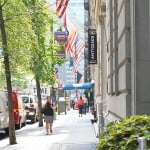 Mar 7, 2014
Happy Friday! Chit Chat day here at Picky Palate.
I am on my way to NYC this weekend to meet one of my best traveling friends Amanda of Kevin and Amanda.  We have been traveling together for years and one of our favorites is definitely NYC!  Please be warned, my Instagram feed this weekend is going to have LOTS of food pictures and I mean lots.  If you are on a diet, you might want to unfollow me, lol!
I've put together some of my favorite places to eat while visiting this weekend.  I intend to eat every single one of these … Continue Reading »

A few weeks ago I was in NYC for literally less than 24 hours and one of the only things I was able to squeeze in other than what I was there for was a visit to Serendipity for one of my favorite treats…..the Frozen Hot Chocolate.  It is massive, chocolaty and perfectly ice-y.
When I got back home I told the boys all about the treat I had and said I would re-create our own version!  So…..I got to work 🙂
Here is your line … Continue Reading »

Feb 2, 2011
Photo via Amanda
What a great time I had in NYC last week despite the wicked cold!  No kidding, this was the first time in my entire 34 years of age that I have ever witnessed falling snow.  It was quite the experience for me, it's beautiful!  I prefer enjoying it from a warm hotel room, but what the heck, I was only in NY for a couple of days, so I didn't let it slow me down….much 🙂
I love this photo above that Amanda snapped of us Left:  Me, Susan from She's Becoming Doughmesstic,

Aug 17, 2010
I knew one of the things on my "absolutely do" list in NYC was Levain Bakery.  When I was in NY a couple years ago, I never made it there and I told myself this time I am going for sure!
Levain Bakery was on Food Network's Throwdown with Bobby Flay and  the second I saw those beautiful gigantic cookies, I just knew I had to go!
Amanda and I had our big cameras ready to go and ordered one of every beautiful cookie they had.  Not even kidding, these were the best cookies I have ever had, by a mile.

Aug 12, 2010
Photo via Amanda
Thursday evening rolled around and it was time to get ready for our Martha Stewart Blogging Party.  Amanda and I got dolled up and first stopped by a Smucker's Dinner party.  As we were looking for a taxi we saw this very tempting bike taxi (below) and we decided to jump in.  We are lucky we are alive, it was a little crazy!  These guys zip in and out of traffic like they are nuts!
Our driver took a second to snap this photo of us

Aug 10, 2010
This image of hotel from Google
Last week was such a whirlwind of excitement.  My buddy Amanda and I literally ate and shopped our way through NYC for 4 days straight.  I'm not even sure where to start.  Together we took almost 1,ooo photos over our 4 day visit!
Unilever put us up in this ultra Swanky and totally fabulous Royalton Hotel during BlogHer10 for some Culinary Fare and Pampering before and after the conferences. Can you get over how cool this place is?!  Take a look at our awesome room!