Cinnamon Roll Pumpkin Vanilla Sheet Cake
Sharing my Cinnamon Roll Pumpkin Vanilla Sheet Cake today!

You ready for this Cinnamon Roll Pumpkin Vanilla Sheet Cake?! I love watching the reaction of my boys sampling my baked goods.  I gave them a bite after school a couple days ago of this sheet cake and their expression was priceless.  If I left the room, I am afraid the entire plate would have been devoured.  This recipe is that good my friends 🙂  In fact, it will be making an appearance for Thanksgiving and probably Christmas for sure!
Don't let the cake mix in the recipe scare you away.  I assure you, no one will know this is a jazzed up cake mix recipe.  It is gooey and tastes just like a sweet pumpkin cinnamon roll in square cake form.
Try it out for yourself and let me know how that first bite was 🙂  Enjoy!!
Ingredients
Here you have your line up of ingredients.  You are likely to have most of these things in your kitchen right now!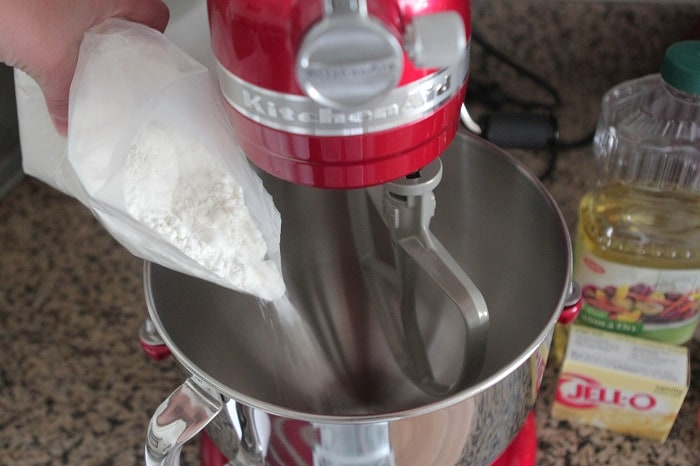 Let's get this party started 🙂  Start with dumping all of the cake ingredients into the mixer.  No particular order.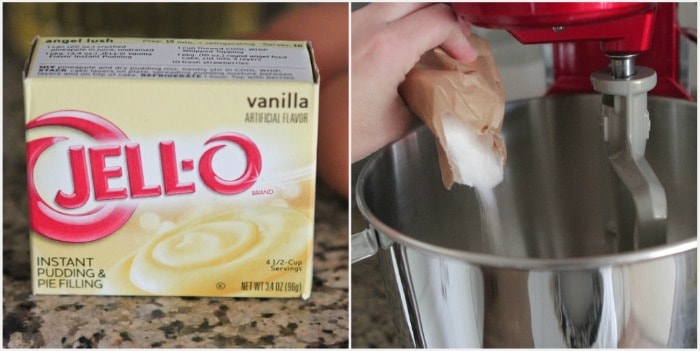 A small box of instant pudding mix does wonders!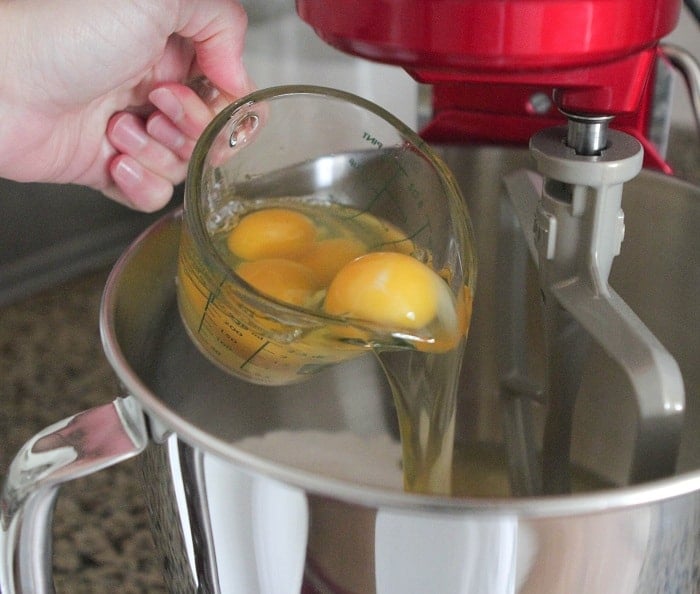 Add those eggs.

Oil, milk and sour cream.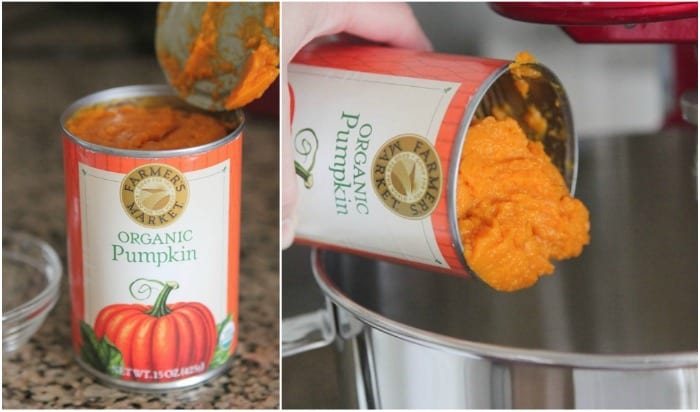 Add a can of pumpkin.
How gorgeous is that?!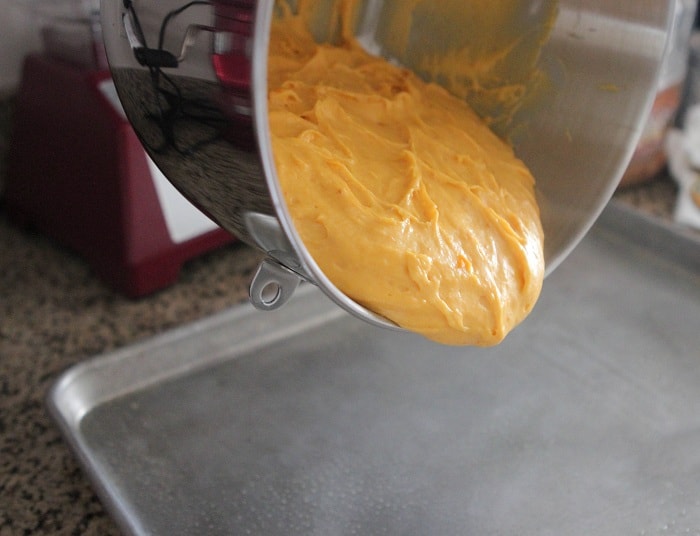 Here it comes!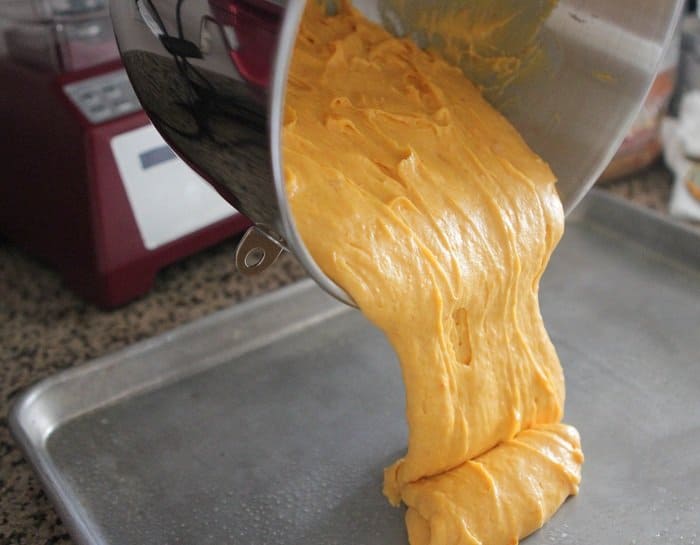 Almost there 🙂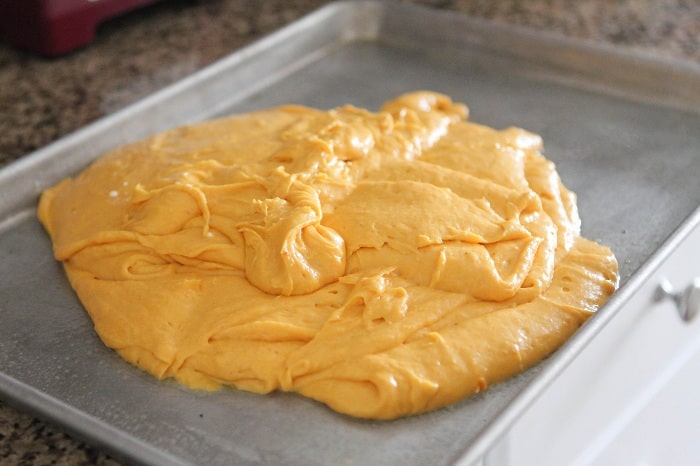 Perfect.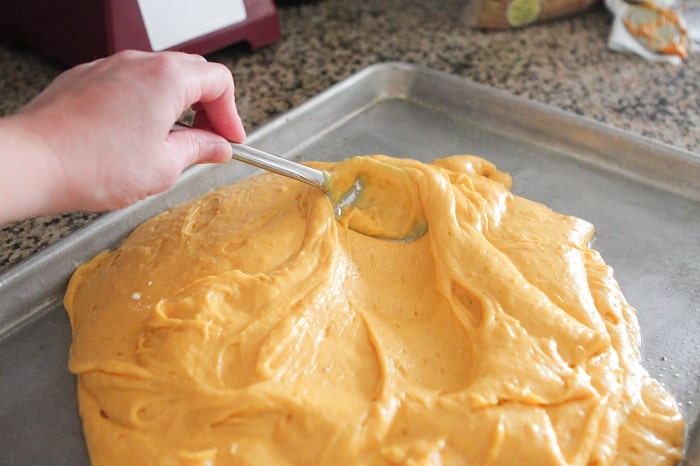 Spread the cake evenly to the edges.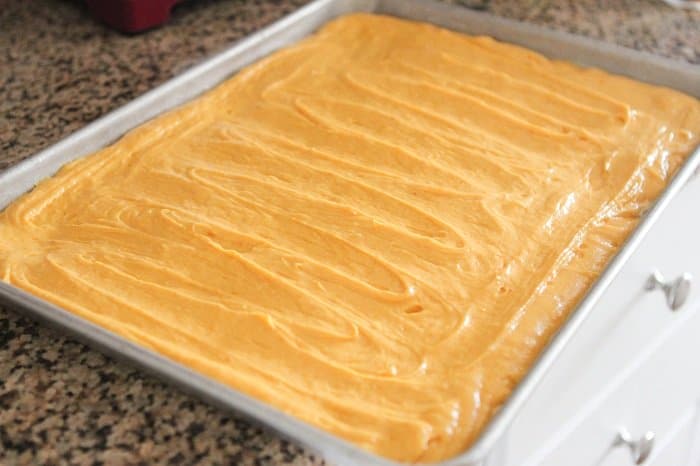 Like so 🙂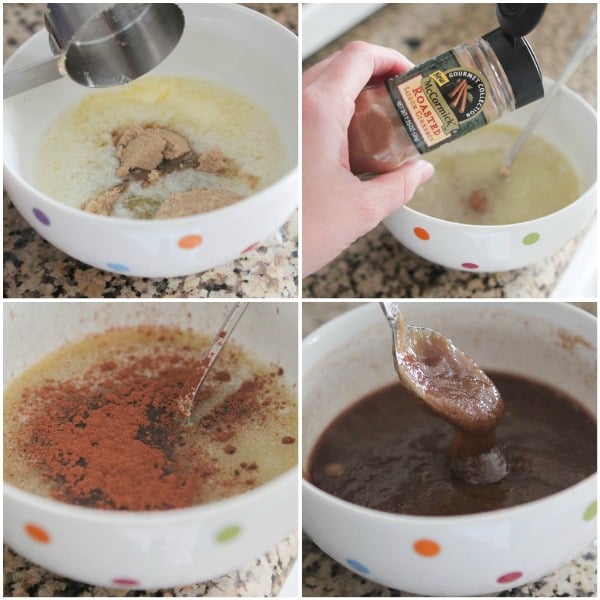 Melt your butter, add the brown sugar and cinnamon 🙂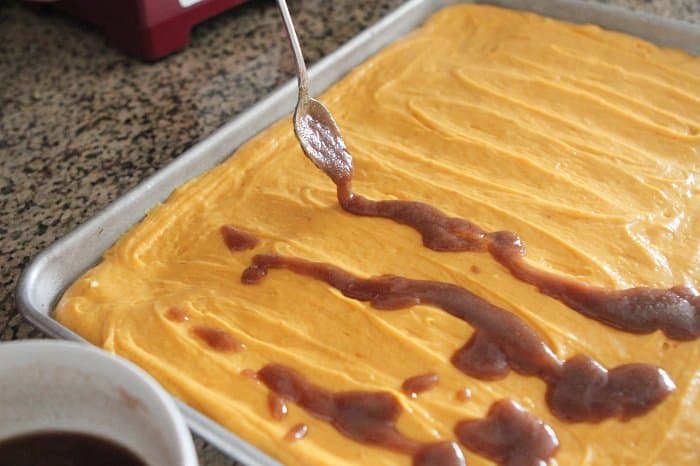 Time to drizzle!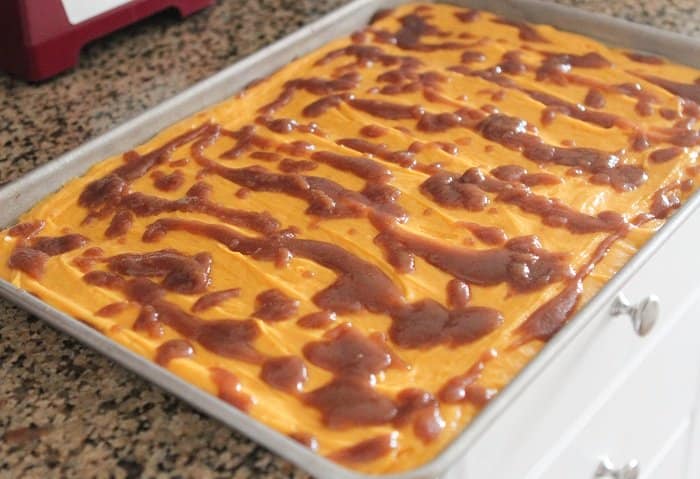 Seriously!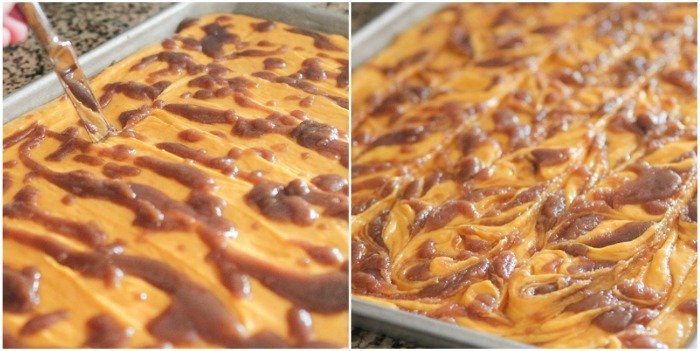 Run a knife through to swirl the goodness then bake 350 for 30-35 minutes.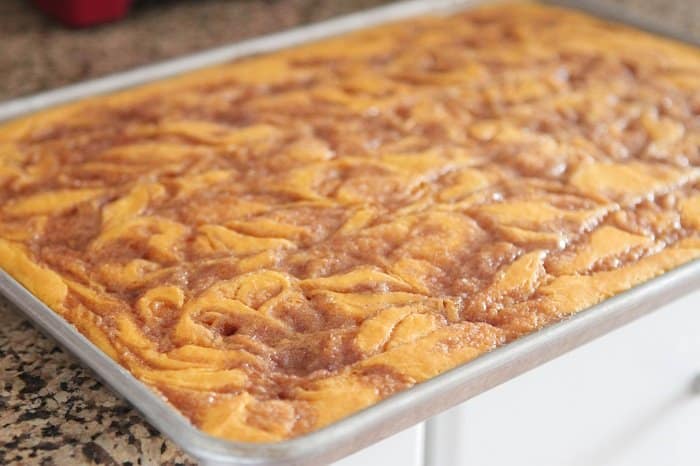 Here's a shot of how it looks right after baking, wait until you smell this!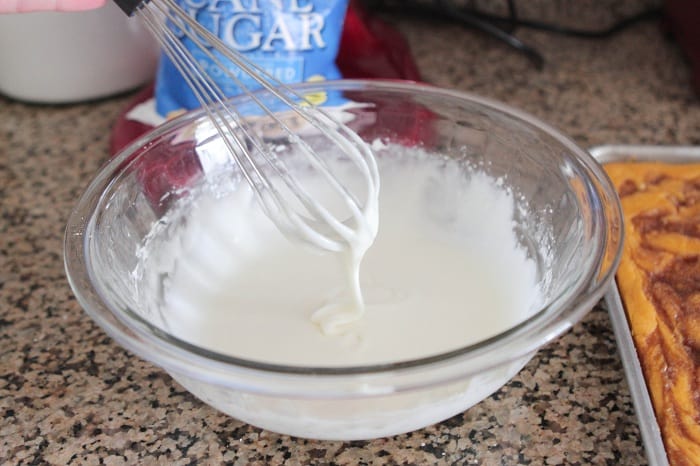 When the cake comes out of the oven, whip up the drizzle.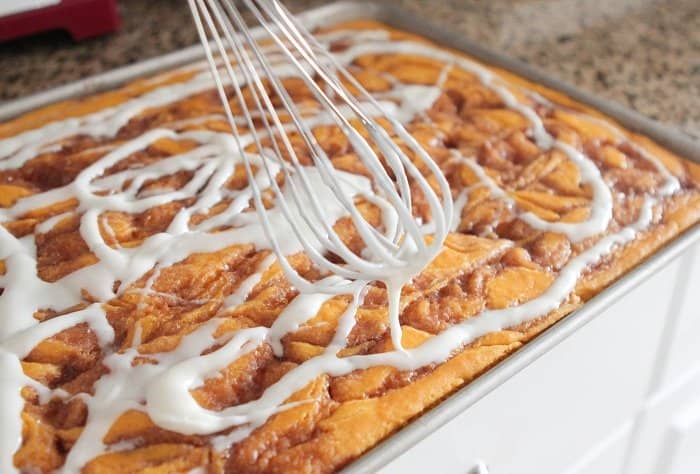 Drizzle while the cake is still warm….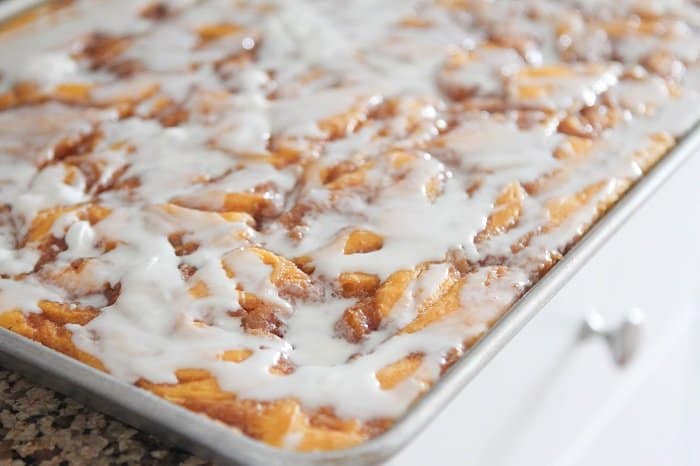 ….so it melts lovely like this 🙂
Cinnamon Roll Pumpkin Vanilla Sheet Cake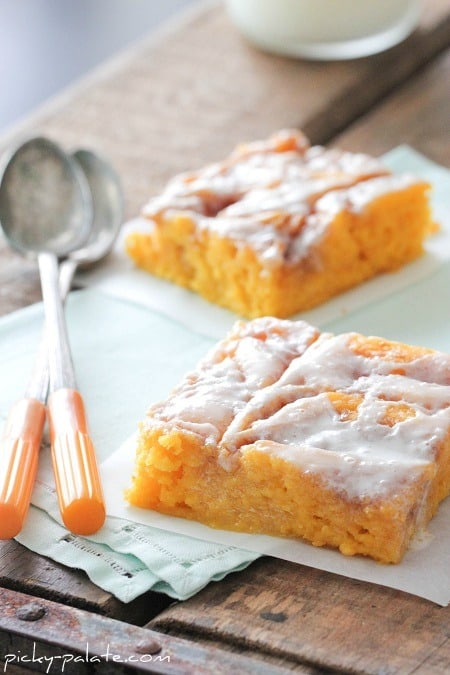 Love!  Enjoy friends 🙂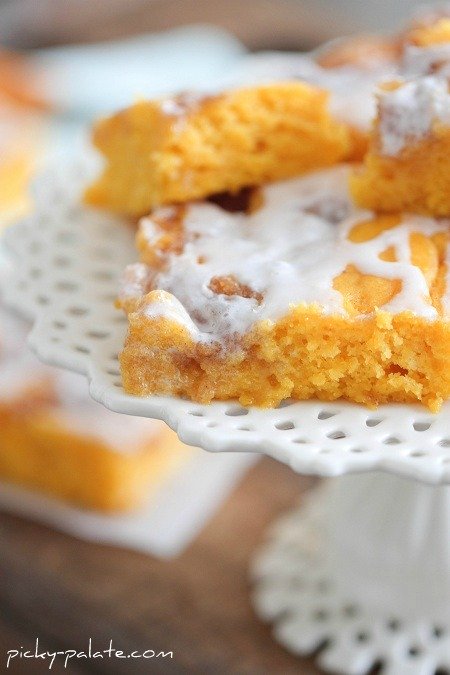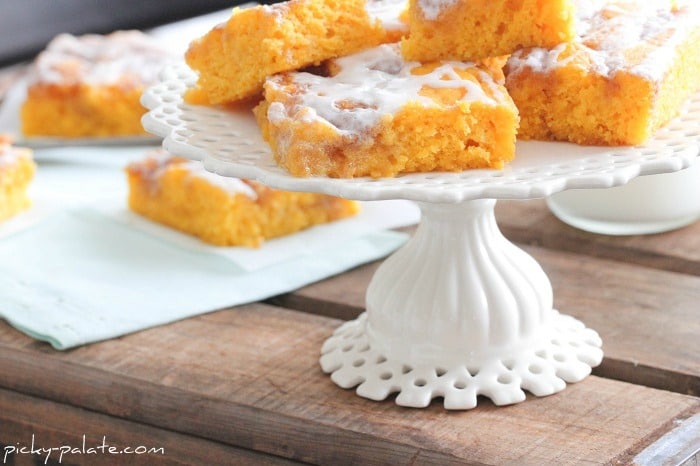 [ziplist]
Cinnamon Roll Pumpkin Vanilla Sheet Cake
1 box yellow cake mix
4 eggs
1/2 cup canola or vegetable oil
1/2 cup milk or buttermilk
3.4 ounce box Vanilla Instant Pudding Mix
1/2 cup sour cream
15 ounce can pumpkin
1 stick (8 tablespoons) unsalted butter
3/4 cup packed light brown sugar
1/2 teaspoon ground cinnamon
3/4 cups powdered sugar
1/4-1/2 cup heavy cream (start w 1/4 cup and add a little more cream if needed)
1. Preheat oven to 350 degrees F. and spray a half sheet size baking pan (13 x 18 x 1) with non stick cooking spray.
2. Place cake mix, eggs, oil, milk, pudding, sour cream and pumpkin into a stand mixer or electric mixer, beating until well combined, about 1 1/2 minutes. Pour into prepared pan, spreading evenly.
3. Place butter into a microwave safe bowl and melt, about 30-40 seconds. Add brown sugar and cinnamon to bowl, mixing until combined. Drizzle mixture evenly over cake then take a knife and run it through to swirl.
4. Bake cake for 30-35 minutes, until cooked through and remove. Place powdered sugar and cream into a large bowl and mix until creamy and smooth. Drizzle over warm cake then let cool for 20 minutes before cutting into squares. Refrigerate if not serving same day.  Enjoy with milk!
Makes 16 to 20 squares
FOLLOW PICKY PALATE ON INSTAGRAM! Show me what recipes you're making from Picky Palate by using #pickypalate.
Other recipes you may enjoy...
Comments