Wow, where did the weekend go?!I feel like I just posted that gross restaurant in China and here it is already Sunday night.Well, so much for my "trying to eat light" before NY plan.I was doing so good until this weekend.We ate pasta until we busted tonight at my father-in-laws, I feel like a stuffed pig.Back to my plan first thing Monday!!
Ok, these peach berry crisps are a must try. With only a few ingredients, you'll have this recipe in the oven in about 15 minutes. I used crisped blueberry bagels for the topping that is tossed with melted butter and sugar. Talk about heaven. The strawberries and peaches are warm, soft and sweet underneath the crisp buttery bagel topping. Please do yourself a favor and top your bowl with fresh whipped cream or vanilla ice cream. This is great for dessert or brunch. Enjoy!
I love when the cream starts melting down, watch each picture get tastier and tastier with the little river of cream.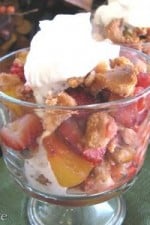 Warm Peach Berry Bagel Crisp
This easy peach crisp is made with sweet blueberry bagel bagels and fresh strawberries.
Course:
Breakfast, Dessert
Print
Pin
Ingredients
2

whole blueberry bagels

halved (I used Chompies from Walmart)

1

lb

hulled and quartered strawberries

1

lb

fresh or jarred peeled

cubed peaches

½

cup

powdered sugar

2 ½

tablespoons

sugar

¼

cup

melted butter
Instructions
Preheat oven to 375 degrees F. Place bagel halves cut sides up onto a baking sheet and bake until well crisped, about 15 minutes. Let cool, then place in food processor and pulse until broken into small pieces not completely ground. Place strawberries, peaches, 1 cup of bagel pieces and powdered sugar into a large bowl; toss to combine. Transfer to a 7x11 inch baking dish/pyrex. Place remaining bagel crumbs, sugar and melted butter into a bowl to combine. Sprinkle over top of fruit. Bake for 30 minutes or until crust is browned and fruit is softened. Serve in individual bowls and top with ice cream or fresh whipped cream (1 cup heavy cream whipped with 1 tbsp powdered sugar until light and fluffy).
Keywords:
fruit dessert, peach crisp, peach desserts
___________________________________
Thanks to Anne Strawberry for the I Love You This Much Award, it's so cute. Anne's blog always leaves me starving. Her pictures and recipes are always tempting!
Here's to a good week of lots of exercise and portion control for me!! See you all soon with more good eats!