Got any girl scout cookies Left? As usual, we bought our fair share this year. This time, from my adorable niece Courtney. I was excited to get my boxes in because I knew I wanted to bake with them.
First up, was these cute little cheesecake cups that I created yesterday. It started out somewhat disasterous as my 5 year old came rushing into my room telling me "Mom, you've got to see what happened!" I ran into the living room to find my 2 year old with an entire cupcake tin that I had filled with cookie crust, dumped onto the carpet while he was eating it off the floor. Argggh! Good thing I had extra cookies on hand.
I love the mild mint flavor of the cookies with the cream cheese. My kids gobbled these up, I'll definitely make these again. The nice thing is, you can use the Mint Oreos if you don't have any girl scout cookies. They would work as well.
We're off to the zoo today. Have a great day everyone!
No, it's not Feta cheese crumbled on top, it's chopped white chocolate chips that could pass for Feta!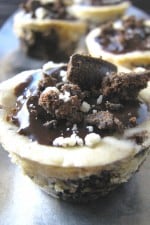 Girl Scout Thin Mint Cookie Cheesecake Cups
These chocolaty Cheesecake Cups are rich, creamy, and loaded with crumbled Thin Mint Cookies.
Print
Pin
Ingredients
13

Thin Mint Cookies

ground in food processor or blender (you can also use the mint Oreos)

2

tablespoons

melted butter

8

oz

softened cream cheese

1/2

cup

sugar

1

egg

2 1/2

tablespoons

buttermilk

5

Thin Mint Cookies coarsely crumbled

1/4

cup

chocolate chips

2-3

tablespoons

heavy cream

3-5

Thin Mint Cookies

crumbled (for top of cups)
Instructions
Preheat oven to 300 degrees F. Combine ground cookies and butter in a medium bowl. Drop about 1 Tablespoon of cookie mixture into 24 mini cupcake tins that has been sprayed with cooking spray. (If you have mini cupcake paper wrappers I'd use them, it was difficult to remove my cheesecake cups from the tin itself). Press crust into cups with back of a spoon.

In an electric or stand mixer cream the cream cheese and sugar until well combined. Add egg and buttermilk until well combined as well. Stir in crumbled cookies. Pour cheesecake mixture into cupcake tins filled almost to the very top. Bake for 25-28 minutes or until cooked through. Remove and cool for 15 minutes. Melt chocolate chips in microwave until melted and smooth. Stir in heavy cream until smooth and shiny. Spoon about 1 Tablespoon over each cheesecake cup and sprinkle with additional crumbled cookies.
Keywords:
cheesecake bites, individual cheesecakes, mini cheesecakes