Homemade Peach Blueberry Cobbler
This Homemade Peach Blueberry Cobbler is such a fun dessert to serve your family and friends…don't forget the ice cream!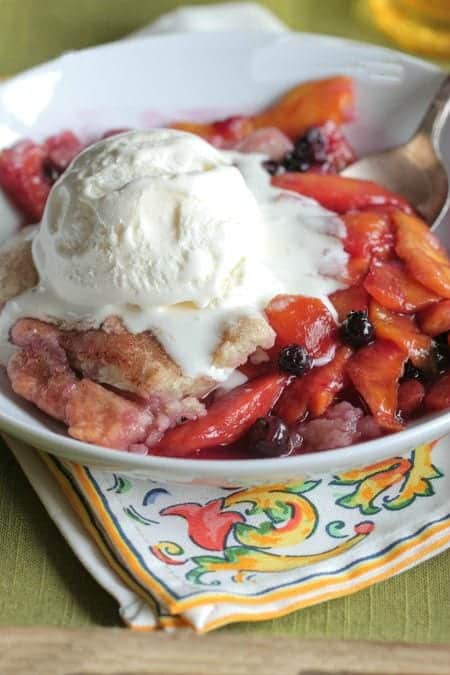 Bringing back an oldie but a goodie today, this time from 2 years ago.  Can't get enough of this recipe.
I fully admit that most of my desserts, I just sample then happily share with family and friends.  This one, well, I couldn't stop!  I practically demolished the whole darn bowl.  There's something about a warm dessert with ice cream melting on top that is just hard to resist.
I used my homemade pie crust that you can also find in my cookbook on page 202.  It is one of my favorite recipes.  It comes out buttery and flaky every time I make it.  I developed a peach and blueberry filling that is sweet and warm.
Trust me on this one, you will want to make it….sooner than later.  It's truly the perfect dessert for any time of the year 🙂
Enjoy friends!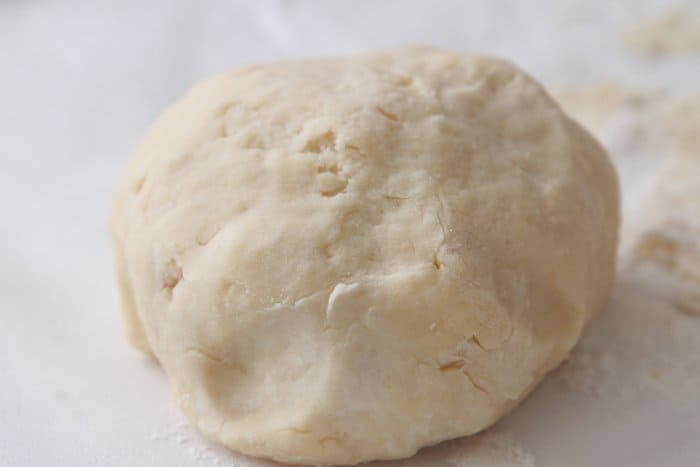 I make my dough in a food processor, quick and easy. Divide your dough into 2 equal size pieces, wrap in plastic wrap and either freeze for 30 minutes before you use it for the recipe or refrigerate it for 2-3 hours.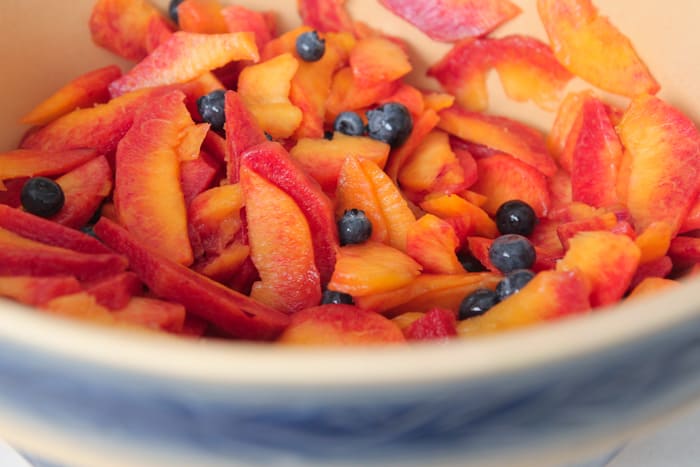 It's a gorgeous sight isn't it?  It ended up being about 6 cups sliced peaches and 1 1/2 cups blueberries if you need to use frozen or canned.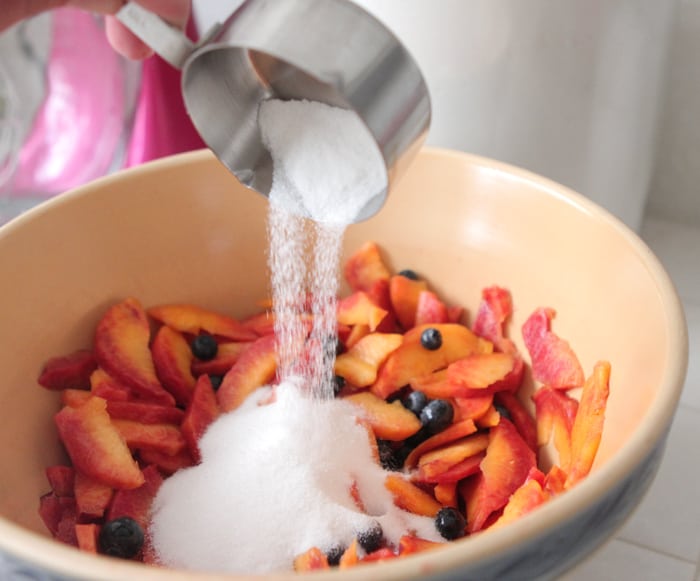 Add some sugar please!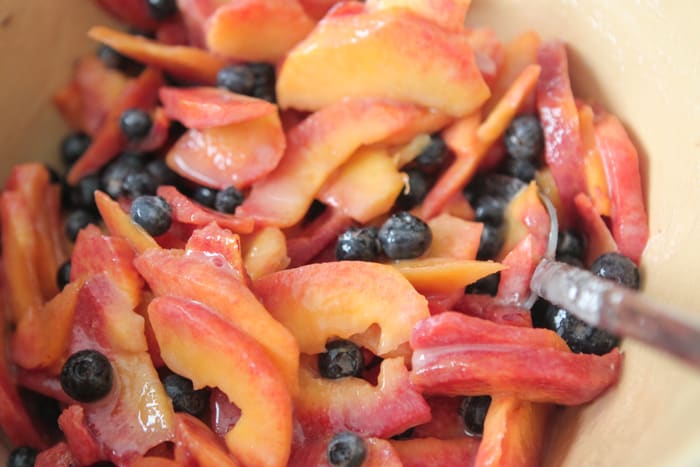 Stir in some corn starch and lemon juice.
Once your dough is nice and chilled, roll it out to fit your baking dish.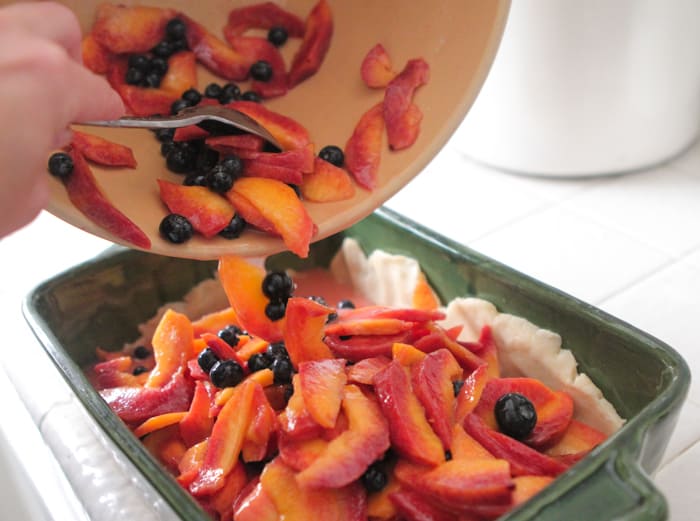 Pour the fruit inside your dough.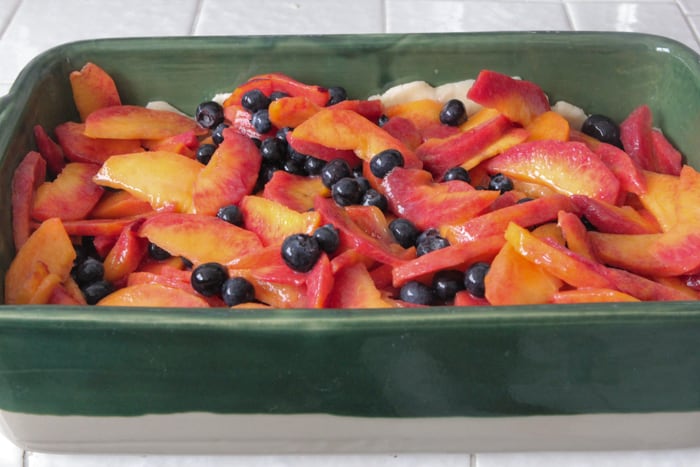 Beautiful!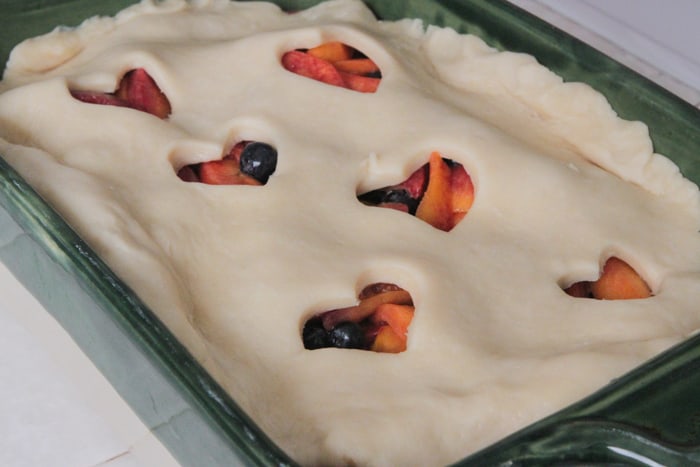 Top with second rolled dough. Once it's rolled, feel free to use any small cookie cutter to cut shapes into the dough. I used 1 1/2 inch little hearts.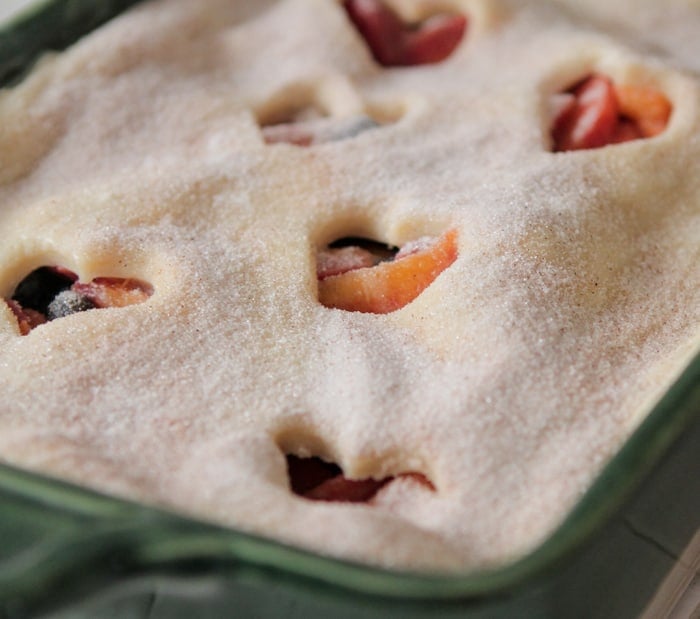 Brush the top with some butter please!  Cinnamon and sugar mixture sprinkled on top, mmmm!  Time to bake.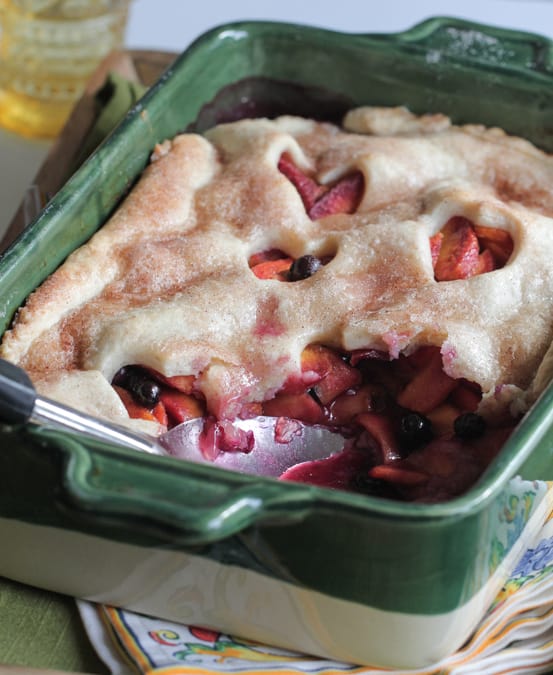 Time to dig in!  Soooo worth the wait and the house smells like a dream baking this.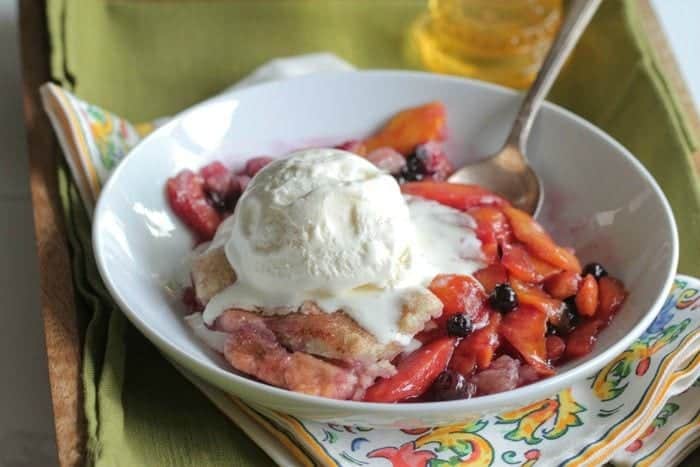 Do yourself a favor and top with vanilla ice cream. It's a must.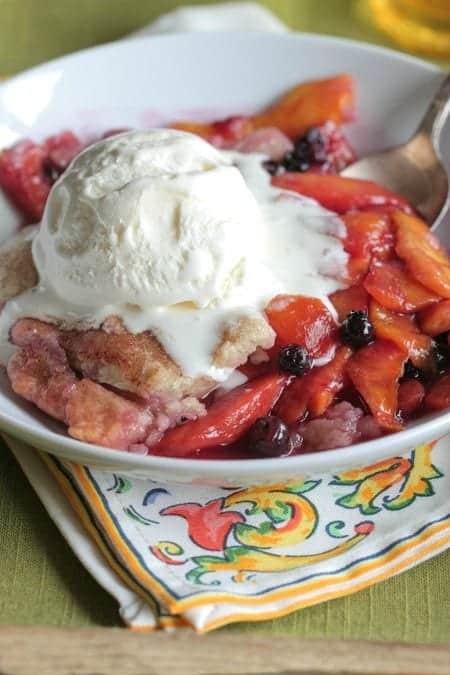 [ziplist]
Homemade Peach Blueberry Cobbler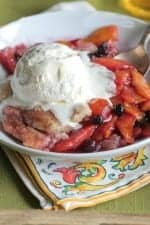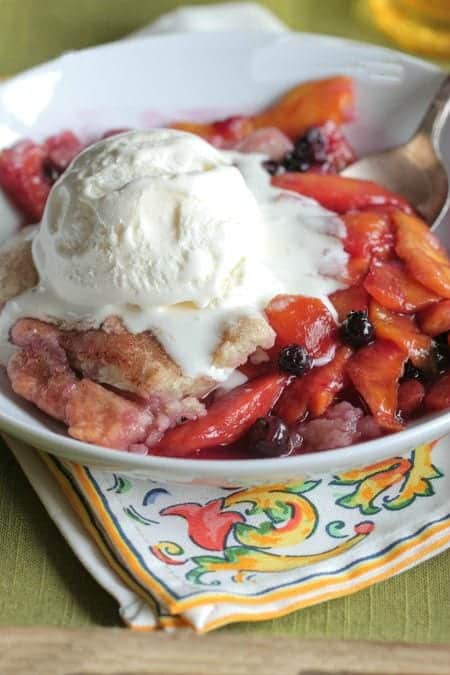 Ingredients
Homemade Pie Crust
2 1/4 cups

all-purpose flour

3 tablespoons

granulated sugar

1 teaspoon

kosher salt

2 sticks

unsalted butter, cold, cubed

1/2 cup

ice cold water
Peach Blueberry Filling
5 ounce package

fresh blueberries (frozen would be fine too)

8

fresh peaches, thinly sliced (about 6 cups)

1/2 cup

granulated sugar

3 tablespoons

corn starch

1 tablespoon

lemon juice
Cinnamon Sugar Topping
4 tablespoons

melted unsalted butter

3 tablespoons

granulated sugar

1 teaspoon

ground cinnamon

1 pint

Vanilla Ice Cream
Directions
Preheat oven to 350 degrees F. and lightly spray a 8×11 inch baking dish with non stick cooking spray.
Add the flour, sugar, and salt to a food processor. Pulse to combine. Add the butter and pulse until the mister is the size of small peas. With the food processor running, slowly add the ice water until combined. Transfer the dough to a lightly floured countertop, kneading a couple times to combine. Divide the dough in half, flatten slightly, and wrap tightly with plastic wrap. Stick in the freezer for 15 minutes while working on the peach blueberry filling.
Place the blueberries and peaches into a large mixing bowl. Stir in sugar, corn starch and lemon juice until combined. Roll pie crust into a rectangle big enough to fit inside and on top of baking dish. Press first rolled dough into baking dish. Pour peach blueberry filling inside dough then top with second rolled dough, cutting small shapes if desired. I used a tiny heart cookie cutter. Brush top of dough with melted butter and top with mixed cinnamon and sugar. Bake for 50-60 minutes, until dough is golden and cooked through. Serve in individual bowls and top with vanilla ice cream
Makes 8-10 Servings
FOLLOW PICKY PALATE ON INSTAGRAM! Show me what recipes you're making from Picky Palate by using #pickypalate.
Other recipes you may enjoy...
Comments