Recipe For Joy and Giveaway!!

CONTEST FOR THE GIFT BASKET IS CLOSED.  Congrats to entry # 42 Shelley and entry #34 Becky!!  I've sent you both an email.  Contact me ASAP. You can still send e-cards until Dec 31st!!
Not only is this a giveaway for you guys, but an awesome opportunity to help feed others in need! I am so excited to be hosting such a wonderful event. Here's the info:
Kraft Foods has partnered with Feeding America and they have kicked off a contest called Recipe for Joy. It's actually really easy! All you need to do is click HERE and send an e-card of your choice. For every e-card that you send, Kraft will donate 10 meals to Feeding America! Plus, every time you send an e-card from that link, Picky Palate will earn a credit in the Recipe for Joy contest. If you all help me win, Kraft will donate $1000 in Picky Palate's name to Feeding America! HURRY, get those e-cards sent, we have until December 31st to help donate meals!!!
Kraft Foods is also on Twitter, Facebook and YouTube, check em' out!
Here is what's up for grabs for the GIVEAWAY!! 2 Picky Palate Readers will win this beautiful basket full of Kraft Food Goodies Check it out: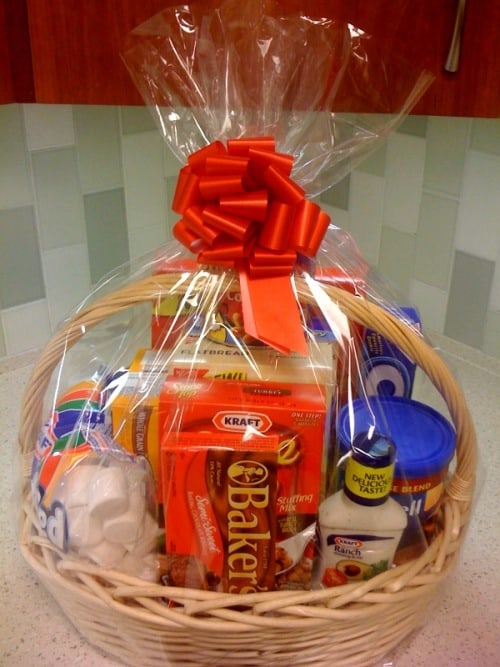 Here is everything that's included in the Giftbasket:
4 Holiday Kraft Recipes
Zac Designs Garlic Peeler
HA Mack Olivewood Mixing Spoon
Velveeta Whole Grain Rotini and Cheese
Planters Cocktail Peanuts
Planters Pecans
Bakers Semi-Sweet Chocolate
Stove Top
Honey Maid Cinnamon Crackers
Jet Puffed Marshmallows
Oreos
Kraft Salad Dressing
Ritz Brown Sugar Cinnamon Crackers
Wheat Thins Flat Bread Crackers
____________________________________________

Here's How To Enter to win the Giftbasket:
1.  Send an
e-card
, to help feed the hungry, this is on your honor, please do it 🙂
2.  Follow Picky Palate under "Foodie Friends" on my right sidebar
3.  Leave a comment here telling us what you will be eating for Christmas Dinner, or what you'd like to be eating 🙂
For Additional Entries:
4.  Leave a separate comment telling me if you've "tweeted" and linked to this giveaway.
5.  Leave a separate comment/entry telling me if you've blogged and or posted the link on your Facebook page about this giveaway.
The giveaway for the baskets ends December 17th at 6am!!  Good Luck!!
___________________________________________
Most importantly, PLEASE send these E-CARDS!! For every card sent, Kraft donates 10 meals!!  It really is a great opportunity to help.  Thanks friends!!
FOLLOW PICKY PALATE ON INSTAGRAM! Show me what recipes you're making from Picky Palate by using #pickypalate.
Other recipes you may enjoy...
Comments