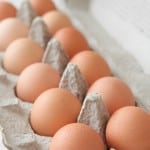 Print
How To Make Perfect Hard Boiled Eggs
If you've ever wondered how to make perfect hard boiled eggs, this post is for you. Hard boiled eggs can be tricky, but they don't have to be! From how long to boil eggs, to the best way to peel them, this post will have you on your way to perfect eggs every time!
Set 12 eggs or as many as you desire (in a single layer) into a large saucepan. Fill pot with water to completely cover the eggs at least 1 inch above eggs and turn heat to high. Bring water to a boil, takes approximately 15 minutes. As soon as eggs start to boil, let boil for 10-12 minutes (I do 11 minutes).  Set timer to help.

Immediately remove from heat and set pot in a clean/cleared out sink. Fill with cold water and ice cubes to stop cooking. Turn water off and Let eggs sit in ice for 10 minutes. Eggs should feel cool to the touch.

Carefully crack the egg shell all the way around the egg. Squeeze the shell until the shell has detached from the egg and peel. See photos for visuals.

Keep hard boiled eggs in their shell in the refrigerator for up to 1 week.
Calories:
63
kcal
|
Carbohydrates:
1
g
|
Protein:
6
g
|
Fat:
4
g
|
Saturated Fat:
1
g
|
Cholesterol:
164
mg
|
Sodium:
62
mg
|
Potassium:
61
mg
|
Sugar:
1
g
|
Vitamin A:
240
IU
|
Calcium:
25
mg
|
Iron:
0.8
mg