Sharing Everything You Need To Know About Disneyland Candy Canes today! There is lots of information and questions I will answer to help you have a smooth experience getting your own Disneyland Candy Cane to bring home!
Disneyland Candy Cane
If you've had Disneyland Candy Canes, you know that it is the best candy cane EVER. Not only are they GORGEOUS, they are actually the best tasting candy cane I've had. Let's start with some of the most asked questions I get about these picture perfect candy canes.
What Is The Big Deal About Disneyland Candy Canes?
Since 1968 Disneyland Resort makes their own candy canes by hand in Candy Palace on Main Street, U.S.A. There's no doubt about it, Disneyland candy canes are in high demand. They're the best quality and like I said above, it really is the best candy cane I've ever had.
Where Can I Get a Disneyland Candy Cane?
There are two locations you can get your candy cane at the Parks. Trolley Treats at Disney California Adventure Park, Buena Vista Street and Candy Palace at Disneyland Park, Main Street, U.S.A.
To be safe, get to the Parks about an hour early, if you are REALLY wanting to get one for sure.
When the Park opens head quickly to designated location, either Trolley Treats or Candy Palace. You'll see a line along the sidewalk, get in line as soon as you can. Don't be discouraged if there's a long line. Stay in line, chances are you'll be fine.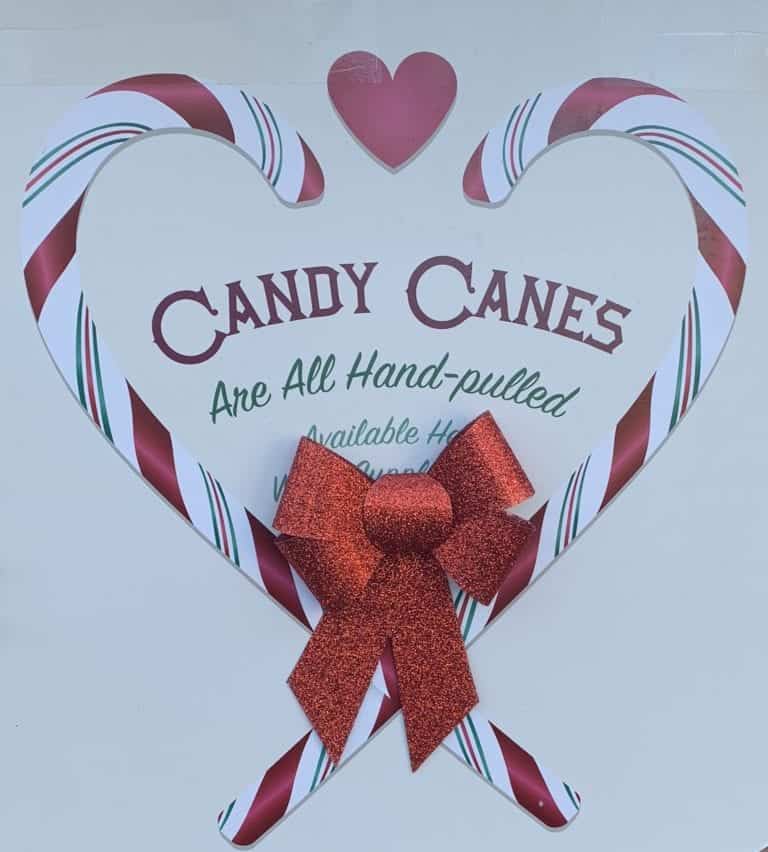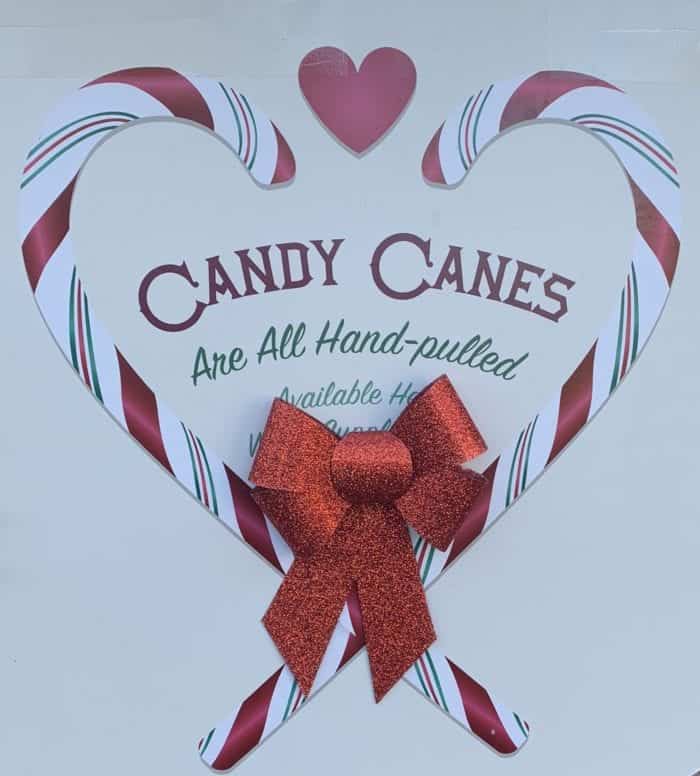 I snapped this photo of the candy cane sign a cast member was holding near the entrance of Disney California Adventure Park to guide guests to the right line. You'll likely see the line forming, but you'll also see signs and cast members to help you.
What Dates Are Candy Canes Available?
2019 Candy Cane Dates
Disneyland Park's Candy Palace– November 29th
December 2, 4, 6, 9, 11, 13, 16, 18, 20, and 24th
Disney California Adventure Park's Trolley Treats– November 30th
December 3, 5, 7, 10, 12, 14, 17, 19, 21, and 25th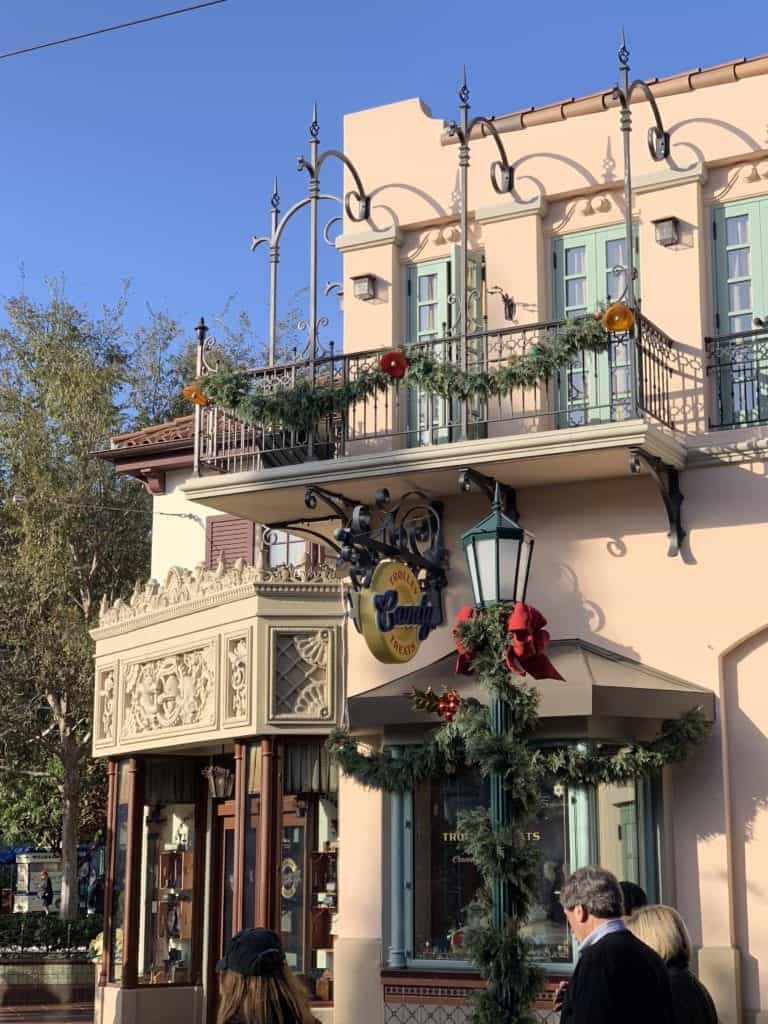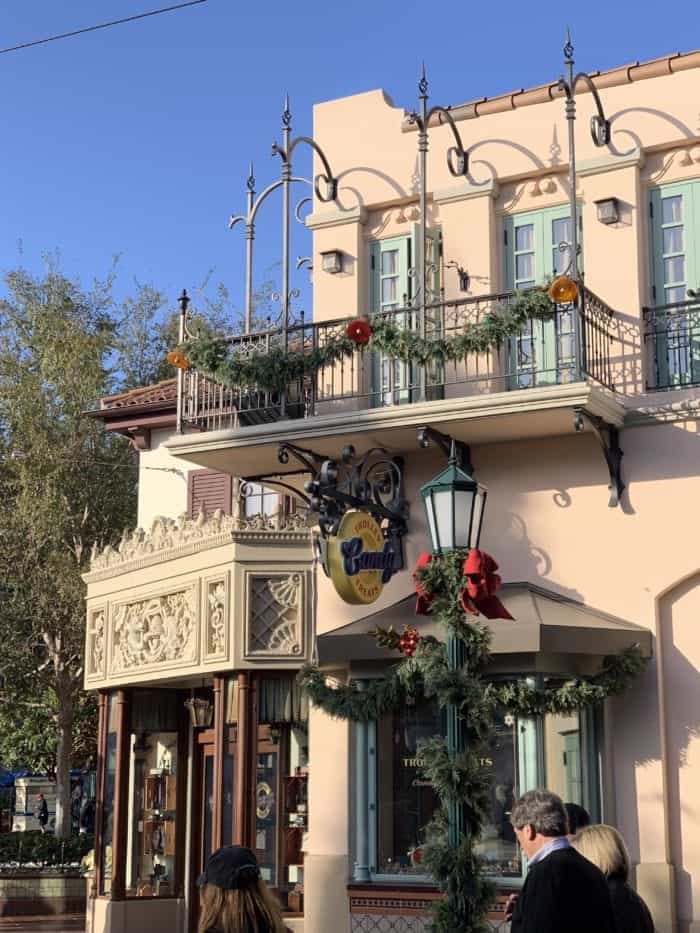 Here's a shot of Trolley Treats on Buena Vista Street for your reference.
Do You Need A Wristband To Get A Candy Cane?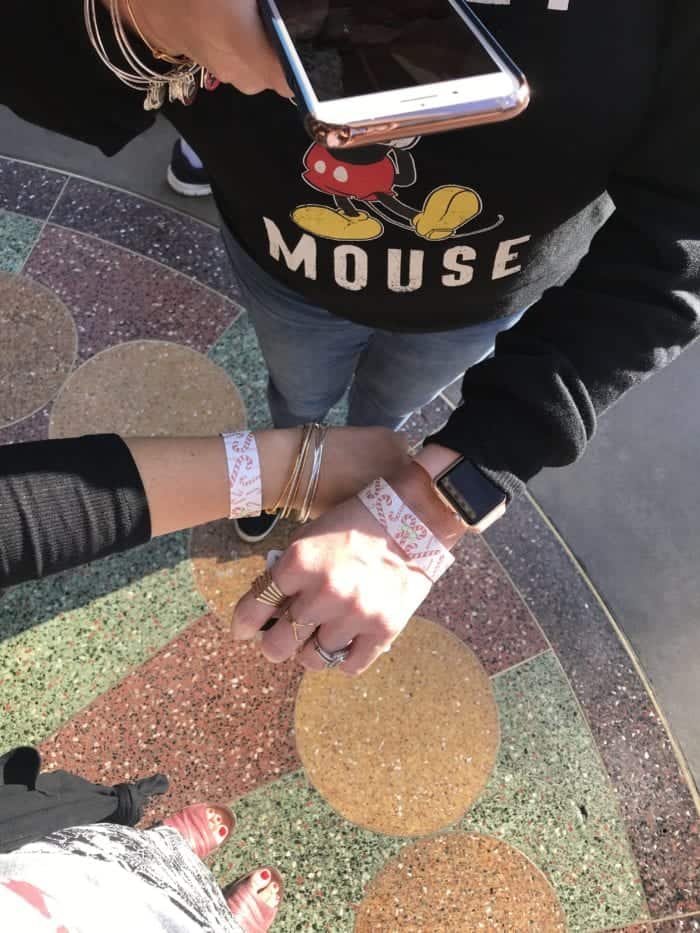 Yes, you have to have a wristband to get your candy cane. Cast members pass out wristbands on a first come first serve basis to those in line. Take a look at your wristband, there will be a return time written down. That is when you will return to your location and purchase your candy cane.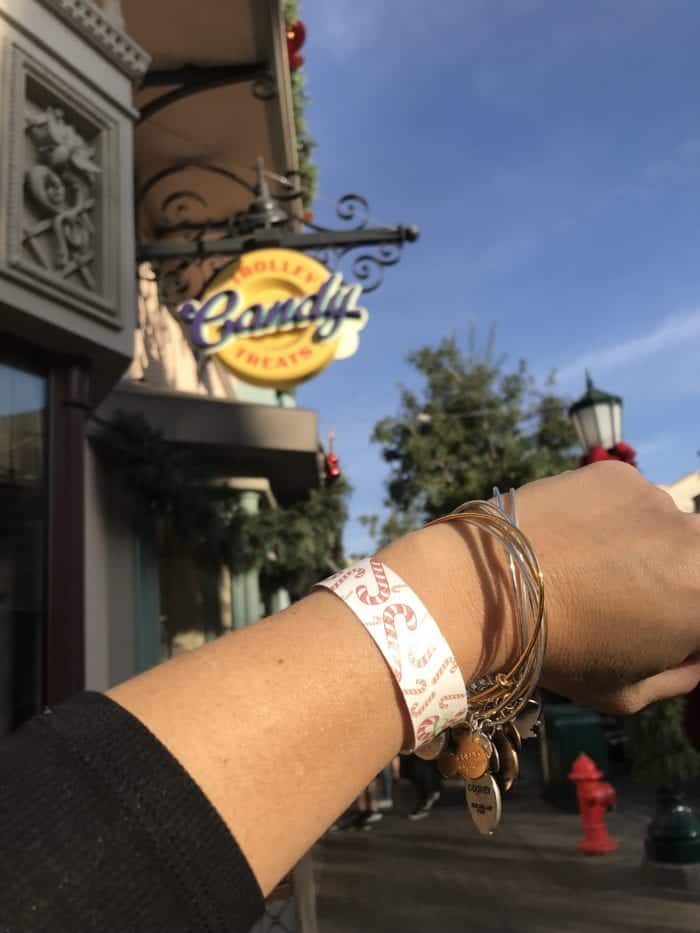 Victory! Wristband = Guaranteed Candy Cane 🙂
Other Helpful Tips and Information Getting Your Disneyland Candy Canes
One candy cane per person.
Each candy cane comes bubble wrapped with a Holiday Mickey sticker keeping it together so you can take it home. Be careful, but I've gotten mine from CA to AZ twice with no problems.
Get a locker to store your candy cane in for the day. This is a must for me. You don't want to risk breaking it inside full bags or strollers.
Each cane is $13.99 and annual pass discounts are not applicable.
Arrive at or as close to your stated time noted on your wristband and not past 4pm. At that time, candy canes not claimed can be sold to guests waiting in a standby line.
Need ways to help use your candy canes? Try using it crushed as topping for my Mickey Mouse Sugar Cookies and Mickey Mouse Chocolate Covered Oreo Pops.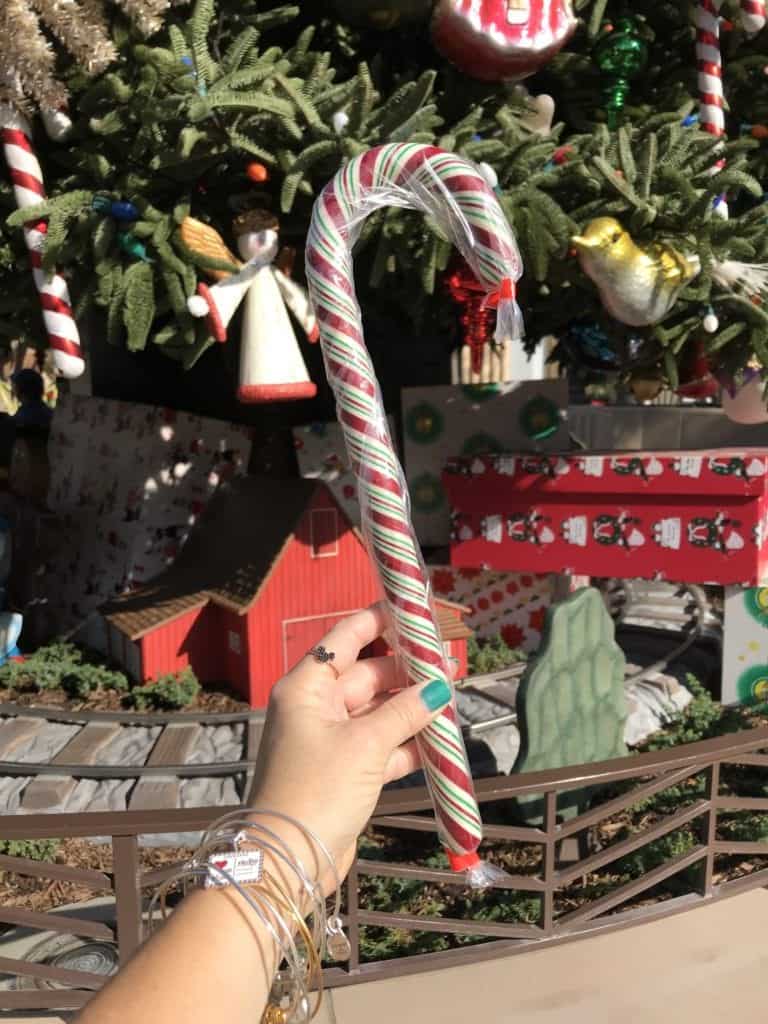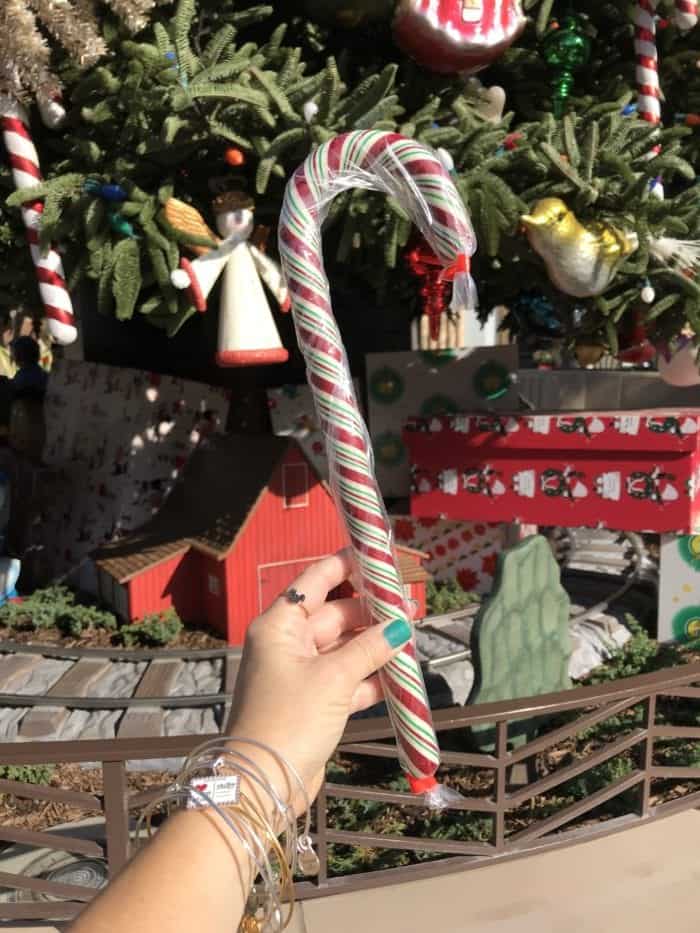 History about Disneyland Candy Canes
From Disney Parks Blog Video, Each candy cane takes about 2 hours to create and candy cane making often starts as early as 5:00am. Most companies now produce candy canes by machine. Disneyland insists on making theirs by hand, the traditional way to make candy canes.
How Long is the Shelf Life of the Candy Cane?
Candy Canes have a shelf life of about 1 year. In fact, I just shared the candy cane we got last year with the kids and it was still delicious!
Did You Know There is a Candy Cane Hotline?
You can call the Disneyland Candy Hotline for more info and what will be baked each day: (714) 781-0112
Video on Making Disneyland Candy Canes via Disney Parks Blog 2010
Be sure to follow Disney Hungry on Instagram for the BEST eats and insider tips for your next visit to Disneyland Resort!
Pin Disneyland Candy Canes Everything You Need To Know!