My Weeknight Cheesy Chicken and Rice makes the perfect dinner for the whole family!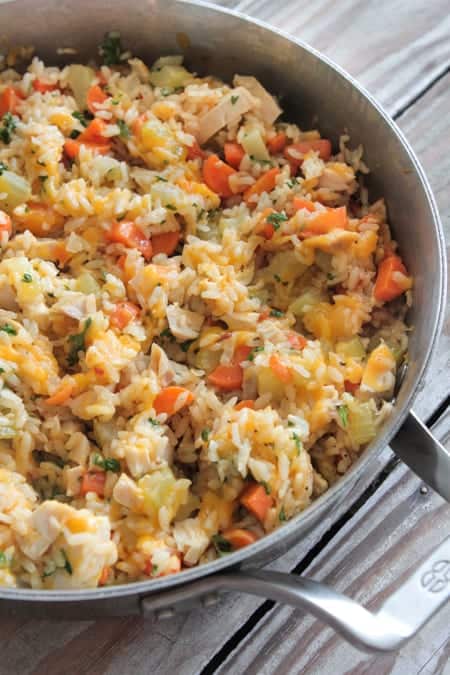 I love making quick and simple weeknight dinners.  My family goes nuts for this flavor packed one pot dinner.  Love that you won't be making a huge mess in the kitchen with this one.  One pot dinners are my favorite!  I used a rotisserie chicken for the chicken in this recipe.  Feel free to cook your own if you desire.  Pre-chopping your veggies helps with your prep time.  Hope you enjoy!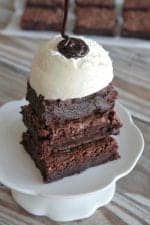 These Ice Cream Sundae Brownies have ice cream in the batter which make for a perfectly fudgy brownie!
If you haven't tried my Ice Cream brownies before you must!  This recipe is one of my favorites from 2010 when I was just a young little blogger 🙂  Thought it would be fun to make a video to show how fun these are.  A little facelift with new pictures too.
Hope you enjoy!
Continue Reading »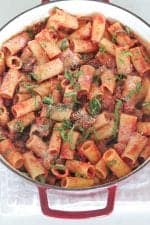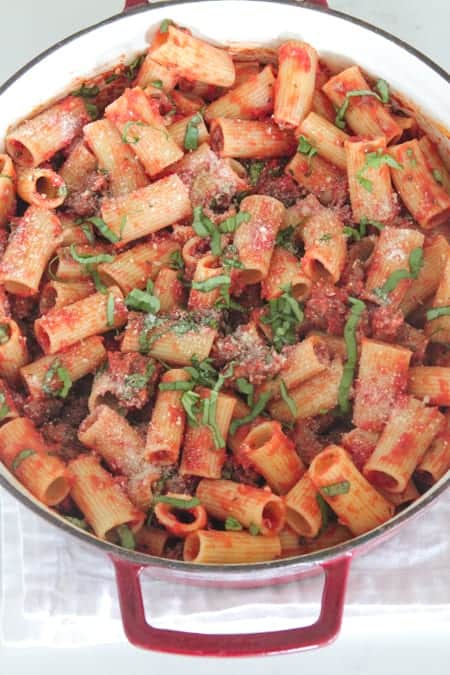 This Sausage Basil Rigatoni with my simple Sausage Basil Rigatoni makes the perfect weeknight dinner!
Pasta night happens quite often at our home each week.  This gorgeous pot of pasta with my homemade sauce, ground sausage, fresh basil and sprinkles of Parmesan cheese is going to make your family very happy.  It's one of our simple favorites.  Hope you enjoy!
Continue Reading »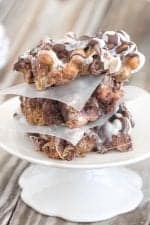 These Gooey Chocolate Peanut Butter Crunch Bars could not be more delicious and perfect for a back to school weekend dessert!
Sponsored by General Mills.
Bringing you a fun Back To School Weekend Dessert! This time of year is so exciting as our kids start a new school year.  With so much going on, getting used to new schedules, things can get hectic too.
We want to help put you and your family first during this exciting but hectic time of year. One of the biggest things that has helped me for back to school season is organizing and preparing the kids school lunch the night before.  I'm not saying we are perfect at this every day, but when we get lunches … Continue Reading »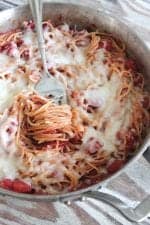 Sharing my One Pot Cheesy Spaghetti that is the perfect quick fix dinner recipe!
I love simple weeknight dinner recipes, they are literally my favorite recipes to develop on Picky Palate.  This One Pot Cheesy Spaghetti is a family pleaser and takes less than 20 minutes to prepare.  With just a handful of simple pantry ingredients you'll have dinner on the table in no time at all.

Check out my latest step by step video.  Be sure to follow me on YouTube for lots of new recipe videos this year!
You can also add your favorite protein to … Continue Reading »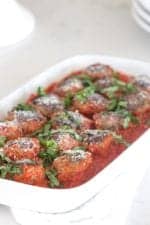 Sharing my Classic Homemade Meatballs today! Perfect for parties or in a big bowl of spaghetti.
Homemade meatballs are one of my favorite things….ever.  When I have a little time on my hands, I love hand rolling each meatball, browning them and simmering in pasta sauce.  The house smells fantastic too!  You're going to love my recipe, be sure to give it a try!
Continue Reading »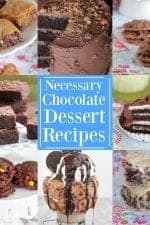 Necessary Chocolate Dessert Recipes perfect for your loved ones, family and friends!
With Valentine's Day right around the corner, I thought it would be fun to put together some of my very favorite Picky Palate Chocolate Recipes.  Let's drool together over my favorites!
Continue Reading »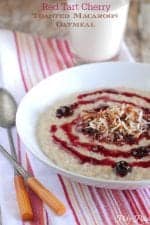 Sharing my Must Have Summer Breakfast Recipes that will put smiles on everyones faces. It's nice to make breakfast more special when there's no school to rush off to. These are some of our very favorites not to be missed!  From pancakes, to eggs to muffins and parfaits…I've got you covered for special breakfasts and entertaining guests.
Banana Nutella and Oatmeal Pancakes
This gorgeous stack has some of our very favorite flavors.  They're soft and perfect with a thin layer of Nutella over top and maple syrup!
Continue Reading »