Sharing our favorite Holiday tiered trays today! Making a tiered tray is so much fun especially around the Holidays! Today we'll show you what you need and how to easily create you own Holiday tiered tray!
Tiered Tray
I have jumped on the tiered tray bandwagon and I am absolutely loving it! I'm a huge Disney fan, so I add a few Disney pieces to my trays, they make my space so happy! Today, I'm going to show you how to create your own tiered tray that is personalized to your favorite things. We'll break it down step by step so you know where to find affordable, adorable pieces for your own display.
Be sure to follow Disney Hungry on Instagram for the BEST eats at Disney Parks along with other fun Disney tips!
Where Do I Start?
Ok, first things first, you need to find a tiered tray. There are dozens and dozens of styles to choose from, so decide if you like, rustic, farmhouse, modern? I have found a number of my trays at Hobby Lobby, they have a great selection and many times you can find a 50% off coupon. Amazon also has affordable tiers. Search tiered trays and you'll see plenty that come up. I got a really cute one at Target too in the Chip and Joanna Gaines Home section.
Second, decide what theme you are going for. My favorite is to decorate my tiers for the Holidays. The ones you will see today are some that I've done for Halloween and Thanksgiving. I'll be adding more Holidays as they come so check back!
Where Do I Purchase Items For My Tiered Tray?
There are MANY places to look for fun decorative pieces for your tiered tray. This will also depend what kind of theme you want to create for you tray. Below are my favorite places to shop for my displays.
Hobby Lobby is great for everything seasonal. All of the tiers I have made, I've found awesome seasonal pieces at Hobby Lobby. This is also where you will get any plant stems/floral pieces to arrange on your tray. Watch for their 50% off coupons. They also have sales going during the Holiday months.
Target has AMAZING pieces for your tray as well. Check the home section, seasonal section and most importantly the dollar section. I've found a number of pieces to use in the Target dollar/$3 section. Keep your eyes open for lots of fun things
T.J. Maxx/Home Goods/Marshalls/Ross all really great places to collect affordable pieces for your tiered tray. This is where I get all of my Rae Dunn mugs/ceramic pieces. Lots of great plants and greenery to be found at these stores.
Michaels also has really fun seasonal pieces, plant stems/florals. Watch for Michaels 40% off coupons as well.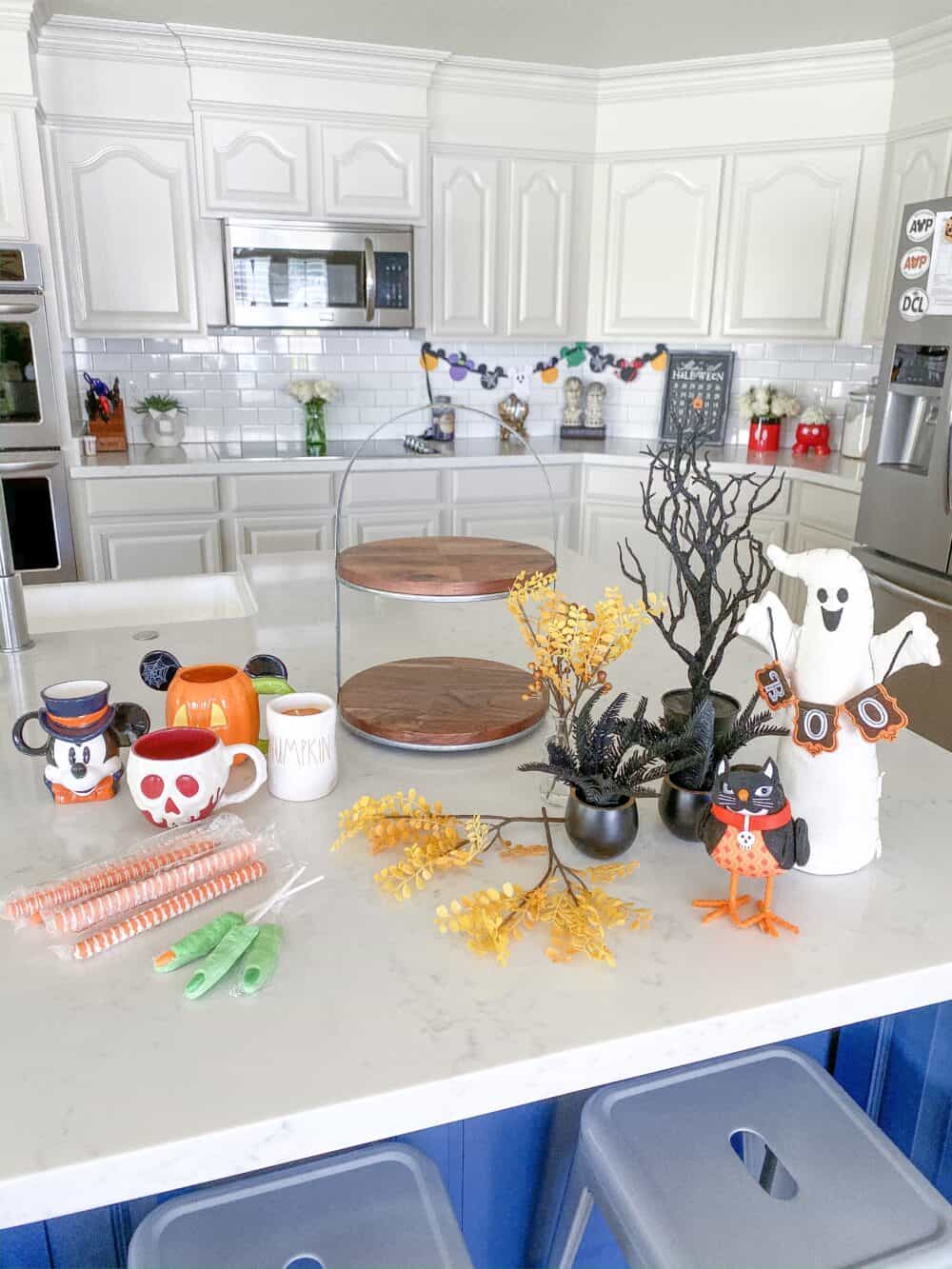 How To Assemble Your Tiered Tray Display
When you've purchased your tiered tray, chosen a theme and collected pieces for your display it's time to assemble! I've found that it's easiest to set out ALL of your pieces so you can see everything you are working with. You might not end up using everything you've collected, don't worry. You can either take back the pieces, create another tier or display them in other areas of your home. Trust me, I've been doing this for weeks, ha! You might even be short some things, no worries, this is a process that will take a little bit of work as you go!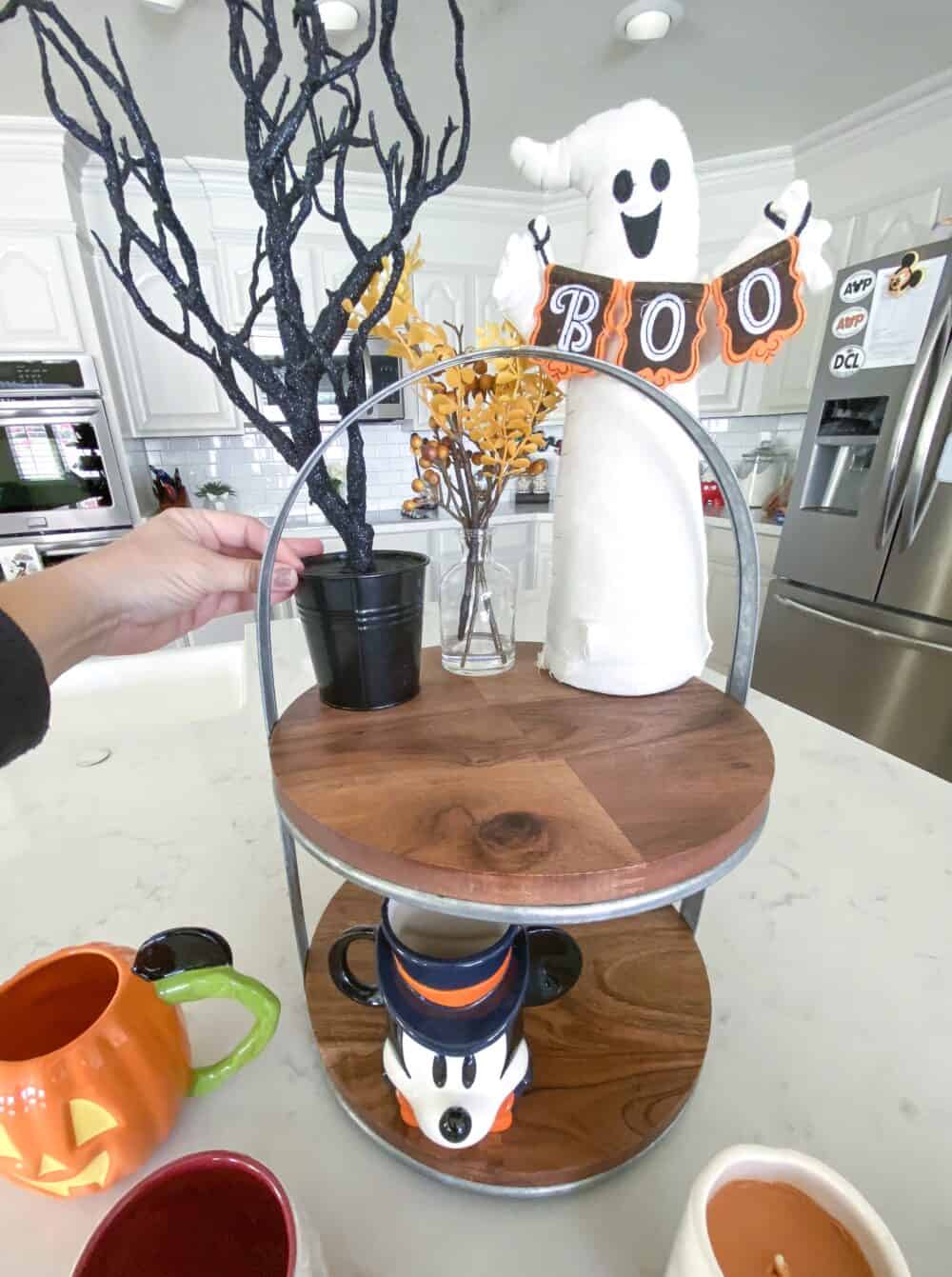 Start With Your Largest Pieces
When you are ready to get started, don't get overwhelmed. Start with your largest pieces that will go towards the back. You'll see I started with my two large pieces that I put towards the back of my tier first.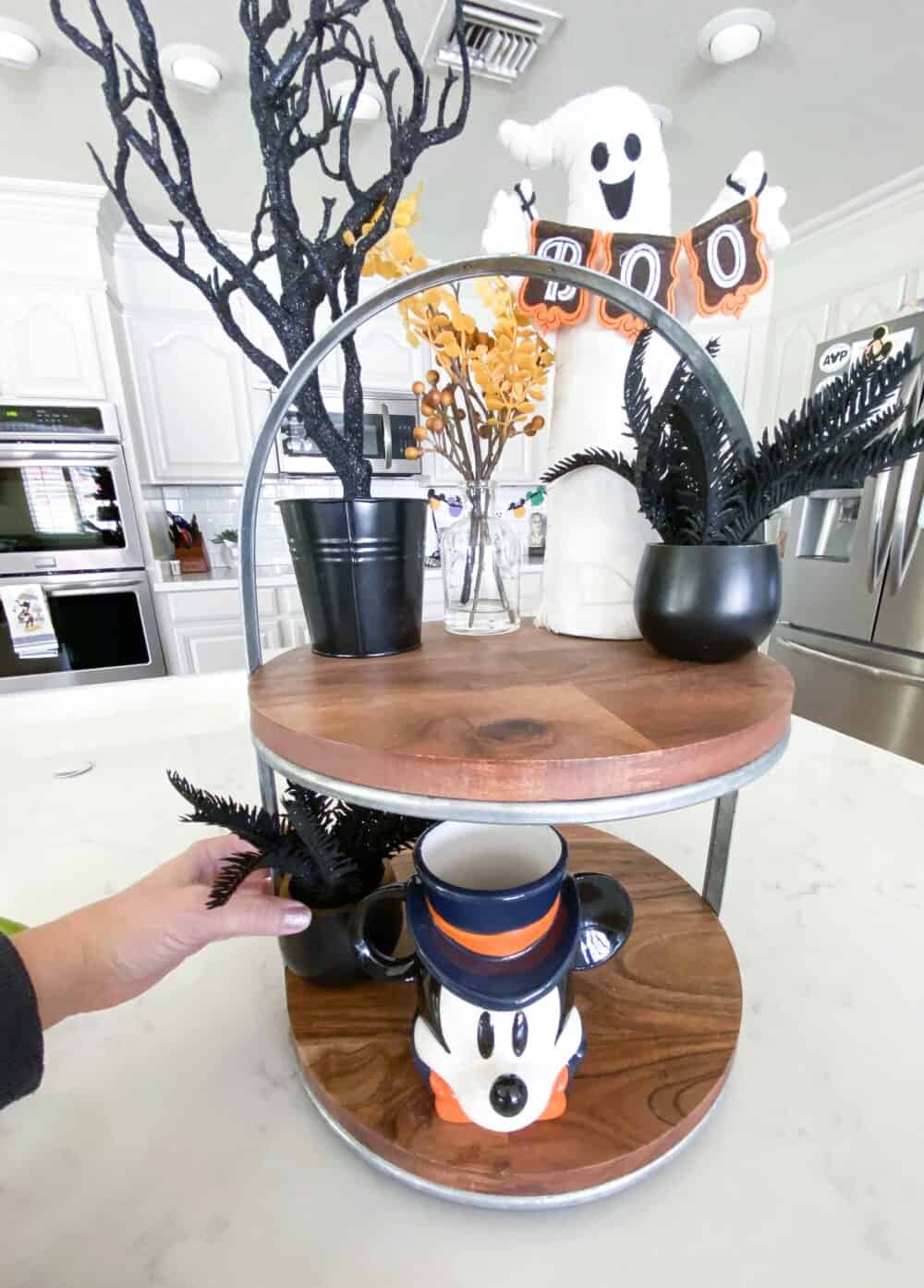 Next, start arranging your smaller pieces. Play around with them. Move pieces around until you get the look you like!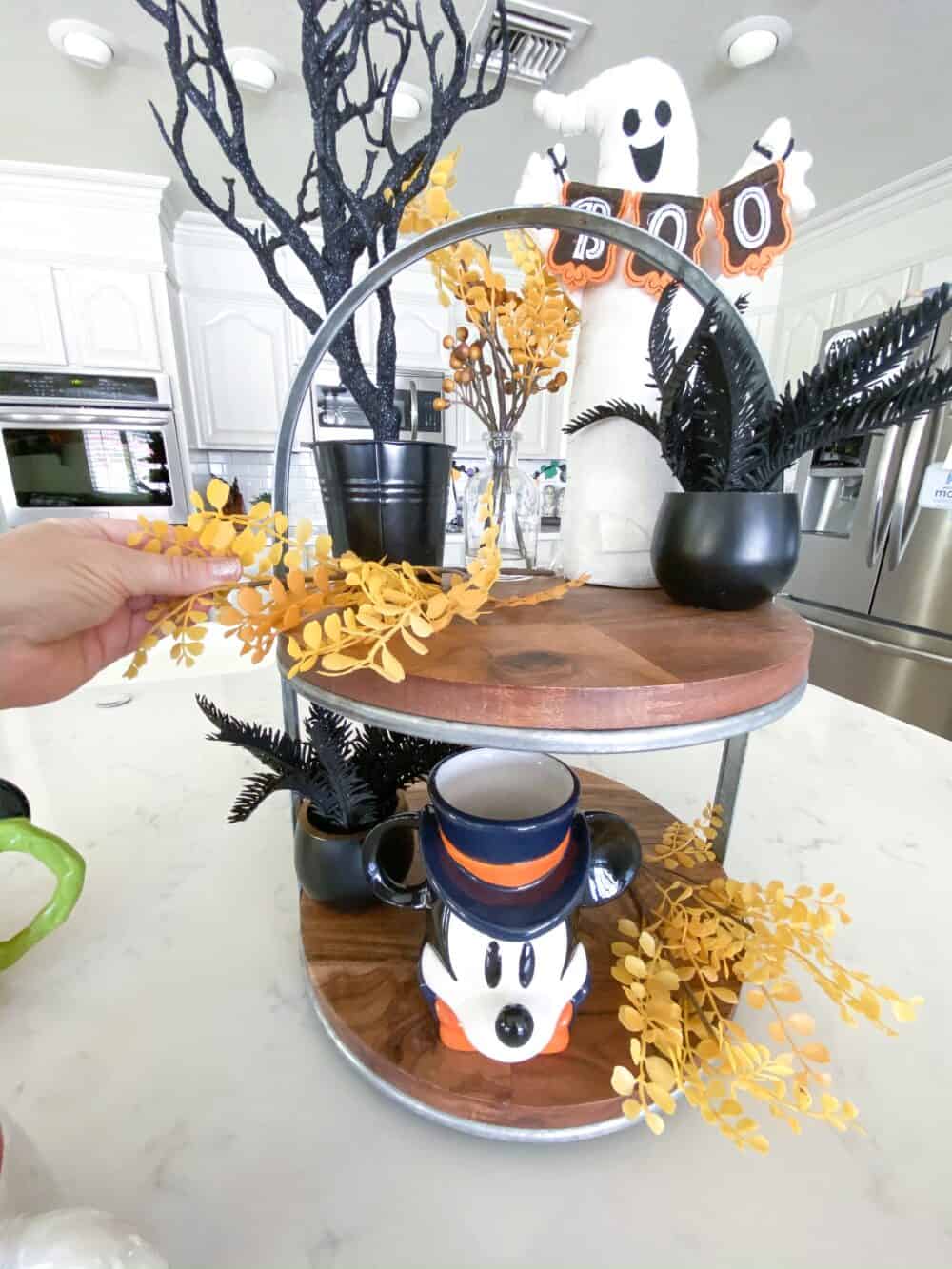 Add some plant stems to the outer edges if you'd like. This gives a nice completed look once finished.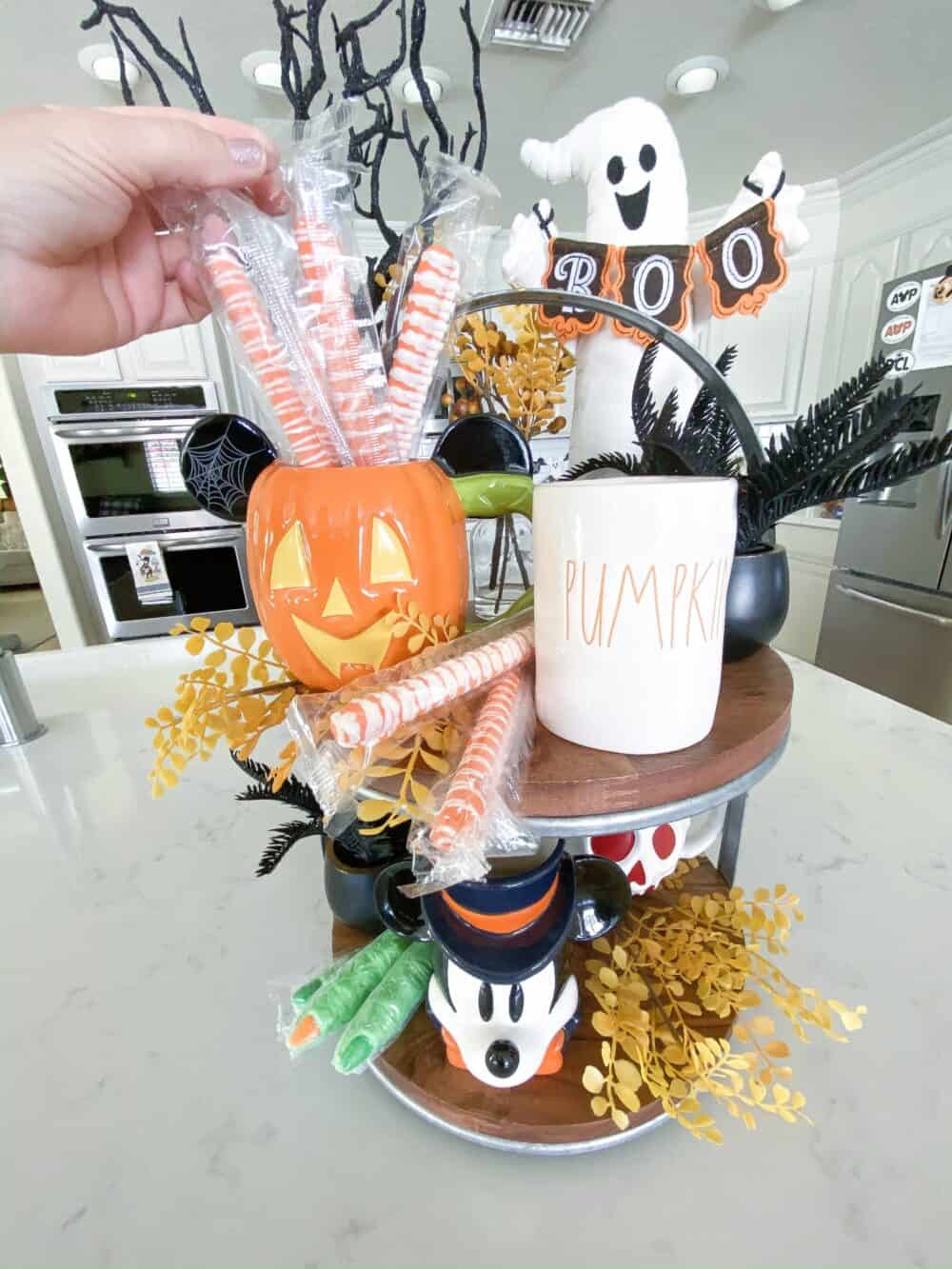 Fill in with candy and other favorite things! See how easy that was?!
Valentine's Day Tiered Tray (coming soon)
St. Patrick's Day Tiered Tray (coming soon)
Easter Tiered Tray (coming soon)
4th of July Tiered Tray (coming soon)
Halloween Tier Tray Display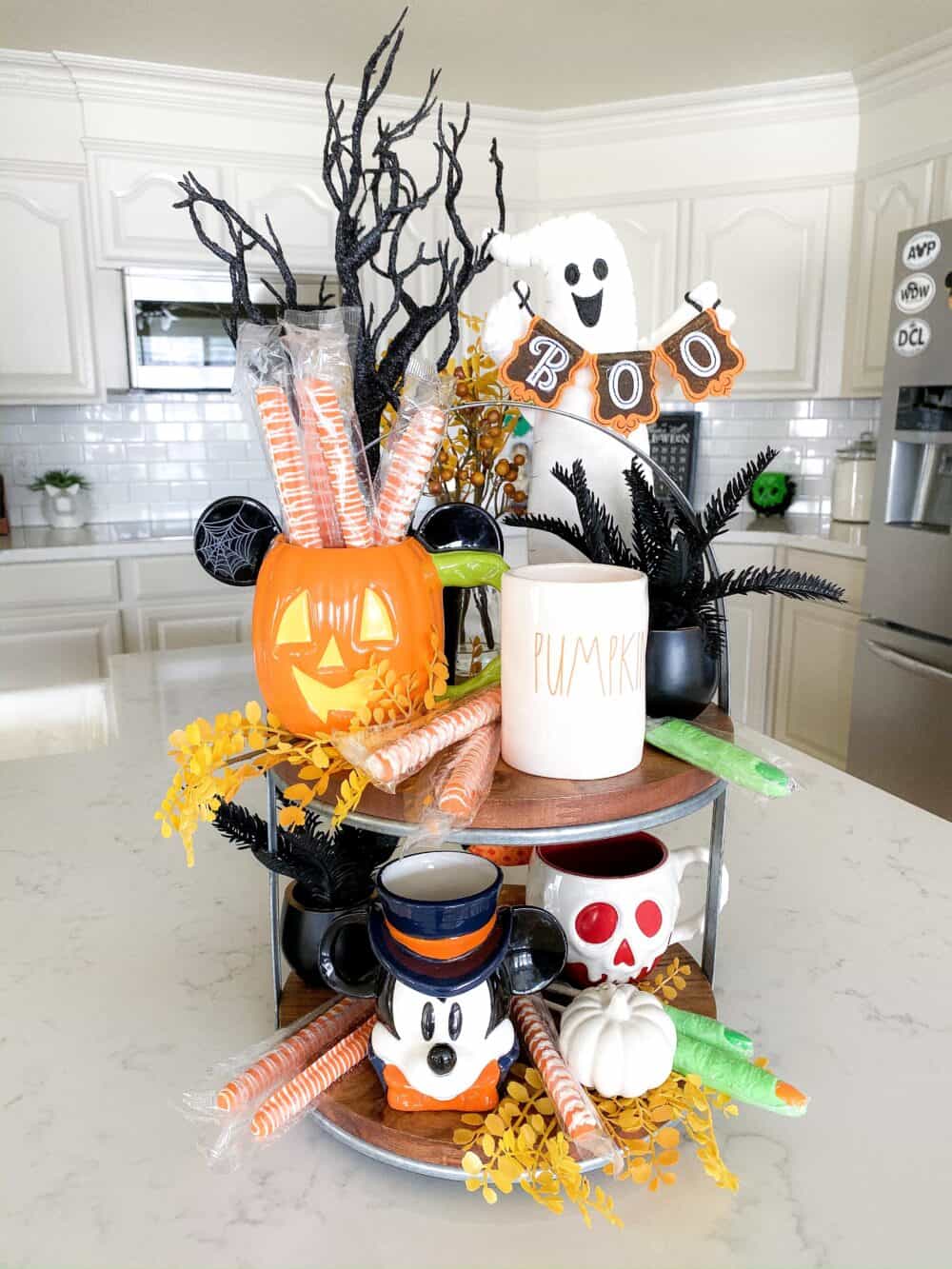 Here's a look at my finished Disney Style Halloween Tiered Tray.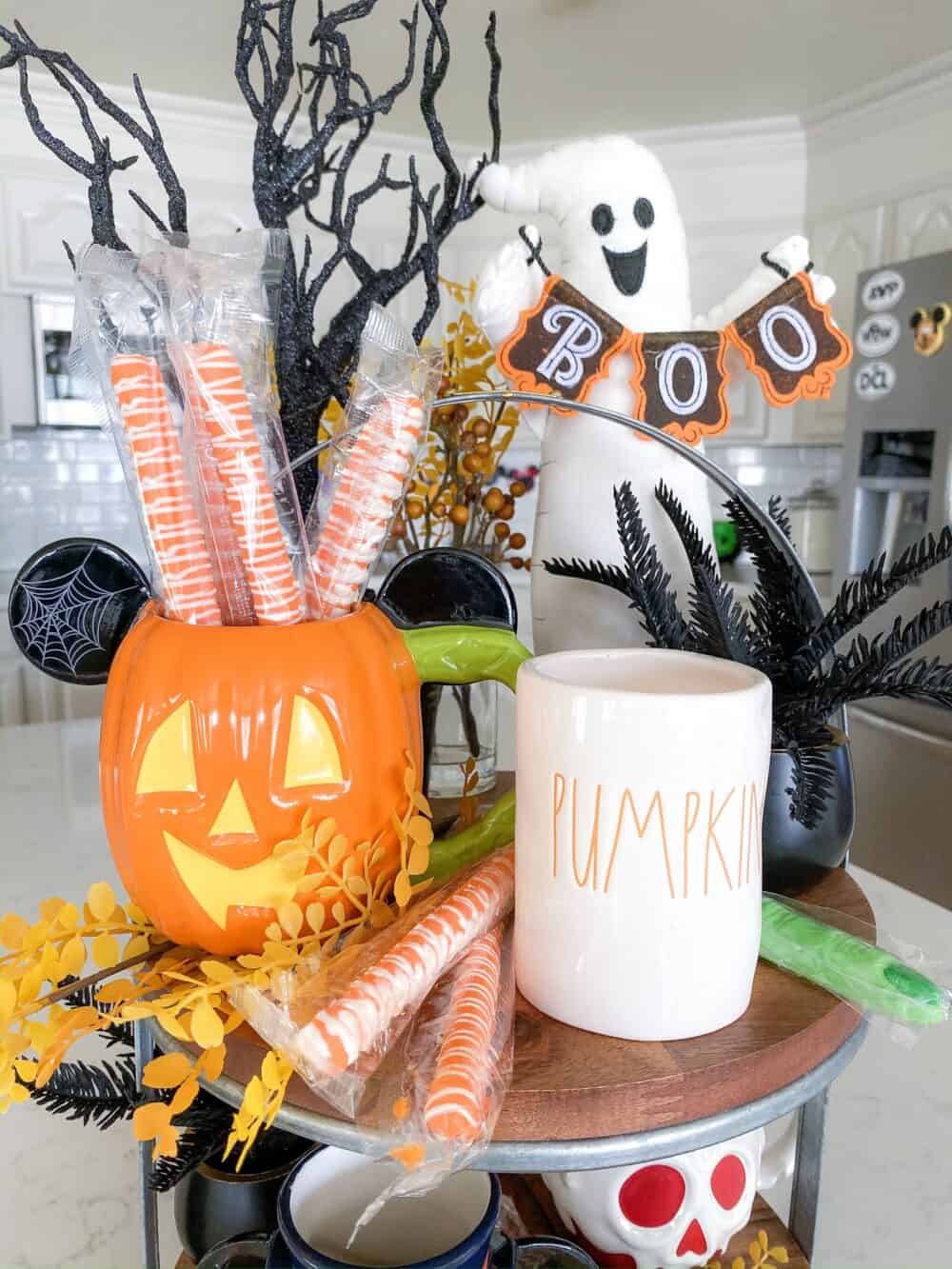 A close up of the top section. The Mickey Pumpkin is from the Disney Store. They also sell them at Disney Parks. Pumpkin candle up front is by Rae Dunn from T.J. Maxx.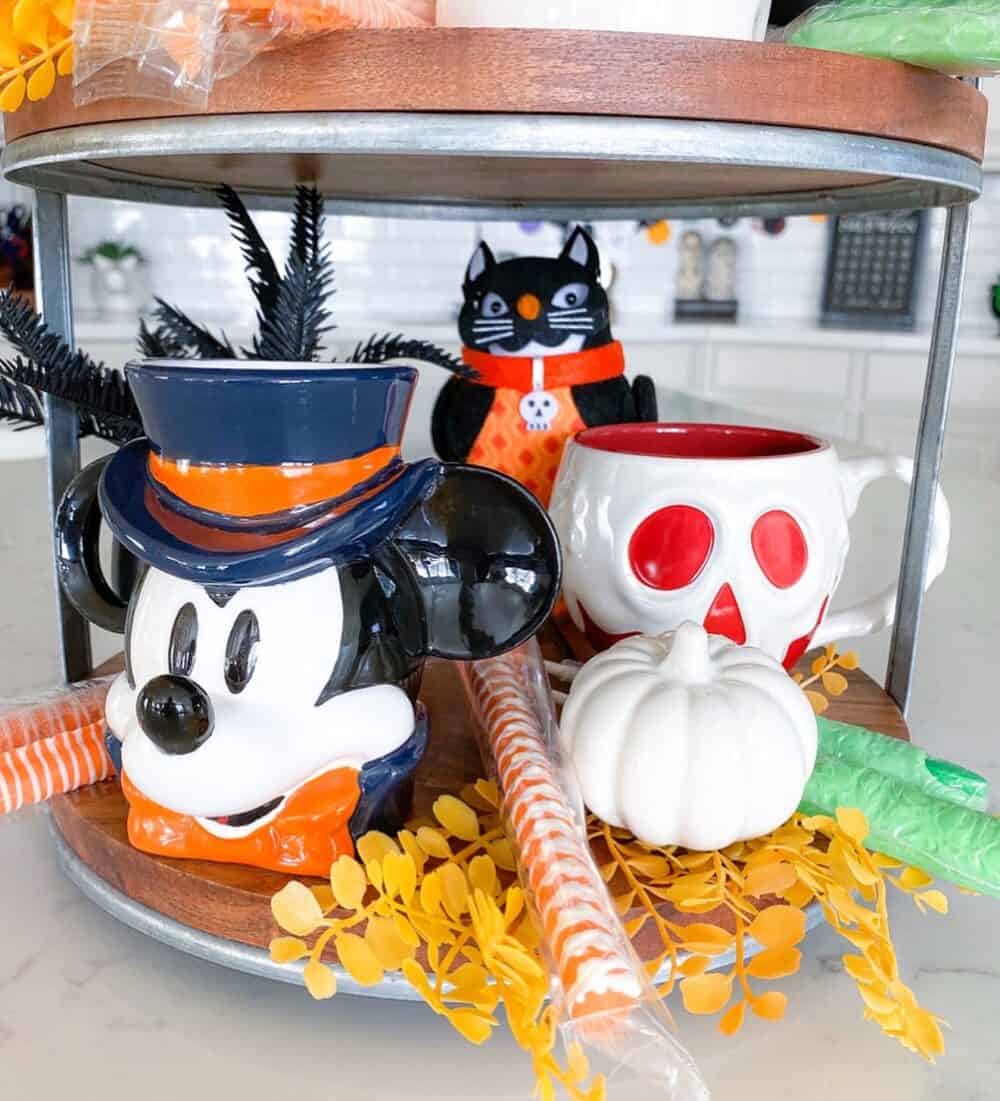 A closer look at the bottom section. The Mickey Mug is from Target, the Poison Apple mug is from the Disney Store and Disney Parks. The white pumpkin is from Target.
3 Tier Tray, Halloween Disney Style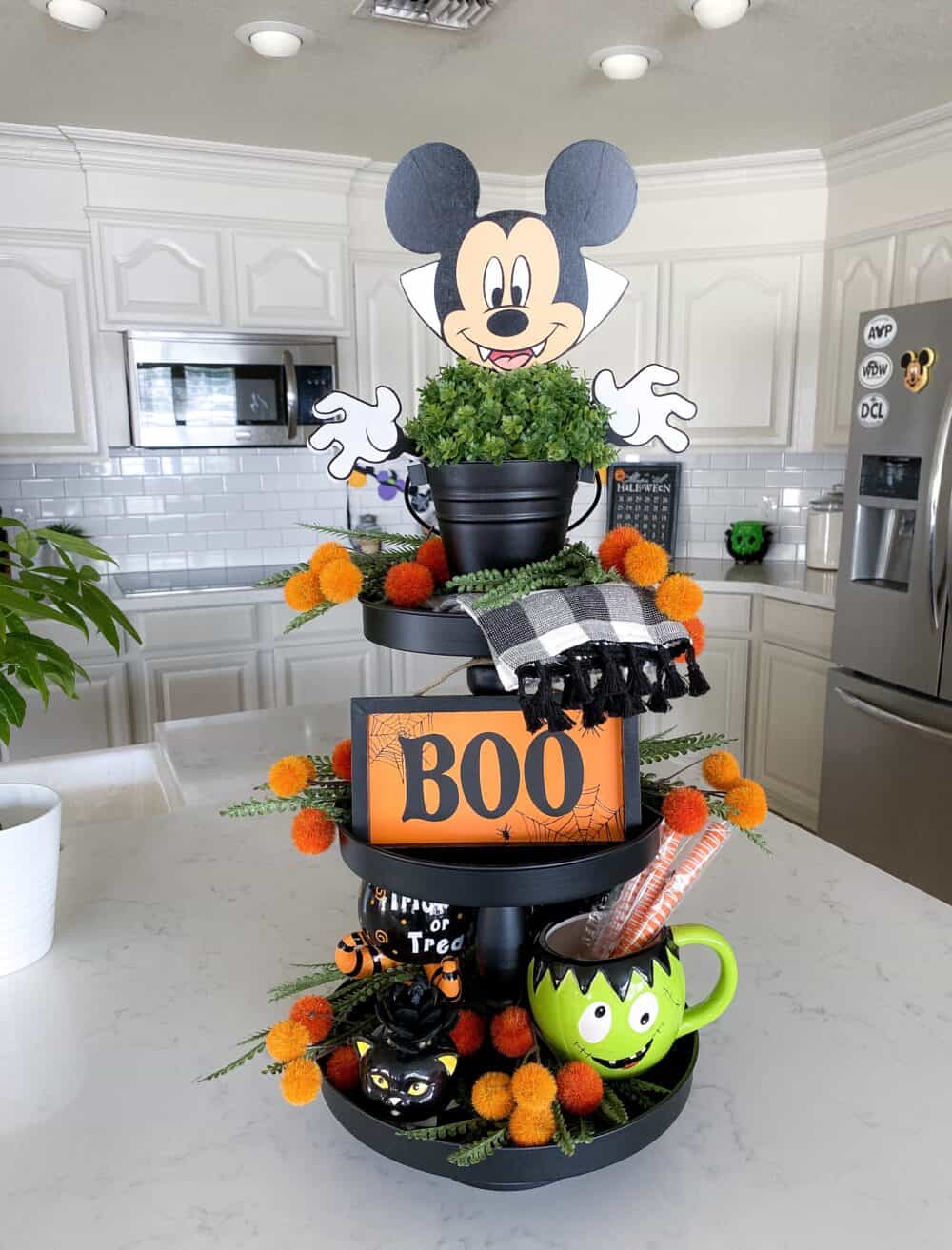 Here's another display I did with a 3 tier that I found from Hobby Lobby. I used my same method for designing it. Started with the largest pieces and filled in from there. Found all of the cute plant stems and little Fall flower balls from Hobby Lobby as well. The Vampire Mickey on top is from a Pumpkin Push set that typically gets pushed into pumpkins. I thought he worked great on my fake plant.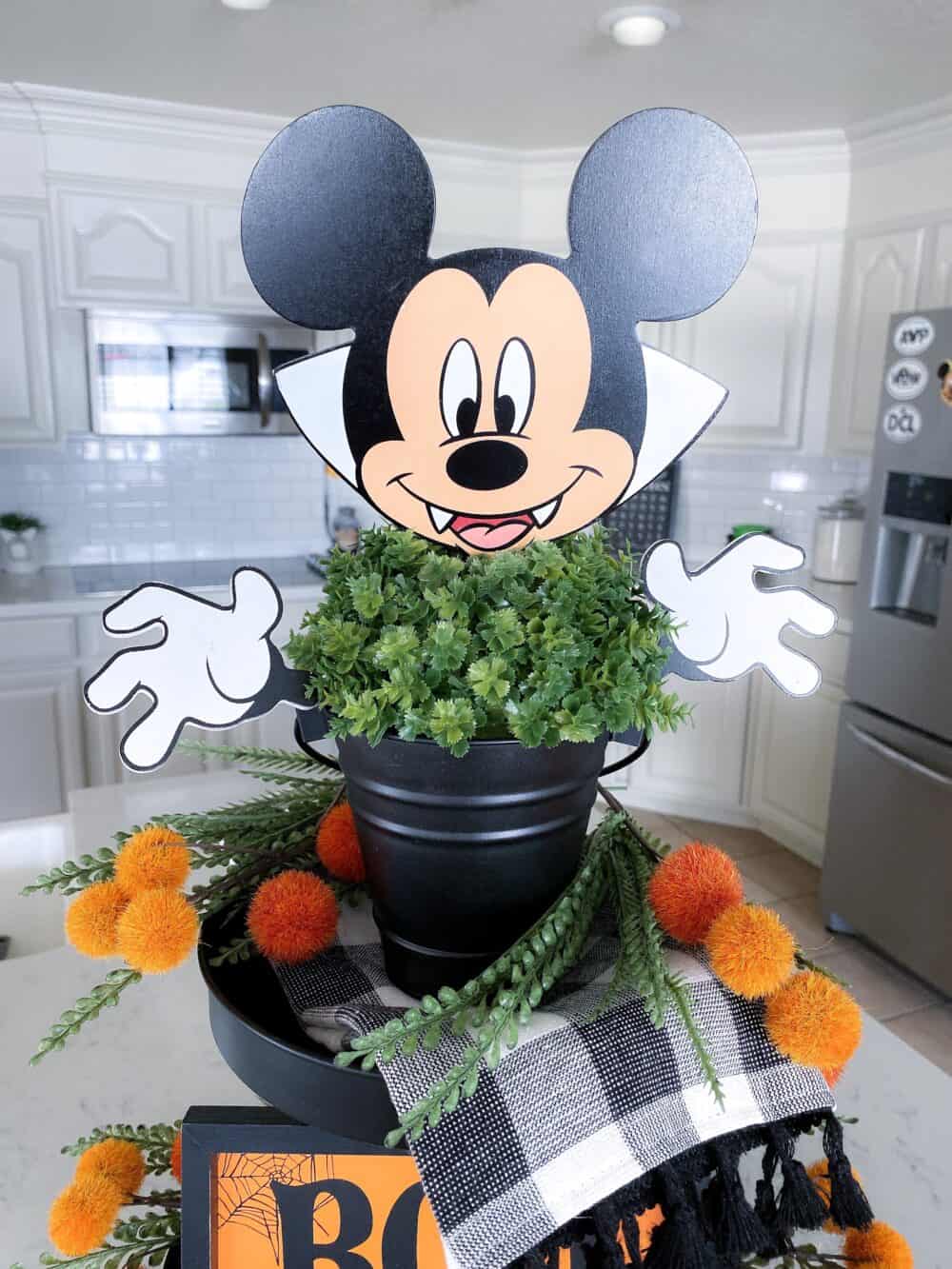 A closer look at the top section. Plant stems, vampire Mickey Pumpkin Push Pin Set and gingham napkin found at Hobby Lobby.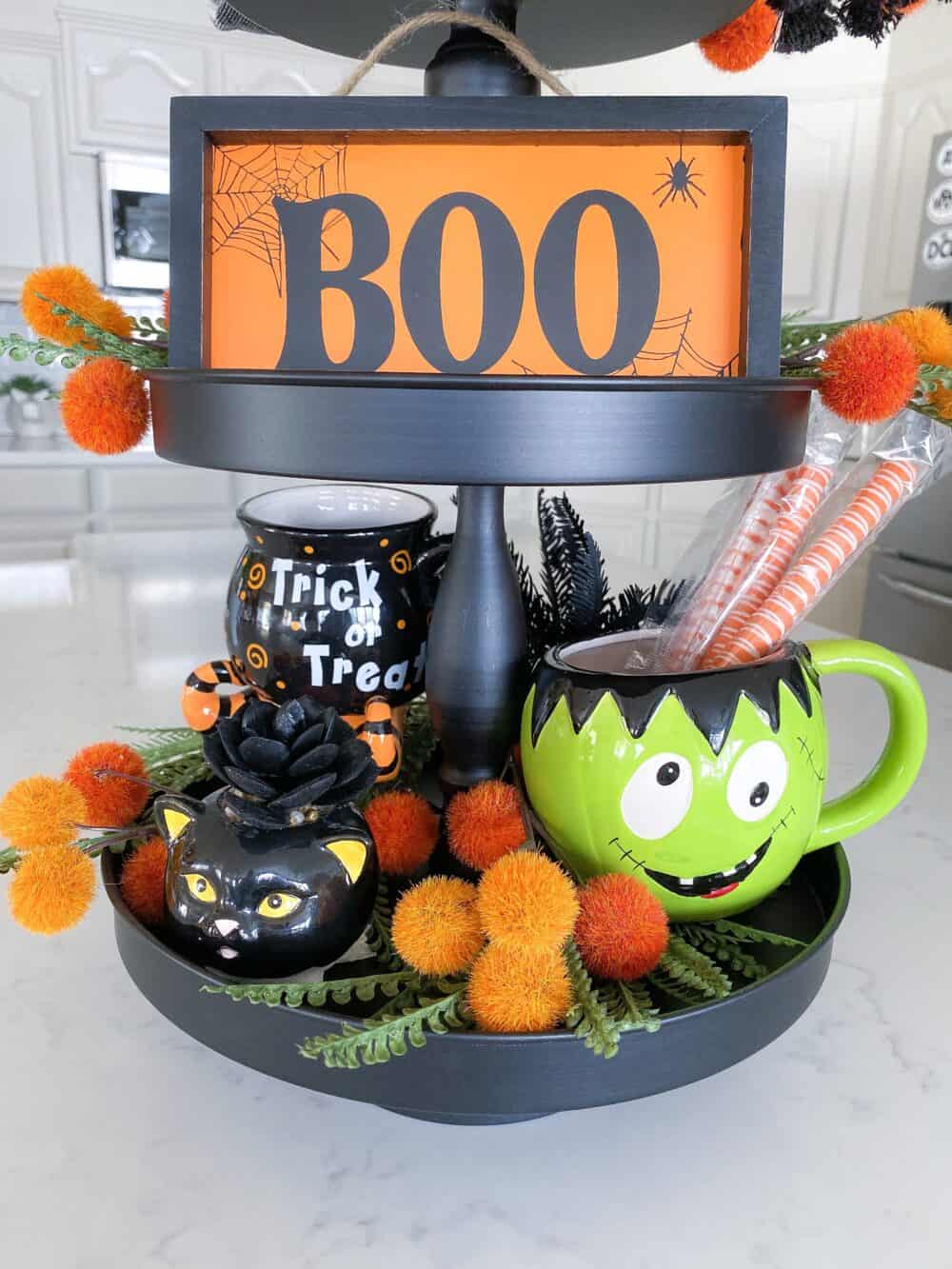 A closer look at my middle and bottom section. The mugs and little cat succulent were found at Walgreens in their Halloween Section. Orange pretzel rods found at Target in the Halloween Candy section.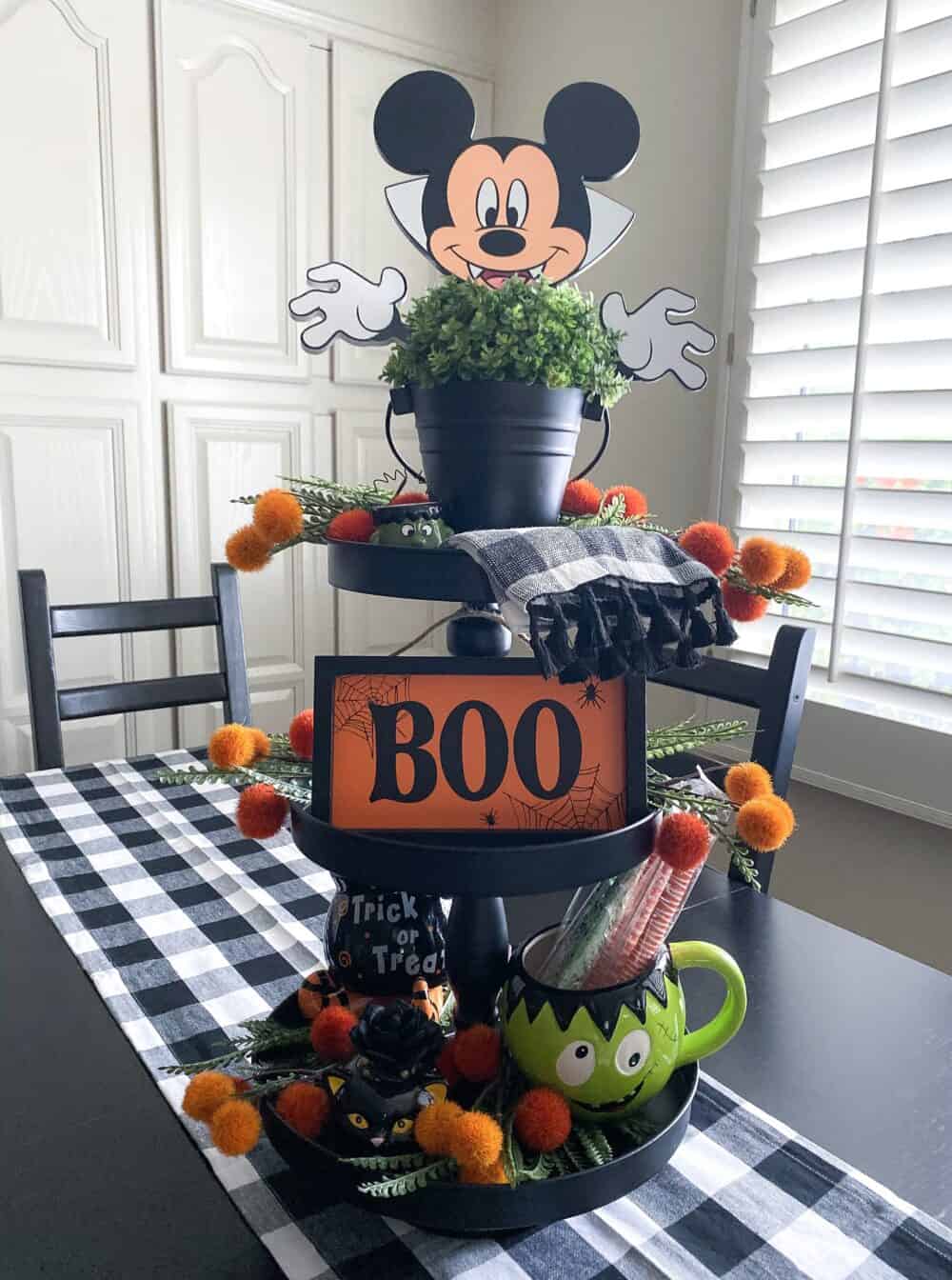 Where Do You Display Your Tiered Trays?
You can display your tiered trays anywhere you like, but I really enjoy them in my kitchen area since that's where I spend so much time. I have one on my table as shown in the photo above and I also have one on my kitchen island.
Pin To Your Favorite Board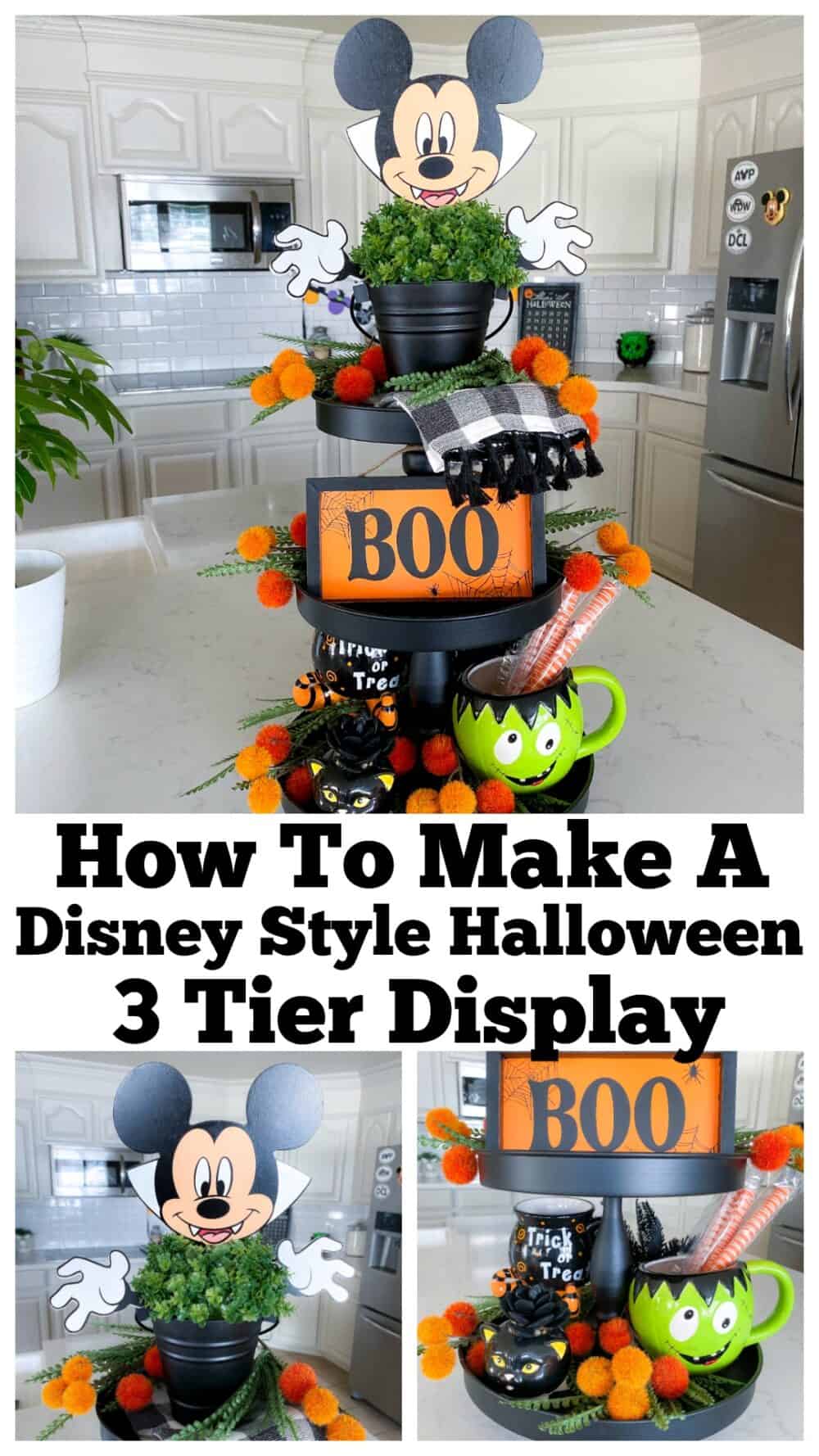 Thanksgiving Tiered Tray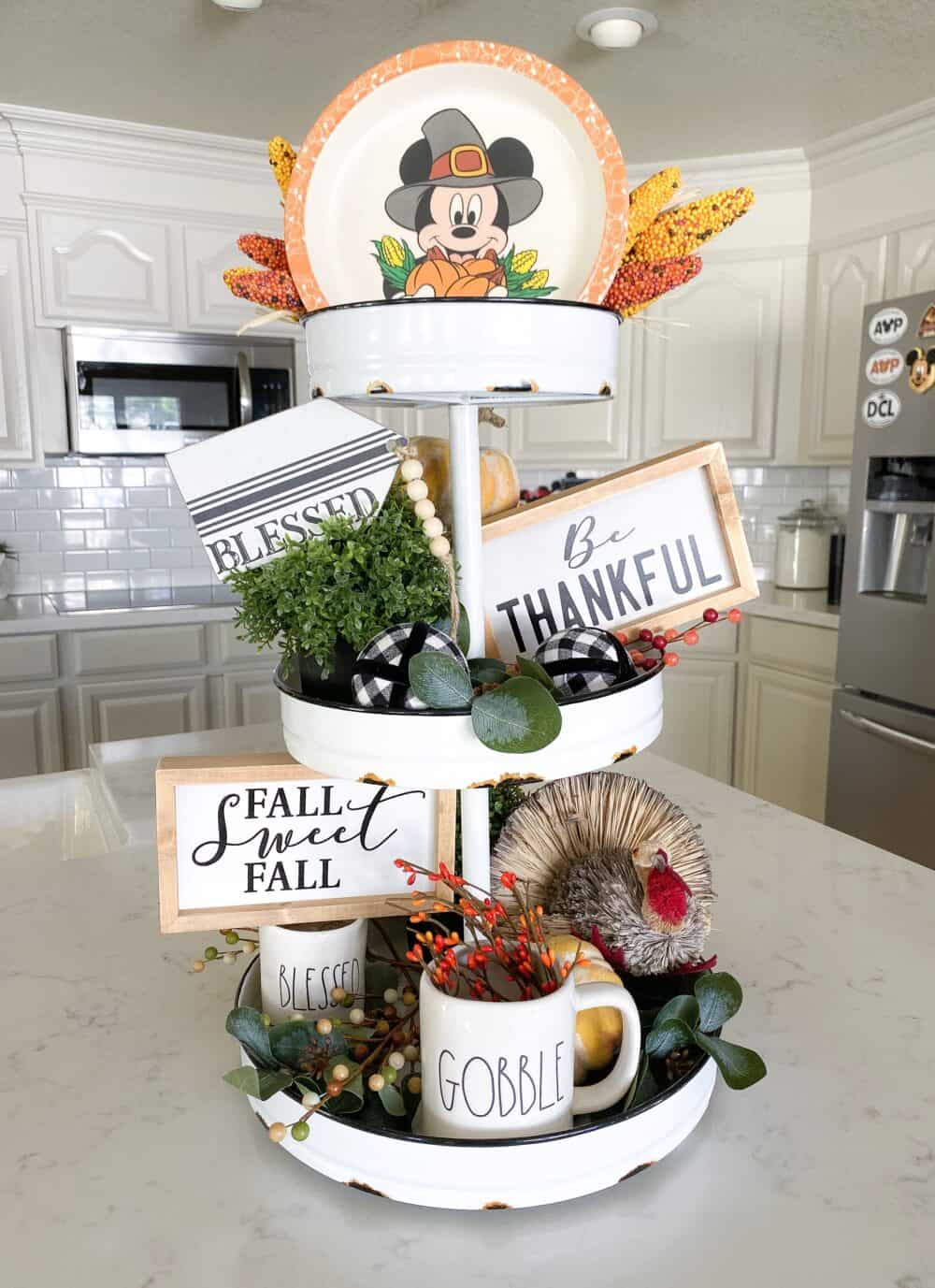 I am having so much fun collecting pieces for the Holidays. My latest tiered tray is this Thanksgiving display I created. I love how it turned out. It started when I found the Mickey Mouse Pilgrim Plate at T.J. Maxx….I knew I needed to make a Thanksgiving display!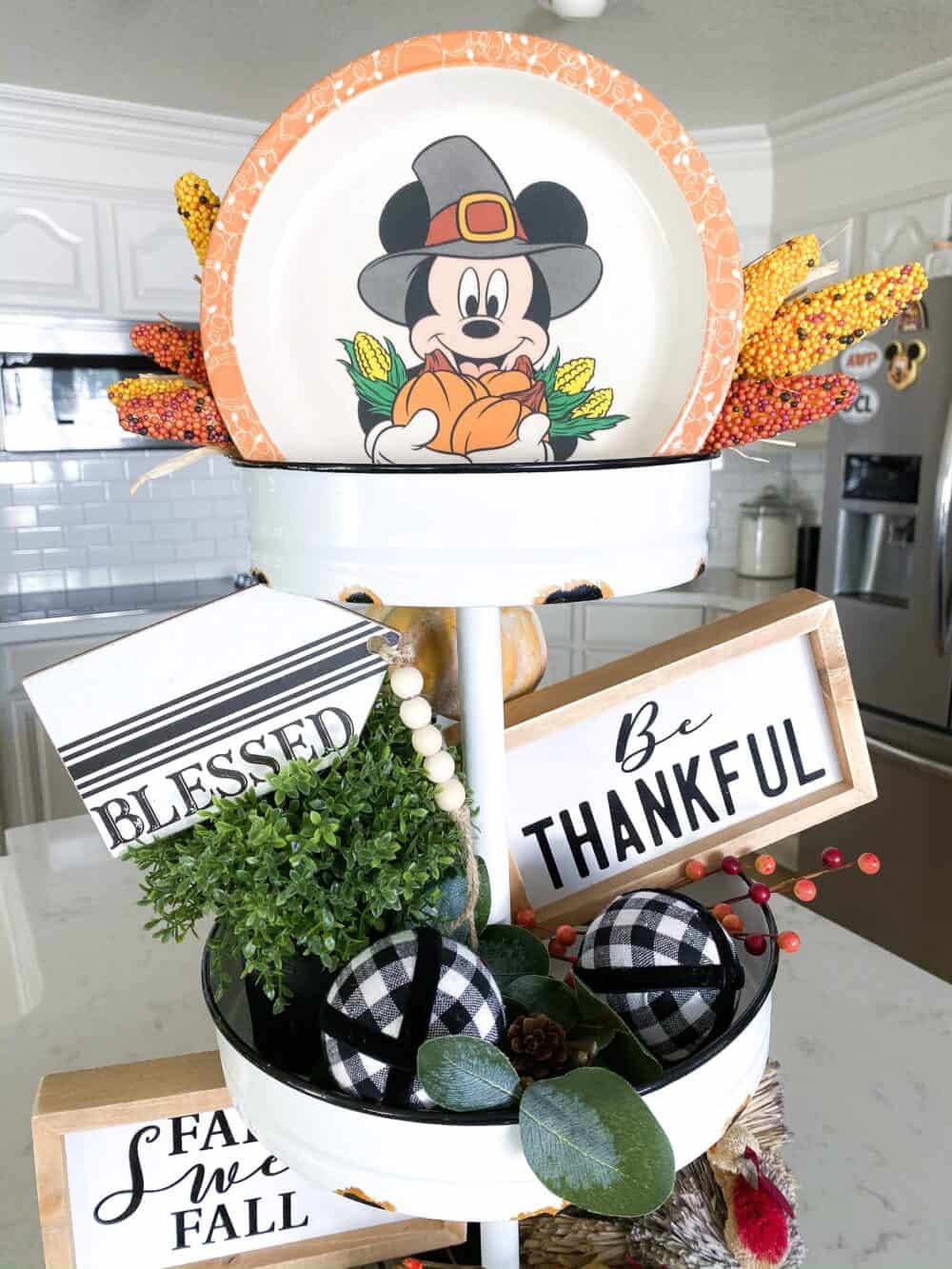 The white tiered tray is from Hobby Lobby. The middle section is from Hobby Lobby as well.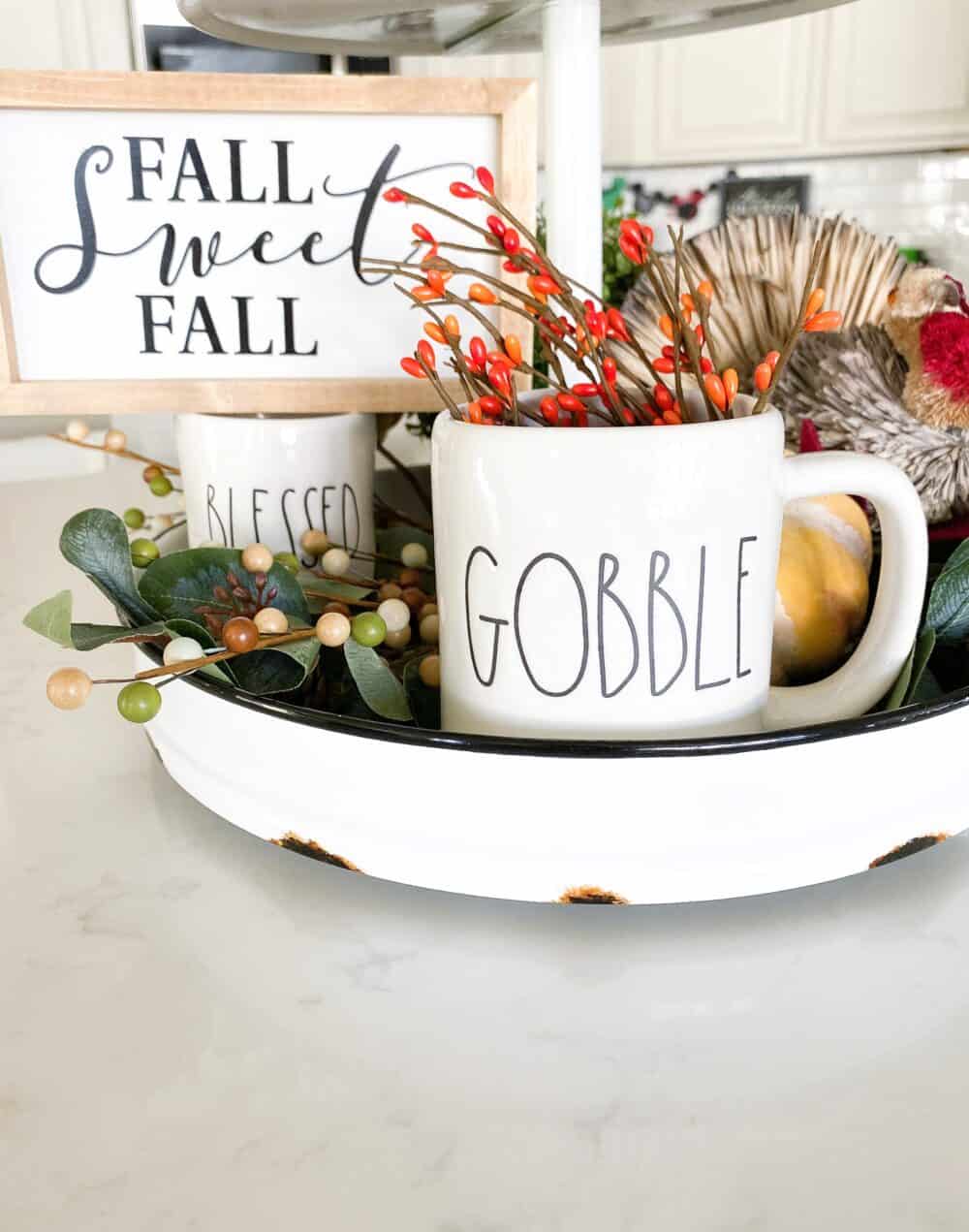 The mug, candle and little straw turkey in the bottom section of the tier are from T.J. Maxx and Marshalls. Look for the Rae Dunn Section for the ceramic mugs and candles. They're such great pieces to add to your tiered trays. All greenery stems and little signs are from Hobby Lobby.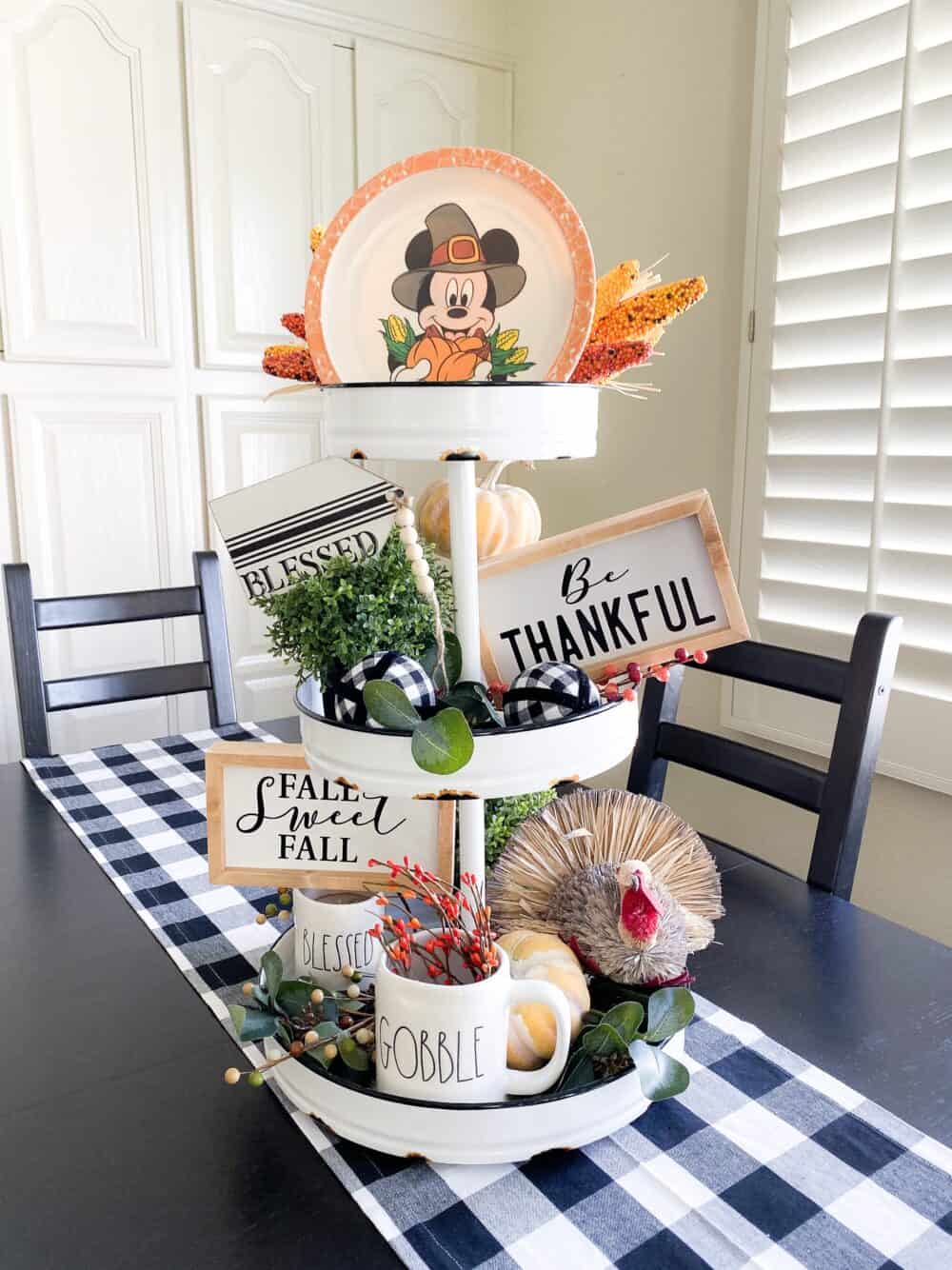 Pin To Your Favorite Board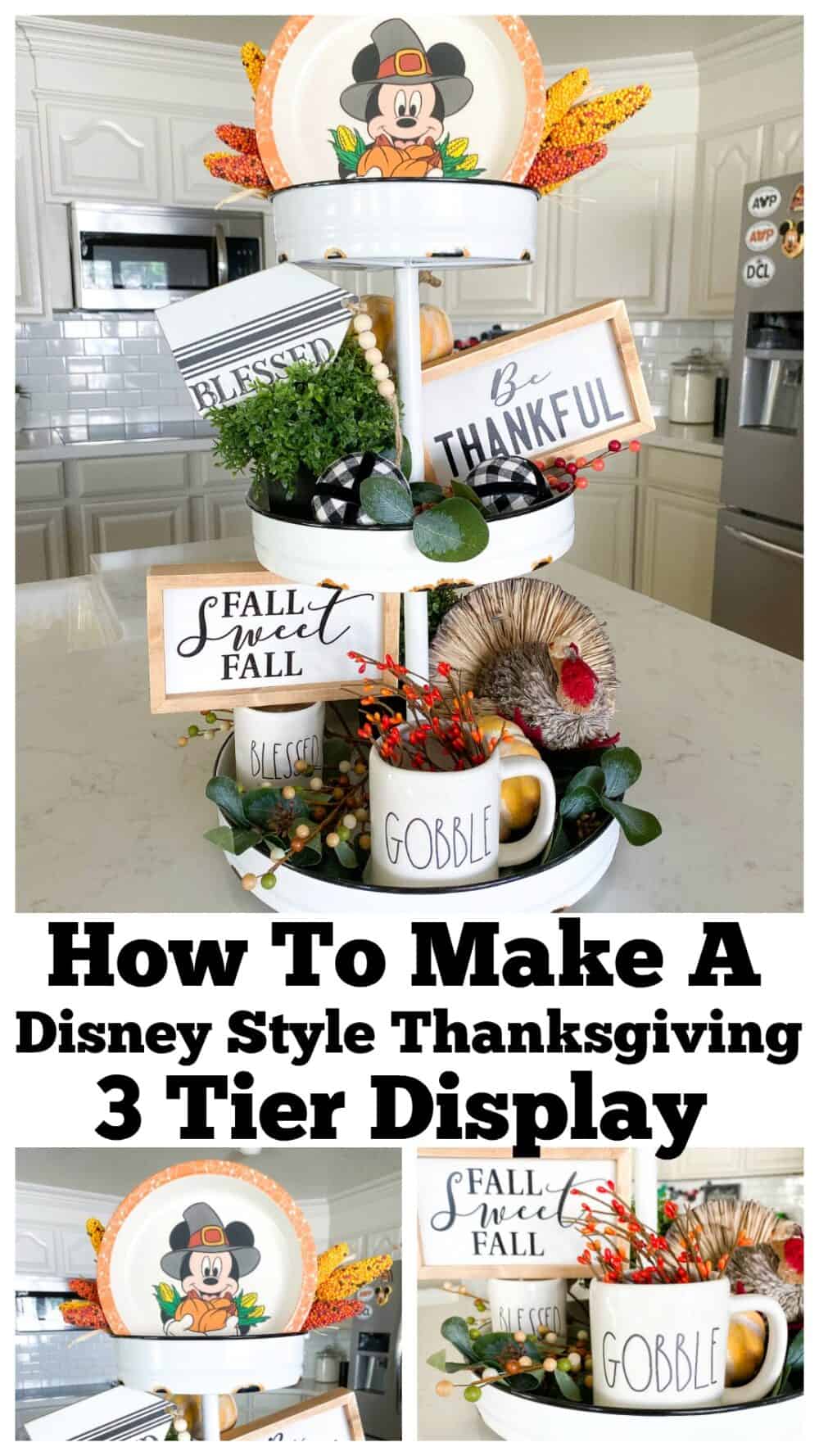 Christmas Tiered Tray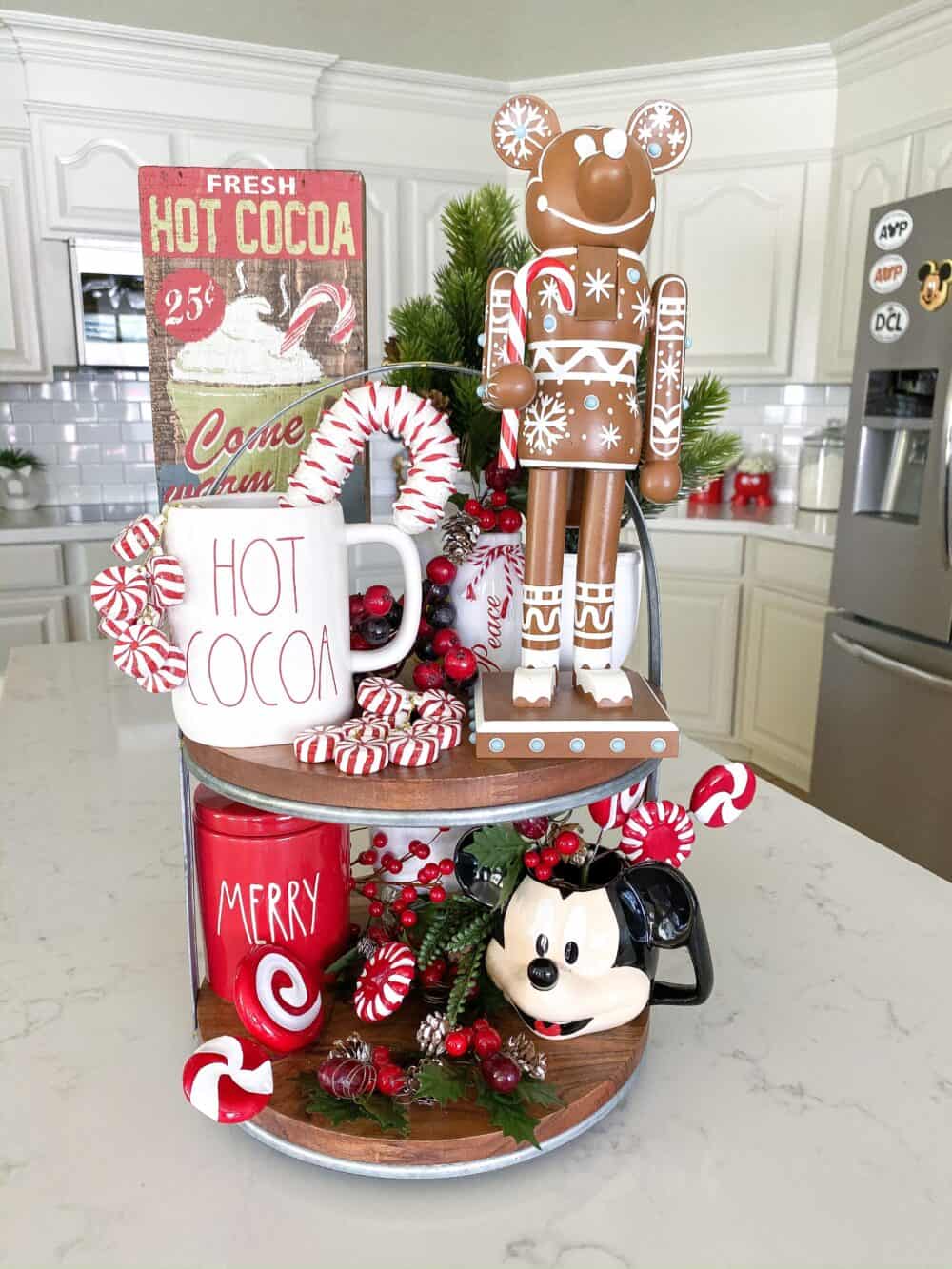 Christmas Tiered Trays are so much fun! There are so many different ways you can decorate! I took some of my favorite Disney Parks pieces and some other fun finds to make this festive display.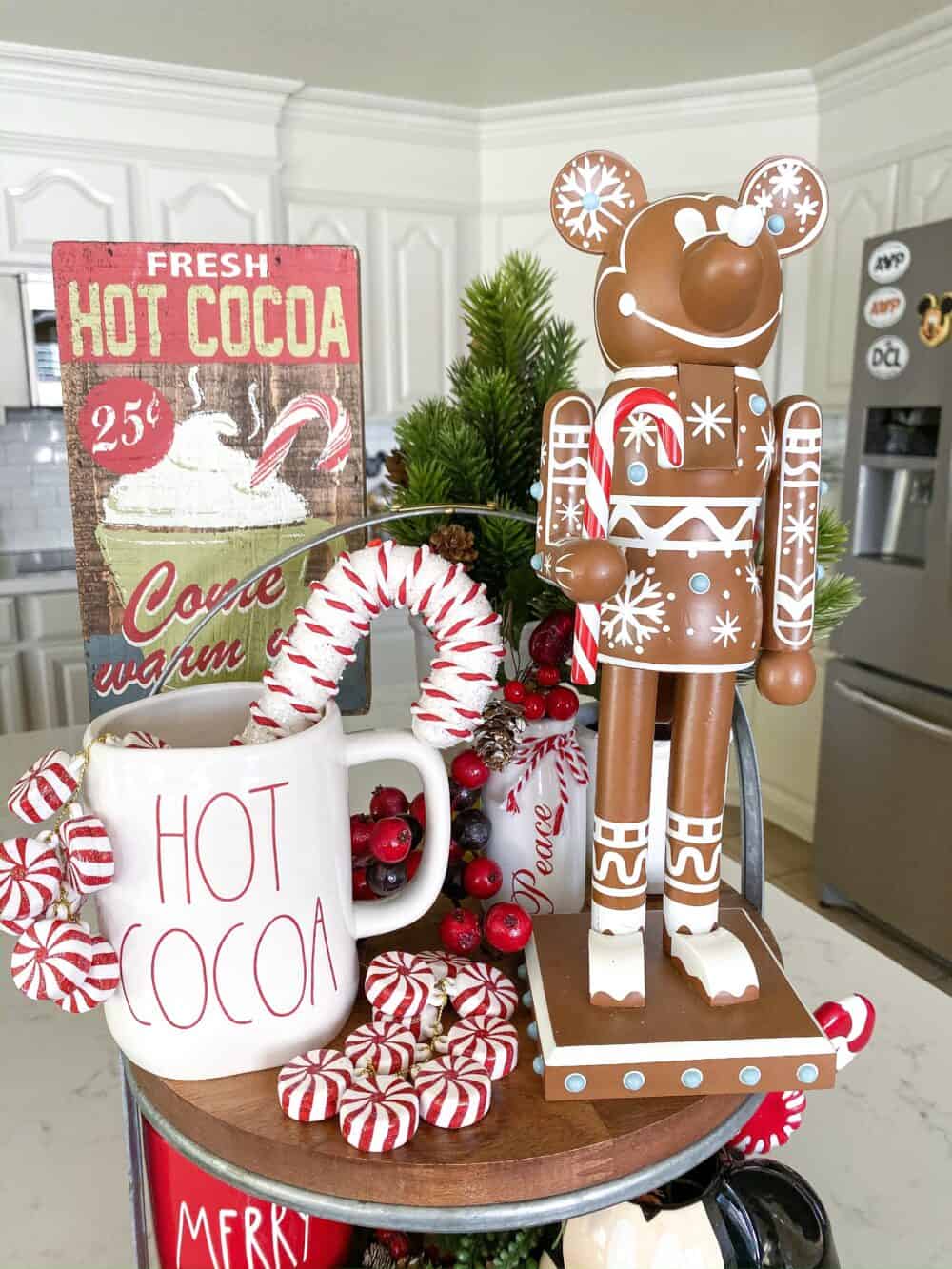 The Mickey Nutcracker is from Disneyland a couple years ago. I love him! Hot Cocoa Mug is by Rae Dunn, found at Marshalls/TJ Maxx. The other decorative pieces are found at Hobby Lobby.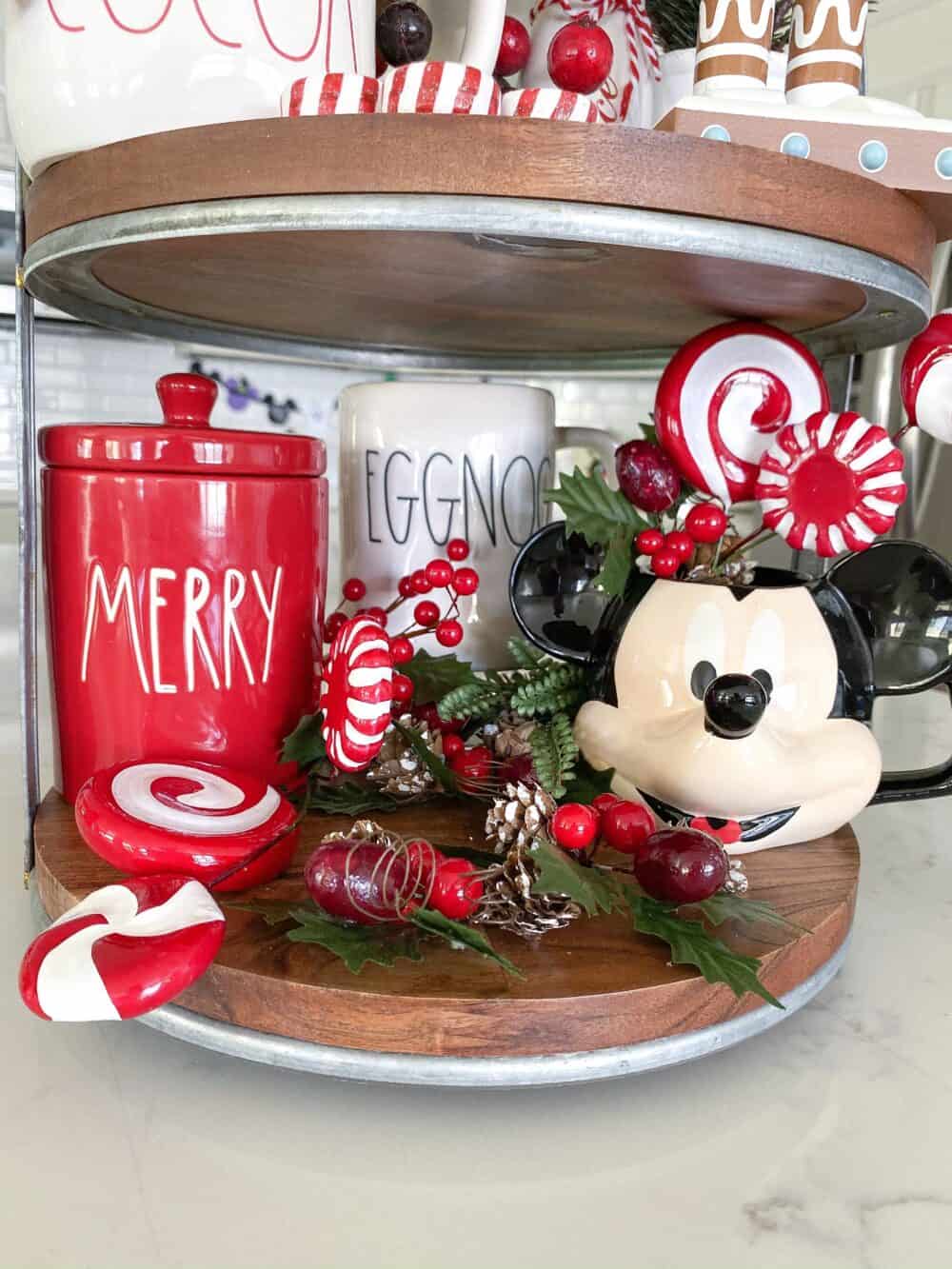 The Merry Jar and Eggnog Mug are by Rae Dunn, found at Marshalls/TJ Maxx. Mickey Mug found at Marshalls. Decorative pieces found from Hobby Lobby.
Pin To Your Favorite Board!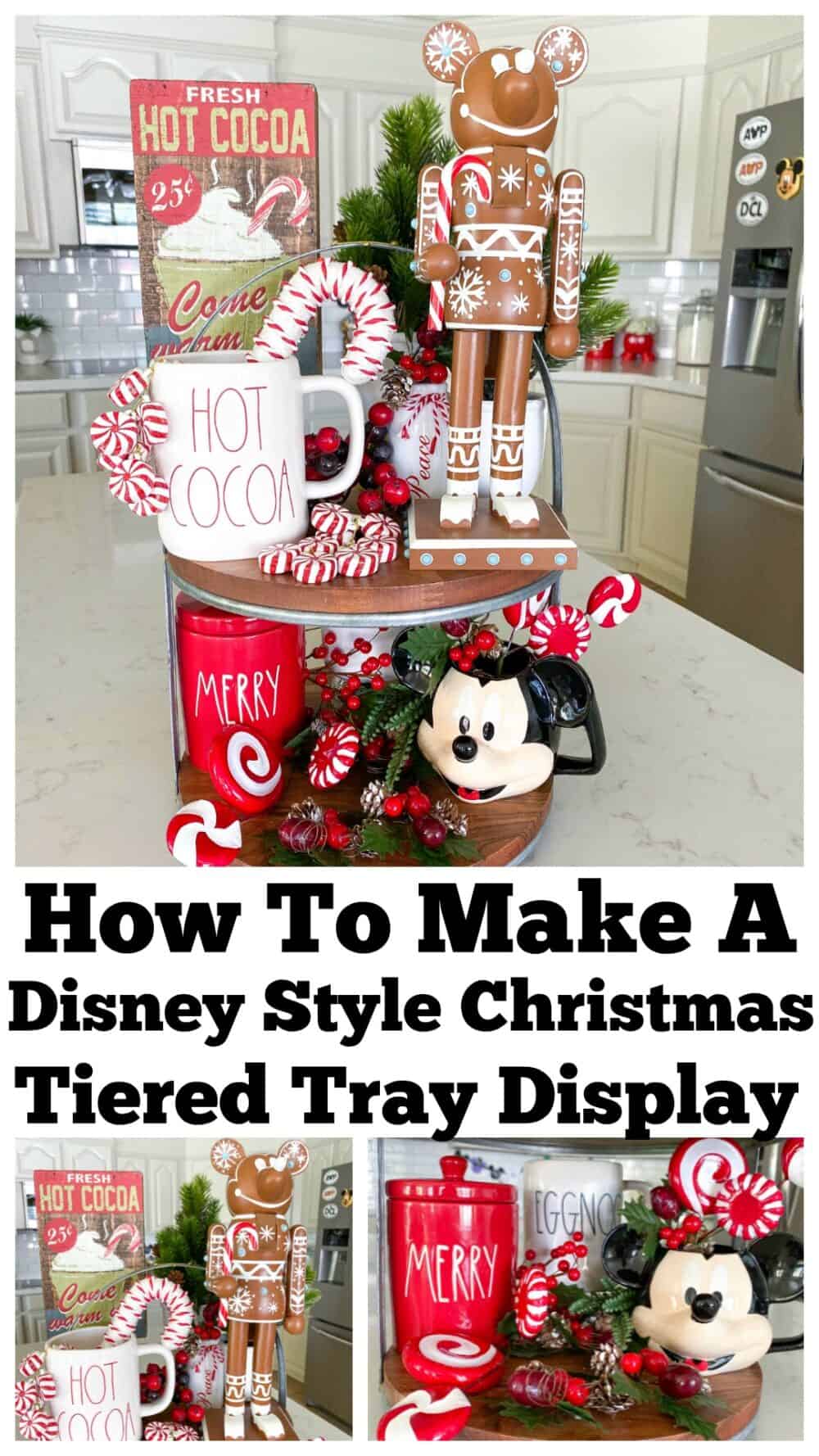 Pin To Your Favorite Board