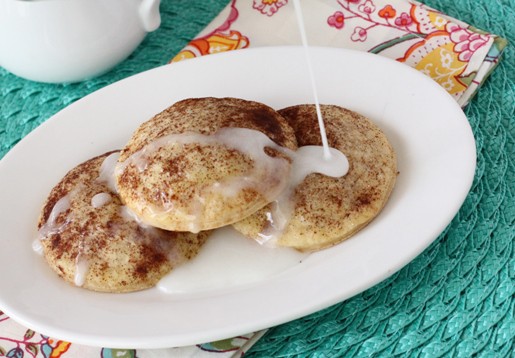 Hey everyone, hope your week is off to a good start! I've got a sweet treat to share with you today that is sure to put a smile on your face 🙂 These awesome little pie pockets taste just like cinnamon rolls, but pie like. Enjoy these little pies right out of the oven with lots of sweet drizzle…..mmmmm!
GoodBite.com and Philadelphia Cream Cheese asked me to be a part of The Real Women of Philly campaign by promoting a really fun opportunity. Paula Deen is looking for the next big cooking stars, and enthusiastic home cooks are encouraged to submit videos. Check out my ultra cheesy video (see below) featuring one of my favorite cream cheese recipes! $25,000 is at stake along with a chance to meet Paula Deen! So go ahead and send in your video. To submit a video go to PaulaDeen.com
Hope you enjoy!!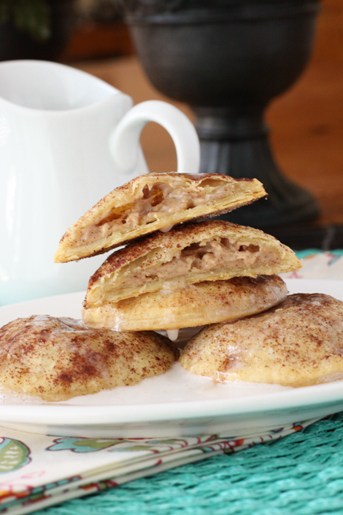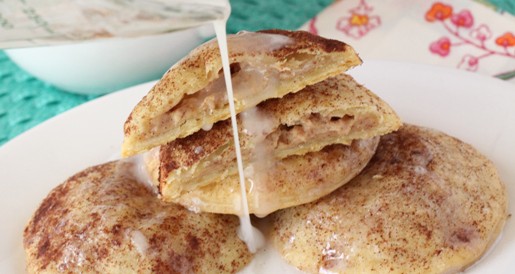 Inside Out Cinnamon Bun Pie Pockets
2 refrigerated 9 inch pie crusts
8 oz softened Philadelphia Cream Cheese
¼ Cup packed brown sugar
1 teaspoon ground cinnamon
2 Tablespoons granulated sugar
½ teaspoon ground cinnamon
2 Tablespoons melted butter
1 Cup powdered sugar
2-3 Tablespoons heavy cream
1. Preheat oven to 350 degrees F. Unroll both pie crusts and place onto a lightly floured countertop. Using a 3 inch round cutter, cut rounds out of crust until all crust is used. You should get approximately 12 rounds per pie crust, re-rolling scraps one time.
2. In a mixing bowl, mix the cream cheese, brown sugar and cinnamon until well combined. Place half (12) of the rounds onto a parchment or silpat lined baking sheet. Using a small-medium cookie scoop, scoop a heaping Tablespoon of cream cheese mixture onto the centers of the 12 crusts. Lightly brush water around outer edges of the filled dough then place remaining rounds on top of filled rounds. Gently press edges to seal. Place sugar and cinnamon into a small bowl and mix to combine. Brush tops of pies with melted butter then sprinkle with cinnamon/sugar mixture. Bake for 25-30 minutes or until tops of pies are golden brown. Once pies are cooled, whisk powdered sugar and cream until mixed well and a desired drizzling consistency. Drizzle over tops of pies.
12 pie pockets
______________________________
Happy Baking, come back soon!!