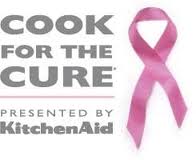 I love hearing about great things happening among foodies. KitchenAid is promoting Cook for the Cure that runs through July 29th for a wonderful cause. Check it out!
Cook for the Cure is a program for people who love to cook and entertain a way to help raise money for the ongoing fight against breast cancer. There's several ways you can participate. You can host a small fundraising party for 1,000 Cooks for the Cure between now and July 29 for your friends and family in your home or office. Rather than bring a gift, food or wine, your guests could instead bring a small donation for Susan G. Komen for the Cure to help in the fight against breast cancer. You can download an Invitation Template (PDF) here, Donation forms for your guests (PDF) here, a Party guide (PDF) here, and Recipes (PDF) here.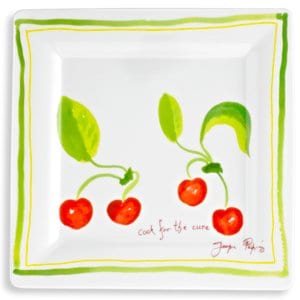 Any party host that raises $50 or more will receive a free plate designed by Jacques Pepin in the mail, and anyone who hosts a party and registers it on our website (register your party here) will automatically be entered to receive the ultimate "thank you" from Jacques Pepin himself!
You can also participate in Pass the Plate. This is the part of the program that's as simple as simple as making a meal and giving it to a friend or family member. Each time the plate is passed and registered, KitchenAid will make a $5 donation to Susan G. Komen for the Cure®.
KitchenAid also has a whole line of pink products to choose from. You can even donate directly to Susan G. Komen here.
Need some recipe inspiration?
Check out KitchenAid's recipes for all occasions HERE.
Send a tweet would ya? Join @KitchenAidUSA in the fight against breast cancer, host a fundraising party from 7/20-7/29. Info: https://ow.ly/bOGkv #cookforthecure
Host a party this weekend to join in on the fun!!