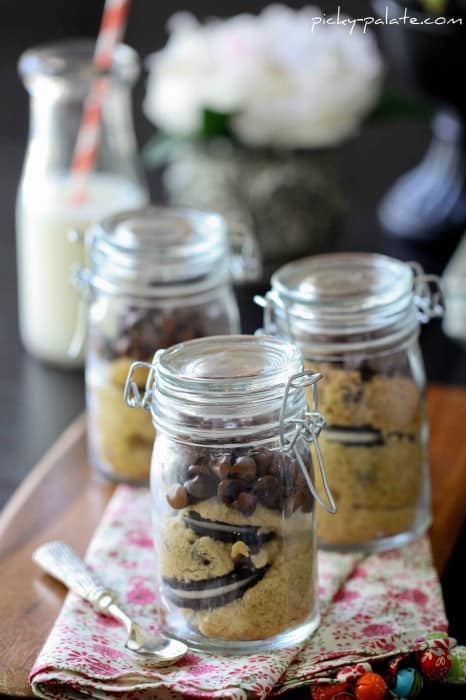 I was so excited to bring one of these little Oreo Stuffed Cookie Jars to Amanda last week during out trip to Atlanta for the BlogHer Food Conference. I wrapped it nicely in my suitcase and when I opened my suitcase my little jar was broken!! I was devastated, but luckily we had plenty of treats over the weekend that made up for it 🙂
It's basically the same recipe as my Oreo Stuffed Chocolate Chip Cookies just layered nicely in little jars.
[ziplist]
Oreo Stuffed Chocolate Chip Cookie Jars
2 sticks softened butter
3/4 Cup packed light brown sugar
1 Cup granulated sugar
2 large eggs
1 Tablespoon pure vanilla
3 1/2 Cups all purpose flour
1 teaspoon salt
1 teaspoon baking soda
10 oz bag chocolate chips
1 bag Oreo Cookies, I used the double stuff 🙂
1. Preheat oven to 350 degrees F. In a stand or electric mixer cream butter and sugars until well combined. Add in eggs and vanilla until well combined.
2. In a separate bowl mix the flour, salt and baking soda. Slowly add to wet ingredients along with chocolate chips until just combined. Using a cookie scoop a large scoop of dough into the bottom of each mason jar. Layer with Oreo cookies, then cookie dough, repeating until you've reached the top of the jar, leaving 1 inch free. Bake cookies 15 to 17 minutes or until cookies are baked to your liking. Let cool for 5 minutes before transferring to cooling rack. Serve with a tall glass of milk, enjoy!
_________________________________
Here are some photos from my trip to Atlanta 🙂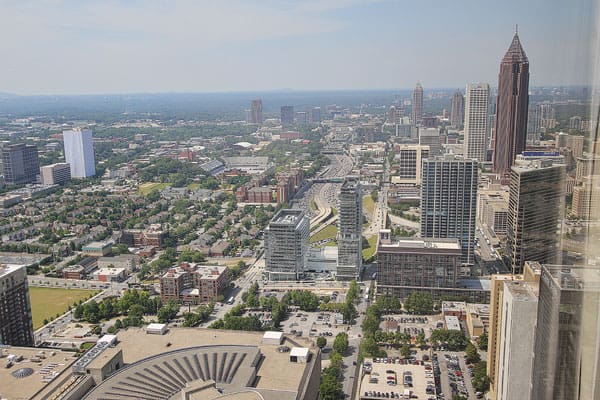 photo via Amanda
Atlanta was great. Here is the view from our room. It was quite stunning. There is nothing better than a conference full of food bloggers. We did not waste any time, shortly after we arrived it was time to get ready for our first party. The ever so talented Susan from She's Becoming Doughmesstic hosted a lovely party at the Hard Rock Cafe. She is superwoman if you ask me, really was a perfect night to chit chat with friends, eat some good food and talk with brands. I regret not taking many photos this trip, so I've borrowed my friends 🙂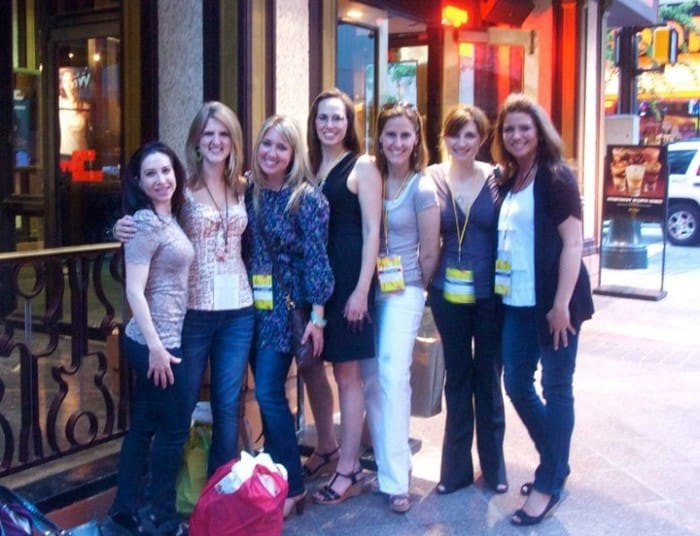 photo via Sandy
Here we are just leaving the party with some great women 🙂
Left: Marla, Amanda, Jennifer, Kelsey, Carrie and Sandy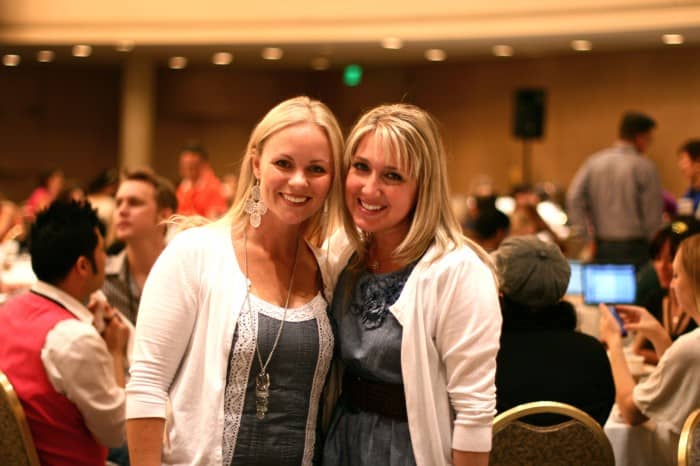 Photo via Leslie
Friday morning was the first session of the conference. Here is where I found the beautiful Leslie of Hungry Housewife, love her! We both had on the exact same colors, and outfits from Target 🙂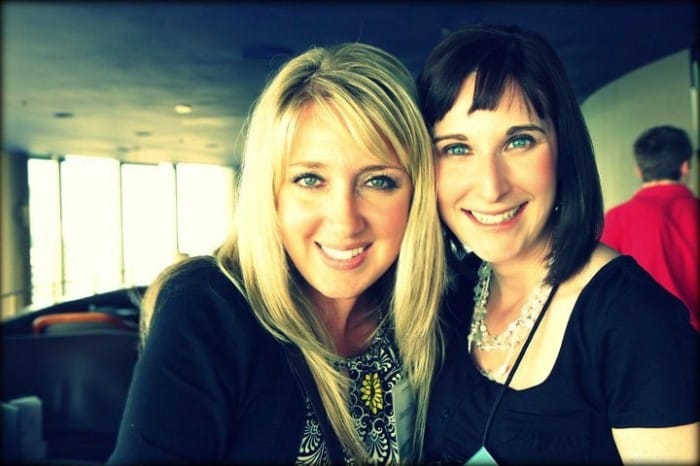 Photo via Amy
Here is my sweet friend Amy from Mom Advice. She is one of the sweetest most genuine women I have met. I wish we were in the same town!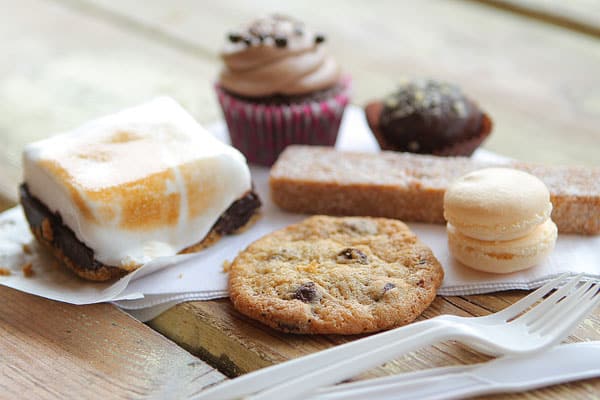 Photo via Amanda
Friday afternoon, Amanda and I skipped out of the 2nd half of the conference and went to some fun eats in Atlanta. First was Taqueria del Sol, which had some of the best tacos I have ever had. Next was Star Provisions, the treats you see in the above photo. Their bakery was gorgeous and that Homemade S'mores Bar was incredible. I must re-create it!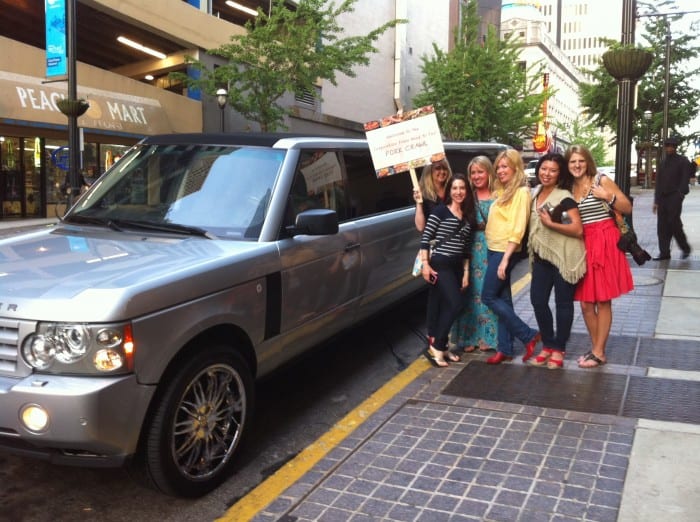 Photo via Lori
Here we are Friday night getting ready for the "Pork Crawl" an event put on by the National Pork Board and Jaden of Steamy Kitchen. Talk about a night of over eating! We were treated to 3 beautiful restaurants where the chefs created 3 course meals all with pork. It was unforgettable and I still need to work off all of that food!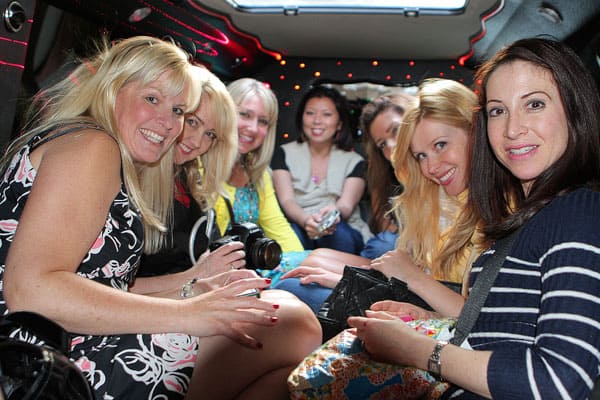 Photo via Amanda
Here we are in one of the biggest limos I have ever seen. Left: Lori, Angie, me, Jaden, Sandy, Georgia and Marla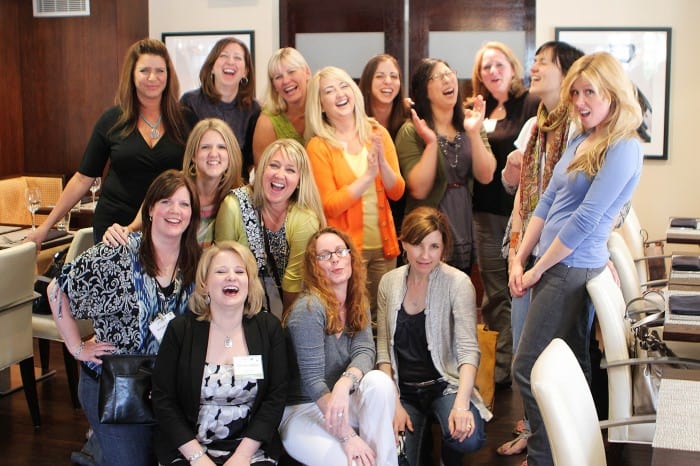 photo via Amanda
Lunch Saturday afternoon was a real treat. All of these women are so incredible. I feel so lucky to have spent the afternoon with all of them!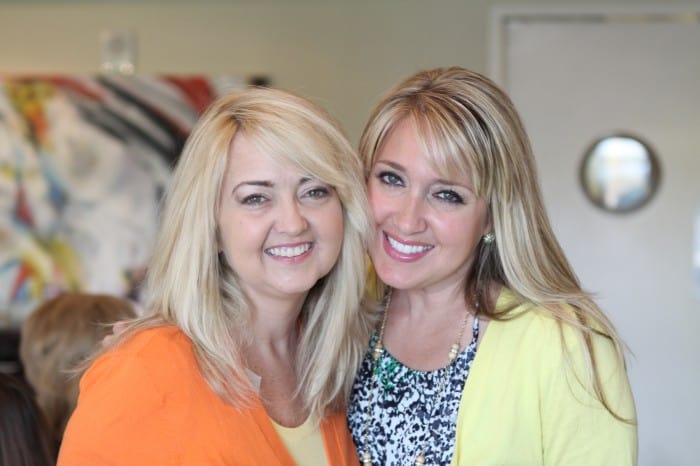 Angie and I 🙂 What a treat to see her over the weekend.

Left: Shaina, Amanda, Lori and me 2nd Photo: Me and Betsy from Tasty Kitchen 3rd Photo Christy from Southern Plate and me 🙂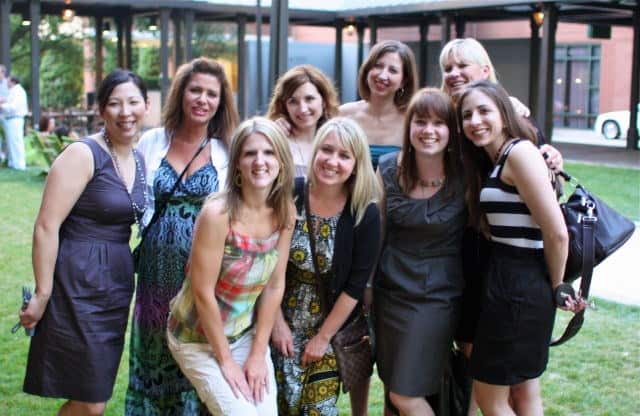 Photo via Aimee from Simple Bites
Saturday night was literally a dream dinner at Empire State South. If I ever make it back to Atlanta, this will be one of the first places I visit again!! Left: Alice, Sandy, Amanda, Carrie, Me, Tara, Aimee, Lori and Shaina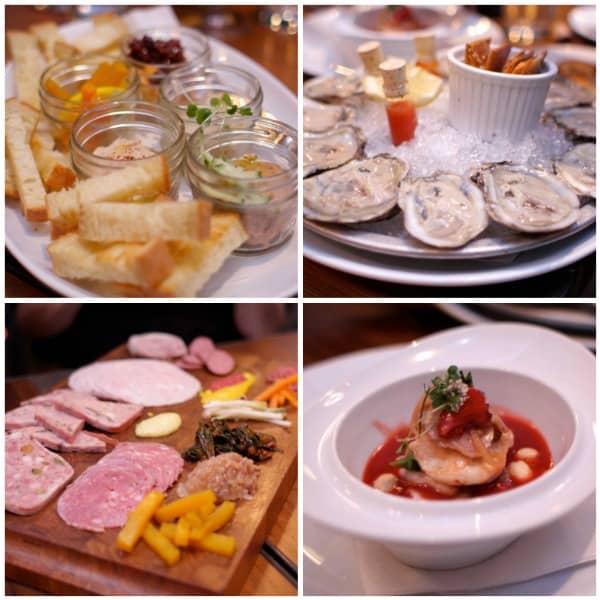 Photos via Aimee from Simple Bites
Some of the delicious food we ordered family style at Empire State South

Photos via Aimee from Simple Bites
Food Fun and Friends, doesn't get much better than that!
__________________
Have a great new week! See you soon with a new recipe!!