Sharing my Picky Palate Kitchen Remodel today! We've been anxious to do this for a couple years, so excited.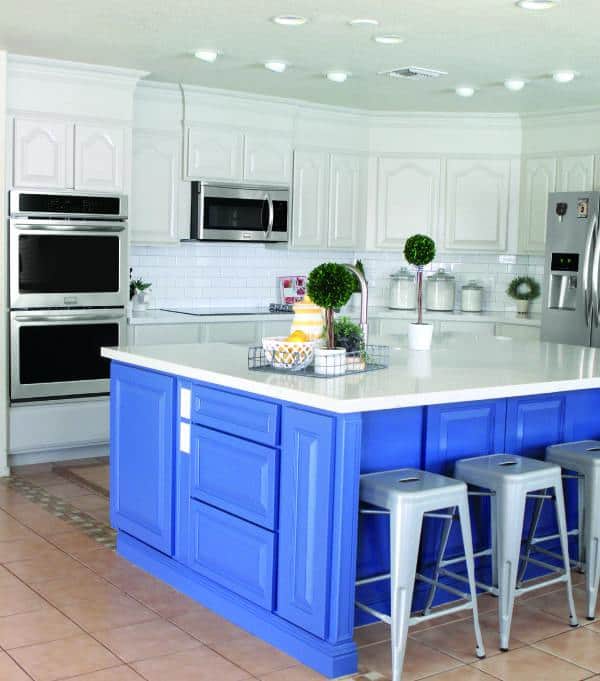 Wow, this was our very first remodel of any kind. What an adventure. We moved into our Arizona home in 2013 after living in Southern California for 5 years. We rented the home first to make sure we enjoyed the area and home. Needless to say, we fell in love with our neighborhood, schools, church, neighbors and the home. We decided earlier this year we wanted to purchase the home and start some remodeling projects. The kitchen was our first project, can't wait to share the before and after pictures with you! We've partnered with Frigidaire Gallery® this year, they brought in my new beautiful stainless steel appliances. Let's take a look at the process.
Before Kitchen Re-Model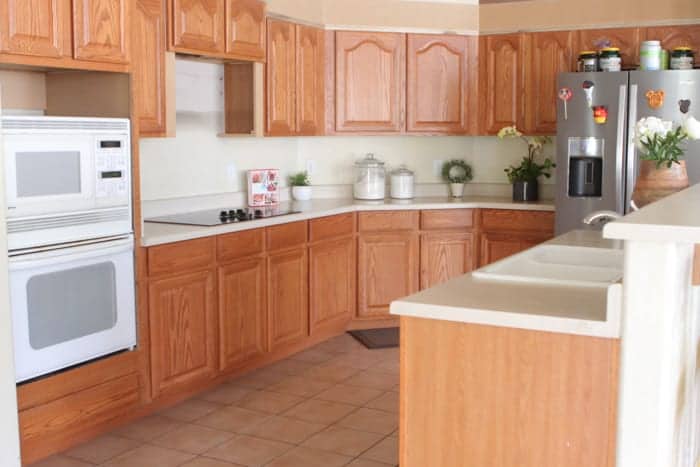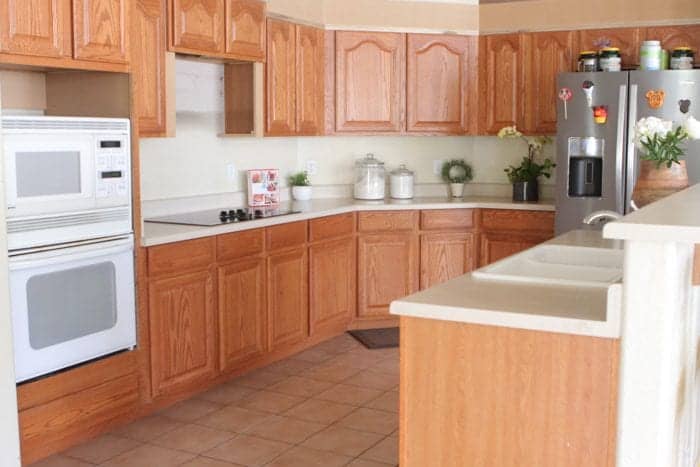 Our home was built in 2000 and had the original cabinetry and appliances when we moved in. Certainly not horrible, just dated. I'm not an Oak Wood fan, so I was anxious to lighten things up. The island was pretty small with a high barstool area. We decided we wanted to demo the whole island and start new with a larger design. Looking forward to replacing the flooring later this year too!
After Kitchen Remodel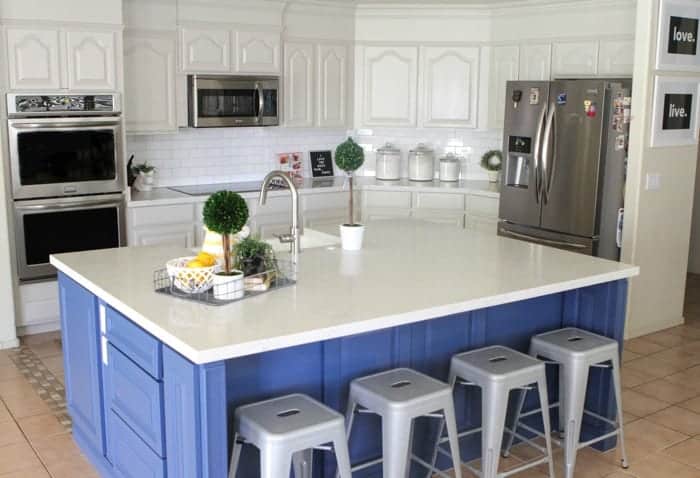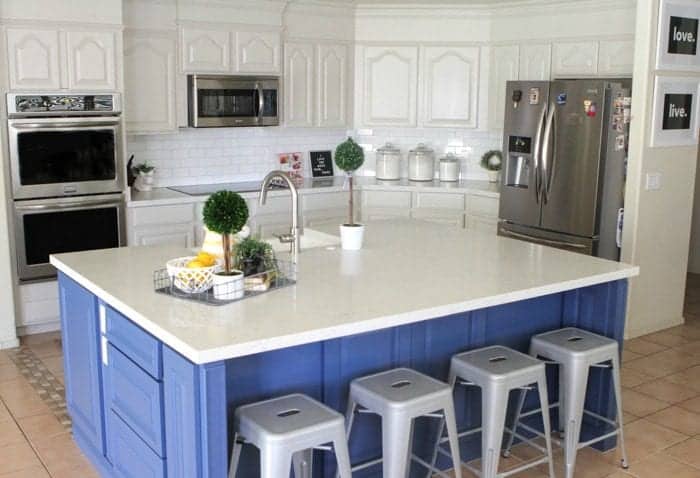 We are sure loving our new look! THESE are the stools I ordered.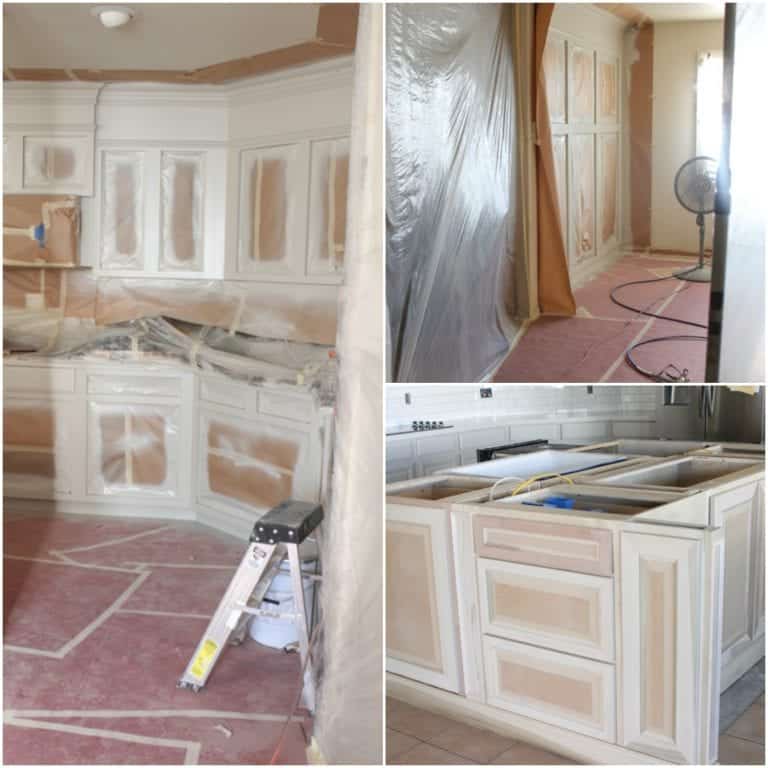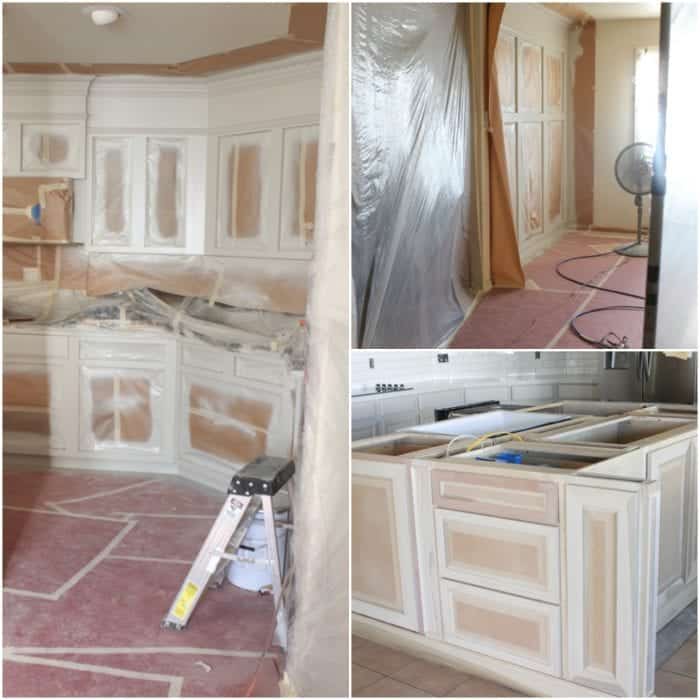 We had some crown molding work done on top of our existing cabinetry, painted the existing cabinets, and started fresh with a new island install. This was so exciting to see everything taking place. For the cabinets, we chose Dunn-Edwards Paint "Heather" and for the island we went with "Admiral Blue." We were thrilled working with Timberline Cabinetry in Arizona on this project. They were great.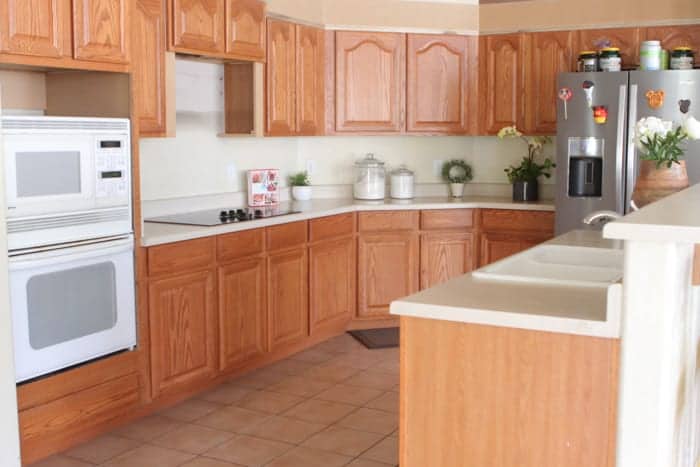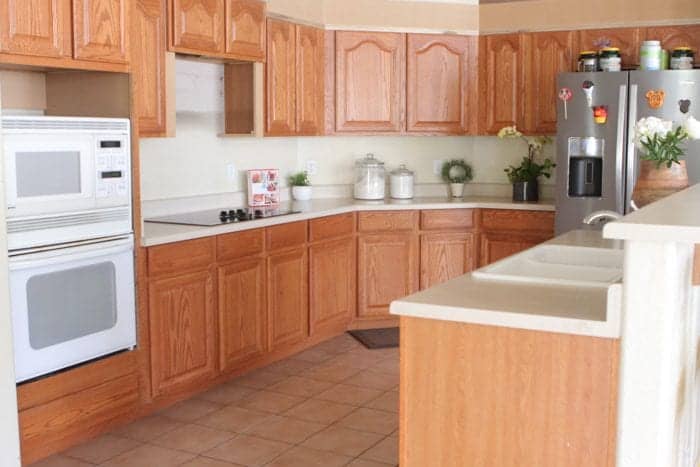 Here's a before wide shot…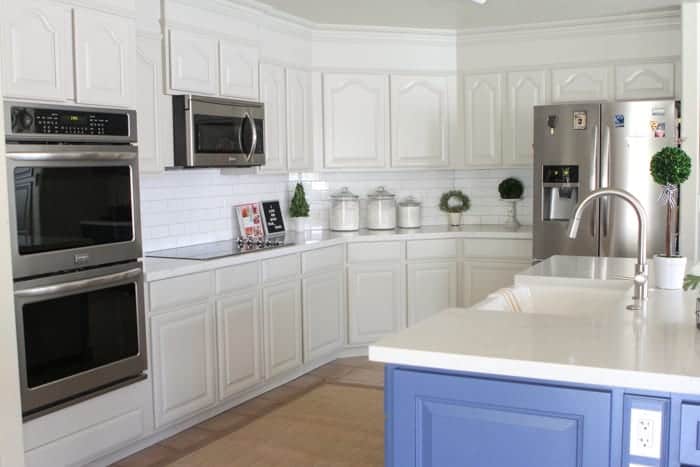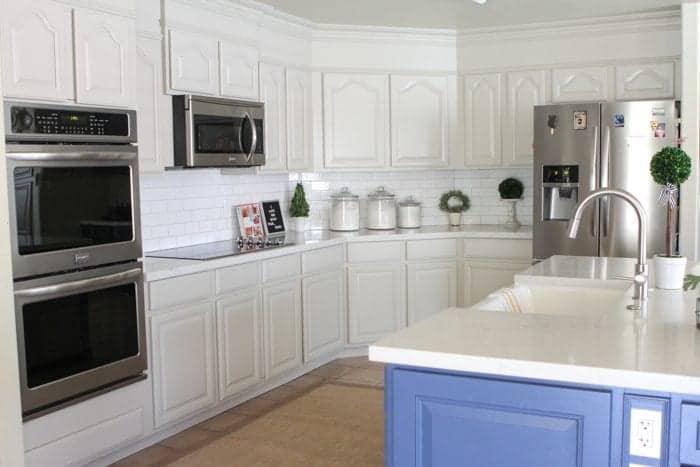 After. Talk about brightening the place up! I've always loved working in the kitchen, but this sure makes me love it even more. Northman Marble & Granite put in our Quartz Countertops. They were amazing to work with as well. The color is exactly what I was looking for! Information on the countertops: Sequel Quarts from Bedrosians and the color is Bianco Venatino.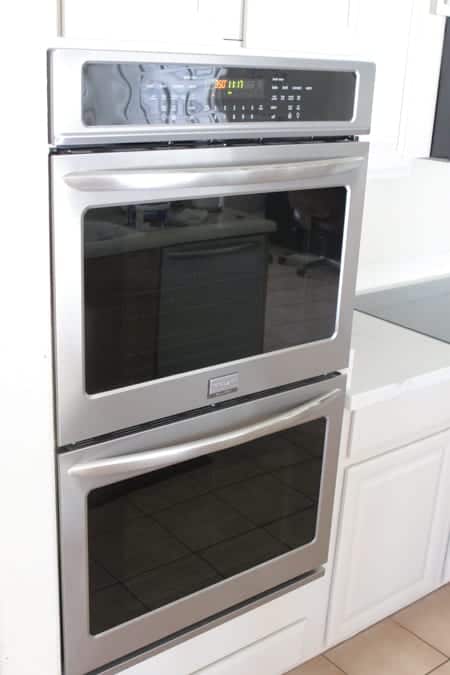 Using my new Frigidaire Gallery® Double Wall Oven has been amazing. I have wanted a double oven ever since my love of cooking started. Talk about a dream! It has already saved me so much time.
Some of my favorite features so far are the quick preheat that takes just a few minutes, and the true convection option which circulates hot air throughout the oven for faster and more even baking. Really excited to test this out on my baking, cooking a whole chicken and our turkey dinner during the Holidays. I can steam clean the oven in 20 minutes and it's chemical-free and odor-free. Plus the stainless steel is Smudge Proof™! Score! Needless to say I am going to be loving this double oven throughout every season. So exciting!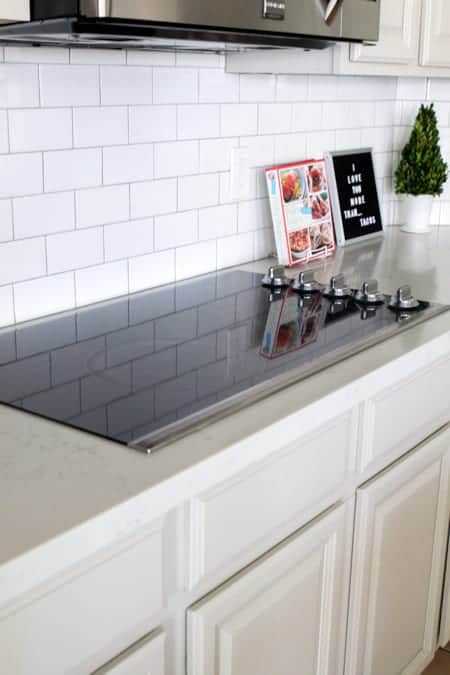 We went with the Frigidaire Gallery 36″ Electric Cooktop®. I love that there are 5 different areas where I can put my pots and pans. When I'm cooking for a big party this comes in handy, I've definitely put my cooktop to use, I've had all 5 burners going at once! There's even a burner that I can adjust to the size of my pots. If it's large, I can use the entire burner and if it's smaller I can adjust the size. Love this feature. Having the ceramic glass cooktop, makes for an easy clean up. It's been great to use!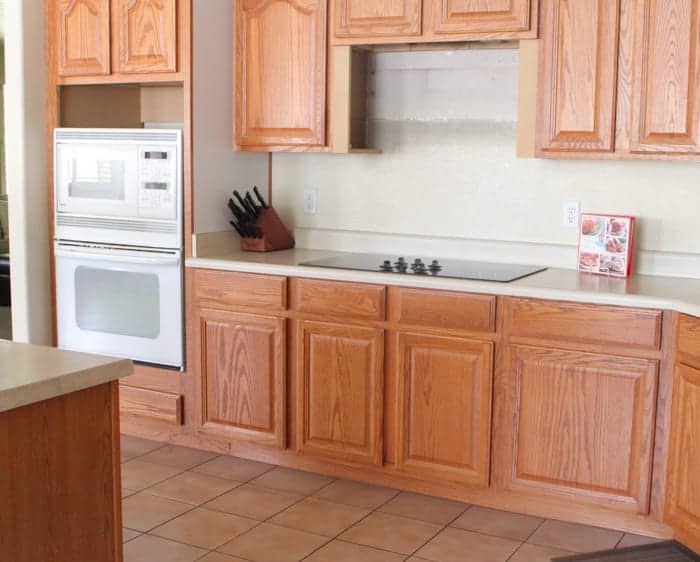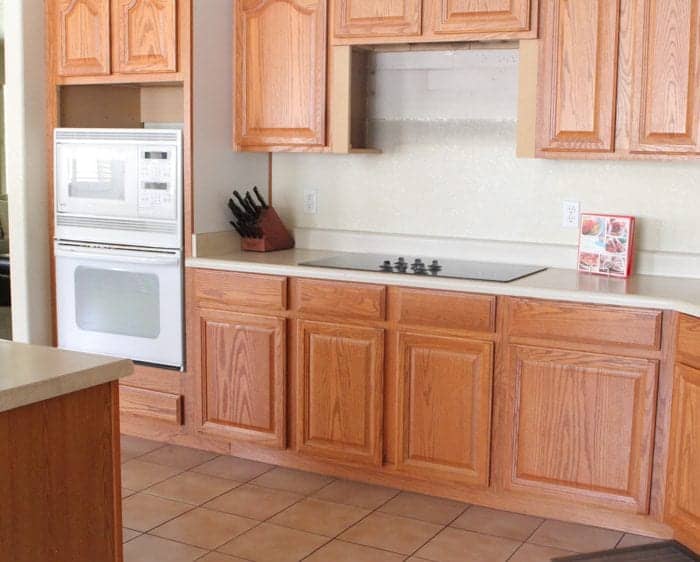 Before of our microwave area…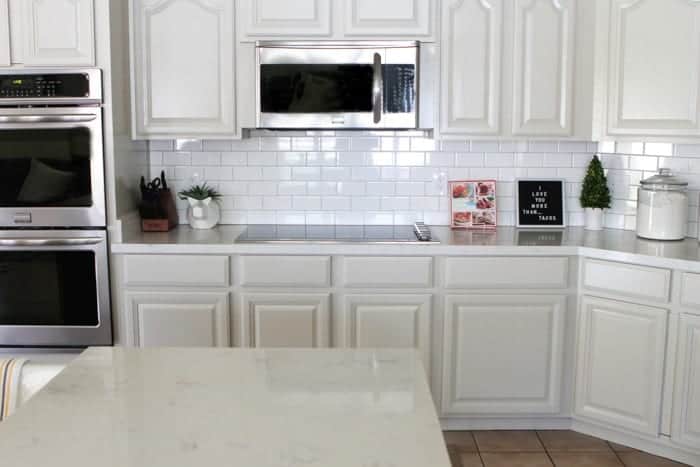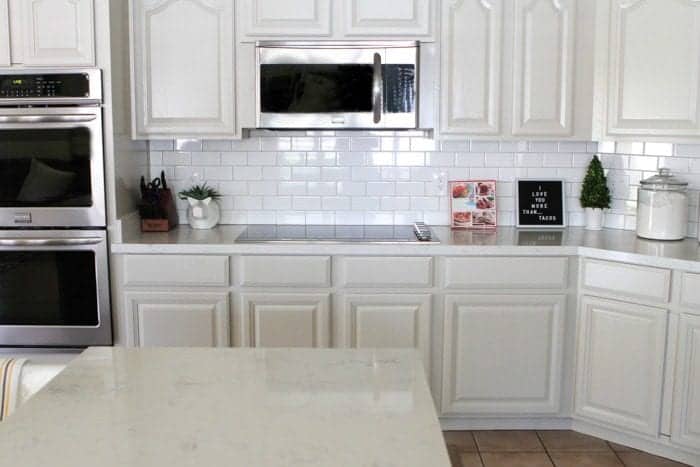 Light, bright and a great new microwave with so many helpful features. Mine is the Frigidaire Gallery Over-The-Range Microwave with Convection.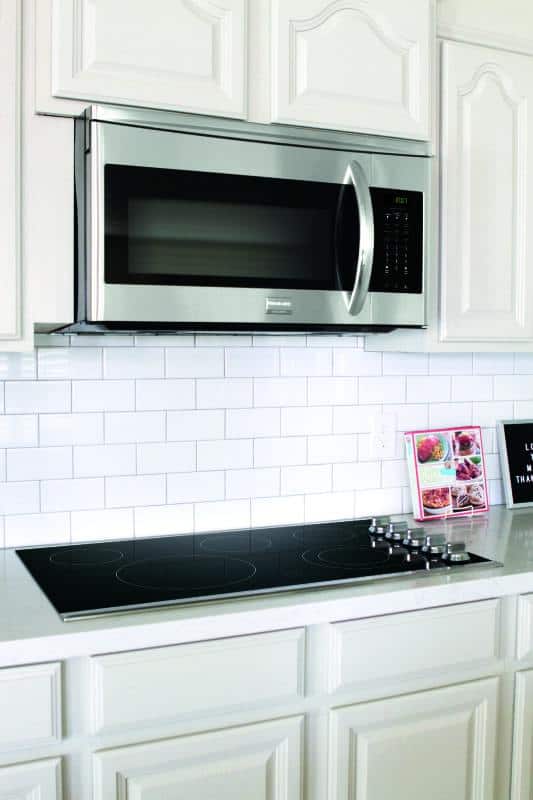 With the convection feature, I can bake and brown my favorite foods with just the touch of a button. There are ten preset options that I can set the heat from 100-450 degrees. With my boys and all of their friends over daily, we use this microwave about a dozen times per day. It's been fun learning the new tricks my new microwave can do. Love the Smudge-Proof™ Stainless Steel too, makes cleaning so much easier.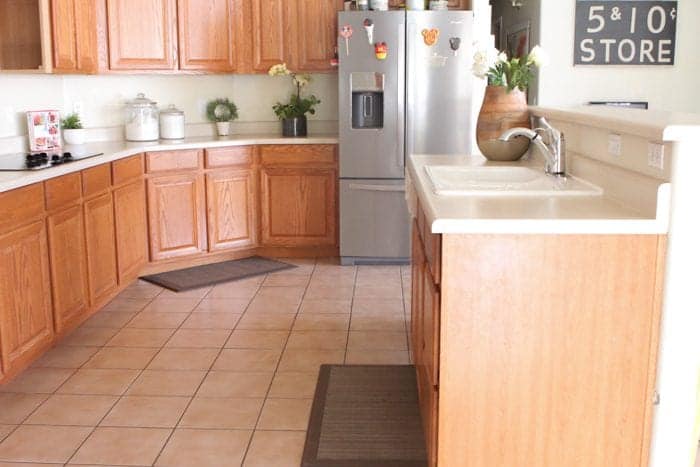 Before shot of the refrigerator area…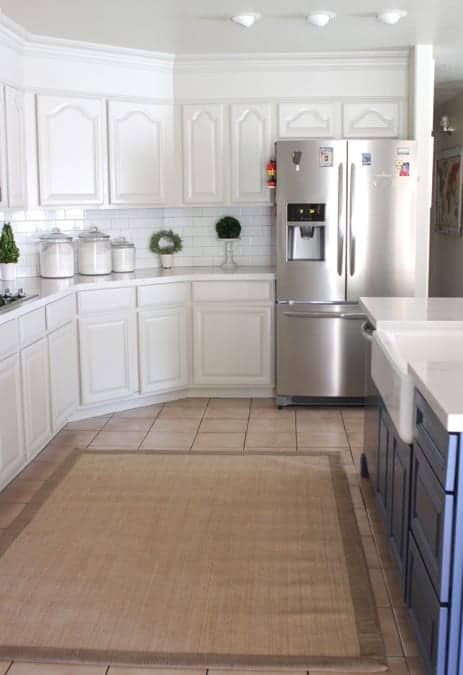 My happy place 🙂 I am so anxious to pick out flooring. That is our next project. I'm thinking a nice medium gray wood tile.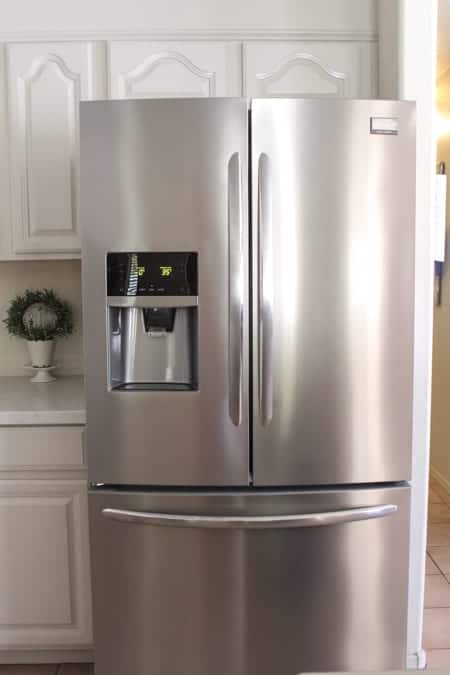 How dreamy is my new Frigidaire Gallery® French Door Refrigerator?
The Smudge-Proof™ Stainless Steel resists fingerprints and cleans easily. So incredibly necessary with all of the busy boys in my house. The adjustable interior storage with more than 100 ways to organize and customize is so helpful. The shelves can flip-up and slide-under to help me make room for tall or large items and the humidity-controlled crisper drawers can be configured any number of ways, either side-by-side or stacked on top of each other, so I can organize the refrigerator any way I want. Heaven knows I'm always moving things around with all of the things I'm cooking and baking, so helpful!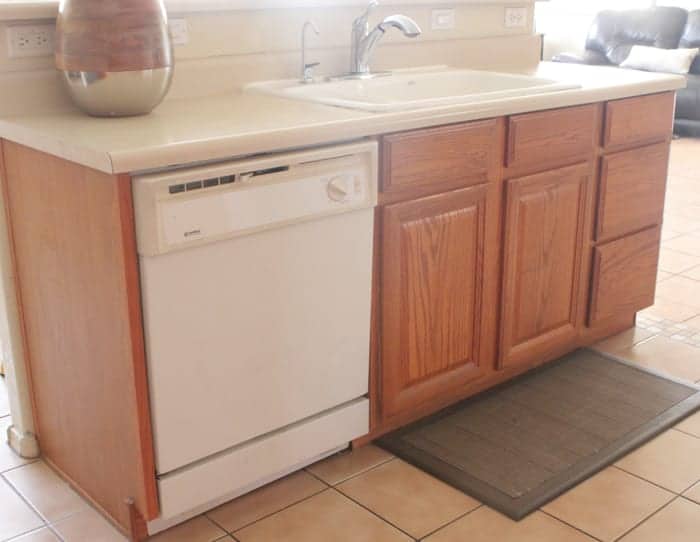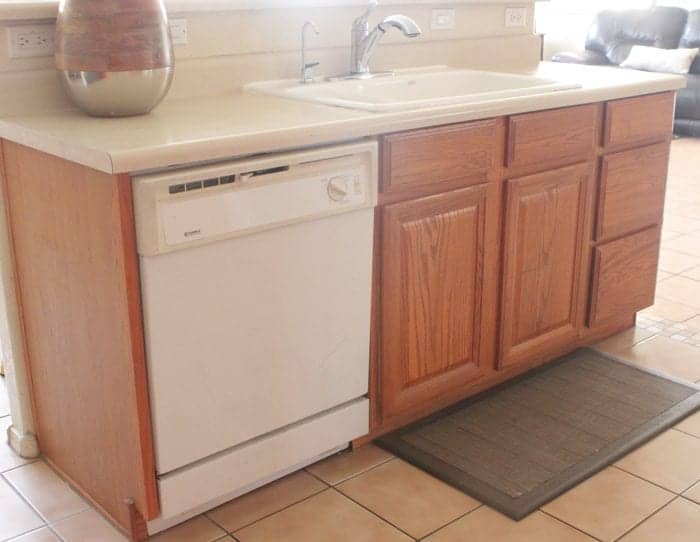 Before of our island/dishwasher area. I can't even tell you how anxious I was for the "after" of this area!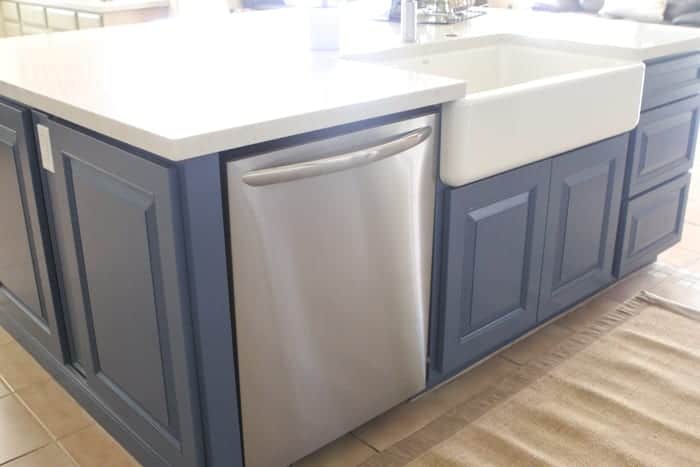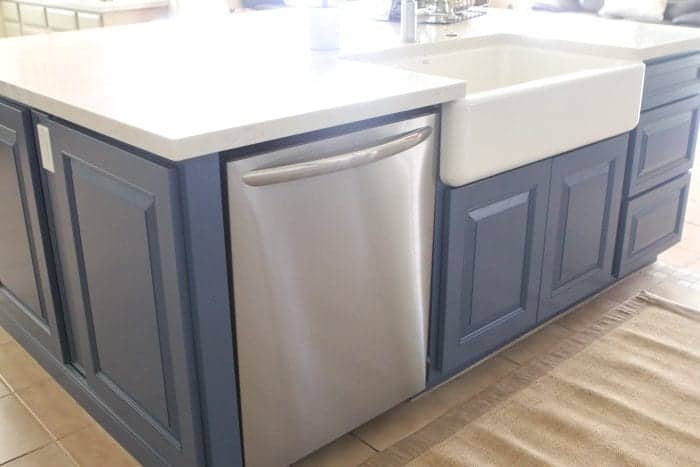 Gorgeous new dishwasher that is so quiet you can't even tell it's running. This is the Frigidaire Gallery 24″ Built-In Dishwasher®. I love using it! I've learned this dishwasher provides 4 times more wash coverage for an excellent clean. With it's Effortless™ Dry, I can put away my clean dishes in no time, beautifully dried. When I've got so many different things going on in my house of busy boys, it's nice to know I can wash a full load of dishes in a quarter of the time. What a time saver.
I knew I was going with a farm sink. My favorite! Went with THIS one. It's huge. Pax kept asking if it was his new bathtub, ha! Went with THIS faucet.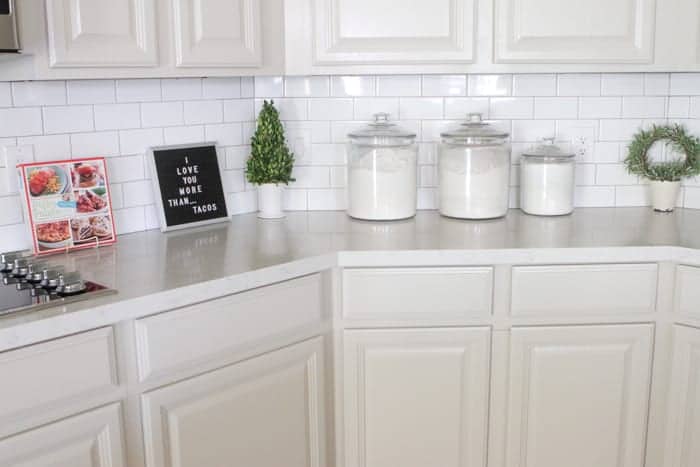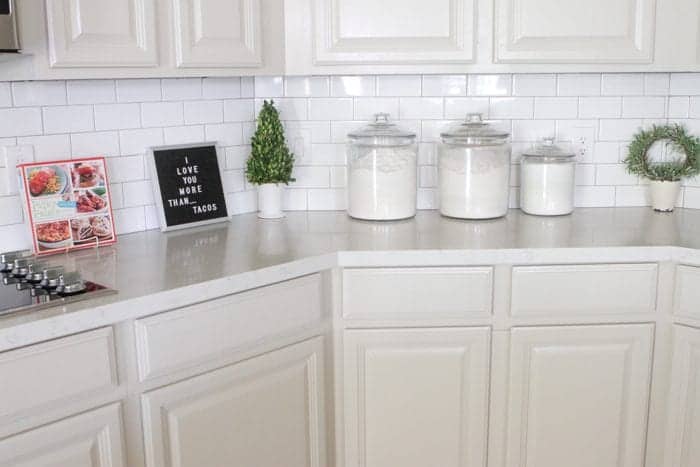 I also knew I wanted white subway tile as my backsplash. I'm obsessed with Chip and Joanna's Fixer Upper which is when I realized how much I love the subway tile look. Now I just need to shiplap the rest of my walls! My husband talked me into installing under counter lights. I was not wanting to go through the hassle of having it installed, but I have to say I absolutely love it. Can't see it in my photos, but it's one of my favorite features.
I use THESE canisters. My little sign is from Letterfolk. It's been so fun changing the quotes every week.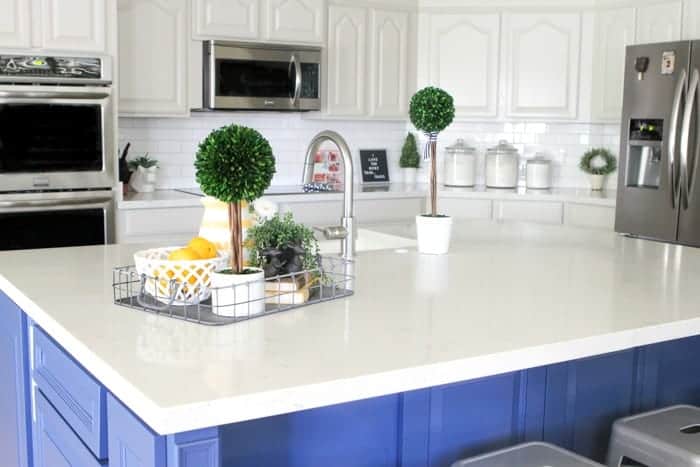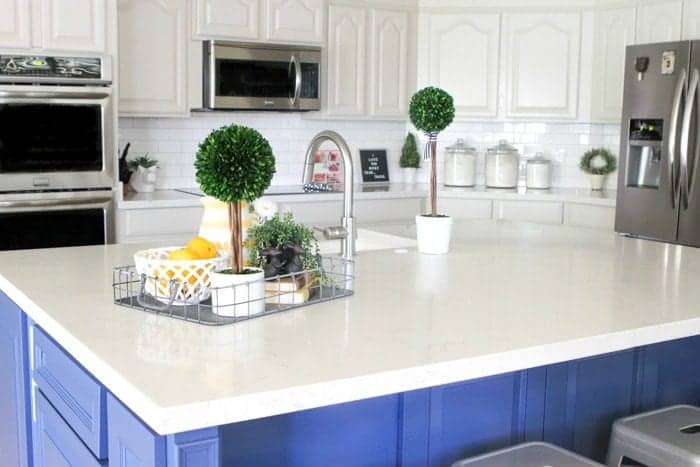 Hope you've enjoyed a peek inside my kitchen remodel! We are working on picking out hardware for the cabinets and some pendants for over the island. Will share more of our progress soon!
Disclaimer: This post is in partnership with Frigidaire Gallery®. All thoughts and opinions are 100% my own. Thank you for supporting the brands that make Picky Palate possible.