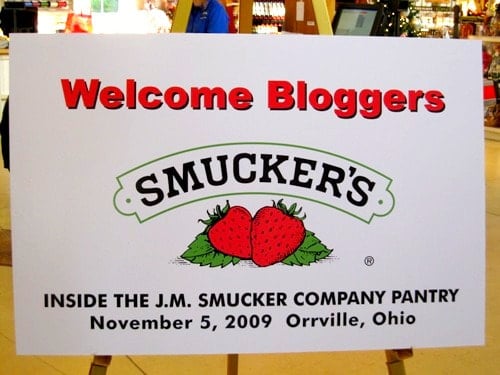 Had so much fun at The Smuckers Company in Ohio!! It was me along with 8 other great bloggers, not sure how I got so lucky to be chosen to go, but am I ever glad I was! Follow along if you'd like as I take you on my journey, it was a blast!
Wednesday afternoon the gang took a tour at the Rock and Roll Hall of Fame. I was still flying in, so I missed out. I did however get to go to dinner with everyone at Ken Stewart's. Can I just say YUM! One of the best steakhouses I've EVER eaten at. They started us out with a beautiful array of appetizers and For dinner I ordered a potato crusted Halibut with a corn saute and chipotle tartar sauce. I am drooling just thinking about it. For dessert we had a flaming pot to make our own Smores as you see in the picture along with about 10 other options. So cool!
Let me just say I was so full, I thought I was going to bust, seriously. We got back to the hotel and crashed, I could barely move! Little did I know the eating had only just begun!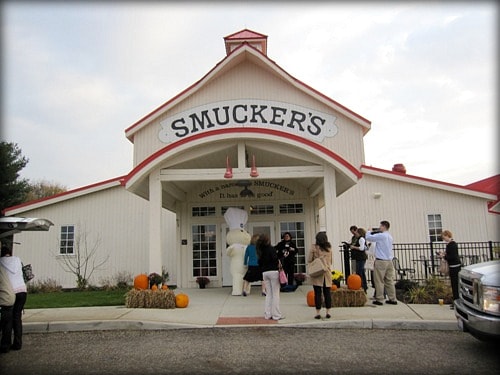 Thursday morning, we met at 6:45am to head to the beautiful Smuckers Store. We were greeted by none other than the………………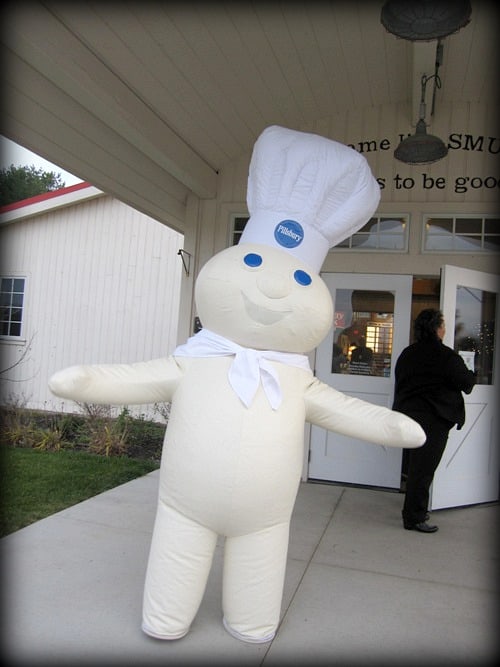 Pillsbury Dough Boy! Talk about some good dance moves, he was bustin' a move for all of us, it was hysterical. Click HERE for a peek thanks to my new friend Erin @ 5 Dollar Dinners 🙂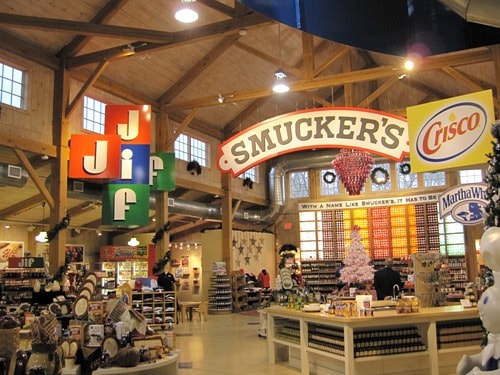 I think our mouths dropped as we stepped inside to see this gorgeous shop. It was newly decorated for Christmas and was really a sight to see. My pictures just don't do it justice.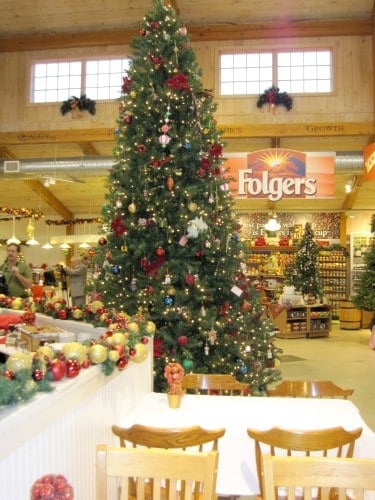 Lovely Christmas decor. Really put us in the mood!
We all sat for a quick breakfast and had the privilege of hearing from 4th Generation Smucker Family CEO, Richard Smucker. Talk about genuinely nice people. Loved them.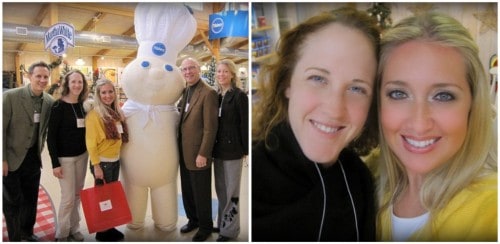 We also heard from 5th Generation Smucker Family Member, and President Mark Smucker (left) and granddaughter Kimmie (right-black jacket).
Nicole from Baking Bites and I snapping pics while shopping 🙂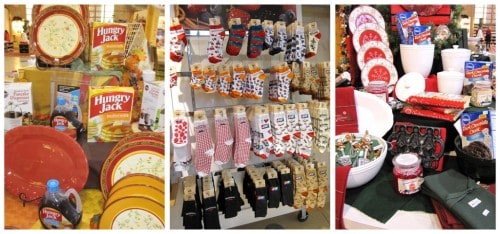 After a quick bite to eat, we were each given a giftcard to go shopping in the beautiful Smucker's Store. Talk about tough decisions! I could have spent all day in that shop!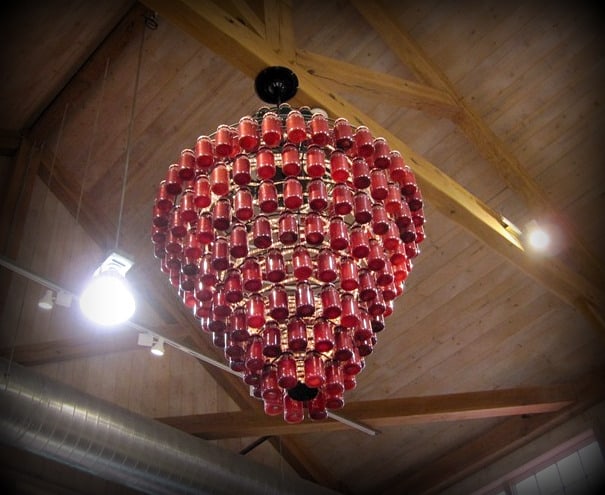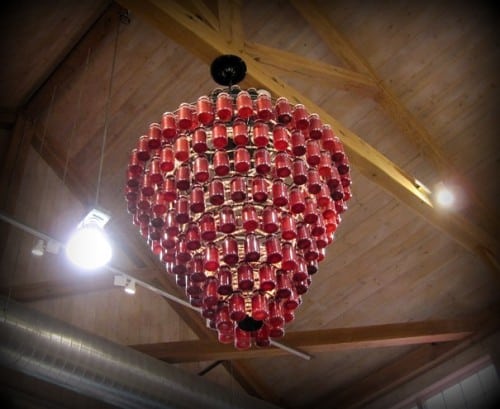 Yes, this chandelier is made from Smucker's Jelly Jars! How cool is that?!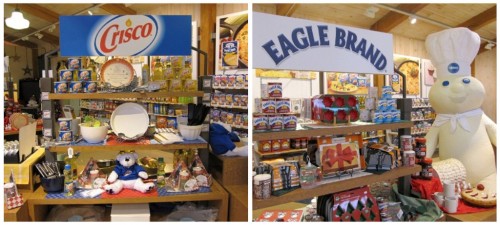 More shopping!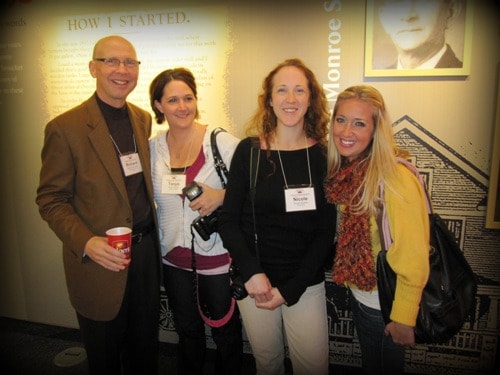 Richard Smucker, Tanya @ Mommy Goggles, Nicole and I in the Smucker's history room.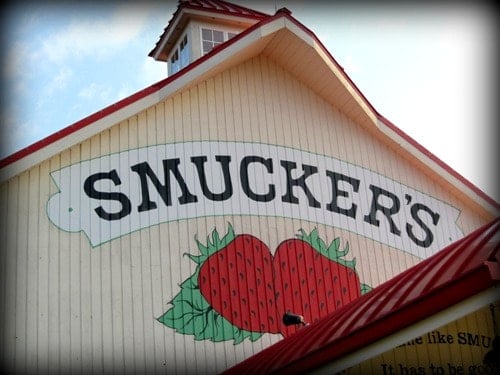 Hated leaving, but we had lots more to do. One last picture of the building.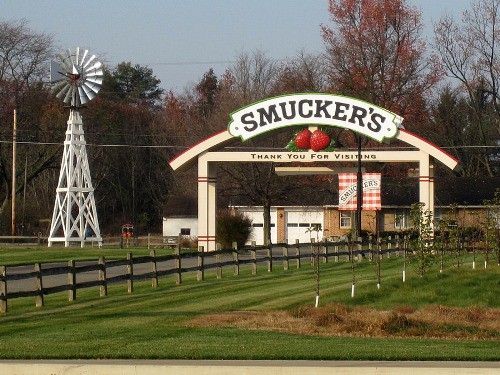 How gorgeous is this area? Bye Smuckers, hope to visit again soon!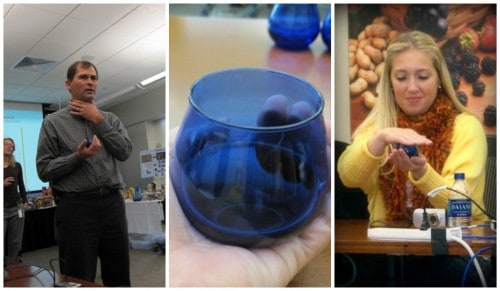 After our breakfast and shopping we made our way to the Smuckers Headquarters. We met in a room where we learned all about Crisco products. We even got a first hand education on how to be an Olive Oil Taster! The man on the left was telling us we needed to swirl the pretty little blue cup in our hands to warm the oil, as you see me doing in the picture. Then we were to take a sip and slirp… slirp… slirp… to get the taste through our entire mouths, then spit it out into a little cup. There was some choking going on in the room. I don't think any of us will be getting calls to be professional oil tasters 🙂 Was fun though.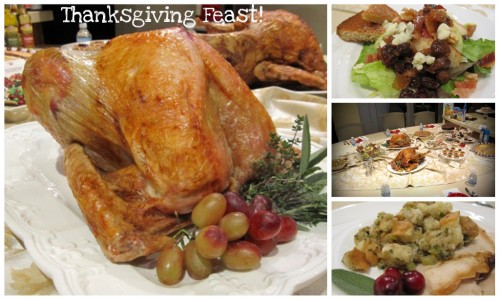 One of the most beautiful sights I've seen was walking into the Smucker's Culinary Kitchens to see a table full of Thanksgiving food and treats of all kind waiting for all of us. I'm talking 2 huge turkeys, stuffing, salads, cookies, cakes and pies. They really outdid themselves. We were all amazed!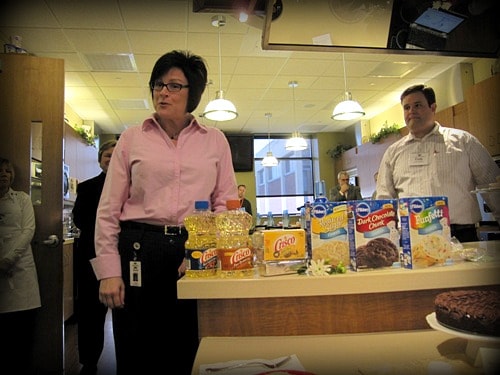 While we were sampling, they had some of their personnel talking about new products with us. We were talking about their "good for you" line they have.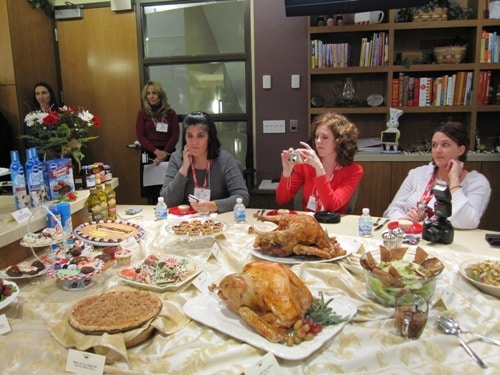 Another shot of our feast and the other side of the table. Jennifer, Shannon and Tanya.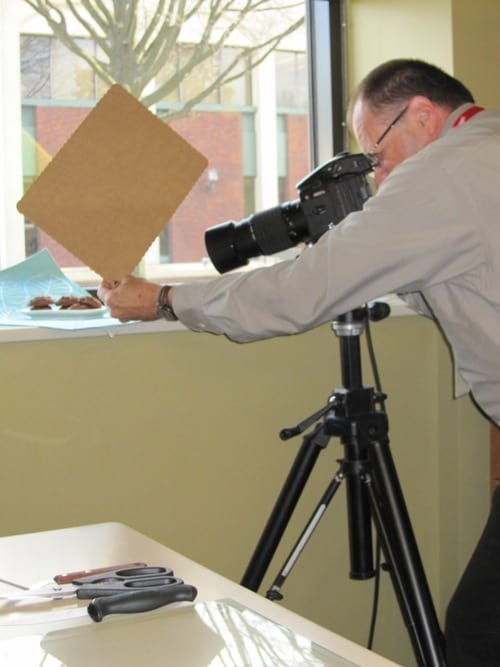 After a bit of sampling the Thanksgiving Feast, we got a brief Photography and Food Styling lesson. Really useful information. One that we all loved was taking a gold cardboard cake plate and using it as a reflector on your food. It was amazing the color it brought to the pictures.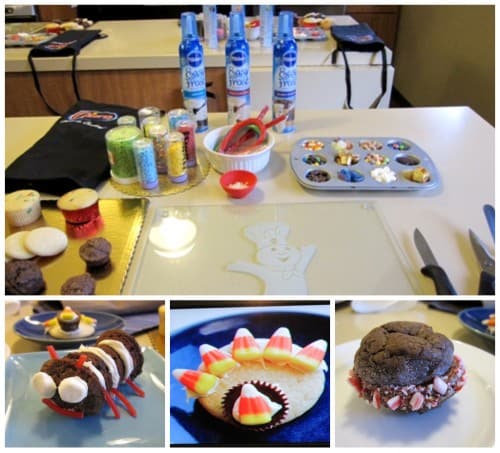 Next we were challenged with a little bake-off. We had a whole assortment of decorating items along with brownies, cookies and cupcakes. We were to create whatever we wanted with all of our products and then take pictures of them. You can see the goodies I came up with. It was quite fun!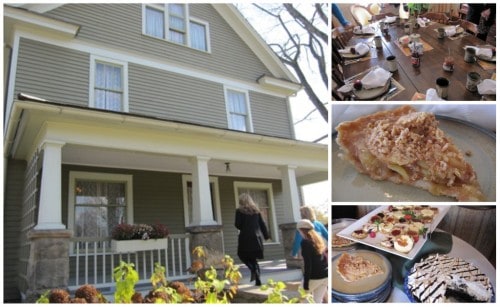 Next it was off to lunch at the J.M. Smucker Home which is right on the Smucker's Campus. It has been renovated into a little museum. What a treat to eat lunch here. Really beautiful. The food was great and the desserts were to die for! Click HERE for the Peanut Butter Pie Recipe.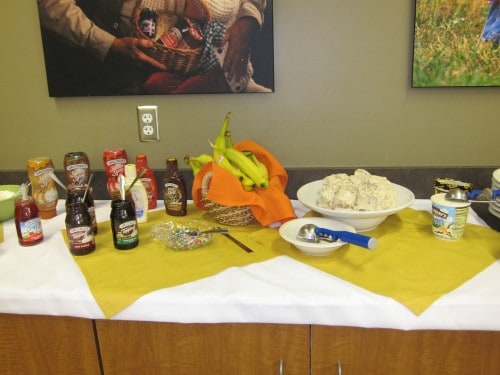 After lunch, we got dressed in hair nets, white jackets and headsets to prepare to enter the Smucker's Factory to see the workers in action making Smucker's products. No cameras were allowed, but it was really quite something to see. The smell was so sweet. We walked by the area where the apple butter was being prepared. It was just like something you would see on tv. A giant machine was pushing apples through an assembly line of workers picking off leaves and any bad apples that might come through. Then they went through a bath and off to the next line. The whole process is really amazing. You don't realize how much work goes into each little jar of product. Glad I had the opportunity to walk through their factory.
As if we all hadn't eaten enough for 1 week, we ended our journey with the best butter pecan icecream I've ever had with an assortment of Smucker's toppings. What a treat.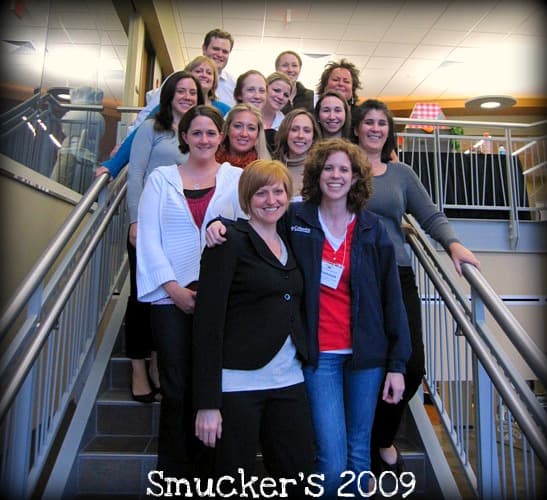 One last picture before we headed to the airport. I'll never forget this trip or the amazing group of people I was so lucky to meet. Thank you Smucker's!
Front: Nikki@ Art and Lemons, Shannon@ Mommy Files
2nd Row: Tanya@ Mommy Goggles, Me, Theresa (PR), Jennifer@ The Dirty Shirt
Back group: Wendy (PR), Stacy@ Mommy Central, Cody (PR), Nicole@ Baking Bites, Amanda@ Mommy Mandy , Erin@ 5 Dollar Dinners, Jill (PR), Barbara (PR)
__________________________________
Thanks for sharing my trip with me. Have a great new week, see you soon with a new recipe!