The Best Stuffing Ever…Sourdough Cornbread and Sausage Stuffing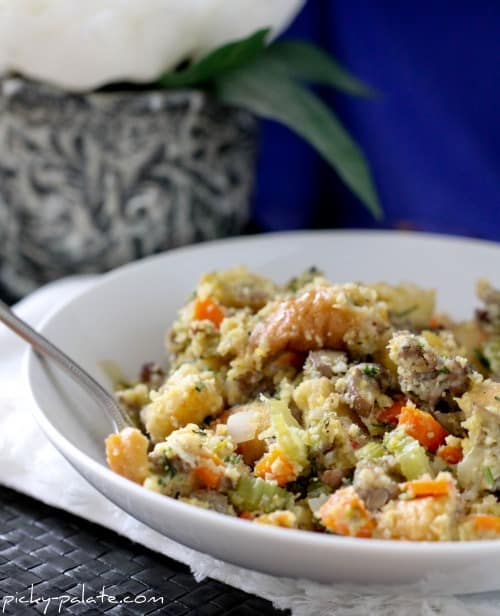 I know it's a bold statement to say this could be the best stuffing ever, but…..it really is 🙂  No joke, my husband who absolutely despises stuffing, came home and said, "Oh wow, this is the best stuffing I have ever had!"  There's nothing more unappealing than a dry tasteless stuffing, so I decided to create my own version with ALL of my favorite stuffing ingredients.   I'll let you guys be the judge, but take my word on this one…..it rocks!
Take a peek below and get excited to make one of the best parts of Thanksgiving Dinner….Stuffing!

MY LATEST VIDEOS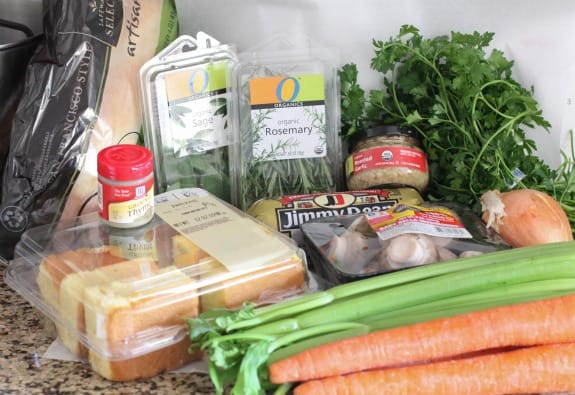 Here's your line-up.  I'm ashamed to say I forgot the 1 3/4 sticks of butter in this photo.  I am slapping my hand!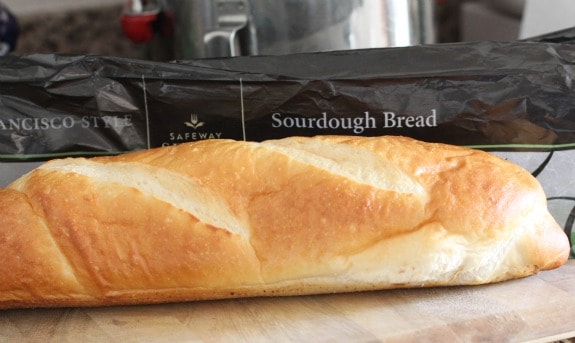 Find yourself a nice loaf of sourdough bread.  If sourdough isn't your thing, go for the French bread.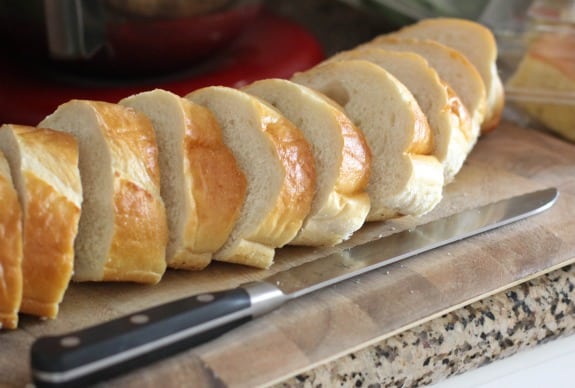 Give the loaf a nice slice, about 1 inch slices.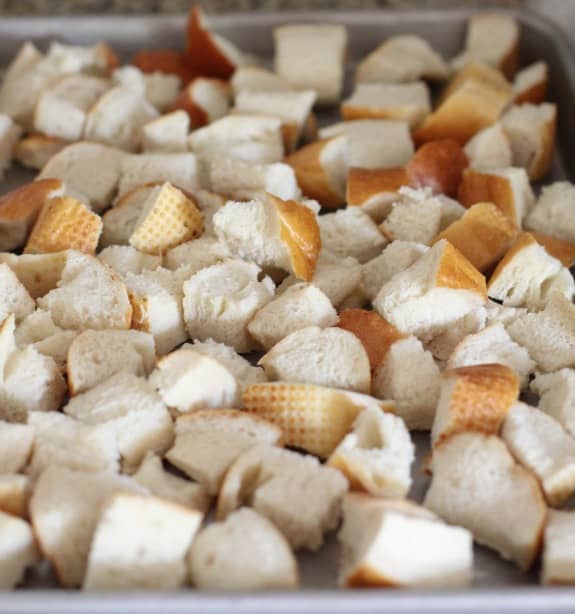 Cut those slices into cubes 🙂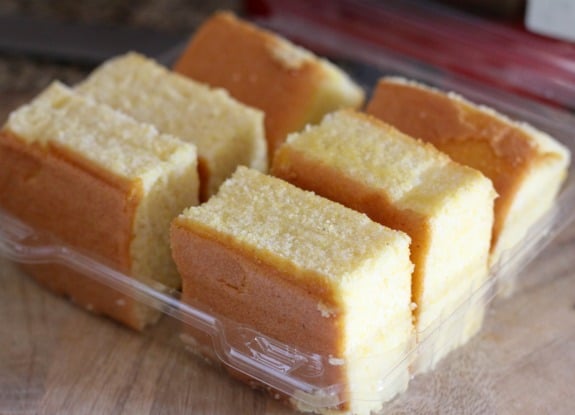 I LOVE cornbread in my stuffing.  It adds such a great sweetness to the salty goodness!  Anyway, I bought my cornbread, but feel free to use your own recipe 🙂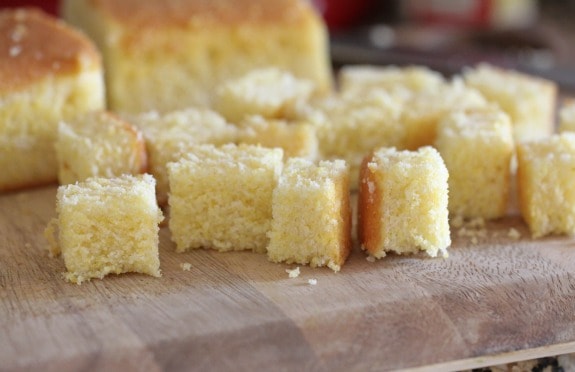 Cube it all up.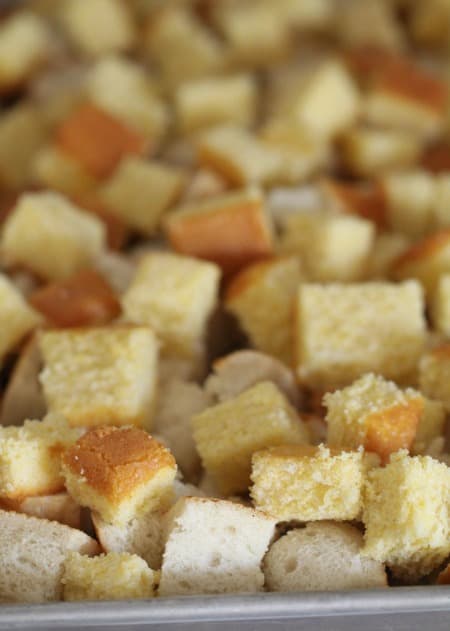 Add the cornbread cubes to the sourdough cubes.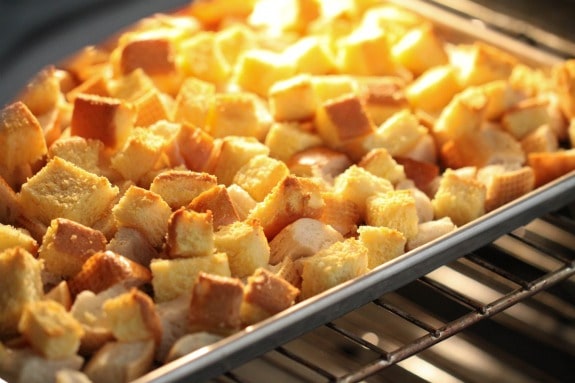 Time to toast the cubes!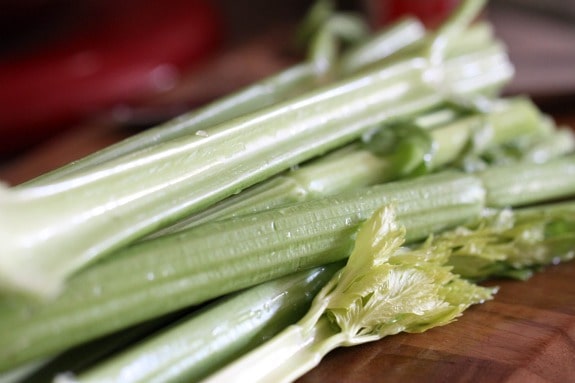 While the bread is toasting, break out the veggies.  Start slicing up your celery.  All of it, even the little leafy parts 🙂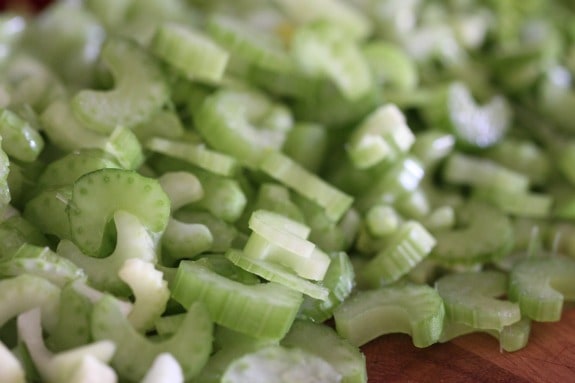 Slice.

Dice.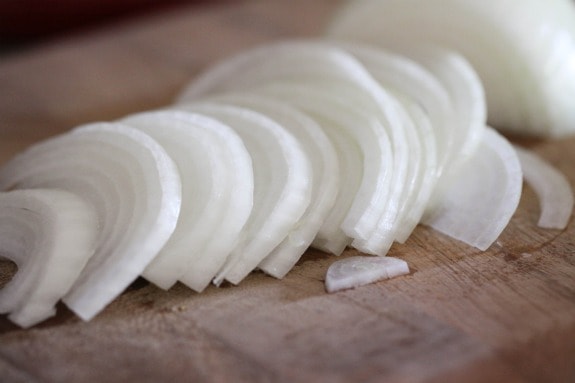 Don't forget the onions.  Slice then chop.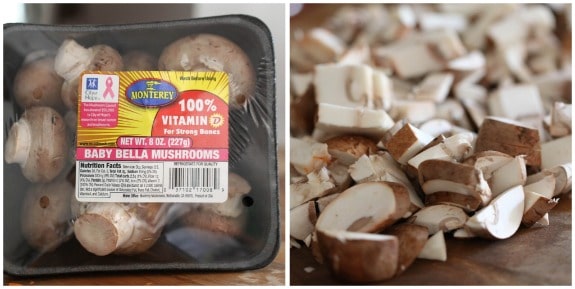 I love mushrooms in my stuffing, but if you are not a fan, feel free to leave these babies out.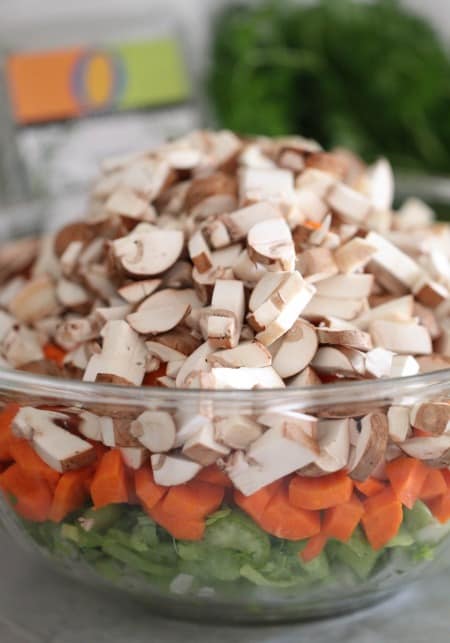 Look at all of that veggie goodness!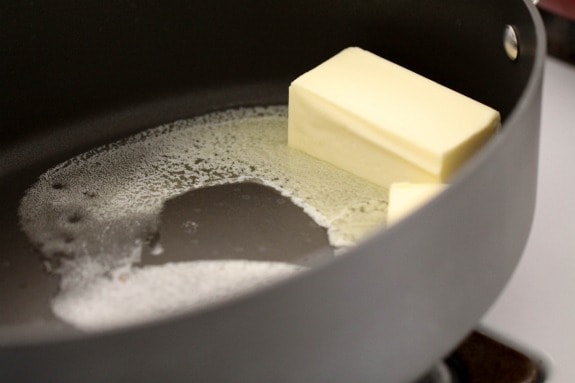 Time to melt the butter.  I know it's a lot, but this recipe makes a TON of stuffing.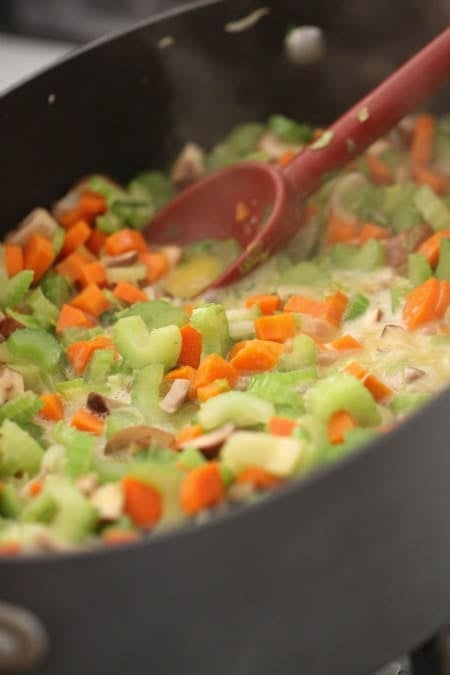 Saute those veggies.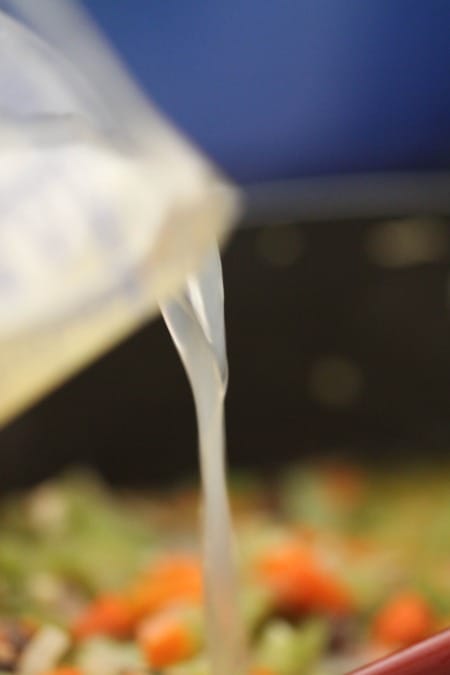 Pour in your chicken broth.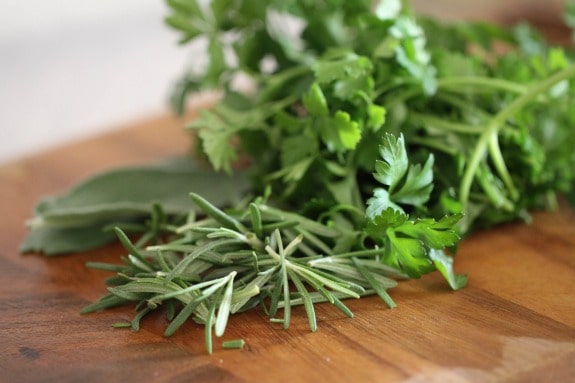 Give a nice chop to your fresh herbs.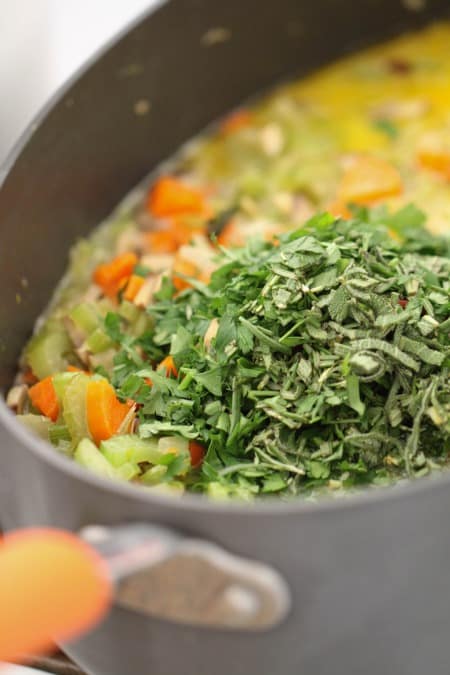 ….and pour them in 🙂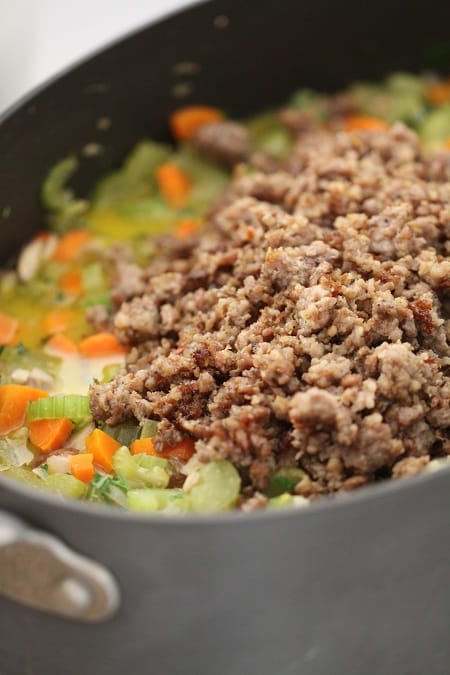 Brown your breakfast sausage, drain then pour into veggies.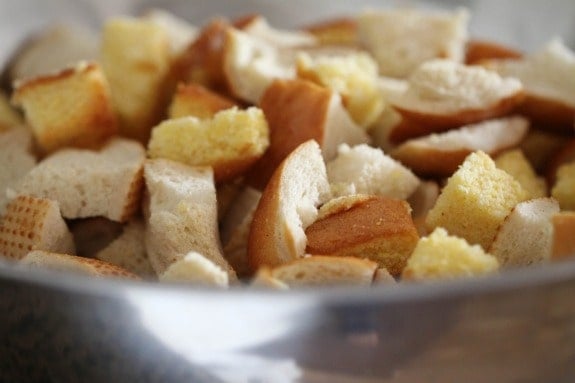 Place those toasted bread cubes into a VERY large bowl…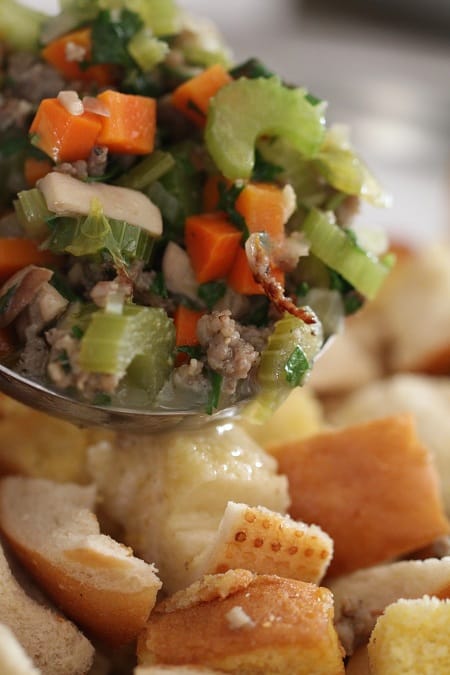 …..and slowly add the sausage and veggie mixture to the cubes, while stirring throughout.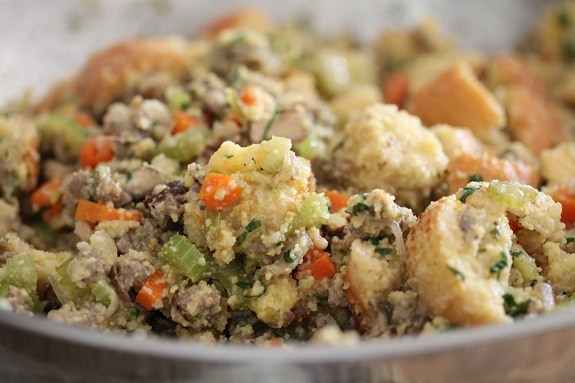 You'll get something like this.  Taste a few pieces and season with a little extra salt and pepper according to your taste 🙂  Transfer to 2 baking dishes and bake for 25-30 minutes.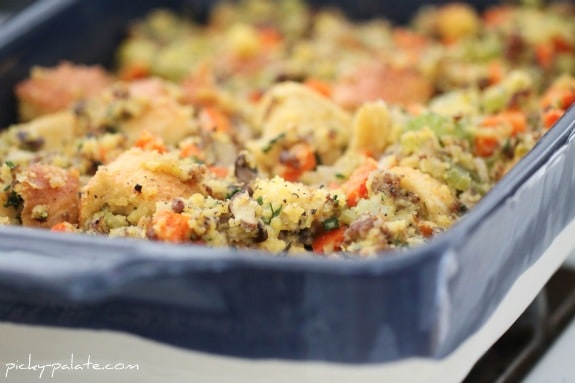 Tada'. Here's one of dishes hot out of the oven.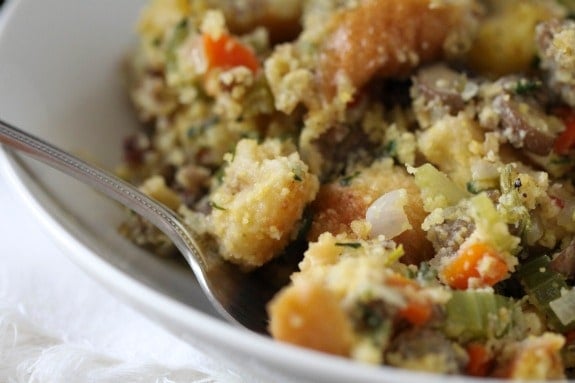 A closer, more delicious look 🙂  Enjoy friends….we did!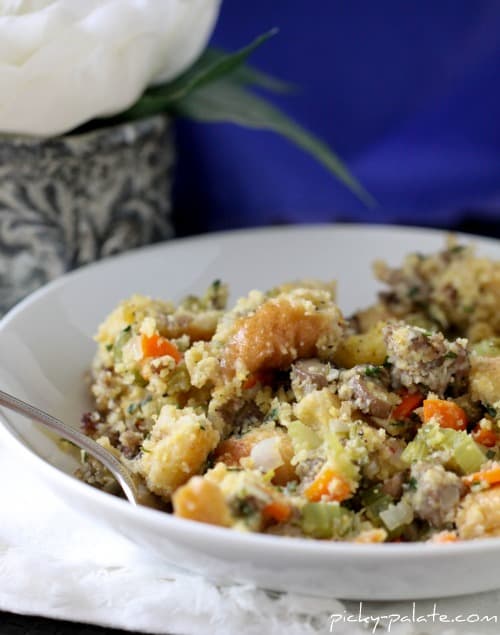 [ziplist]
The Best Stuffing Ever…Sourdough Cornbread and Sausage Stuffing
1 lb Sourdough Loaf, cubed
12 oz baked cornbread, cubed
14 Tablespoons butter (1  3/4 sticks)
1 large onion, diced (about 1 1/2 Cups)
1 bunch of celery, chopped (about 3 Cups)
3 large carrots, chopped (about 2 Cups)
8 oz baby bella mushrooms, chopped (about 1 1/4 Cups)
2 Tablespoons minced garlic
2 1/2 Cups chicken broth
1/2 Cup fresh chopped parsley
2 Tablespoons fresh rosemary
1 Tablespoon fresh sage
1/2 teaspoon ground thyme (or 1 Tablespoon fresh)
1/2 teaspoon kosher salt
1/2 teaspoon fresh cracked black pepper
1 lb Jimmy Dean Sage Sausage
1.  Preheat oven to 350 degrees F.   Place cubed sourdough and cornbread onto a large jellyroll baking sheet.  Bake for 25 minutes, until lightly toasted.  Remove from oven.
2.  Melt butter into a large dutch oven or large rimmed skillet over medium heat.  Saute onions, celery, carrots and mushrooms for about 10 minutes or until veggies turn tender.  Stir in garlic and cook for another minute then pour in chicken broth, parsley, rosemary, sage,  thyme, salt and pepper.  Stir and reduce heat to low to simmer.
3.  Brown sausage in skillet, drain if necessary then add to vegetable mixture.  Place bread cubes into a large bowl and slowly pour mixture over cubes gently stirring throughout to ensure all pieces get coated.  Taste a couple pieces and season with additional salt and pepper according to taste.  I added a few more pinches of kosher salt and pepper at this point.
4.  Divide stuffing into a 9×13 inch baking dish and a 11×7 inch baking dish.  Bake for 25-30 minutes, until just golden brown on top.  Should still be nice and moist.  Remove from oven and serve!
12 servings, each dish
____________________________________
Can't wait for Thanksgiving!  Stay tuned for more Turkey Day Cookin' coming up!
FOLLOW PICKY PALATE ON INSTAGRAM! Show me what recipes you're making from Picky Palate by using #pickypalate.
Other recipes you may enjoy...
Comments