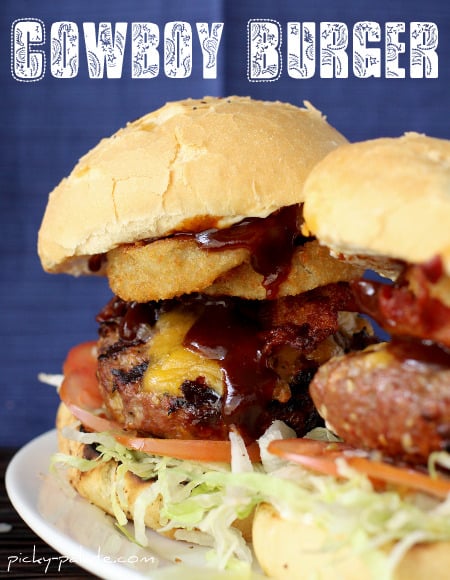 Happy Monday! Hope everyone had a great 4th of July celebration yesterday 🙂
Summer is in full swing which means I will be using my grill A LOT! I LOVE making gourmet burgers, it brings me back to my competitive cooking days at the Build A Better Burger competition. Now mind you, these burgers in this recipe are HUGE! You can certainly make your patties smaller, but when I make burgers as you can see from my pictures, I don't hold back 🙂
I LOVE all of the flavors going on in this burger, bacon, onion rings, lettuce, tomato and BBQ sauce, I am drooling just thinking about it! For a fun side, I whipped up some fun zucchini kebabs with some of the leftover bacon drippings. They were incredible!!
I hope you enjoy these big bad burgers as much as we do. Mmmm!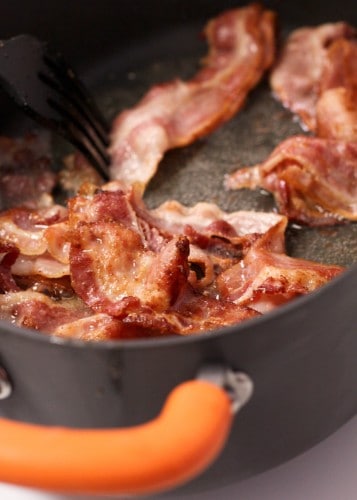 I could just have this bacon for dinner….but it's awesome on these burgers too!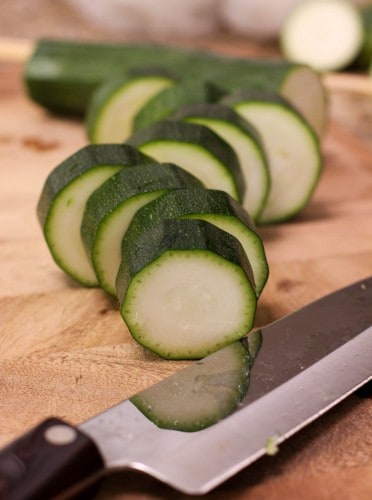 Slice up your zucchini…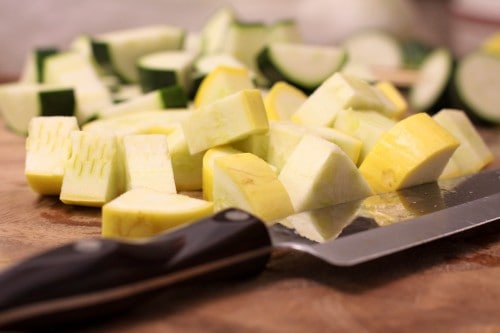 and your yellow squash…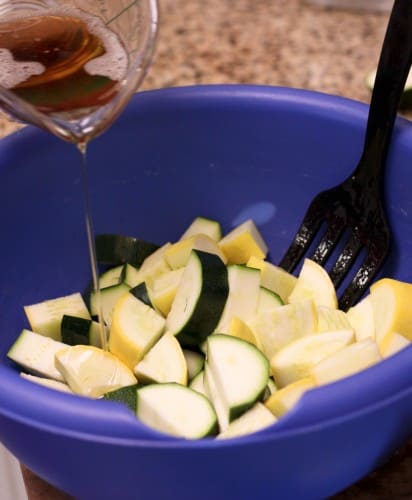 Pour in a little bacon drippings and your seasonings…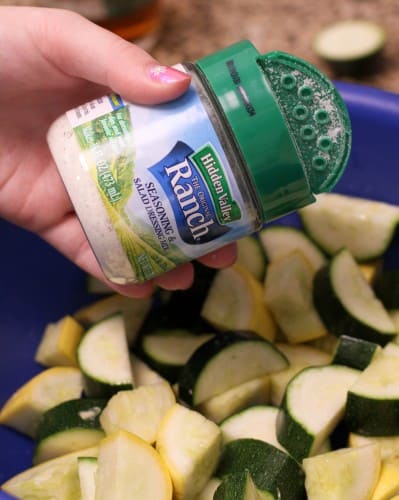 Don't forget a little Ranch, really makes these kebabs so tasty!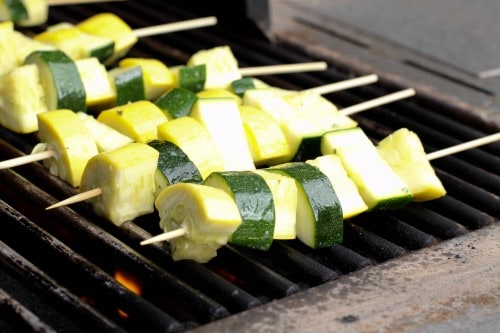 Time to grill 🙂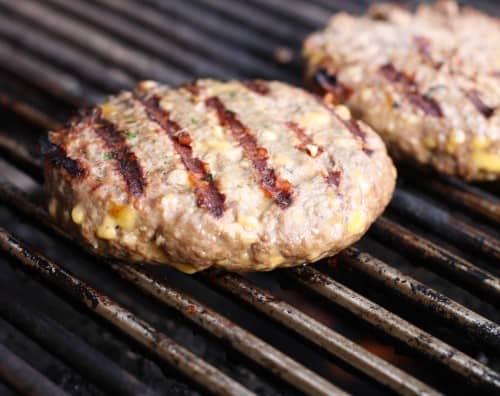 LOVE these cowboy burgers!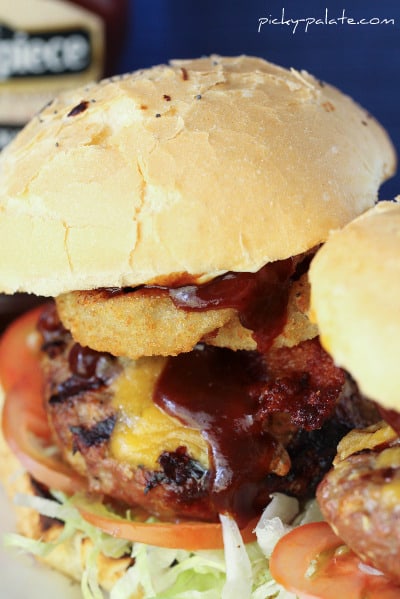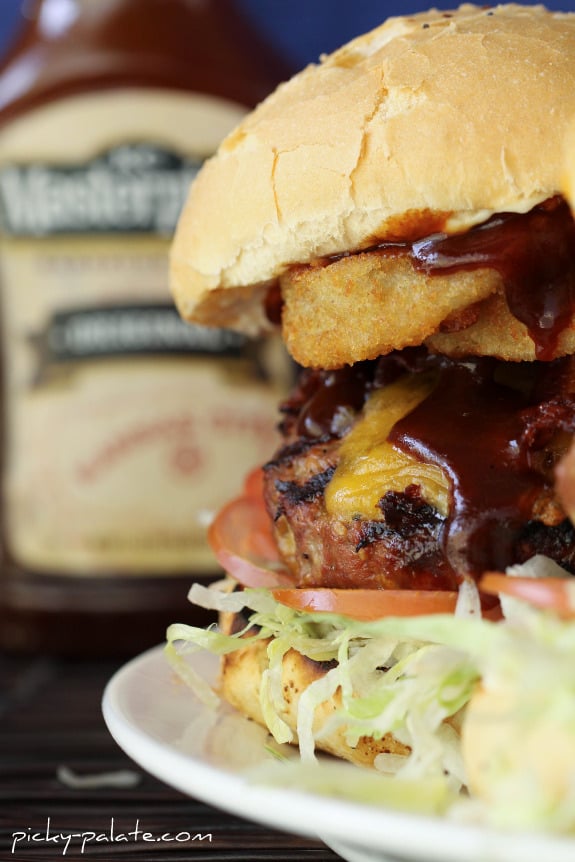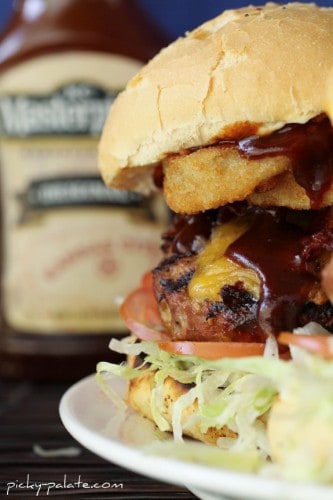 [ziplist]
The Ultimate Cowboy Burgers
1 lb bacon
1 1lb ground beef
2 Tablespoons fresh minced garlic
2 Tablespoons worchestershire sauce
1 teaspoon kosher salt
1/2 teaspoon fresh cracked black pepper
1/2 Cup shredded cheddar cheese plus 1/2 Cup for topping burgers
2 seeded onion rolls, split and toasted
4 Tablespoons mayonnaise
1 Cup shredded iceburg lettuce
4 slices tomato, 1/2 inch thick
4 baked onion rings
2-4 Tablespoons BBQ sauce (I used KC Masterpiece)
1. Preheat grill to medium high. Fry bacon in a large skillet over medium heat until browned and crisped. Drain and save drippings. In a large bowl combine the beef, garlic, worchestershire sauce, salt, pepper and cheddar cheese. Form into 2 large patties and grill for 4-5 minutes each side. During the last few minutes, add additional cheddar cheese to melt. Place mayonnaise onto both sides of split rolls and layer lettuce, tomato, burger, onion rings then BBQ sauce on bottom rolls. Place roll on top and serve!
2 LARGE Burgers
Bacon Ranch Zucchini Kebabs
1 large zucchini, sliced into 1/2 inch slices then quartered
1 large yellow squash, also quartered
pinches of kosher salt and fresh cracked black pepper
1 1/2 Tablespoons of Bacon drippings
1/2 teaspoon dry Ranch seasoning
1. Place all quartered zucchini and yellow squash into a large bowl. Season with salt, pepper, bacon drippings and Ranch seasoning. Mix to combine then alternate zucchini and yellow squash quarters onto skewers, about 8 total. Place onto grill and grill about 2 minutes per side. Remove and serve.
8 skewers
___________________________________________
Have a great new week!! See you soon 🙂