Sharing tips on what to expect when visiting Buena Vista Street, an extension of Downtown Disney!
What an absolute joy to be able to step foot back into Disney California Adventure Park! Let's talk about some questions you might have when visiting.
Do You Need A Park Ticket To Visit Buena Vista Street?
No, as of November 19th, 2020 you do not need a Park Ticket to visit Buena Vista Street inside Disney California Adventure Park. It's considered an extension of Downtown Disney for guests to enjoy.
Missing Disneyland? Be sure to check out copycat recipe for Churro Toffee! Follow Disney Hungry on Instagram for daily Disney content!

Are Rides Open?
No, as of November 19th, 2020 the rides are not open yet at Disneyland Resort.
What Is Open When Visiting Buena Vista Street?
Guests get to enjoy shopping, sights and dining while visiting Buena Vista Street.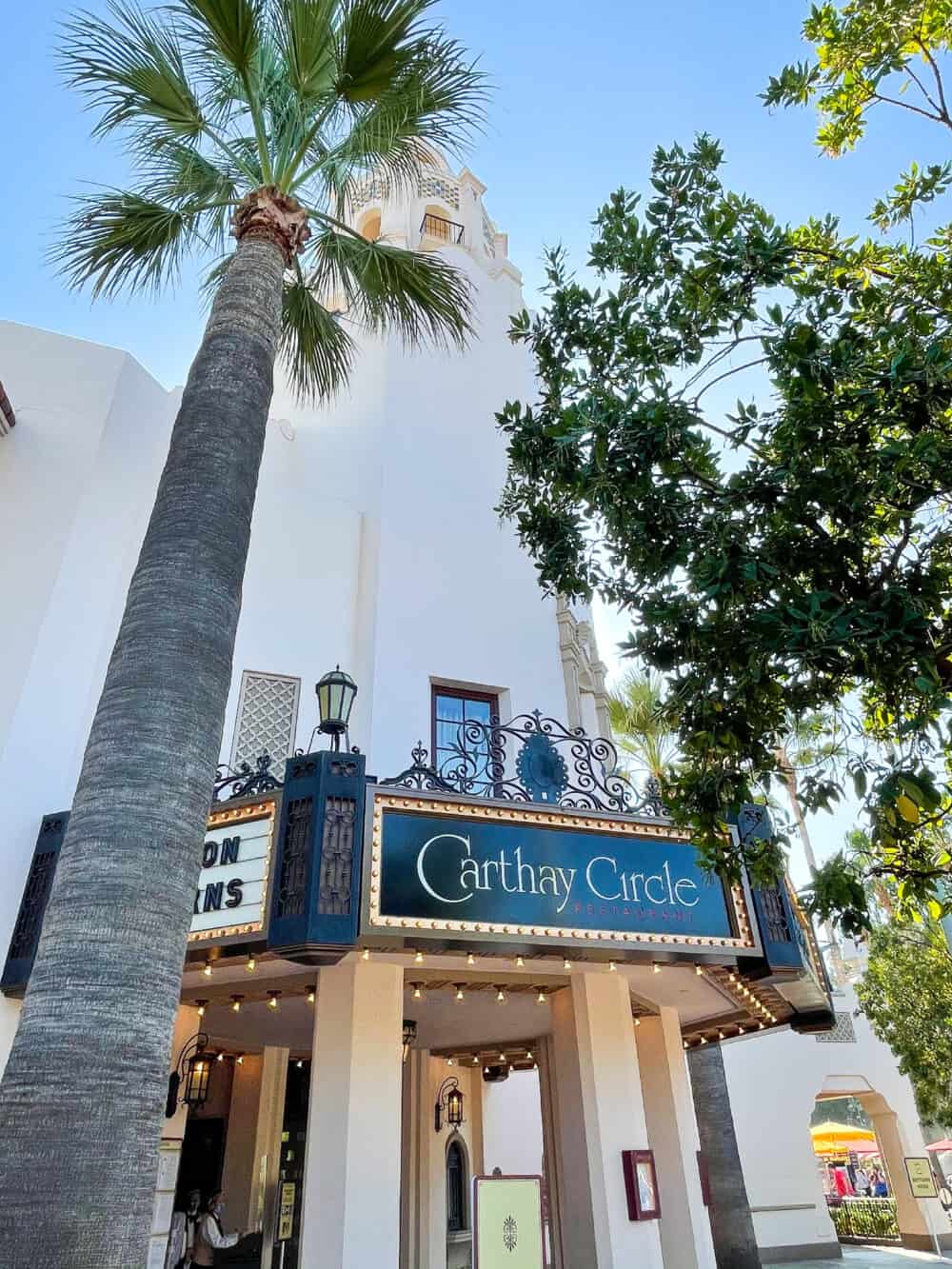 Available Dining on Buena Vista Street
Carthay Circle Lounge Alfresco Dining. Lots of outdoor seating for guests to enjoy a limited menu. Really enjoyed our dinner here out of the patio. Update as of November 25, 2020, you can now make a reservation on the Disneyland App. Advanced reservations are highly recommended.

Can I Leave Buena Vista Street and Come Back With Carthay Circle Reservation?
Yes, we confirmed and tested this. We left Buena Vista Street and returned that evening when we got our second text saying to come back. Note you only have 15 minutes to report to Carthay Circle once you get the second text. Show your second text to a Cast Member at the front of Disney California Adventure Park and they'll let you in.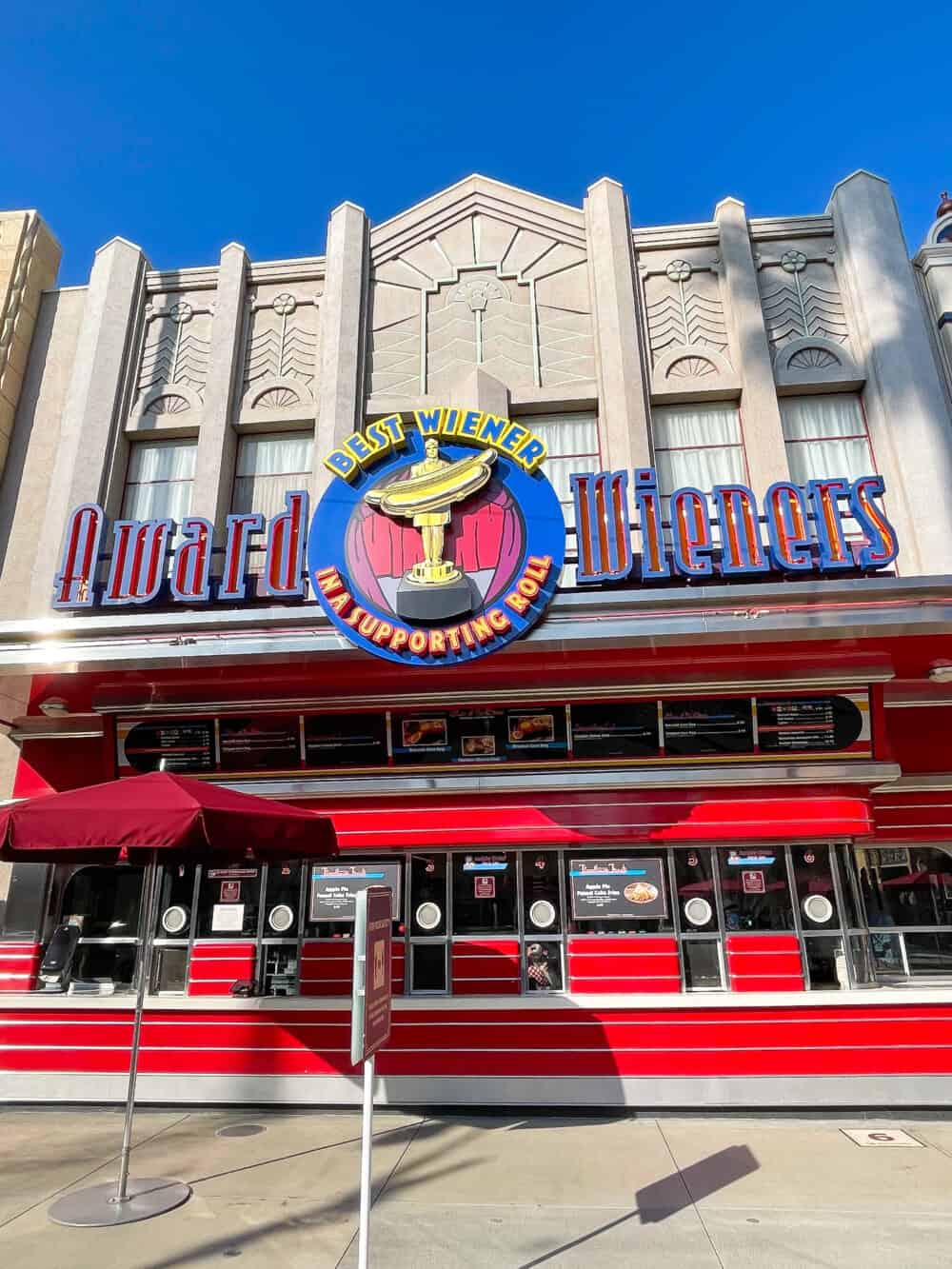 Award Wieners. Quick service Corn Dogs, Funnel Cake Fries and a variety of drinks. Note that guests should place their mobile order once they're in Buena Vista Street. A mobile order will not grant access to Buena Vista Street.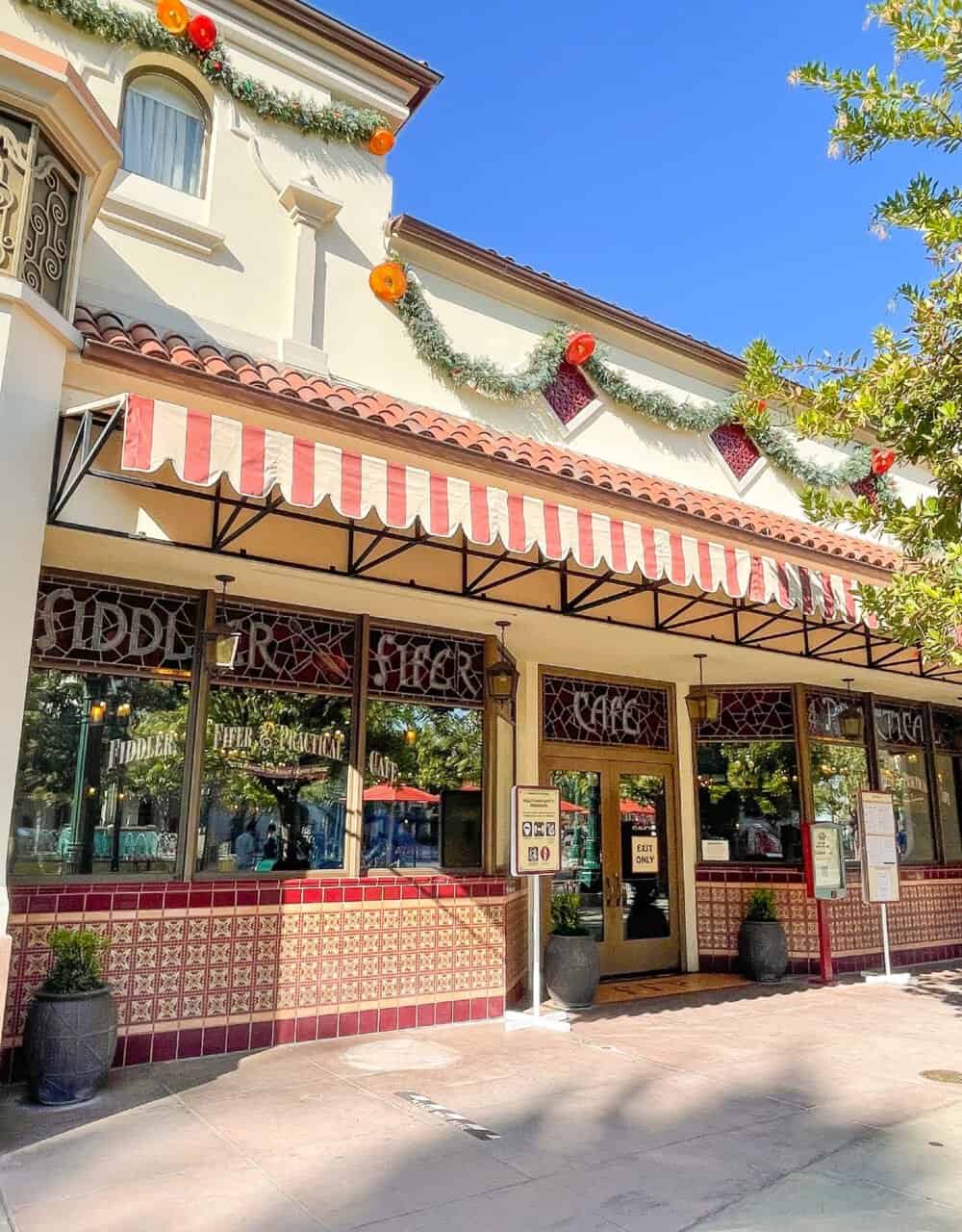 Fidler, Fifer and Practical Cafe aka Starbucks. Grab and go with quick bites for breakfast, lunch or dinner along with your favorite drinks. Mobile Ordering recommended. There's signage near the entrance with instructions and a scan code to assist with mobile ordering.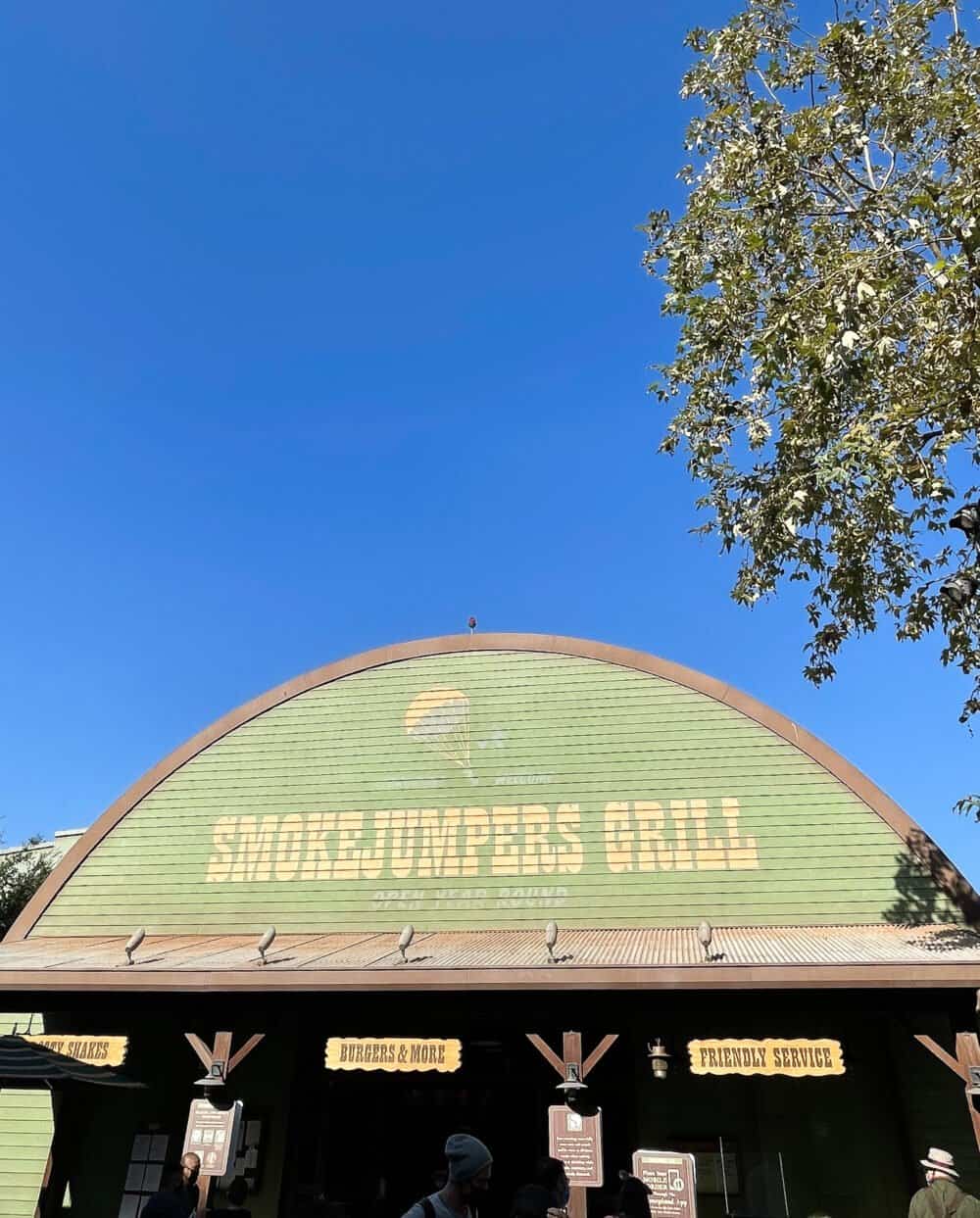 Smokejumpers Grill. Right as you enter Grizzly Peak area, you can dine at Smokejumpers Grill. Lots of outdoor dining available and again Mobile Ordering recommended. You'll be greeted with instructions and scan code to assist your order.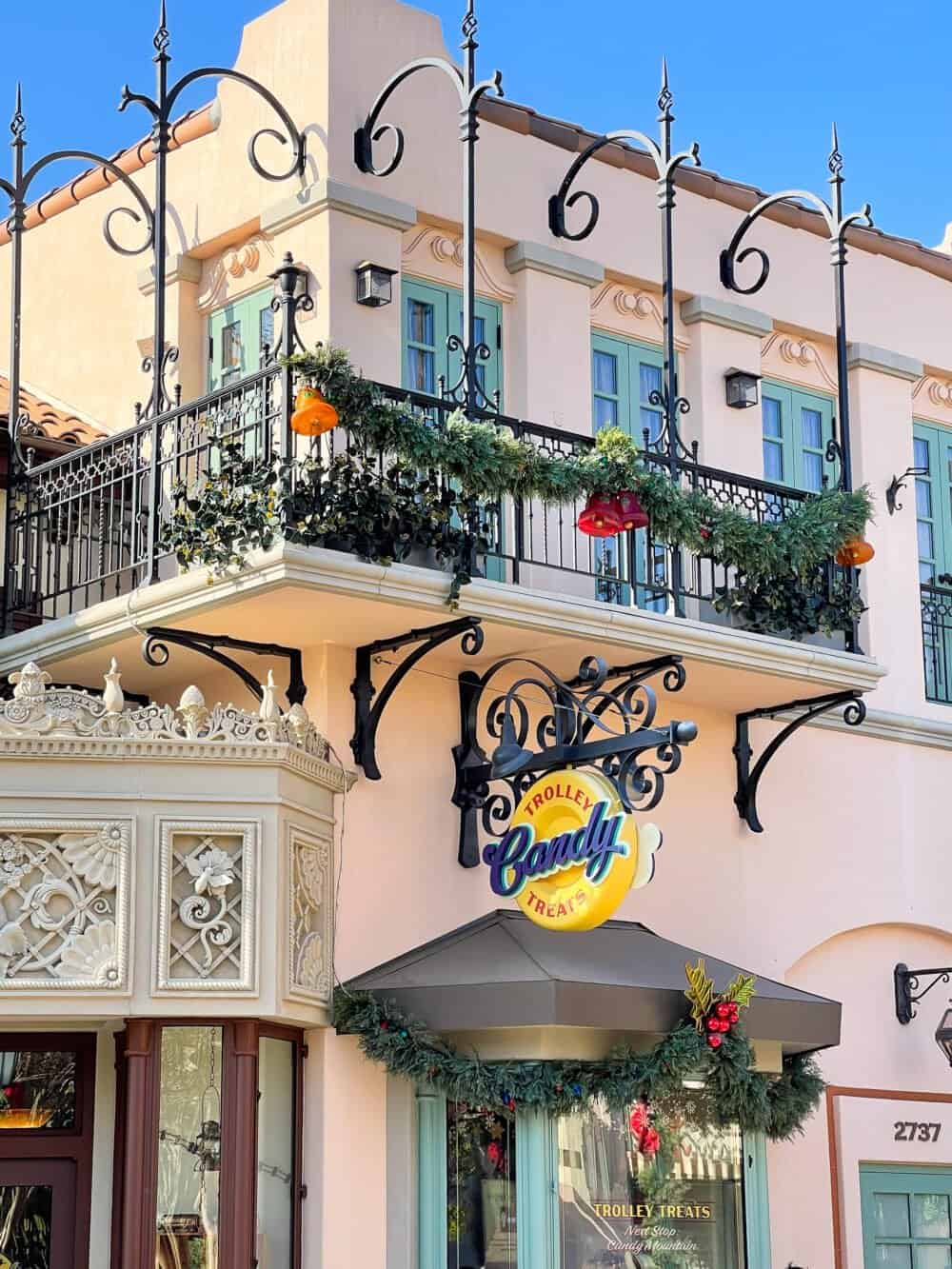 Trolley Treats. Satisfy your sweet tooth with all kinds of baked goods at Trolley Treats. It also extends into Julius Katz and Sons for shopping too.
Shopping Available
Elias and Co. and 5 and Dime. There is a line to enter at 5 and Dime that grants access to Elias and Co as well. All guests exit at Elias and Co. Look for the Cast Members near 5 and Dime to get in line if needed. In our experience on the first day or re-opening, we waited about 15 minutes to enter.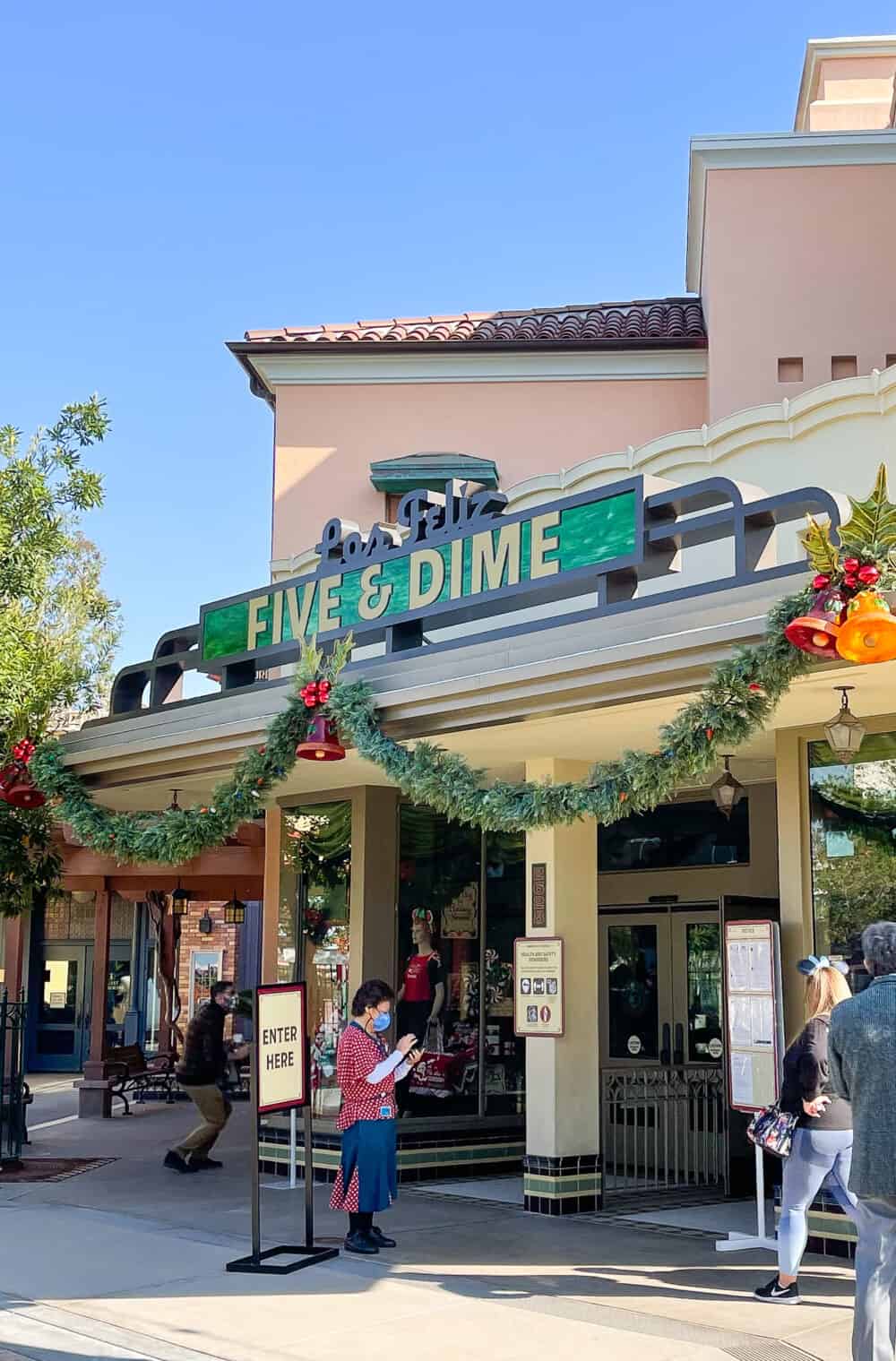 Julius Katz and Sons + Kingswell Camera Shop. These two shopping areas will be your line for Trolley Treats that extends into both shops. For your reference, this was the longest line we waited in during our visit. Look for the Cast Member near Trolley Treats to assist pointing you where to get in line.
What Safety Measures Have Been Put in Place For Guests?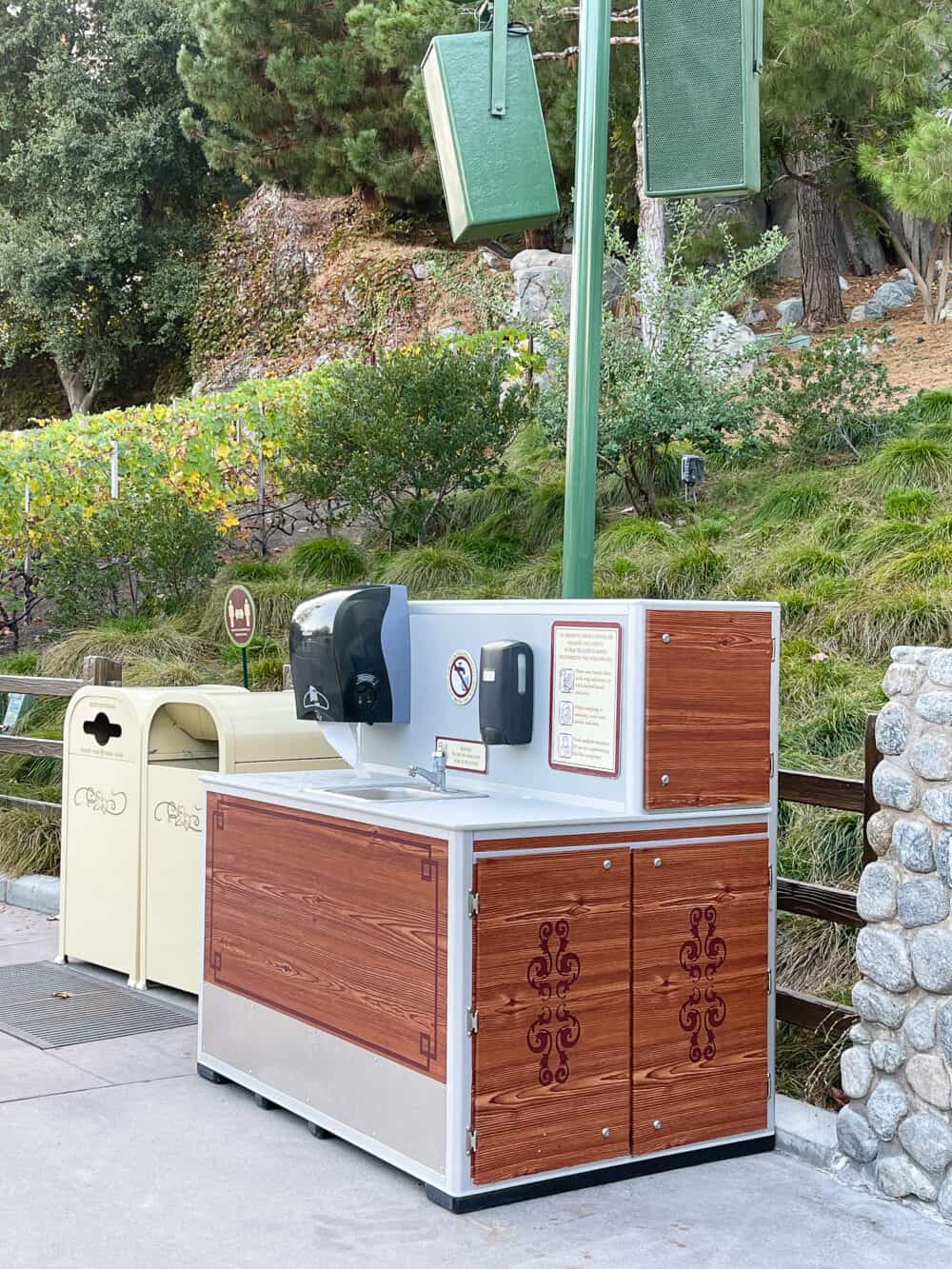 Hand washing stations like this have been added throughout Downtown Disney District and inside the Park for guests to use.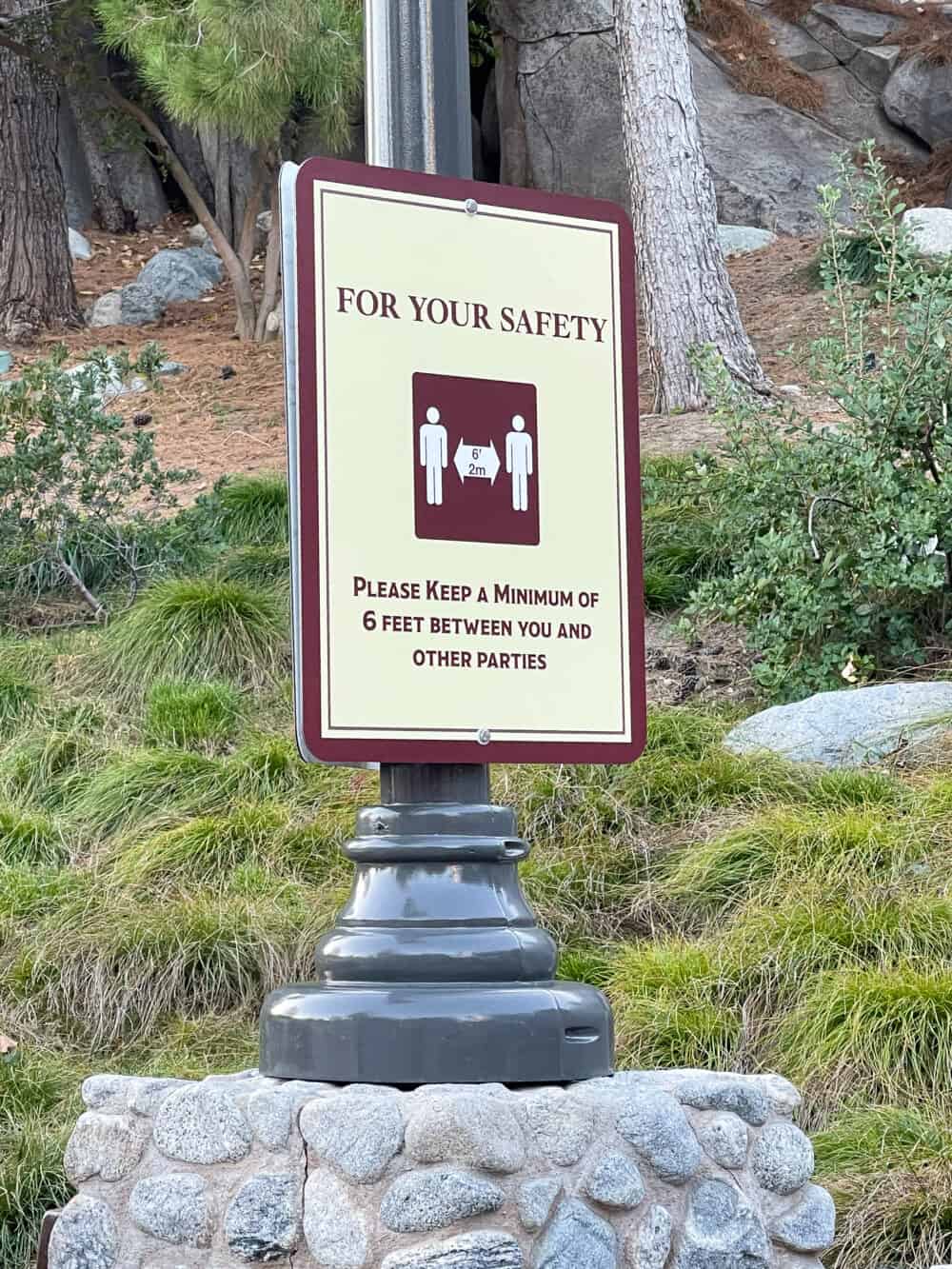 After witnessing this at both Walt Disney World Resort and now Disneyland Resort, I can tell you with full confidence that Disney is doing a wonderful job making guests feel safe. Guests 2 and up are required to wear a mask over the nose and mouth. There are hand washing stations throughout Downtown Disney District and the Park. Helpful Cast Members throughout Buena Vista Street guiding guests as needed. Physical distancing markers for the lines that guests stand in. I was very impressed at the safety measures added.
Is It Worth Visiting With No Rides Open?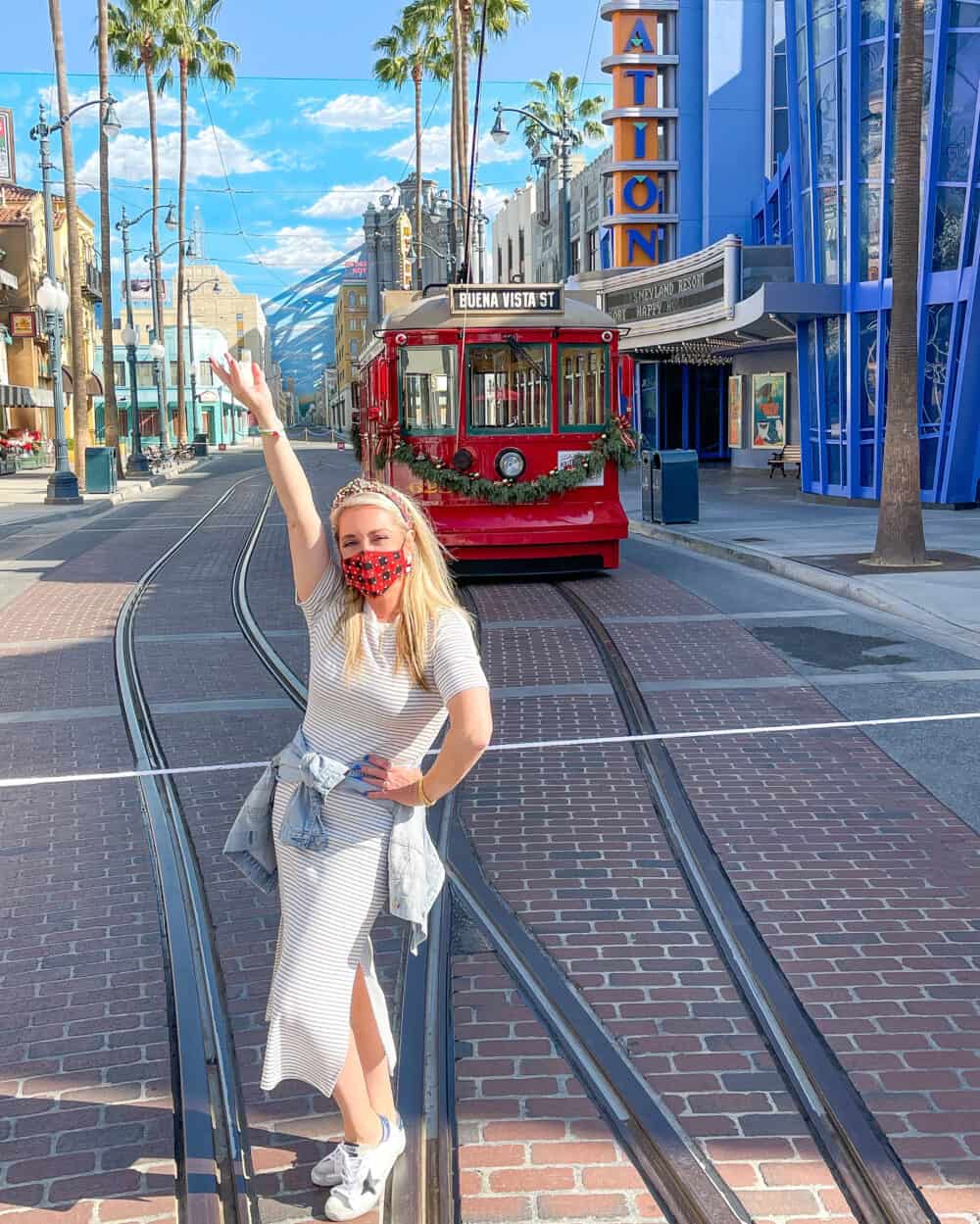 In all honesty, I felt like it was such a wonderful visit even with no rides available yet. I've missed the Parks so much, that even stepping foot inside Disney California Adventure Park was worth it to me. Don't forget to get a photo in front of the Red Car Trolley parked in front of Animation Academy.
Do I Need A Reservation To Enter Buena Vista Street?
The first day of re-opening, there were two lines for guests to get into. One on the Harbor side of Disneyland, and one near the back of Downtown Disney. I know some people who lined up at 6am. I got in line at 8:10am and Buena Vista Street opened at 10am. They started letting guests in around 9:30am. Once at capacity (limited right now) everyone else gets into a virtual queue. See info below.
How Do I Get Into The Virtual Queue For Buena Vista Street?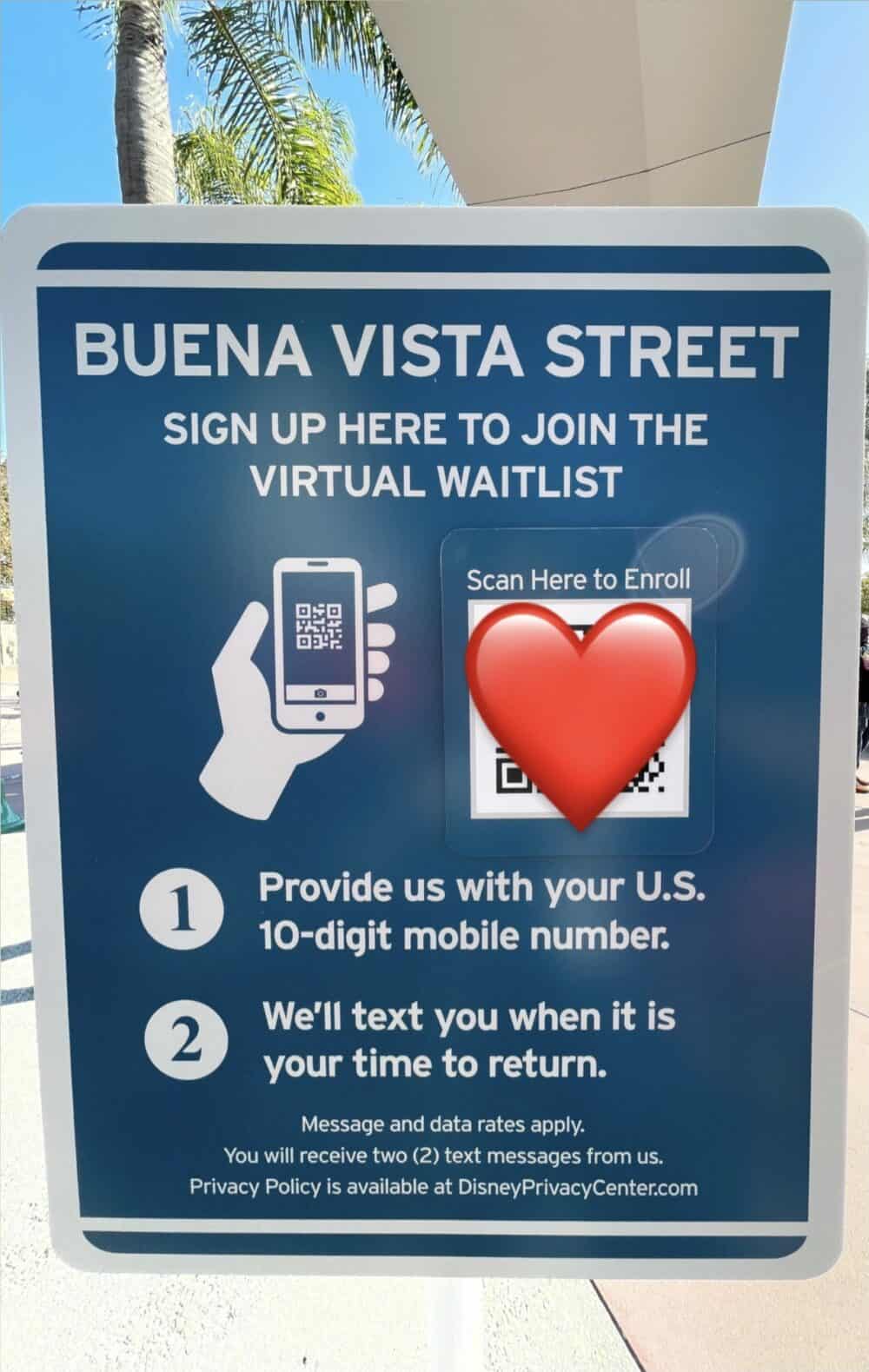 Near the ticket booths, you'll see signage with scan codes that explain how to get into the virtual queue. See my screenshots below on what to expect. Once you get the first text confirming your place in line, you will get a second text when it's time to return. There will be a line to wait in once you get the second text for your reference. We waiting close to an hour after getting our second text to return. It will vary throughout the day.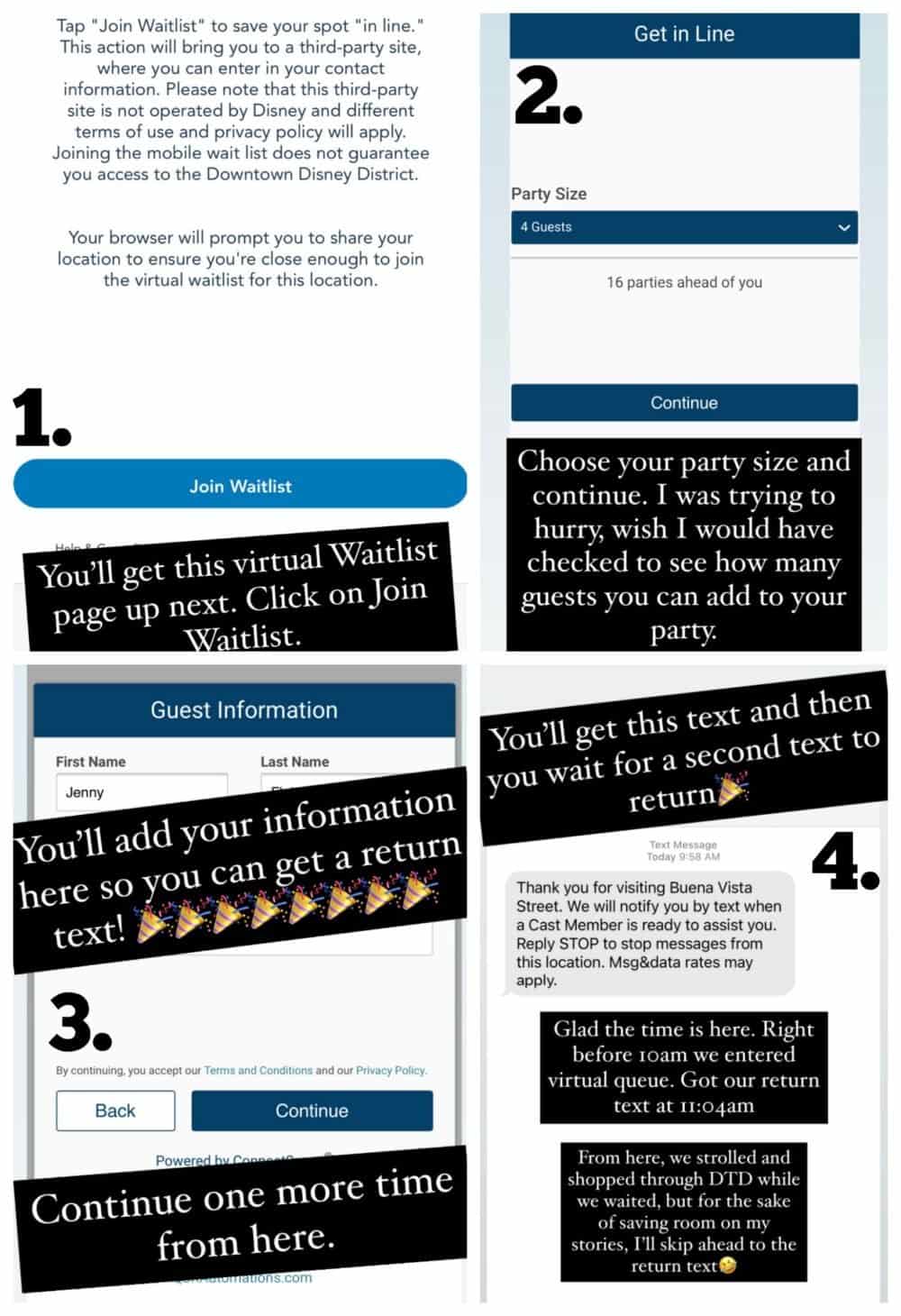 Once you scan the scan code you'll be guided through these 4 pages in these screenshots. You then wait for a return text. At this time, we explored around Downtown Disney District.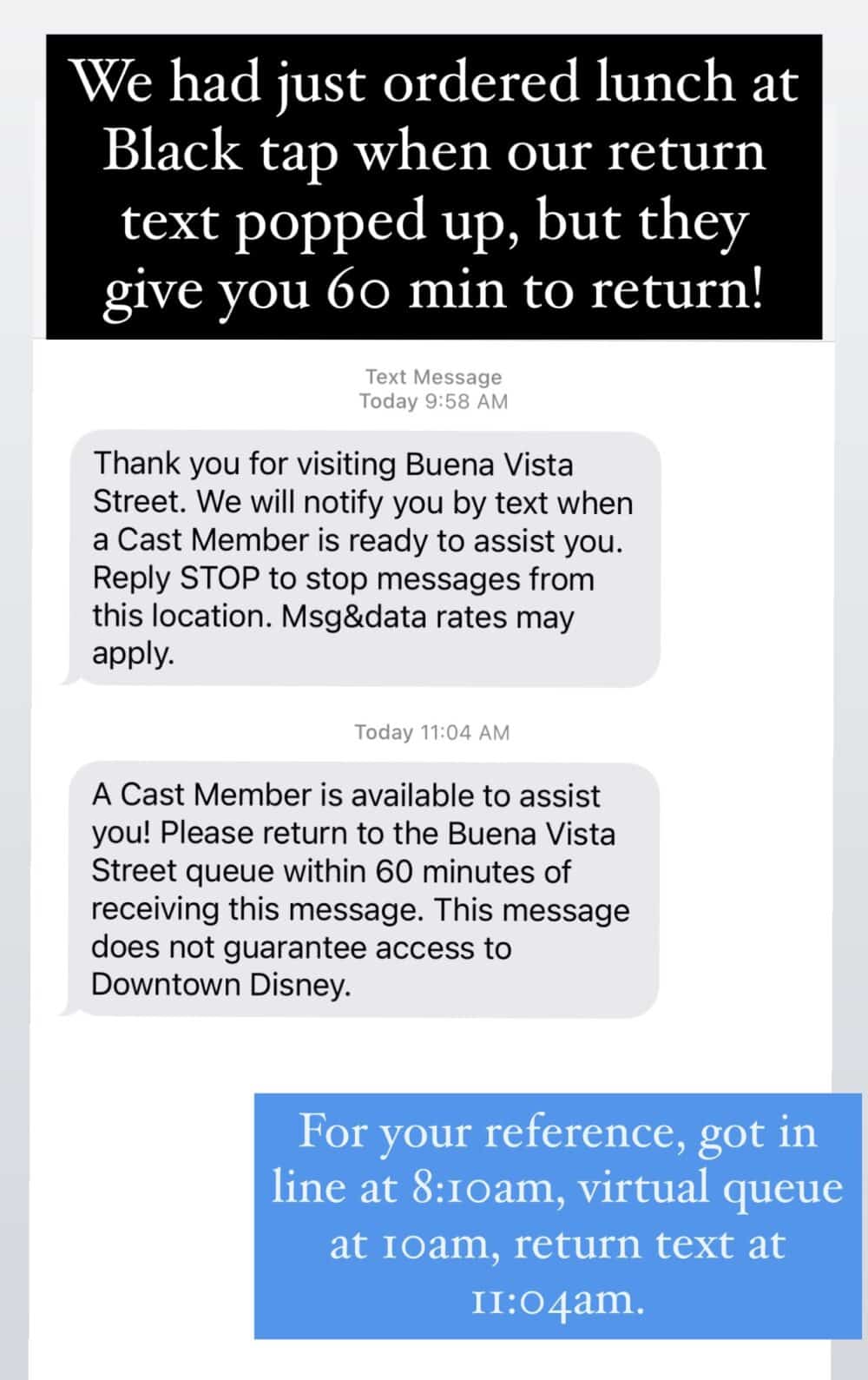 You'll have 60 minutes to return to get into Buena Vista Street. There will be another line to wait in at this point. We waited close to an hour for your reference after this second text.
Is There A Time Limit When Visiting Buena Vista Street?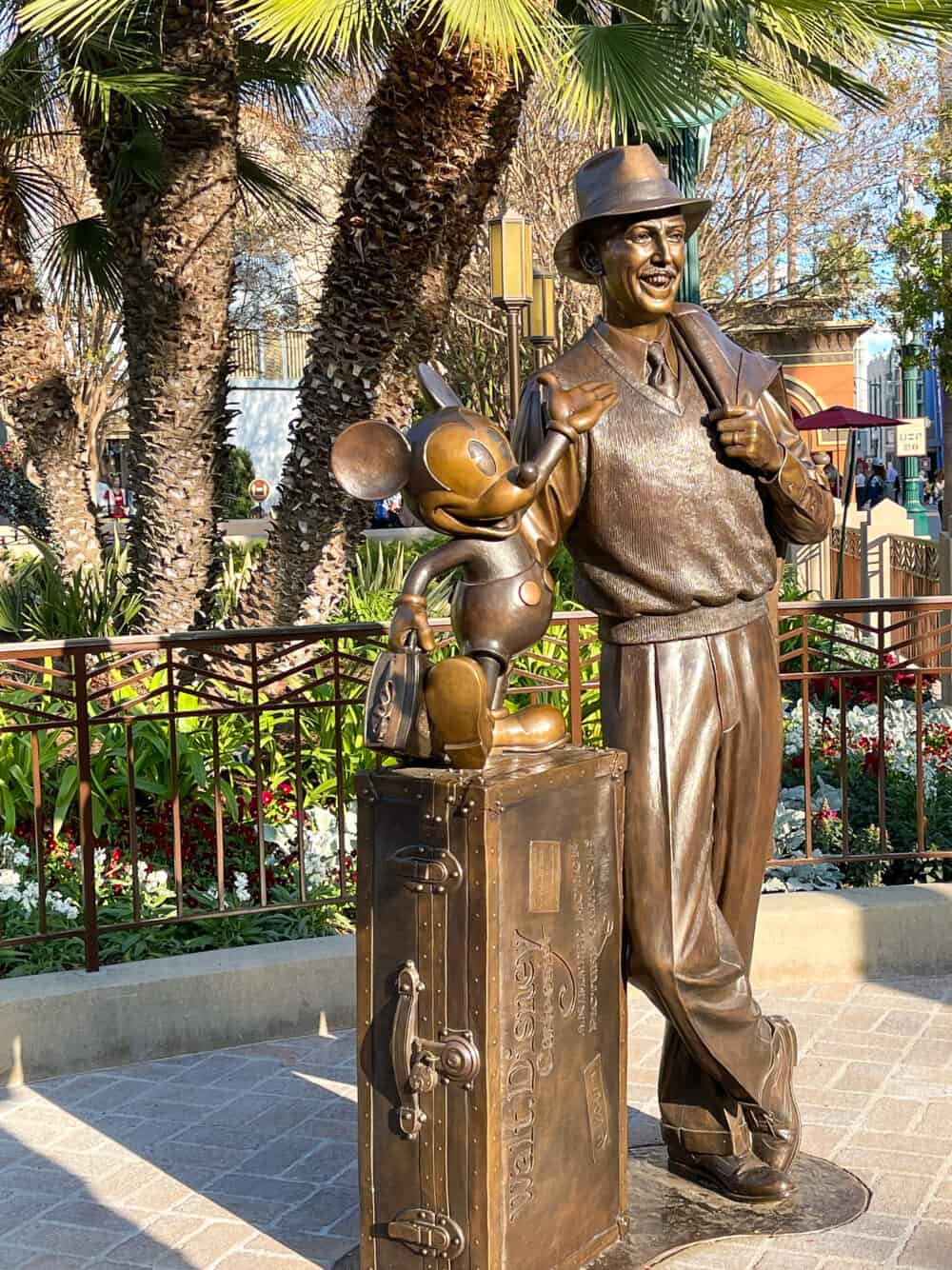 No, once you are inside, you are welcome to stay as long as you'd like. While the virtual queue is in place, don't plan on leaving and coming back into Buena Vista Street unless you have your second text to return to Carthay Circle for dining.
What Should I Eat When Visiting?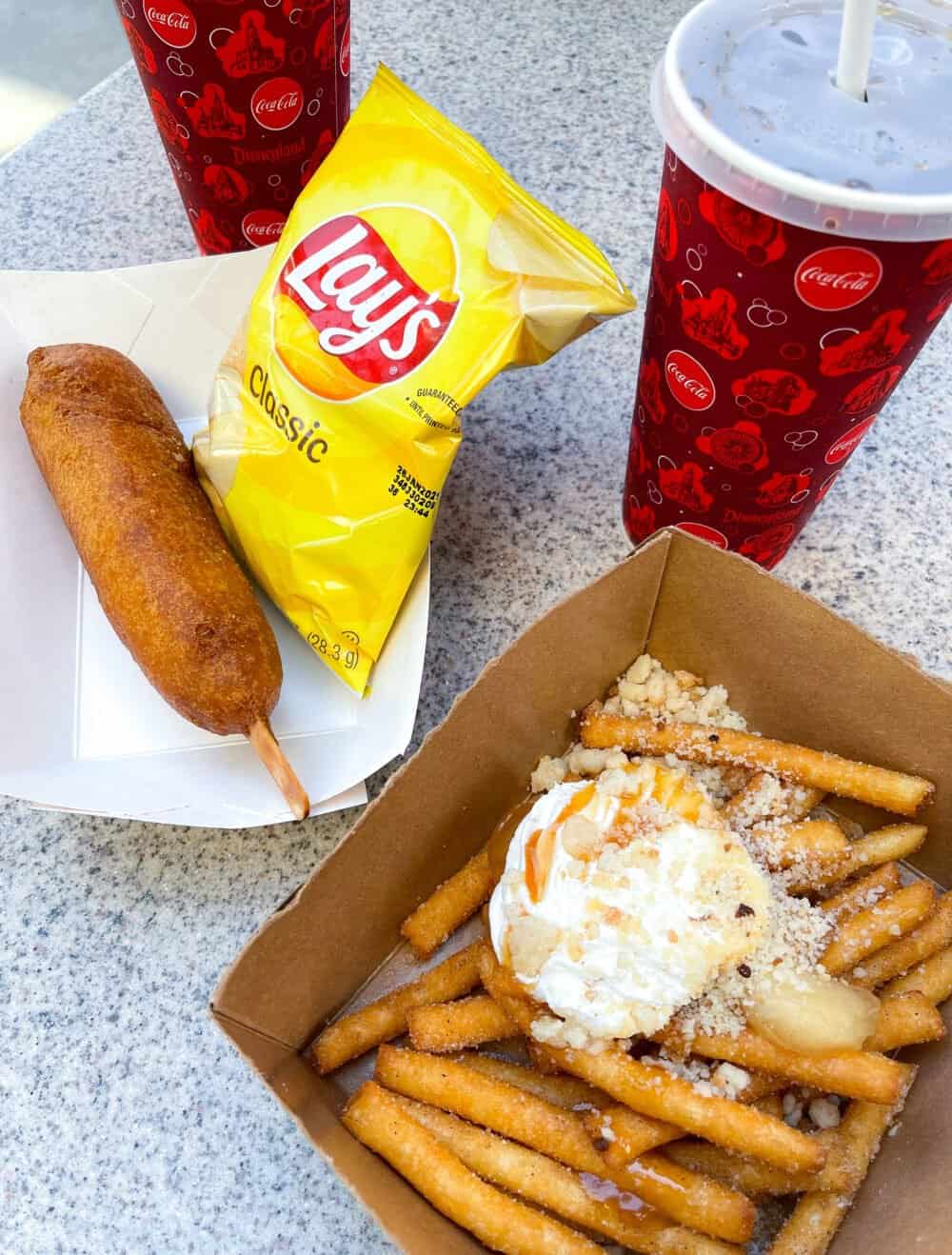 I would enjoy your favorite drink at Fidler, Fifer and Practical Cafe in the morning, lunch at Award Wieners. You have to get a Disneyland Corn Dog and Funnel Cake Fries.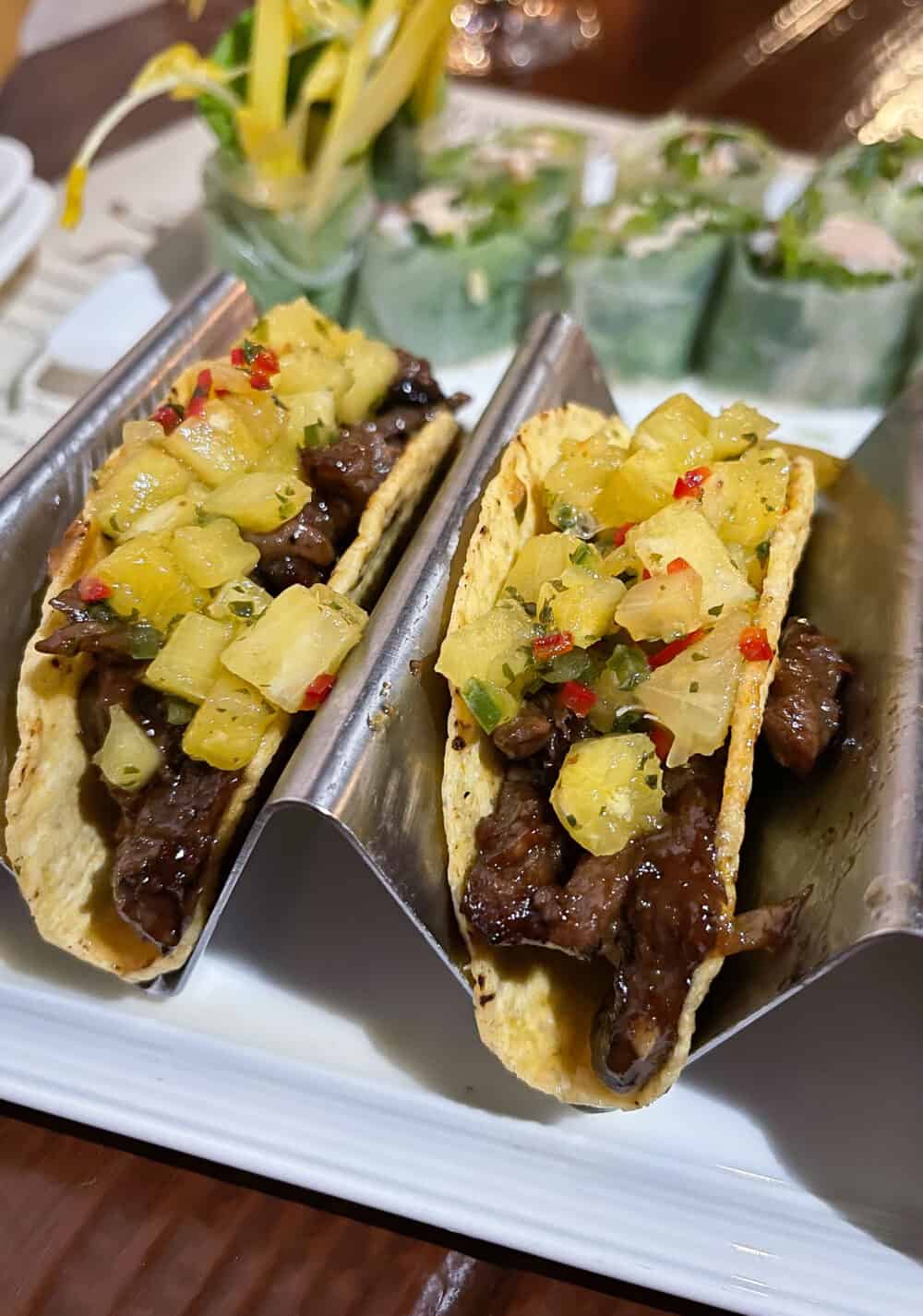 Dinner at Carthay Circle Lounge is always a great time. Don't miss the Vietnamese Twice Cooked Tacos!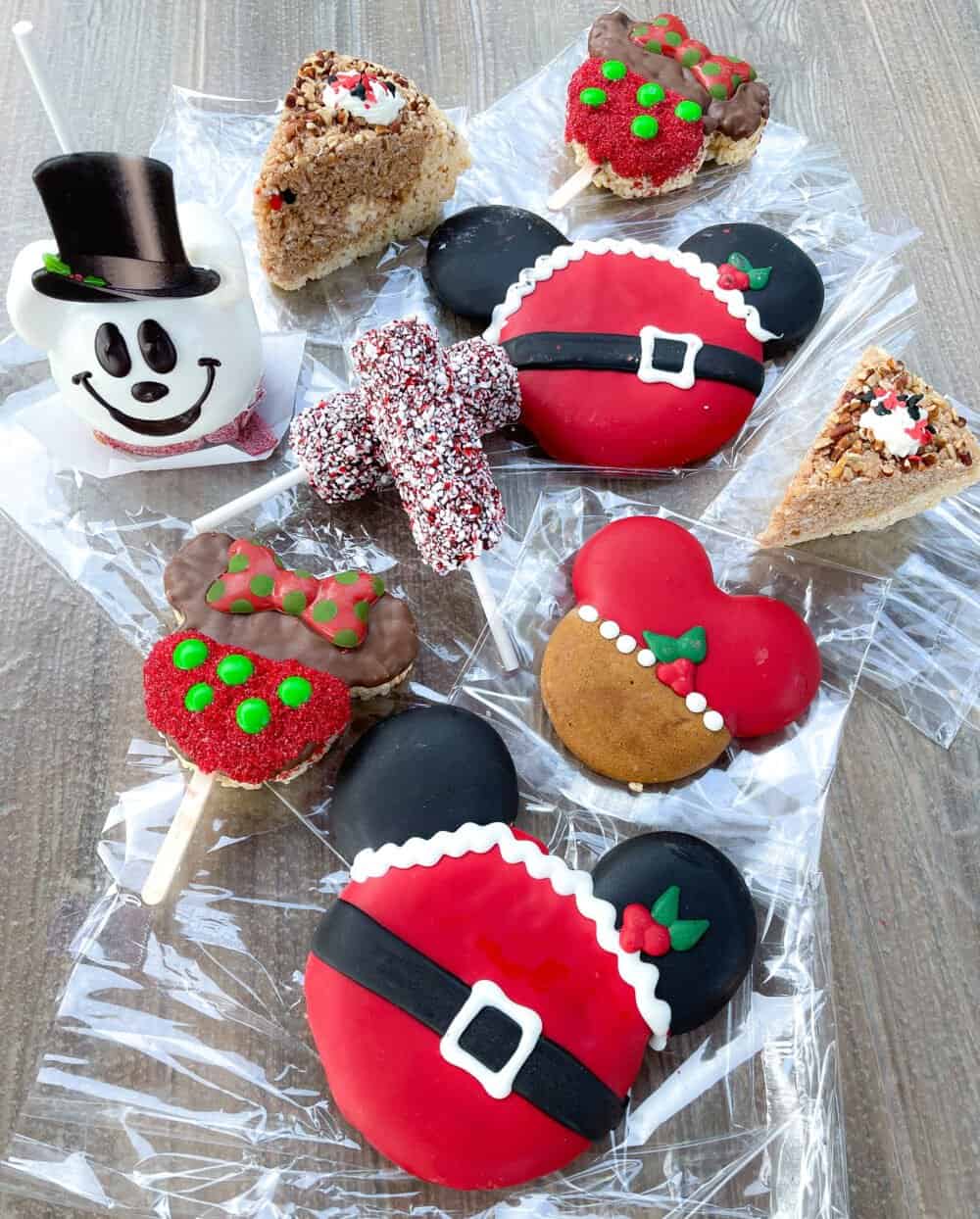 Grab some sweet treats at Trolley Treats and a churro at Willie's Churro Cart.
Check the Disneyland App for hours at Downtown Disney District and Buena Vista Street.
Pin To Your Favorite Travel Board