This delicious After Workout Protein Shake is exactly what you need after exercising. Your body will thank you for fueling it with this nutrient-packed protein shake!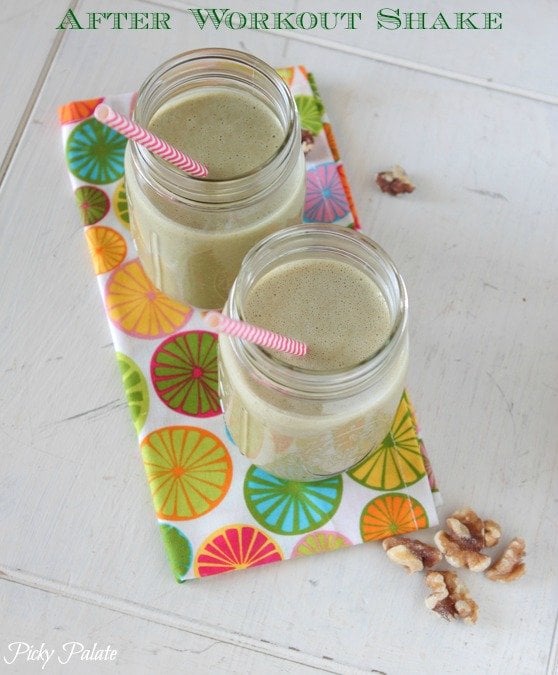 After Workout Protein Shake
I'm excited to turn the time over to my husband today who is the fitness guru of the family. He's also my trainer at the gym, no matter how much I kick and scream 🙂 With all of my recent travels, I made him promise to make me watch what I eat and workout like a mad woman for the next 6 weeks. He's sharing a little of what we're doing. Feeding yourself nutrition at the proper time is important for a fit lifestyle. This after workout shake will help in this goal.
~~~
Over the last week or so Jenny and I have started a little 6 week challenge. Our rules are: 1 cheat meal a week, 3 sweets a week, and a balance of protein, complex carbohydrates and plenty of fiber. We're somewhat counting calories, although not religiously. Jenny's goal is to stay around 1200 cal per day. With this challenge, Jenny has finally given me "trainer" and "nutrition" authority over her life for 6-weeks. It's basically, me giving her options that she can eat and pushing her harder than she has ever known in the gym.
Try my Perfect Hard Boiled Eggs too! Follow Picky Palate on Instagram for daily recipe inspiration.

So, today we bring you a shake I (Cullen) have been making for some time. I like to drink it around workout time, preferably after work out. I will discuss with you two different types of supplements we've been using from Vega. We use the Vega Sport performance protein powder in this recipe, however feel free to go try the Vega One that I discuss, or your protein powder that you currently use. Sprouts Farmers Market has had the Vega Sport on sale (normally $59) for about $47 which is a good price. Amazon sales it for $49.99.
Protein Shake Ingredients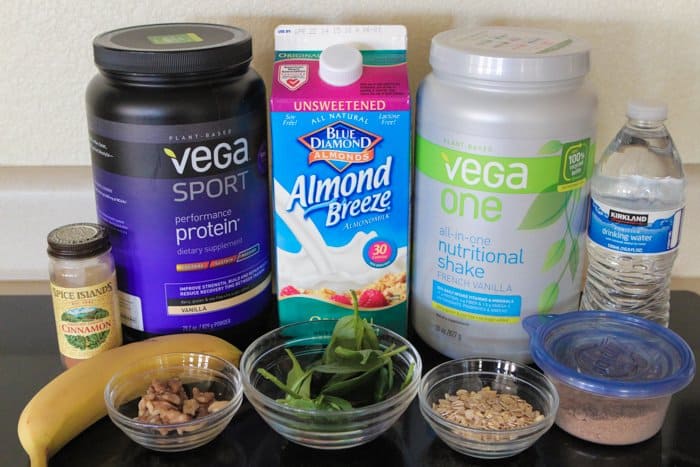 I first came across the Vega protein supplement while shopping at Whole Food in Newport Beach (Ohh how I miss the area and weather of Newport Beach, CA). As I was saying, the company was on location giving samples of their Vega One all-in-one nutritional shake. At the time, I've had in my mind the idea to create my own protein supplement that provided key nutrients that I was targeting my diet after. They were vegetables, fiber, omega-3, and protein. So, needless to say, my attention was granted. In addition to the nutrients I just listed, Vega One has antioxidants, and probiotics, along with vitamins & minerals.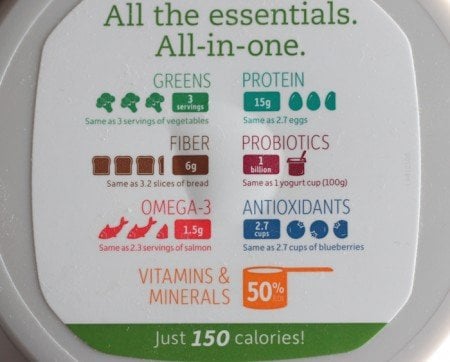 Have you ever tried proteins from plants? Such as, protein from peas, SaviSeed, brown rice, and alfalfa. It is definitely an acquired taste. It may take a week or so to get used to it, but push through and you'll love it in no time. It's actually why I created this recipe so I could minimize the sting my tastebuds were receiving from the plant based proteins. Even Jenny loved this recipe first try. What's funny is that I'm not longer the "picky palate" of the bunch as the wonderful Mrs. Jenny has surpassed me in pickiness.
So if you decide to try Vega, use it in this recipe first and then give it a shot with just water. And, if you were wondering – No, I am not vegan. No, I am not a vegetarian. No, this is not a sponsored post by the Vega company. I just like incorporating plants into my diet.
Keep in mind that you can substitute any protein powder that you currently use in place of the Vega Sport Protein I used in this recipe.
Now, if your looking for more protein (26g), amino acids (5,357 mg), L-Glutamine (5,318 mg), and digestive enzymes (340 mg) for after your work out–then Vega Sport Protein has this.
And please keep in mind we are not offering fitness and medical advice with these products. We like to use them and simply want to share what we are doing. It's always wise to seek for advice from a professional if you are starting a new diet or exercise routine.
How To Make The Perfect Protein Shake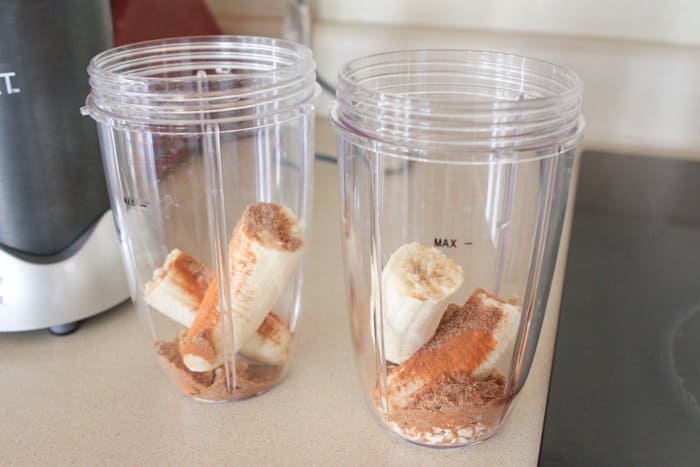 First put in the spinach, banana, old fashioned rolled oats, walnuts, cinnamon, and flax seed into your blender. Now, I forgot to put in the spinach until later but it doesn't matter. Also, this recipe was designed to have enough liquid to not go beyond the "max" line in the 600 watt Nutribullet. However, you can use any blender to make this wonderful shake.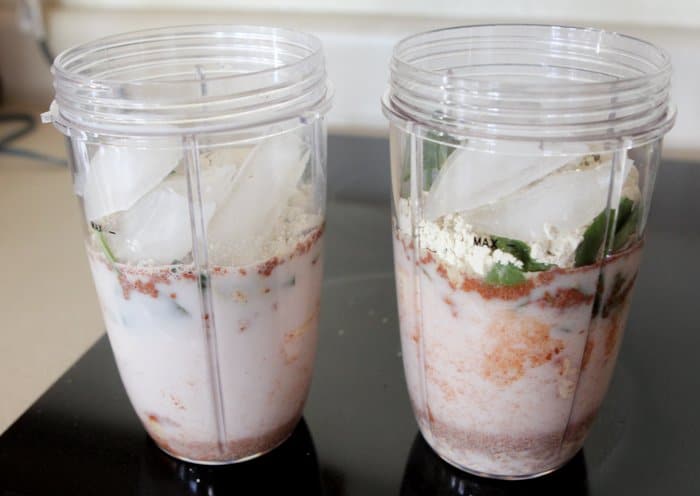 Pour in your liquid and then add the protein powder. It's important for the protein powder to go in on top when using a Nutribullet since you flip the cup over to blend. Otherwise, the powder sticks to the bottom of the cup and is difficult to incorporate. Don't forget to top with ice.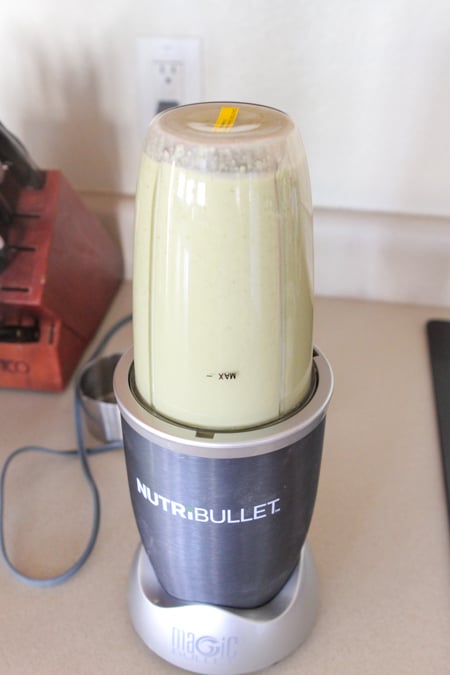 Blend until desired consistency is reached.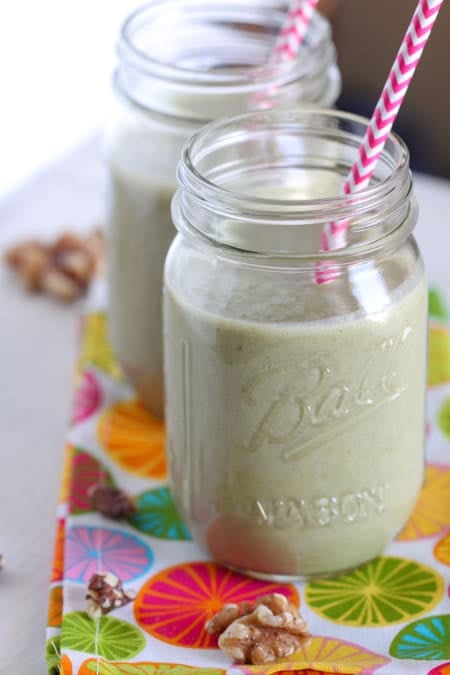 You get a slightly different taste depending on if you add nuts and oats. When Jenny is looking for less calories I'll limit or remove the higher calorie oats and walnuts. If you include all ingredients listed, the calorie count will be somewhere in the 500 range. Removing oats and walnuts could bring it down to the 300 – 400 range.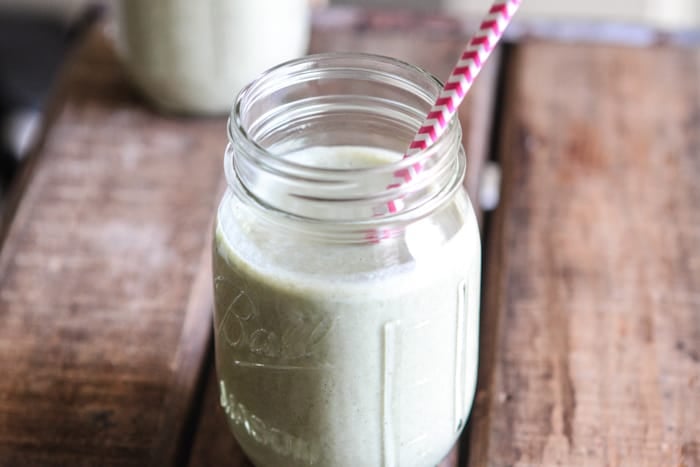 The great thing about this shake is there's nothing but goodness inside.
One for Jenny and one for me!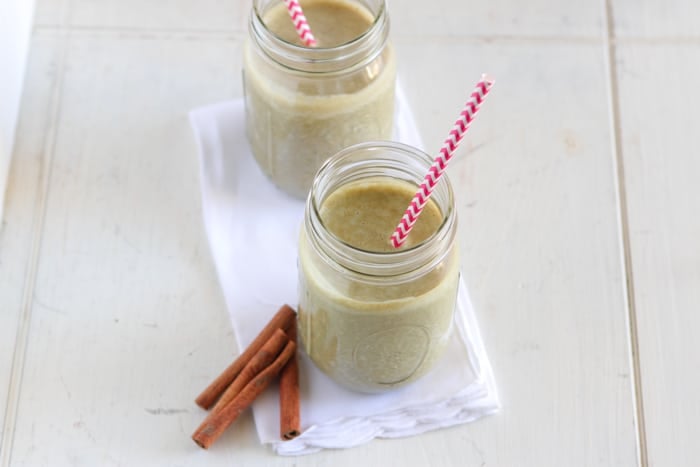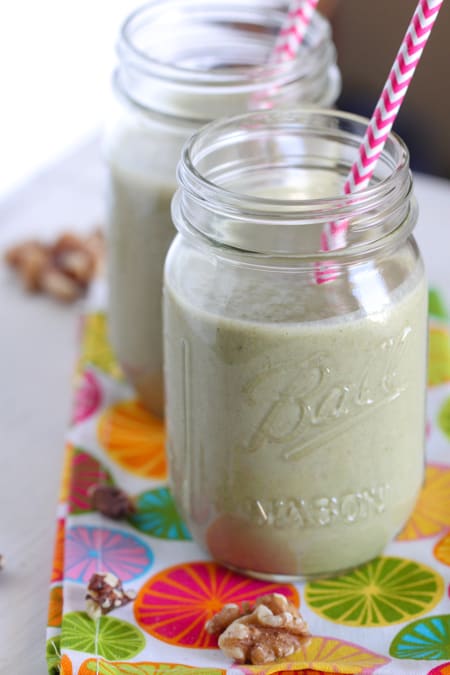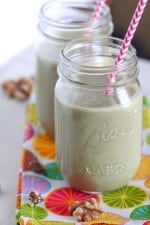 After Workout Protein Shake
This delicious After Workout Protein Shake is exactly what you need after exercising. Your body will thank you for fueling it with this nutrient-packed protein shake!
Print
Pin
Ingredients
Small handful of organic baby spinach

1

medium banana

2

tablespoons

old fashioned rolled oats

2

tablespoons

walnuts

1/2

teaspoon

cinnamon

2

teaspoons

ground flax seed

1/2

cup

filtered water

1

cup

unsweetened almond milk

1

scoop Vega Protein Powder

or protein powder of choice

Small handful of Ice
Instructions
Place spinach, banana, oats, walnuts, cinnamon, and flax seed into a blender or Nutribullet. NOTE: This recipe will fit into a 600watt Nutribullet.

Place water and almond milk into your blender.

Place Vega Sport Protein powder (or protein powder of your choicand top with ice.

Blend until desired consistency is reached.
Nutrition
Calories:
170
kcal
|
Carbohydrates:
20
g
|
Protein:
4
g
|
Fat:
9
g
|
Saturated Fat:
1
g
|
Sodium:
167
mg
|
Potassium:
277
mg
|
Fiber:
4
g
|
Sugar:
8
g
|
Vitamin A:
38
IU
|
Vitamin C:
5
mg
|
Calcium:
165
mg
|
Iron:
1
mg
Keywords:
after workout shake, high protein recipe, homemade protein shake, how to make a protein shake, protein powder recipe, protein shake recipe, shake recipe