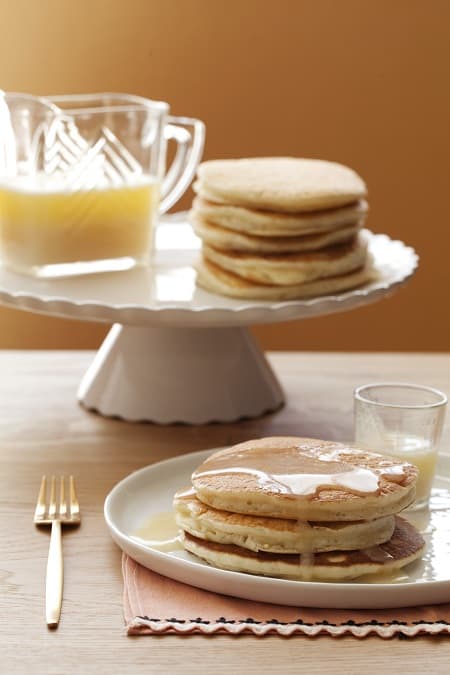 Photo credit Matt Armendariz, The Picky Palate Cookbook, John Wiley & Sons, Inc.
I thought it would be fun to highlight some of the recipes in my cookbook and give you a little behind the recipe story as well as a closer look at Matt Armendariz's fabulous photography. I still swoon over the gold fork used in this photo. Fabulous!
This is by far one of my favorite recipes in the book. It's called my One-Bowl Buttermilk Pancakes with Buttermilk Syrup. Just looking at Matt's gorgeous photo has me salivating for pancakes and I just had lunch, lol!
If there's one recipe that I have made the most in all of my days it is this exact recipe. I created it for the cookbook and seriously have made it over 100 times since. My boys, especially my 7 year old requests them every single day. Good thing they are quick and simple to prepare, lol! The pancake itself if soft and fluffy just how I like them. The nice thing is you can add other ingredients to the mix when you feel like it. I've added pumpkin, spiced apples, peaches, biscoff, flax seed, chocolate chips, cocoa powder, marshmallow bits….sky's the limit, it all works. We enjoy spreading Biscoff, Nutella, and peanut butter over our pancakes…not all on one pancake 🙂
Can we just talk buttermilk syrup for a moment. My boys refer to it as "candy syrup" which is pretty spot on, lol! It is so creamy and fabulous, you just have to try it for yourself. I'll never forget when my brother in law Derek introduced this syrup to us quite a few years ago. Immediately I was a sucker for it and had to have a version of my very own. I tweaked a few things and I'm telling you, you will never go back to normal syrup once you try it.
The kids love to help make it because when they add the baking soda and vanilla at the end, the whole saucepan bubbles up like a science project. It's quite entertaining 🙂
Hope you've enjoyed this behind the recipe of my beloved buttermilk pancakes. If this hasn't talked you into owning my book, I'm not sure what will, lol! 🙂
Have a great day!
xoxo