Sharing the Best Disneyland Food Holidays 2018! So many amazing things to try, get your notebook ready!
It's no secret that Disneyland food is my favorite! I look forward to visiting Disneyland Resort every Christmas season. It is completely magical. Today, we'll be going over the Must Have foods at Disneyland. Let's start with the Holiday Churro's around the Parks! Visiting Festival of Holidays this year? Be sure to check out my reviews HERE.
Be sure to follow Disney Hungry on Instagram for daily delicious Disney foods to look out for!
Holiday Churros at Disneyland Park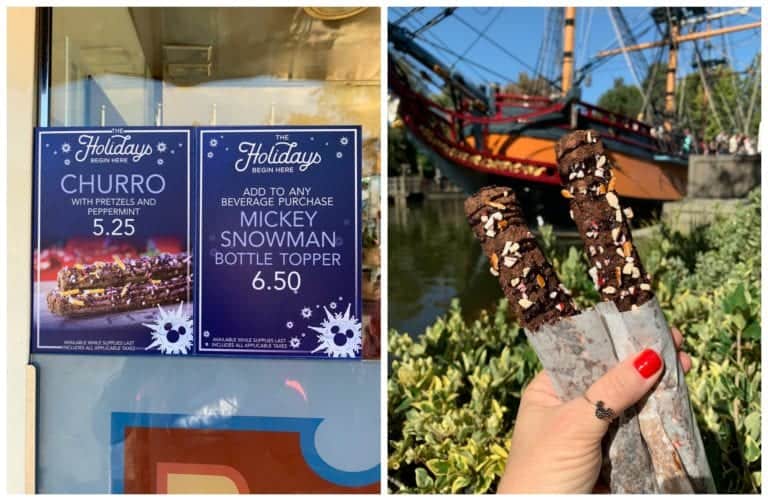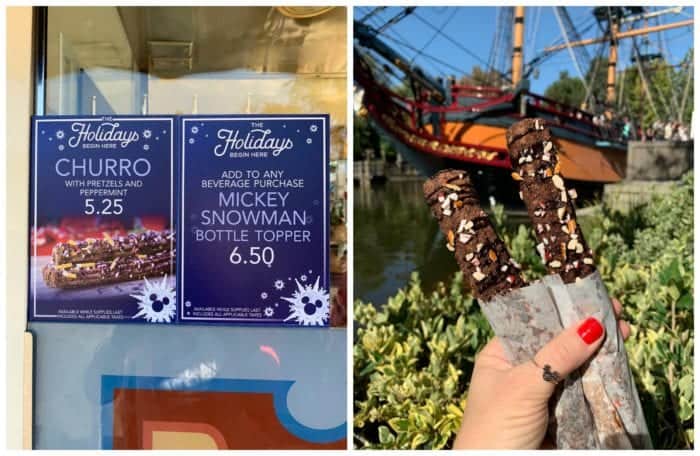 The Holiday churros are really great this year. Let's talk about the new Chocolate Churro with Pretzels and Peppermint (candy cane bits). This was tied for first place for me. The actual churro was a soft chocolate flavor, which I have never had at Disneyland before. It was FANTASTIC. So soft and the perfect cocoa flavor. 100% don't miss this one. Find this at the Frontierland Churro Cart near The Golden Horseshoe quick service restaurant.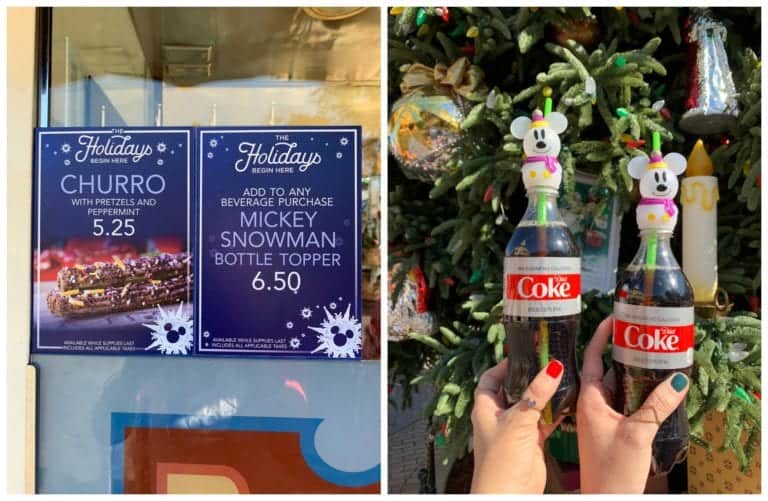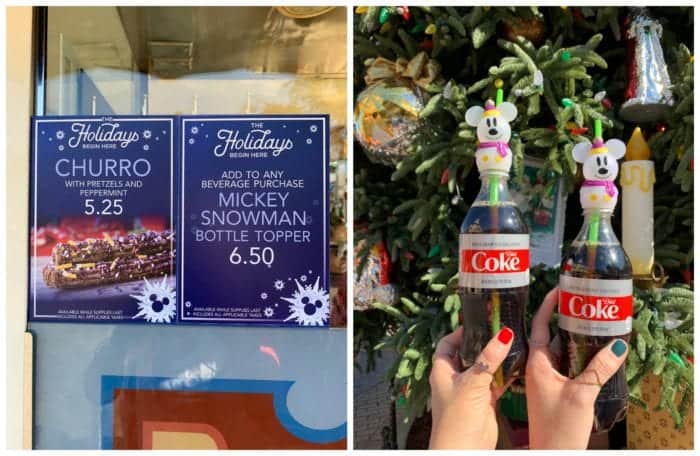 You have to check out the adorable Mickey Snowman Bottle Toppers available this year. You can find them at many of the churro carts and other snack areas. It fits on top of any bottle, comes with a green straw and even lights up. Super cute and new this year.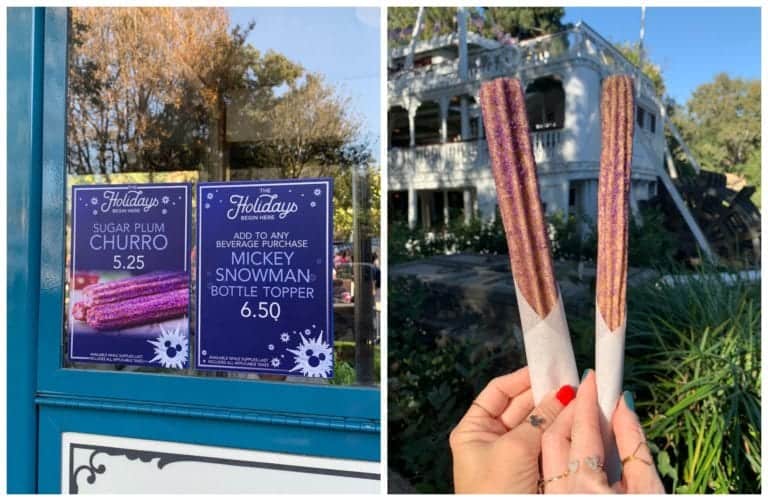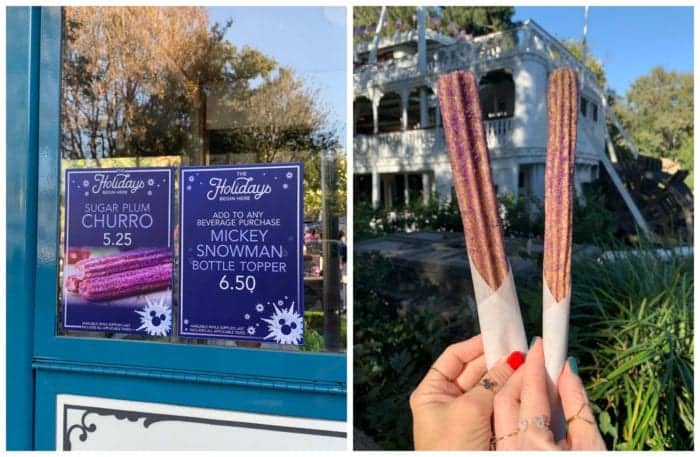 The Churro Cart in New Orleans Square, near Haunted Mansion has the Sugar Plum Churro. First bite is tart, then I got sweet. It's that perfect sweet/tart treat. I really enjoyed this one. Mine could have used quite a bit more of the purple sugar, but it was still great as is. I'd recommend this one for sure.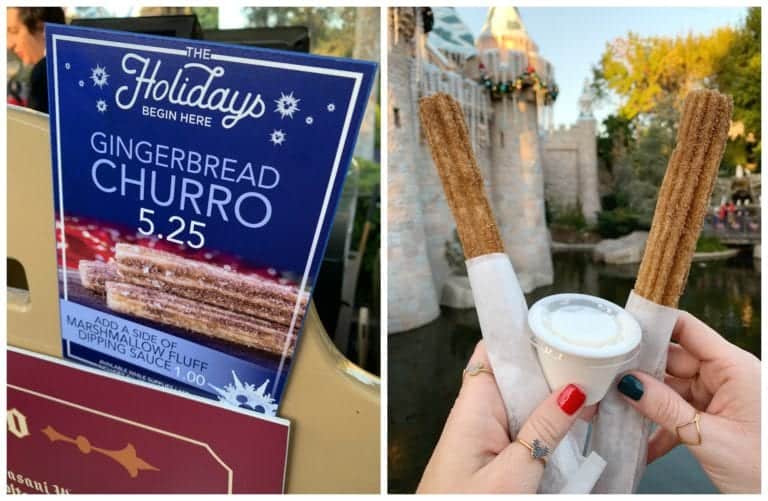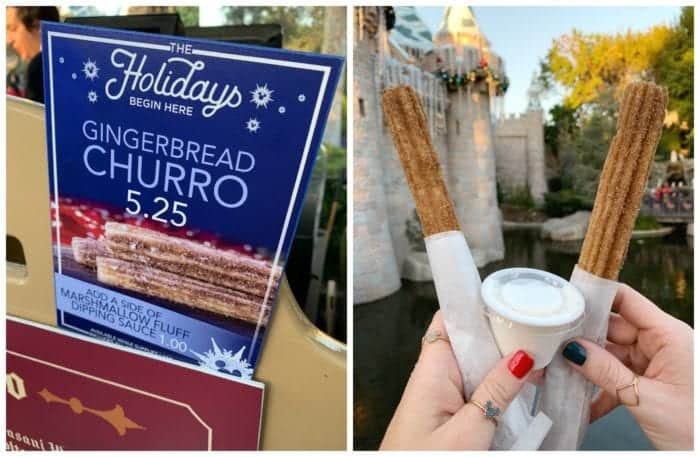 The Churro Cart right in front of Sleeping Beauty Castle has the new Gingerbread Churro with Marshmallow Fluff dipping sauce. This one was good, but I feel like the others were better. If you do get this one, I didn't feel like it needed the dip at all. Not a bad choice, but if you're only trying a few new churros, I'd try the others before this one 🙂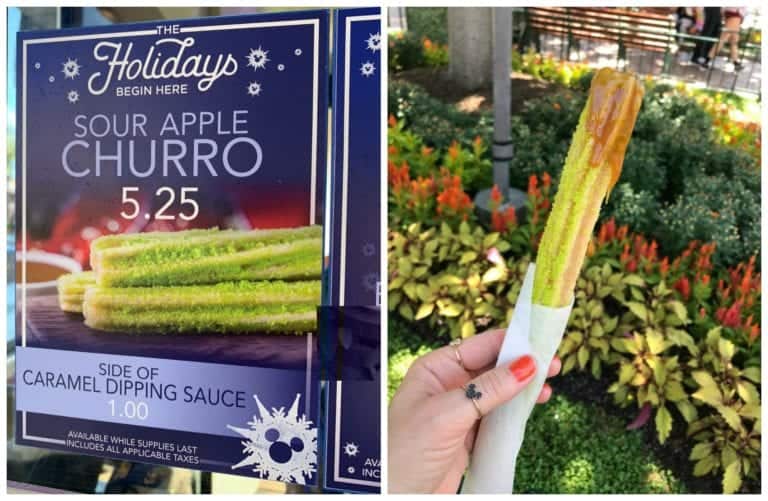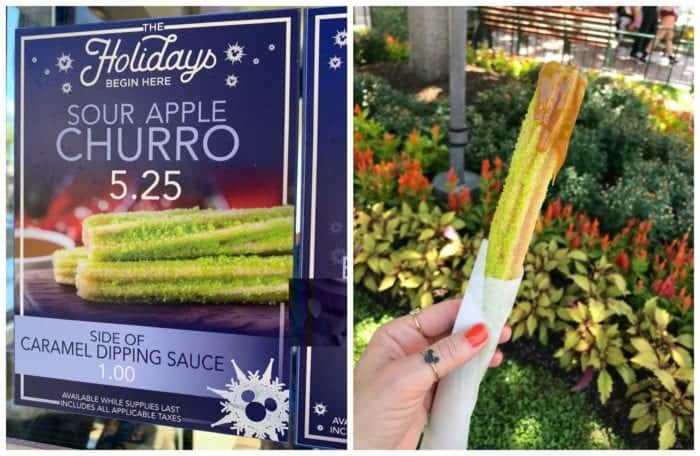 The Churro Cart in Tomorrowland kept the Sour Apple Churro with Caramel Dipping Sauce that made it's debut during Halloween Time. It was my very favorite of the Halloween Churros. I didn't get it again this last trip, but it's still a delicious option, especially if you missed it over Halloween. Try it!
Churro Sundaes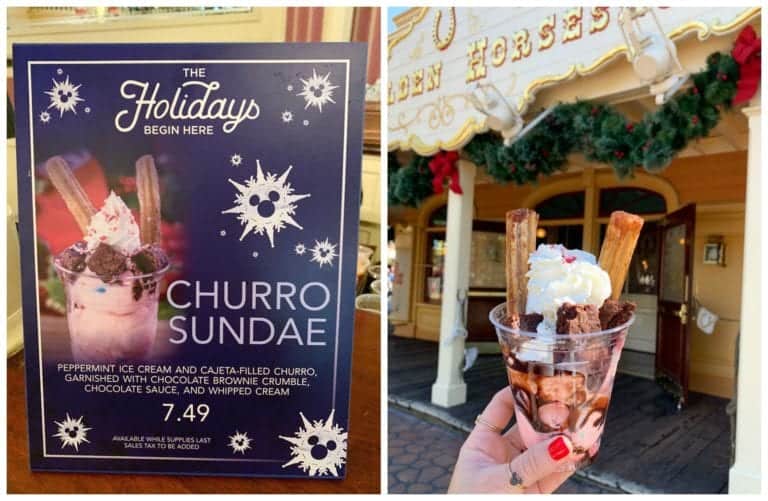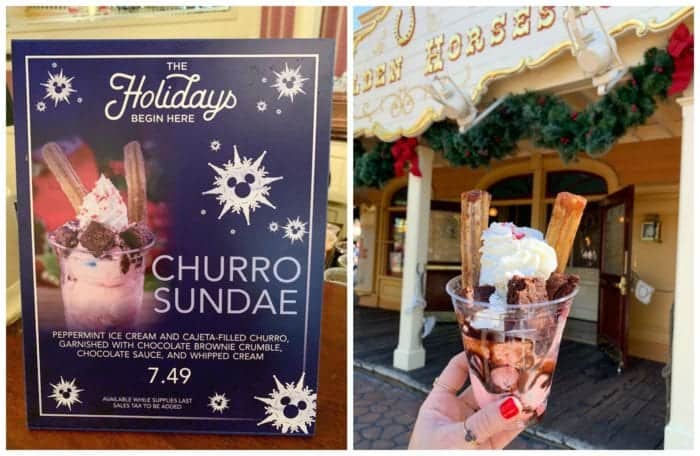 Frontierland's Holiday Churro Sundae found at The Golden Horseshoe is festive and a must try this season. It comes with Cajeta filled (Mexican caramel sauce made from goat's milk) churros on top with brownie cubes on top of peppermint ice cream. It's large so share with 2-3 people depending on how hungry you are.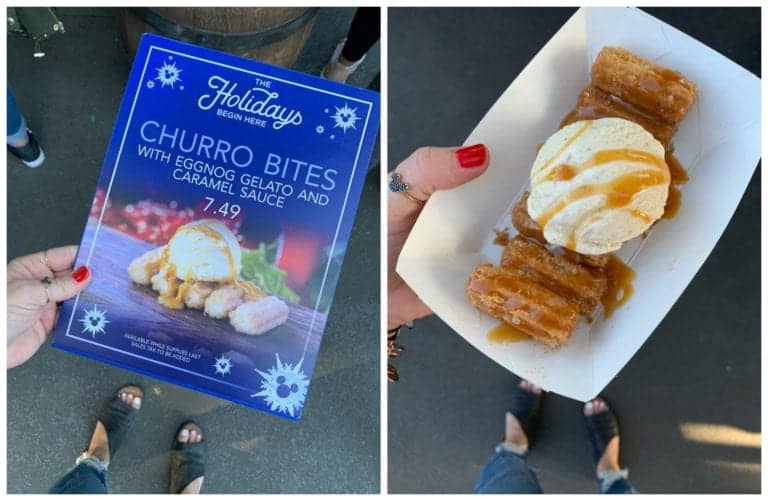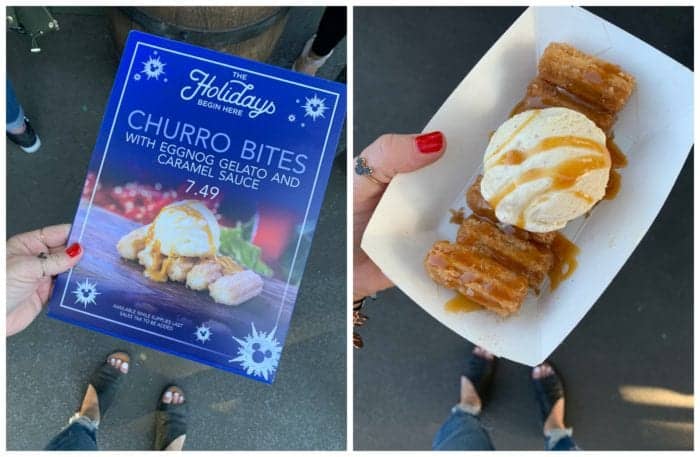 Critter Country's Hungry Bear Restaurant has the Holiday Churro Bites Sundae with Eggnog Gelato and Caramel Sauce. Hands down one of my favorites of all of the Holiday food this season. The gelato was not too egg nog-y and the caramel….perfection. Loved it.
Holiday Churros at Disney California Adventure Park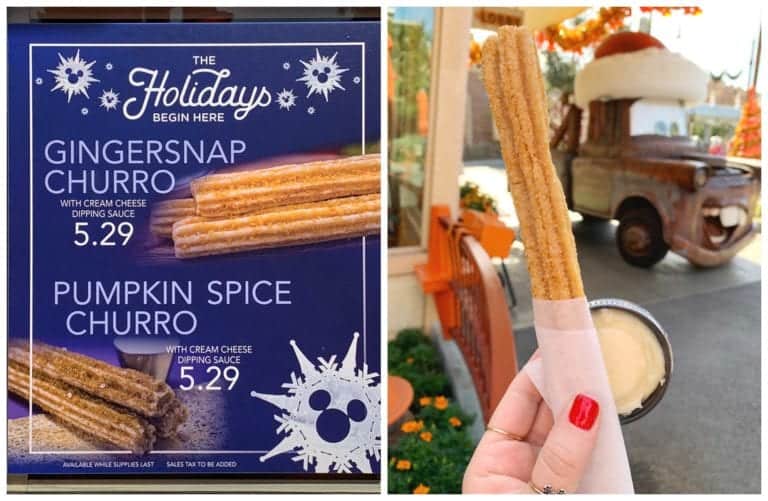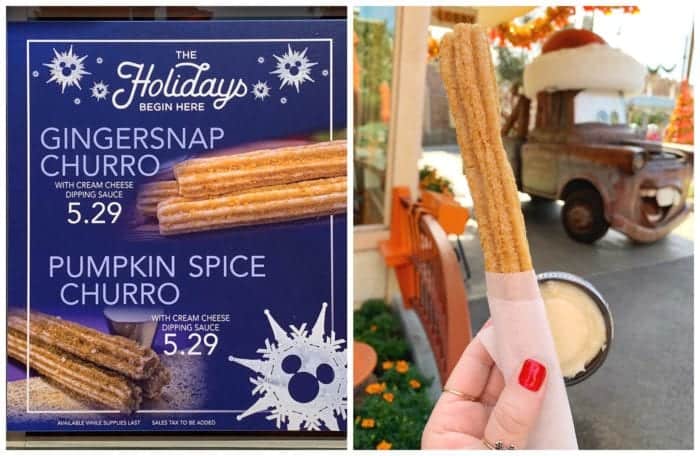 Over in Cars Land, head on over to Cozy Cone Motel to get the Gingersnap Churro. This one tied for first place along with the chocolate peppermint/pretzel churro from Frontierland. The cream cheese dip/frosting along with the gingersnap flavors…..the best. Don't miss this one.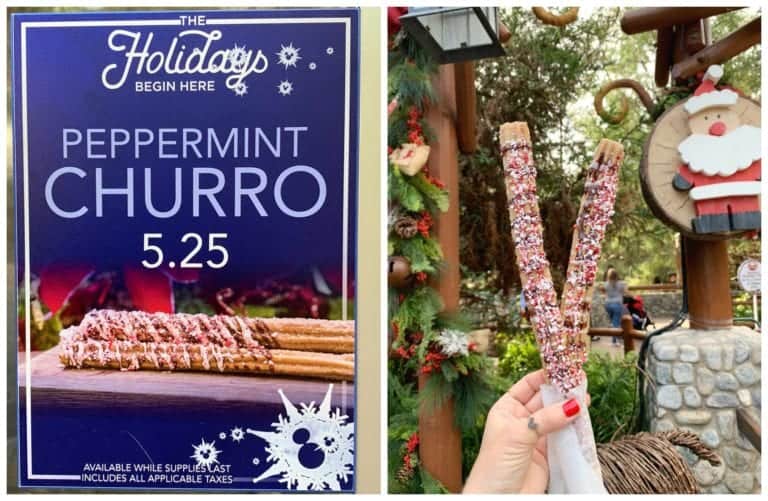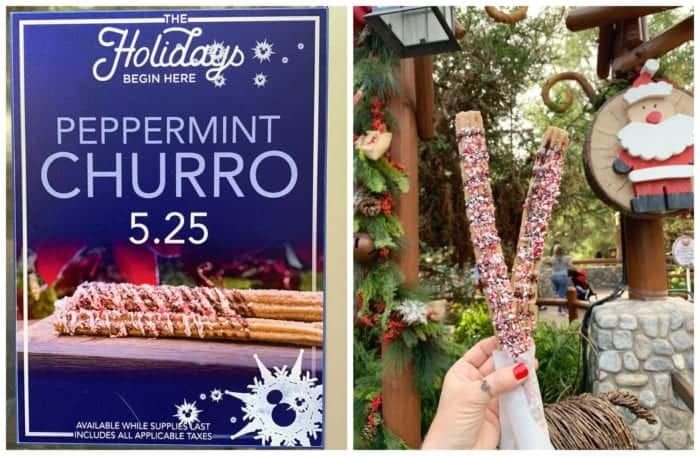 The Churro Cart over in Grizzly Peak, near Grizzly River Run has the Peppermint Churro. This one is great. I did like the chocolate version with pretzels in Disneyland's Frontierland better.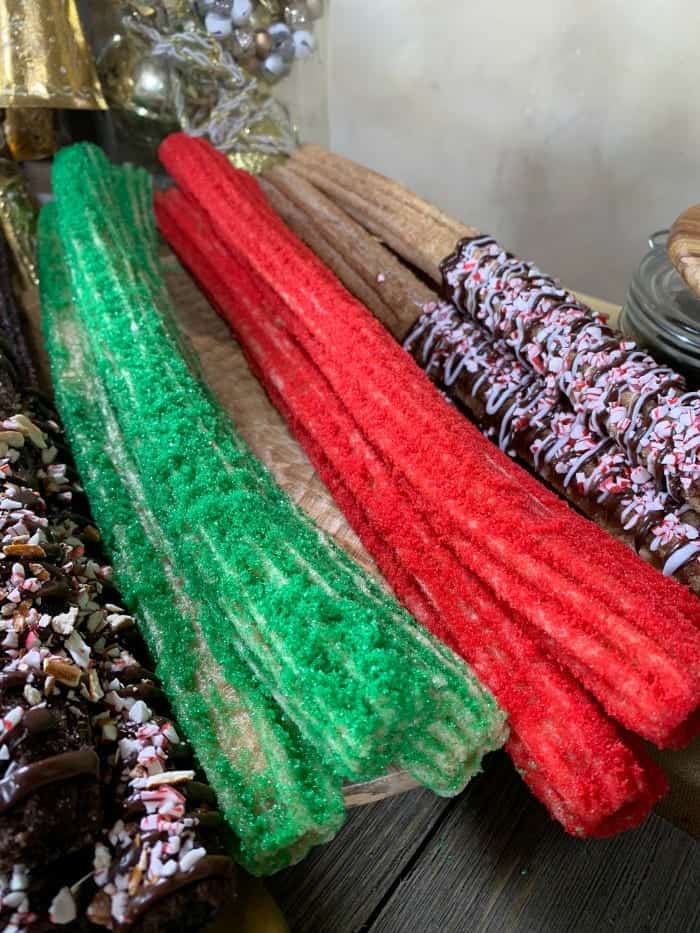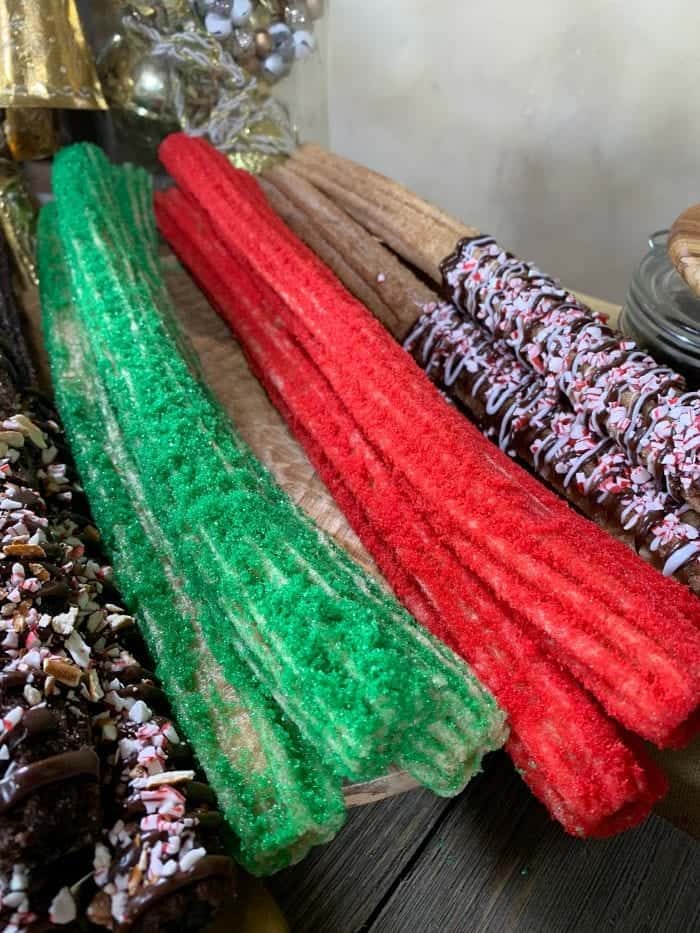 Over at Pixar Pier area, Goofy's Sky School has festive red and green churros available. These are not flavored, just Christmas colors.
Red Rose Tavern, Fantasyland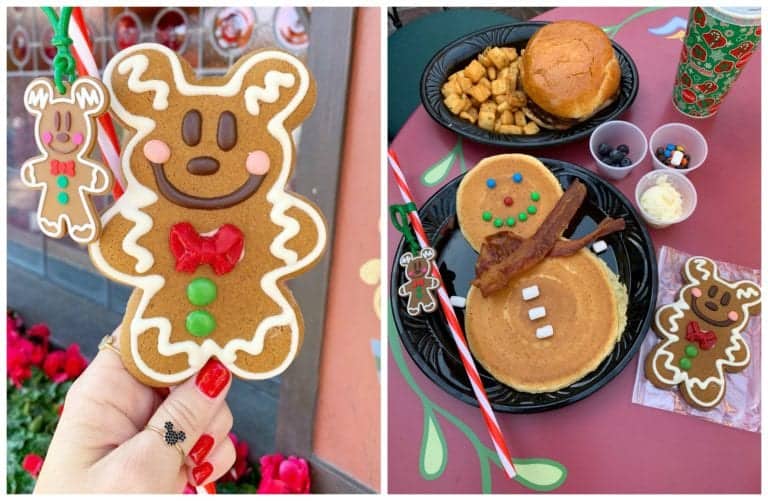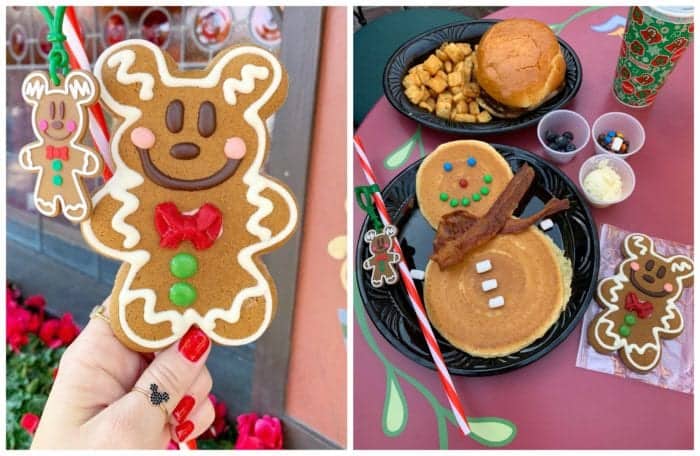 Back over at Disneyland Park, Red Rose Tavern in Fantastyland has the cutest food of the season….in my opinion. You can get the Mickey Gingerbread Cookie and matching straw. Each sold separately. You can also get the Snowman Pancake with Applewood-smoked bacon. Fun new breakfast option this season. All of the toppings come in little containers so you can decorate your snowman however you'd like.
Royal Street Veranda, New Orleans Square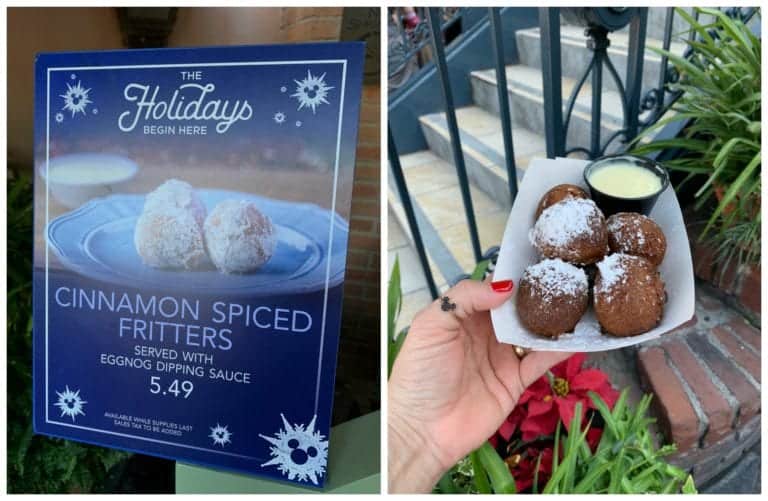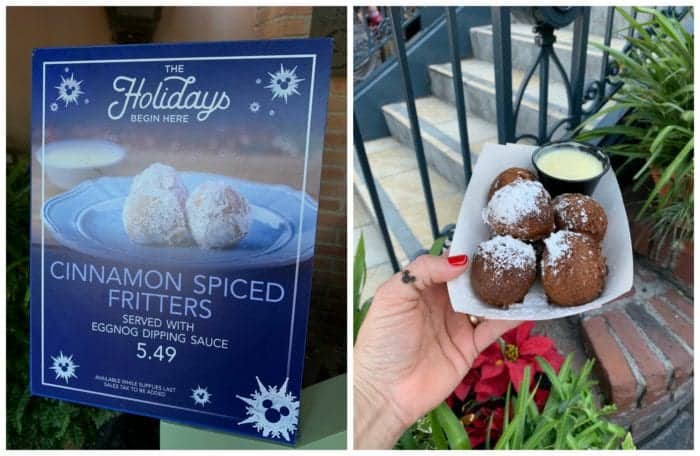 Royal Street Veranda in New Orleans Square has these Cinnamon Spiced Fritters with Eggnog Dipping Sauce this Holiday Season. I was surprised how much I enjoyed these. They were warm, soft and the eggnog dipping sauce was perfection. I'd recommend these for sure.
Cafe Orleans, New Orleans Square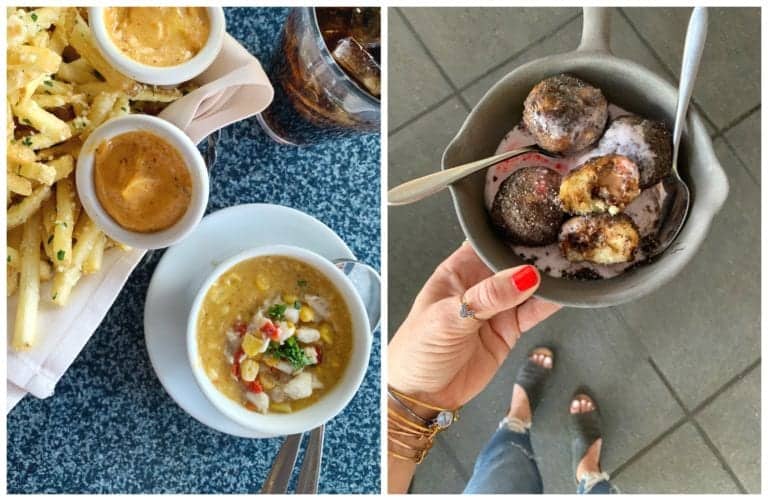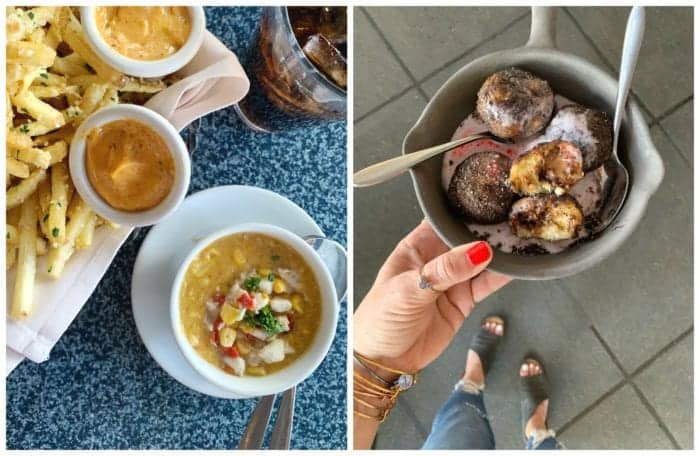 Over at Cafe Orleans, also in New Orleans Square I tried the seasonal soup, Lump Crab Relish over Corn Chowder. It was FANTASTIC. Perfect bowl of soup. For dessert I tried Santa's Lump of Coal Beignets-Peppermint Mocha stuffed Beignets, topped with Peppermint Ice Cream. I had such high hopes for these beignets, but the texture of the beignets were very hard. Hoping it was just my batch, but since this is all I have to judge from, I would not recommend them. I'll update if I try them again.
Jolly Holiday Bakery Cafe, Main Street, U.S.A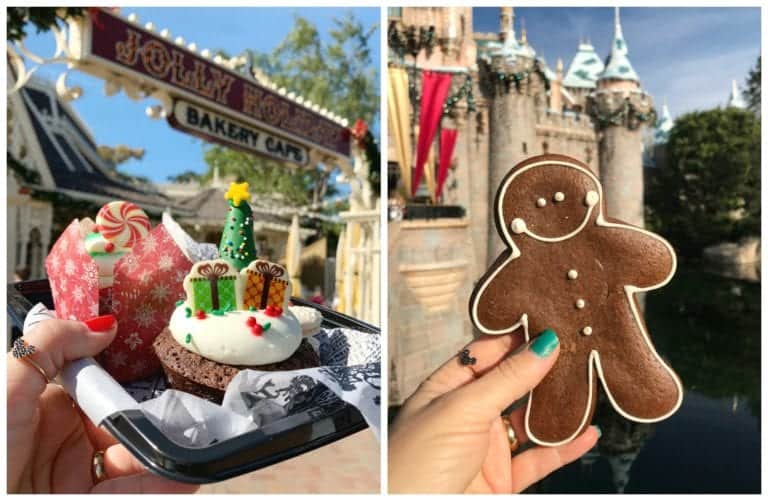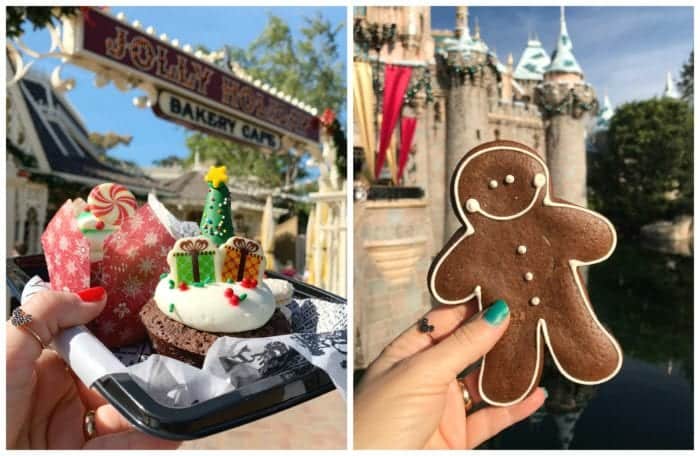 Jolly Holiday Bakery Cafe on Main Street, U.S.A. has been one of my favorite places to grab food and snacks for years. They never disappoint. Their holiday brownies and cupcakes were great. If you want a sweet treat, all of their baked goods are winners.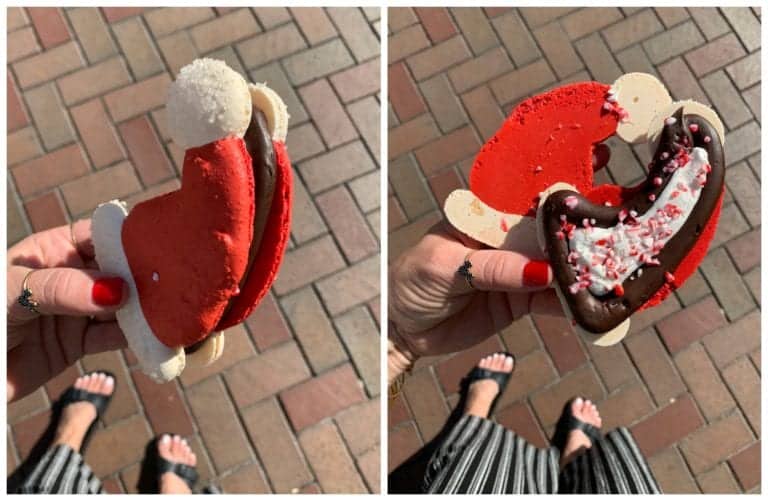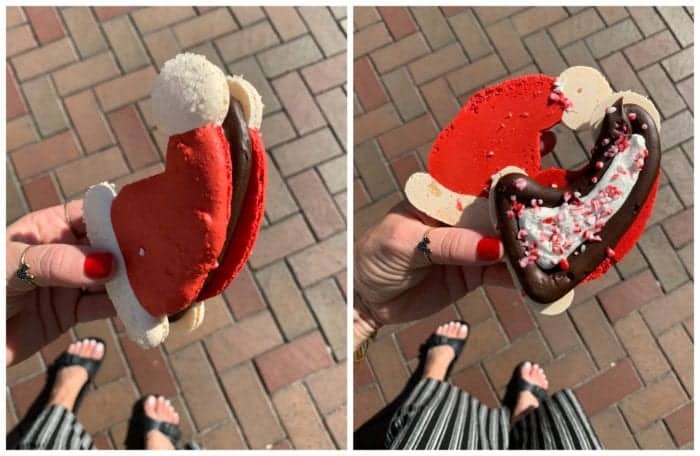 Had the Santa Hat Macaron with Chocolate Peppermint Filling again this year and it was even better than I remembered. Give this one a try, perfectly sweet and festive.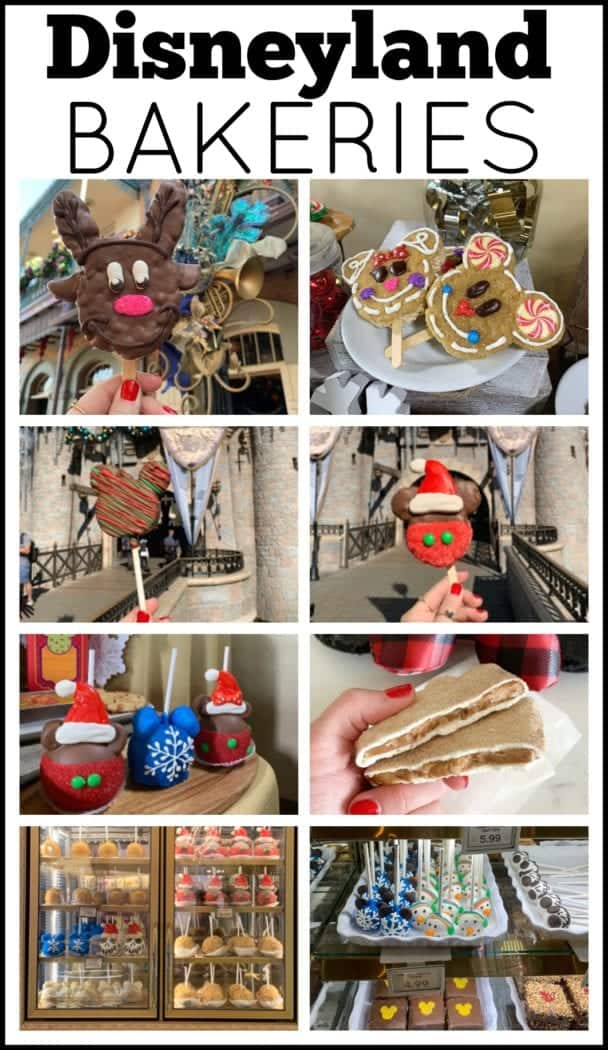 Disneyland Park's Candy Palace and Pooh Corner plus Disney California Adventure Park's Trolley Treats plus Downtown Disney District's Marceline's Confectionery have the most amazing baked goods. Don't miss strolling through all of these bakeries and taking some goodies home. They're all delicious. I especially enjoyed the White Chocolate Churro Toffee I found at Trolley Treats and the Reindeer Crispy Treat from Candy Palace.
Shmoozies, Hollywood Land

Back over at Disney California Adventure Park's Schmoozies you can find all of these amazing sweets!
Peppermint Crunch Shake: Peppermint ice cream blended with whole milk and topped with chocolate cream-filled cookie crumbles, crushed peppermint, and peppermint whipped cream
Minnie Wreath Donut filled with chocolate peppermint ganache
Gingerbread Cookie Ice Cream Sandwich with a scoop of brown sugar cinnamon ice cream rolled with crushed gingersnap cookies
Note that the doughnut sells out early, so if you want these I'd go before lunch time. Honestly, I enjoyed all 3 of these. I'd share the shake and doughnut with at least 3 others, they're HUGE. The ice cream sandwich was fantastic. Always so messy to eat, but they knocked this one out of the park. Really enjoyed the flavors.
Cars Land, Cozy Cone Motel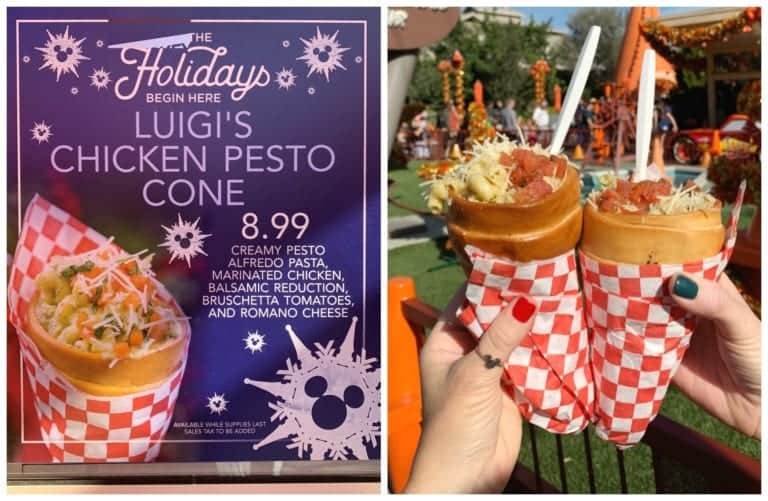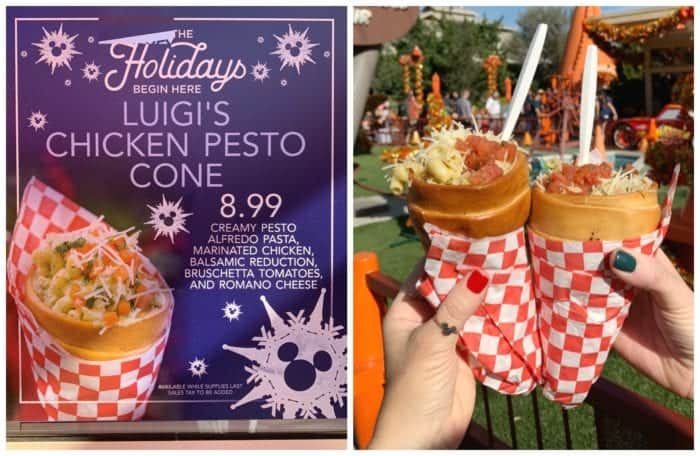 Cozy Cone Motel has this DELICIOUS Chicken Pesto Cone- Creamy pesto Alfredo pasta with marinated chicken, balsamic reduction, bruschetta tomatoes, and Romano cheese.
Wow, seriously loved it. It's the perfect quick bite while you're on the go. You can even eat it as you are walking through the Park. Super flavorful pasta and chicken inside a convenient bread cone. Definitely recommend trying this one.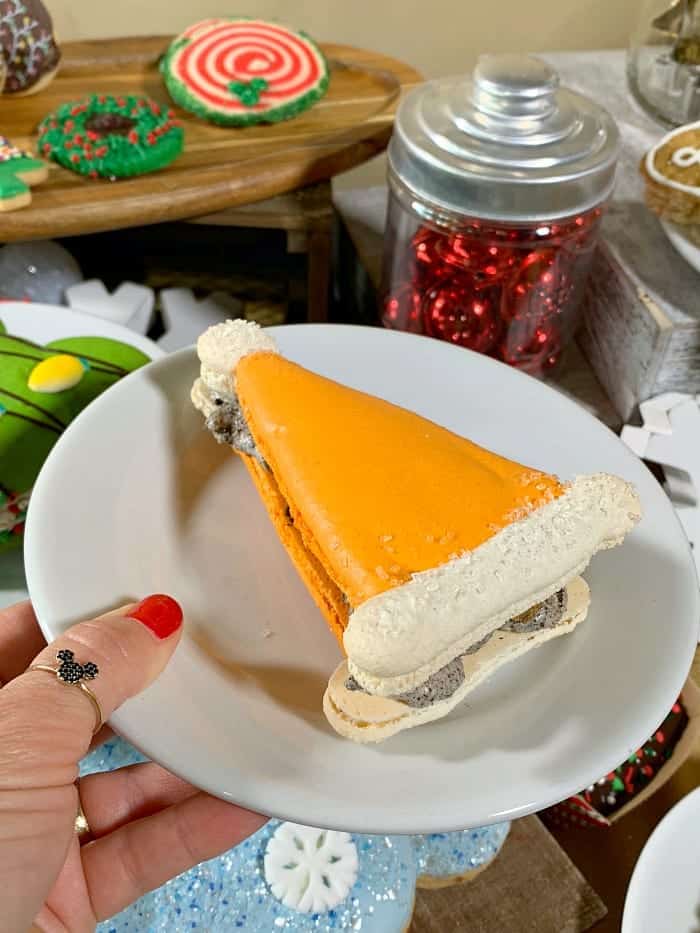 Also available at Cozy Cone Motel, is the Santa Cone Hat Macaron filled with Cookies and Cream Filling. Did not get to sample this one, but it looked sweet and delicious.
Clarabelle's, Buena Vista Street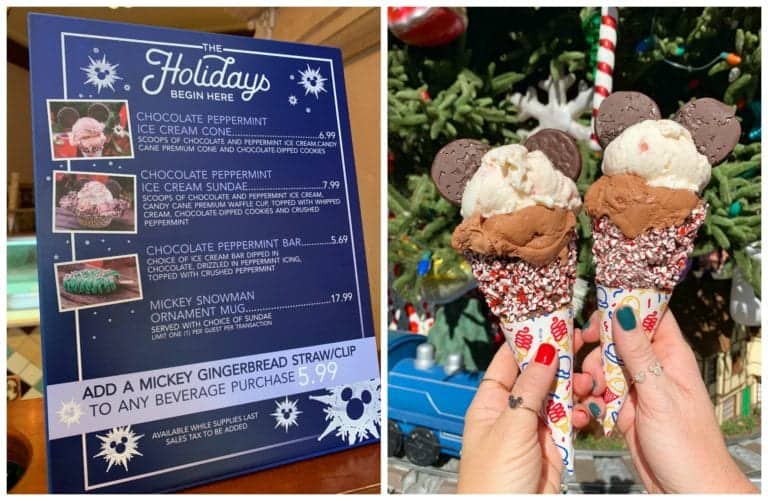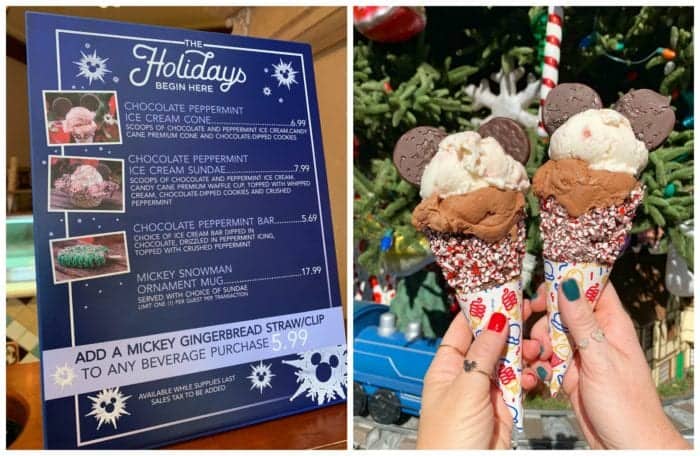 Over at Clarabelle's on Buena Vista Street you can get the cutest Holiday Cone at the Parks! It was as delicious as it was adorable. There's a sundae version as well I hope to sample soon.
Chocolate Peppermint Ice Cream Cone with scoops of chocolate and peppermint ice cream and chocolate-dipped cookies in a candy cane premium cone.
Award Wieners, Hollywood Land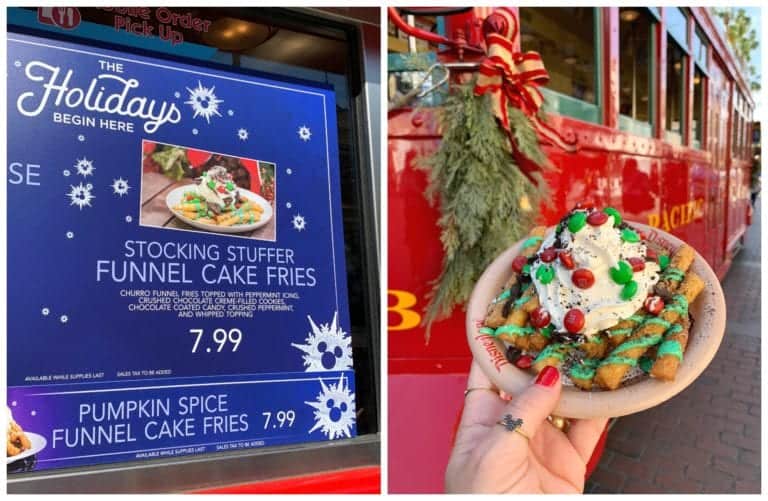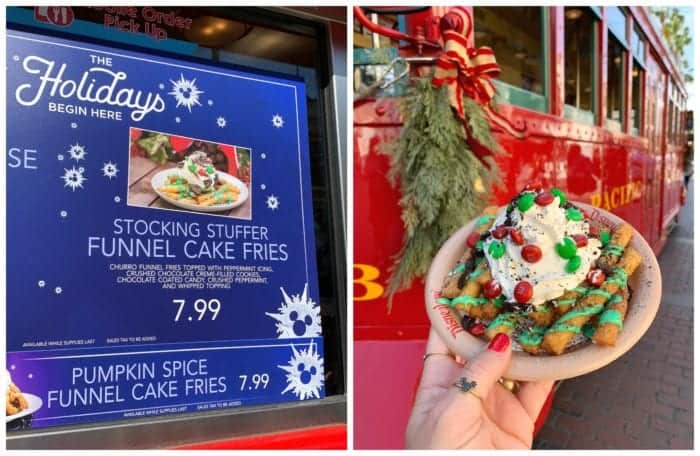 Award Wieners in Hollywood Land has the Stocking Stuffer Funnel Cake Fries. These surprise me every time I get them! They're so sinfully good. Share them with friends, I 100% recommend trying these this season.
Stocking Stuffer Funnel Cake Fries: Churro funnel fries topped with peppermint icing, crushed chocolate cream-filled cookies, candy-coated chocolates, crushed peppermint, and whipped cream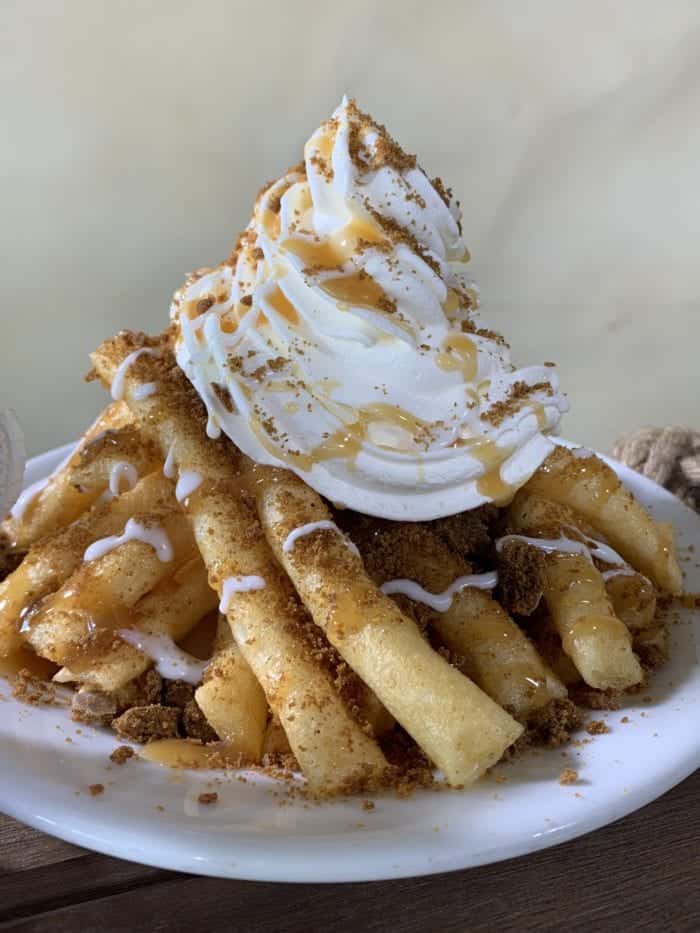 Starting November 23rd, you can order the Gingerbread Funnel Cake Fries at Award Wieners. I got to sample these and they are equally as amazing . 2 great options at Award Wieners.
Disney's Grand Californian Hotel & Spa

Disney's Grand Californian Hotel and Spa has some of the most gorgeous packaged cookies and baked goods available for purchase. I sampled the "cookie shot" that was filled with milk. Oh my goodness it's fantastic. You do not have to be a guest at the hotel to enjoy the lobby. Be sure to stroll through this season! It's too good to pass up.
Pin Best Disneyland Eats Holidays 2018!