Sharing the BEST Halloween Time Food at Disney California Adventure Park today! Check out my reviews of the Disneyland Halloween Food too!
Disney California Adventure Park
Disney California Adventure Park is equally as spook-tacular with their Halloween Time food selections as Disneyland Park this year! Below, you'll find my thoughts and reviews of what I sampled with a few more reviews coming soon! Follow Disney Hungry on Instagram for the BEST Eats and travel tips at Disneyland Park!
Clarabelle's Hand-Scooped Ice Cream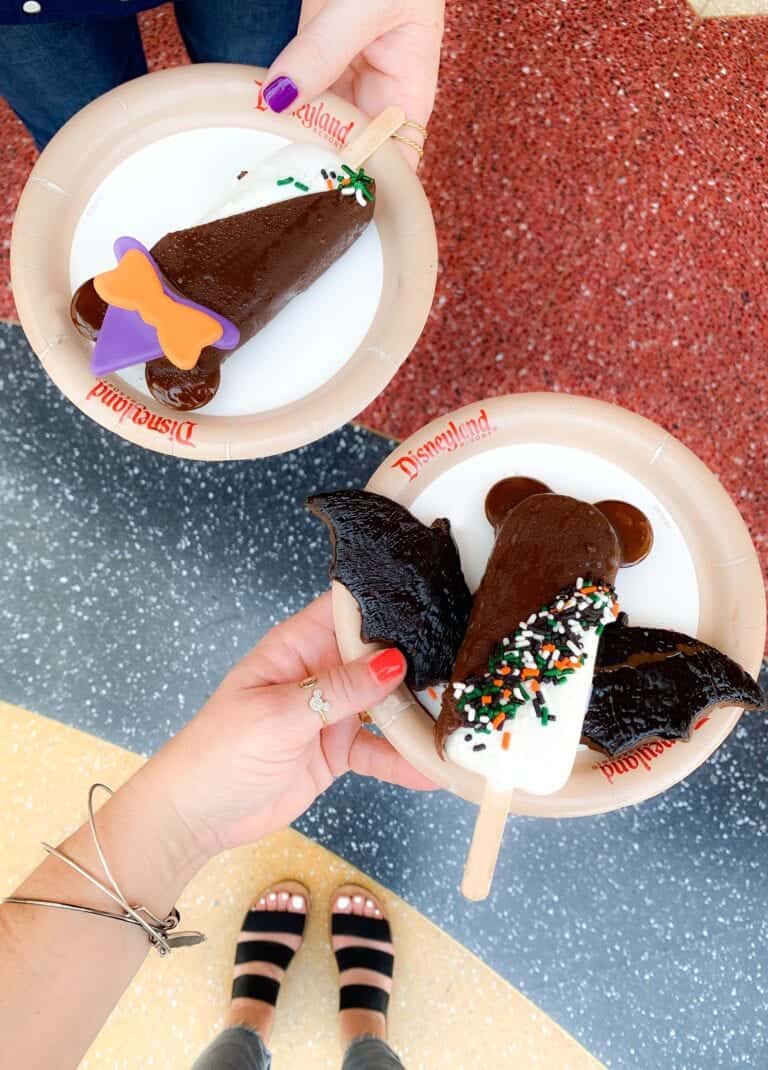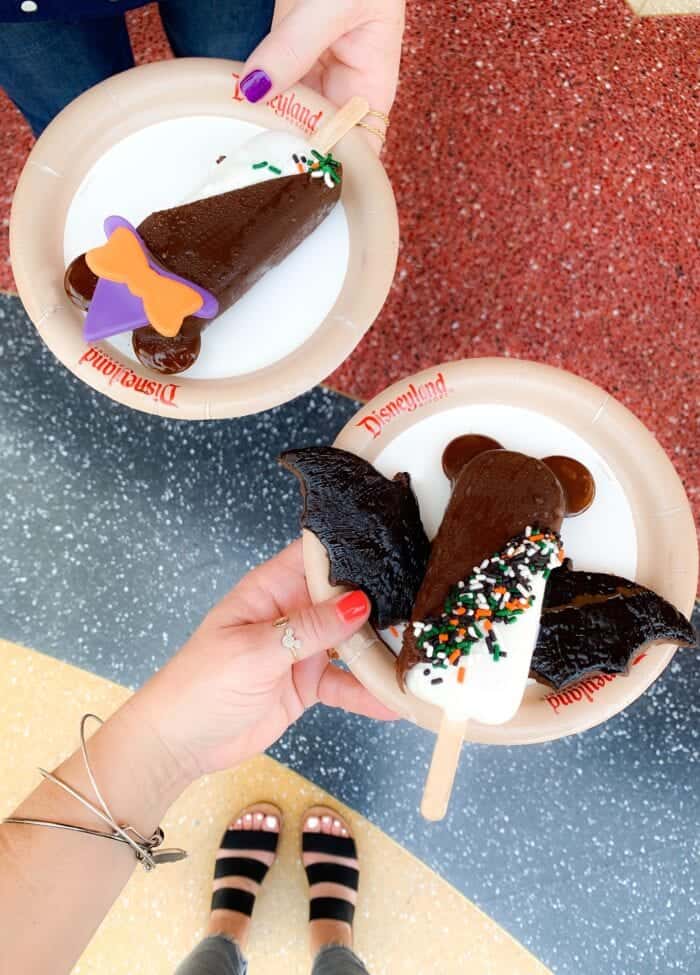 Minnie Witch, $5.69 and Vampire Mickey Ice Cream Bar, $6.49
Clarabelle's has some of the best ice cream at the Parks. Their dipped bars are one of my favorite treats to enjoy when I visit. Not only are they perfectly festive, but they really are delicious!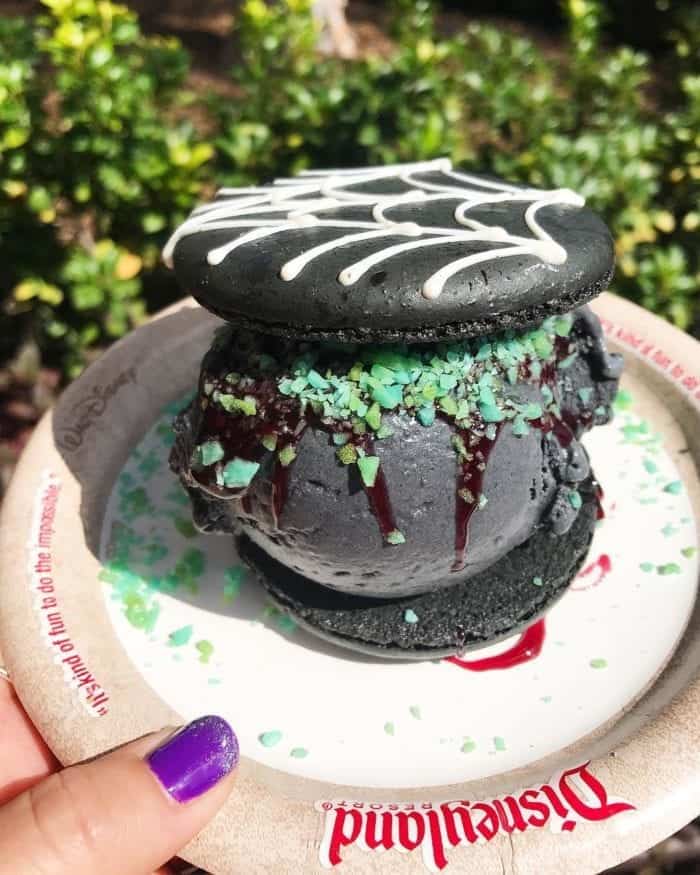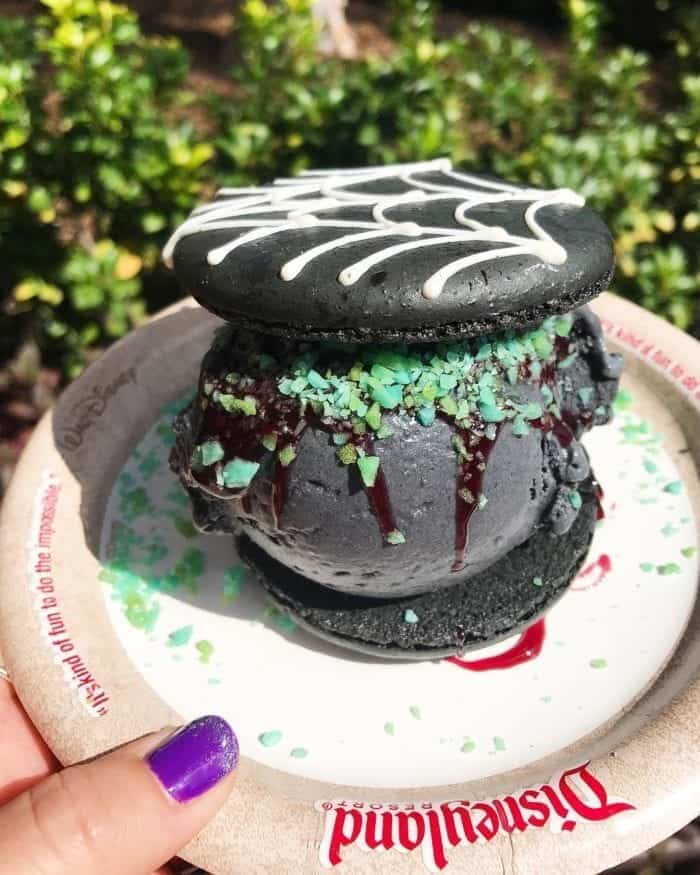 Spider Silk Macaron Sandwich, $6.49
This is another menu item brought back from last year. It's delicious. I enjoyed the flavor combos – Black Macaron with Charcoal-Tart Cherry Ice Cream topped with Popping Candy and drops of Raspberry Sauce.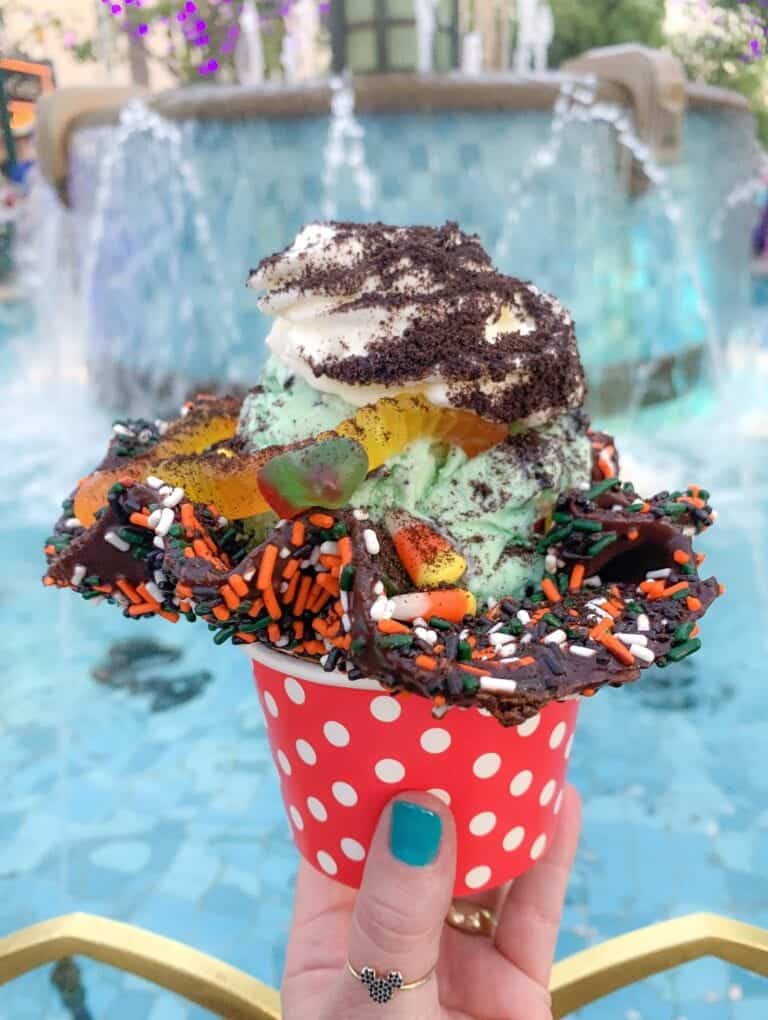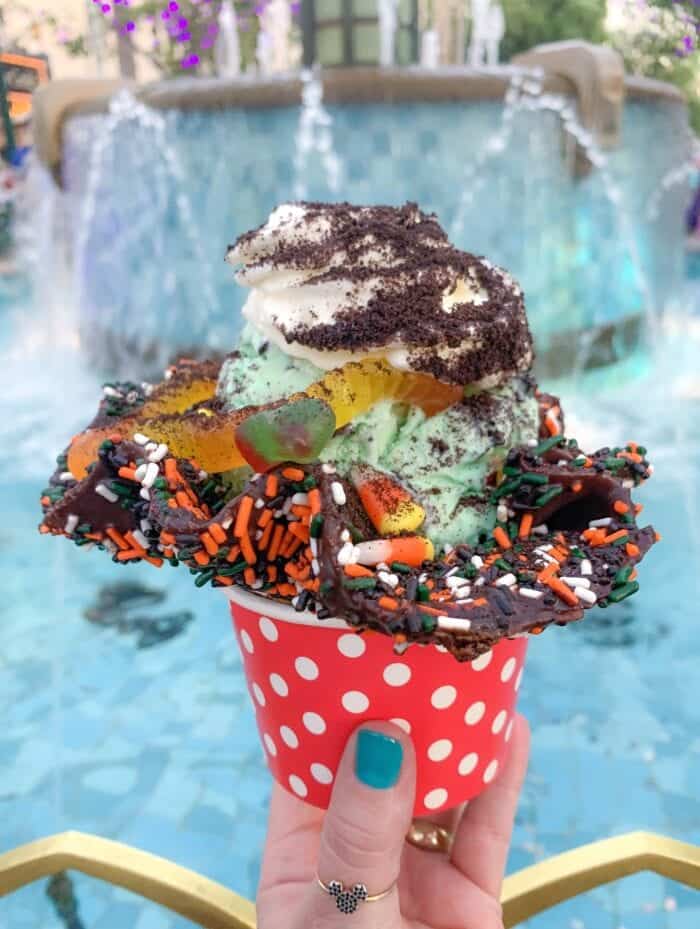 Boogie Man Sundae, $7.49
Mint Chocolate Chip Ice Cream, Hot Fudge, Chocolate Cookie Crumbles, and Gummy Candies in a Chocolate-dipped Waffle Bowl. The kids LOVE this one topped with all the sweets. Perfect dessert to share.
Flo's V-8 Cafe, Cars Land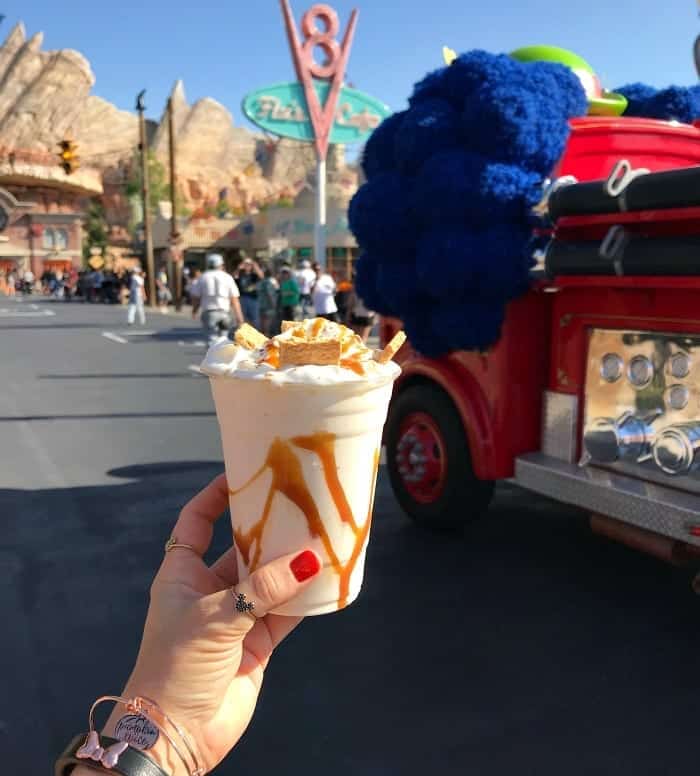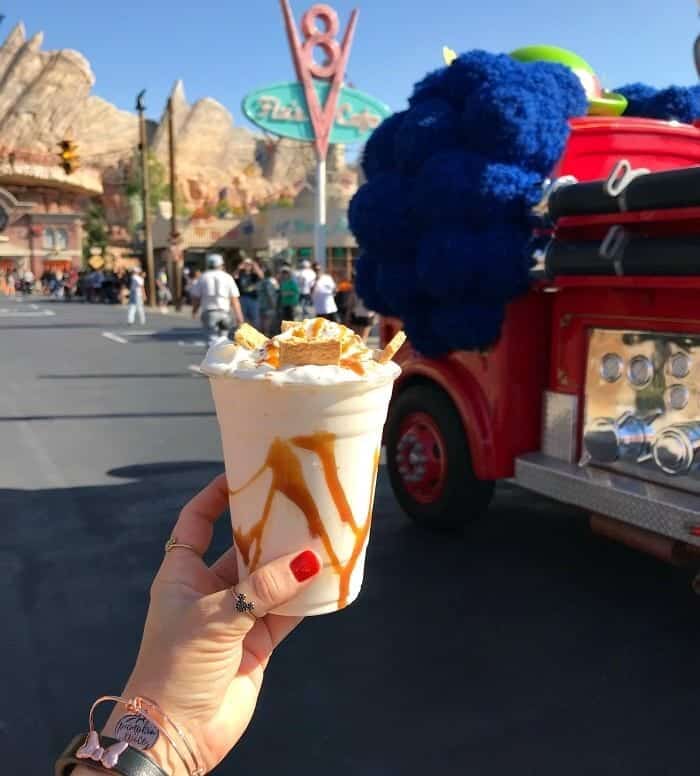 Pumpkin Spice Milkshake, $5.99
Always a hit, Pumpkin Spice Milkshake from Flo's V-8 Cafe in Cars Land. I always enjoy this one.
Cozy Cone Motel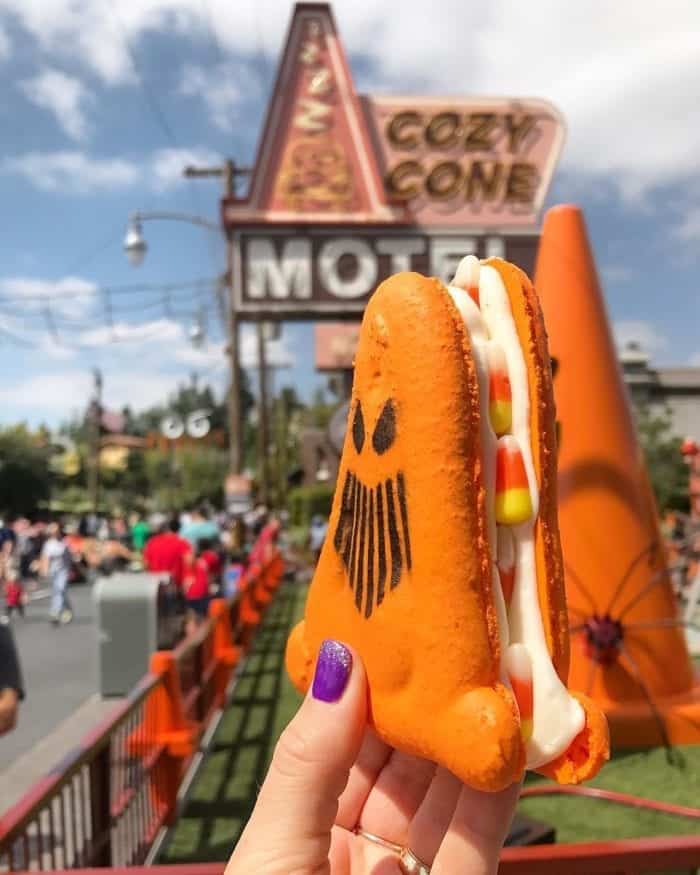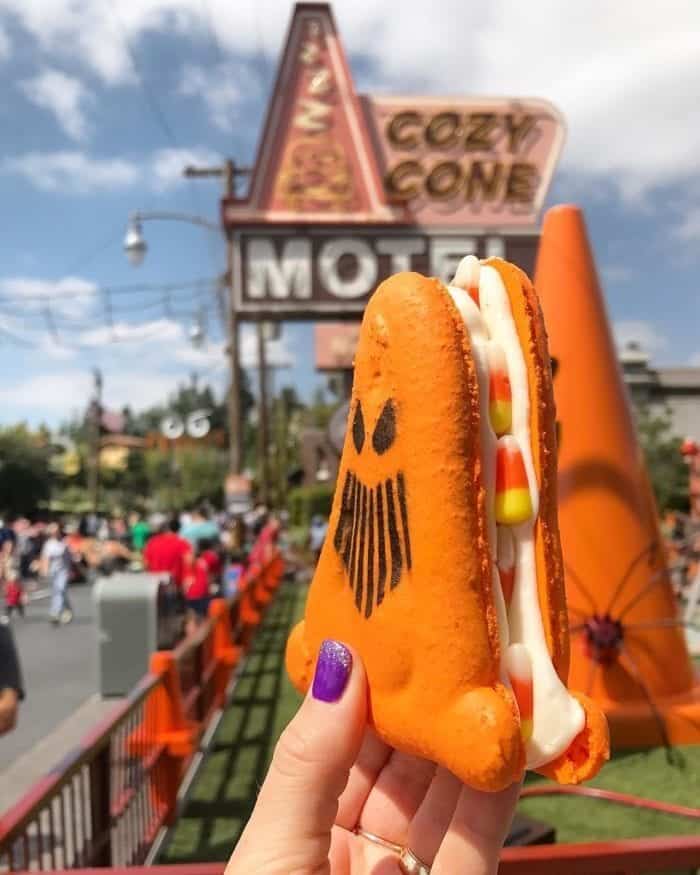 Spoke-y Cone Macaron, $5.99
The Spoke-y Cone Macaron made a comeback this year as well. This one is very very sweet, with the marshmallow buttercream filling, but so fun and festive. If anything, split with a few people for an ultra sweet treat!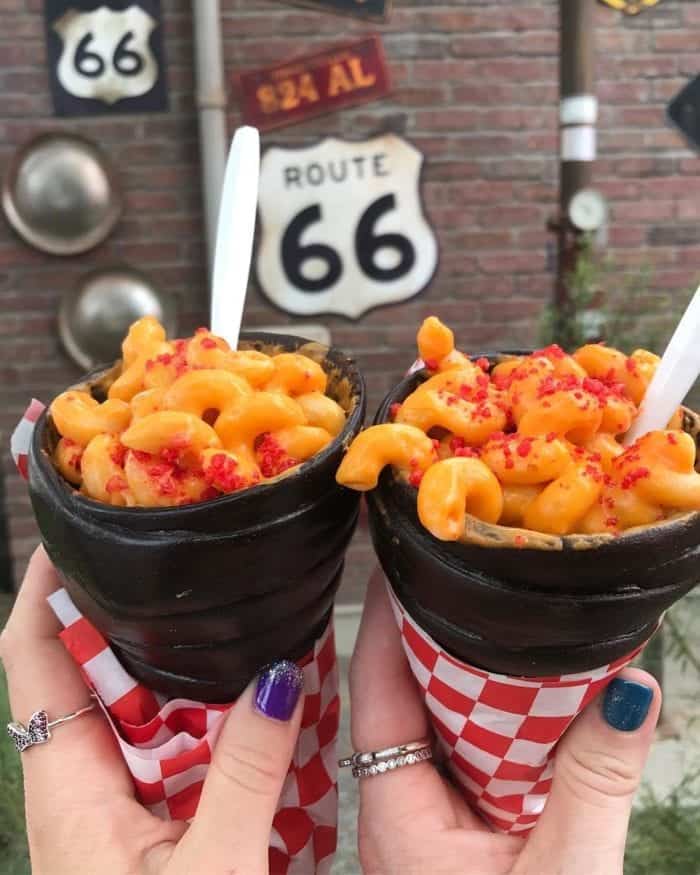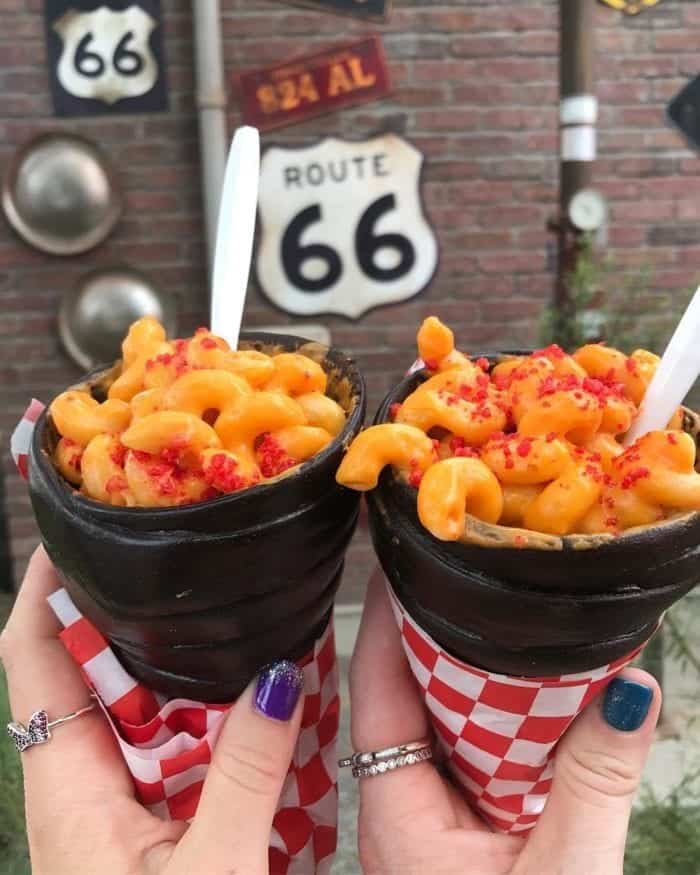 Slow-Burnin Mac N' Cheese Cone, $8.99
I am actually so glad these cones made it back a second year! …Pasta with Spicy Red Pepper Cheese Sauce topped with crushed Chile-Cheese Puffs served in a Bread Cone. Really flavorful, spicy and delicious. If you are sensitive to heat, you might want to pass on this one.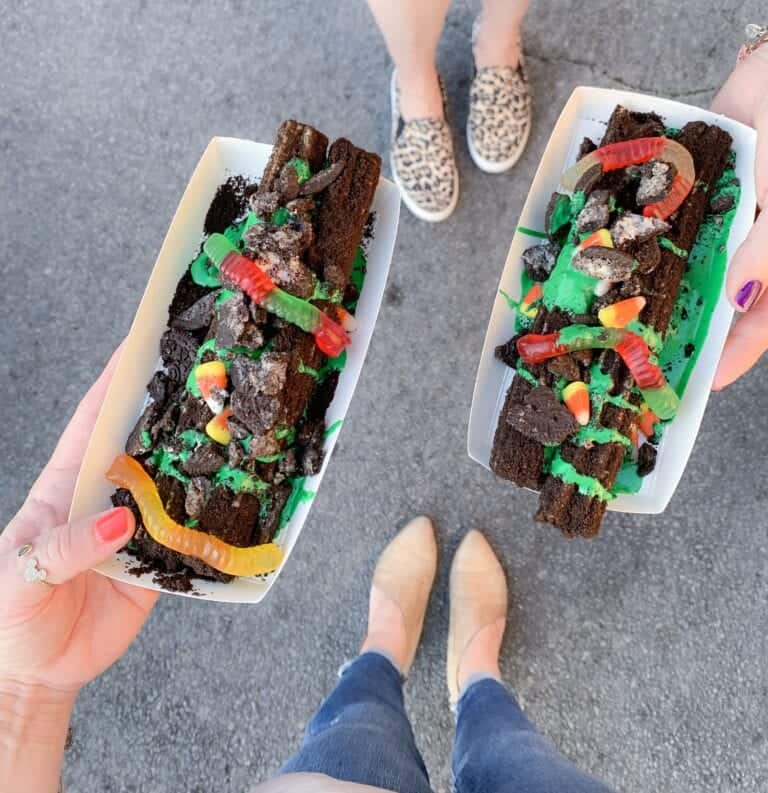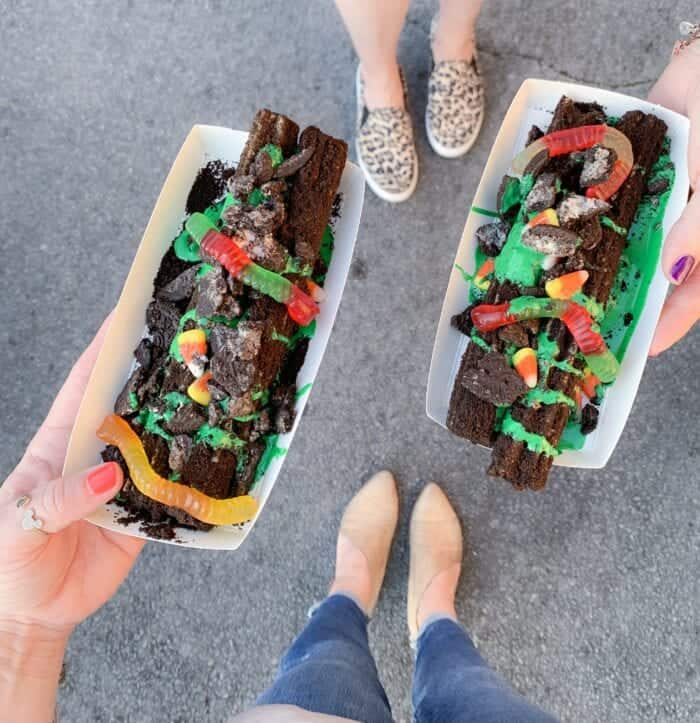 Haul-O-Ween Churro, $5.99
Brand new this year is the Haul-o-Ween Churro! A Chocolate based Churro Rolled in Crumbled Chocolate Creme-filled Cookies, Green Icing, Gummy Worms and Candies. It's definitely Halloween in a dish. Another one I recommend sharing.
Pacific Wharf Cafe, Pacific Wharf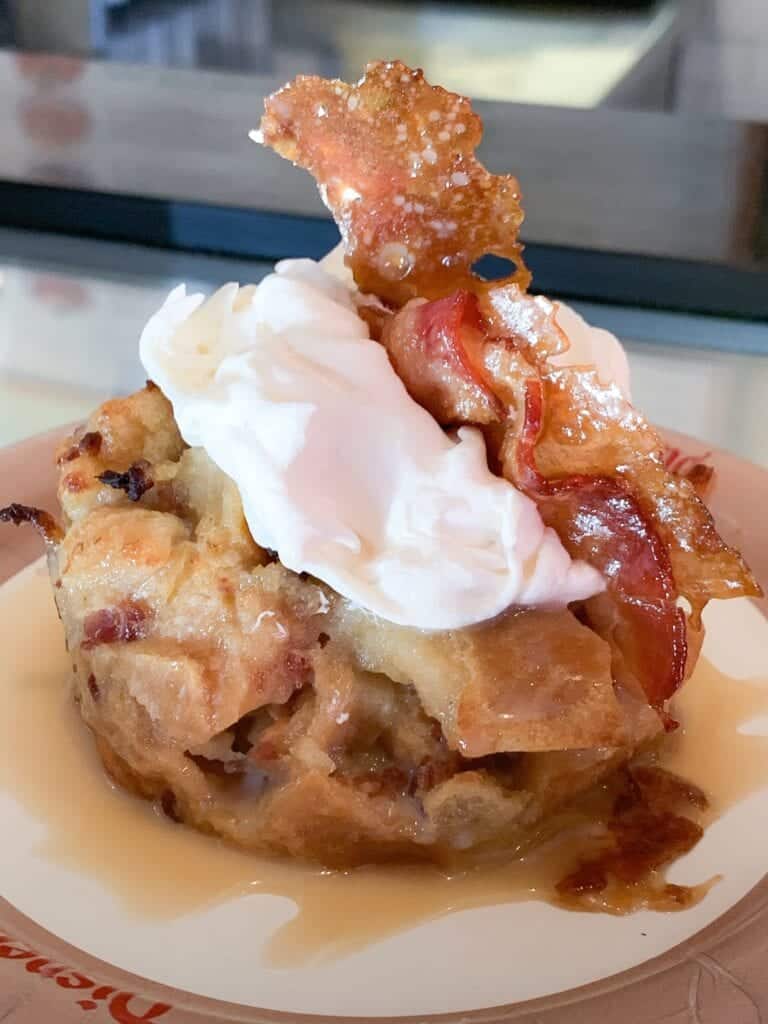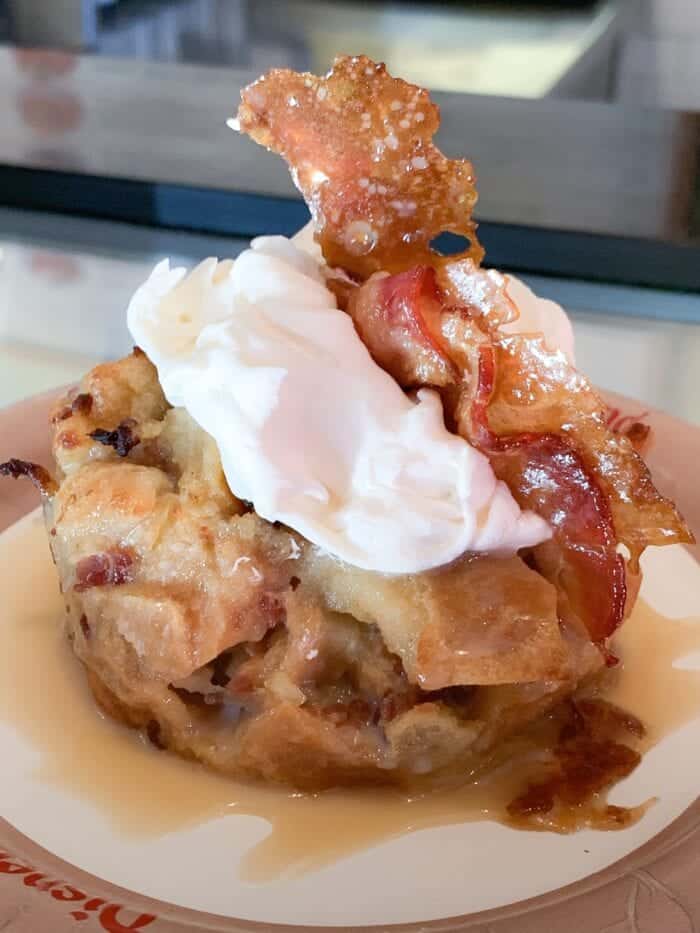 Maple-Bacon Bread Pudding, $5.39
Maple Bacon Bread Pudding topped with Whipped Cream, Maple Glaze, and Candied Bacon. I'm a huge fan of the seasonal bread puddings from Pacific Wharf Cafe!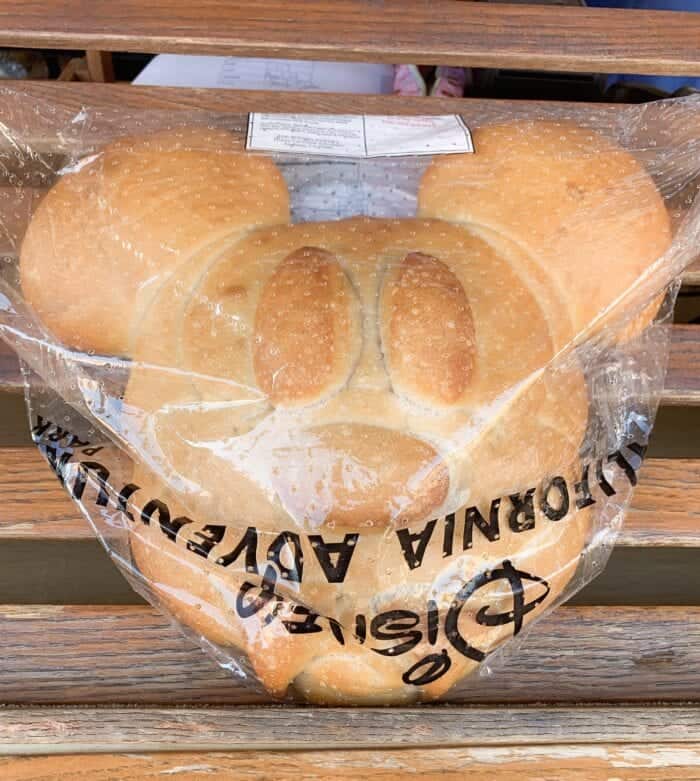 Mickey Fang Bread, $10.49
Vampire Mickey Mouse Sourdough Bread. Such a fun item to bring home! It's so good toasted in the oven with butter and garlic salt….and we've even used it to make grilled cheese.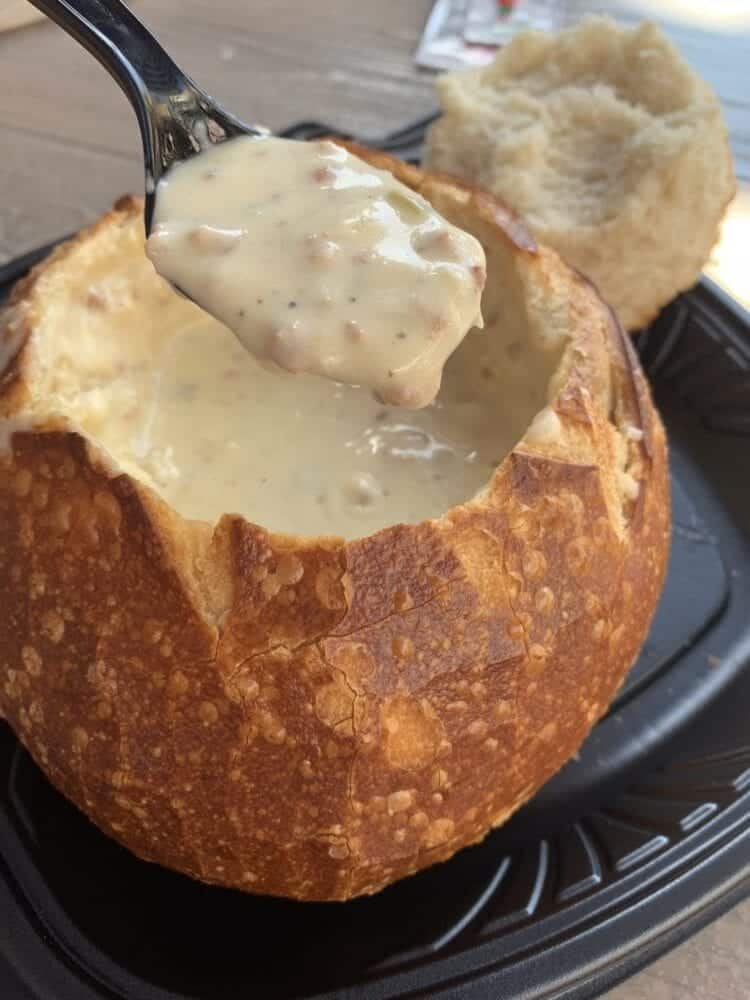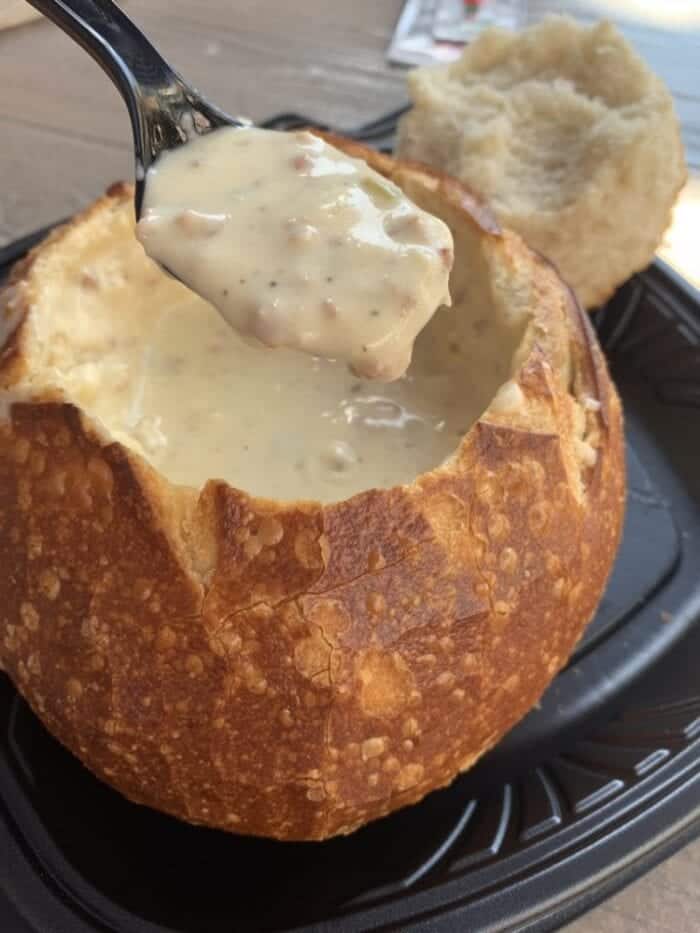 Bacon Cheddar Ale Soup, $11.49
This is one of my favorite soups at the Parks. It's so flavorful and perfect to dip your sourdough bread in. Try it! You won't be sorry.
Award Wieners, Hollywood Land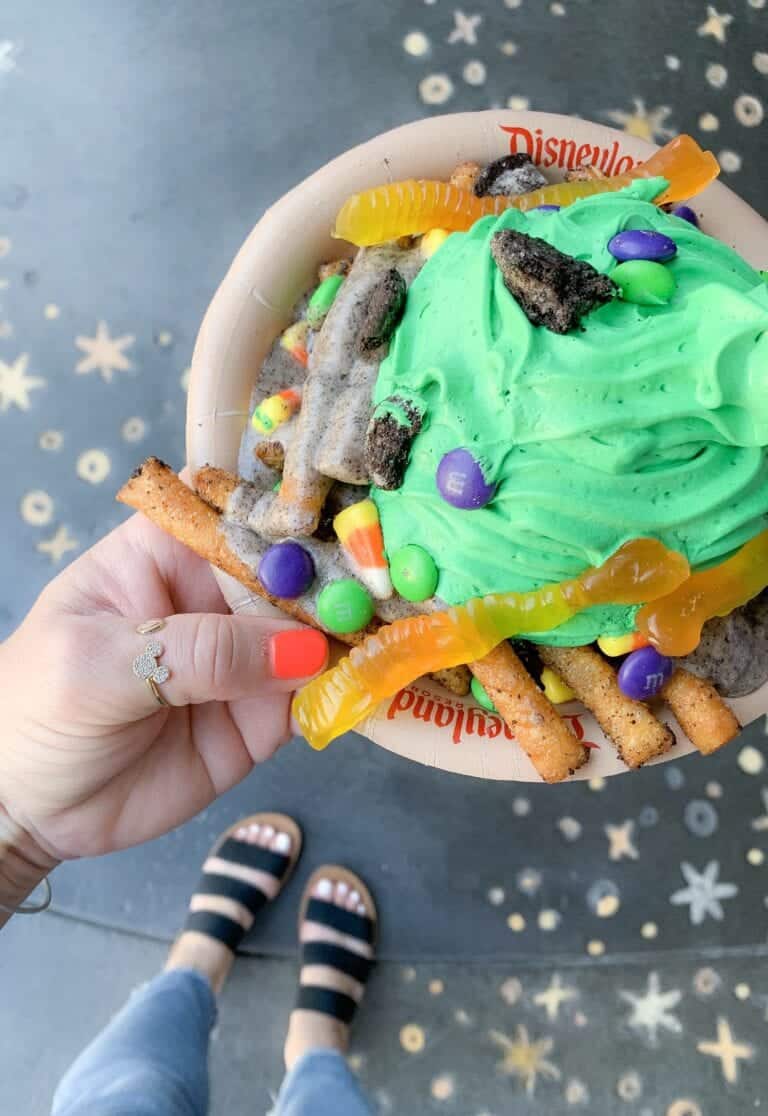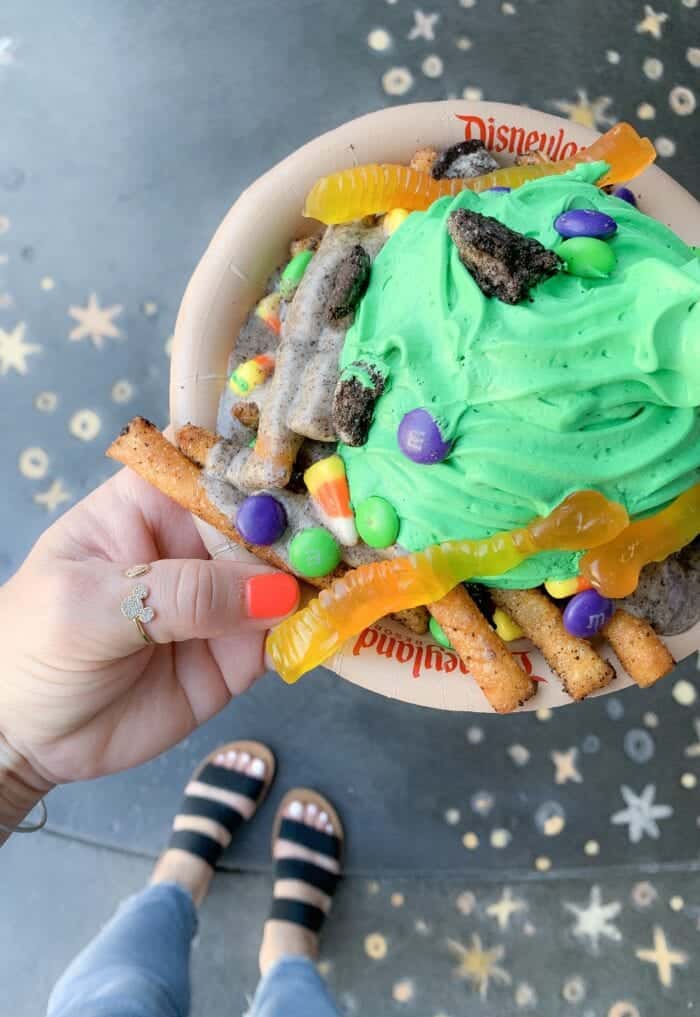 Oogie's Worms & Dirt Funnel Cake Fries, $8.99
Funnel Cake Fries dusted in Crushed Chocolate Cream-filled Cookies with Cream Cheese Sauce, Cookie Pieces, Gummy Candies, Chocolate-coated Candies and Whipped Cream. The order of Funnel Cake Fries I received was pretty sloppy as you can see in my photo, so my first impression was not great. Usually I am a huge fan of the seasonal funnel cake fries from Award Wieners, this one didn't impress me much. Wouldn't order this one again.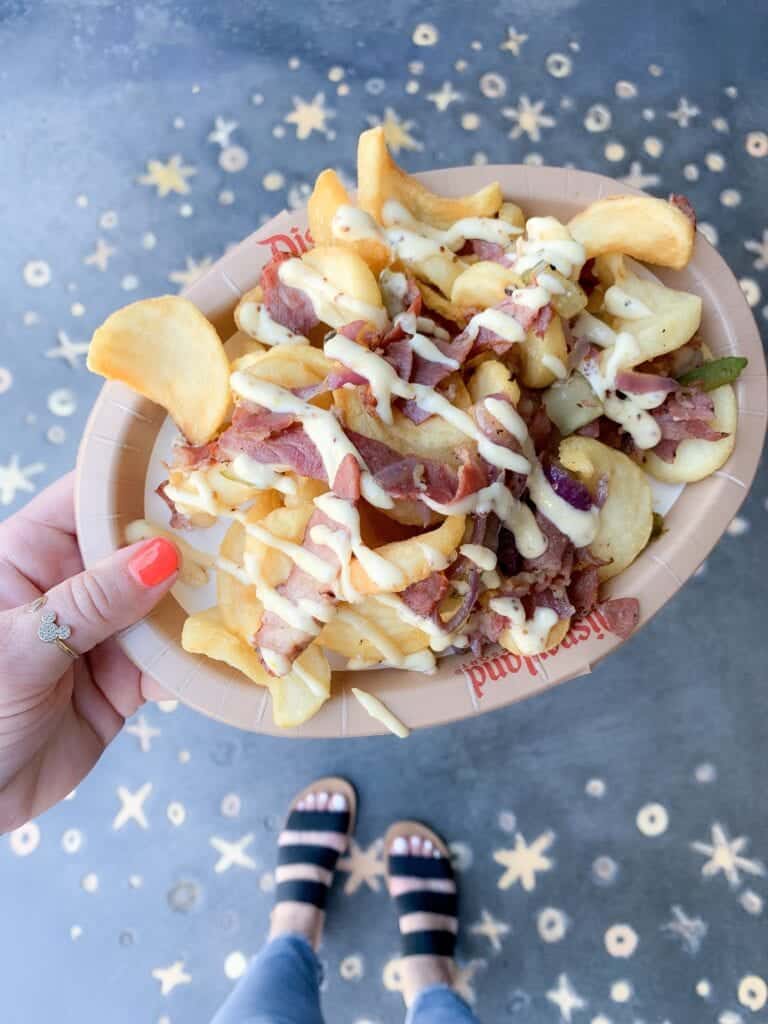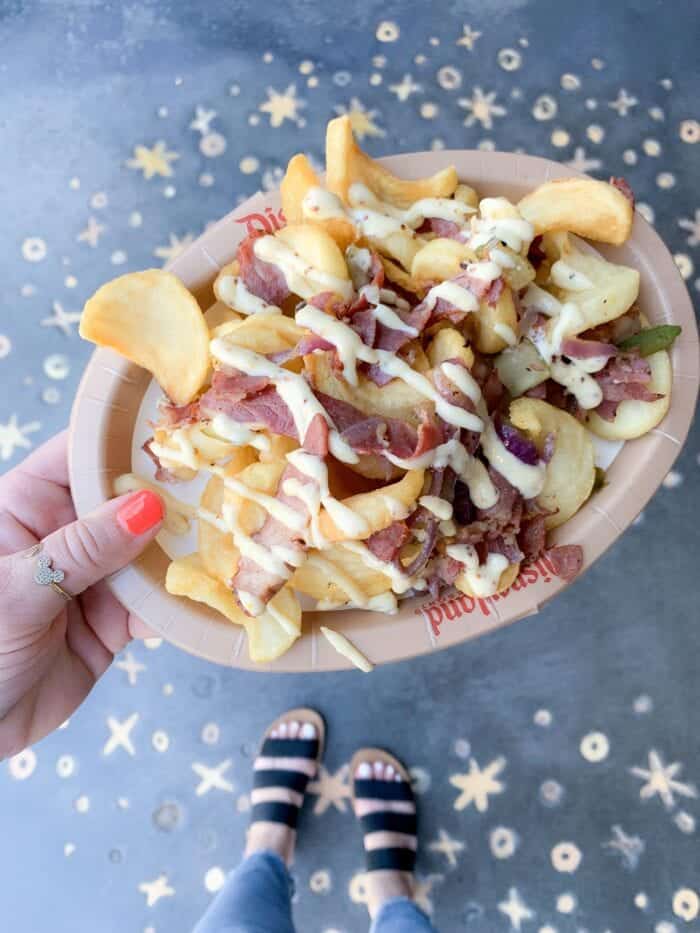 Rest In Peace-Strami Fries, $8.99
Other than feeling like my fries needed more toppings and creamy mustard sauce, they were very flavorful and I would give these another try. ….Filmstrip Fries topped with thinly-sliced Pastrami, Caramelized Onions, Pickles and Mustard Sauce.
Schmoozies, Hollywood Land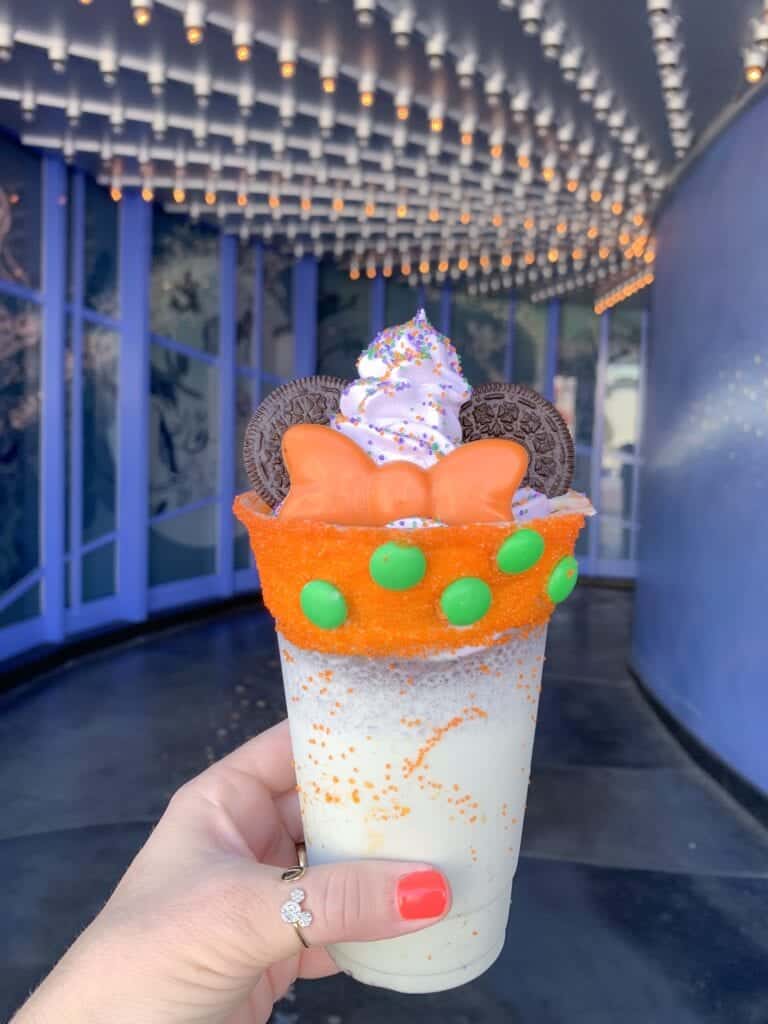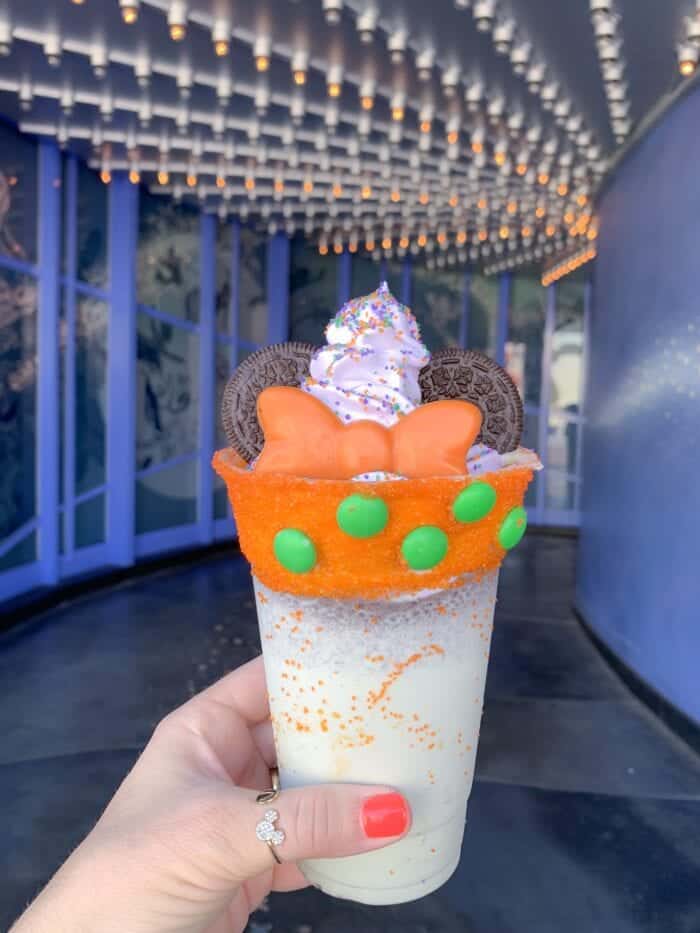 Minnie Witch Shake, $7.49
I'm a fan of the milkshakes at Schmoozies! It's a Mint Chocolate Chip Shake with Whipped Cream and Chocolate Cream-filled Cookie ears.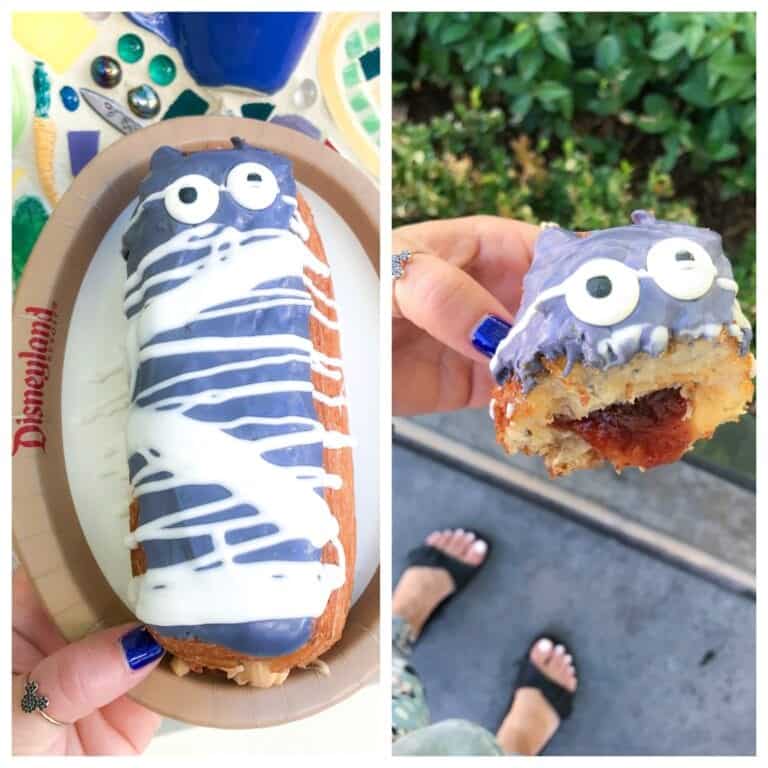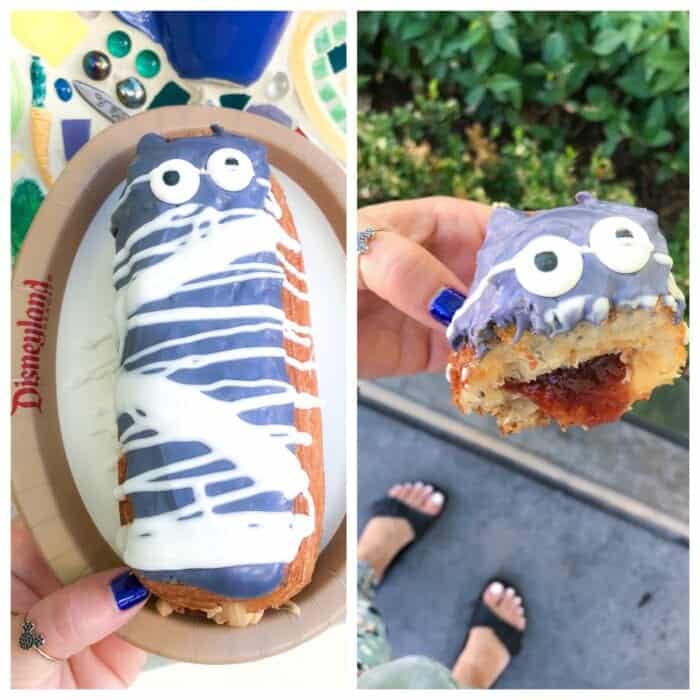 Mummy Donut, $8.99
This cronut style Mummy Donut is really good, it's just a bit of a mess to eat, grab napkins! I prefer using a knife and fork. It's huge so I recommend sharing this one too. Inside is filled with peanut butter and jelly.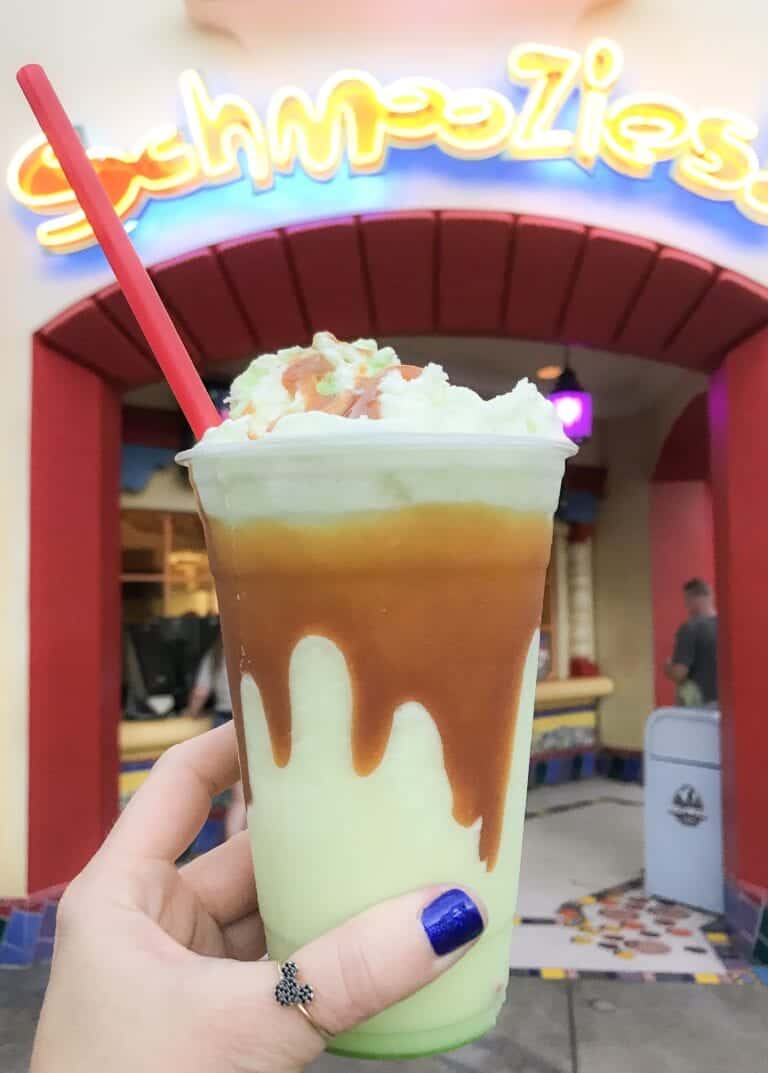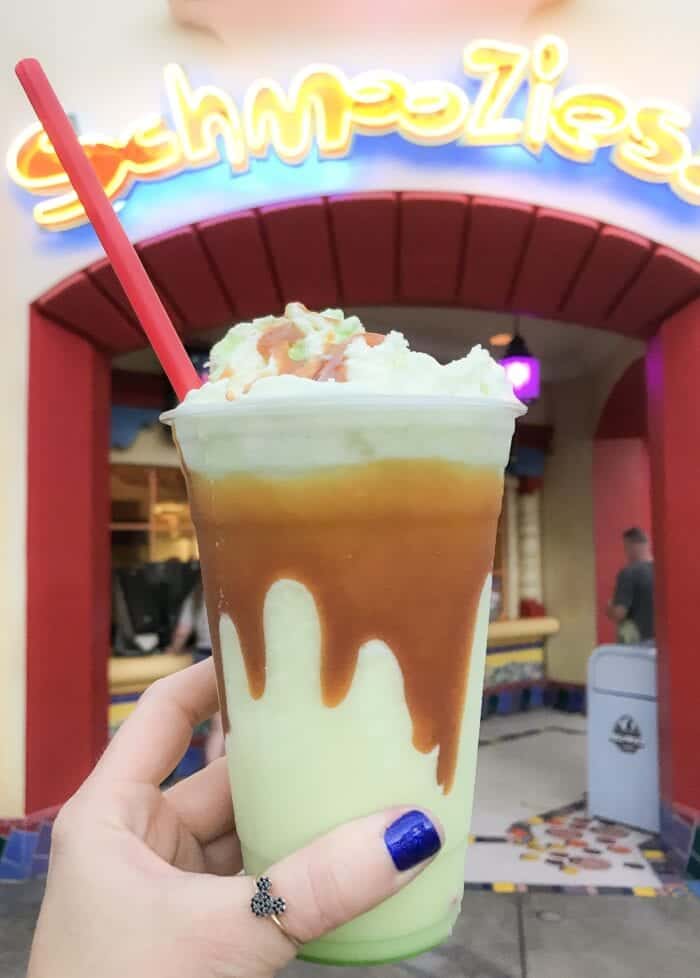 Caramel Apple Smoothie, $6.99
The Caramel Apple Smoothie is fantastic! This year they've added a caramel apple lollipop to the top, not pictured in my photo from last year.
Paradise Garden Grill, Paradise Gardens Park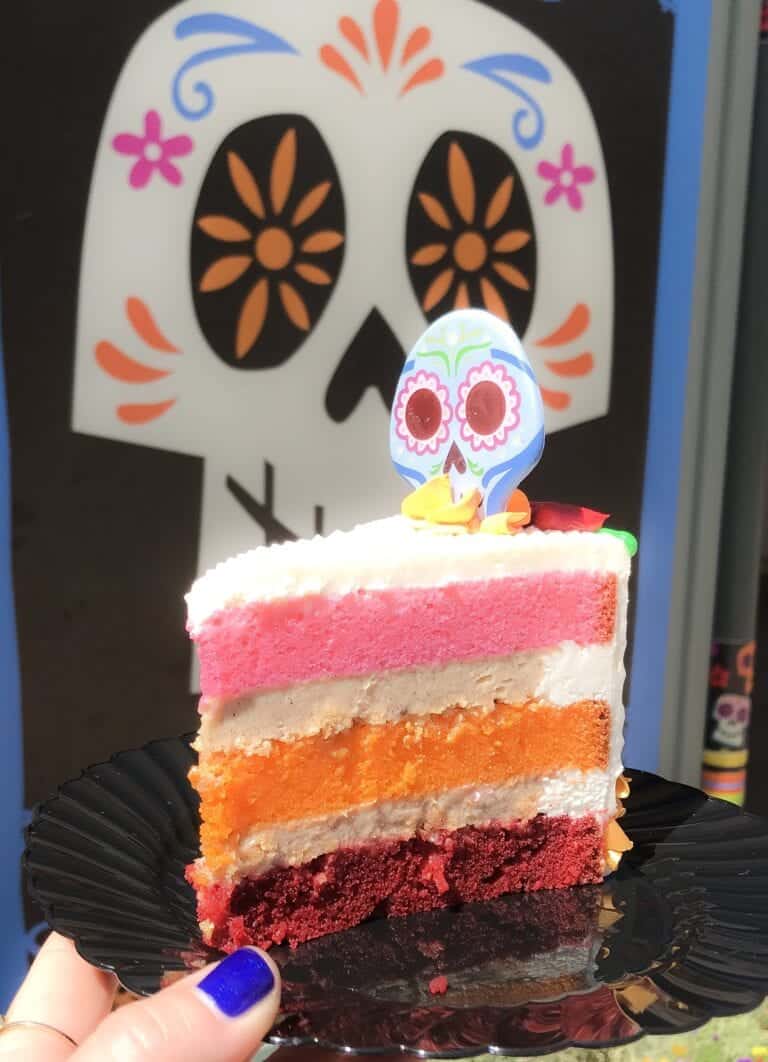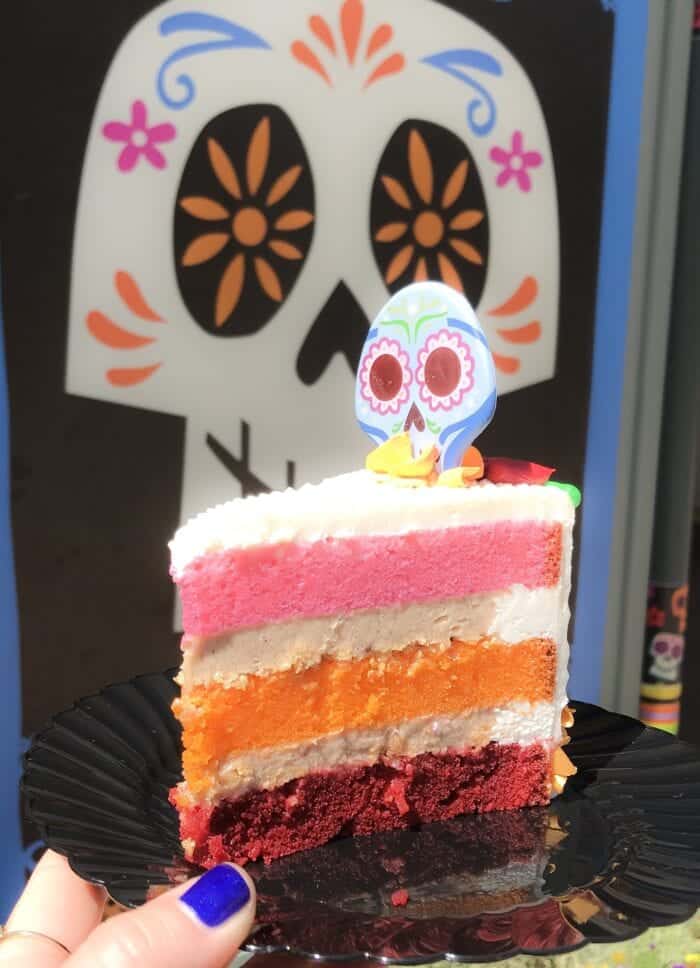 Coco Cake, $5.99
So happy this cake is back for a second year! It's absolutely fantastic! Layers of Vanilla Cake filled with Cinnamon Churro-flavored Mousse and Sweet Cream Cheese Frosting.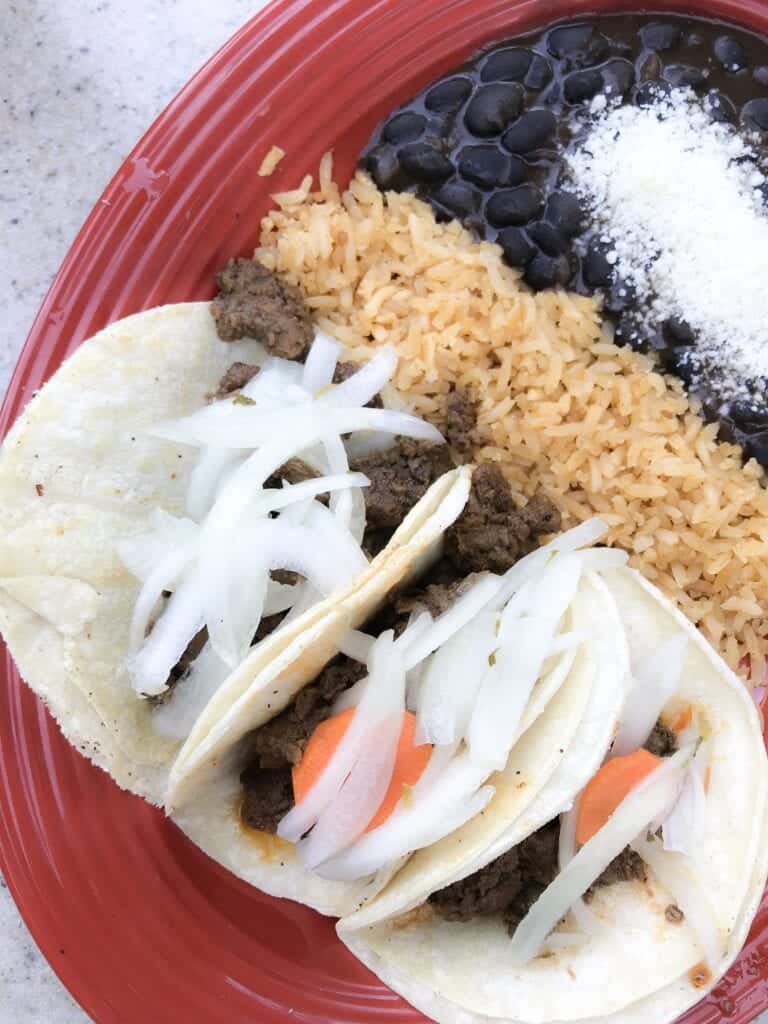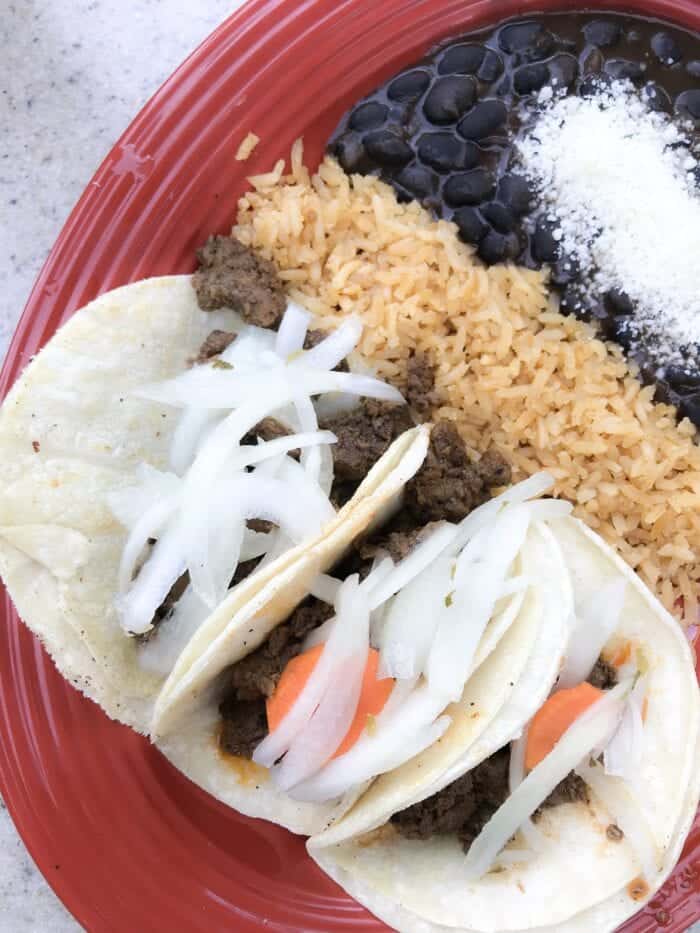 Tacos de Estilo Callejero, $12.99
This is another dish back for a second year at Paradise Garden Grill. We enjoyed these tacos! Trio of Sirloin Beef Tacos with spicy Pickled Vegetables served with Golden Rice and Black Beans.
Corn Dog Castle, Paradise Gardens Park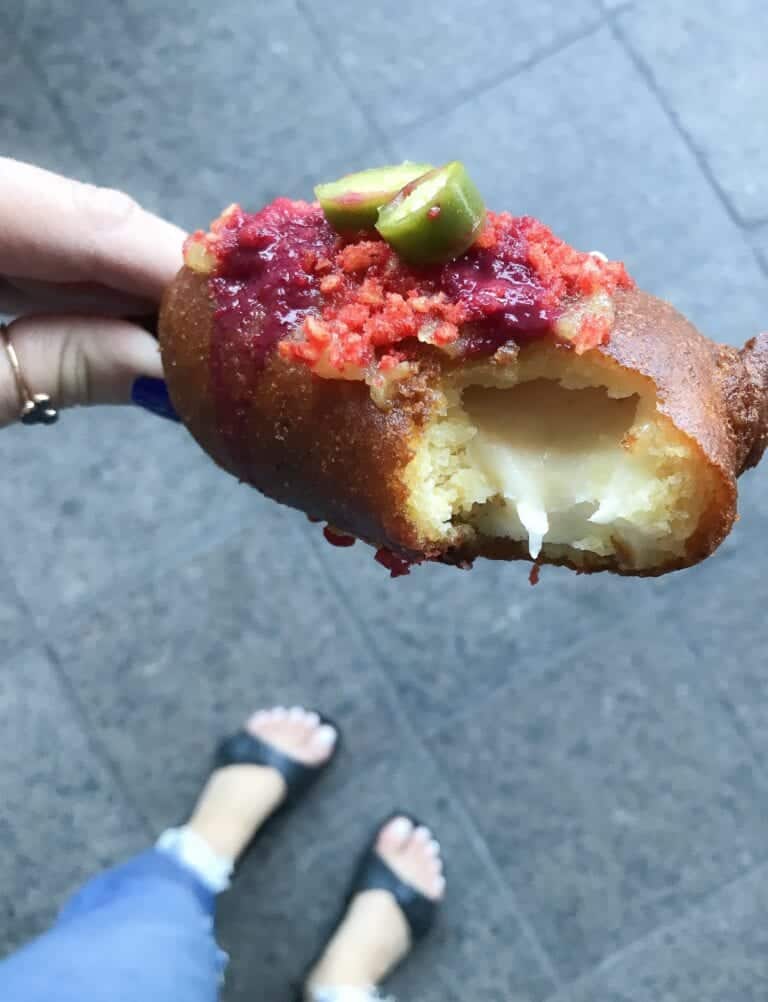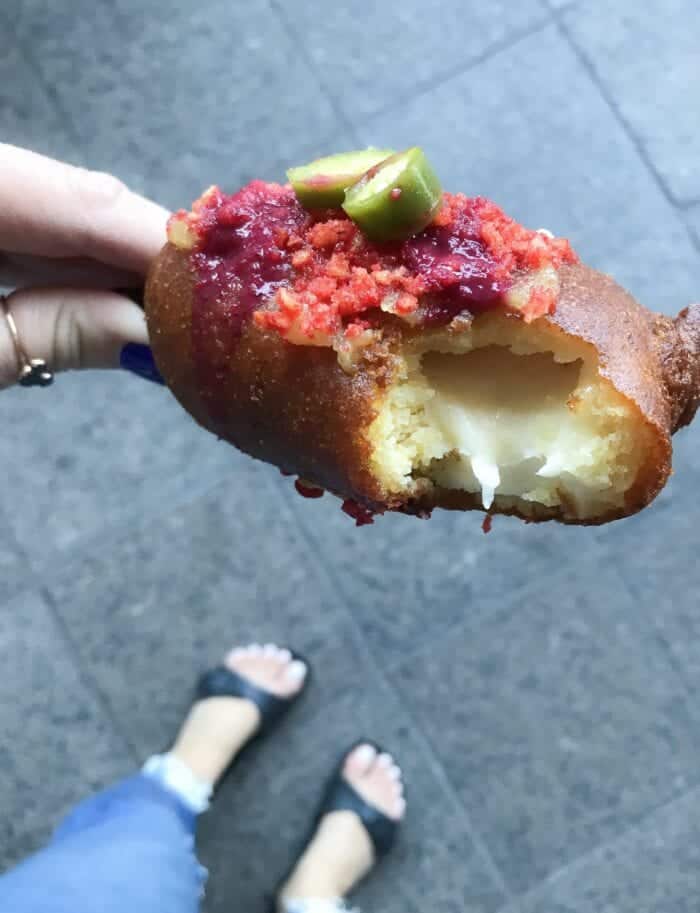 Spicy Pepper Jack Cheese Stick, $9.99
This crazy fried cheese stick is magical. It's coming back for a second year and I could not be more happy about it. Definitely give this one a try! Batter-dipped and drizzled with Blackberry Sauce, topped with Sweet Pineapple Salsa, Pickled Serranos and Crushed Cheese Puffs.
Halloween Time Churros, Disney California Adventure Park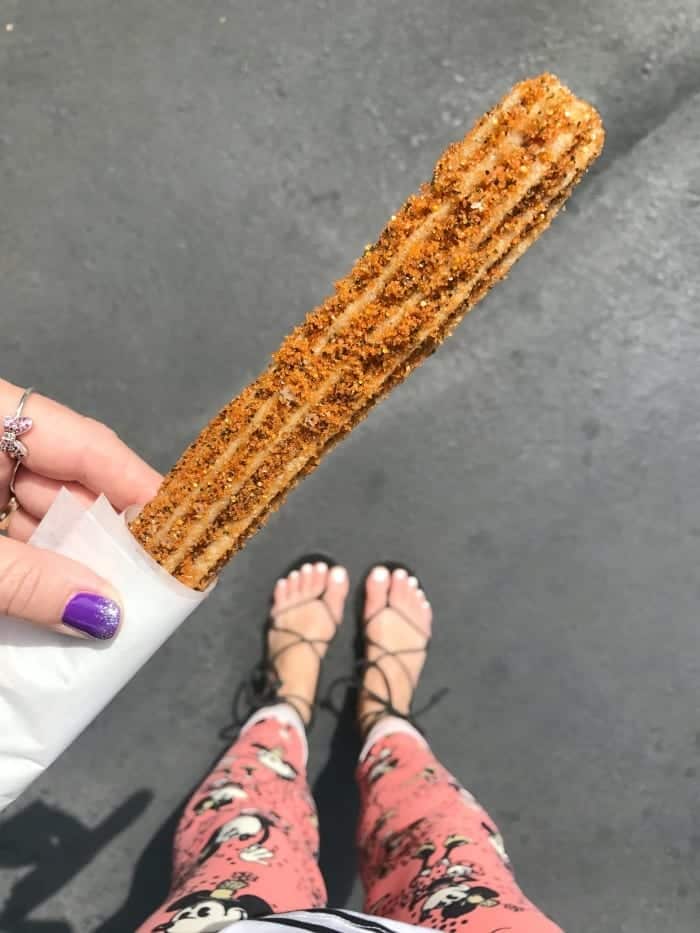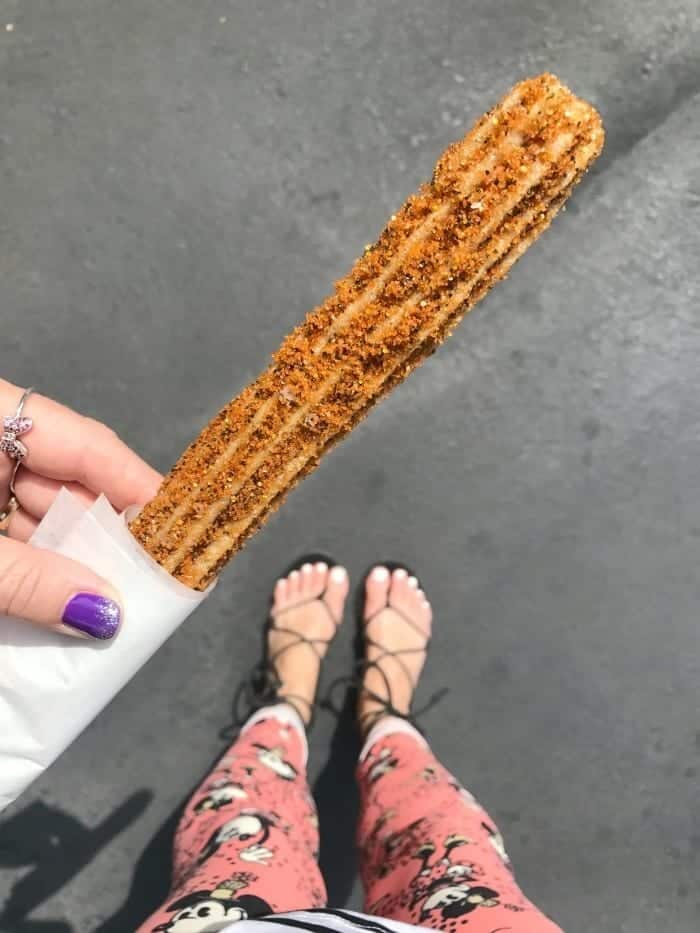 Pumpkin Spice Churro, $5.75 Willie's Churros in Grizzly Peak
The Pumpkin Spice Churro is not my favorite of the new Churros, but it's definitely a festive choice if you are a big pumpkin spice fan.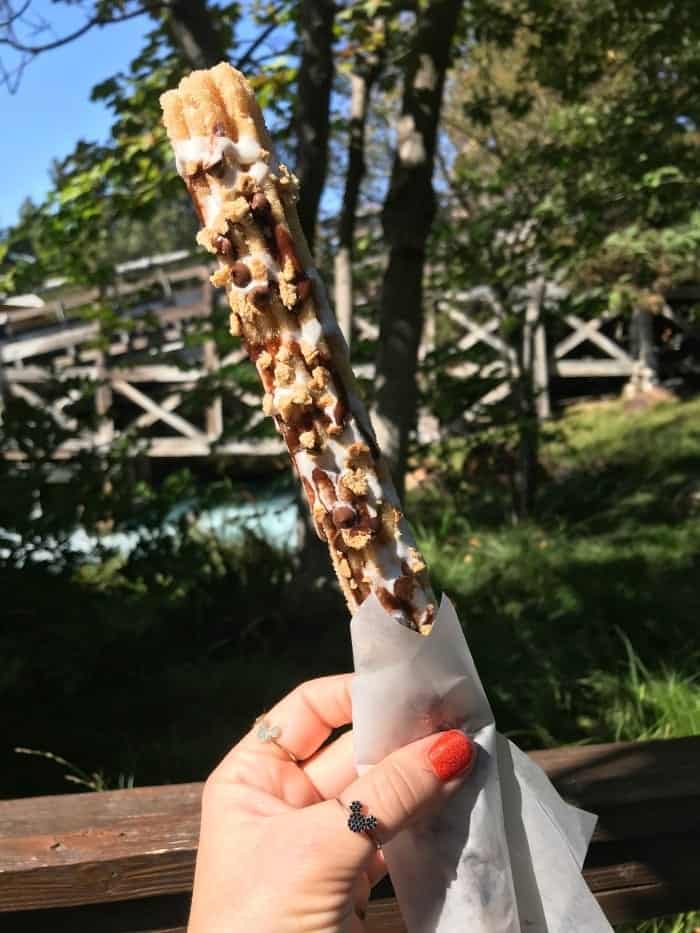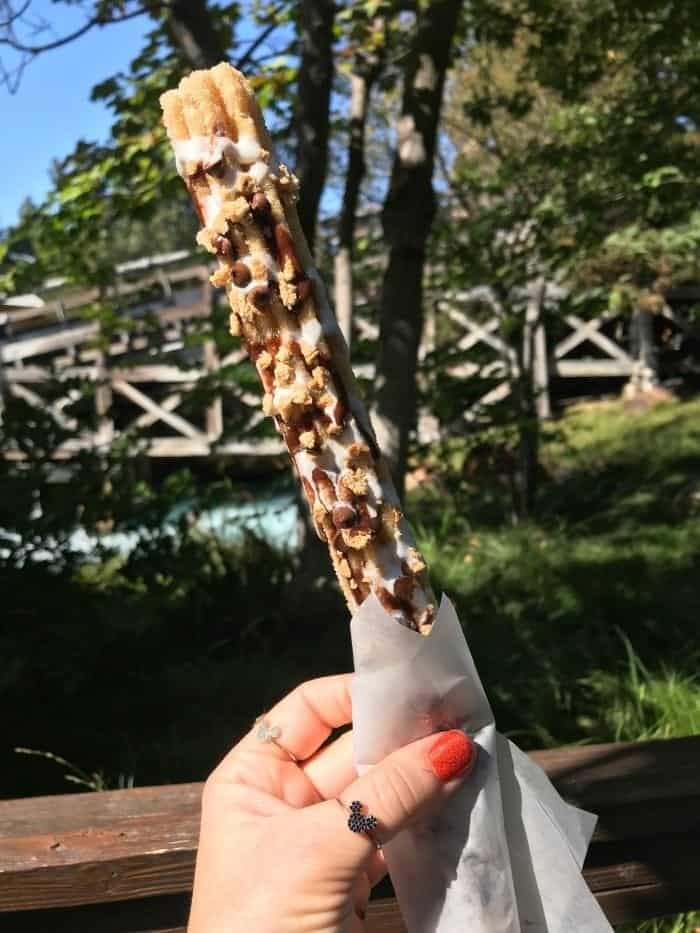 S'mores Churro, $6.25 Churro Cart Near Redwood Creek Challenge Trail
The S'mores Churro is one of my favorites of the Halloween Churros this year. I enjoy the s'mores toppings, I'd recommend trying it!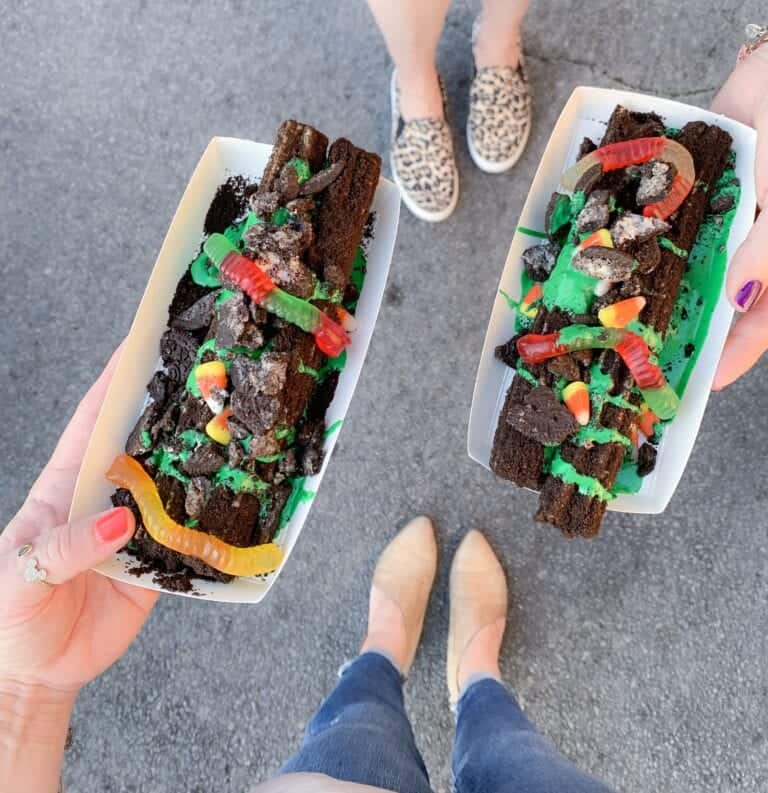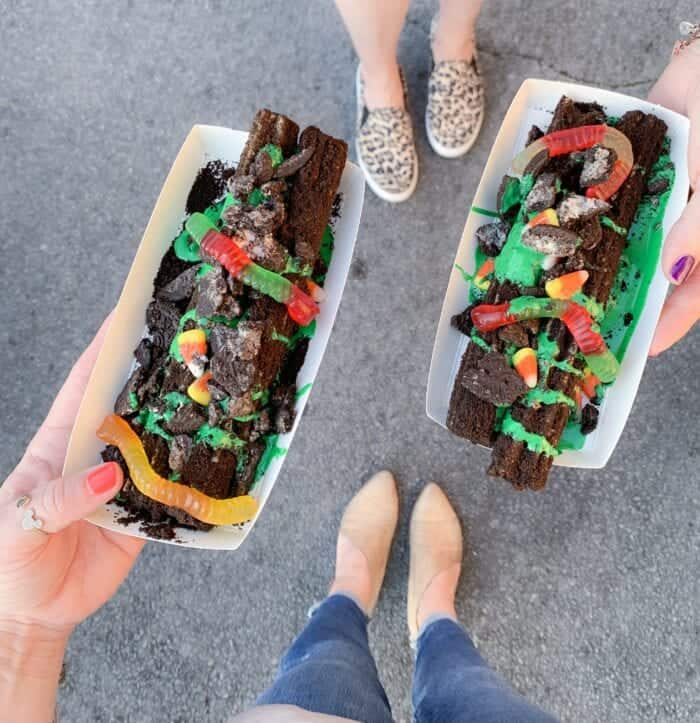 Haul-O-Ween Churro, $5.99 Cozy Cone Motel in Cars Land
I like the the Churro here is a chocolate churro, but honestly I could do with out the Halloween toppings. It's good plain 🙂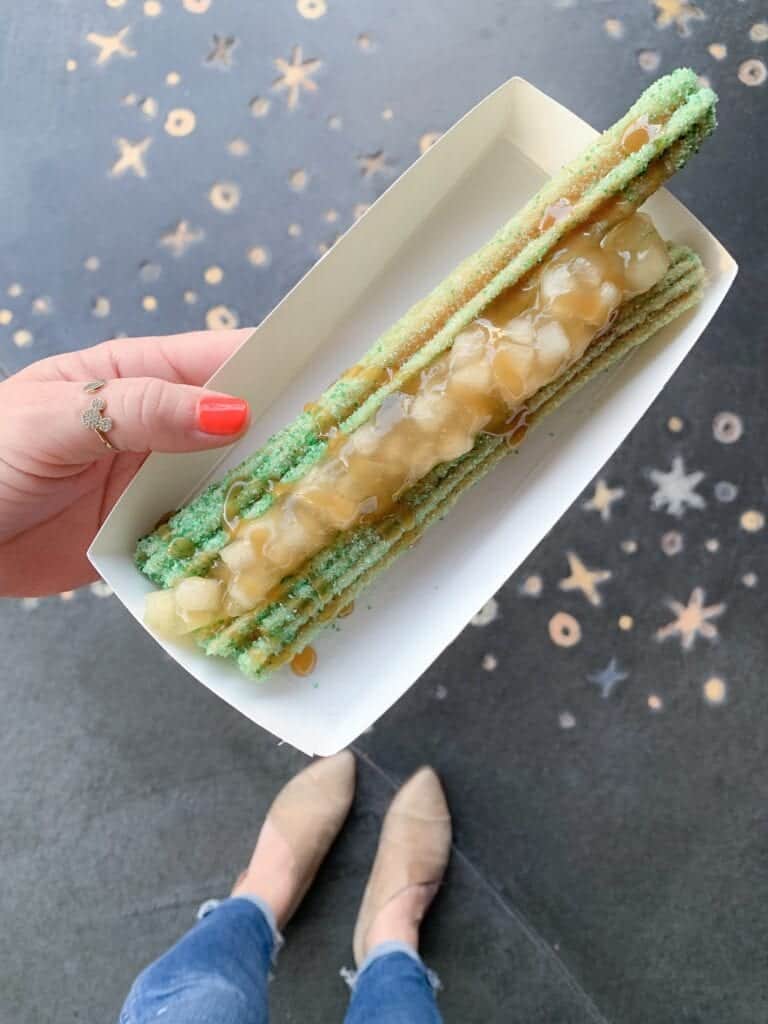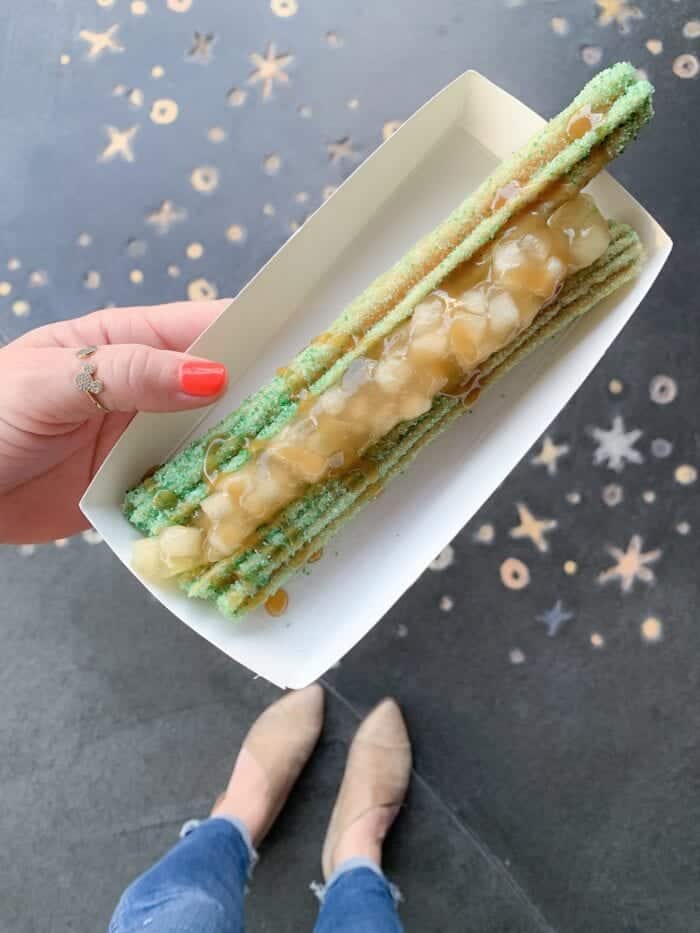 Caramel Apple Churro, $6.25 Churro Cart in Hollywood Land
The Caramel Apple Churro is good, not sure it needed the pie filling in the middle, but this is a good one to share with a buddy.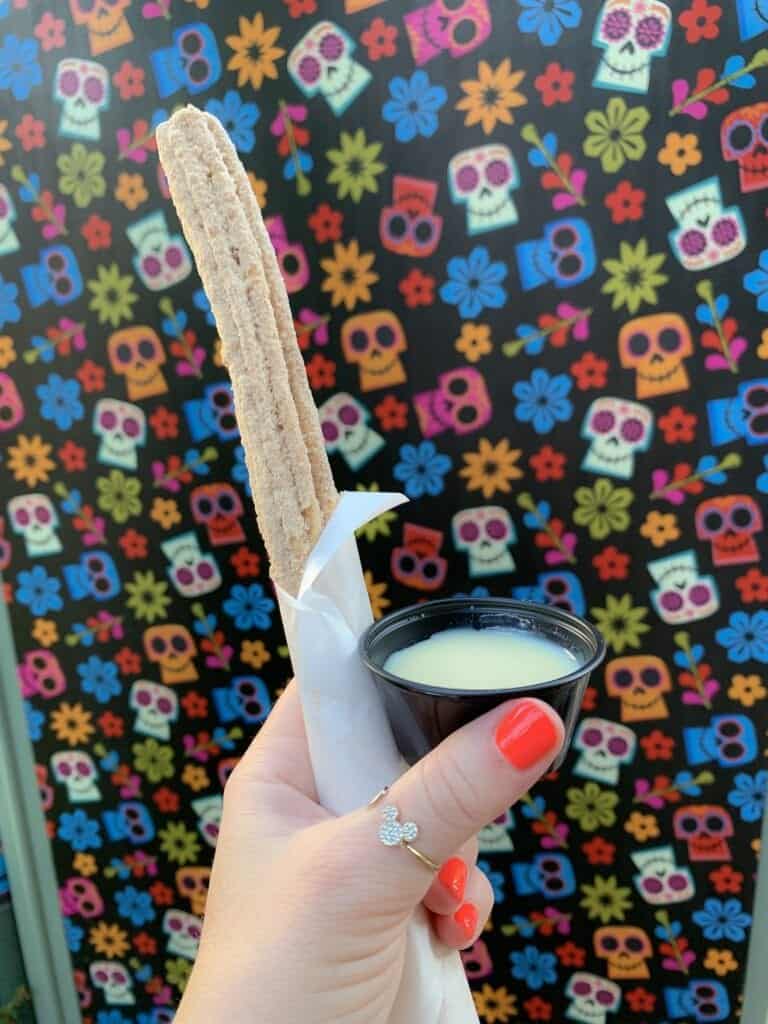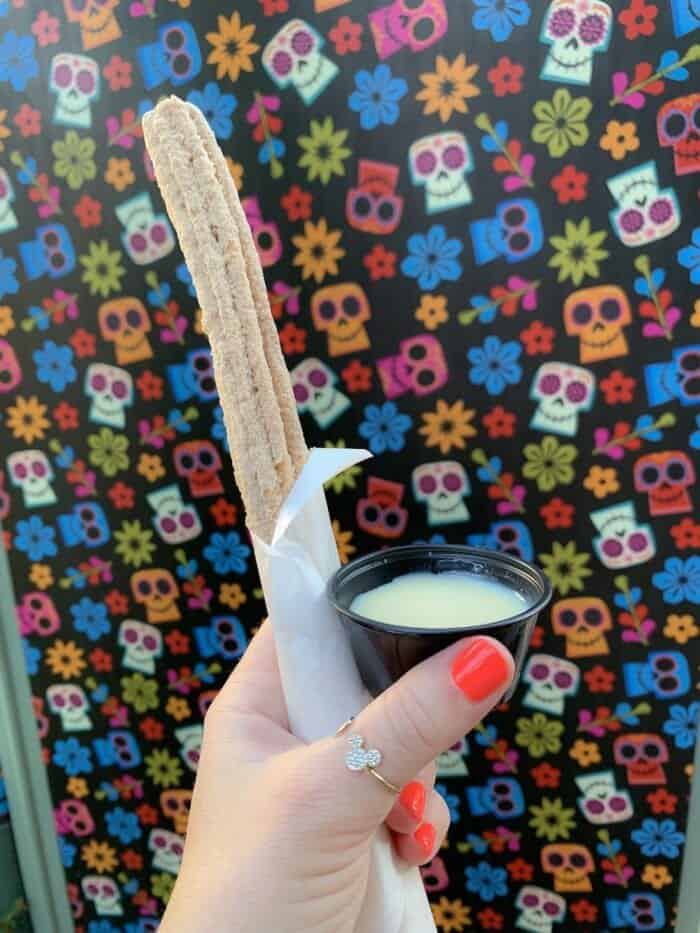 Horchata Churro With Condensed Milk, $6.25 Churro Cart Near Goofy's Sky School
My absolute favorite of all of the Halloween Churros this year is the Horchata Churro with Condensed Milk. Make sure you are getting a nice fresh hot churro and you'll love it! A+ from me.
Favorites NOT To Miss
Minnie Witch, $5.69 and Vampire Mickey Ice Cream Bar, $6.49 from Clarabelle's
Slow-Burnin Mac N' Cheese Cone, $8.99 from Cozy Cone Motel
Bacon Cheddar Ale Soup, $11.49 from Pacific Wharf Cafe
Rest In Peace-Strami Fries, $8.99 from Award Wieners
Coco Cake, $5.99 from Paradise Garden Grill
Spicy Pepper Jack Cheese Stick, $9.99 from Corn Dog Castle
Horchata Churro With Condensed Milk, $6.25Churro Cart Near Goofy's Sky School
Pin To Your Favorite Recipe Board