Sharing the BEST Disneyland Halloween Food 2019! So many delicious options this year, sharing my reviews and favorites today!
Disneyland Halloween Food
Halloween Time at Disneyland Resort is such a magical time to visit. I can't get enough of the food, the fun and festivities going on through October 31st! Today, I'll be sharing my favorite food at Disneyland Park for Halloween Time. Got to sample about everything, so I'll be giving you my reviews.
Be sure to check out my post on The Best Food at Star Wars: Galaxy's Edge too! Follow Disney Hungry on Instagram for the BEST eats at Disneyland Park!
Jolly Holiday Bakery Cafe, Main Street, U.S.A.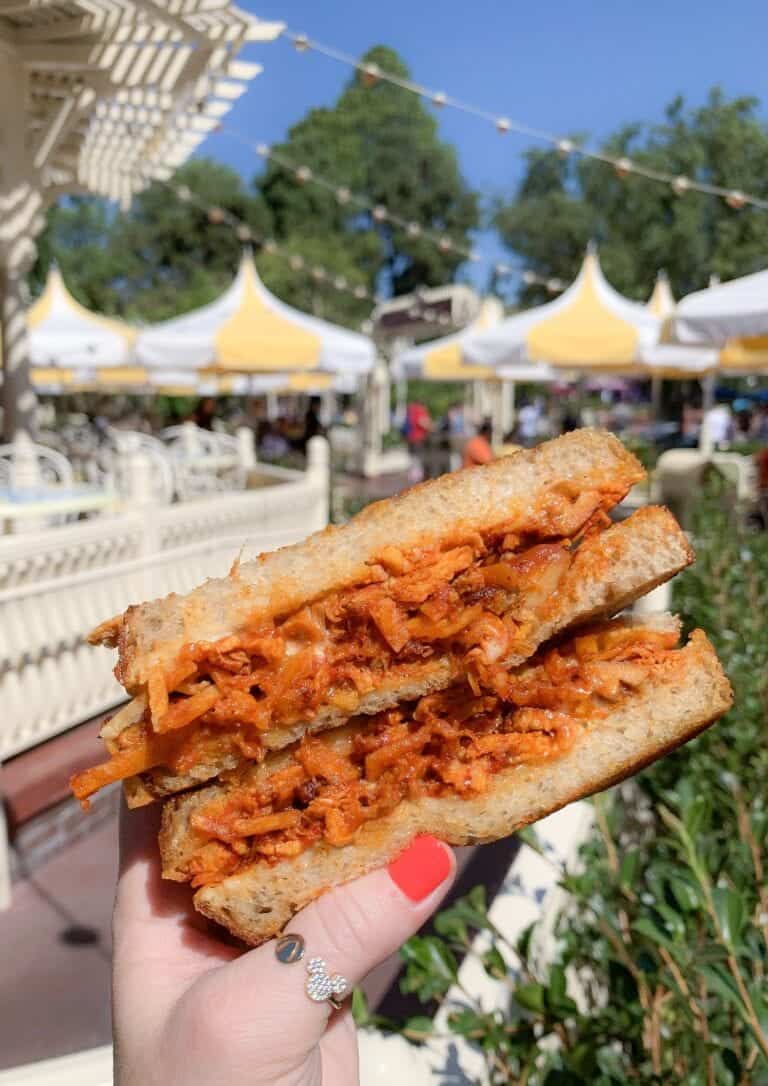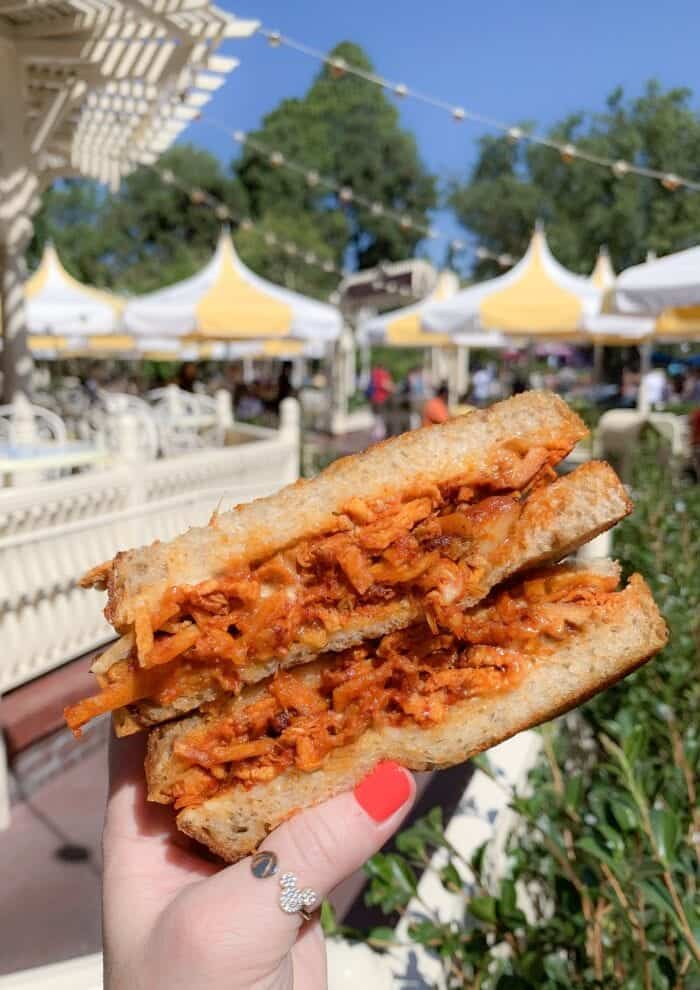 Toasted Salsa Roja Chicken Sandwich Combo, $10.99
I absolutely loved this sandwich/soup meal! If you are looking for a delicious quick lunch, this is your sandwich. Salsa Roja Shredded Chicken Sandwich on Rustic Bread with Jack and Cotija Cheeses, served with Tortilla Soup. Loved the soup for dipping too.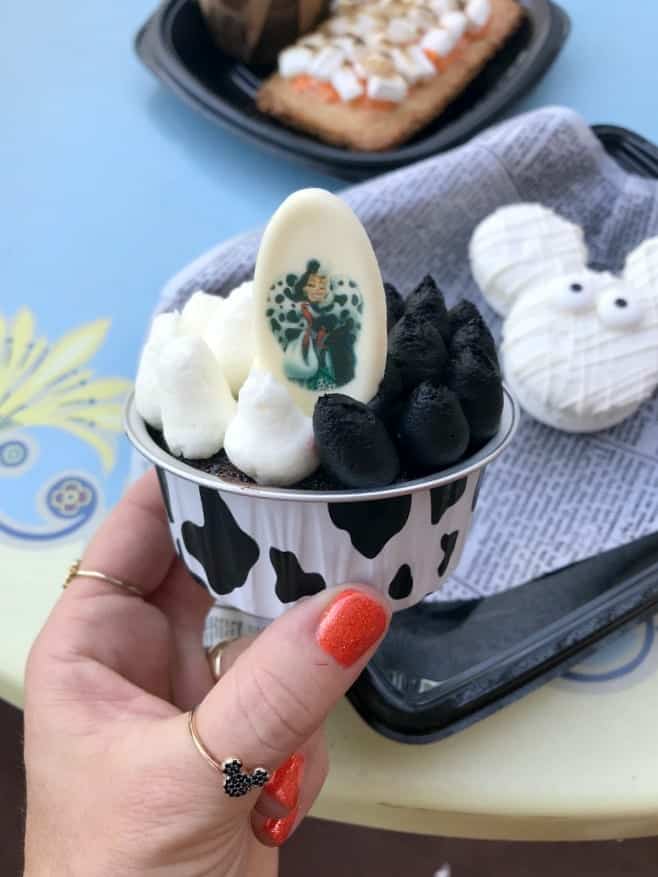 Cruella De Vil Brownie, $4.99
I don't really think you can go wrong with any dessert at Jolly Holiday, but if you are looking for a great Halloween Brownie, give this one a try. Loved it last year, glad it's back this year too.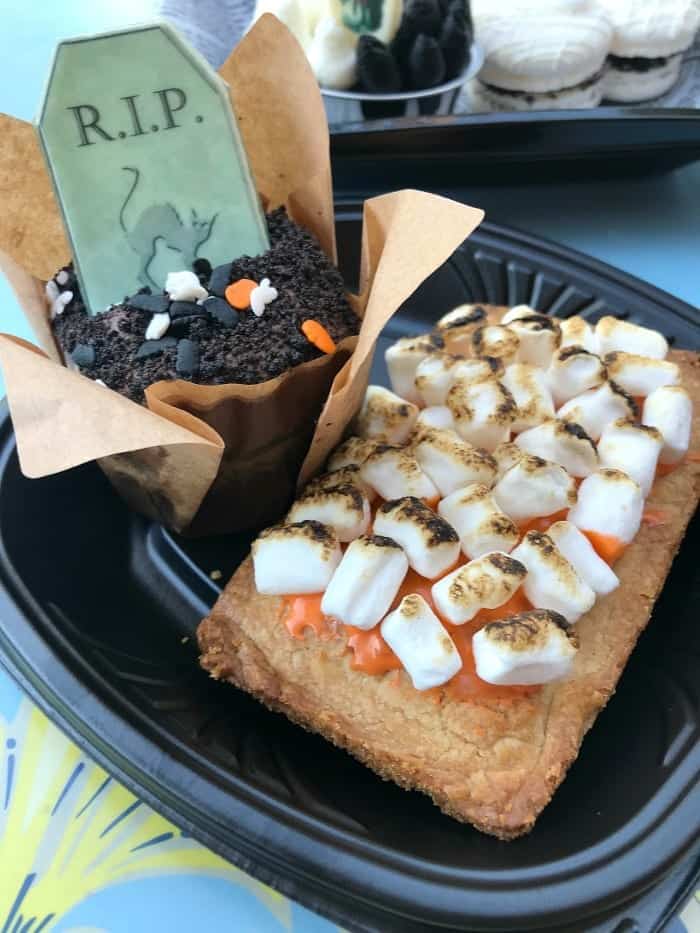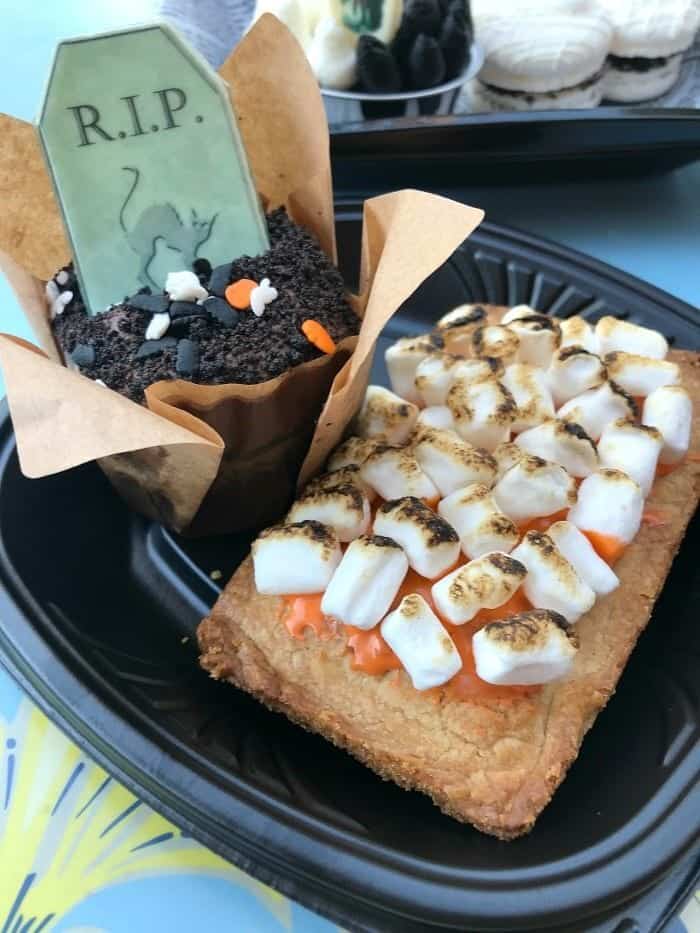 Graveyard Cupcake Sweet Potato Hand Pie, $6.99 and $4.99
More great dessert options at Jolly Holiday Bakery Cafe! The Graveyard Cupcake is for chocolate lovers. Enjoyed it along with the Sweet Potato Hand pie. The hand pie tastes like bites of pumpkin pie. Both good in my opinion.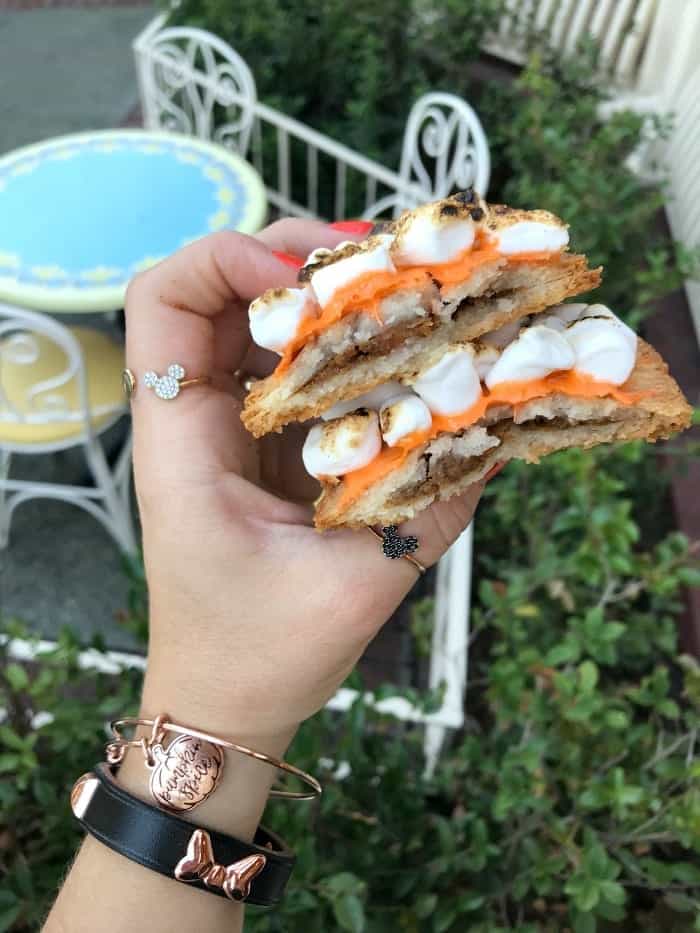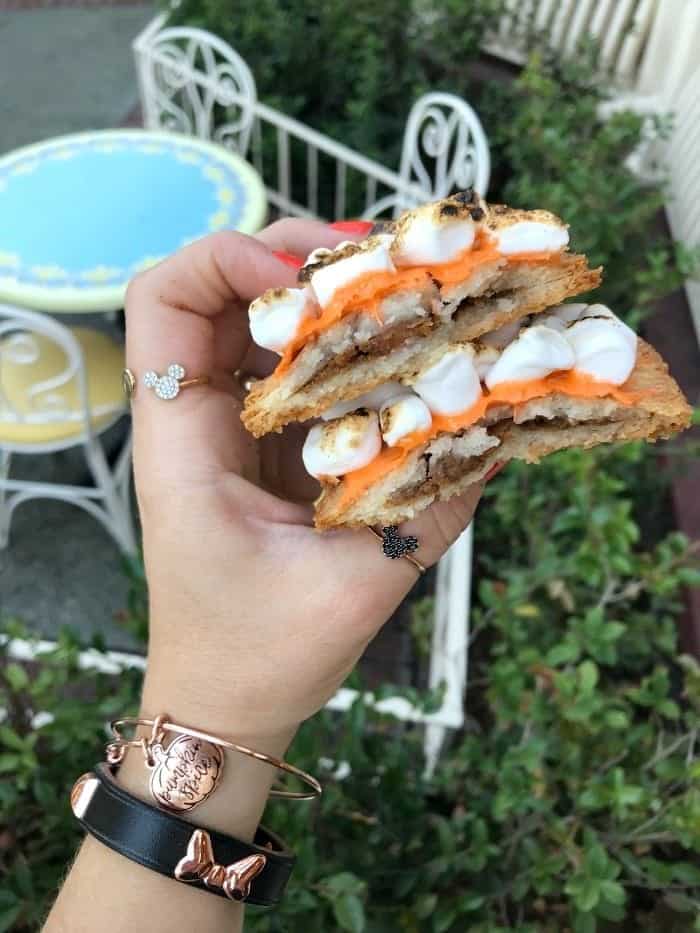 Inside of the Sweet Potato Hand Pie.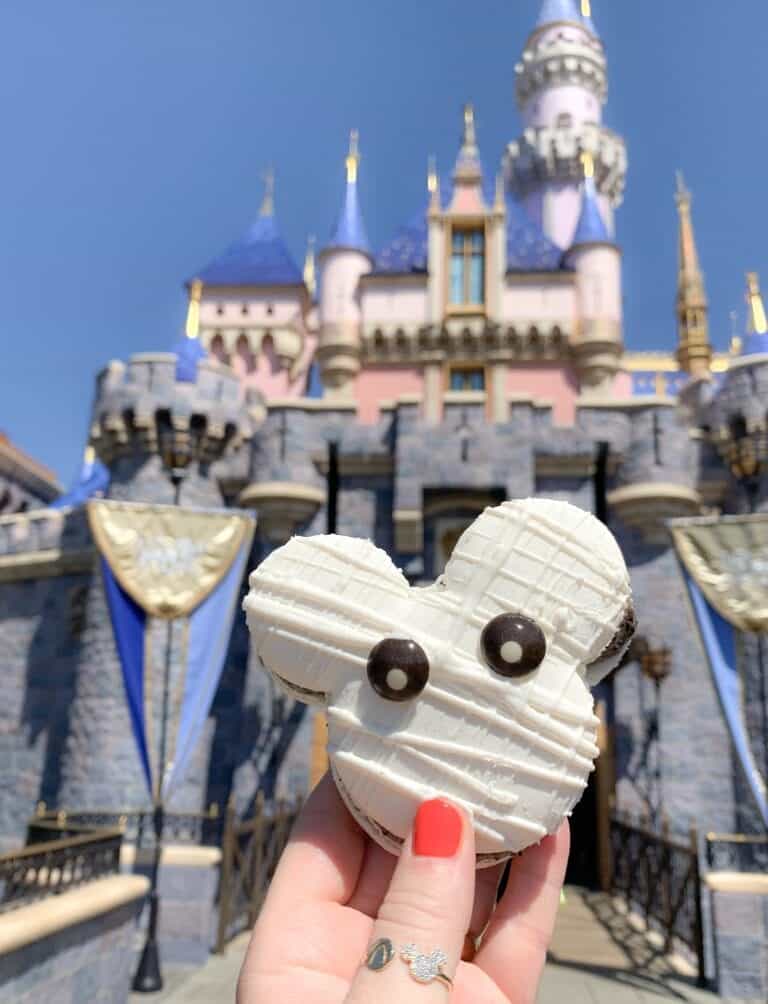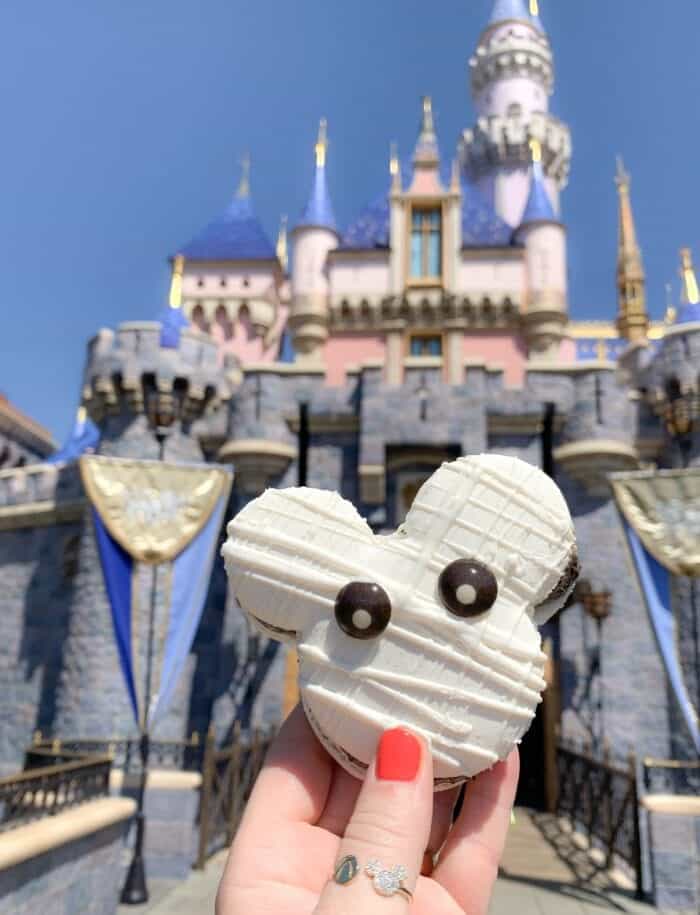 Mummy Macaron, 5.99
My favorite dessert at Jolly Holiday for Halloween Time is the Mummy Macaron. It's two vanilla macarons with cookies and cream filling. It's Fantastic!
Candy Palace, Main Street, U.S.A.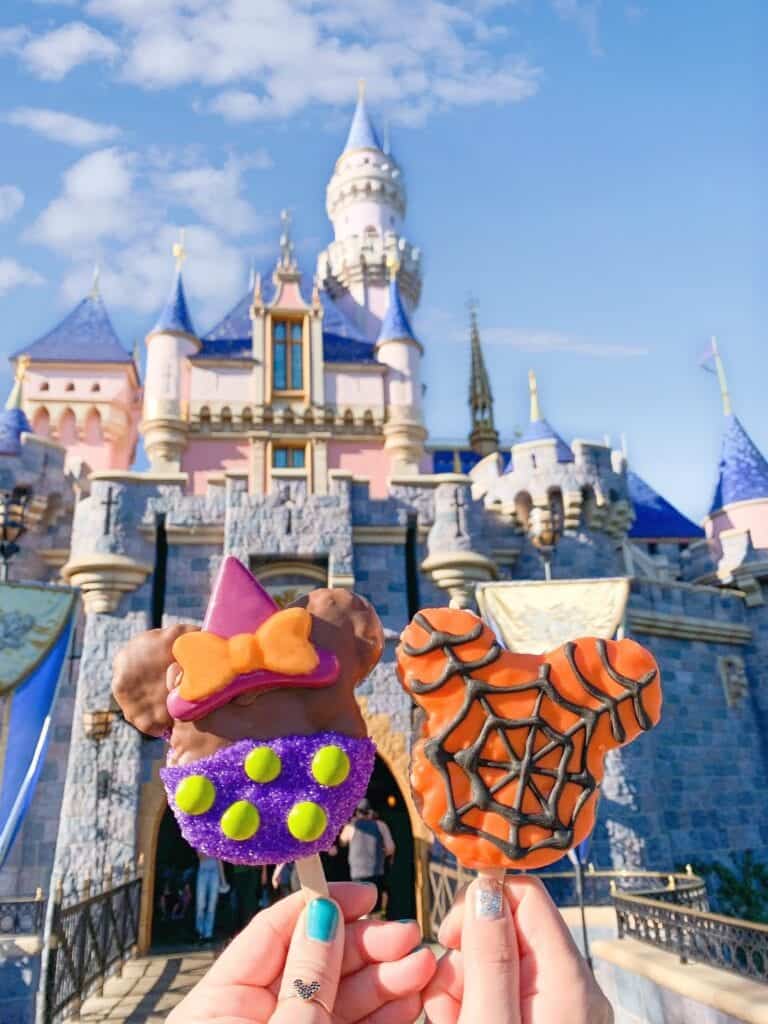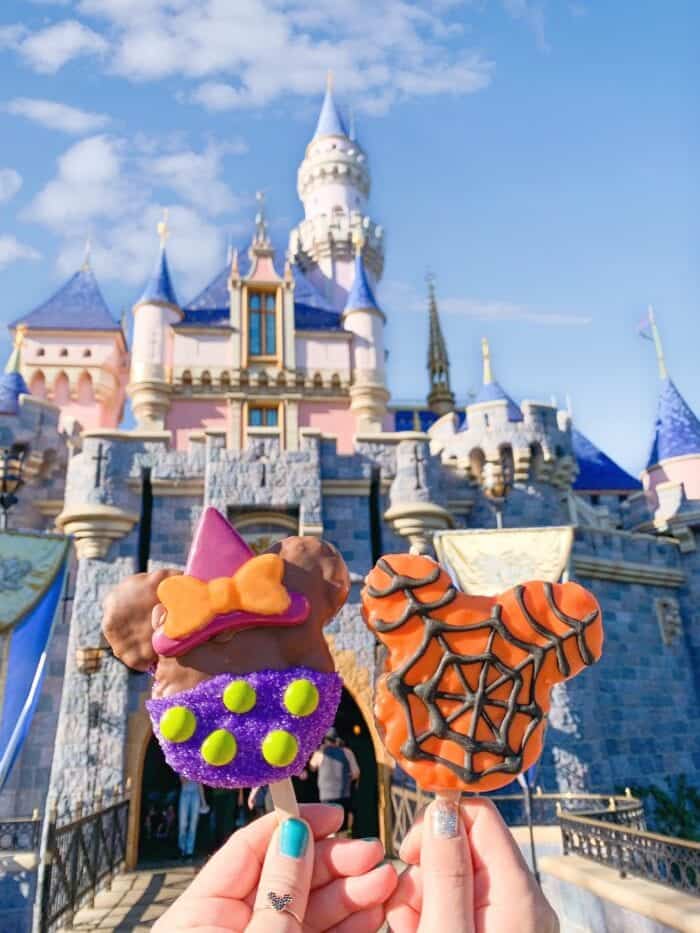 Candy Palace has some of the most adorable Halloween Time treats available. Don't miss them! We love the Mickey and Minnie Crispy Treats.
Market House, Main Street, U.S.A.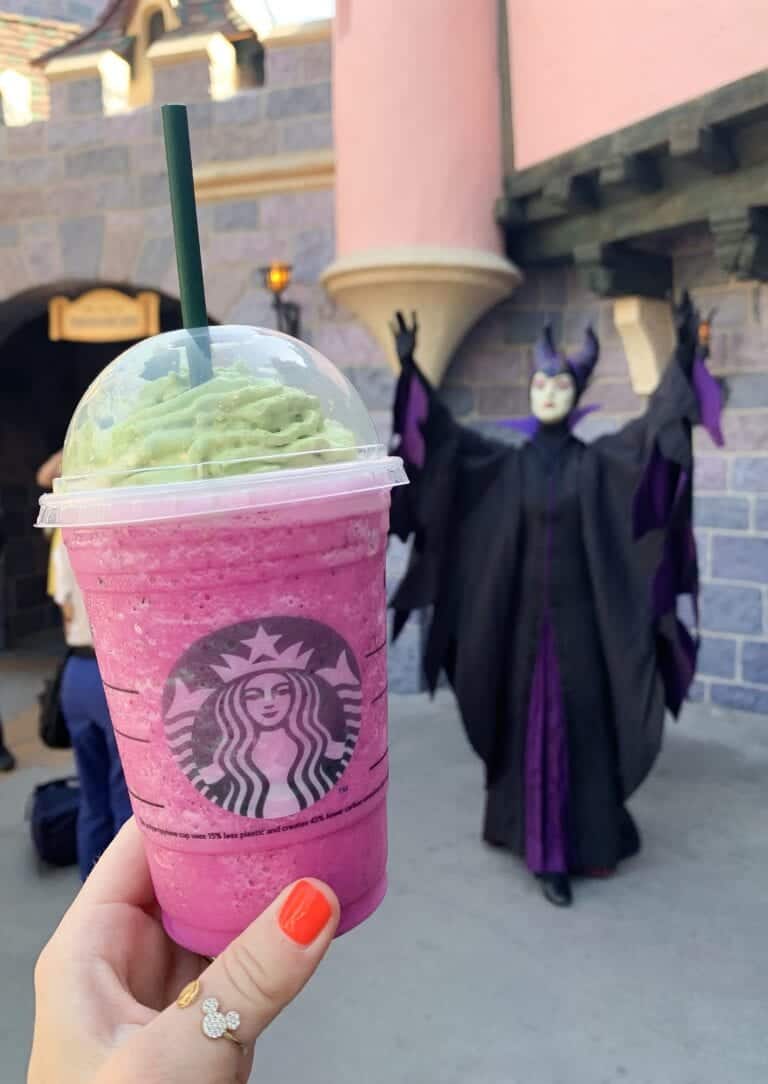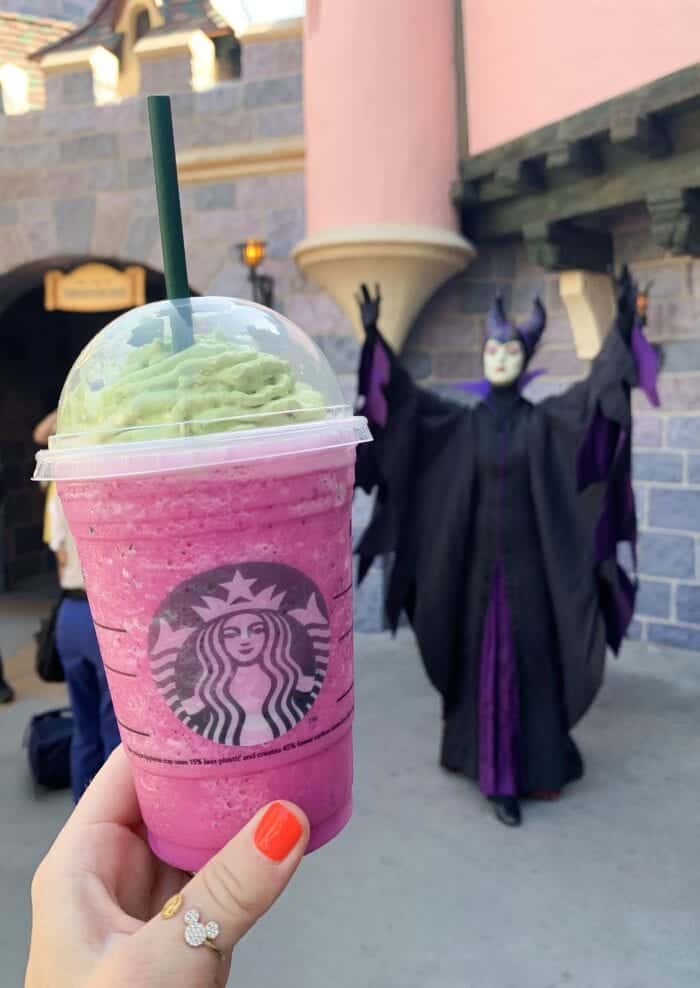 Maleficent Frappucino, $5.69 Grande
Ok, this Maleficent Frappucino is so so good! You have to give it a try from the Market House/Starbucks. Details: Blueberry and Vanilla Bean Crème Frappuccino blended with Diced Dragon Fruit, topped with Matcha Tea Whipped Cream.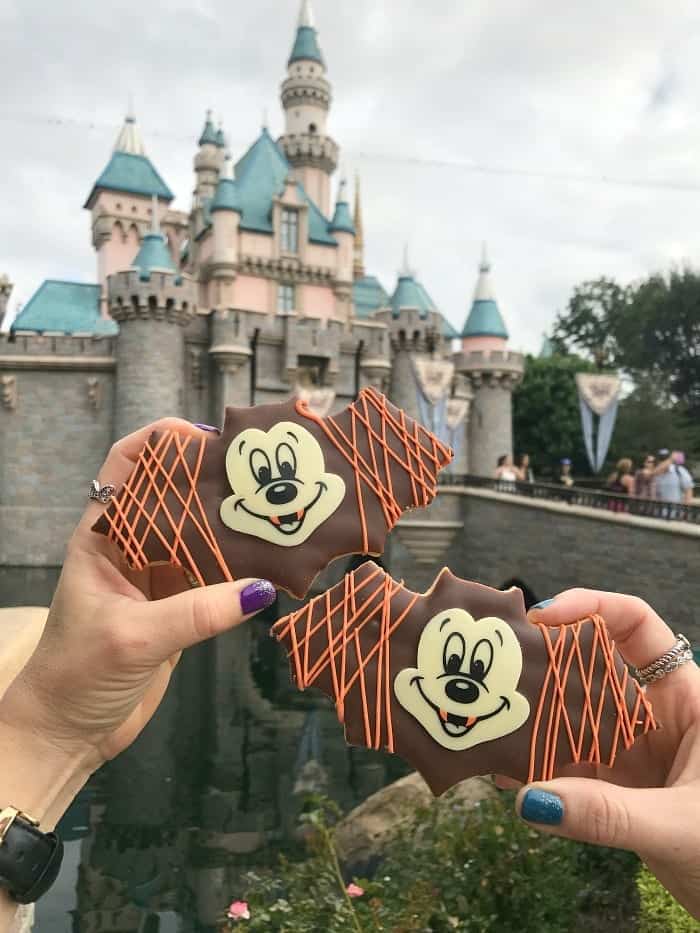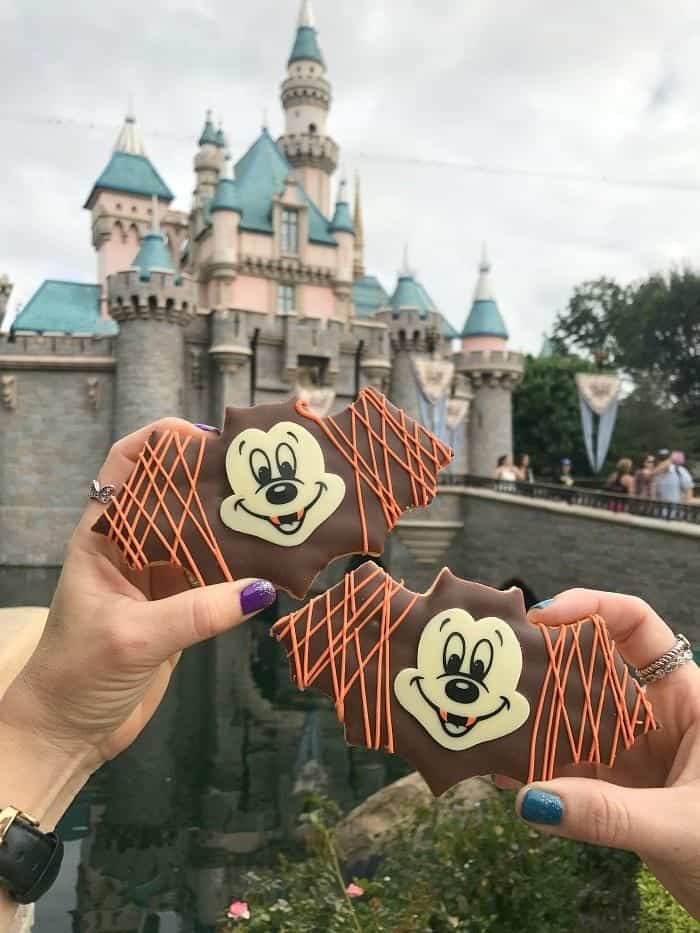 Bat Cookie, 3.99
Also from Market House, you can find this shortbread Bat Cookie. It's a great choice for a sweet treat around the Parks.
Refreshment Corner, Main Street, U.S.A.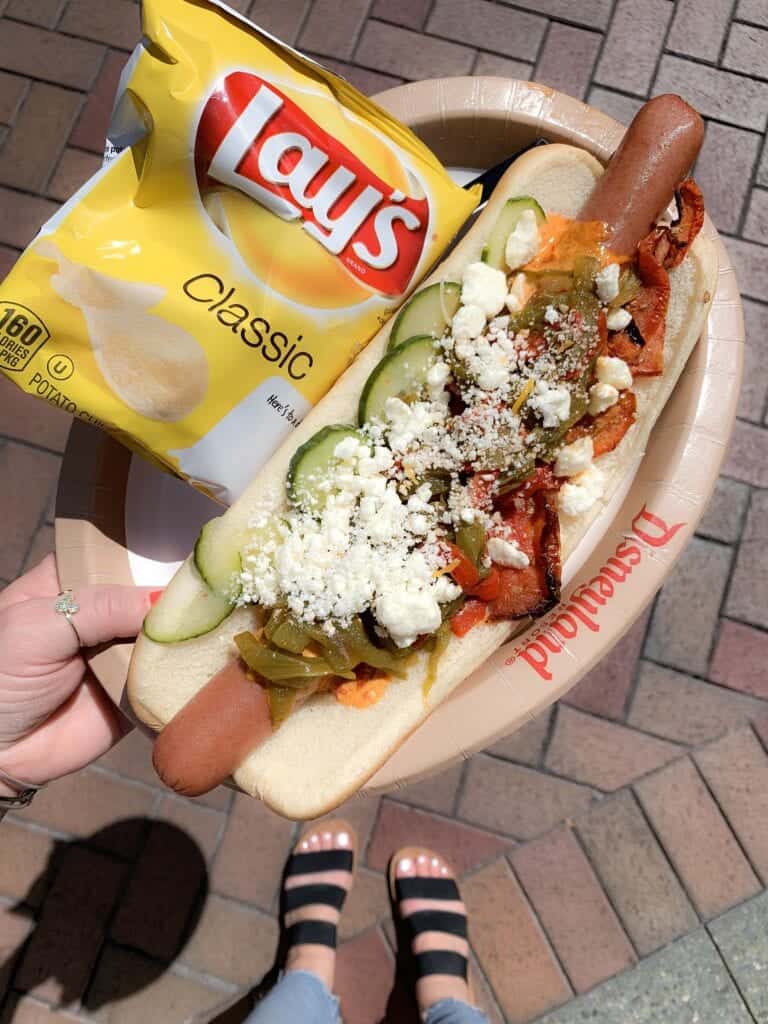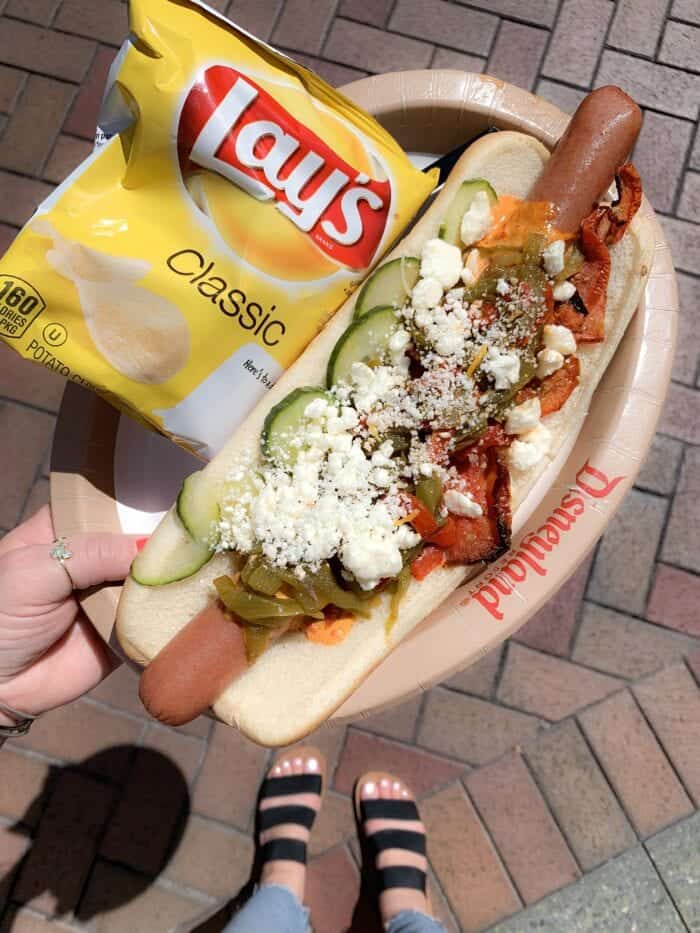 Hades Dog, $11.49
I LOVED the Hades Dog from Refreshment Corner on Main Street! The feta and cucumbers were the perfect combo in addition to the peppers. Details: Foot-long All-Beef Hot Dog, Harissa Aïoli, Lemon-Pickled Cucumbers, Oven-dried Tomatoes, Sauteéd Peppers and Feta served with choice of Sliced Apples or small bag of Chips.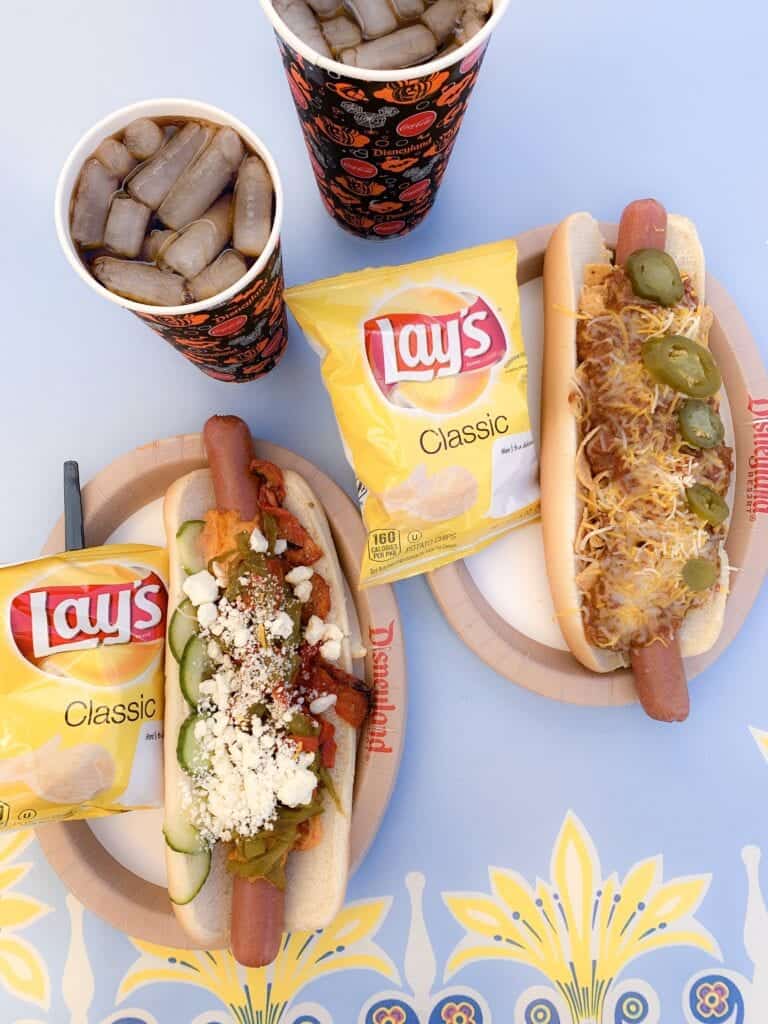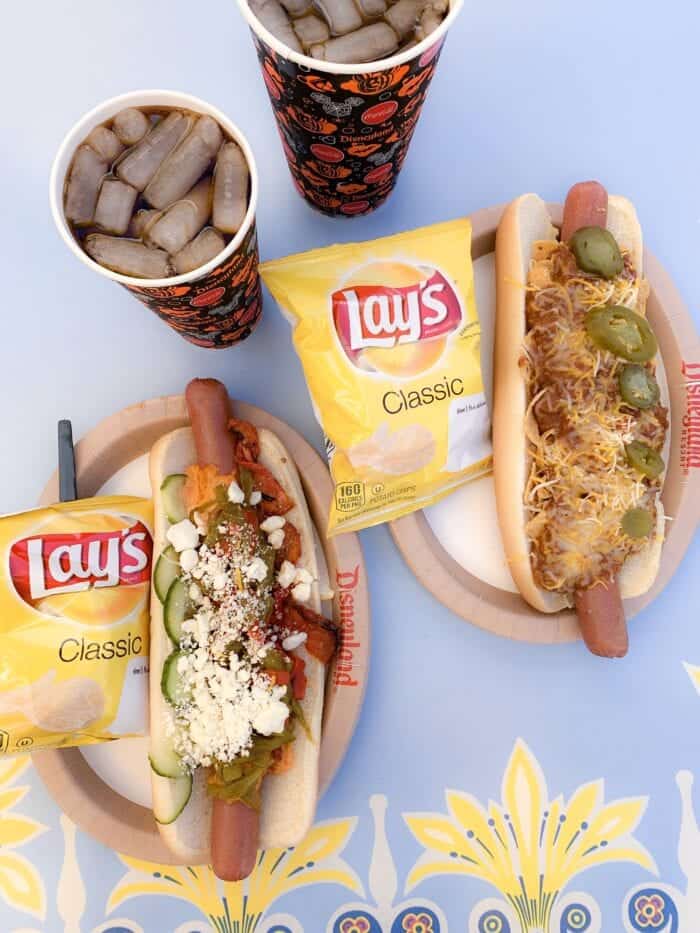 Hades Dog and Firefly Dog, 11.99
The Firefly Dog is also really good. Details: All-Beef Foot-long Hot Dog covered in Chili, Cheese and Corn Chip "Fireflies" topped with Jalapeños, served with Sliced Apples or Small Bag of Chips.
Plaza Inn, Main Street, U.S.A.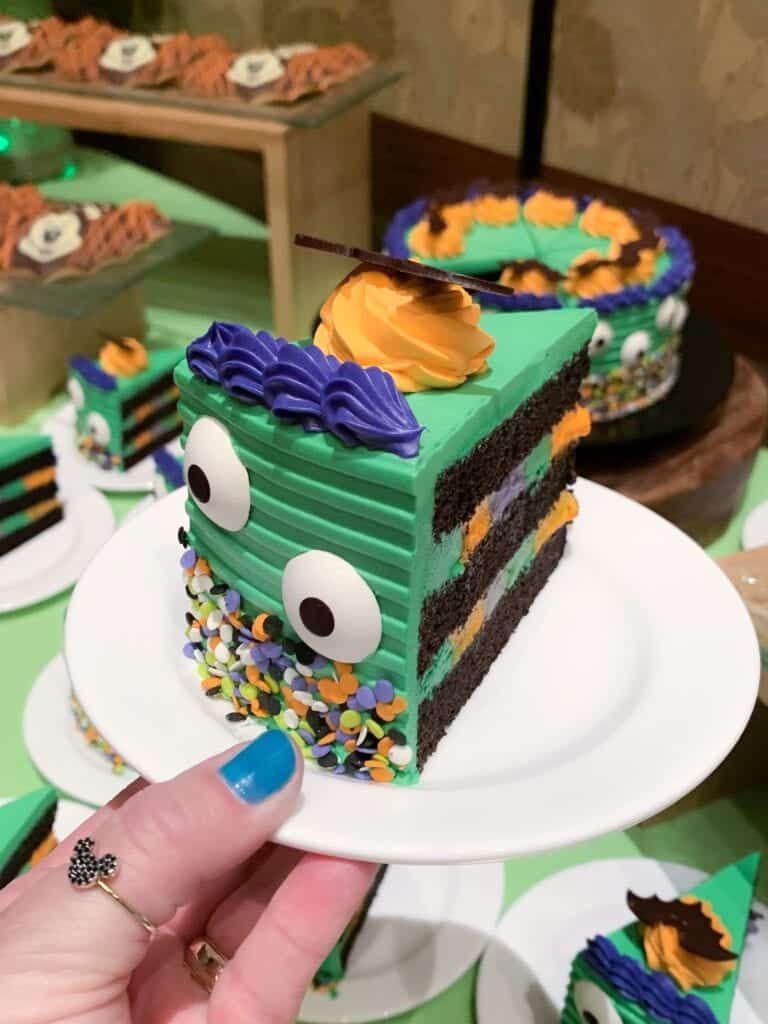 Monster Halloween Cake, $5.99
Chocolate Cake with Multi-colored White Chocolate Mousse, finished with Green Buttercream, Royal Icing Eyes and Halloween Sprinkles. This is a fun colorful Halloween Cake to share with a few people. I enjoyed a few bites!
Alien Pizza Planet, Tomorrowland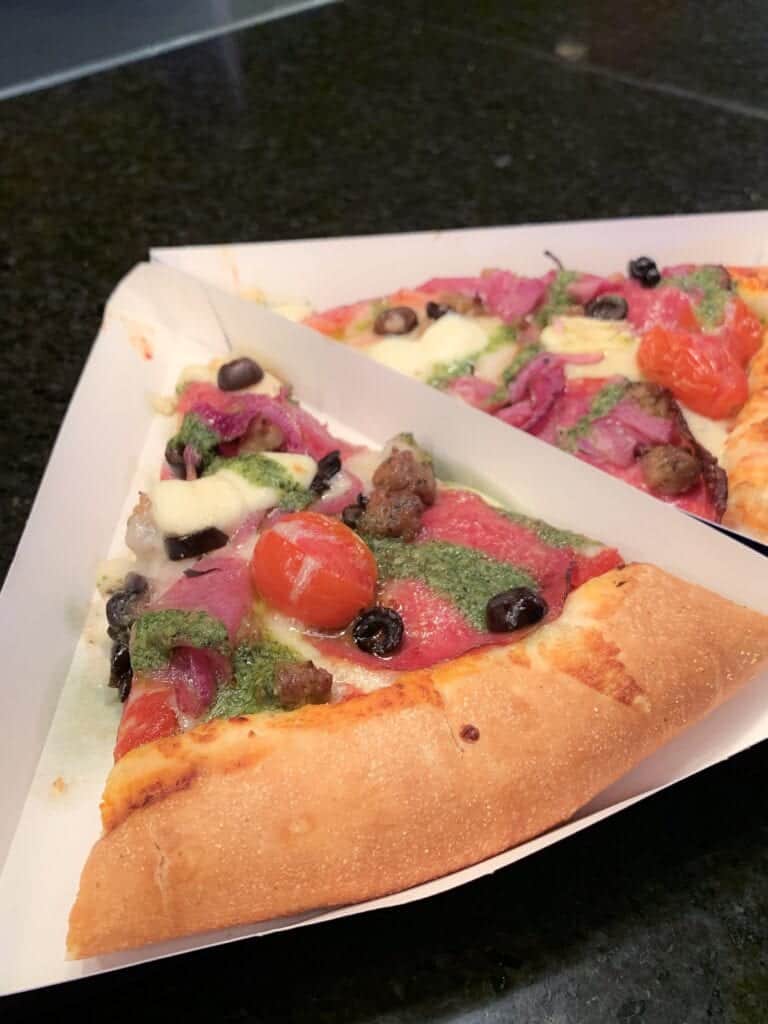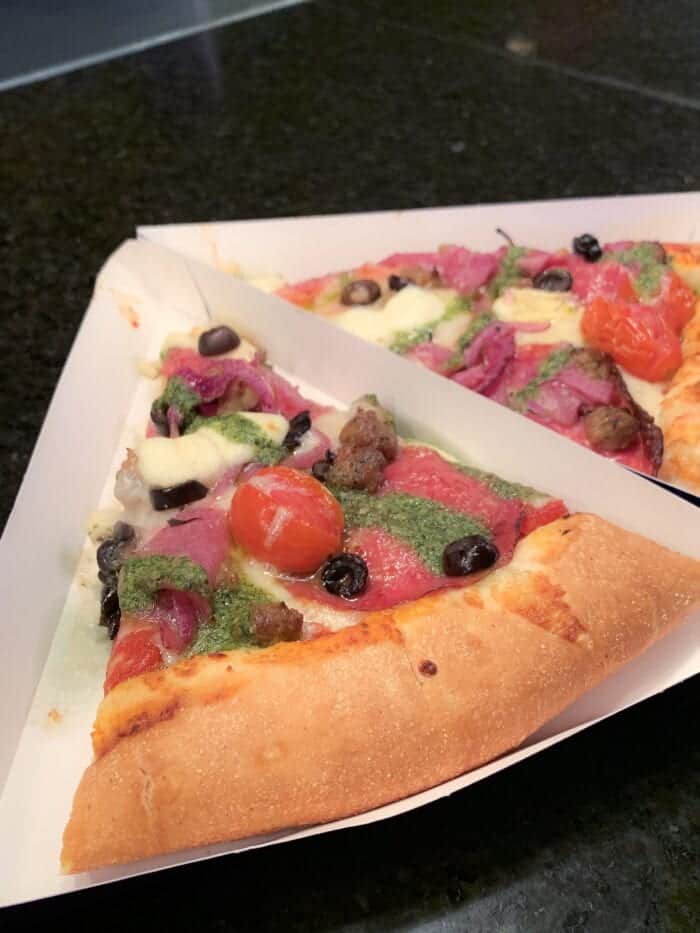 Delicium 639 Pizza, $8.99
The Delicium 639 Pizza- Spiced Marinara Sauce topped with Sausage, Salami, Assorted Cheeses, Onions, Olives, and Tomatoes, drizzled with Pesto.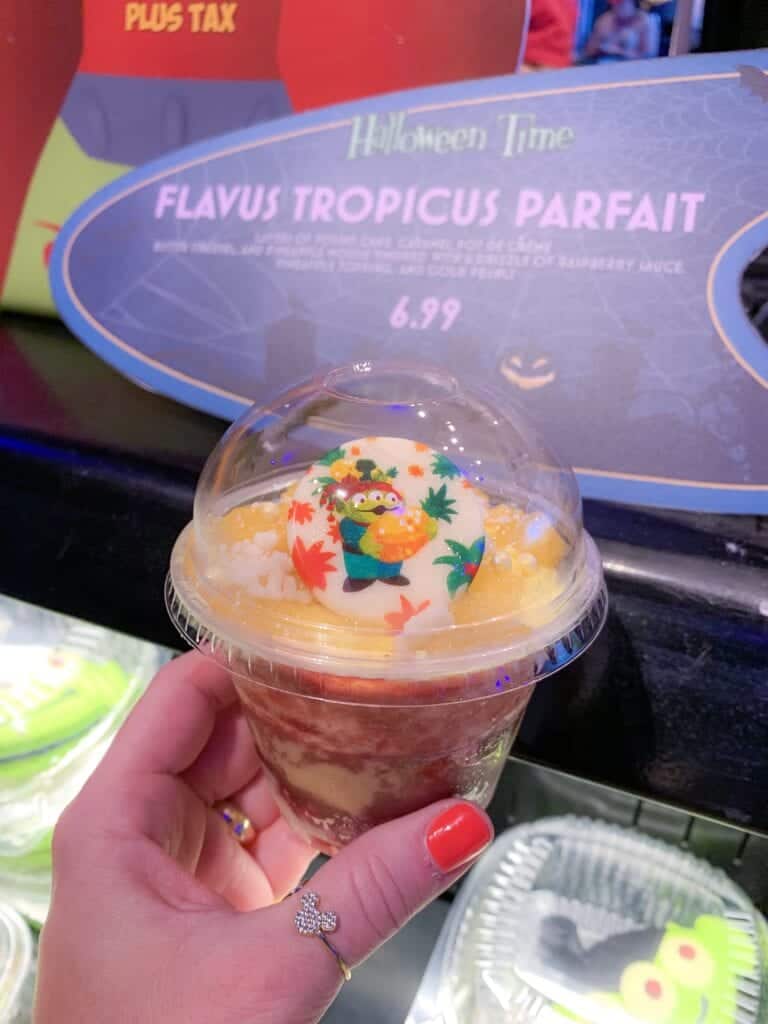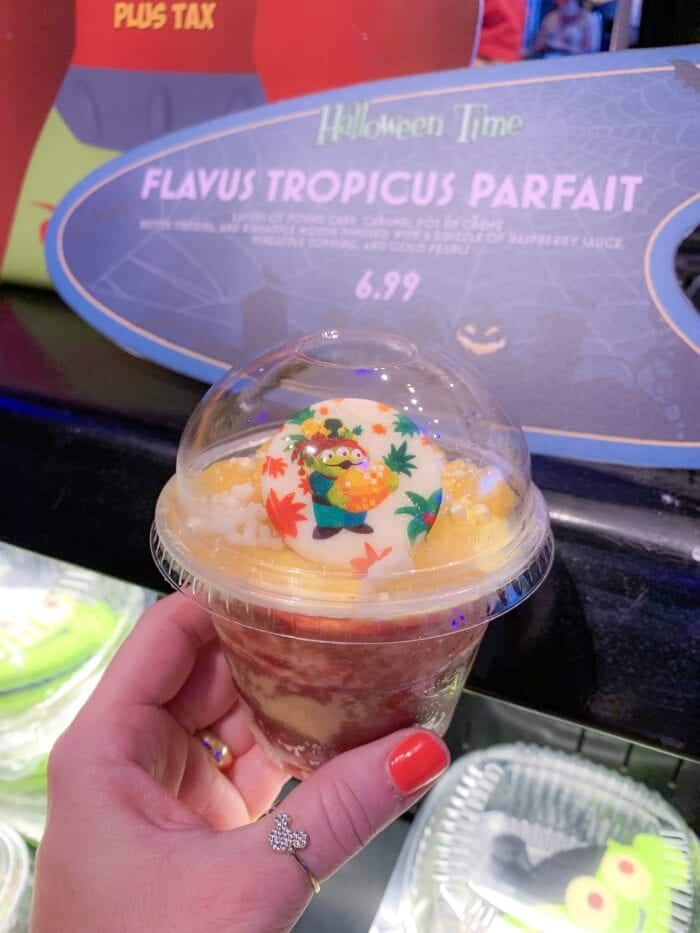 Flavus Tropicus Parfait, 6.99
Layers of Pound Cake, Caramel Pot de Crème Butter Streusel, and Pineapple Mousse finished with a drizzle of Raspberry Sauce, Pineapple Topping, and Gold Pearls.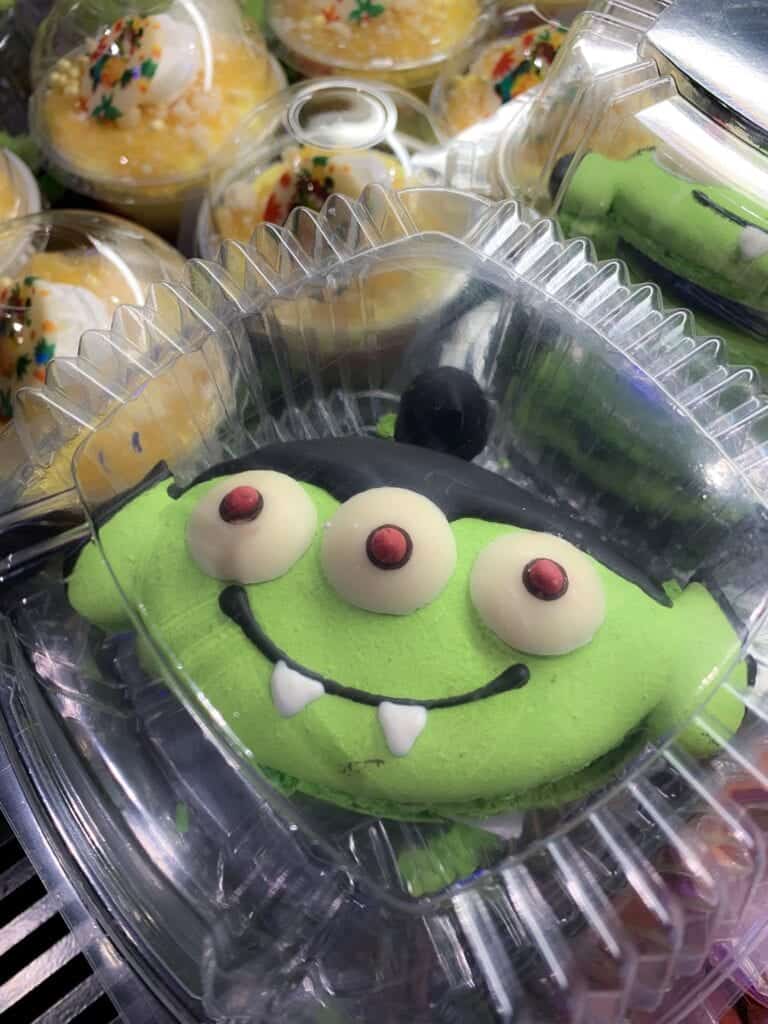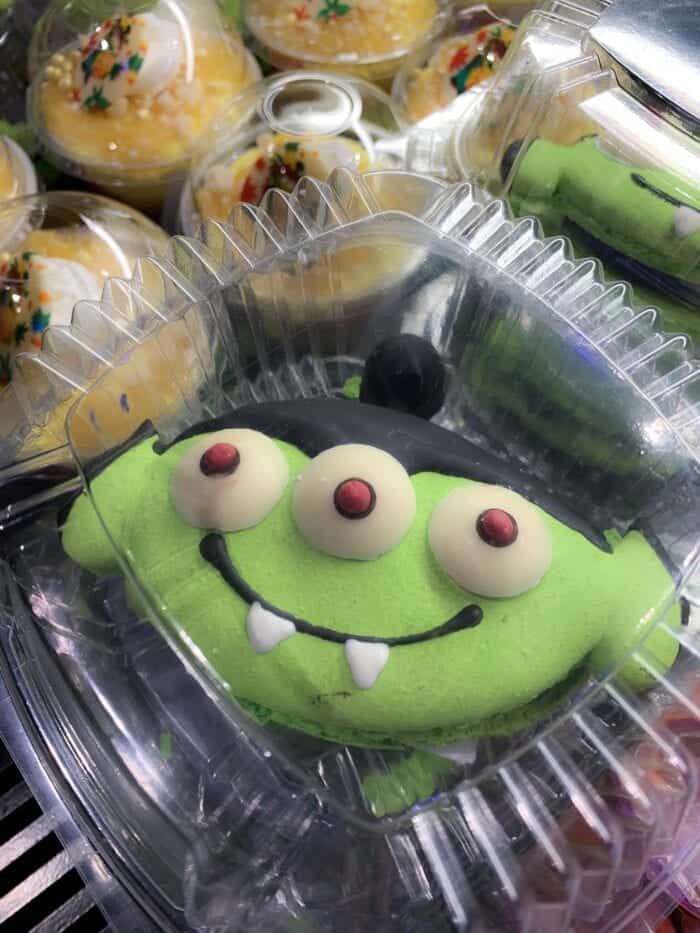 Little Green Men Vampire Macaron
I've had a number of these macarons and they're good! Super cute and sweet.
Galactic Grill, Tomorrowland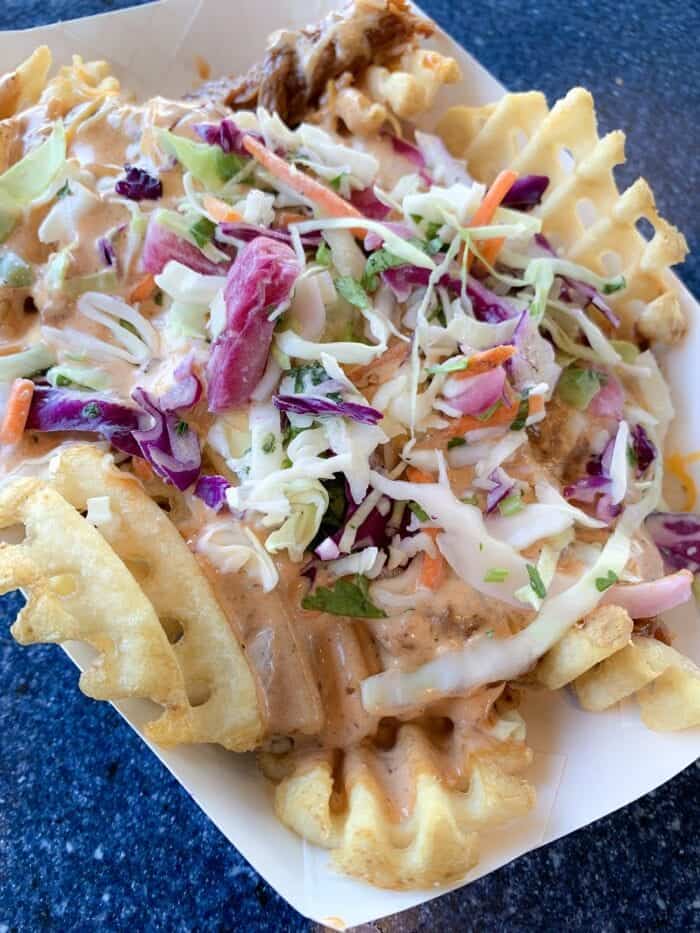 Loaded Fleet Fries, $9.49
The Loaded Fleet Fries from Galactic Grill get a perfect 10/10 rating from me! Loaded Waffle Fries topped with Slow-cooked BBQ Pulled Pork, Cheese, Chipotle Ranch and creamy Cilantro-Lime Coleslaw.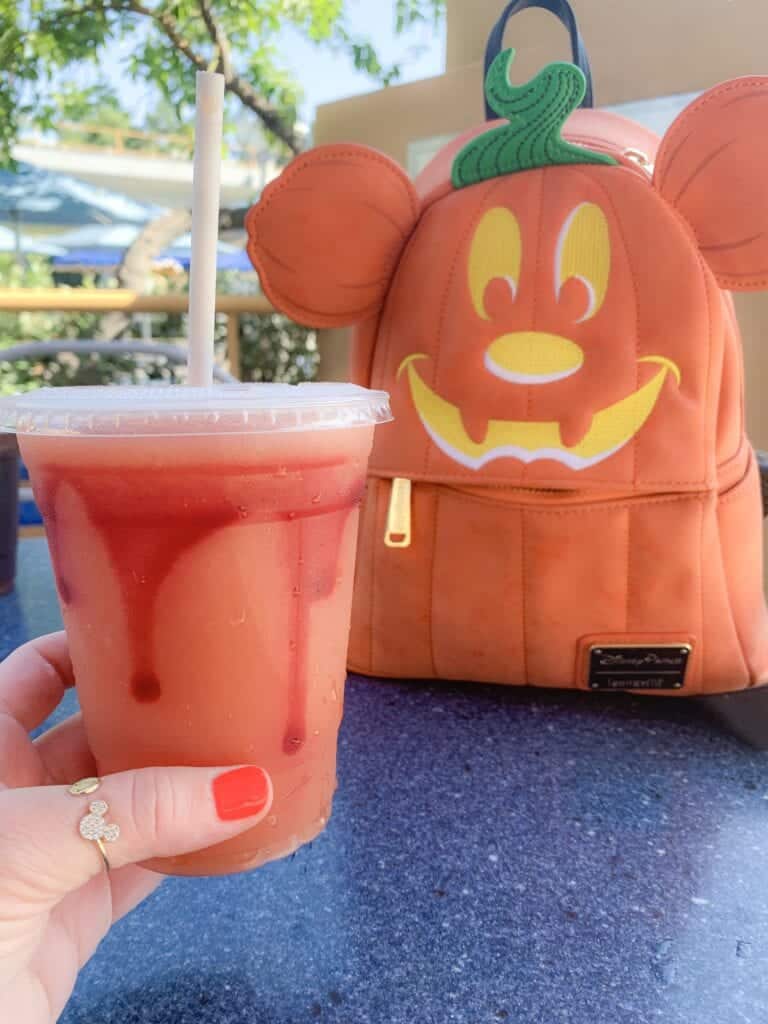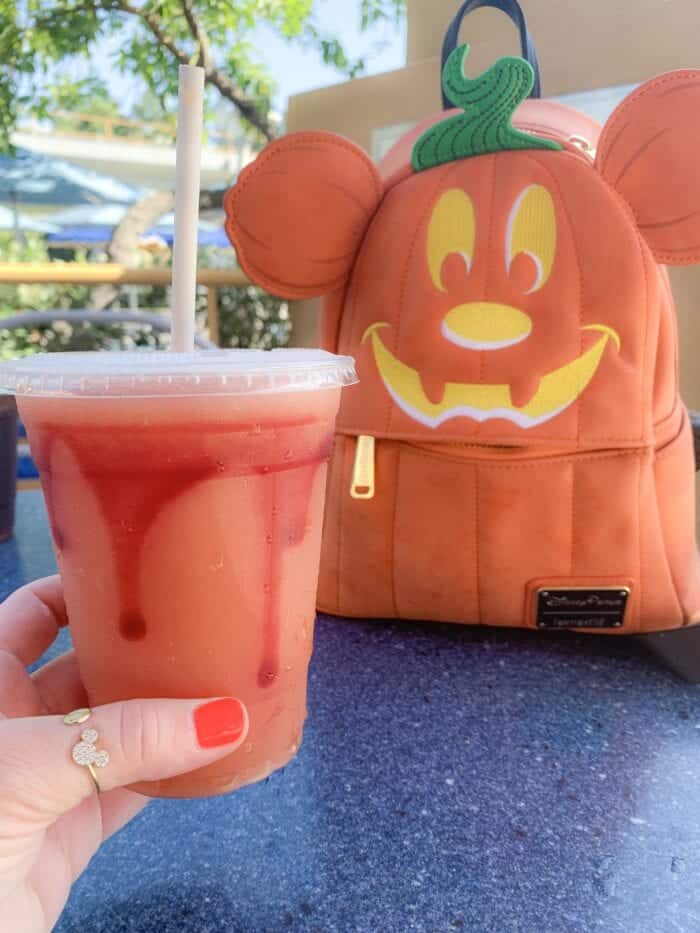 Blood Orange Slush, $10.49 with Glow Cube
The Blood Orange Slush was another favorite! It is ice cold, sweet and refreshing. Give it a try over at Galactic Grill. I think you'll love it!
The Golden Horseshoe, Frontierland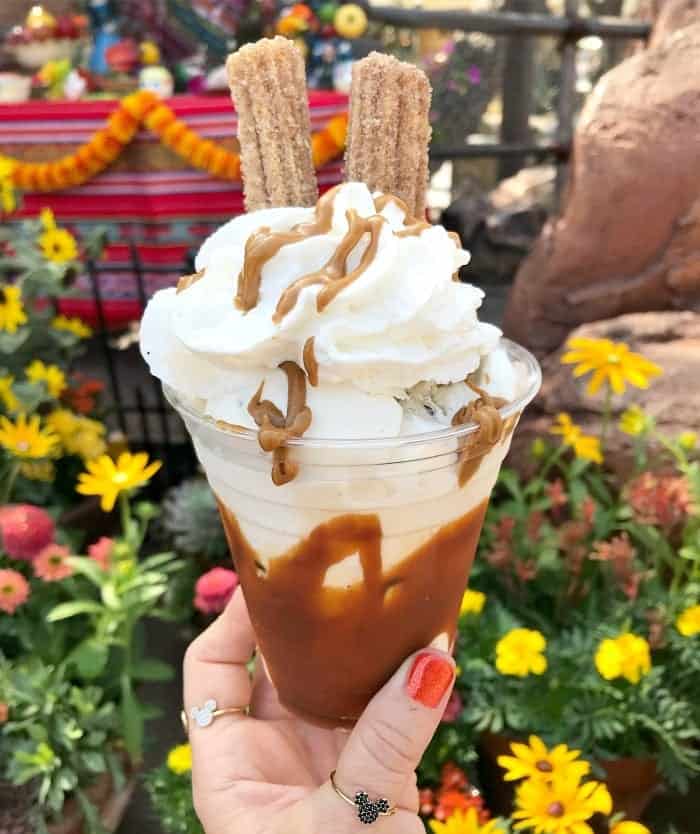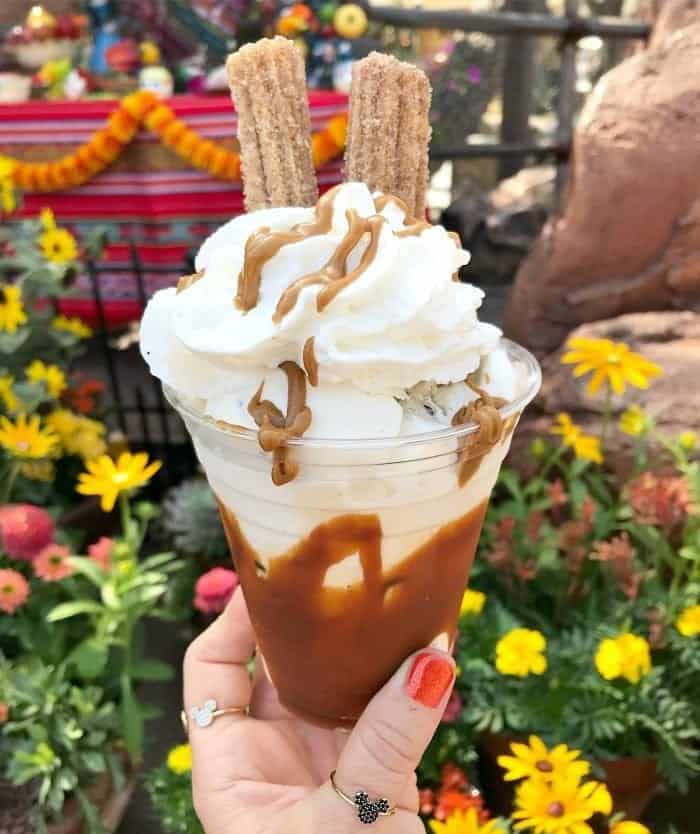 Churro Sundae, $7.49
The Churro Sundae has a cookie butter drizzle garnished with a cinnamon sugar-dusted churro and topped with cajeta and whipped cream. The ice cream has cookie dough pieces which was an awesome surprise.
Stage Door Cafe, Frontierland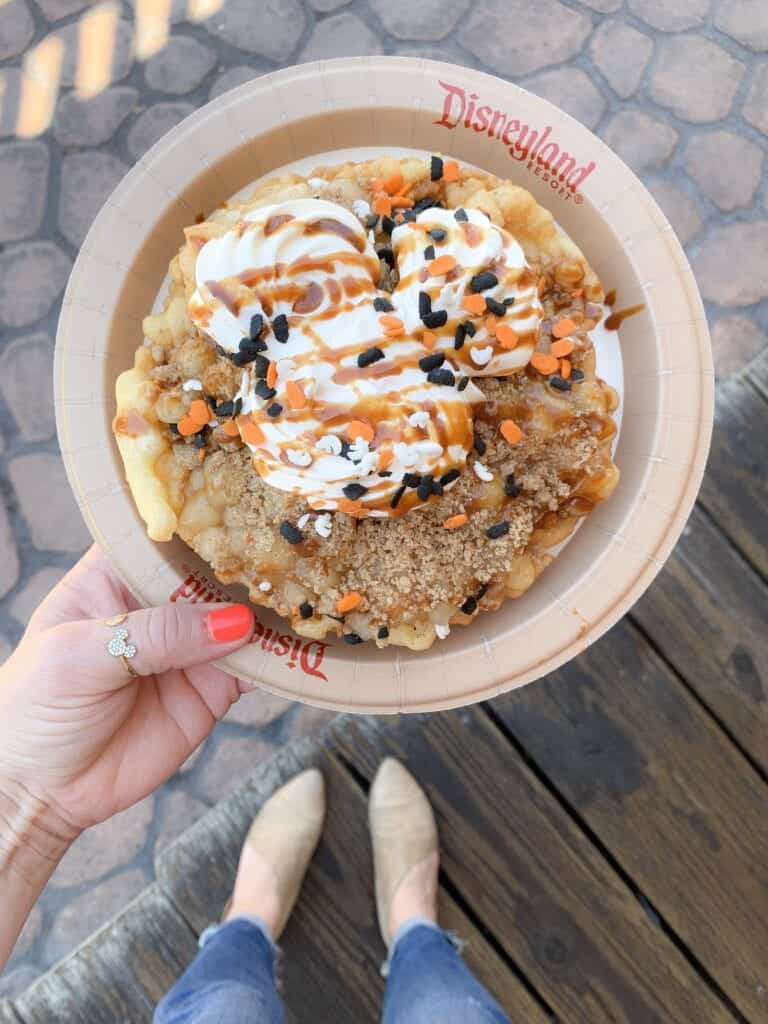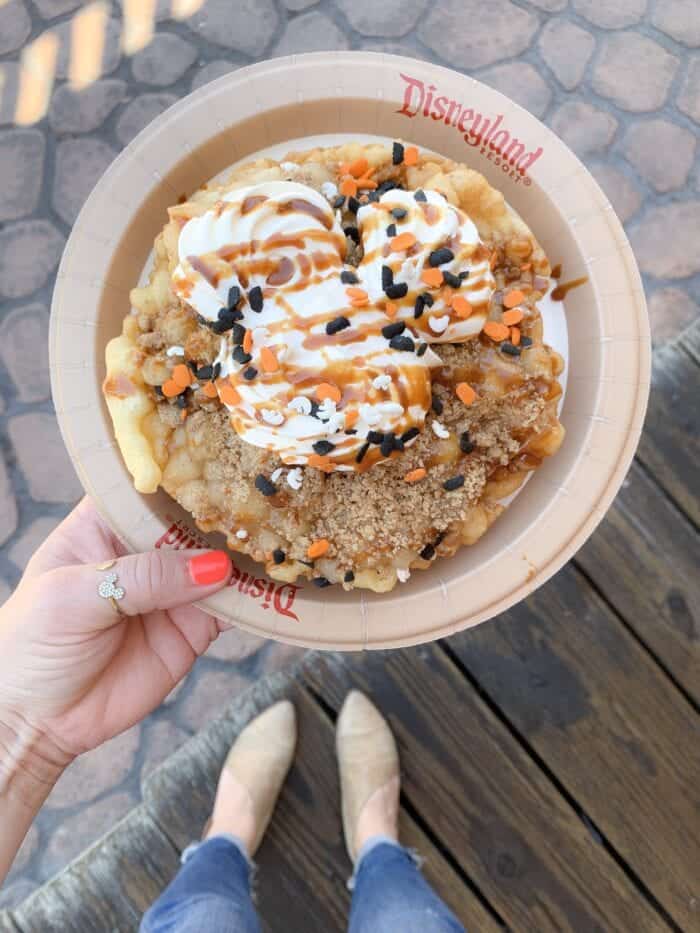 Apple Pie Funnel Cake, $8.99
Stage Door Cafe has some of the best seasonal funnel cakes! This Apple Pie funnel cake was a winner! Freshly made Funnel Cake topped with Apple Pie Filling, Cajeta, Streusel, Whipped Cream, and Holiday Sprinkles.
Rancho Del Zocalo Restaurante, Frontierland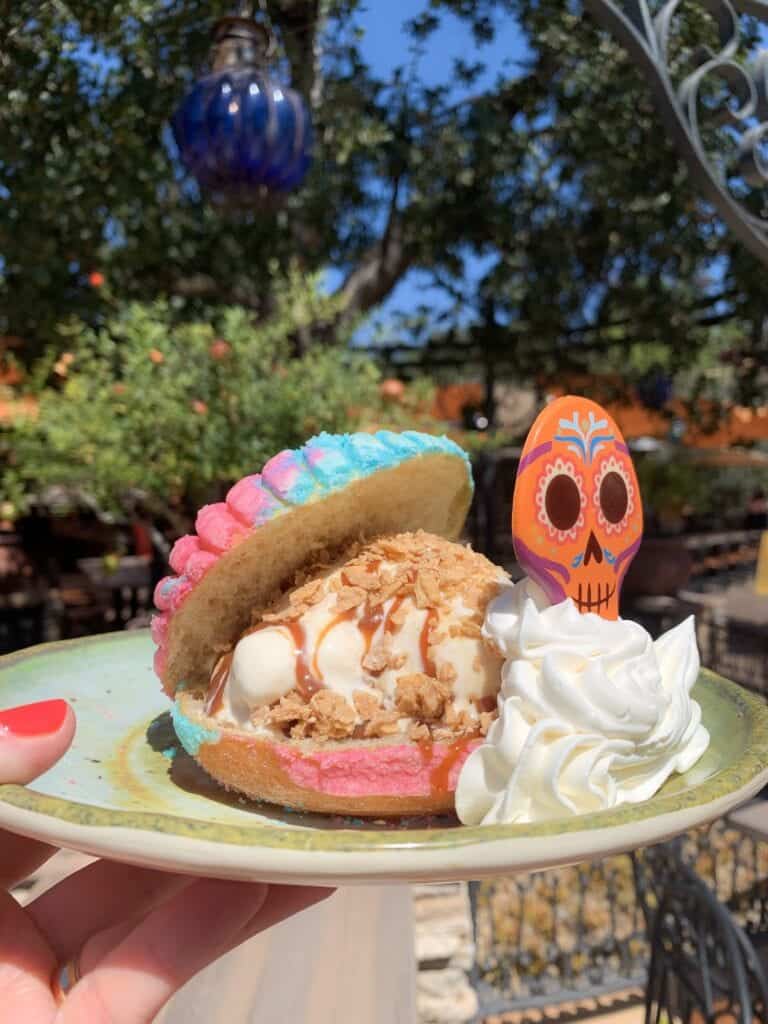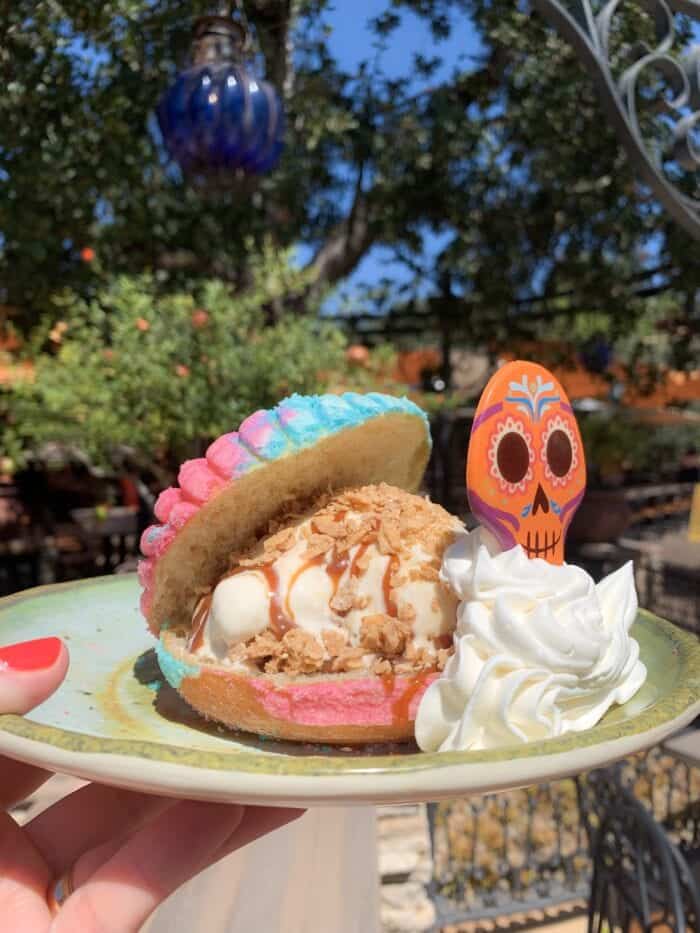 Pan Dulce Ice Cream Sandwich, $7.99
The Pan Dulce Ice Cream Sandwich from Rancho Del Zocalo has been a huge hit since it was featured September 6th! I really enjoyed it! Colorful shell-like Mexican Sweet Bread with Dulce de Leche Ice Cream, Cajeta and Churro Streusel.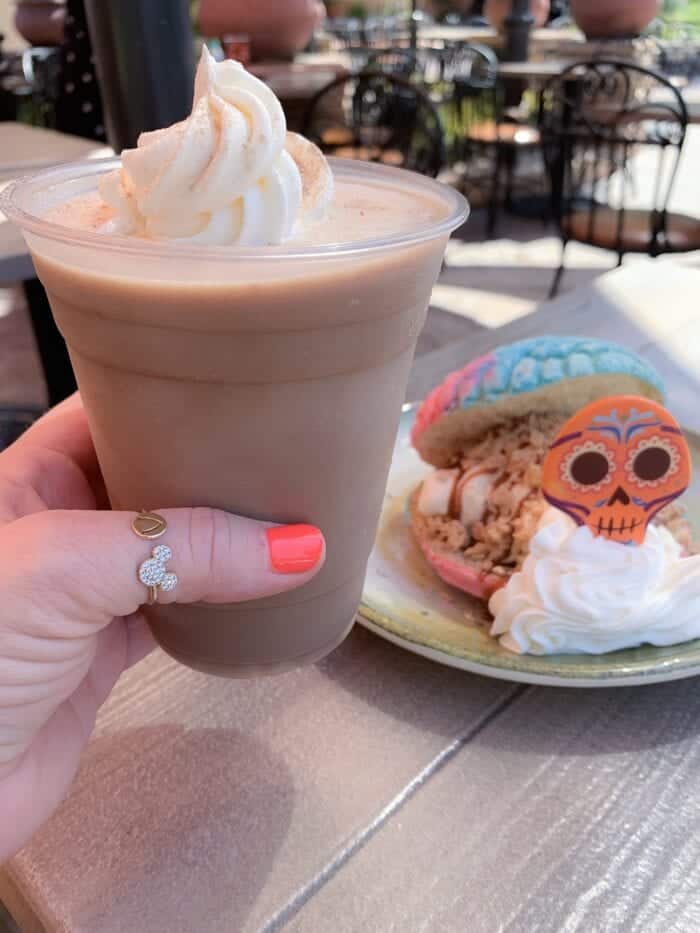 Frozen Abuelita Horchata, $5.99
I absolutely LOVED the Frozen Abuelita Horchata also from Rancho Del Zocalo! Not kidding, don't miss this one. Layered Frozen Mexican Hot Chocolate and Frozen Horchata topped with Spiced Whipped Cream.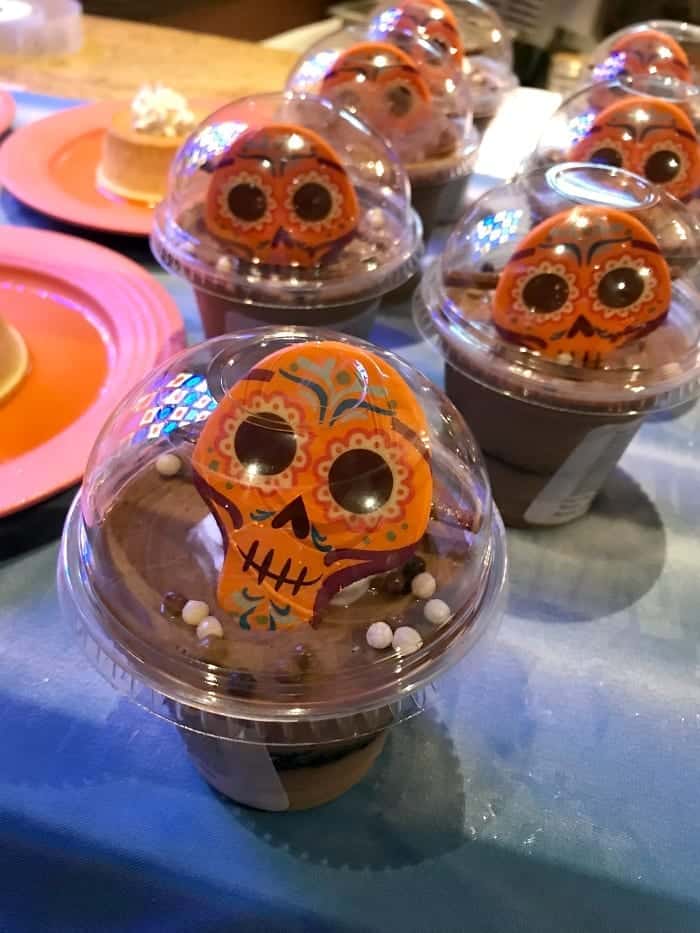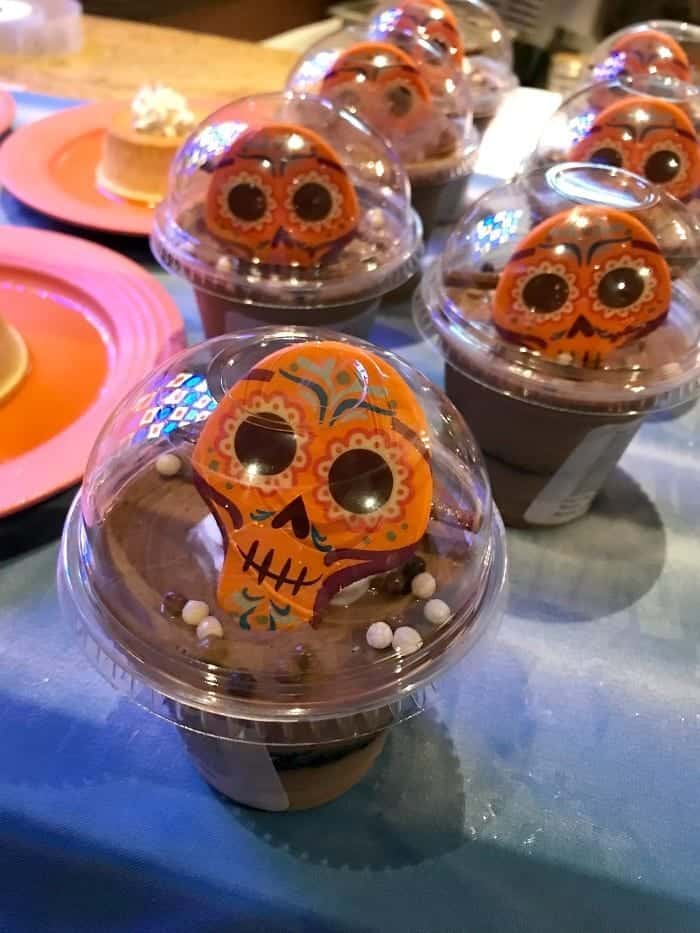 Orange Sugar Skull Pot De Creme, $5.99 is also available at Rancho Del Zocalo.
Cafe Orleans, New Orleans Square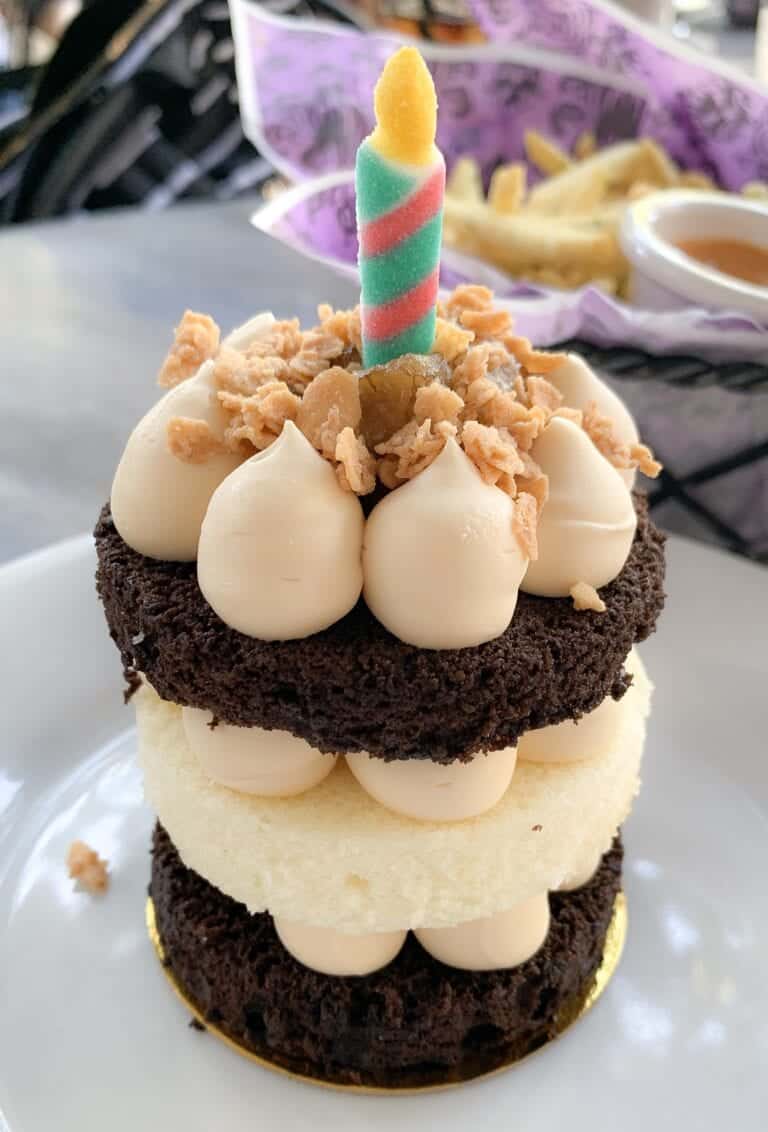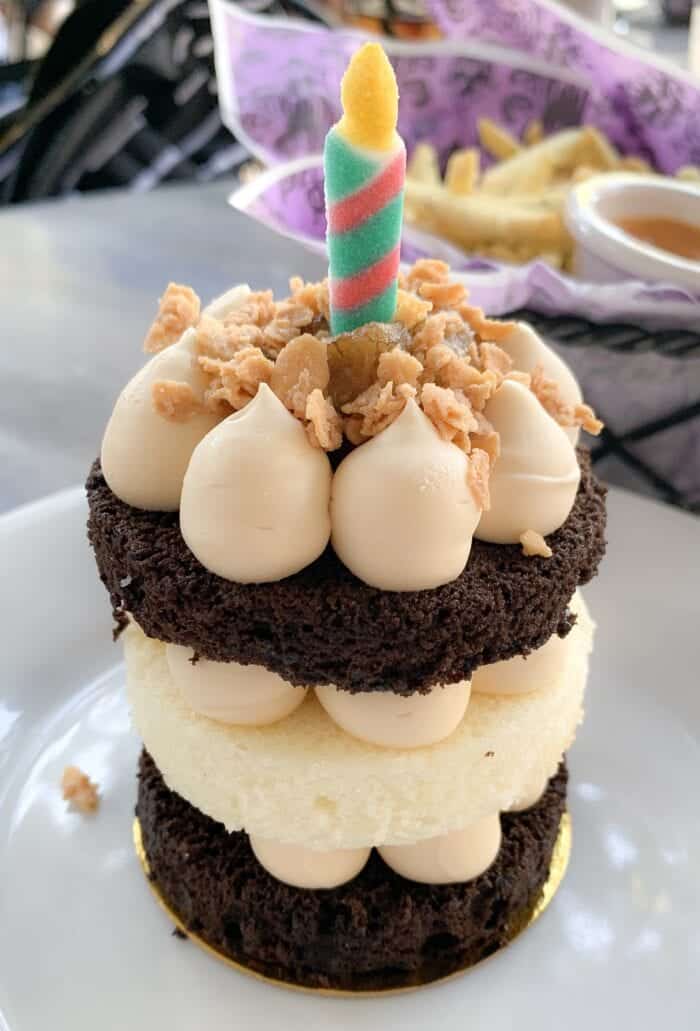 Swinging Wake Cake, $10.00
The Swinging Wake Cake is available at Cafe Orleans. It is the cutest and I liked that it wasn't overly sweet. It's got a very nice buttery buttercream in-between the cake layers. Layered Chocolate and Vanilla Sponge Cake, Caramel-Banana Filling, Caramel Buttercream Frosting and Sugar Candle.
Royal Street Veranda, New Orleans Square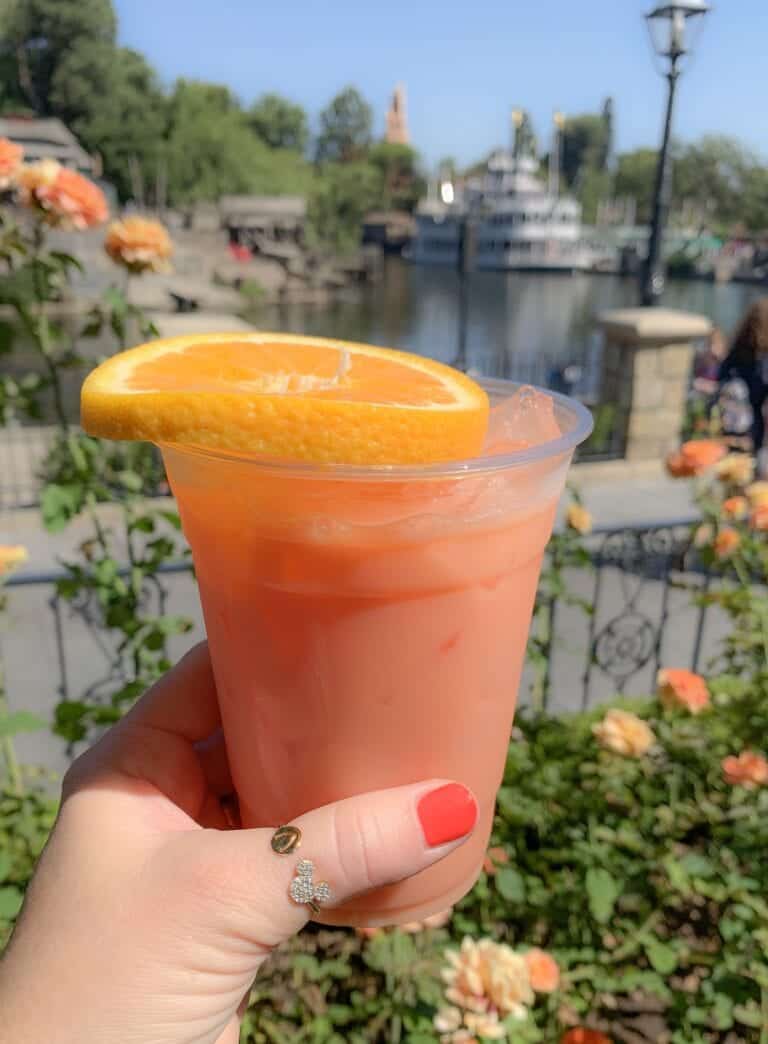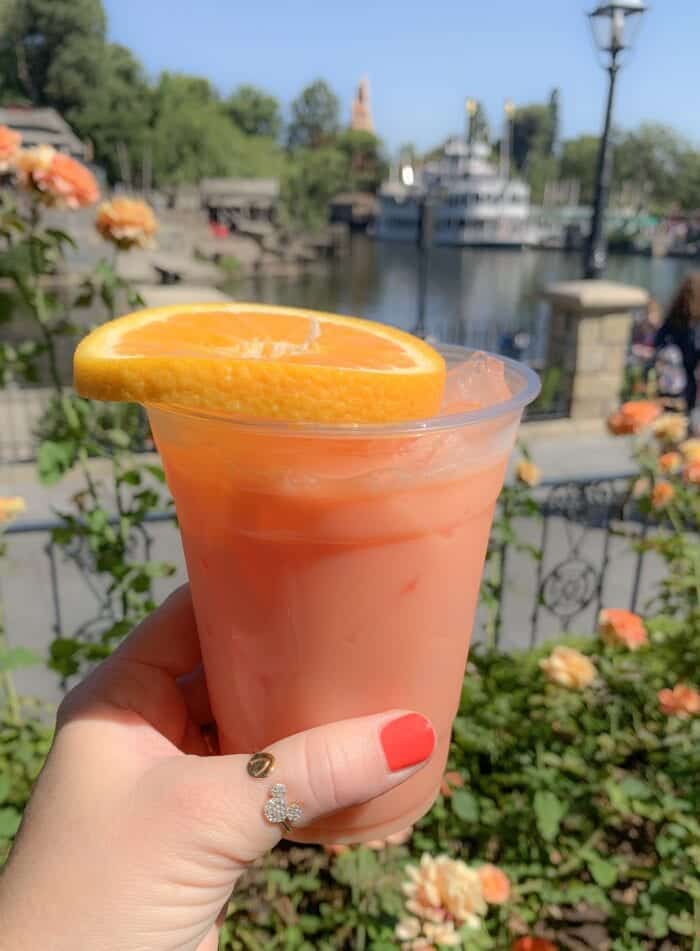 Pickwick Ghost Punch, $5.99
Ok, this punch was out of control delicious! It's described as a lively concoction of Fruit, Citrus Juices and Sherbet. Don't miss this one from Royal Street Veranda!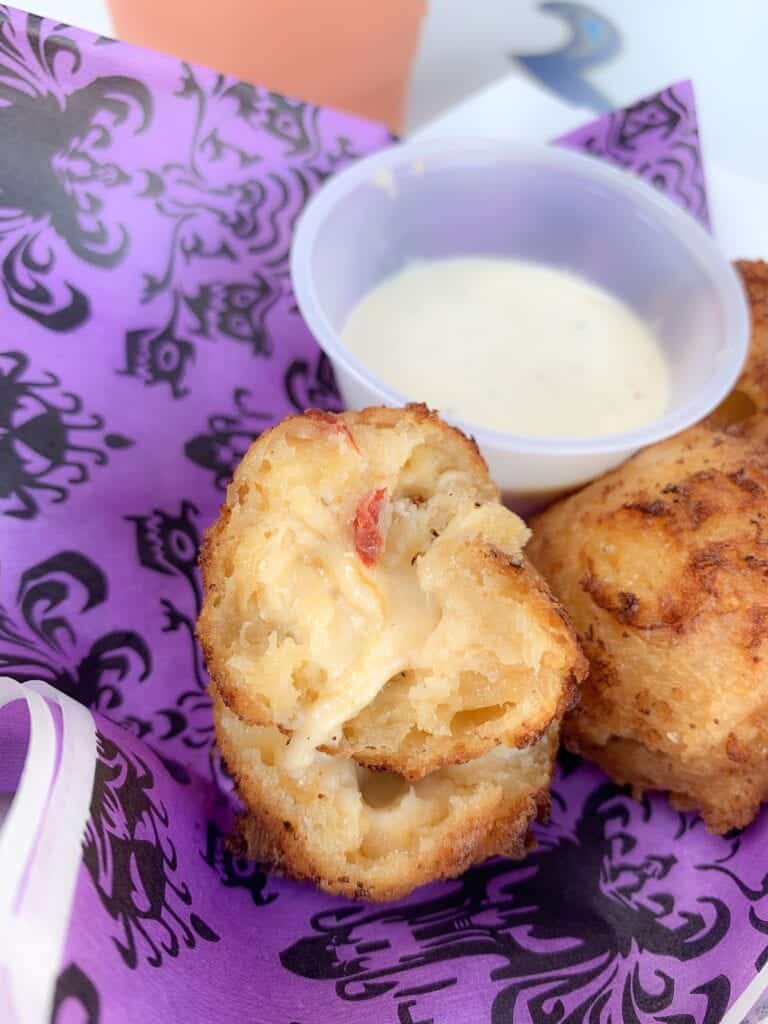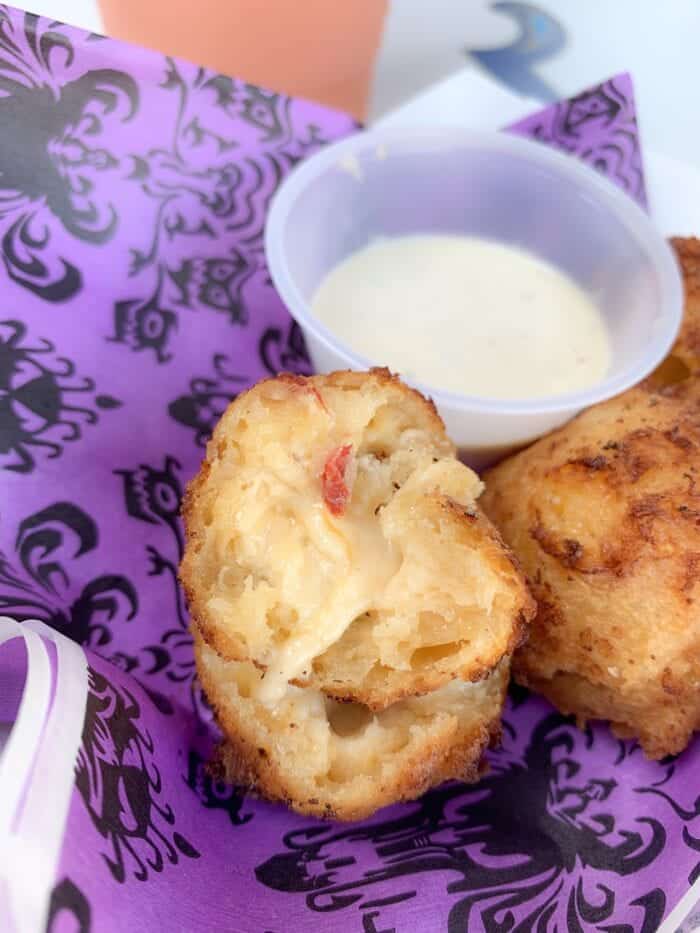 Professor Phineas Plump's Cure-All Fritters, $5.49
Another major winner are these fritters also from Royal Street Veranda! Pimento Cheese Fritters with Ghost Pepper Ranch Dressing. Crazy good.
Mint Julep Bar, New Orleans Square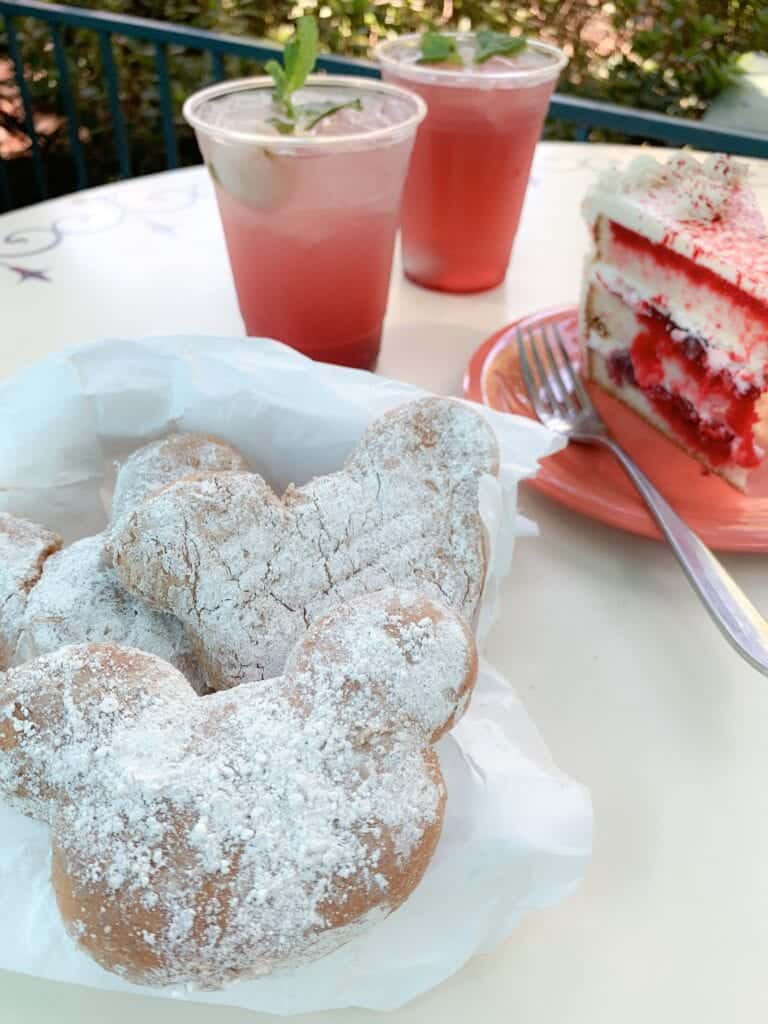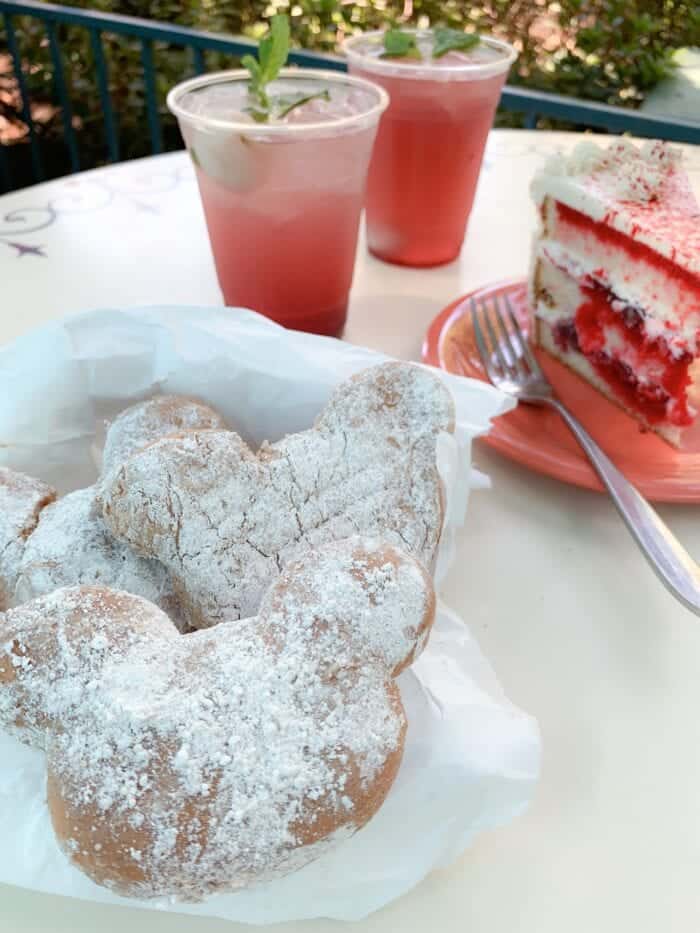 Pumpkin Spice Beignets, $5.49 and Blackberry Midnight Julep, $4.49
Nothing better than warm Pumpkin Spice Beignets from Mint Julep Bar! Be sure to try the Midnight Julep too! Blackberry, Citrus and Mint with Lychee "Moon."
French Market Restaurant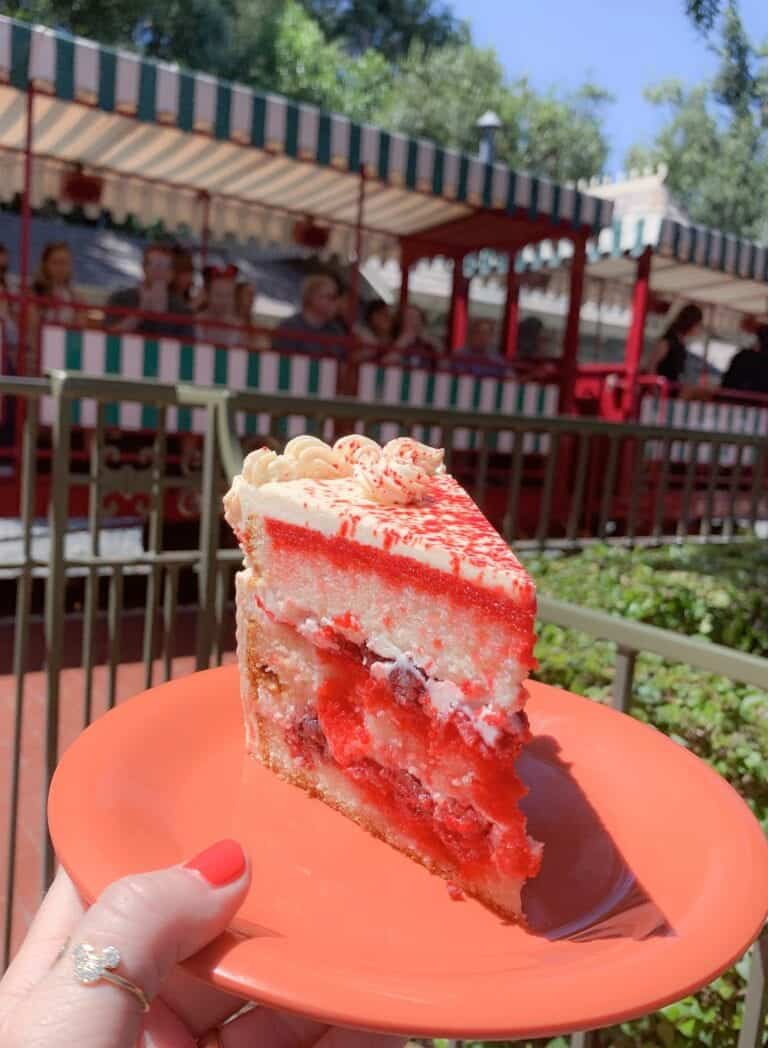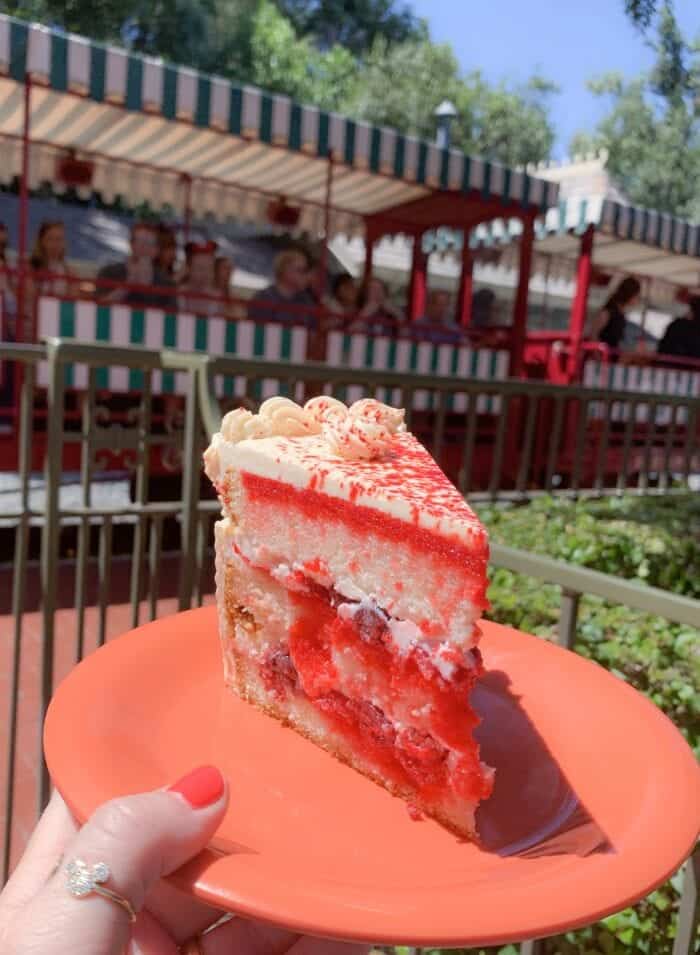 The Wedding Cake, $7.99
Ok, this Wedding Cake from French Market Restaurant is the perfect slice of cake. Buttercream Frosting, Cherries, Cream Cheese Filling, finished with a splatter of Cherry Sauce. I loved this one!!
Hungry Bear Restaurant, Critter Country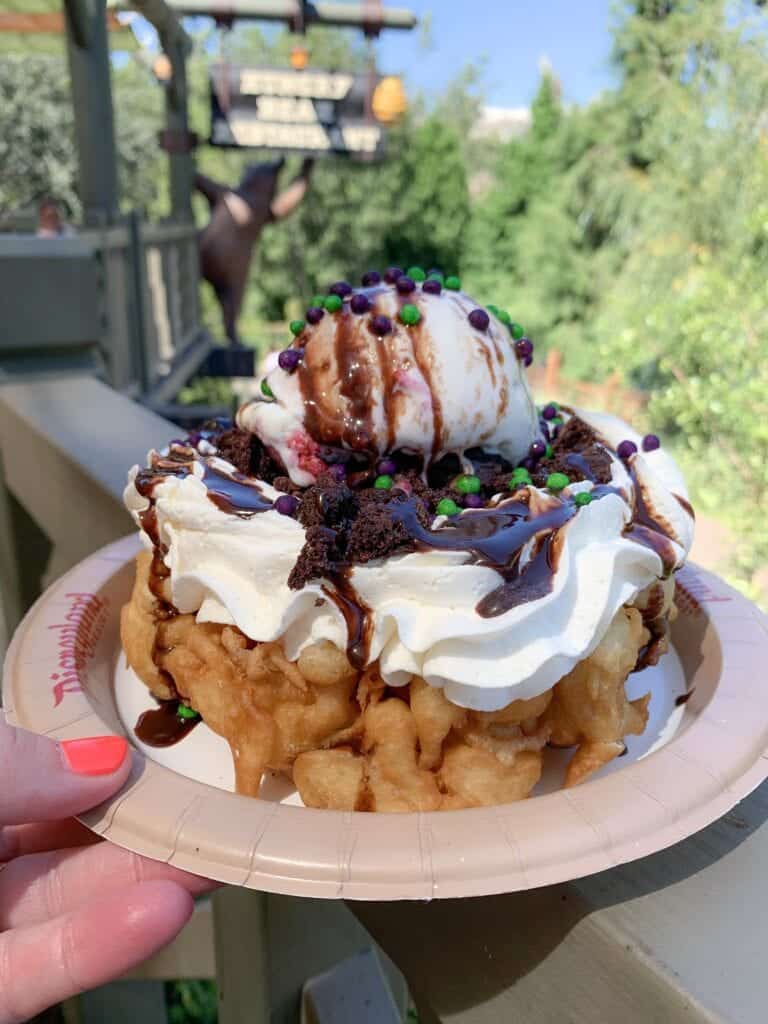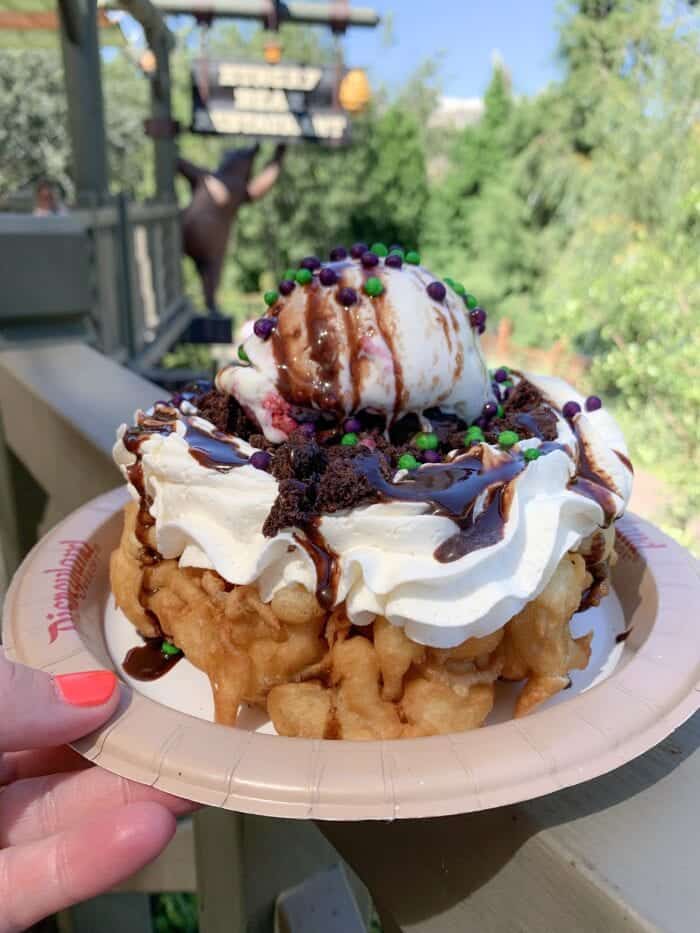 Dead-Cadent Funnel Cake, 8.99
The Dead-Cadent Funnel Cake from Hungry Bear Restaurant is another fun option. Definitely share this one with the table. It's giant and very filling! House Funnel Cake with decadent Brownie, White Chocolate Raspberry Ice Cream and Chocolate Pearls.
Halloween Time Churros, Disneyland Park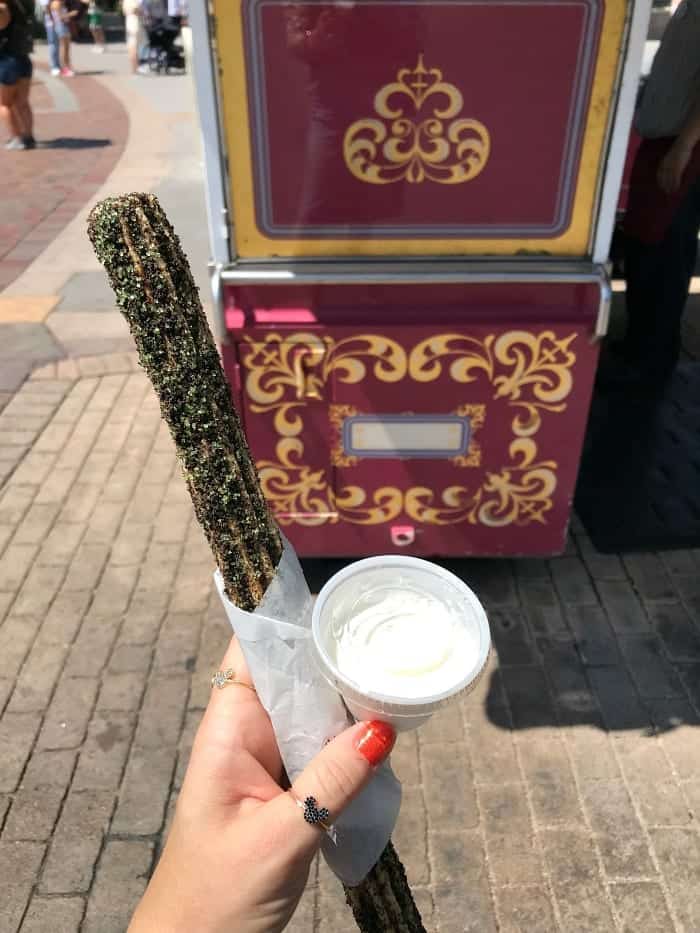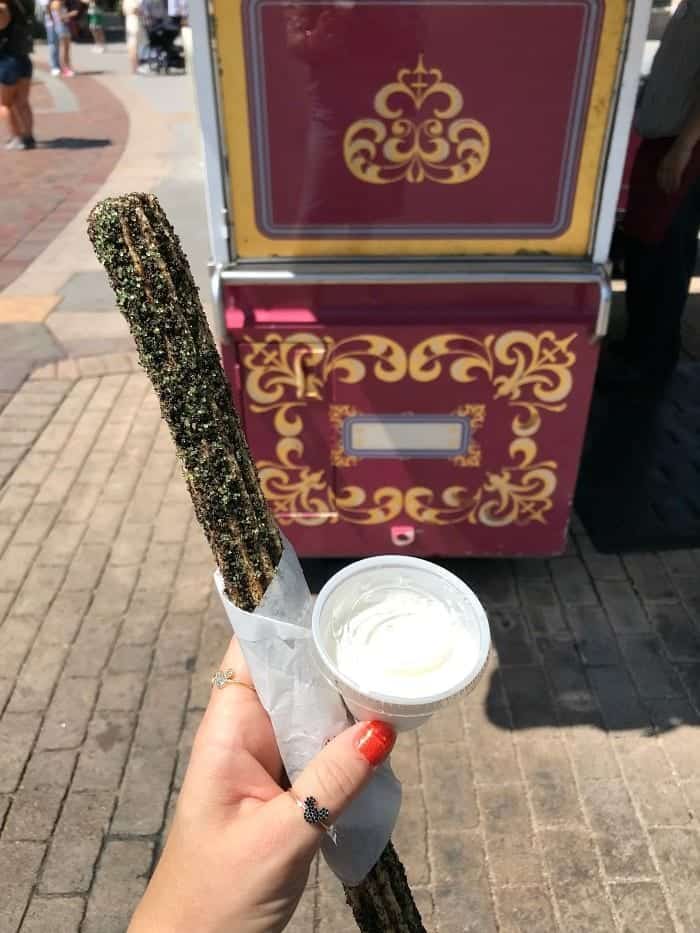 Maleficent Churro, $5.75 Churro Cart Near Sleeping Beauty Castle
The Maleficent Churro is just ok in my opinion. Comes with a marshmallow dipping sauce. It was available last year too, a little surprised it's back.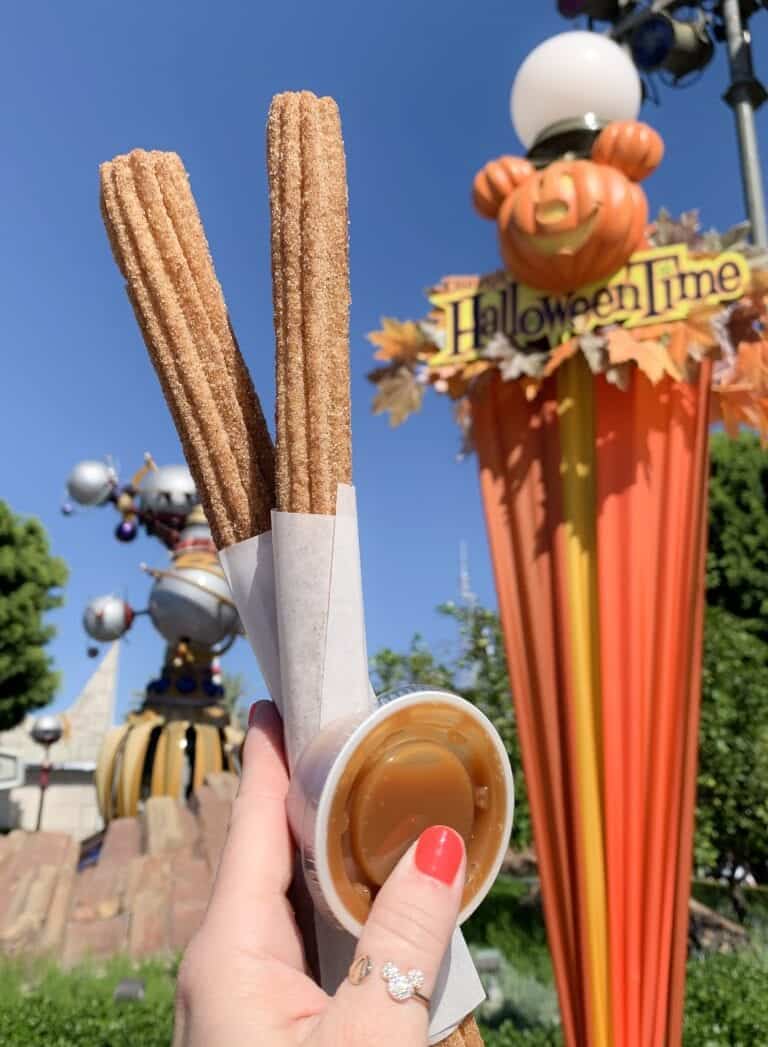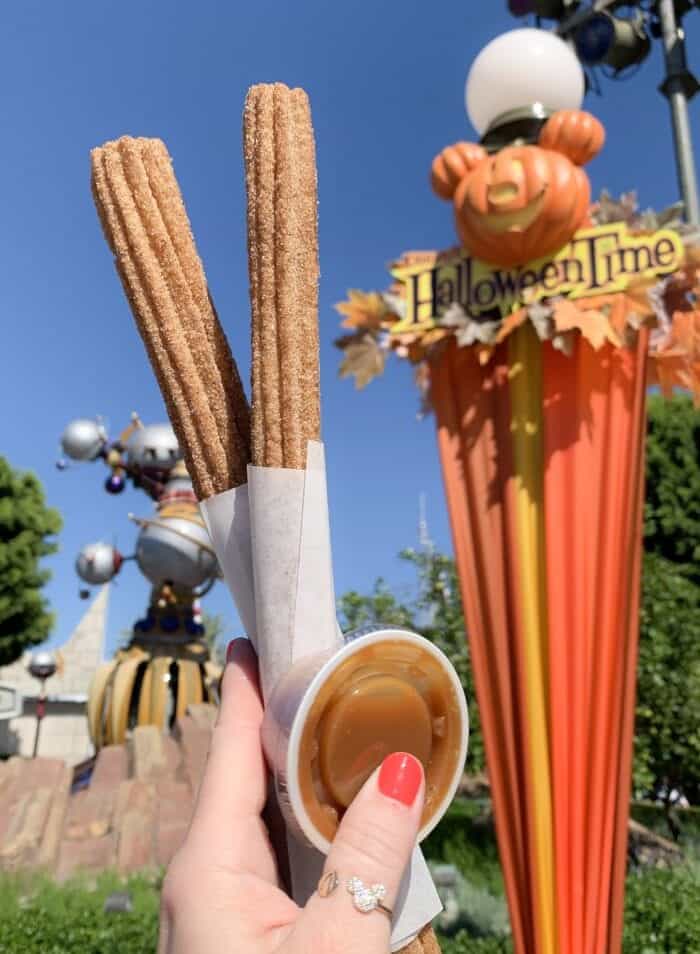 Pumpkin Spice Churro, with Caramel Sauce $5.75 Churro Cart Near Buzz Lightyear Astro Blasters
This Pumpkin Spice Churro with Caramel Sauce is great. Good choice over in Tomorrowland.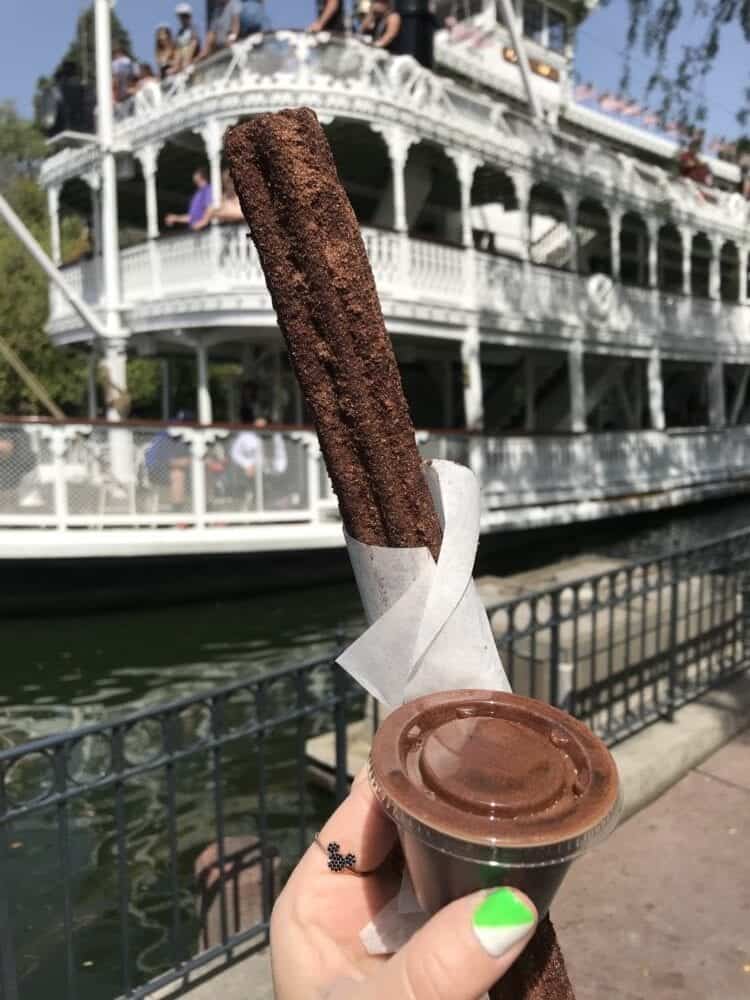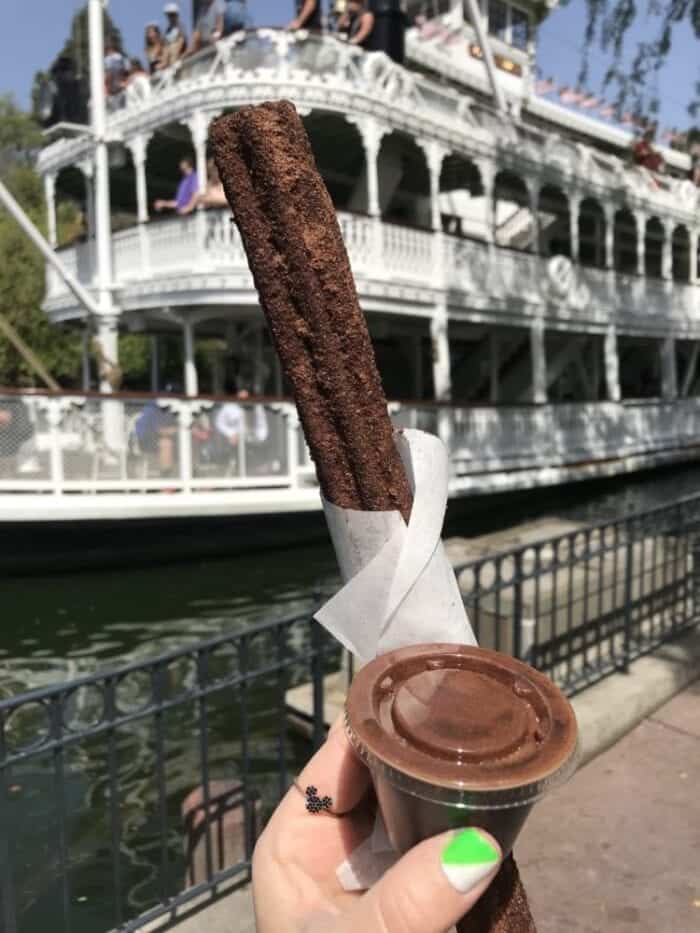 Coco Churro, $6.25 Churro Cart Near Big Thunder Mountain Railroad
So glad they brought the Coco Churro back for Halloween Time! It's a chocolate based churro and let me tell you, it's AMAZING. Try it!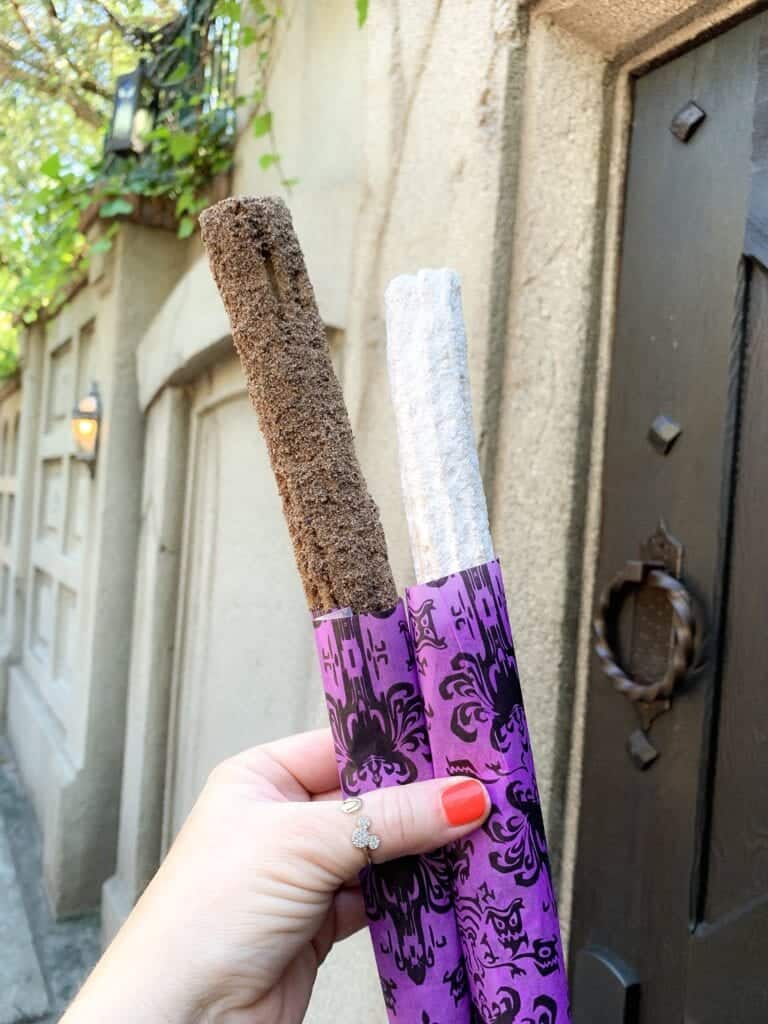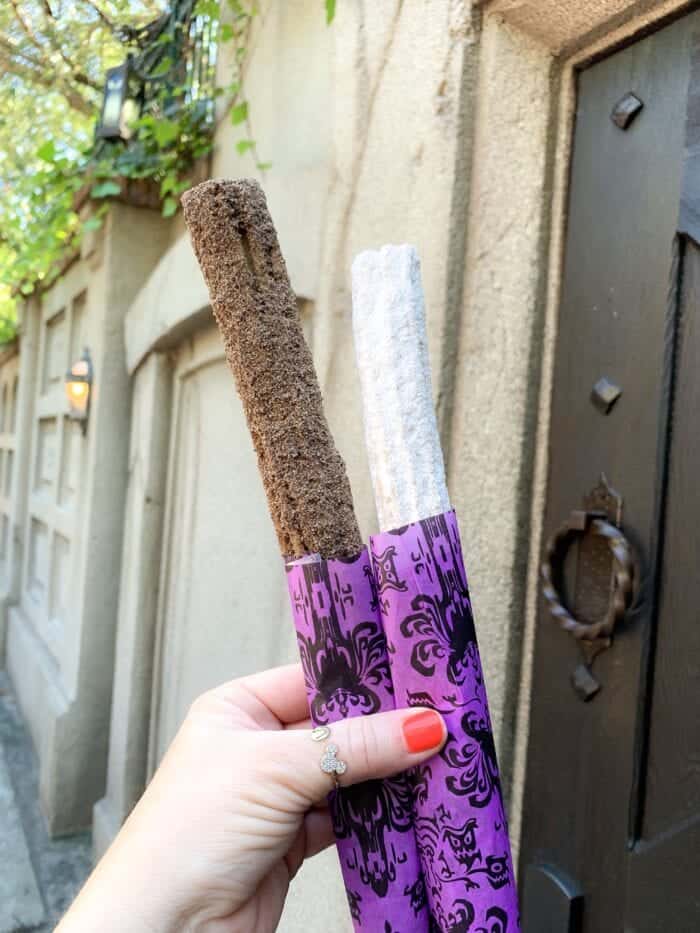 Bride and Groom Churros, $5.75 each. Bride- Churro Cart Near Haunted Mansion Groom-Churro Cart in Critter Country
These Bride and Groom Churros are new this year and could not be more spook-tacular! The Bride Churro is coated in vanilla sugars and the Groom Churro is coated in milk and dark chocolates.
Favorites NOT TO MISS!
Toasted Salsa Roja Chicken Sandwich Combo from Jolly Holiday Bakery Cafe
Mummy Macaron from Jolly Holiday Bakery Cafe
Maleficent Frappucino from Market House/Starbucks
Hades Dog from Refreshment Corner
Churro Sundae from Golden Horseshoe
Frozen Abuelita Horchata from Rancho del Zocalo
Professor Phineas Plump's Cure-All Fritters from Royal Street Veranda
Blackberry Midnight Julep from Mint Julep Bar
Coco Churro from Frontierland Churro Cart
Pin To Your Favorite Disney Board!