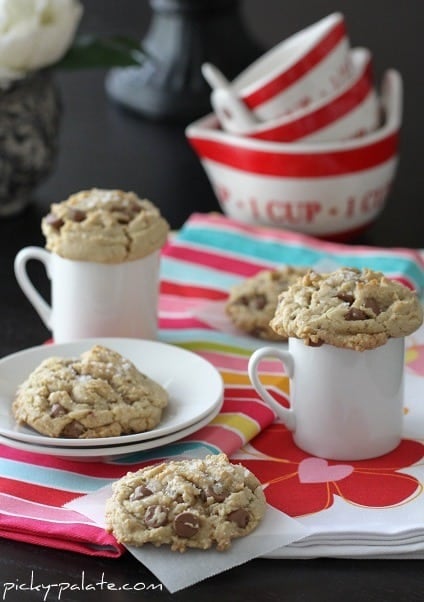 Wondering what the heck Fleur de Sel is? Well, it's simly a fancy French sea salt. No need to panic. If you can not find this gorgeous salt, you can substitute sea salt or even kosher salt and be just fine:)
A couple weeks ago, I was creating salted carmels that some of you may have caught on my Facebook page. That is when I picked up Fleur de Sel sea salt. I will warn you, it is a little pricey, but yowza it made the perfect salted caramels that you will see in the cookbook and it was the perfect touch to these chocolate chip cookies!
Have you ever made brown butter chocolate chip cookies? Well, if you haven't do yourself a favor and do it…..now 🙂 It is much easier than you might think. The nutty aroma that comes from brown butter is really unbelievable and it makes a gorgeous buttery crisp yet chewy in the center cookie.
Hope you all enjoy!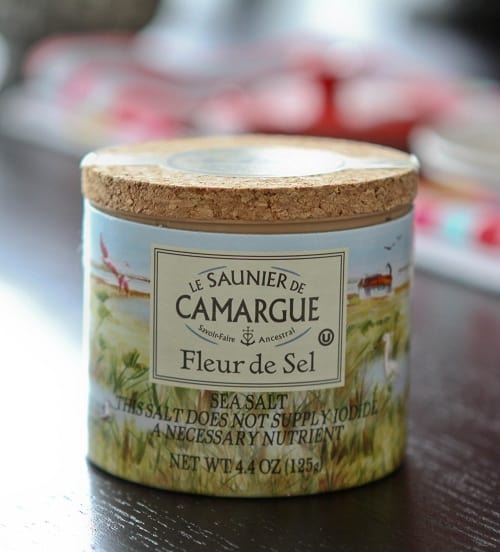 Here's that gorgeous sea salt. Found mine at a local grocery store here in CA.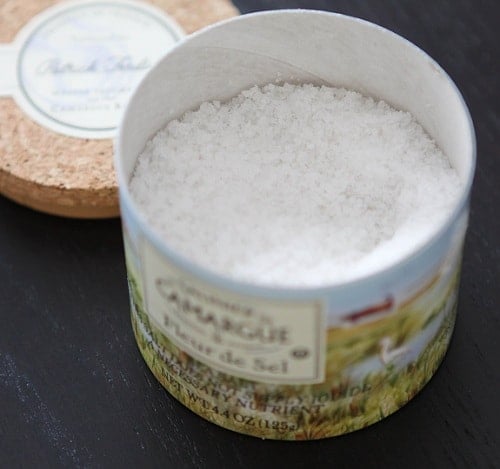 A little closer look 🙂


Here are the stages of browning butter….see below for the color you are looking for.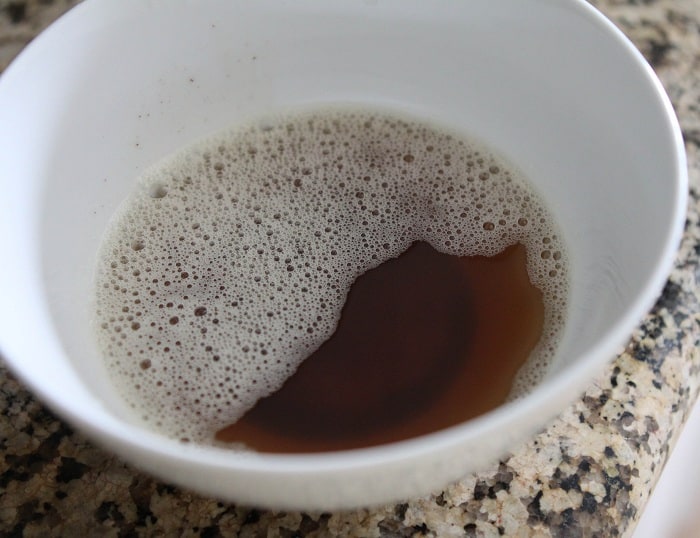 Here you have it. A nice golden brown with little bits that form at the bottom. Let the butter cool for a good 5 minutes before adding to the sugars. I've done it without waiting and it melts your chocolate chips if you don't wait, which makes for a not as pretty cookie.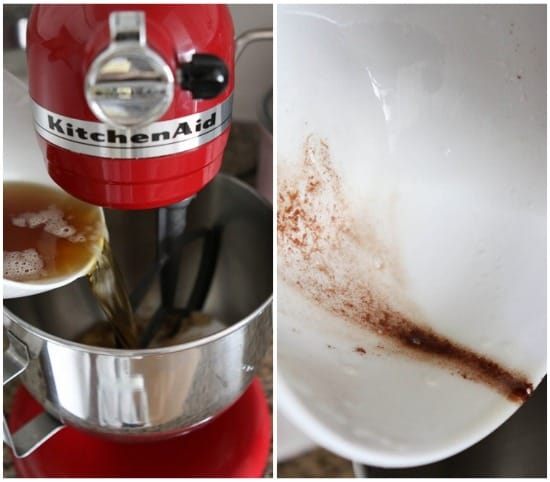 So, you'll add your brown butter right to your sugars. Make sure you add those little brown bits too, in the second picture. You'll mix just like normal, but it will look much different that you are used to. Don't panic 🙂 You'll add your eggs and vanilla, mixing as usual.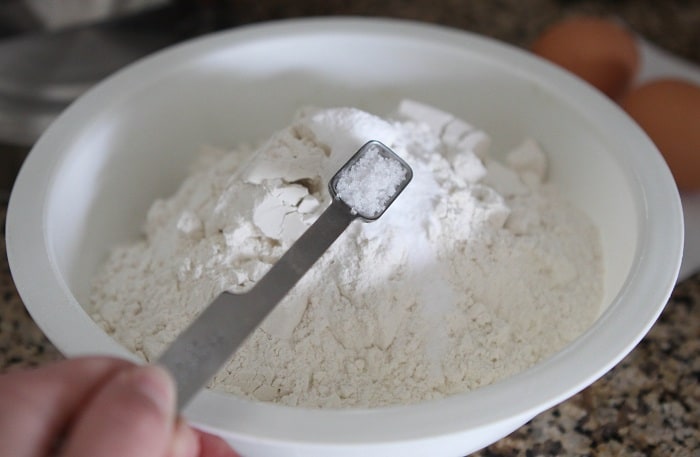 Get your dry ingredients ready. I add 1/2 teaspoon sea salt to the dough then I add a little on top.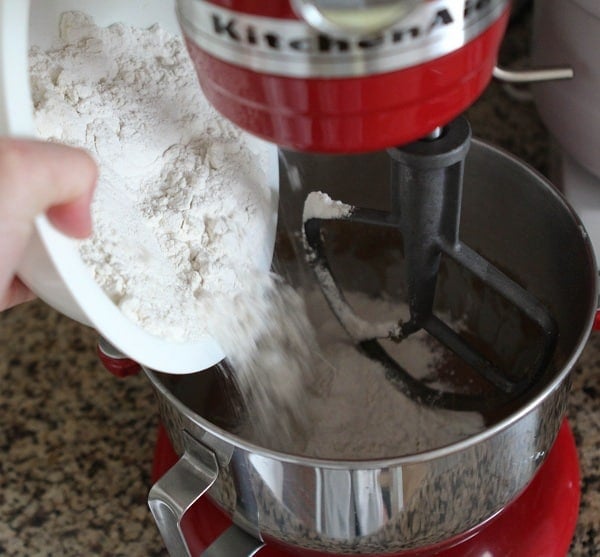 Time to mix. Add your chips right after the flour.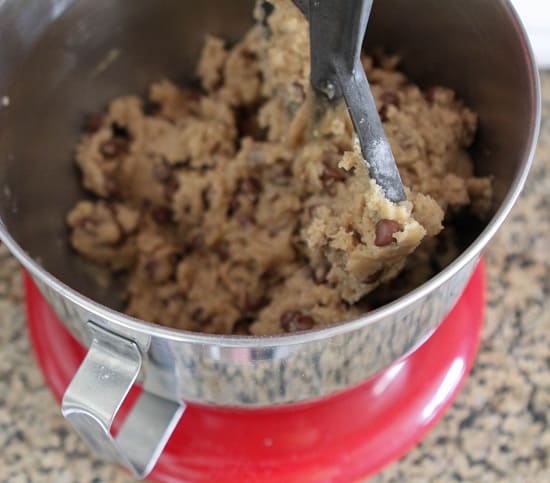 Here's your dough. Sneak a little bite. I can never pass up that opportunity 🙂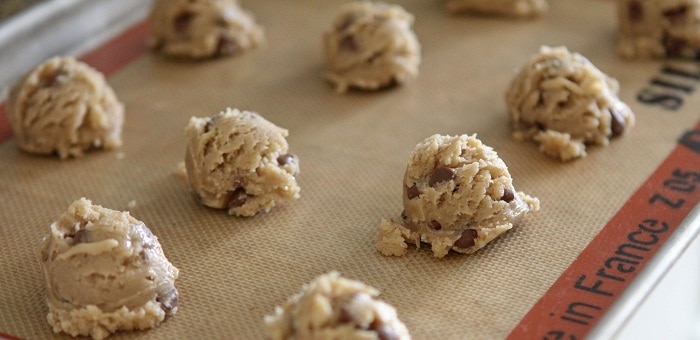 Pretty little things aren't they?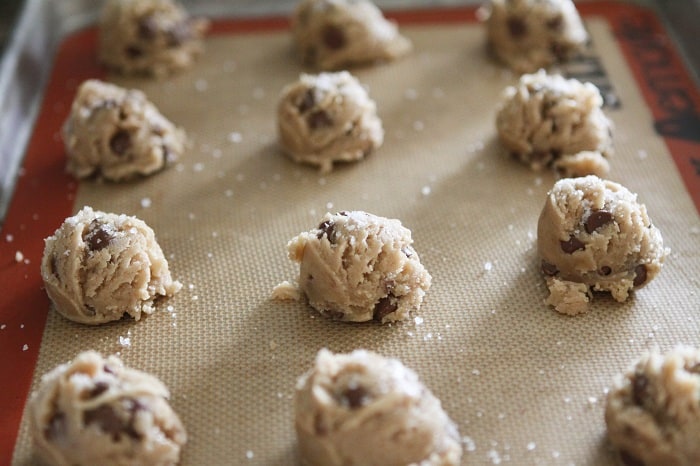 Don't be afraid to add a pinch of sea salt to the tops. It's the perfect sweet and salty combo 🙂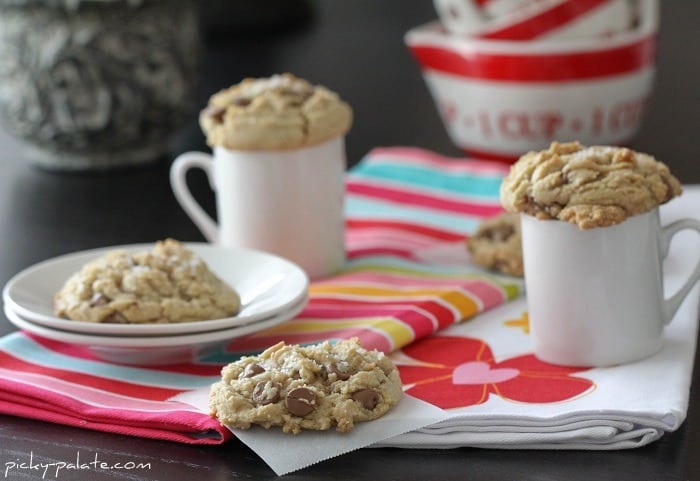 Ta-da! Enjoy 🙂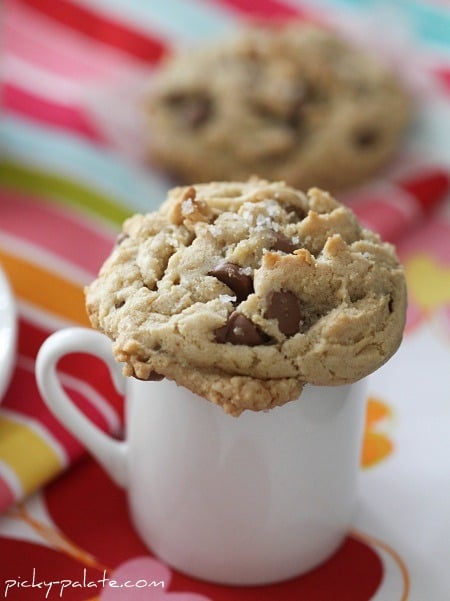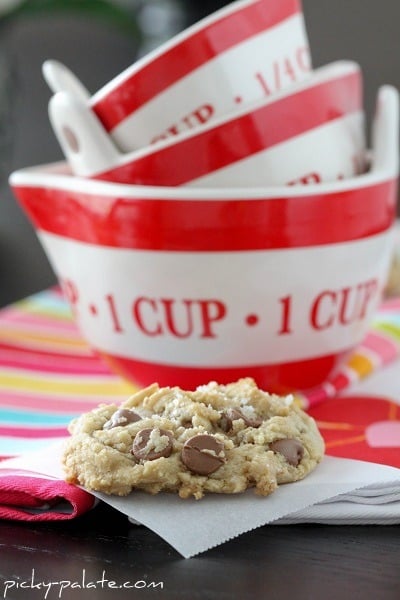 [ziplist]
Brown Butter and Fleur de Sel Chocolate Chip Cookies
2 sticks (1 cup) butter
1 1/4 cups packed light brown sugar
1/4 cup granulated sugar
2 large eggs
2 teaspoons vanilla
2 3/4 cups all purpose flour
1 1/2 teaspoons baking soda
1/2 teaspoon Fleur de Sel or sea salt
One 10-ounce bag chocolate chips
1. Preheat oven to 375 degrees F. and line a large baking sheet with a silpat liner or parchment paper
2. Place butter into a medium saucepan over medium heat, swirling pan to melt. Once melted watch carefully. Butter will foam, boil then little brown bits will start to form around sides and bottom of pan. Once butter turns a golden brown and has a very nutty aroma, remove from heat. I transfer mine to a bowl so cooking stops. Let cool for 5 minutes.
3. Place both sugars into stand or electric mixer. Add brown butter and mix until well combined. Add eggs and vanilla, mixing until well combined. Place flour, baking soda and Fleur de Sel/sea salt into a large bowl. Slowly add to wet ingredients then add in chocolate chips, mixing until just combined. Scoop dough onto prepared baking sheet with a medium sized cookie scoop and sprinkle tops with additional Fleur de Sel/sea salt. Bake for 9 to 11 minutes, until cooked through. Let cool for 5 minutes then transfer to cooling rack.
Makes 3 dozen cookies
_________________________________
Have a great rest of your week! Come back soon 🙂