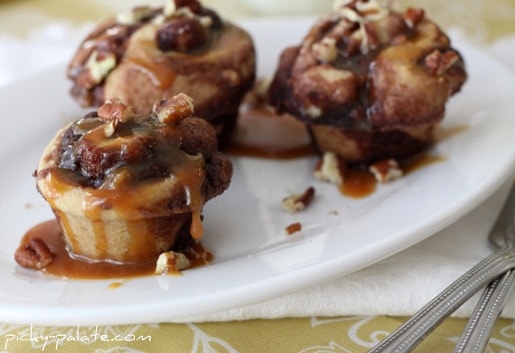 Good Thursday to you 🙂 The boys and I have been running around all over the place during their week off school. It's been fun not having to pack lunches and rush around in the mornings.
I managed to squeeze in a little baking this week….Had some leftover sugar cookie dough from those cinnamon roll sugar cookies and decided to create a Brownie/Cookie which makes "brookies!"
These are a tad bit messy to work with, but finished up just fine. After slicing the dough into 1/2 inch pieces, I placed the slices in a mini muffin tin. I think you are going to really like these, enjoy!
My friends over at The Mother Huddle highlighted Picky Palate this morning, I made a bullet list for "Picky Eaters," check it out HERE!!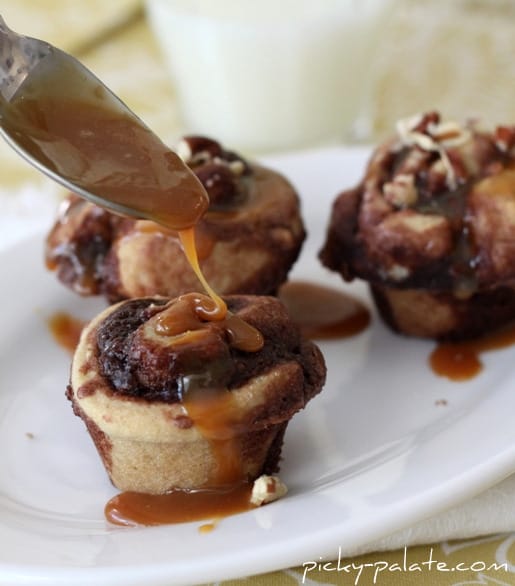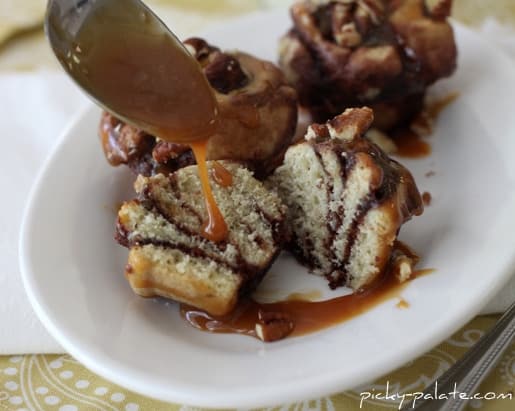 Caramel Turtle Sugar "Brookies"
2 Cups sugar
1 Cup butter, softened
3 eggs
1 teaspoon vanilla
1 Cup sour cream
6 Cups flour
2 teaspoons baking soda
2 teaspoons baking powder
1/4 teaspoon salt
1 brownie mix
10 Kraft caramels
1 Tablespoon milk
Crushed Pecans for topping
1. In an electric or stand mixer, cream the sugar and butter. Add eggs, vanilla and sour cream until well combined. Slowly add in the flour, baking soda, baking powder and salt until well combined.
2. In 2 batches, place in plastic wrap in a disc shape and chill for at least 2 hours for best results.
3. Prepare brownie batter according to package directions. Place batter in freezer, to harden it up for about 20 minutes.
4. Once chilled, cut each disc into thirds and roll into a 1/8 inch thick oval, about 12 inches X 5 inches. Pour about 1/4 Cup brownie mix over each oval. Start rolling from the long end closest to you, rolling into a log shape. Using a sharp knife, cut 1/2 inch pieces of dough then placing/folding into well greased mini muffin tins. This step is really messy, the brownie will ooze everywhere. Don't worry, they still bake up beautifully! Bake at 350 degrees for 12-15 minutes.
5. When cooled remove cookies from tins and place onto a cooling rack. Melt caramels in microwave until melted and smooth. Drizzle over top cookies then sprinkle with crushed pecans. Serve with milk 🙂
__________________________________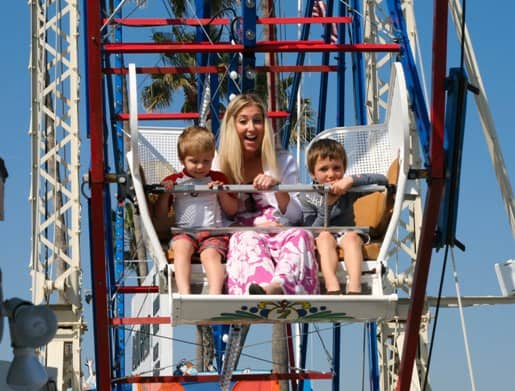 Last weekend, when my family was visiting we spent the day at Balboa Island. Of course my boys and little brother had to ride the ferris wheel, so my hubby snapped some pics of the boys and I 🙂 Makes me excited for summer!
Have a wonderful weekend!! See you all soon 🙂