Here's a deliciously simple weeknight dinner for you that I prepared for Goodbite.com and the Real Women of Philadelphia. This is one of those dinners the the whole family loves. Creamy with lots of chicken and full of flavor 🙂 Enjoy!!
I am off to San Diego for the weekend with my traveling BFF Amanda. Follow our fun as we hunt down the best sweet shops the city has to offer 🙂 I'll be posting faithfully on Instagram, Facebook and Twitter.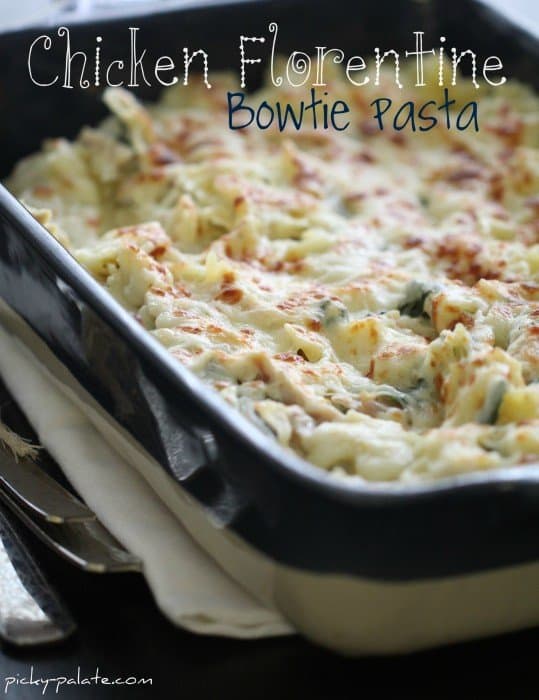 [ziplist]
Chicken Florentine Bowtie Pasta
2 tablespoons extra virgin olive oil
1 cup finely chopped white onion
1 clove minced garlic
4 cups baby spinach leaves
2 cups cooked shredded chicken breast
1/2 teaspoon kosher salt
1/4 teaspoon freshly ground black pepper
2 Cups Philadelphia Cooking Creme
1 pound bowtie pasta or other small noodle
1 1/2 cups shredded mozzarella cheese
1. Preheat oven to 350 degrees F. and spray a 9×13 inch baking dish with non-stick cooking spray.
2. Place oil in Dutch oven or large pot over medium heat. Add onion and cook, stirring until tender, about 5 minutes. Add garlic and cook, stirring for 1 minute. Stir in spinach leaves, cook, stirring until wilted about 2 minutes. Add chicken, salt, and pepper, and cook until heated through, about 3 minutes. Add cooking cream, stirring to combine.
3. Cook pasta according to package directions, drain and run under cold water to stop cooking. Add pasta to chicken mixture stirring to combine. Transfer to prepared baking dish and top with cheese. Bake for 20 to 30 minutes, until cheese is melted.Makes 8 servings
Click HERE to watch a step by step video of me making this dish on Goodbite.com 🙂
Have a great weekend!! xoxo