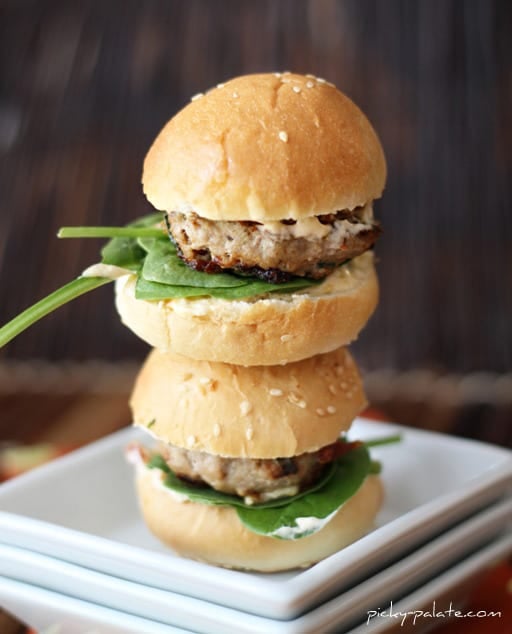 Good Thursday to you! The week is flying isn't it? I didn't plan on sharing this recipe, and certainly didn't plan on photographing it, but after having these babies for lunch with my hubby, I knew I had to snap some pictures and share it with you!
A few years ago when I was enjoying cooking competitions, I competed in the Build A Better Burger Competition. Ever since that event, I have been in love with making fun burgers of all kinds. The burger I competed with in 2004 actually had feta and sun dried tomatoes in it, which is one of my favorite combinations now!
This turkey burger has minimal ingredients with massive flavor. My husband was all compliments while inhaling his sliders, and he has no problem telling me his honest opinion! I found these adorable mini hamburger buns at Trader Joes and seriously love them! I mean, they really are cute and are the exact shape of regular hamburger buns. Of course you can always use dinner rolls if you can't seem to find this product 🙂
Hope you all enjoy my little sliders.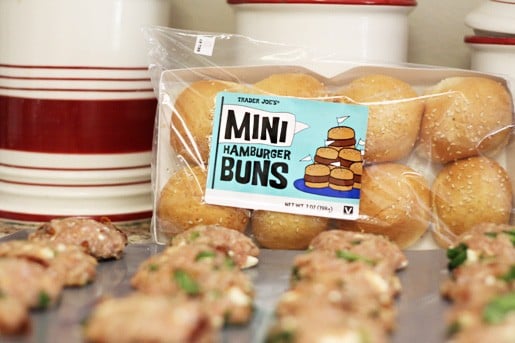 Here they are, mini hamburger buns. Maybe I've missed them in the past, but I don't remember seeing these at Trader Joe's before. Glad they have them.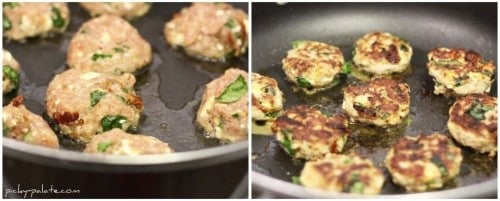 I cooked these burgers right on the stove top in a large skillet. Was just too lazy to fire up the grill. By all means, grill them if you'd rather.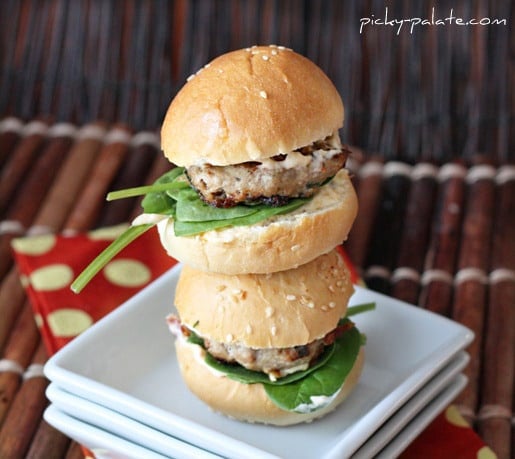 If you are a feta fan, beware…you could quite possibly eat many of these 🙂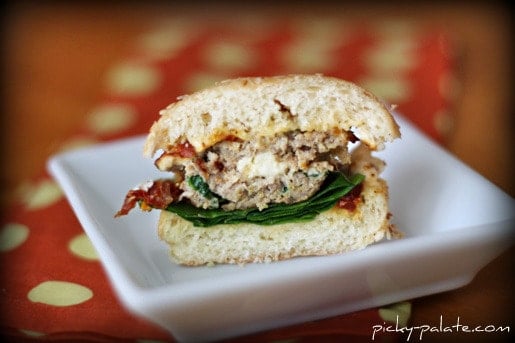 Feta Sun-Dried Tomato Turkey Burger Sliders
2 Tablespoons extra virgin olive oil
1 lb ground turkey
1/2 Cup crumbled feta cheese
1/4 Cup sun-dried tomatoes, jarred in olive oil
1/2 Cup fresh baby spinach leaves, chopped
Pinch of Kosher salt, fresh cracked pepper and Lawry's Garlic Salt with Parsley
Sun-Dried Tomato Mayonnaise
1 Cup mayonnaise
2 Tablespoons sun-dried tomatoes, packed in olive oil, drained
Baby hamburger buns or dinner rolls, split and warmed
2 Cups fresh baby spinach leaves
1. Heat oil into a large skillet over medium heat. Place turkey, feta, sun dried tomato, spinach and seasonings into a mixing bowl. Mix until just combined. Form 1/4 Cup little patty's and place onto a cookie sheet. Once all are formed, place batches in hot skillet. Cook for 3-4 minutes per side or until golden brown and cooked through.
2. Place mayonnaise and tomatoes into a bowl; mix to combine. Spread over insides of warm rolls. Layer bottom roll with spinach and the burger. Close with top roll and eat 🙂
Makes about 12 little sliders
_____________________________________
Have a great weekend!! See you all soon 🙂