Another Sunday night snuck right up on me, hope everyone enjoyed their weekend. Had an embarrassing morning at church with my boys practically fist fighting each other in front of the entire congregation, not to mention the nice names they were calling each other! Little turkeys.
Did anyone else go see Batman over the weekend? I found it totally creepy, but really good. I can't remember the last time I sat through a movie that was so long, probably Titanic. Kind of eerie to see Heath Ledger as the Joker, knowing what happened to him, I'm betting his performance wins all kinds of awards.
Let me tell you about these yummy little sandwiches…
When I was at Sprouts this week, I picked up all of the ingredients to make this sandwich that sounded so good in my mind. It is officially my new favorite sandwich. I have been on the hunt for fresh figs, but found out I was too late, they are apparently out of season, so I picked up some fig jam/spread and it was fantastic. Keep a eye out for some next time you are at Sprouts or a Whole Foods type of grocery store, it's well worth the 5 bucks. The creamy Brie cheese goes so well with the sweet fig jam, it is such a treat. Try it on crackers too.
How cute are these little toothpicks? I found them at AJ's, I thought they were the perfect fit for these fancy little sandwiches! Hope you'll treat yourself to a fun turkey club this week, you'll be glad you did!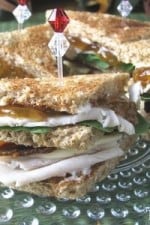 Fig, Brie and Turkey Club Sandwiches
These little sandwiches are loaded with flavors from the smoky turkey, creamy brie, sweet figs, and salty bacon.
Print
Pin
Ingredients
Whole wheat bread

lightly toasted

Light mayonnaise

Thinly sliced turkey breast

Thin slices of brie cheese

Fresh baby arugula leaves

Precooked bacon strips

crisped

Fig preserves
Instructions
Cut crust off of toast. Lightly spread mayonnaise onto inside of bread. Layer with turkey, brie, bacon strips, arugula, another piece of toast, more arugula, turkey and then a small spoonful of fig preserves. Top with another piece of toast. Cut sandwiches into 4 pieces, diagonal cuts to make little triangles. Serve and Enjoy!
Keywords:
healthy sandwiches, turkey sandwich
________________________
Coming up next is another brownie creation that tops all the rest! You won't want to miss it!