Homemade Sopapilla Recipe
My Homemade Sopapilla Recipe is one of our favorite desserts to make as a family. Warm fried dough with melted butter, honey and powdered sugar!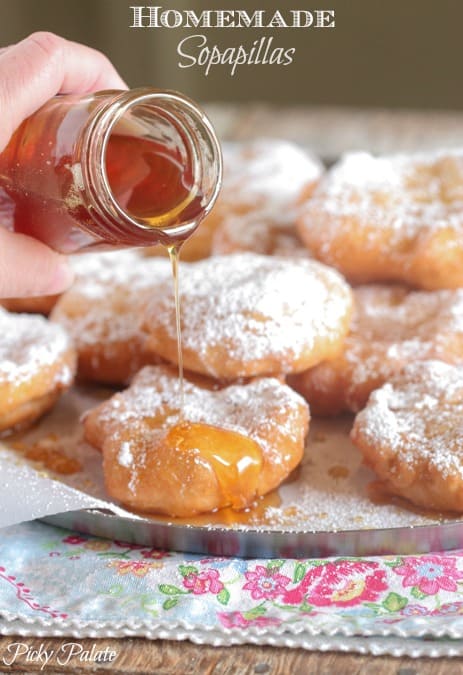 I've been looking forward to sharing this recipe for weeks now.  Let me start by saying I know people call these all kinds of different names.  It kind of depends where you grew up!  I've heard people call them scones, fry bread and sopapillas.  I am not partial, I'll call them anything, lol!  I remember as a kid having warm sopapillas at a Mexican restaurant we went to and it was my favorite part of the meal!
If you are not aware of what this recipe is, let me explain.  It's a homemade dough, fried, then lathered with butter, honey and powdered sugar.  Seriously does NOT get better than this.
When my family gets together on Sundays, we almost always end up making these.  They are everyone's favorite 🙂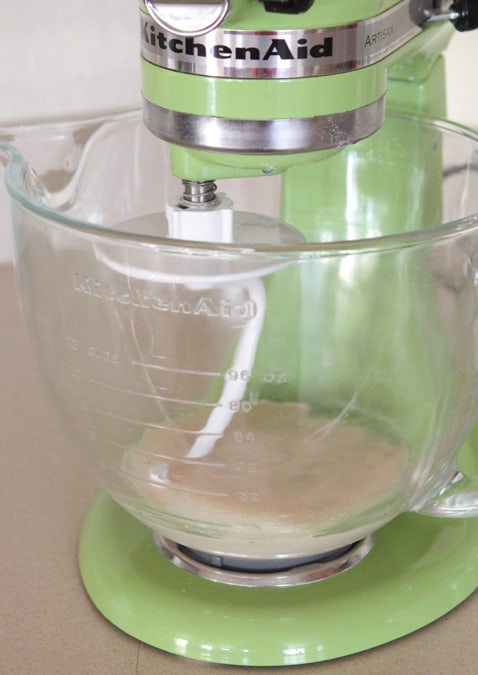 Start by placing warm water, yeast and sugar into your stand mixer.  Let it sit for 5-10 minutes, it'll start growing 🙂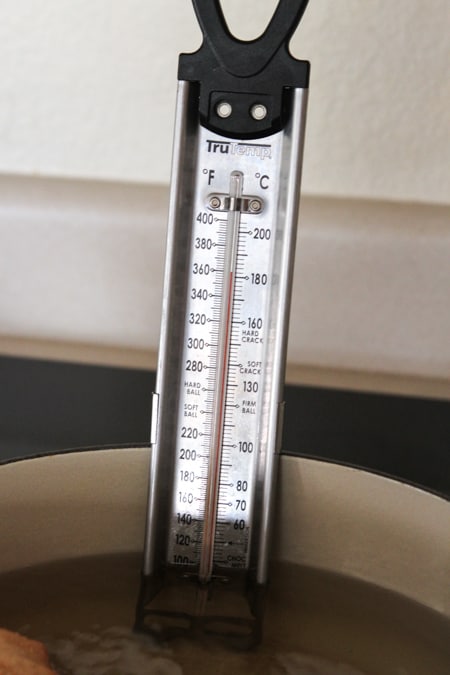 While you are waiting for your yeast to rise, heat your oil to 350-375 degrees F.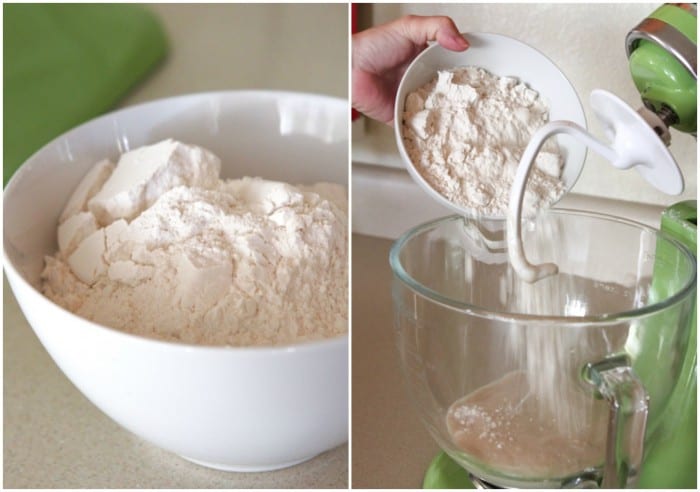 Add your flour and salt to the stand mixer.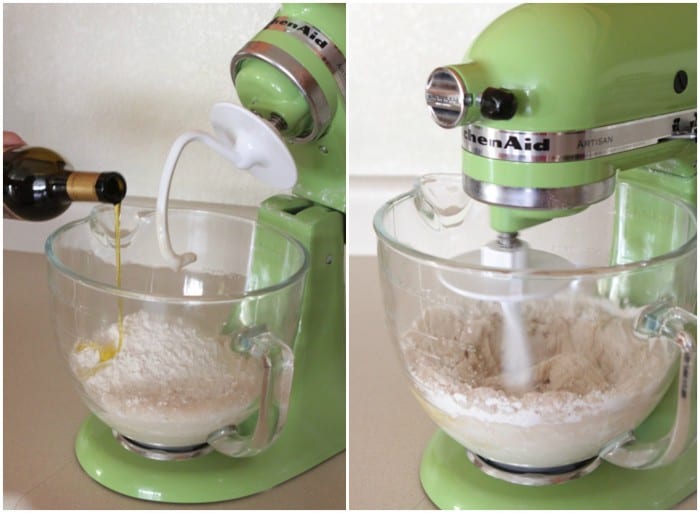 Add a few drizzles of olive oil and let it mix, mix mix.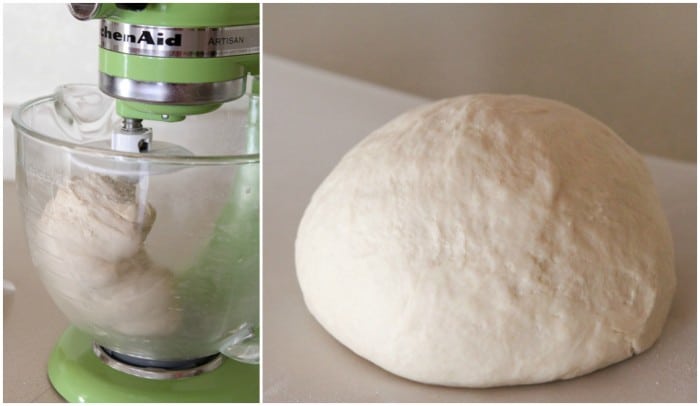 Remove your dough from the bowl and with floured hands, form into a little ball.  Please note that you can also use this dough for Pizza Dough.  It's amazing and I use it as well as my Honey Whole Wheat Pizza Dough often!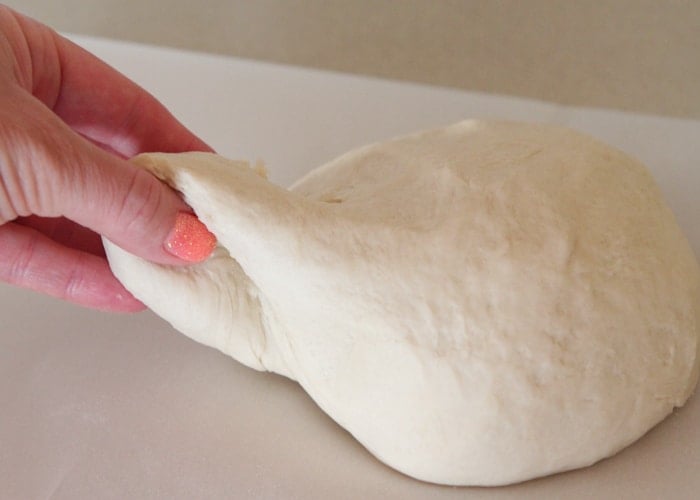 Pinch off little pieces of dough and form into about 3 inch rounds.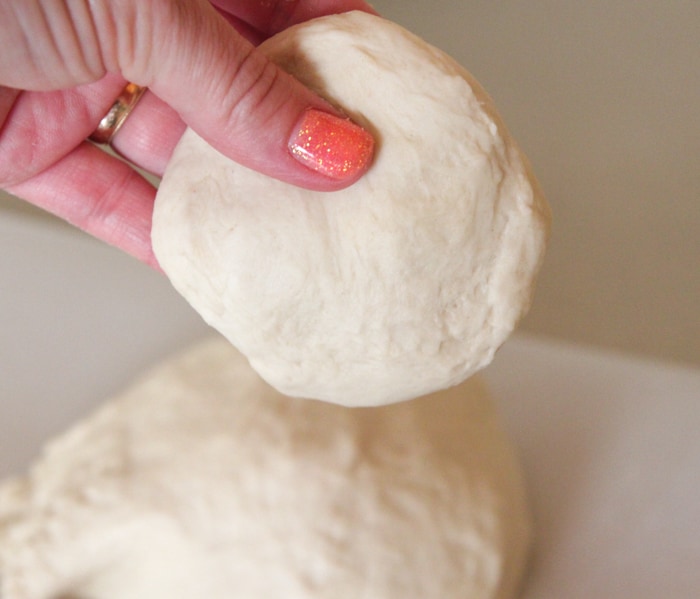 Like so.  It doesn't have to be exact, can be bigger or smaller 🙂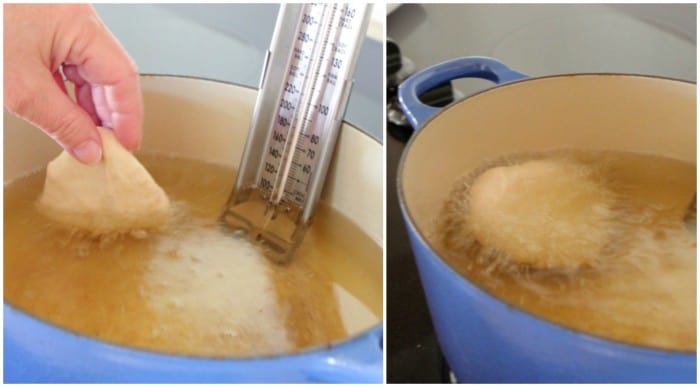 Carefully drop each piece of dough into the hot oil.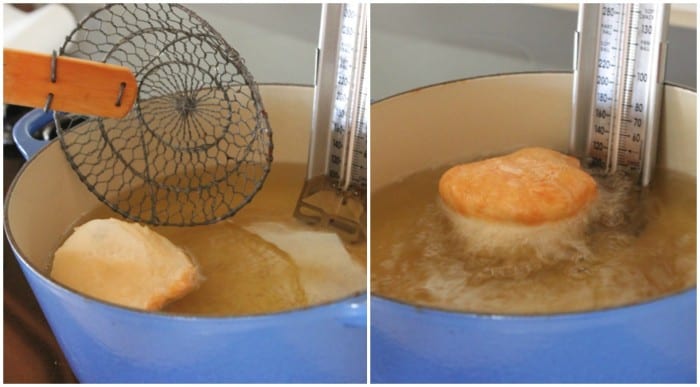 Let fry until golden then flip!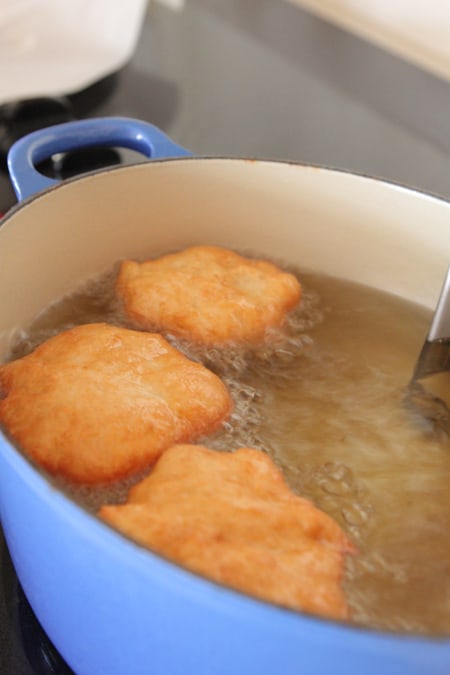 There's the color you are looking for 🙂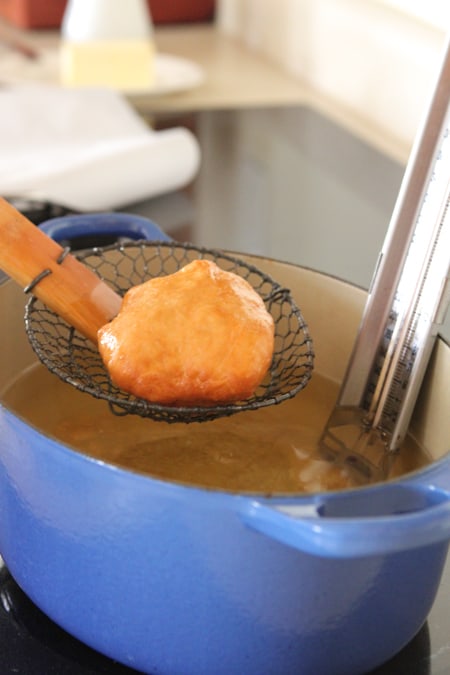 Remove from the oil and set onto some parchment paper.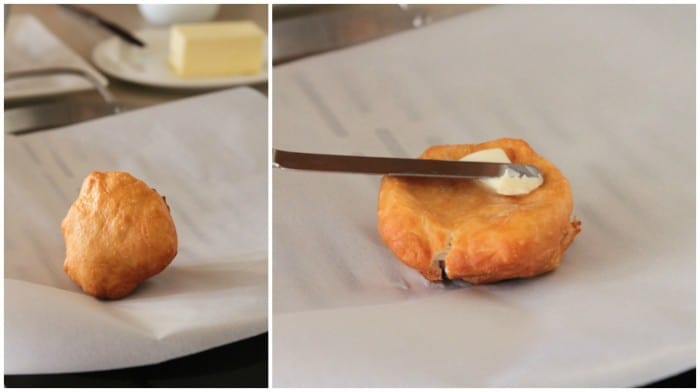 Spread each piece of dough with lots of butter as soon as it comes out of the oil.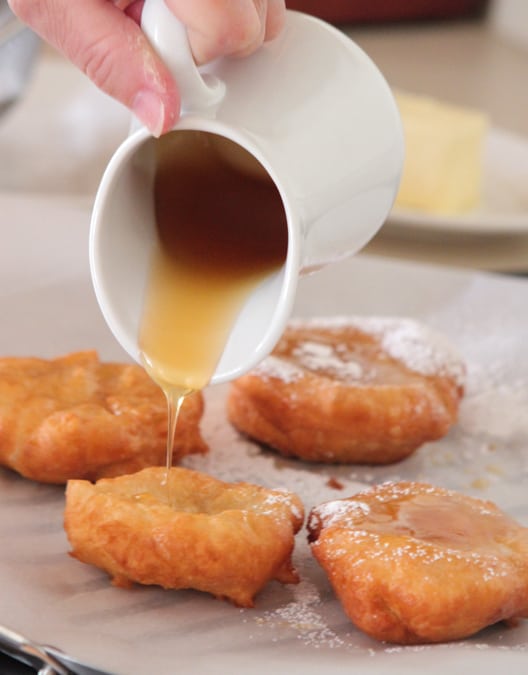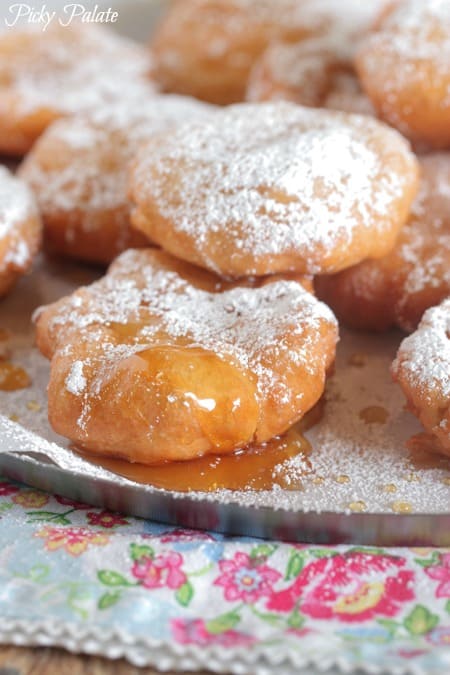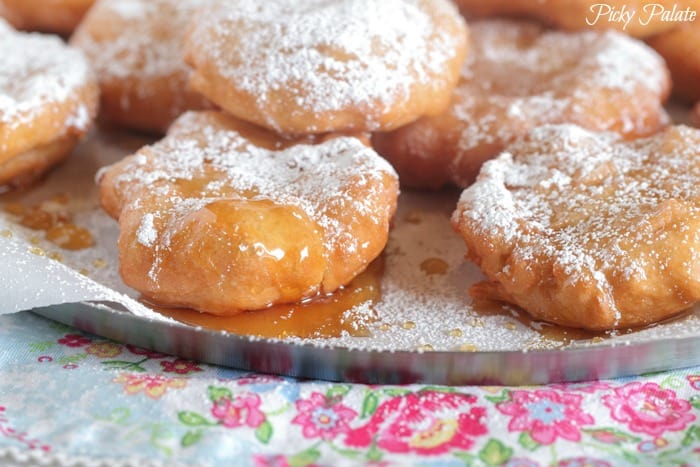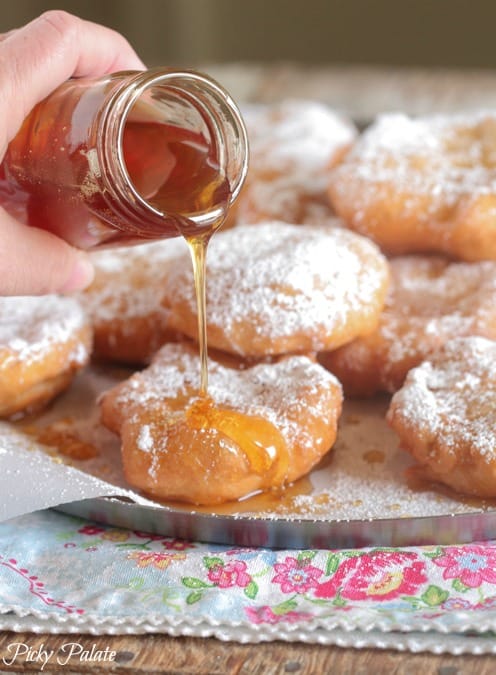 [ziplist]
Homemade Sopapilla Recipe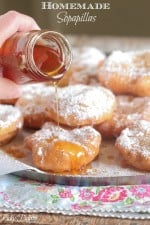 Prep time: 15 min | Cook time: 5 min | Total time: 25 min
Ingredients
64 ounces

canola or vegetable oil

1 cup

warm water, 110 degrees F.

2 1/2 teaspoons

active dry yeast

2 teaspoons

granulated sugar

2 1/2 cups

all-purpose Gold Medal Flour

1 teaspoon

kosher salt

2 tablespoons

Extra Virgin Olive Oil

8 tablespoons

unsalted butter, softened

1/2 cup

good quality honey

1/2 cup

powdered sugar
Directions
Place oil in large dutch oven over medium heat with a thermometer attached to the side of the pot. Heat until at least 350 degrees F. but under 375 degrees F.
Place warm water, yeast and sugar into stand mixer bowl with a dough hook attached. Let sit for 5-10 minutes until yeast has grown.
Add flour, salt and olive oil to the stand mixer, beating on medium speed. Mix until dough is cleaning sides of bowl, about 2-3 minutes. With very floured hands, remove dough from bowl and form into a ball on top of parchment paper.
Pinch off about 1/4 cup pieces of dough forming into 3 inch rounds. Does not have to be perfect. Carefully drop pieces of dough into hot oil, in batches. No more than about 3 or 4 at a time. Fry until golden and puffed on each side. Remove from hot oil and place onto parchment paper. Immediately spread butter and honey over each piece. Sprinkle with powdered sugar if desired. Enjoy!
Makes 12-15 Servings
FOLLOW PICKY PALATE ON INSTAGRAM! Show me what recipes you're making from Picky Palate by using #pickypalate.
Other recipes you may enjoy...
Comments