Sharing How To Decorate a Candy Cane Christmas Tree today! I've been collecting for my Candy Cane Christmas Tree for years, let's discuss how to decorate a Christmas tree!
Candy Cane Christmas Tree
Christmas time is the best time of the year don't you agree?! I'm the girl who decorates the house for Christmas on November 1st and I never regret it. I love to see my festive decorations for all of November and December!
Today, we'll be discussing how to decorate a Christmas tree, candy/red and white themed! I'll walk you through where to start and my favorite places to purchase decorations for my tree.
Try my favorite Christmas Cookies too! Follow Picky Palate on Instagram for daily recipe inspiration.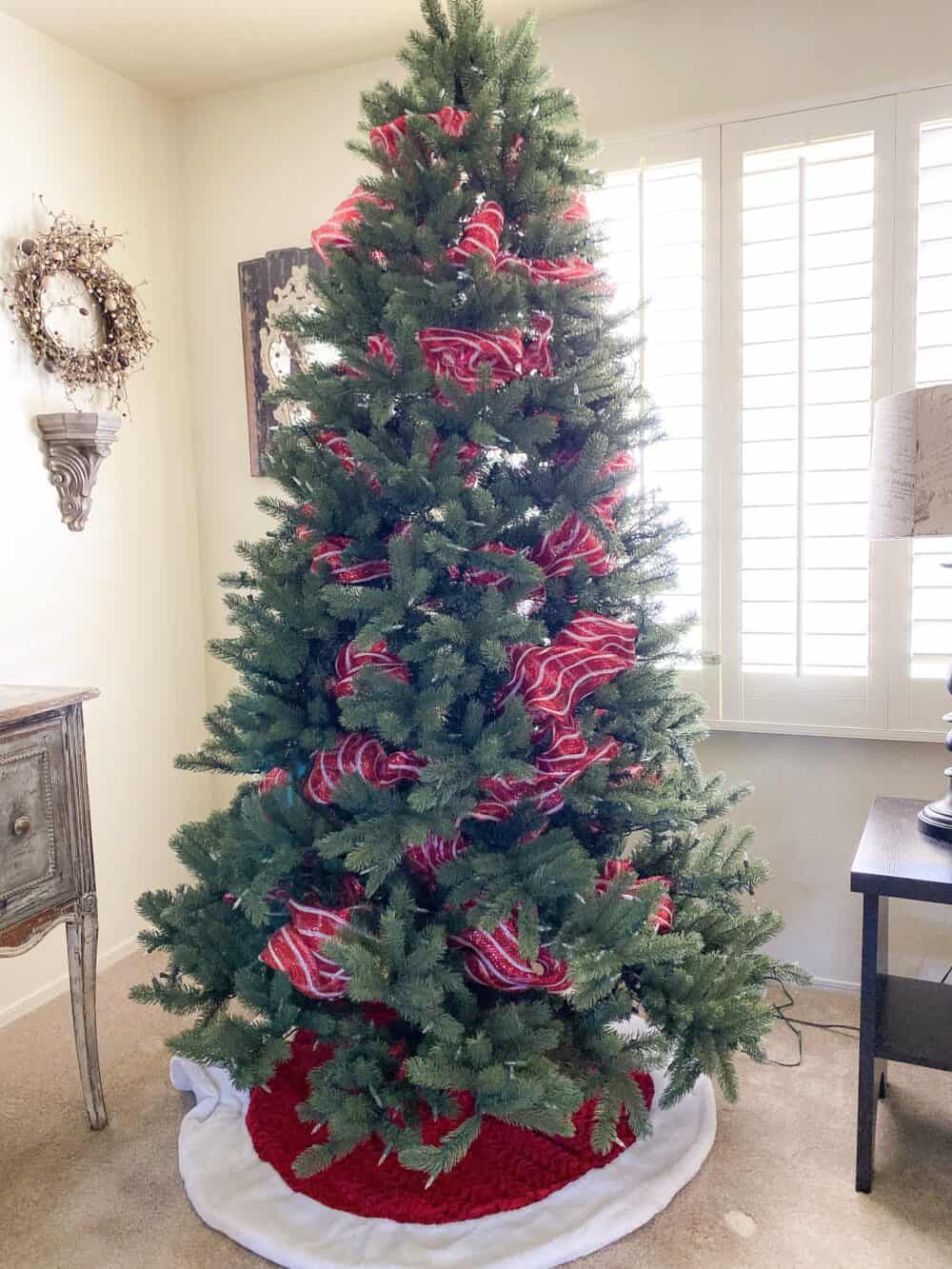 Where Do I Start?
Decide on what kind of Christmas Tree you want and is going to fit in your home/space. How tall is your ceiling? Do you want real or artificial? Once you find the perfect Christmas tree, set it up and make sure your lights work before the decorating begins!
Decide What Kind of Theme or Colors Do You Want For Your Christmas Tree
While I am talking about a Candy Cane style Christmas Tree today, my tips will work for any theme! Decide your colors and theme then it's a good idea to start collecting throughout the year. The day after Christmas is an excellent time to stock up on decorations at a huge discount. I've been collecting pieces for my tree for years, so don't be frustrated if you don't get everything for your tree on year number 1. It truly is a process if you ask me.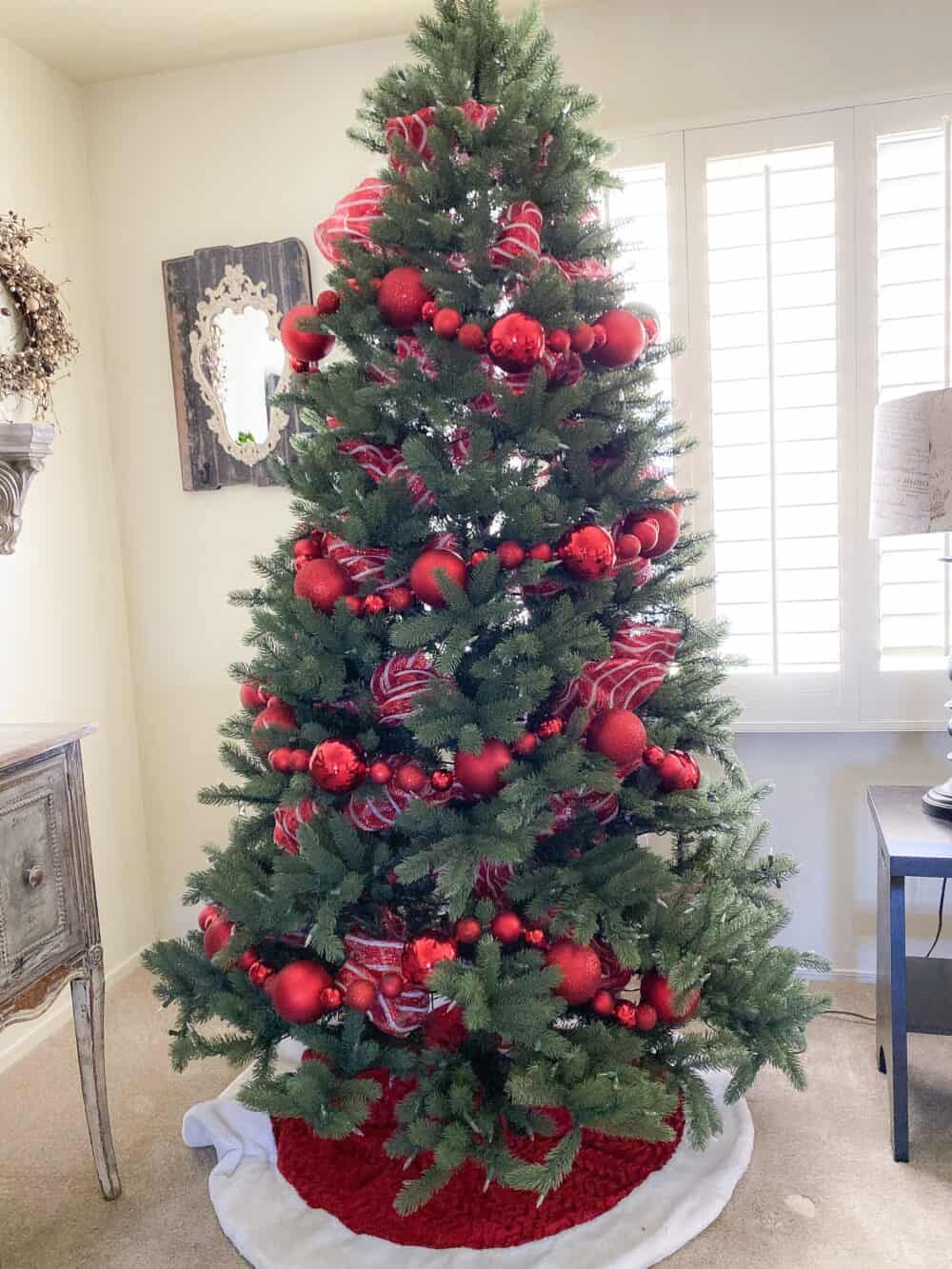 Ribbon and Garland On Your Tree First!
Once you've got your tree set up and make sure your lights work, start adding your Ribbon pieces and Garland. I start from the bottom and work my way up. Step back every few minutes and make sure you like where you've put your pieces before you move on. Super easy to re-arrange before the ornaments go on!
Where Do You Shop For Christmas Decorations?
There are so many great places to shop for Christmas decorations. Some of my very favorites are Hobby Lobby, Target, Michaels, JoAnne's and local boutiques. If you are in Arizona, Orange Patch in Mesa on McKellips and Val Vista is one of my favorites for Christmas inspiration. Take advantage of sales to add to your collection!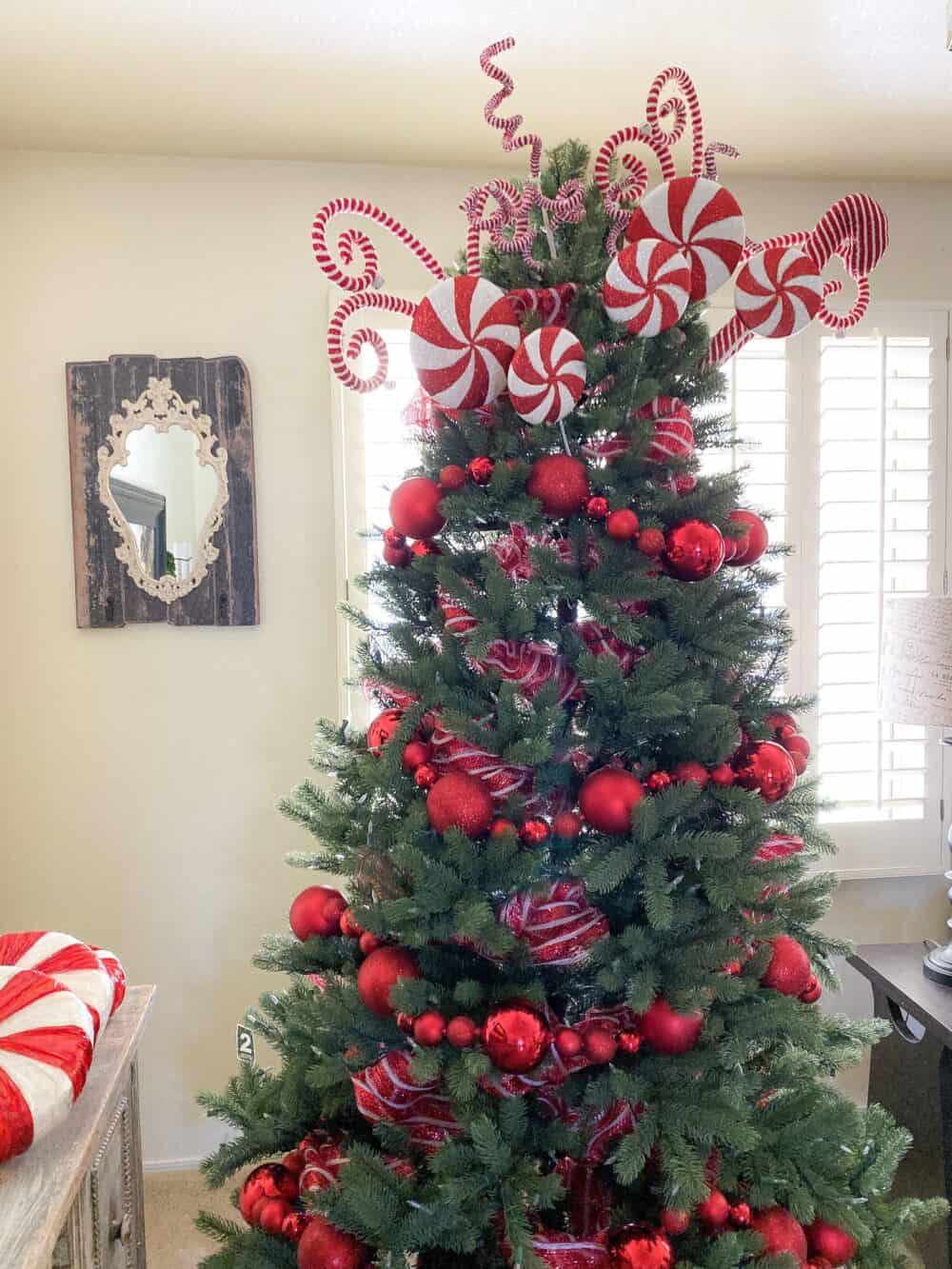 Arrange The Christmas Tree Topper
Once my garland and ribbon is in place I get my tree topper set up! Hobby Lobby has awesome tree topper pieces all over the store. I chose a variety of shapes and textures for mine. Most of the toppers you see in my photo can be found at Hobby Lobby, might not be identical as I have collected them over a number of years, but I saw very similar pieces this year. Again, step back and check as you go to see if you need to re-arrange. I do this a number of times before I'm happy with it.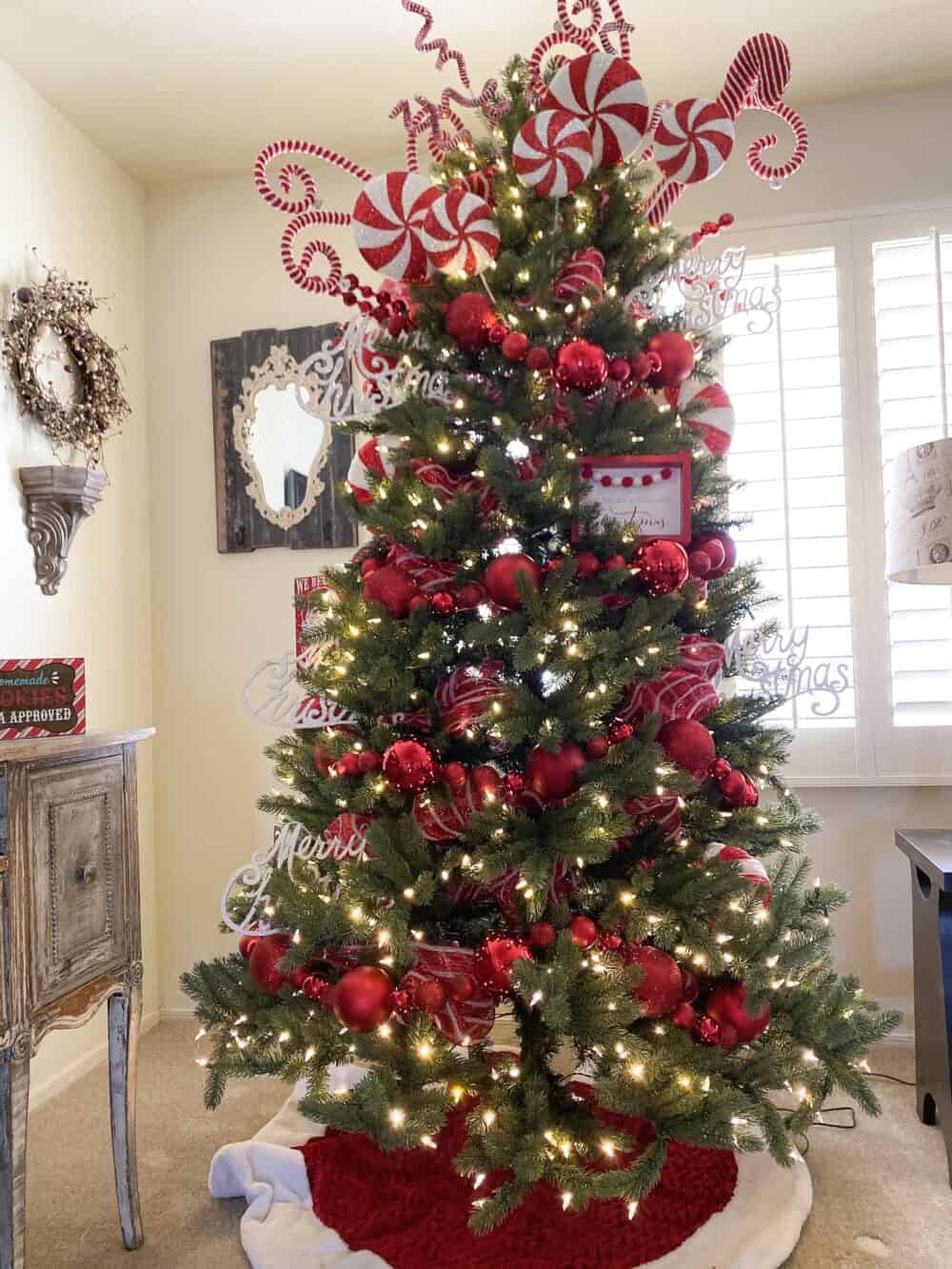 Add The Larger Ornaments/Decorations Up Next
Once your tree topper decorations are set, let's move on to your larger ornaments and decorations. This is when I look for my little signs/frames, wooden pieces that take up the most space. Arrange them evenly around your tree. The idea is, you will then fill in the rest of your tree with your smaller ornaments. You'll notice I added my white wooden Merry Christmas decorations on both sides of the tree, top and bottom of the tree, not just in one area.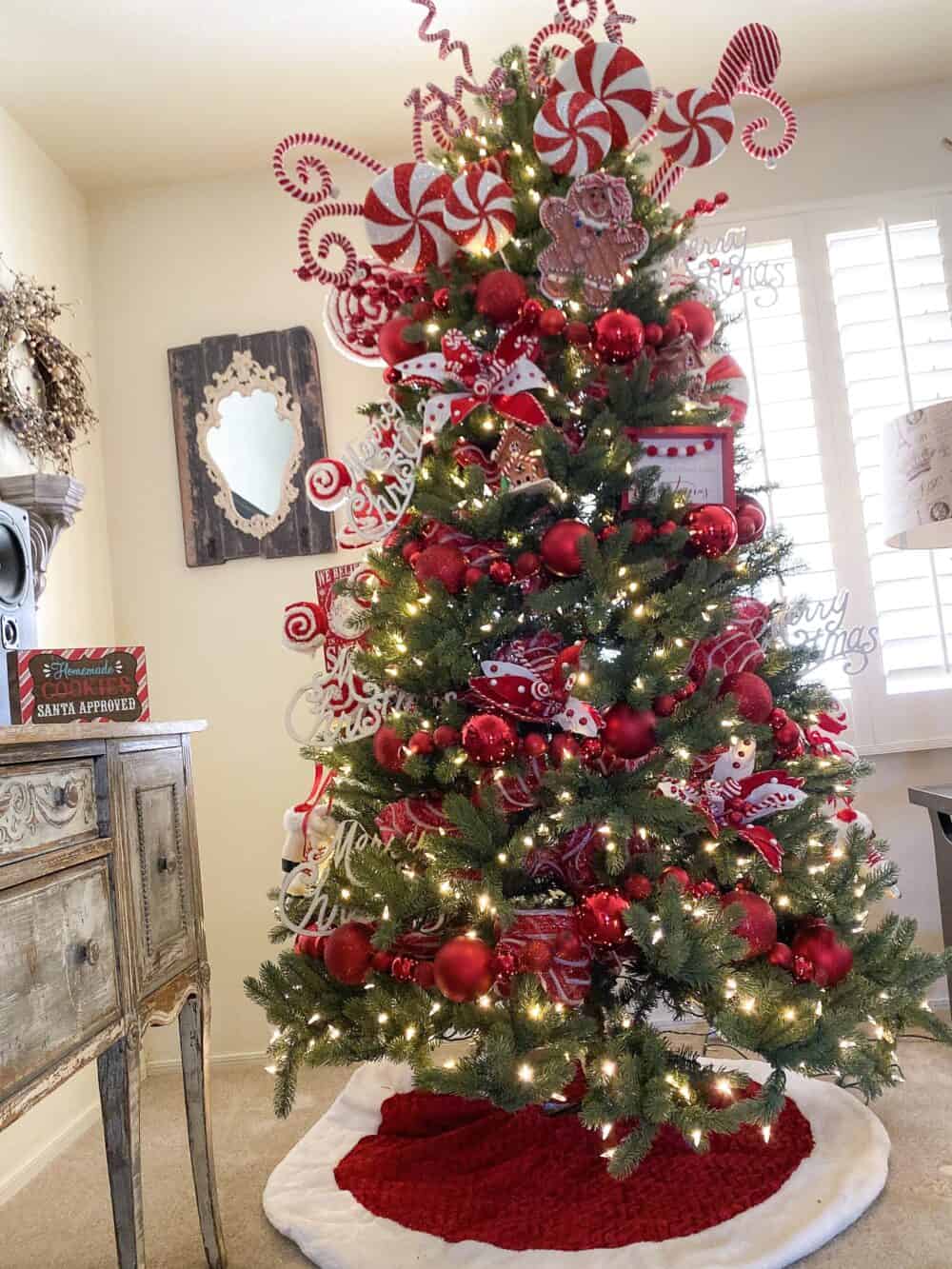 I went in and added more of my favorite larger pieces, such as my poinsettia picks and candy picks on the sides of the tree. It's nice to space your pieces that you have a number of, evenly around the tree.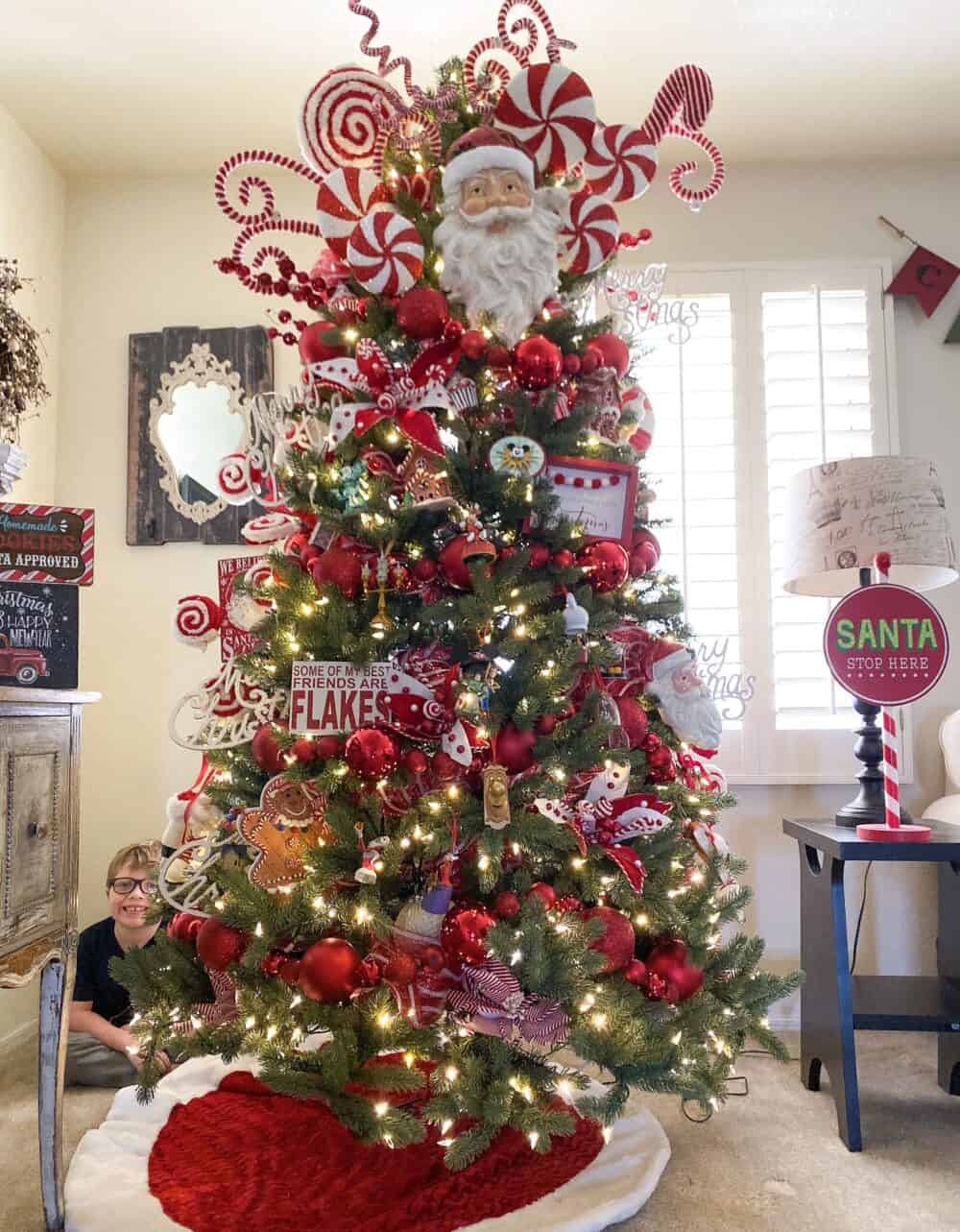 Use Your Smaller Ornaments To Fill in Spaces Around Your Tree.
Once all of my larger decorations have been places, I use my smaller ornaments to fill in spaces.
Do You Let Your Kids Decorate The Tree?
With my house full of boys, I do have to admit this is mostly mom's baby, but we spend lots of time around the tree together enjoying its' beauty! Many friends I know have a tree just for the kids to decorate and add their own favorite ornaments, I think it's a fantastic idea.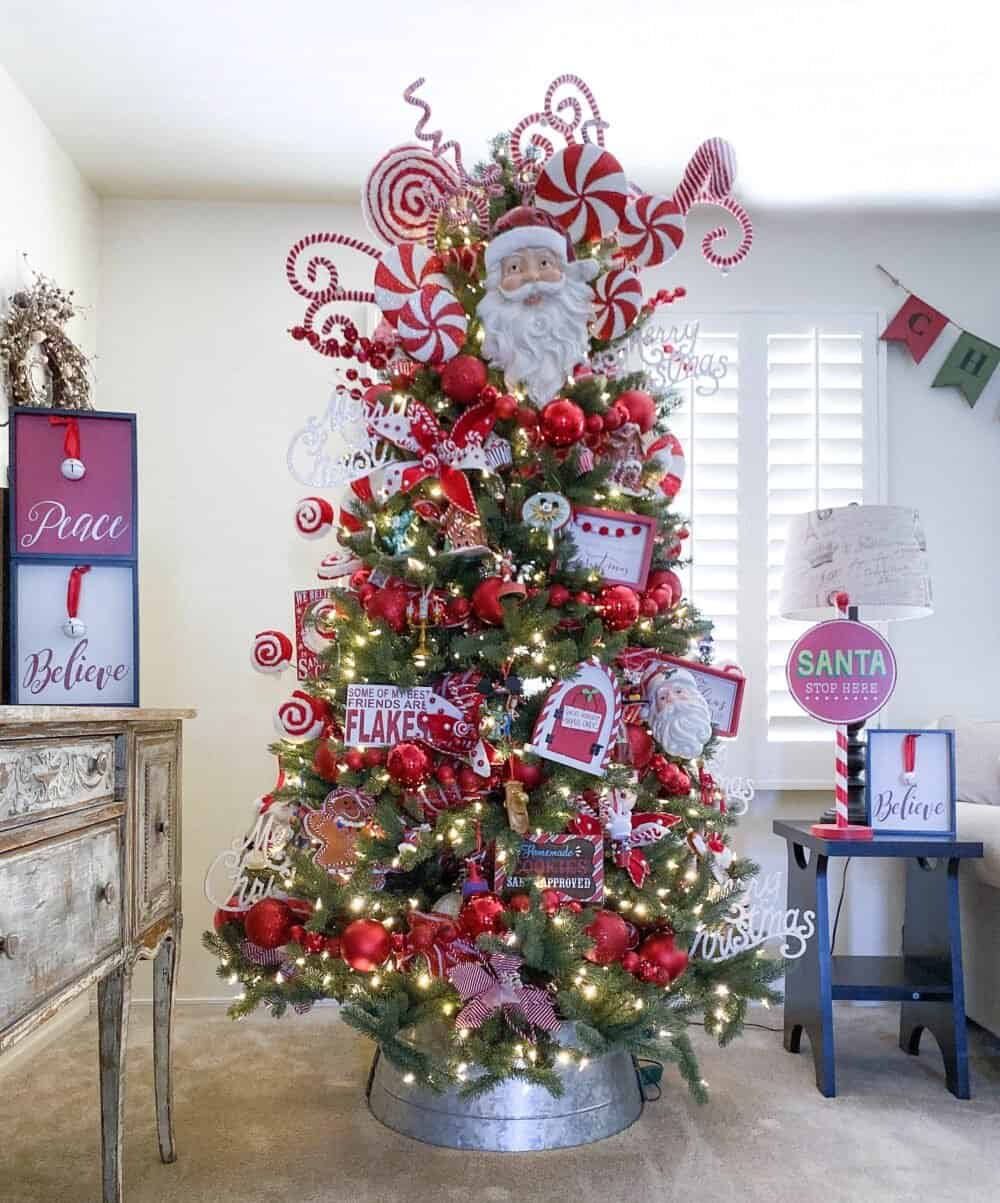 Most Important: Have Fun!
Personalize your Christmas tree with your family favorite things. If it makes you happy it's perfect!
I found the Christmas Tree Collar at the bottom of my tree at Target this year. It was $40. You can also find them at Home Depot, Lowe's and many other places. I added it new this year and love the look!
Pin How To Decorate A Candy Christmas Tree