This Mickey Cookies and Cream Milkshake is just like the one from Disneyland! It's the best oreo milkshake recipe ever and it looks so darn cute!
Mickey Cookies and Cream Milkshake
Bringing Disney magic to my home is one of my favorite things to do! I knew the minute I had this Mickey Cookies and Cream Milkshake at Disney California Adventure Park a couple weeks ago I HAD to re-create it at home! It looks just like the one you purchase at Schmoozies for the Get Your Ears On Celebration and it could not be more simple to prepare. Let me show you how!
Be sure to follow Picky Palate on Instagram for family friendly recipes and Disney Hungry on Instagram for the BEST eats at Disneyland plus fun Disney inspired recipes!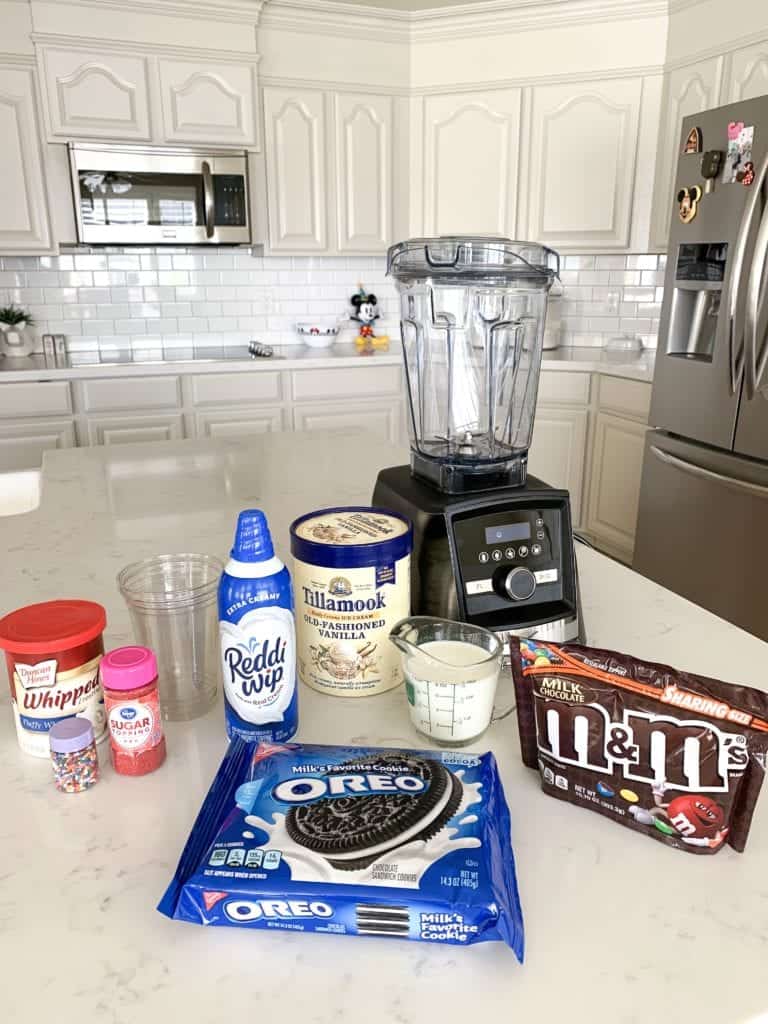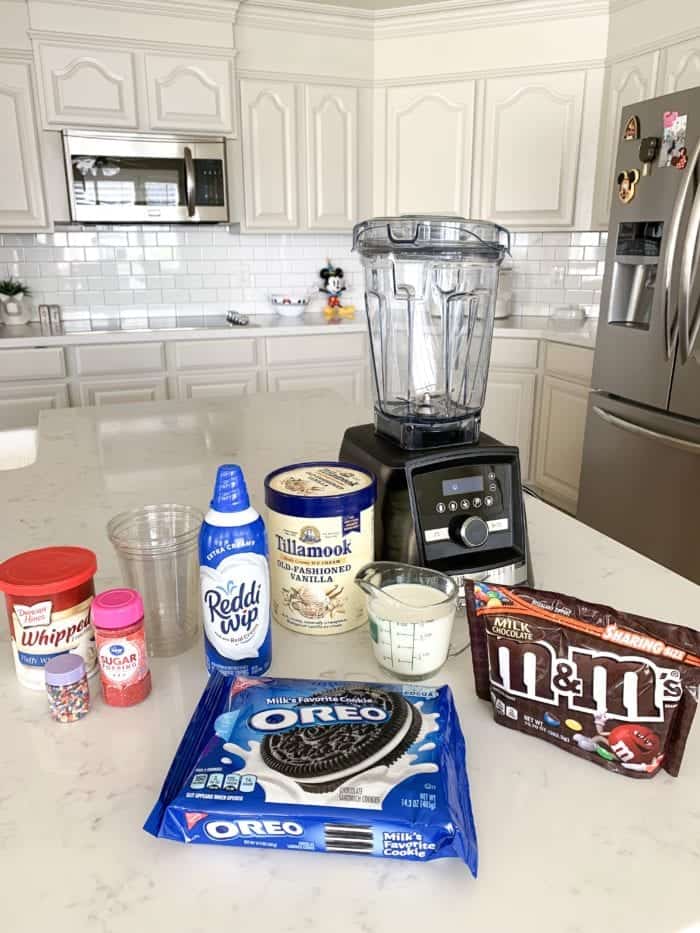 Here's your line up. The trickiest thing to hunt down is the clear plastic cups. My father in law found them for me at Smart and Final. Check around, I was going to order some on Amazon if I couldn't find them at the stores. See recipe instructions below for exact supply list.
Decorate The Mickey Cups First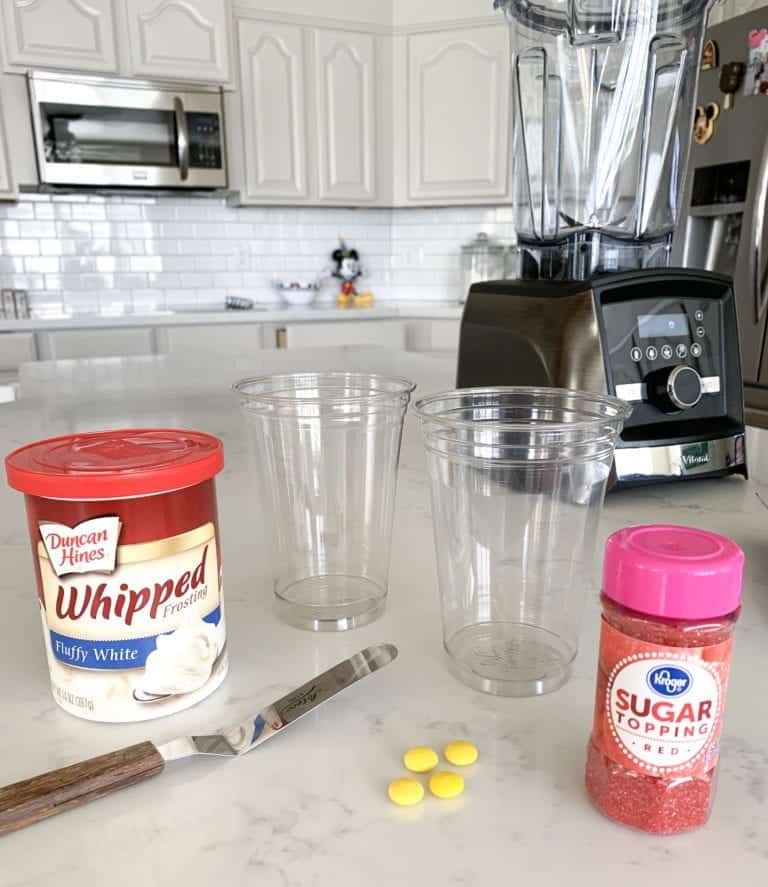 Before preparing the milkshake, decorate your Mickey cups. It is super simple. If you've got an offset spatula, as shown in the photo above, it works great. Otherwise a butter knife is fine too. You'll need some basic white cake frosting, 4 yellow M&M's candies, two 20 ounce clear plastic cups and some red sugar. Check your baking section for the red sugar and of course the frosting.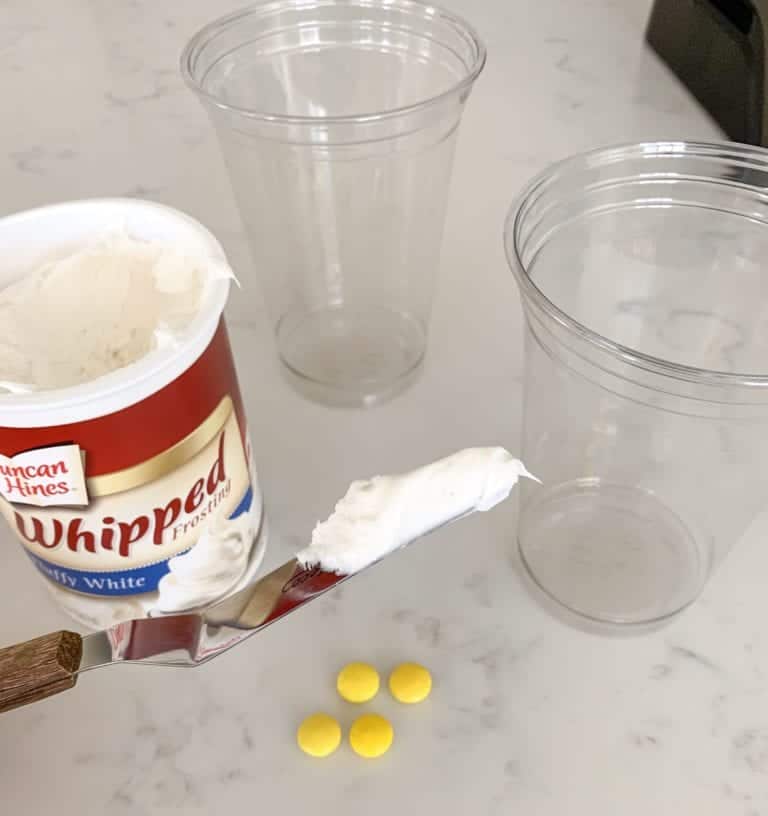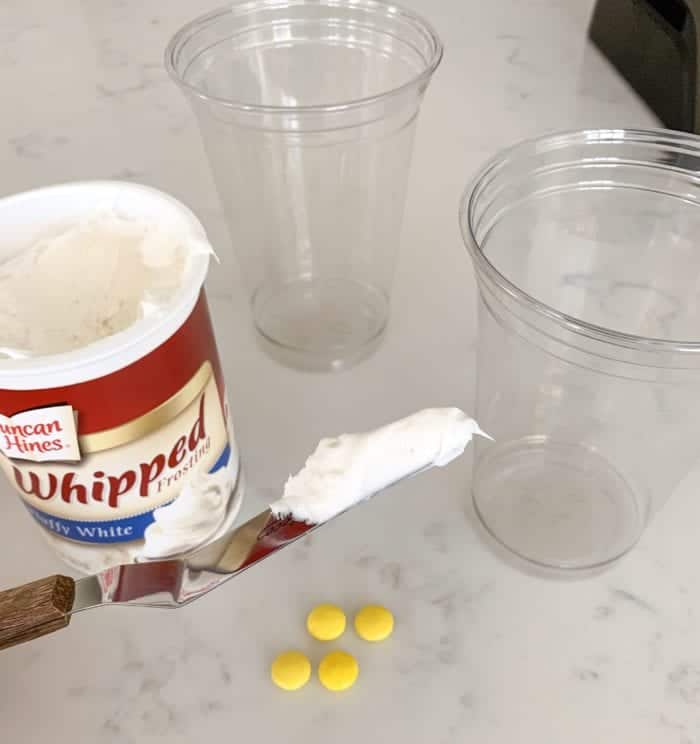 Start with a small amount of frosting on your knife/spatula.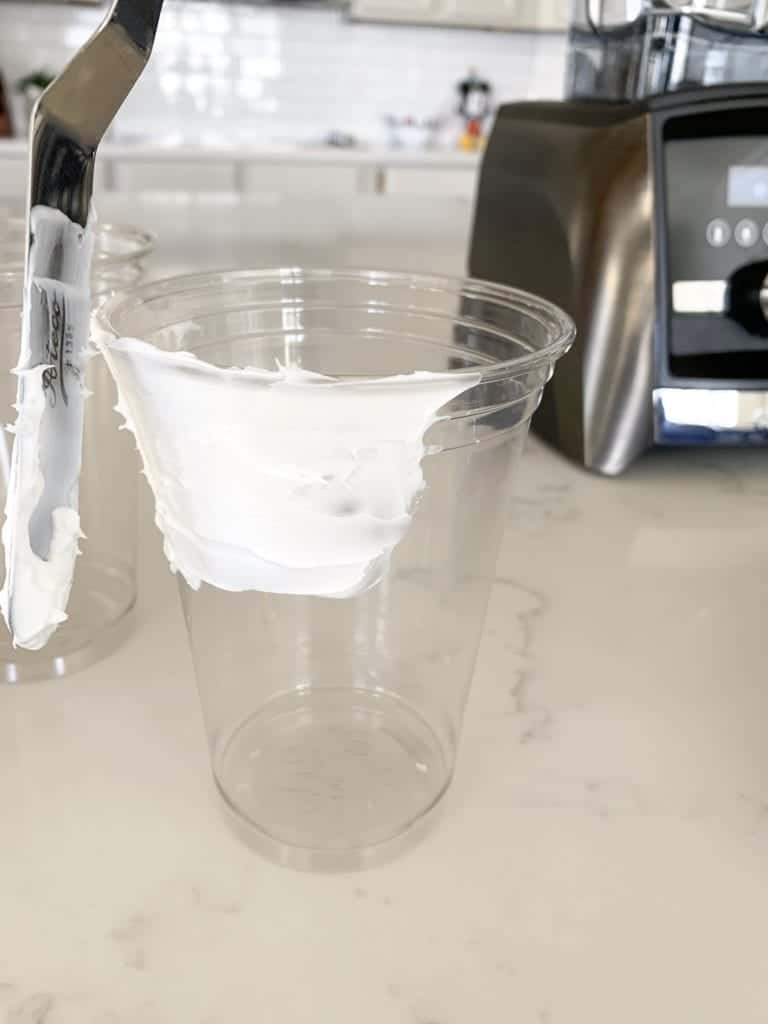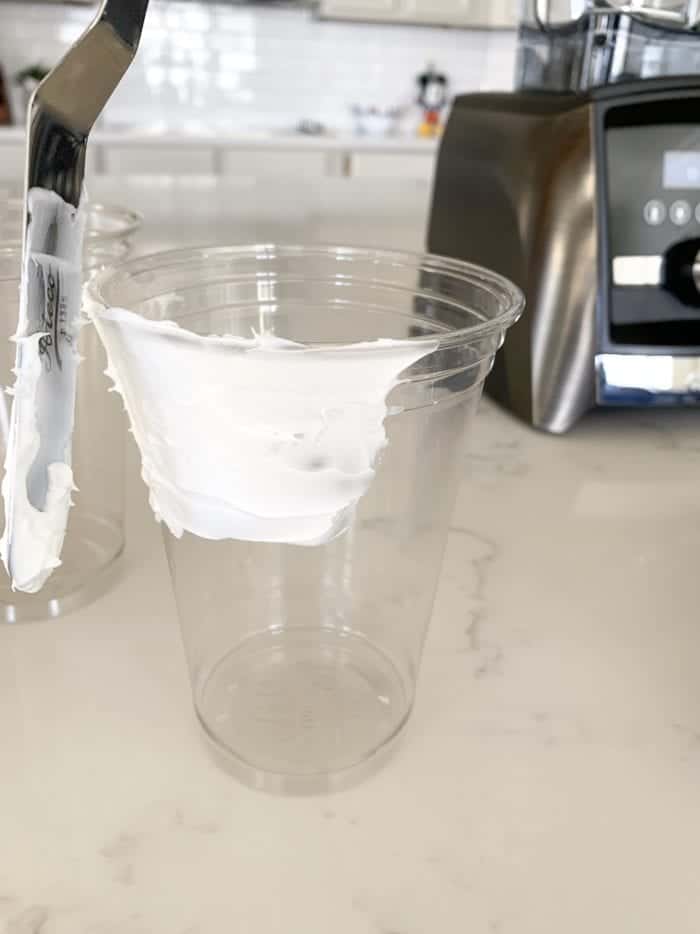 Start spreading across the top 1/4 of the cup. Don't worry if you make a mistake or your line isn't straight. Use your finger to remove any unwanted frosting and keep working.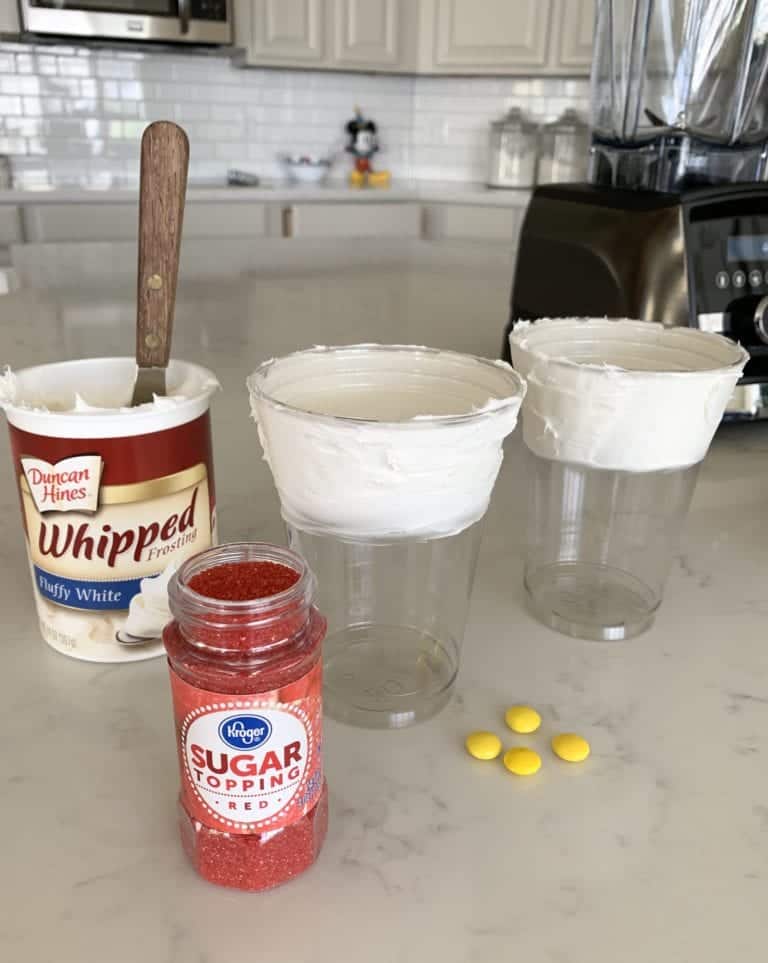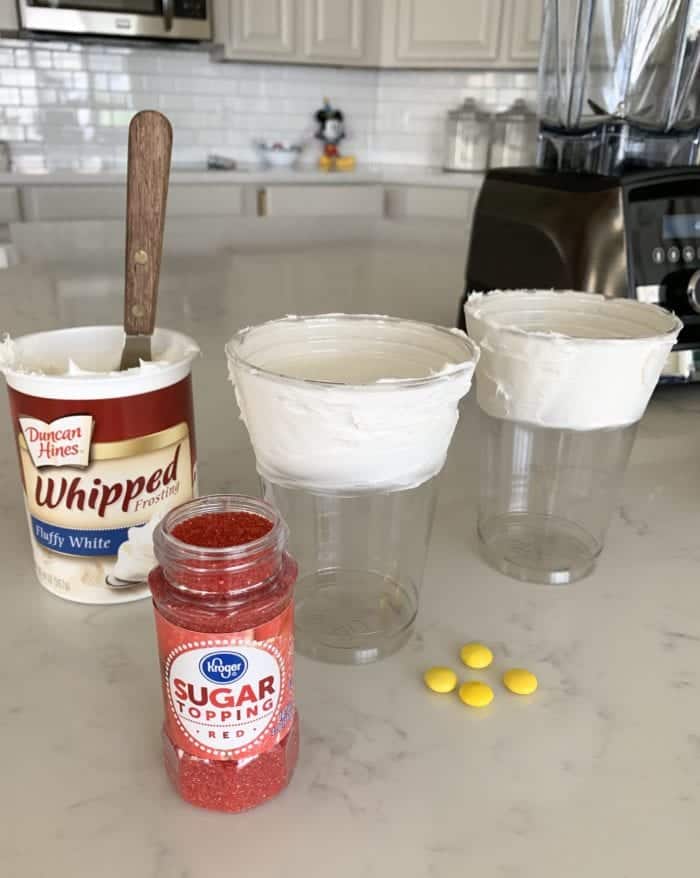 Once both cups are frosted, it's time to press the red sugar around the frosting portion of your cups.
Roll Frosted Cups in Red Sugar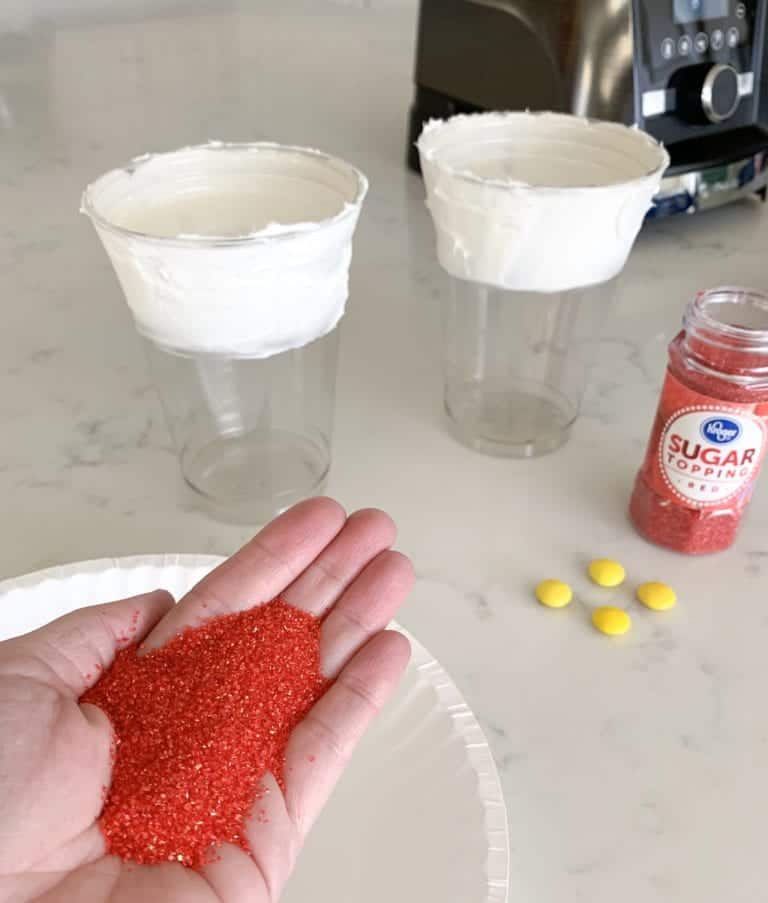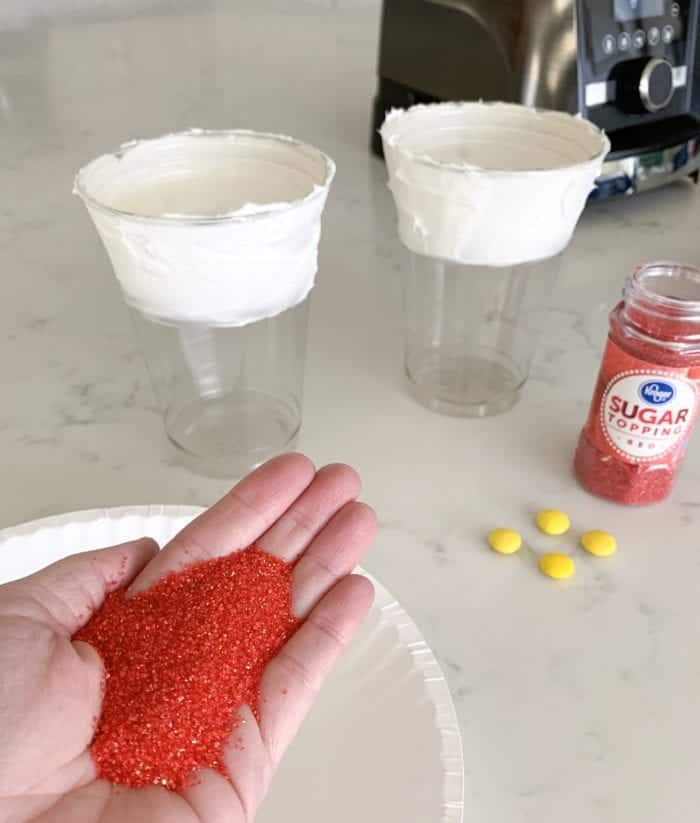 I found it easiest to pour the sugar into my hand over a paper plate to catch the excess. Take your frosted cups and press into the sugar in your hand until covered completely with sugar.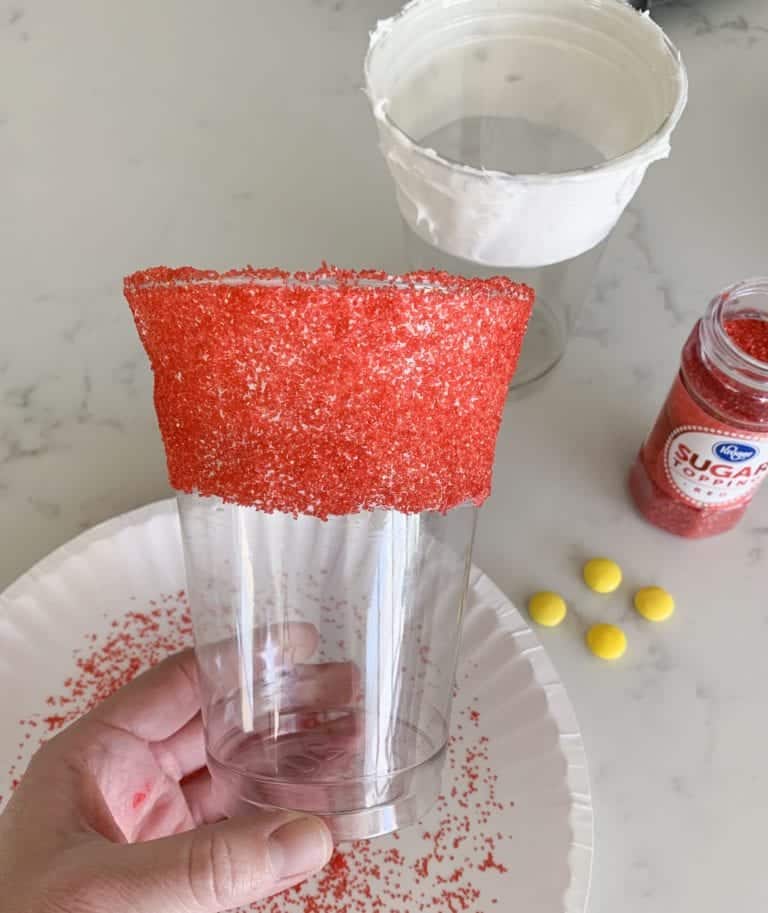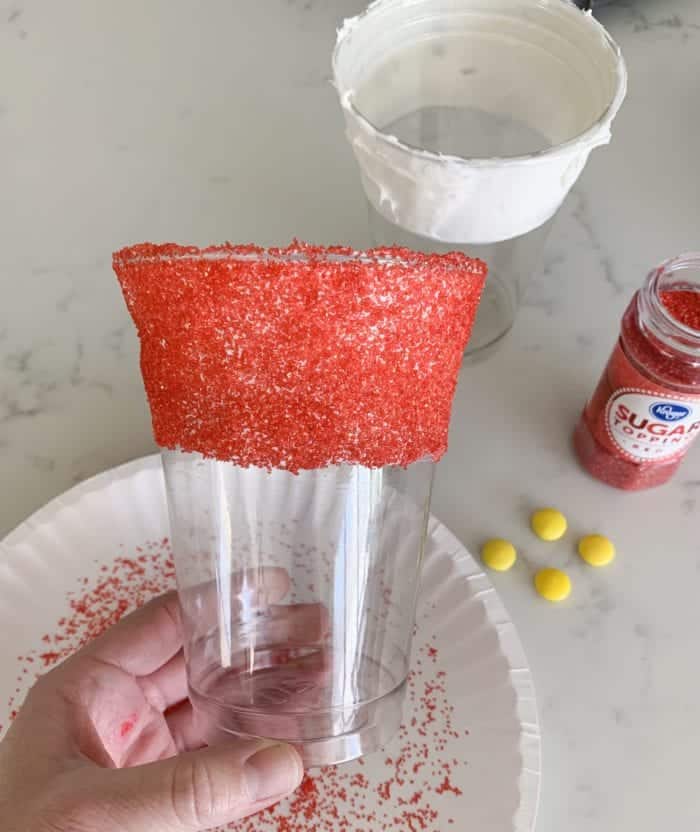 Feel free to coat it twice to get more coverage. There will be some red sprinkles that attach themselves below the frosting on the cup. Take a barely damp paper towel to clean it up.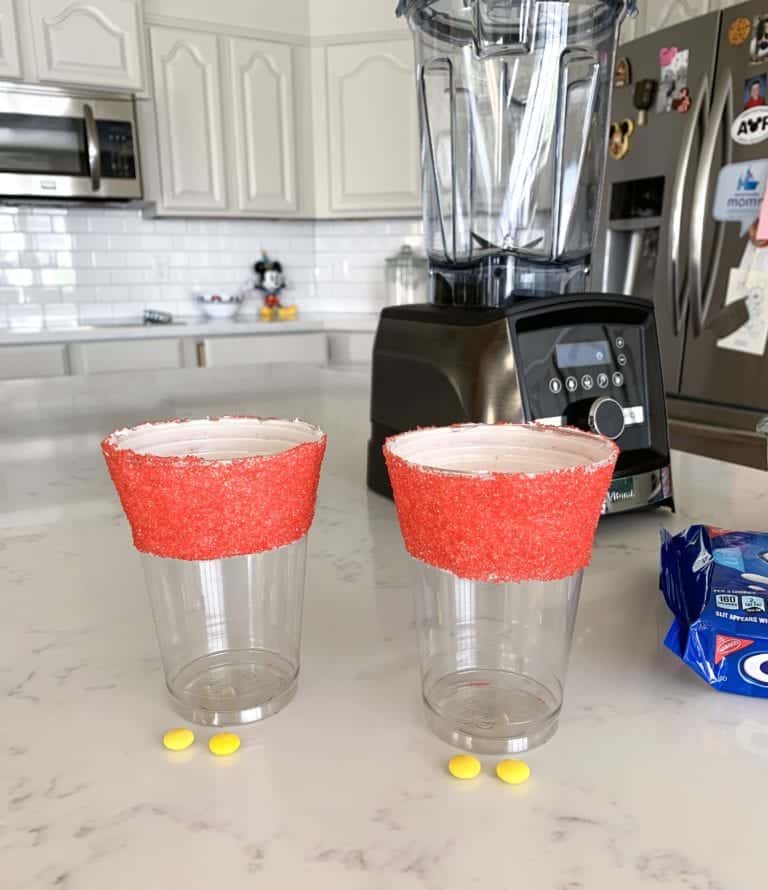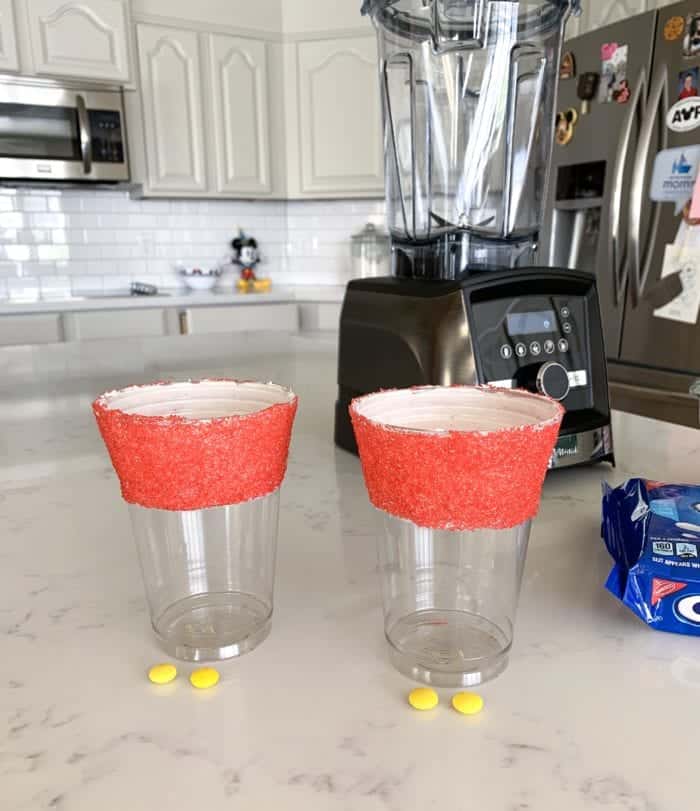 Once you are happy with your red tops, time to attach the yellow "buttons."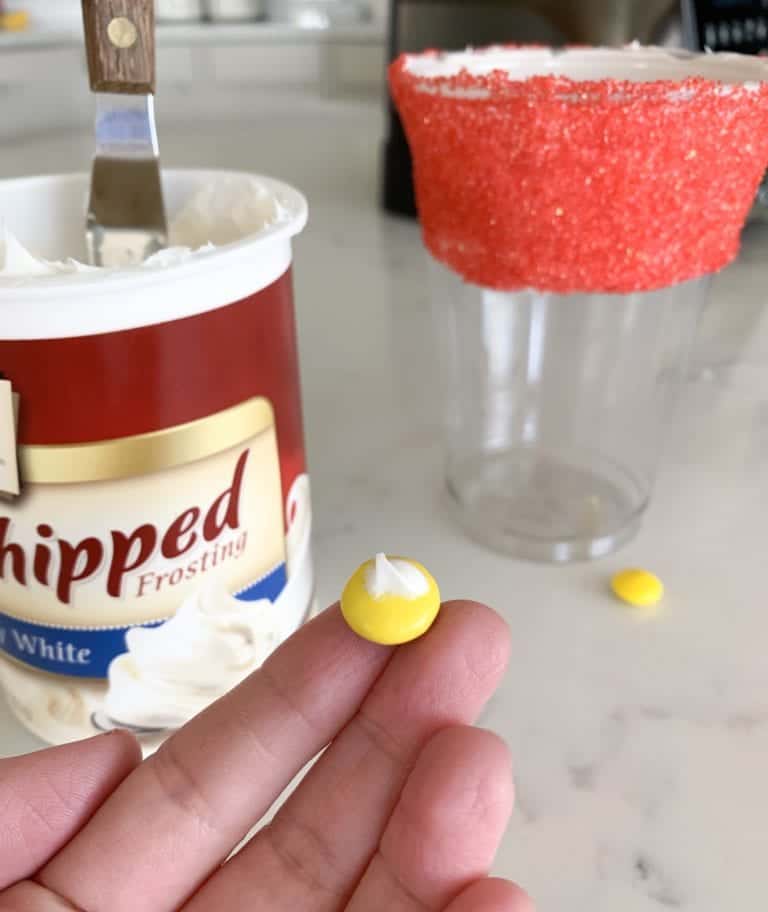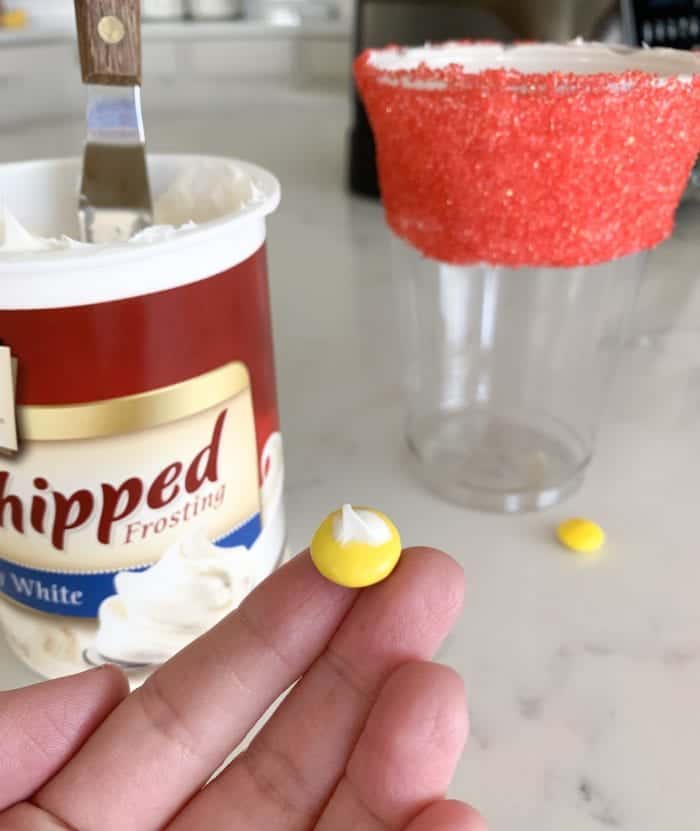 Put a very small amount of frosting on the "M" side of you candy. Carefully press both candies onto the front of the cup. Doesn't take much pressure, just make sure it's secure.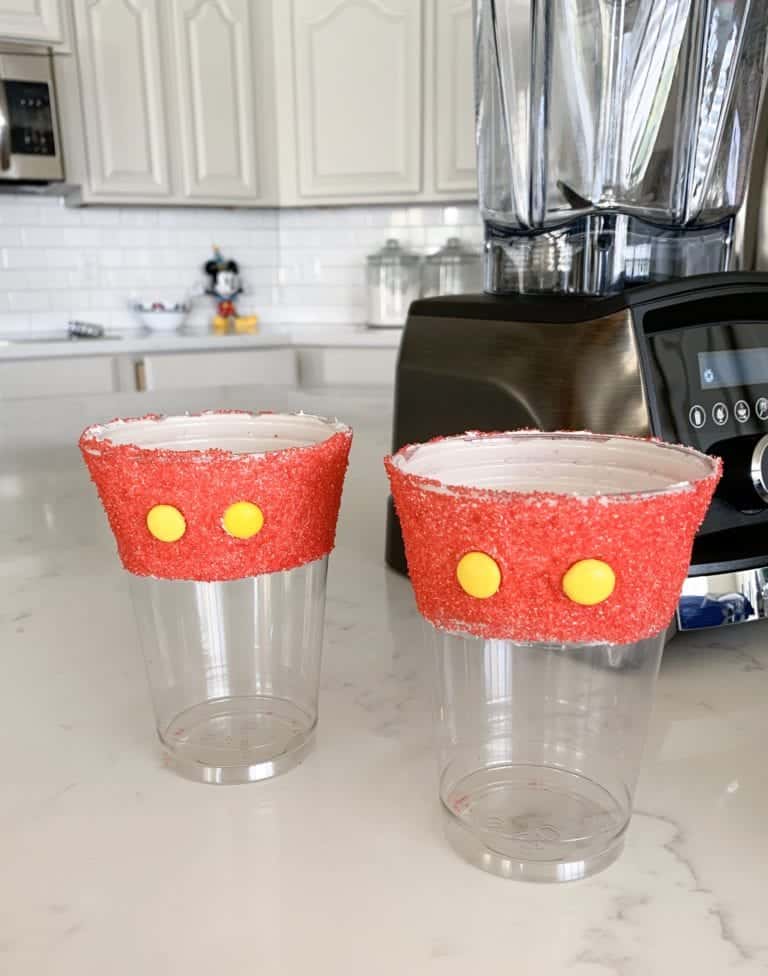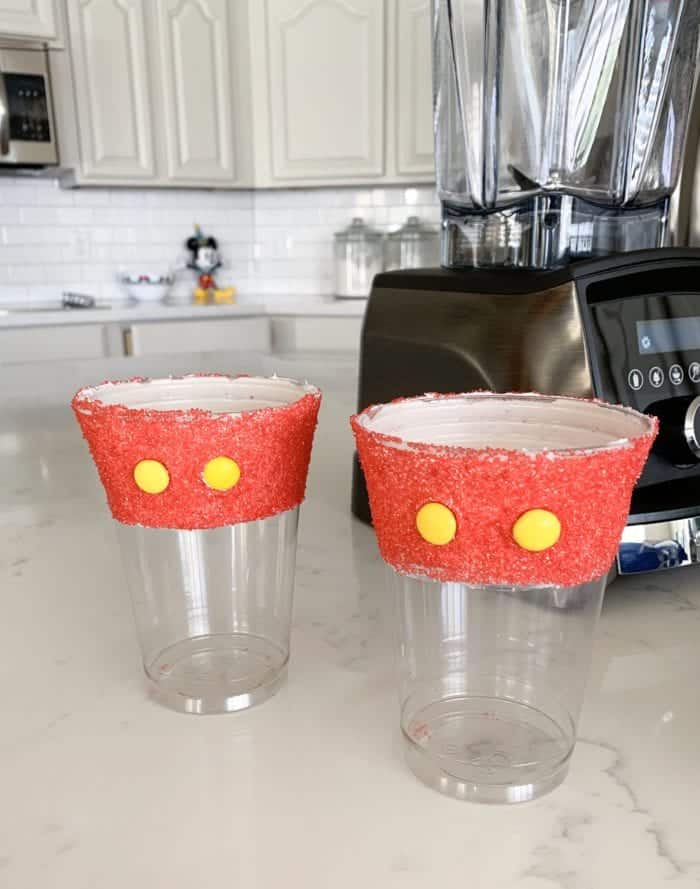 Cups are ready, now it's time to blend the milkshake!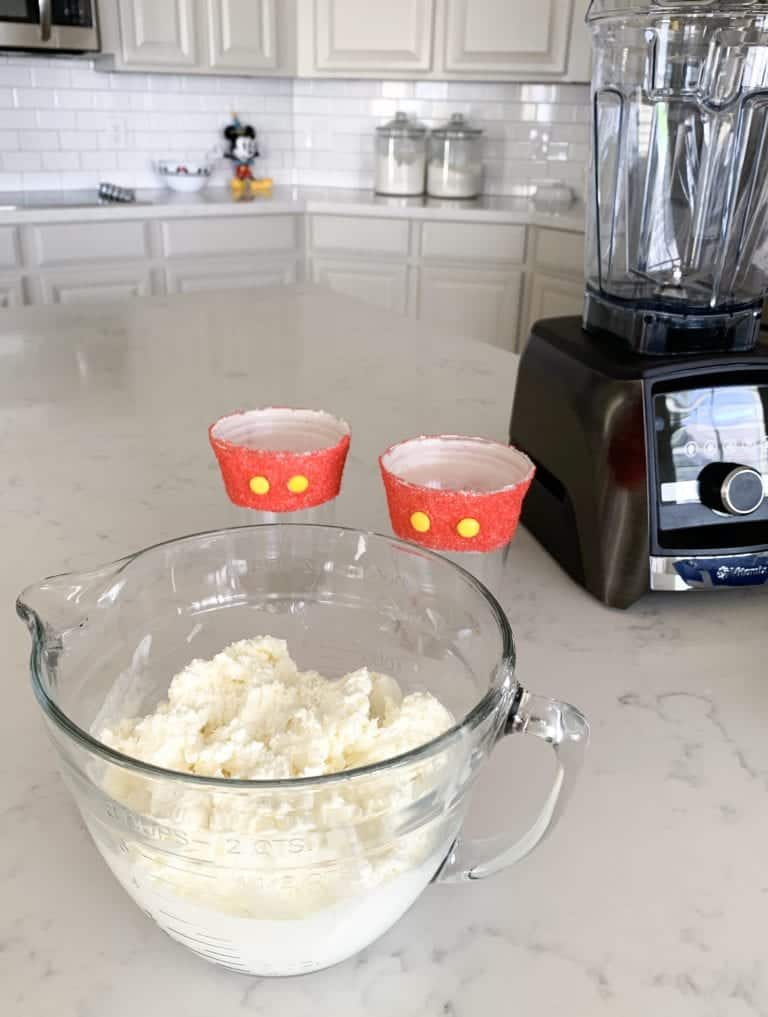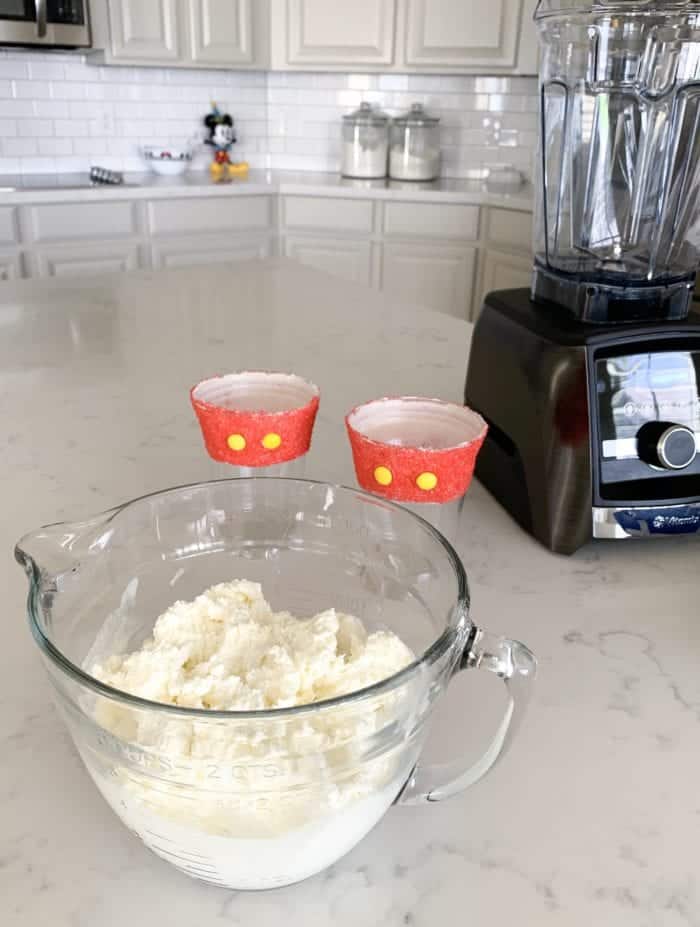 How to Make The Best Cookies and Cream Milkshake
Measure out 6 cups of vanilla ice cream. It was actually pretty close to 1/2 gallon. You could just put 1/2 gallon of vanilla ice cream into your blender to save washing a giant measuring cup.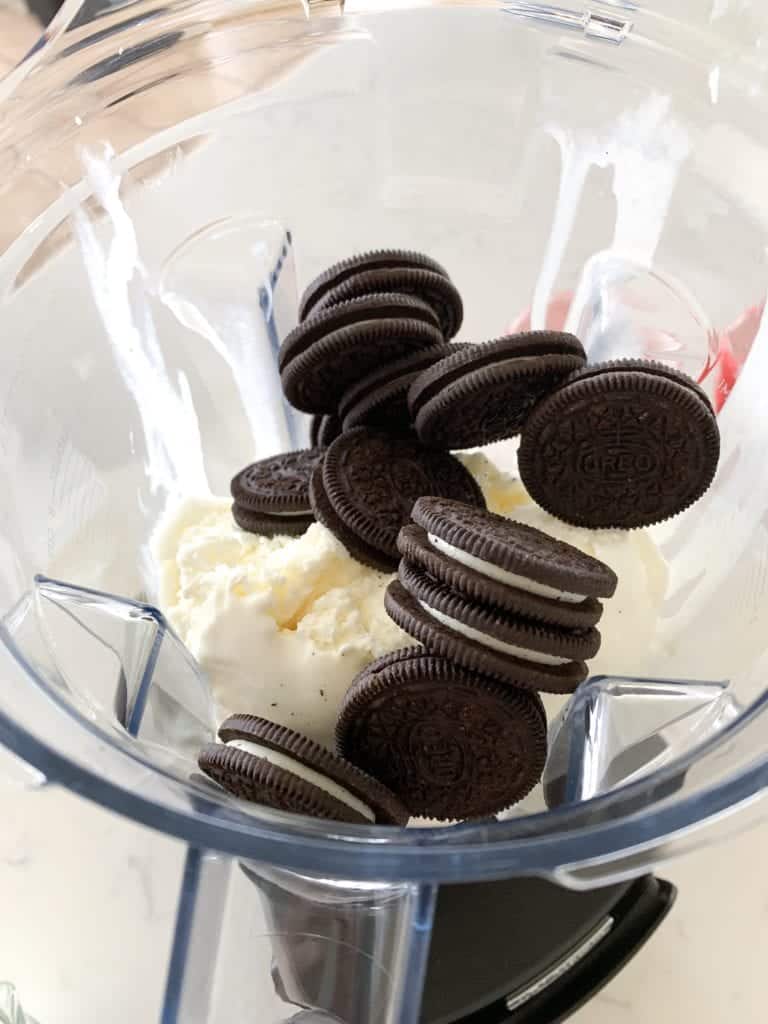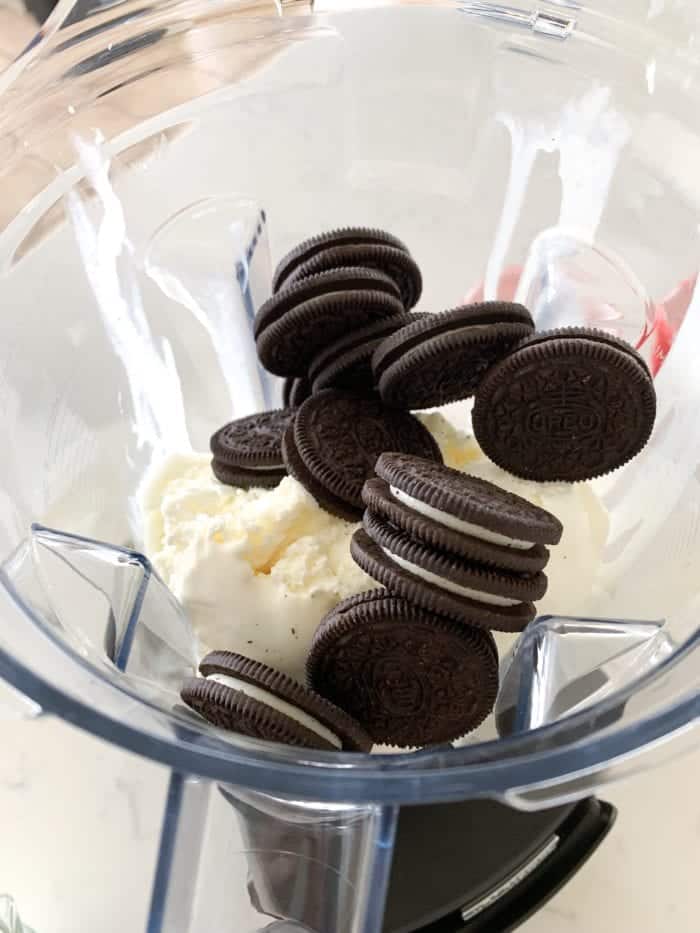 Place your ice cream into the blender along with 12 Oreo Cookies.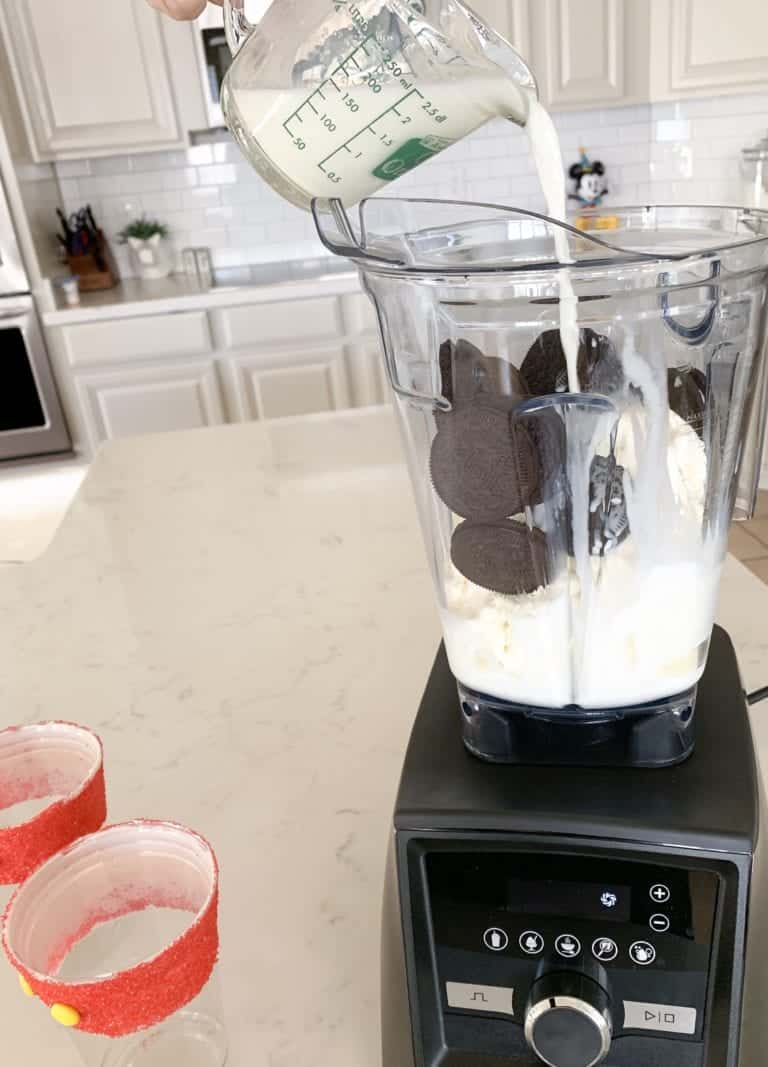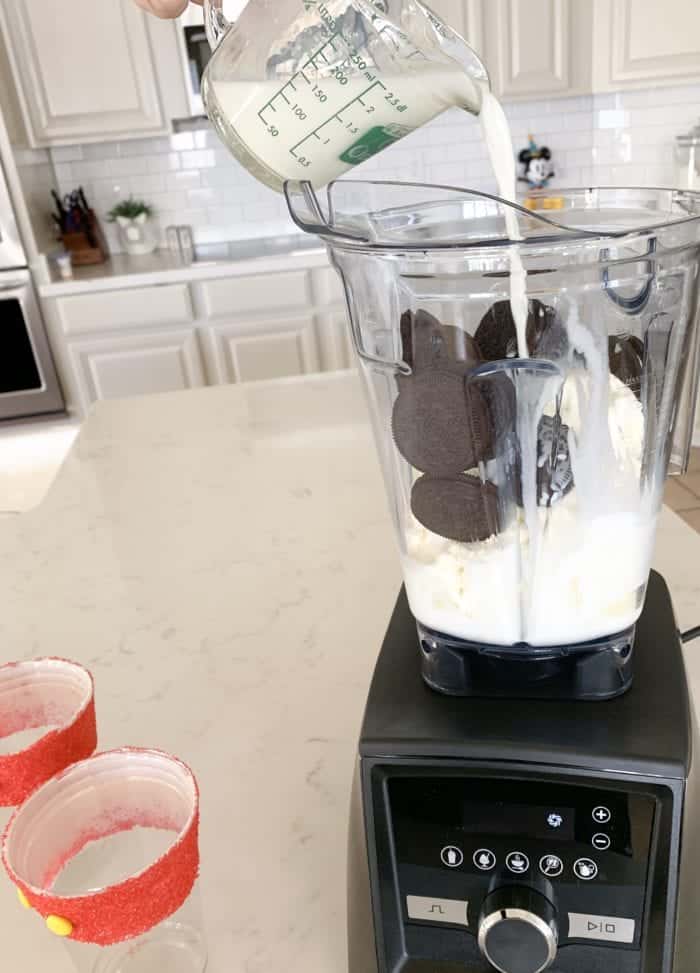 Pour in 1 cup of milk and blend until combined to your liking. If you like more of a thin milkshake feel free to add more milk. This recipe is for a medium thickness.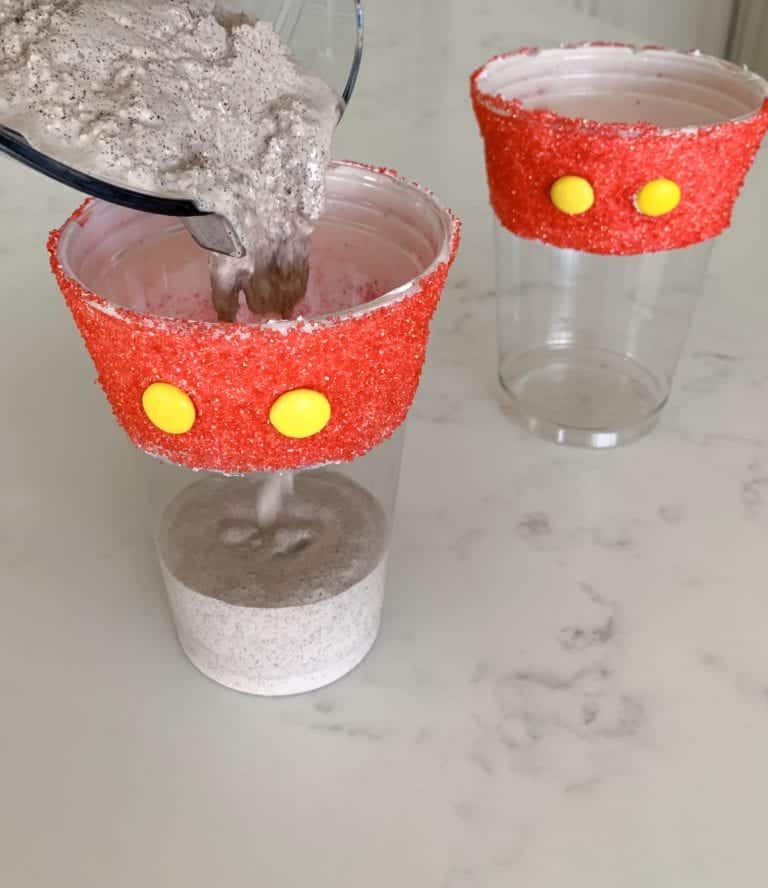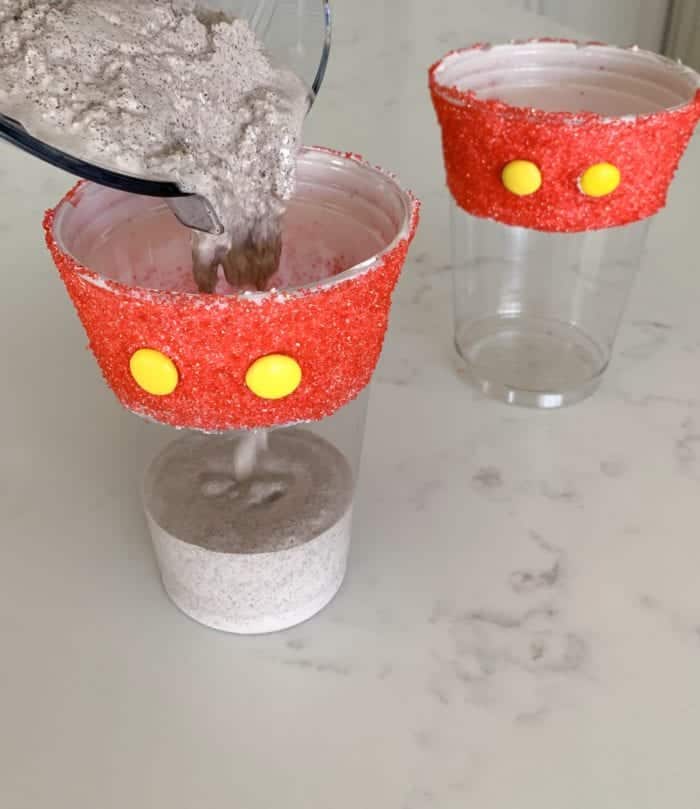 Pour milkshake into both cups. It filled two 20 ounce cups perfectly to the top.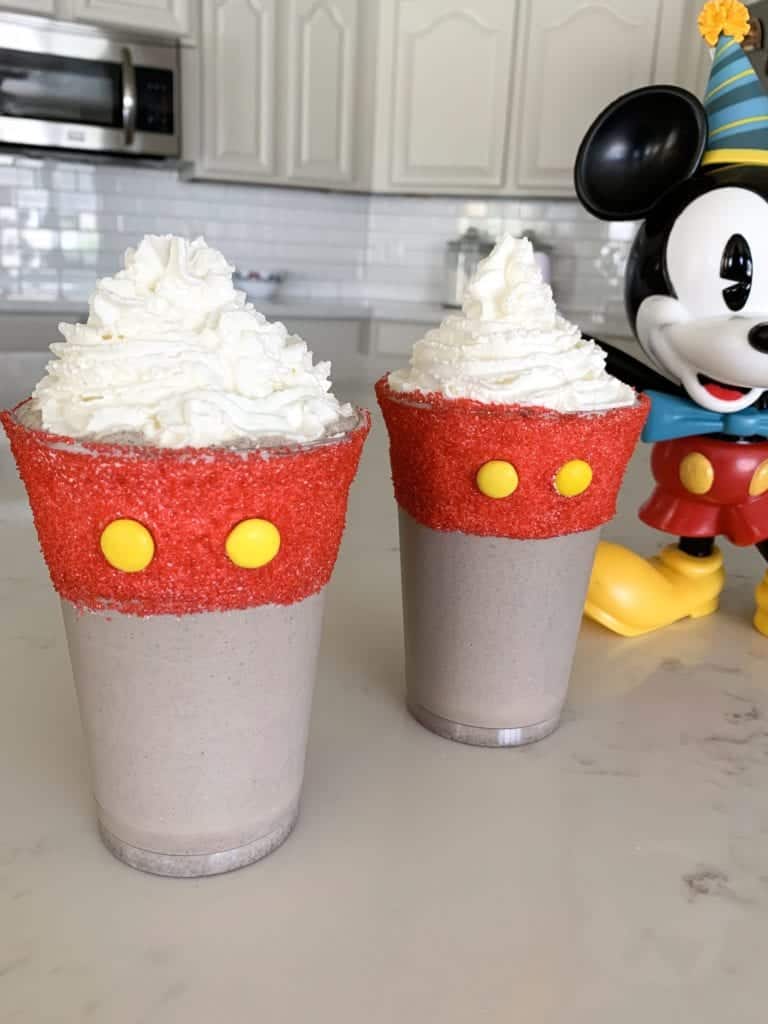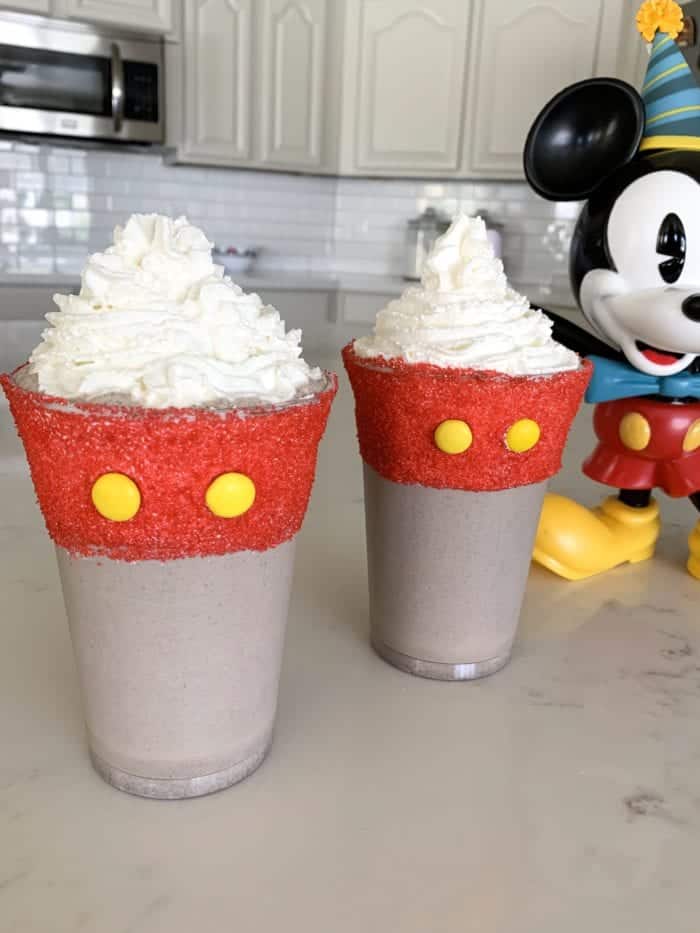 Top both with whipped cream. Tip…you can practice your whipped cream swirl on a paper plate first if you're nervous. It wastes a little, but gives you a chance to master your swirl.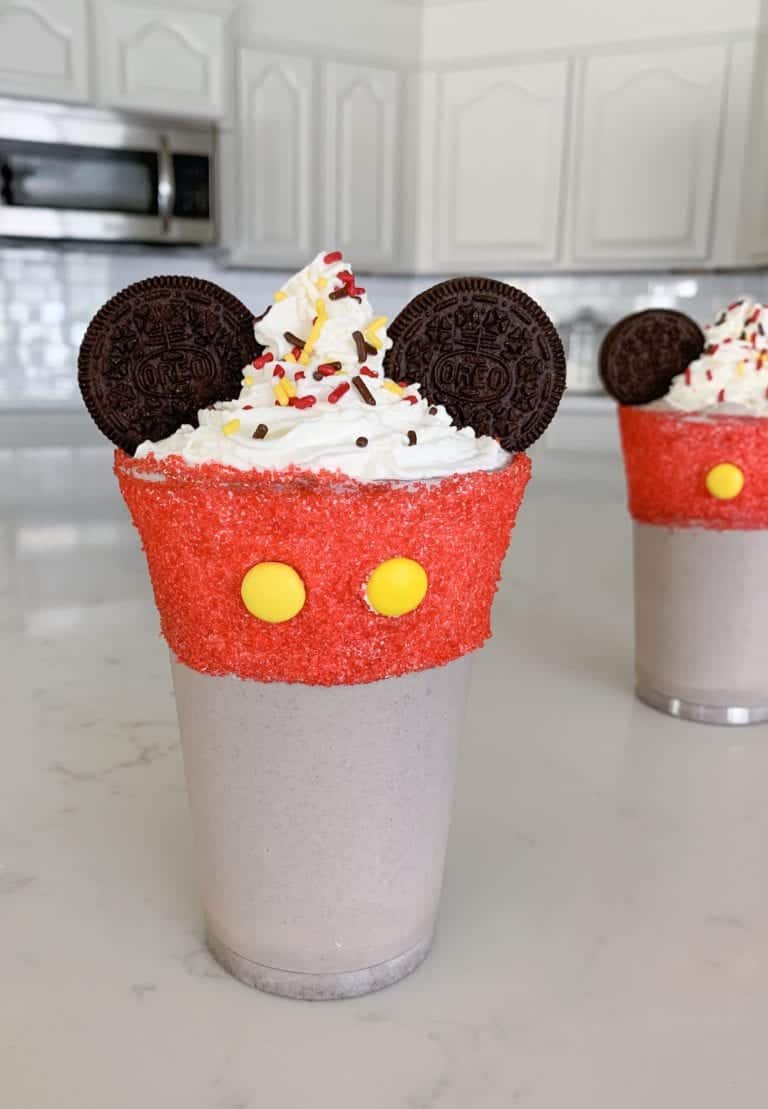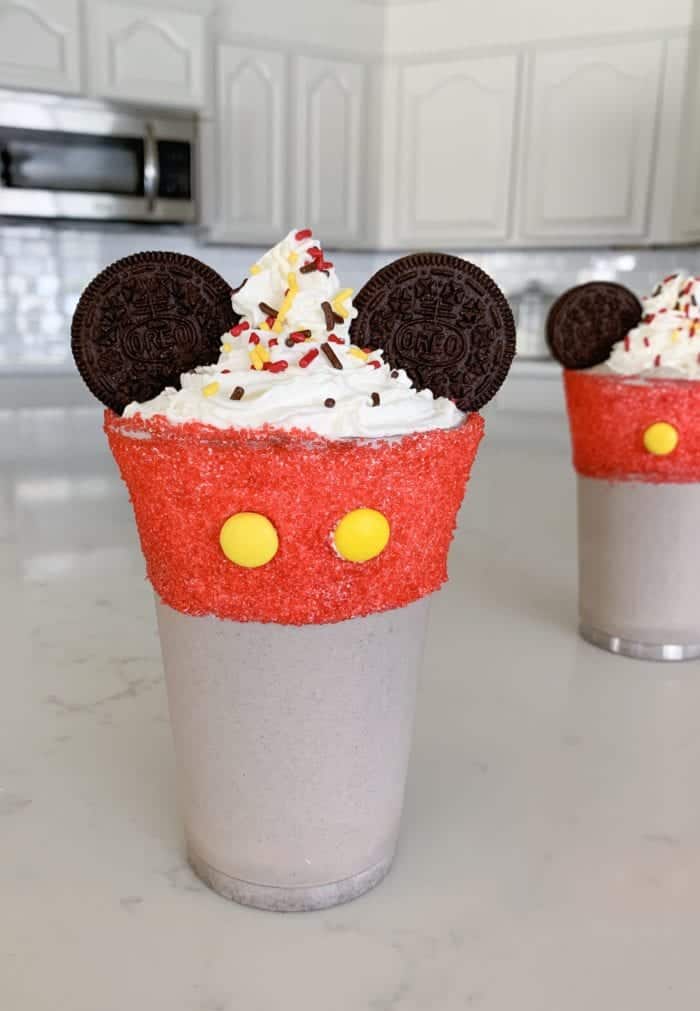 Place 2 Oreo Cookies on sides of cups as the "EARS" and top with red, black and yellow sprinkles. You might have to pick out these sprinkle colors from a sprinkle jar, the jar I had was multi-colored so I picked out the ones I wanted for the photo.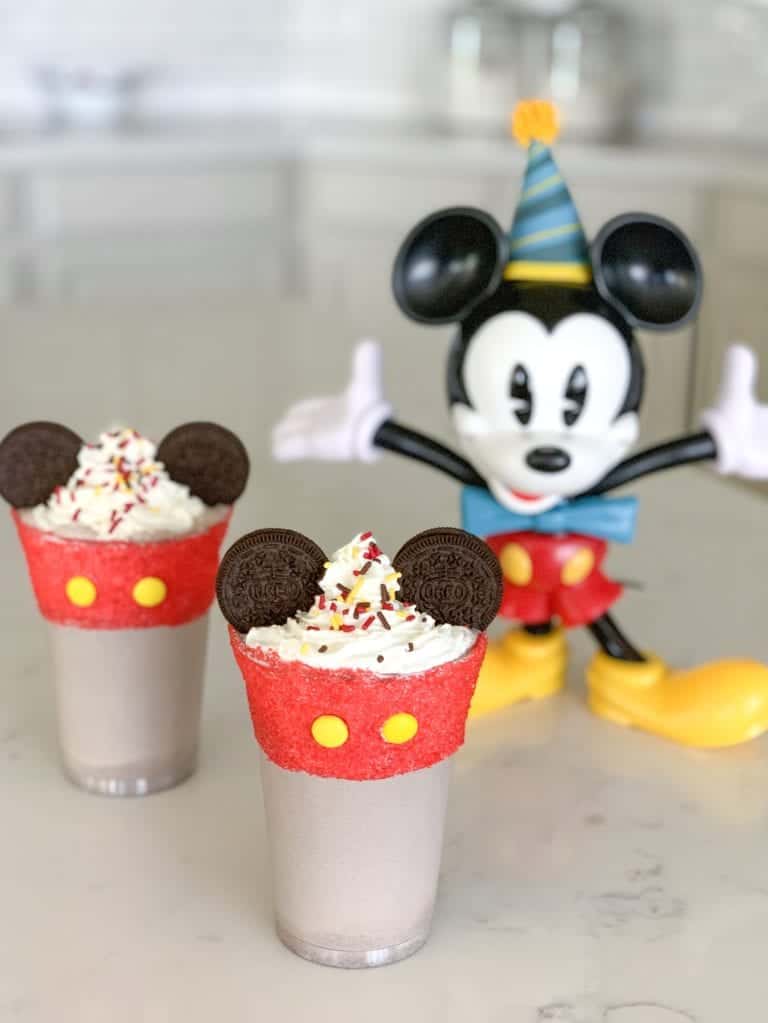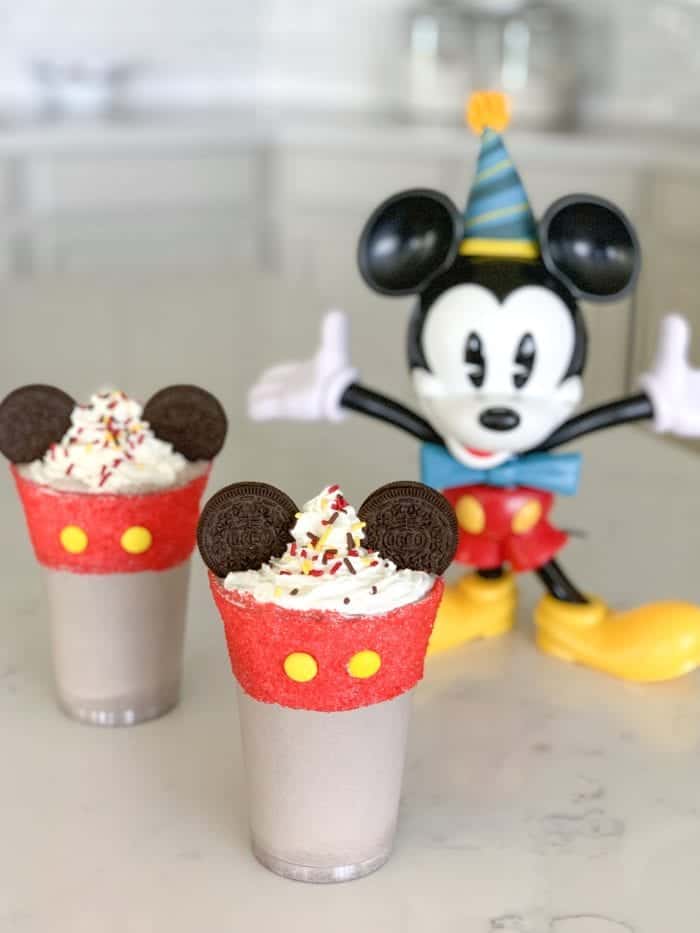 I don't know about you, but I think a Mickey Milkshake is much more fun than a regular milkshake 🙂 Enjoy some Disney Magic at home!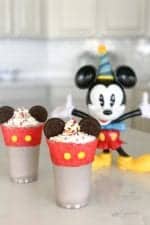 Mickey Cookies and Cream Milkshake
This Mickey Cookies and Cream Milkshake is just like the one from Disneyland! It's the best oreo milkshake recipe ever and it looks so darn cute!
Print
Pin
Ingredients
For Milkshake Cups
2

clear plastic cups

20 ounce size is what I used

1/4

cup

white frosting

1/2

cup

Red Sanding Sugar/Sprinkles

4

yellow M&M Candies

1

tablespoon

red

yellow, and black sprinkles

6

cups

vanilla ice cream

10

Oreo Cookies

1

cup

milk

1

cup

whipped cream
Instructions
To decorate your milkshake cups, carefully spread a small amount of white frosting along the outside of the top 1/4 of the cup. Make sure it's a nice thin layer.  Roll the frosting portion in the red sugar until covered completely.  Place a little dot of frosting on the back of each M&M then press onto front of the cup about 1 inch apart from each other.

To make the milkshake, place vanilla ice cream, Oreo Cookies and milk into a blender.  Blend until well combined.
Nutrition
Calories:
1580
kcal
|
Carbohydrates:
216
g
|
Protein:
22
g
|
Fat:
71
g
|
Saturated Fat:
38
g
|
Cholesterol:
209
mg
|
Sodium:
702
mg
|
Potassium:
1122
mg
|
Fiber:
4
g
|
Sugar:
186
g
|
Vitamin A:
2070
IU
|
Vitamin C:
2.4
mg
|
Calcium:
688
mg
|
Iron:
5.6
mg
Keywords:
best disneyland food, Cookies and cream milkshake, disney food, Disney recipe, disneyland food, oreo milkshake, oreo milkshake recipe, oreo shake
This is in no association to Disneyland Resort, just my own interpretation at home 🙂
Pin Mickey Cookies and Cream Milkshake