Sharing a Disneyland Copycat recipe today, Peanut Butter and Jelly Pizza, a favorite from Goofy's Kitchen! This dessert pizza is simple to prepare and absolutely delicious!
Goofy's Kitchen, Disneyland Hotel
Disneyland Hotel is one of my favorite Disneyland Hotels to visit because Goofy's Kitchen is on property! Goofy's Kitchen is a Character Dining experience that we have visited a number of times as a family. One of our favorite menu items is hands down the Peanut Butter and Jelly Pizza! I got my hands on the original recipe from Goofy's Kitchen and can't wait to share it with you. It's simple to make and such a fun snack.
Be sure to try my Churro Toffee recipe too! Follow Picky Palate on Instagram for daily recipe inspiration.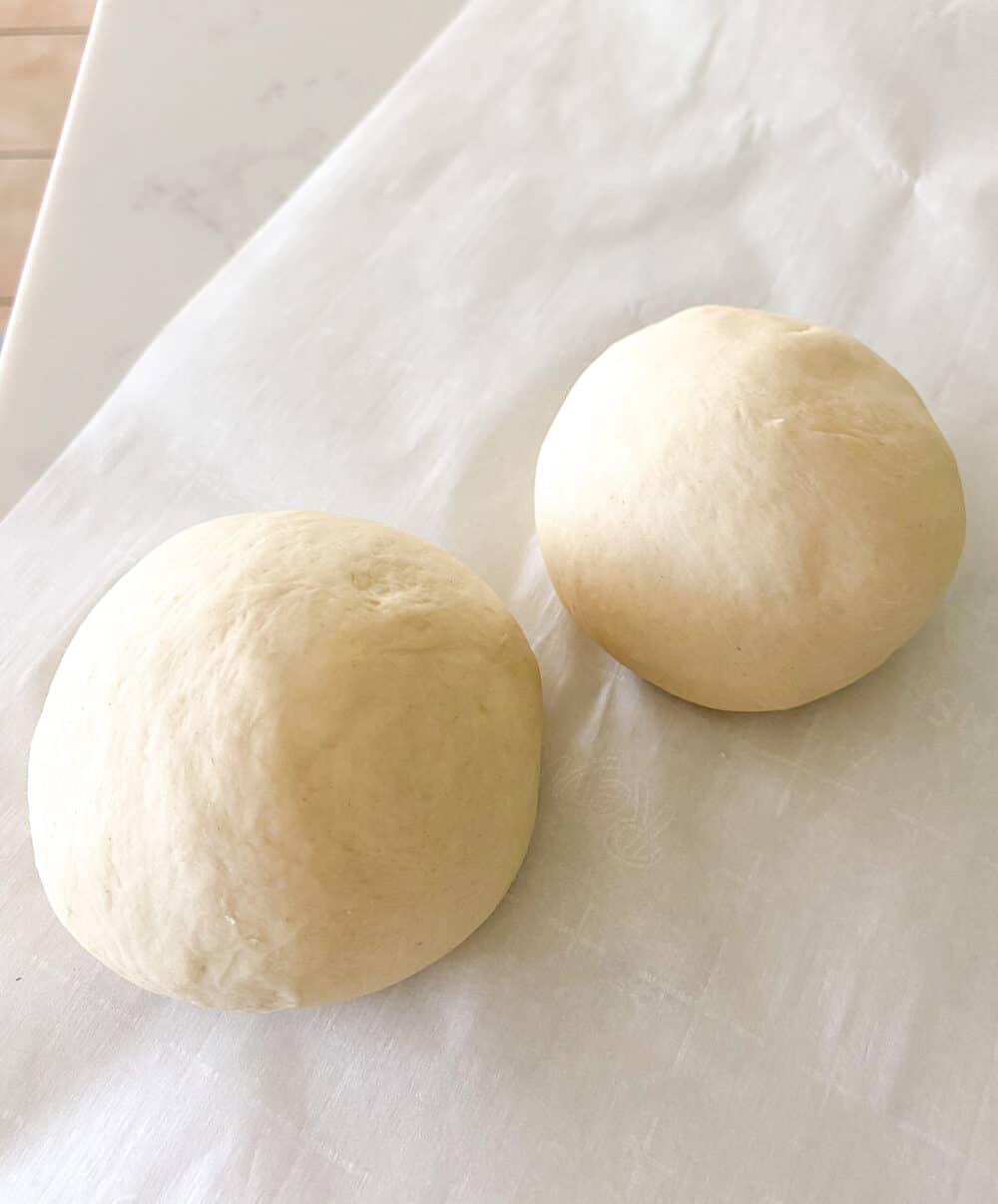 What You'll Need
warm water– Warm water will activate the yeast for the pizza dough.
active dry yeast– Find active dry yeast in the baking section of the grocery store.
honey– Use your favorite brand of honey for a touch of sweetness to the dough.
all-purpose flour– all-purpose flour is the main dry ingredient in the pizza dough.
kosher salt– Kosher salt is a coarse salt commonly used in cooking and baking.
extra virgin olive oil– Olive oil is used as part of the wet ingredients of the pizza dough.
creamy peanut butter– Once the pizza dough has baked, you'll spread creamy peanut butter over the crust.
grape jelly– Grape jelly is placed over the peanut butter.
How To Make Goofy's Kitchen Peanut Butter and Jelly Pizza
To prepare pizza dough, place warm water in a small bowl; add yeast and honey, stirring to dissolve. Set aside for 5 minutes, mixture will almost double in size.
Combine flour and salt in stand mixer with a fitted dough hook attached. Add olive oil and yeast mixture, continue mixing on low speed for 5-7 minutes, until dough pulls away from the sides of bowl and forms a smooth, sticky ball. If the dough is too wet and doesn't pull away, gradually add small amounts of flour until it cleans sides of bowl.
Transfer dough onto a clean work surface, lightly dusted with flour or on top of parchment paper. Cut dough into two equal pieces.
Form each piece into round balls. Knead each piece a couple times then place into 2 separate mixing bowls sprayed with cooking spray.
Cover with plastic wrap and let rise in a warm space for 1 hour. I turn my oven on warm temperature for 10 minutes, then turn it off for the dough to rise in a warm space.
How to Bake this Dessert Pizza
Preheat oven to 350 degrees F. Remove dough from oven and punch down to deflate. Transfer each dough ball onto a clean surface dusted with flour or lined with parchment paper. With a rolling pin, roll dough 10-12 inches 1/4 inch thick. Lightly spray two 12 inch pizza pans with cooking spray. Transfer dough to pizza pans and bake for 8-10 minutes or until cooked through.
For toppings, melt peanut butter and jelly in two separate heat proof bowls in the microwave for 15 seconds. Spread warm peanut butter over hot crust with an offset spatula or butter knife.
Place the warm jelly into a piping bag you can snip the corner or place the jelly in the corner of a ziplock baggie, snipping a small corner to use as a piping "pen." Squeeze a small circle of jelly in the center of the pizza. Continue making larger circles working your way to the outside crust and forming a "target" pattern.
Gently pull a knife across the jelly circles working from the crust to the center of the pizza to create pattern lines. Bake pizzas for another 2-3 minutes if desired. (I did not bake a second time)
Once dough has doubled in size, punch each pice of dough and remove from bowl onto a parchment lined counter top.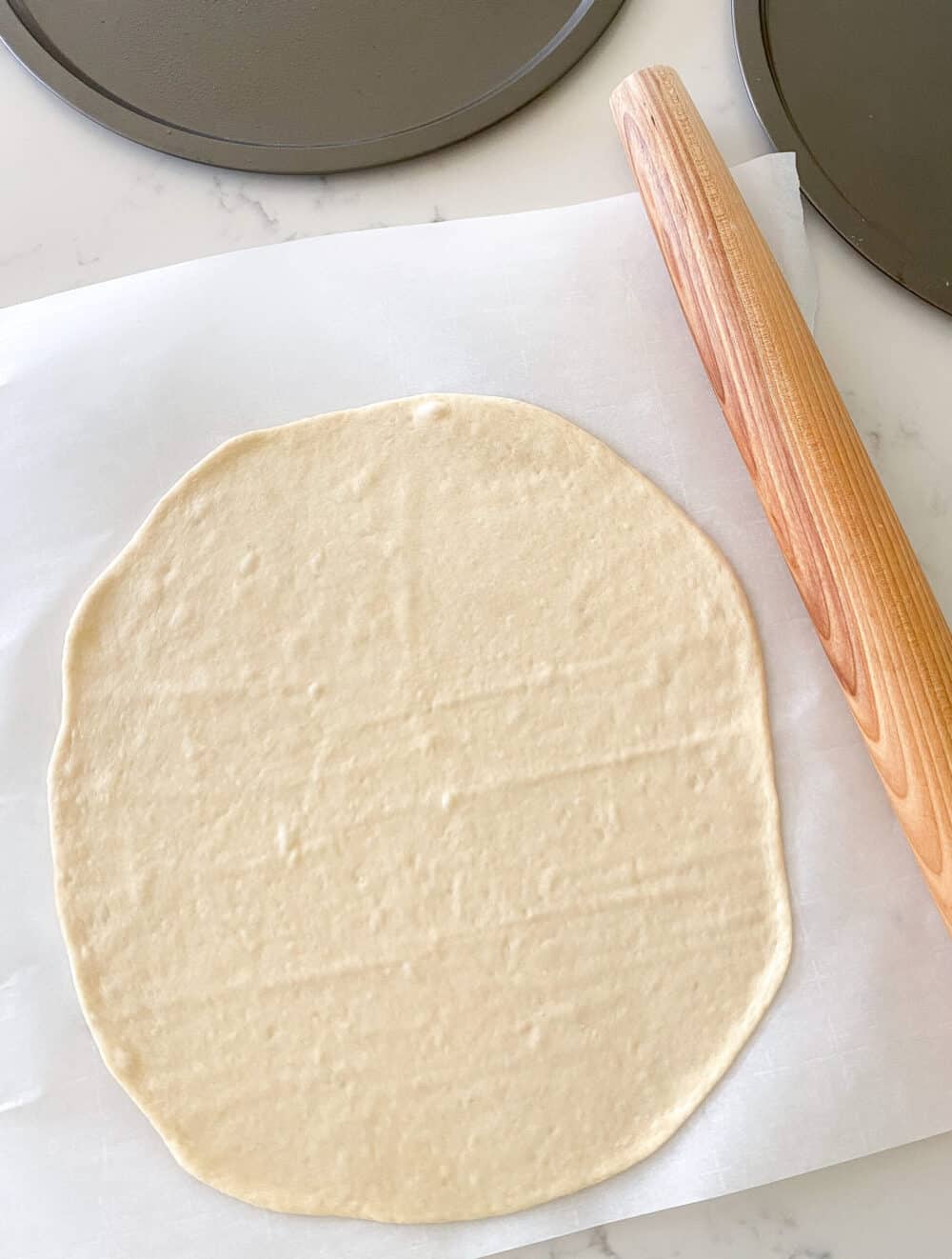 Roll dough into a 10-12 inch round.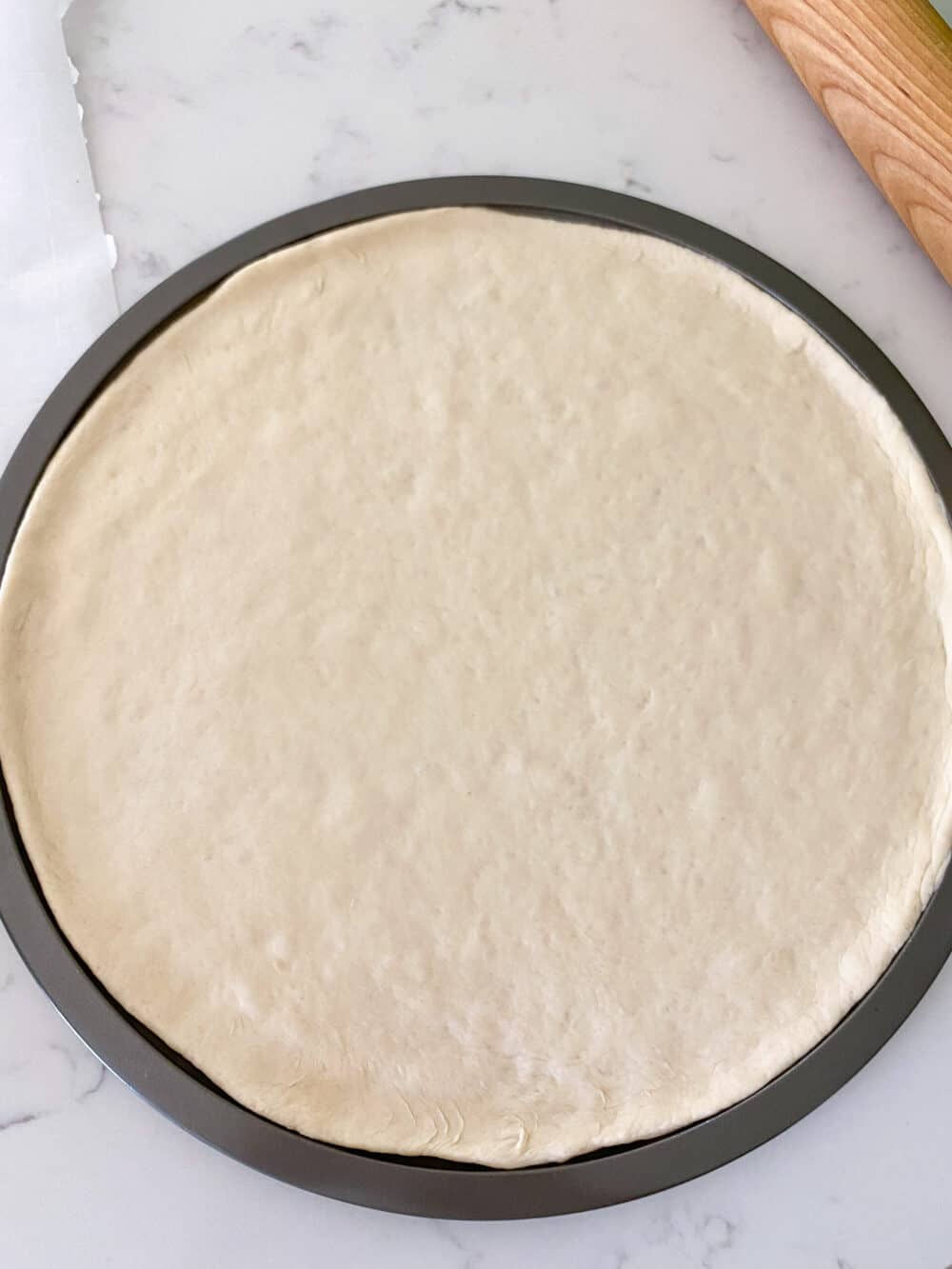 Place dough onto a lightly greased pizza pan and bake for 8-10 minutes.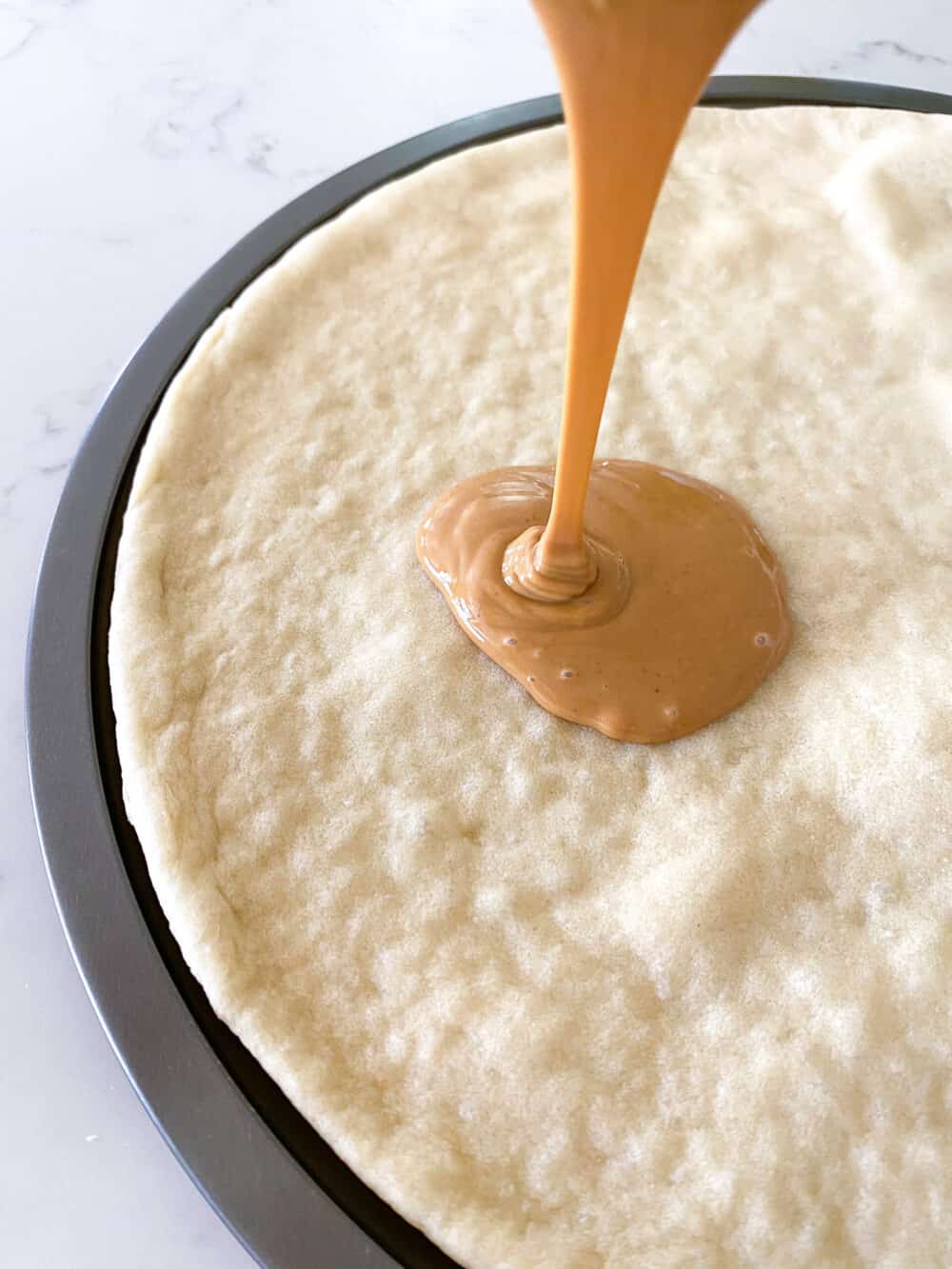 Remove from oven and spread evenly with melted peanut butter, leaving 1/2 inch around edges. I warm creamy peanut butter into a heat proof bowl for about 30-40 seconds until liquid-like.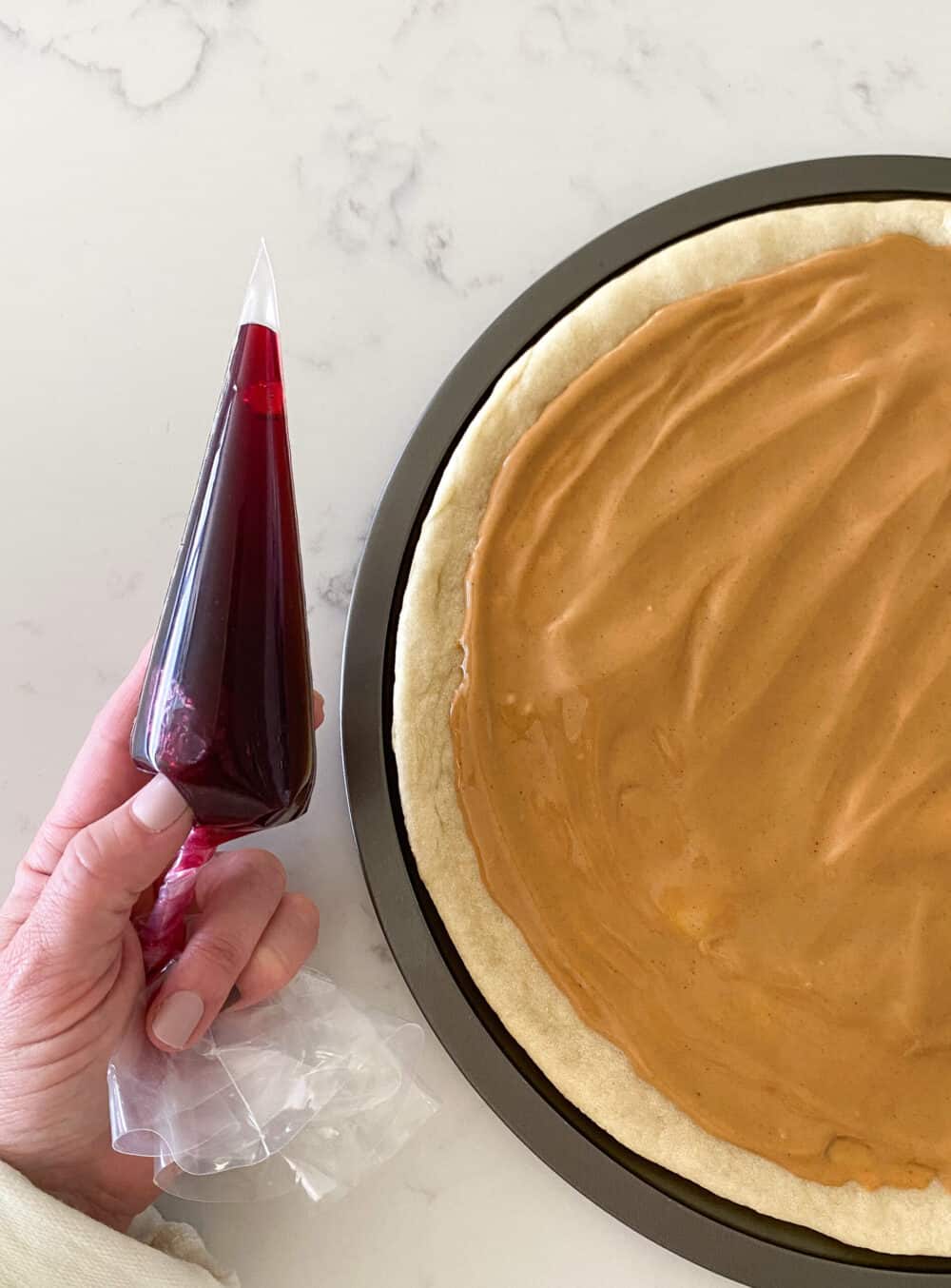 Do the same with the grape jelly. Warm in a heat proof bowl for about 30 seconds. Stir until it's mostly liquid-like. Transfer the jelly to a piping bag that you can snip the edge or place it in a ziplock baggie corner too. You can snip a small corner off to use as a little piping bag.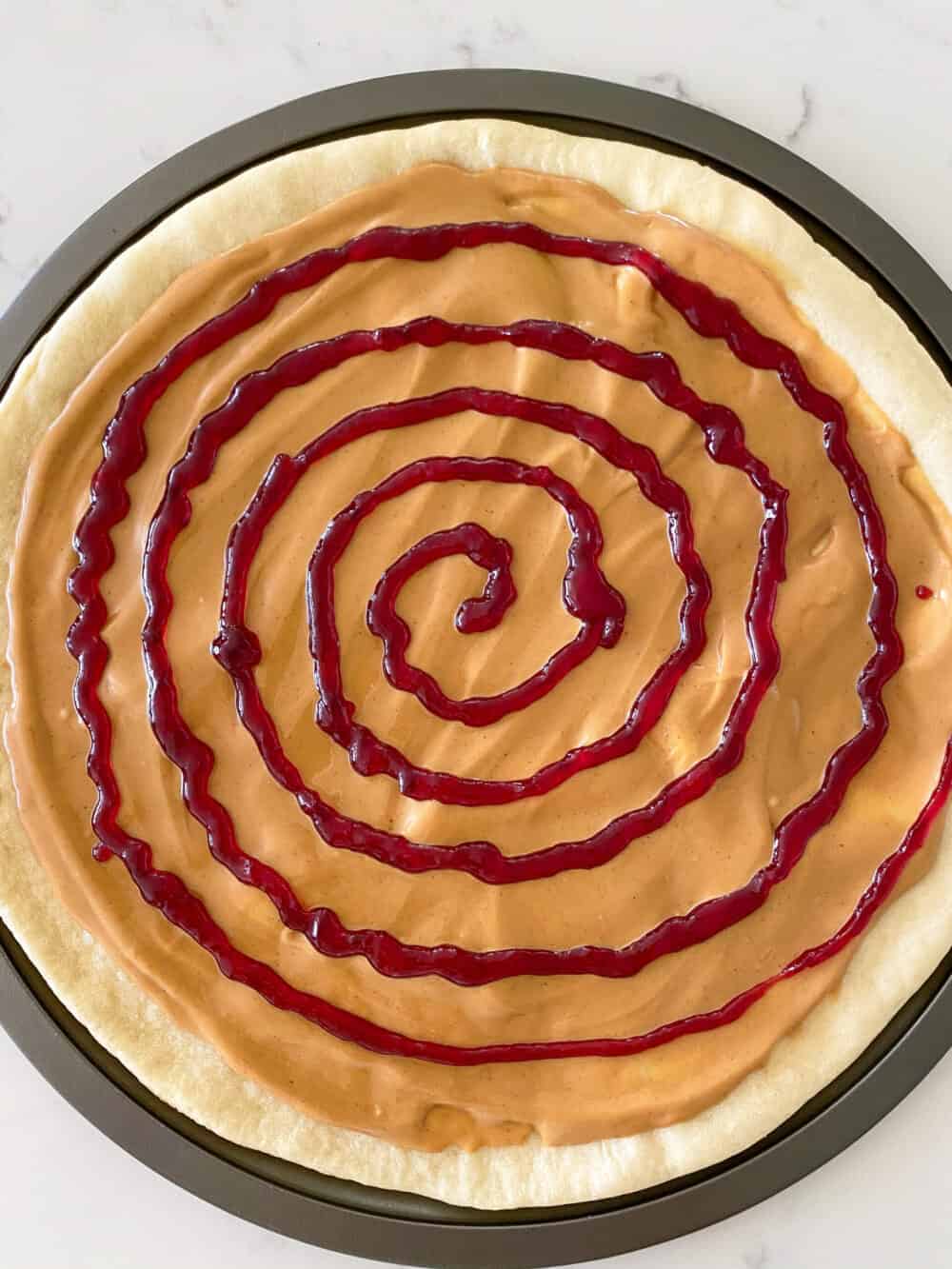 Starting from the center, make swirls as shown in the photo above. Go nice and slow to stay consistent.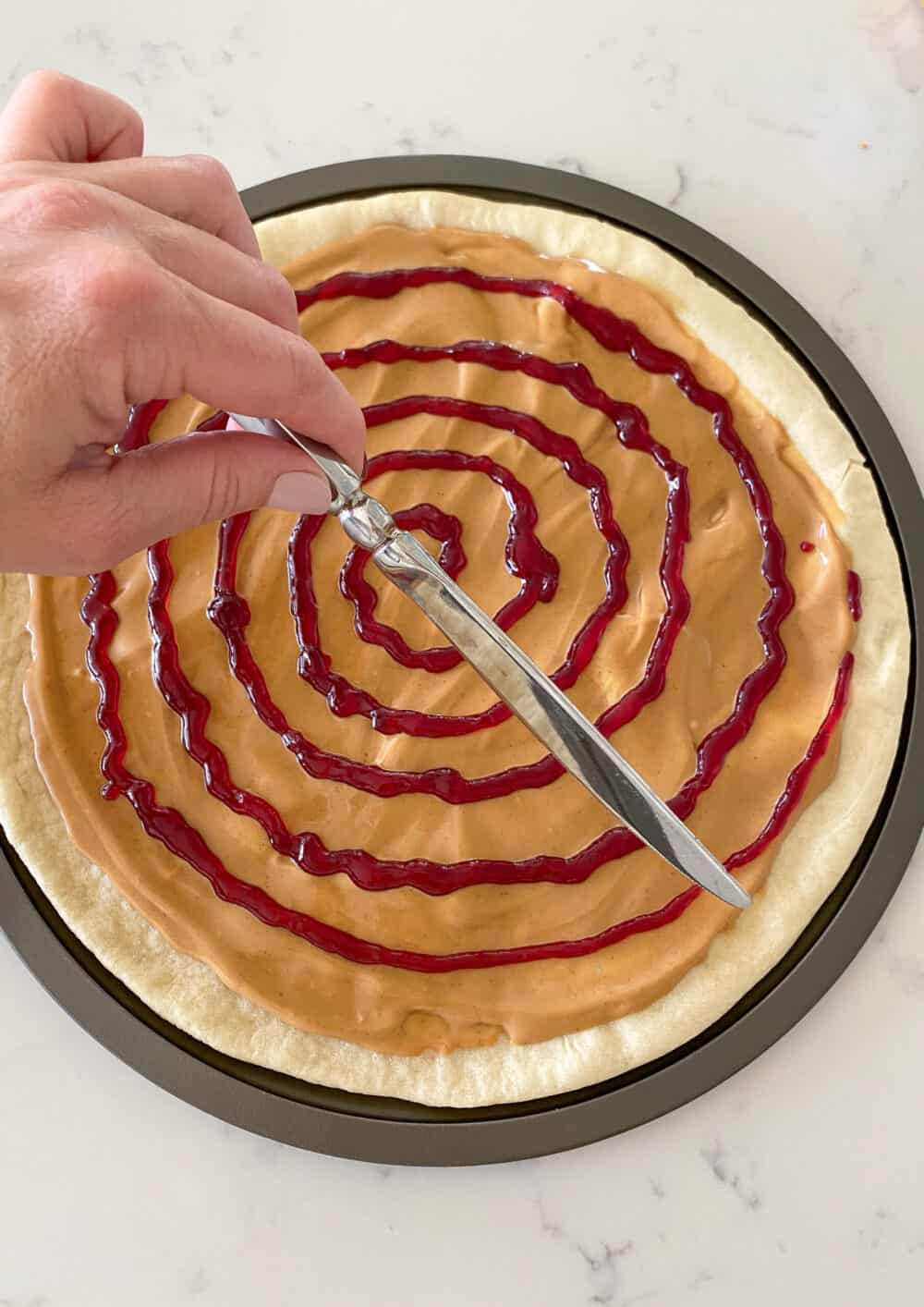 Use a knife, starting from the crust, pulling the peanut butter and jelly gently to the center.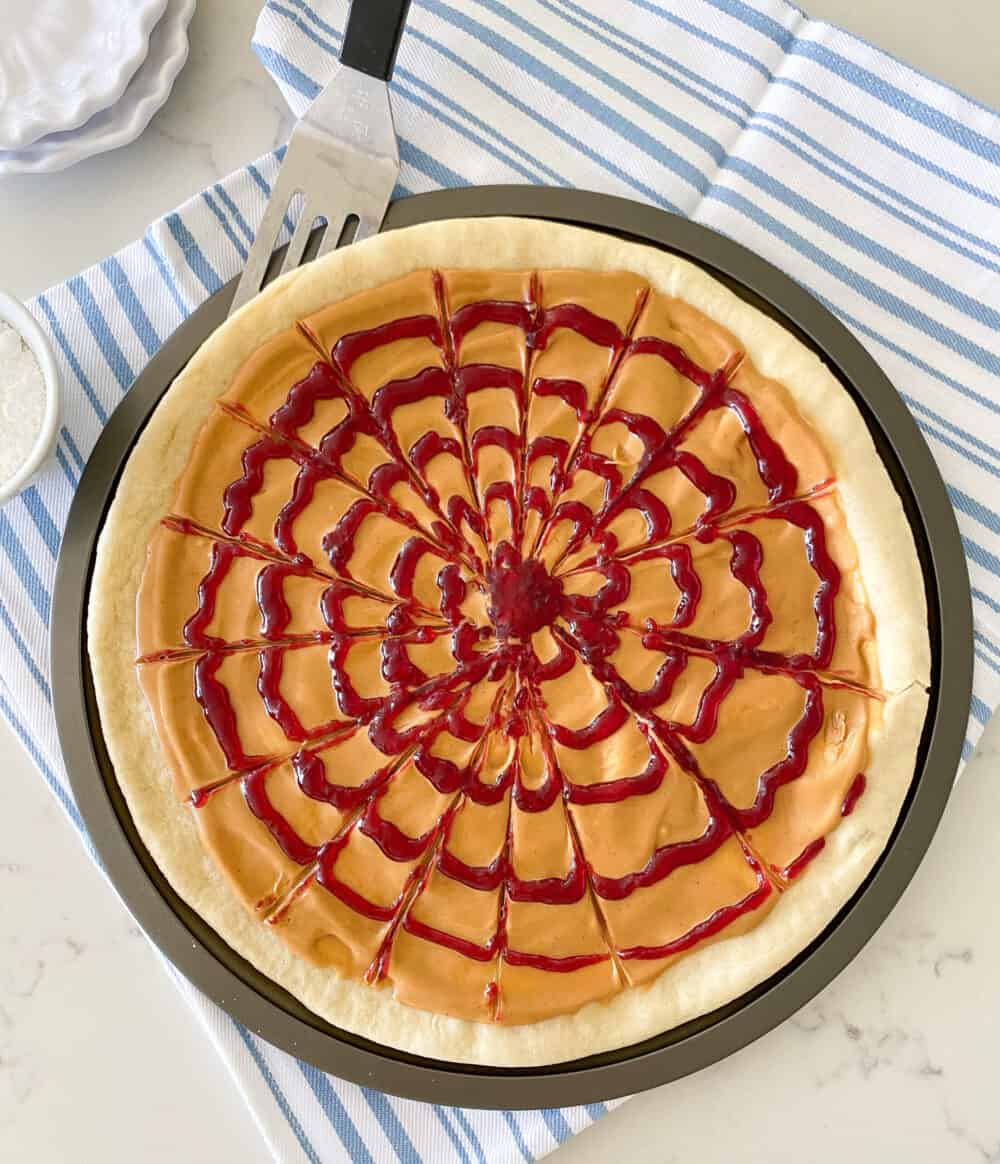 You'll get this kind of design when you work your way around the pizza. You can return the pizza to the oven for 2-3 minutes at this stage to melt slightly more if you'd like. I didn't end up baking for a second time.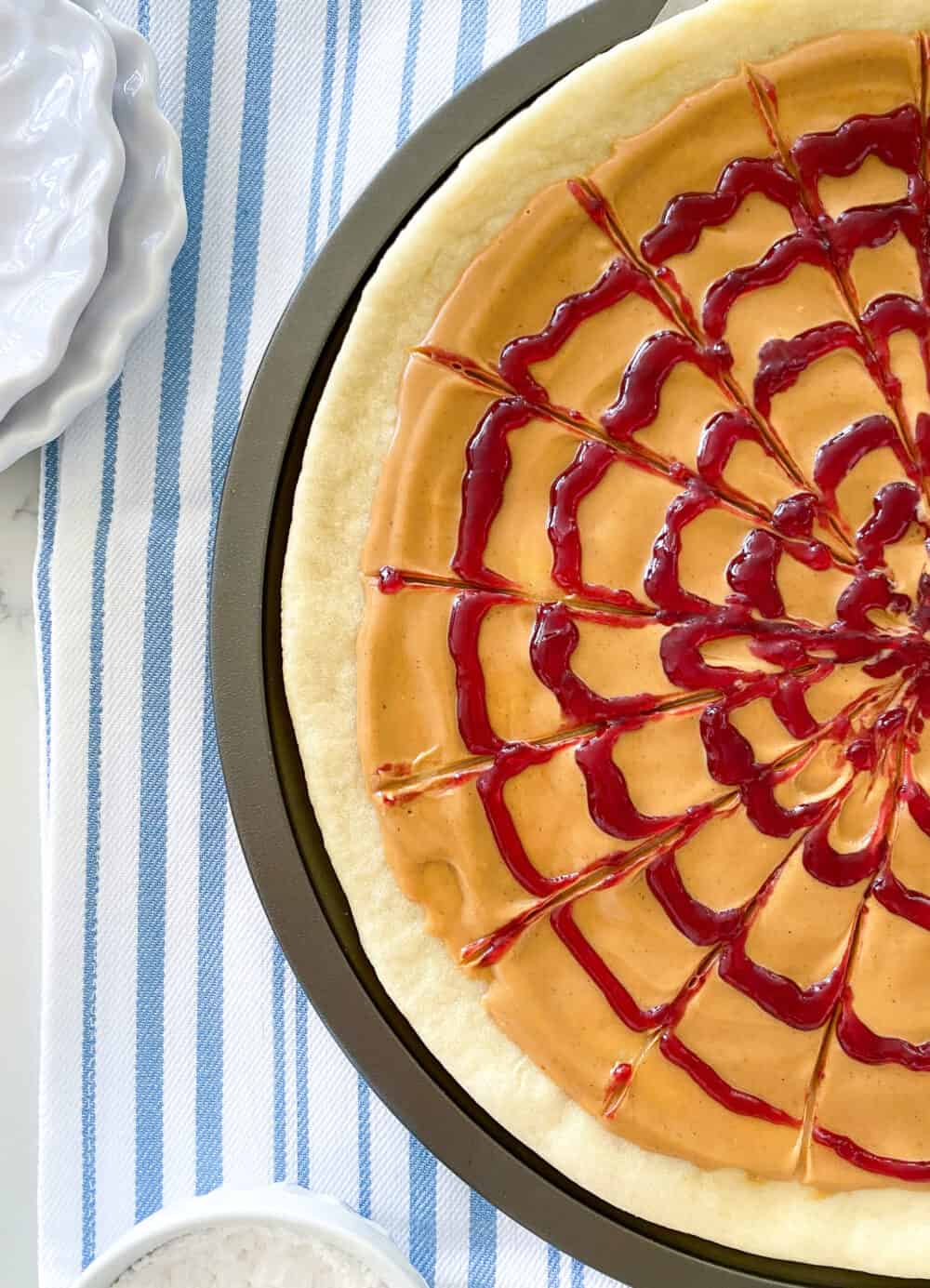 Use a pizza cutter to cut pizza into wedges.
How To Serve Peanut Butter and Jelly Pizza
This fun dessert pizza is good on its own, but is also nice to serve with a fruit salad. For more options, top the pizza with powdered sugar, mini chocolate chips and even whipped cream.
Leftovers
Store any leftovers in an airtight container in the refrigerator for up to 3 days. Reheat as needed.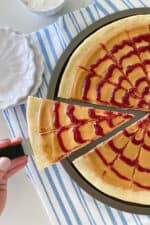 Peanut Butter and Jelly Pizza- Goofy's Kitchen (Recipe from Goofy's Kitchen)
This Peanut Butter and Jelly Pizza recipe from Goofy's Kitchen is so simple to prepare at home, perfect to make with the kids!
Print
Pin
Equipment
stand mixer with dough hook

pizza pan x2

measuring cups

measuring spoons
Ingredients
Pizza Dough
3/4

cup

warm water

105-115 degrees F.

1

package

2 1/4 teaspoons active dry yeast

1

teaspoon

honey

2 1/2

cups

all-purpose flour

1

teaspoon

kosher salt

1

tablespoon

extra virgin olive oil
Pizza Topping
1/2

cup

creamy peanut butter

1/4

cup

grape jelly
Instructions
To prepare pizza dough, place warm water in a small bowl; add yeast and honey, stirring to dissolve. Set aside for 5 minutes, mixture will almost double in size.

Combine flour and salt in stand mixer with a fitted dough hook attached. Add olive oil and yeast mixture, continue mixing on low speed for 5-7 minutes, until dough pulls away from the sides of bowl and forms a smooth, sticky ball. If the dough is too wet and doesn't pull away, gradually add small amounts of flour until it cleans sides of bowl.

Transfer dough onto a clean work surface, lightly dusted with flour or on top of parchment paper. Cut dough into two equal pieces. Form each piece into round balls. Knead each piece a couple times then place into 2 separate mixing bowls sprayed with cooking spray. Cover with plastic wrap and let rise in a warm space for 1 hour. I turn my oven on warm temperature for 10 minutes, then turn it off for the dough to rise in a warm space.

Preheat oven to 350 degrees F. Remove dough from oven and punch down to deflate. Transfer each dough ball onto a clean surface dusted with flour or lined with parchment paper. With a rolling pin, roll dough 10-12 inches 1/4 inch thick. Lightly spray two 12 inch pizza pans with cooking spray. Transfer dough to pizza pans and bake for 8-10 minutes or until cooked through.

For toppings, melt peanut butter and jelly in two separate heat proof bowls in the microwave for 15 seconds. Spread warm peanut butter over hot crust with an offset spatula or butter knife. Place the warm jelly into a piping bag you can snip the corner or place the jelly in the corner of a ziplock baggie, snipping a small corner to use as a piping "pen." Squeeze a small circle of jelly in the center of the pizza. Continue making larger circles working your way to the outside crust and forming a "target" pattern. Gently pull a knife across the jelly circles working from the crust to the center of the pizza to create pattern lines. Bake pizzas for another 2-3 minutes if desired. (I did not bake a second time)
Nutrition
Calories:
298
kcal
|
Carbohydrates:
44
g
|
Protein:
9
g
|
Fat:
10
g
|
Saturated Fat:
2
g
|
Sodium:
370
mg
|
Potassium:
162
mg
|
Fiber:
2
g
|
Sugar:
8
g
|
Vitamin C:
1
mg
|
Calcium:
15
mg
|
Iron:
2
mg
Keywords:
dessert pizza, goofy's kitchen, peanut butter and jelly pizza
Pin Peanut Butter and Jelly Pizza