Hope everyone's Christmas has been wonderful! This really is the best time of year isn't it?
I can not tell you enough how much I love this French toast bake. It is so simple to prepare and seriously tastes like you ordered it from a great restaurant.
I love the addition of pumpkin, it is perfect for this time of year and so festive. Can't wait for y'all to try this one! Enjoy 🙂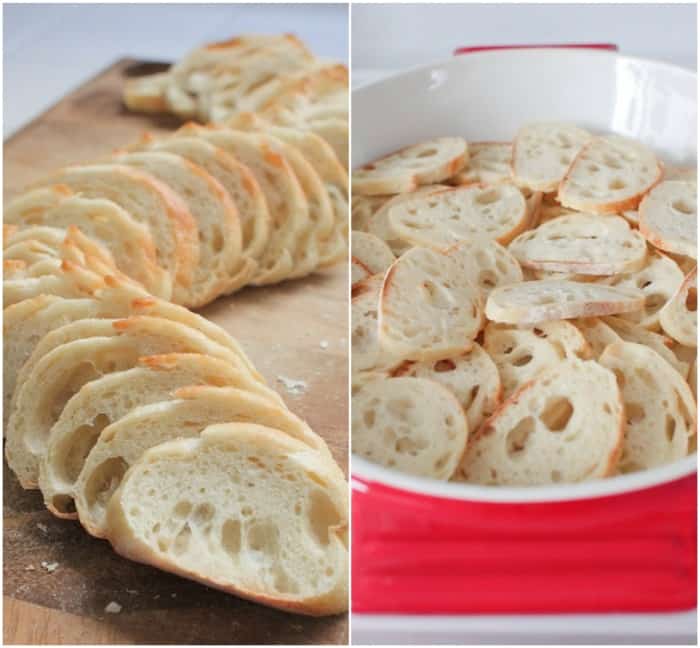 You can use a wide variety of breads for this recipe. I have used a big French Bread Loaf before which works lovely, but today I used this rustic little loaf which was fabulous as well. 8 ounces is all you need.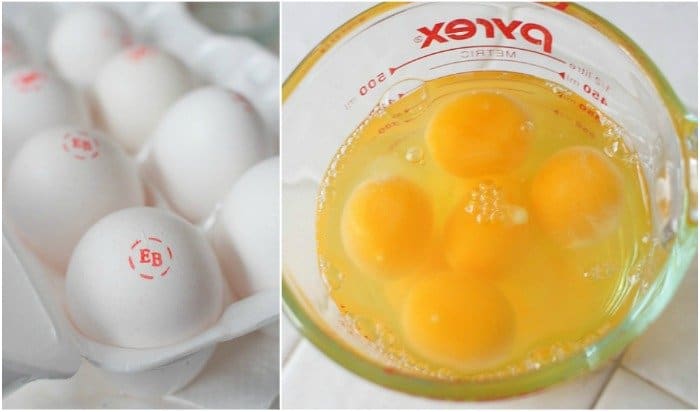 Make sure you have plenty of eggs before hand. You'll use up 8 eggies for this recipe.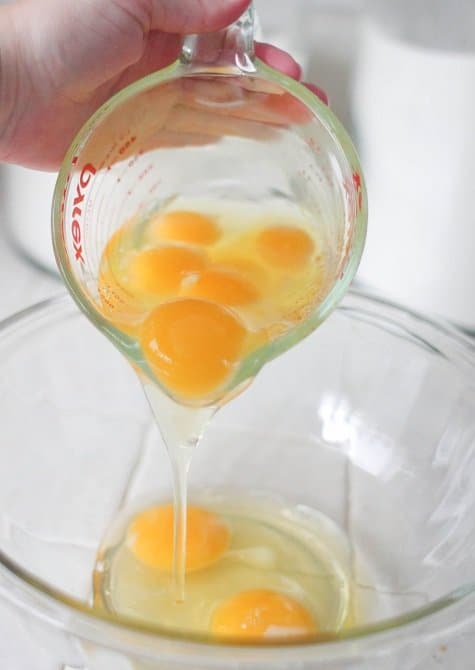 Into the bowl they go.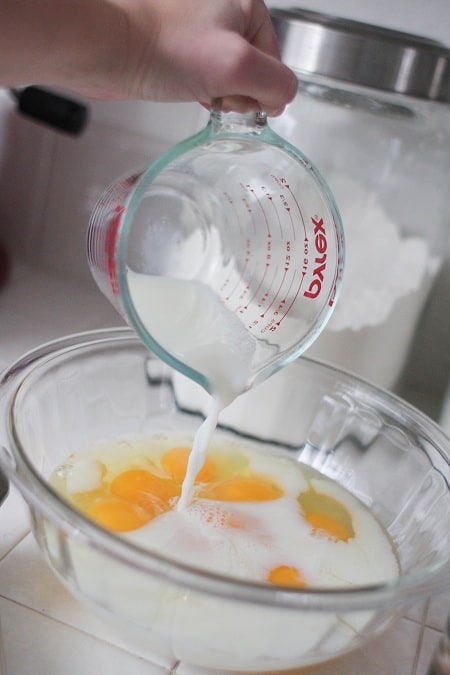 Add some milk.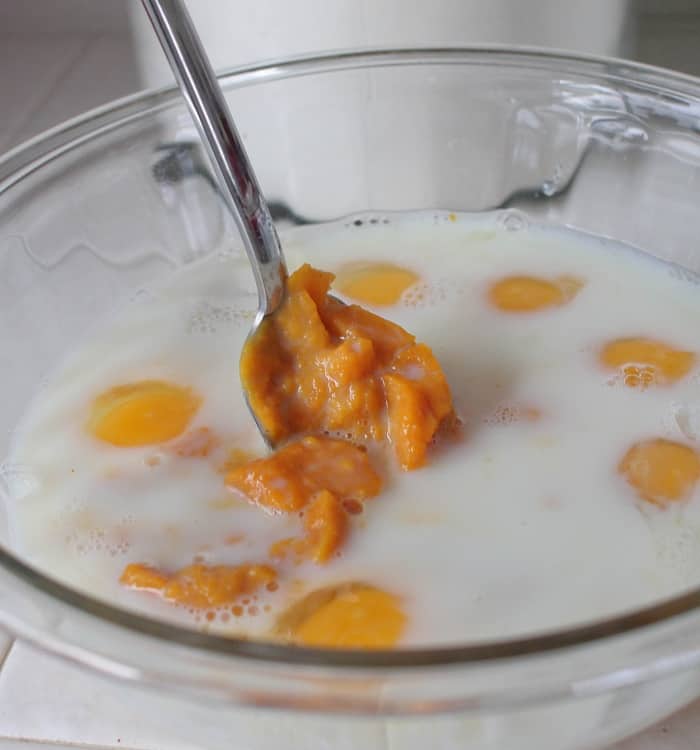 ….and the pumpkin puree. Love!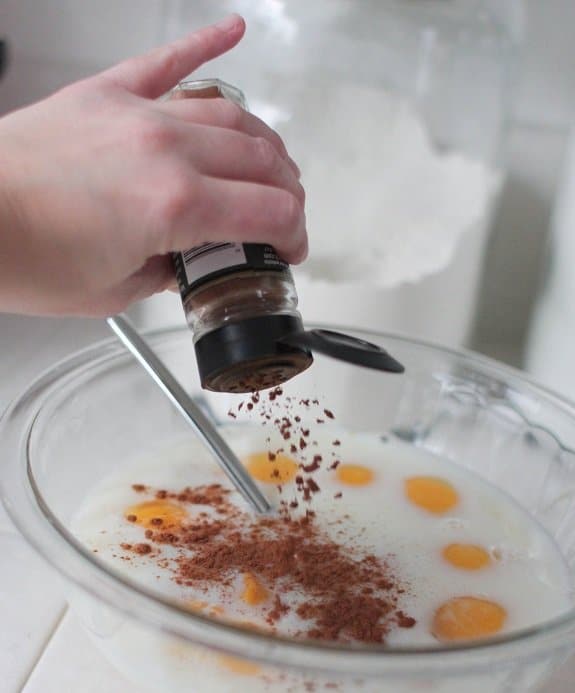 Cinnamon time!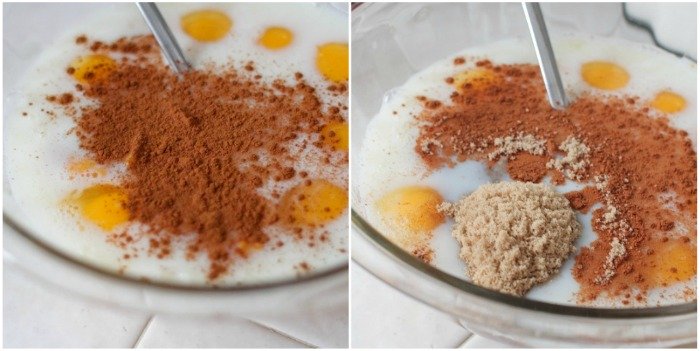 Add some brown sugar as well.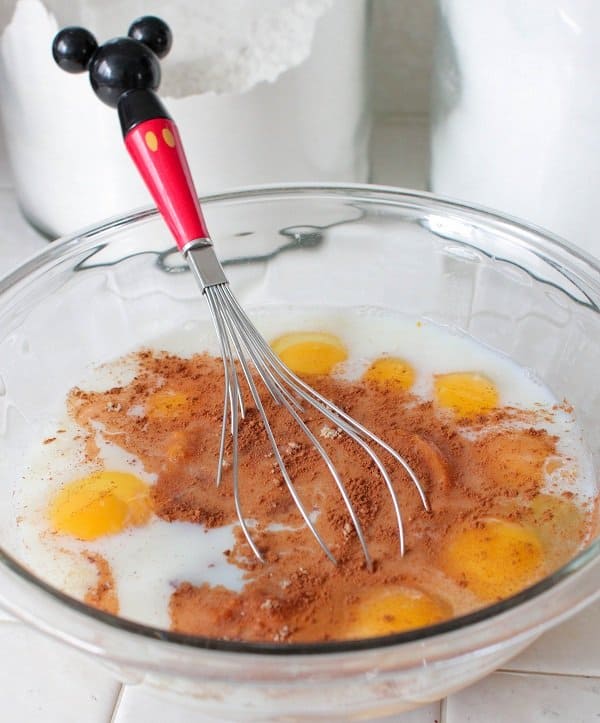 Time to whisk it all together. Don't you love my Mickey Whisk? I'm such a Disney nerd.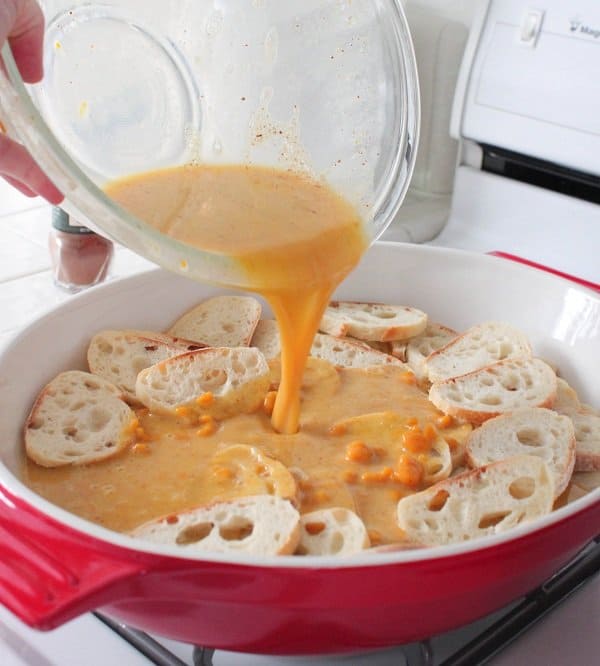 Once your egg mixture is whisked, pour it over your bread slices.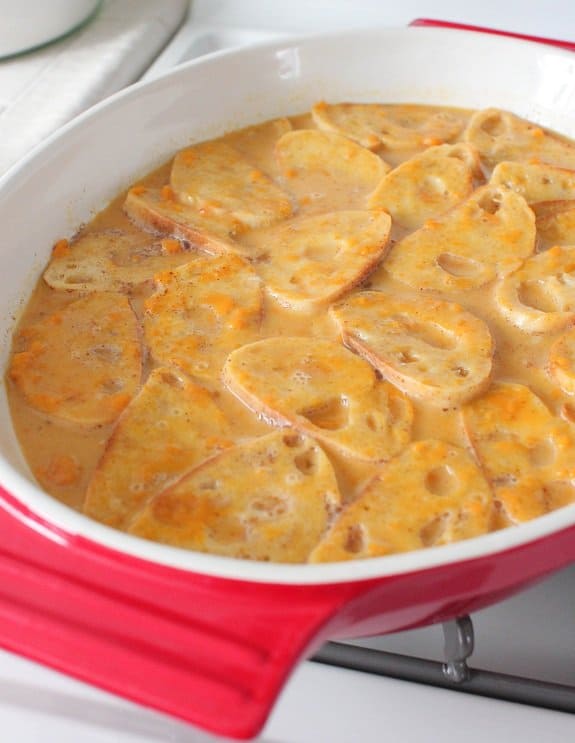 Pat the bread down so that all the pieces are covered nicely.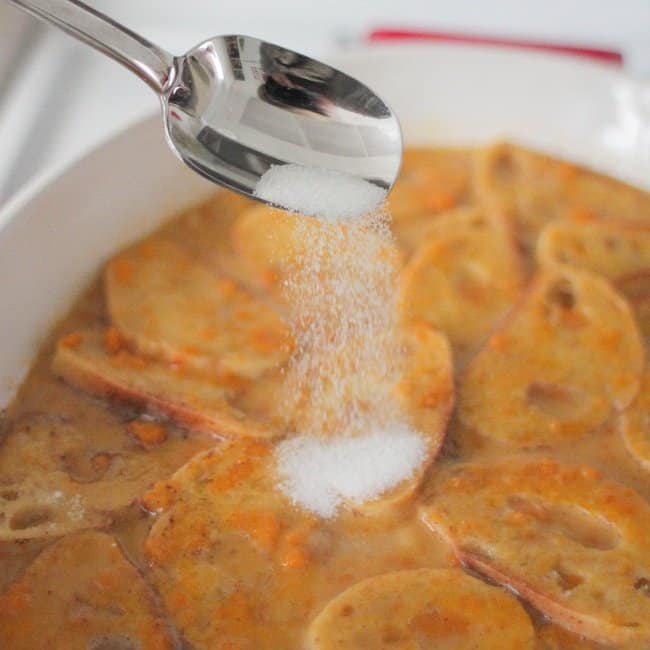 I like to sprinkle the top with granulated sugar.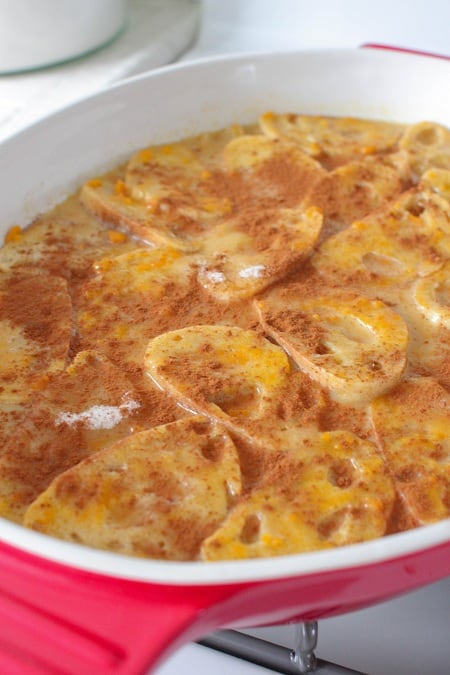 …..and more cinnamon.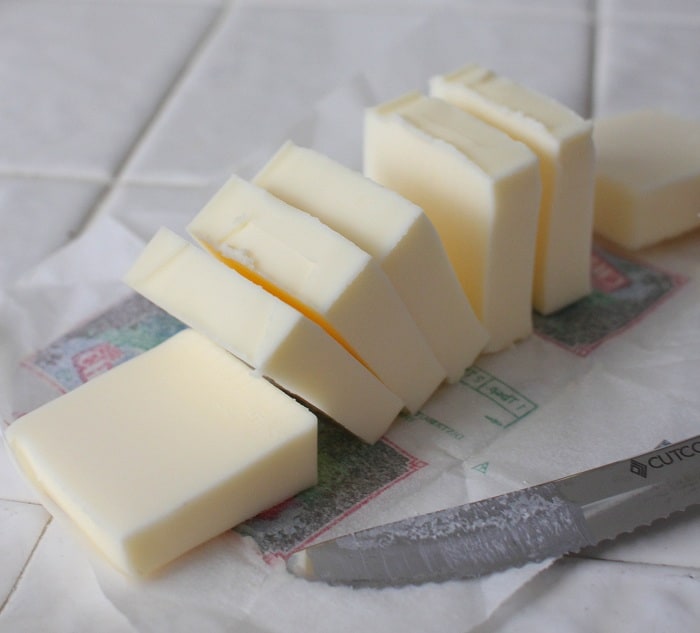 Slice a stick of butter…..I think you know where this is going.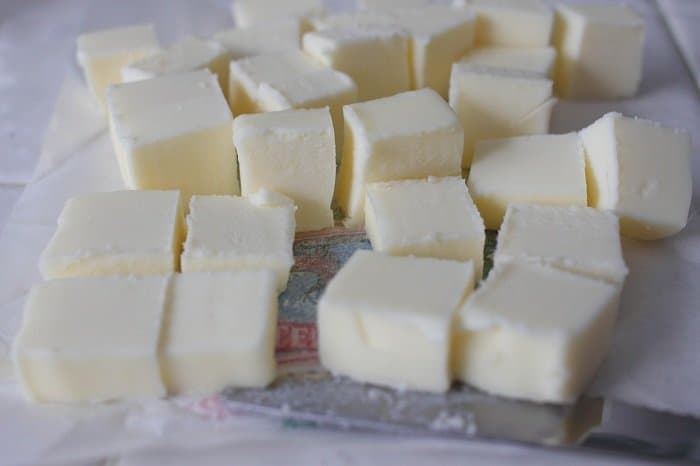 Cube it and…..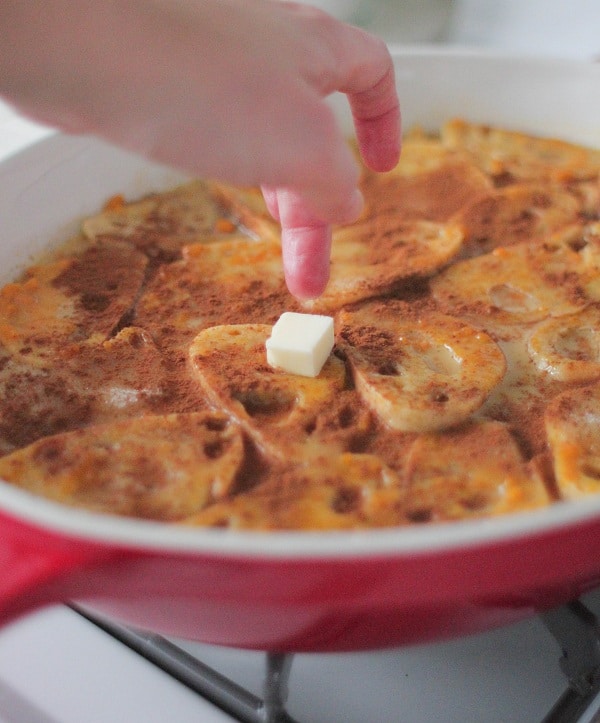 Start placing the cute little cubes over the entire dish.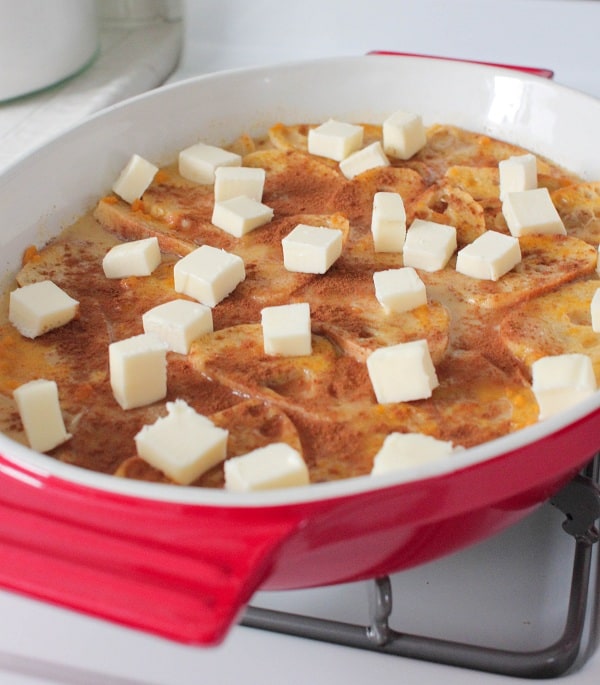 Like so 🙂 Such a happy little casserole. Bake until golden and baked through.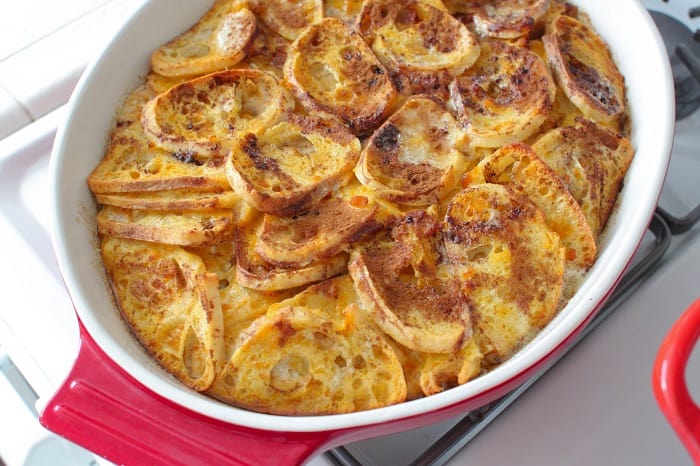 Ahhhhh, perfect-o!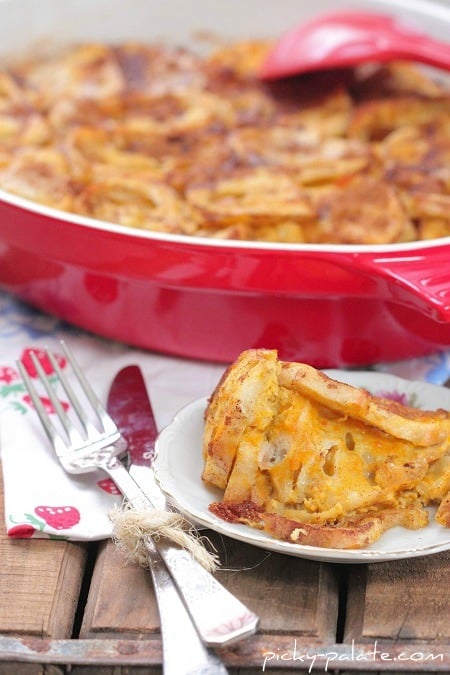 Wait until you smell this gorgeous French toast, LOVE!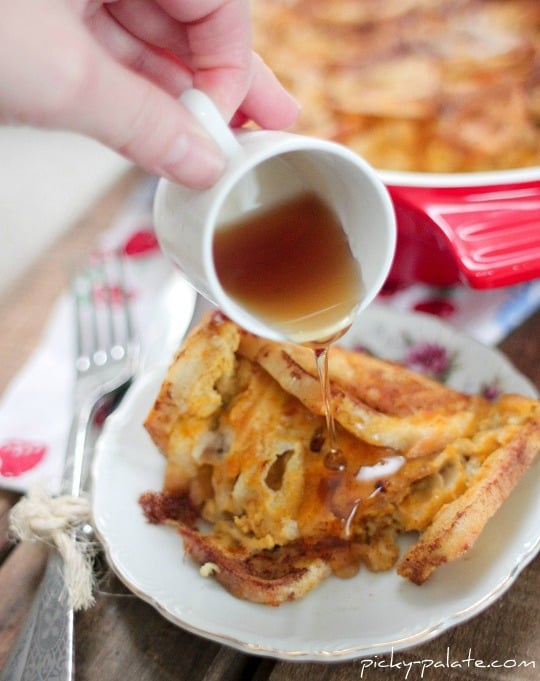 Yes!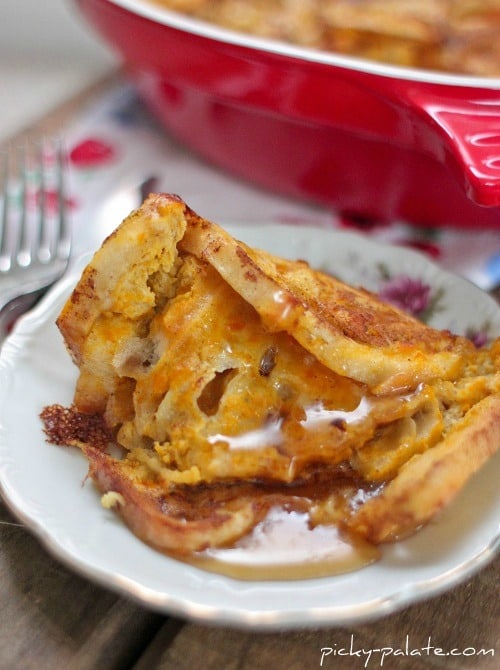 [ziplist]
Pumpkin Pie French Toast Bake
8 ounces thinly sliced French Bread
8 large eggs
1 1/2 cups milk
1 cup canned Pumpkin
1/2 cup packed light brown sugar
1/2 teaspoon ground cinnamon
2 tablespoons granulated sugar
1/2 teaspoon ground cinnamon
8 tablespoons cubed cold butter
1. Preheat oven to 350 degrees F. and spray 9×13 inch baking dish with non-stick cooking spray.
2. Place sliced bread into prepared baking dish. Place eggs and milk into a large baking dish. Add pumpkin, brown sugar and cinnamon. Whisk to combine then pour over bread. With large spoon, press bread into egg mixture assuring each piece of bread is covered in eggs. Sprinkle with granulated sugar, cinnamon and place dollops of cubed butter over top.
3. Bake for 34-40 minutes until golden and baked through. Let sit for 10 minutes before serving. Serve warm with pure maple syrup.
Makes 8 servings
__________________________
Have a great day! Come back soon 🙂