Sharing my Queso Taco Pasta Bake recipe today!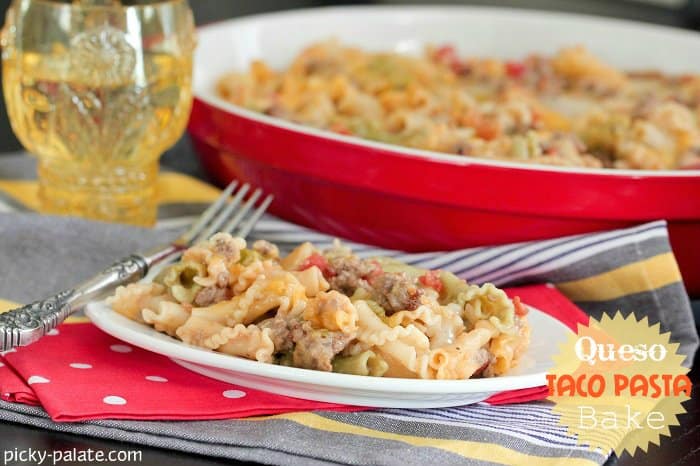 I think you are going to love this Queso Taco Pasta Bake recipe I developed last week! It's full of simple everyday pantry items we usually have and full of great Mexican flavors.
I made a homemade queso sauce that you will be tempted to break the tortilla chips out and dive right in….that actually gets mixed in with the pasta and beef making a casserole the whole family is going to love!
Can't wait to hear how you like this one, it went over great in our family. Enjoy!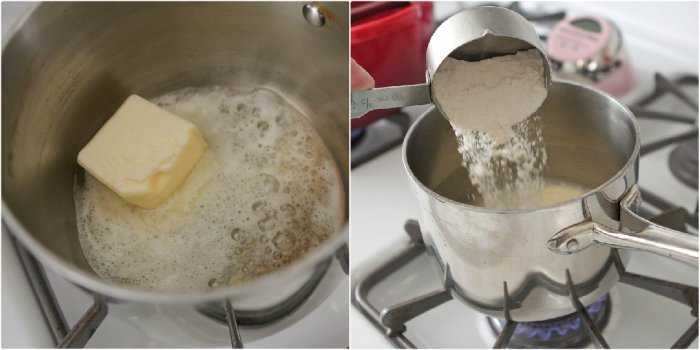 Let's start by making the queso. Melt your butter then whisk in your flour, salt and peppa!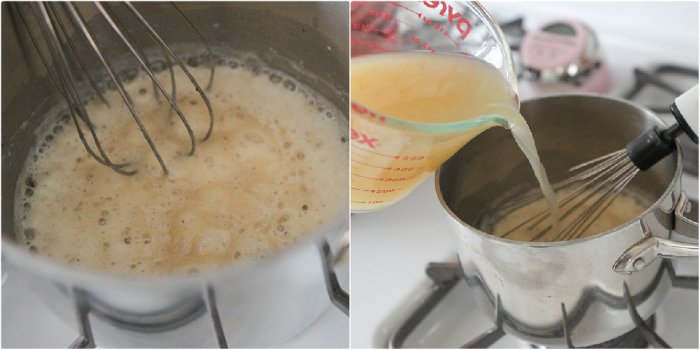 Whisk for about 30 seconds then slowly add the chicken broth. You'll increase the heat, whisking until nice and thick. Takes close to 5 minutes.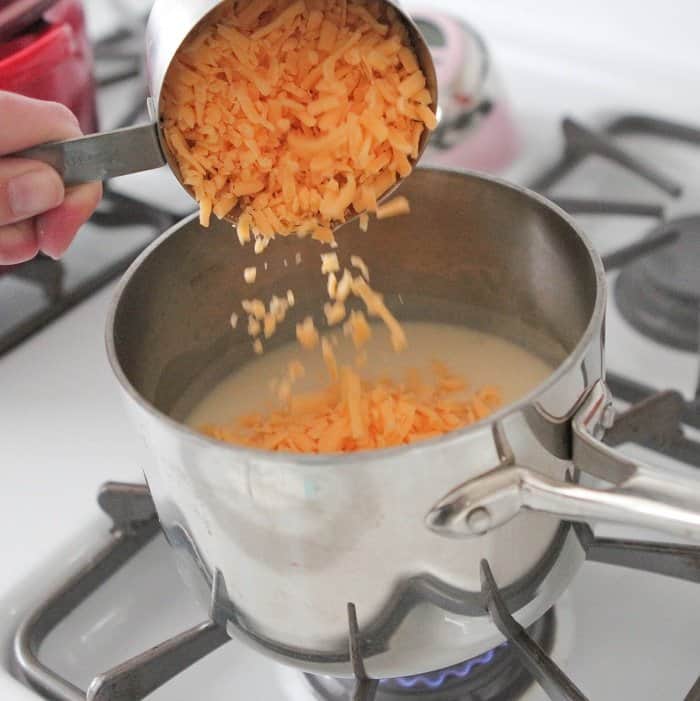 Time for some beautiful cheese.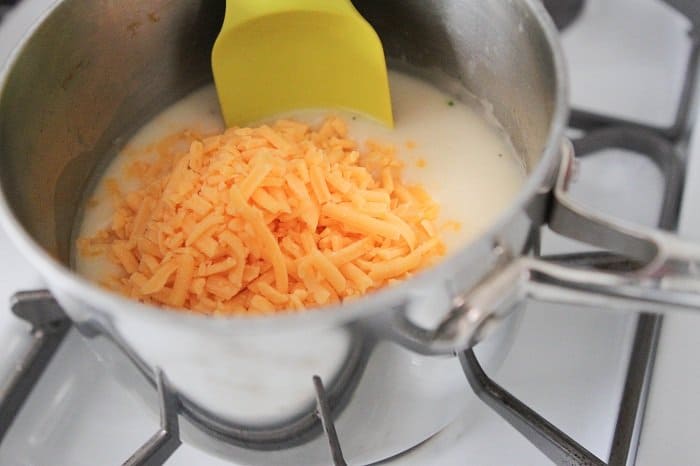 Give it a nice stir, should melt within a minute.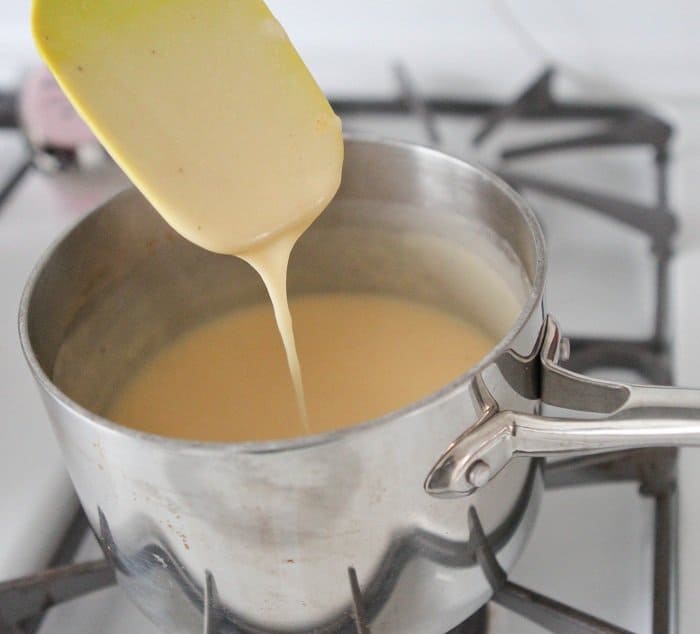 Nice and cheesy.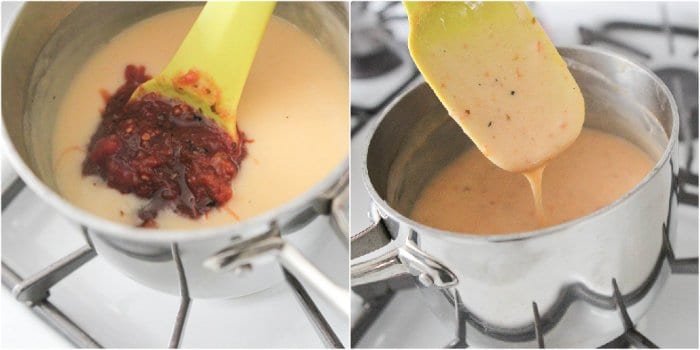 Add 1/2 cup of your favorite mild salsa and voila' you've got queso. Set this baby aside.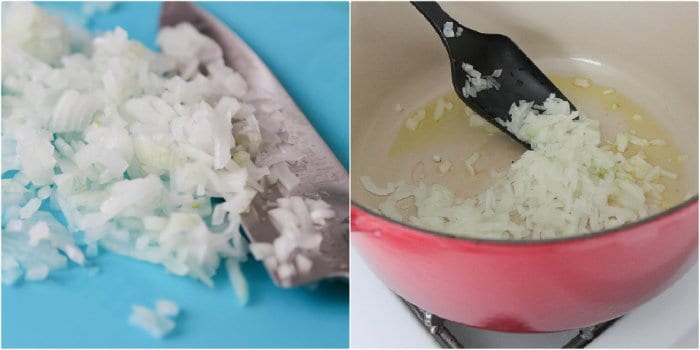 Dice an onion and get it sauteeing in the pan. Add some garlic too.

Brown your ground beef.
Add a lovely can of mild Rotel tomatoes.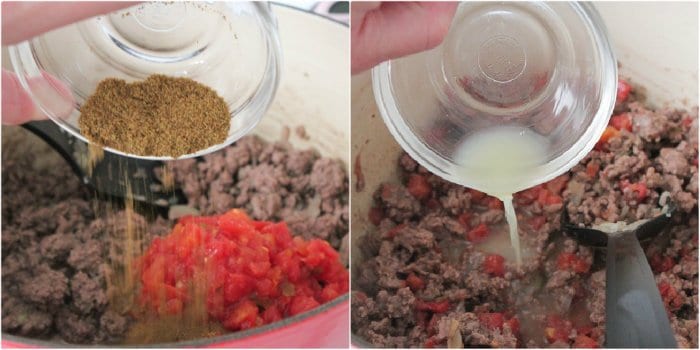 Add some cumin and lime juice for a yummy taco meat.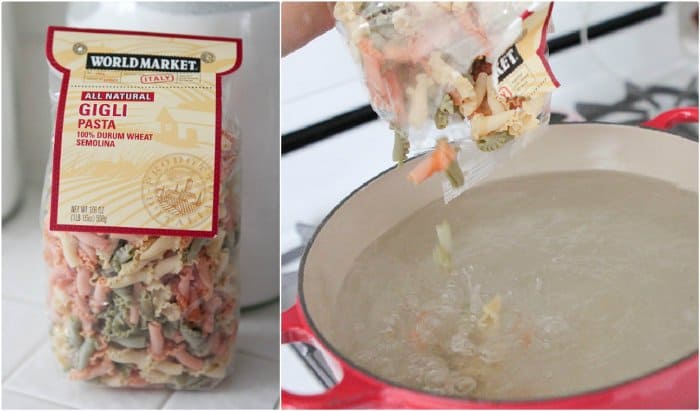 How cute are these pasta noodles?! Found them at World Market, however use any small pasta you like.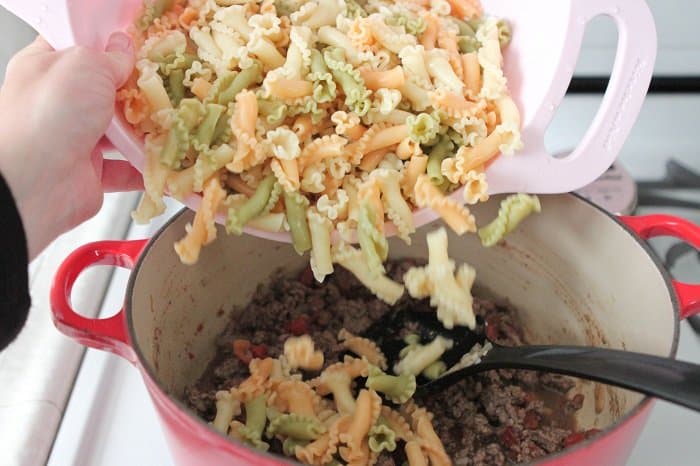 Once your noodles are cooked, add them to a big pot with the beef.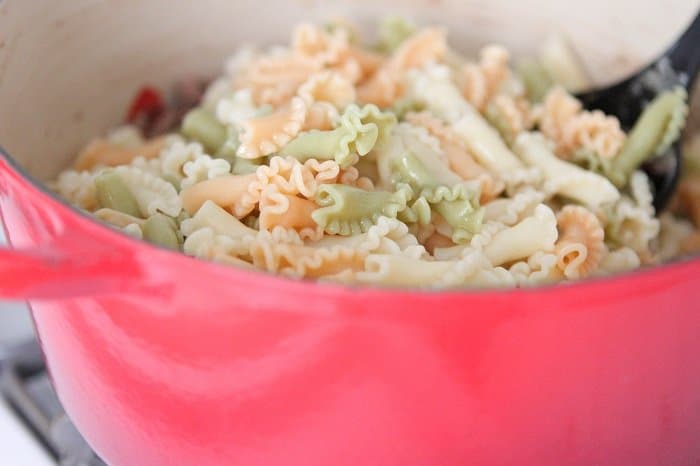 Beauty shot 🙂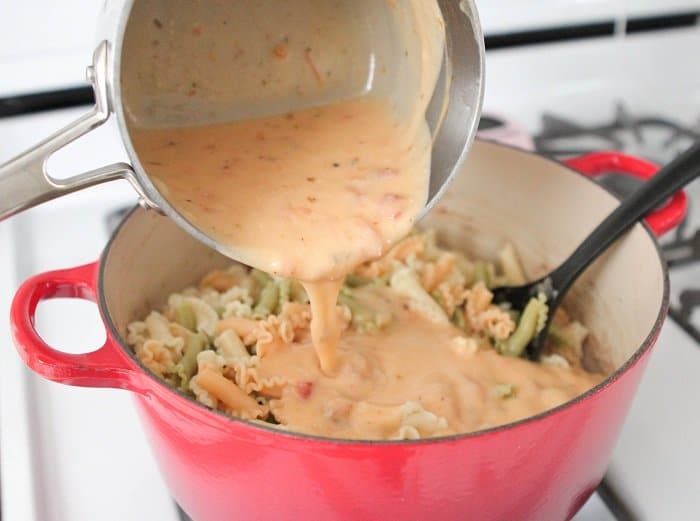 Time to add that delicious queso sauce.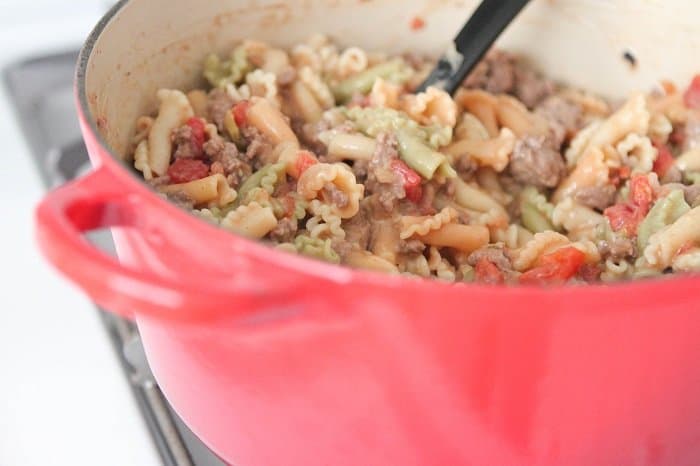 Give her a good stir, taste, then season a tad bit more if needed.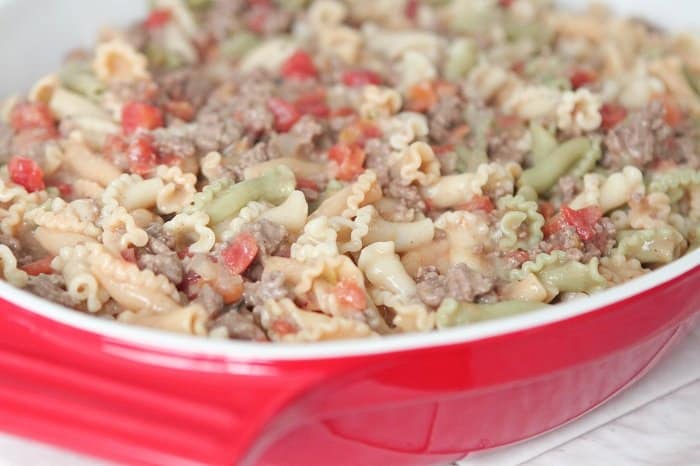 Transfer to your nice big baking dish.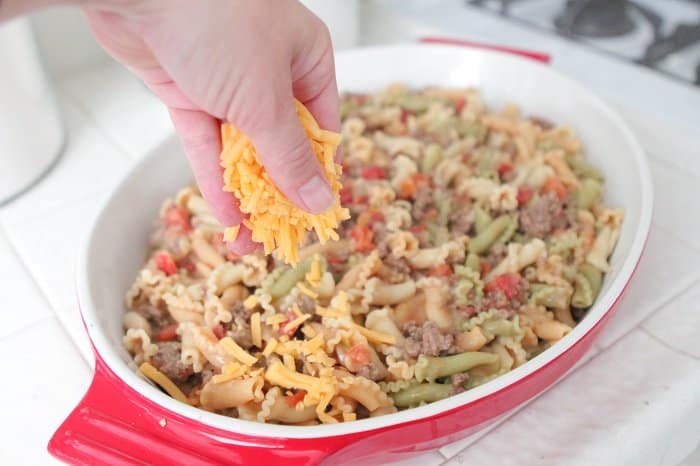 Top with more shredded cheese please.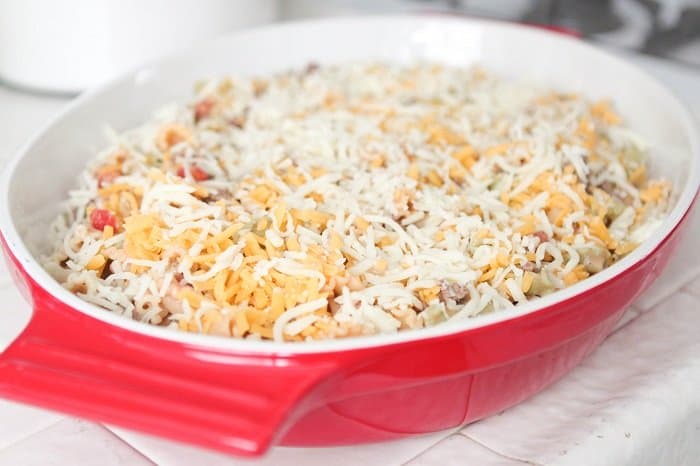 I added a little mozzarella too, but use what you like.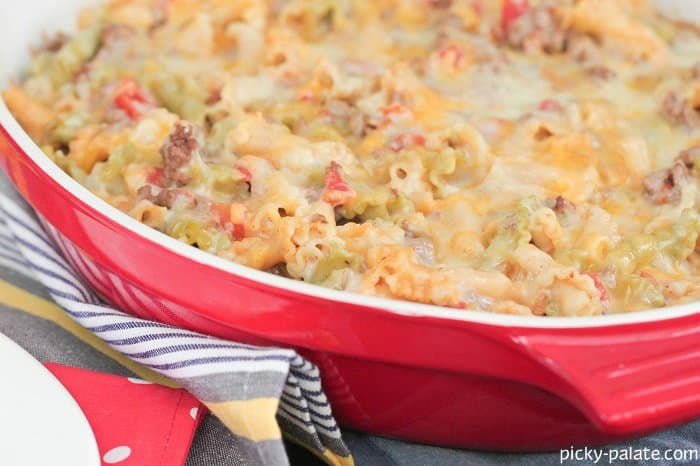 This is what comes out of the oven. Pure gorgeousness 🙂 Hope you enjoy this Queso Taco Pasta Bake!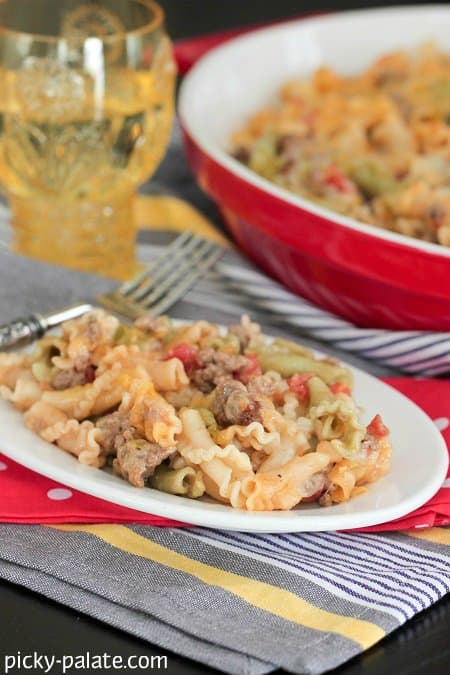 [ziplist]
Queso Taco Pasta Bake
4 tablespoons unsalted butter
1/4 cup all purpose flour
1/2 teaspoon kosher salt
1/4 teaspoon freshly ground black pepper
1 1/2 cups reduced sodium chicken broth
1 1/2 cups shredded cheddar cheese
1/2 cup prepared mild salsa
2 tablespoons extra virgin olive oil
1 cup finely chopped onions
1 tablespoons minced garlic
1 pound lean ground beef
1/2 teaspoon kosher salt
1/4 teaspoon freshly ground black pepper
One 10 ounce can Rotel tomatoes, mild
1 tablespoon ground cumin
1 tablespoon fresh lime juice
3/4 pound small pasta of your choice
2 cups shredded cheddar cheese
1. Preheat oven to 350 degrees F. and lightly spray a 9×13 inch baking dish with cooking spray.
2. Place butter into a medium saucepan over medium heat. Stir to melt. Whisk in flour, salt and pepper for about 30 seconds until bubbly. Slowly whisk in chicken broth until smooth. Increase heat to high while whisking until thickened. Takes 3-5 minutes. Stir in cheese and salsa, turn off heat and set aside.
3. Place 2 tablespoons olive oil in medium skillet over medium heat. Saute onions until softened, about 5 minutes. Add garlic and cook for an additional minute. Add ground beef, salt and pepper, cooking until browned. Drain fat if necessary. Add tomatoes, cumin and lime juice, stir to combine.
4. Cook pasta according to package directions, drain and run under cold water.
5. Transfer beef, noodles and queso to a large pot or dutch oven over medium low heat. Taste and season with additional salt and pepper to your liking. Transfer to prepared baking dish and top with shredded cheese. Bake for 25-30 minutes until cheese is melted. Serve warm.
Makes 8 servings
Pin To Your Favorite Recipe Board!