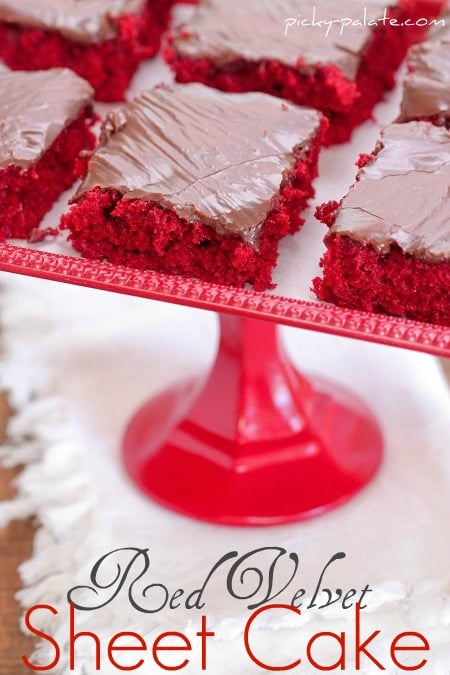 How fun is red velvet cake?! It really is so stunning. This jazzed up cake mix sheet cake is so simple to prepare you will have it on your table in no time at all. Did I mention that I iced it with a Nutella Fudge like icing? Let's just say you are in for a treat today!
I am loving my new red cake stand that I found from my friend Lindsey from high school. She makes them herself and they are adorable. Check out her blog Sweet Stax to pick some up for yourself!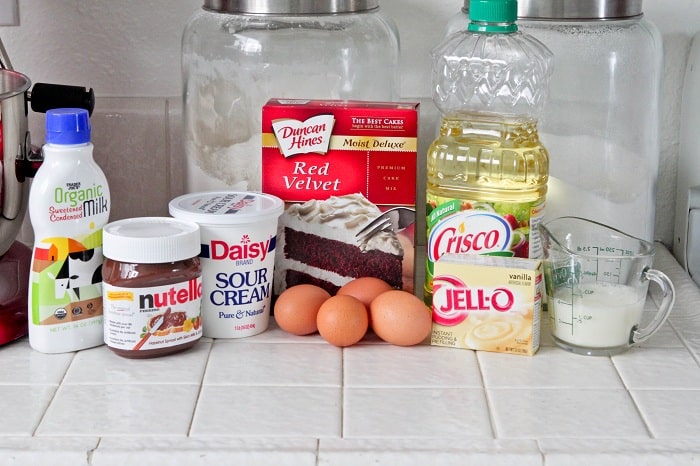 Here's your line-up folks. Nice and easy.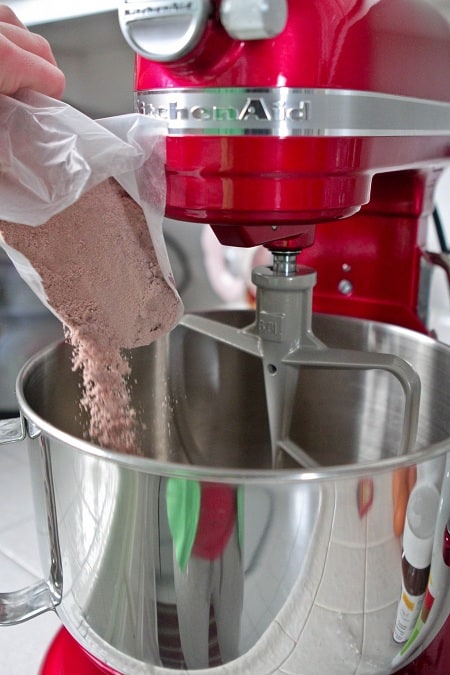 I love this recipe for so many reasons, but one is that you just dump it into the mixer. No particular order.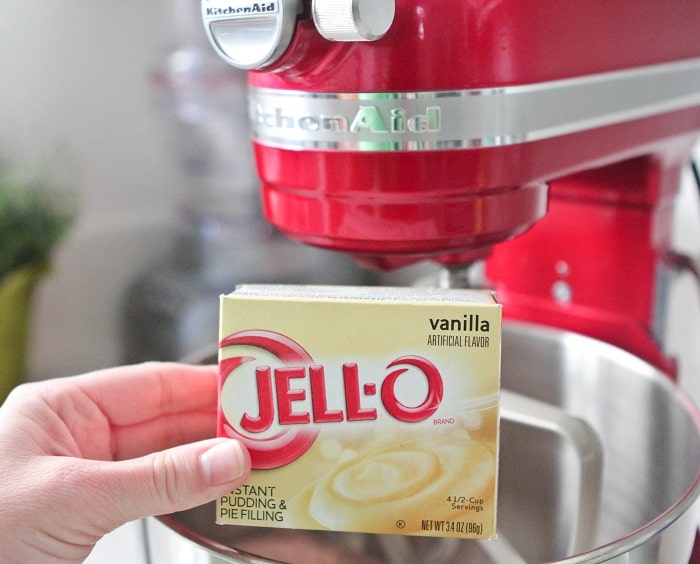 I add a small box of vanilla pudding mix.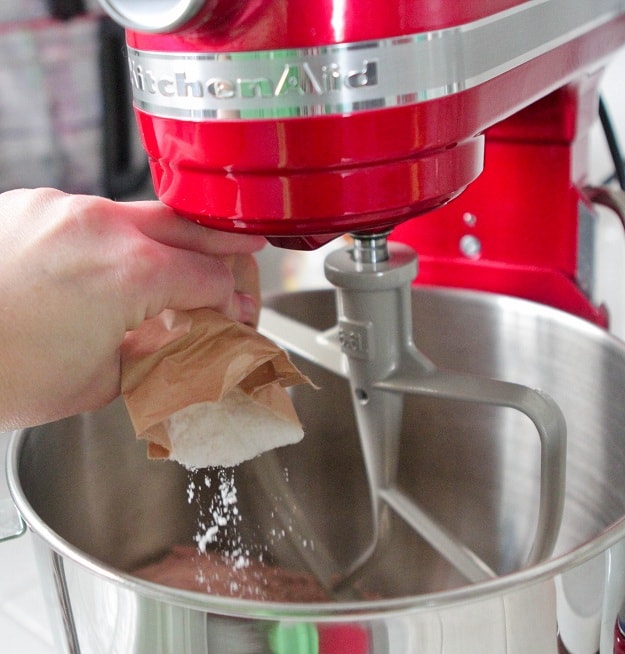 Add it right to the mixer.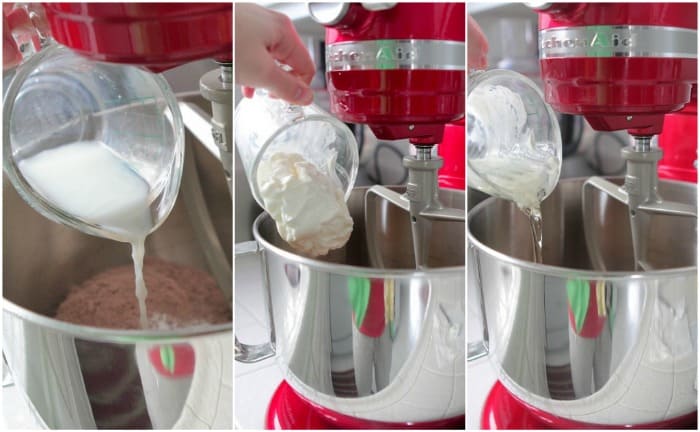 ….milk, sour cream and some oil.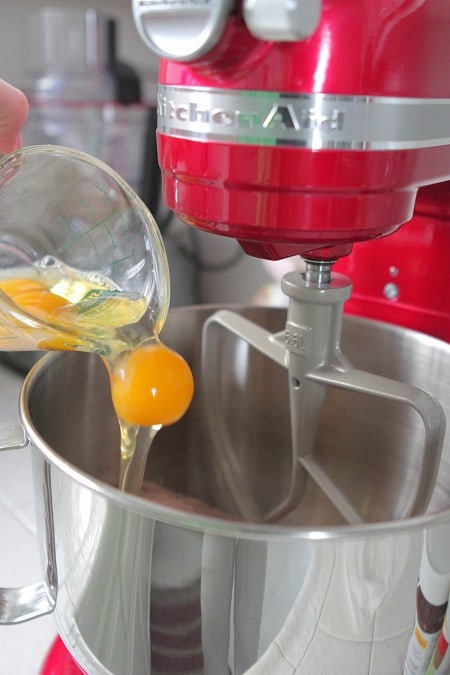 4 fabulous eggs.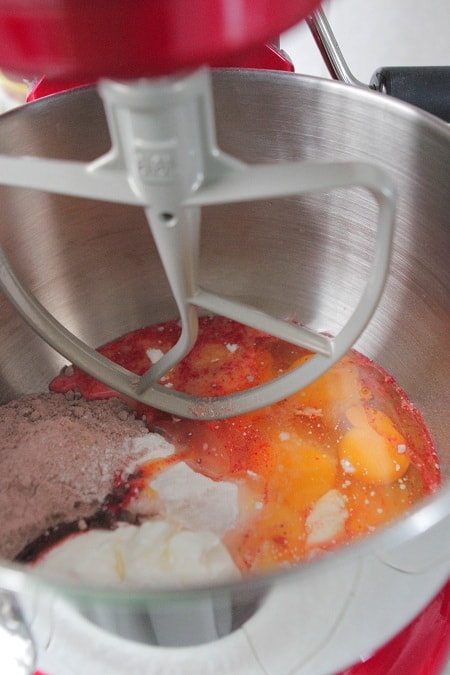 Ready to mix!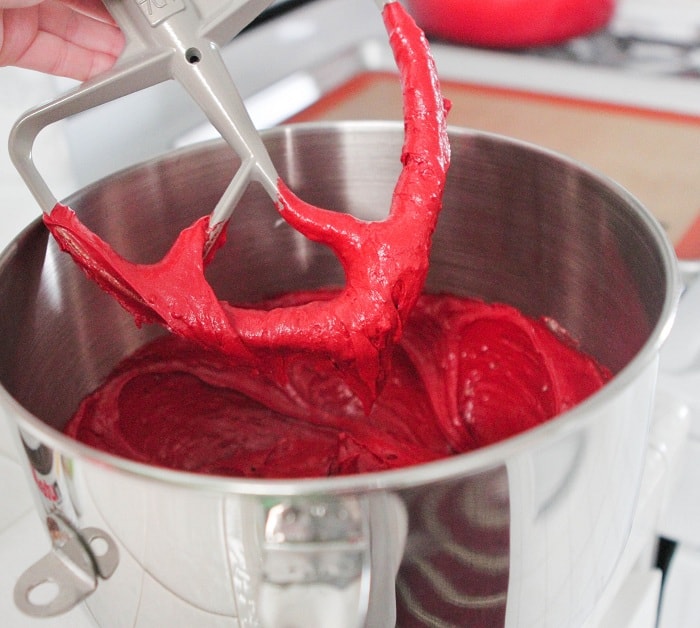 How pretty is this?!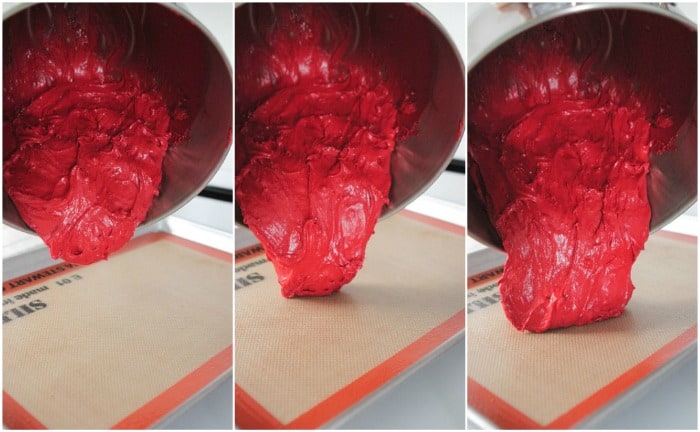 Pour your batter onto your prepared baking sheet. Please spray with cooking spray before 🙂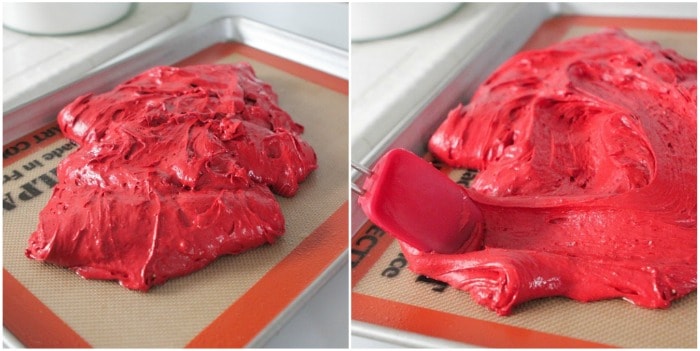 Give her a nice even spread.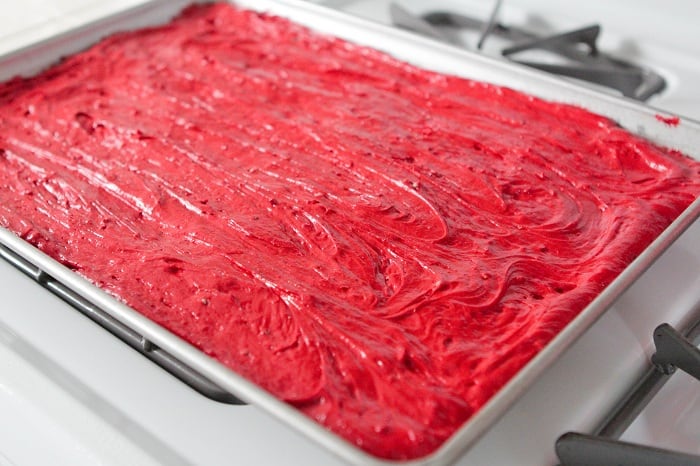 Like so 🙂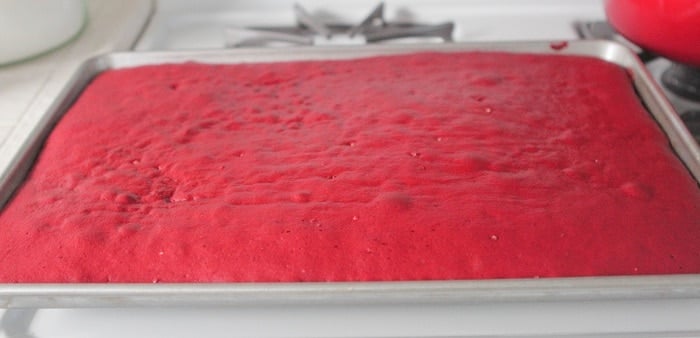 Baked! Now hurry, time to make the icing!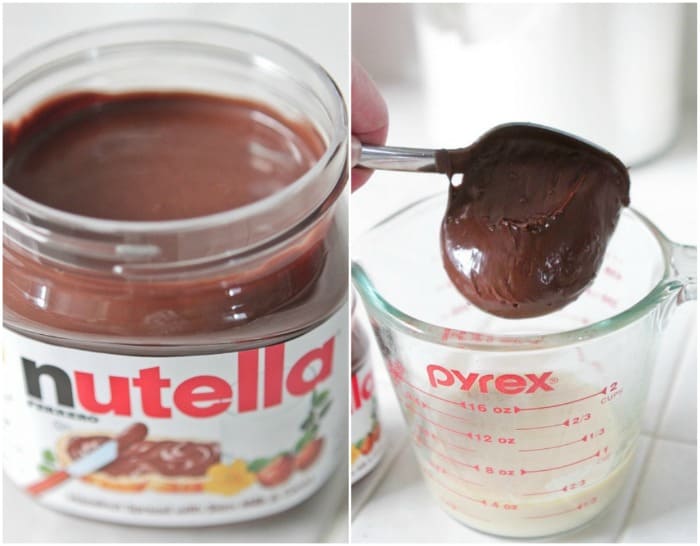 Your icing consists of Nutella and sweetened condensed milk. I doubled what you see here.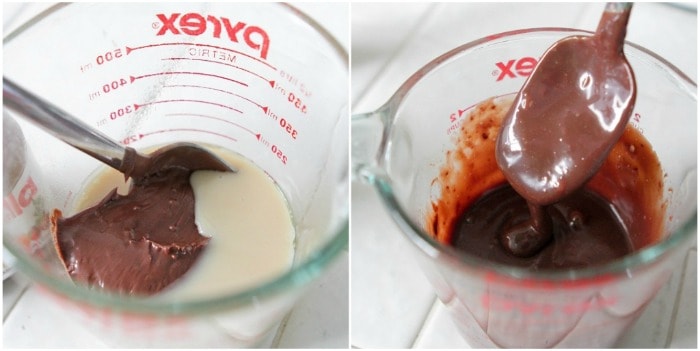 Warm in the microwave and give a good mix.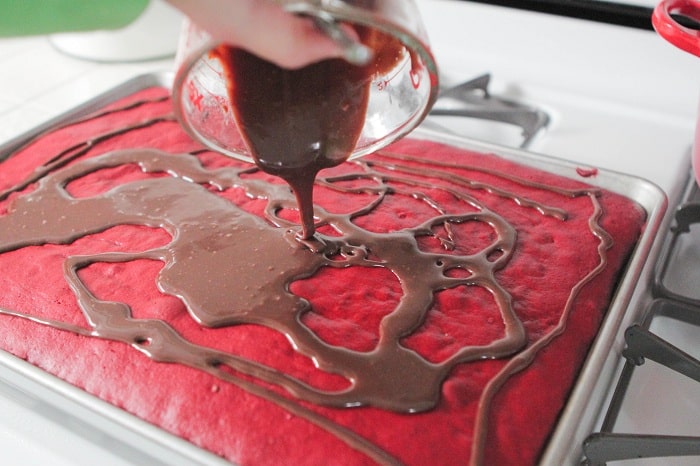 Time to drizzle over your warm cake.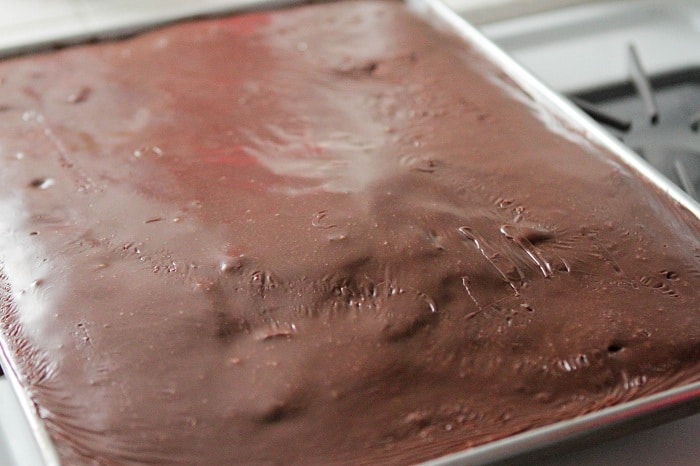 Ahhhh!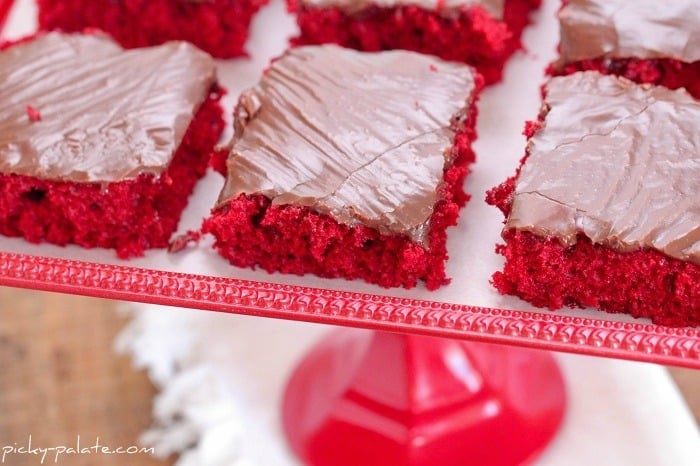 Now dig in!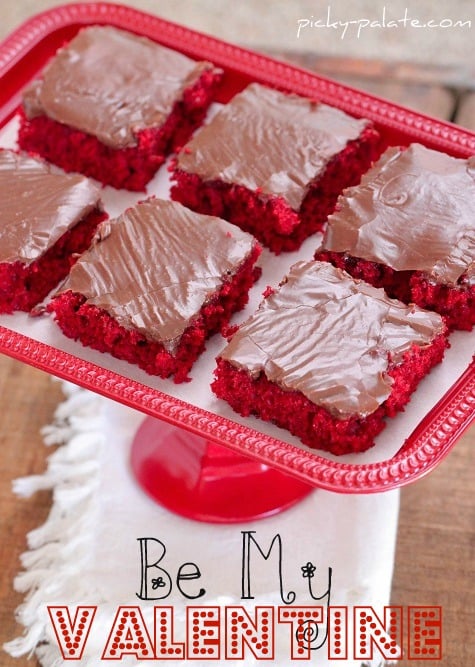 [ziplist]
Red Velvet Sheet Cake with Nutella Fudge Icing
1 box red velvet cake mix
1 3.4 ounce box vanilla instant pudding mix
1/2 cup milk
1/2 cup vegetable oil
1/2 cup sour cream
4 large eggs
1 cup sweetened condensed milk
1/2 cup Nutella
1. Preheat oven to 350 degrees F. and spray a half sheet 13×18 inch baking sheet with non-stick cooking spray. I lined my baking sheet with a silpat liner, the cake can be done with or without it.
2. Place cake mix, pudding mix, milk, oil, sour cream and eggs into mixer and mix until well combined, about 1 1/2 minutes. Transfer batter to prepared baking sheet and spread evenly. Bake for 25-32 minutes, until baked through. Remove from oven and start icing.
3. Place sweetened condensed milk and nutella into a microwave safe dish and heat for 30 seconds, or until smooth when stirred. Drizzle icing over warm cake spreading oven entire cake. Let cool for 20 minutes then cut into squares with a plastic knife.
Makes 24 servings
______________________________
Have a great day! Come back soon 🙂