The Best Places To Eat In Arizona
Sharing the Best Places To Eat in Arizona with you today! So many favorites, so hold on tight and get ready to make your list of places to try!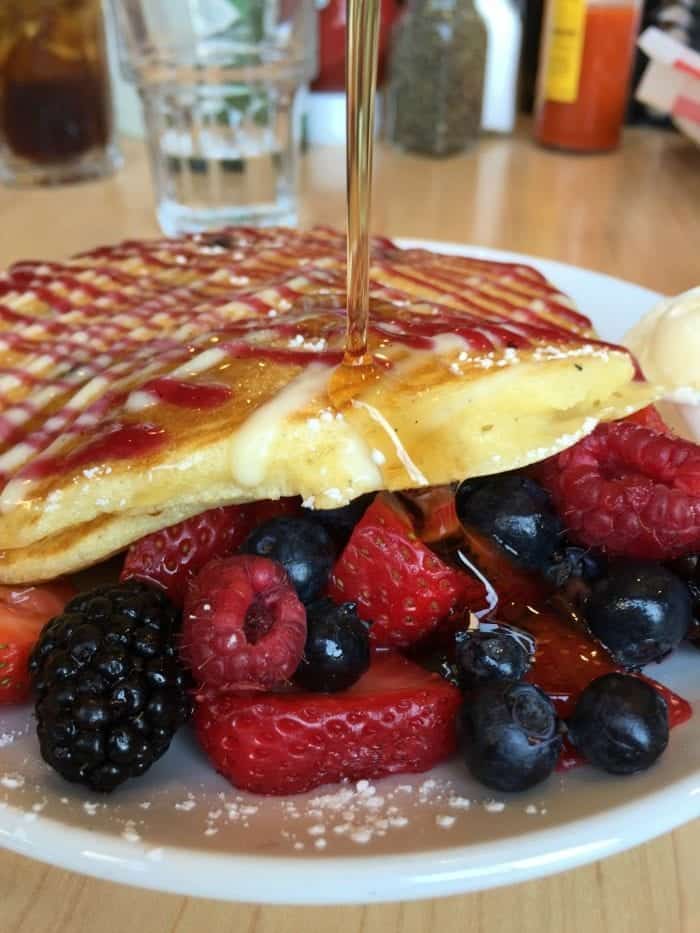 Just recently found this breakfast spot a few weeks ago, it's called Butters Pancakes and Cafe located in Scottsdale.  I'm telling you, some of the best pancakes I've had.  This particular one is the Wildberry Pancake stack and it has a vanilla cream layered between the cakes.  One of my favorite pancakes to date.  Can't wait to go back.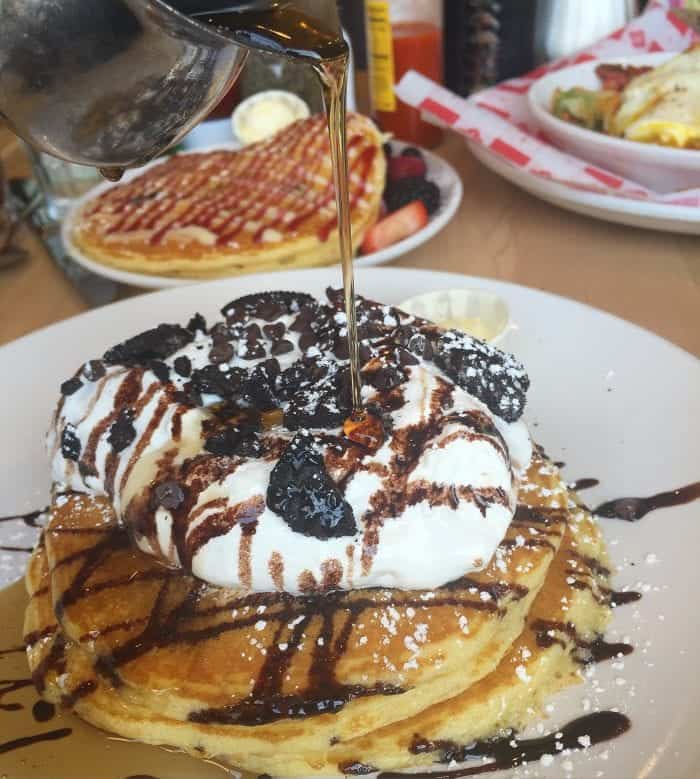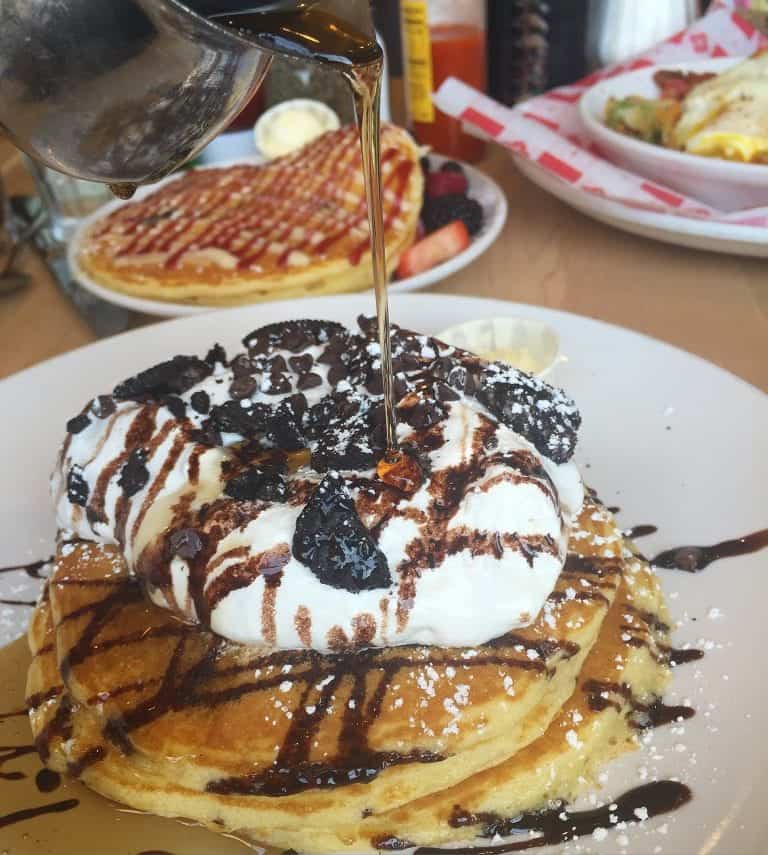 Another fun pancake from Butters called the Oreo S'mores.  Hello!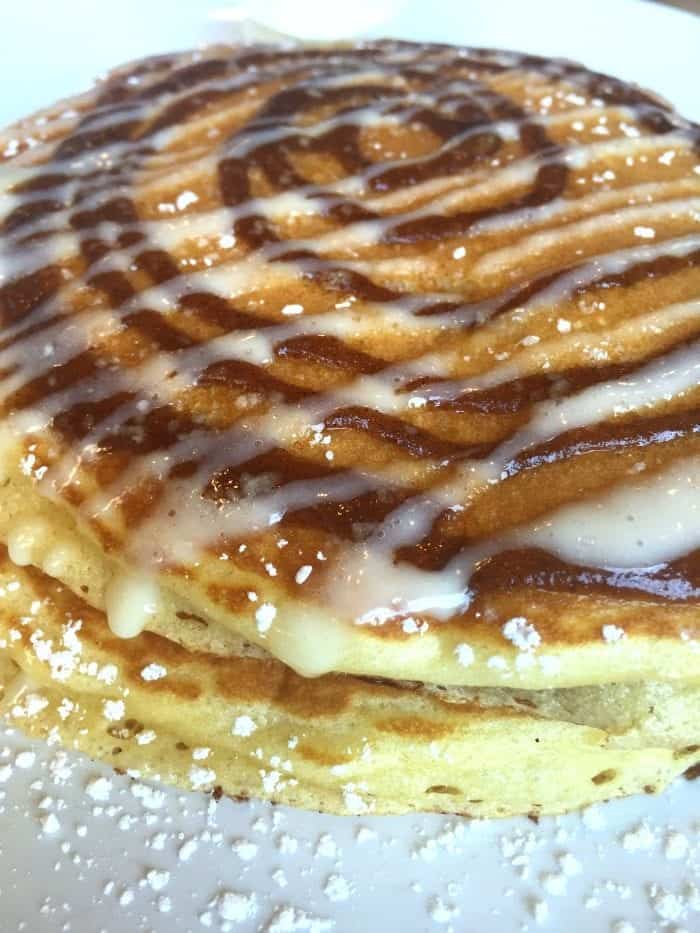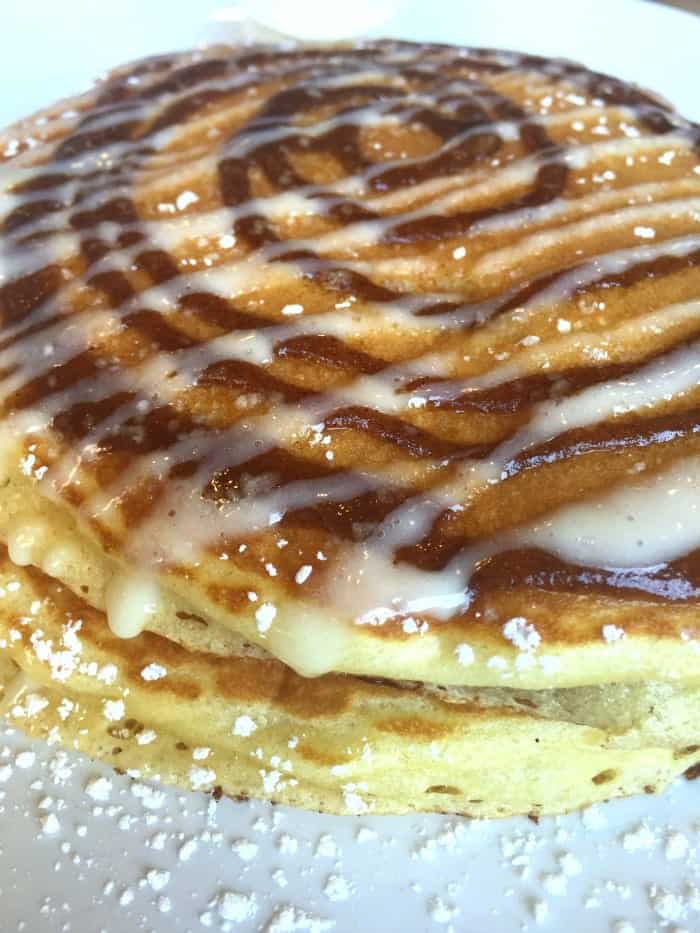 Their Cinnamon Roll pancake is stunning and worth an order too.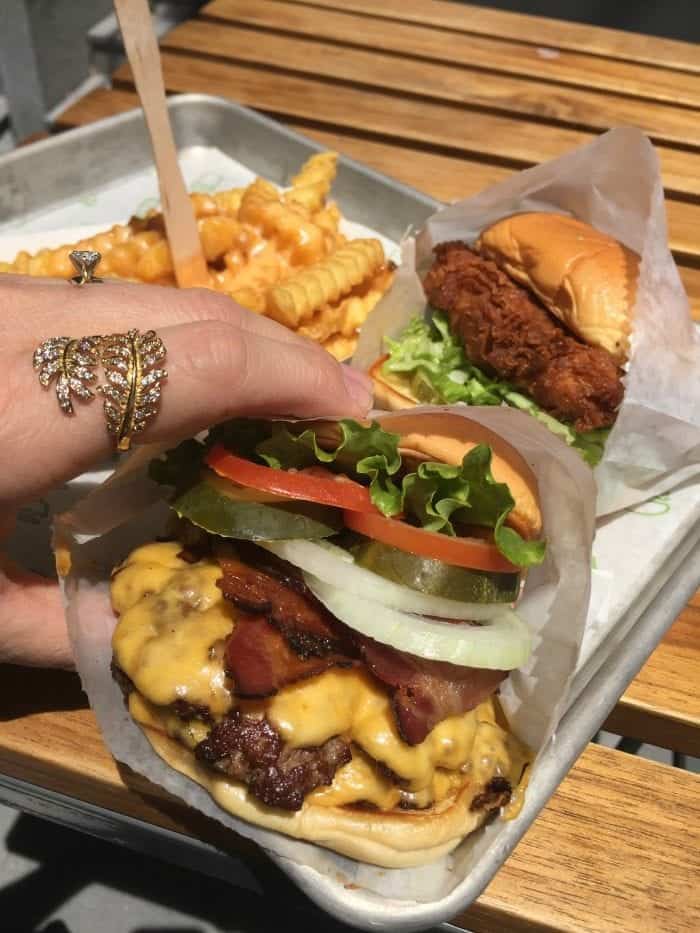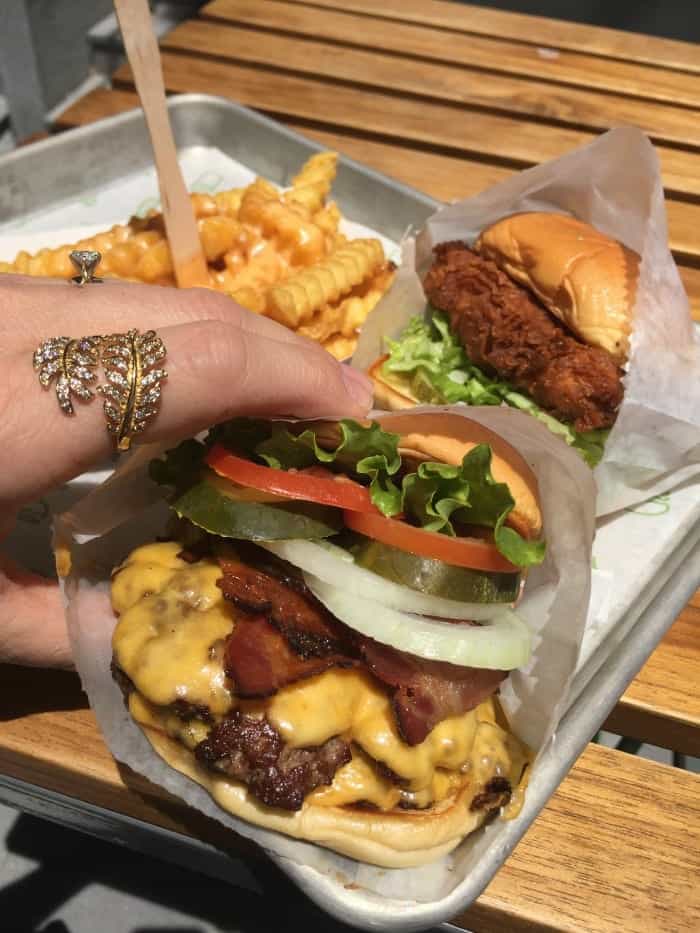 I know that Shake Shack technically started in NYC, however I absolutely feel like this is a favorite spot in Arizona now that it is here!  Some of the best tasting burgers around if you ask me.  We visit the Scottsdale Fashion Square location.  The one in the photograph is the Smoke Shack *double* with bacon!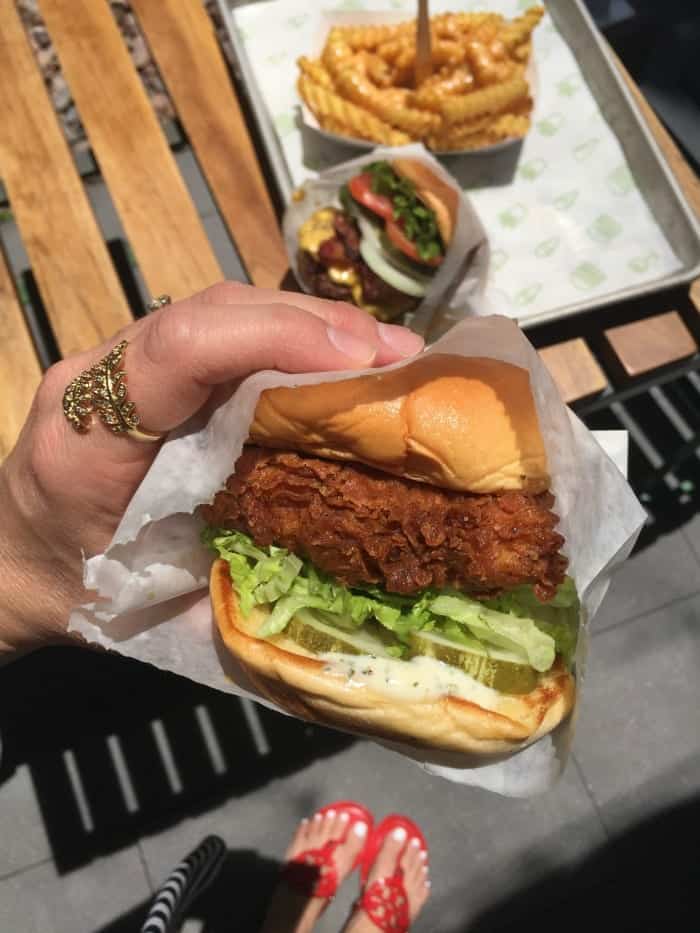 Not only does Shake Shack have amazing burgers, their Chicken Sandwich is one of my all-time favorites as well.  Perfectly tender fried chicken in their signature soft buns.  The pickle, lettuce and mayo….it just works.  Yessss!!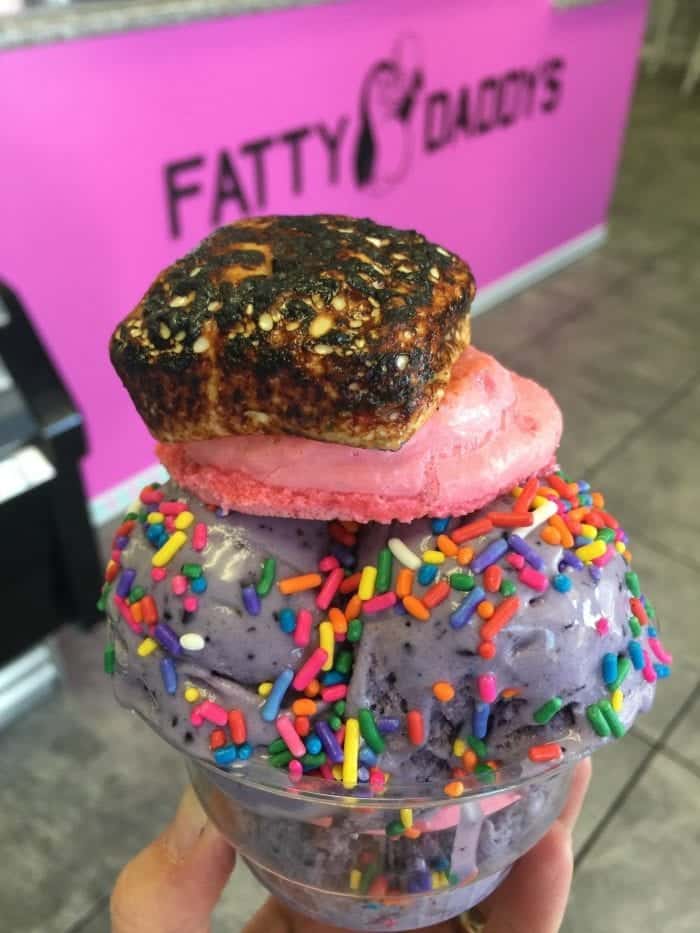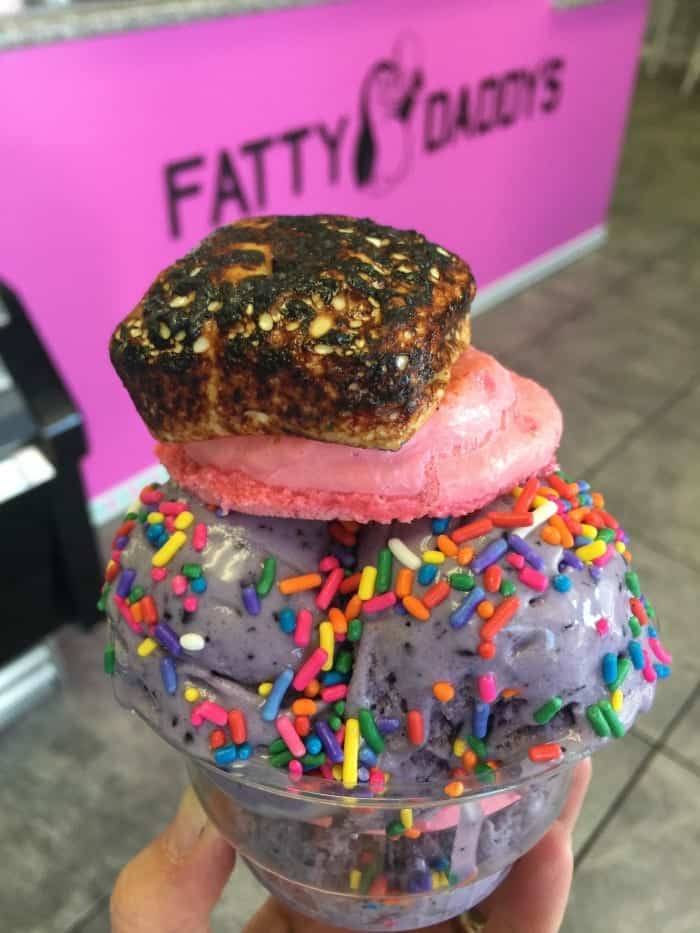 Fatty Daddy's is a newer ice cream shop that specializes in unique homemade ice cream flavors such as fruit loops, lucky charms, chocolate birthday cake and so many more.  Not only that, but they make these awesome Macaron Cookie Cups.  So much fun, this is a great place to visit.  Also located in Scottsdale.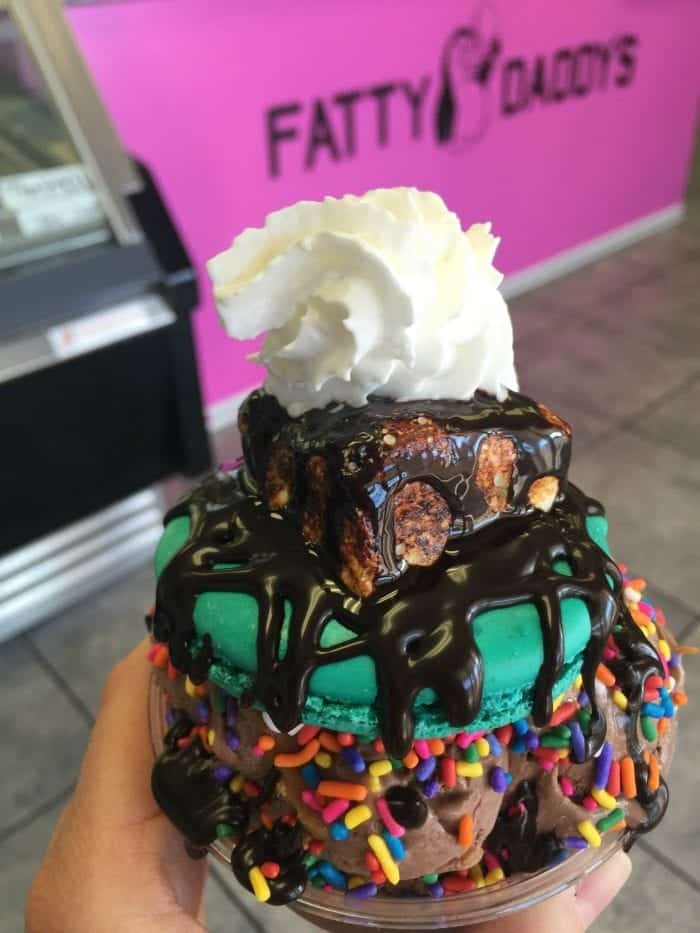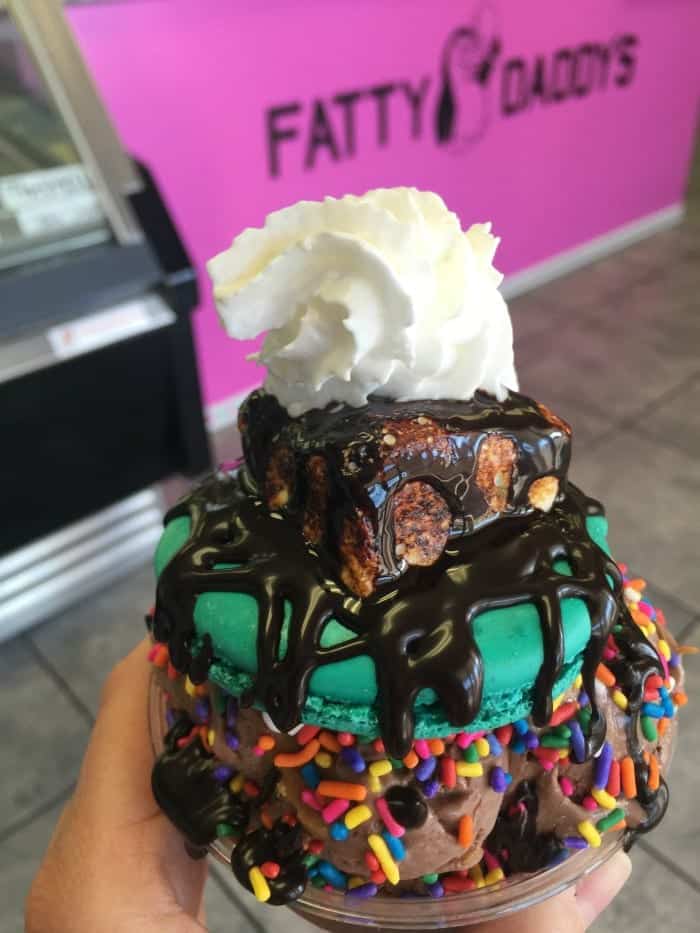 Another Fatty Daddy's creation with Chocolate Peanut Butter Ice Cream and Coconut Macaron.  Whoa.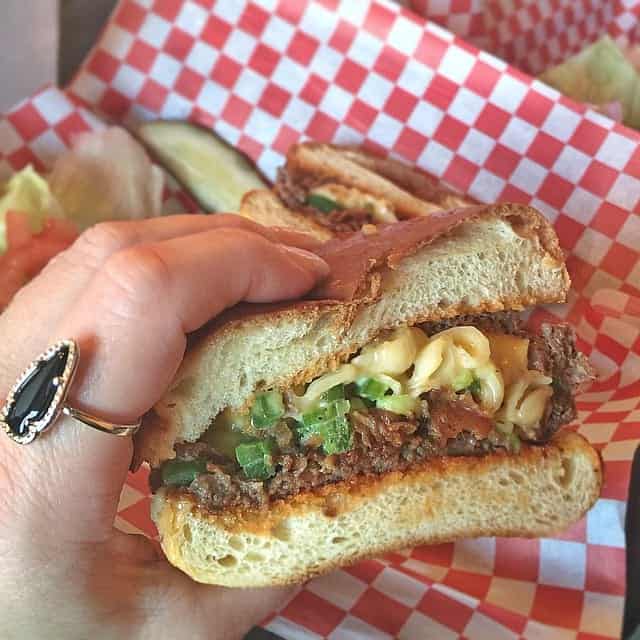 Stuffrageous in Mesa, has gourmet burgers you can stuff with about any of your favorite toppings.  Check out my Mac and Cheese stuffed burger 🙂 We really enjoyed this place.  Fun to customize your own burger.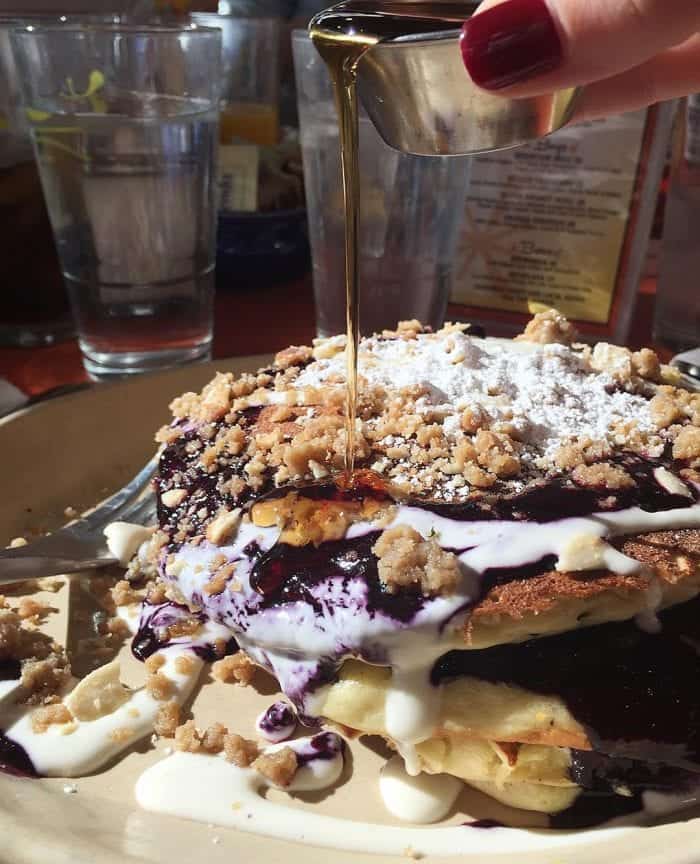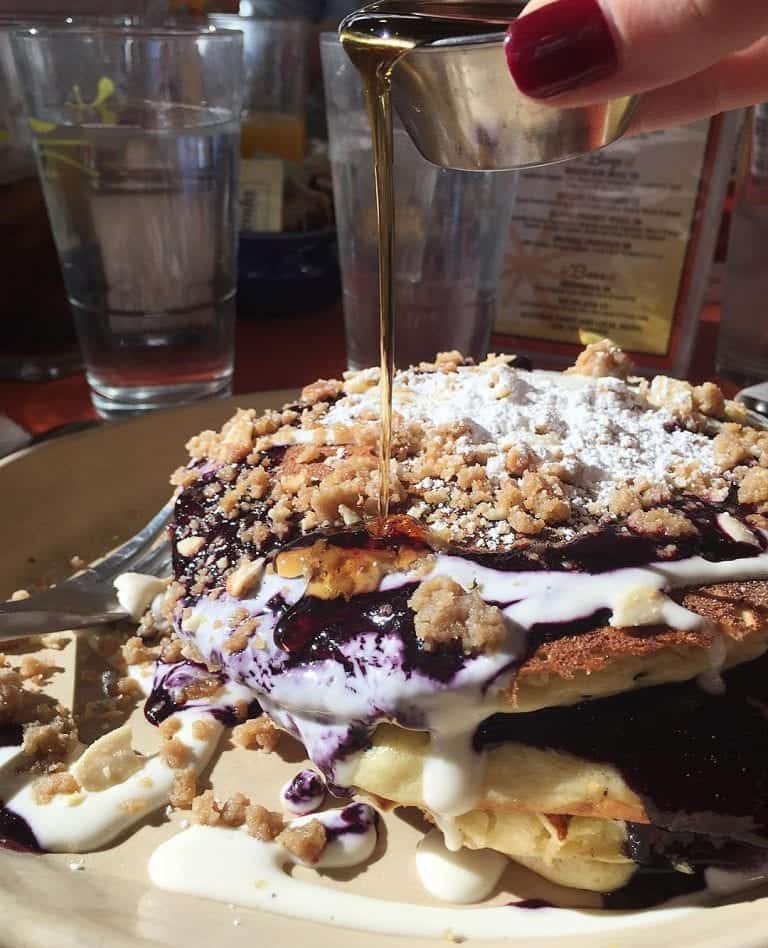 Another great breakfast spot is Snooze AM.  We usually go to their downtown Gilbert location.  This is their Blueberry Danish Pancake which is by far my absolute favorite!  Their egg scrambles and eggs benedict dishes are amazing as well.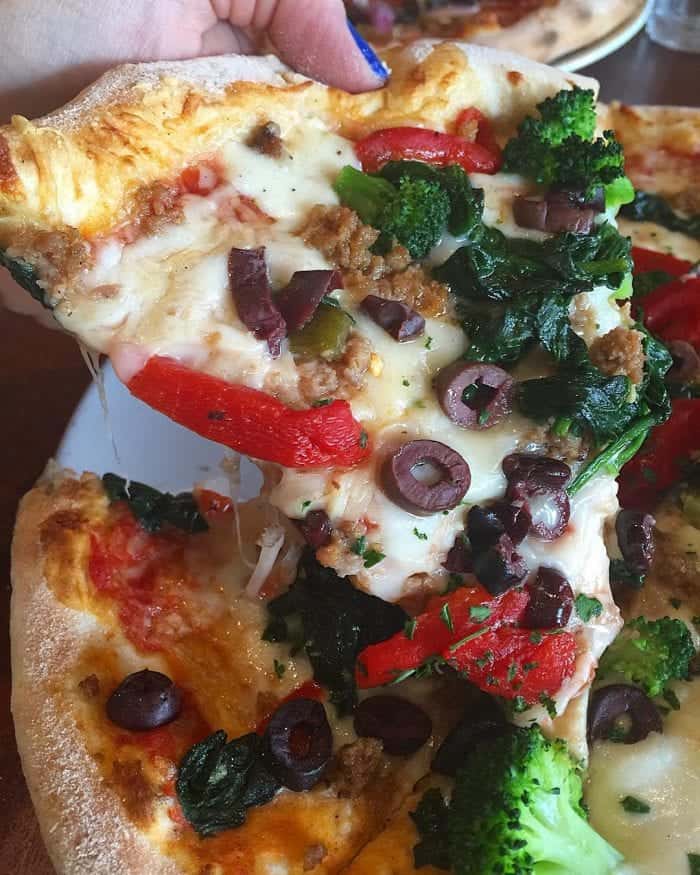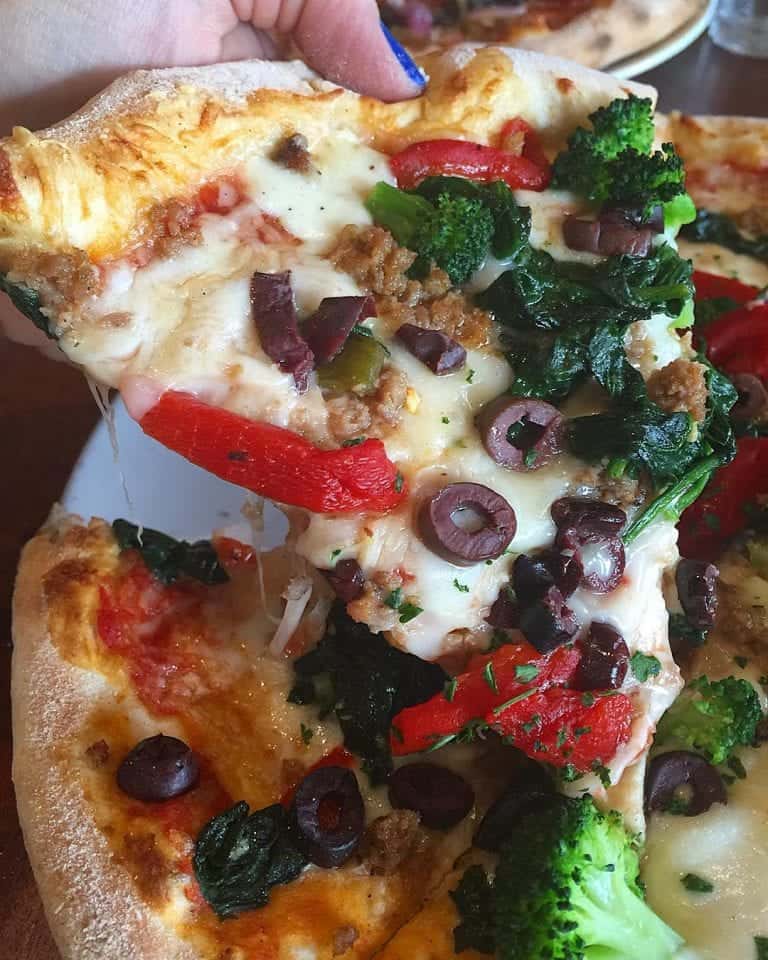 Sauce in Gilbert, Dana Park is a casual spot that makes an unforgettable pizza.  Their salads are out of this world too.  Awesome for lunch!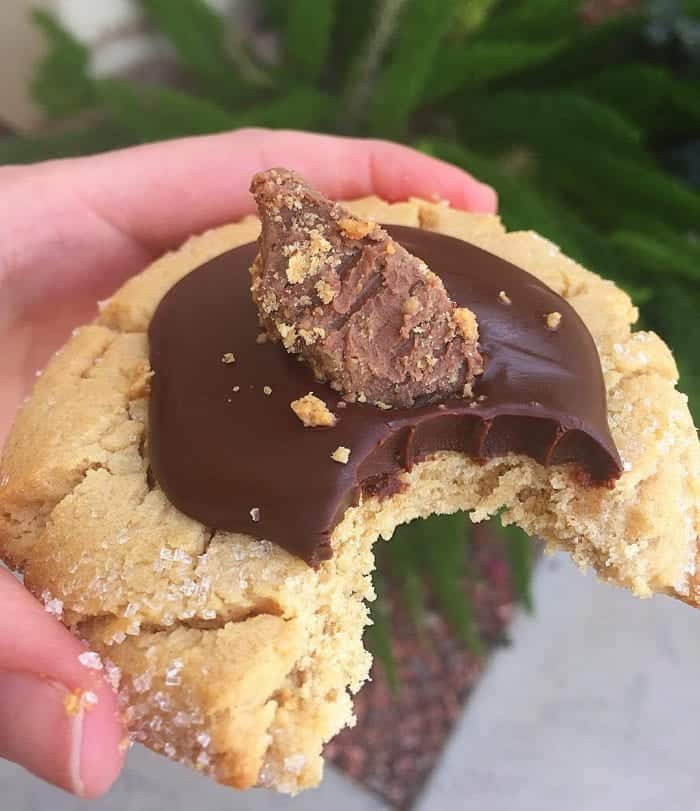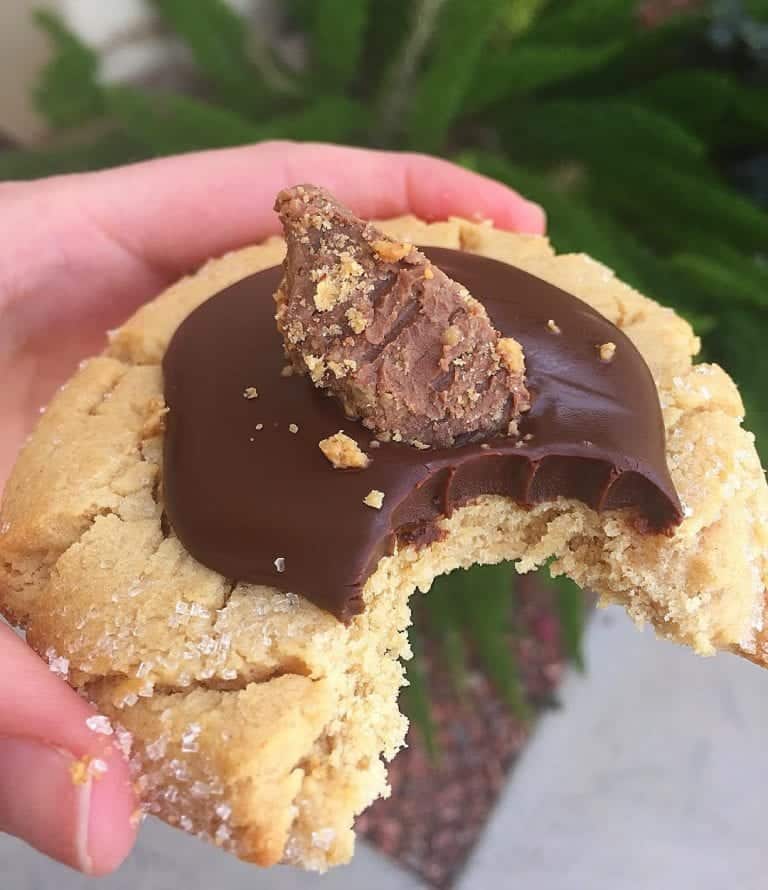 Sassy's in Mesa is such a cute cafe in Mesa, not only do they have breakfast and lunch options, their bakery case is to die for.  This peanut butter cookie with chocolate and peanut butter cup topping is my favorite!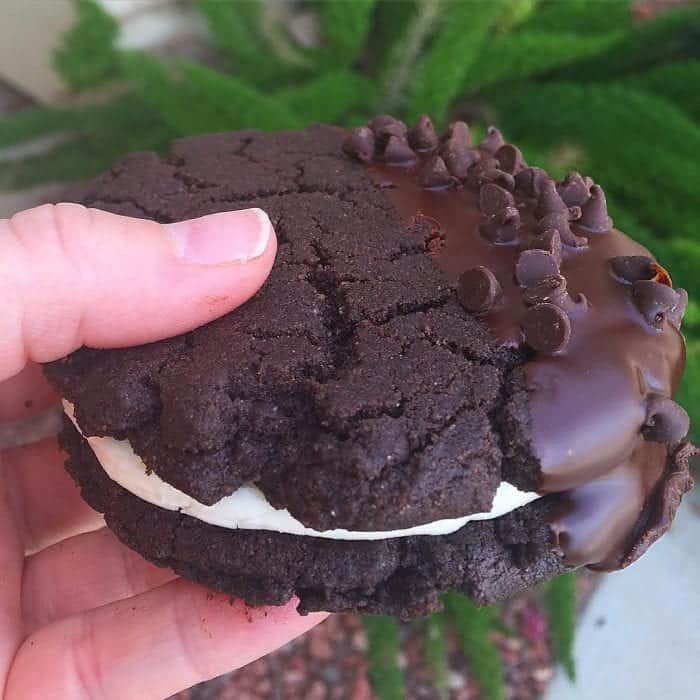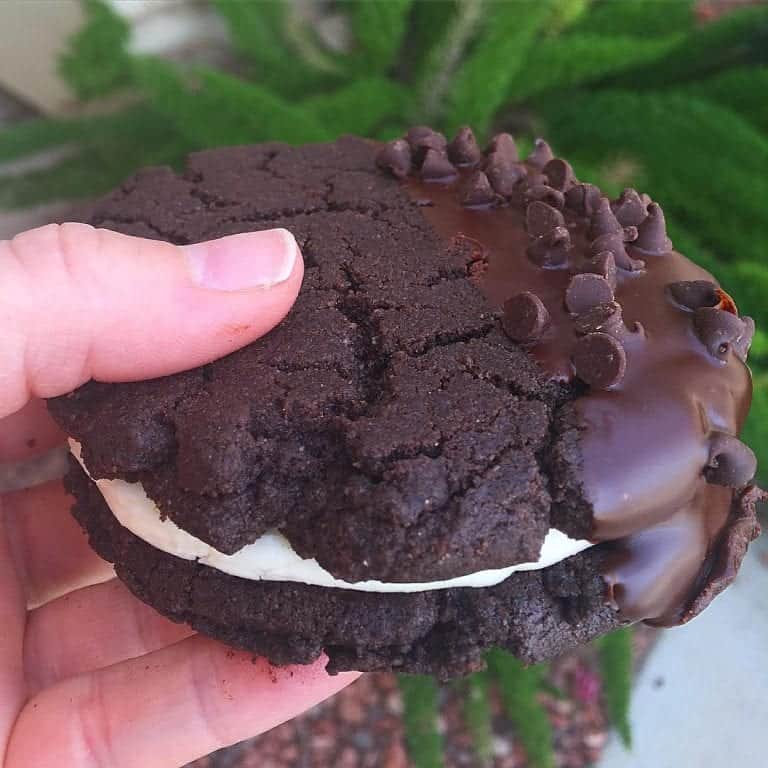 Another favorite from Sassy's is this giant chocolate dipped chocolate sandwich cookie.  Fantastic!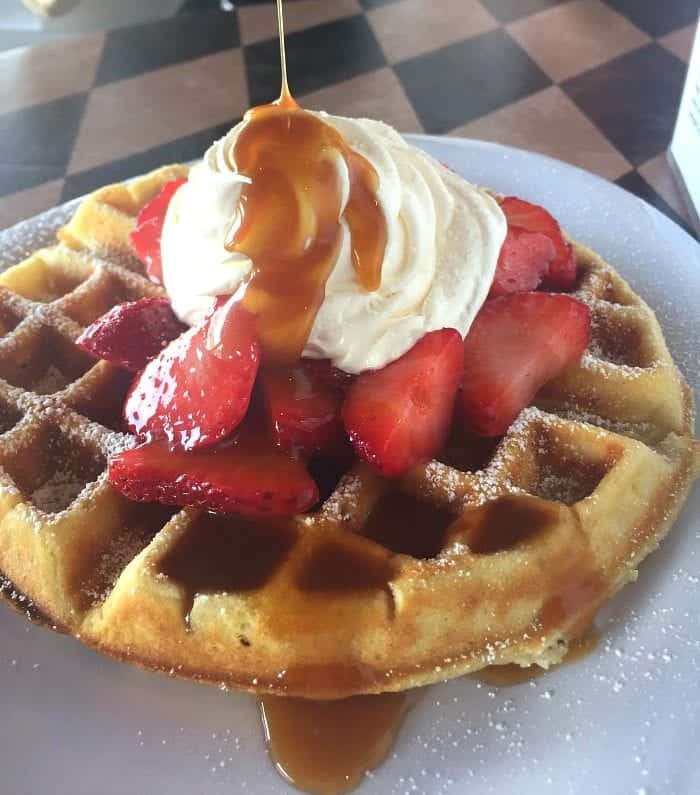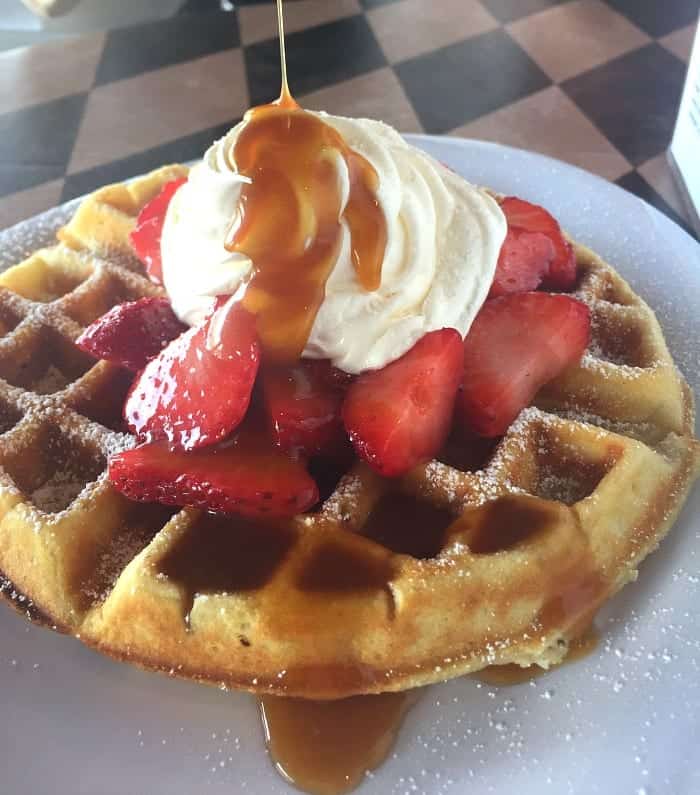 How beautiful is this Sassy's Belgium Waffle?!  That caramel-like buttermilk syrup should be illegal it's so good!!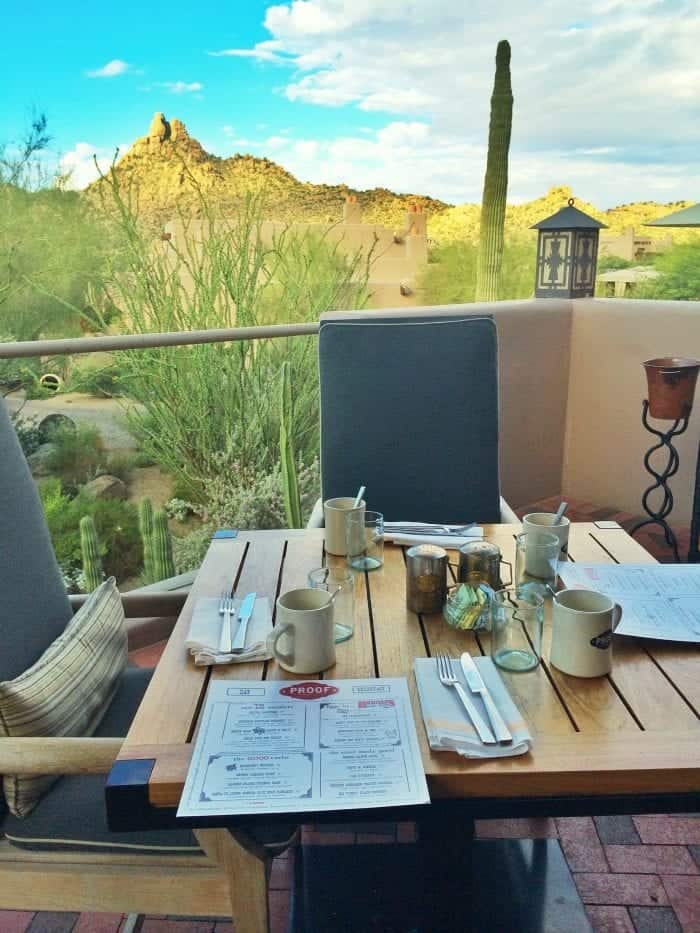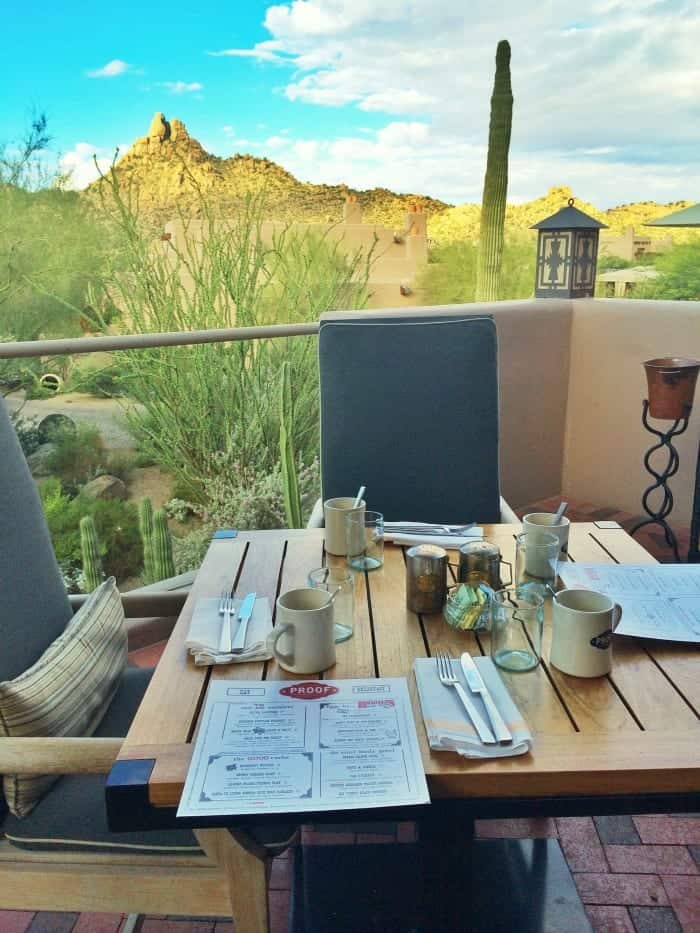 Four Seasons Resort in Scottsdale is one of my favorite places to visit.  Not only are their grounds beautiful, their restaurants never fail to impress me.  Proof is so great for weekend brunch, lunch or dinner…and look at that view?!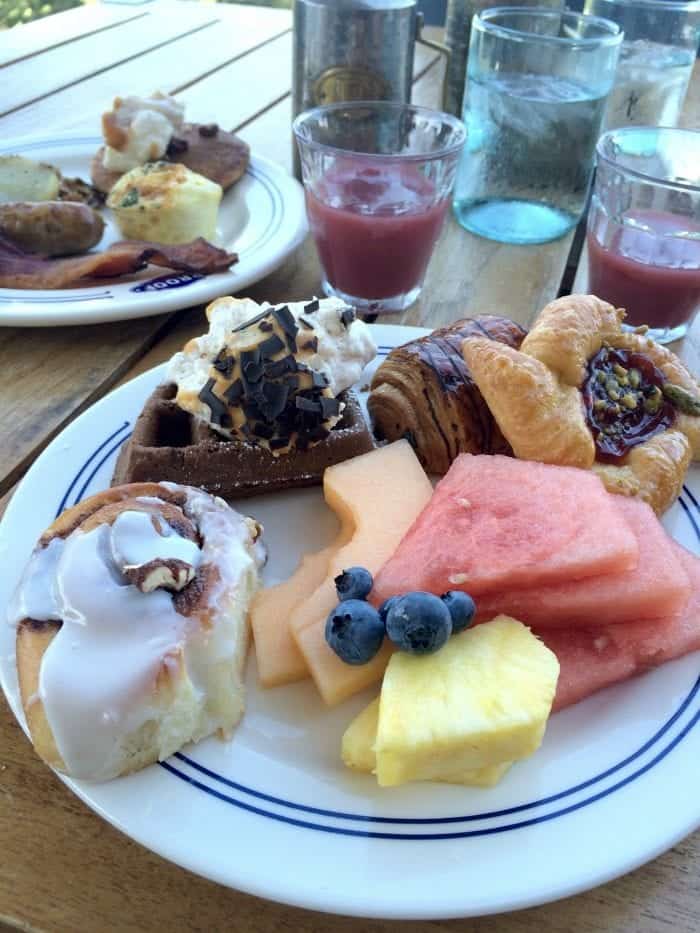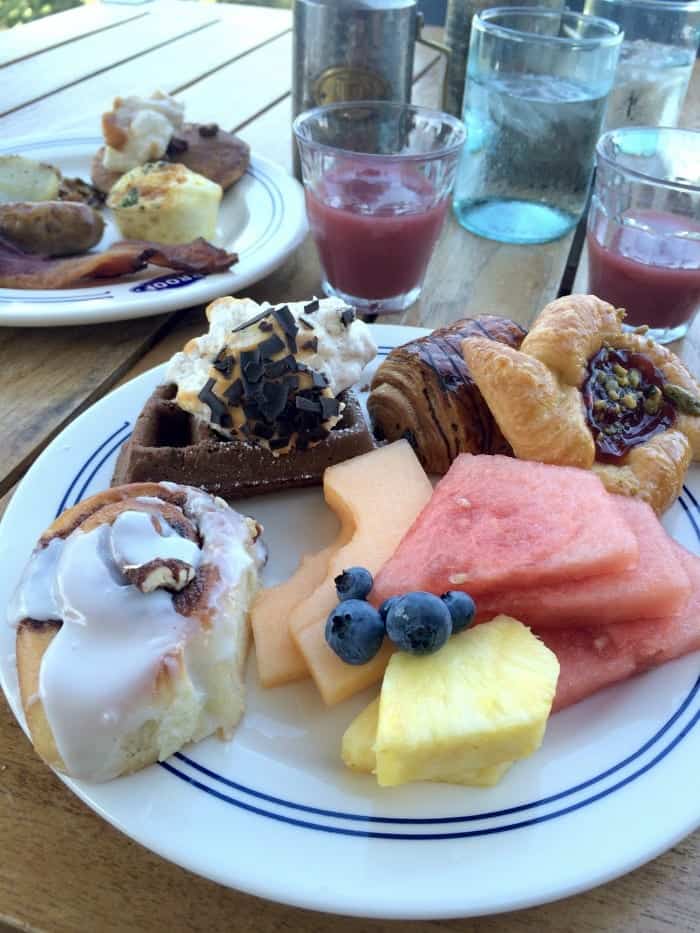 We've visited on a number of occasions, here's one of the plates I put together during a weekend brunch.  Swoon!  Fresh fruit, fresh juices, pastries, waffles, pancakes, eggs….you name it, they've got it.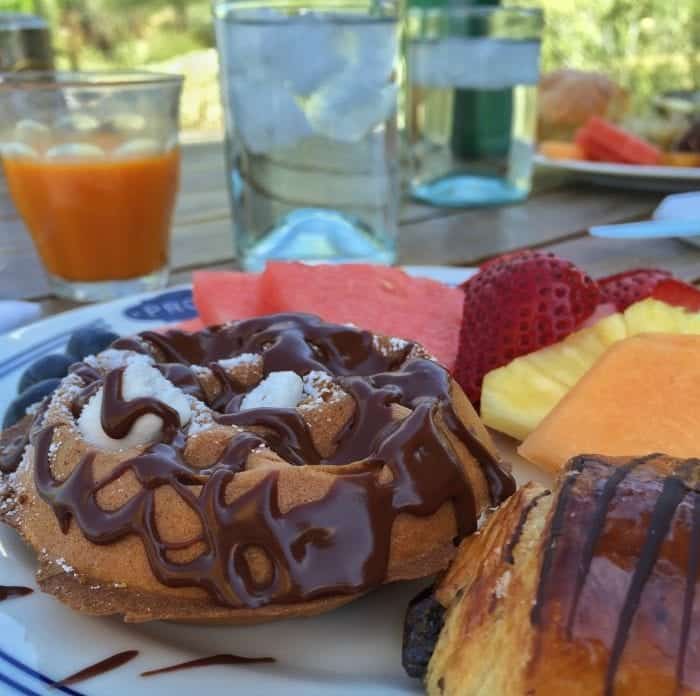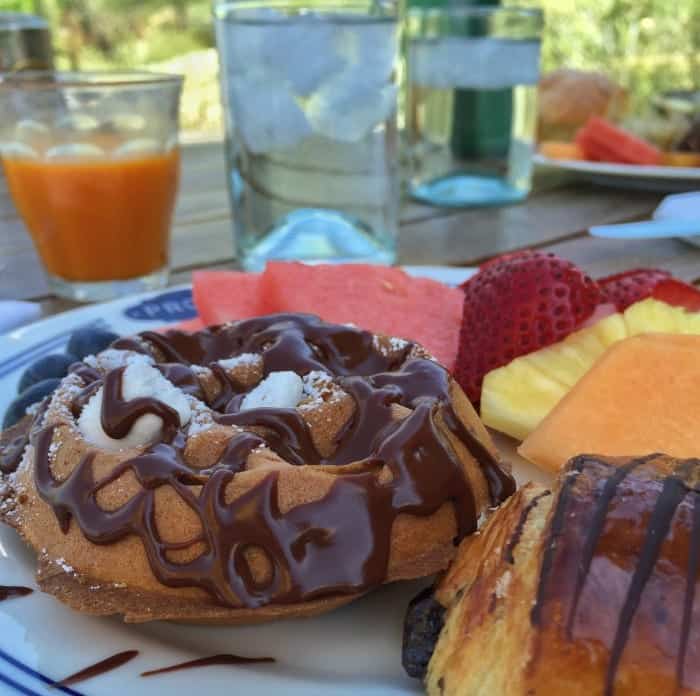 Fabulous!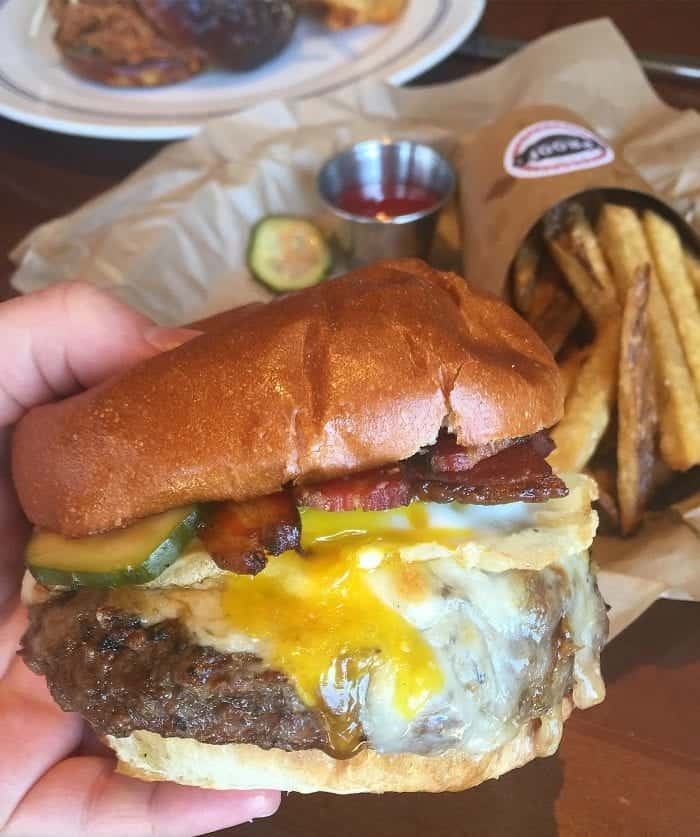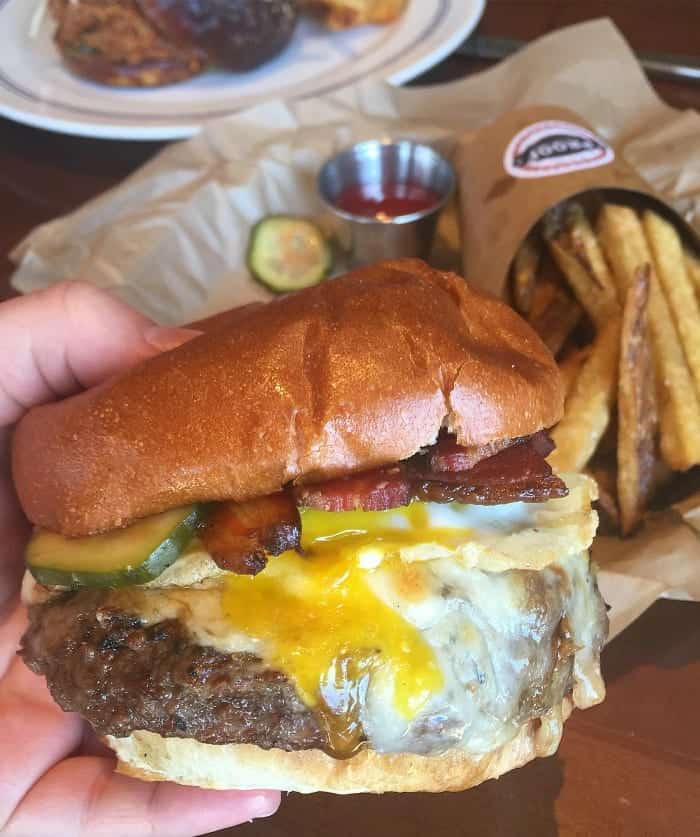 For lunch or dinner, Proof's signature burger is out of control.  Top it with an egg and watch the magic happen.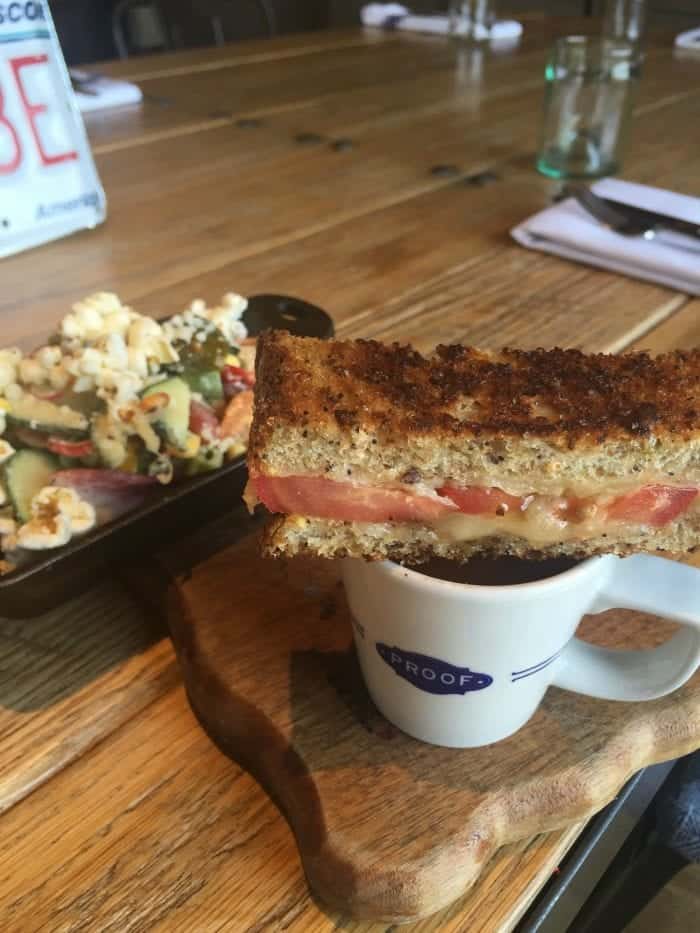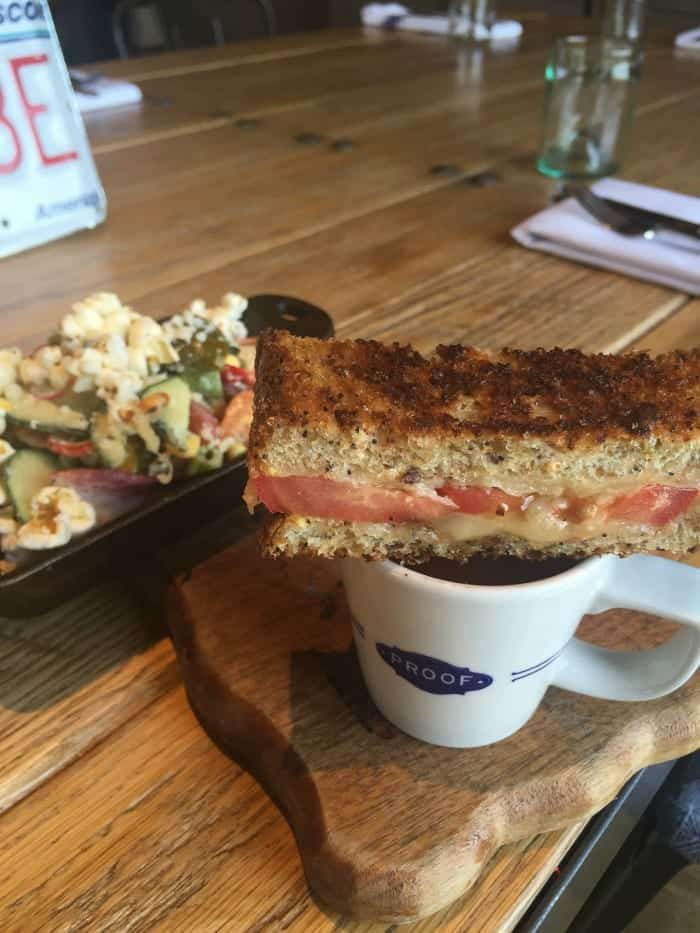 Their tomato soup and grilled cheese starter might be one of my favorite things ever.  You've got to try it.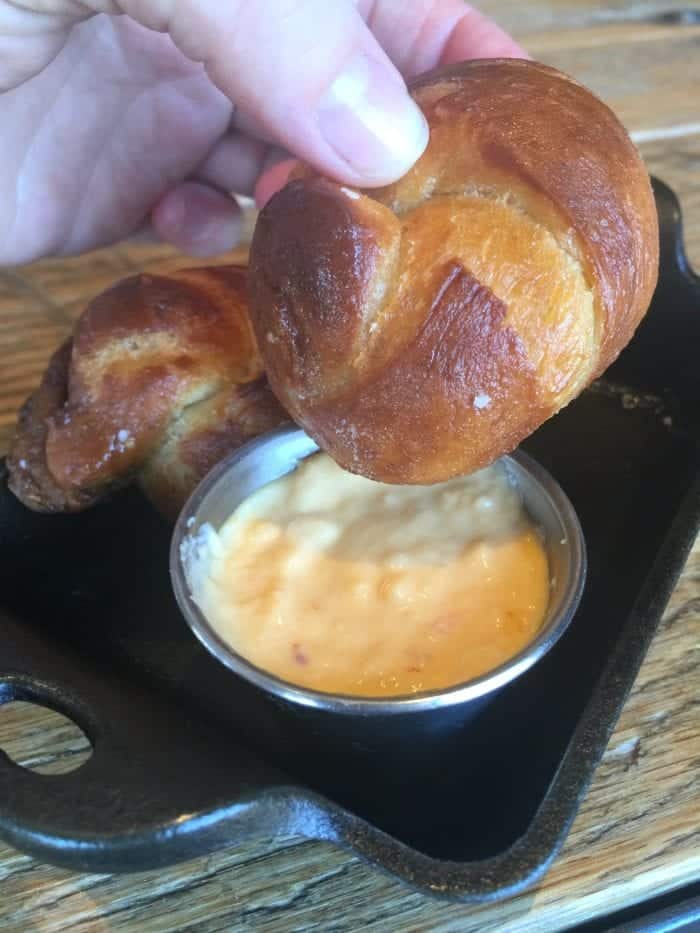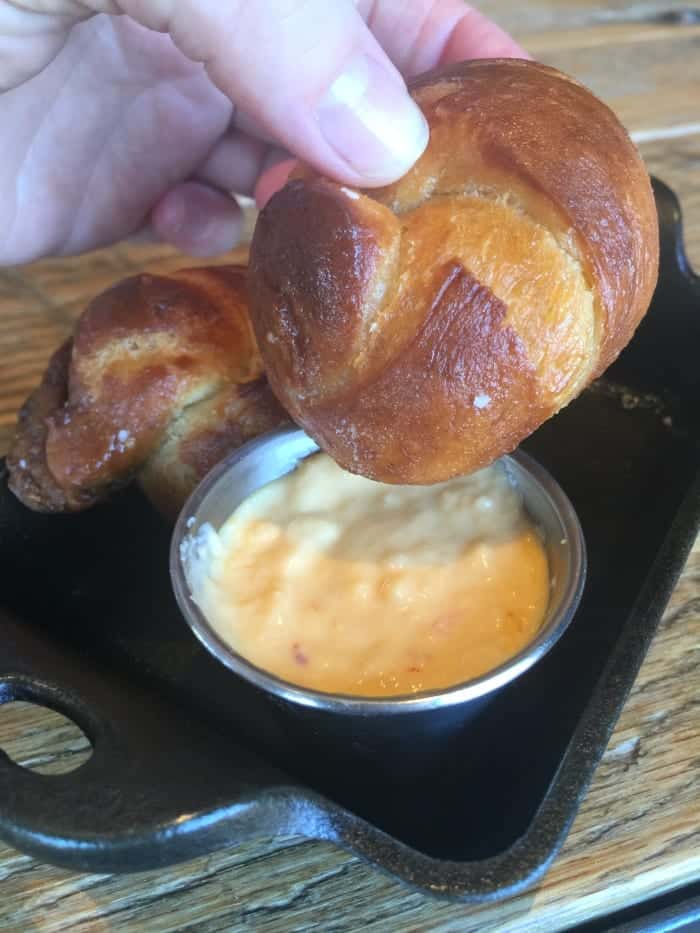 Their pretzel rolls with spicy cheese sauce…Amanda and I couldn't stop eating these.  We decided they tasted like buttery croissant pretzels.  So soft and buttery.  Out of control 🙂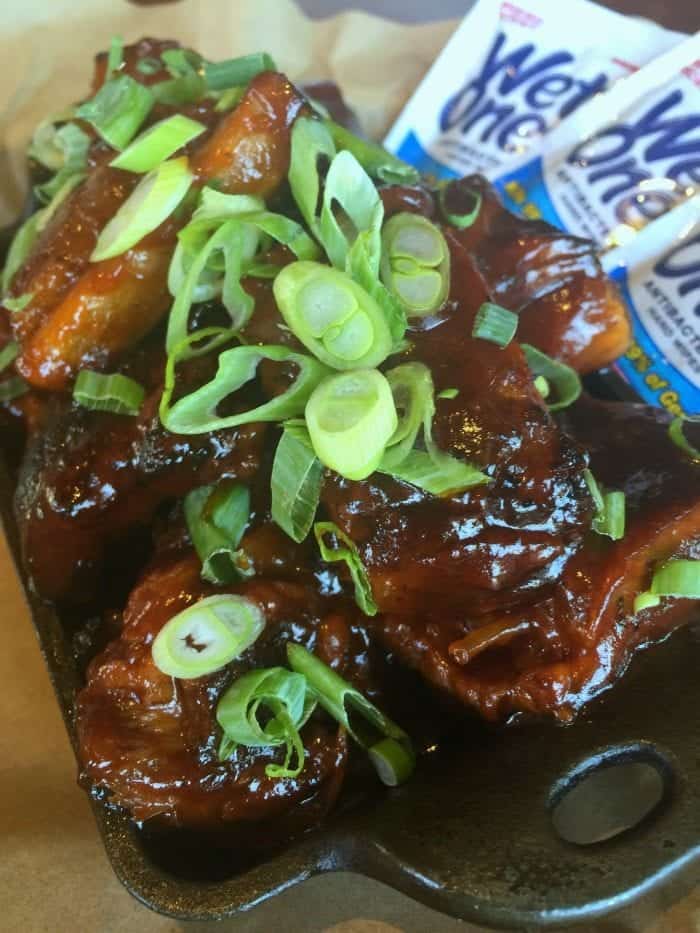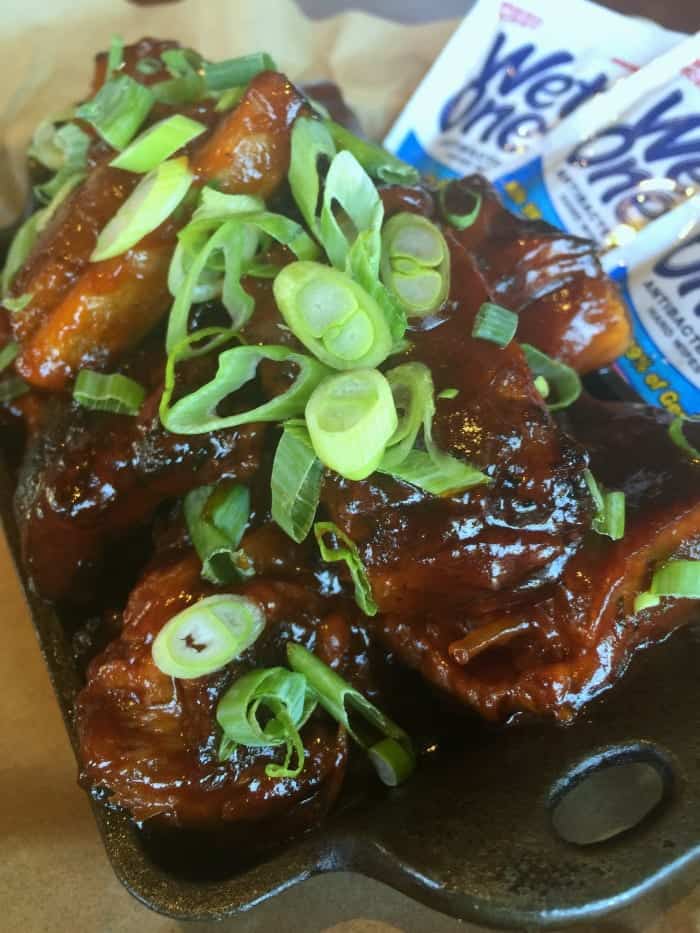 Their BBQ rib bites.  An absolute must order.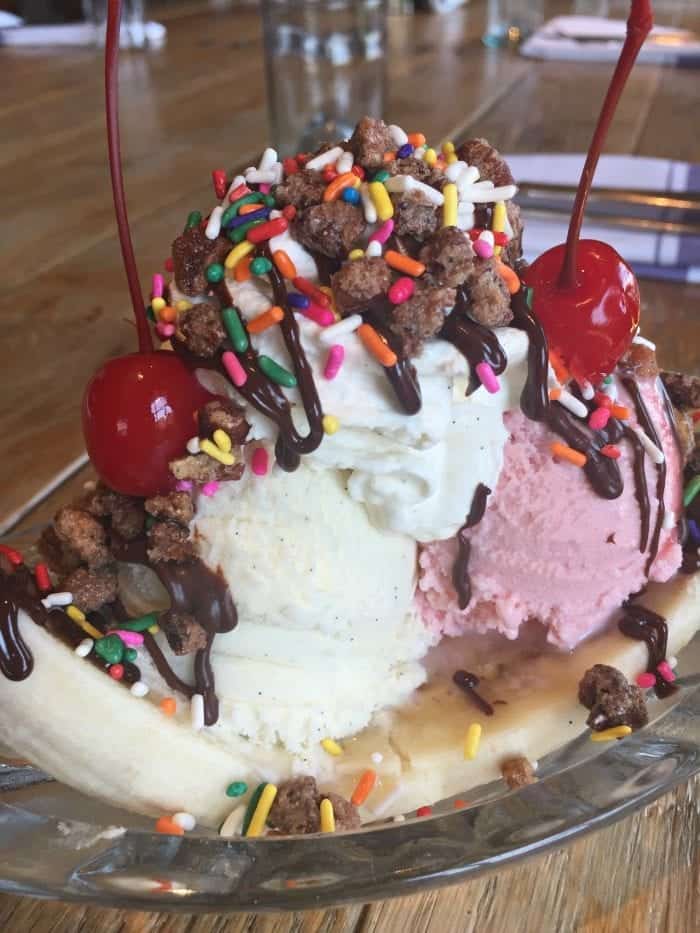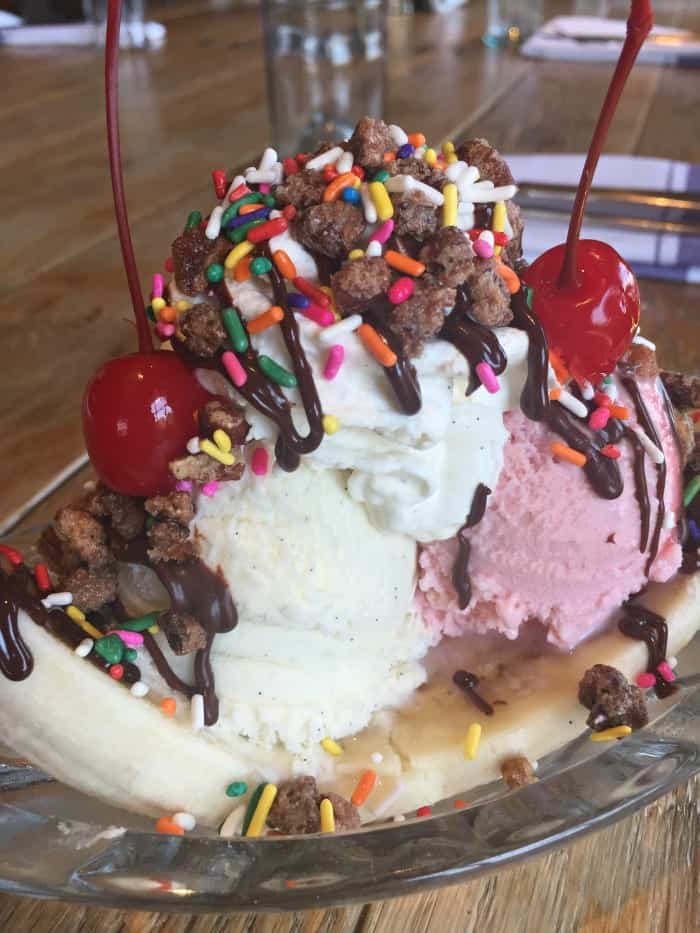 Their banana split….strawberry cake batter ice cream included.  Amazing!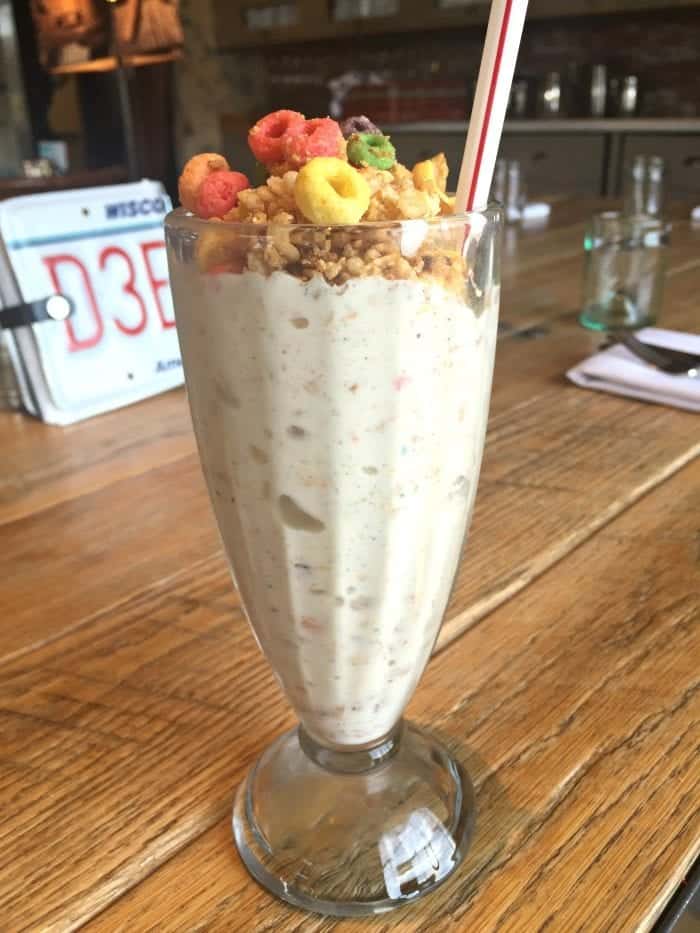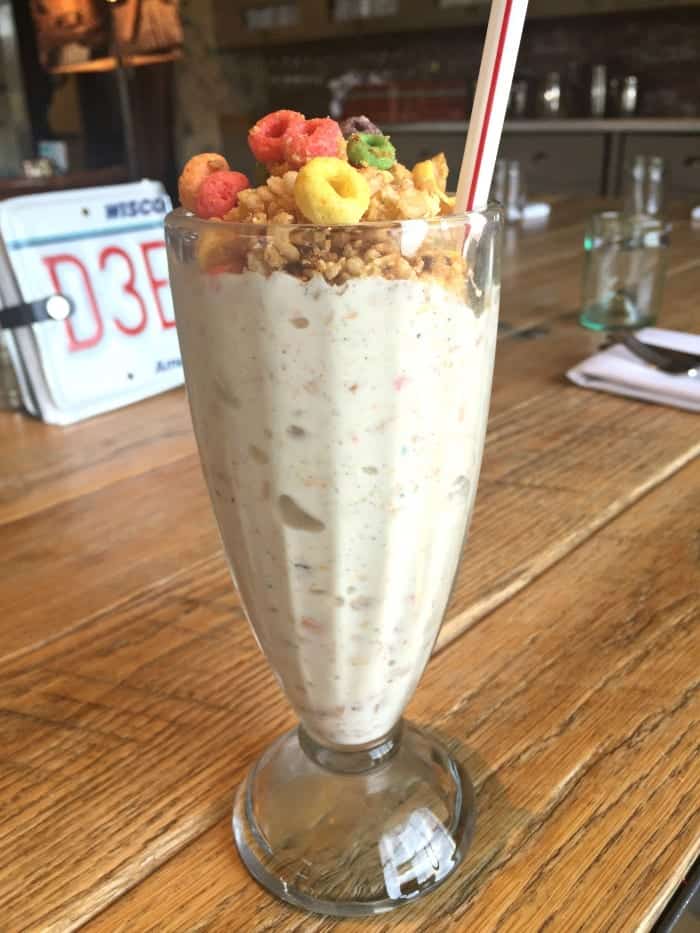 Their cereal milkshake…favorite!!!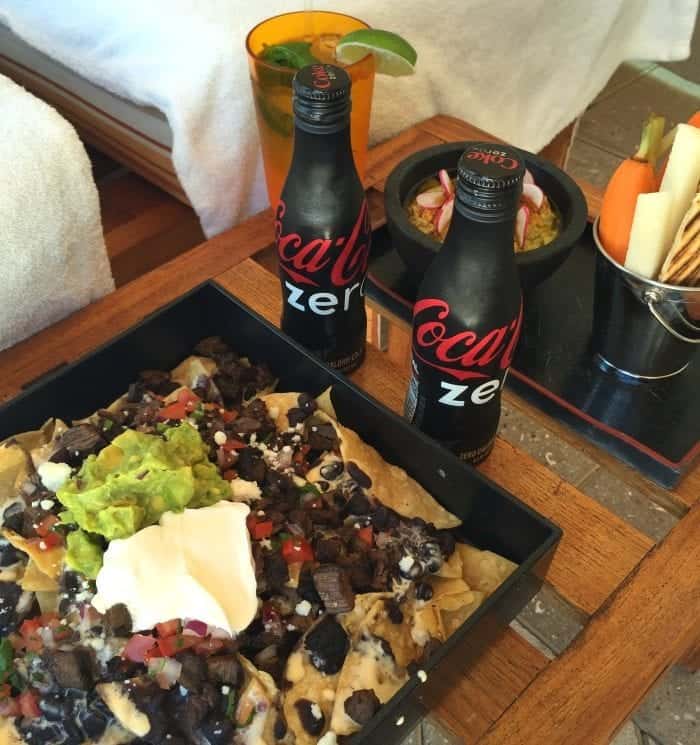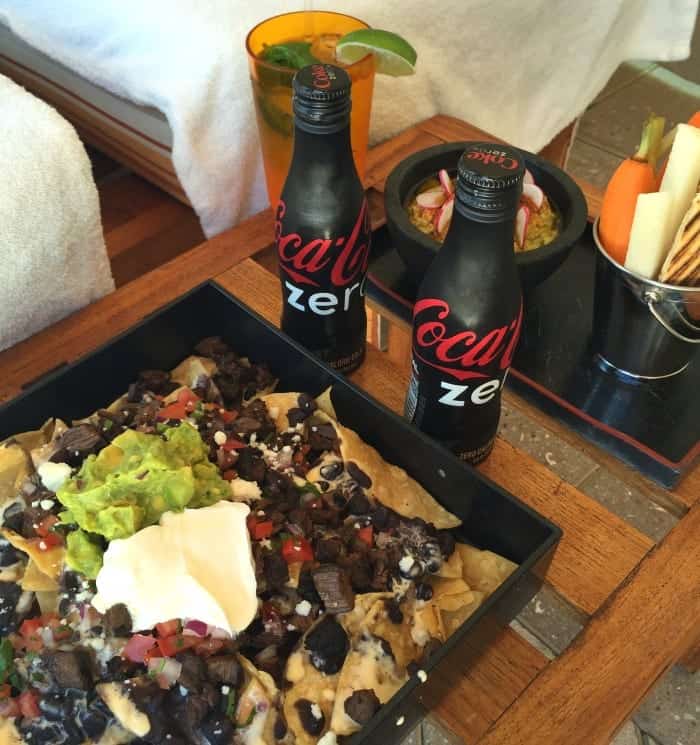 On a number of occasions, we spend the day at the Four Seasons pool under their cabanas.  Not even kidding that these Carne Asada Nachos top the charts with some of the best nachos around.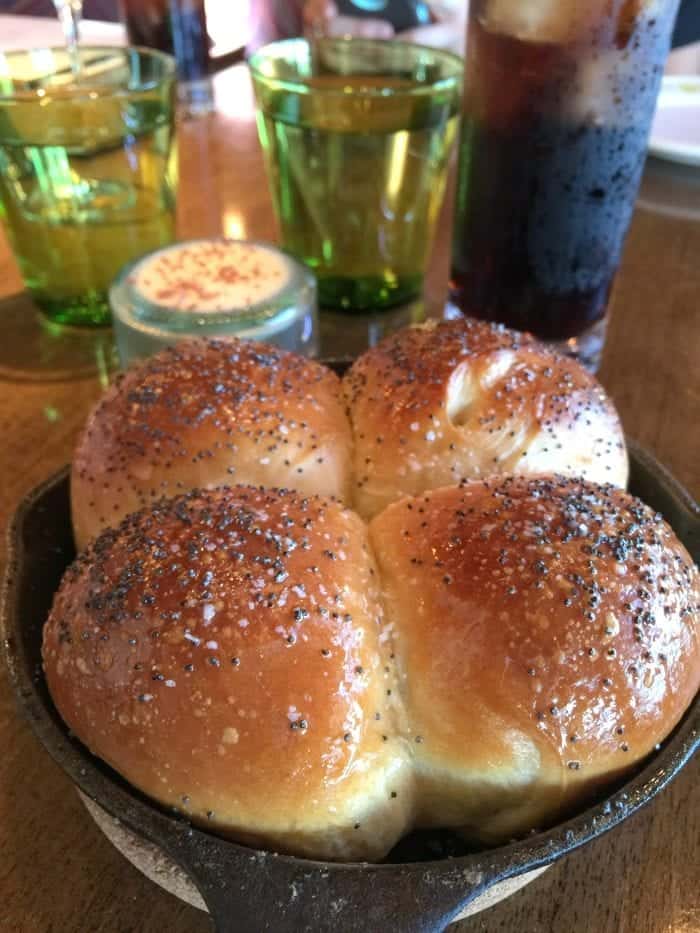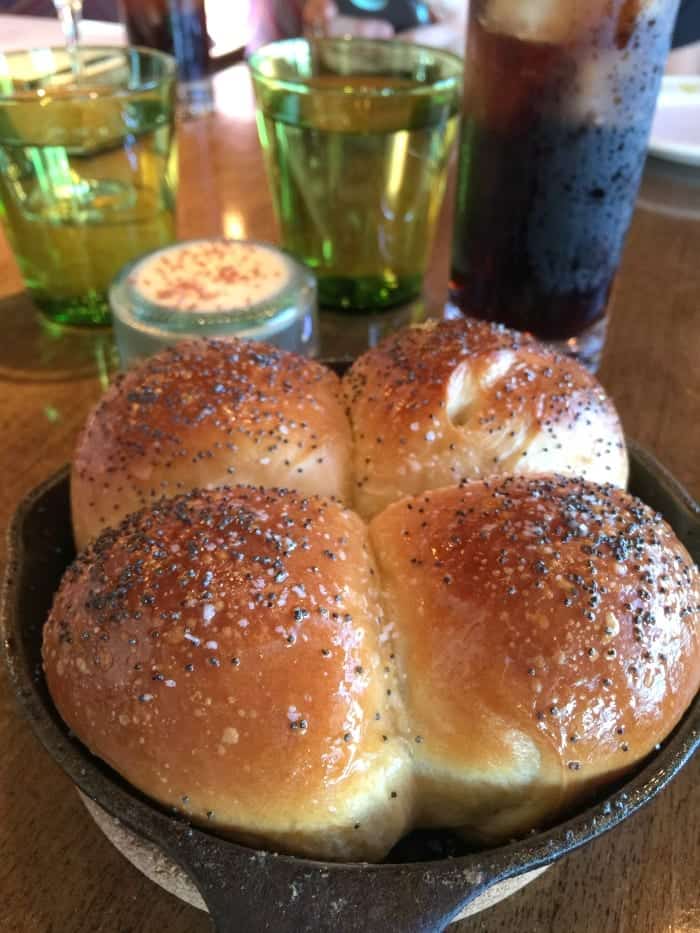 Not to be missed is Four Seasons restaurant Talavera.  These buttery soft rolls in a cast iron skillet make everything ok in the world.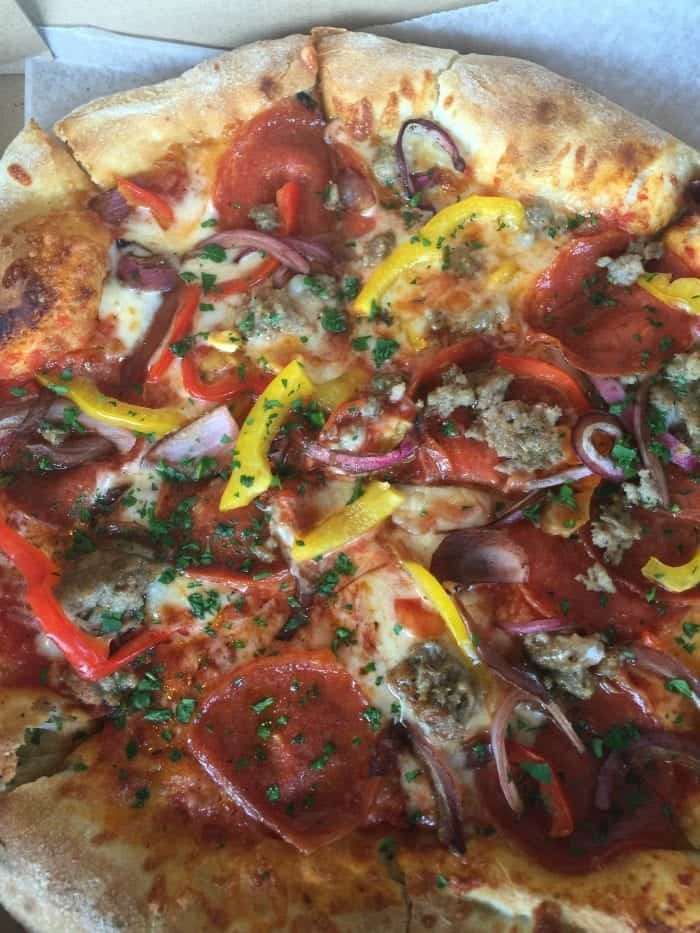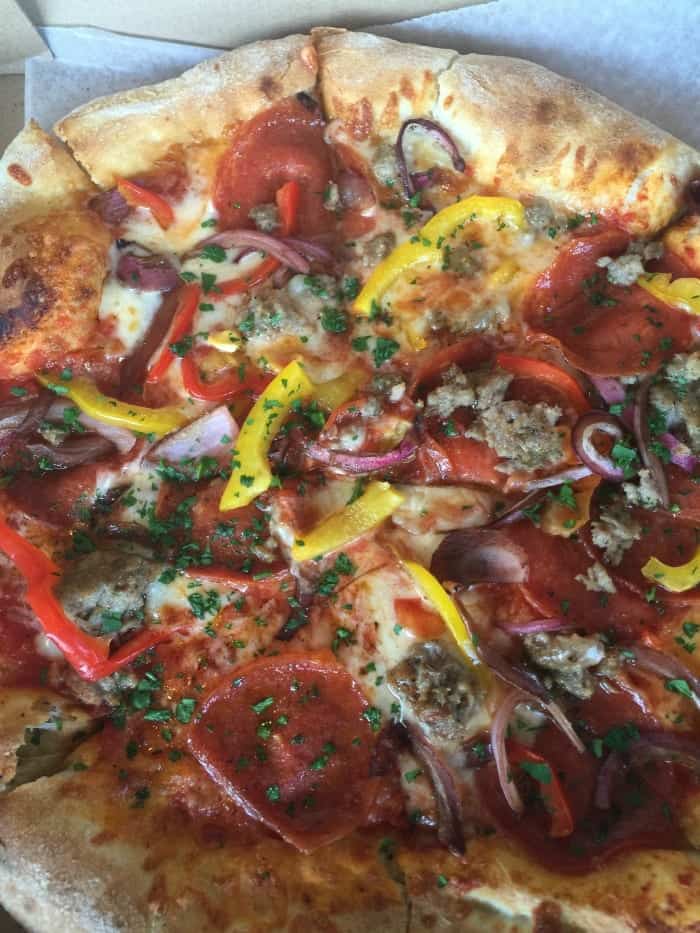 Federal Pizza in Phoenix has some of the best pizza in the Valley. Wood fired ovens make for the tastiest pizza crust around!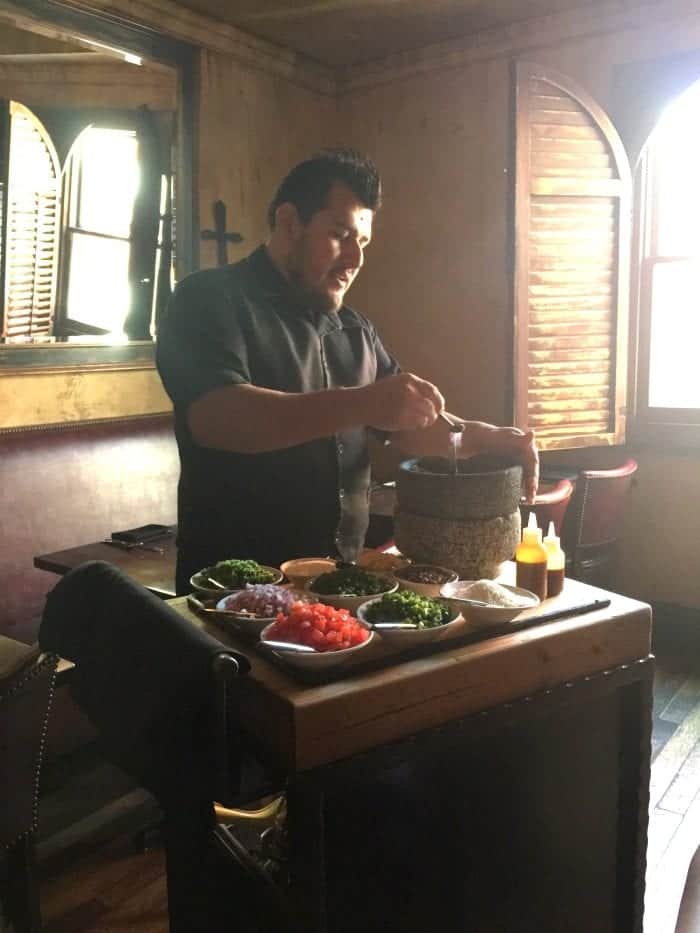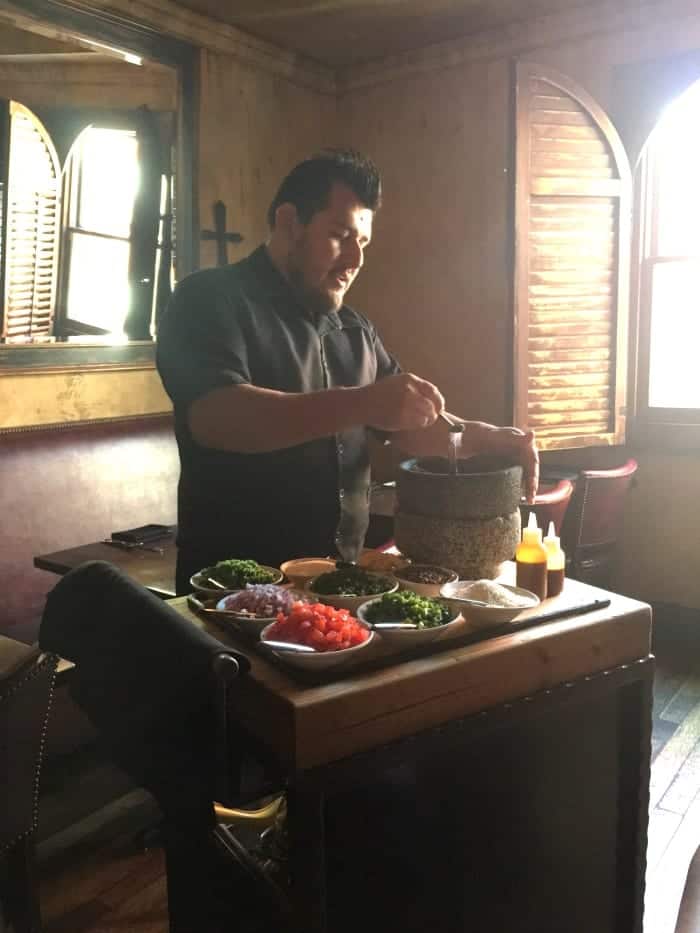 The Mission in Scottsdale is one of our favorite restaurants to visit when looking for a nice date night.  Their food is always spot on.  Their tableside guacamole can't be beat!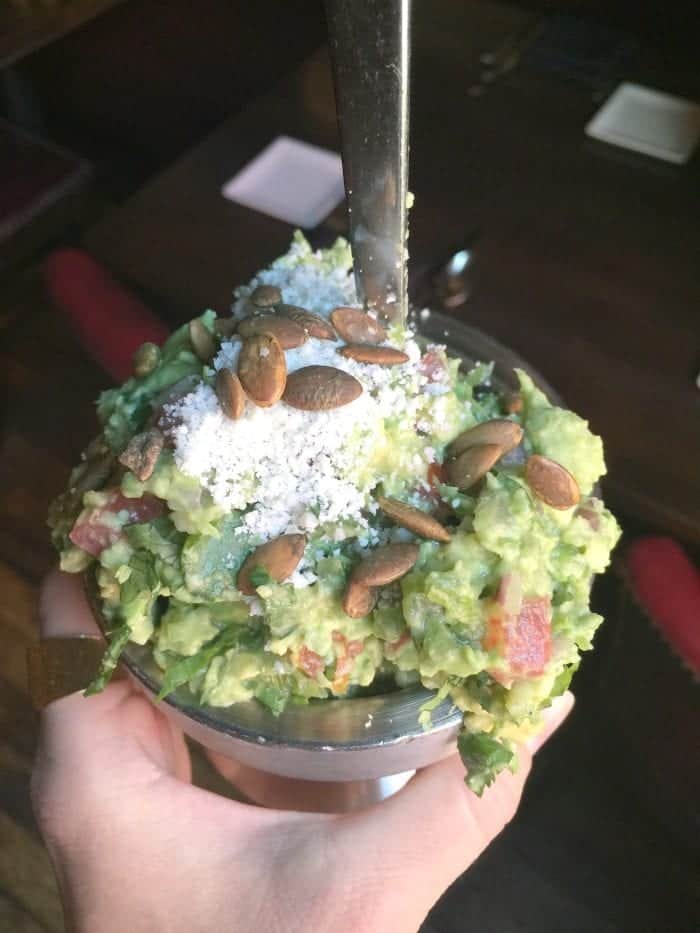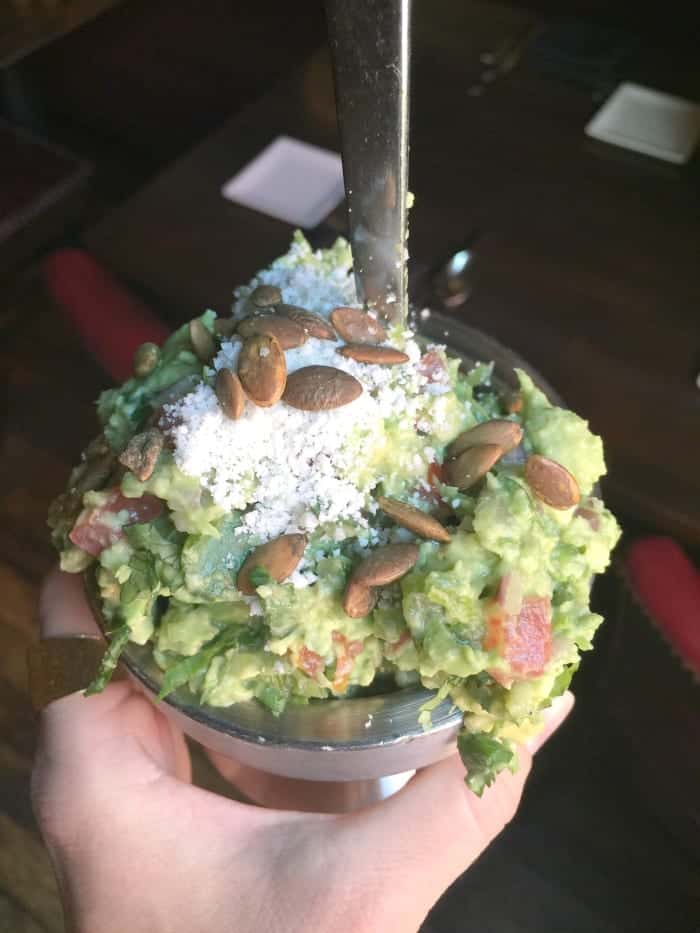 Hello!!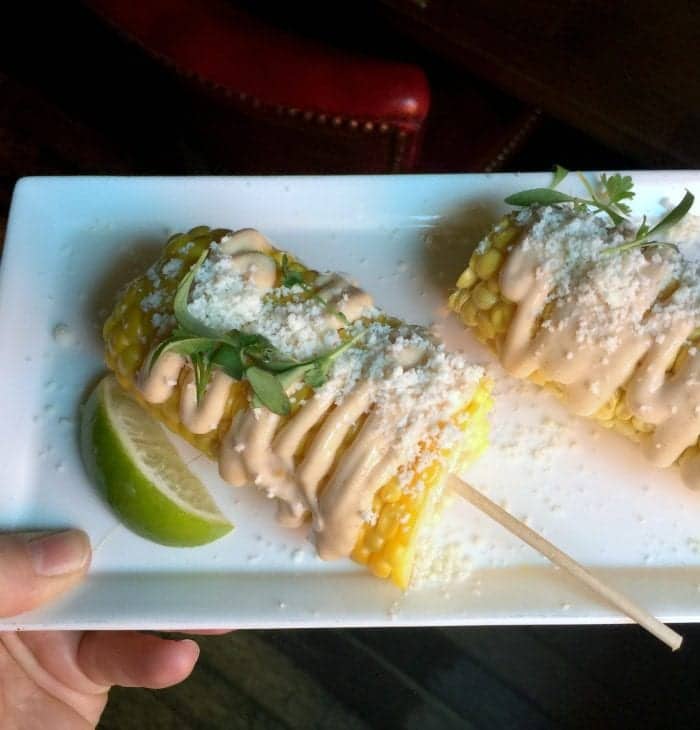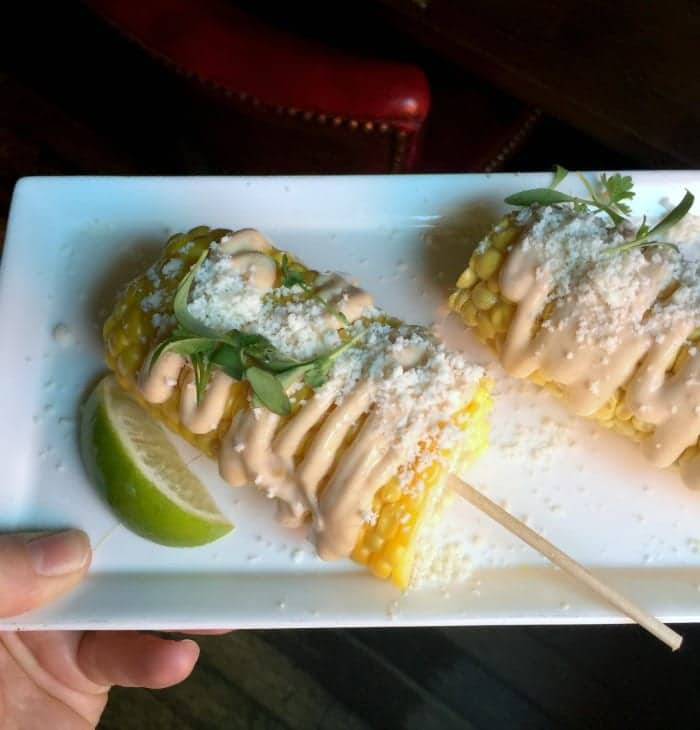 The Mission's Street Corn.  A must order.  They'll cut it off of the cob if you prefer to just enjoy it from a bowl.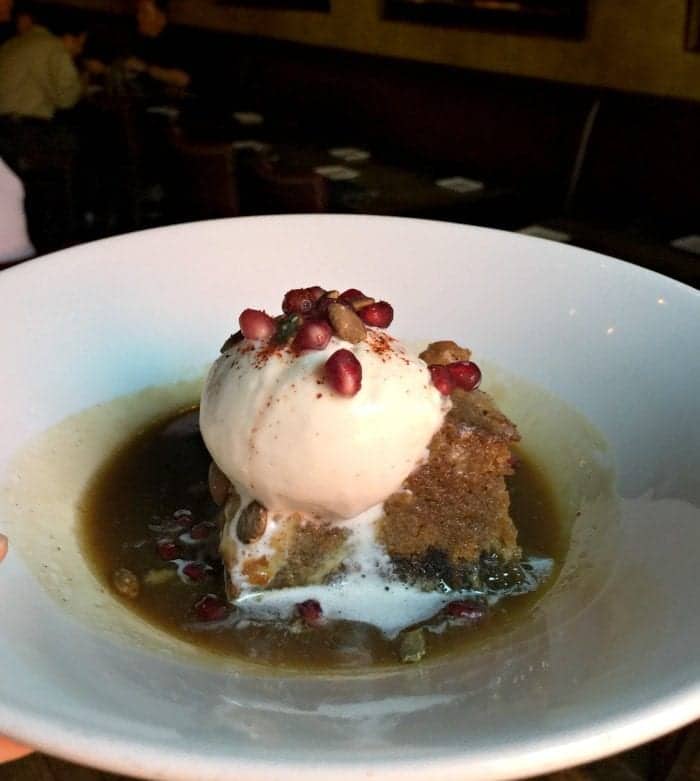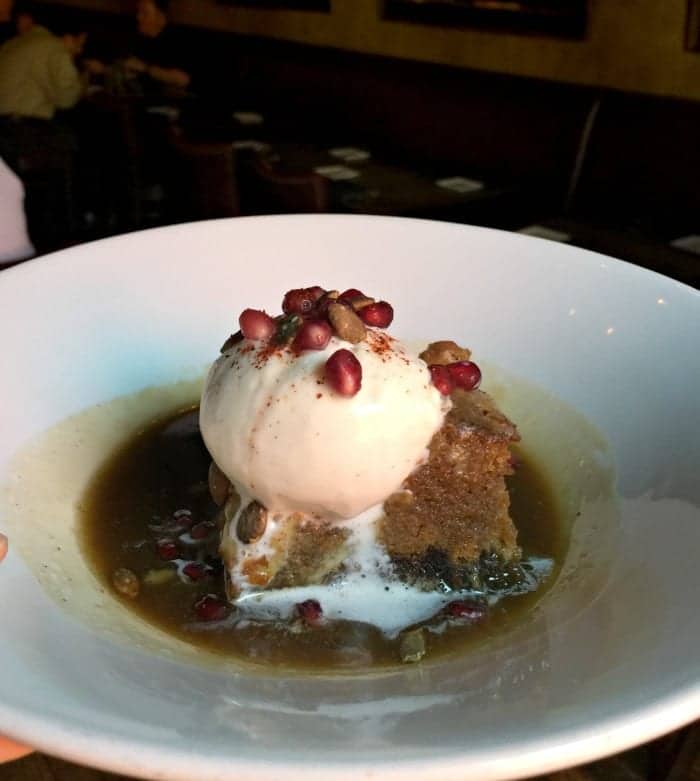 Their pumpkin bread pudding is so surprising.  Doesn't sound like much, but wait until you try it with the hot caramel and homemade vanilla ice cream with the soft pudding.  One of my favorite desserts to enjoy.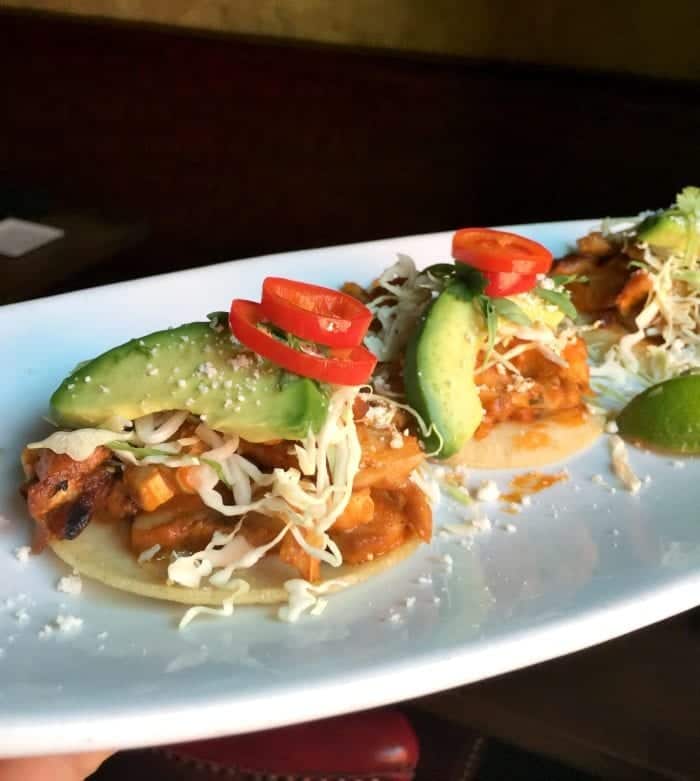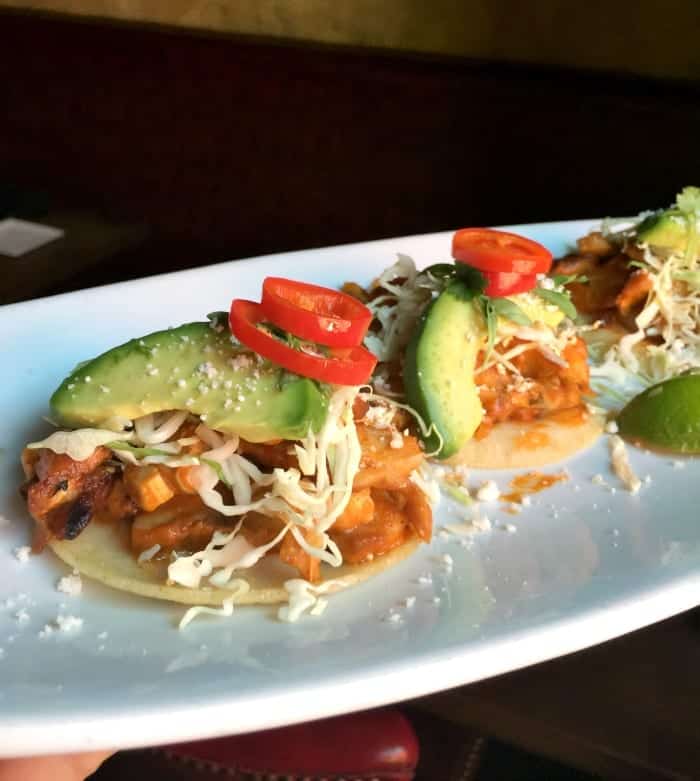 The Mission's tacos are mind blowing.  Here are the chicken tacos….so perfectly flavorful.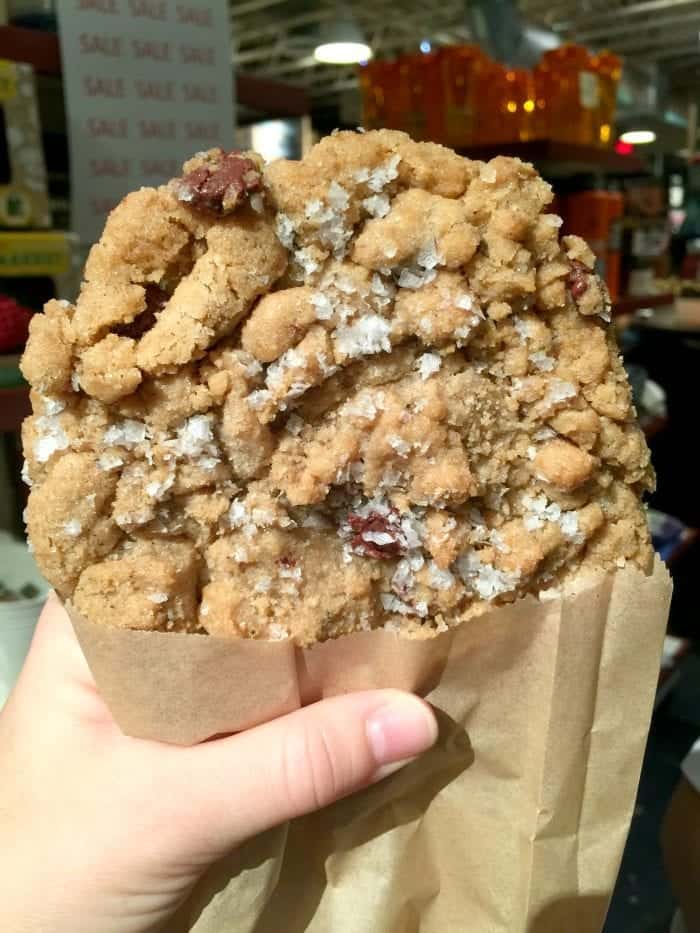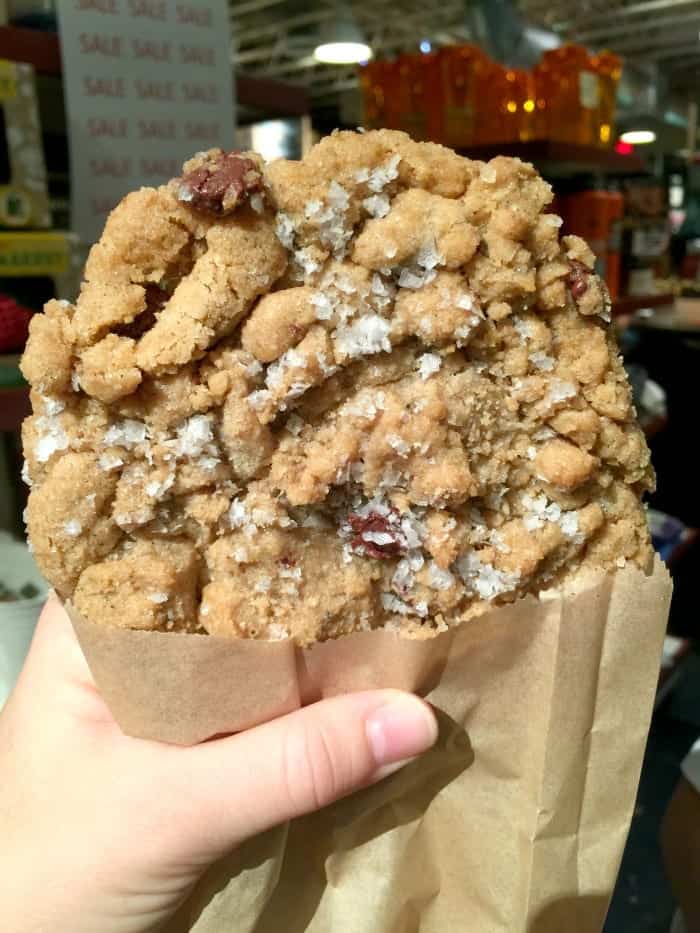 Another favorite dessert spot is Le Grand Orange aka "LGO."  The largest part of the location serves pizza however their bakery case is so beautiful with layered cakes, their signature salted chocolate chip cookie, cupcakes, bars, gelato and so much more.  They also offer homemade English Muffins that will change the way you think about English Muffins forever.  Their breakfast is pretty fantastic too.  Not a whole lot of seating, so plan accordingly.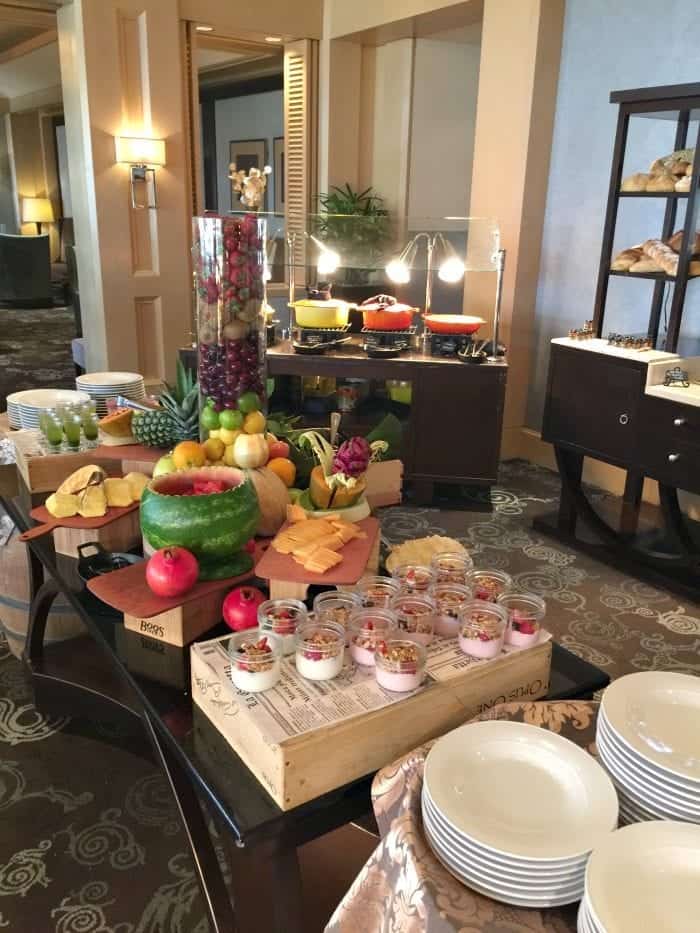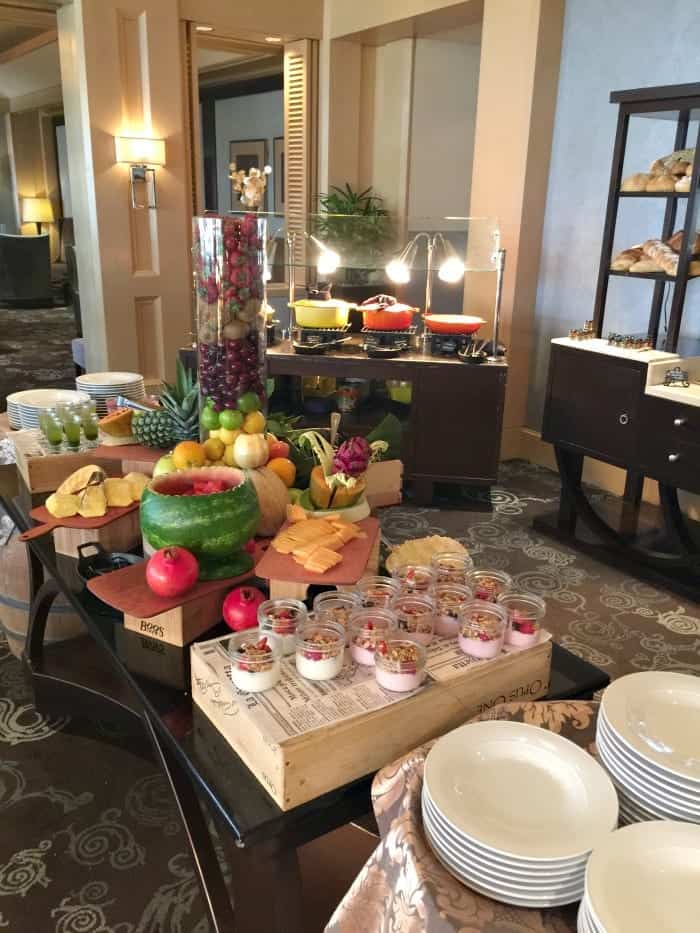 We had a lovely stay at The Phonecian last summer in Scottsdale.  Their brunch was stunning and delicious.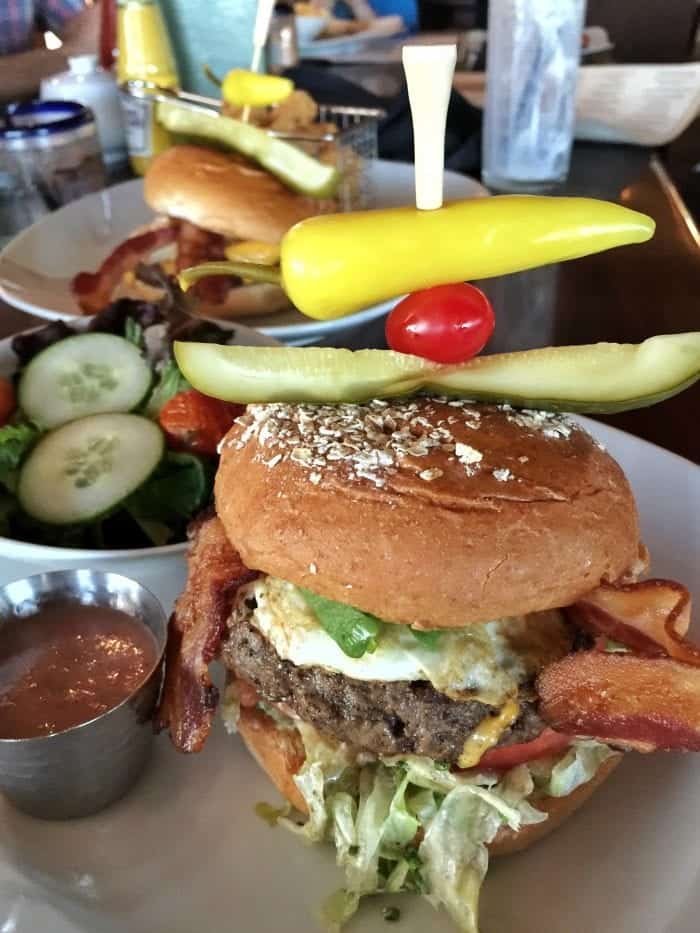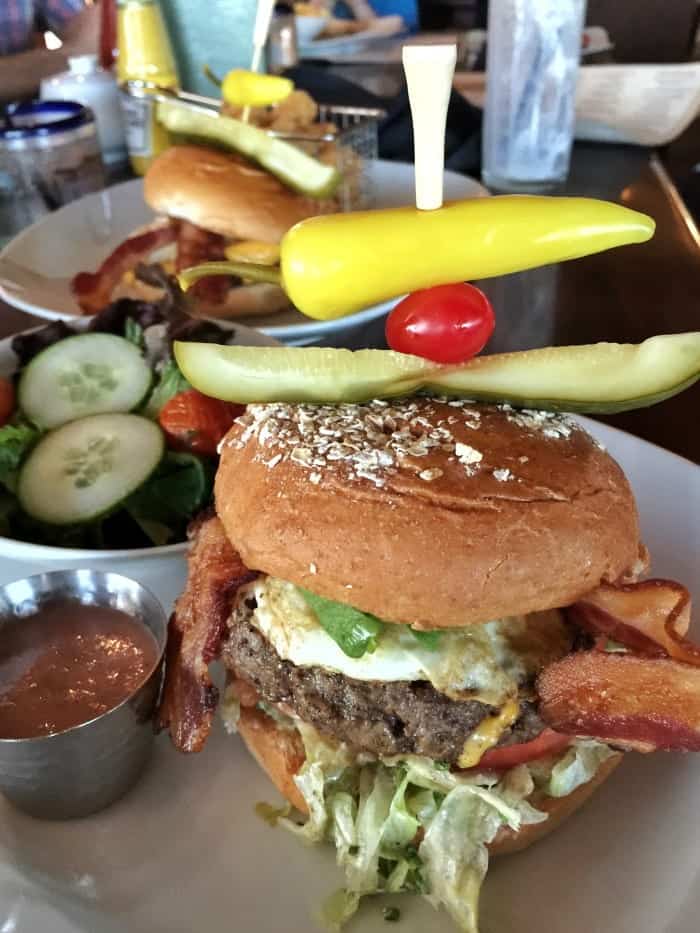 Can you even handle their burger?  Pretty amazing!  Relish Burger Bistro is a must!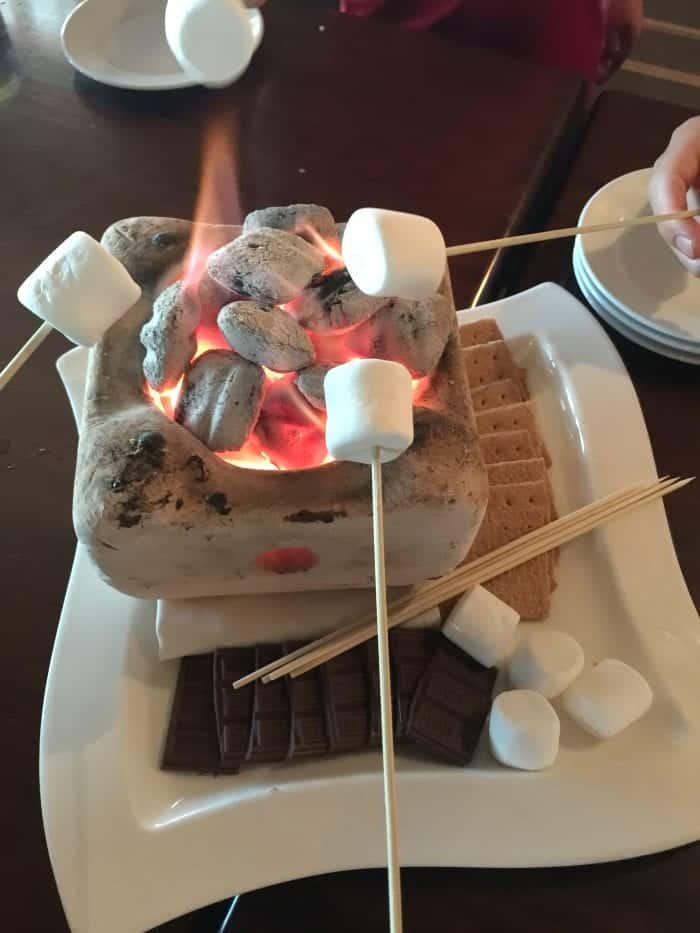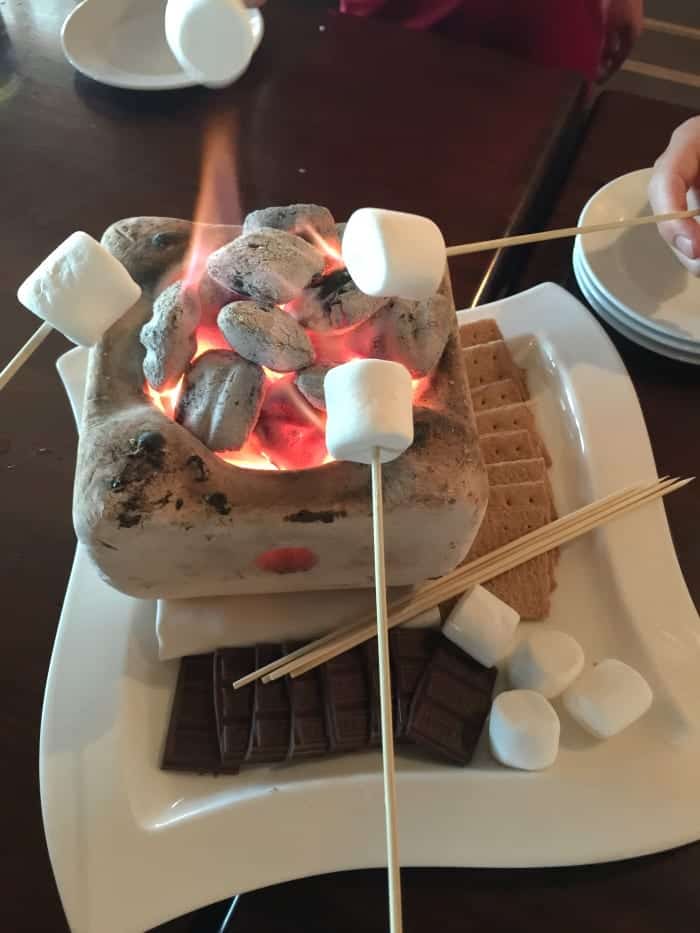 We had this do it yourself S'mores brought to the table.  So incredibly fun with the kids!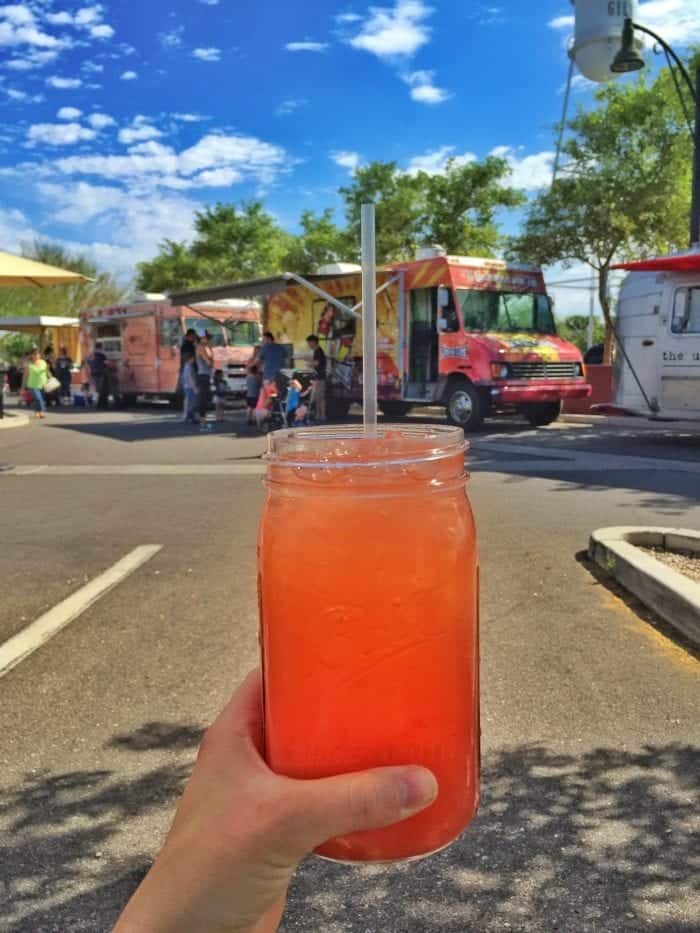 A couple Saturdays a month we visit the Gilbert Farmer's Market.  So many great food trucks.  My favorite is the homemade lemonade from Lunchalibre truck.  So refreshing when it's so hot in Arizona.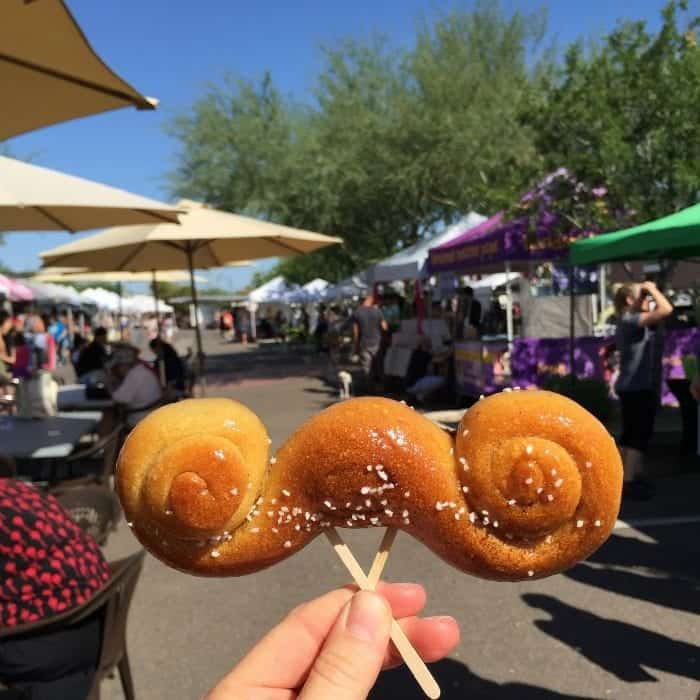 Another great Food Truck usually at the Gilbert Farmer's Market is Mustache Pretzels.  How cute are these?!  Not only so cute, but they're really good too!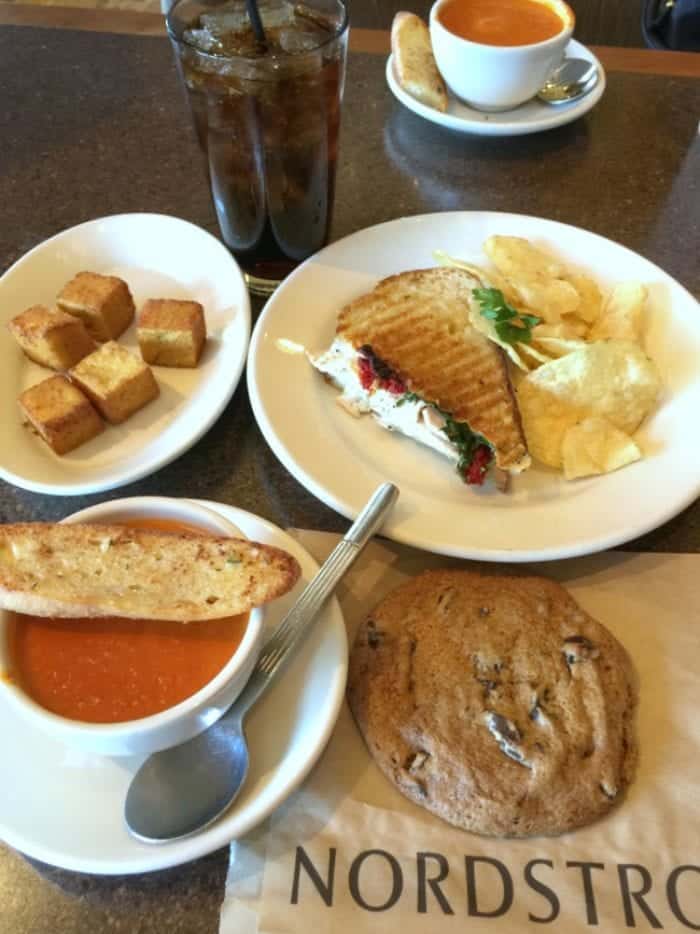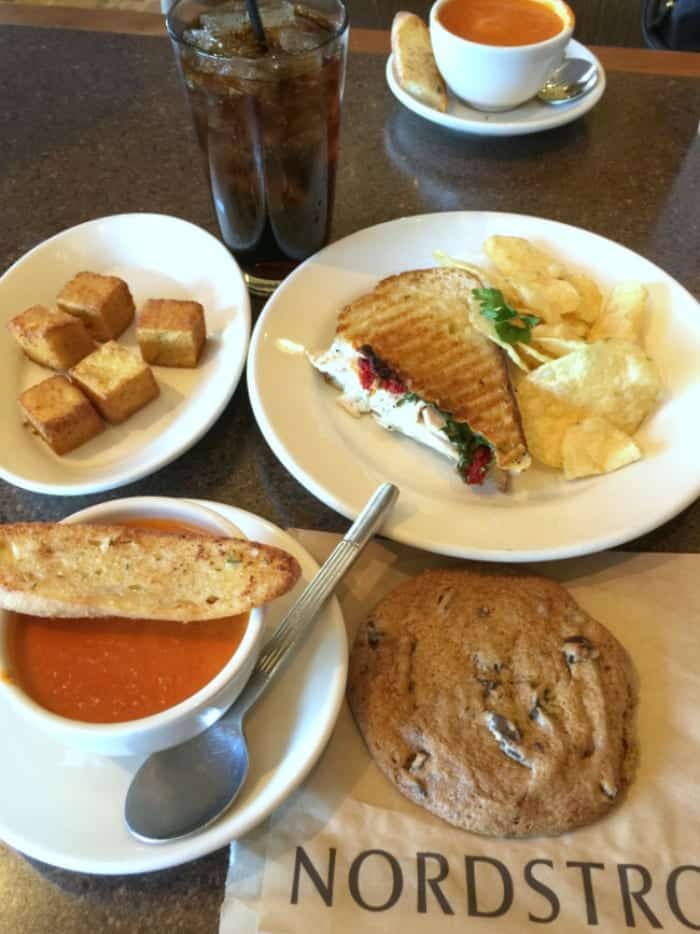 The Nordstrom Cafe in Scottsdale Fashion Square has always been one of my favorite places to get lunch and sometimes dinner!  Amazing service, with some of the best soup and salads around…..the cookie is pretty unforgettable too 🙂  All of their baked goods actually.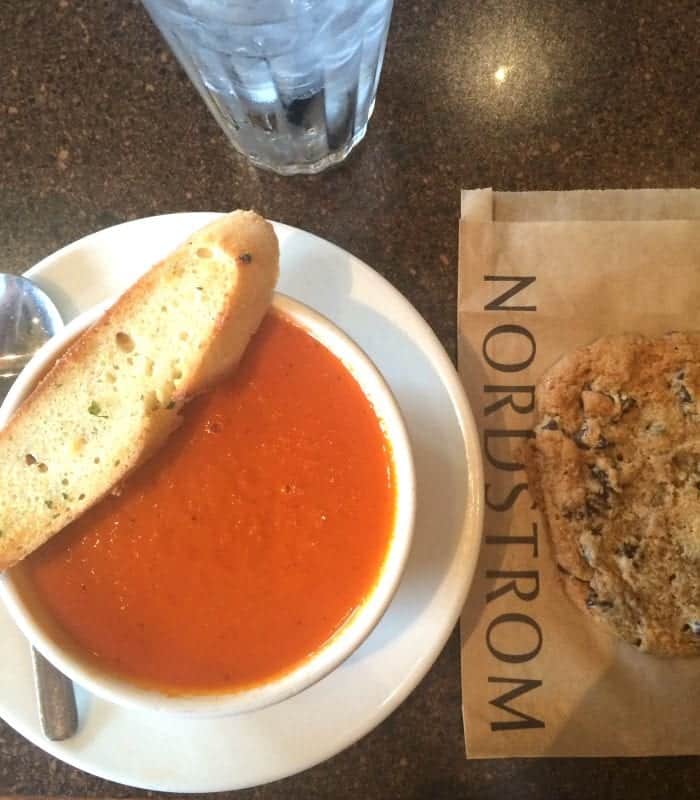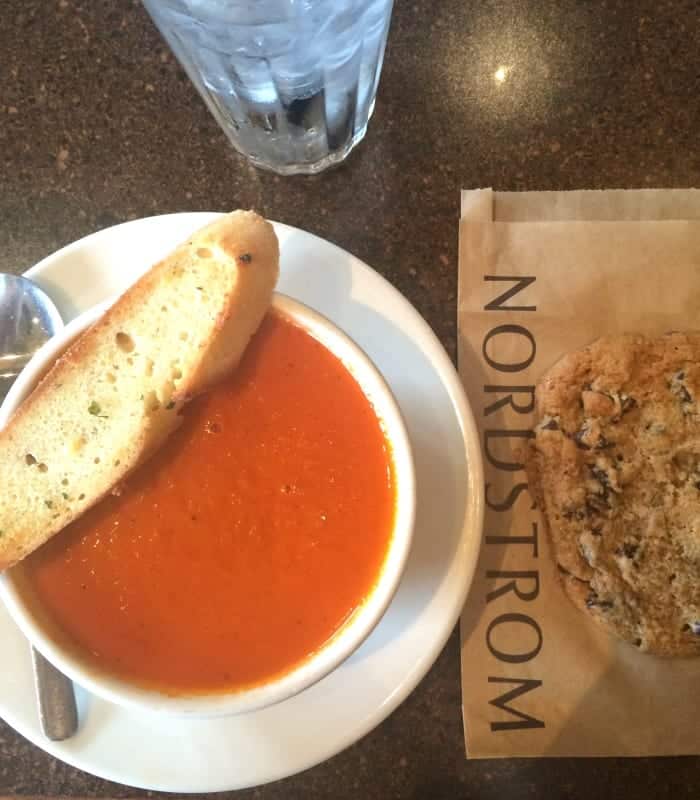 Nordstrom Cafe Tomato Soup….could eat this every single day.  Don't even talk about that cookie!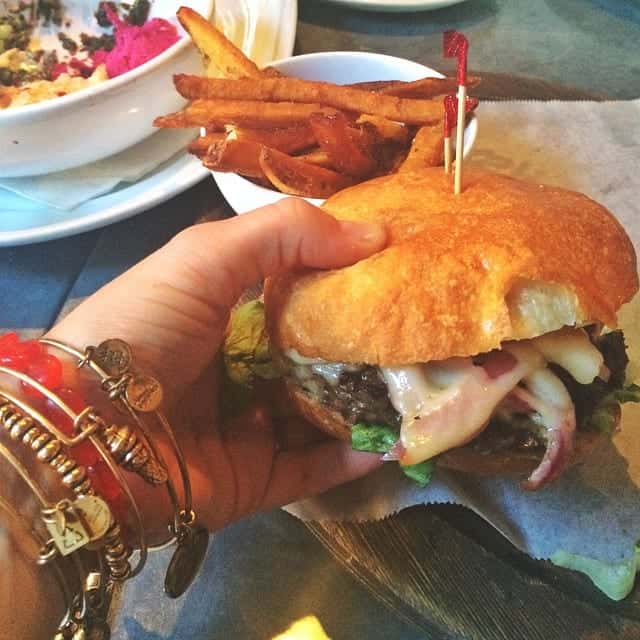 Another favorite we enjoy for dinner for date night is St. Francis in Phoenix.  Gorgeous farm to table food, super cool restaurant vibe.  Their signature burger is my favorite!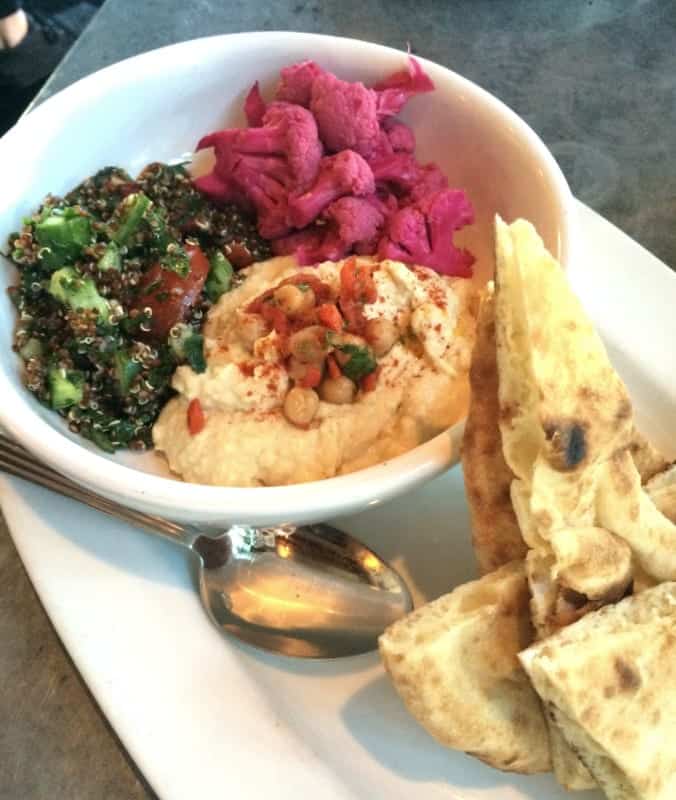 Their appetizers are so lovely.  This hummus, pickled cauliflower and quinoa salad trio with pita bread is so great.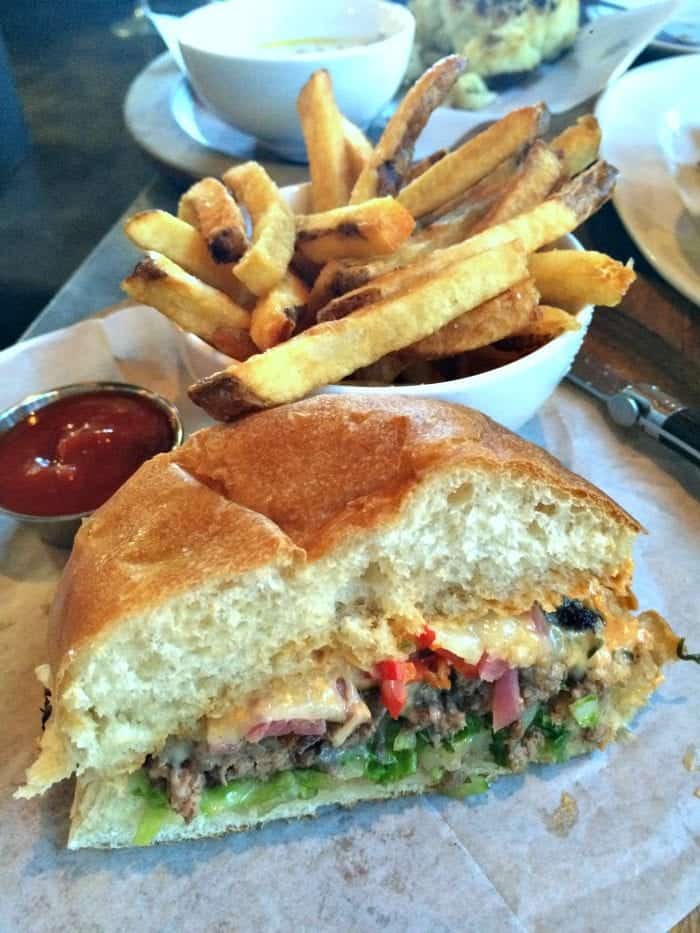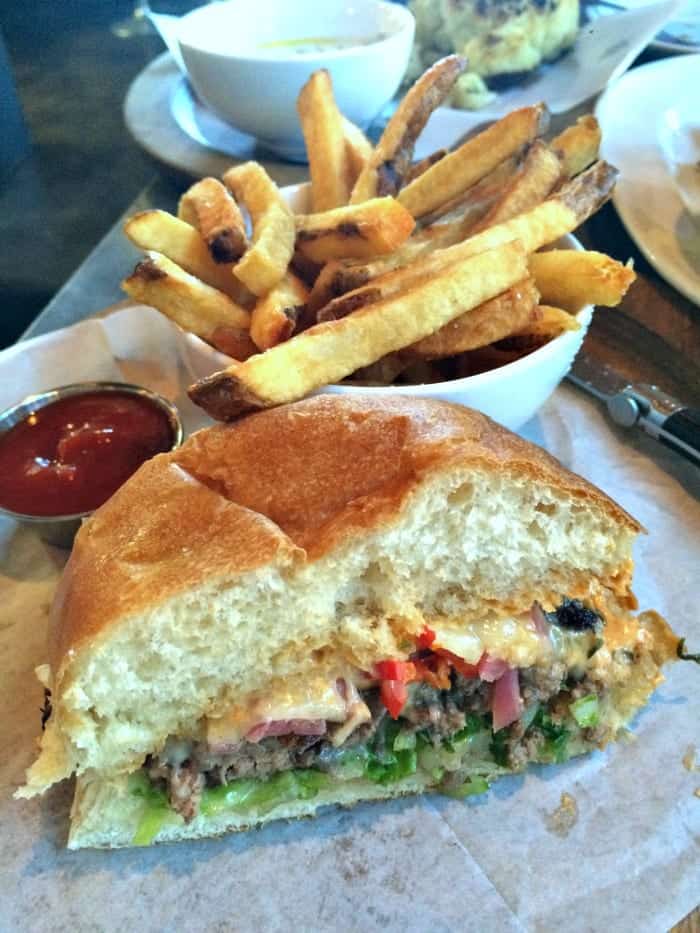 An inside shot of their burger.  Yum!!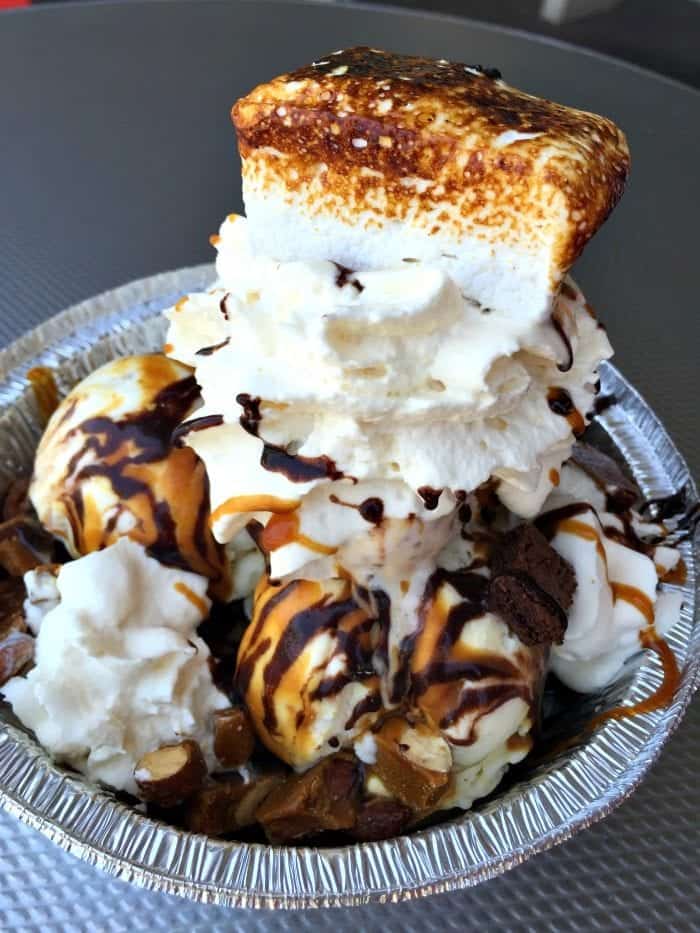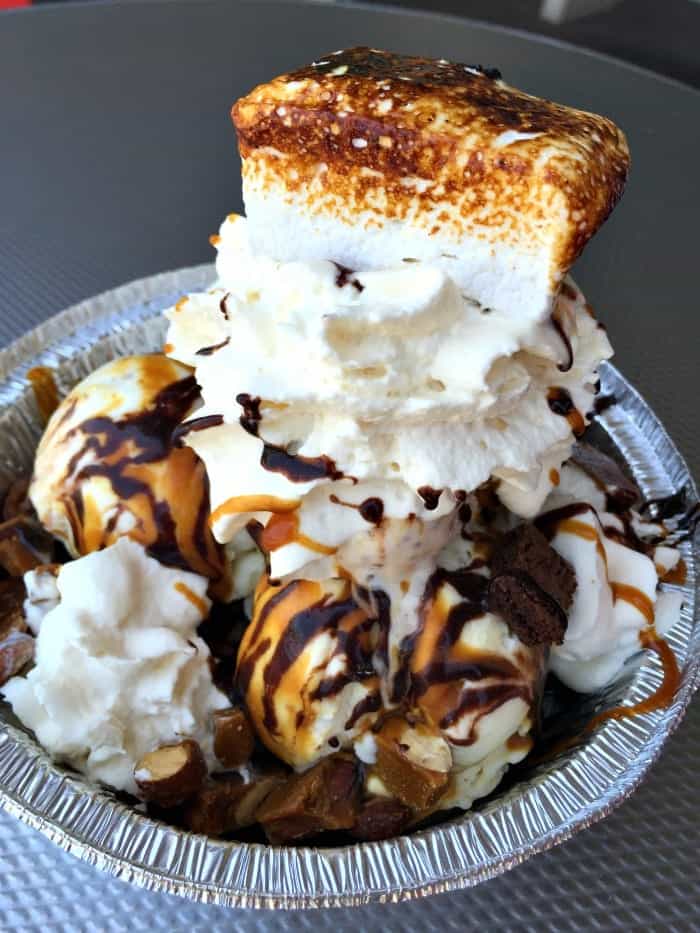 Sweet Republic in Scottsdale is an absolute favorite for ice cream.  Look at this sundae!  The Ultimate Sweet R Sundae.  Look at that toasted marshmallow!!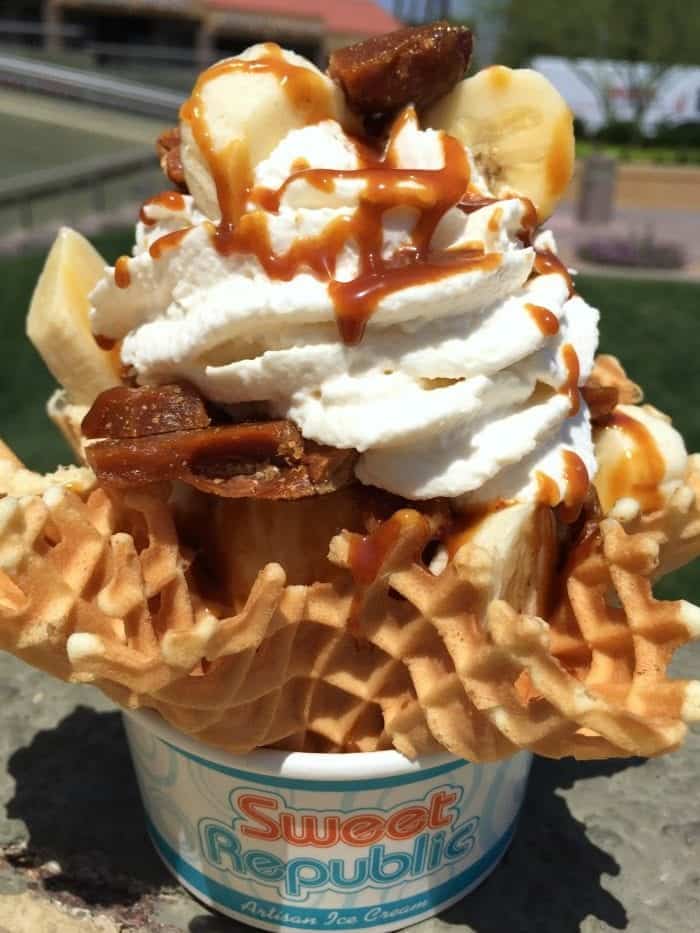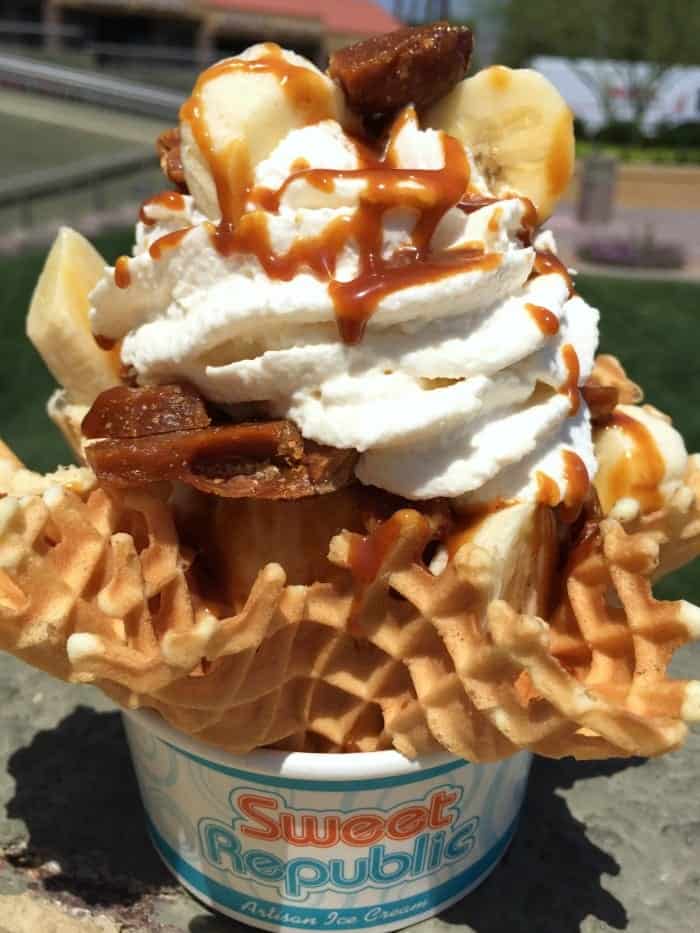 Their Toffee Banofi Sundae is to die for!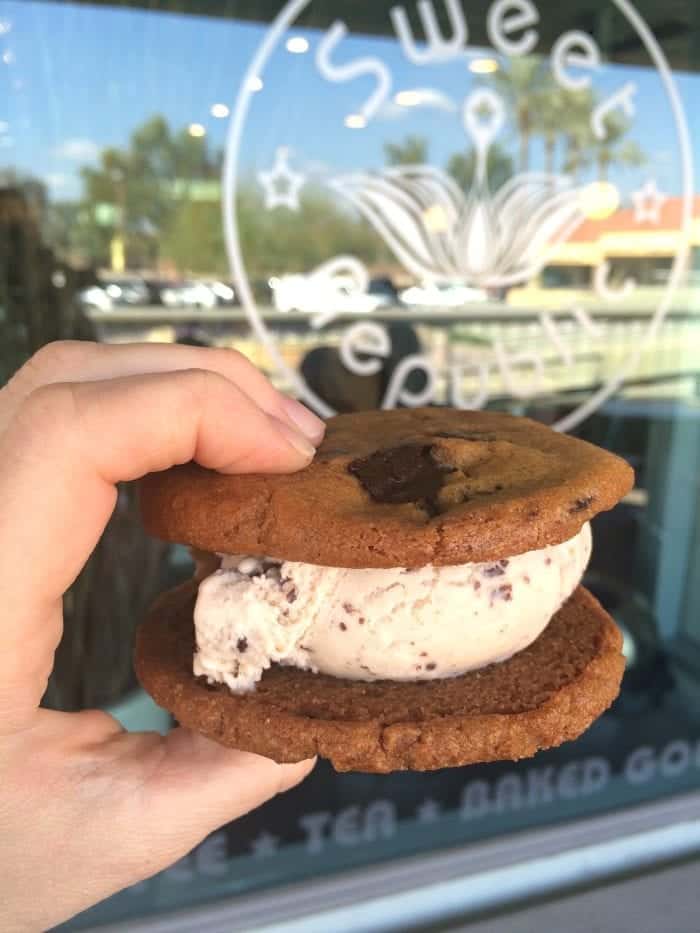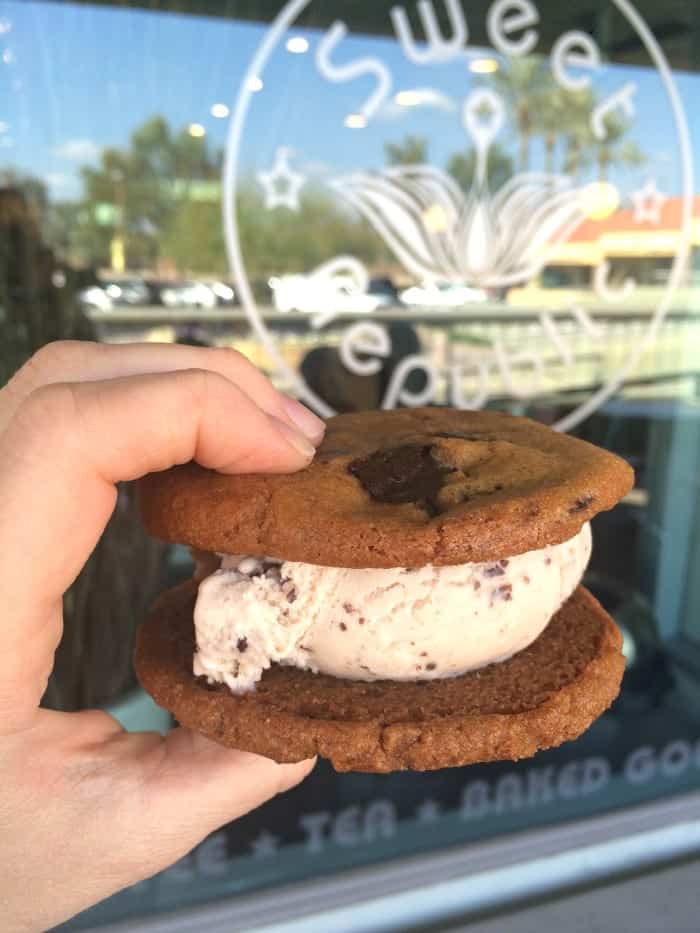 Their cookie ice cream sandwich makes my heart sing.  I always get the peanut butter chip inside my cookies.  Oh baby it's good.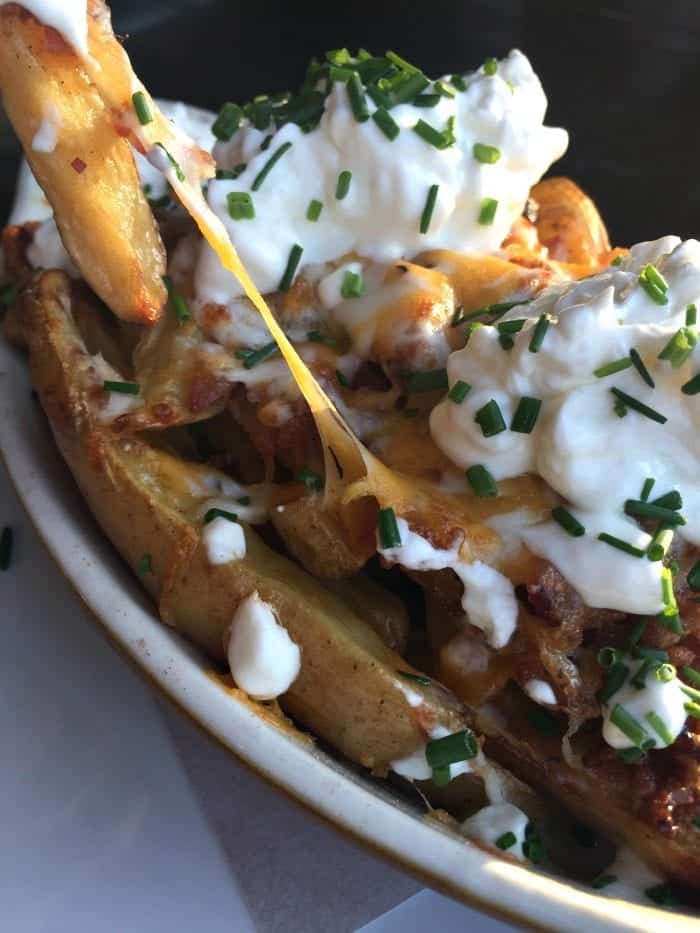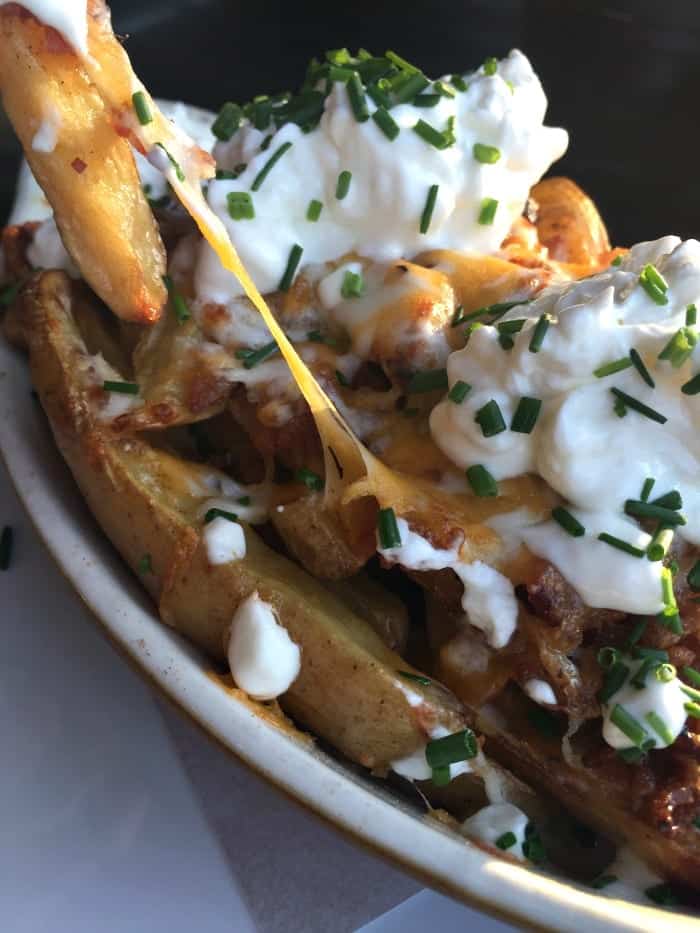 Liberty Market located in Old Town Gilbert is such a great place for dinner and dessert.  Look at these loaded Fingerling Potatoes!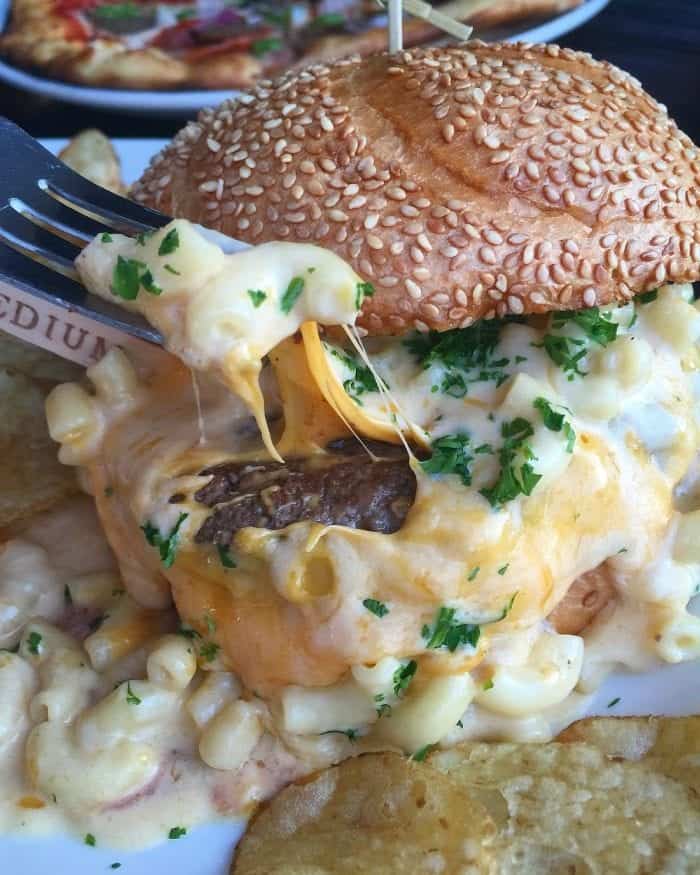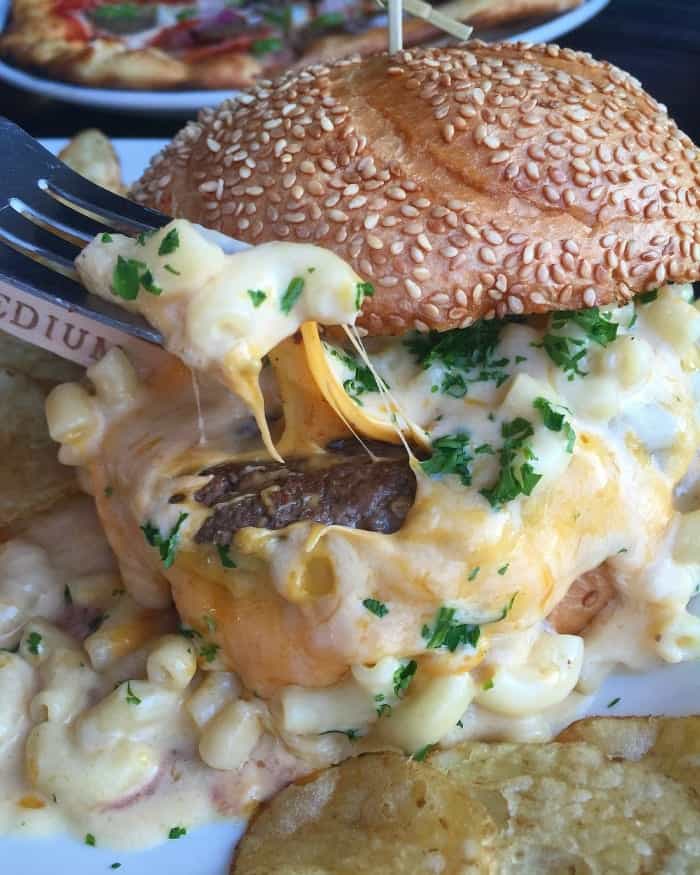 Now, this was a "special" burger of the week…the "Mac and Cheese Burger."  I have no words.  It was as good as it looks.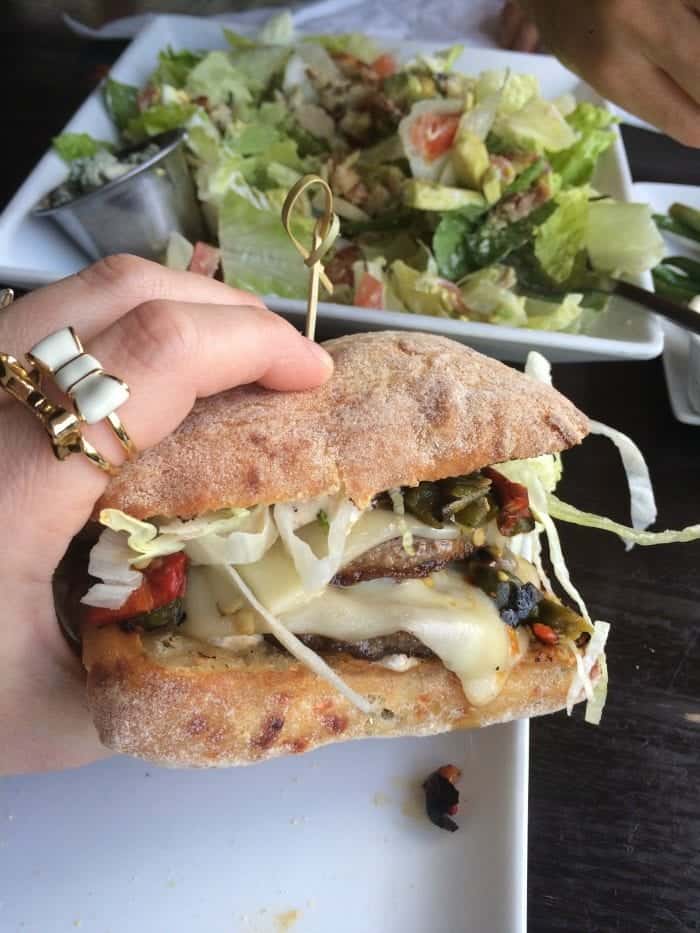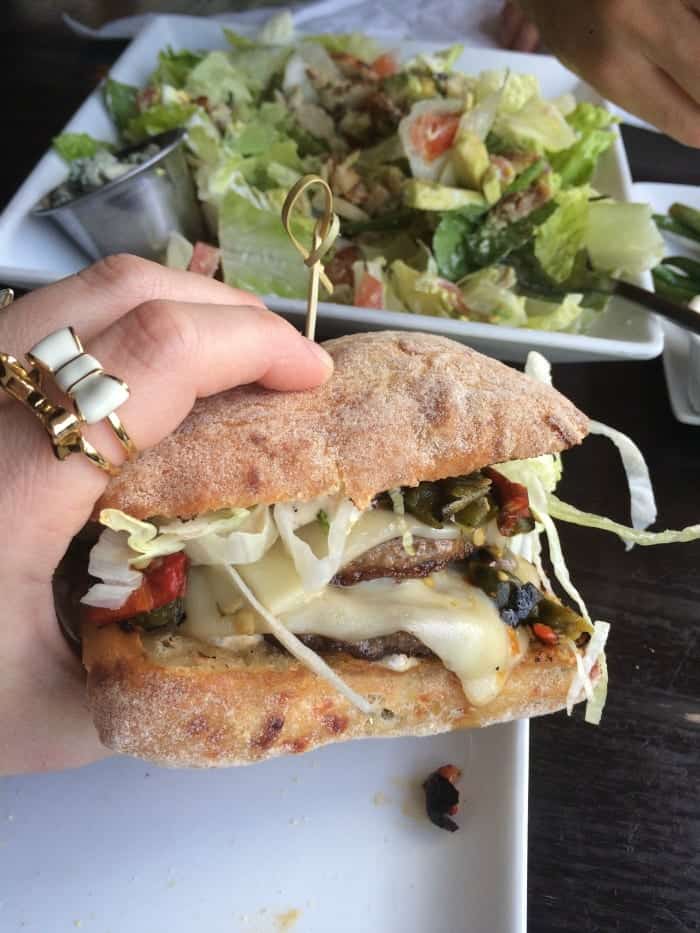 Liberty Market's 6 Alarm Burger.  Fiery hot and amazing!!!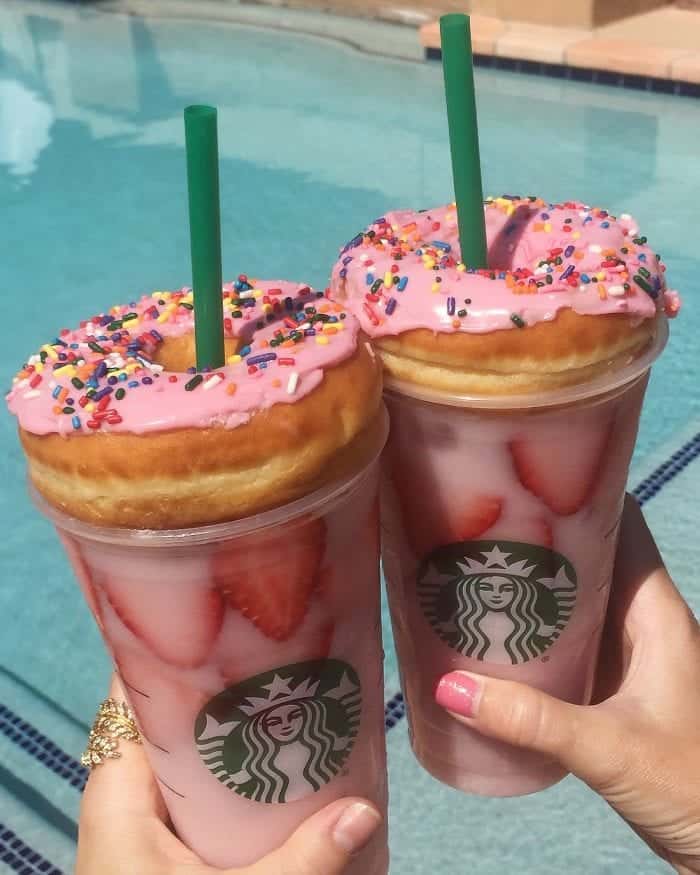 The Pink Drink from Starbucks!  Amanda and I did this photo shoot with a pink sprinkle donut on top!!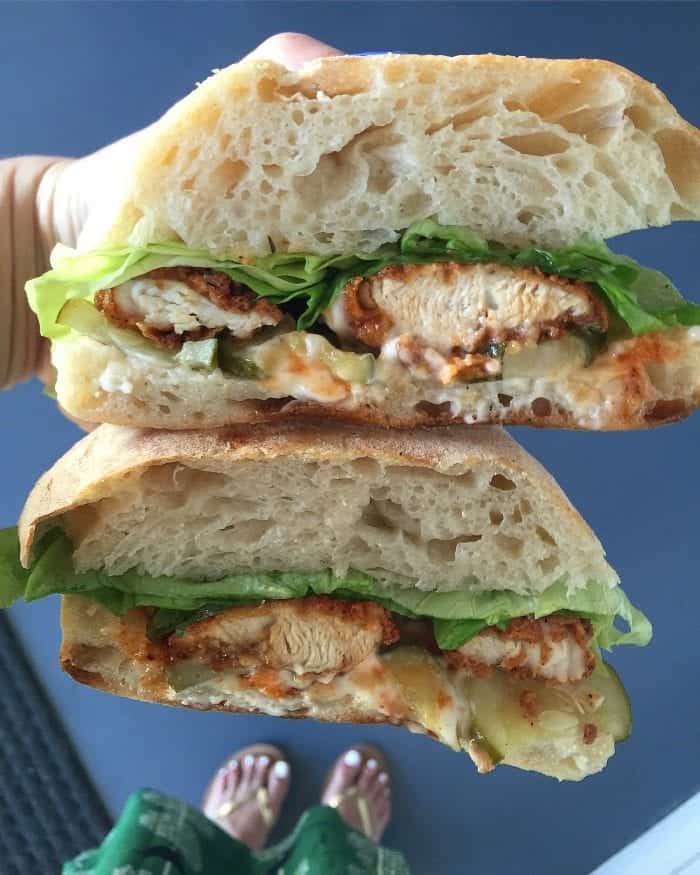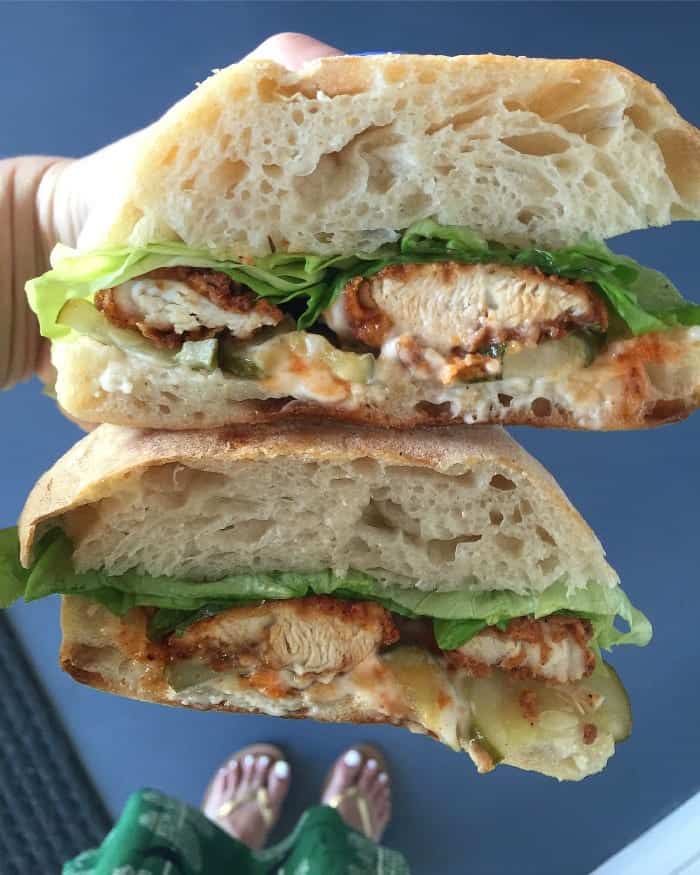 Worth Takeaway in downtown Mesa is a gem!  A small but quaint little cafe that serves up a great breakfast menu and beyond tasty lunch options including this Spicy Chicken Sandwich on Ciabatta!  You'll also find homemade pickles and some of the best caramels made from goat's milk right by the register.  Try them!!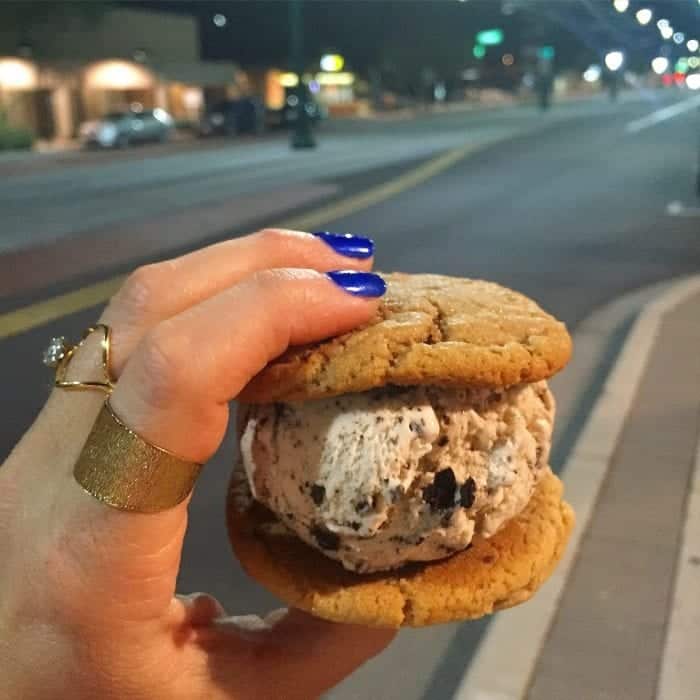 Slickables in Downtown Mesa is a super cute little ice cream shop that specializes in ice cream cookie sandwiches.  You pick out your flavor of cookie and then your flavor of ice cream.  Bonus….not expensive either, great for the whole family 🙂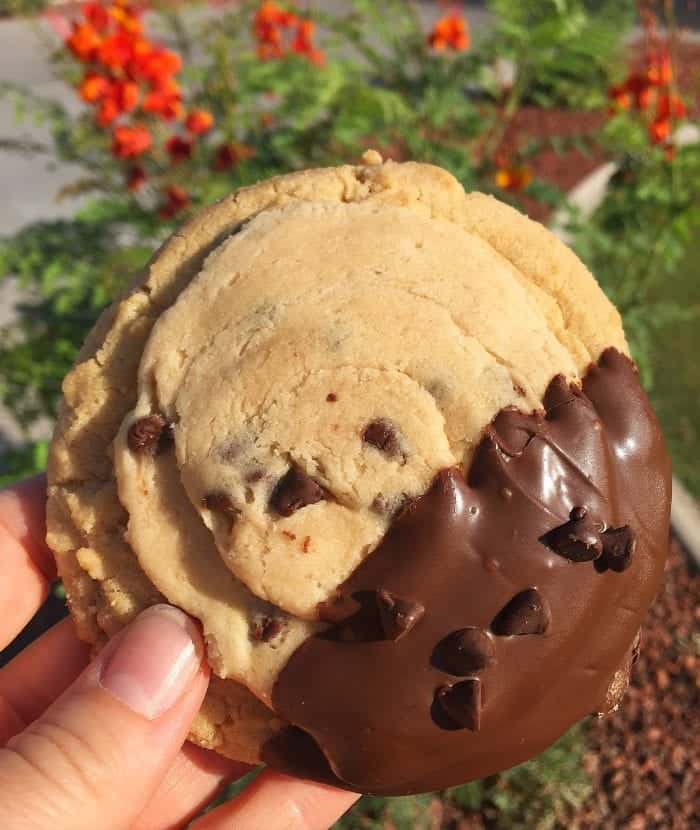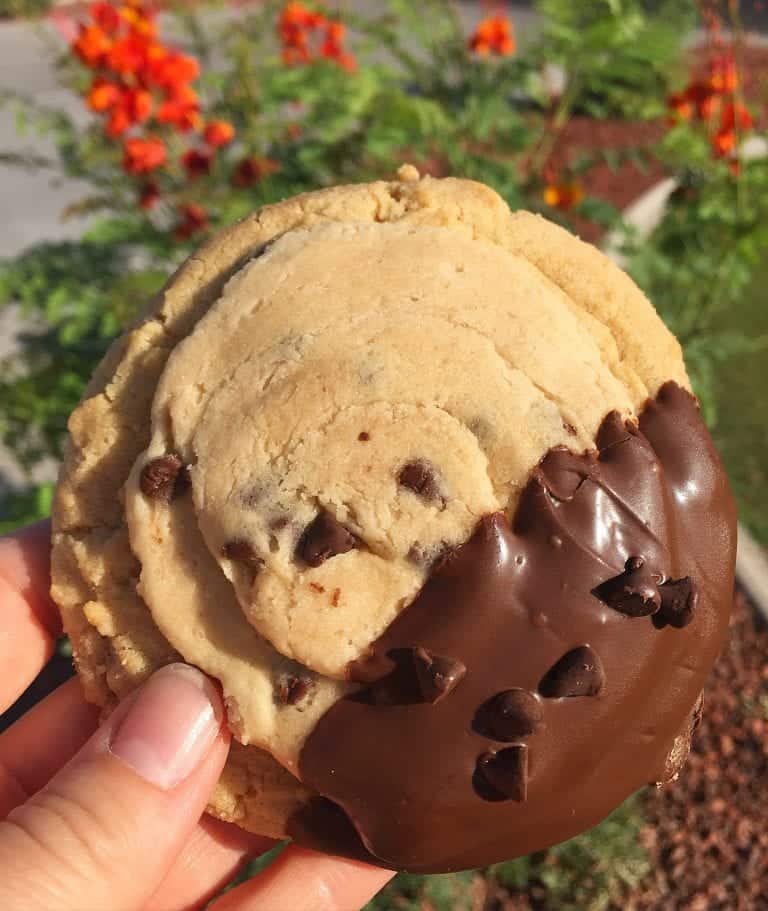 The Sweet Tooth Fairy in Gilbert has some of the most beautiful and delicious desserts around the Valley.  I mean, look at this Cookie Dough Chocolate Dipped Cookie?!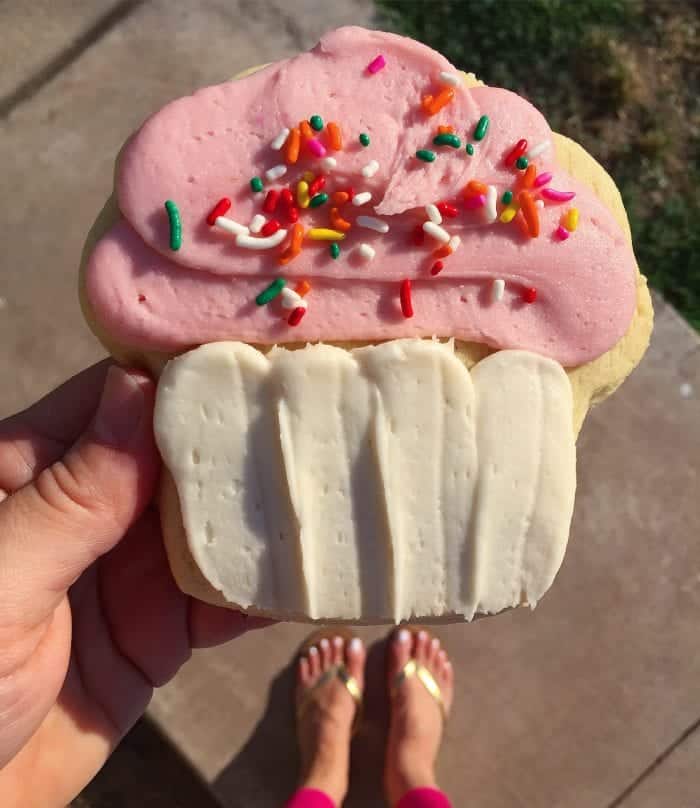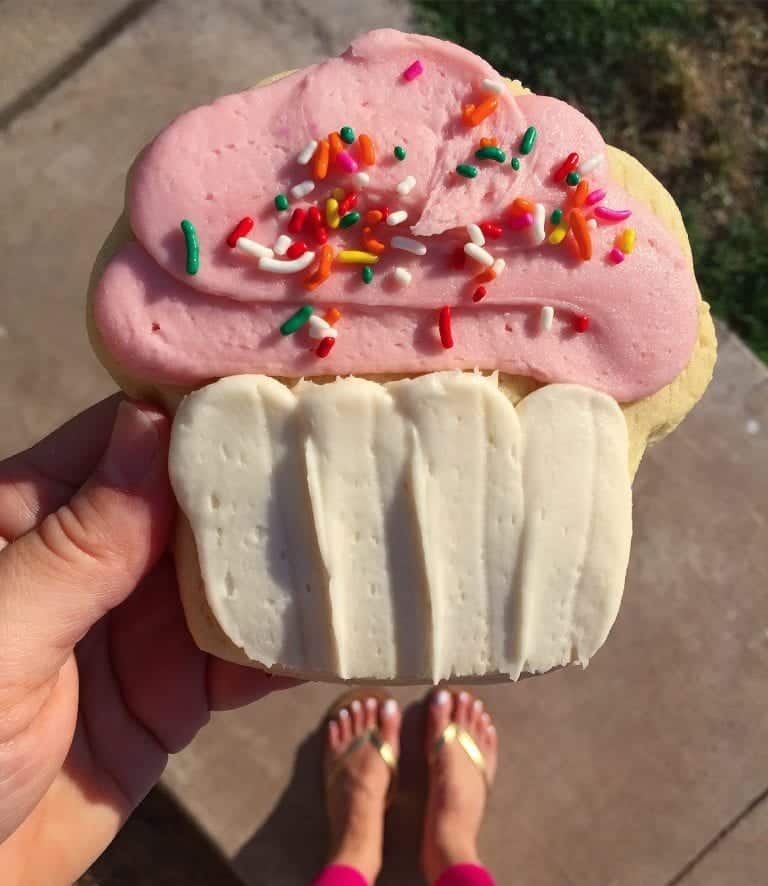 Another Sweet Tooth Fairy adorable sugar cookie.  Love this one!  Their cake bites and cupcakes are equally as great!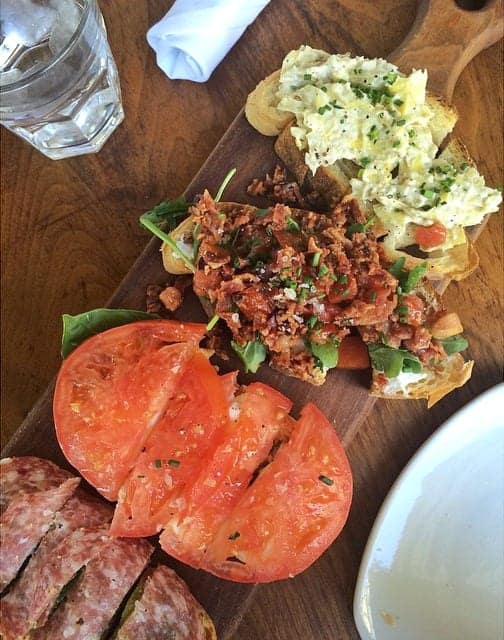 Postino's has a few locations around the Valley.  It's worth going just for their Bruschetta Board alone.  They're all amazing!  Love this place.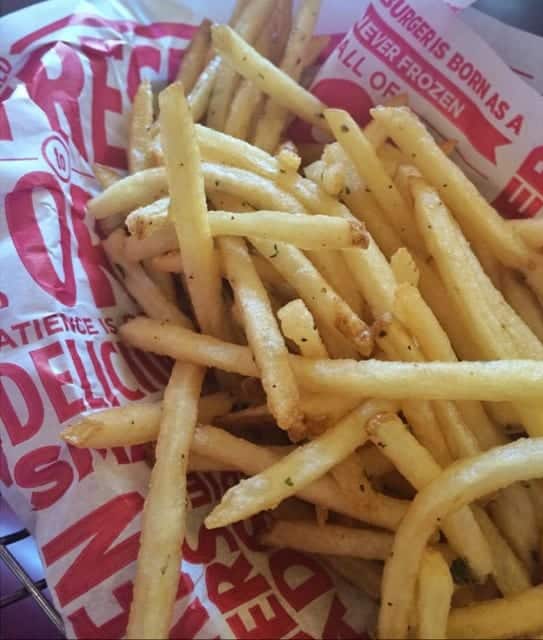 Smashburger and their Smash Fries!  Had to add them to my list because of these crazy good fries.  We love their burgers and shakes too 🙂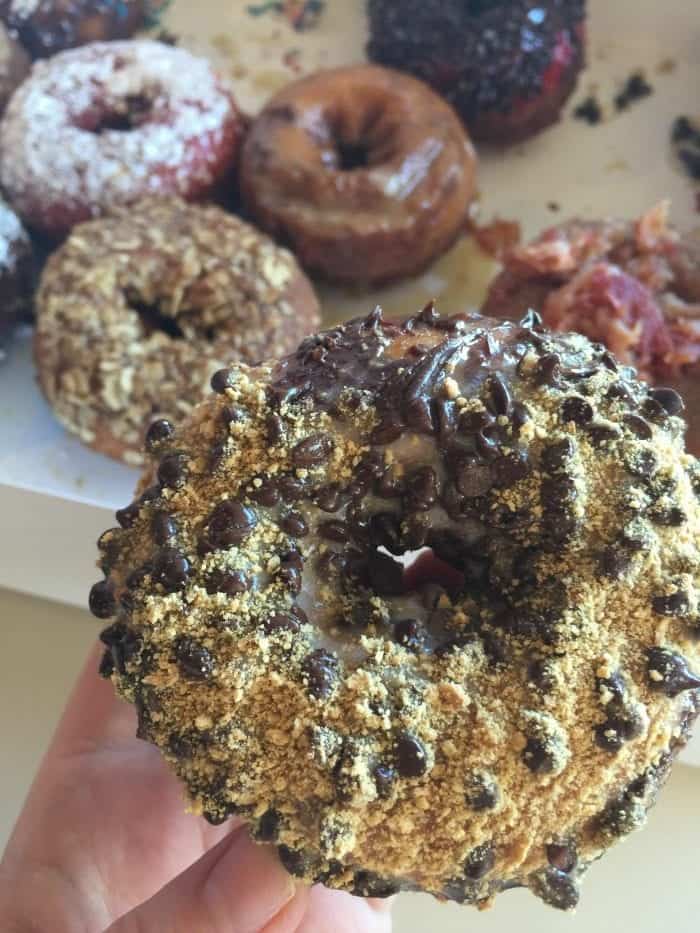 Fractured Prune in Chandler has some pretty awesome warm baked to order doughnuts.  You choose your glaze and toppings.  So fun!!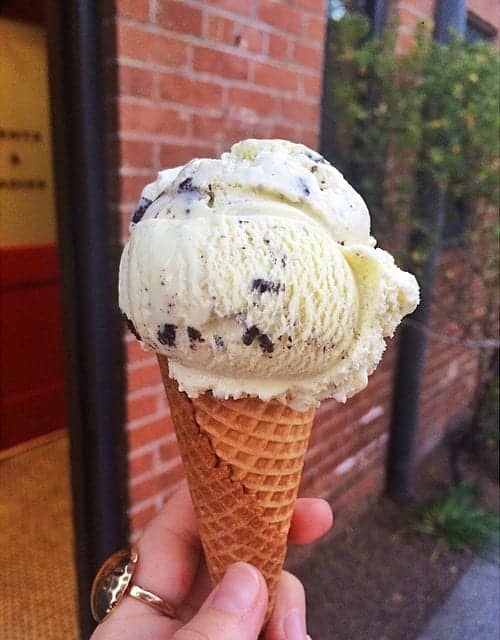 Churn in Phoenix for some of our favorite homemade ice cream. Their cookies and mint is one of my favorites on the planet 🙂  Amanda and I recently had their salted caramel cookie sandwiched with their madagascar vanilla ice cream.  Crazy amazing!!
Other favorites coming soon not photographed!
Hacienda de Rosa's in Mesa for great Mexican Food.
The Baked Bear in Scottsdale for extreme Ice Cream Sandwiches with cookies, brownies and doughnuts!
Gadzooks for made to order enchiladas in Phoenix.
Zinburger in Gilbert and Scottsdale for gourmet burgers, salads and creative milkshakes
Our list is always growing, would love to hear your favorites around the Valley! 
Pin For Later 🙂


FOLLOW PICKY PALATE ON INSTAGRAM! Show me what recipes you're making from Picky Palate by using #pickypalate.
Other recipes you may enjoy...
Comments