Sharing our thoughts and food reviews of the Orange County Fair today! So much to do and see, let's take a look!
Orange County Fair
Cullen says: Having only moved to California 4.5 years ago, we're not too privy on the history and tradition of the OC Fair. This past week, our boys had a baseball camp right across the street so we couldn't resist on doing a review of some of the food that sits hot and ready to be consumed by non-calorie counting people. All rules are left at the gate when it comes to food at the OC Fair. Over exaggeration is probably the theme when it comes to cooking or preparing recipes for the fair. Here we'll show you some of the food we tried.

How Much To Get Into Orange County Fair
We arrived at 10:10am on a Saturday, the 2nd day it was open. Not crowded at all. Perhaps, everyone is at the beach, or it was because this just opened yesterday. Did you know if you show up on Saturday or Sunday between 10am to 11am, fair admission is only $3 per person for ages 6 and up. Age 5 and less than are free. This is a huge discount as adults, 13+ are normally $11 and children 6 to 12 are $6. We saved $22 for the 4 of us just for being bright and early. Also, before we ate even the smallest granule of sugar, we spent $22 for tickets and parking, the latter being $10.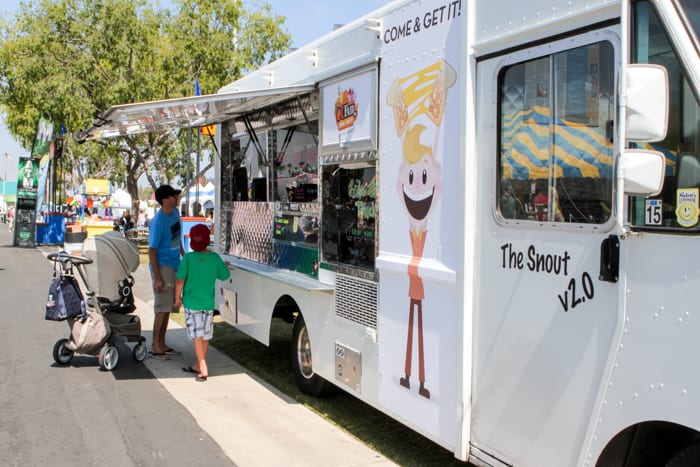 Right as we walked in, we ran into The Snout v2.o or The Grilled Cheese truck which is owned by BACON MANia Food Truck. We skipped over trying their staple Jack Back Sammie, which is a twice grilled bacon cheese sandwich for their more outrageous Spaghetti Doodle (pictured below). We should have gone for their staple but outrageous is the name of the game today.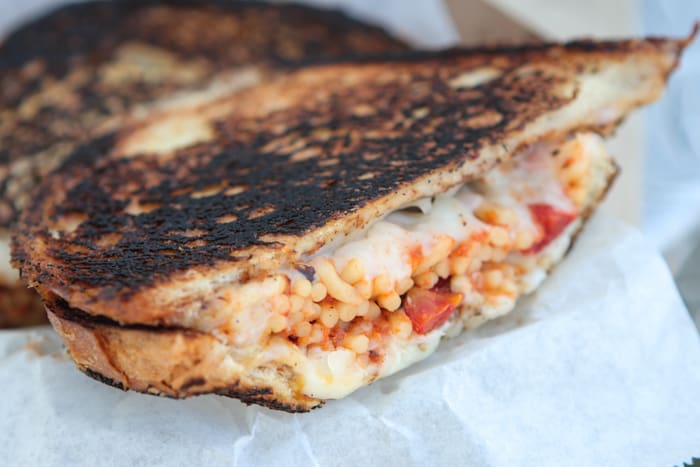 Spaghetti inside a grilled cheese just didn't tickle us pink and we thought it was just Ok. In the end, the Spaghetti Doodle just wasn't outrageous enough for us. At least now we know about the BACON MANia Food Truck and will be on a lookout for them in the OC area. This baby runs you $9 and we give it a 5 out of 10. Good but didn't blow us away.
The BEST Food To Eat At Orange County Fair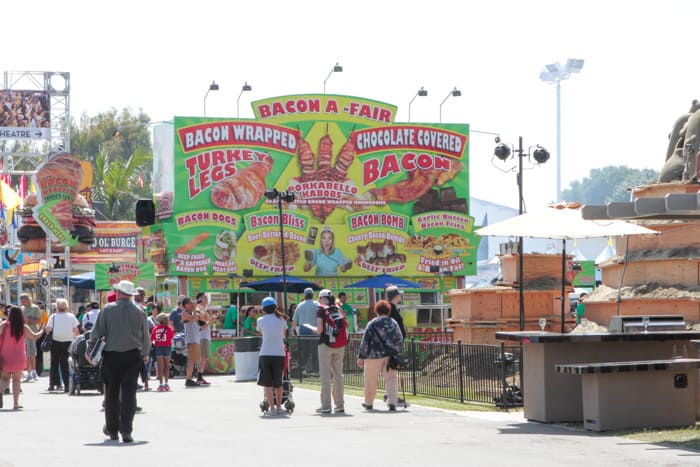 Jenny says: Bacon A-Fair was next up. They had about anything and everything you could think of wrapped in bacon. They said their bacon wrapped portobello kebab was one of their favorite items, but for $15 a kebab, I decided to pass on that. Lots of other things to choose from.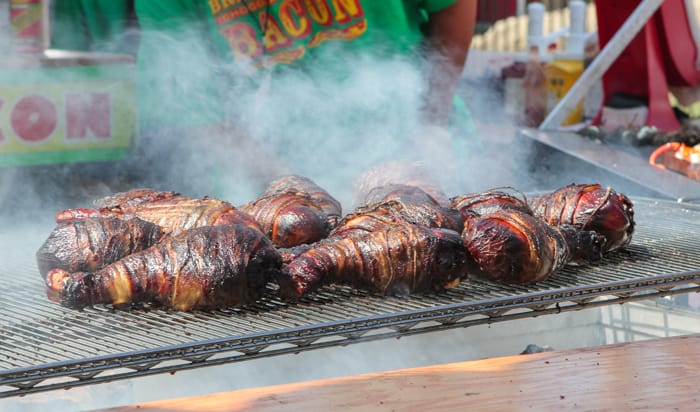 Bacon A-Fair's giant bacon wrapped turkey legs smoking on the grill looked delicious if you ask me.
The boys and I thought the obvious choice was chocolate covered bacon. The chocolate was really thick for the thin piece of bacon, but that's just me being critical. It tasted good to us.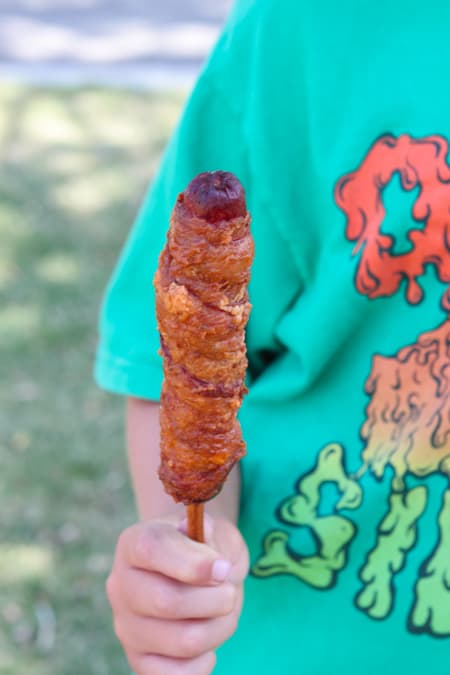 The bacon wrapped hot dog was quite tasty. Talk about a juicy smoky hot diggity dog on a stick. We were happy with this choice.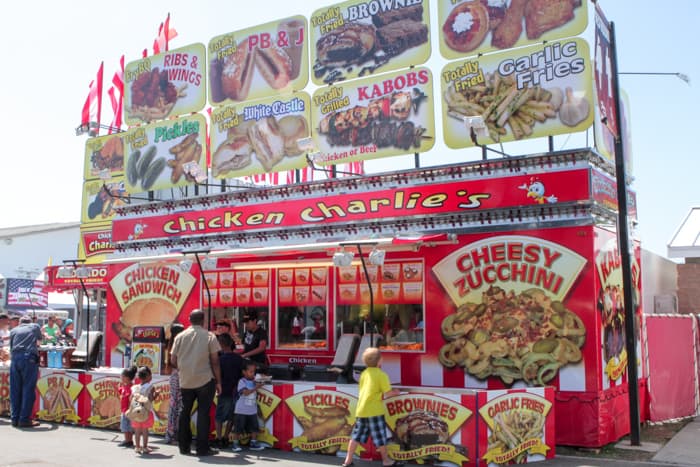 I was on the hunt for Chicken Charlie's after hearing about his crazy Krispy Kreme Sloppy Joe Sandwich. We tried at least a half dozen menu items, let's take a look at our madness.
What To Eat At Orange County Fair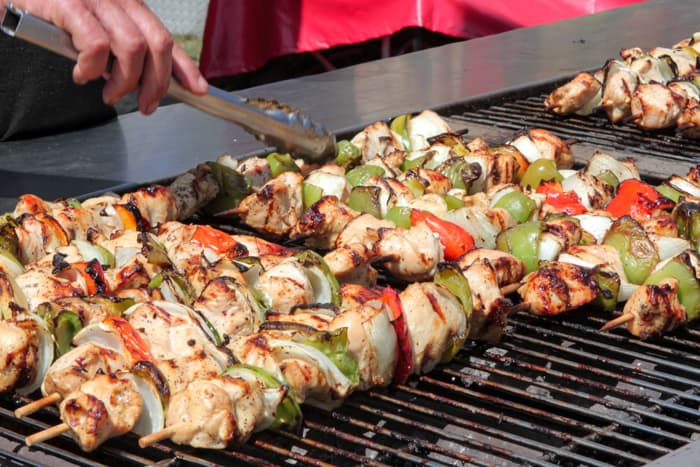 We saw them grilling these chicken kebabs outside of their food station. They looked delicious, but unfortunately the one we ordered was overcooked and dry. Maybe you'll have better luck.

Who on earth thinks of a Krispy Kreme Sloppy Joe?! Well, you know we had to try it. Surprisingly it was pretty good. I was scared of the sweet and savory aspect being too extreme, but it wasn't. Our only complaint is that they gave us a cold "sloppy joe" center. I thought maybe it was supposed to be cold and they later said it should be hot. Make sure yours is hot 🙂
Krispy Kreme Sloppy Joe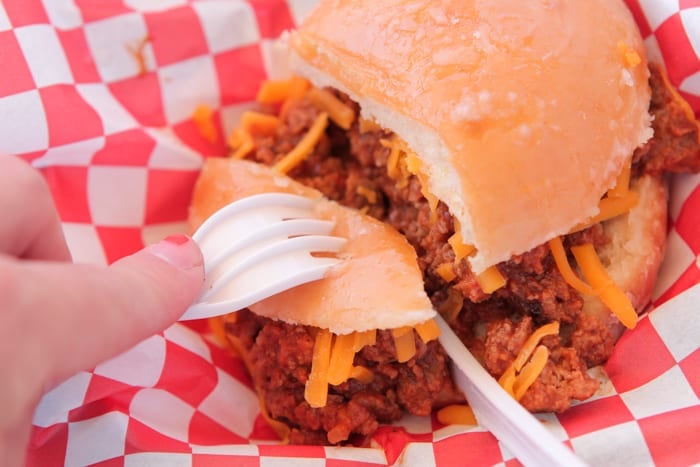 Too weird? You decide, haha!

Deep fried Oreo's have been a state fair staple for a few years now. Always a treat.
Fried Food At The Orange County Fair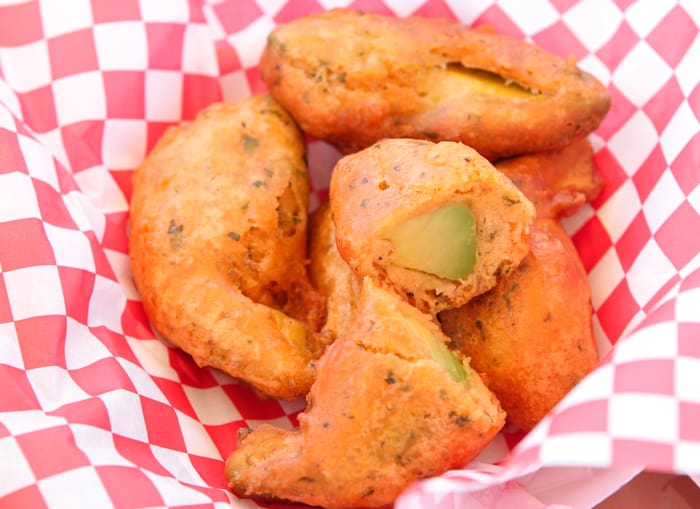 The deep fried avocados were just ok. I wouldn't order them again.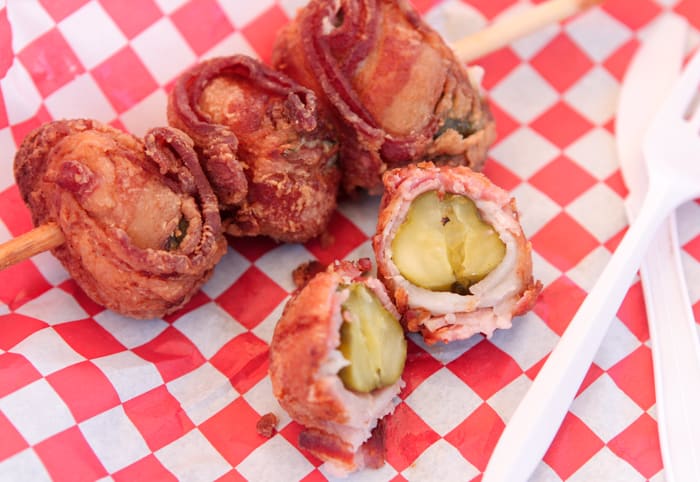 We all agreed the deep fried bacon wrapped pickles were REALLY good. Sounds kinda weird, but totally worth the calories.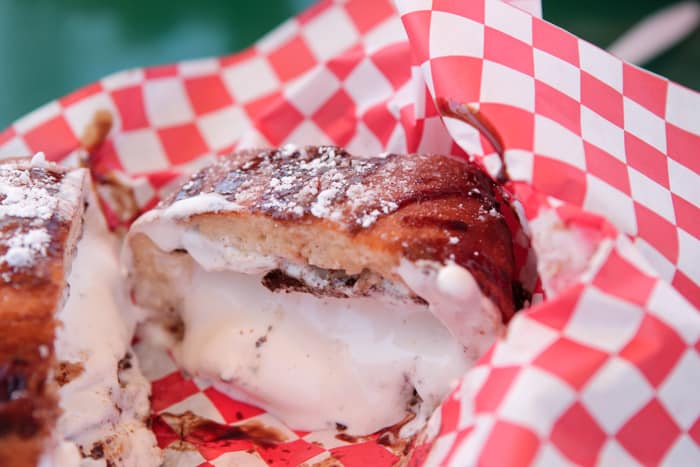 The huge surprise of our day of eating goes to the deep fried Klondike Bar. I'm not even a fan of Klondike Bars but something magical happens when it gets deep fried, no joke. The melting ice cream center makes the whole treat worth it. Yum, I want another!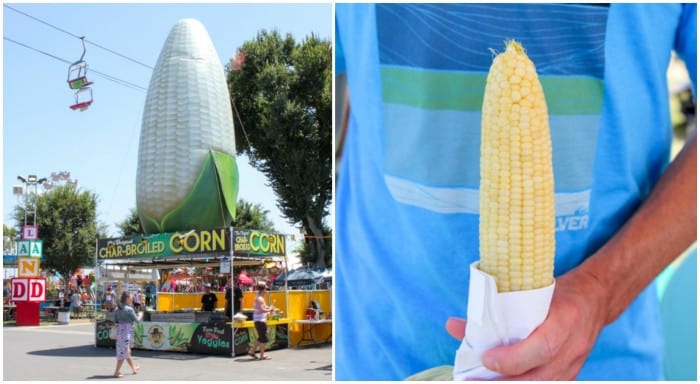 Cullen insisted on the char-broiled corn. He raved about it. If you are into corn, we recommend this place. It was directly across from Chicken Charlie's.

As if we were not stuffed to the gills, we passed by the homemade cinnamon roll booth in the exhibit hall. I ordered…..extra frosting.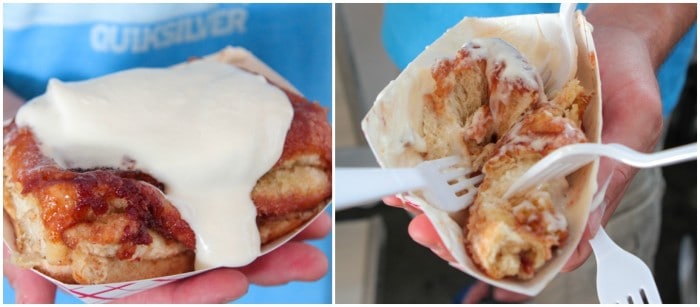 I am not going to lie, even being really full, this was a darn good cinnamon roll. Do it.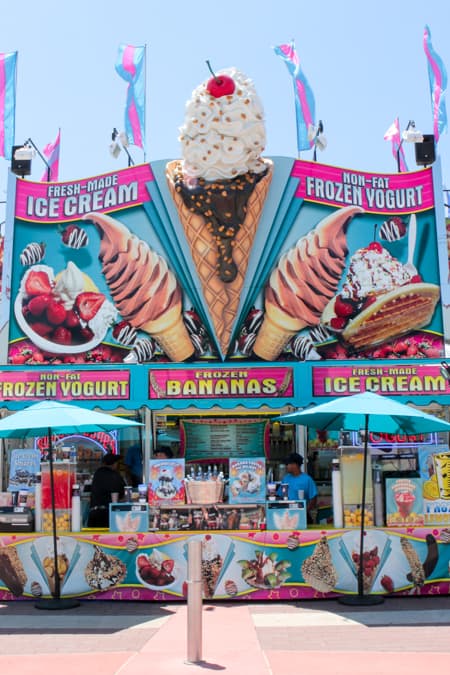 A little later in our day at the fair, we picked up a waffle cone ice cream sandwich from this colorful place.
Waffle Cone Ice Cream Sandwich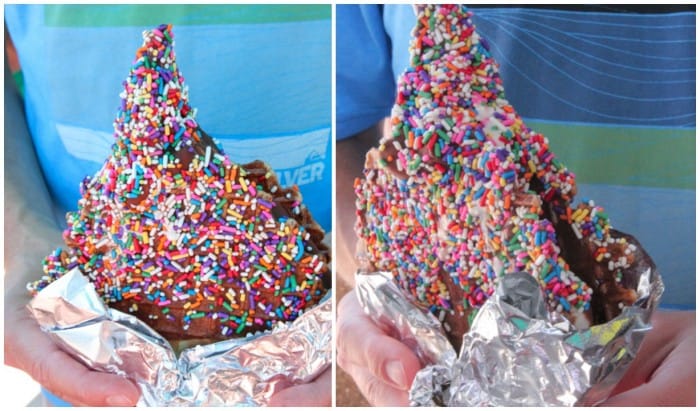 With sprinkles! It was half dipped in chocolate. 2 nice thin waffle cones. Cullen was the one who ate this one. He gave it 2 thumbs up, but would have preferred no sprinkles. Party pooper!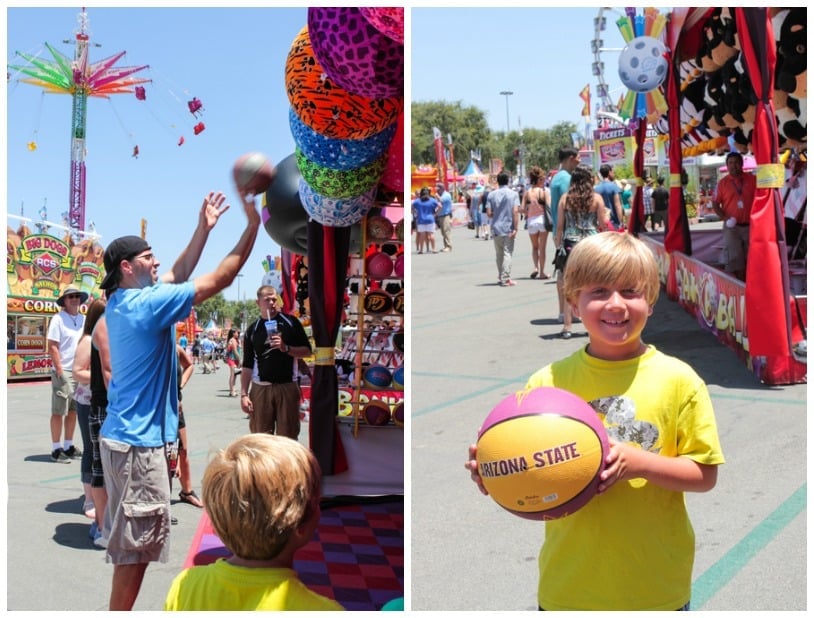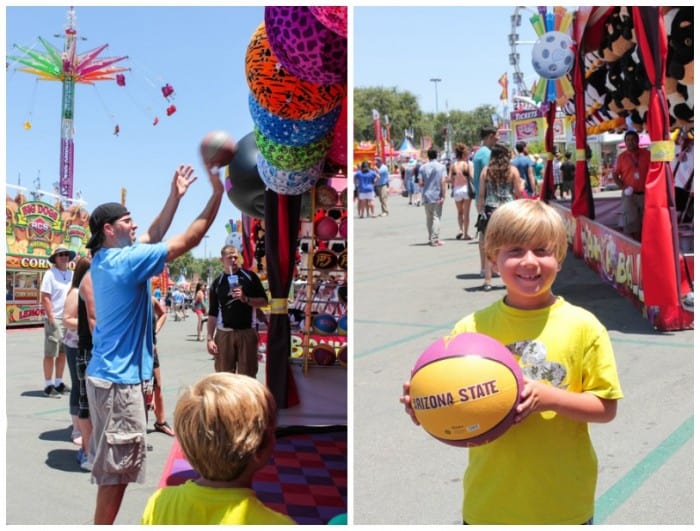 A little game stop. Cullen won Brady this AZ State Basketball he wanted so badly.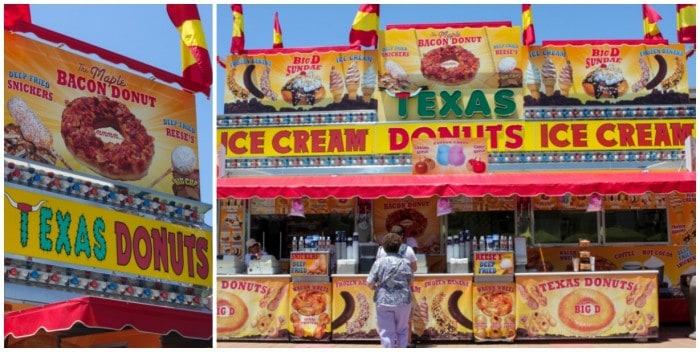 I was also on the hunt for the Texas Maple Bacon Donut. For obvious reasons, lol!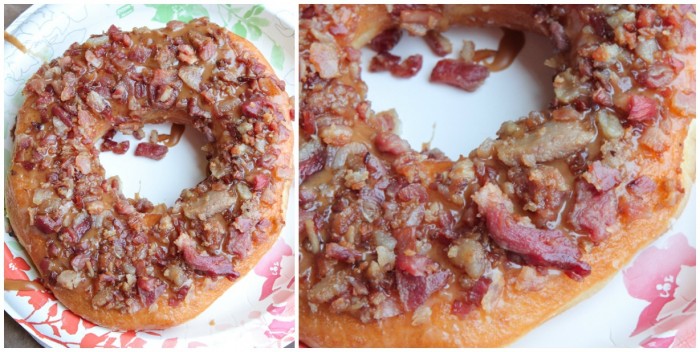 It's hard to tell from this picture, but it really is the size of your head. Massive and absolutely delicious. This baby will run you just under $10 so make sure you are hungry for it.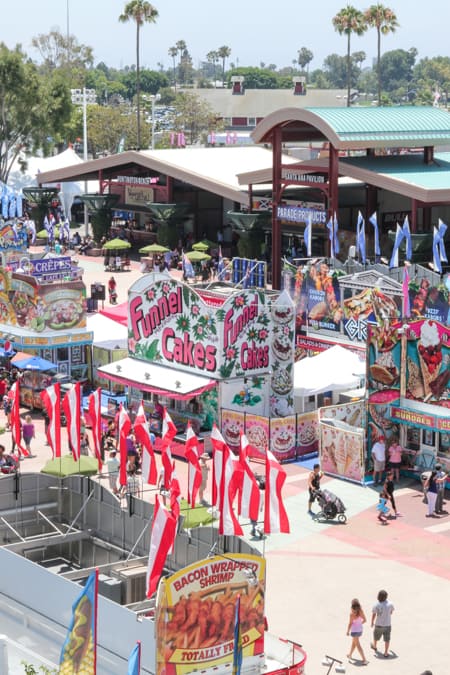 The boys and I rode the sky rider back to the front of the park where I got this shot. It's always fun to go to your County Fair and I will gladly eat as many crazy fried foods as humanly possible. Hope you've enjoyed our review of Where to Eat at the Orange County Fair. Chances are you can find the same grub at your local county fair 🙂
Our tip: Go knowing you are going to eat like crazy and share a bunch of items with friends/family so you get to try a little of everything.