Ahhh, finger foods, one of life's little pleasures. I have a weird thing for grilled polenta, it really is so good if you haven't tried it before. I decided to top my polenta cakes with some BBQ chicken, fresh mozzarella cheese and a touch of cilantro. These little appetizers are perfect for any party or even lunch.
Go find a tube of cooked polenta at your grocery store, it's usually by the pasta sauces and pasta. Use any left over chicken with BBQ sauce (Click HERE for my recipe for homemade BBQ shredded chicken) for the topping or your grocery store usually has a refrigerated prepared BBQ shredded chicken.
Hope you enjoy!!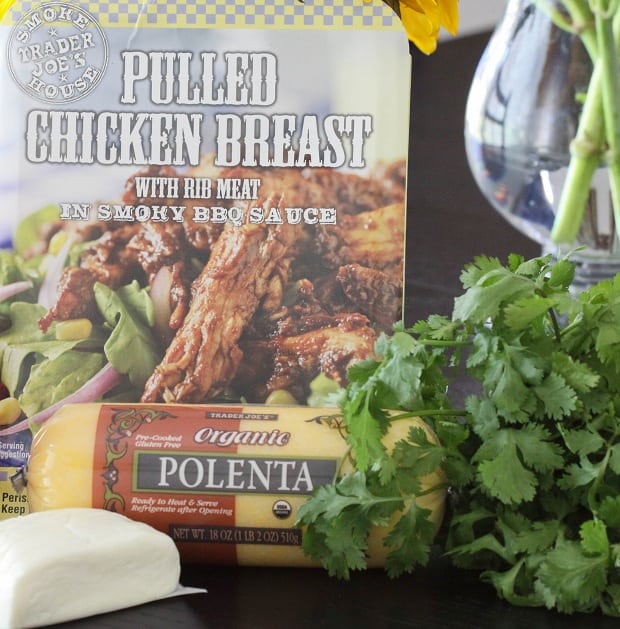 Simple line up of ingredients, Left: BBQ chicken, fresh mozzarella, polenta and cilantro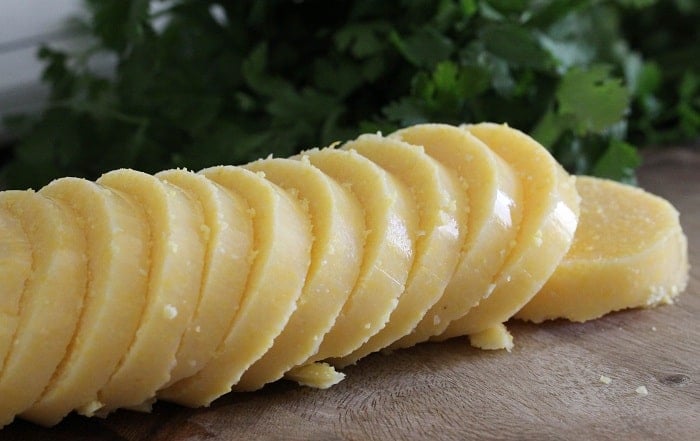 Here's the polenta, I sliced it into 1/2 inch slices to get ready for the grill pan.
About 2 cups of cooked, shredded BBQ chicken. I used a package from Trader Joe's, however HERE is a simple homemade BBQ Sauce recipe of mine if you wanna go homemade 🙂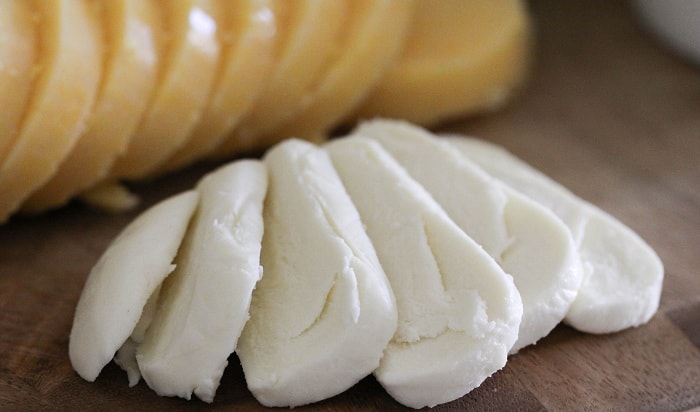 Some fresh mozzarella cheese.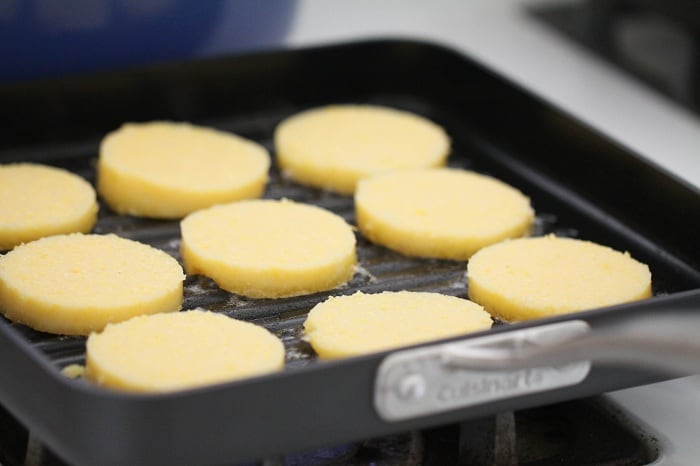 I drizzled in 2 tablespoons of olive oil and placed the sliced polenta right into the ol' grill pan.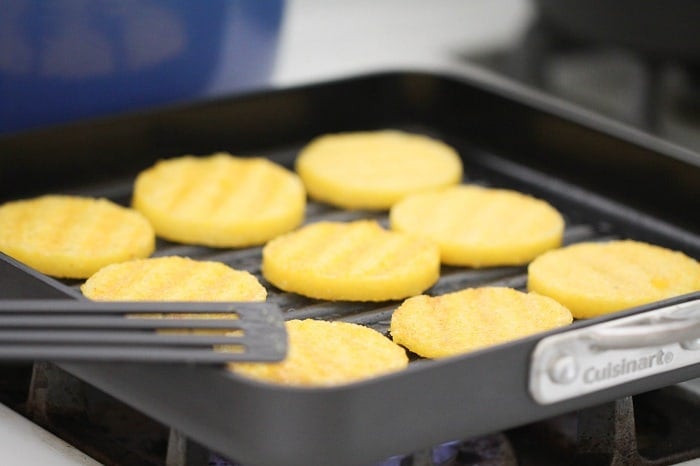 After about 4 to 5 minutes, give em' a flip.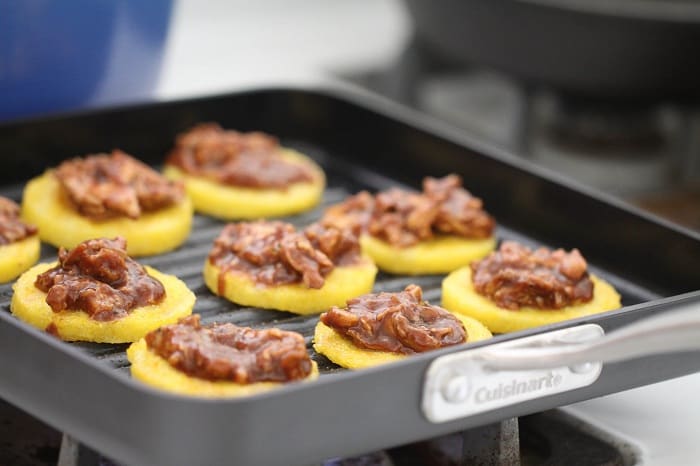 Top with a spoonful of BBQ chicken.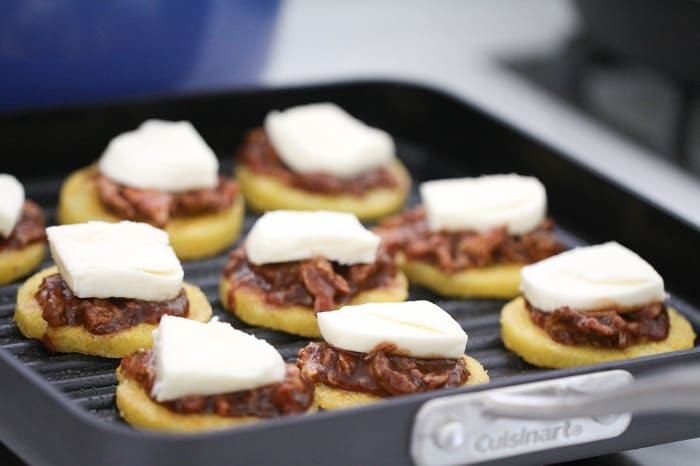 Top with a 1/2 slice mozzarella cheese.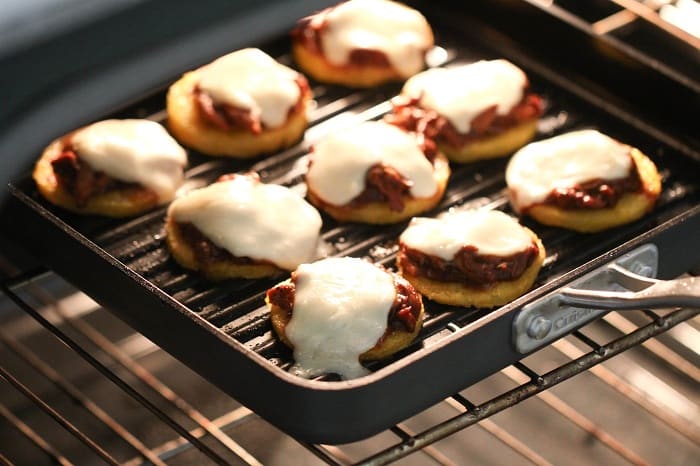 Place under your oven's broiler for 3 to 4 minutes, until cheese melts….then enjoy!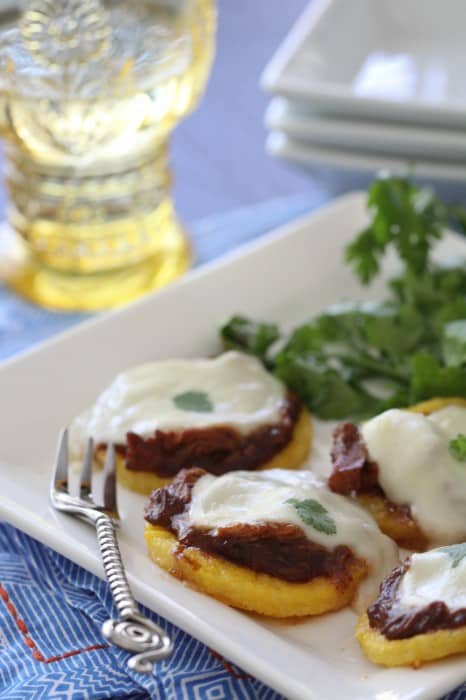 [ziplist]
BBQ Chicken Polenta Pizza Cakes
1 pound/tube of polenta
2 tablespoons extra virgin olive oil
2 cups cooked/shredded BBQ chicken
12 1-inch slices fresh mozzarella
12 individual cilantro leaves
1. Preheat oven's broiler with rack places 5 to 6 inches below heat.
2. Slice polenta into 1/2 inch slices. Place oil into a grill pan over medium heat. Place polenta slices into hot grill pan and grill for 4 to 5 minutes, until slightly browned. Flip and top with a spoonful of BBQ chicken then a slice of mozzarella cheese. Grill for 4 minutes then place under broiler until cheese is melted. Top with a cilantro leaf and serve.
12 servings
________________________
Have a great rest of your week and come back soon!