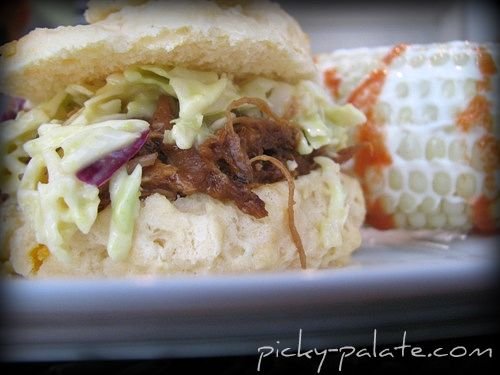 Good Thursday everyone!
You ready for some good BBQ? I don't know about you guys, but I LOVE a good BBQ sandwich. Totally summery and I love that it is so easily prepared in a crockpot. I remember thinking that my sister was sick (sorry Kimmy!) when she told me what she put on her corn on the cob a couple months ago. Now I am biting my tongue because it is flat out delicious! Just trust me on this one….spread on a little mayonnaise and then roll the corn in a little cholula hot sauce sprinkled with a touch of salt and pepper. It is my favorite way to eat corn on the cob now. Nice and spicy!
Before you go, check out my little cutie pie below who just lost his first front tooth! I was so sad when he told me they were loose last month. My little boy is growning up, I can't even believe it. He came in my room this morning all frantic saying "My tooth is gone Mom and I can't find it!" He lost it in his bed during the night. Luckily he found it and didn't swallow it. Anyway, I snapped some pics of him sporting his newest snaggletooth smile!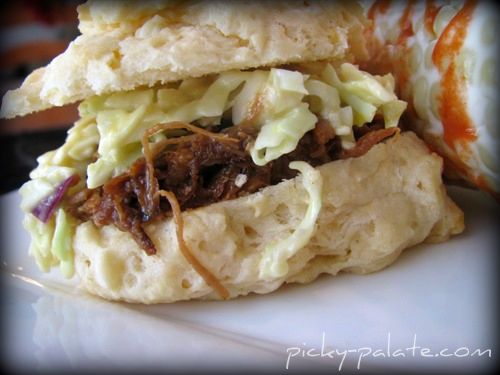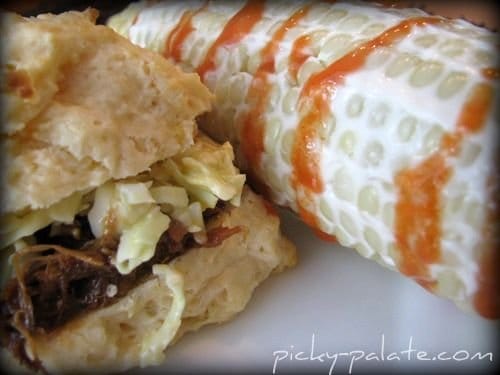 BBQ Pulled Pork Biscuit Sandwiches and Spicy Corn on the Cob

3-5 lbs Pork Shoulder or Pork Butt
1/2 Cup water
1 teaspoon salt
1/2 teaspoon black pepper
3/4 teaspoon Lawry's garlic salt
Homemade BBQ Sauce or I used KC Masterpiece for this recipe and it was great!
Bisquick Cheddar Biscuit Mix, makes 6 biscuits
My Granna's Yummy Cole Slaw Recipe
Fresh Corn On The Cob
Mayonnaise
Cholula Hot Sauce
sprinkles of salt and pepper
1. Place pork into crockpot with some water to cover the bottom. Sprinkle with salt, pepper and garlic salt. Let cook on low overnight or for a good 8-10 hours so it's falling apart easily. When it's ready, remove from crockpot, drain liquid reserving 1/2 Cup for sauce. Shred pork with 2 forks into small pieces. Return shredded pork back to crockpot on low and add in BBQ sauce. For this particular sandwich I just used a good bottle of KC masterpiece, but I've also got a great homeade BBQ sauce if you'd rather go that route. Just click on the link above. I also add 1/2 cup of the pork liquid that was reserved to thin out the BBQ sauce, totally optional.
2. Bake biscuits according to package. These cheddar ones from Bisquick were really good by the way and took a whole 15 minutes.
3. Prepare coleslaw from the link above. It's my cute granna's recipe that I use everytime I need coleslaw. You gotta try it.
4. Boil corn on the cob that's been husked and rinsed until tender, about 10 minutes. Remove and lightly spread with mayonnaise then drizzle with Cholula Hot Sauce and a touch of salt and pepper. Trust me, this is ghetto good!
5. Slice biscuits in half, top with shredded pork and a spoonful of coleslaw. Serve with the spicy corn and enjoy!
____________________________________________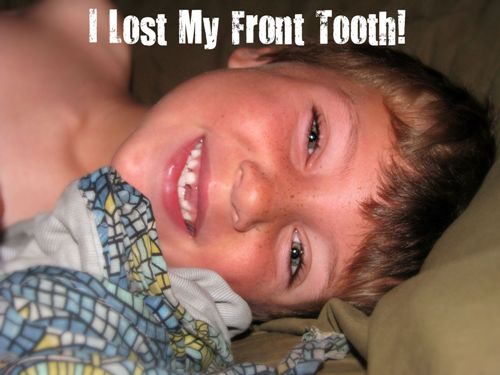 Yes, that is his baby blanket he still has to have or at least know where it is at ALL times. Hope his future wife will accept the blankie too!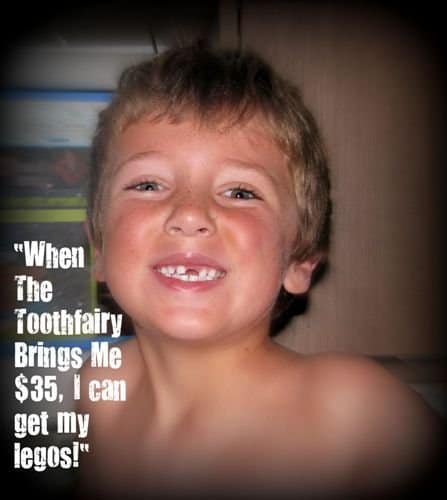 I got a great laugh when my my little stinker thought the toothfairy was bringing him $35 bucks! Nice try.
Have a great rest of the week/weekend! Don't forget to re-follow PickyP. over on the Right Sidebar…See you soon!