Big Thunder Ranch BBQ is the place to be at Disneyland if you are craving ribs, BBQ chicken, baked beans and the like–"Cowboy Food"–, as they say. Oh and guess what? It's all-you-can-eat at the Big Thunder Ranch BBQ. This hidden gem of a restaurant in Disney's Frontierland is a must to experience.
You may read from us that when we compare Disney food, we compare it to the inside world of Disney. If we were to compare the ribs or the BBQ chicken to our favorite real world restaurant we would do everyone a disservice. Reality is that Disney is an amusement park with some amusement park food, and some food better-than amusement park food. Disney puts a lot more effort into their food choices than any other park we've been to, so we should give them credit. So, as we dive into each restaurant here at Disneyland and California Adventure we'll be rating our food experiences at Disney with this mindset. Here, is the home page of our Disney food experiences.
Nevertheless, we came away satisfied after enjoying BBQ at Big Thunder Ranch. Pictured below is what you get for lunch. Dinner you get the lunch items plus Corn Cob Wheels and Smoked Sausage. Adults age 10 and up are $23.99 and kids age 3-9 are $11.99 each for the buffet. For dinner, price modestly increases to $26.99 for adults with no change in price for children. After tax, gratuity and our 15% off annual pass discount, we were out the door for around $104 for two adults and two kids.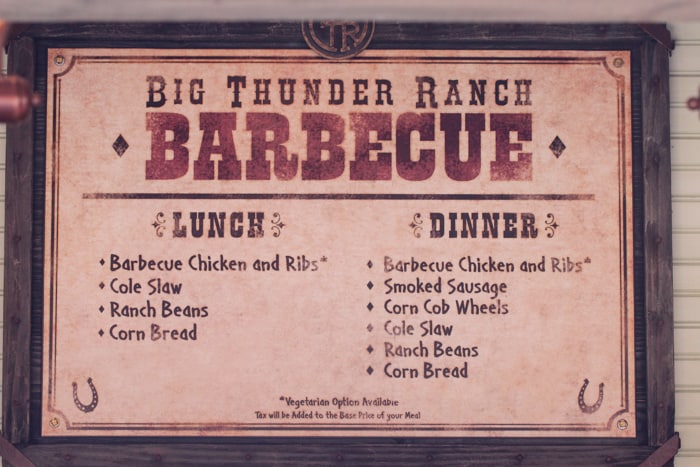 We showed up a few minutes before open, which is at 11:30am. They started out with a fun 2 min opening ceremony where a bell is rung and the chef's and staff come walking down the restaurant greeting you as you come in. You can make reservations by calling (714) 781-DINE (3463), however we had no problem getting in on our warm 82 degree July 2 day. There was plenty of shade so even though seating is all outdoors, don't let the heat deter you.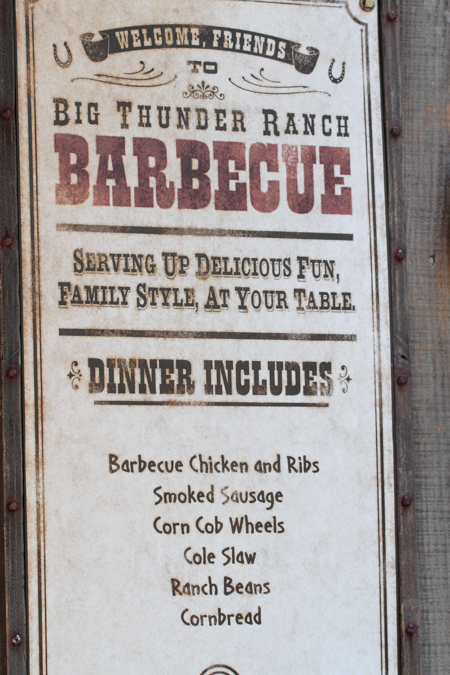 Another look at the menu. Short and sweet.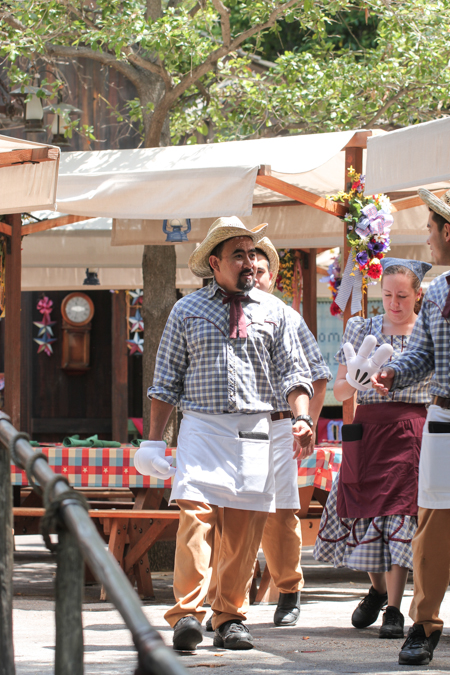 The opening ceremony starts with the staff enjoying a grand entrance.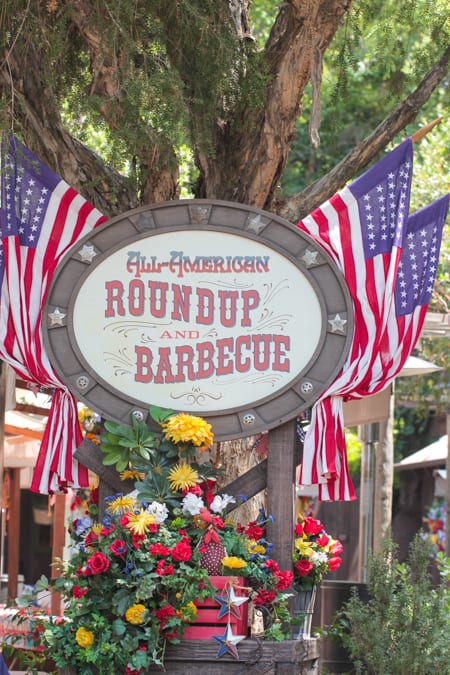 Colorful flowers and patriotic decorations for 4th of July.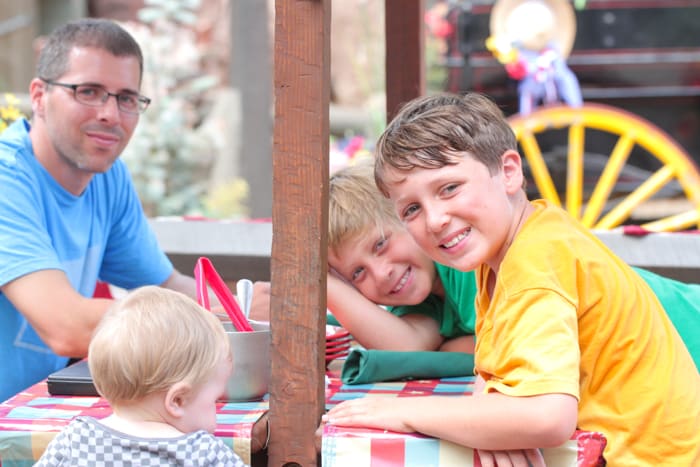 Waiting patiently for lunch 🙂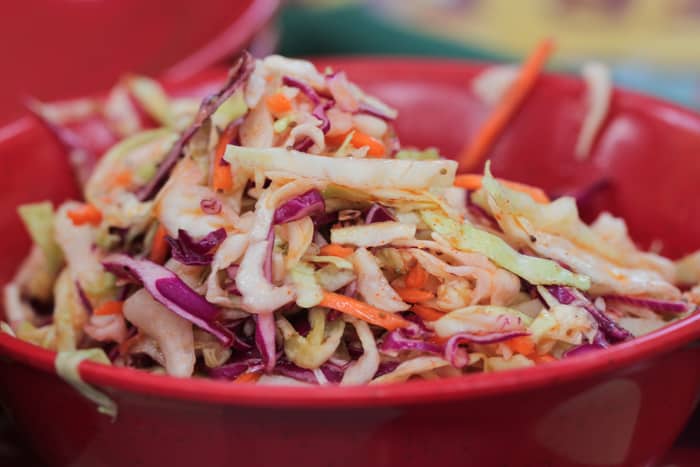 The coleslaw was quite a refreshing change from the typically mayonnaise version. Plenty of crispy was present in this dish, and it was tossed in an oil vinegar based dressing.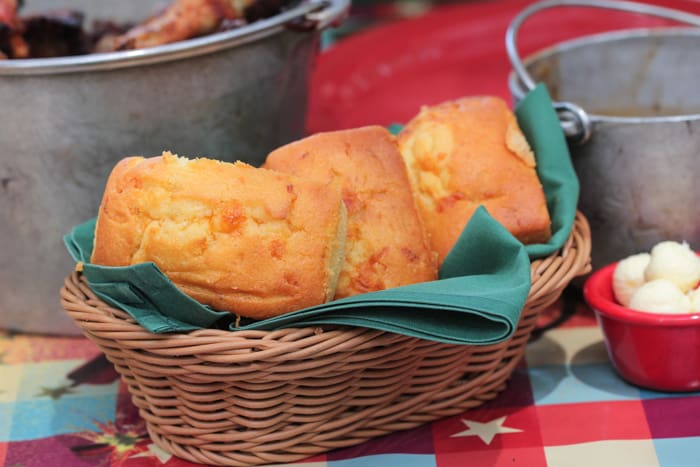 Thick Cheddar Cornbread Muffins delight the table. Unfortunately, ours was on the dry side. But no sweat, we dipped them in honey or in the baked beans and all was good.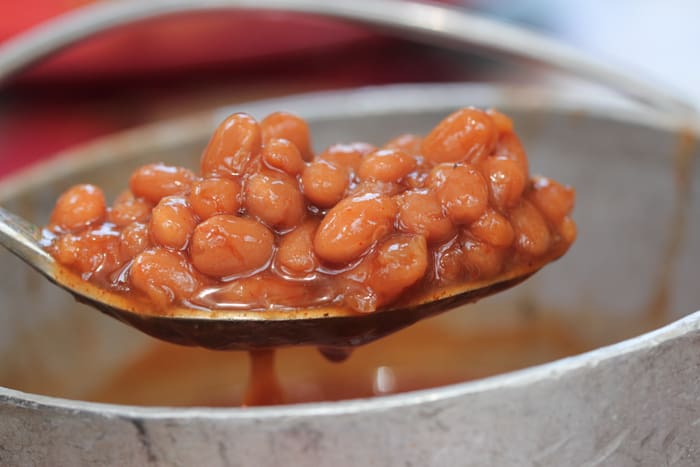 The baked beans were sweet and delicious. They had a great taste.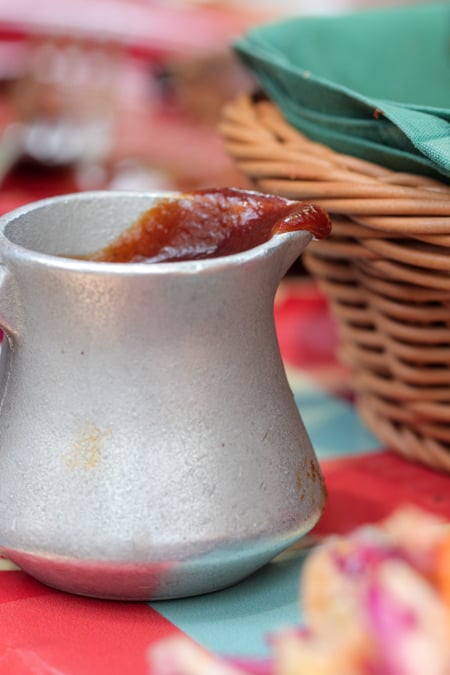 Plenty of BBQ Sauce for dipping.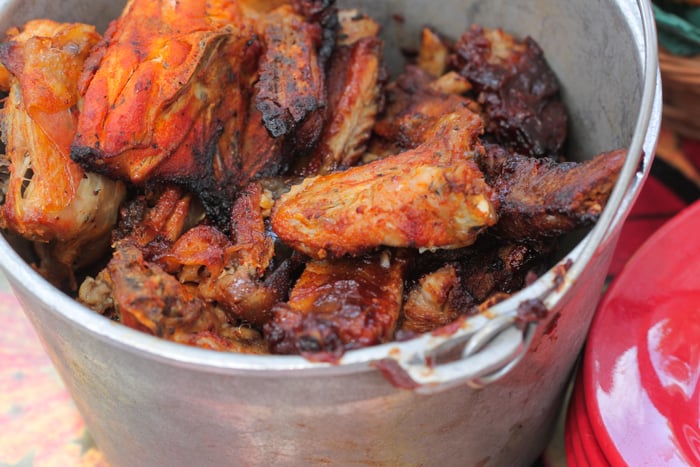 Although, our chicken was a bit on the dry side, it was still pretty good. Great smoky flavor and we loved that it's served family style in a giant bucket. We almost needed bibs.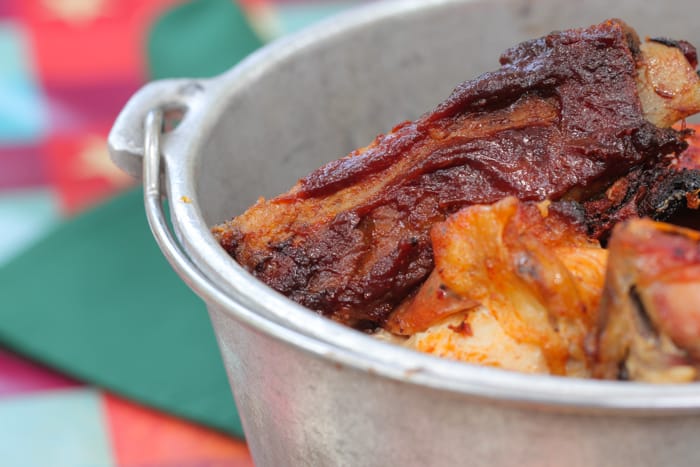 The ribs were Disney good. Not fall off the bone, but still tasty. We did enjoyed I must say.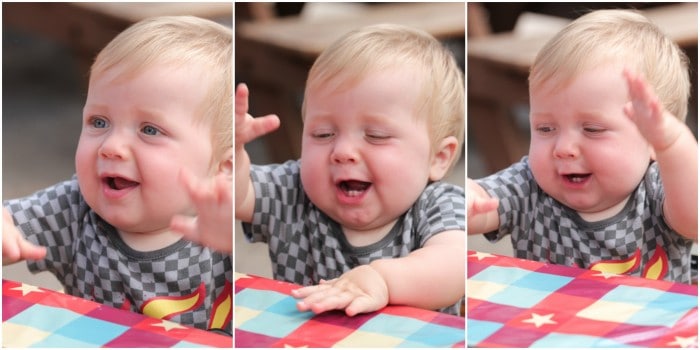 Pax was having the time of his life pounding on the table and enjoying the Disney atmosphere.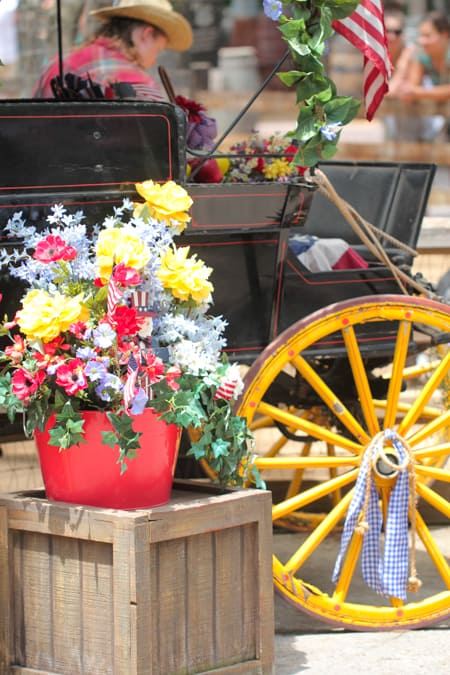 Colorful cowboy style decorations to look at while you are eating.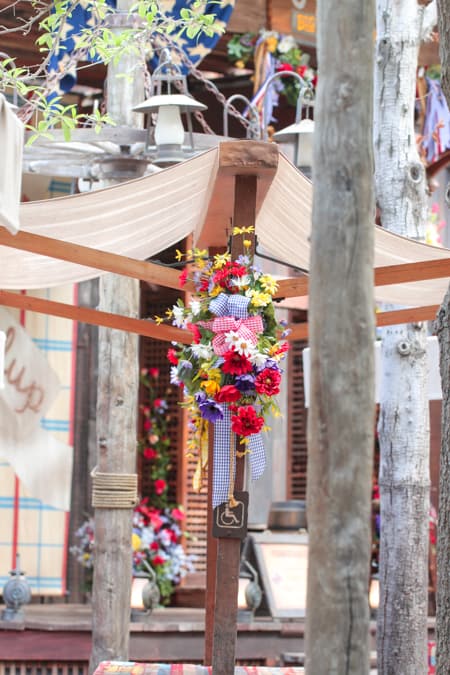 Colorful flowers at every table.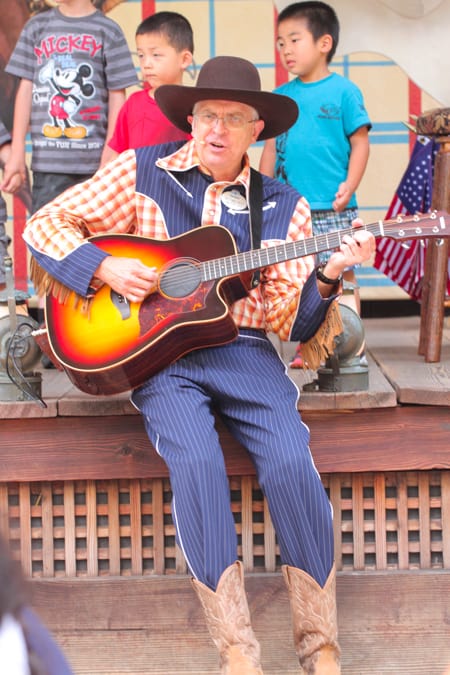 There is a stage adjacent to the tables where a cowboy and cowgirl sing and perform. They bring kids up to sing and dance with them.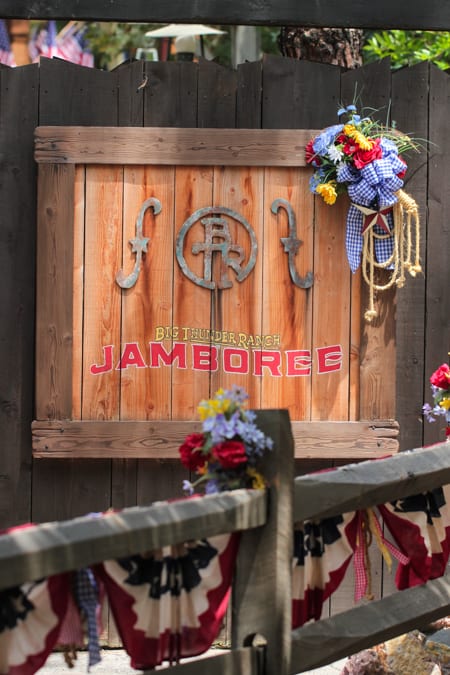 More views from the table.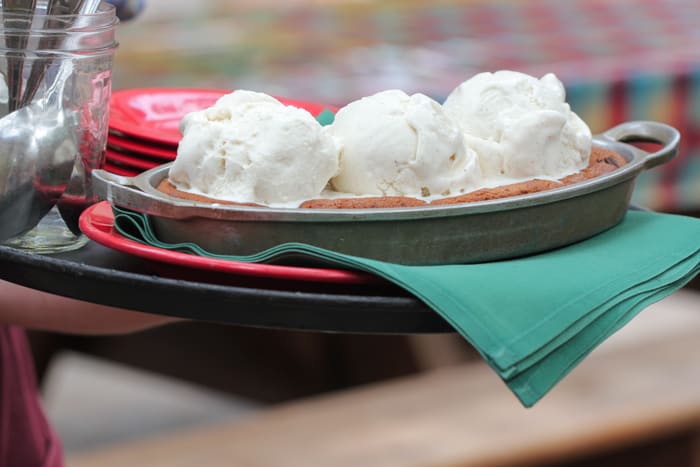 Desert is not included with your lunch/dinner fee and takes about 30 minutes to prepare so order early. You can buy family size at $9.99 or individual for $5.99. We ordered the Chef Cookie's Deep Dish or "Pizookie" as it's generally known.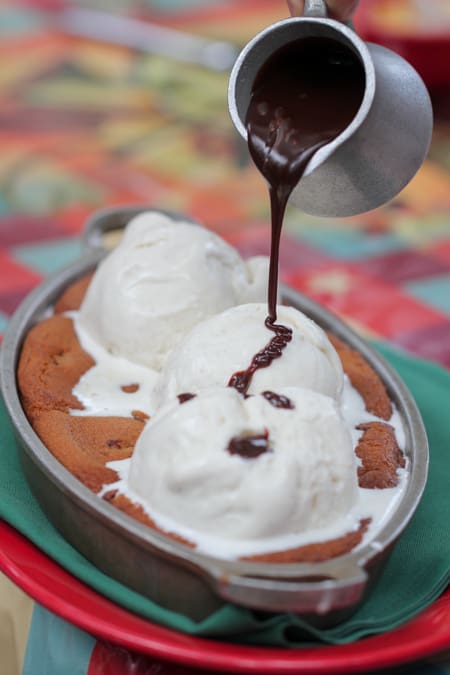 Hot fudge to drizzle on top.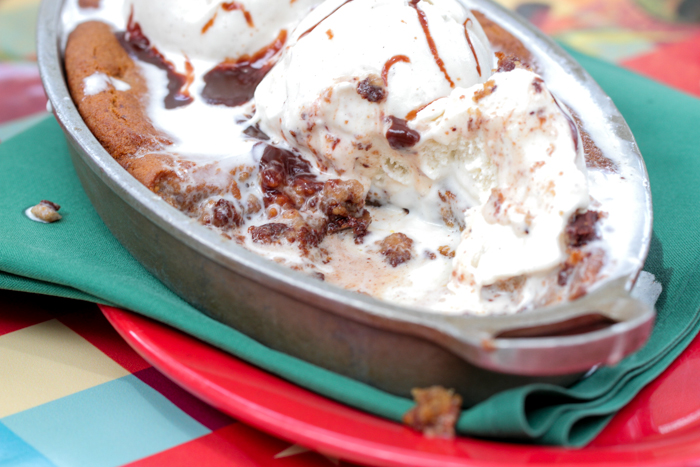 Demolished.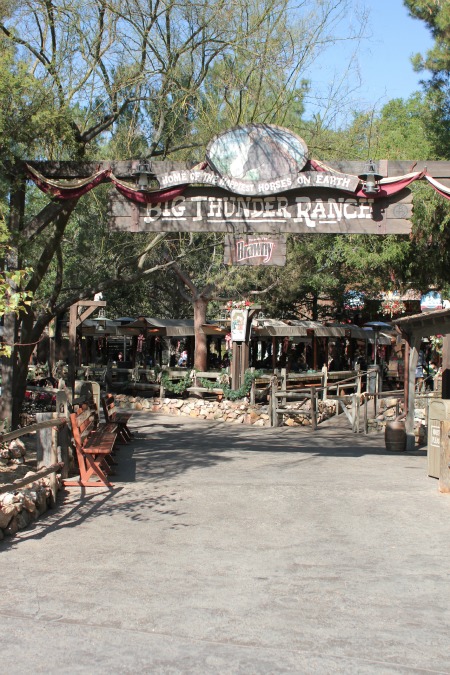 In conclusion, this restaurant garners a PP Review of 4 stars for the all-you-can-eat (if you pack it in you could down 2 meals in one sitting at this place, thus lowering your food cost), great experience and great food. 5 stars could've been it's reward if it weren't for the dry chicken and cornbread and all-you-can-eat price. Be sure to come with an appetite to this place as you won't want to leave anything at the table.