Where to start with Cafe Orleans….we had such a great dining experience a few weeks ago. The Cafe is located right in the middle of New Orleans Square close to Pirates of the Caribbean and Haunted Mansion. It is so charming and looks just like the streets of New Orleans in the French Quarter. There is outside inside dining under the shady patio's blue striped umbrellas and some indoor seating as well. If you choose to sit outside you get a lovely view of the boats on Rivers of America.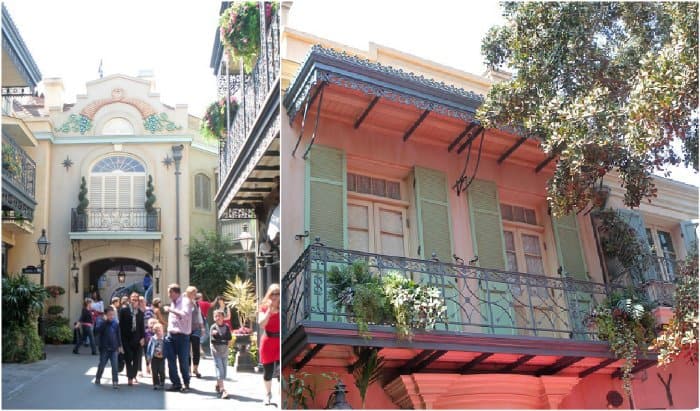 As you make your reservation at the desk, this is the area you will be in. Lovely New Orleans architecture.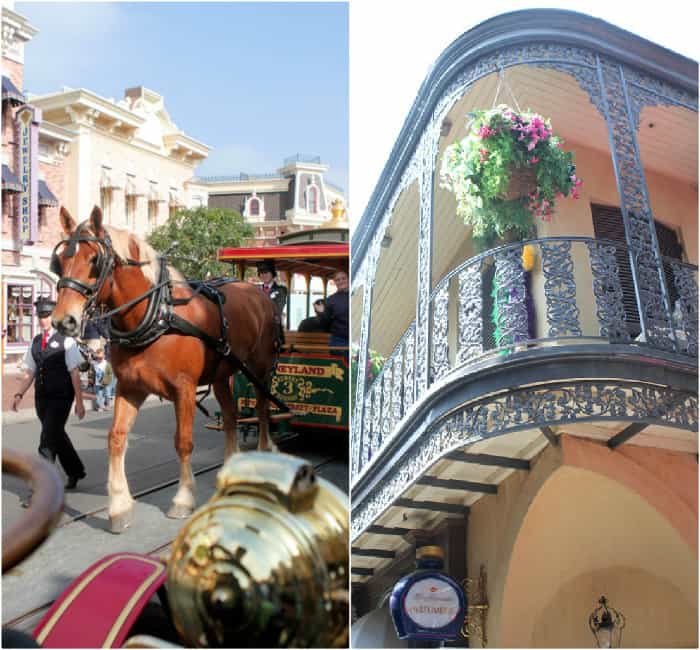 I had to snap a picture of this beautiful horse on our way to lunch and there is another beautiful shot of a New Orleans style building on the right.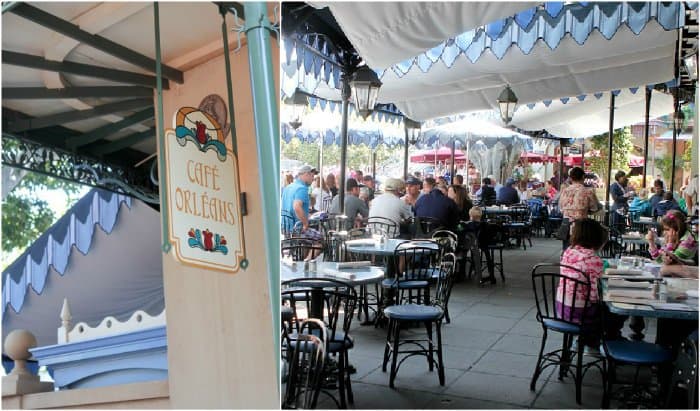 Here's a glimpse of the outside patio area. Lots of tables and very relaxing environment.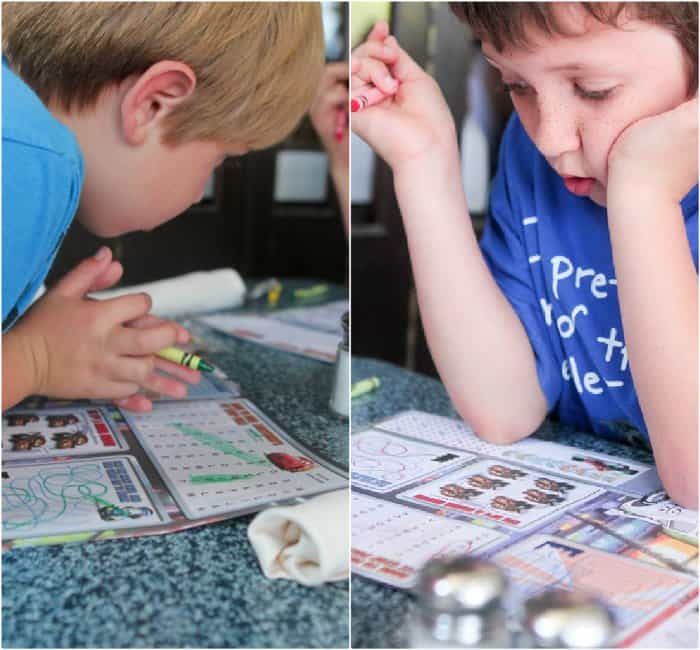 I was oh so grateful that the waitress brought the boys some crayons and activity books. Kept their minds off of how hungry they were:)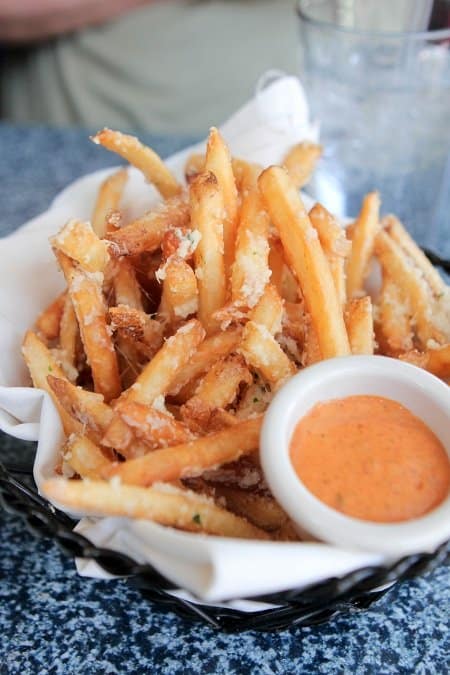 We started with these fabulous Pommes Frites. The fries were tossed with Parmesan, garlic, parsley and served with a Cajun Spice Remoulade. Drool!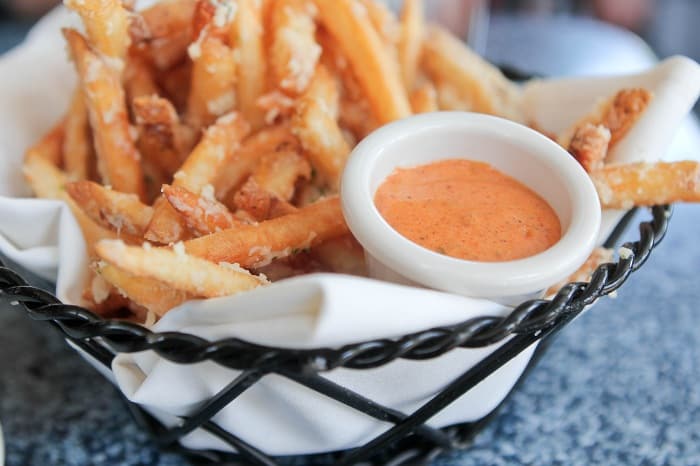 I almost asked for another sauce, because it was so good. We couldn't keep our fries out of it 🙂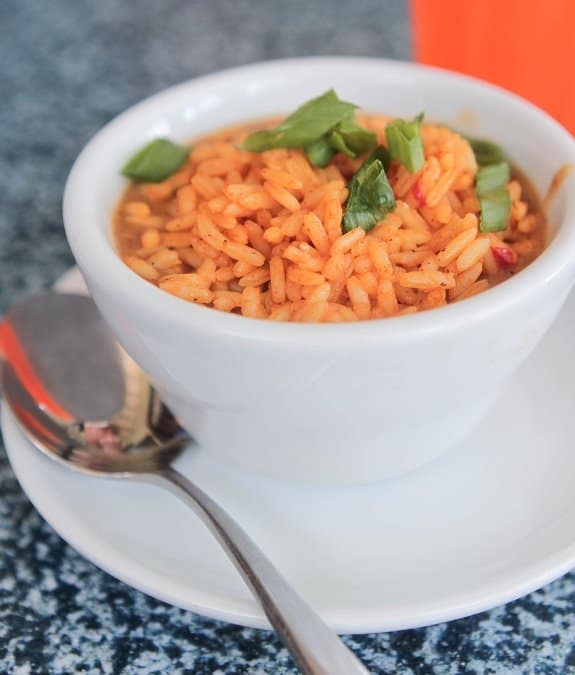 We also shared a bowl of the New Orleans Gumbo. It was a rich, flavorful stew with chicken, andouille sausage and ham, served with Cajun-style "dirty rice". Very delicious.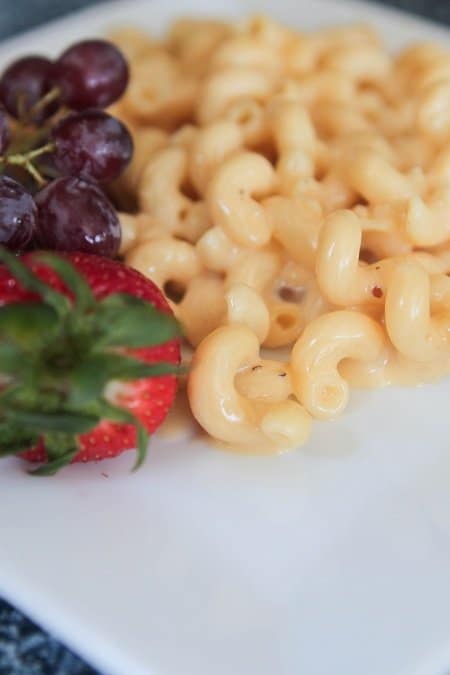 My youngest little guy ordered Mickey's Cheesy Macaroni. It comes with a side of fruit as well. There were zero complaints from him and his mac and cheese 🙂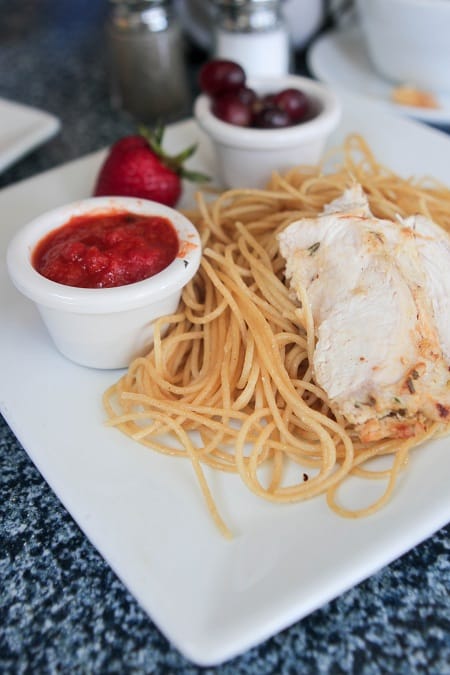 My other son ordered the Chicken Breast with pasta, marinara and a side of fruit. He enjoyed his meal as well.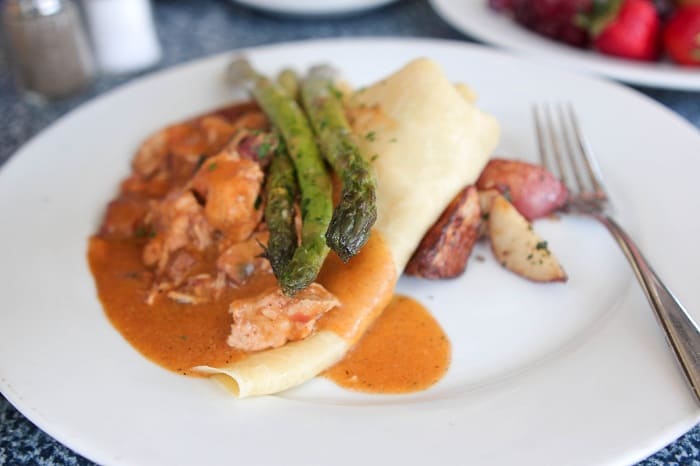 My dad and I shared a couple entrees including the Chicken Gumbo Crepe. Isn't it gorgeous? There was asparagus spears, sauteed chicken, andouille sausage, ham and creole gumbo sauce over a soft perfect crepe with some browned seasoned red potatoes. I would order this again for sure.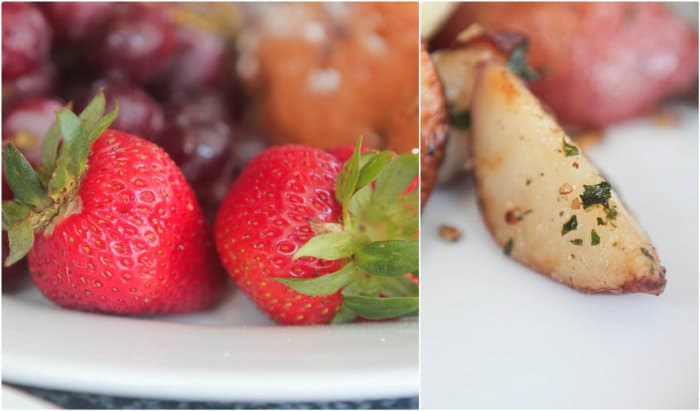 Some of our beautiful sides.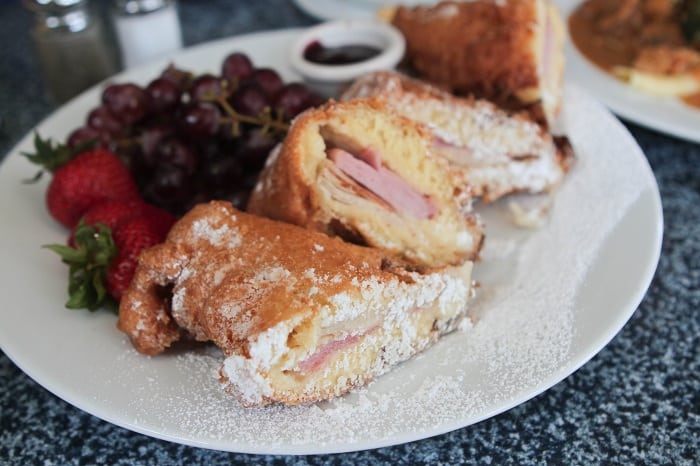 The famous Monte Cristo Sandwich….finally! I had heard so much about this sandwich and was so excited to finally try it. Can I just say it was definitely worth the wait. Soft fried dough surrounds ham, turkey and cheese then the whole thing is dusted with powdered sugar. You almost just have to try it to understand what I am talking about. They also give you a berry puree sauce to dip. Take a look below.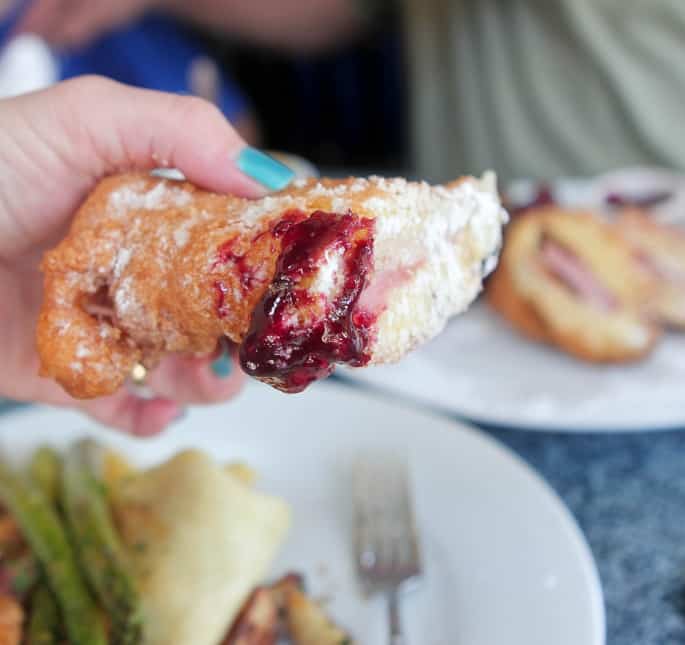 It's sweet and salty heaven my friends. Hope you get to try one for yourself!
________________
A few things:
If you are going on a weekend you will definitely want to make reservations here: (714) 781-3463
This is a nicer dining experience so expect to spend between $15-35.99 per person
Here is the entire menu as of Jan 2012
Starters
French Onion Soup – Sauteed sweet-onion medley in a traditional broth with Croutons and Melted Gruyere. $8.49
New Orleans Gumbo – A rich, flavorful stew with chicken, andouille sausage and tasso ham, served with Cajun-style "dirty rice". Cup $5.49, Bowl $8.49
Pommes Frites – Traditional French-fried potatoes tossed with Parmesan cheese, garlic and parsley, served with a Cajun spice remoulade $5.49
La Salade de Maison – Our Cafe Orleans signature house salad, featuring tossed baby greens in a raspberry vinaigrette, topped with cherry tomatoes, crumbled goat cheese and caramelized pecans. C'est bon! $5.49
---

Entrees
Split Plate Charge $4.00
Cafe Orleans Salmon Sandwich – Grilled Atlantic Salmon with fresh Cucumber-Tomato Relish, Bacon, and our Cafe Remoulade served on a Multigrain Roll with seasoned Sweet Potato Fries. $18.99
Monte Cristo Sandwich – Sliced turkey, ham and Swiss cheese fried in a light batter and served with berry puree dusted with Powdered Sugar. $17.49
Three-Cheese Monte Cristo – Swiss, mozzarella and Double Creme Brie fried in a light batter and served with Berry Puree dusted with Powdered Sugar. $17.49
Mardi Gras Chicken Sandwich – Blackened Chicken Breast with Cajun Spices and Avocado Relish served on a Multigrain Roll with seasoned Sweet Potato Fries. $17.49
N'awlins Vegetable Ragout – Vegetable Ragout with Eggplant, Red Onions, Bell Peppers, Squash, Zucchini, and fresh Garlic served with Corn Cakes topped with Grana Padano Cheese. $14.99
— With Blackened Chicken $16.99
— With Pan-seared Atlantic Salmon $18.99
"Crescent City" Salad – Choose Blackened Chicken or Pan-seared Atlantic Salmon on top of fresh Spinach and Mixed Baby Greens, tossed with Carmelized Pecans, Red Grapes, Navel Orange Segments, Caramelized Onions, Chopped Green Onions, Roasted Sweet Corn, and Orange-Cilantro Vinaigrette.
— With Blackened Chicken $14.99
— With Pan-seared Atlantic Salmon $16.99
---
Freshly Prepared Crepes
Delicate Crepes – made to order. Served with Sauteed Asparagus and New Potatoes.
Chicken Gumbo Crepe – Sauteed chicken, Andouille Sausage, Tasso Ham, and Creole Gumbo Sauce. $17.49
Seafood Herb Crepe – Pan-seared Mahi Mahi, Shrimp, and Scallops in a Creamy Tomato-Fennel Sauce. $17.49
---
Desserts
"Mickey" shaped Beignets – Topped with Powdered Sugar served with Raspberry Coulis and vanilla Bean Creme Anglaise $7.99
Royal Street Bananas Foster Crepe – Delicate Handmade Crepe filled with Sauteed Bananas and topped with Caramelized Bananas and Caramel Rum Sauce. $7.99
St. Charles Mixed-Berry Crepe – Delicate, hand-made Crepe, filled with Raspberries and Blueberries tossed with a Warm Spiced Apple Glaze and topped with a Balsamic-Orange Reduction Sauce. $7.99
---
French-Quarter Thirst Quencher
Glowing Character Punch – Minute Maid Light Lemonade Punch served in a souvenir cup with a glowing Disney Character Light. $6.99
---
Beverages
Coke, diet Coke, Sprite, Light Lemonade, or Fanta Orange $2.99
Coffee, regular or decaf $2.79
Hot Tea $2.79
Hot Chocolate $2.79
Espresso – $3.19
Cappuccino – $4.29
Caffe Latte – $4.29
Caffe Mocha – $4.49
To see the kids menu click HERE.
________________________
Have you tried something that I haven't?! Do share!
Disclosure: We are in no way associated or sponsored by Disneyland. Just a family who enjoys visiting the parks and giving you are honest reviews.