It's Friday!  Oh how I love Fridays.  Our schools start Spring Break next week, so YIPPEE for having a week off of homework and making school lunches.  I'll take it.  Plus we get to go to AZ for a few days to visit our family.  That's always fun.  You can follow me on Instagram, you know I'll be posting all the good food we find 🙂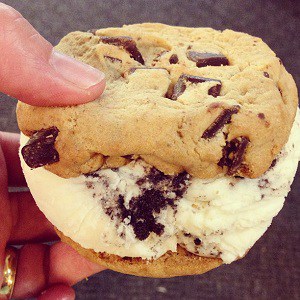 Speaking of good food….over the weekend we tried an ice cream shop that we've had on our list to try for a while and I think we are in trouble.
The shop is in Santa Ana, CA and is called Hans.
They make their own homemade ice cream, shakes, malts, cookie ice cream sandwiches, chocolate covered cookie ice cream sandwiches and they even serve lunch.
Let's just say this is not the only time we will be visiting Hans.  If it wasn't 20 minutes away, I might just be there every single day to get one of these sandwiches you see in the picture.
So, it's cookies and cream ice cream…..
Homemade.  Sandwiched between 2 chocolate chunk cookies.
It was amazing and I ate the whole darn thing minus a few bites my boys were able to get from me, lol!  We love Hans!!  I don't believe they have a webpage, but I found a Facebook page that has their address and phone number HERE.  I highly recommend it, should you be visiting Southern California!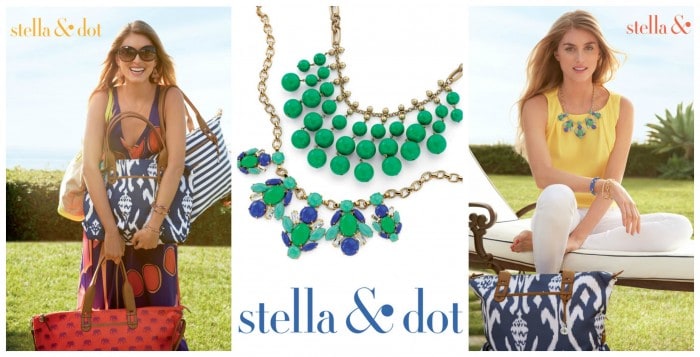 Some of you know that I am also a Stella & Dot stylist, and I can not say enough about this company.  Their products are so beautiful.  This past Monday they had the big debut of their new Summer bags and jewelry.  Just got my bag a couple days ago and what a perfect addition it is to my collection.  Kind of obsessed.  I'm also a tad bit obsessed with the new Juniper Statement Necklace you see in the middle picture.  Can't wait to wear it.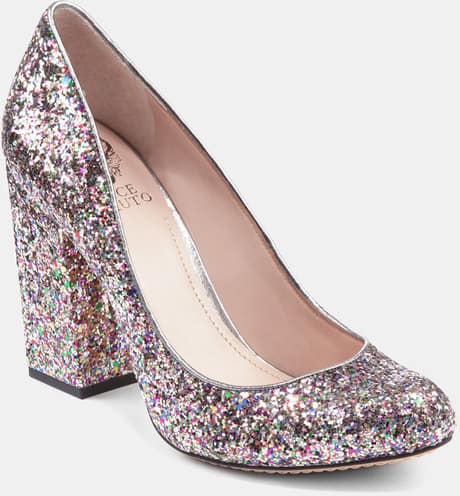 How's a girl supposed to resist these?!  Well, I didn't.  If you run into me, I'll probably be wearing my sparkle heels, because they do not come off of my feet.  Kidding.  But seriously?!  When I pulled up the link, they are on sale even more now.  Officially my favorite shoe….. this week 🙂
I was dying this week when I opened my window to see these little cows all over my neighbors yard.  The sign said, "Holy Cow We Herd it's Dad's Birthday" How completely adorable is that?  Had to go take a picture.  There was a website printed at the bottom of the sign,  www.cutestorks.com.  I think they only deliver in Southern CA, but what a great idea for birthdays!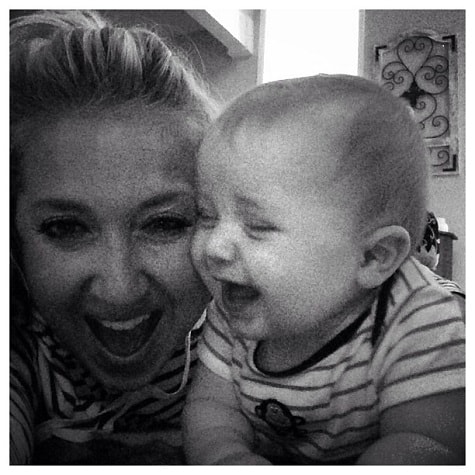 My little Pax is 7 months old this week! Time is flying, but what fun we are having with him.  He truly is a little angel sent to us.  I could go on and on, but I'll leave it at that 🙂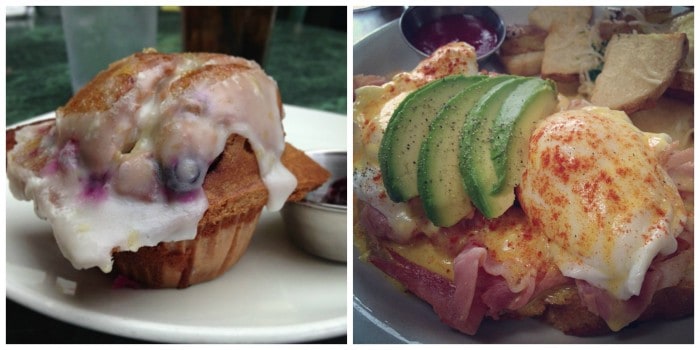 A couple more places you MUST visit when you come to Southern California.  On the left is hands down one of the best blueberry muffins I've ever had.  It's from Plums Cafe in Costa Mesa.  They have an incredible breakfast menu as well.  This blueberry muffin was warm and that icing on top!!  Loved sharing every bit with my dad this week.  Another breakfast must is this Eggs Benedict from Eat Chow in Newport Beach.  One of the best dishes I've had for breakfast.  Salivating just thinking about it, lol!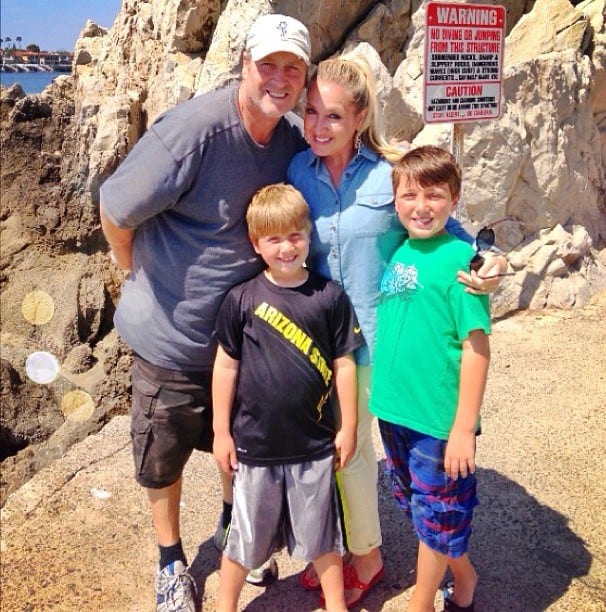 My sweet Dad came to visit us this week on his few days off of work.  I can't even explain how much my boys love him.  They have the best time when he's here.  We took lots of walks to the beach, went to the boys sports events, went out to eat (Alot)  and just hung out in our beautiful CA weather.  We miss him already.  Good thing we are headed to AZ this weekend, we'll get to see our "Teedo" again along with the rest of our family we miss so much.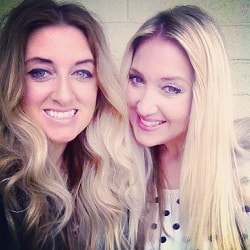 My adorable sister Kim has a website where you can get adorable one piece swimsuits for summer under $30!
You can't beat that and might I add they are so flattering on!  Picking mine up this weekend.  My favorites are HERE, HERE and HERE.  Have fun shopping!
Can't wait for the fun we are going to have this weekend.
I apologize in advance for an abundance of family photos that might pop up on Instagram 🙂
Have a great weekend friends!
See you all Monday for a homemade brownie that will change your life.  Not kidding.
I've been munching on them all darn week long.  Ha!
FOLLOW PICKY PALATE ON INSTAGRAM! Show me what recipes you're making from Picky Palate by using #pickypalate.
Other recipes you may enjoy...
Comments