Hope everyone enjoyed a nice weekend. Sunday night is upon us again, I'm still trying to get unpacked from our fun filled weekend in SnowflakeAZ.For those of you who are not from AZ, Snowflake is a very small town that has a big celebration for Pioneer Day Weekend, which happened to be this weekend.
My husband's family makes a tradition to have a family reunion every other year on this weekend. Small towns are very interesting, they are fun for a weekend and then I find that it makes me so grateful to live in the city! Nothing against small towners, but it's just not for me. I am so spoiled and grateful to have just about every store I need within a few miles from my house. I will say that we did have lots of fun, I posted a few pics of the highlights from our trip in the post below.
Did anyone happen to catch my toe tapping, "overly salty" performance on The Build a Better Burger Competition this weekend on Food Network? Don't worry if you missed it, you can catch my undercooked chicken performance coming up in August. At least I can laugh at myself, one of these days I'm bound to get it just right!
Ok, onto the bread pudding!This is a killer recipe.It's another recipe that I worked on for that little project I was talking about earlier, that I will post about early this week.It is easy, and ridiculously tasty.The cinnamon swirl loaf, that I picked up from Walmart, makes for a perfect bread pudding, gooey and sweet.Baking it in muffin tins makes nice little individual servings, perfect for picking up with your fingers!
I would say for the little amount of effort that goes into making these, it's one of my favorite bread pudding recipes.I can't wait to tweek it into more flavors.I think I'll do fruit next time.
Do yourself a favor and whip up a batch, they literally take minutes to prepare, you'll be glad you did.
Don't forget to drizzle, it's a complete must!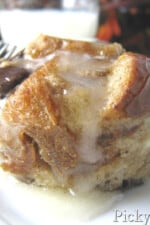 Chocolate Chip Cinnamon Swirl Bread Pudding with A Sweet Maple Drizzle
A gooey and sweet bread pudding made with cinnamon swirl bread and rich chocolate chips, all drizzled with a sweet maple glaze.
Print
Pin
Ingredients
1

lb

loaf Cinnamon Swirl Bread

cut into 1-inch cubes

½

cup

semi-sweet chocolate chips

1 1/3

cups

1% low-fat milk

3

large eggs

½

cup

sugar

2

tablespoons

packed brown sugar

pinch

of salt

½

cup

powdered sugar

2 ½

tablespoons

1% low-fat milk

1

tablespoon

pure maple syrup
Instructions
Preheat the oven to 350 degrees F. Place bread cubes and chocolate chips into a large mixing bowl. In a medium bowl whisk the milk, eggs, sugar, brown sugar, and salt. Pour over bread cubes. Stir to combine.

Spray a 12 cup muffin tin with cooking spray and spoon bread pudding mixture evenly into muffin tins. Bake for 25-30 minutes or until a toothpick comes out clean from the center of the pudding. Remove and let cool for 10 minutes. Transfer to a cooling rack.

In a medium bowl whisk together powdered sugar, milk, and syrup until well combined. Drizzle over bread pudding and serve warm. Enjoy!
Keywords:
bread pudding, chocolate bread pudding, easy bread pudding
12 servings
Have a great week! Coming up soon are some Bumbleberry Muffins that are sweet, soft and even pretty healthy, shocking I know! See you all soon!