Apples and Spice Cinnamon Bread Pudding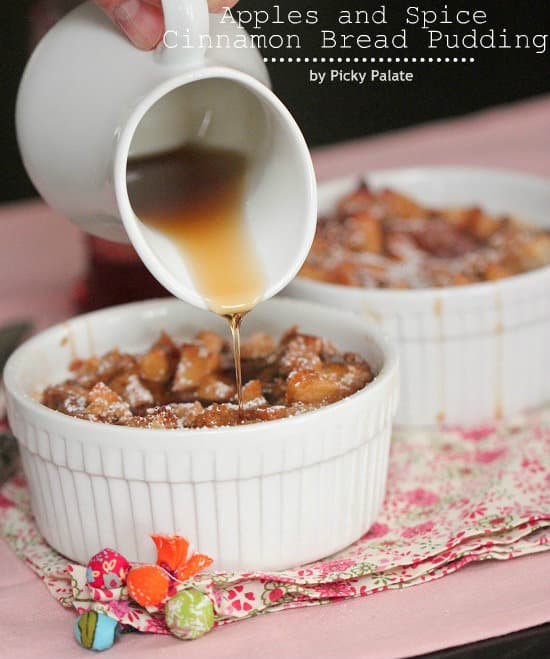 Hope everyone had a fun 4th of July yesterday and lots of finger lickin' BBQ 🙂
I had so much fun creating this decadent brunch/dessert with the boys last week. I had a major craving for a custard-y bread pudding and this hit the spot with sauteed apples and cinnamon mixed in.
You are going to love this one. Enjoy!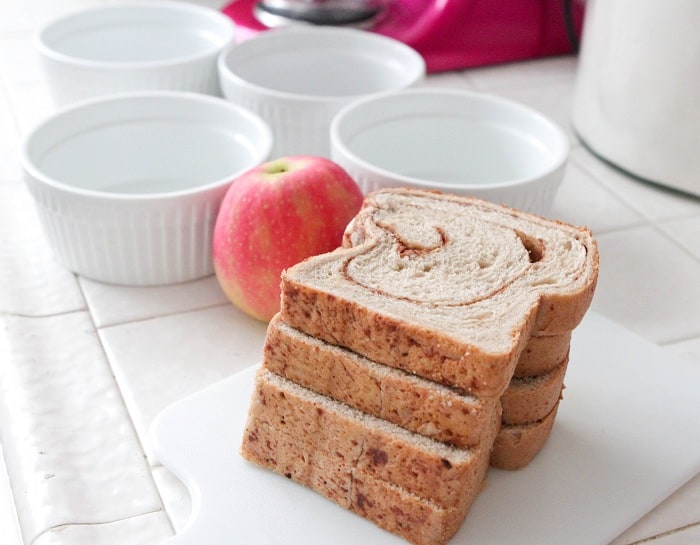 Start with some thick cinnamon bread. Most grocery stores have a nice selection. Brioche or croissants would be fabulous too.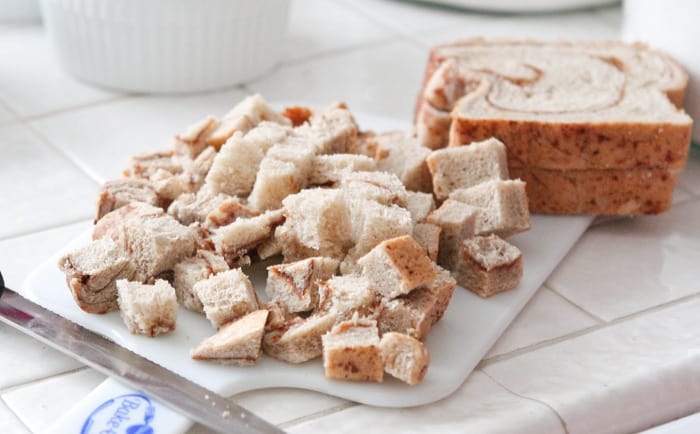 Cube your bread slices to get them ready for the ramekins.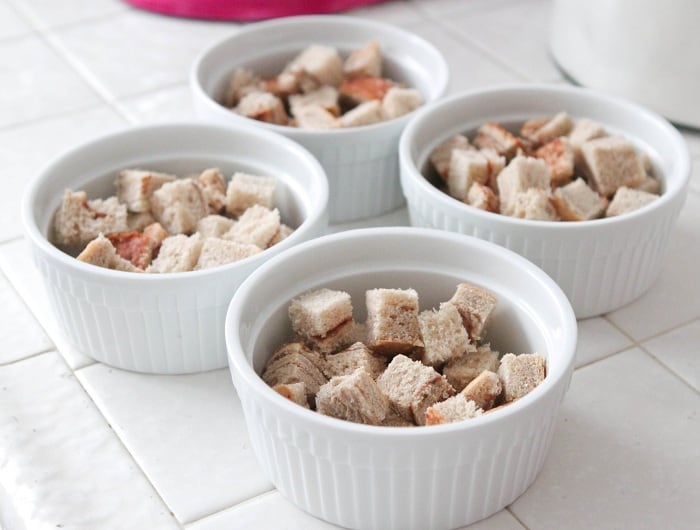 There we go. Divide the cubed bread between your 4 ramekins.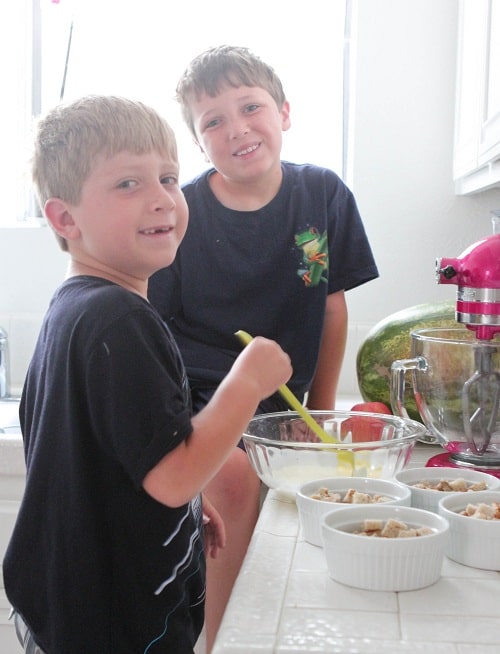 My sweet helpers anxious to eat 🙂  Whisk those eggs to start.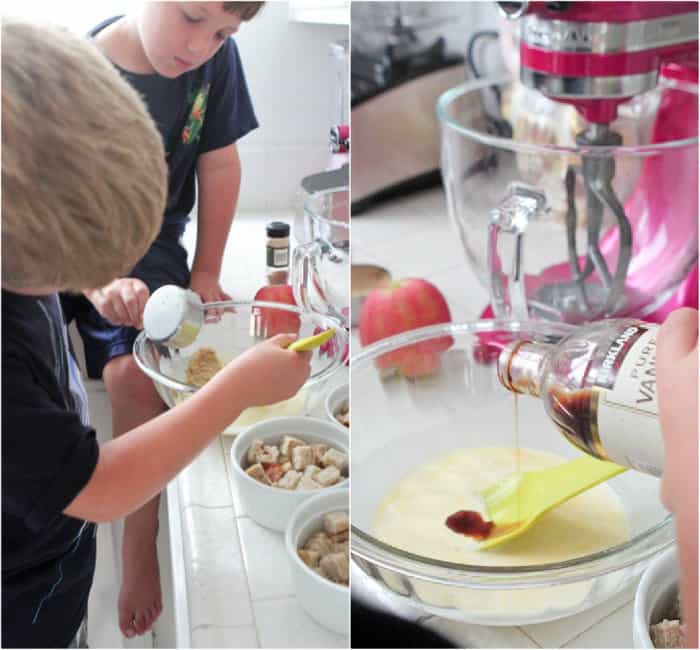 Add your brown sugar, cinnamon and vanilla.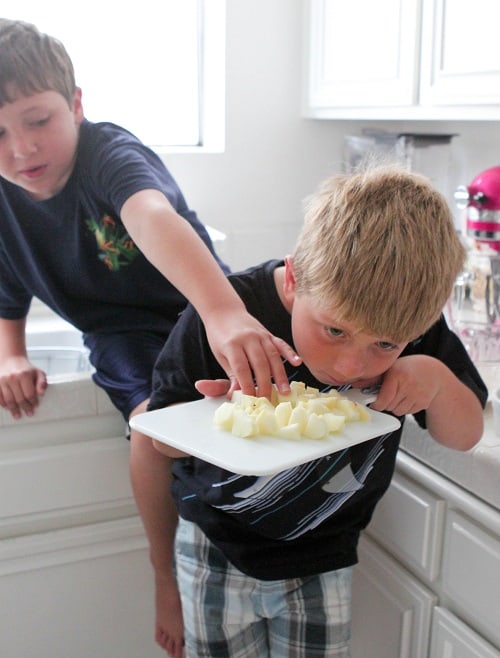 Cube a nice apple and keep those little fingers from eating them all 🙂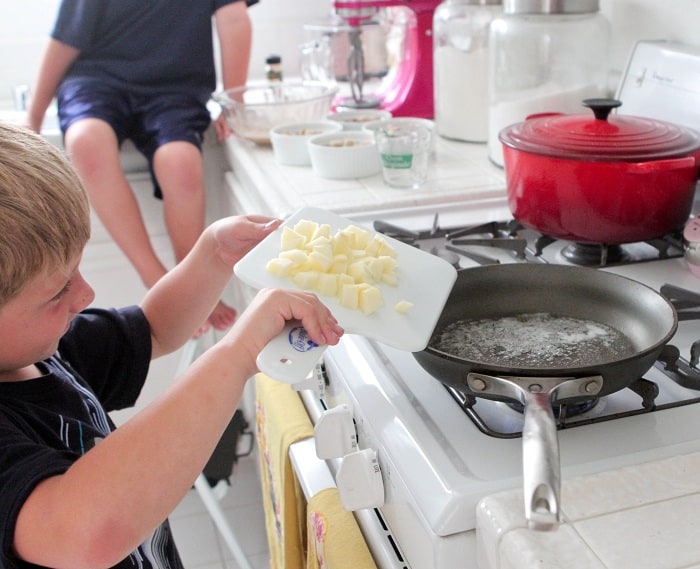 Time to saute!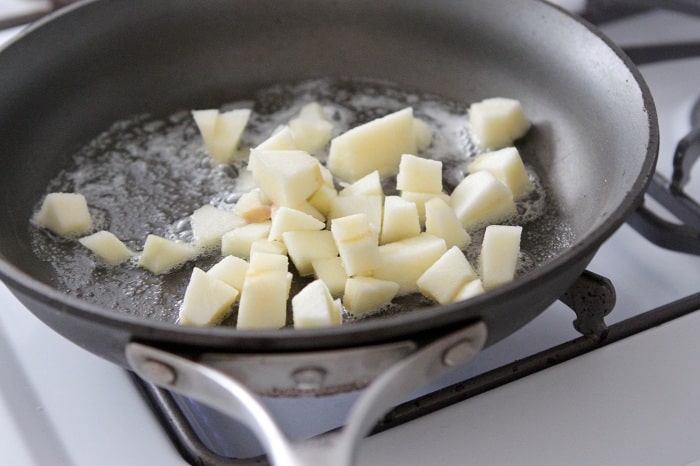 Let them sizzle in a little butter.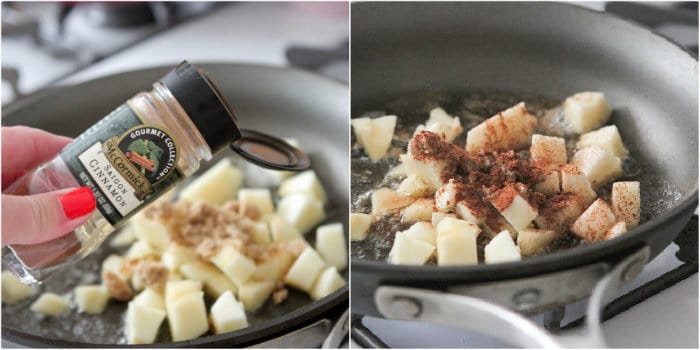 Add some brown sugar and cinnamon. Wait until you smell this!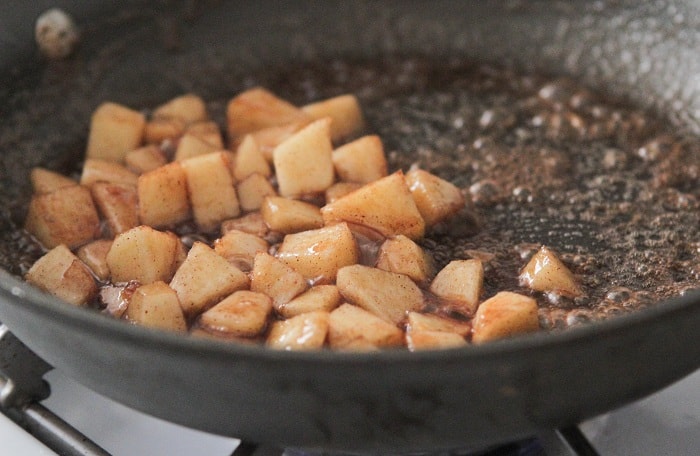 A little skillet of heaven.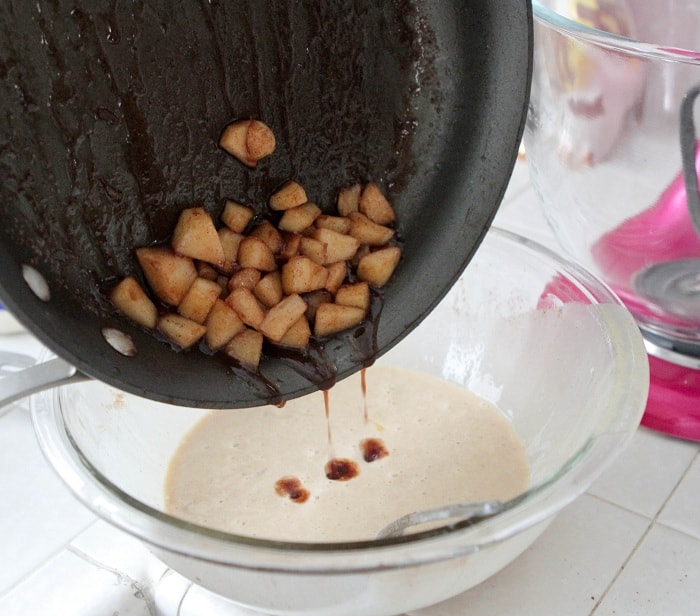 Pour that mixture into your egg and cream mix, drippings and all.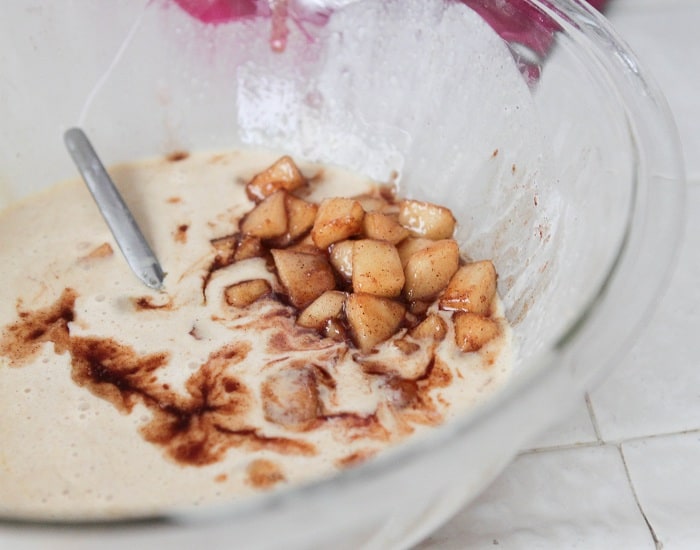 Mmm, now give it a good stir.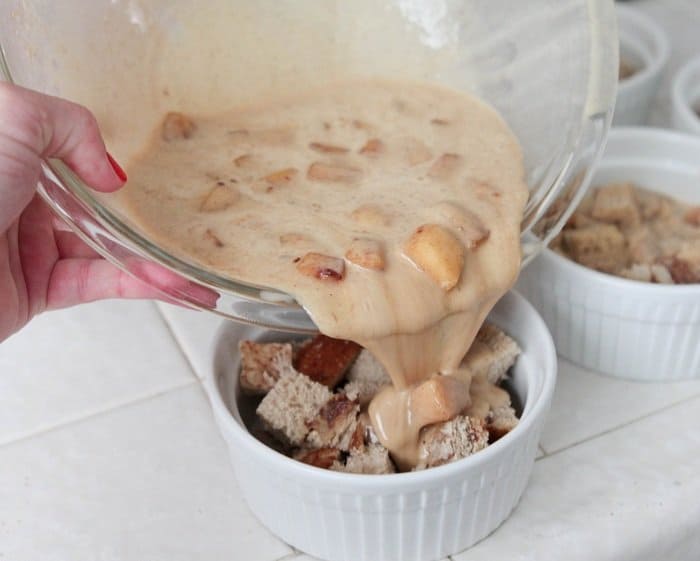 Divide that heavenly custard into your ramekins please 🙂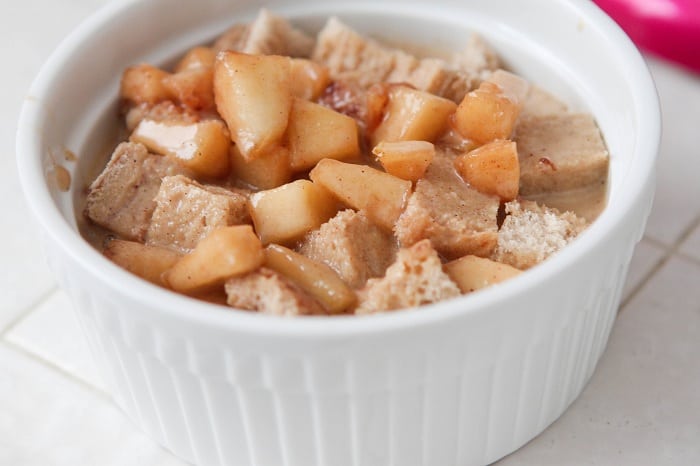 Ahhh, almost ready for the oven.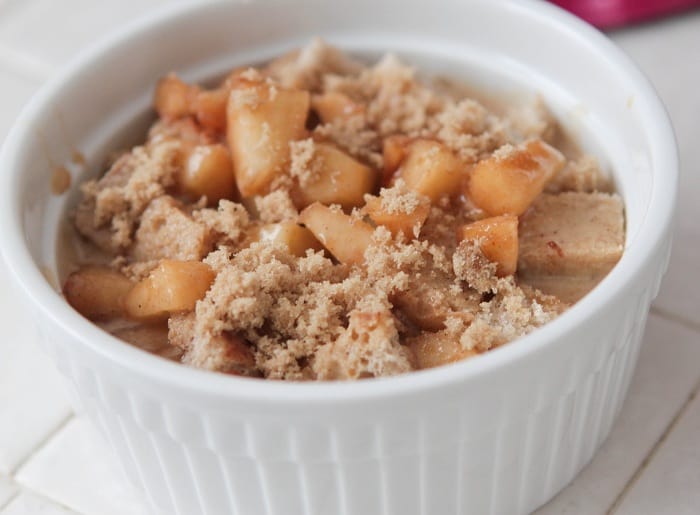 A little brown sugar on top!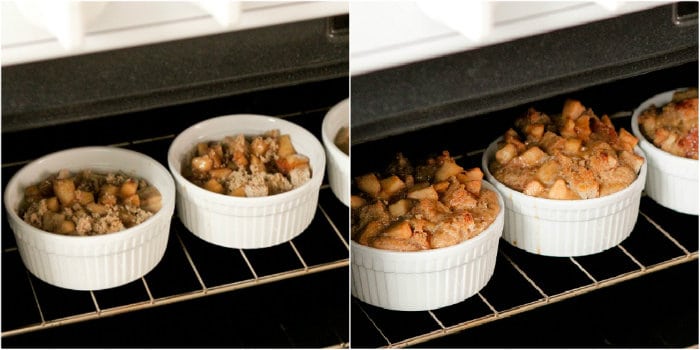 Time for the oven, bake for 30-35 minutes until puffed and cooked through.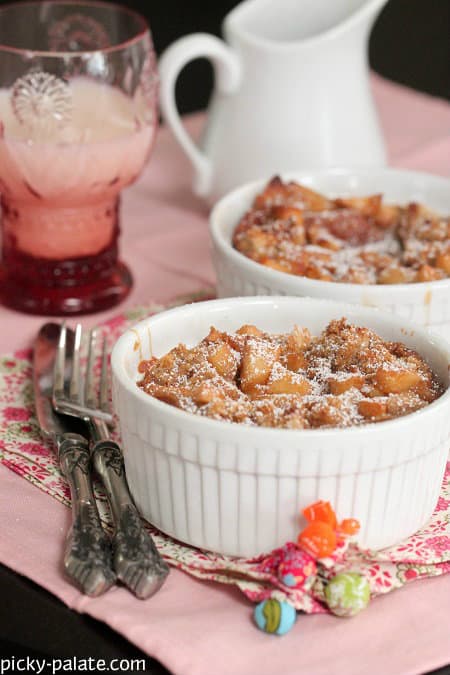 Dust with some powdered sugar and grab a fork asap!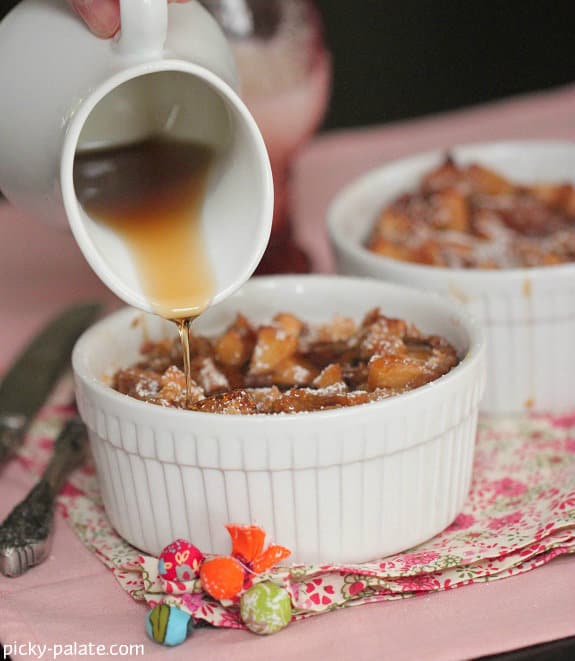 Well, pour some syrup over first if you are enjoying for breakfast, then dig in!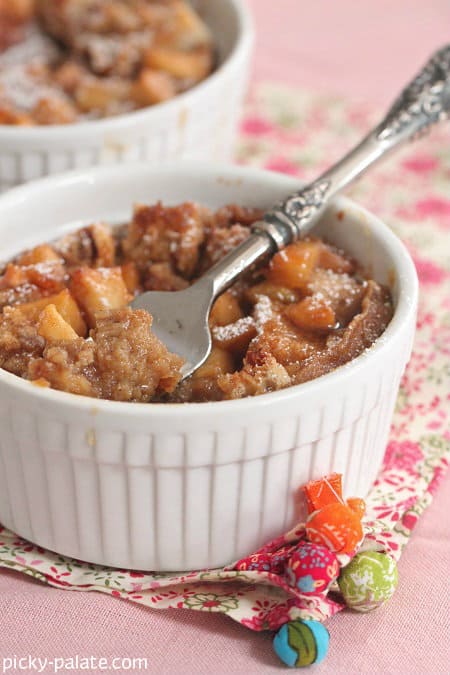 [ziplist]
Apples and Spice Cinnamon Bread Pudding
4 slices cinnamon bread
4 large eggs
1 cup heavy cream
1/2 cup loosely packed light brown sugar
1 teaspoon ground cinnamon
1 teaspoon pure vanilla extract
2 tablespoons butter
1 large apple, cored, peeled and cubed into 1/2 inch pieces
2 tablespoons packed light brown sugar
1/2 teaspoon ground cinnamon
4 tablespoons packed light brown sugar for sprinkling on top
Powdered sugar for dusting
Pure maple syrup for drizzling (if desired)
1. Preheat oven to 350 degrees F. and lightly spray four 2 cup ramekins with non stick cooking spray.
2. Cube bread into 1/2 inch pieces and divide evenly between ramekins.
3. Place eggs, cream, brown sugar, cinnamon and vanilla into a large bowl, whisk to combine. Place butter into a medium skillet over medium heat. Saute apples for 1 minute then add brown sugar and cinnamon. Cook and stir for another minute. Transfer apples and drippings into cream mixture then divide between ramekins over bread. Top with 1 tablespoon brown sugar on top then bake for 30-35 minutes, until puffed and cooked through. Remove and dust with powdered sugar and drizzle with just a touch of pure maple syrup if desired.
Makes 4 servings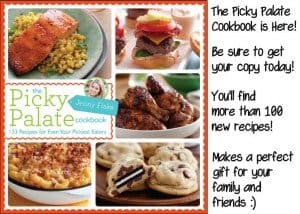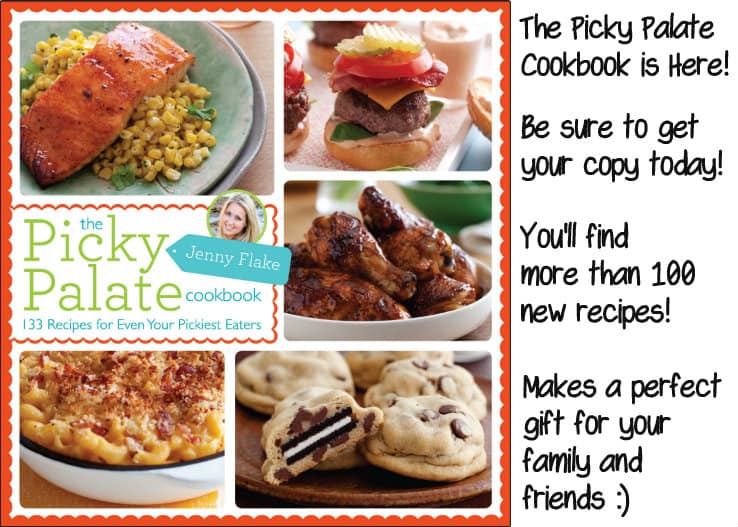 FOLLOW PICKY PALATE ON INSTAGRAM! Show me what recipes you're making from Picky Palate by using #pickypalate.
Other recipes you may enjoy...
Comments